The melody of Guantanamera fills the streets, smoke evaporates from cigars and exhaust pipes of 1954 Chevys and rusty Cadillacs, all while a laughing group of young people stand in line to buy fresh credit for their illegally imported smartphones.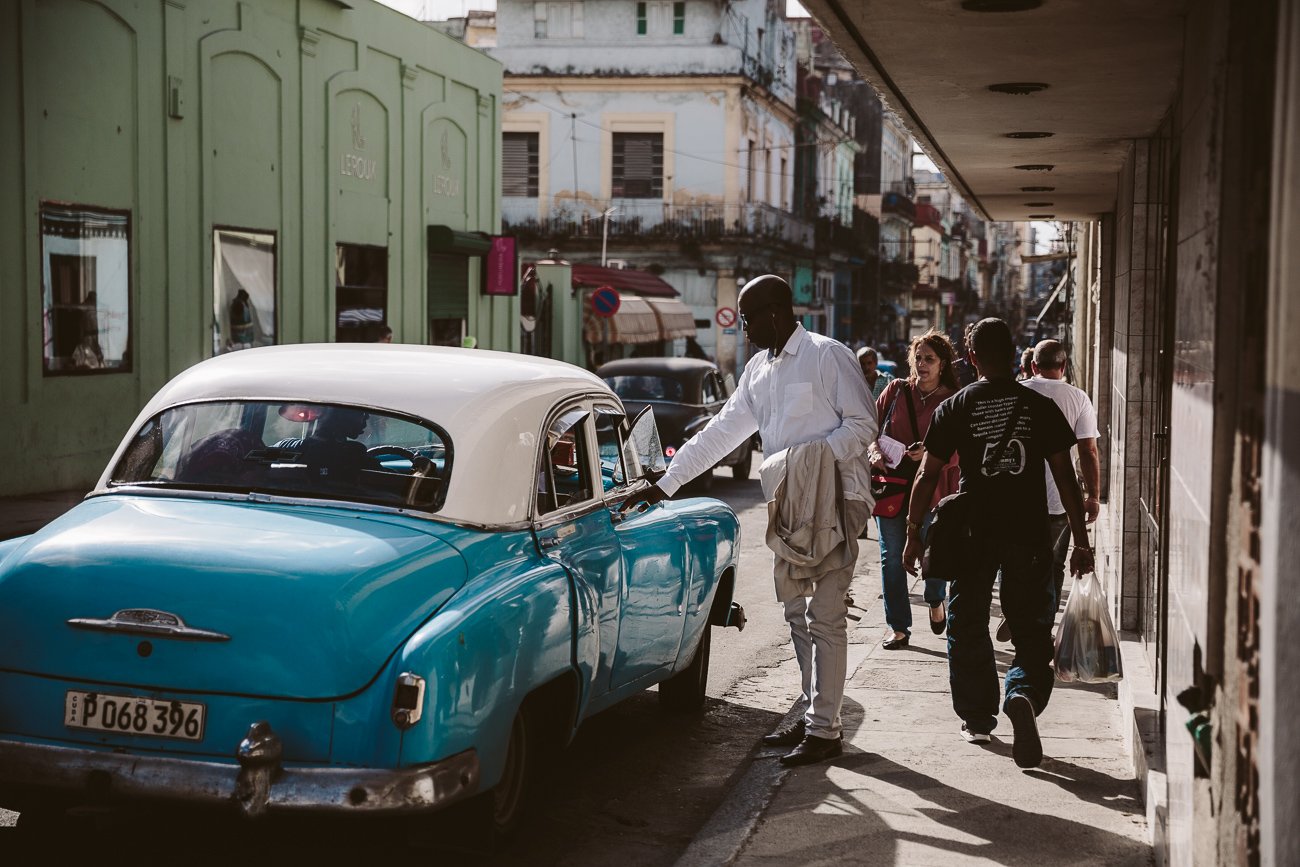 It's a normal street scene in Havana and we try to soak it all in on our first day in the Cuban capital. We don't want to imagine that all this is about to change in the next years…!?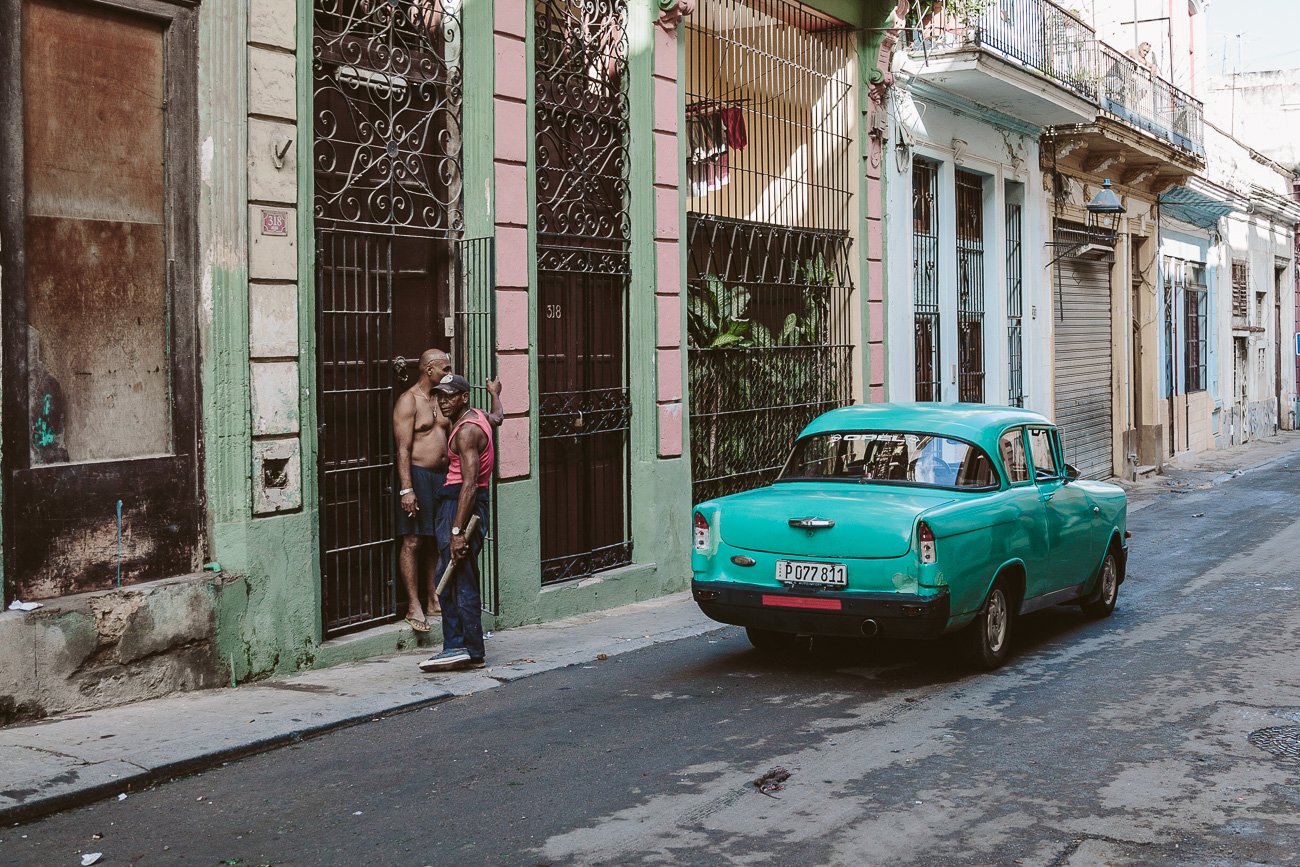 Will the vintage cars disappear? Will the now untouched streets suddenly be filled with billboards and other advertisements for US products? Will the gentrification process start in Havana Vieja and evict all the people that now live in the run down buildings, that seem to crumble and fall down eventually?  Will McDonald's and Starbucks start spreading like a virus?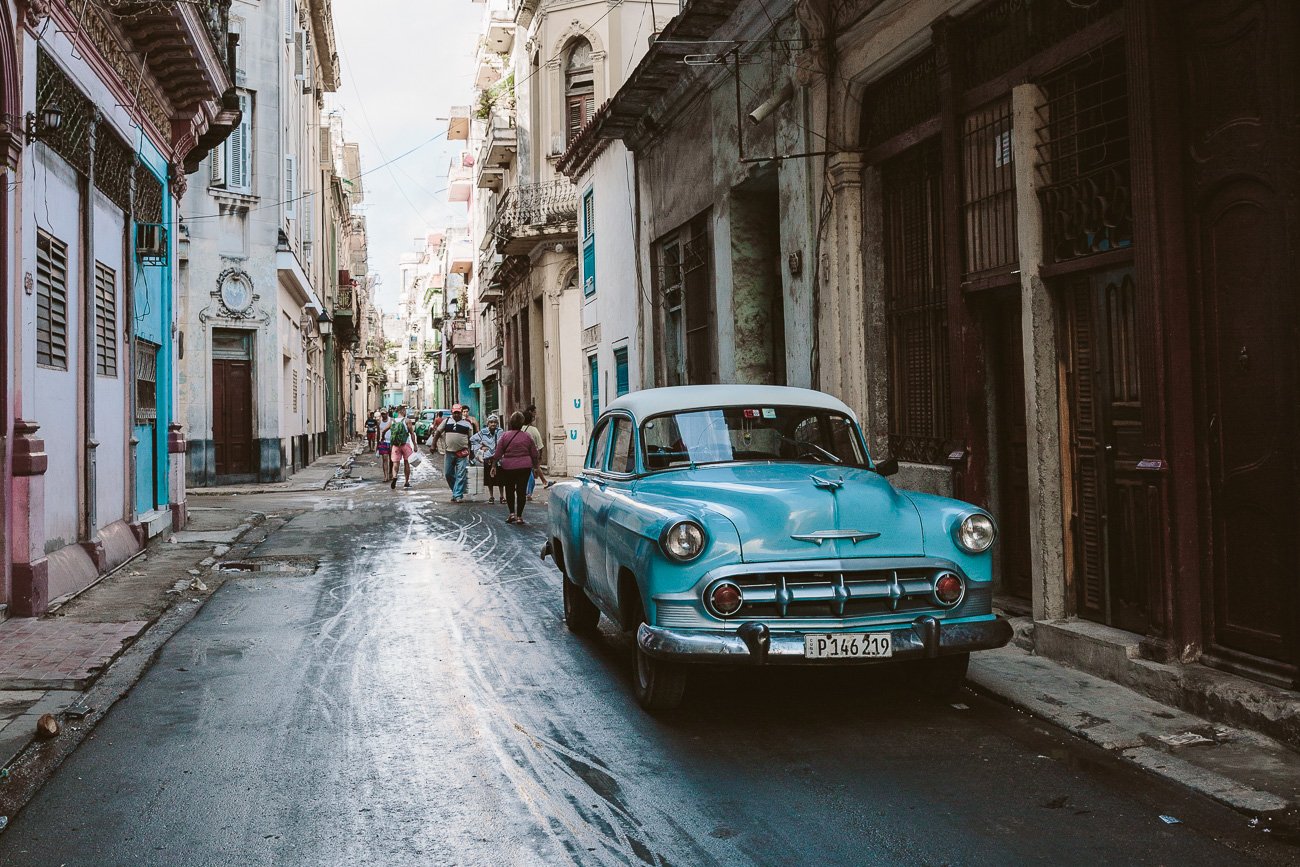 This is a normal street in the city center of Havana – no shops, no billboards, no Starbucks or McDonald's
When you talk to Cubans they seem rather relaxed about the changes we fear for the island. They don't believe that this could even happen to their home country, that was so safe from outside influences for so long. Maybe Cubans can't even begin to grasp how American or European cities look like and have changed over the past decades. While we are used to city centres being cleaned up "dead zones", that are mostly used for business and tourism, Cubans don't fear for that to happen.
Everyone we ask seems to be quite confident that Cuba will become even more independent, although the gates to the US have been opened slightly. They believe in their self-sufficiency, which they had to perfect due to the lack of imports and business opportunities since the 1960s.
But we do see how their eyes begin to lighten up when they get to talk about how things used to be before the embargo. Proudly our taxi driver shows us pictures from Havana before the embargo – a city like any other back in those days. Huge Coca Cola signs adorned the glorious buildings, everything was shiny and new.
Those were they good days… weren't they?
It's hard to reason with these emotions. What we see as charming, beautiful and incredibly photogenic, is indeed a struggle for Cubans in their everyday life. Standing in line for the most basic things like sugar and oil is just unimaginable for us. So all that change that we fear for, might actually be a welcomed progression for Cubans.
"Let's hope that positive change is coming for Cuba, but that they keep what is their true soul!"
And now some practical tips, when it comes to traveling to Havana.
How to get there
Getting to Havana is pretty easy – there are many direct flight connections from all over the world. Now with the US embargo lifted there's also direct flights from many US cities, that are rather cheap.
When we looked for flights from Miami to Havana we found tickets for under 100 dollars! In the end we managed to book a flight ticket for 120 dollars traveling to Havana from Cancún, where we stayed before.
?‍? Our tip:
If you're coming from Europe, you could combine a Cuba visit with a US trip now!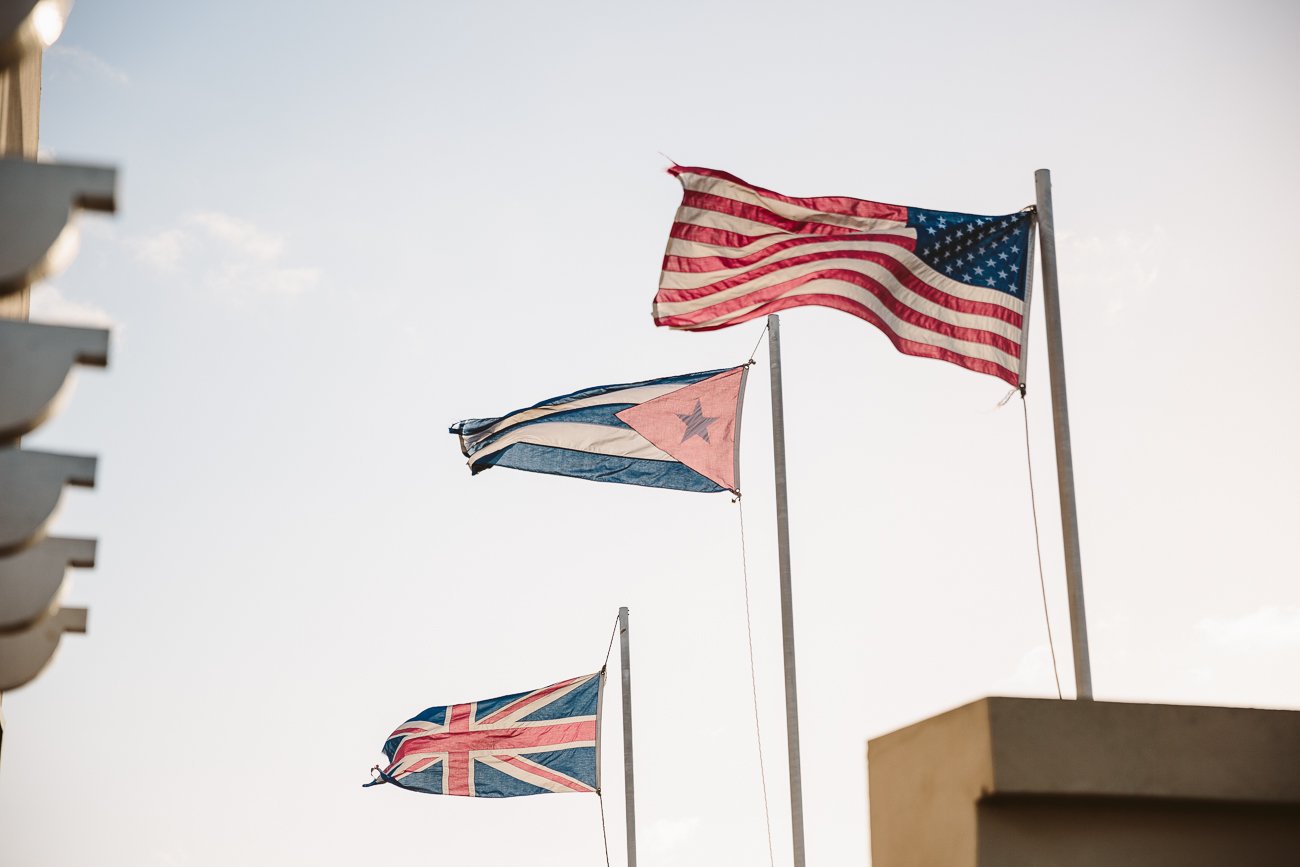 Cuba is moving closer to the US again
What to see & do in 3 days in Havana
The best thing to do in Havana, is to spend the days (and nights) in the streets. If one city deserves all your attention on the streets, it's Havana! The combination of the impressive architecture, vintage cars everywhere and people in the streets makes Havana unique.
We've never seen a city center that felt so alive and energetic as the old town of Havana.
Start your discovery here at Parque Central! This is the perfect entrance to the old town called Havana Vieja.
Take half a day to discover all the small alleys of Havana Vieja and stop at the countless Plazas (Plaza de Armas, Plaza Vieja, etc.).
Marvel at the architecture of the Capitol and the "Gran Teatro de Alicia Alonso", named after Cuba's most famous prima ballerina, from the rooftop of Iberostar Parque Central hotel.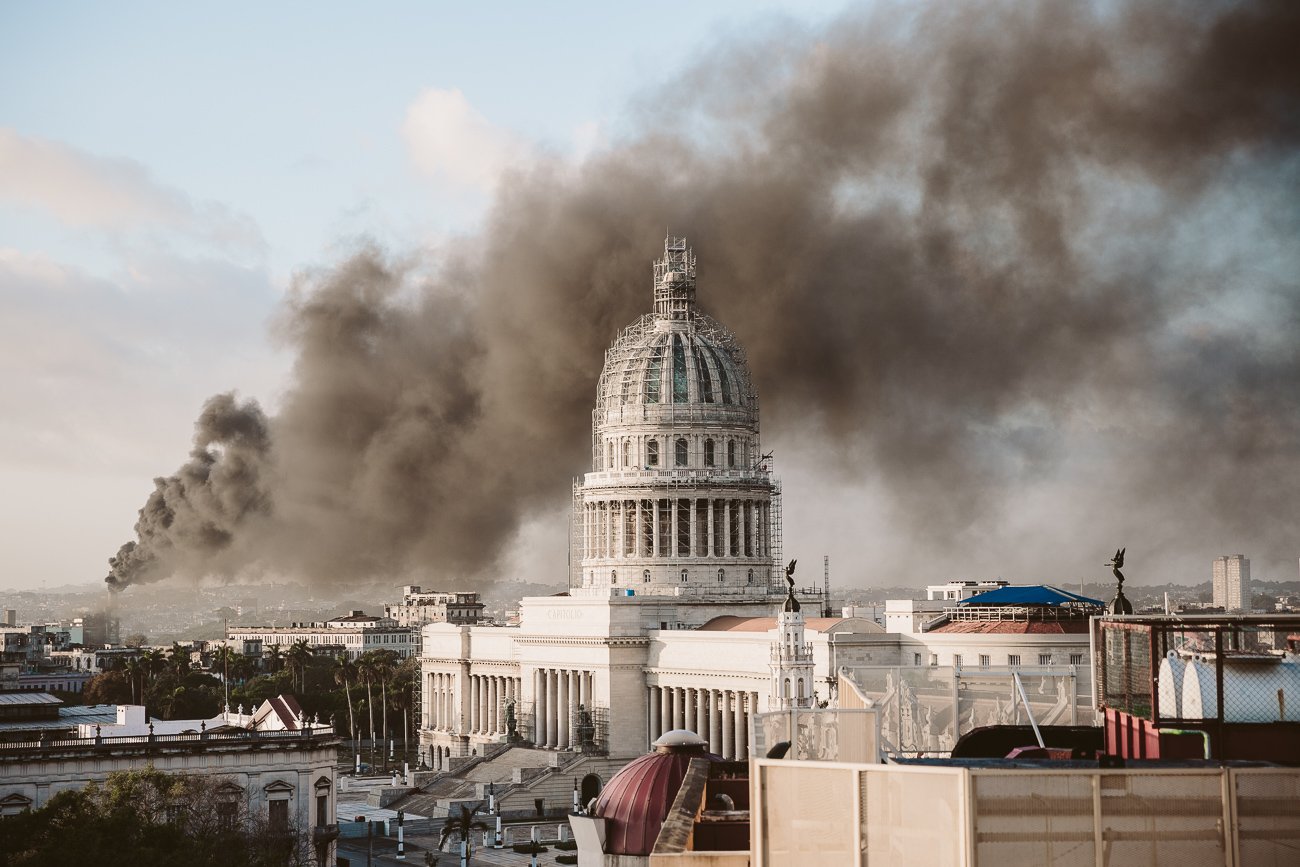 The views from the rooftop of the hotel are ever-changing – smoke rising up at the early morning, magic light at dawn and even at night it's quite spectacular.
?‍? Our tip:
If you're not staying at the hotel, visit the rooftop for a cocktail in the late afternoon and hang out until the sun sets.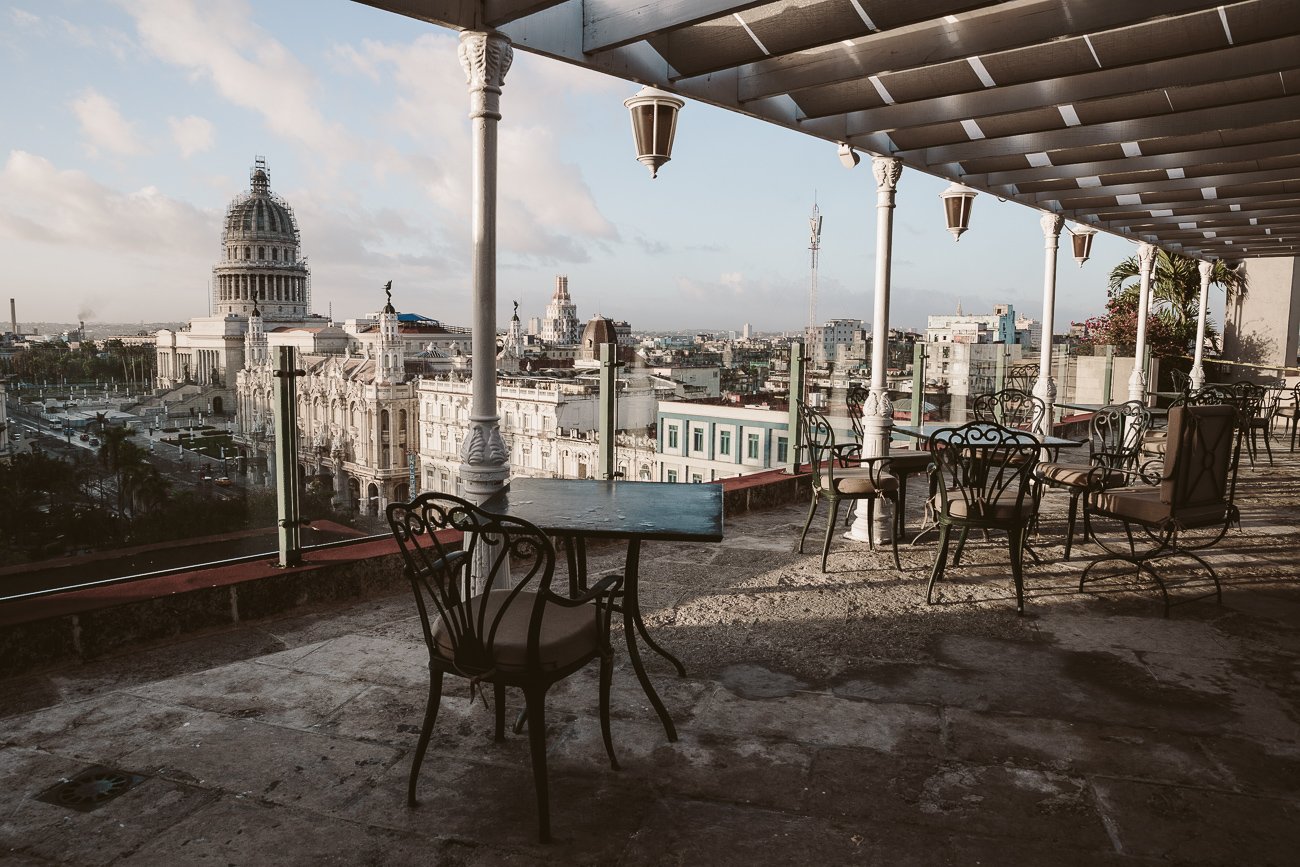 Directly in front of the hotel you can also book a tour with a vintage car. This costs about 35 CUC (the currency for tourists, which is more or less equal to the dollar) for 1 hour. Make sure to book a tour in a convertible for the original feeling!
The driver will show you a few of the classic sights of Havana, but after all it's more about the feeling of riding one of those vintage cars – in our case a 1954 Chevrolet.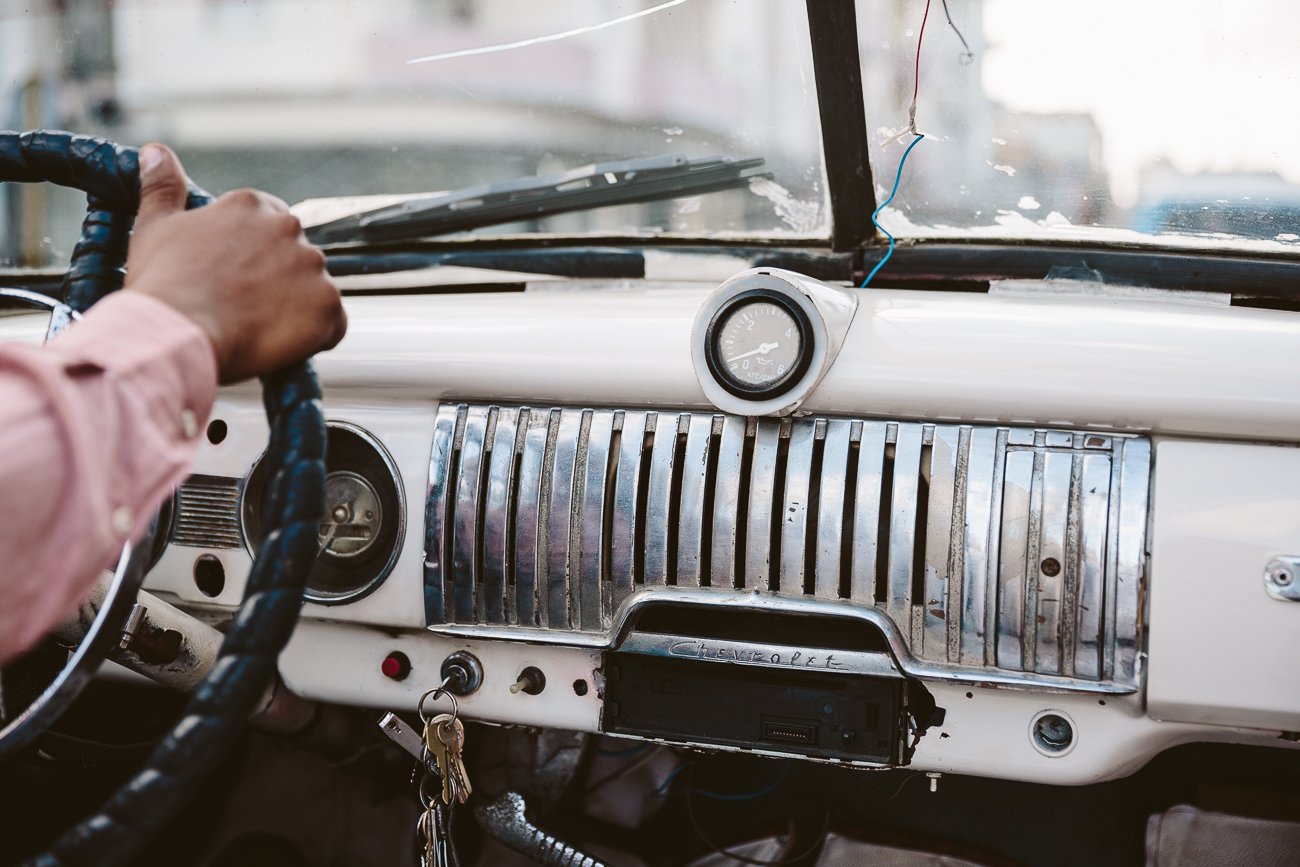 Your driver will definitely make a tour stop at Plaza de la Revolucion and proudly show you their icons – revolutionary figures Che Guevara and his companions.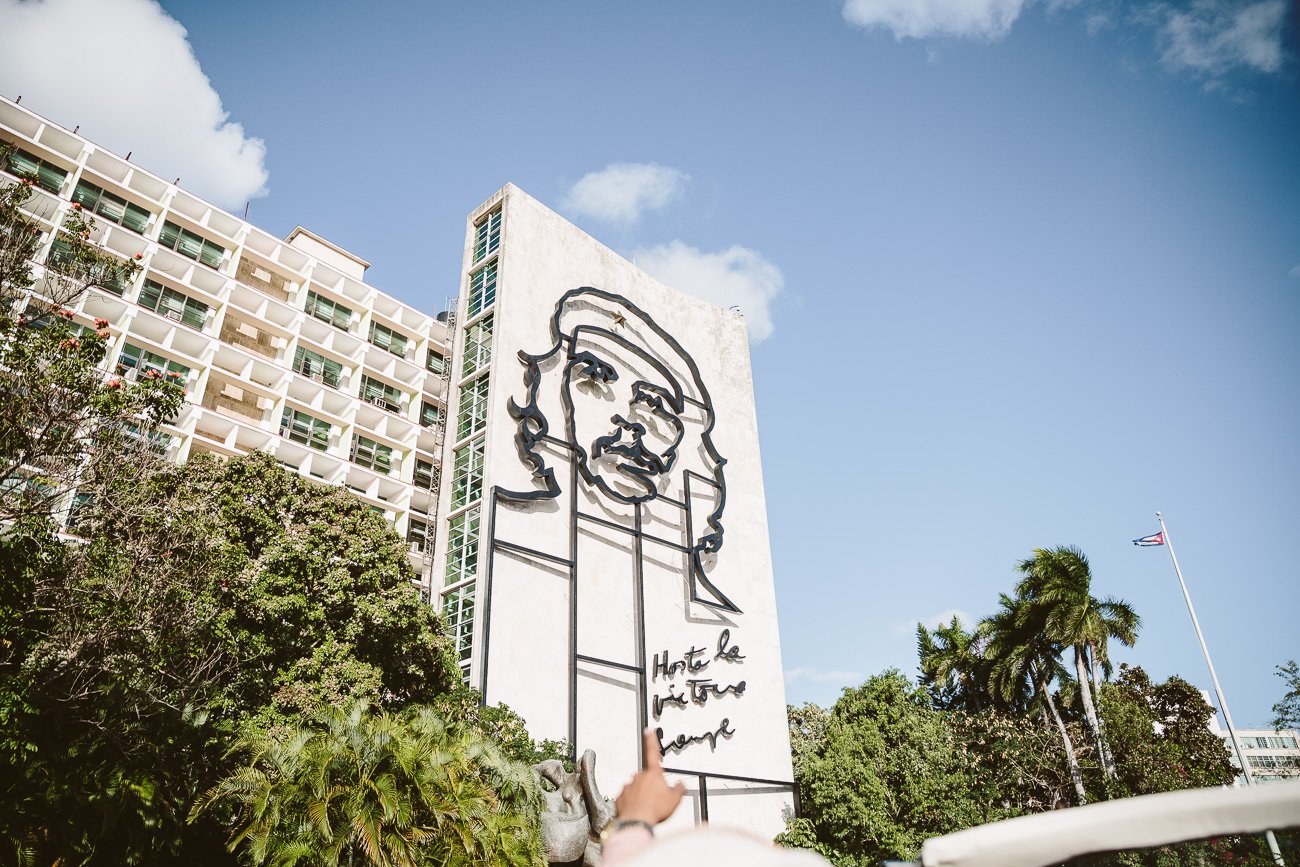 Another must see is the Malecón ocean drive. This broad street, that spans a couple of miles alongside the seawall, is a popular hang out spot in the afternoon. Here you'll get incredible views of the ocean while countless vintage cars are passing by.
When we visited it was quite windy and the tidal waves crushed against the walls of the Malecón. The whole street was flooded and was closed for traffic soon after this picture – and for the rest of our stay (a couple of days). The flooding was one of the heaviest in recent years and quite spectacular to watch! Even the locals gathered to watch the spectacle.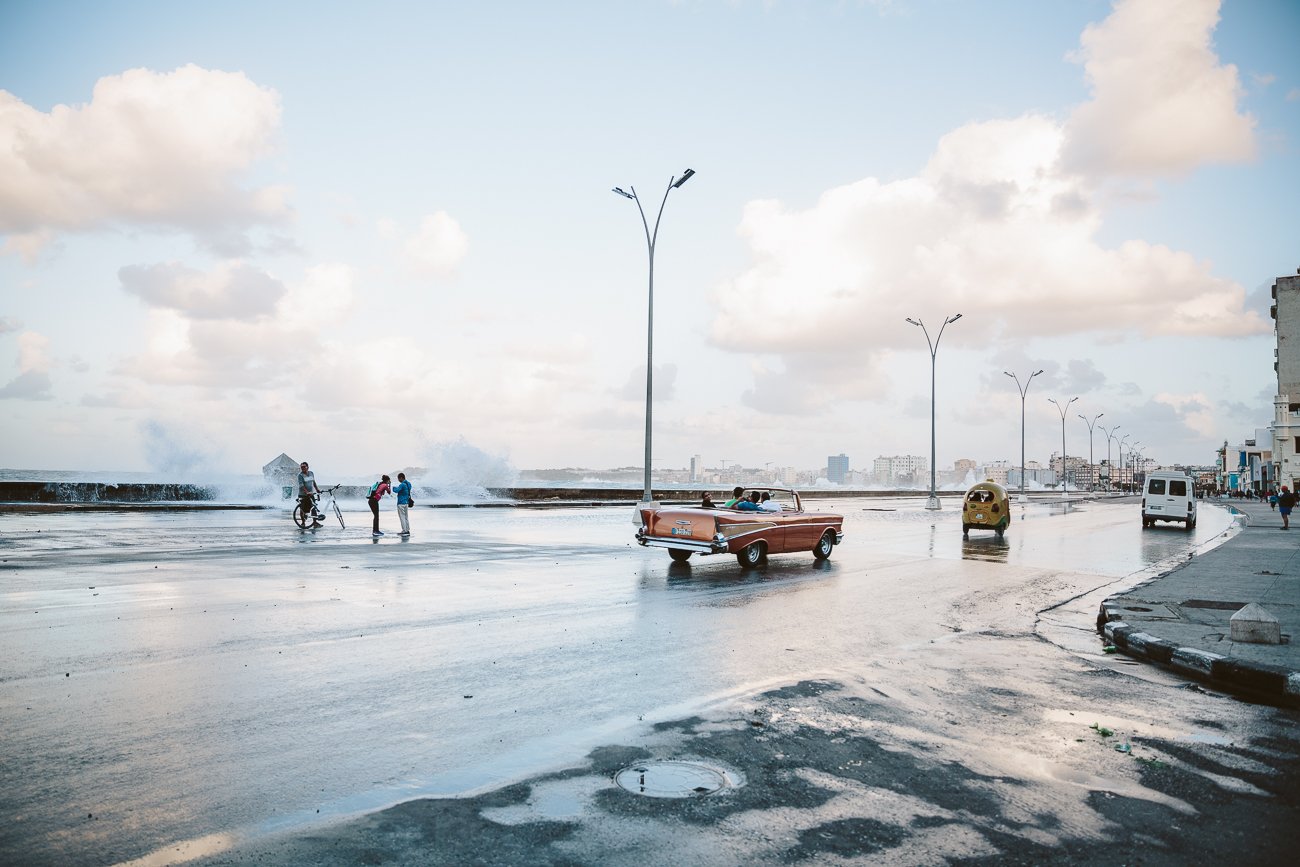 The next day you should check out the Centro Habana and Vedado districts, which span to the west from Parque Central. This area of the city is a little less popular with tourists, but equally interesting.
In this neighbourhood you can also find some examples of less classical architecture, that makes a great contrast. There's even some brutalism in this area of Havana!
The view from the rooftop of Iberostar Parque Central over Centro Habana
When you end up at Malecón in the evening and are too tired to walk all the way back to your hotel, make sure to ride in a Taxi Colectivo. These shared taxis are used by locals all the time – just stand at the corner of the street with everyone else! (But: Try to find out first on which street side you have to stand to get the cars that drive in the right direction.) This way you get to ride a vintage car for just 1 or 2 dollars (depending on your negotiation skills).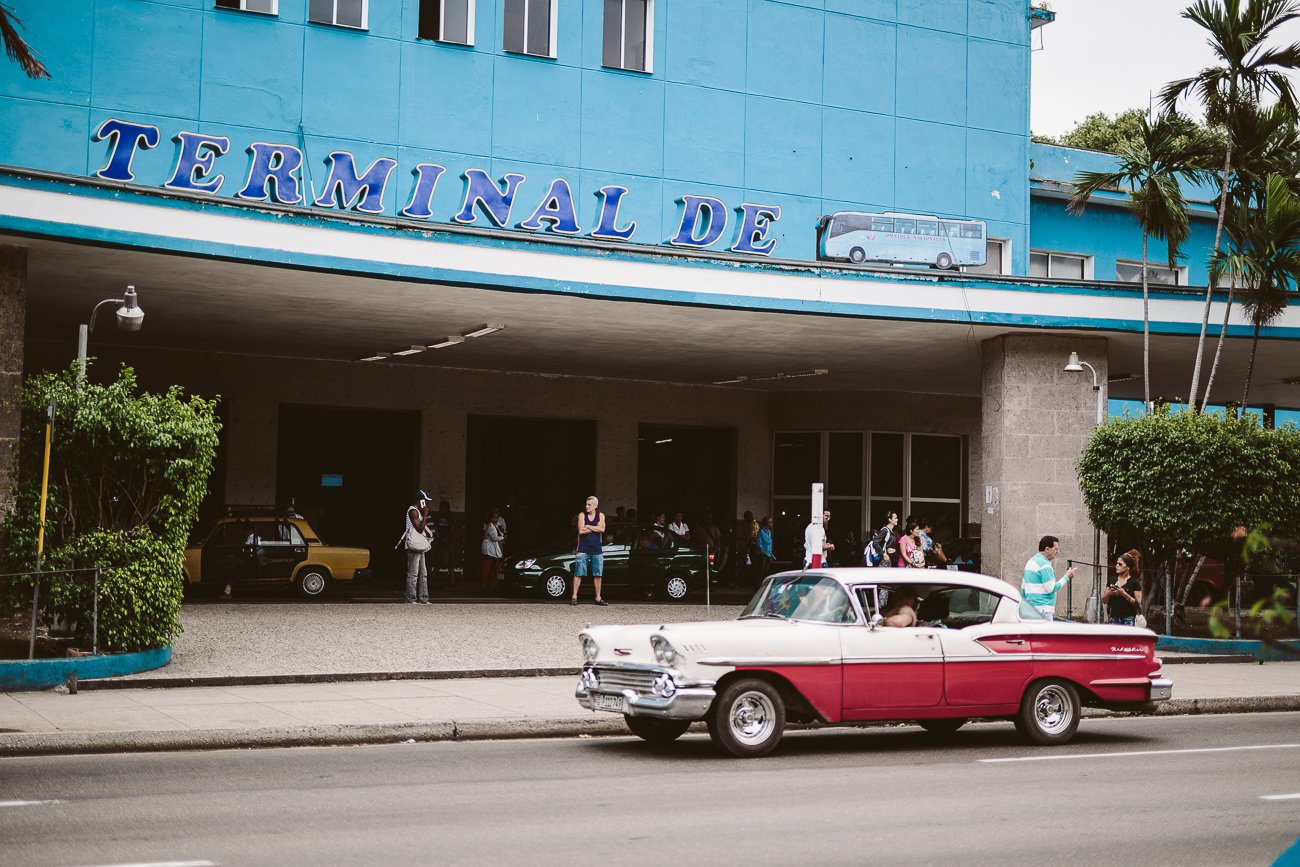 Bus terminals are the main Colectivo destination – from here you can pick up one easily
Where to go on a day trip from Havana
On Day 3 we decided to leave Havana for a day trip to Viñales, the area of tobacco fields and the famous dome-like hills called mogotes. We'll share more about that in an upcoming blogpost, but let's say one thing: It's a must do when visiting Cuba and really worth the (rather expensive) trip!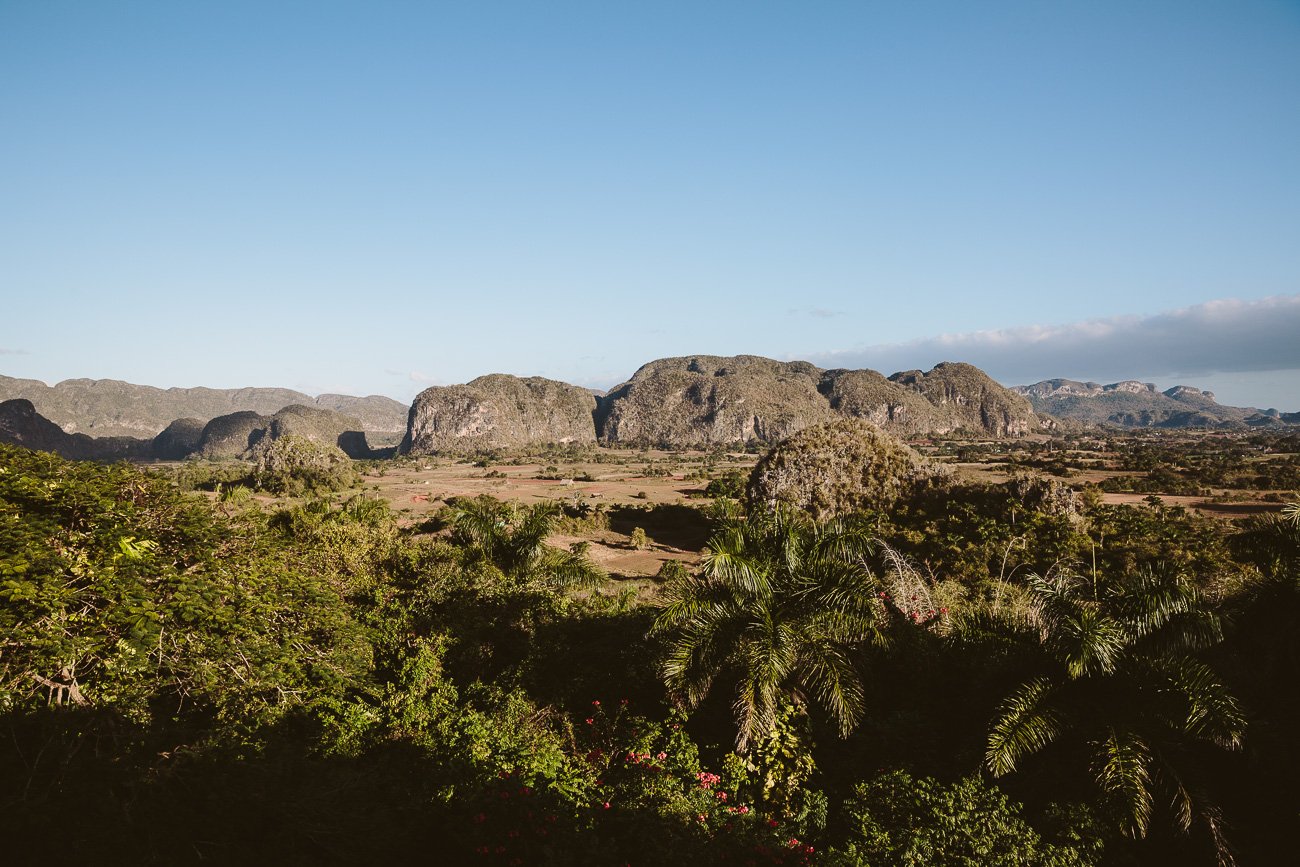 Preview of the Mogotes in Viñales
Where to eat in Havana
As you might have already guessed, we're both vegetarians, therefore we cannot always taste everything that the local cuisine has to offer. This is especially true for Cuba, as there's a lot of fish and pork in their diet. So here's where we went for some vegetarian dishes:
304 O'Reilly
This place is quite famous with tourists (our guess is that they pay a lot of commission to hotel Concierges and locals who recommend their restaurant). Our verdict: Nice atmosphere, amazing drinks, mediocre food. Go there for a cocktail! Our check was 20 CUC for 2 people, so it's not too expensive!
Casa Miglis
This restaurant is supposedly Swedish-Cuban, but we had a proper Italian lunch there. Everywhere in Cuba there's Italian food, they love Pizza and Bruschetta. But you can also get a very good Gazpacho here. Our verdict: Beautiful place, very good food, a bit pricey. We paid 50 CUC for 2 people, but also had dessert. Definitely check the banana surprise made with local honey – it's divine!
Our highlight was the view from the restaurant's window: Everyone plays domino in Cuba in the streets
Other restaurant options include:
La Guarida: 418 Concordia, La Habana, Cuba (Make sure to book a table well in advance, it's super overbooked, although it's quite expensive)
El Cocinero: Calle 26 entre 11 y 13, Vedado, La Habana, Cuba (do this for dinner and then go to the art space next door – we heard it's supposed to be great!)
Where to stay in Havana
Almost everyone who visits Havana stays in a Casa Particular – one of the private rentals. Now that Airbnb has been opened for Cuba it's even easier to find a nice homestay there. We didn't get to test this, as we stayed in a hotel – mainly for one reason: Wifi!
Hotels are amongst the only places you'll get decent internet in Havana. At the Iberostar Parque Central we even got free internet, which is the purest form of luxury in Cuba 😉 As we needed to work and be able to upload photos + videos this was a key ingredient for us! Make sure to read ou blogpost about the hotel Parque Central, so you can decide for yourself.
Everything you can see in this hotel room cannot be taken for granted when in Cuba. Due to the embargo it was a challenge to furnish hotels with everything we are used to as guests: Wifi, Air Conditioning, TVs, etc. – but all this is made our stay in Havana quite comfortable 😉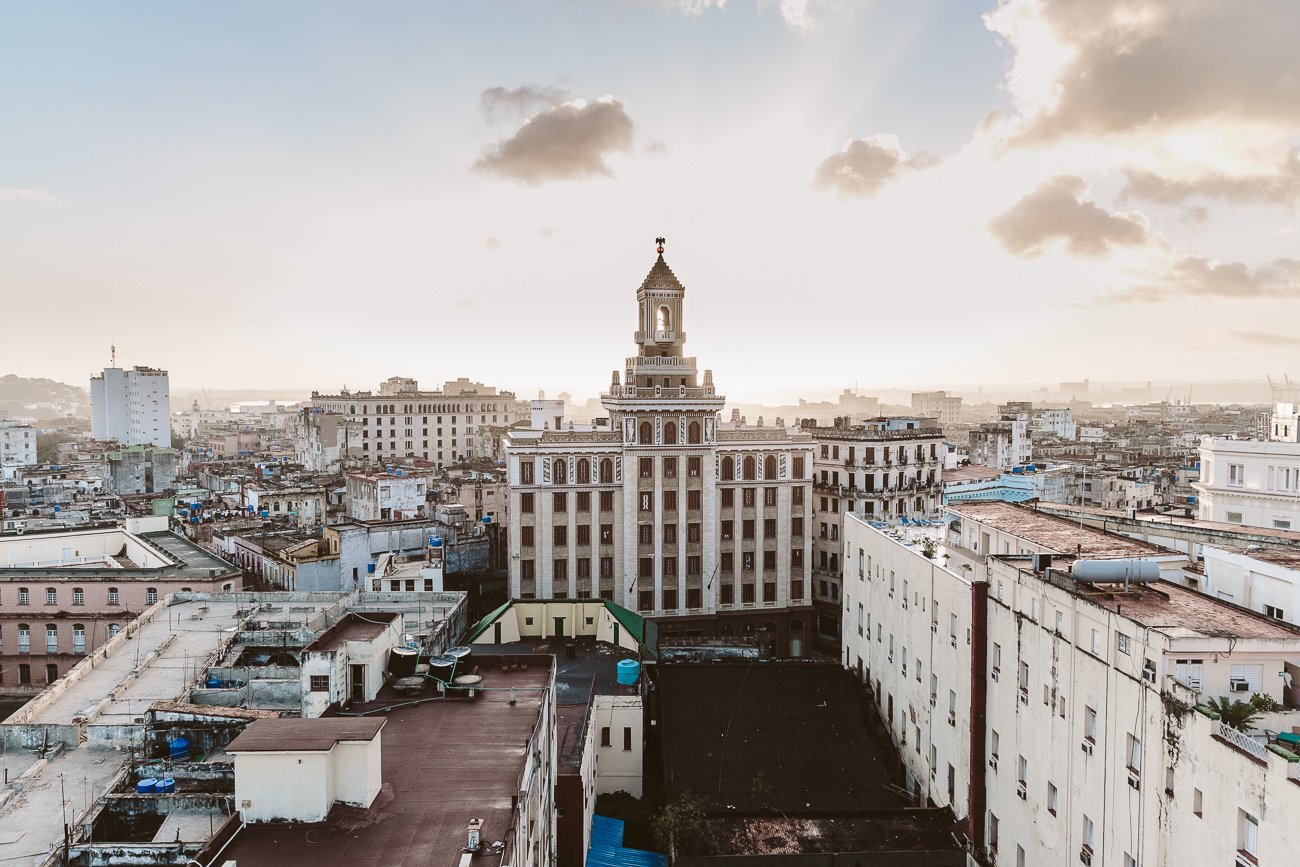 This view from our hotel rooftop at sunrise was quite a highlight as well!
So before we let you off the hook, here are a couple more impressions from Cuba's capital Havana. We really hope that the inevitable change, that's coming, won't damage the beauty of this city!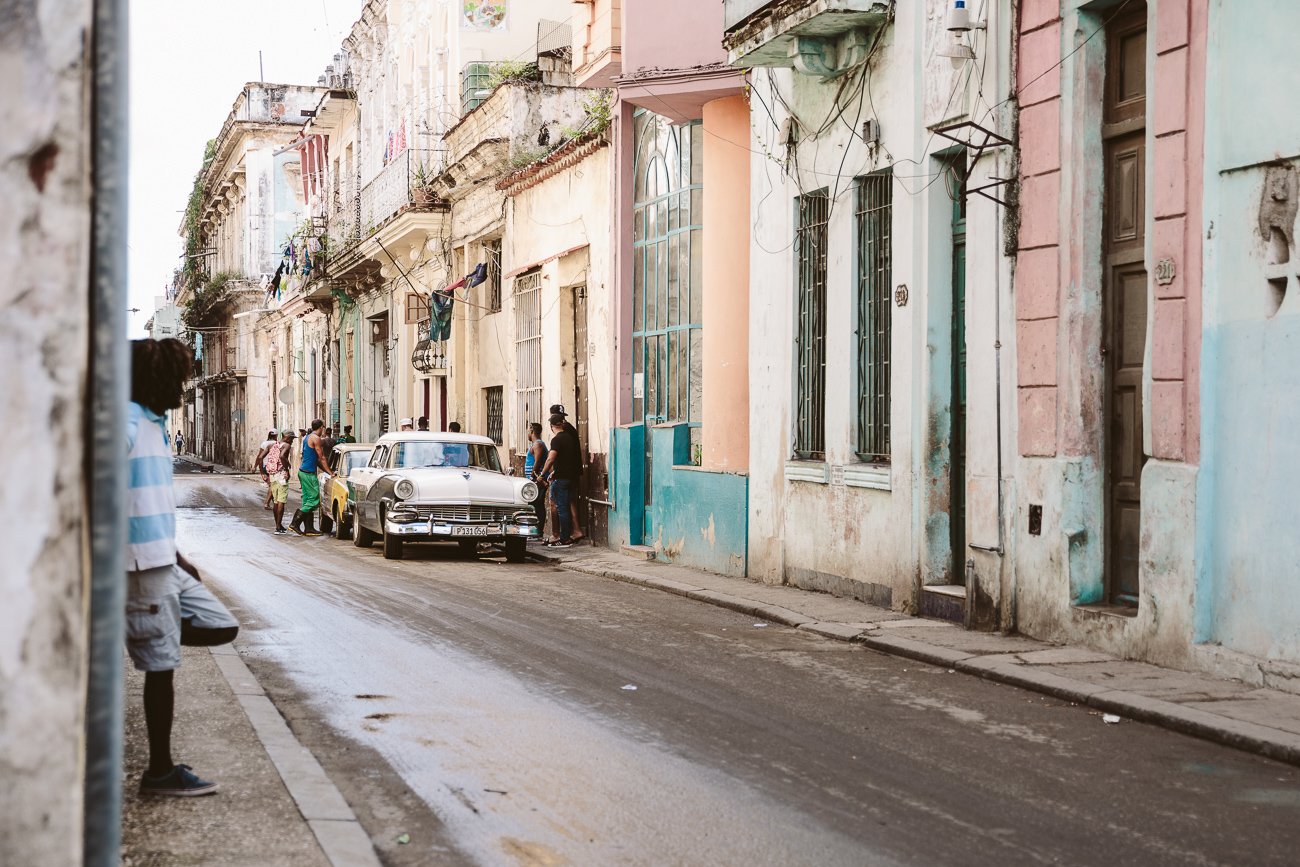 After our days in Havana we moved on to Varadero and later on to Trinidad to discover more of the island's diversity. So stay tuned for more Cuba blogposts soon here!
Disclaimer: We were invited to stay at Iberostar Parque Central, but our views of the hotel stay independent from that invitation.