If you visit Myanmar then either Yangon or Mandalay will probably be your first destination. Most international airlines fly to these cities. We decided to start our 4 weeks in Yangon and flew in to the city with AirAsia from Bangkok. And what happens next is… sensory overload! Welcome to Yangon, the city of chaotic traffic, crumbling facades and temples. Countless temples.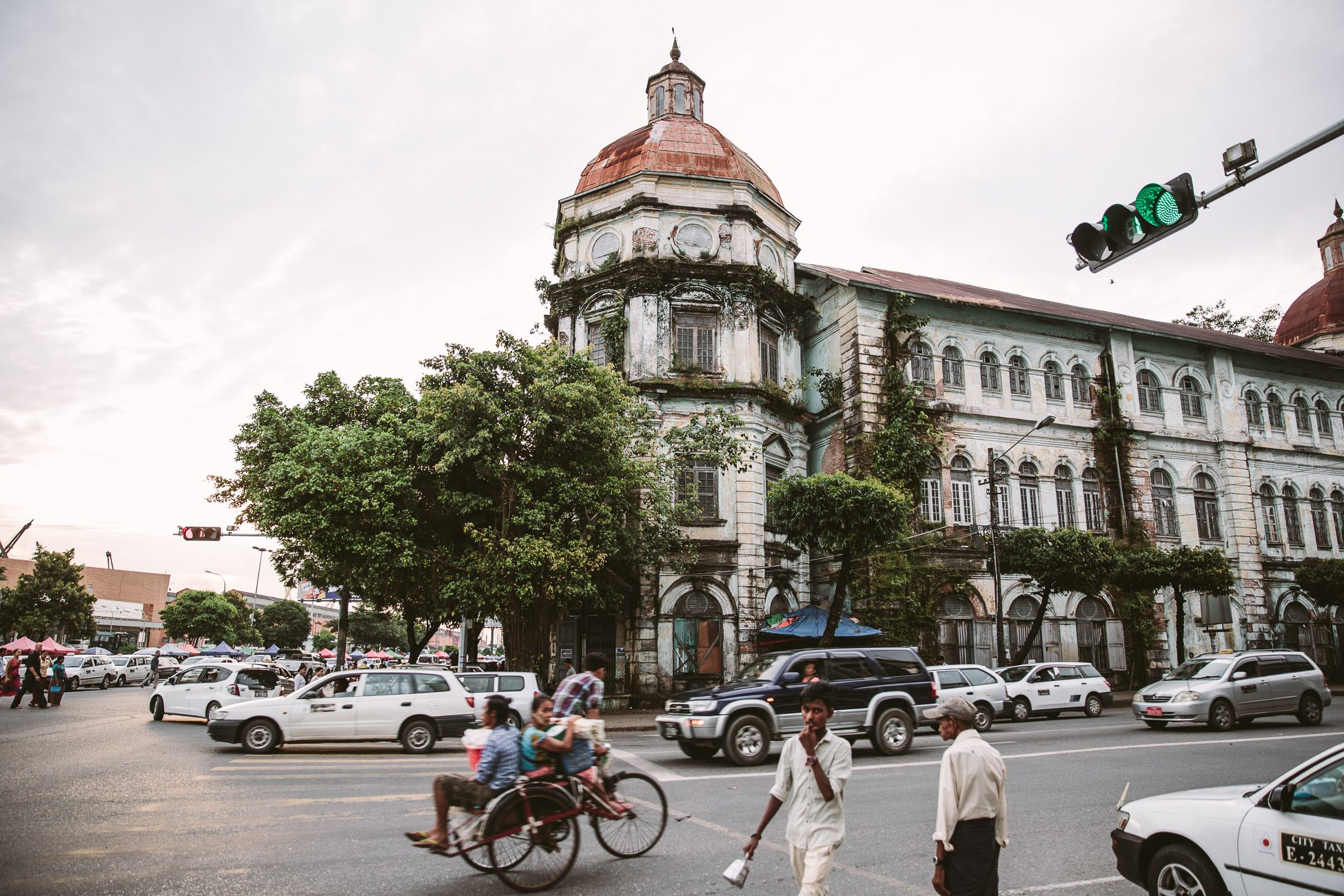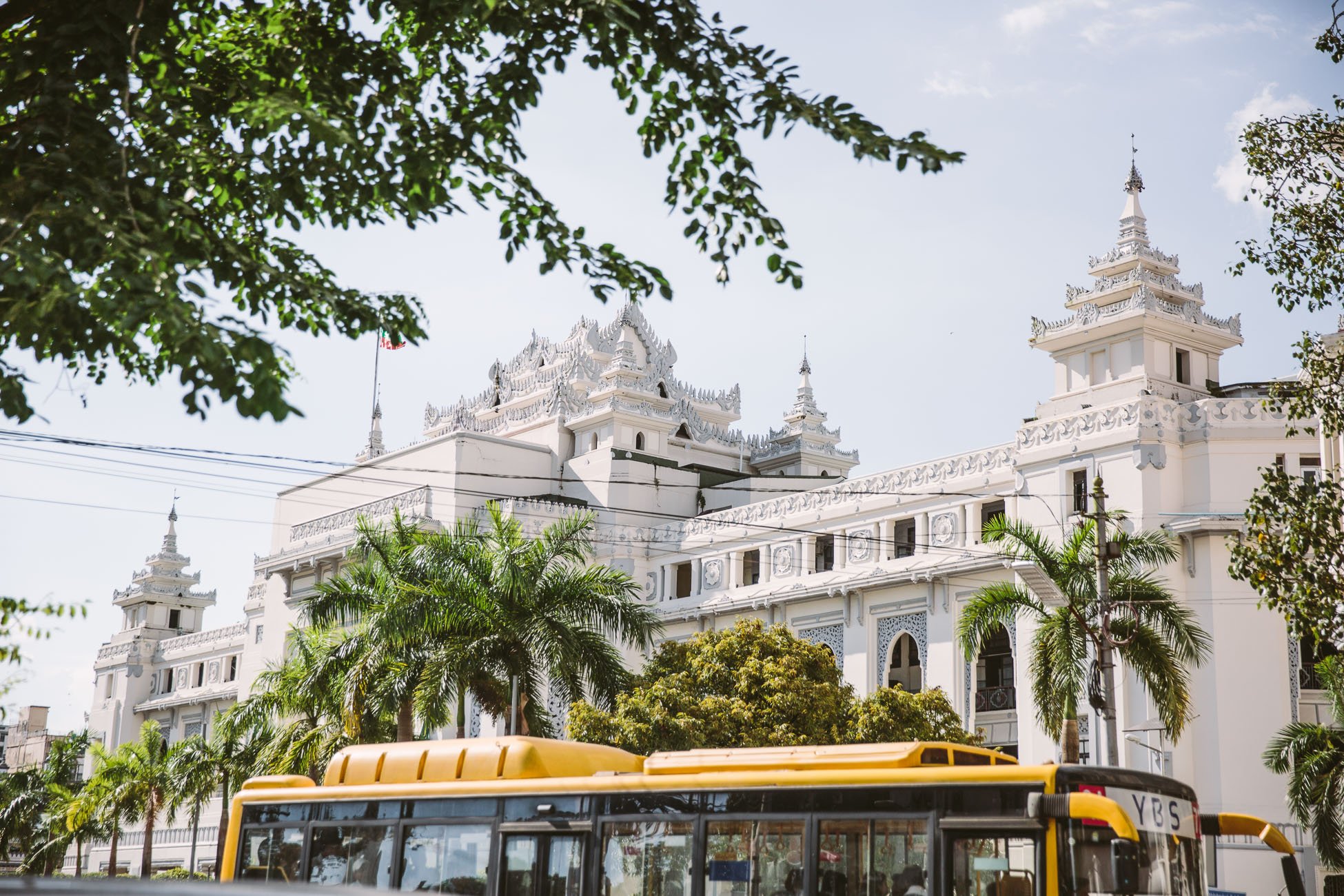 First impressions of Yangon – overgrown colonial architecture vs. shiny new facades.
Yangon is a bustling metropolis with at least 6 million inhabitants (locals say it's more than 8 already), but who's counting? The city is growing rapidly – and most people we met in the countryside were aiming to send their children to Yangon to either study or work. So it won't become any smaller anytime soon 🙂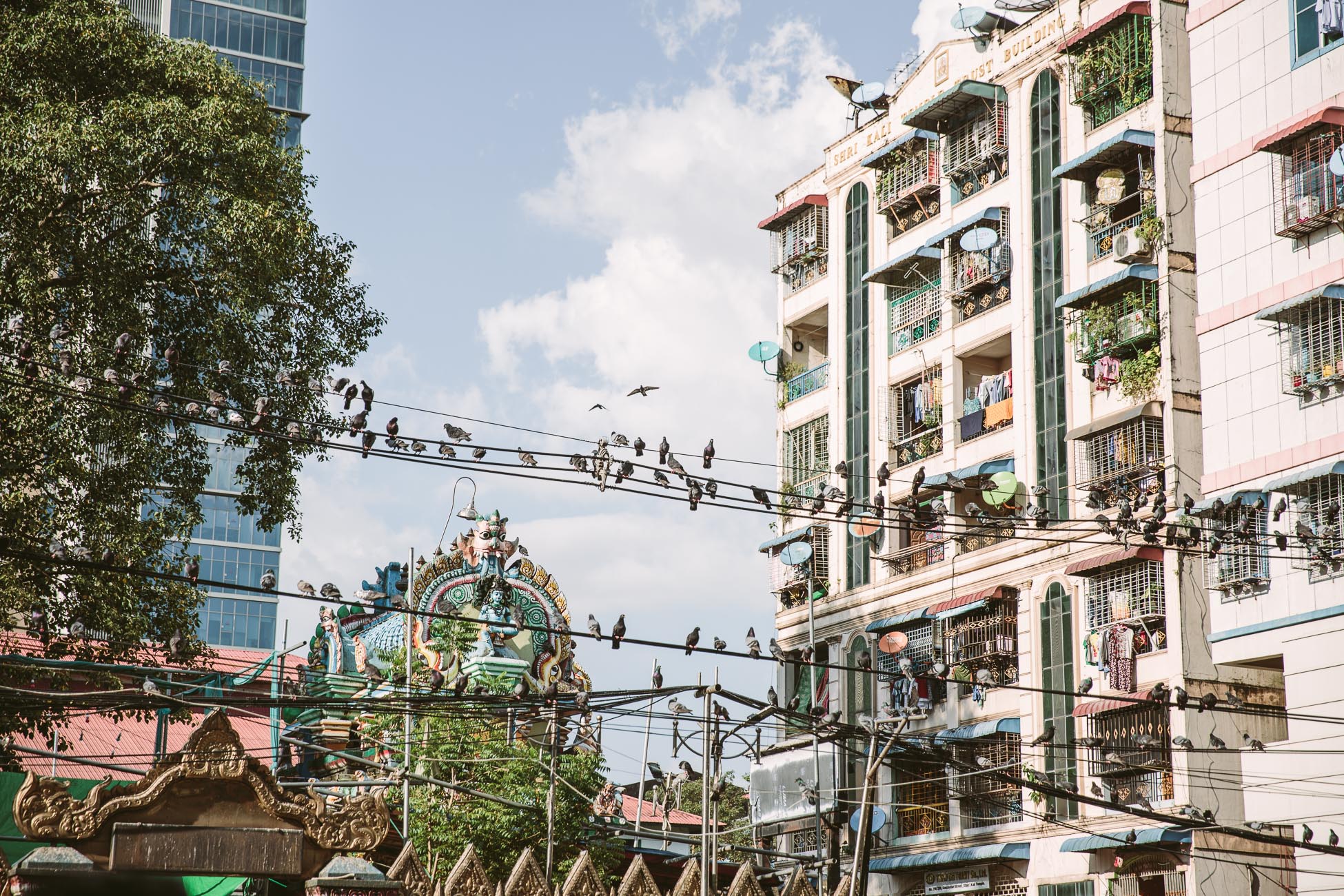 The city center of Yangon isn't only crowded with birds.
Like any Southeast Asian city the streets of Yangon are packed with food stalls, cars are honking, nobody cares about traffic lights and the humid heat adds to the overwhelming feeling. But then we notice the big difference: There are no motorcycles! Yangon has banned motorcycles from the city and it makes all the chaos and hectic a little more bearable.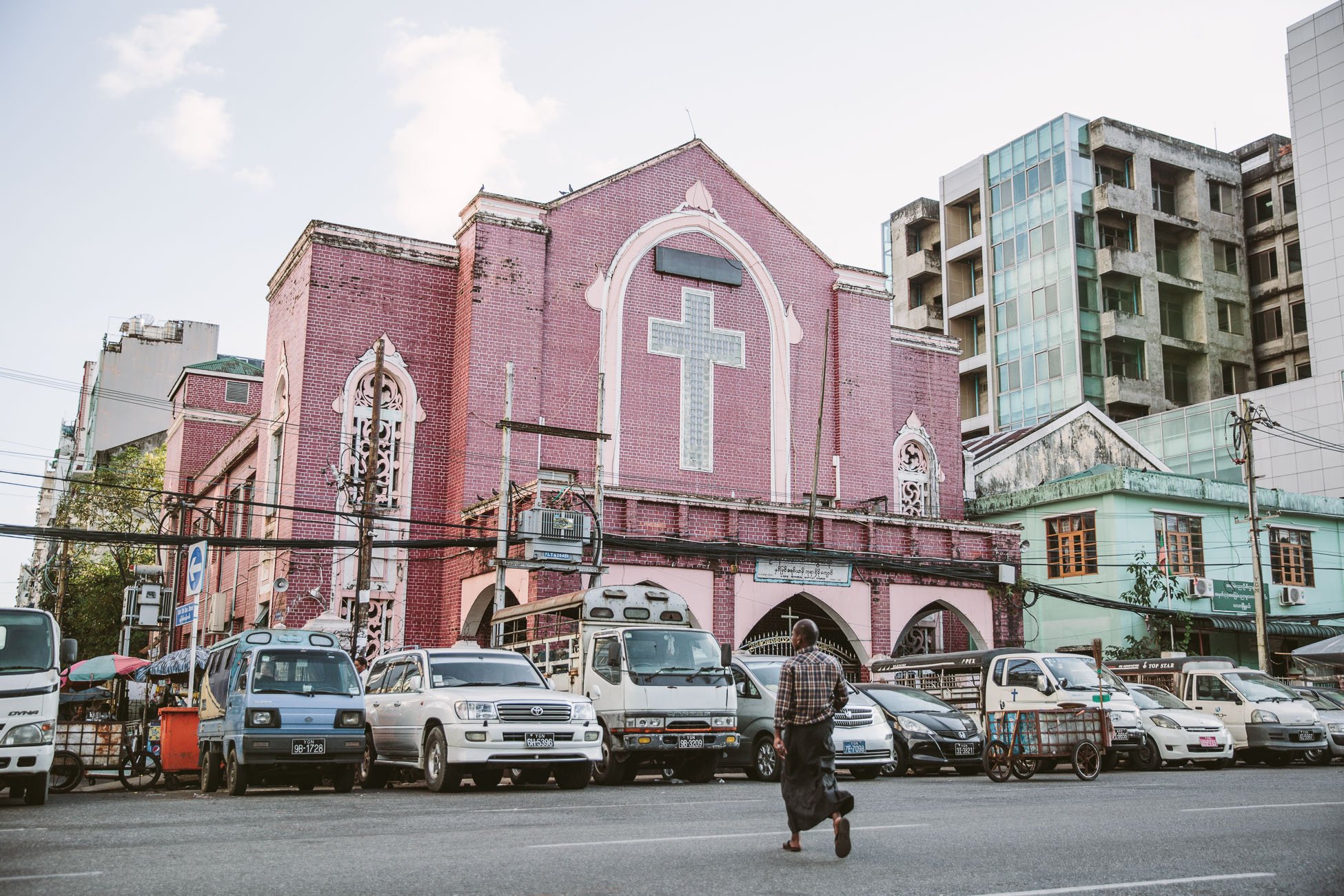 Yangon is the first Southeast Asian city we visit that has banned motorcycles!
So what's there to see, to explore and discover?
Here's our list of Must Do's when in Yangon:
Visit Shwedagon Pagoda (at sunset)
Check out Kandawgyi Park (early in the morning)
Have afternoon tea at the Strand Hotel
Go to the street market in Chinatown
Watch the sunset from the rooftop of the Esperado Lake View Hotel
Discover the colonial past & remains in the architecture
So let's go into detail about our Top 6 for a Yangon visit!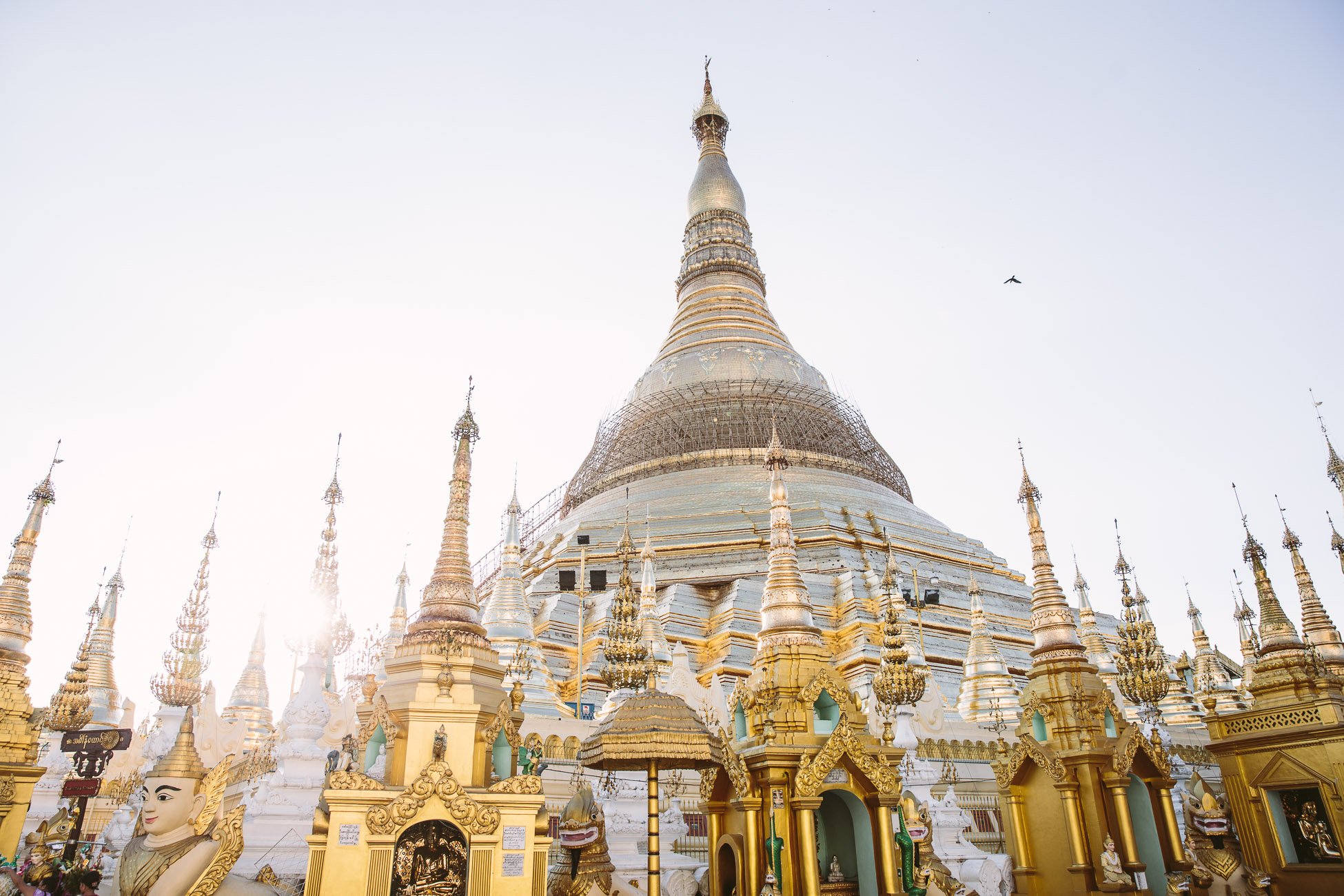 The most iconic stupa in Yangon – Shwedagon Pagoda!
1. Shwedagon Pagoda
Shwedagon is the religious, cultural and touristic centre of Yangon. It's hard to grasp the size of the pagoda from photos, but it's height of 95 meters is quite impressive! When we visited in October 2018 the pagoda was getting ready for a new gold coating. This is done every few years with real gold – bought from the donations of the visitors. Now when we say visitors we mean 99% local Myanmar people. It's one of the most holy places for Buddhists in Myanmar, so they all try to make at least one pilgrimage per year to Shwedagon.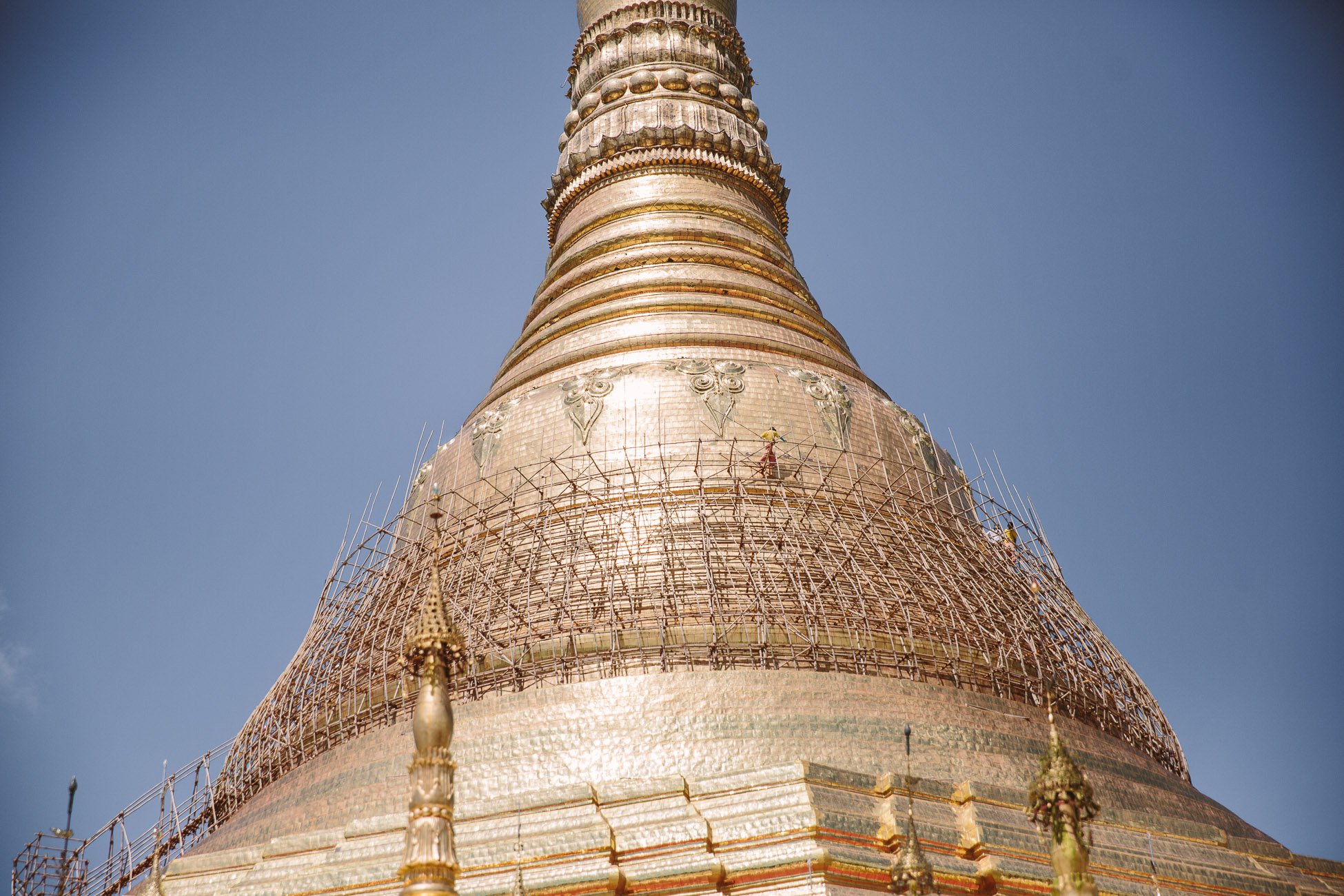 It's hard to grasp how tall the Shwedagon pagoda is – until you see the workers who set up the bamboo scaffolding!
At any temple in Myanmar (and other Buddhist countries) it's forbidden to wear shoes. So we leave our shoes at the entrance (for a small fee of 1.000-2.000 Kyat, the local currency – about 50 cent to 1 Euro) and then we take the final steps up to the pagoda. We recommend to take the Eastern gate to enter Shwedagon, because here your taxi driver can bring you as far up as possible! Local visitors don't pay an entrance fee, but as a foreign you have to pay a 10.000 Kyat ticket (5-6 Euros) to enter.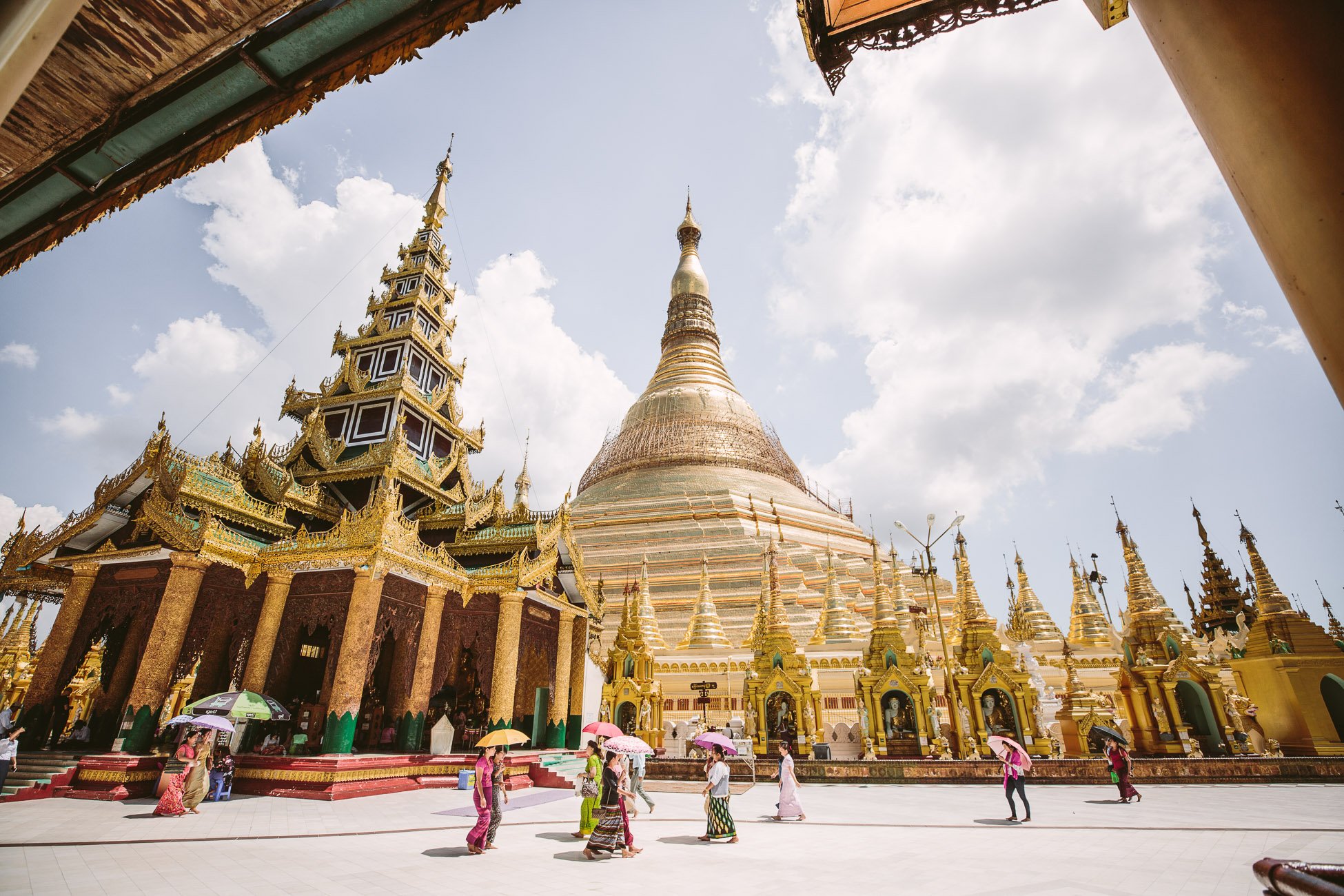 During the midday heat locals bring umbrellas to brave the sunlight!
We went to Shwedagon Pagoda 3 times during our visit. Once around noon together with our local guide, who explained a lot about the history of the pagoda and also brought us to some hidden corners of the huge compound. We would definitely recommend to hire a guide for a visit – not only to support the local people, but especially to learn about the Myanmar customs and beliefs!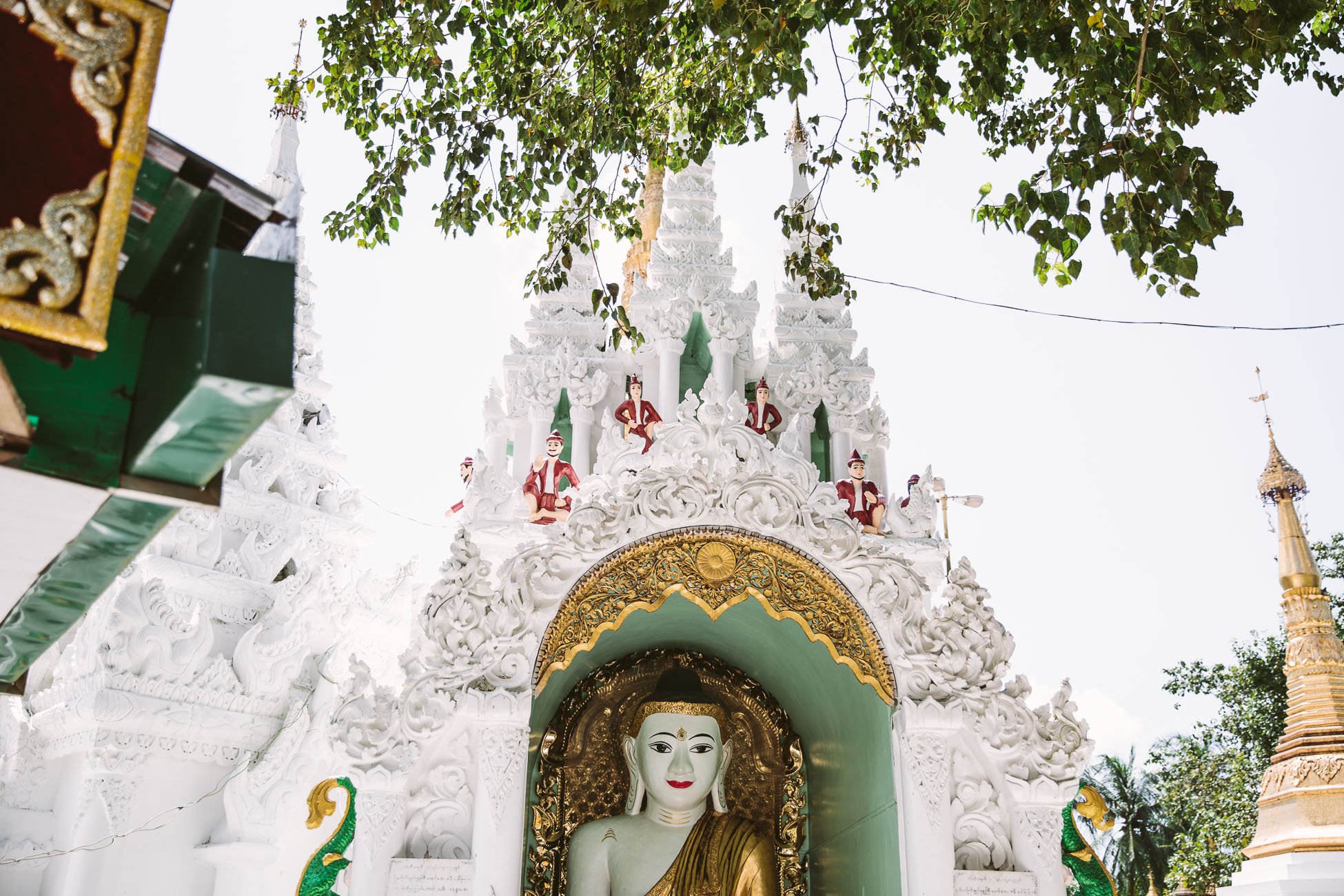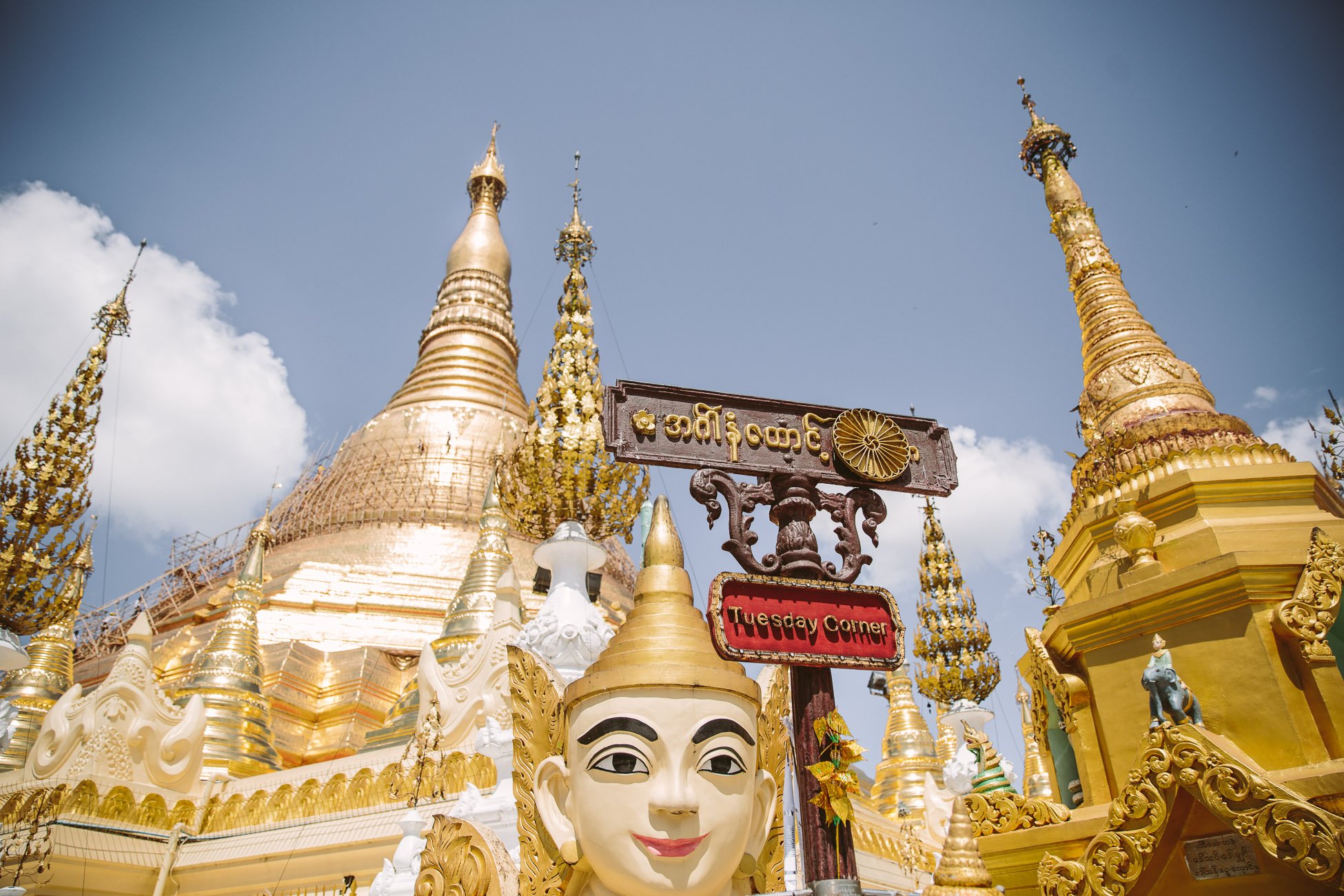 Every corner of the pagoda is dedicated to a day of the week.
People donate at their birthday corner to collect good merits.
Midday is probably the least busy time at Shwedagon, because the heat makes it tough to walk around in the scorching sun. Therefore we decided to return the same evening to watch the sunset and enjoy the cooler temperatures – like most of the locals do as well (make sure to bring your tickets if you return the same day – they are valid for the whole day).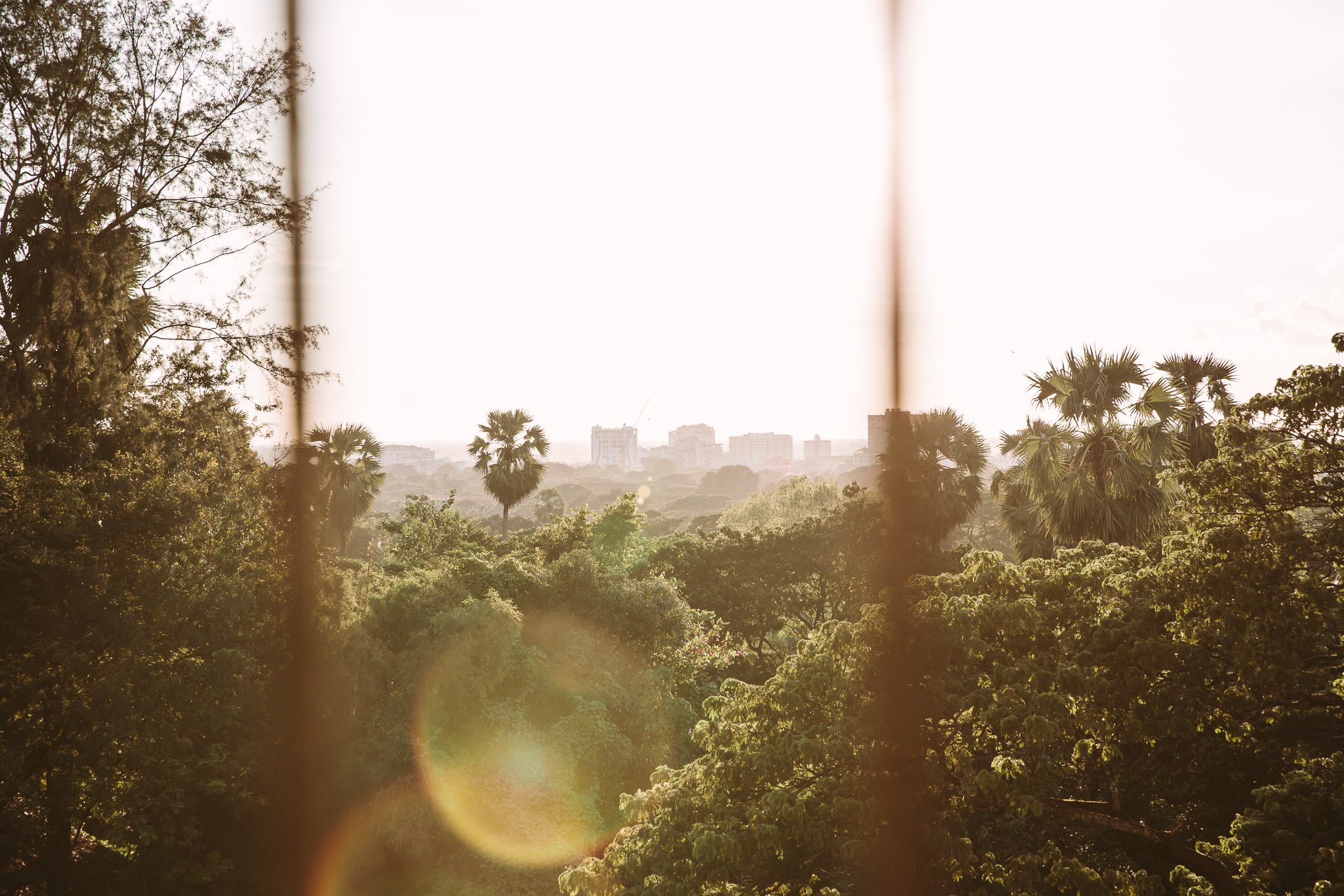 There are a few corners where you can get a sunset view over Yangon, but it's obstructed by trees and fences.
Most of the local people use temples like everyday living spaces, they sleep in the shadow, eat in the temple buildings and jut hang out there to chat and meet up. Temples aren't only places of worship and prayer and therefore give a great glimpse into local life! Especially in the evening Myanmar people gather at Shwedagon and it's a magical time for a visit.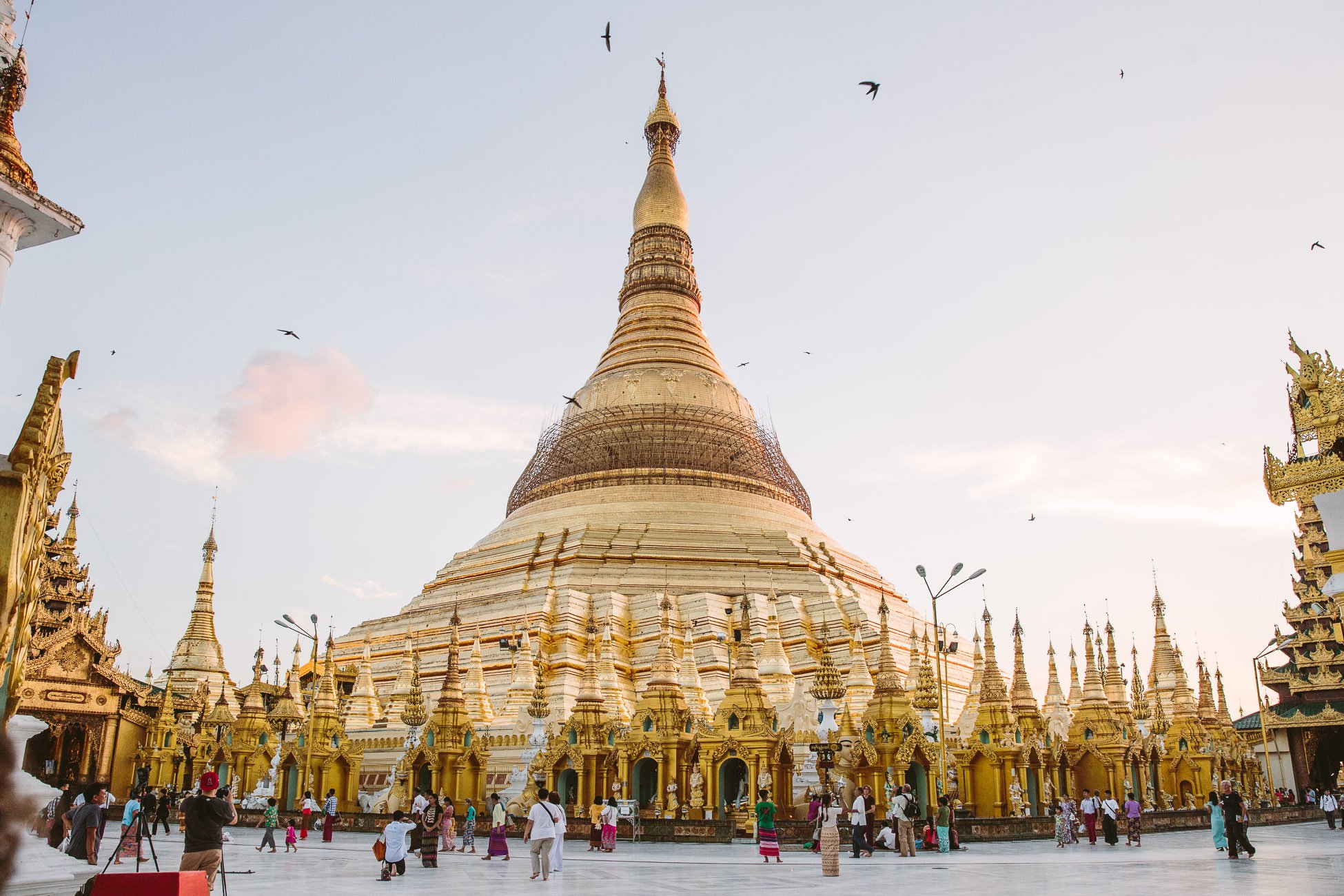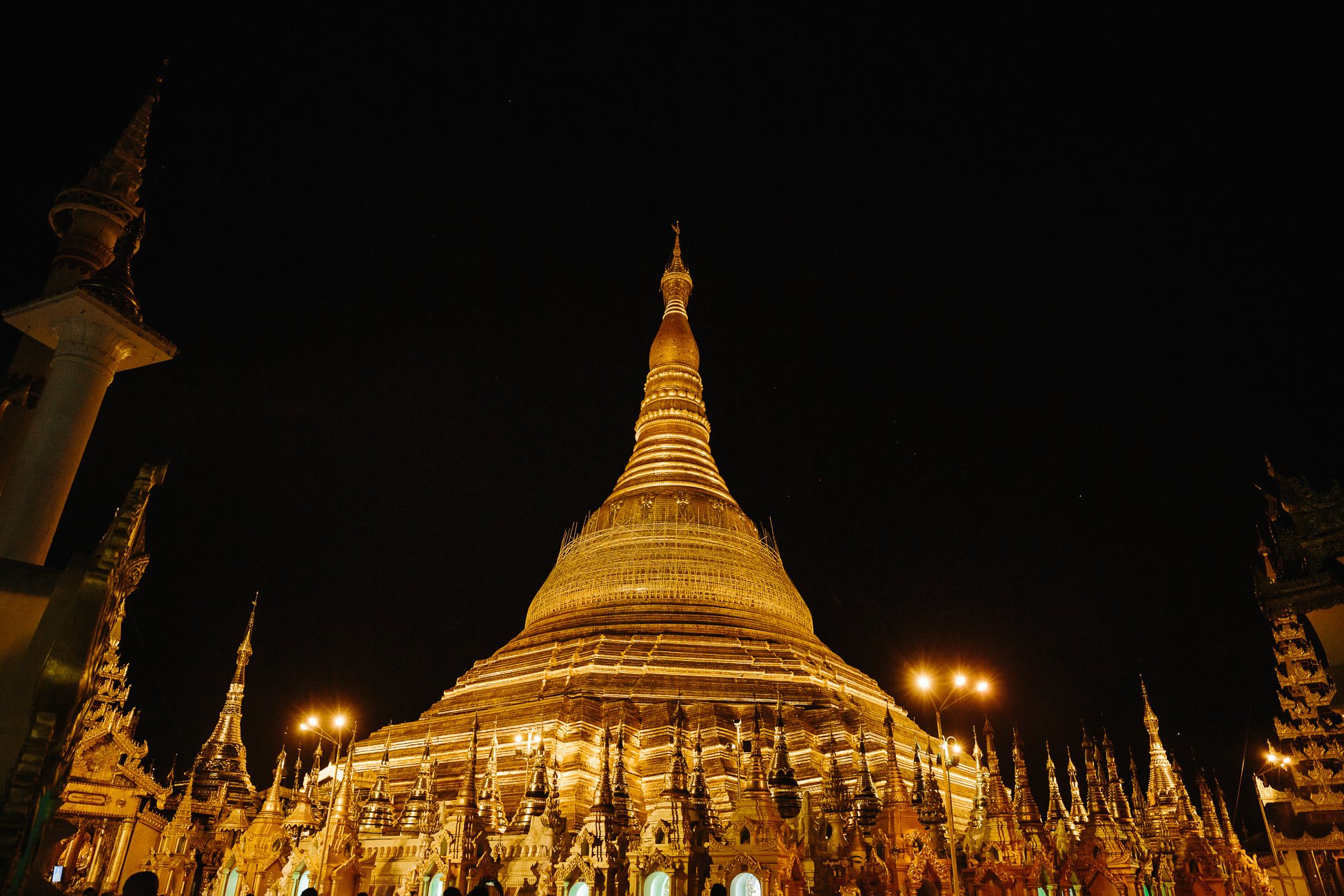 From last rays of sunlight to darkness – spending an evening at Shwedagon is a wonderful experience!
Our third visit at Shwedagon was a rather special one, as it was on the full moon day of Thadingyut, which marks the end of the Buddhist lent and is the second most important holiday in Myanmar (after New Year's). During full moon the pagoda is lit with thousands of candles and equal amounts of visitors.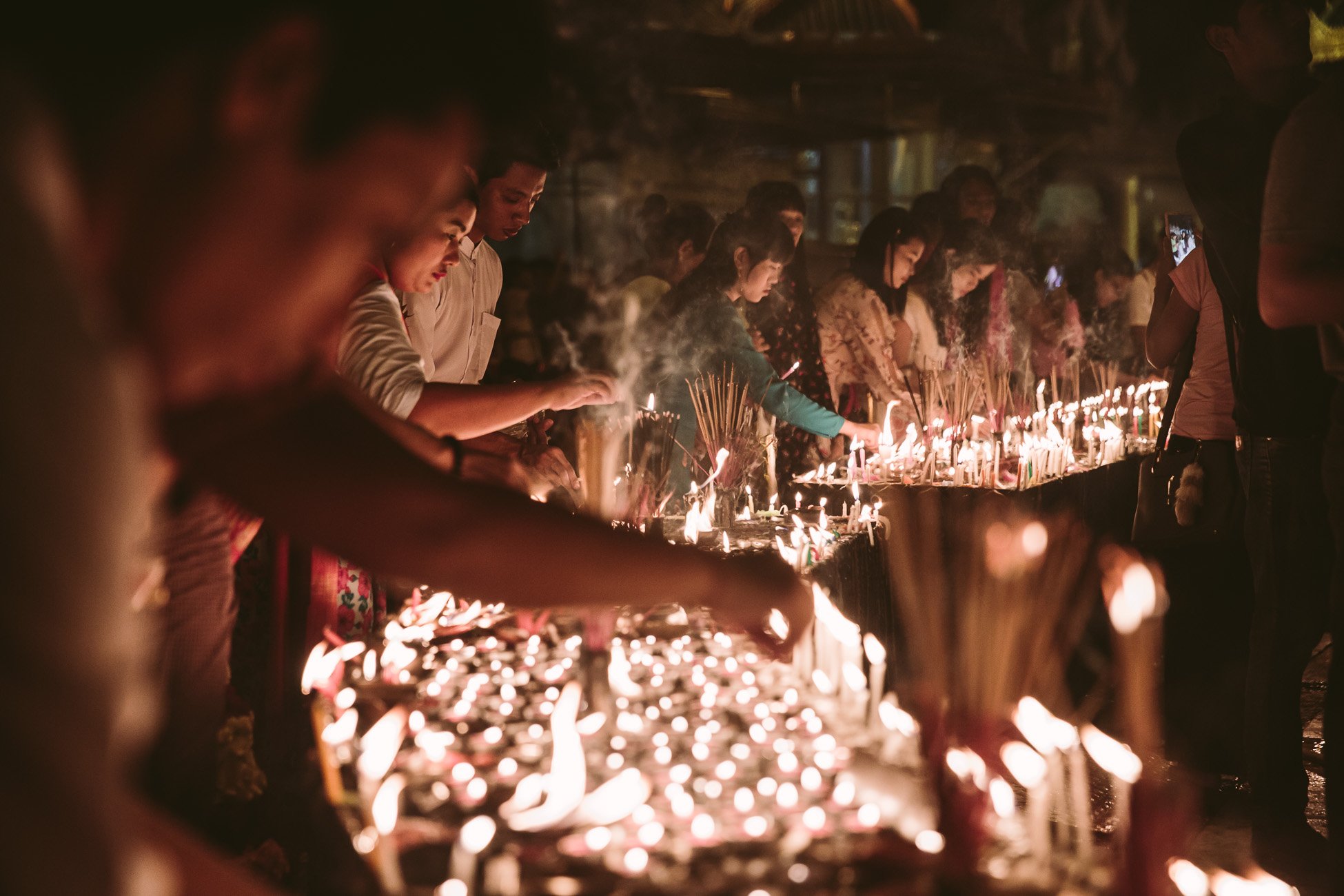 Spending the full moon evening of Thadingyut at the Shwedagon Pagoda was one of our highlights of the trip!
Our tip:
The best time to visit Shwedagon is at sunset to see the light transform. Wait until it's dark and the pagoda is lit up by the flood lights. If you're lucky you'll be able to chat to a novice (a young monk), as many of them are trying to practice their English with visitors!
Insider tip:
Buy a couple of disinfecting towels to swipe your feet after each temple visit. Our guide had brought some at day one and we kept that tradition! 🙂 Makes you feel a little less gross after walking barefoot in what truly is quite dirty floors.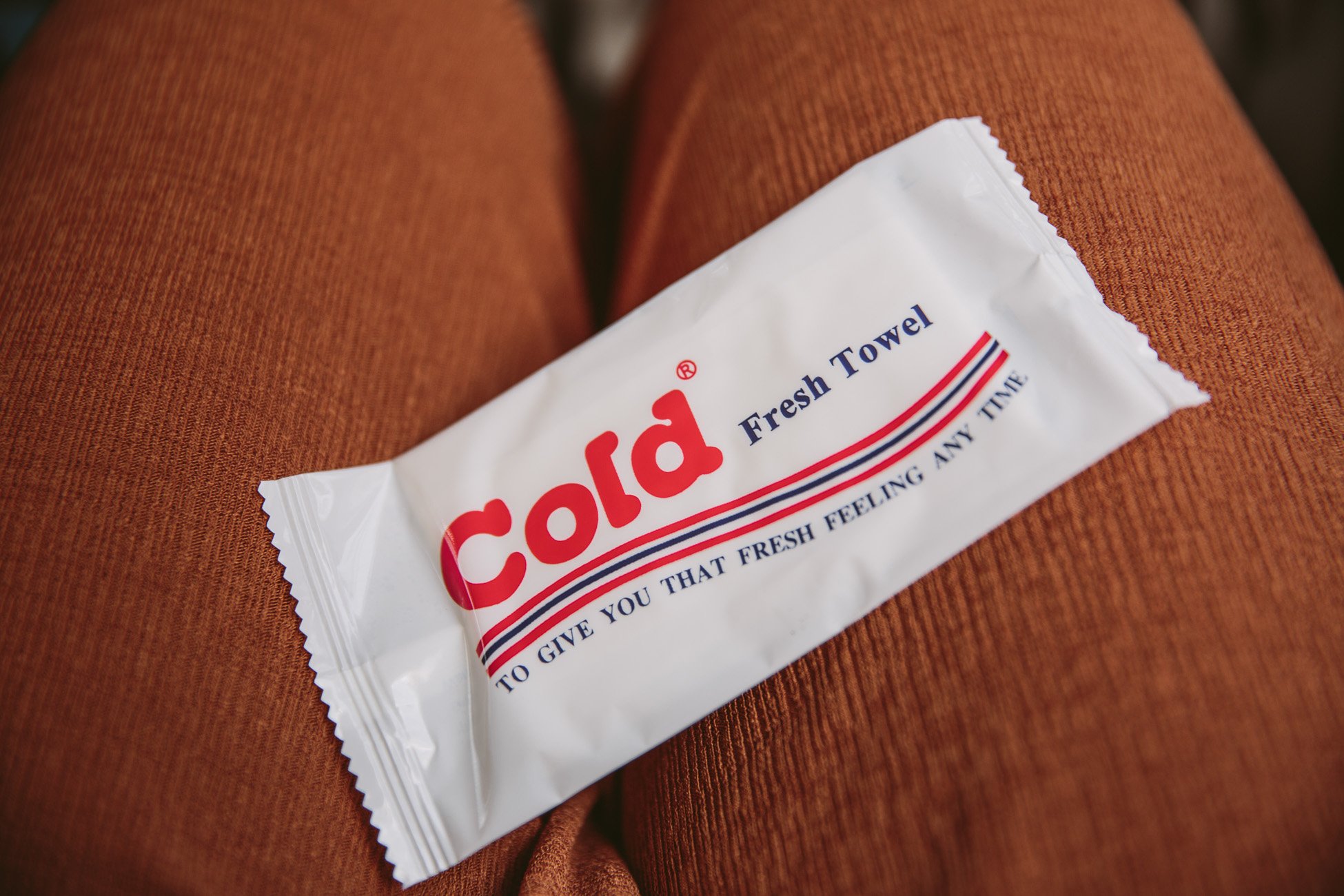 These towels are life savers after a barefoot temple visit…
2. Kandawgyi Lake & Park
When you appreciate a touch of local culture, join the morning routine of Yangon people at Kandawgyi Park. On the southern shore there are wooden boardwalks which locals use for their morning sports like jogging, Chi Gong and so on! The early morning hours right around sunrise are the only bearable hours of the day when it comes to heat and humidity (at least at the end of the rainy season, when we visited).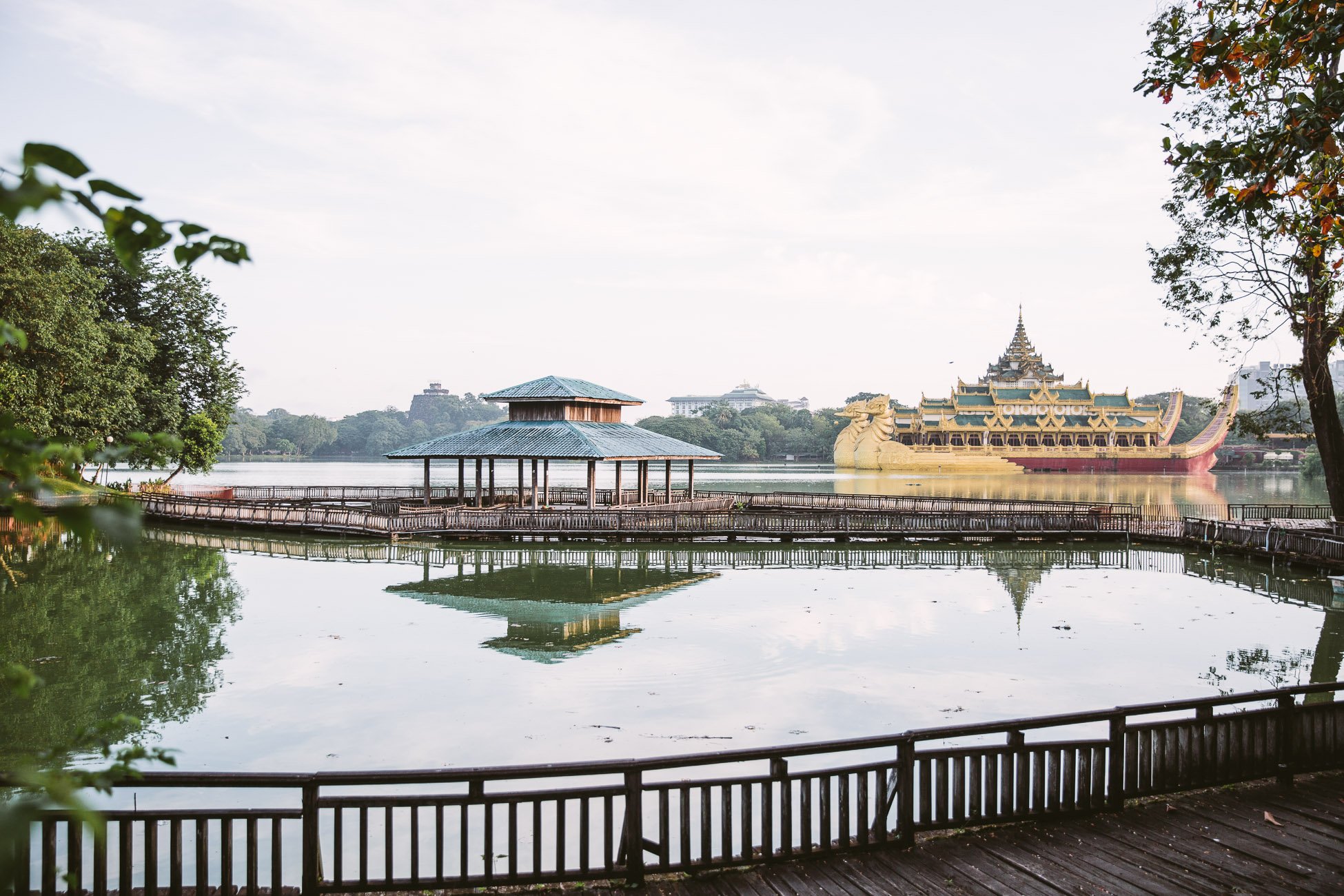 The Karaweik palace at Kandawgyi Lake is a replica of the royal barge (and houses a restaurant).
Our tip:
Make sure to walk right to the Eastern edge of the park to get the view of Karaweik Palace!
3. Afternoon tea at the Strand Hotel
We could've also stayed at the Strand Hotel, but don't regret deciding for the Belmond Governor's Residence instead. While the Strand Hotel is a wonderful colonial building with beautiful architecture it's located right at the so called "Strand", which is a rather ugly street given it's glorious name. There isn't any beach in sight, but a lot of traffic instead. Visiting the hotel for it's famous afternoon tea is totally worth it though!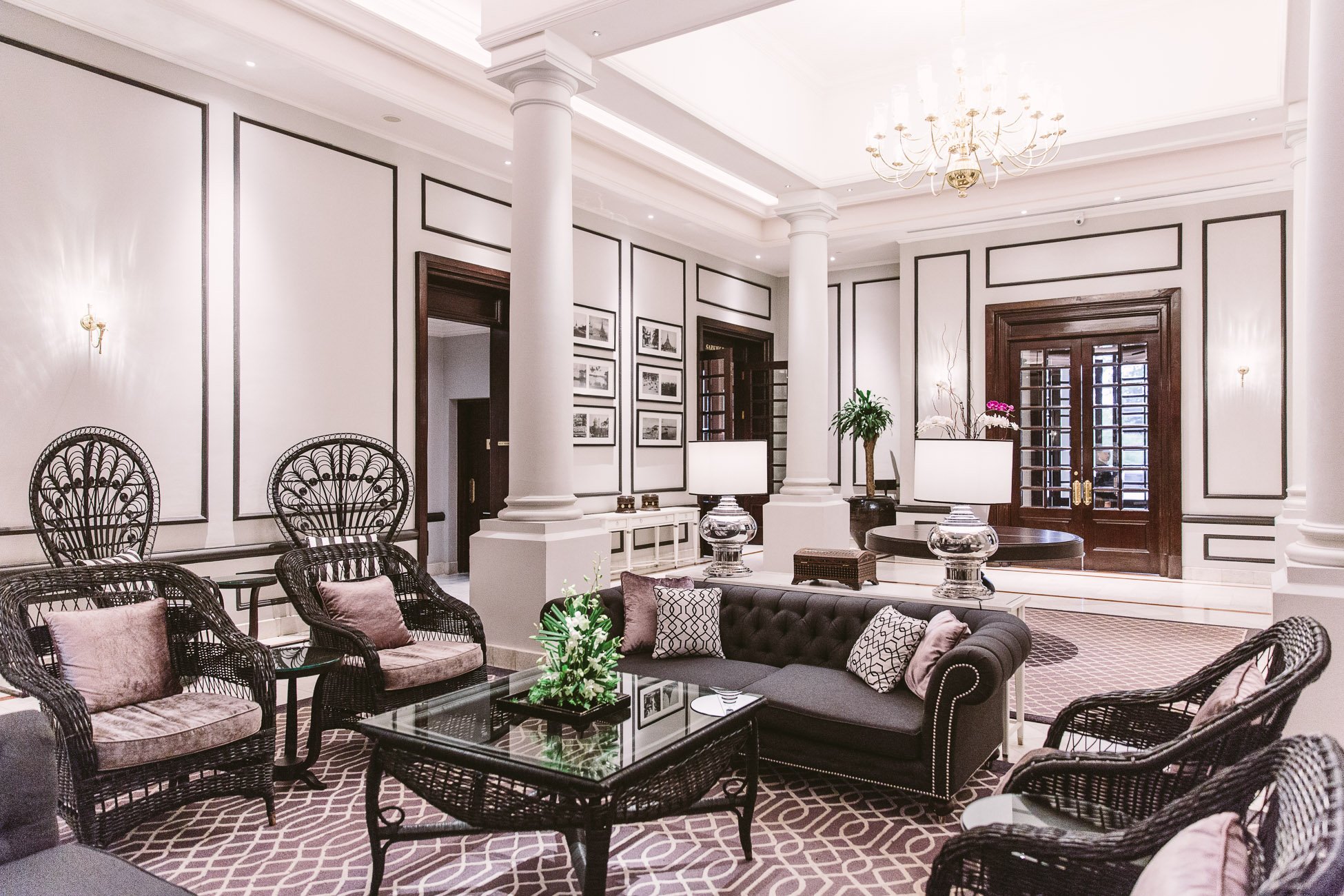 The splurge is worth it – especially for the Burmese delicacy selection at the afternoon tea!
This is a true splurge (around 30 dollars per person is really expensive in Myanmar). We ordered the traditional afternoon tea (think clotted cream and sandwiches) as well as the Burmese version, the latter being a lot more tasty and delicious. So definitely go for the Myanmar afternoon tea selection here!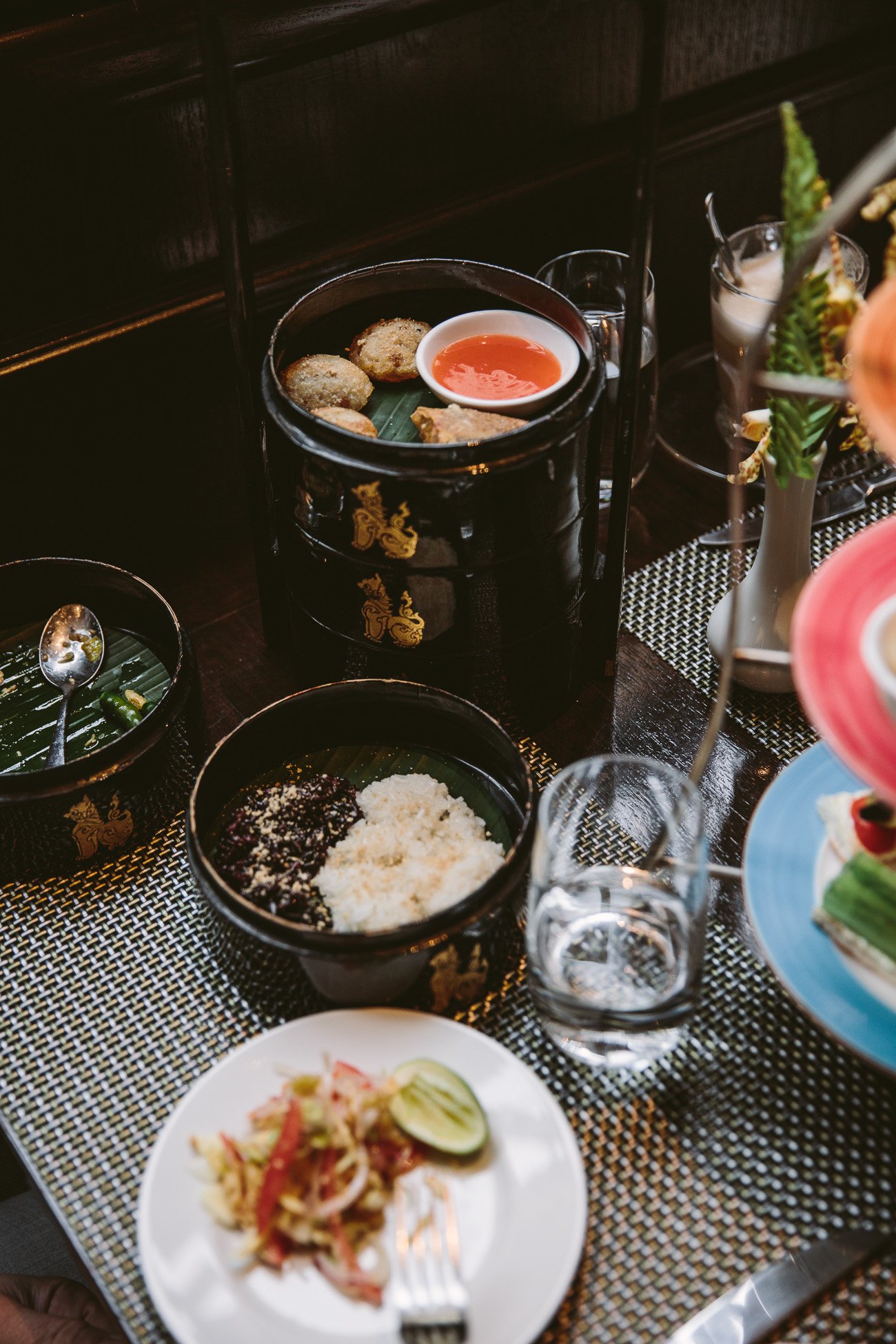 4. Street Market in China Town
China Town stretches around the area from the 19th to the 26th street in Yangon, with each street dedicated to different kinds of products. We walked the paper street as well as the fruit and vegetable street and even dared to set foot in the meat and fish street. Let's say the smells of this street are not really bearable (especially not for vegetarians like us). But strolling the market is definitely worth a visit!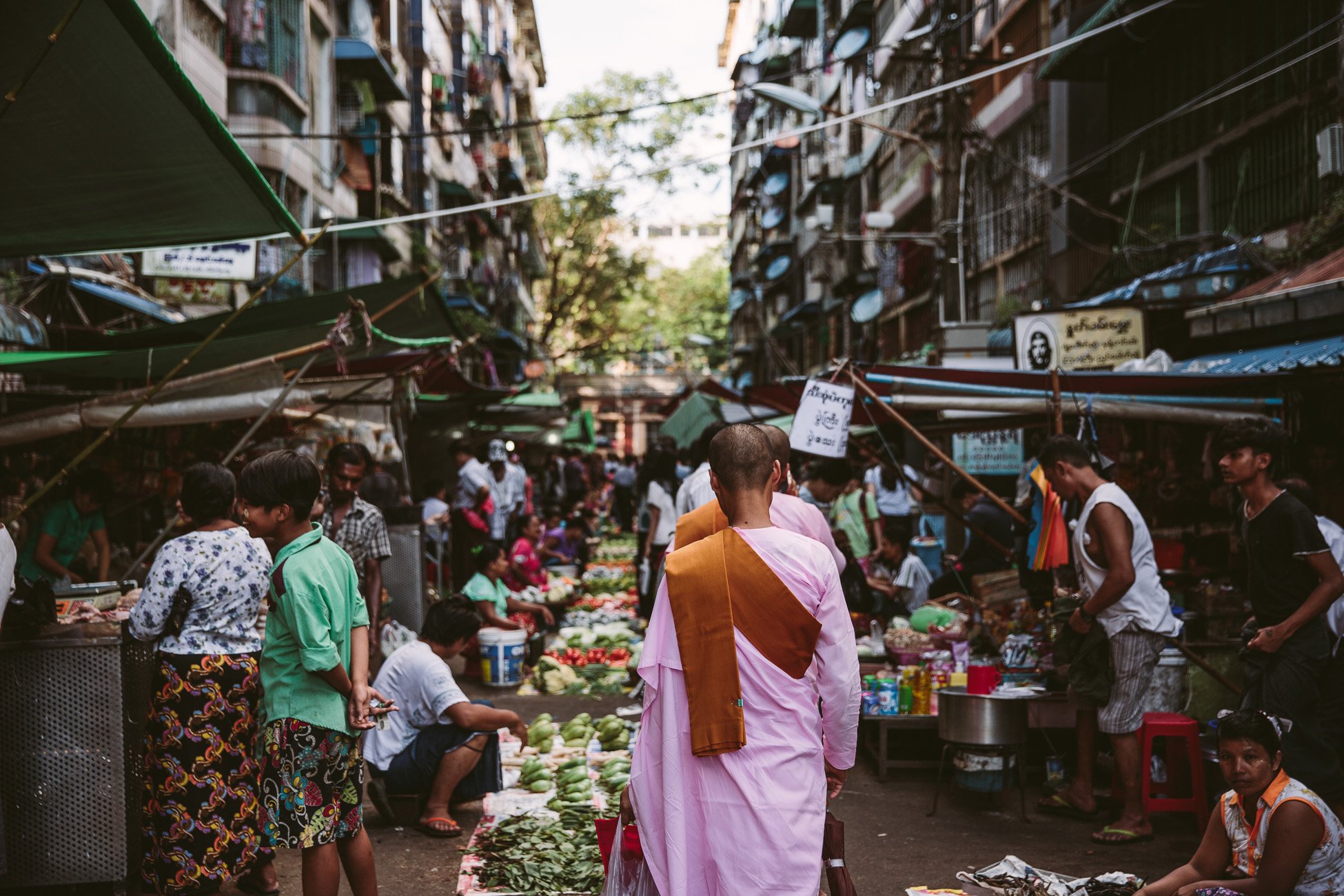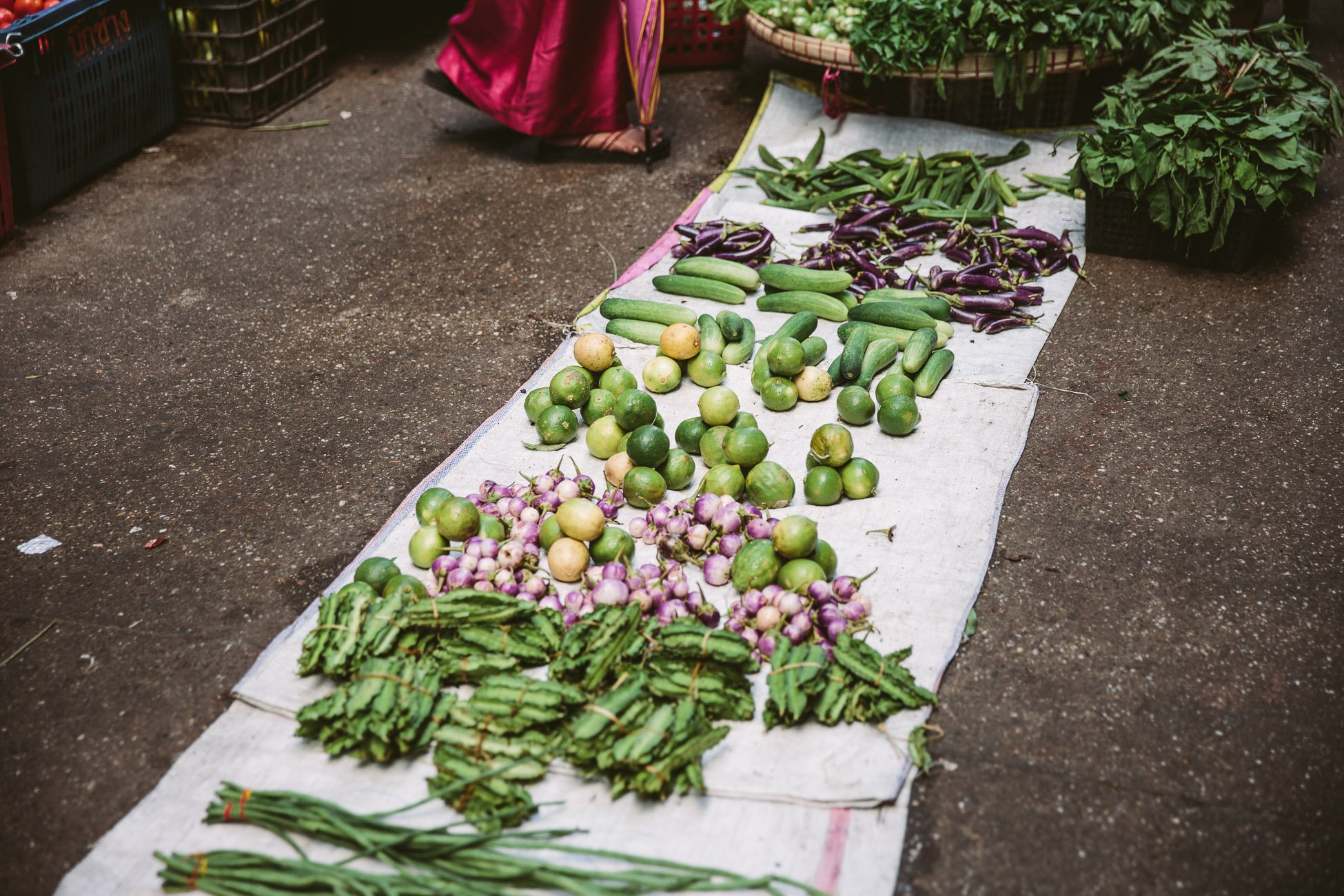 Betelnut tobacco rolls in the making. This is what locals chew on!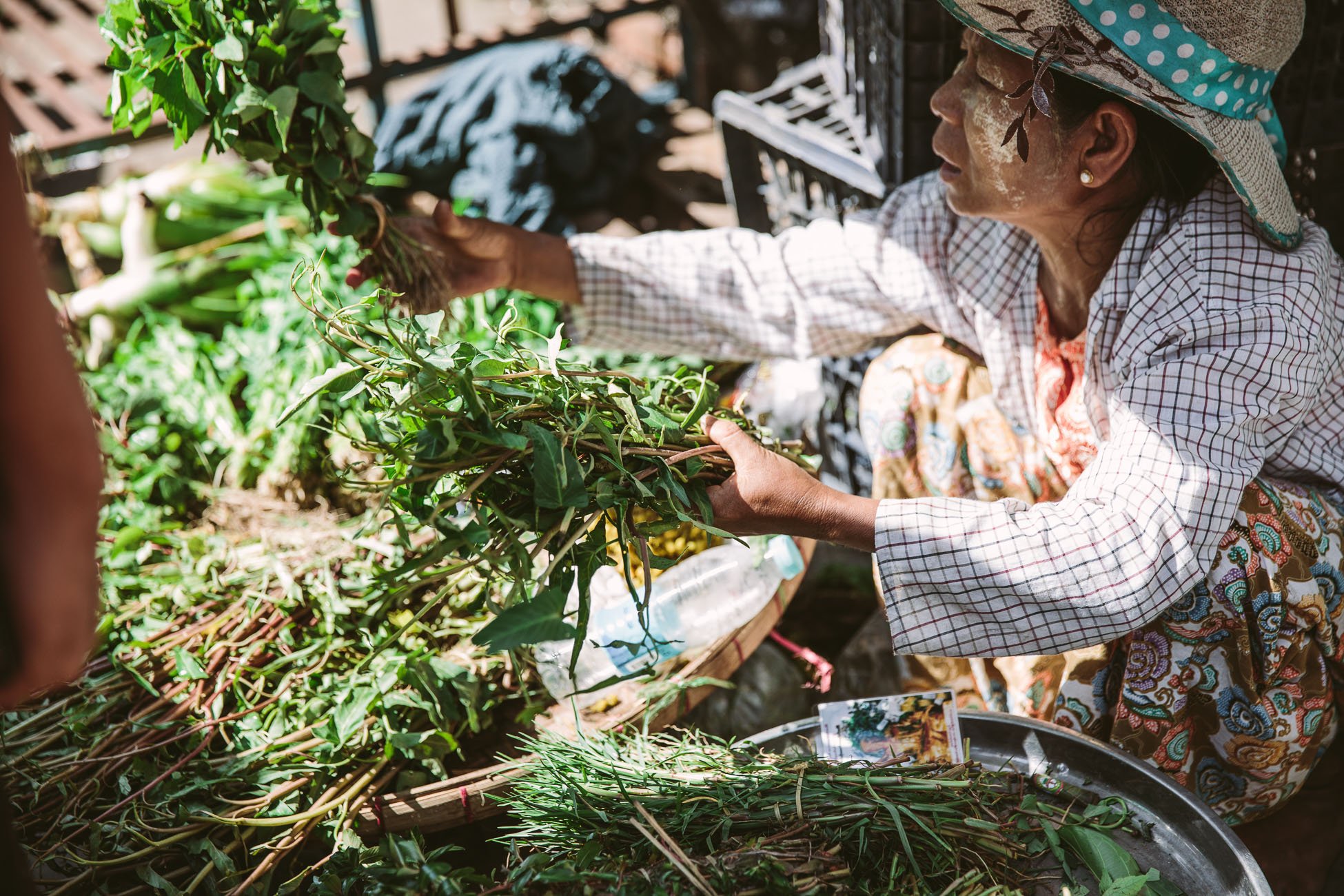 We focused our market visit around the vegetables & herbs as the smell of the fish & meat wasn't bearable for us.
The paper street in Yangon is a line-up of shops selling all kind of paper products.
Competition must be an issue as they all sell the same stuff!
Our tip:
Make sure to buy a fresh coconut at one of the street stalls! So delicious and fresh.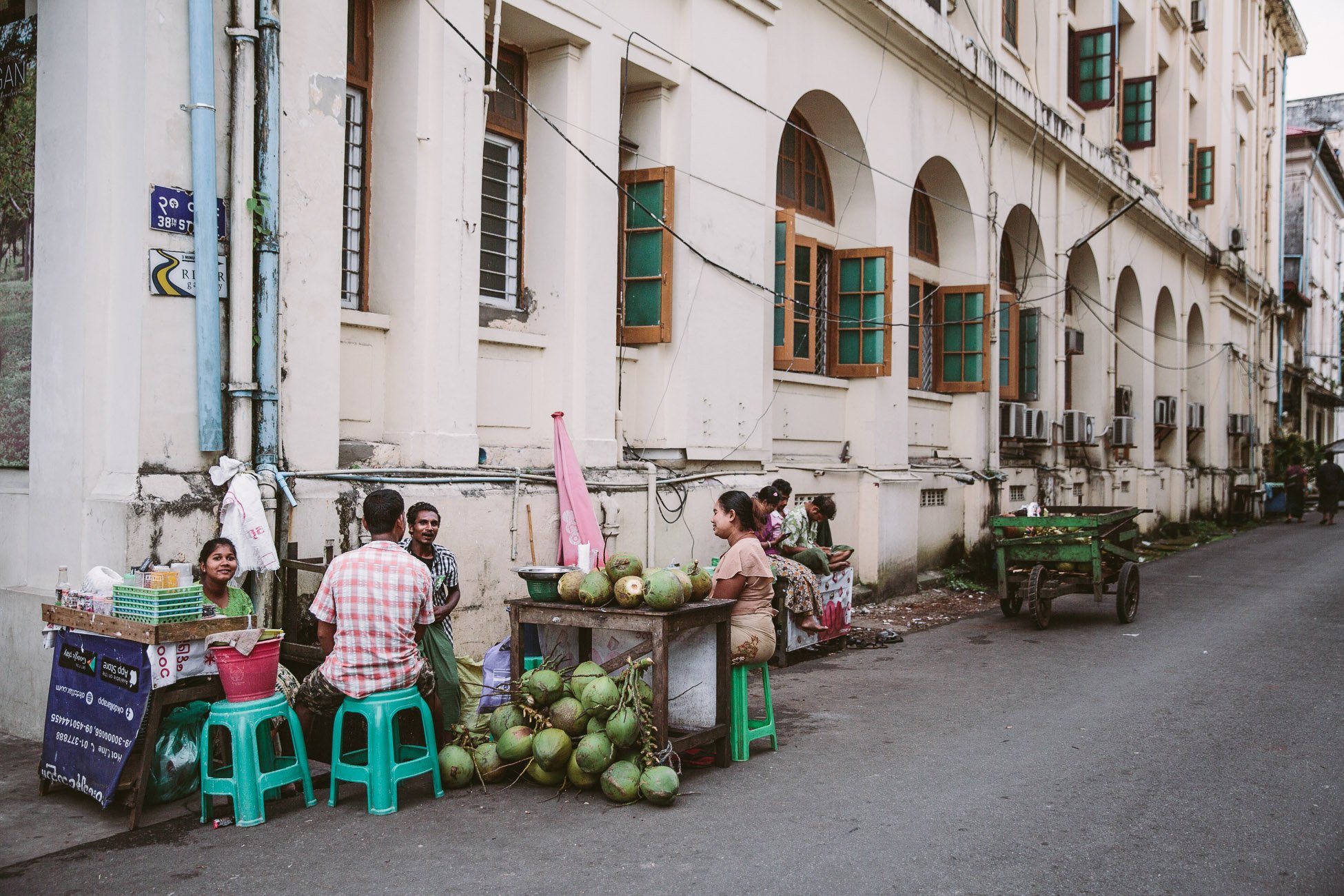 Typical coconut stall in Yangon.
5. Sunset from the rooftop of Esperado Lake View Hotel
If you want to get a good view at the sunset with Shwedagon pagoda at the center of the panorama – Esperado Lake View Hotel is your place to go. Now make sure to come early enough, not like us. It was a cloudy day and we thought our chances for a decent sunset might be slim. So we took a taxi and wanted to return to the hotel already when the sky started to glow in all colours from yellow to orange and red. A quick change of plans and we decided to give it a try to still get to the rooftop terrace.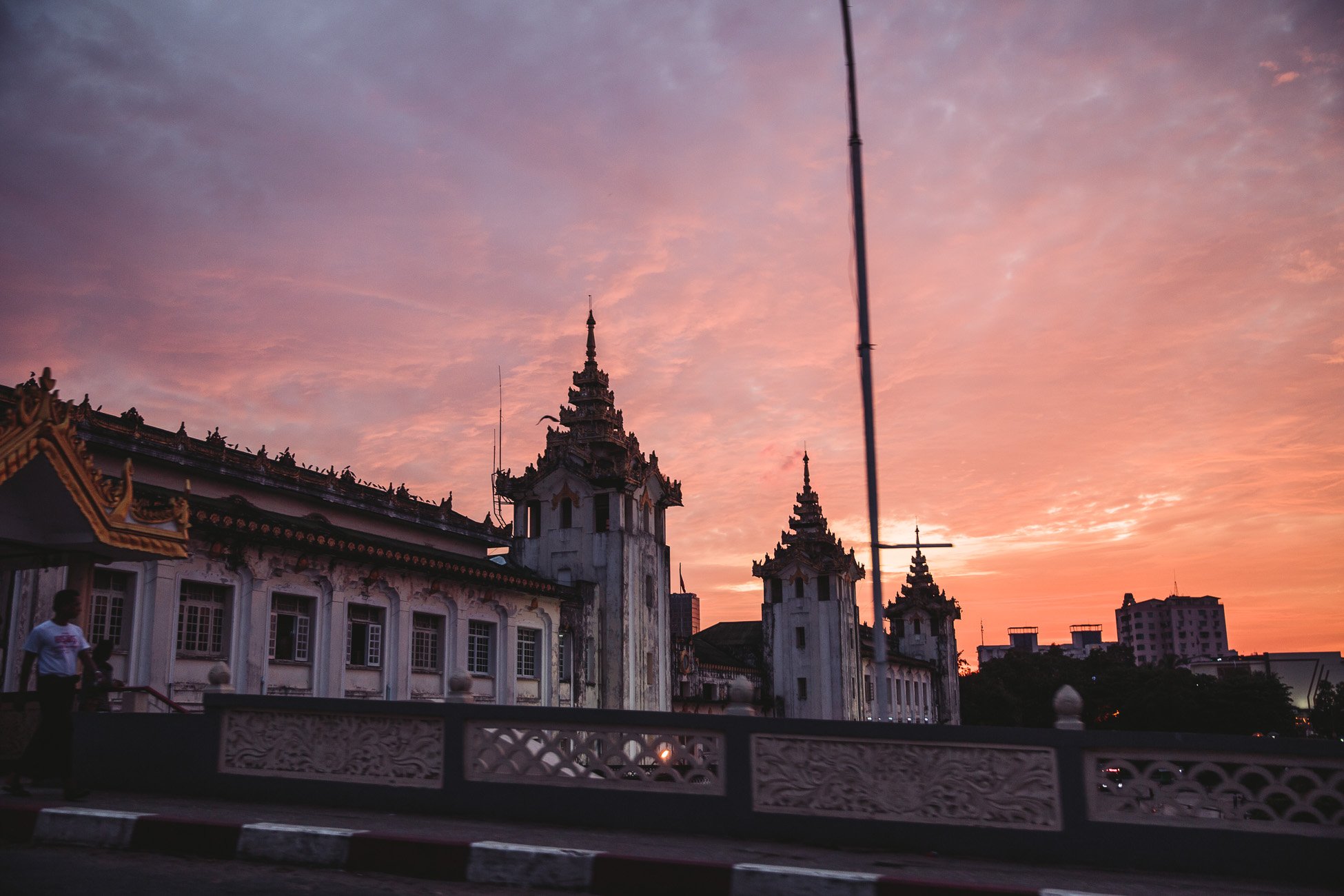 The sunset from the taxi looked promising all of a sudden…
Countless minutes stuck in the (crazy!) traffic of Yangon later we doubted that we could still make it. When we arrived at the Esperado Lake View Hotel there was a huge group of tourists standing and waiting for the elevator already… let's just say it honestly: This is the slowest elevator we have ever met! And obviously each of the tourists wanted to get out in another floor, so it took us nearly 5 long minutes from the ground floor to the rooftop. And although the restaurant and bar were closed for a private group that night they let us enter the rooftop terrace and there it was: the last glow of what was the most insane sunset we have ever witnessed! Even without a drink in our hand this was stunning.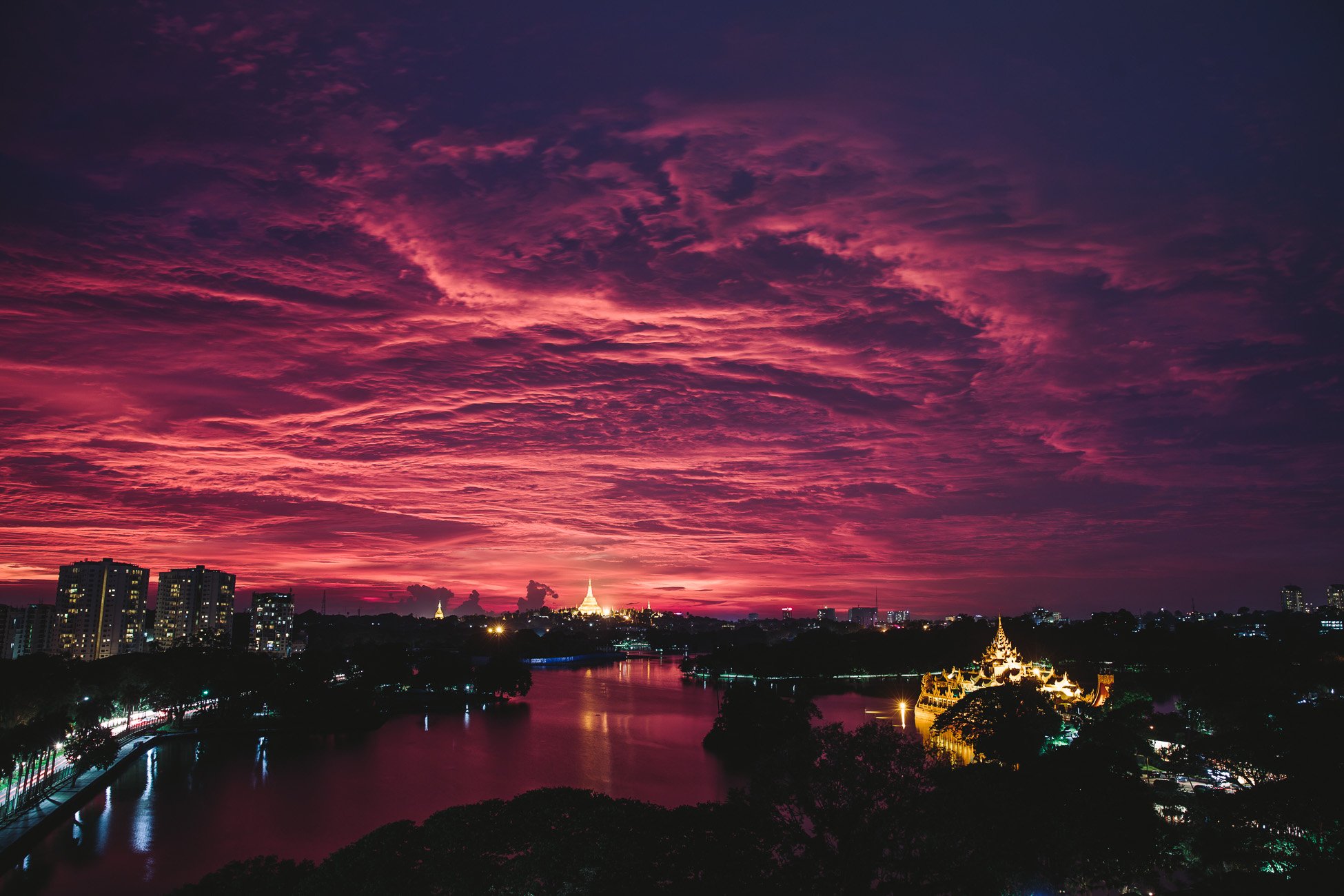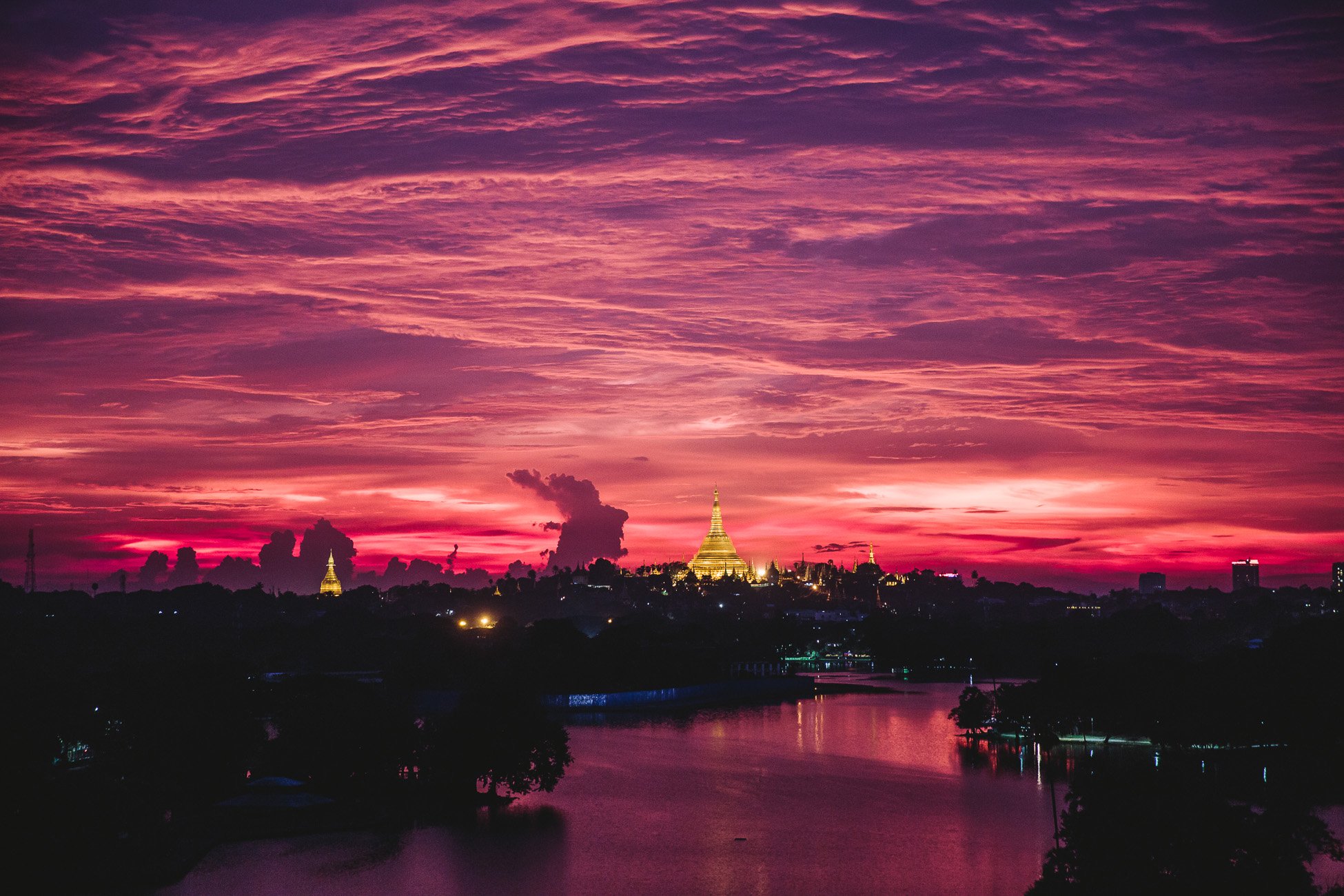 One of the craziest sunsets we have ever witnessed!
6. Colonial Architecture
As you might already know Myanmar was a British colony from 1824 to 1948. Over the course of this century Yangon was an important commerce hub (and also the capital of the country). After the dire years of the military rule much of it's former glory has faded and now that it's not the capital anymore it seems much of the structures are also left to crumble (except for the "Secretariat" building, which is currently undergoing constructions and should become a museum at some point).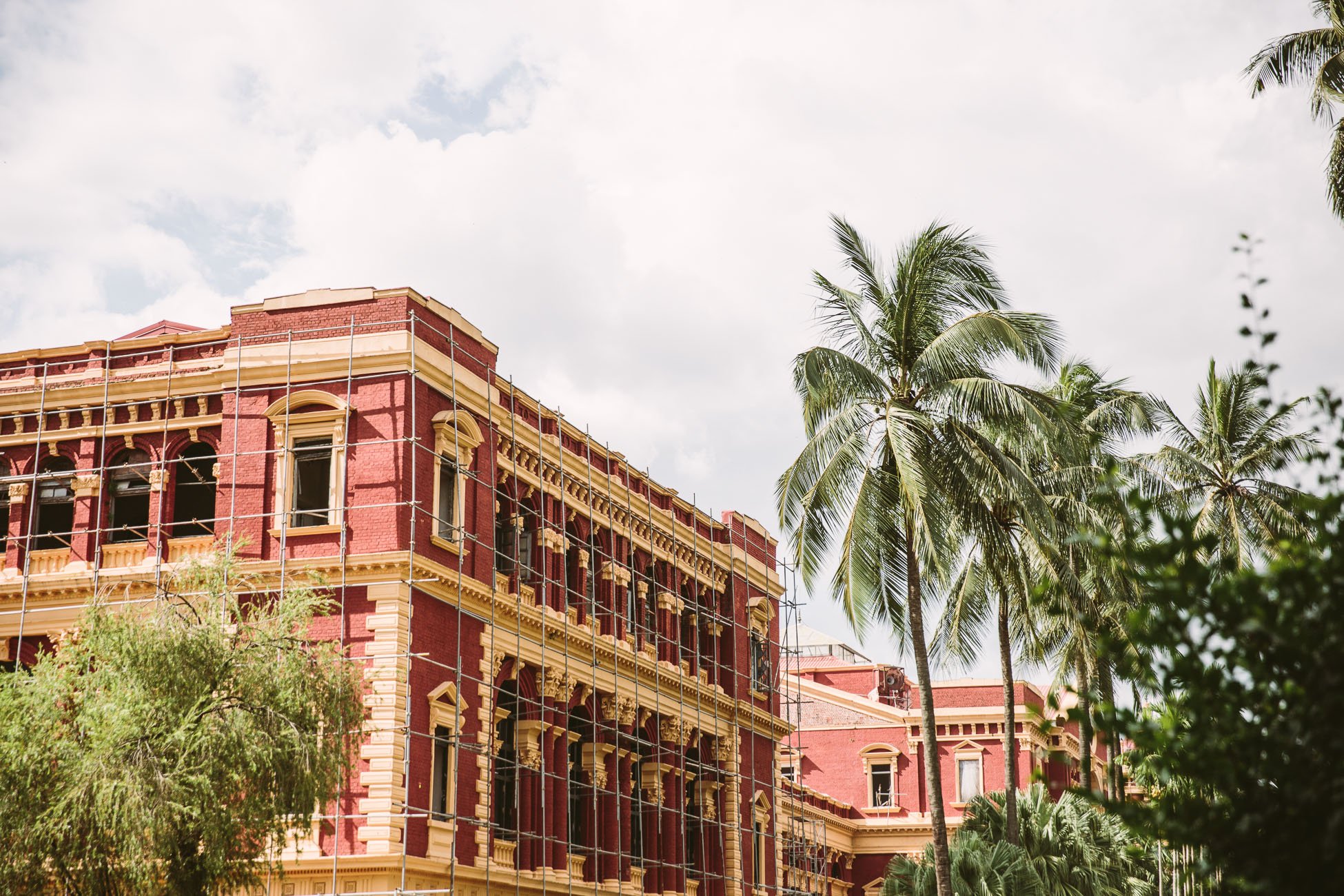 The Secretariat – the building where General Aung San was murdered – will become a museum sooner or later.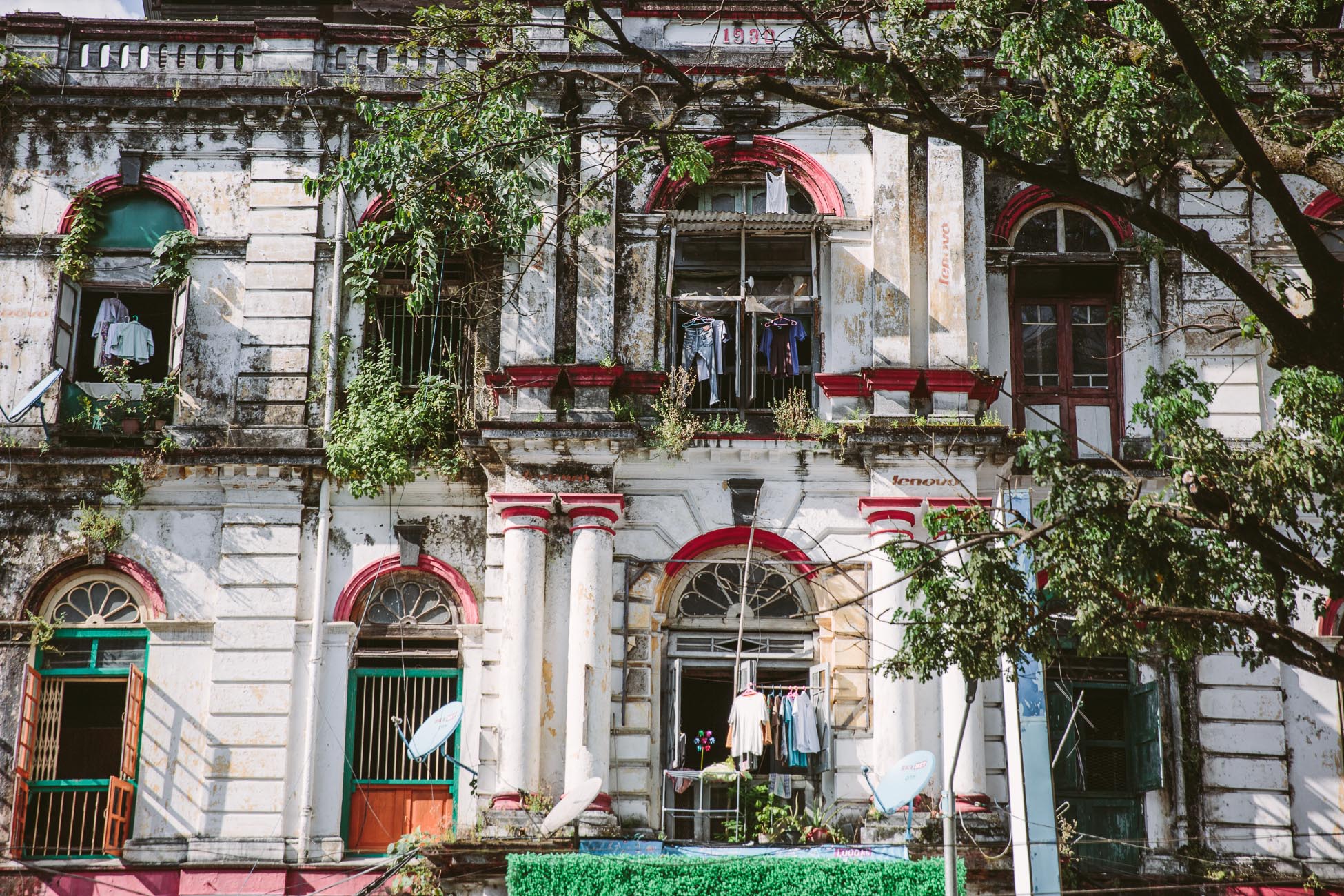 Much of it's former glory is crumbling today…
Strolling around Yangon's streets reminded us a bit of Cuba's capital Havana in some parts. You could sense it's "glorious" past (which didn't come at no cost, so much is clear), while still getting an idea of the structural problems and financial struggles of today.  It's a glimpse into the history of Myanmar as well as a proof of nowadays issues – yet people go about their everyday life amongst those ruins.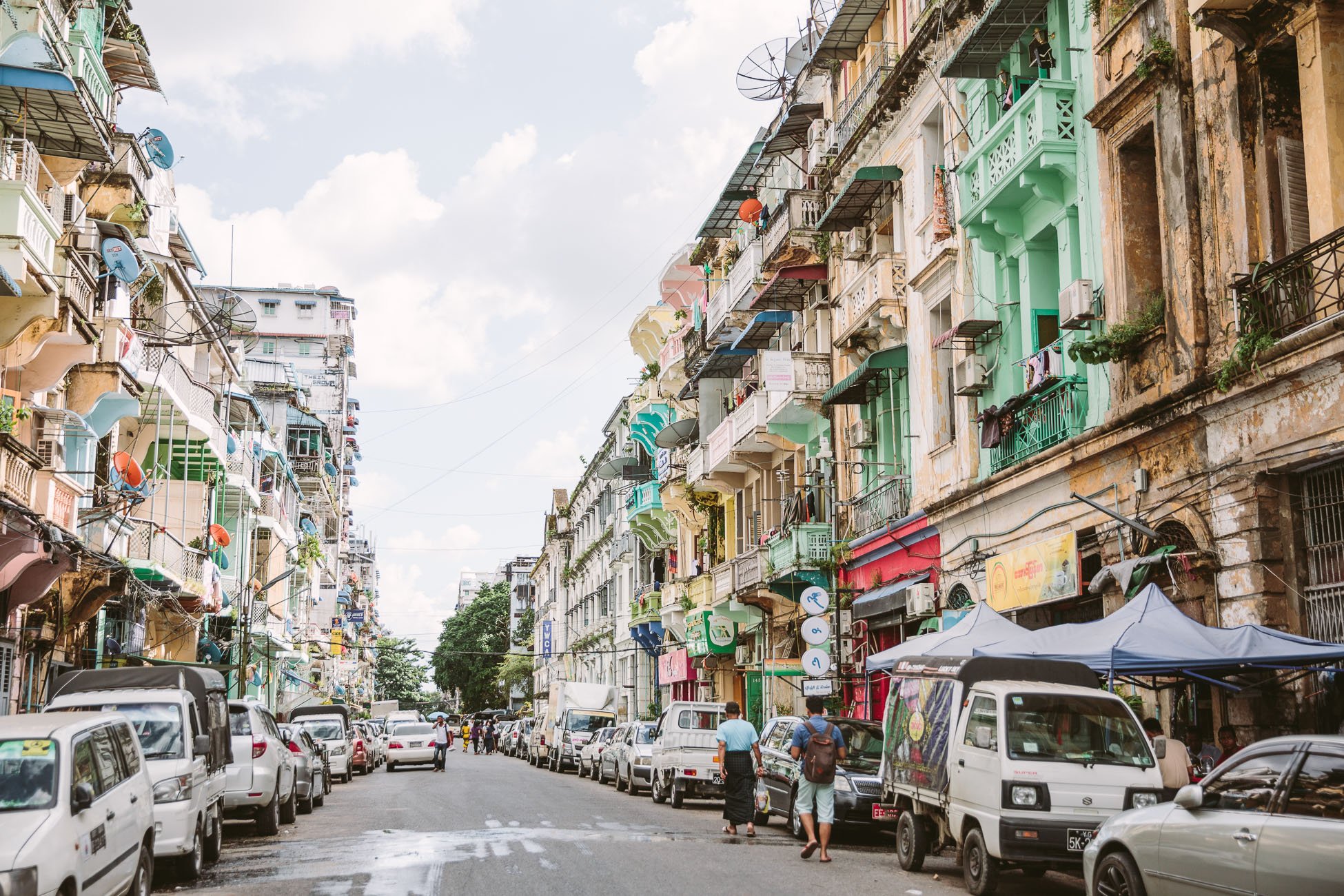 Some streets of Yangon reminded us of Havana (albeit the missing vintage cars).
If you have more time in Yangon
With only 3 days in Yangon we had limited time and couldn't do everything that the city has to offer. So this remains on our To Do list for the next visit:
Taking the Circular Train
A visit of Karaweik Palace
Taking the lift up to Sakura Tower for a view of the city
Shopping at the famous Bogyaoke Aung San Market (also called Scott Market)
And what to skip?
We always have a hard time skipping things (because who knows if we'll ever be back). But when you only have 3 days in Yangon it might be a good idea to skip a visit of Sule Pagoda. While it's pretty from some angles, the reality is it's located in the middle of a huge and busy intersection and quite the opposite of a calm temple visit. And to be fair: During the rest of your Myanmar trip you will see many many other temples, with Sule Pagoda being one of the least interesting ones…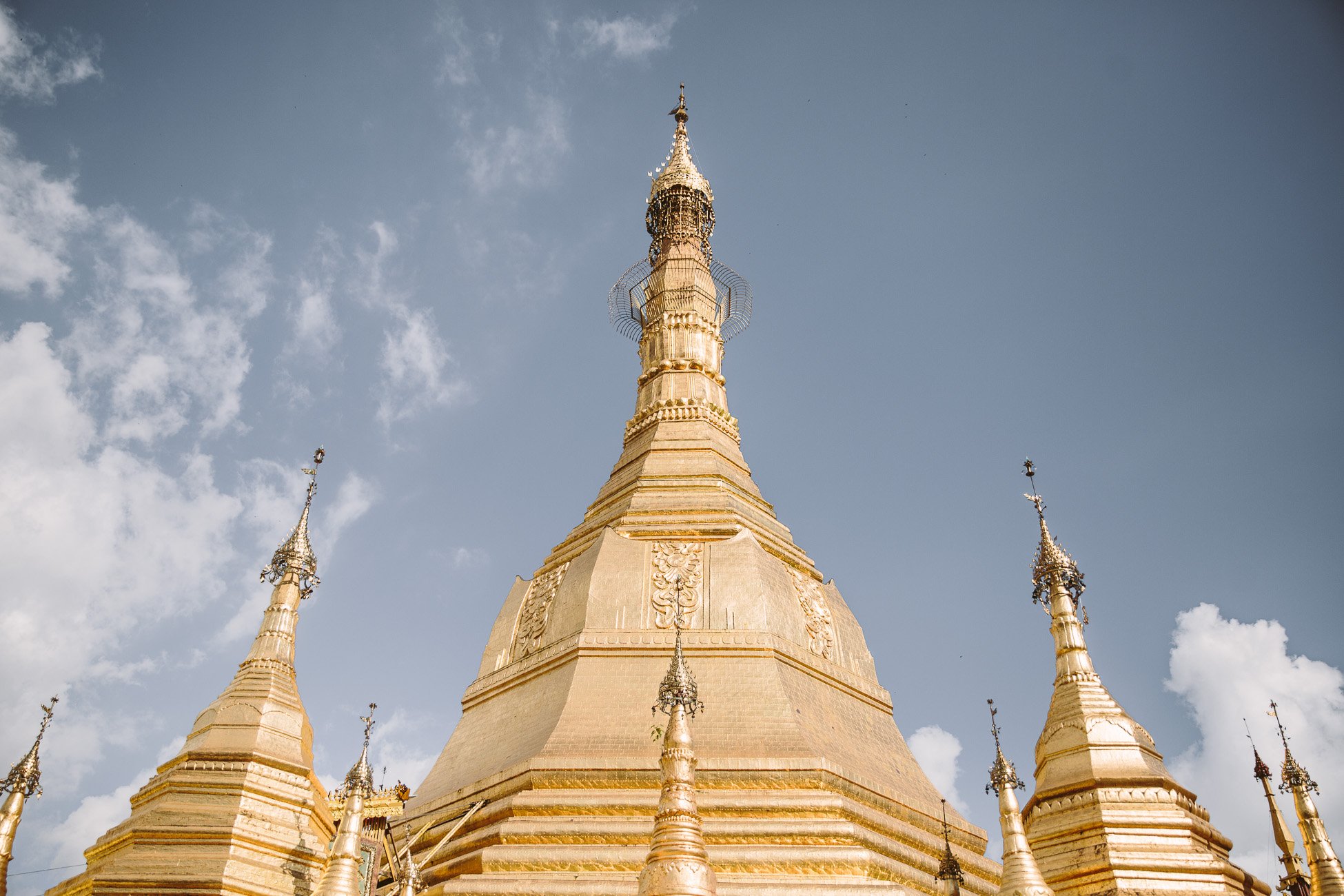 A classic case of Instagram vs. Reality: Sule Pagoda is located in the middle of a roundabout
(and also only pretty from some angles…).
Last but not least: Where to stay
A chaotic city like Yangon is best visited with an exit strategy 😉 No, to be fair, that's not entirely true. But it's good to be able to retreat to an oasis from the city's chaos after a day of discoveries and explorations. Therefore we recommend staying at the Belmond Governor's Residence, the Savoy Hotel or at the Chatrium Hotel. We tested all three hotels and can say they all offer a great standard!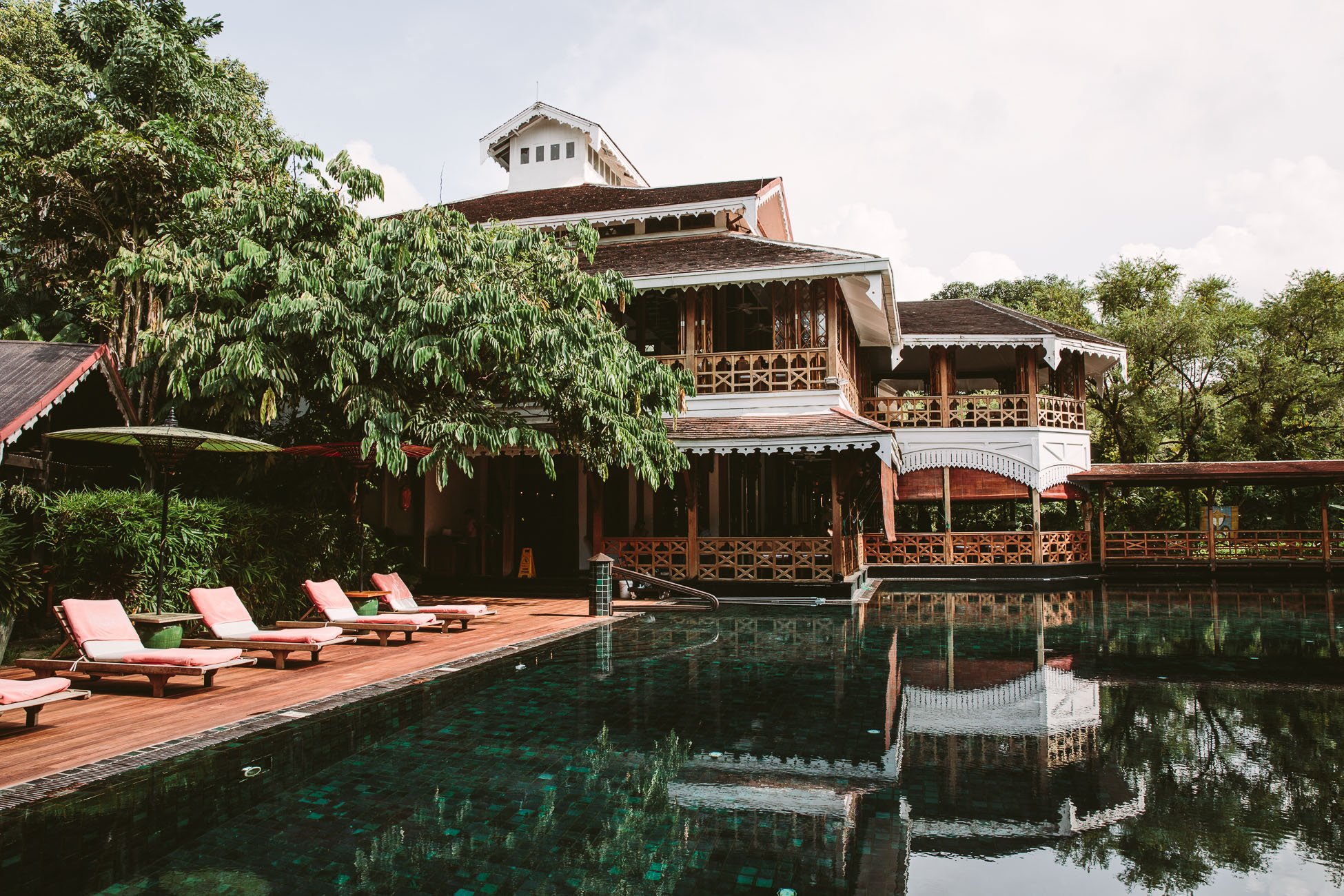 …and where to eat
We stayed in for dinner at the Governor's Residence the first night, but weren't impressed with the taste of the food (especially given it's price) and therefore went to the Green Gallery Thai Restaurant the next night for some vegetarian curry and sticky rice with mango. Only this: We returned there the last night of our trip again before going back to Bangkok, that's how good it was!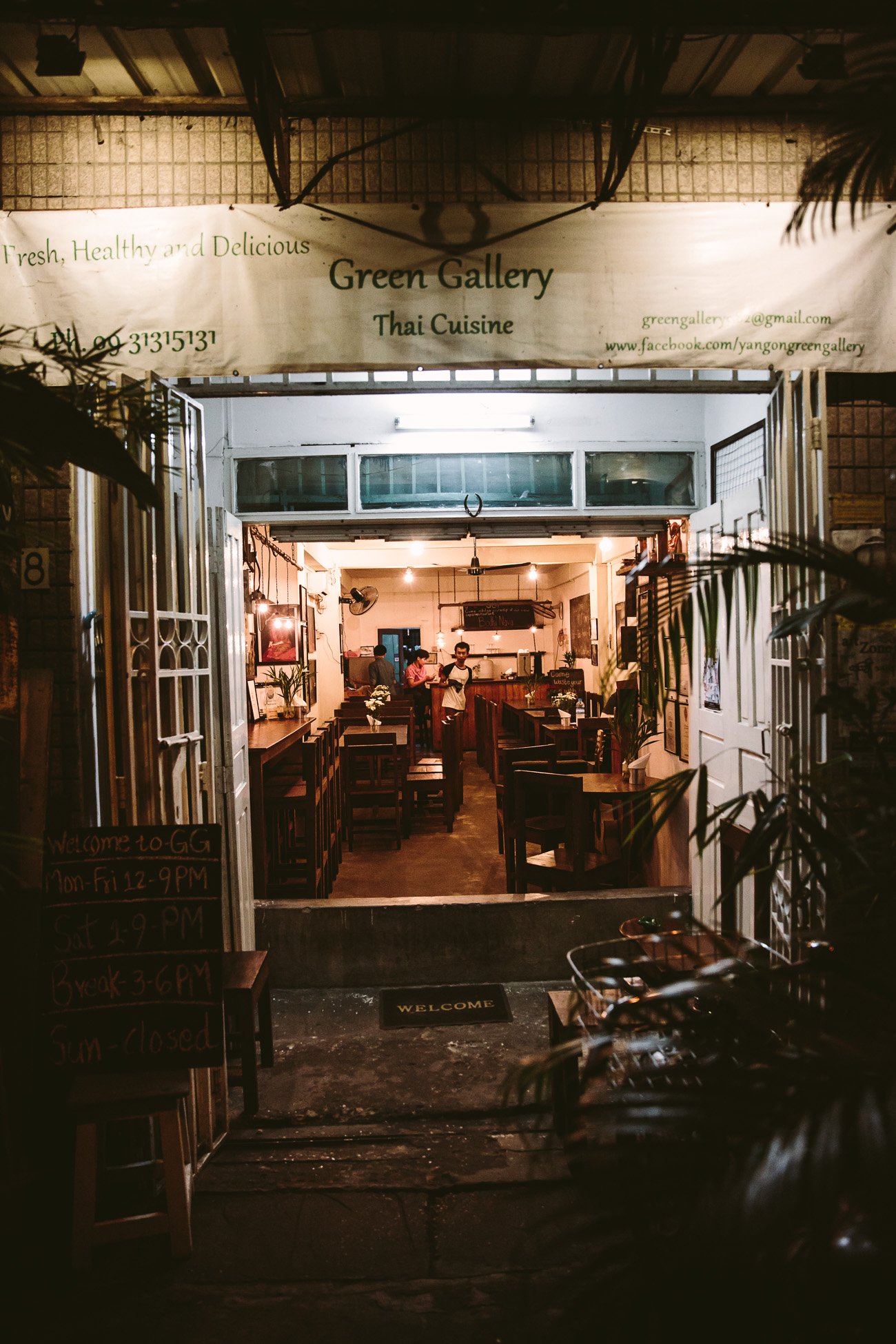 Green Gallery offers great Thai food!
Final thoughts on Yangon
A couple of people had "warned" us, that Yangon might be overwhelming, sensory overload and maybe a little bit exhausting. We have mixed feelings about the city, but wouldn't have want to missed it! It's a great place to dive into the country, but you also won't be sad to leave. Shwedagon Pagoda is definitely the highlight of a Yangon visit and it's worth the stay for this unbelievable temple compound alone.
We absolutely recommend to visit Yangon during one of the Buddhist festivities (like the full moon celebration of Thadingyut)!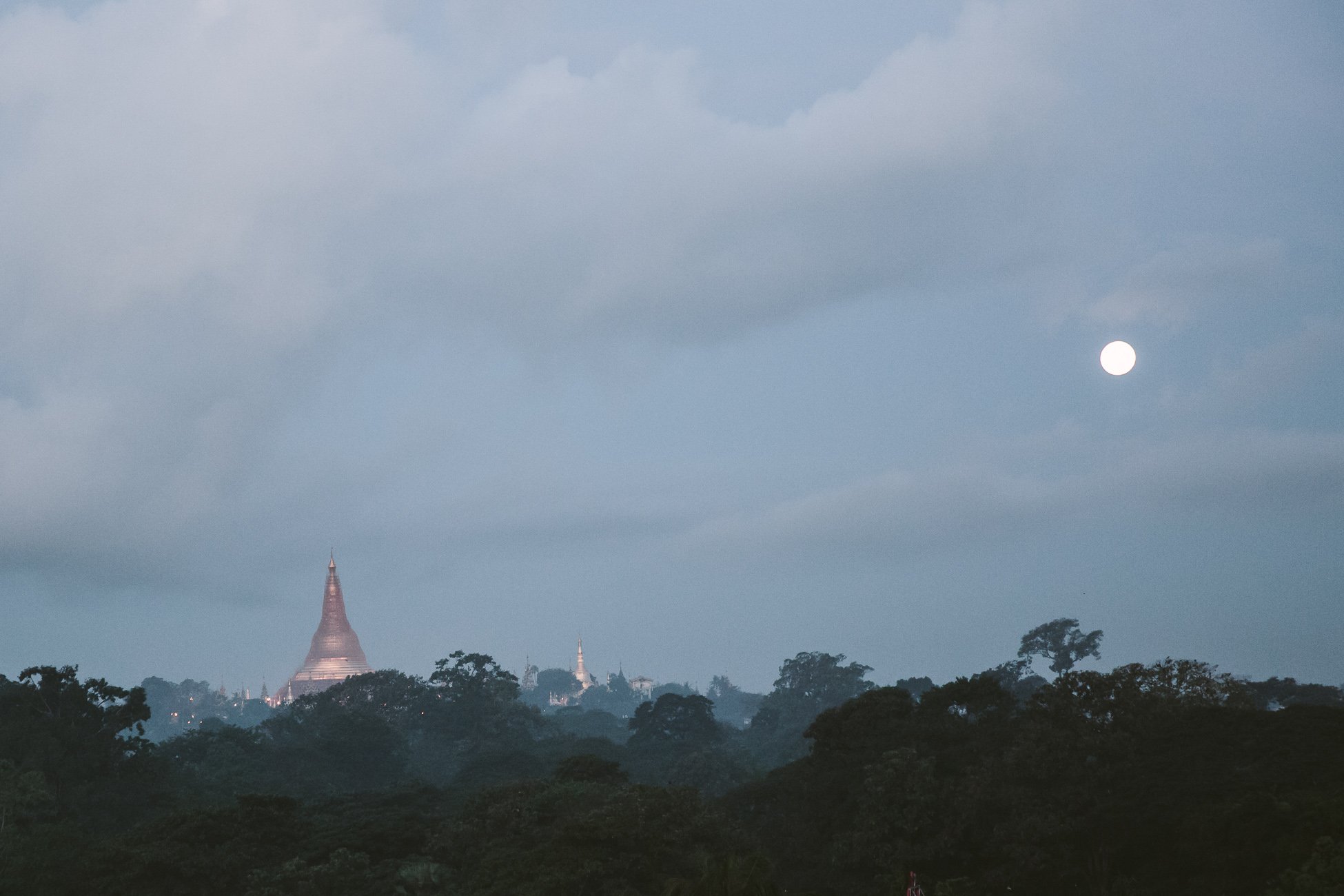 When the full moon rises over Yangon a special night begins!
Travel Video of Yangon
Disclaimer: During our 4 weeks in Myanmar we worked together with Myanmar Tourism Marketing for 14 days, where they provided us with complimentary local guides, hotels and flights, but our views of the destination stay independent from that invitation.