Although Schladming is one of Austria's most famous skiing arenas, so far we had only been in this region in the summer months – for glacial hikes and alpine lake explorations. But this winter we finally got the chance to visit the world-renown region – and stay in one of its finest hotels!
A trip with some "teething problems"
Let's start at the beginning, or at least at the bumpy road to finally go on our trip. Because: This visit had been a long time coming… to be precise it was planned before the start of the pandemic in 2019 and got postponed season after season. So it was almost unreal when it finally happened in January 2022! But it eventually did – and we couldn't have enjoyed it more. So without further ado here's the short report from our trip to Schladming and our stay at the cozy Falkensteiner Schladming resort.
Schladming: How to get there & what to do
Schladming is only a 2,5 hours drive away from Vienna and located in the very Northwest of Styria at around 700m above sea level. It's part of the 4-mountain ski area that connects the 4 largest skiing mountains in Styria (Hauser Kaibling, Planai, Hochwurzen & Reiteralm).
It's central location provides access to all sorts of winter activities – from snowshoe hiking and cross-country skiing to tobogganing (even at night) and of course alpine skiing. The slopes at Planai are among the selected few alpine ski racing tracks, but there's also less athletic activities if you prefer to take it slower.
We combined a bit of action with a fair share of slow traveling and liked the combination.
Our tip: A torchlight winter hike at Hochwurzen in Schladming
The first evening we took one of the last gondola rides up the Hochwurzen and went on a torchlight winter hike. Watching the sunset from the mountain top and then slowly making our way down the well-lit winter hiking paths was a perfect way to set the mood for the trip!
How to do this: You can either book one of the official torchlight hikes with the Schladming tourism board or buy your own torches and do it individually. The last gondola rides go up to Hochwurzen at around 4:15pm (check the schedule to make sure) and then you can stay at the mountain top to watch the sunset or simply enjoy a snack at Hochwurzenhütte or Hochwurzenalm. Afterwards follow the path to the left of Hochwurzenalm (it's the official tobogganing slope) all the way down to the valley. It is lit up in the evening, but we would recommend to go on days where there's no tobogganing (Mondays and Tuesdays), so you have the slope to yourself.
Skiing with an instructor
The next day the lovely people at Falkensteiner Schladming organized a skiing instructor for us and we learned some new techniques and rode a few lines off the pistes as well. The skiing arena is huge and one day isn't merely enough to see all of the 4 mountains, so we would definitely recommend to stay longer to see more of the area!
Other activities include Sleigh rides, Fatbiking, Horse carriage rides and much more.
Where to stay in Schladming: Falkensteiner Hotel Schladming
Schladming itself is home to a multitude of hotels, so the choice is plentiful. The Falkensteiner Hotel Schladming combines the three most important ingredients for a winter holiday – direct access to winter sports, relaxing spa treatments and a large variety of alpine cuisine.
Although it's not a boutique hotel, the atmosphere is still very cozy and we especially appreciated the staff's extremely personal attention and care. When we went out for a sunrise hike they would provide breakfast to go with sandwiches, fruit, granola bars and bottles of water. Or when we asked if we could swap out a vegetarian dish at dinner, they would bring us a full vegan menu with plentiful choices apart from the set menu.
Our highlight was probably the heated indoor and outdoor pool with mountain views!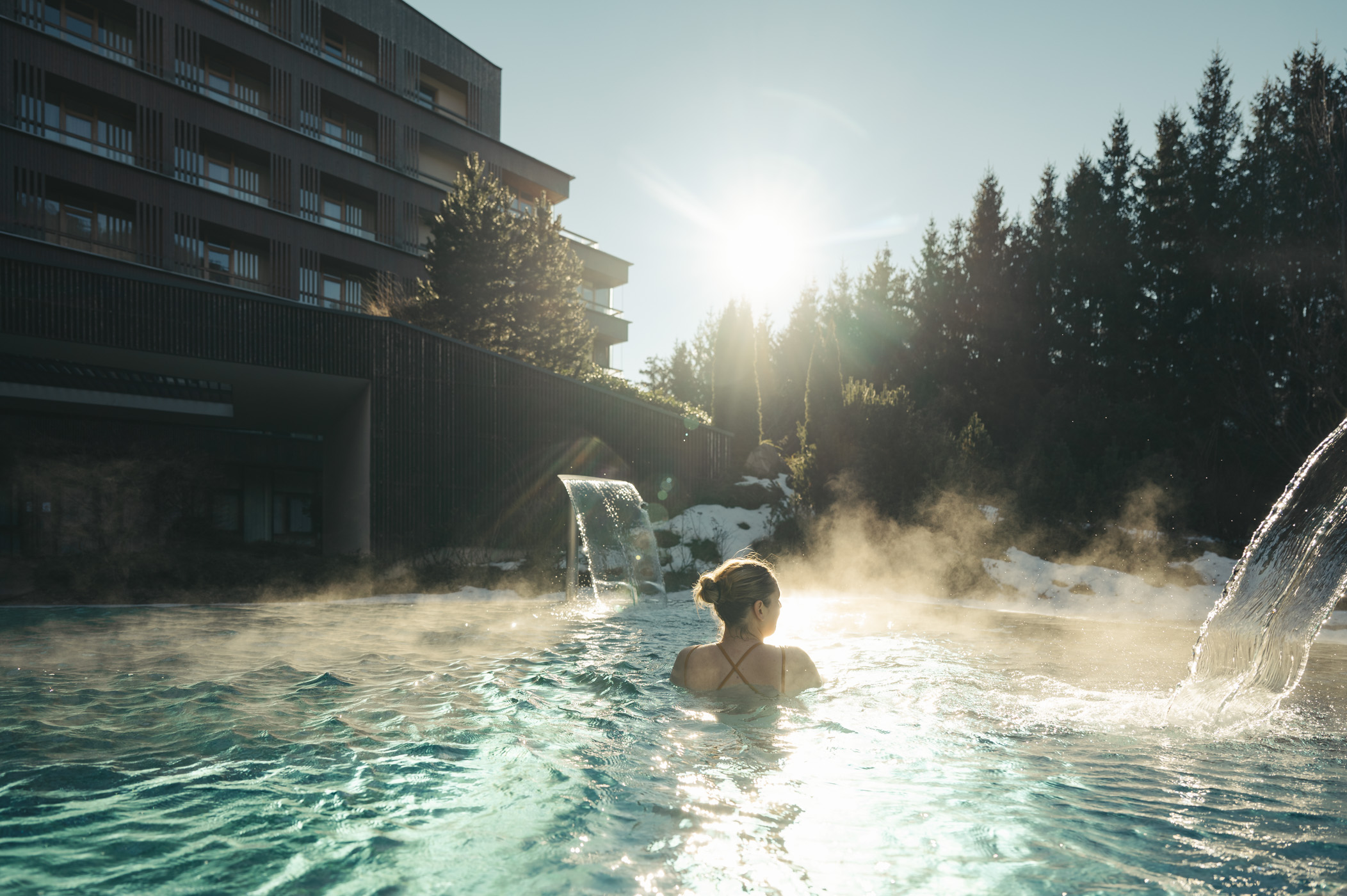 Well and of course the à la carte breakfast delicacies like "Eggs florentine" with a styrian twist – served on a homemade green waffle instead of a mere slice of toast.
We think the Falkensteiner Hotel Schladming is perfect for travelers who seek a cozy retreat, but don't want to compromise on exceptional hotel services.
Our suite at Falkensteiner Schladming
We suggest you best memorize this number: room 335! This corner suite was our home for 4 nights and we can highly recommend asking for this room if you can.
It comes with a huge window front facing the sun all day long, a large balcony, a free standing bath tub and – the highlight – a private sauna.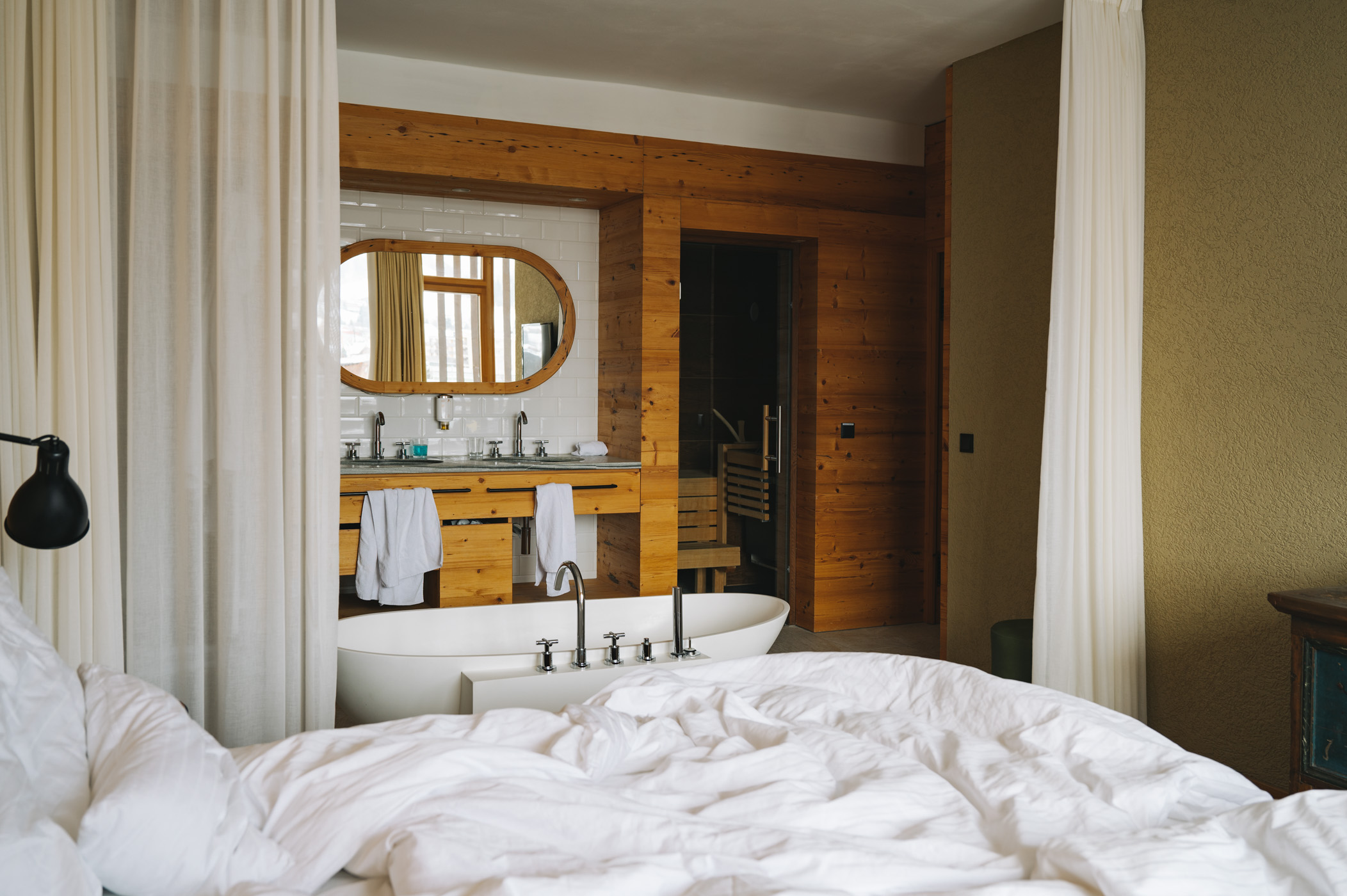 The atmosphere at the whole hotel is based on the concept to combine alpine traditions with a modern twist and the rooms are no exception. The modern wood & glass architecture gets its cozy upgrade with alpine accents, from traditional felt materials to historic black and white alpine photo prints.
If we had one thing to complain about it would be that the room was heated so much, that we had to switch off the heaters completely, but in the end there's no better feeling than getting out of the skiing boots and warming up in a really cozy room… I've been to other hotels where you freeze in the winter in under heated rooms and that's definitely way worse! ☺️
Alpine Spa treatments at Falkensteiner Hotel Schladming
One thing I would definitely recommend is to book one of the alpine spa treatments at Falkensteiner Schladming's acquapura spa. The spa itself offers a multitude of saunas and steam rooms, a heated whirlpool and my personal favourite – a hay-scented relax room. The signature treatments include singing bowl massages and much more!
The verdict about our stay in Schladming
Schladming is probably not one of the most secluded or serene alpine villages, but it's a great hub for a multitude of winter activities. The surrounding skiing arena is among the best in Austria (and you'll learn that many professional winter athletes choose to train here as well). If you don't mind that you're in a central location and not on an empty mountain range, than we would highly recommend a winter holiday in Schladming.
We thoroughly enjoyed our time here (and even extended for one night, because there was fresh snow and we simply couldn't resist…) 😍
It's easy access from Vienna and highly professionalized touristic services make it a pleasant destination, that's ideal for the comfort-seeking winter guest.
Disclaimer: We were invited to stay at Falkensteiner Hotel Schladming, but our views of the hotel stay independent from that invitation.