(Update, December 2022). If there's one prediction we can make for 2023, then it's that Bacalar will continue to grow into one of the most trending destinations of the year! And certainly it will become one of the most sought-after places within the Yucatán peninsula of México.
The fresh water lagoon
Before our first trip to Bacalar in 2021 we had no idea that apart from the beaches there was also this very unique sweet water lagoon in Yucatán – with water as clear and turquoise as it can get. In the last months Bacalar is becoming one of the most trending areas of the Yucatán peninsula and we can fully understand why it's getting more and more popular.
The water is equally beautiful to (if not even clearer than) the ocean, but it's all fresh water, which makes it really comfortable to swim in. Also there's no sargasso or sea weed problem here, which can adversely affect a beach holiday in Yucatán sometimes. Now having said that we wouldn't necessarily replace a beach holiday with a Bacalar visit, but it's a perfect addition to complement a trip to the region!
Where to stay: Habitas Bacalar
During a visit you can stay in the town of Bacalar (where they have some really nice boutique hotels as well), but we opted for the brand-new Habitas Bacalar eco retreat, that's located about 5 miles South from the town at a private stretch of the lagoon's shoreline. Upon arrival you leave your car at the gate and then take a golf cart through the jungle to arrive at the lagoon, where a small group of A-framed houses are located.
It doesn't get more secluded than here! In fact we loved it so much in 2021 that we decided to return for a full week in November 2022.
Set between the Mayan jungle and a crystal clear fresh water lagoon is where you can find the definition of bliss. The small collection of A-framed cabins is located at the lagoon in absolute privacy, serving as holistic retreat – with meditation rituals, swimming in between stromatolites, that are said to be the basis of all life on earth, and sunrise yoga sessions on the deck or on SUP boards on the water.
In 2021 we stayed here for two nights as part of a press invite, but would recommend to make it at least three nights to fully immerse yourself in this tranquil oasis. In 2022 we stayed 7 nights and it didn't get boring as well.
The weekly program at Habitas Bacalar offers enough activities to make a 7 night stay diverse and interesting.
Our suite: Jungle room at Habitas Bacalar
There are three room types at Habitas Bacalar – the lagoon rooms, that are set directly at the shoreline, the mangrove rooms, that are located at small streams of water behind the lagoon rooms and then the jungle rooms, that are hidden away in the back of the property.
While the lagoon rooms are the most expensive room category, we enjoyed the feeling of extra seclusion and privacy that we got in the jungle rooms. Our tip: Try to get room #23 for extra privacy!
Each tented suite comes with a king size bed, an open bathroom (but with a separate, closed toilet), an outdoor shower, a writing desk, a small deck and some cushions for comfort and coziness. Of course there's not just the fan, but also a proper AC for those hot nights in the jungle of Bacalar.
Oh how we miss sleeping in these tents, surrounded by mystical jungle sounds and just a few steps away from the replenishing lagoon.
During both visits we went for sunrise dips every morning and snorkelling during the day, the rest of the days are spent on the deck watching flocks of birds fly by and just letting our minds go quiet.
Pure connection to nature. This is what a place like Habitas Bacalar offers.
Vegetarian & vegan delights: The food at Habitas Bacalar
Let's be honest: We didn't leave the property during our first visit – and we believe most guests don't (except for boat rides or SUP tours). Just when we stayed a full week we decided to visit Bacalar town for one night to mix things up and get some Italian food inbetween 😉 But other than that we always had breakfast, lunch and dinner at Habitas Bacalar. As vegetarians that often means, that we'd have to repeat dishes or that the selection would be a bit repetitive. Not at Habitas Bacalar! The choices of vegetarian, plant based and even gluten free dishes is extremely rich and the quality and creativity of the dishes is beyond anything we have found in Yucatán.
Seated at the lagoon we ordered from an extensive à la carte menu for breakfast. From coconut chia puddings to vegan parsi with homemade roti bread, sourdough brioche to banana and amaranth pancakes, let us tell you – you'll be spoiled here! Dinner is served at Siete restaurant, that is located in a rustic two story thatched roof wooden structure, overlooking the jungle and the lagoon. Our favourite dish: The heirloom spiced carrots with spicy marinade, carrot hummus and toasted sunflower seeds! Heaven on a plate, really.
We guess by now you know how much we loved this place…! Hence the repeat visit in 2022.
Practical tips: How to get to Bacalar
During our first visit we came to Bacalar directly from Mérida, which was a 4,5 hour long drive through half of Yucatán – but on empty roads. Outside of the cities and main tourism hotspots there's very little traffic in Yucatán and driving couldn't be easier. We also found the roads to have much improved since our first Yucatán visit in 2017, allowing for quite relaxed drives.
In 2022 we had stayed in Coba before heading to Bacalar, making it a 3,5 hour drive down to the lagoon, which was also fairly easy to drive.
From the airport in Cancún it's a 4 hour drive to Bacalar and this is also why it's not as popular as other destinations at the coastline. The relatively remote location makes it an off-the-beaten-path destination for most Yucatán visitors! But we believe it's worth the extra drive.
If you want to break up the journey we recommend to spend a few days in Tulum and then make your way down to Bacalar or opt for Coba like we did during our second trip.
In any case we would definitely recommend to rent a car and go on a road trip in Yucatán. While you probably won't need the car in Bacalar, you can drive further to the West from here to also visit Calakmul in neighbouring Campeche state. In any case we would suggest to stay at least 3 nights in Bacalar to really get to immerse yourself!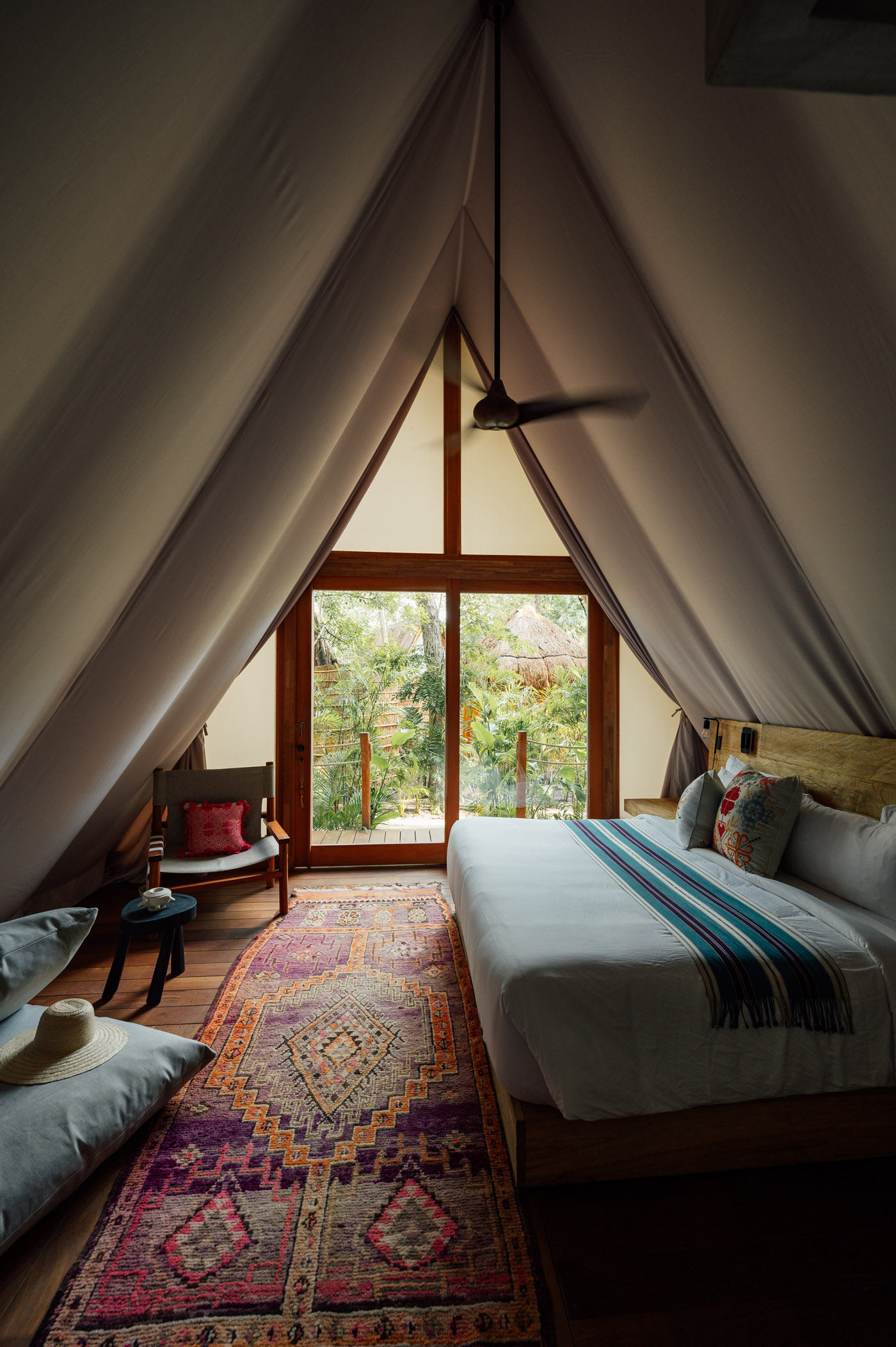 Save and pin this post for later:
Disclaimer: This is not a sponsored post, but we were invited to stay at Habitas Bacalar as part of a press trip. The views in this blogpost are our own.