Are you craving a one week roundtrip through Normandy, but don't know exactly where to go, where to stay and what to see? There's many highlights to explore and experience, so you won't be able to cover all of Normandy in one week, but here's an itinerary that focuses on some of the highlights, but also ventures off-the-beaten path for a bit.
This one week Normandy itinerary covers the well-known chalk cliffs of Étretat as well as the historic city of Rouen, the beautiful port city of Honfleur, visits of female-led Cidréries (cider manufacturers) and Monet's famous house and garden, eclectic seaside resorts like Deauville and countryside luxury hotels. If this sounds like it's right up your alley – keep reading!
One week itinerary Normandy
The chalk cliffs of Étretat are one of the most visited places in Normandy, but there's much more to discover!
We visited Normandy in partnership with France and Normandy tourism, as part of their #Francemeetsgreen initiative about sustainable traveling. For full disclosure: The tourism board organised this trip for us and we got paid for our attendance, but all the suggestions in this post are our personal recommendations. We extended the Normandy trip for a few extra days to have some more flexibility in our own itinerary and also left out some parts in this post that we feel are not interesting or that we wouldn't personally recommend.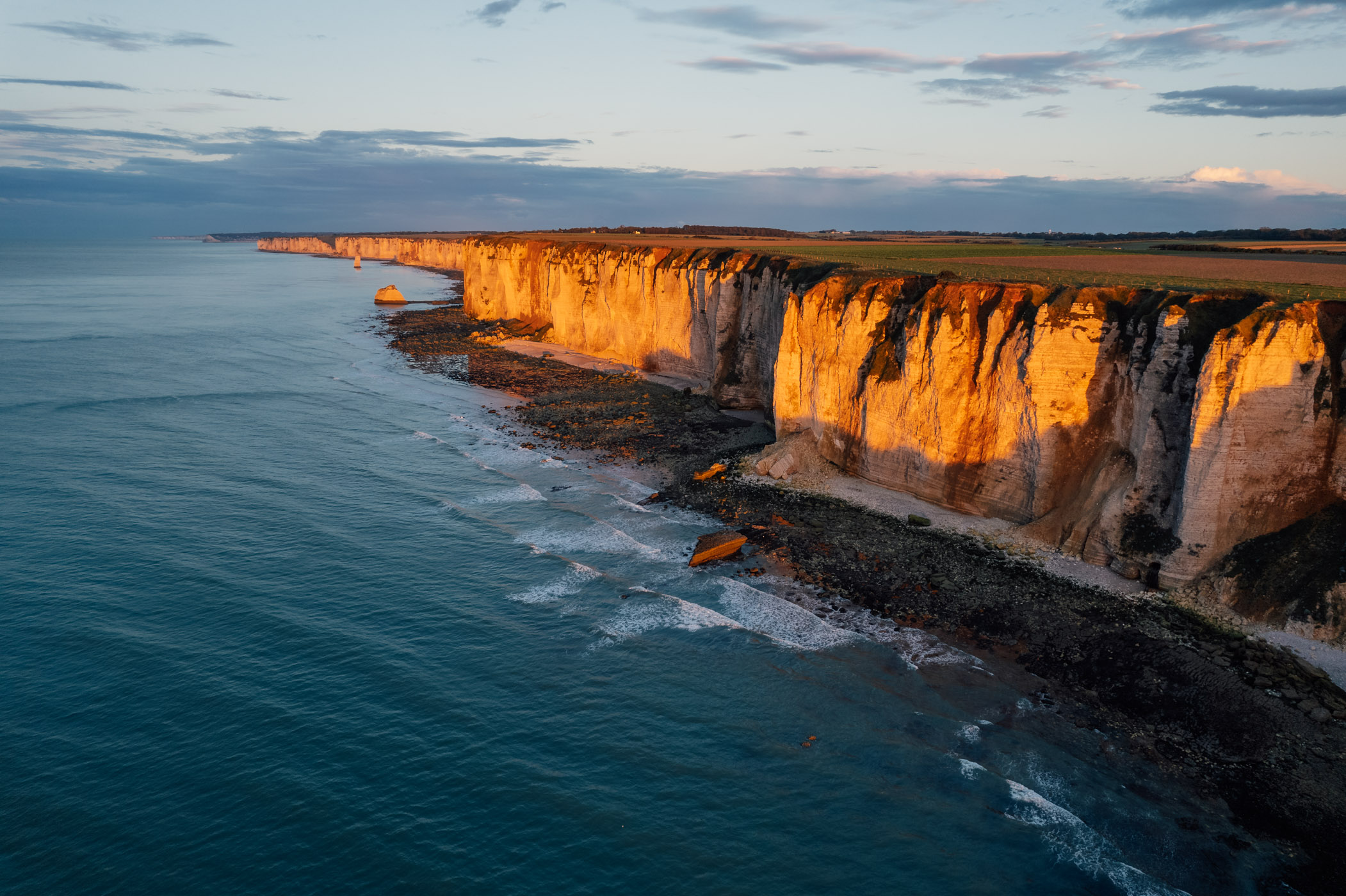 Rouen: City of churches & Joan of Arc
We started our roundtrip with a flight to Paris and a short 1,5 hour train ride to Normandy's capital city Rouen. We suggest you either take the train or and rent a car in Rouen or if you prefer take the car directly from Paris airport. Driving in Normandy is really easy, you just have to know that many of the highways are toll roads in France, so keep your wallet handy for those drives.
Rouen itself is a famous tour stop on many Seine river cruises, but not many guests actually stay overnight in the city. We stayed for two nights, but think one night is sufficient to cover the most important sights and also have time to stroll around. Rouen served as inspiration for many impressionist painter and "city with a hundred bells chiming in the air". There's cathedrals, churches and chapels at every corner of the city.
From top to bottom: Le Gros Horloge clocktower, classic French street scene (even in October people still sit outside here), the Cathedral of Rouen, La Couronne inn, Cathedral from inside
Most important things to see & do in Rouen
Stroll around the historic city to see all the half-timbered houses
Visit "Le Gros Horloge" – the clocktower (you can also go up!)
Go inside the impressive Cathedral of Rouen
Visit the "Joan of Arc Historial", an incredibly well-done exhibition with sound and light installations to tell the story of the martyrdom of Joan of Arc.
Visit the Église Sainte-Jeanne-d'Arc (make sure to go inside for the colourful old church windows)
Find the oldest inn in France called "La Couronne"
If you're into escape rooms you can try the one at the Rouen dungeon
Stroll around the lovely Parc de l'Hôtel de Ville
Have evening drinks at L' Espiguette at one of the loveliest squares of Rouen
Our favourite place in Rouen was the sunset lookout from "La Corniche de Rouen".
Locals come up to "La Corniche" for sunset drinks or a morning jog up the hill.
Here you'll get a great view of the Seine river and all the church towers of the city.
It's almost hard to imagine that Rouen used to be the second largest city in France and one of the most prosperous city in medieval Europe. Today it's a small city defined by cultural tourism and the port. We think it's worth a visit if you're into the legend of Joan of Arc and see the confluence of architectural history – from half-timbered houses to gothic cathedrals.
Where to stay in Rouen
We stayed at "Hotel Dieppe 1880 Rouen Best Western Plus", which is located right next to the train station and has nice newly renovated & spacious rooms. Other than that there's nothing special about the hotel and we think there might be more charming options in Rouen. We passed by "Hôtel De La Cathédrale", which looked quite nice from the outside, so maybe worth a try instead!
Special travel tip: Organic vegetarian cooking class in Conches-en-Ouche
One hour south of Rouen you can experience a lovely cooking class called "Je cuisine mon jardin" (which translates into "I cook my garden") hosted in an old watermill. Owner Mariane Guais invites food enthusiasts to cook with her and taste some of her foraged herbs and mushrooms, make creations with edible flowers and visit her own extensive garden, where she plants everything from old heirloom varieties to local herbs. This gives you a great taste of French countryside life and cuisine.
Deauville: Elegant seaside resort town with casinos and photo exhibitions
From Rouen we made our way to the Atlantic coast, but not to the famous landing sites (that are still to this day named like in WW2), but to one of the very iconic elegant seaside resort towns called Deauville. Here the high society of Paris and also from England spend their summer days, strolling alongside the pier, going to casinos and horse races and shopping at luxury boutiques.
It's not only luxury in Deauville – the simple pleasures are found at the wide stretch of beach… even in October!
If the luxury lifestyle doesn't sound appealing to you then let us give you a few reasons, why it's worth to visit Deauville anyhow.
Most important things to see & do in Deauville
Stroll alongside the famous boardwalk called "Les Planches" and read all the celebrity names
Go up the brand-new lookout platform on top of "Deux belvédères face à la mer"
Ride a horse at the beach (instead of visiting a horse race… which you know we would never recommend)
Rent e-bikes at "Jean connaît un rayon" and explore the resort town
Visit "Les Franciscaines", a brand new cultural place with a stunning photo collection, library & more
Take a guided tour of a former millionaire's villa called "Strassburger Villa"
If you visit in October make sure to go at the time when Deauville hosts "Planche(s) Contact" – a photo festival at the beach
The beach & boardwalk at Deauville are not only photogenic, but a wonderful place to spend sunrise and sunset.

More impressions from Deauville – from top to bottom:
View from lookout platform on top of "Deux belvédères face à la mer", rustic lunch in a seafood restaurant, Les Franciscaines cultural centre, Deauville beach lookout tower, Roof installation of Les Franciscaines.
The Strassburger Villa seems like it was left by it's former owners in a hurry – it's all in it's original state.
The villa can only be visited with a guided tour (or rented for events).
Where to stay in Deauville
Deauville has many exclusive resort style hotels and we stayed in one of the top names "Hôtel Barrière Le Royal". This hotel seems like it's fallen out of time, it's dark red and gold tones, canopy beds, liveried staff – it's a Wes Anderson movie come to life. Personally I would prefer a less over the top hotel, but the location right at the beach is a huge plus.
The location of  "Hôtel Barrière Le Royal" couldn't be better.
Next time I would prefer to stay in sister hotel "Hotel Barrière Le Normandy Deauville", which has an equally great location, but less opulent style.
Special travel tip: Visit of a female-led Cidrerie
From Deauville you can easily reach a place, that I would highly recommend to get an authentic taste of Normandy: The cidrerie "Manoir d'Apreval". It's not only a cider manufactory, but one of the first to become fully organic and led by a woman. Just like wine-making cider making is a true art form and traditionally a male-dominated field. Agathe Letellier took over the business and made it her own – here you can get a peak behind the scenes of cider making, enjoy a tasting of cider, calvados and Pommeau (a mix of apple juice and Calvados). And of course this is the perfect place to buy some souvenirs – from apple jelly to cider!
Visit of "Manoir d'Apreval" for a Cider and calvados tasting!
Honfleur: The old port & many traditional shops
Just 30 minutes up North from Deauville lies our next tour stop: Honfleur. This has quickly become my favourite little town in Normandy. Alongside the old port you'll find countless bars and restaurants, where the chefs prepare the meals in the first floor overlooking the hustle and bustle of the port. Just around the corner you can find some of the most charming little streets lined with shops that offer everything from delicacies to art. There's even streets dedicated only to local artisans and it's oh so tempting to take a sculpture or an impressionist painting home with you.
We didn't stay directly in Honfleur, but a little outside of the city and therefore didn't have the chance to explore more of Honfleur. But the impressions we got during our short visit were enough to convince us that it's worth a longer visit.
Most important things to see & do in Deauville
Walk around the old port and eat out in one of the countless restaurants (f.e. "Le Vieux Honfleur – Collection Saint-Siméon")
Shop in the art district and visit the galleries around Place Pierre Berthelot and Rue du Dauphin
Check out France's largest wooden church "Église Sainte Catherine" built in the 15th century
Have lunch at "Bistro La Boucane – Collection Saint-Siméon"
Go kitesurfing or on a beach walk at "Plage des marais de Pennedepie"
Another reason for a longer stay in Honfleur is that there are some of the most wonderful hotels we got to know during our trip through Normandy. This is why we would recommend to stay in the area for at least two nights for a little R&R and peace and quiet.
Where to stay in Honfleur
We didn't stay in Honfleur directly, but a little outside of the city – in two different hotels and both were absolutely wonderful, cozy and charming. We only had one night in each, but I would highly recommend to choose one of these below and stay 2 nights (if you have more time, this would also be great for a longer stay).
Hôtel L'Auberge de la Source
We only stayed one night at "Hôtel L'Auberge de la Source", but absolutely fell in love with this wonderful countryside resort and our two-story room. This is also where we had some of the best vegetarian food of our whole Normandy trip (find out more on being a vegetarian in Normandy below). The hotel is located just 8 minutes drive away from Honfleur in a small village in the forest, the rooms are spread out in three different buildings and the whole atmosphere of the hotel is simply relaxing, soothing and elegant at the same time.
Les Jardins de Coppelia
Just a few minutes away from Honfleur and the cider manufactury lies this gem of a hotel called "Les Jardins de Coppelia". The building itself seems like straight out of a fairytale – when we arrived in the rain it felt a bit like a haunted house, but once inside it has a very cozy and lovely atmosphere. The hotel also has a swimming pool (outdoor) and spa area as well as an exquisite restaurant.
If you want to stay directly in Honfleur and close to the port "Les Maisons De Léa" look like a really good option (but we haven't tested it).
Étretat: Chalk cliffs & the Atlantic Ocean
Our final stop on our one week tour of Normandy was the most famous – the town of Étretat with it's white chalk cliffs. In summer this place can get really crowded, but in October (and not on the weekend!) we had the cliffs almost to ourselves. Therefore our recommendation would be to visit Étretat outside of the season and during the week. It was an incredible experience to hike alongside the cliffs – overlooking the Atlantic Ocean and just marvel at how stunning nature can be.
We would definitely recommend to stay in Étretat for two nights, so you have enough time to take extended walks alongside the coastline in both directions (and also in case the weather doesn't play along… it can be quite unpredictable at the coast). Except for the coastal walkways you can also visit the iconic "Jardins d'Étretat", that date back to 1903 and were inspired by impressionism. We went here in the late afternoon one hour before they closed and there were only 4 other visitors during the whole time there. Having this place to ourselves like this was a very special experience.
Most important things to see & do in Étretat
Walk up on the right side of Étretat beach to "La Falaise d'Amont" (and visit the "Jardins d'Étretat" when you're already up there). There's old info saying you can drive up and park your car up there to avoid climbing the stairs, but this isn't up to date anymore. The roads have been blocked for car traffic nowadays. If you don't want to walk you can take the little tourist train from the main square.
Watch the sunset from the "Chapelle Notre-Dame-de-la-Garde". We got lucky and saw the most spectacular sunset here! Definitely bring your camera (and a raincoat!).
Hike up to the left side of Étretat beach to "La Falaise d'Aval" at sunrise – this way you'll have it to yourself (it gets quite crowded during the day).
Apart from the chalk cliffs and the gardens we don't think there is a lot to do in Étretat itself. But we recommend to take your car and go on some excursions from here. You can either visit Le Havre to the South or go up more to the North to Yport and Fécamp. We did a half-day excursion up to Yport, which is quite a sleepy coastal town in October (but might be more alive in summer).
Yport is famous for the cabins at the beach.
Where to stay in Étretat
In Étretat we stayed in one of the most iconic properties ever – it's a rockstar glamour hotel in an old villa slash castle! Let's just say that much: Pete Doherty got married here. Hotel "Le Donjon – Domaine Saint Clair" is definitely one of a kind and not everyone's taste when it comes to it's flashy interiors (think Geisha art meets huge chandeliers and pink and yellow sofas), but the location is unbeatable. You can overlook Étretat straight from the room or the pool!
On the way: Monet's house and garden
From Étretat the drive back to Paris is about 3 hours long. But you can break it up easily and visit one of Normandy's most famous gardens and museums. Claude Monet used to live in Giverny for forty-three years, from 1883 to 1926. This is where he painted most of his famous impressionist works – especially the water lilies. Even in October the garden and his house are well-visited, so be ready for huge tour groups and waiting in line. I found the masses quite distracting and couldn't really enjoy the visit, but his house with all the mono-coloured pastel rooms is definitely very interesting (photos are forbidden inside though). The garden itself was impressive, but if you're rushed through by lines of visitors it's frankly a bit hard to enjoy it. I would recommend to visit the garden either early in the morning or late in the afternoon to avoid the crowds.
Normandy in a week
This concludes our one week itinerary in Normandy. We focused on the two North-Eastern departments called "Calvados" and "Seine-Maritime" and a brief visit of Monet's house in the department "Eure". Normandy itself is quite large and it's challenging to fit everything into just one week. If you want to visit la Manche and famous Mont-Saint-Michel I would suggest to plan at least 10 days to be able to extend the trip to the Western parts of Normandy.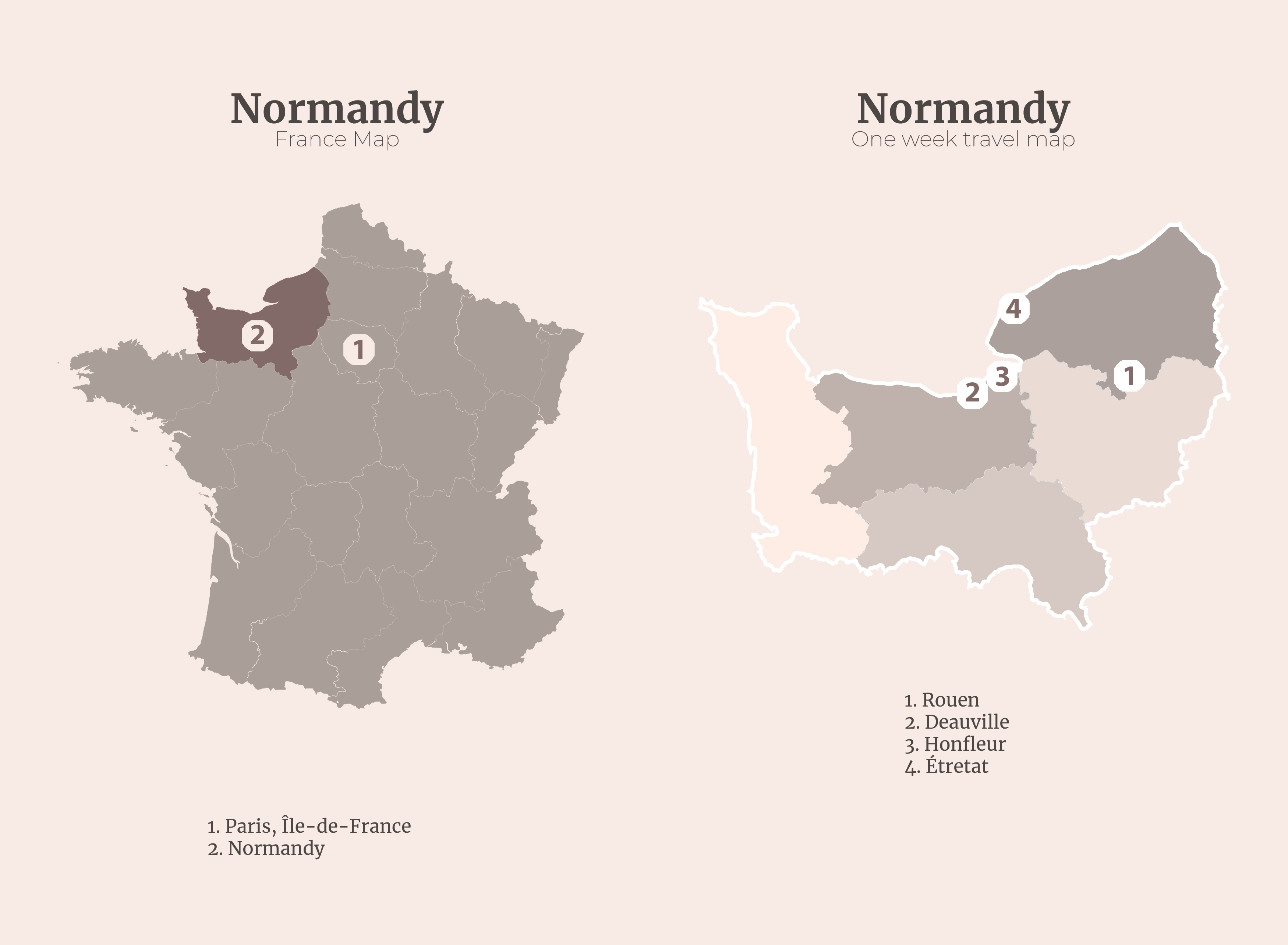 A few words about sustainable & responsible travel
One of the reasons we got invited by Normandy tourism was to discover their approach towards sustainable and responsible traveling. The "France goes green" motto spans many initiatives and we got to learn a bit about it during the trip. It covers hotels who start their own permaculture garden like "Les Jardins du Coppelia" to driving electric vehicles, from organic cider productions to our vegetarian cooking class with foraged ingredients. There's many ways to make sure your trip leaves a positive impact.
We even got to plant a big apple tree in Deauville as an effort to compensate a bit of our carbon footprint of the trip. Personally I firmly believe that traveling slowly and spending time at a destination is the most responsible way to travel. Therefore I also didn't cram everything into this one week itinerary, but focused it on a few key destinations. Staying in locally owned hotels is also a great way to make sure your money also stays in the regions.
A short digression: Being a vegetarian in Normandy
At the end of this itinerary let us leave a few words about life as a vegetarian in Normandy. Let's just put it that way: It seems that even in 2021 the concept of vegetarianism hasn't really arrived here. Don't get us wrong, we always got something to eat, but it was rarely a revelation. Often enough there was no vegetarian option on the menu and the chefs had to create something especially for us (aka pasta with tomato sauce or a soup). Or there was only one option and it was often a "diet" option. So we even sometimes had to leave the restaurants hungry (who considers a slice of toast with steamed veggies and olive paste a main dish anywhere in the world really?). So it's challenging!
Having said that we got the best vegetarian food at restaurant "La Longere" in Le Neubourg and at these two hotels: "Les Jardins de Coppelia" and "Hôtel L'Auberge de la Source", where the chefs seemed to have a bit of an understanding how to create flavours, make a sauce and proper food for vegetarians. All the other restaurants we ate at were not so great for vegetarians, hence we are not giving recommendations for restaurants at every location in our blogpost. For non-vegetarians here's the restaurants we ate at, that were presumably good (trusting our non-vegetarian travel companions):
Rouen
Deauville
La Verrière | Restaurant Deauville
Bar du Soleil
Speaking of our travel companions… If you want to learn more about our Normandy trip make sure to also check out the blogs & Instagram accounts of our fellow travel companions: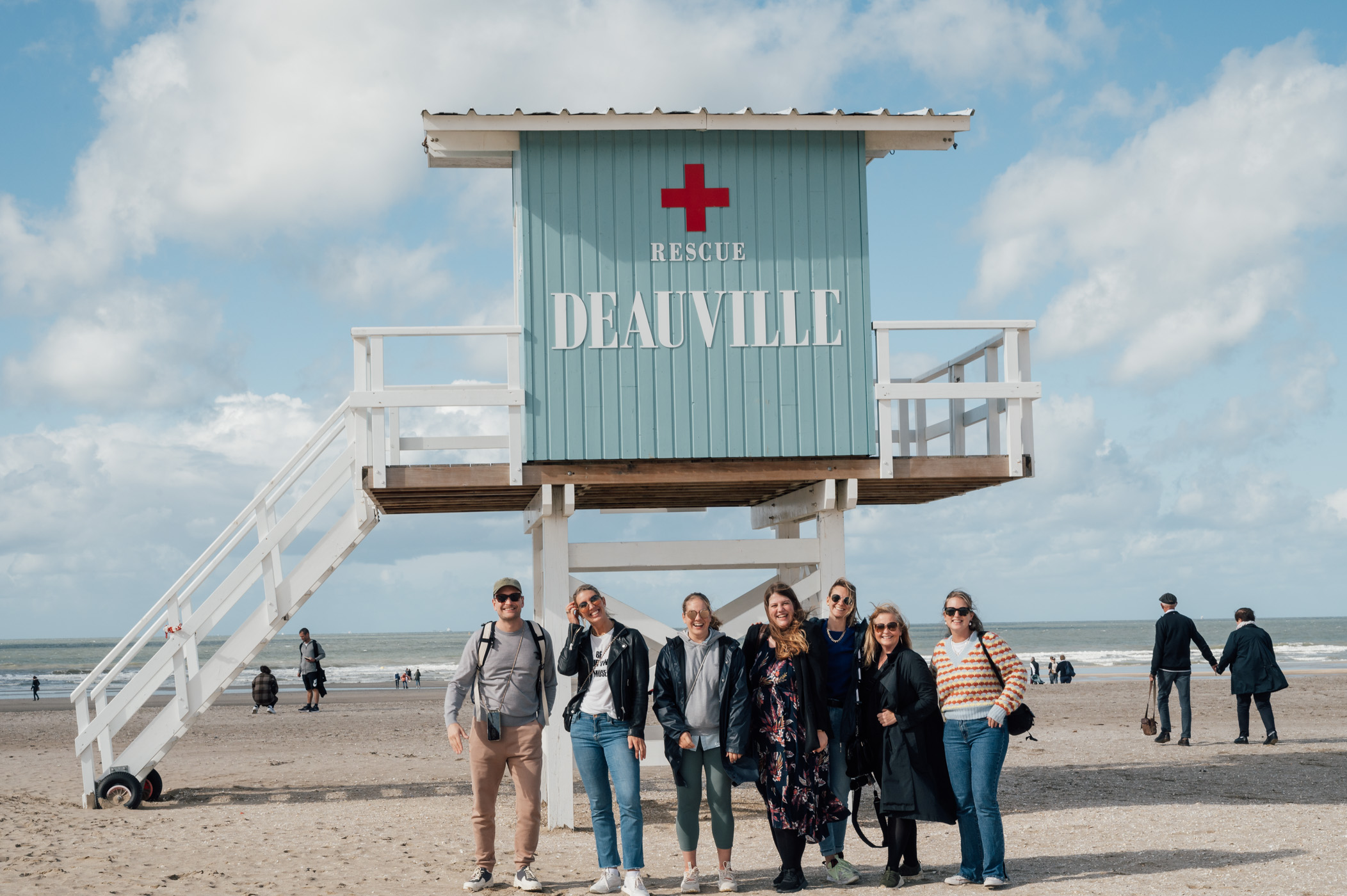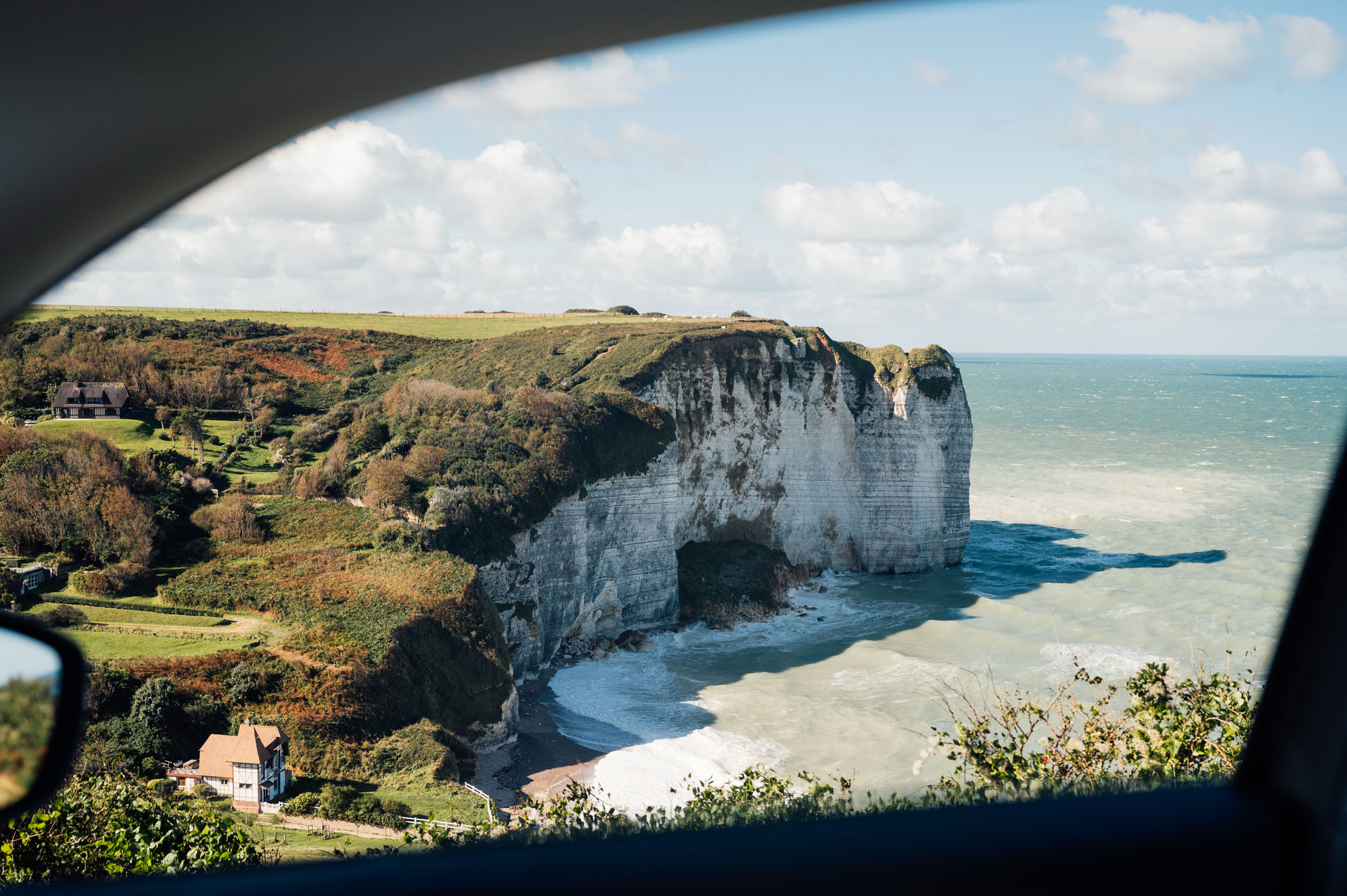 This concludes our one week itinerary for Normandy – we hope you enjoyed it. Leave us a comment if you read until here please 😉 We wish you safe travels!
Or save and pin this post for later:
Disclaimer: This is not a sponsored post, but we were invited to Normandy as part of a press trip. The views in this blogpost are our own.