(Update, December 2022). After three separate Yucatán trips in the last 5 years we've gathered all our tips in this blog post to help you prepare for your Yucatán road trip. In fact this post includes two different options for road trip itineraries as well as tips for each of the proposed locations.
The first Yucatán road trip itinerary is a two week option and the second a one week option, and both include a few days of relaxation at the beach.
When planning your trip to Cancún or Playa del Carmen, Tulum or any other of the wonderful beach destinations in México – we suggest to also schedule a few days for a road trip through Yucatán. There's a lot to discover and experience – and it's really easy and comfortable to travel around.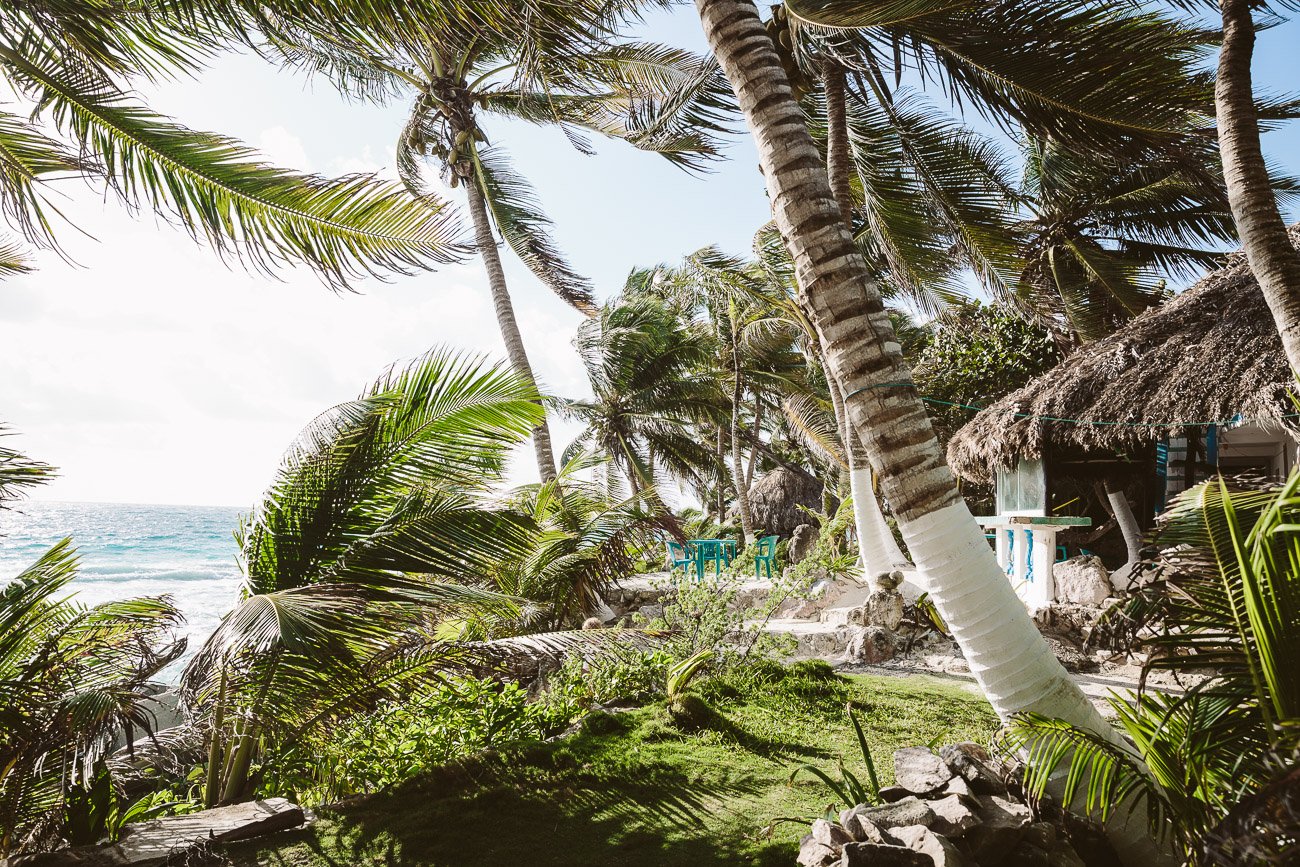 After a few days at the beach we recommend to plan a short road trip through Yucatán.
2 Week Yucatán Road Trip Itinerary
When you have two weeks for your Yucatán trip we suggest the following itinerary:
DAY 1: Arrive in Cancun airport and stay close-by for 1 night to avoid long drives
DAY 2-4: Tulum beach relaxation
DAY 5-7: Cobá – Mayan ruins, jungle and cenotes
DAY 8: Valladolid and Chichen Itzá or Las Coloradas
DAY 9-11: Holbox – Island vibes
DAY 11-14: Mérida – Colonial heritage and excursions to Izamal, Uyamon, Uxmal, Yaxcopoil, etc.
If you have even more time on your hands we highly recommend to add a few days in Bacalar as well, but if you only have two weeks this might be a bit too much to combine it all.
1 Week Yucatán Road Trip Itinerary
Are you planning a road trip through Yucatán but only have one week of time? We've had the same dilemma during our first trip and have hence put together an easy itinerary for a short trip. Even if you want to make your beach days count – we'd suggest 3 days at the beach and 4 days with Mérida as home base for excursions. These two locations make for an ideal combination:
DAY 1-3: Tulum (or another beach destination)
DAY 4: Drive to Mérida with stops in Cobá & Valladolid
DAY 5: Mérida – Day trip to Izamal & Tixkokob
DAY 6: Mérida – Day trip to Las Coloradas & the Pink Lagoon
DAY 7: Mérida – Day trip to Muna – Uxmal – Kankirixche – Yaxcopoil
During our first Yucatán trip in 2017 we stayed in Tulum for 3 beach days (read more about our Tulum beach hotel Azulik here) and then used Mérida as our homebase for the remaining 4 days.
The central location of Mérida – the capital city of Yucatán – is ideal for discovering a lot of the peninsula and the bonus is that it has some nice hotels and sights by itself (read more in our blogpost about 72 hours in Mérida).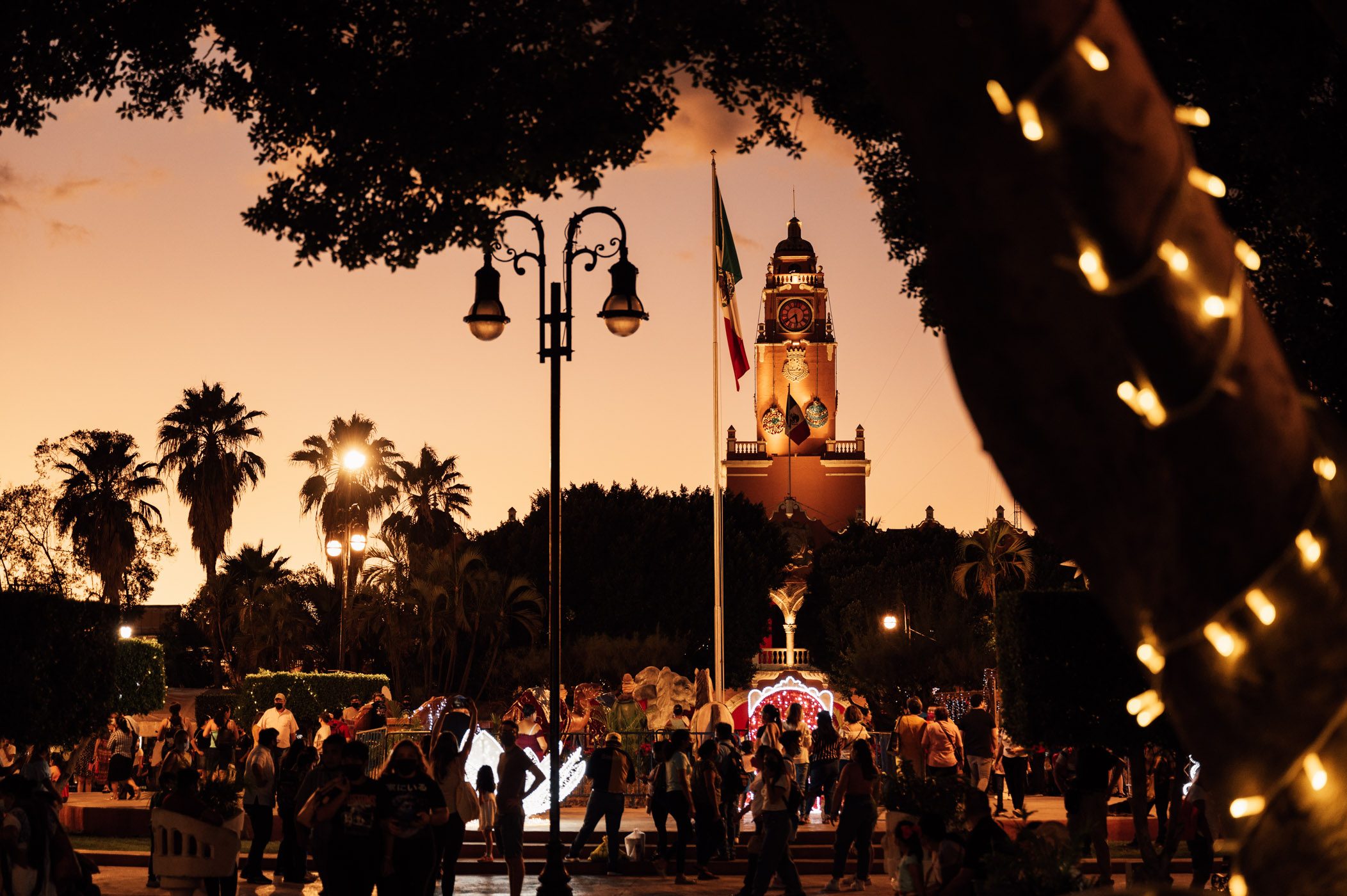 Mérida is a convenient (and beautiful) base for traveling through the state of Yucatán.
Road trip tour stop: Playa Mujeres
During our second Yucatán visit we opted to stay close to the airport in Playa Mujeres at Atelier Playa Mujeres Resort for two nights. Playa Mujeres is a resort-clad beach destination with all-inclusive hotels and a wide stretch of beach. We wouldn't recommend staying here longer than 1 or 2 nights, but to recover from the long flight it's an ideal location, as it's just 30 minutes away from Cancún International Airport.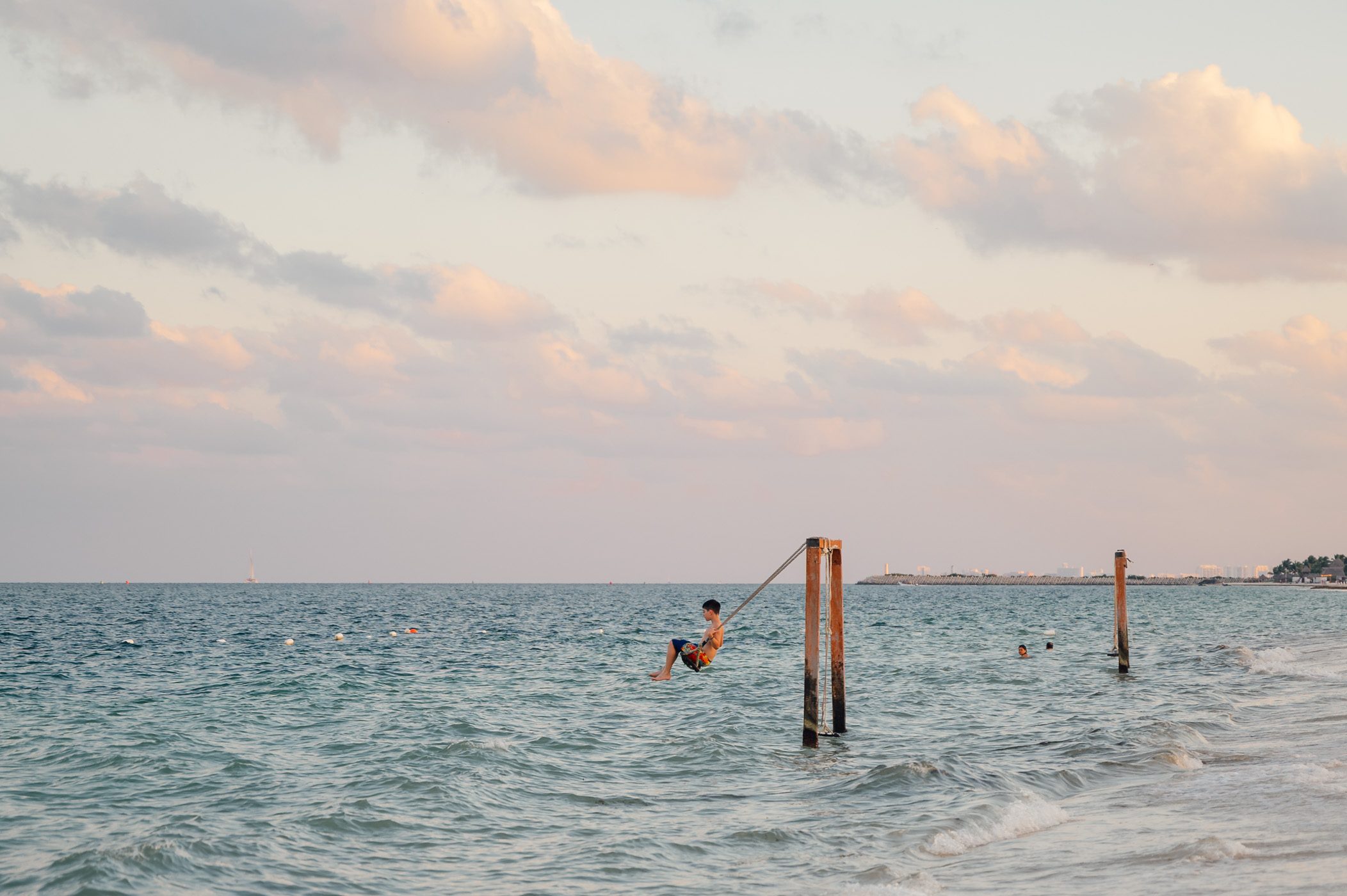 Road trip tour stop: Tulum
Tulum is undoubtedly the most hyped place on the Yucatán peninsula. We visited the famous beach destination in January 2017 for the first time and spent some wonderful days at the iconic Azulik resort. Since then a lot has changed and we haven't felt the urge to return for a longer stay. Yet, if you're looking for top notch hotels, hip vegan eateries, moonlit beach parties and instagrammable infinity pools it's still worth a trip.
Read more about our stay at Azulik resort here and don't miss our 5 tips for a stay in Tulum here.
The ruins of Tulum are worth a visit when you're staying at the beach.
Road trip tour stop: Cobá
On our way from Tulum to Mérida we knew that we wanted to stop in Cobá. Cobá is famous for it's vast complex of Mayan ruins, but during our first visit we skipped an exploration, because we knew we were going to see Uxmal – which is a much larger complex and where you can still walk up some of the buildings to get viewpoints from above. In Cobá this is forbidden by now and you can't climb the ruins anymore.
But Cobá doesn't only have the ruins – it's also the location of the beautiful Coquí Coquí Cobá Residence. This private hide-away with it's perfumery and a handful of suites is a true hidden gem in the jungle. If you want to make Cobá your homebase for a few nights during a road trip we can definitely recommend this place.
During our third Yucatán visit we stayed here for three nights and it's as tranquil and secluded, but still luxurious, as it gets. This is also when we decided to visit the ruins of Cobá early in the morning (before the day visitors arrive from Tulum) and enjoyed them completely on our own.
Read more about Cobá and our stay at the Coqui Coqui residence here!
While the residence is beautiful, the rest of Cobá doesn't have a lot to offer (apart from the ruins).
Road trip tour stop: Valladolid
Another place that we would recommend for either a day trip or a few days of overnight stay is Valladolid. This colorful city is definitely worth a stop. During our first road trip we only stayed in town for a few hours to walk around and explore and visit the market, but during our second Yucatán visit we decided to stay in the city for 3 nights.
It's the perfect base to visit nearby Chichen Itzá, the most famous Mayan pyramids and remains in Yucatán. After having seen Uxmal and the Tulum ruins we were blown away by the size and splendour of Chichen Itzá, but of course they are also among the most visited places in Yucatán, so you better come early in the morning to enjoy it in relative tranquility.
Other than that you can also visit nearby Mayan villages like Yalcobá during a guided tour to learn more about today's indigenous culture and explore cenotes like Palomitas and Agua Dulce Cenote (we tried both and loved the relatively quiet experience at both).
Restaurant tips for Valladolid:
Empanadas at Tresvanbien
Le Kaat
Elela Organic Vegan Café y Restaurant
Visit the market and meander through the streets of Valladolid. The colourful facades make for great photo motifs.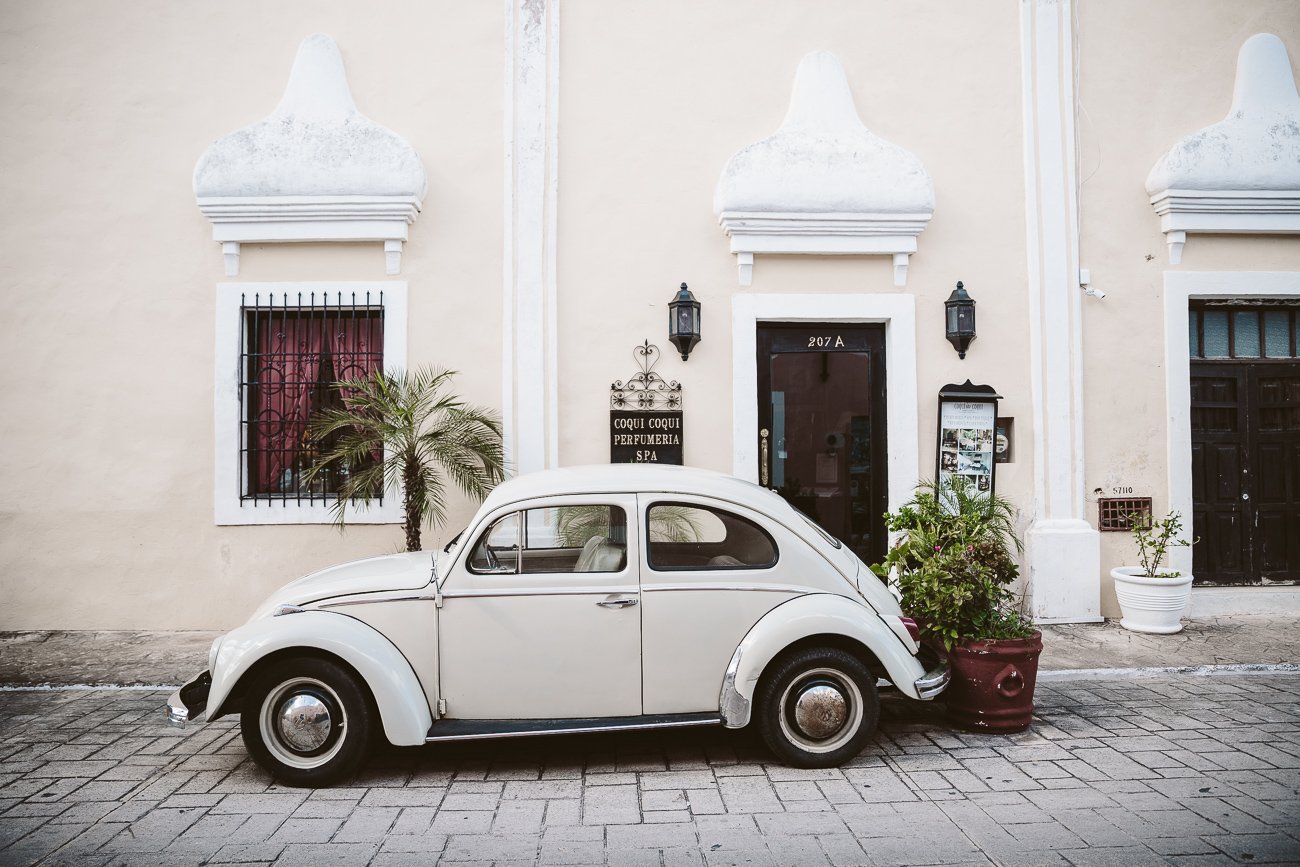 Road trip tour stop: Holbox
We visited the island of Holbox in 2021 and had heard how many people mourned the "loss" of the untouched island paradise. In fact this is far removed from a secret and has become quite a popular addition to any Yucatán itinerary. Hence the development is moving quickly – new hotels and restaurants are opening on a monthly basis and the stretch of beach has become clad with bars, massage parlours and tour guide huts.
Yet, we think it's still worth a stop as much of the island is under protection as Yum Balam National Park and remains untouched, the beaches are still incredibly beautiful (and don't suffer from Sargasso like the beaches at the Eastern coast of Quintana Roo) and the choice of hotels is becoming quite appealing!
Read more about our tips for a 2023 visit of Holbox here.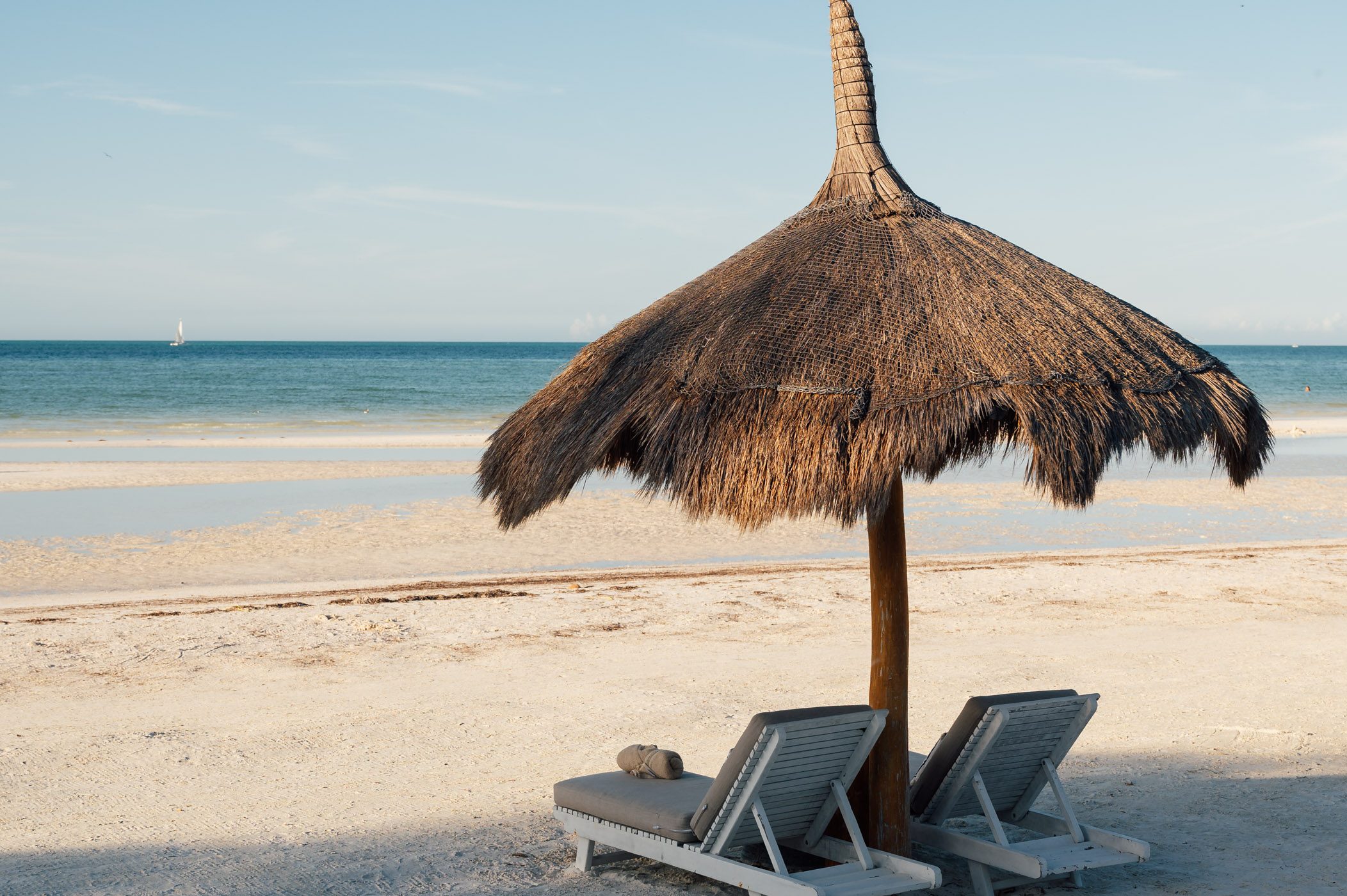 Road trip tour stop: Izamal & Tixkokob
After we arrived in Mérida we checked into our first hotel (Diplomat Hotel) and discovered the city. On the second day we started our road trips from there.
The capital of the Yucatán state is located right in it's center, so you can easily reach all the relevant places by car. One of the first things on our list was a visit of the yellow city called Izamal.
Our verdict: It's not our favourite place in Yucatán. While the city is really quite photogenic with all it's yellow facades, it feels quite touristy when compared to other cities in the region. The convent is an iconic building that sits atop of ancient Mayan ruins. This fact alone speaks volumes about the disregard for the local history and culture by the Spanish settlers.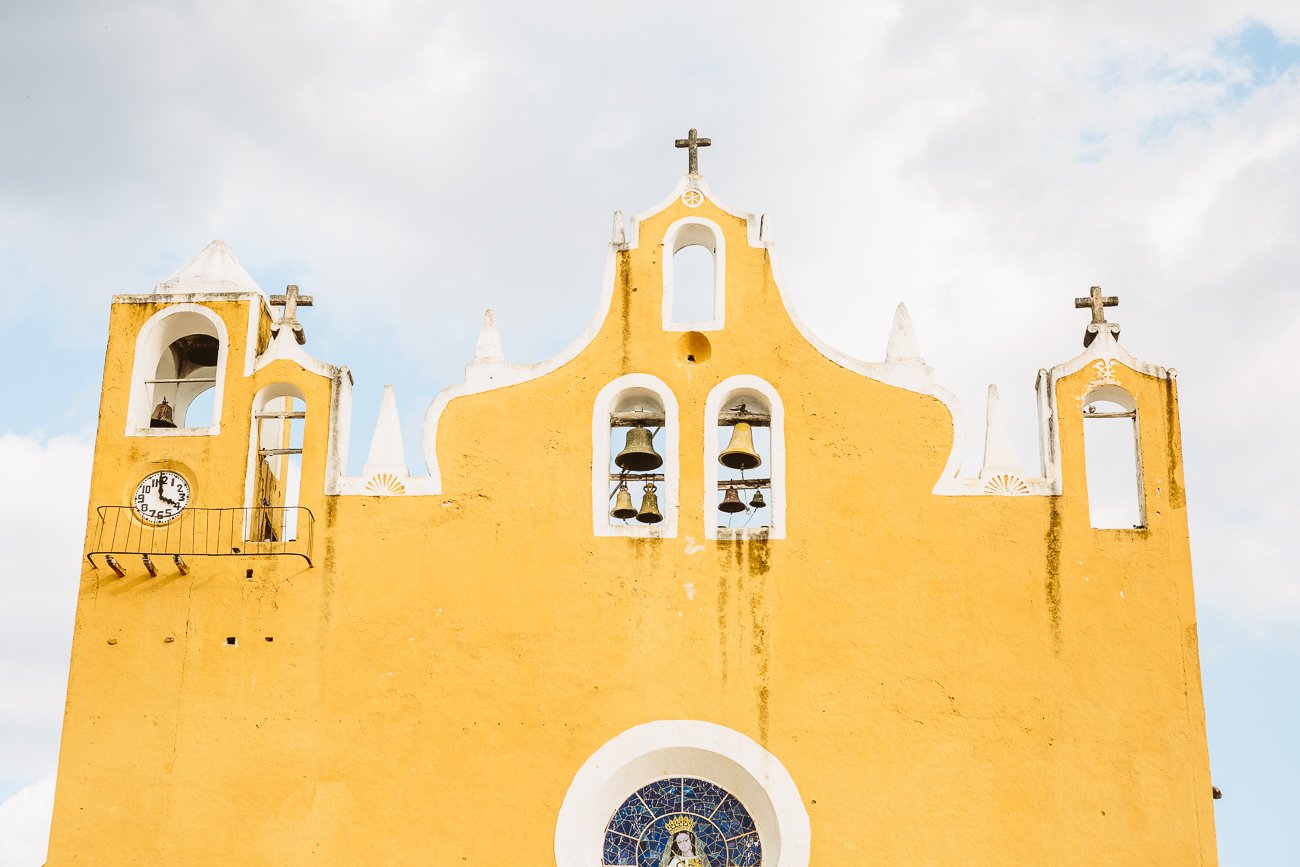 On our way back to Mérida we made a short stop in Tixkokob. Due to it's lack of Mayan ruins (and other classic sights), this city is mostly left roadside by visitors. Well, that's just right up our alley! 🙂 While the name of the city means "place of poisonous snakes" in Mayan, we didn't feel like it was such a bad place.
At dawn thousands of birds meet up at the main square along with all the locals gathering for dance lessons, grabbing Tacos at one of the food stalls or just chatting in the streets.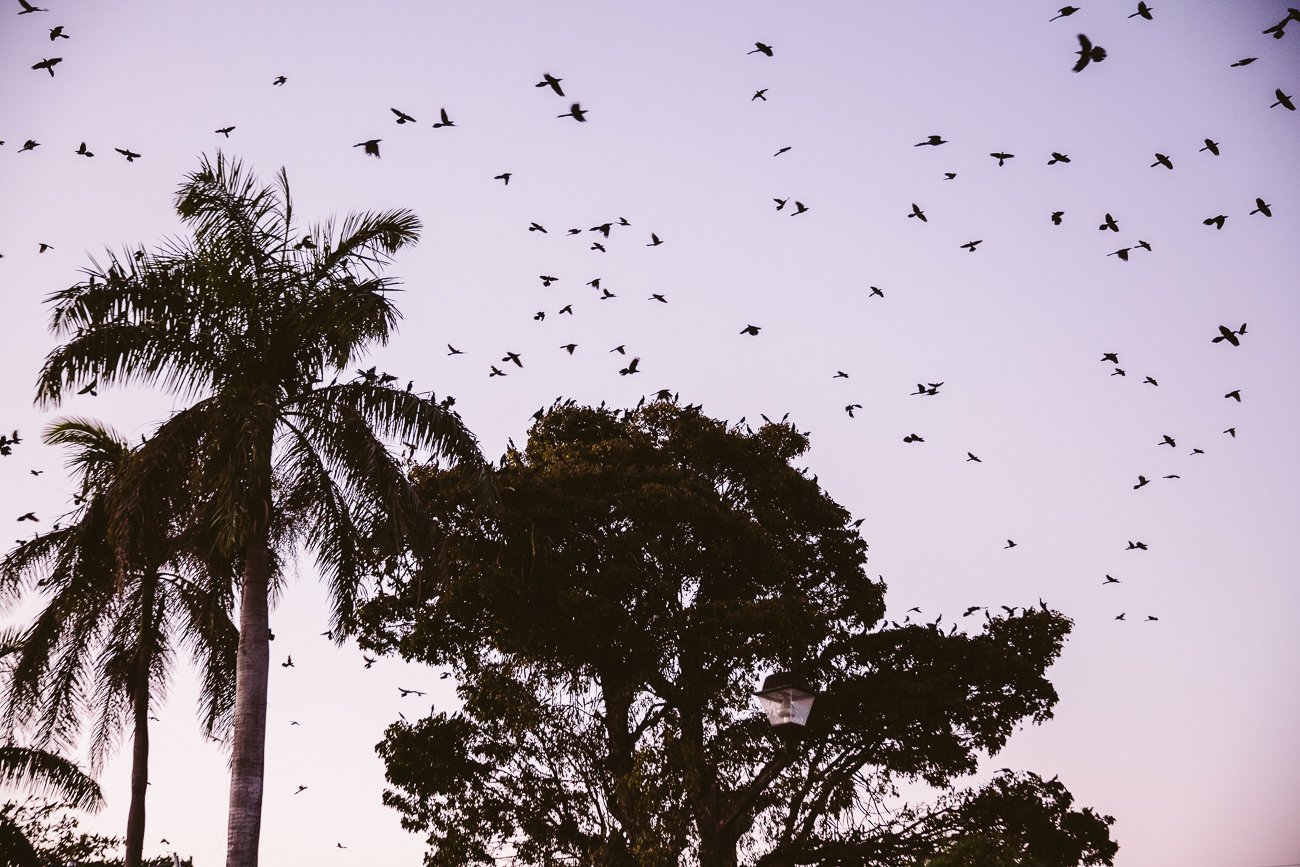 Tixkokob lets you get a sense of the local life in Yucatán and is definitely worth a stop!
Road trip tour stop: Las Coloradas & The Pink Lagoon
The pink lagoon is probably one of Yucatán's most iconic photo motifs. It is located in Las Coloradas, a rather unglamourous salt mining town at the shores of the Gulf of Mexico. But it has two magic arguments: Pink water and Flamingos.
Read more about our visits of the Pink Lagoon at Las Coloradas in our blogpost with a lot (!) of flamingo shots and updated tips from what has changed between 2017 and 2022.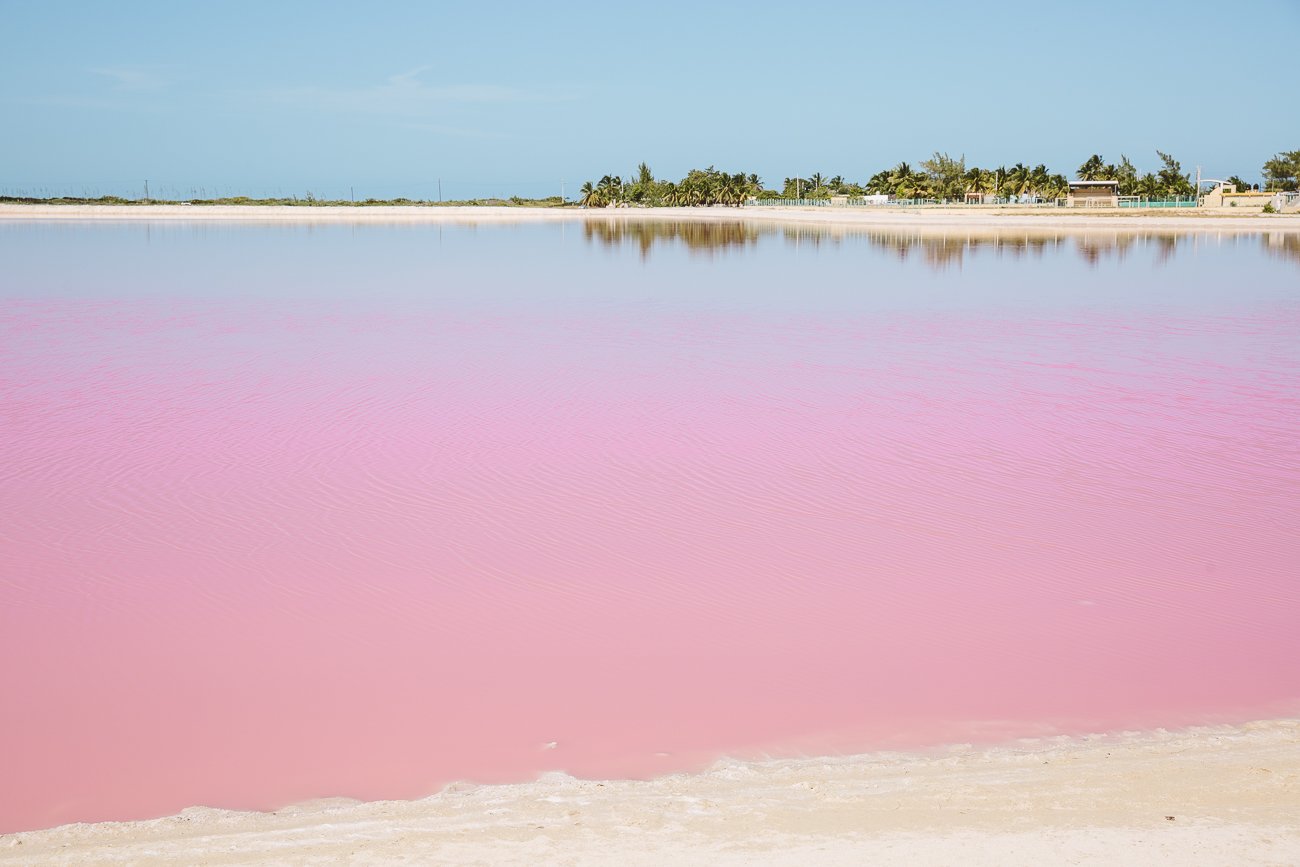 The color of the pink lagoon is all natural and comes from it's inhabitants: red plankton and shrimps. You can even spot the color on satellite pictures of Las Coloradas:
Pro tip:
Plan at least half a day here. You will want to see the pink water around noon, as the color is most intensely visible during the mid day hours. Then stay until sunset to drive around the area to discover flamingos feeding.
Road trip tour stop: Uxmal, Kankirixche, Yaxcopoil
Our last route brought us to the South of Mérida. This is the holy trinity of Yucatán experiences all packed into one (still relaxed) day:
An exploration of Mayan ruins in Uxmal
A swim in a Cenote in Kankirixche
A peak into history at a Sisal hacienda in Yaxcopoil
These are about the main three things you have to do when you visit México. So if you can only do one day of road trip during your visit of Yucatán this is the one to do!
Mayan Ruins of Uxmal
The beauty of Uxmal is threefold: It is way less visited then the famous big sister Chichen Itza, the ruins are from different periods and all very distinct in their architecture and they are extremely well preserved while still very accessible.
While you can't climb the main pyramid, there's a temple set atop of a hill that you can climb to overlook the whole city, which shows the grandeur and wisdom of the Mayan people in one glimpse.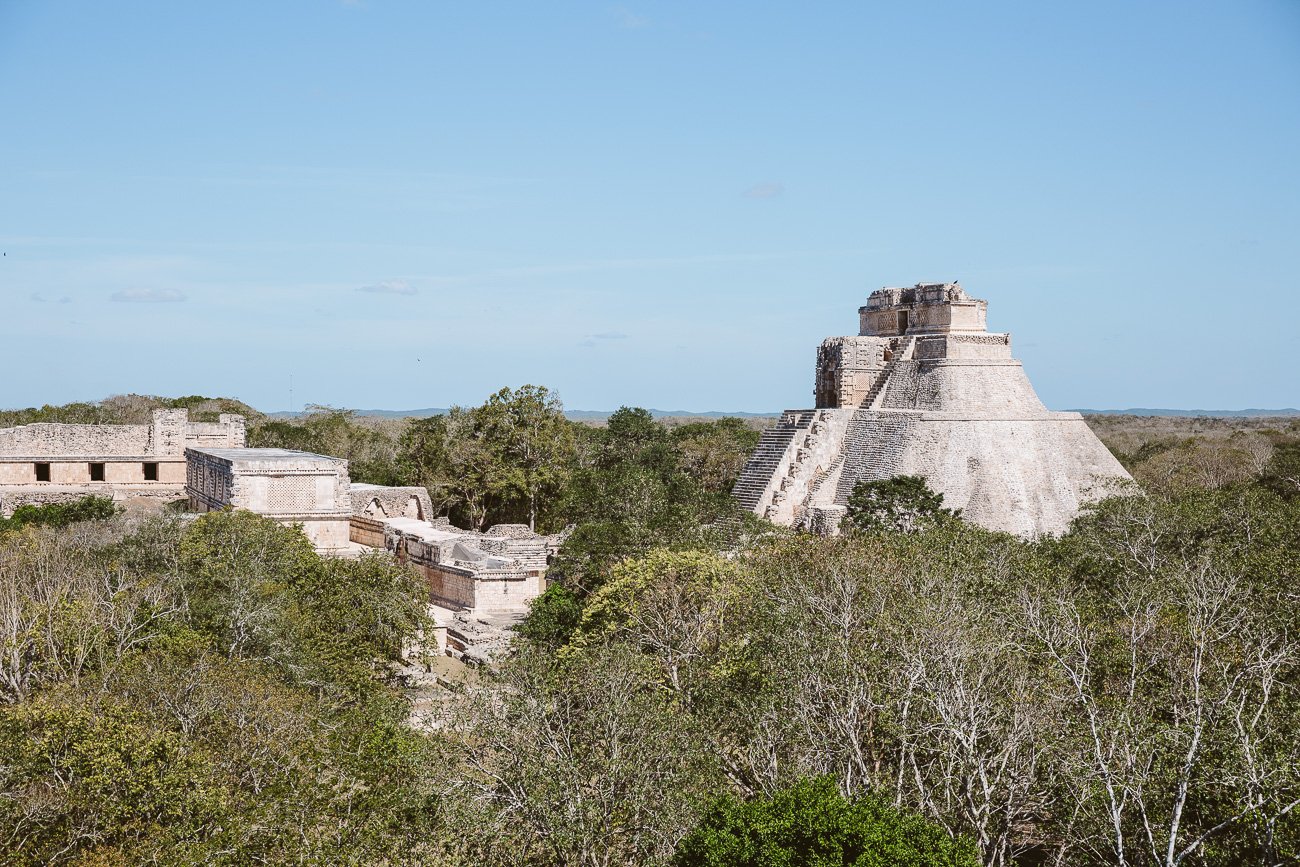 A part of the Uxmal city as seen from atop one of the temples
Swim in the Cenote at Kankirixche
Yucatán is like a Swiss cheese – the ground has more holes than anyone could count. There's supposedly  hundreds or even thousands of caves and underground rivers and water holes!
No wonder that the locals have their very own Cenote in each little village. This is where the Mayans used to get their fresh water from and nowadays they are welcomed places to cool off during hot days. At Kankirixche the Cenote is located a 20 minutes drive away from the next village in the middle of the jungle:
You'll have to take a sandy and extremely rocky path through the jungle to get there, but it's well worth the trip. The Cenote is accessible via a wooden staircase and during the noon hours the sun comes in from the hole in the top. The water is fresh and cool and you can see countless meters through it's turquoise crystal clear structure. You'll spot fishes and stalactites and stalagmites and of course the occasional bat will fly over your head.
Visit the hacienda at Yaxcopoil
This hacienda feels like their owners had to leave it on a short notice. They left all of their personal belongings there, so you get a real sense of what life on a Sisal farm must have felt like.
The entrance gate is already impressive.
Yucatán used to be quite rich during the days of the flourishing Sisal trade. And this is still visible in the Haciendas.
Behind the main building with all the living rooms you can discover the workshops and warehouses. All the old machines are still there, as if they had just stopped running yesterday.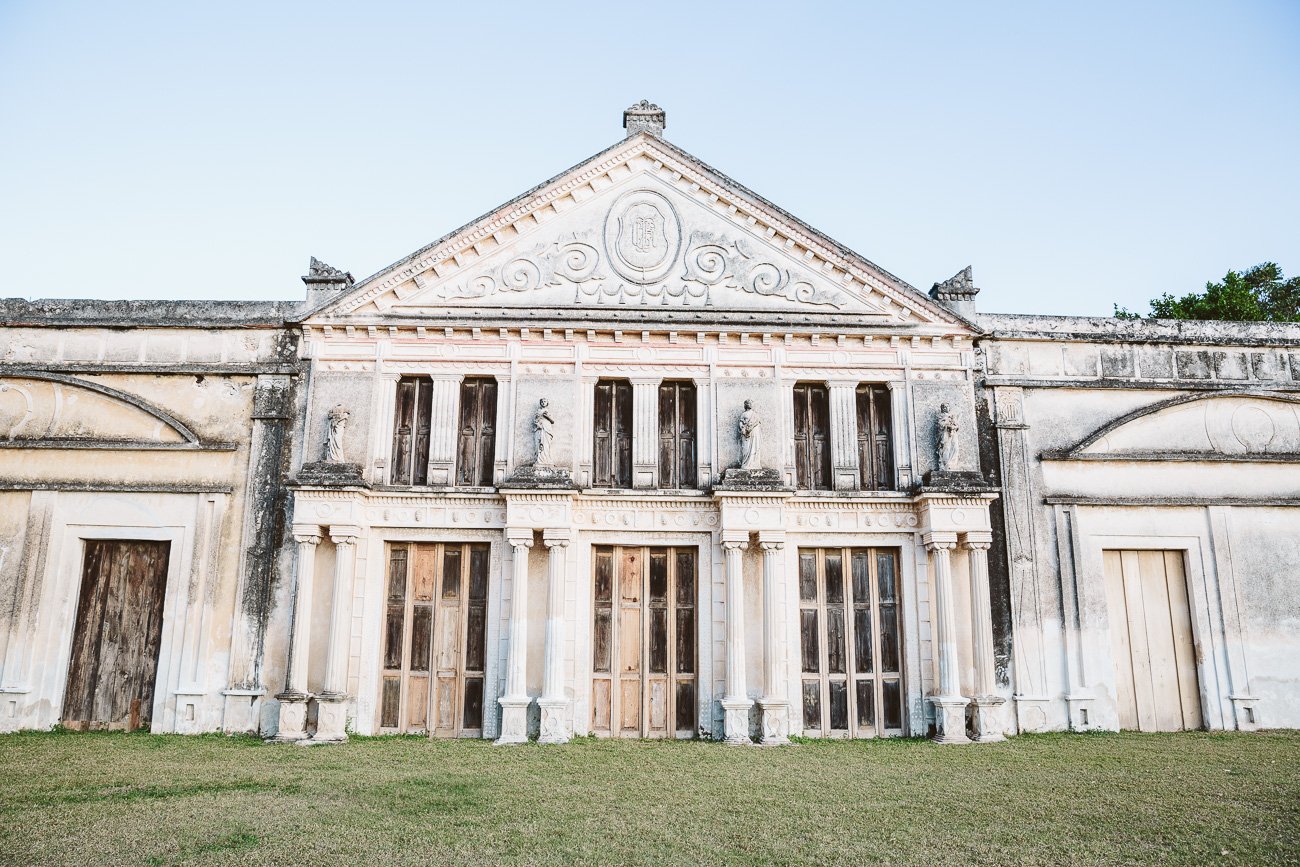 This is one of the warehouses – looks more like a palace when you ask us!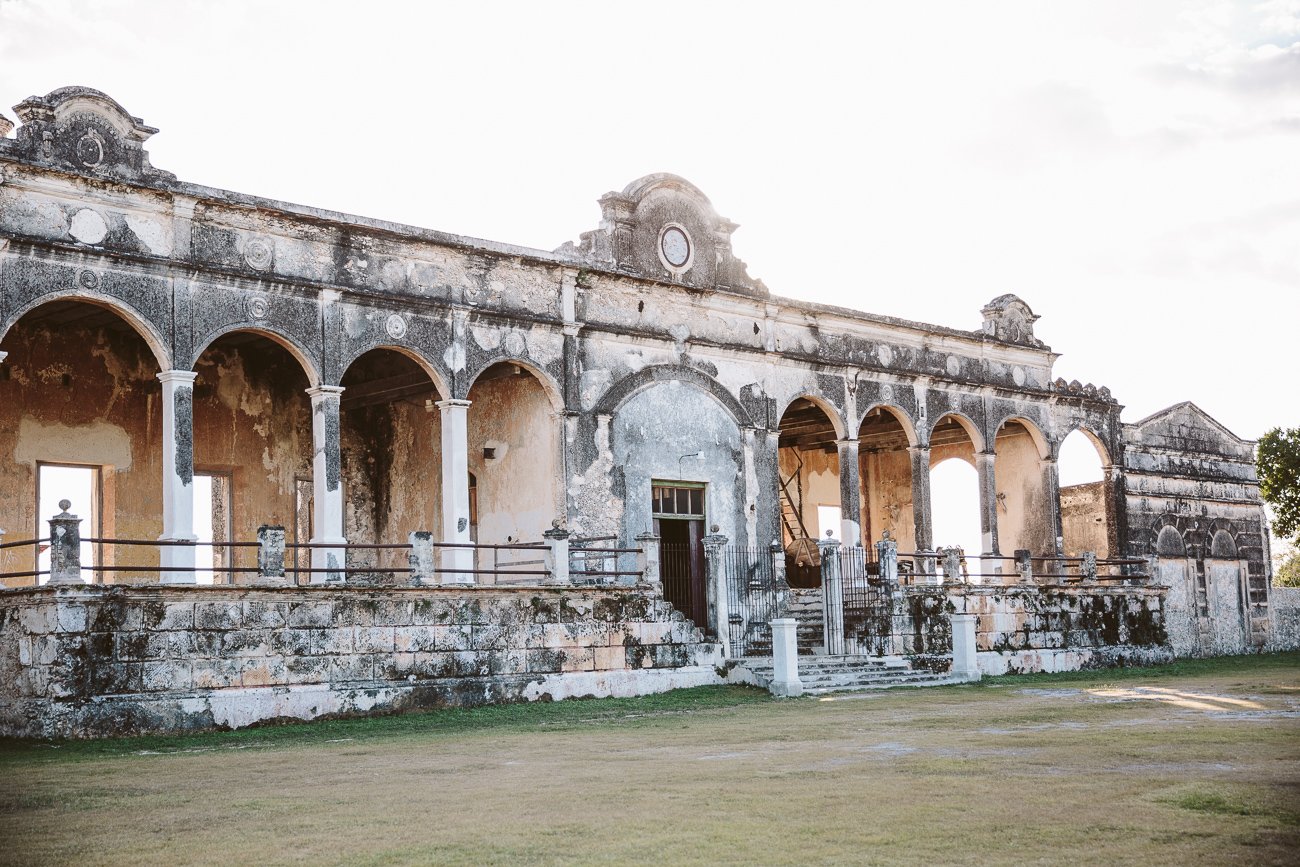 Stop in a local town like Muna
There's nothing better then to stop in a city, that's not on the map for tourists. Just to discover some local life, stroll through the streets and buy fresh fruits from one of the farm stands. We did just that in Muna and loved it! Here are some impressions from a "normal" village in Yucatán: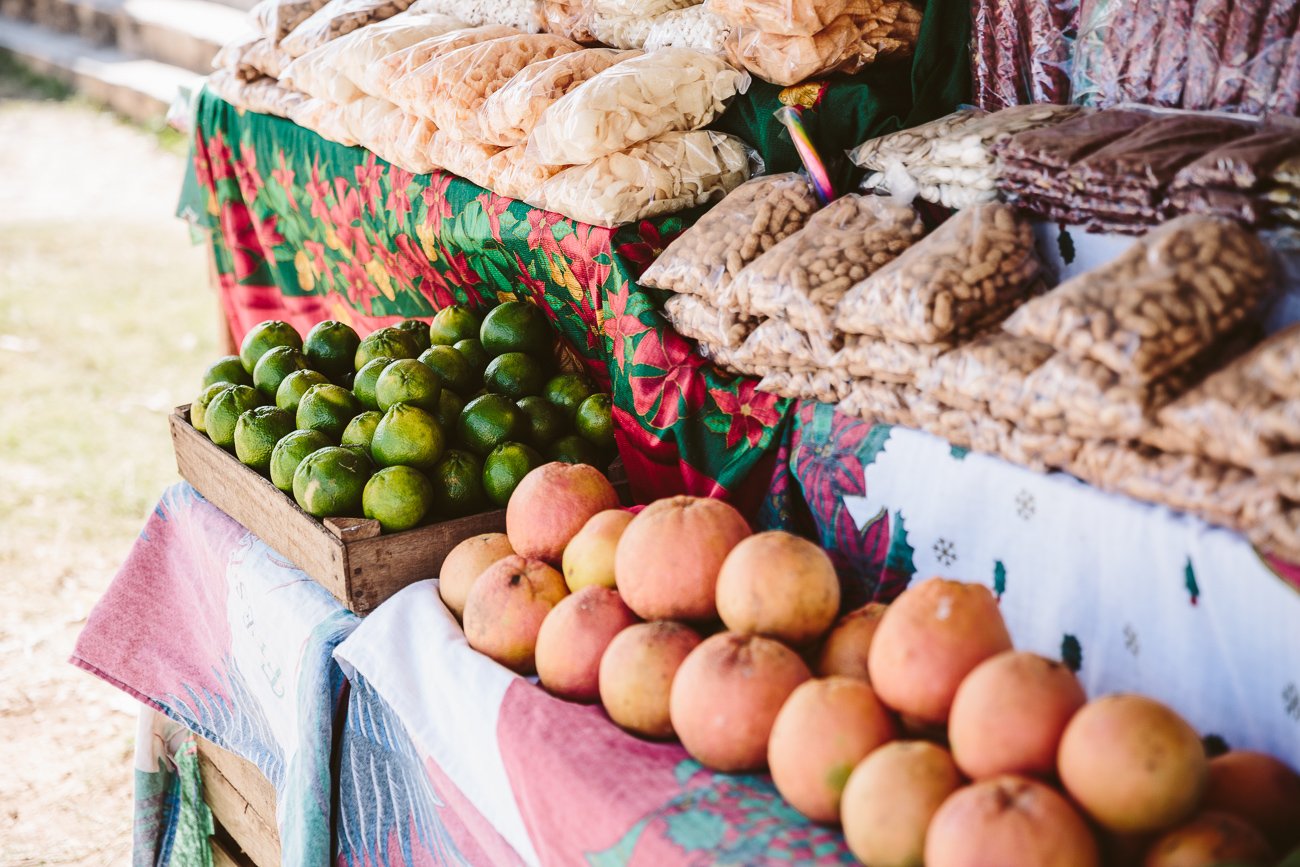 Road side stops are the best part – especially if there are snacks involved! 😉
Road trip tour stop: Bacalar
This place was a true discovery in 2021 for us and hence we returned in 2022. We fell in love with the turquoise coloured fresh water lake, the hidden Habitas Bacalar A-frames in the jungle and the unspoilt tranquility and serenity we found here.
Make sure to check out our blog post about Bacalar to learn more about this magical place.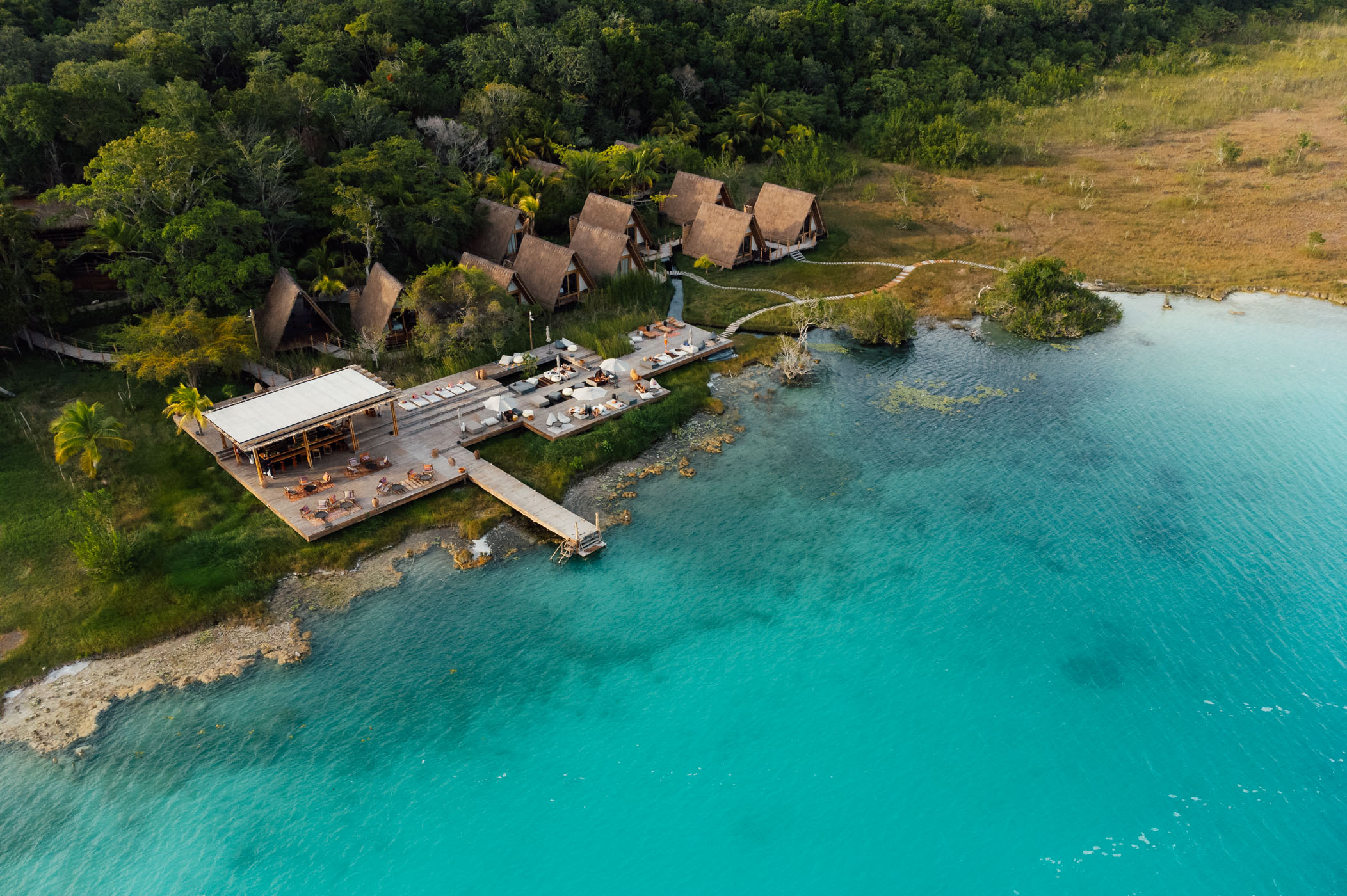 Is it safe to drive in Yucatán?
Are you wondering if it's a good idea to drive a car in México? You might wake up at night with nightmares of rocky roads, deadly traffic or having a car accident in a foreign country.
"Driving in México scares me, so I'll just stay at the beach."
Everyone heard or read these stories: People who got robbed in small towns out of their rental cars or got a flat tyre in the middle of nowhere and waited for hours in the soaring sun without any water – until eventually the roadside assistance would come and help them out of their misery.
Basically – all of this could happen and nobody can guarantee you otherwise. But: Yucatán is probably way easier and safer to drive than you would ever imagine! So, we recommend to take a road trip.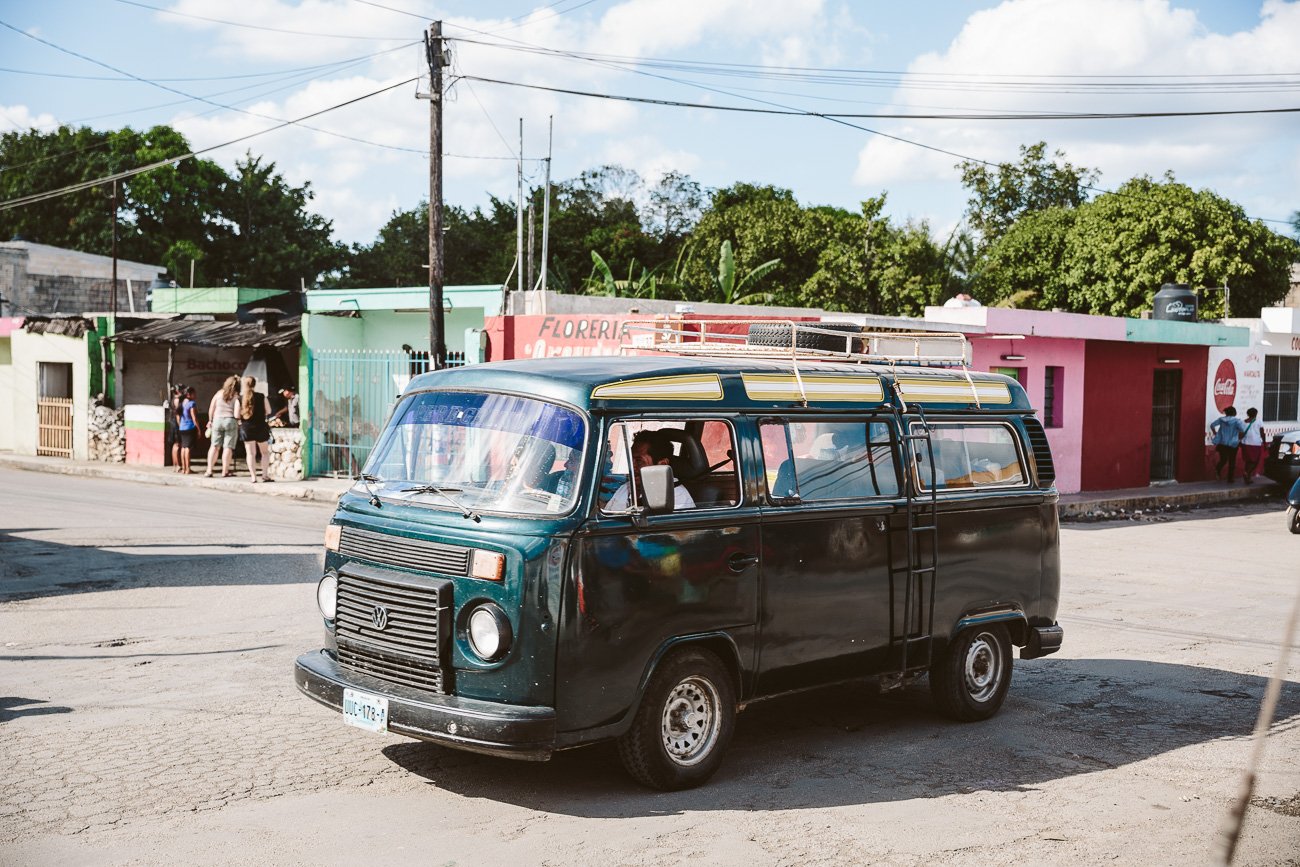 Your rental car will probably be better than this car – no worries 😉
Travel preparations for your road trip through Yucatán
It's easy as 1-2-3! Make sure to rent a car online before your trip – we always use a price comparison portal to check a few of the local rental stations with just one search. However you proceed with your booking, definitely opt for a comprehensive all-risks insurance. This is a pre-requisite for driving in México!
If you haven't booked your insurance online, they will charge you a hefty sum at the rental station! When we were at the desk of our rental company in Cancún at the airport a lady had to call her credit card company to make them send an insurance confirmation letter (in Spanish!) to the rental company, because she hadn't booked it with the rental car.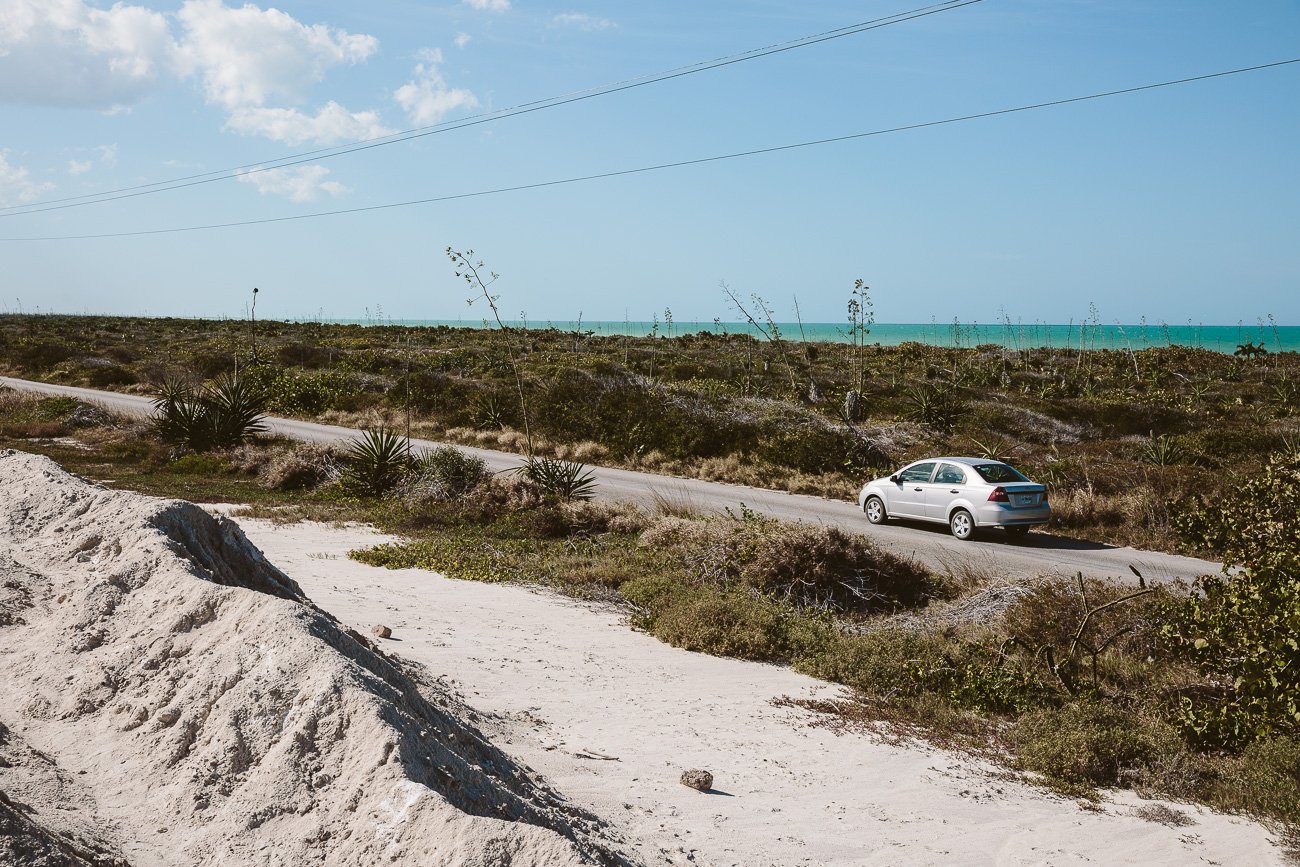 This was our rental car (Economy category, but enough for two people).
Pro tip:
When you pick up the car, definitely check all sides and make photos of it (not just of the previously damaged spots, but of all sides of the car and especially the rims and the exterior mirrors). Just so you can proof that you didn't cause any of these damages upon return! Our car was pretty scratched and had a couple of dents in the roof and the bumpers.
All of this is actually quite standard routine for us when we pick up rental cars, so there's no real specifics here. Of course the car won't be the newest model, but they are quite cheap to rent! We didn't even pay 150 dollars for 8 days including a full insurance package.
Further Yucatán reading
Pin and save this post for later: