Mindfulness. This is the perfect word to describe what the Azulik Resort and Maya Spa in Tulum, Mexico, is all about. Tulum used to be a rather sleepy nest at the Caribbean coast of the Yucatán Peninsula, but it isn't any more.
A tourism boom has transformed Tulum in the last couple of years and nowadays boutique hotels and hip restaurants line the one street, that makes up the beach part of Tulum.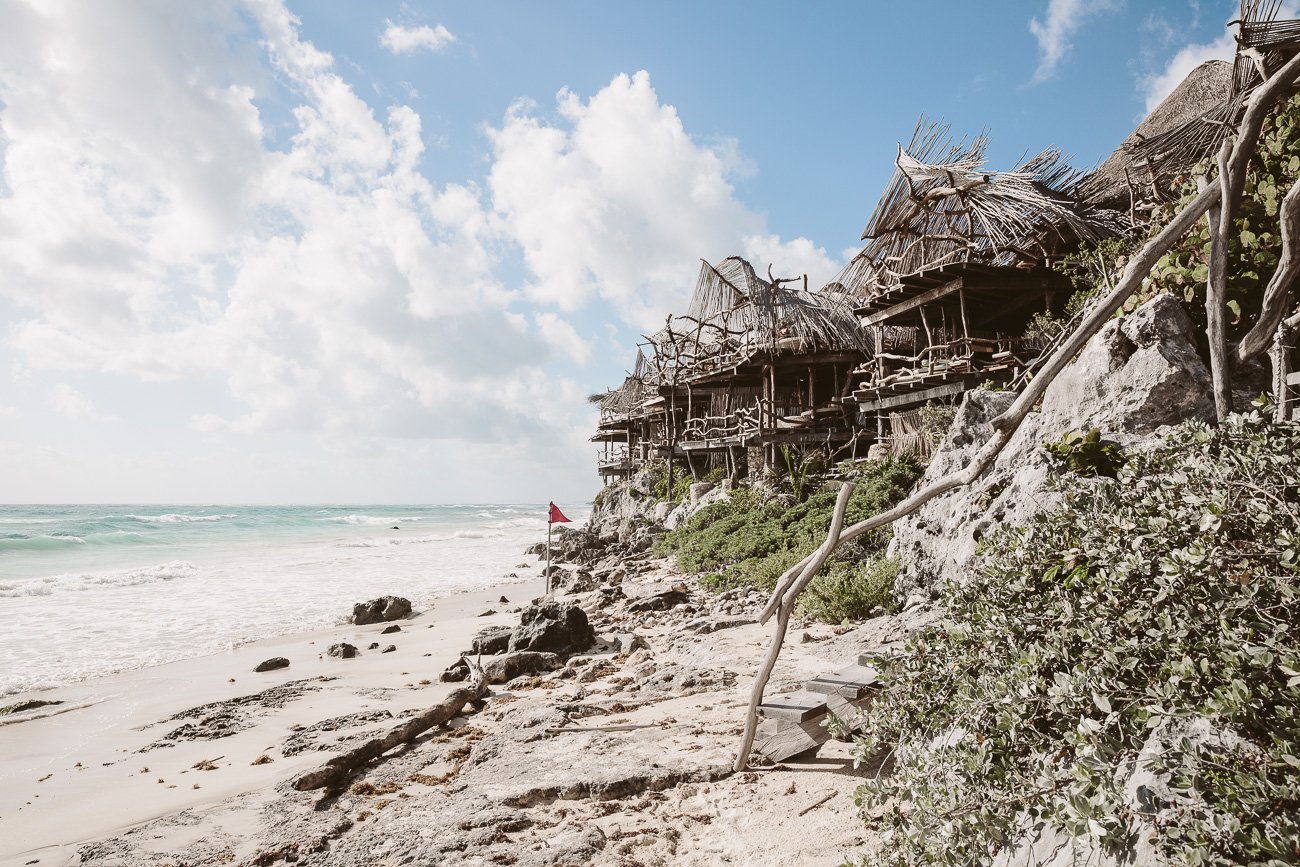 Azulik Resort's Sky Villas are lined up at the beach
Tulum is made for all kinds of travellers
You can have it all here in Tulum: electronic music festivals, sunrise yoga sessions, vegan tacos, bike rentals, eco tours to caves and the jungle, luxury spa treatments inspired by Mayan techniques – you name it. Tulum isn't only for the American (and Canadian) Hippie community anymore, it's a place for everyone. That's why you'll also find different offers for all types of travellers here. The common denominator: A certain spirit, that makes Tulum so relaxed and otherworldly calming.
If you're planning a Yucatán trip – check our full itinerary here!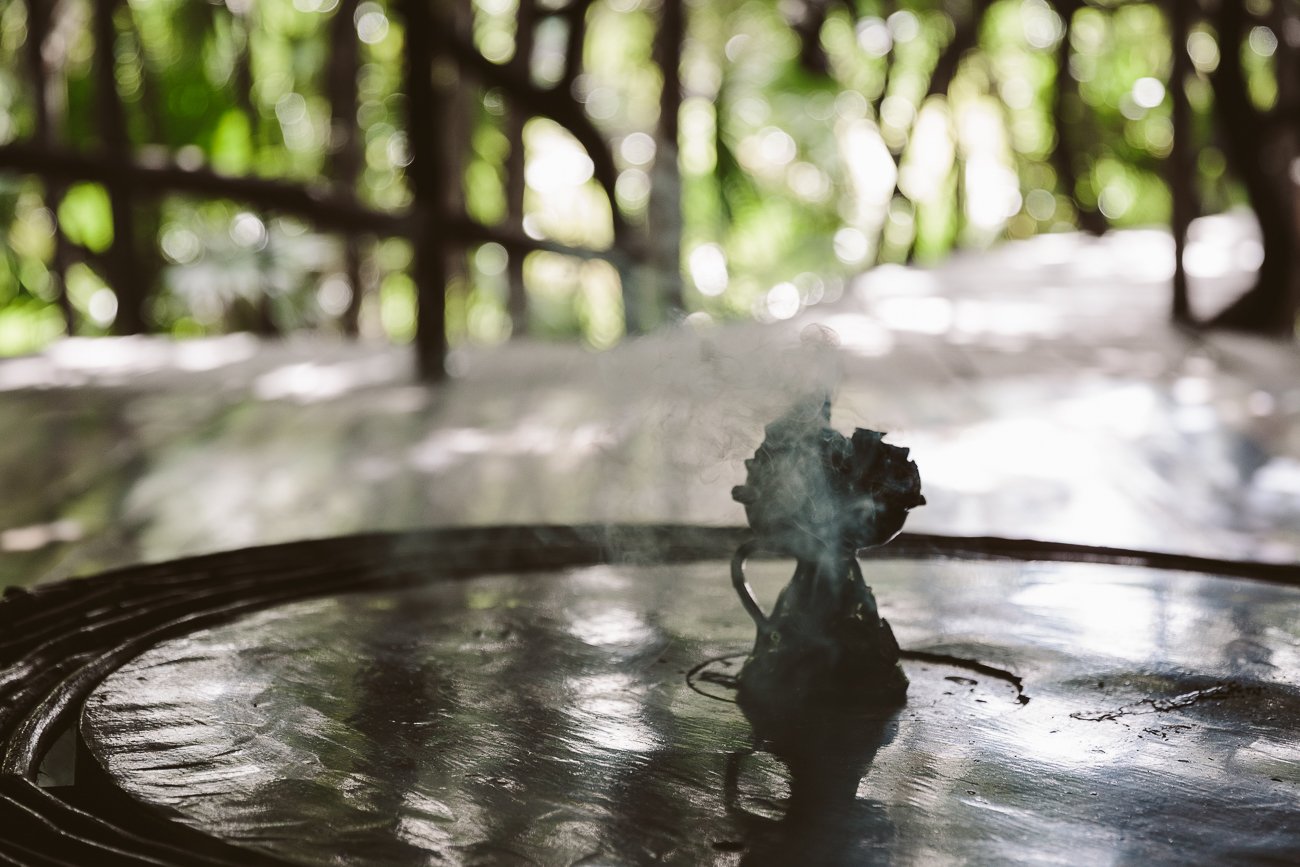 Smoke ceremony to kick-off the stay at Azulik Resort Tulum
The perfect traveller type for Azulik Resort
As every hotel, there's a certain type of traveller, that fits the bill perfectly. For the Azulik Resort I'd call it the eco-friendly aesthete. Why? The resort is all about blending in with nature without disrupting it too much, but the treetop villas are built in a way, that is aesthetically incredibly pleasing and well thought-through.
The Azulik Resort is an adult only hotel and best fit for couples.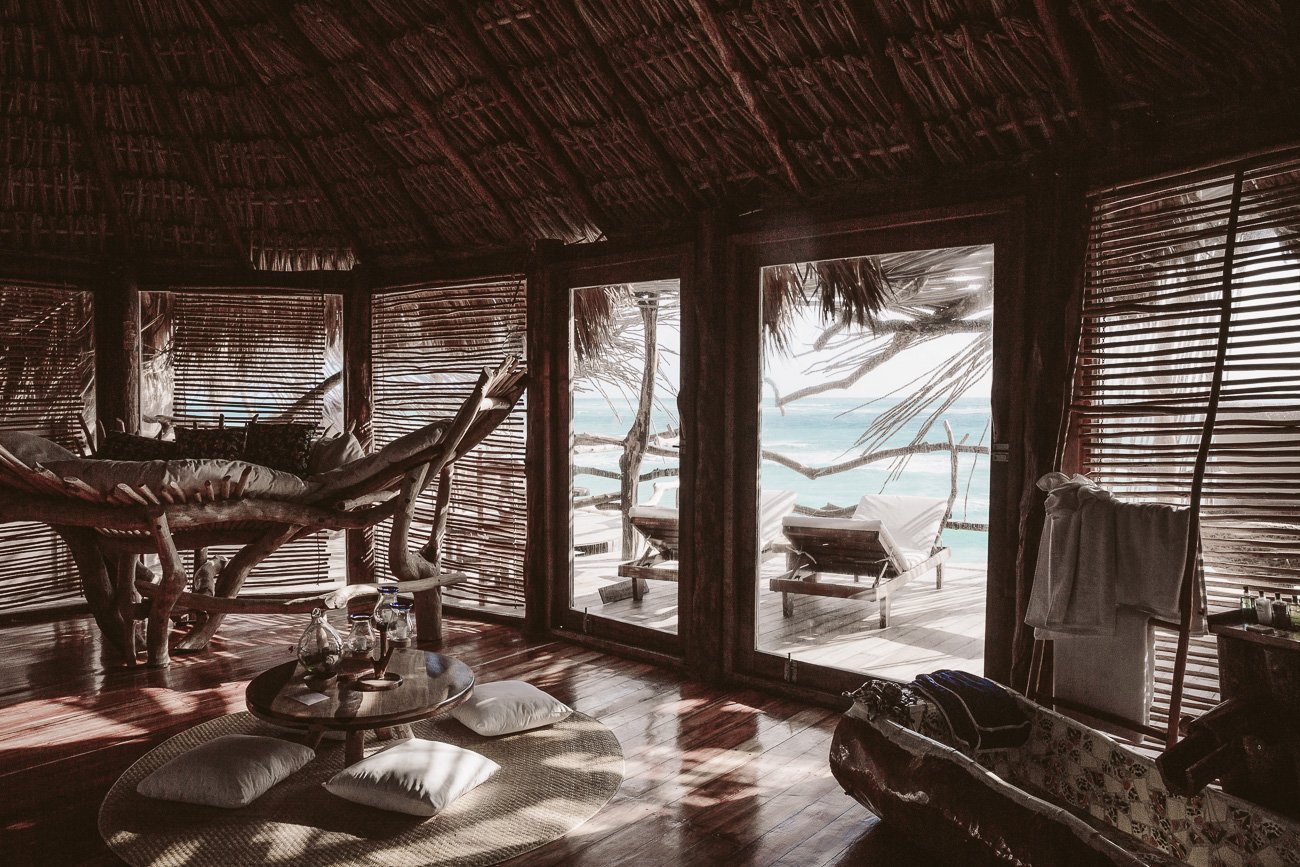 Our Sky Villa at Azulik Resort (Room #23)
What you should know about Azulik Resort
There's 8 different types of Villas at Azulik Resort and not all feature a beach view. So make sure to choose the right type if you prefer a beach view (which we really! recommend). We stayed in a Sky Villa, which is the second highest category after the Honeymoon Suite and offers incredible views of the sea.
Each Villa is built alongside the rocky coastline right above the seashore, so you'll sleep with the sound of the waves in your ear. And believe us: On windy days this sound is quite loud (yet still very soothing).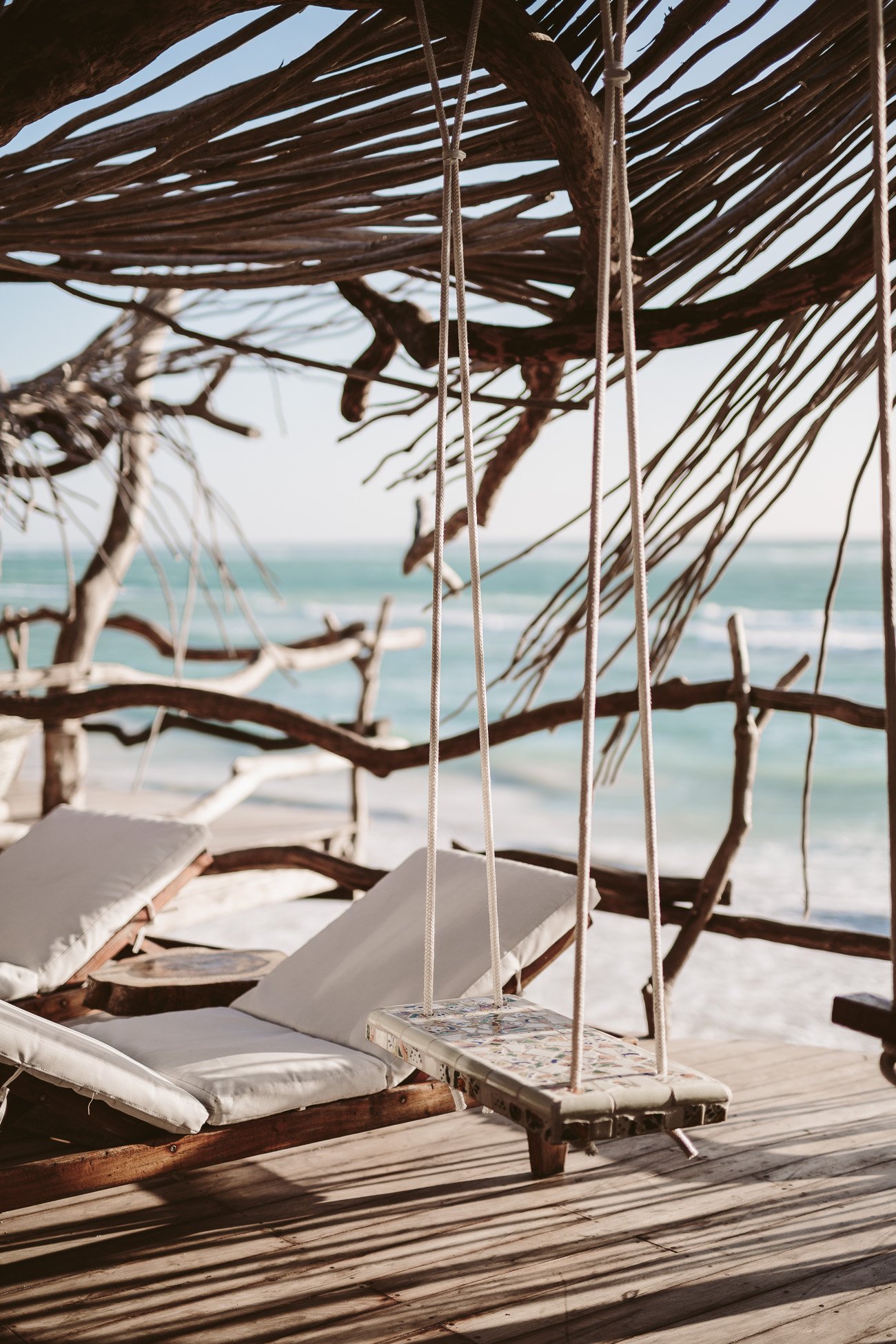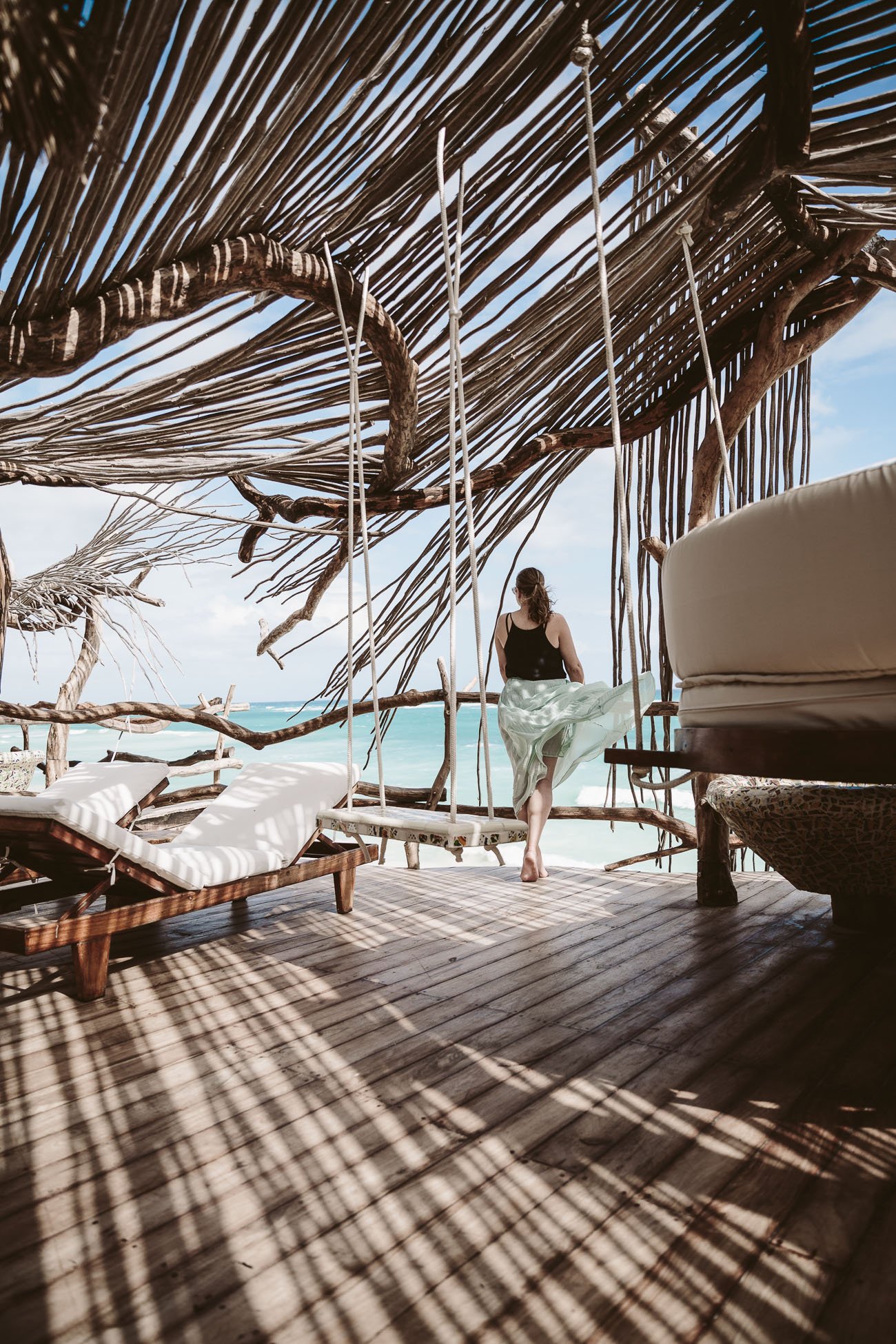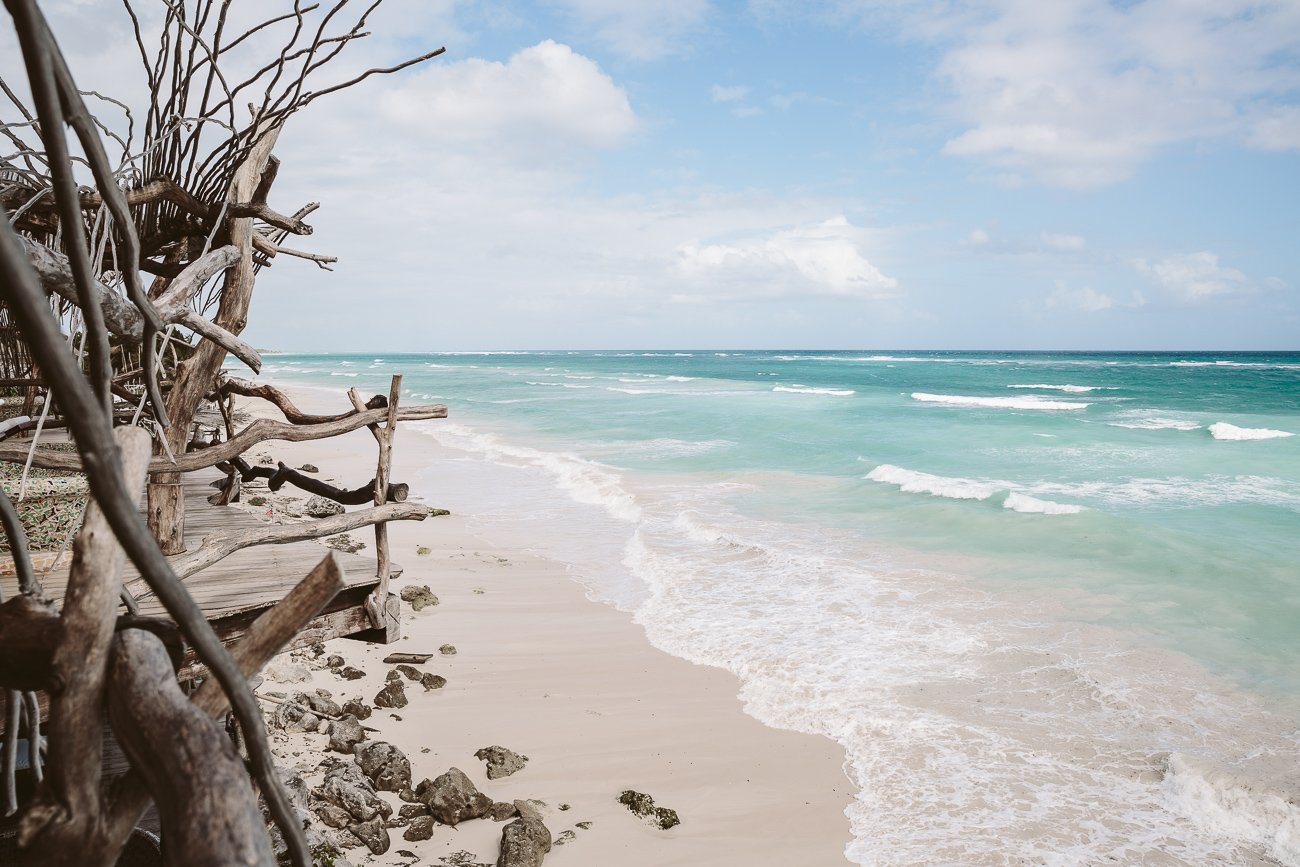 The Villas are built atop of each other, so there's always two floors. The Sky Villas are located on the top floor of the Villas, which are all lined up next to each other. This means you won't have 100% privacy in any of the Villas, although it never felt like we had to hide from neighbours. From what we felt it might although be possible that you hear the steps of your neighbors above you quite distinctively in the lower floor room (called Sea Villas).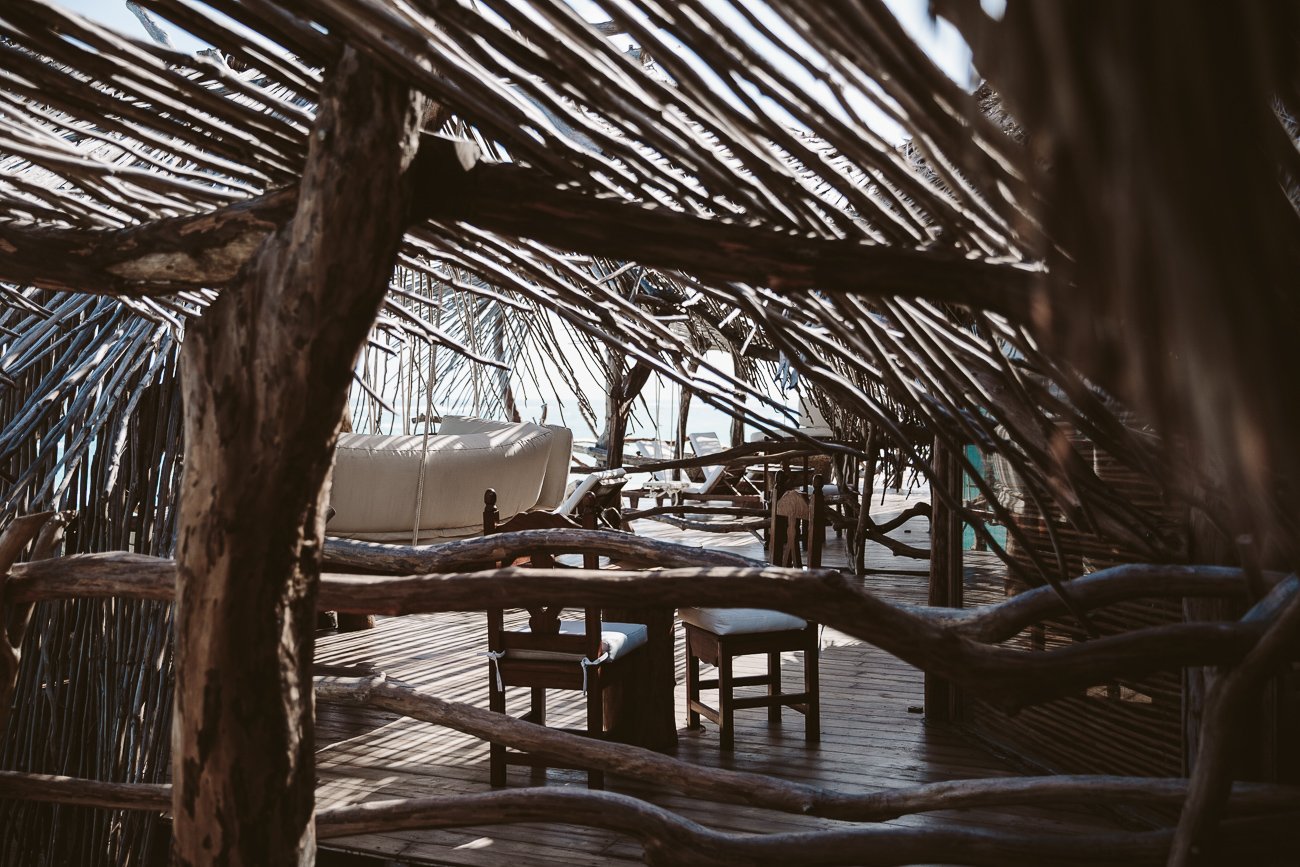 This is the view to our neighbour's terrace (room #25)
The Sky Villa also has a view of the jungle on the entrance side's terrace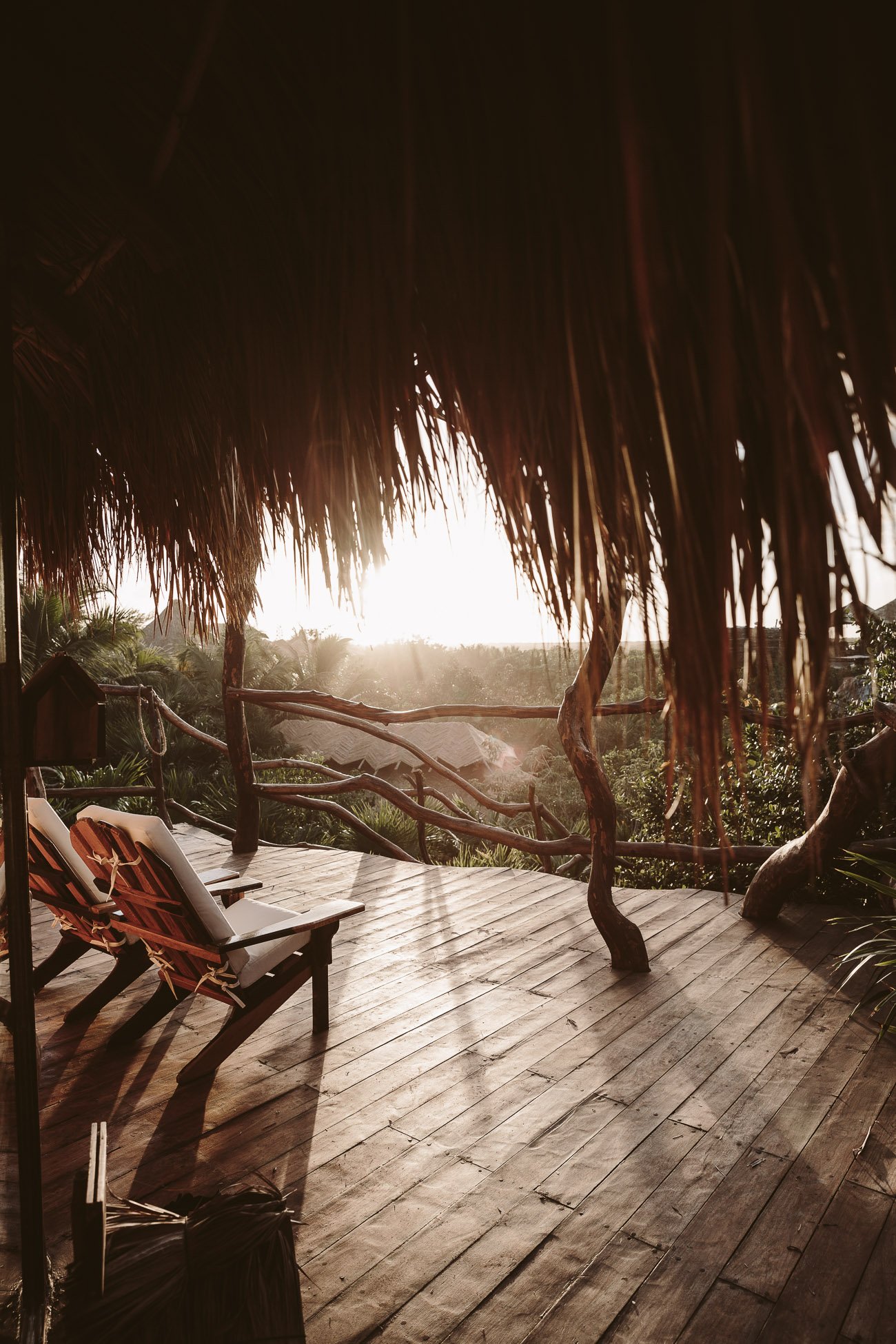 This terrace faces West, so you can watch the sunset from here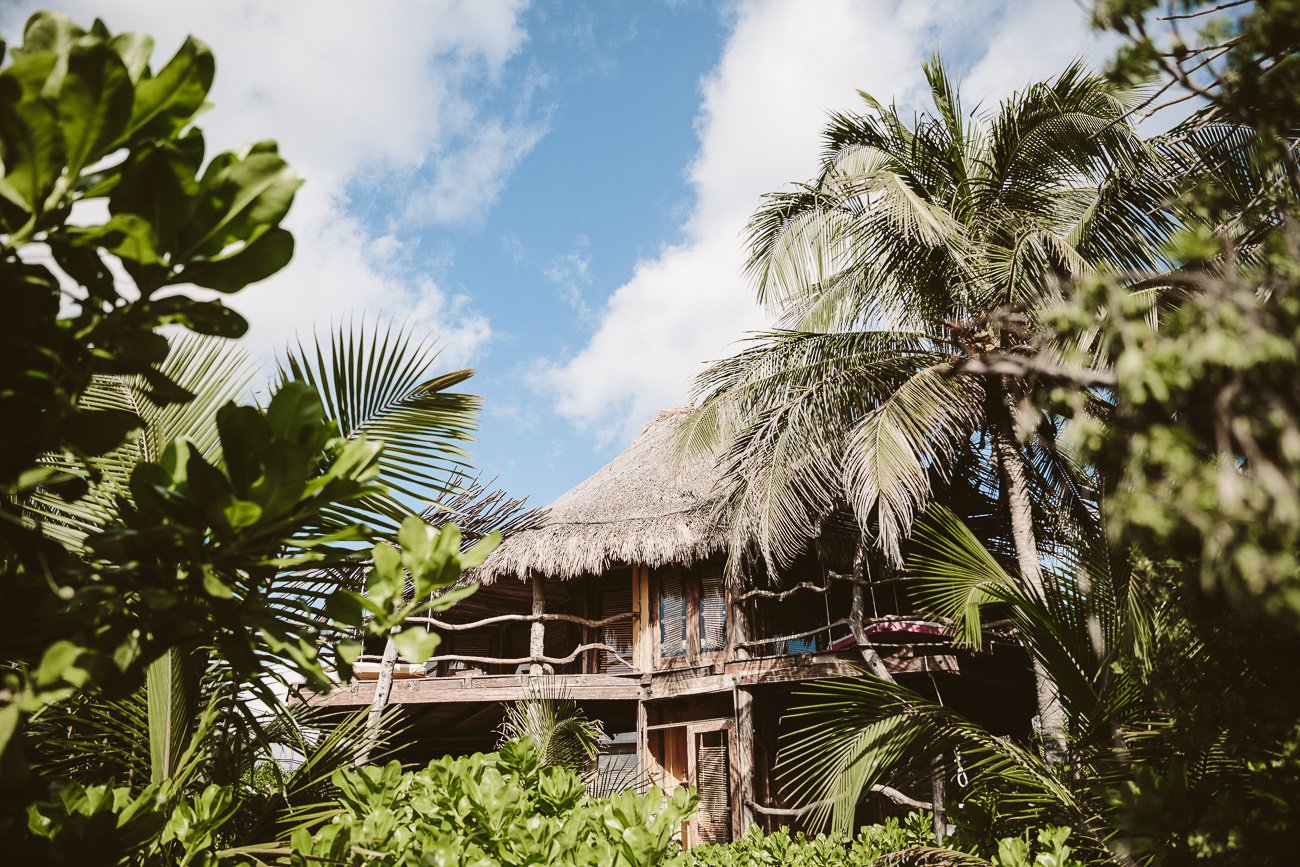 This is one of the Villas without seaview – it features a jungle view instead.
Pros & Cons
We always want to let you know everything we liked and disliked about every hotel we visit, so we created this category to let you know all about the Pros & Cons, so you can make a better informed decision when booking this hotel.
Pros:
+ The architecture is stunning. Period. Just incredibly beautiful!
+ The rooms are spacious and built from all natural materials in a very luxurious fashion.
+ The location is pretty fantastic, nestled alongside a rocky cliff right at the beach. You also don't hear a sound from the street (which can be an issue at some places in Tulum).
+ The beauty products are top of the line and next to shampoo and conditioner, you also get mosquito repellent (we hear this can be a plague in summer months, not so in January), after sun and bath crystals. Everything is filled in glass bottles, so they are refillable and eco-friendly.
+ It's all about romance, intimacy and reconnecting at Azulik Resort – which means: no TV, no room telephone, no electrical lights, only two power outlets, no Wifi (in the rooms), no shower (only bathtubs). We put this on the plus side, because we think it's awesome for a romantic vacation. (Only if you have to work, like ourselves, it might be a bit tricky).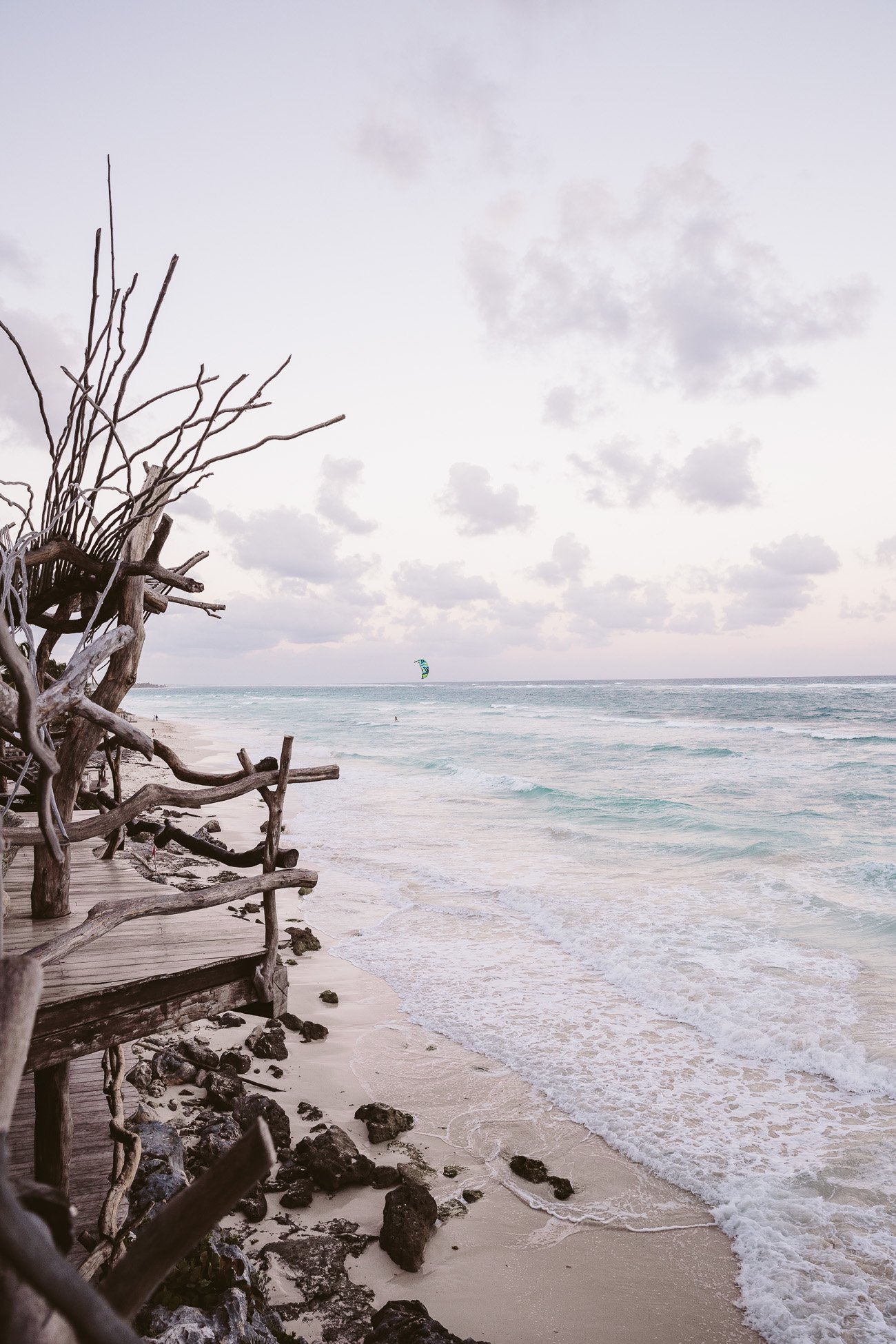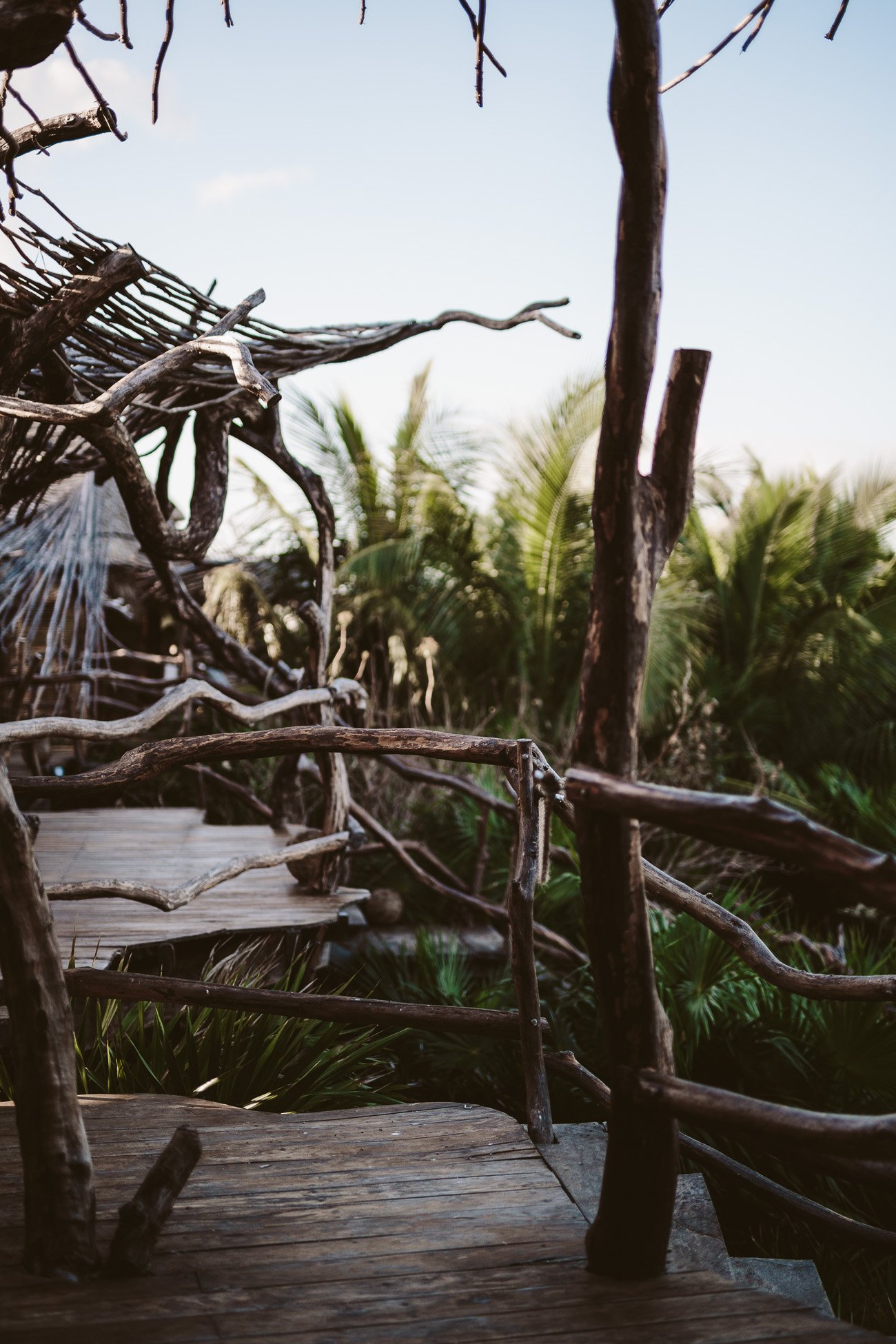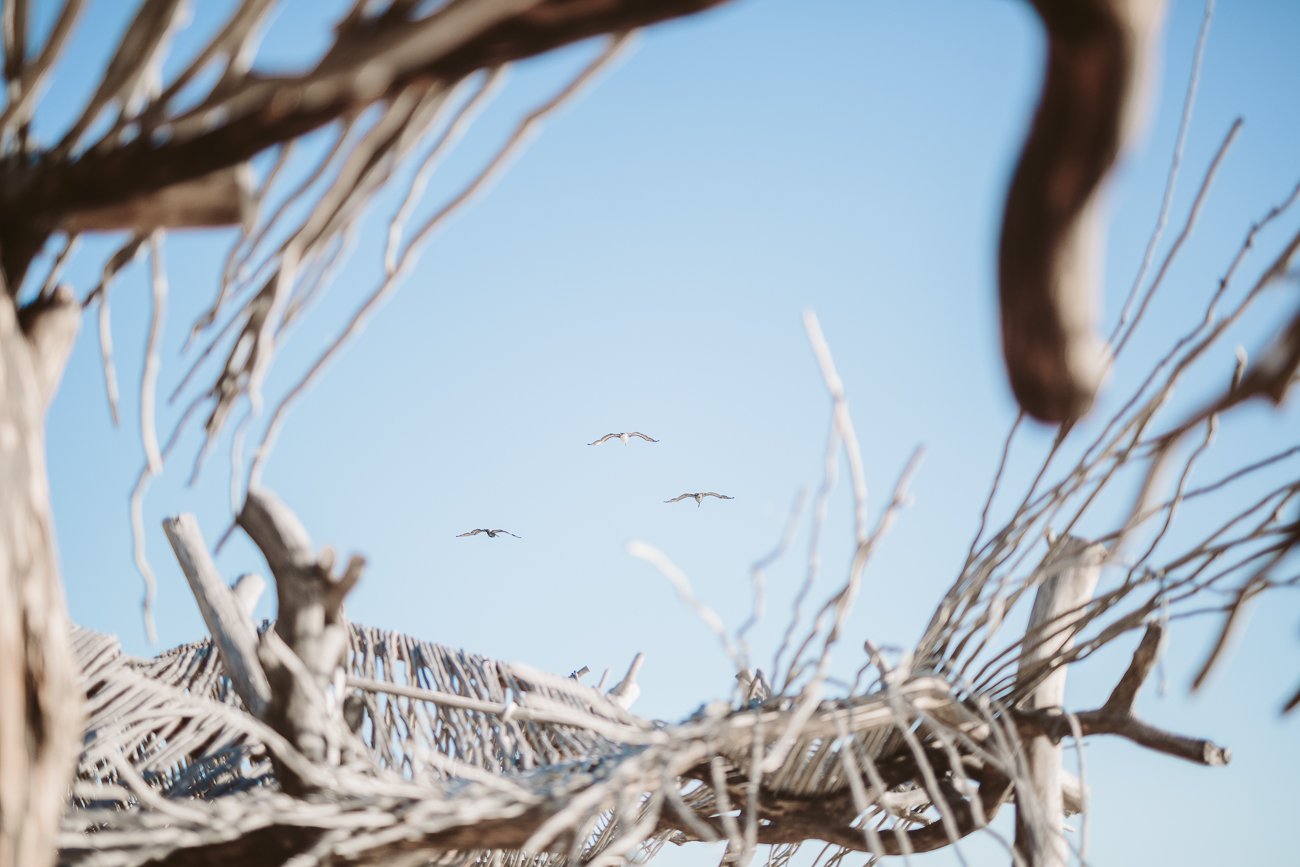 Pelicans roam over our Sky Villa at Azulik Resort.
Cons:
– It can get a bit noisy on weekend nights, as you'll be able to hear the surrounding clubs and discos until late at night. Our Villa also had one window panel (missing?) which only consisted of mosquito net instead of glass – this added to the problem. We loved listening to the jungle sounds, but the disco noise of pumping baselines not so much.
– Minor service issues: We always check the service level of the staff when visiting a hotel. At Azulik Resort the staff is incredibly relaxed and friendly, but we think they can up the game a little when it comes to the service quality. We had a little issue with a missing safe key, that was never replaced (although we probably asked 3 or 4 times). Well, we guess that's just the relaxed Tulum spirit right there… who would really steal anything, right?! 😉
More impressions from Azulik Resort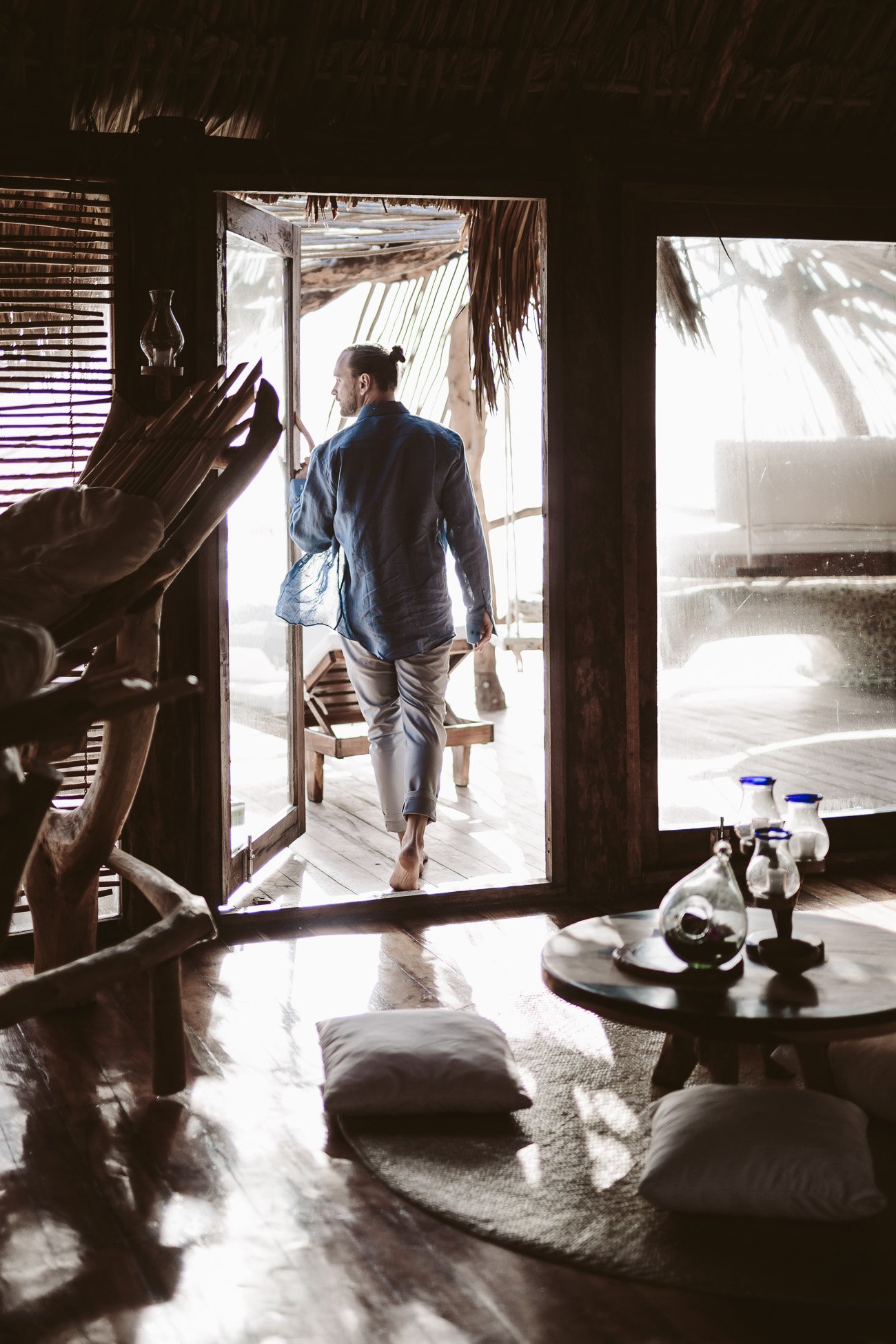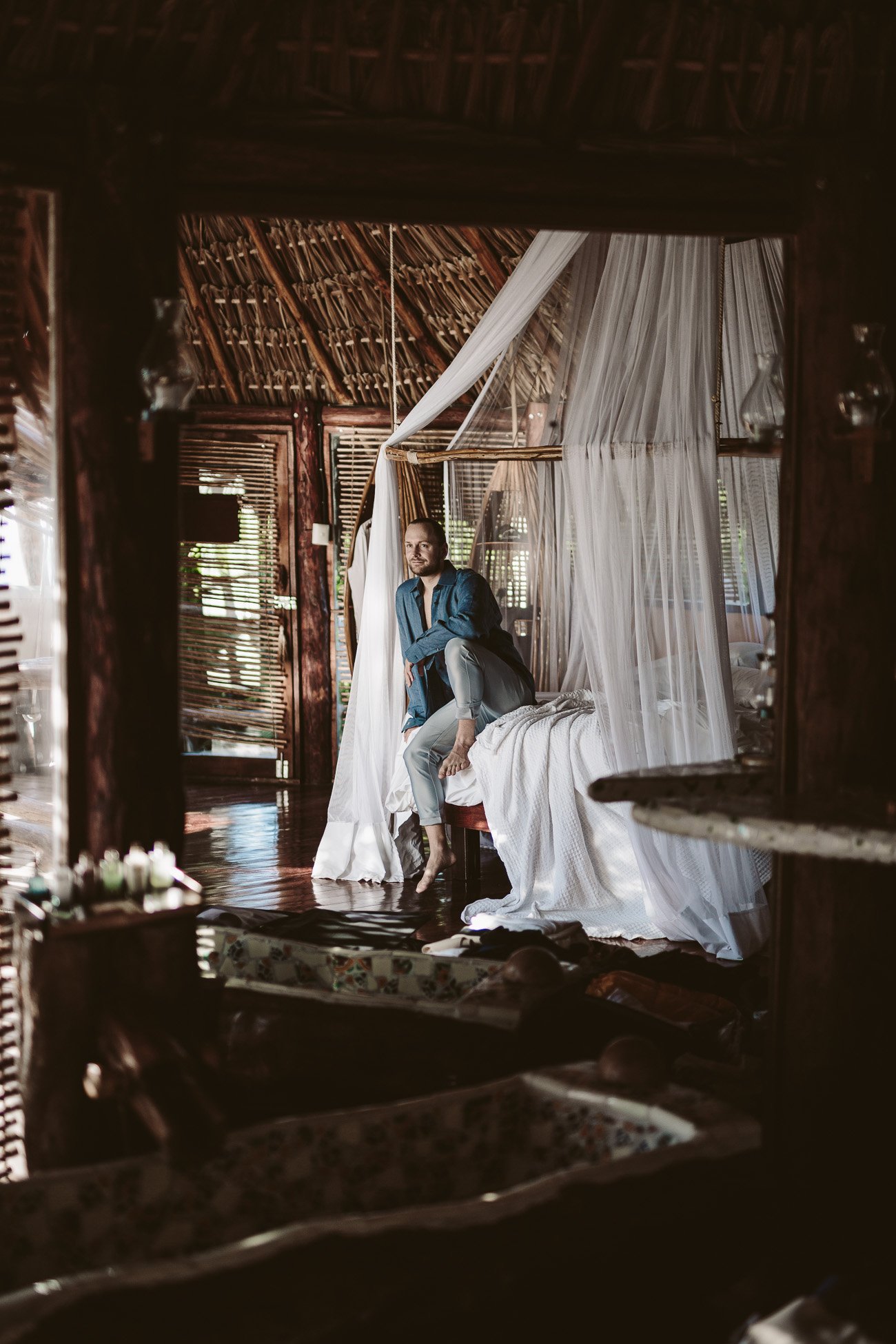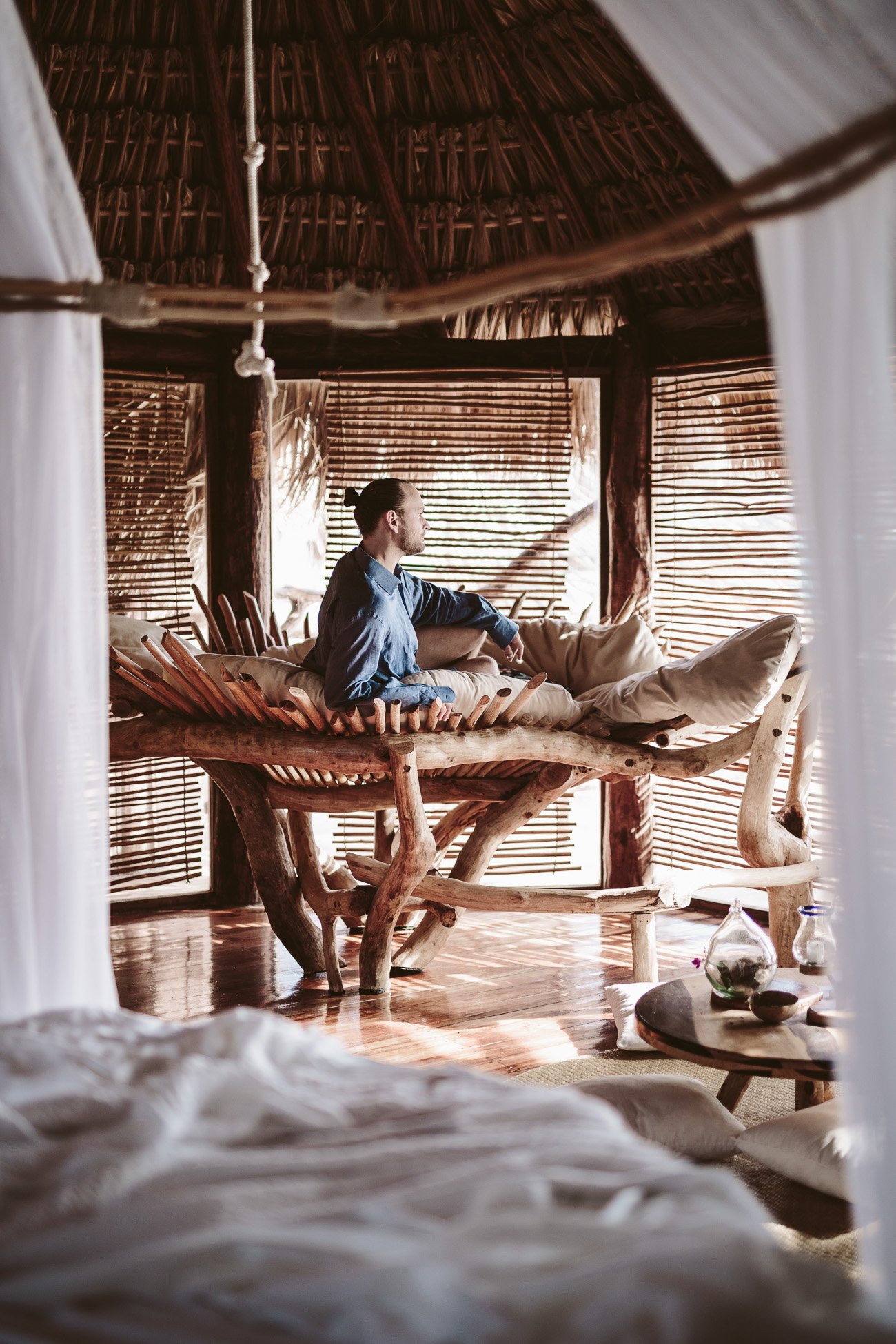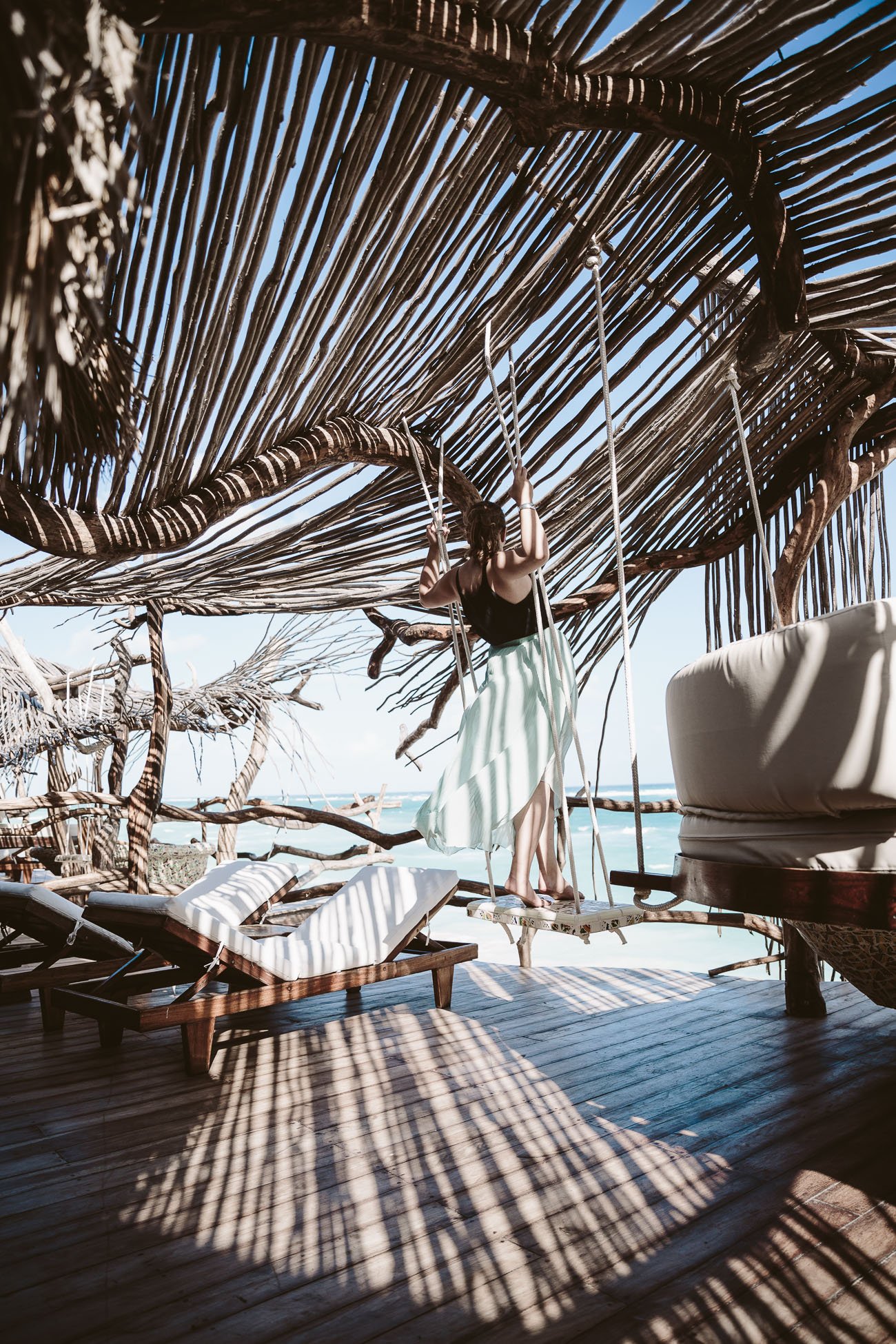 We loved the swing on our terrace!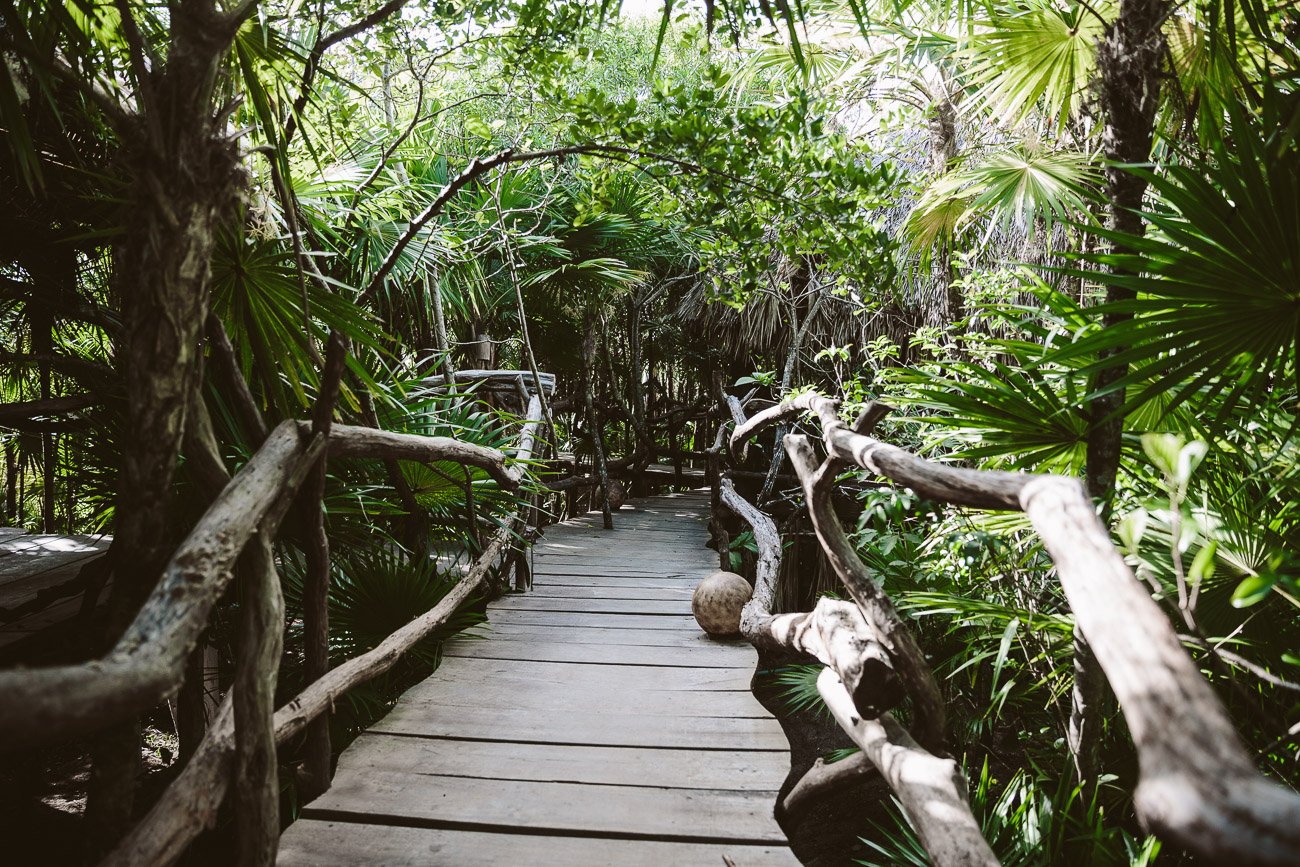 The paths between the Villas at Azulik Resort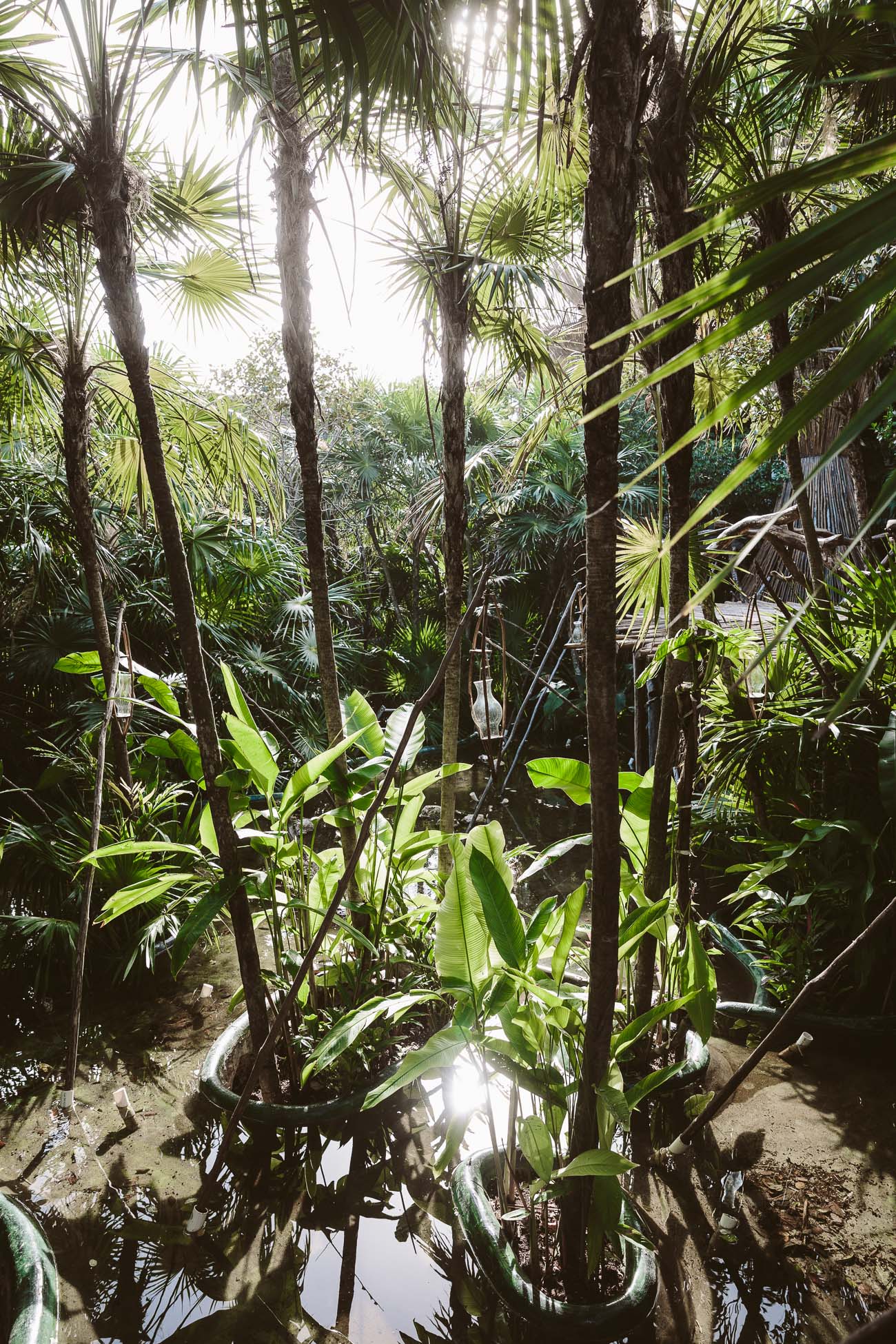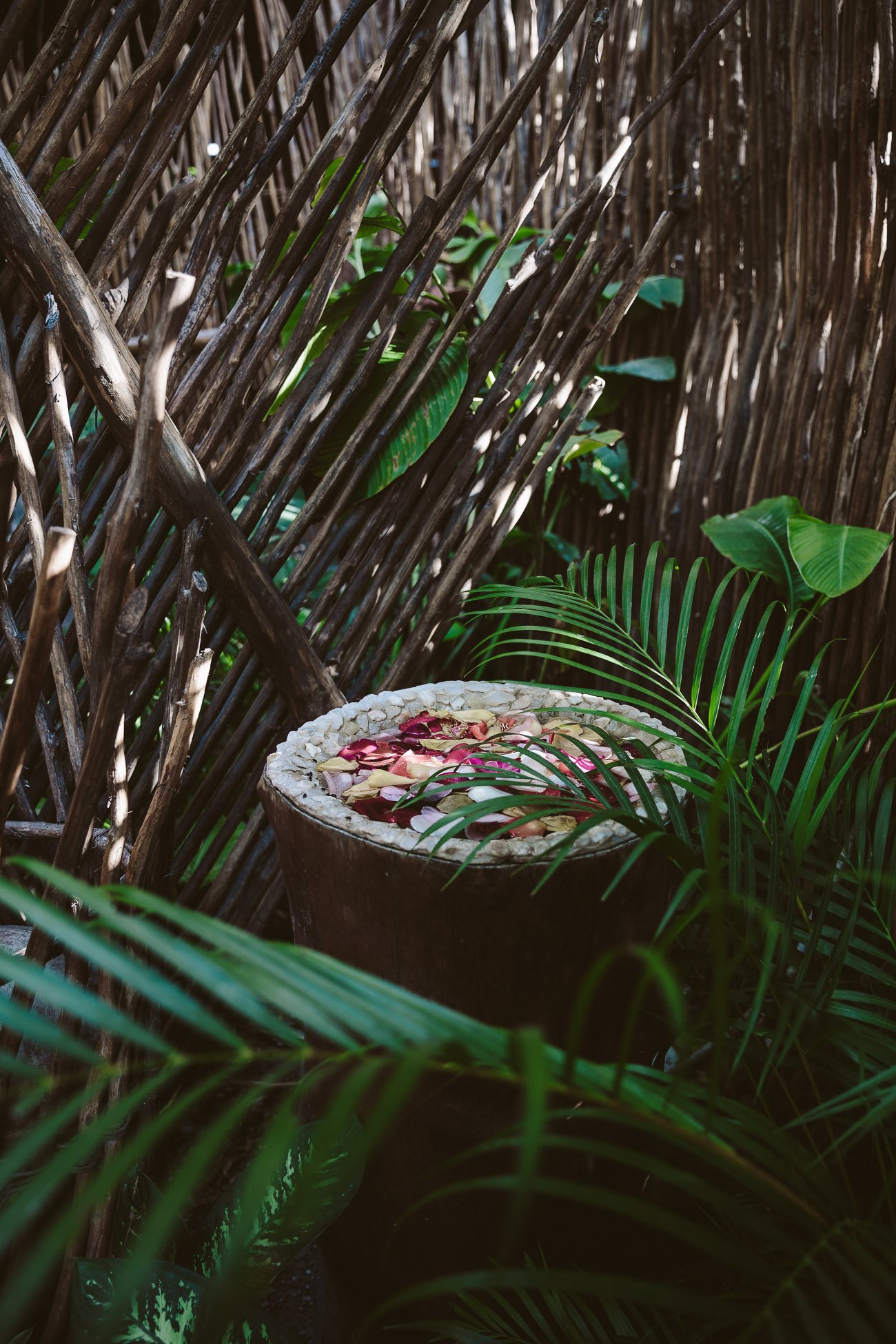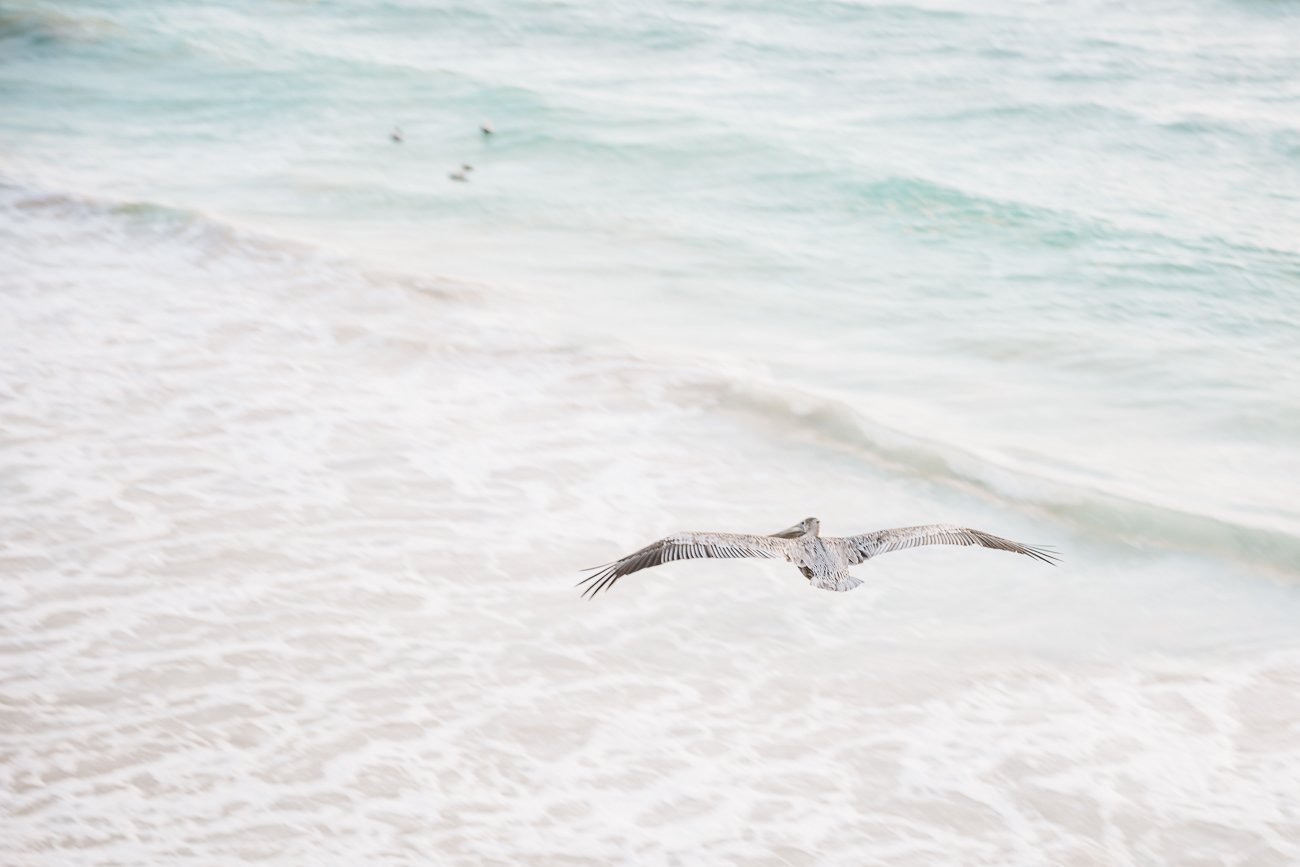 Azulik Resort has it's own private beach access, but it was quite windy during our stay.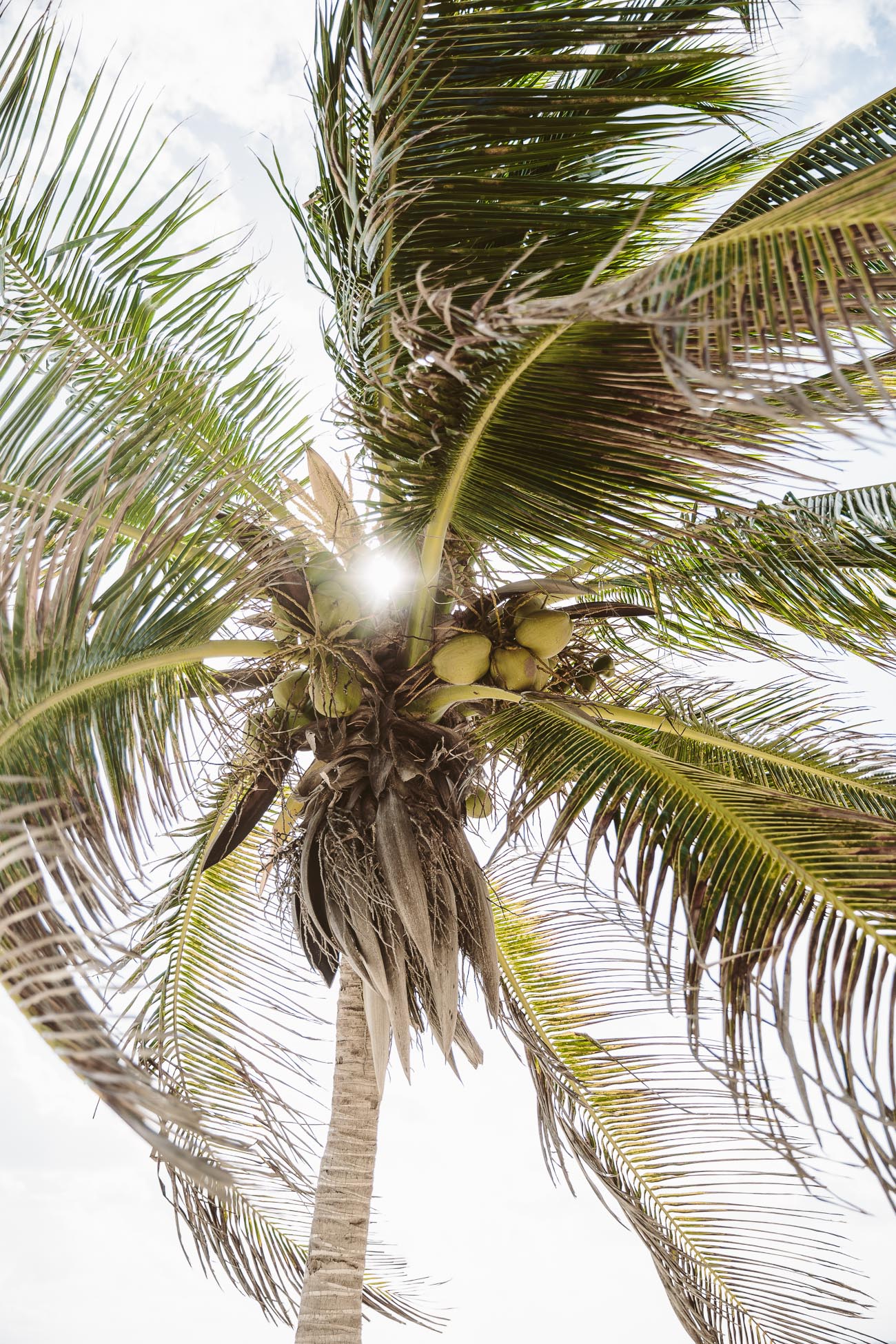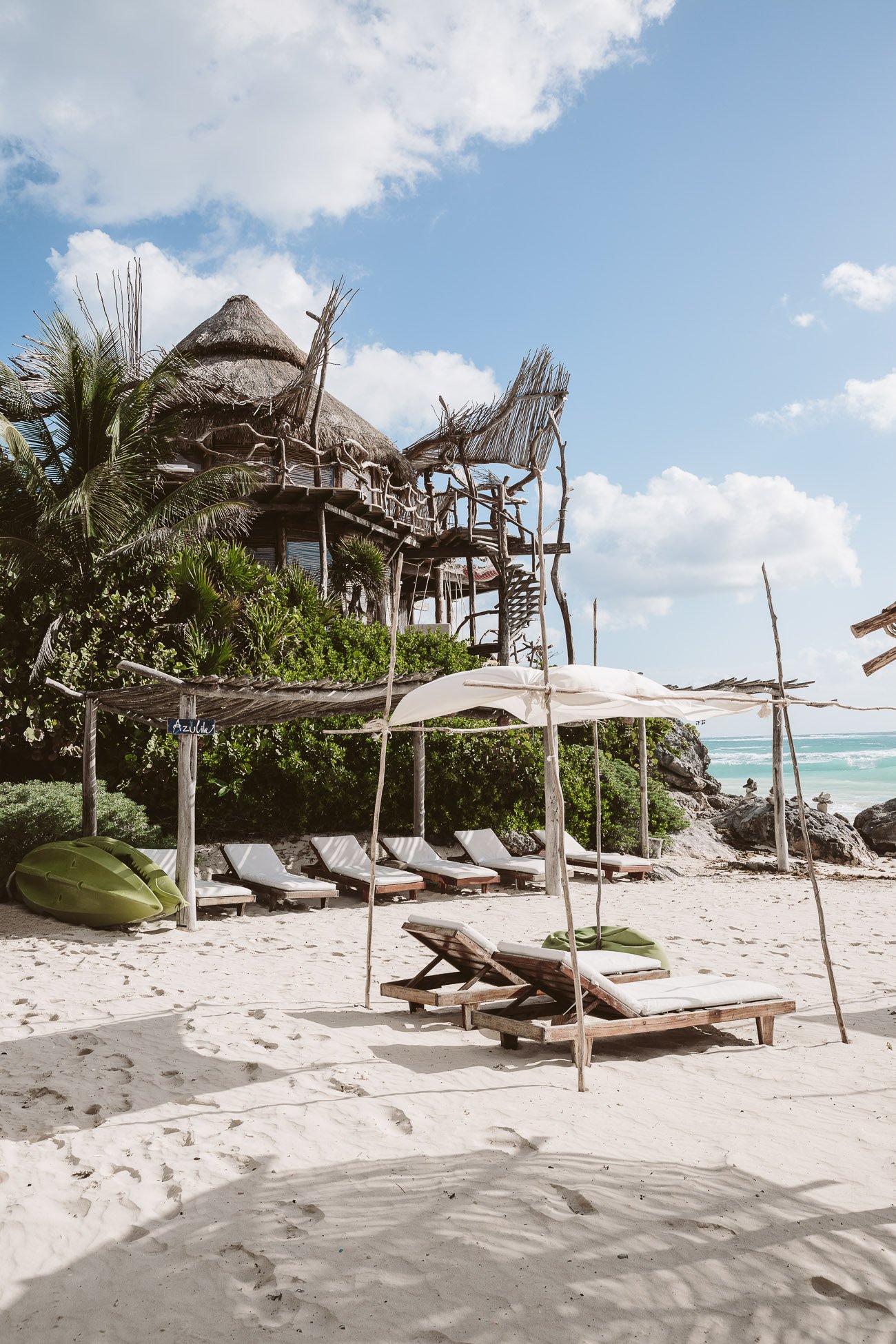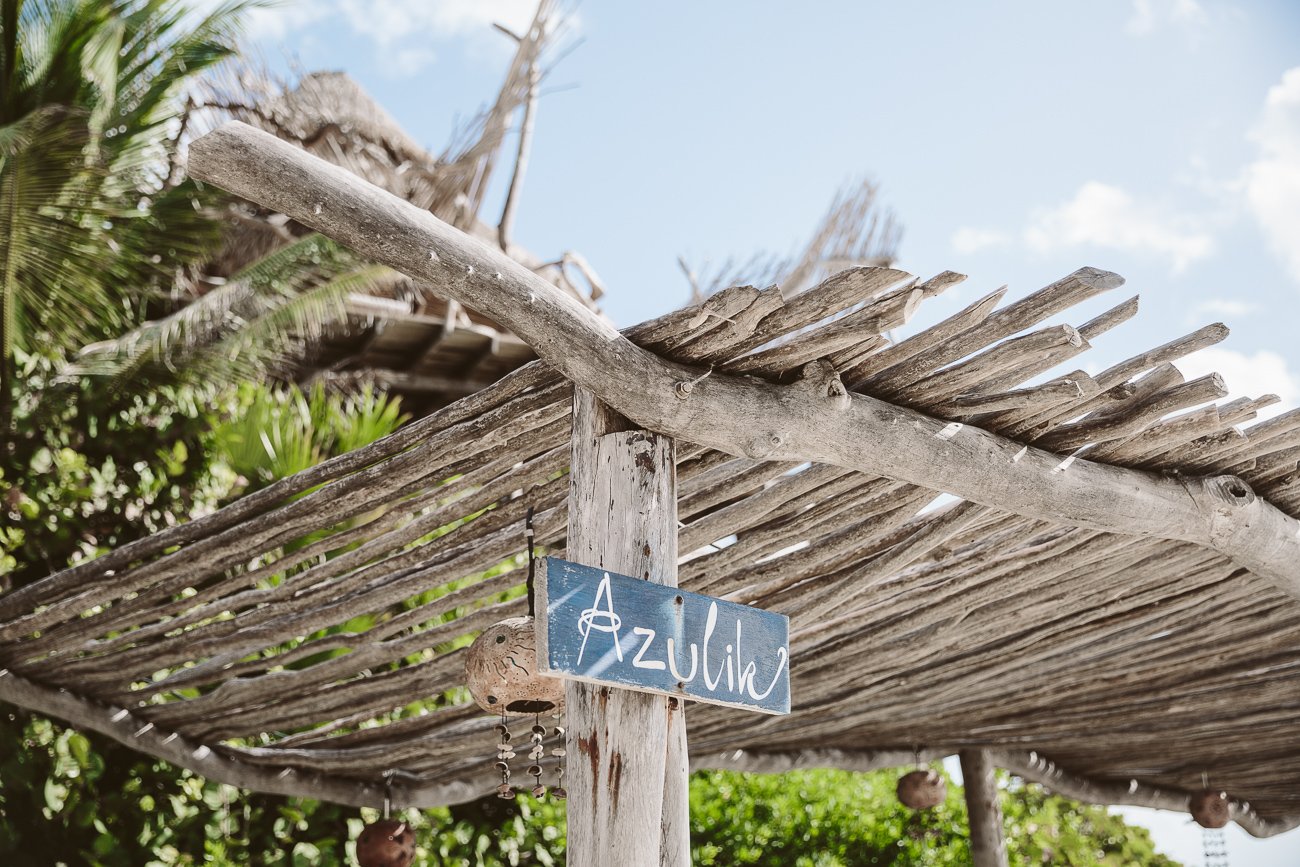 How to choose a hotel in Tulum
There's plentiful of hotels in Tulum, so it might feel hard to choose the right one. But there's a couple of things you might want to consider:
Small or big? There's big resorts and small lodges or individual boutique hotels. We usually prefer the smaller hotels, as they feel more unique and are usually also designed with a personal touch. Big resorts sometimes feel quite stereotypical.
Budget or Splurge? Of course money is a criteria – there's also quite a few budget hotels, but they usually don't have a beach access and there aren't a lot of public beaches in Tulum anymore. So we recommend spending a little more for a true holiday feeling.
Eco or Luxury? There's luxury on many levels, but Tulum is famous for it's eco-conscious community. Eco hotels might not fulfil all the wishes of luxury travellers (f.e. no air conditioning, no wifi in the room, etc.), but we feel Tulum is all about this way of traveling.
That's why we loved our stay at Azulik Resort and Maya Spa – it's a resort with only about 40 villas, eco-consciously operated, but still with a very luxurious touch! And the Sky Villa makes the Top 3 of all hotels we every stayed in when it comes to it's pure beauty.
Disclaimer: We were invited to stay at Azulik Resort and Maya Spa, but our views of the hotel stay independent from that invitation.