Our fourth visit at Lake Weissensee finally allowed us to test the well-renowned fully vegetarian & vegan Strandhotel Weissensee. This hotel has led the way when it comes to vegetarian cuisine in Austria in many ways. The owner is also the founder of restaurant TIAN – the award-winning vegetarian haute cuisine restaurant in Vienna.
The idea was to bring this concept of high-end vegetarian food to one of the most serene holiday destinations in Austria.
From vegetarian cuisine & turquoise water: The ingredients to a unique lakeshore holiday in Austria
The location: Lake Weissensee
There's much to be said about Lake Weissensee in and by itself. As opposed to many other lakes in Carinthia this lake is rather unspoilt and much of its shoreline is protected by regional laws. This is all thanks to the visionaries in the municipality, who have been able to resist temptations to sell out the invaluable natural assets of the lake.
Today there's a couple of reasons that Lake Weissensee has kept it's character and serene surroundings:
No new building permits for hotels or homes directly at the lakeshore
Strictly limited motorboat traffic
Last mile traffic concept to bring guests from neighbouring train stations directly to the hotels
Much of the shoreline of lake Weissensee remains undeveloped and natural.
The hotel: Strandhotel Weissensee
Strandhotel Weissensee is a boutique-sized lakeshore hotel with 30 rooms, that all feature lake views. While the architecture is not the main attraction the hotel has one key asset: The best pier (with a spa!) of the whole lake. In fact each of the hotels at Lake Weissensee has its own private lake access or "beach" with a pier or a small fishing hut, but none of them can compete with the large lake spa and pier of Strandhotel Weissensee.
There's a proper beach with sandy lake access, but even more appealing: A huge lake spa with a glass front sauna, a rooftop terrace and a large jetty that doubles as sundeck and relaxation area. The pier in itself is more spacious than any of the other piers at Lake Weissensee and also built directly in the lake with stilts.
This is the place where guests enjoy the views and soothing sounds of the turquoise crystal clear water all day long.
The food: Vegetarian & vegan delicacies
As vegetarian in Austria you are probably used to often having to do with one item on the whole menu or eating the same thing over and over again (say hello to cheese dumplings!). Although times are slowly changing and hotels and restaurants are catching up with long overdue trends, it's still somewhat of a challenge to get creative and interesting vegetarian cuisine. And if you're vegan chances are that you'll have to eat salad too often in other Austrian hotels. And then there's Strandhotel Weissensee and the team around chef Andreas Leib!
During our 3 night stay we enjoyed half board and each night the 4 course dinner menu was full of surprises and creative dishes – and the option to choose between different courses, that are either vegan or vegetarian. From wild foraged asparagus with cabbage turnip and glazed potatoes to mushroom and broccoli tempura, from grilled zucchini with spelt salad and pesto to a hearty tomato bread salad – each of the courses came full of surprises and creativity.
Of course the breakfast buffet also comes with a vegetarian and vegan selection, that you won't find anywhere else – even vegan cheese or a vegan "omelet" made from chickpeas. If you like your coffee or cereals with milk you can choose between soy, oat or rice milk.
This organic and sustainable quality comes guaranteed by all sorts of certifications, that the hotel proudly showcases. From the "Umweltzeichen" (that analyses and certifies the full picture – including water consumption and sources of energy) as well as vegan and vegetarian friendly and the "BIOS" trademark, that guarantees organic origin of their produce.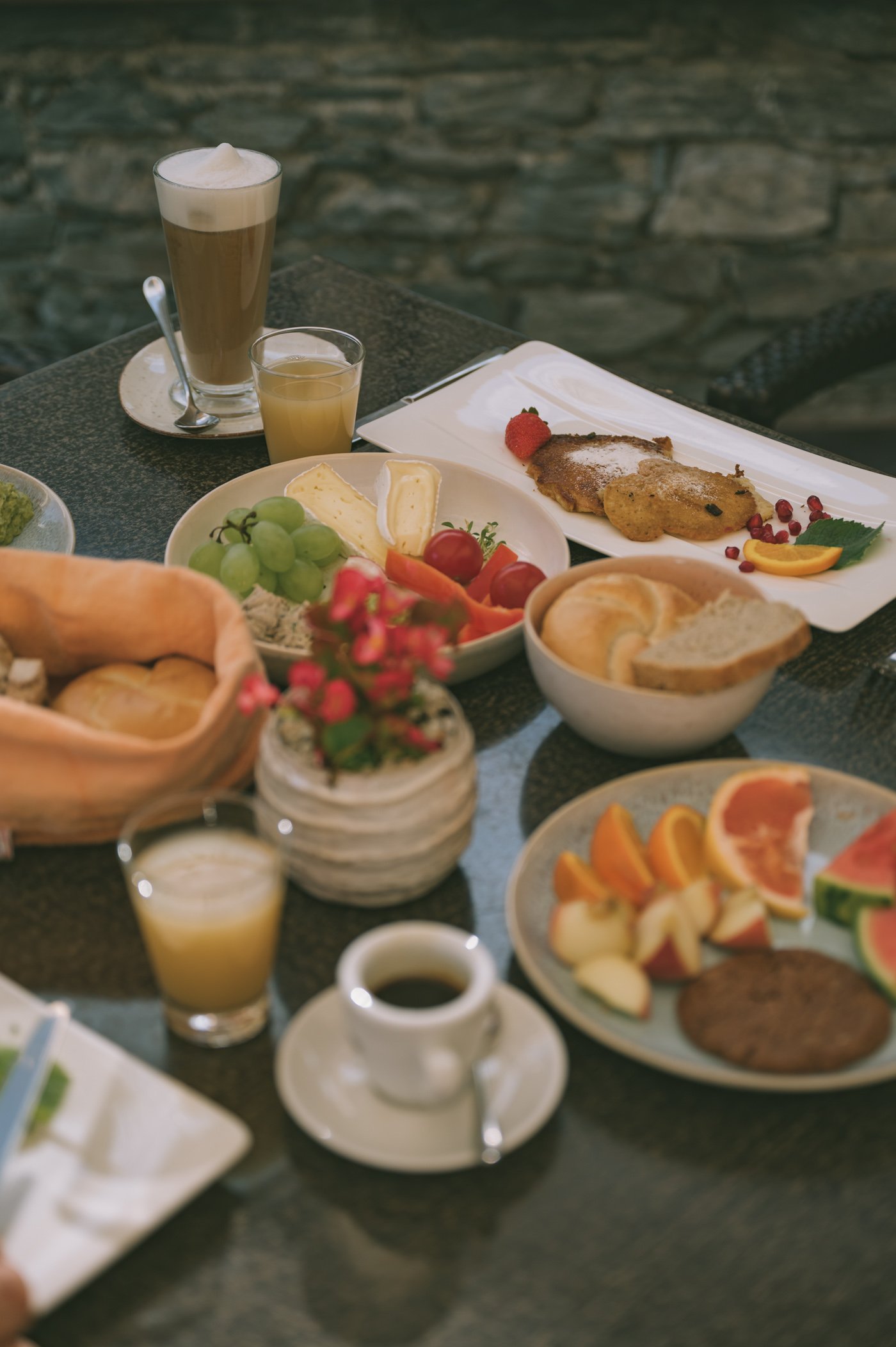 The activities: Boating, cycling & lakeside relaxation
If you're looking for more than just swimming and eating and want to experience some activities, then you can choose from a multitude of Spa treatments, rent a bicycle or own of the hotel's own rowing or peddling boats and of course also stand-up paddle boards.
We rented one of Strandhotel Weissensee's rowing boats to row all the way beyond "Ronacherfels" at the Northern shoreline of the lake. Beyond this point the shoreline is completely unspoilt and there's only a hiking path along the water. Not even bikes are allowed here, so it doesn't get more quiet than there. This is also where you will find the most turquoise and crystal clear water that give Lake Weissensee it's reputation to be the "Caribbean of the alps".
Rowing is a popular activity one the calm surface of lake Weissensee.
You can also join one of the daily hotel activities like Kundalini yoga classes or if you're up for something special talk to the hotel if you can take part in their dinner cruises on their own floating raft. We decided to spend most of our time at the lakeshore sunbathing and relaxing, but did visit the weekly Weissensee market (each Thursday from 9am-12) by bicycle to shop for local products (like pillows filled with Swiss stone pine or natural Coca Cola syrup made from herbs).
The Weissensee weekly market features local products from food to handicraft.
Summary: The perfect traveller type
We believe that a visit at Strandhotel Weissensee is the ultimate holiday for vegetarian or vegan couples (and singles). It's not so much a family hotel (there's no playground, no kid's activities and also the stairs that lead up to the hotel aren't really ideal for parents with kids in strollers). Yet, we did see one family with a small baby (and lots of pregnant couples) 😉
Strandhotel Weissensee also offers stays in their separate apartment building, that is suited for families with kids as well (with it's own playground). The apartments are just being refurbished and come with balconies and kitchenettes. Apartment guests can also enjoy the lake spa and the cuisine in the main building, that is just 2 minutes away by foot.
The region is ideal for holidays in a completely natural surrounding, with low volumes of tourists and a lot of space and quiet. The focus lies on sustainable and laid-back holidays as well as slow travelling and you can feel that pace as soon as you arrive.
So if you're looking for a relaxed lakeside holiday, a baby-moon or simply a culinary getaway, this is the perfect place in Austria!
Or pin & save this post for later:
Disclaimer: This is not a sponsored post, but we were invited to stay at Strandhotel Weissensee as part of a press trip. The views in this blogpost are our own.