If you're an unconventional Dubai visitor (just like us) you won't be attracted by the skyscrapers and glitz & glam of the metropolis. Quite the opposite – you might be looking for traditional and more authentic hotels and restaurants, that let you feel a bit of the Arabian history and culture of the Emirates.
The same goes for what you can experience in Dubai. If you haven't read our blogpost about 12 unconventional things to do in Dubai we recommend you do so as well, to discover a different kind of Dubai!
If you're craving to stay outside of the shiny metropolis of Dubai, there's plenty of options.
Where to stay in Dubai
During our multiple Dubai visits we stayed in a few different hotels and desert camps. Some of them stood out with their unique atmosphere, architecture or location in the desert! Let us show you our favourite 3 hotels, that are made for people who love nature and history.
This map was made with Wanderlog
1.) Where to stay in the desert: Al Maha, a Luxury Collection Desert Resort & Spa, Dubai
Al Maha is a suite only luxury resort in the Dubai Desert. From here you can go on desert safaris, hot air balloon rides or simply enjoy your private plunge pool and terrace overlooking the vast dunes. Arabian oryx and gazelles roam the area, so you can easily catch a glimpse from your pool or even in front of your room!
Our recommendation: Stay at Al Maha for at least 2-3 nights to thoroughly relax and enjoy the various activities. Each full board night includes two activities – from sundowners with cocktails to guided wildlife game drives.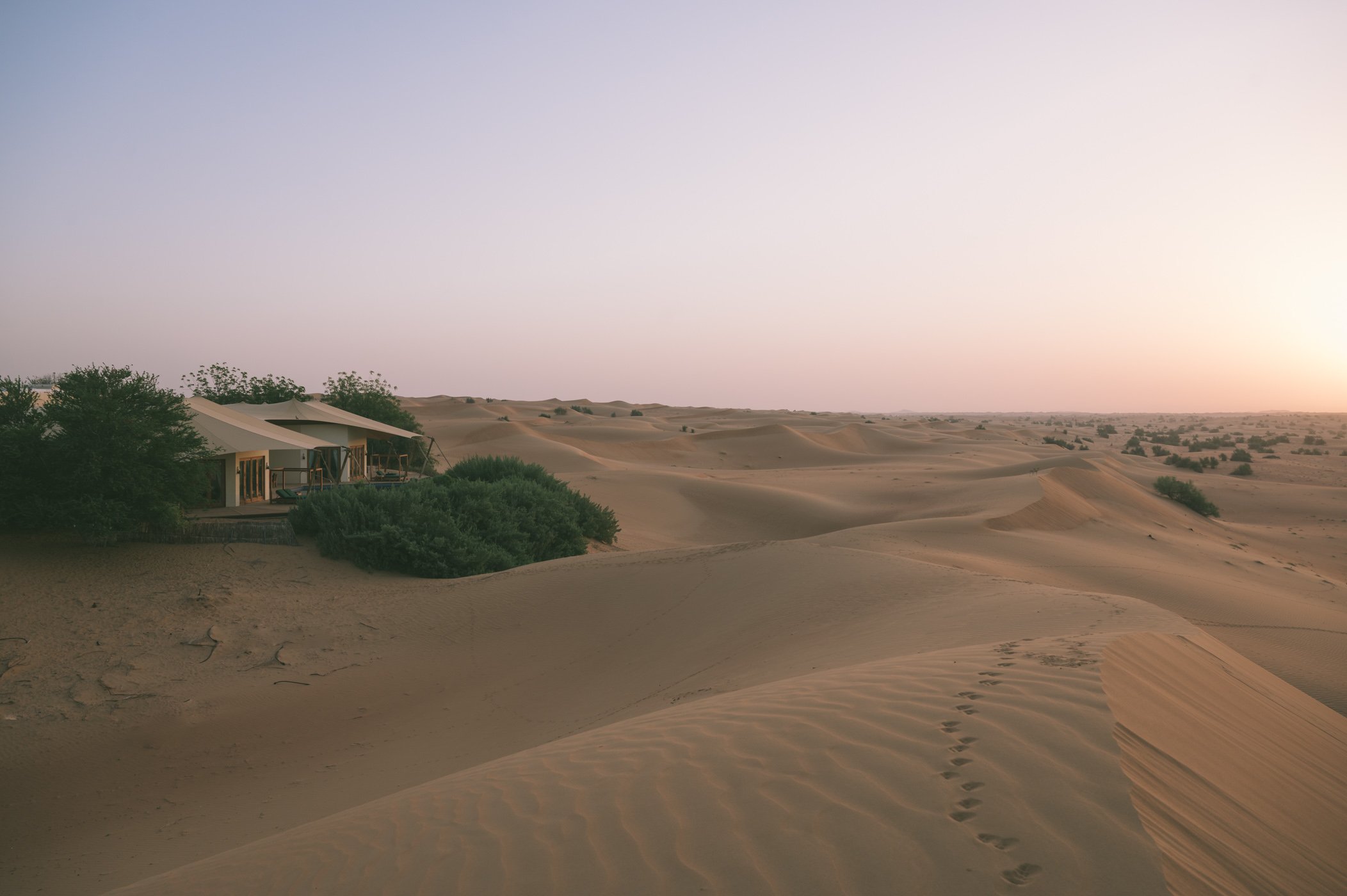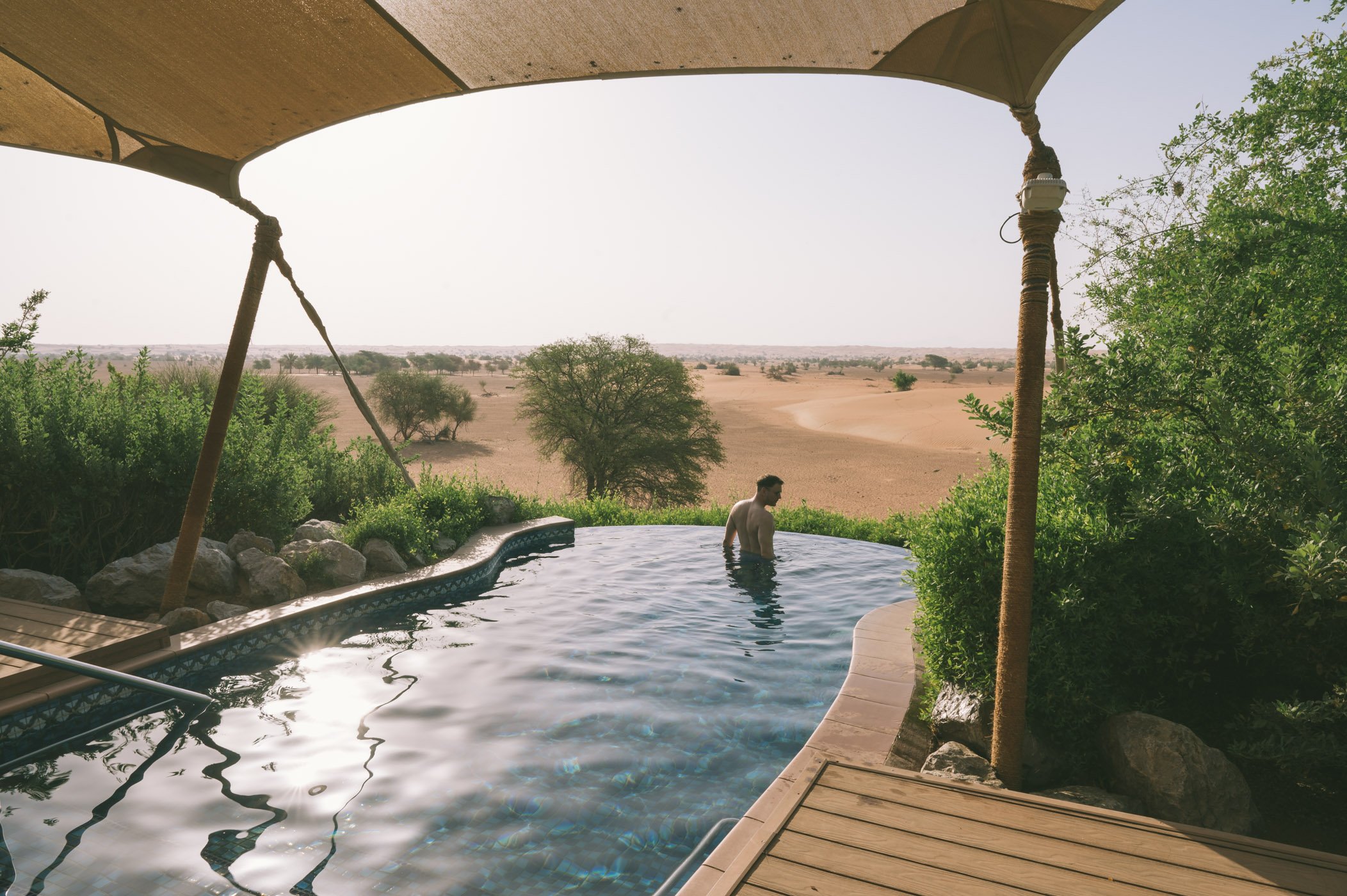 2.) Where to camp in the desert: Platinum Heritage Desert camp
Platinum Heritage has made a name for itself by offering tours with vintage land rovers through the desert. There are various different tours on offer – we booked a package with a game drive to see the Arabian oryx, a falconry show, dinner in the camp with bedouin music and Henna art, an overnight stay in the camp and a sunrise hot air balloon ride the next morning.
Our recommendation: Book a package with overnight stay if you want to go on a hot air balloon ride without having to get up at 3am or earlier. When you stay in the desert camp you'll be close to the launch site and can sleep for at least an hour longer. The camp itself is rustic, but offers all the amenities you need, but we wouldn't recommend to stay longer than one night.
3.) Where to stay in old Dubai: Al Seef Heritage Hotel
Most hotels in Dubai are located in high rises or other modern glass temples. This is a welcomed exception: Close to "Old Dubai" a small strip of land adjacent to Dubai creek has been transformed into a 99-room hotel, that feels more like an old Arabian village. Each of the rooms is spread out over multiple buildings, that are connected via shop-lined lanes or the arched pathways in the first floor.
Our recommendation: Al Seef Heritage hotel is an incredible budget-friendly choice, that allows for extended walking tours through Old Dubai, the adjacent Al Fahidi neighbourhood and also connects to Deira directly via a short Abra ride (the wooden boats that cross Dubai creek). Just know that this hotel (and the whole Al Seef neighbourhood) isn't really old, but just built in the traditional style.
Where to eat in Dubai
We haven't counted how many restaurants Dubai has on offer, but it well exceeds thousands and more. It's hard to decide, especially given the incredible diversity – from Bangladeshi to French cuisine, from Asian fusion to Pizza – Dubai has it all. But when we visit Dubai we try to find places, that exude a bit more atmosphere and offer Arabian or Emirati cuisine, to get a touch of local history and tradition.
XVA Café
Arabian Tea House
Comptoir 102
SEVA Experience
Where to eat: XVA Café
This café is located in the courtyard of the XVA Art hotel in the Al Fahidi neighbourhood. If you take a walking tour through this old district make sure to stop by – at least for a drink or the refreshing watermelon feta salad.
XVA Café, Al Fahidi – Dubai
Where to eat: Arabian Tea House in Al Fahidi
Just around the corner from XVA is the well-renowned Arabian Tea House. We recommend to have breakfast here and share a platter – the Emirati and the Arabian breakfast are both excellent.
Arabian Tea House Restaurant & Cafe – Al Fahidi, Bastakiya Opposite Musalla Post Office – Al Fahidi St – Dubai
Where to eat: Comptoir 102
Another wonderful brunch or lunch spot is Comptoir 102. And it's not just a café restaurant, but also a well-stocked boutique with designer brands and a beautifully curated selection of goods.
Comptoir 102 Healthy Cafe and Concept Store Dubai, 102 Beach Rd, Jumeirah 1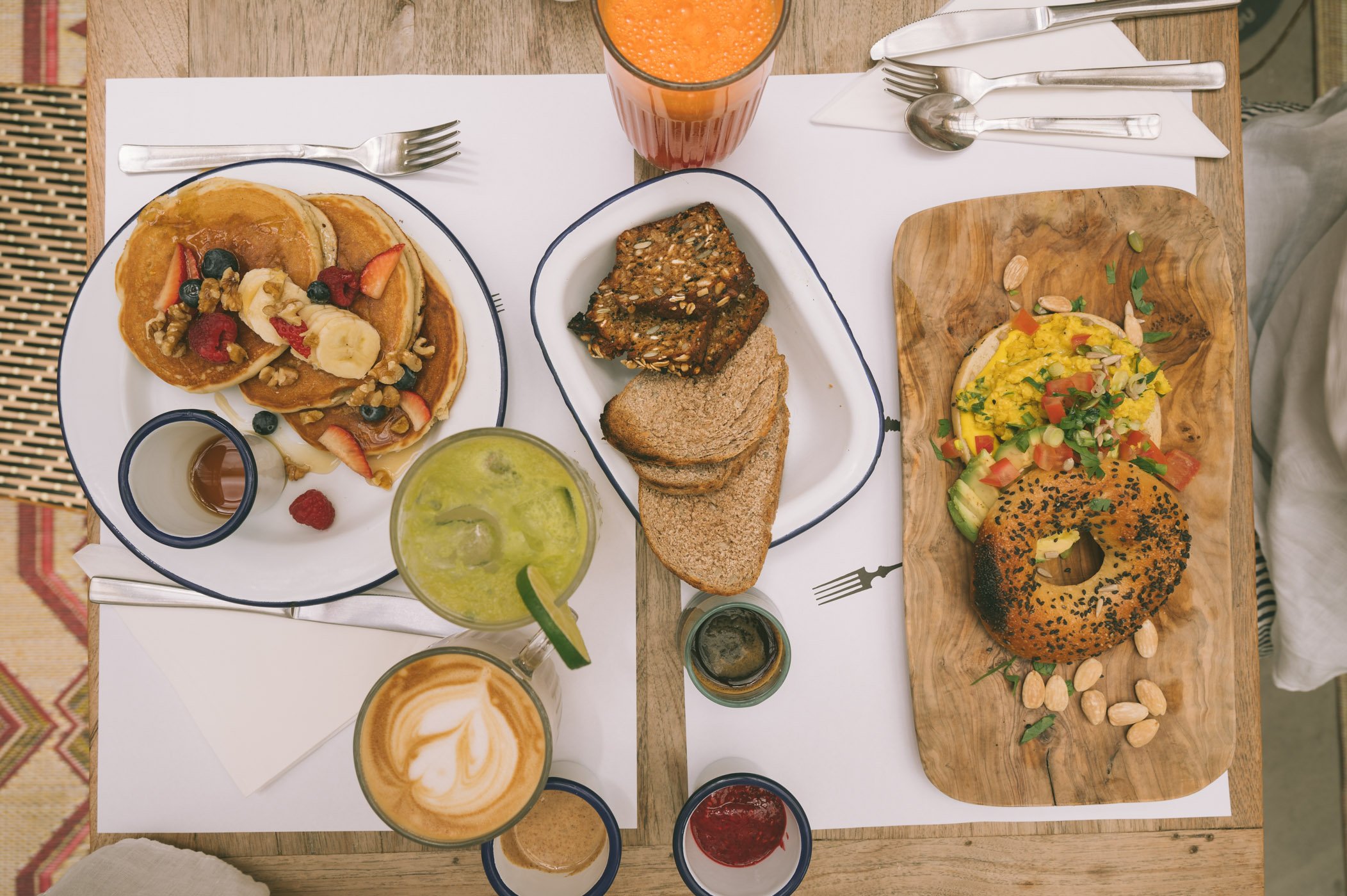 Where to eat: SEVA Experience
Just a few blocks from Comptoir 102 you can find a small garden eden hidden in a small back alley. This café is also home to a yoga and meditation centre and invites visitors with a serene atmosphere, mantras in the air and refreshing drinks.
SEVA Experience, Jumeirah Beach Road, 27B Street, Villa 5/1B Jumeirah 1
These are some of our favourite unconventional places to stay and eat in Dubai. Hotels and restaurants that cater to the needs of people who love nature and history and try to discover a different Dubai.
Make sure to also read our blogpost about 12 unconventional things to experience in Dubai!
Or pin this post and save it for later: