Imagine sitting in the sauna. Feel the wooden scent in your nose, the glistering heat on your skin, a drop of sweat running down your back. And then you look up and all you can see is the blue of a wide lake. Welcome to the most iconic lake sauna in all of Austria (we dare to say). Welcome to Romantik SPA Hotel Seefischer!
We spent a long weekend here in October and enjoyed the change from the last sunny and warm Indian summer days to the first signs of autumn. Days were spent at the lake, the swimming pool, the spa and the famous lakeside sauna, that seems like it jumped right out of a movie scene.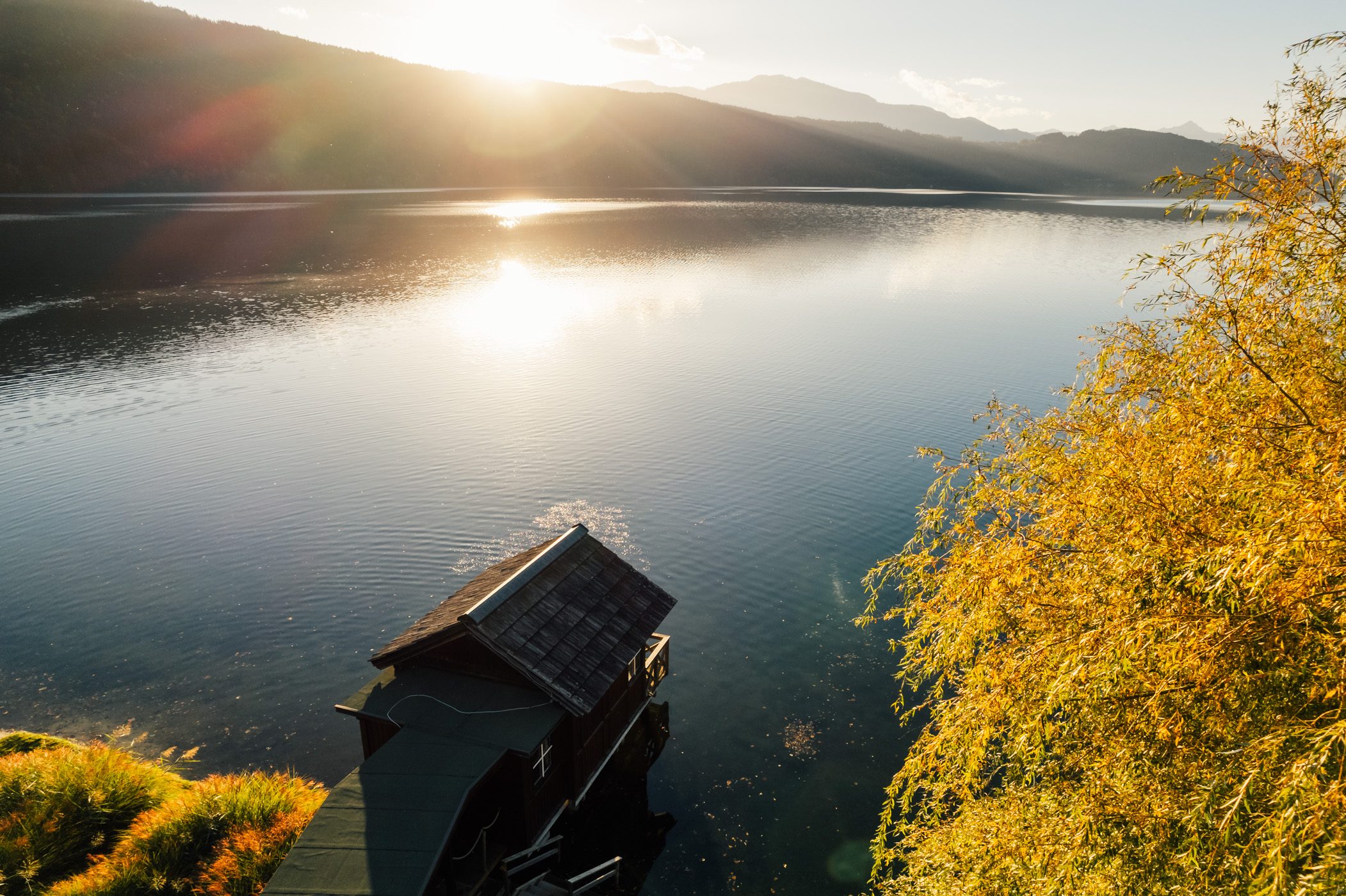 50 years Romantik Hotels
Our visit at Romantik SPA Hotel Seefischer is part of a series of trips together with hotel collection "Romantik Hotels", who focus on local & personalised hospitality as well as gourmet experiences. Romantik Hotels are celebrating their 50 year anniversary in 2022 and have hence started a series to highlight the individuality of their over 220 houses.
Our first trip brought us to the Northern German island of Juist and now we stayed in our home country Austria to visit the enchanting lake Millstatt in the southernmost state of Carinthia.
Lakeside relaxation
Upon arrival you can already sense that Romantik SPA Hotel Seefischer has a long-standing history. Yet it has been carefully renovated and updated by the latest generation of the hotel owners. The family-run hotel focuses on wellness and relax vacations with a wide variety of spa treatments as well as their gourmet kitchen.
Speaking of their food experiences – dinner and breakfast are served in the newly updated restaurant with views of the private marina.
Yes, you've heard right. The hotel has it's own marina. In October we watched the boat owners packing up and making their boats ready for the winter months in the storage, but during the summer this is the place to be to go on sailing trips right from the hotel's own dock and private harbour.
Spa treatments at the lake
We had enough time to also get pampered and test a few of the spa treatments on offer and can specifically highlight the QMS activator facial treatment as well as the Swiss stone pine oil massage. Both leave you feel replenished and relaxed and pave the way for  a time of self-care and wellbeing – always with views of the adjacent Lake Millstatt.
And if the lake is too cold, there's always the heated indoor pool as well as a small whirlpool and the saunas.
In the neighborhood
Millstätter Almstraße and alpine huts
If you do get itchy feet there's a lot to discover in the vicinity (apart from the lake and all it's activities from SUP to sailing or heading out with the hotel's own wooden rowing boat). We decided to drive up the "Millstätter Almstraße" – an alpine road – up to the rustic Schwaigeralm. From here you can hike through the larch forest to a few different nearby alpine huts.
We opted for the short route from Schwaigeralm to "Alexanderhütte", which has stunning vistas of the surrounding mountains and Lake Millstatt down below.
Local delicacies from the farmers' market
Another thing we always add to our itinerary are visits to the local markets. In the neighbouring villages there are farmers' markets, where you can stock up on fresh bread, jams, cheese, fruit and veggies – as well as local specialties. We visited the Saturday market in Seeboden, which is small, but offers a nice selection of truly local products.
Make sure to also stop by at "Hirter's Genusstheke" on the way! This delicacy shop also belongs to the owners of Romantik SPA Hotel Seefischer and as a guest you'll get a voucher to spend on some more cheese, oil or beer.
From "Romantik" dinners to alpine mediterranean evenings
Speaking of food… each evening the kitchen team of Romantik SPA Hotel Seefischer serves a 5- or 6-course dinner – which is themed differently, but always creative (think a deconstructed cherry tiramisu or a parmesan velouté with pine nuts and herbal oil). We thoroughly enjoyed each dinner and that alone would make for a good reason to return!
Our room at Romantik SPA Hotel Seefischer
We stayed in one of their spacious double rooms, which all come with a balcony overlooking the lake or the marina. What we always appreciate is when the toilet is separate from the bathroom – plus a large rain shower and a separate bathtub. The rooms offer enough space for all of this, plus a living area with a welcome gift of the own home-made wine.
The highlight is definitely the wooden west-facing balcony with sunset views deluxe.
The ideal traveller type
Romantik SPA Hotel Seefischer caters to nature enthusiasts who are drawn to the lake and mountains as well as to wellness guests, who want to spend their whole vacation at the hotel. The owning family has small kids, so they also welcome families with children. During our stay the guests were mostly couples (from young to old), small groups of friends as well as a few singles. So it's really varied.
The common denominator is the appreciation for authentic local roots and a traditional Austrian hospitality. Of course Mrs. Berndl welcomes guests in a beautiful Dirndl (the traditional costume dress) during the weekly aperitivo.
So if you're looking for a relaxed lakeside holiday in Austria, this might be the right place for you!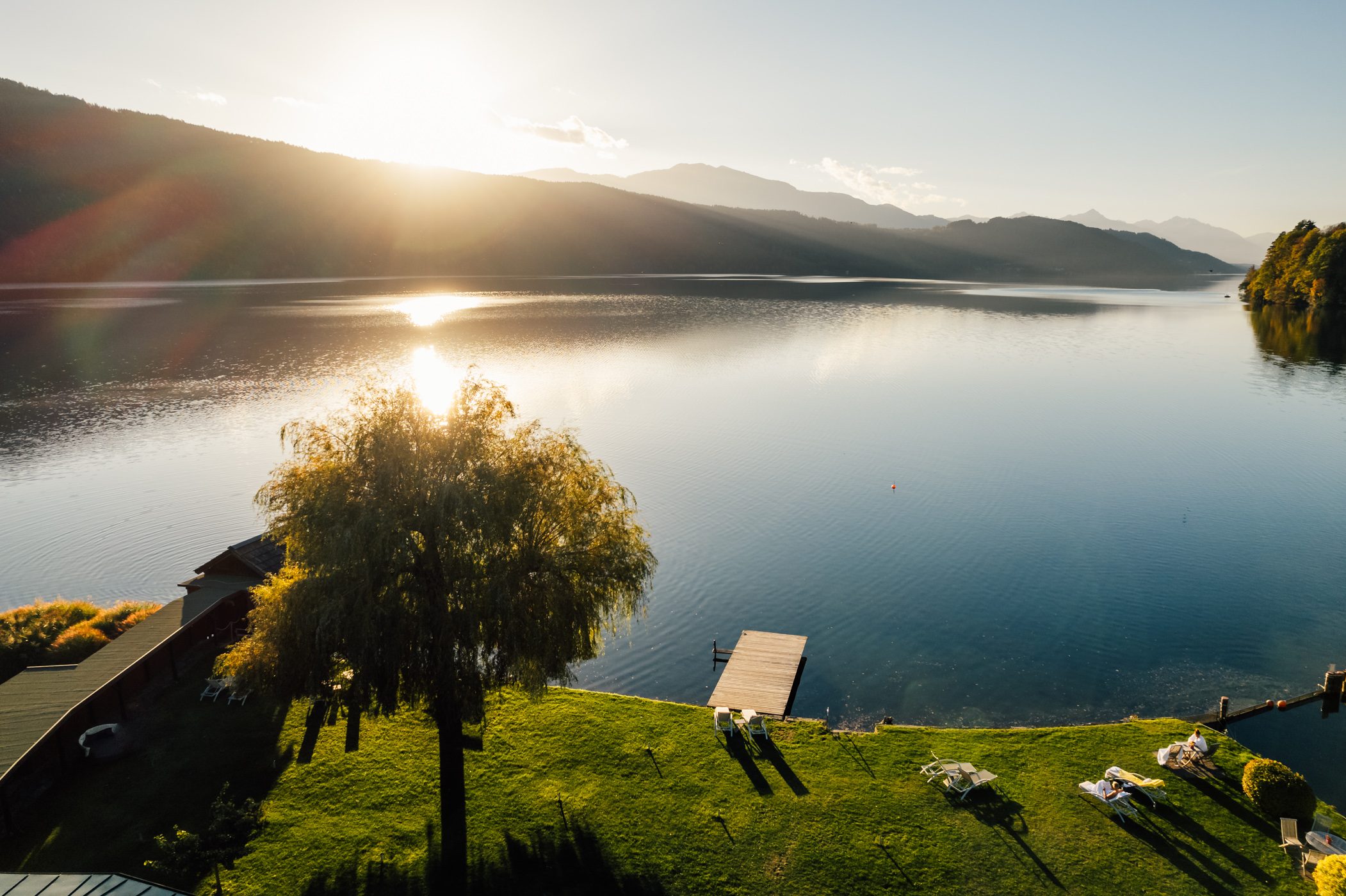 Interested in a trip to Lake Millstatt, but not right now? Pin this post for later:
Disclaimer: This is a sponsored post as part of a collaboration with Romantik Hotels. The views in this blogpost are our own.