For nature, history and wildlife enthusiasts like us Dubai is an unconventional destination. But after two extensive visits we have been able to research unplugged experiences, beyond the usual suspects such as the top of Burj Khalifa or shopping at Dubai Mall (or any of the other countless retail temples in the city). If you ask around what's there to do in Dubai most of the tips revolve around lounging at the beach or indulging in food & retail therapy.
While those might be valid experiences for some travellers, we prefer to get in touch with the history, culture and nature of a place. Many travellers told us that this would be impossible in Dubai, the capitol of glamour and shiny new things. Was there any history to be found, any nature to be explored? We'll let you in on our little secret: Yes, there is – although you might have to dig a little deeper.
Our top 12 unconventional Dubai experiences
Unplugged Dubai: A new perspective on Dubai
1. Go on a Desert Safari & see Arabian Oryx
One of the main reasons we wanted to visit Dubai was to see the Arabian Oryx in the wild. This magnificent antelope was extinct in the wild in the 1970s. From a starting population of 30 Arabian Oryx, that came from private collections, the Dubai Desert Conservation Reserve has been built and is now home to over 450 Arabian Oryx (along two different types of gazelles).
In fact the population has bounced back so successfully, that Dubai is now able to relocate it's own Oryx to newly founded desert conservations in other parts of the Emirates. A unique conservation success story! You can either book a private tour or go on one of the guided tours by Platinum Heritage or Al Maha (see more infos about these desert camps in this blogpost about where to stay in Dubai).
2. Find the hidden desert lakes
Al Qudra lakes are a popular recreational area for Dubai residents. Locals take their tents to camp here or go on early morning cycling excursions around the artificial lakes. But to the Northwest of those lakes there's a real treasure to be uncovered in the desert: naturally occurring lakes – alongside birdlife such as Egyptian geese and even flamingos.
Warning: You cannot go to this location on your own, but need a licensed offroad driver. We can highly recommend to book a private tour with Tariq Mehmood from Desert Explorers Tourism L.L.C.!
3. Get in touch with locals during an "Emirati Kashtas" City Tour
If you're interested in learning more about Emirati culture and society there's no better way then to book a city tour with Emirati Kashtas. "Kashta" means trip or journey and the local Emirati guides will give you an authentic insight into Dubai, that you won't be able to get anywhere else. As you might know 88% of Dubai's residents are expats and there aren't a lot of Emiratis who work in tourism. Therefore getting access to Emiratis isn't easy and with Emirati Kashtas you'll get this very unique opportunity.
4. Learn about the Emirate traditions and society at an SMCCU Cultural Breakfast
Another way to learn more about Emirati traditions and society is a Cultural breakfast at SMCCU (Sheikh Mohammed Centre for Cultural Understanding). The non-profit was founded in 1998 and aims to further cultural understanding. It is located in the Al Fahidi neighbourhood and opens the doors of it's wind tower residence along the Dubai Creek for visitors. During the traditional Emirati breakfast you get to ask questions and learn more about the culture and people of Dubai.
5. Ride an Abra (traditional wooden boat) over Dubai Creek
Crossing Dubai creek is one of the (few) experiences of traditional transportation you can get in Dubai's city. The rest is super modern metros and air-conditioned taxis. When crossing the creek on an Abra you feel taken back to the times when this part of Dubai still used to be a sleepy fishermen's harbour. If you're coming at the right time then the calls to prayer from the nearby mosques will fill the air and you finally get to feel a city that is often too reminiscent of any American metropolis.
6. Ride a Hot Air Balloon at sunrise
Another very special experience is to ride in a hot air balloon at sunrise. You'll get to see the vastness of the desert from above – and on a clear day the skyline of Dubai in the background.
This does involve a very early start into the day, but it's very well worth it! Our balloon ride with Platinum Heritage also included a falconry show up in the air, which was a bit unsettling. Given that these falcons get the very best treatment in Dubai (think air-conditioned homes and special medical clinics) this might seem like an unfair judgement, but it just feels crazy, that the birds ride up in the air with us in a balloon only to be released for a few short seconds to show it's skills. But other than that we would highly recommend soaring over the dunes.
7. Visit the flamingos at Ras al Khor Wildlife Sanctuary
If you're interested in wildlife and birding, than you might know that flamingos are incredibly shy animals. It's hard to watch them in the wild, especially up close. Now Ras Al Khor is a bit of a mix between wilderness and zoo.
The flamingos here are free to fly wherever they want (unlike in zoos, where their wings are truncated), but they are being fed. So they decided to stay and enjoy the convenient services 😉 There's a small hut from where you can watch the flamingos up close – and even with the skyline of Dubai in the background.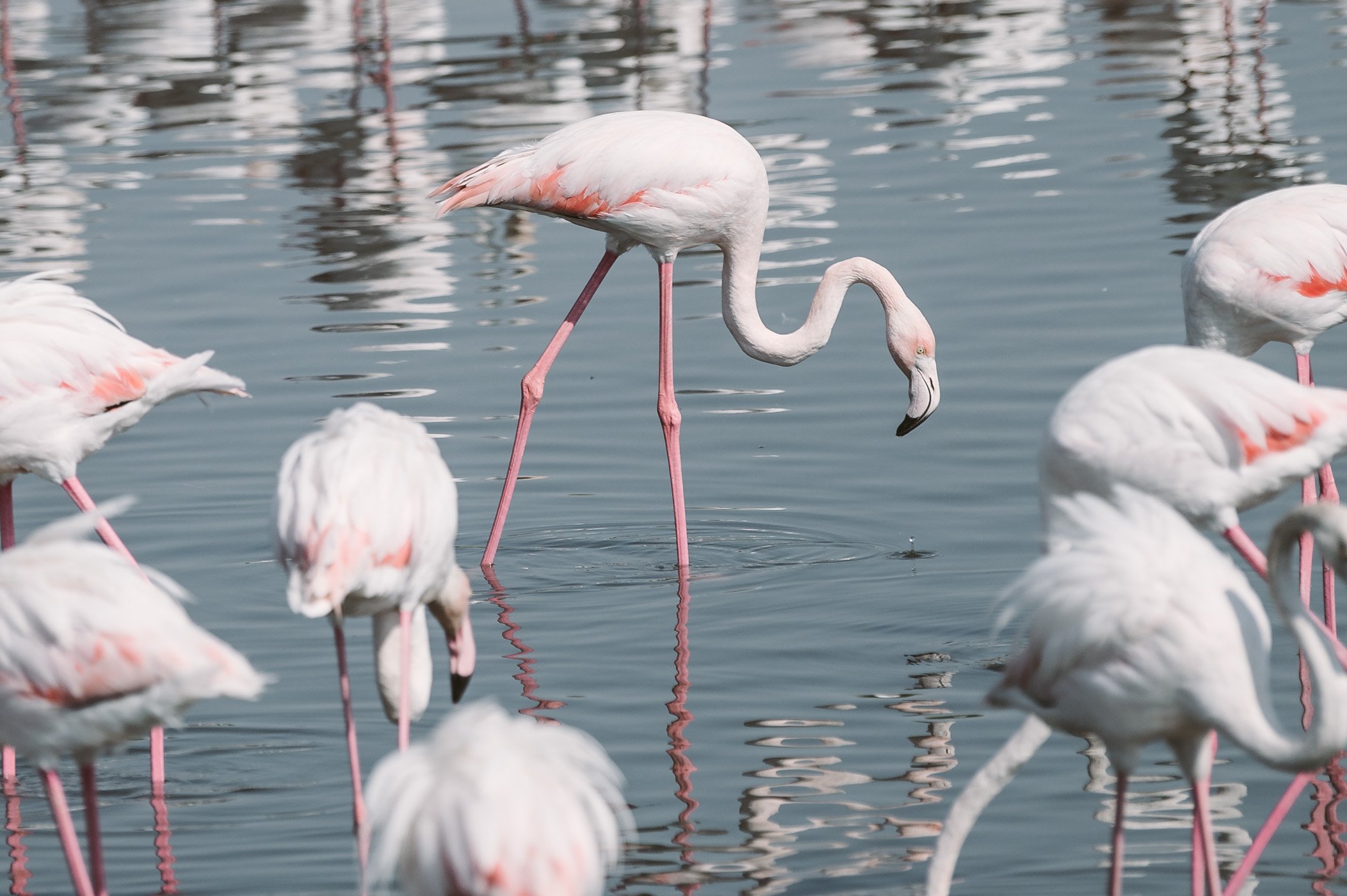 8. Discover the history of scents in the perfume house at Al Shindagha museum
Al Shindagha is one of the oldest parts of Dubai. It used to be the quarter that housed the palace of the former ruler of Dubai Sheikh Saeed bin Maktum. In 1998 his palace has been transformed into a museum with multiple topical parts in separate houses. One of them is the perfume house.
Here you can learn about Oud and Amber and the complicated process how scents are produced in the Emirates. It's a peaceful refuge alongside the shores of Dubai Creek and well worth a visit. Our favourite part were the interactive elements and the videos of the production process.
9. Watch the sunset at Dubai Creek / Vida Creek Harbour
This might not be such an unconventional experience anymore, but still worth the tip. If you've had enough sunsets at the beach we recommend to take one evening off to walk alongside the promenade of Vida Creek Harbour and sit down on one of the many benches to watch the sunset behind Dubai's shiny skyline. If you want to have dinner at the terrace of Vida Creek harbour hotel make sure to make reservations up front!
10. Buy spices & souvenirs at the souk
The souks are a must visit in Dubai. Our personal tip would be to buy saffron here. Of course Dubai doesn't have it's own saffron fields, but the souks are brimming with Iranian saffron stands. The Persian saffron is one of the best in the world and the merchants will let you choose the quality yourself. If you'd rather opt for a traditional Emirati souvenir, then bargain at the souks for dried dates, perfume or gold jewellery.
11. Visit Imam Hussein Mosque
In the shadows of the famous Jumeirah mosque and just a mere 7 minute walk away you can find the turquoise and blue tile-clad Imam Hussein Mosque. It's architecture reminds one of Persian mosques immediately and it doesn't come as a surprise, that it was founded by the Iranian community in Dubai. There are visiting hours, where you can enter as a non-Muslim visitor as well.
12. Learn about women in the Emirates in the Women's museum
Another hidden gem is the small Women's Museum in Deira – just a few steps behind the souks. The museum was founded in 2012 to provide insight into the stories of contemporary and historical female entrepreneurs and other important female figures in Dubai. It's an interesting museum to learn more about Emirate society and culture, but we would definitely recommend to do a tour with a guide to get the most out of the experience.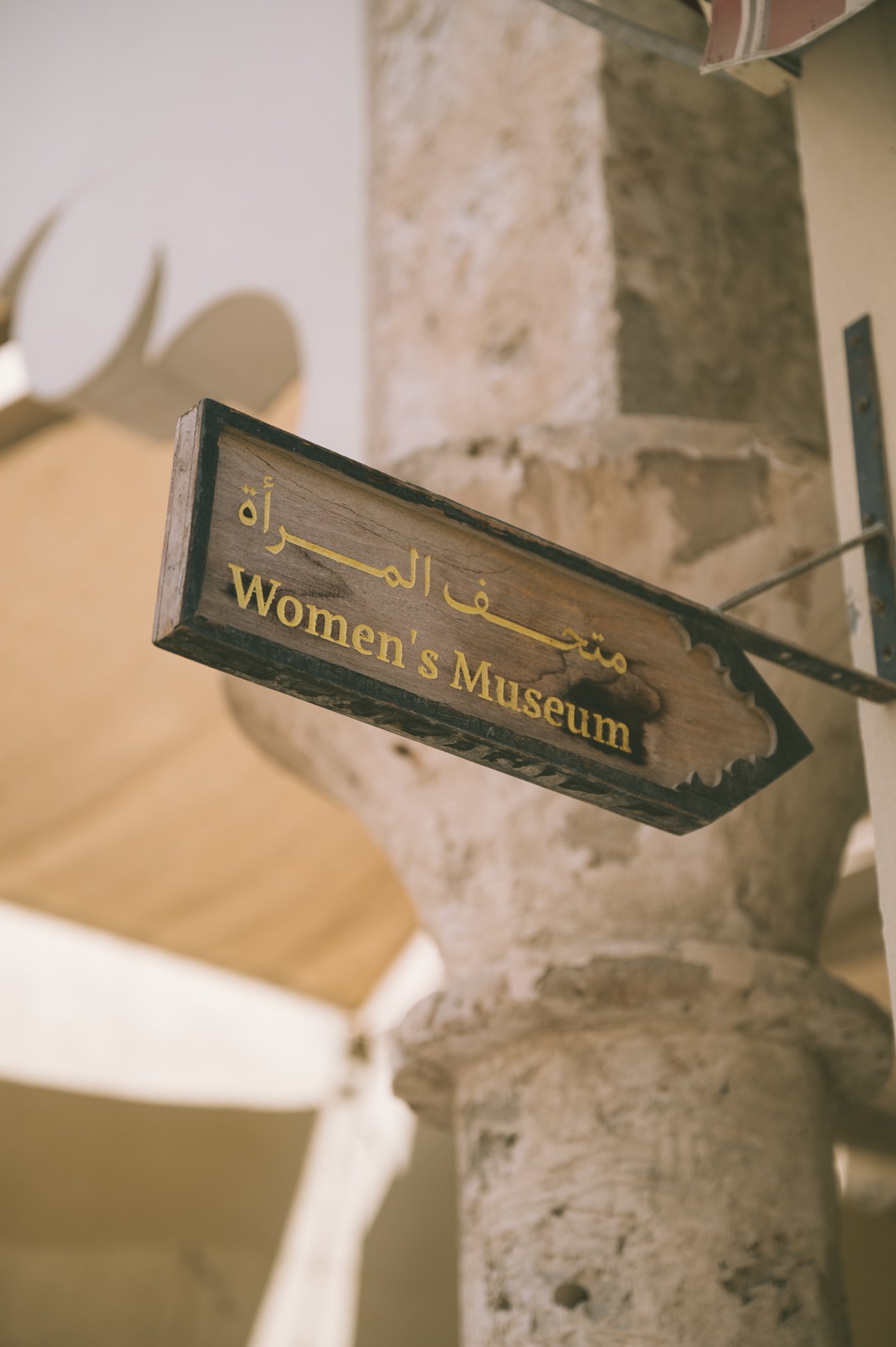 Summary: 12 unconventional things to do in Dubai
This were our 12 unconventional things to do in Dubai. The city is definitely more interesting than you might think from the perpetuated clichés. There is history & culture to be uncovered and Dubai is investing in new museums and cultural experiences all the time.
Neighborhoods to discover: Al Seef, Al Fahidi, Al Shindagha & Deira
If you're interested in getting away from the glitz and glam of Dubai's skyscrapers we recommend to pay a visit to the old quarters of Dubai. Al Seef, Al Fahidi and Al Shindagha have all been reconstructed for tourism. So even if they aren't actually old, the architecture represents Dubai as it used to be.
Deira on the other side of the creek is brimming with life – this is a more residential neighbourhood where you will see locals go to the mosque with a small carpet under their arm following the call to prayer.
We recommend to take time to visit all four of these neighbourhoods – this can be done in one day (unless you also want to visit one of the museums or restaurants, then we would recommend two days).
Day 1: Stay at Al Seef Heritage Hotel, Breakfast at the Arabian Café or cultural breakfast at SMCCU, Emirati Kashtas guided tour of Al Fahidi with visit of the coffee museum, Al Shindagha visit with perfume house
Day 2: Take the Abra to the other side of the creek, visit the Souks and the women's museum, walk around Deira and discover the different neighbourhoods with the distinct character of different immigrants
Where to stay & eat in Dubai
If you're interested in more unconventional stories from Dubai, make sure to check these blogposts:
Disclaimer: This is not a sponsored post, but we visited Dubai two times in collaboration with Visit Dubai, who supported us by providing some of the program items described above (Emirati Kashtas tour, SMCCU cultural breakfast). The views in this blogpost are our own.