(Last Update, September 2023). Namibia is a vast country with huge distances to cover during a road trip. But it's also a country that is easy to travel individually – it's safe and well developed, even for independent travellers. After many weeks of research and planning we finally decided on a route for our 3 week self-drive itinerary. And still we made some mistakes along the way. Therefore we're sharing this, so you can avoid mistakes while you plan your perfect Namibia road trip!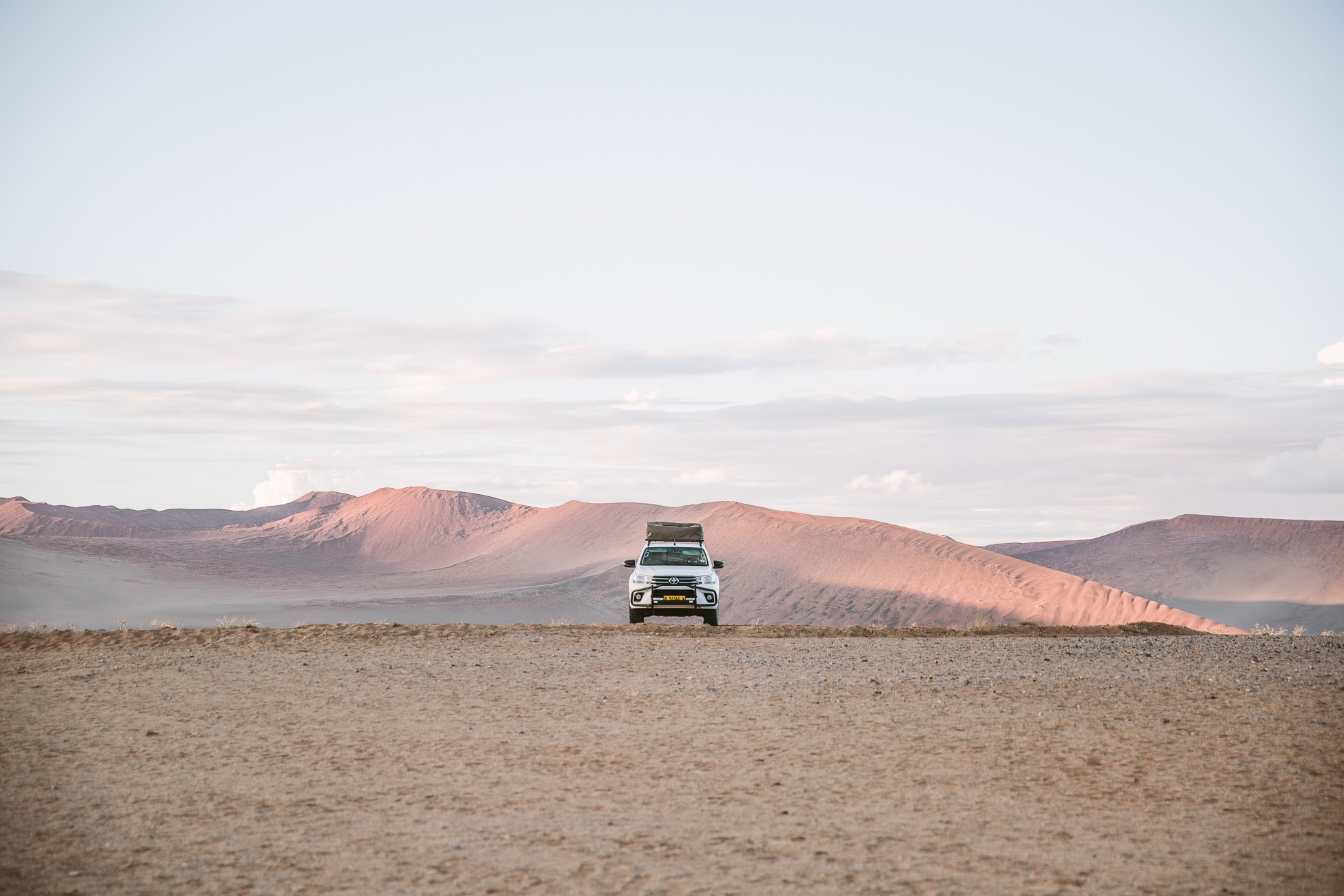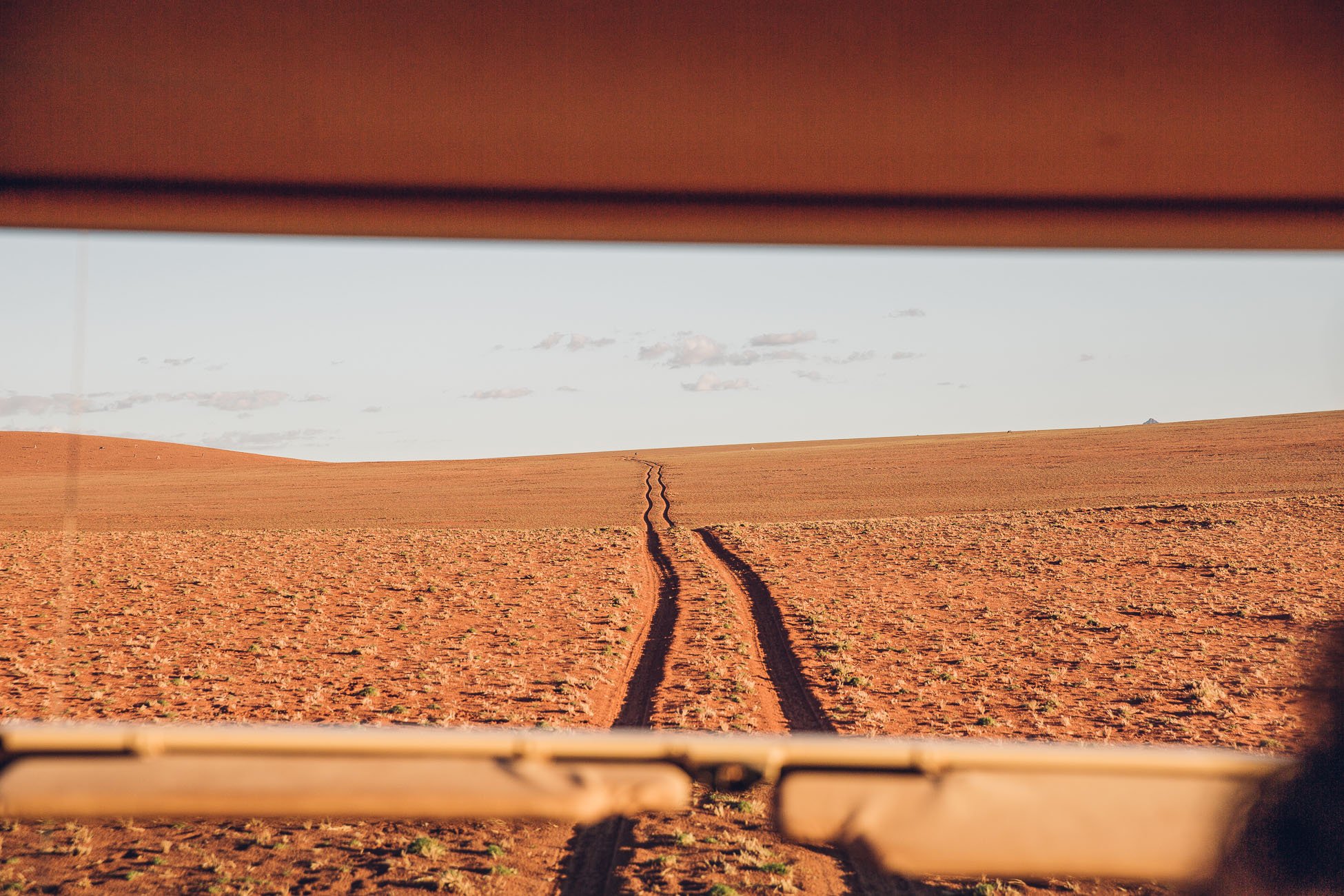 Some roads in Namibia are an attraction of their own.
This is a private road at the NamibRand national reserve.
April: The low season
We visited Namibia in April, which is considered the end of the so called "green season" (after the rainy period) – and still quite low in bookings. Therefore we only pre-booked the first 10 days of the trip. This way we had the option to change route options on the go. And we did make a couple of changes to our initial plan later on. The good thing about an April visit: At that time of the year lodges aren't fully booked months ahead, so you'll still have some flexibility.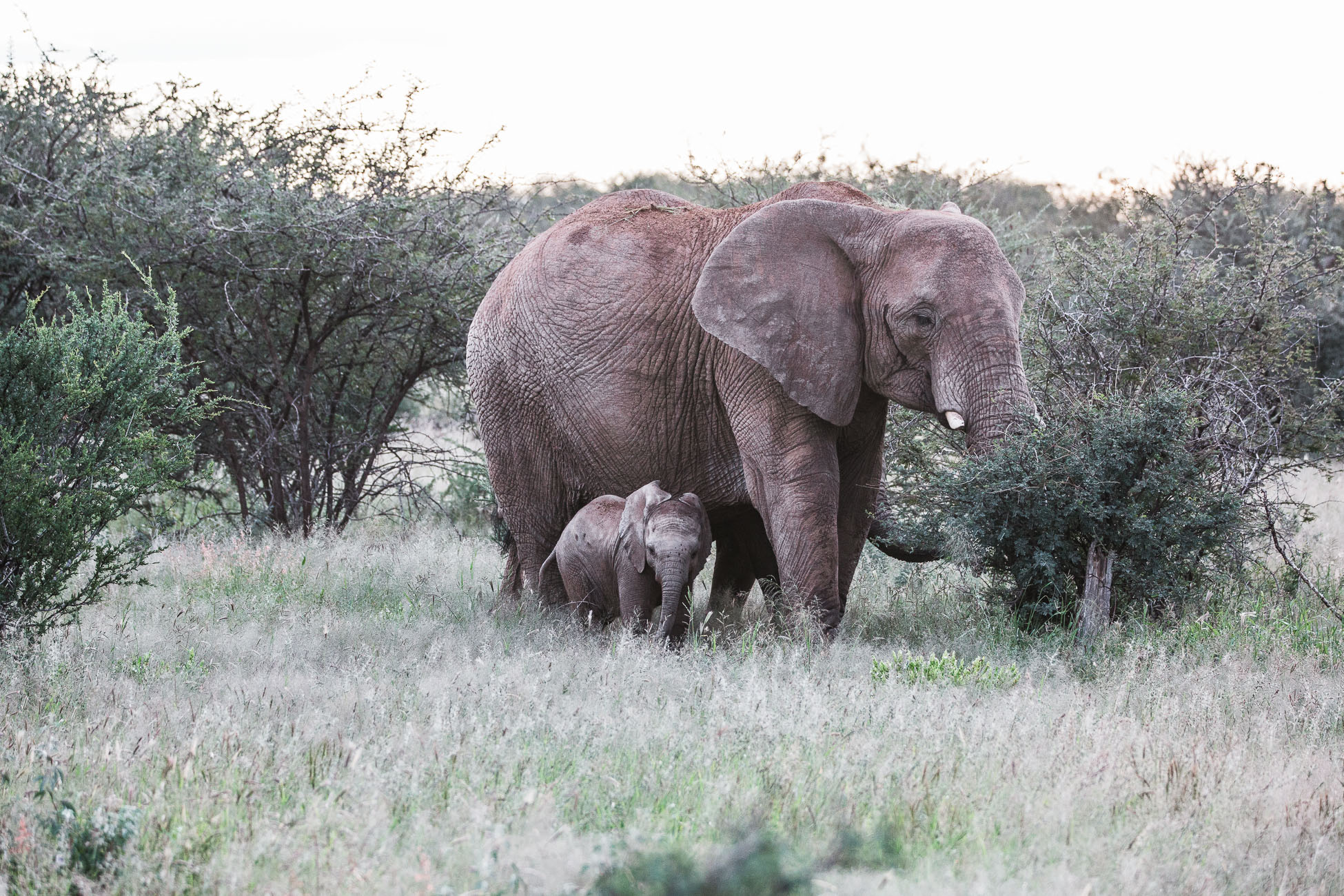 We spent one full week on safari in Erindi, the perfect start to our Namibia exploration.
3 weeks are too short
We loved every little thing about our tour, but didn't manage to squeeze in everything that we had initially planned. Therefore our 3 week itinerary doesn't cover the South of Namibia. We had to skip Fish River Canyon and the sunken city of Kolmanskop and we also didn't manage to see the Quiver tree forests. Considering the vastness of the country and the limitation of 3 weeks time we still managed to experience incredibly diverse landscapes and locations!
One thing is certain: We could've easily extended our trip by one week to cover the South of Namibia as well.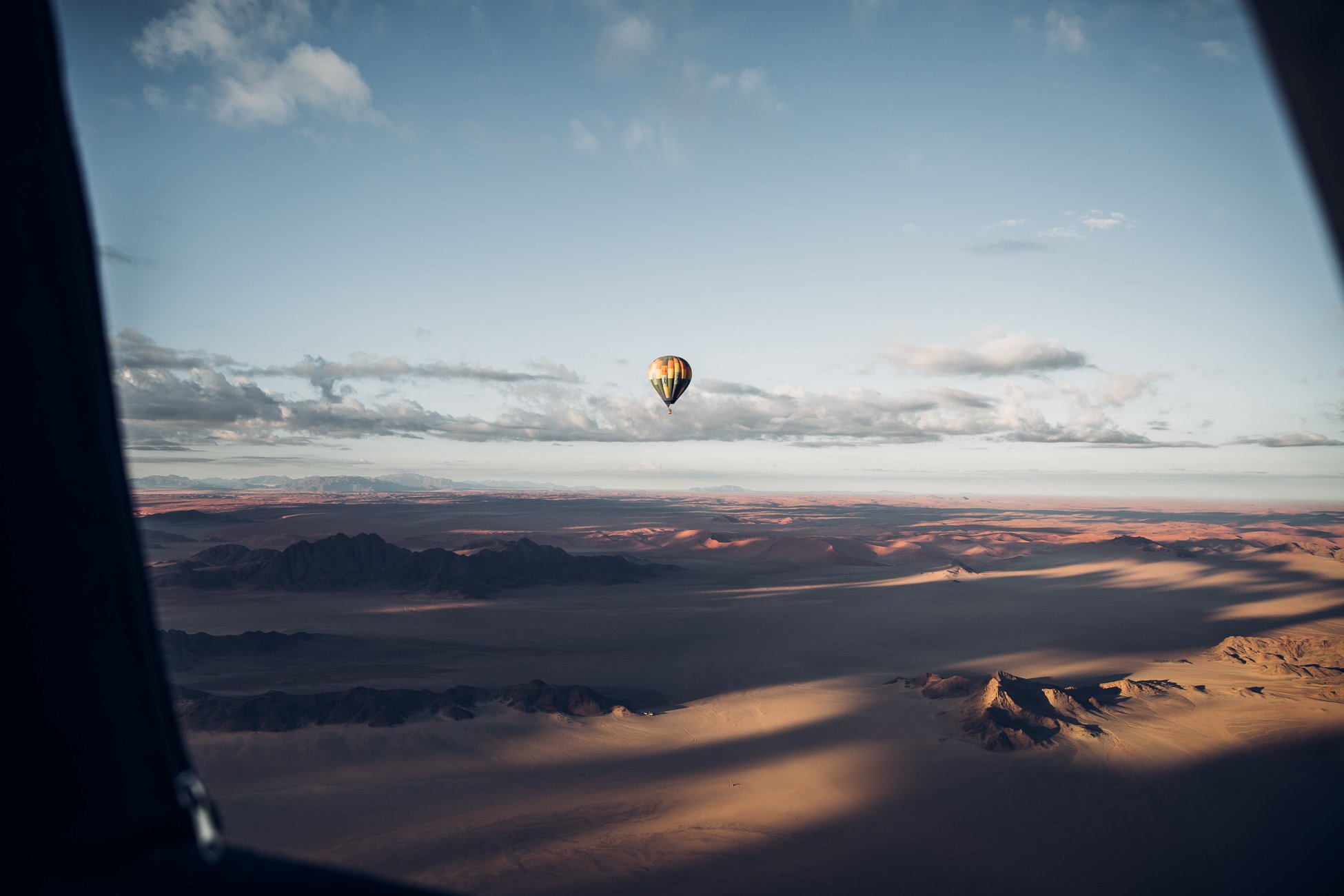 A hot air balloon ride over the Sossusvlei desert was one of the highlights of our trip!
Our 3 week Namibia itinerary
Without further ado – here's how we spent our 3 weeks in Namibia. At the end of the article you'll find our suggestion for an optimised 3 week itinerary, so make sure to scroll to the end!
As you can see we didn't drive a full circle, but drove back and forth some of the same roads in each direction. Going to Etosha was a spur of the moment decision at the end, therefore it would've actually made more sense to do that in the beginning (after Erindi), instead of taking the whole detour up North again from Swakopmund. We also weren't too impressed with our self drive safari experiences in Etosha, after we had been spoiled by our expertly guided safari with proper game drives at Erindi Private Game Reserve (but that's a different story).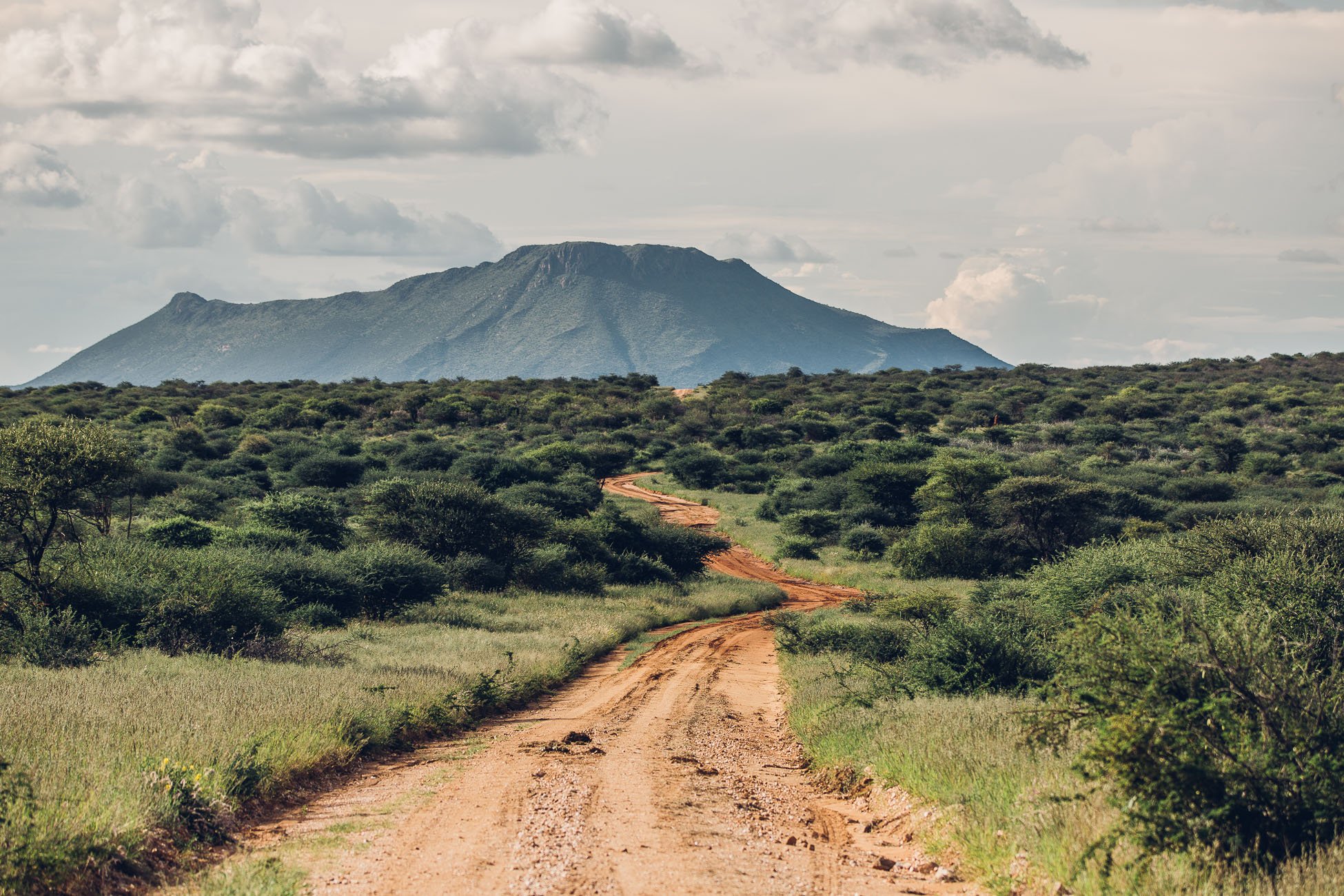 In April it's the end of the so called "green season" in Namibia.
Parts in the North of the country are still quite lush, but the rainy period has stopped.
Let's start the trip! Here's how we spent our 3 weeks on tour in Namibia – one stop after the other.
A.) 7 nights: Safari at Erindi Game Reserve
One of the main reasons to visit Namibia is obviously the wildlife. Before this trip we had never been on a safari, therefore we wanted to make sure we had enough time to cover as many wildlife sightings as possible. Hence our 7 night stay at Erindi!
7 days of Safari at Erindi was the perfect start to our Namibia adventure!
Most visitors only come to Erindi for 1 or 2 nights and we really believe that's a mistake. In hindsight we maybe wouldn't have needed the full 7 nights there, as we got to see all of the animals already in the first 2-3 days – from giraffes to zebras, lions, leopards, oryx, springbok, steenbok, cheetahs, wild dogs, hyenas, hippos, crocodiles – you name it. We were worried that we would need longer to actually see all of those before mentioned animals, but at Erindi the game drives are especially successful as many animals are equipped with GPS collars and guides use GPS tracking to locate them (after many safaris in National Park we now appreciate the true wilderness experience even more, but that's also another story).
The reason why safaris are so successful in Erindi: It's a privately managed game reserve with restocked and repopulated wildlife, limited amounts of cars, well managed game drives, great guides and also allows off-road driving – bringing you really close to the animals (something which is not allowed in many public National Parks).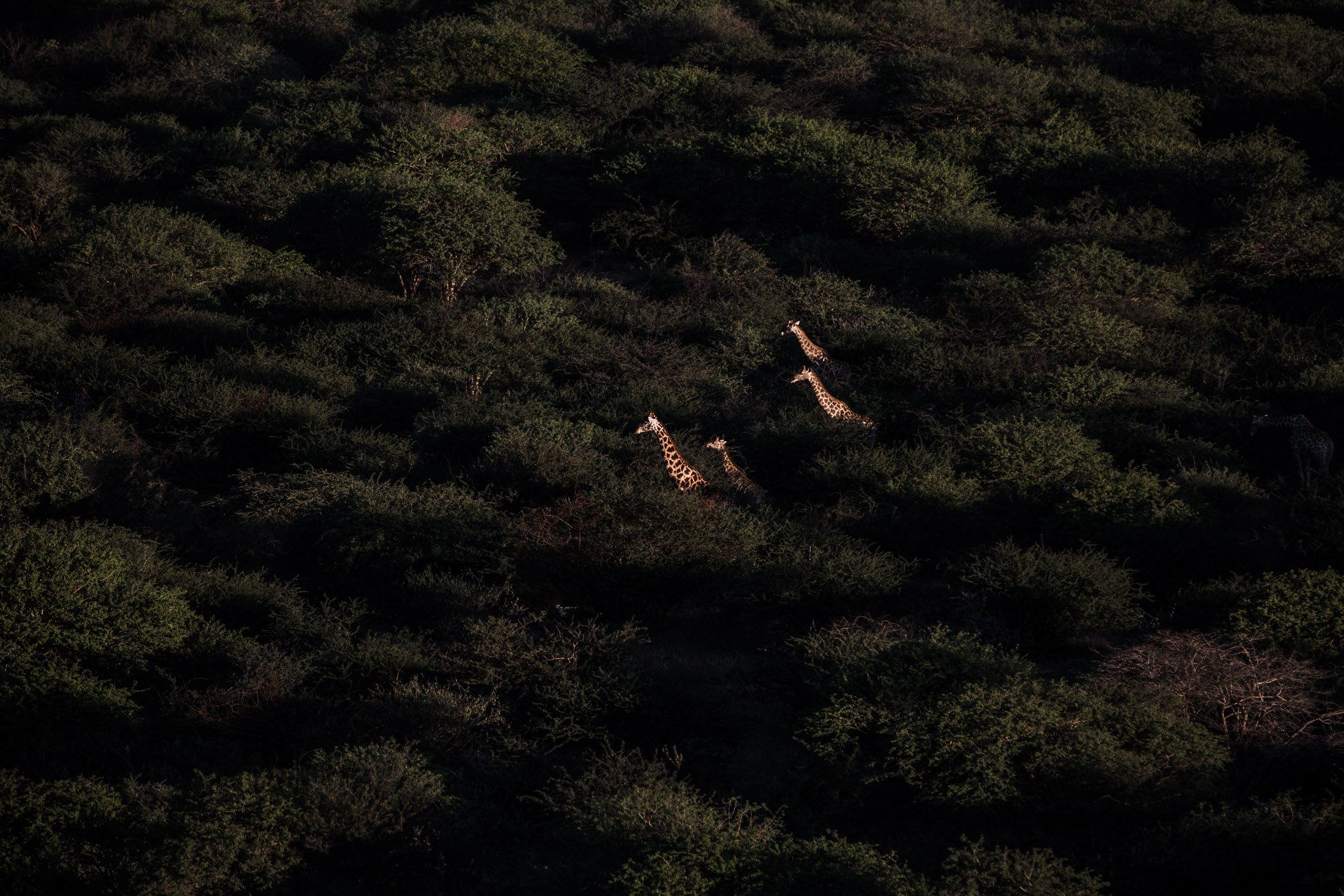 Every morning we drove up a small mountaintop with our guides to watch the sunrise and the animals with it!
Our verdict
100% recommendation if you're a safari beginner. It's affordable and the landscape is stunning. If you want to see wildlife in Namibia and especially if you're into photography Erindi is really the place to go to. Make it 3 or 4 nights and definitely go on morning & afternoon game drives every day of your stay.
🛏️ Hotel: Old Traders Lodge at Erindi Game Reserve (here's our full lodge review)
🏁 Kilometers: 222km (2:40h, we were picked up at the airport in Windhoek – part of Erindi's service)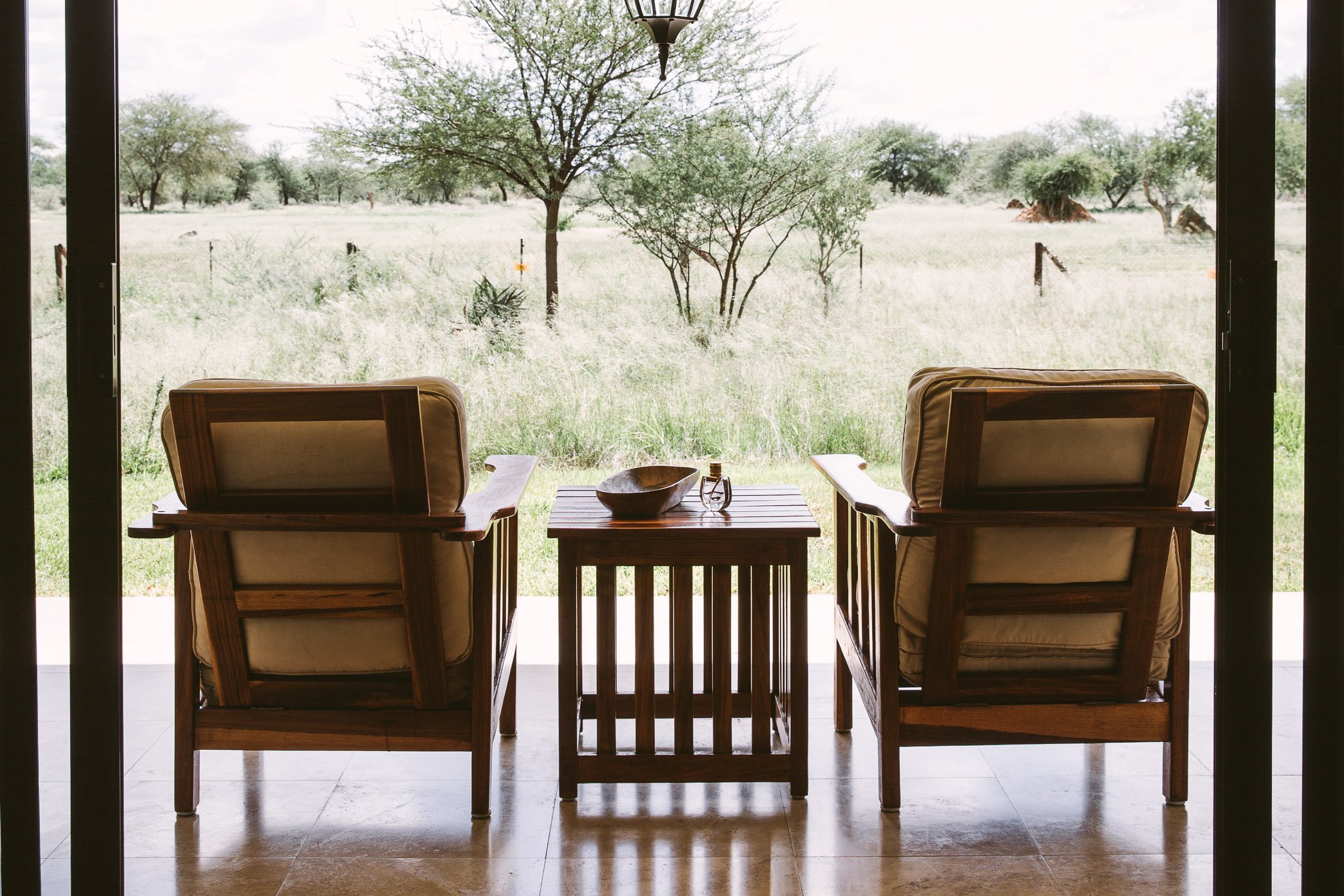 Room with a view of the water hole at Erindi.
Read all about our safari impressions from Namibia:
B.) 1 night: Camping at Spitzkoppe
On Day 8 we returned to Windhoek from Erindi to pick up our rental car and start the road trip. We rented a 4×4 Toyota Hillux with a rooftop tent from ASCO Car Hire, as we had initially planned to camp for most of the nights of our road trip (turns out we didn't, but we'll get to that part later 😉 ). We left Windhoek the same day to drive to Spitzkoppe, an incredible mountain range in Namibia.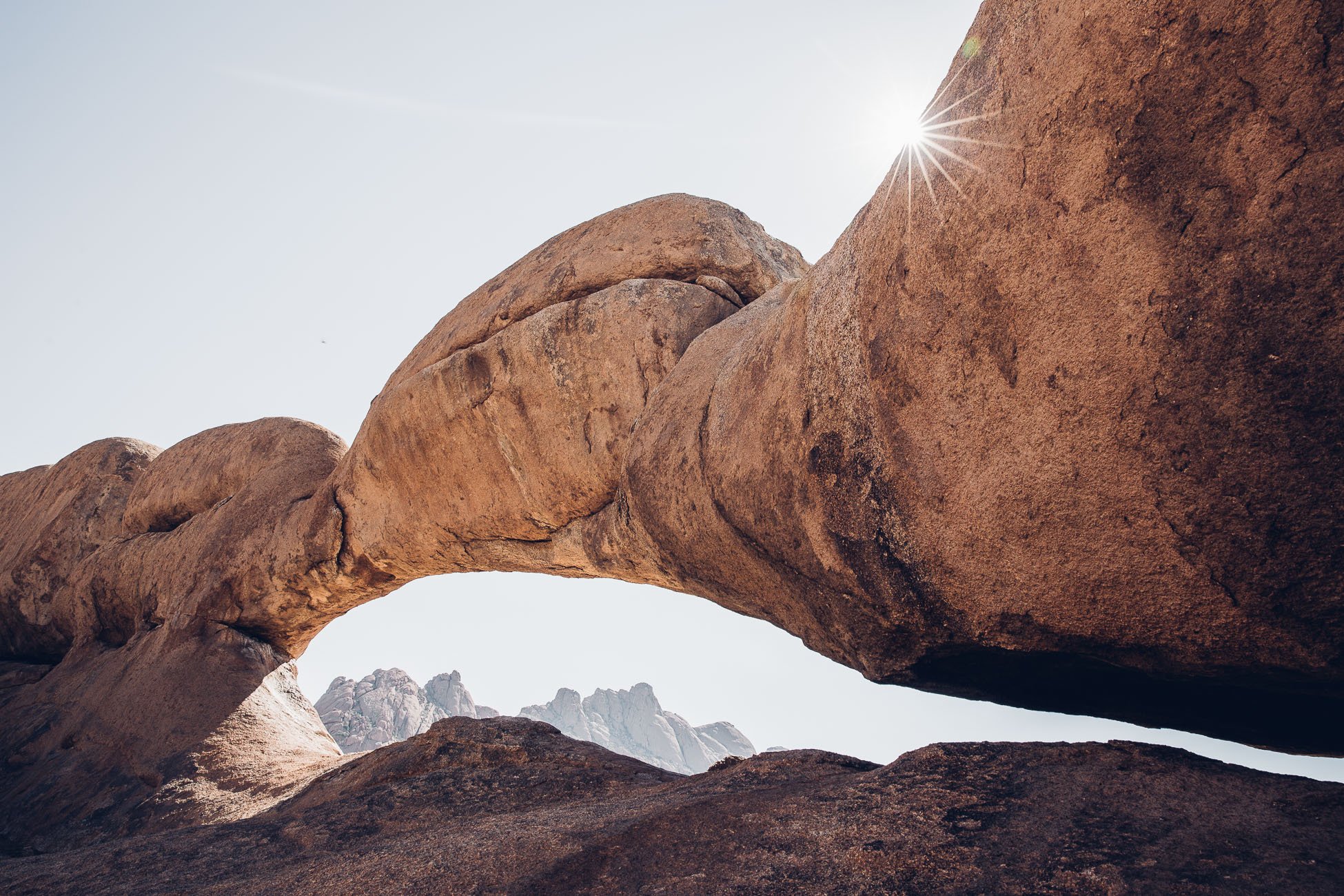 This arch is probably the most iconic part of the Spitzkoppe mountains.
Unfortunately all the preparations in Windhoek took us longer than expected. Picking up the car already took over 2 hours, mainly because we got a super detailed instruction for the truck and the camping equipment. (Turns out this was time well spent, because we had to change tyres just a couple of days later and it was great to know all the ins and outs…).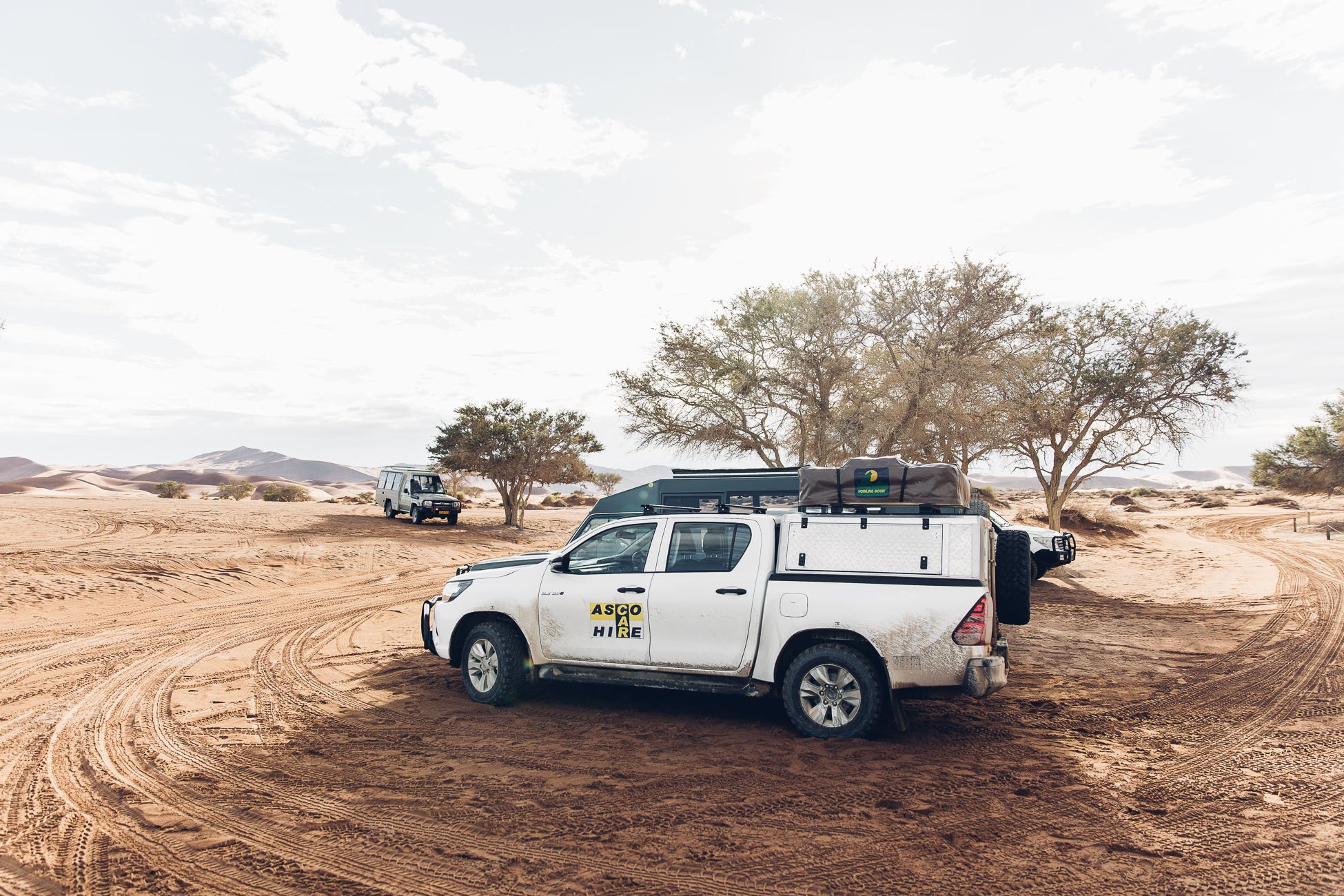 Our car for the road trip – a Toyota Hillux with rooftop tent.
In the end we didn't camp too often, but we needed that spare tyre in the back (the car actually comes with 2 spare tyres… just in case)!
After we got introduced to the car we still needed to go to the supermarket to buy a huge load of groceries (the car comes with a proper fridge and it's own separate battery for it). Everybody told us that there aren't as many well stocked supermarkets outside of Windhoek, so we should get everything we would need for the rest of the trip. Therefore the grocery shopping also took us around 2 hours. This way we only left Windhoek after 5pm and it gets dark around 6pm in April.
The first leg of our road trip happened in the dark – which was a little adventurous. We recommend staying one night in Windhoek to avoid driving in the night!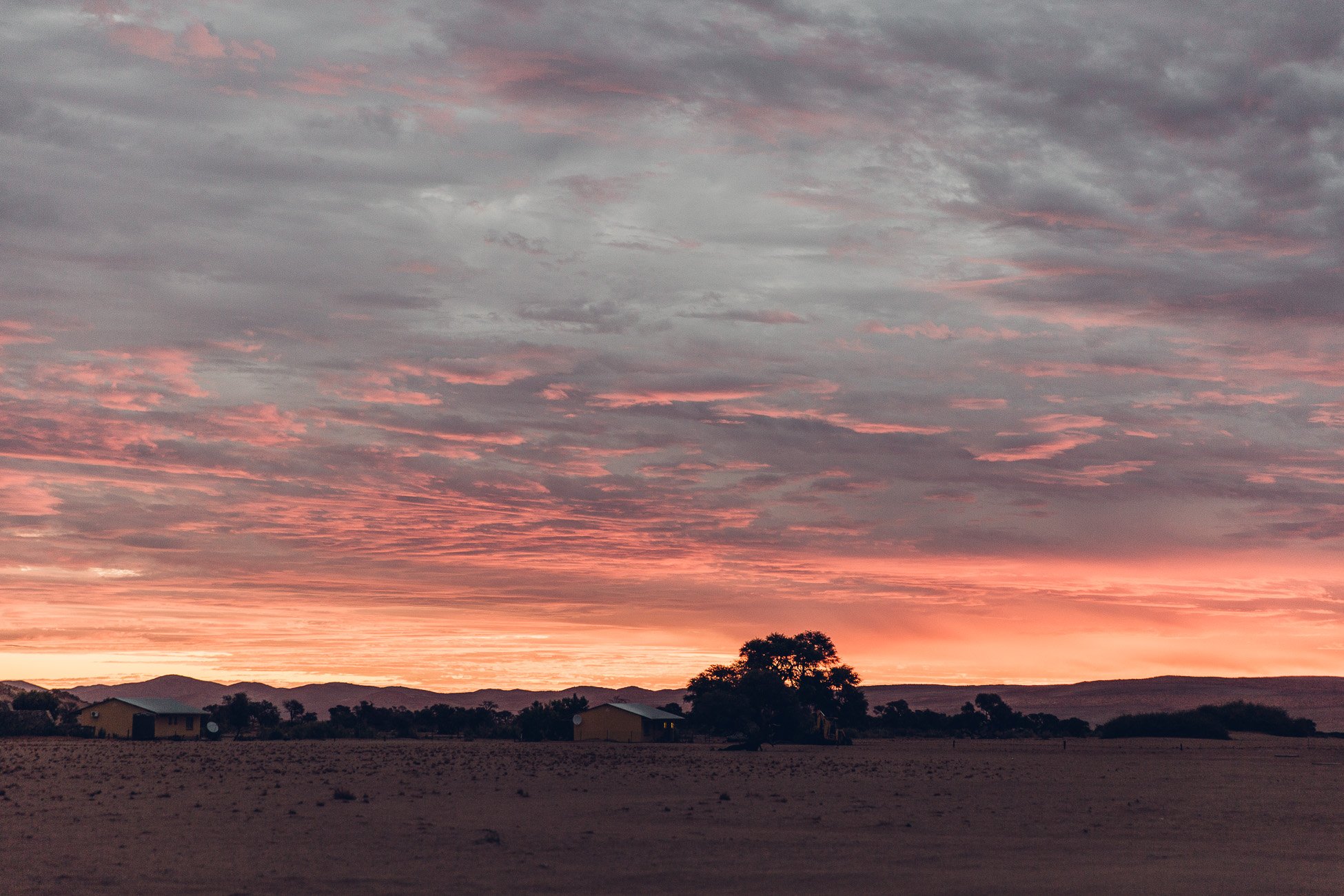 The sun sets early in April, so you should plan your driving time accordingly!
We only arrived at Spitzkoppe after 9pm and had to set up our rooftop tent in the pitch dark for the first time. This was a bit nightmarish after the long and exhausting journey – especially since there were thousands of insects circling around our headlamps while we set up camp. The outhouse also didn't smell or look too promising! This was the first indicator, that we would start to book lodges and hotels instead of camping spots later during our trip 😉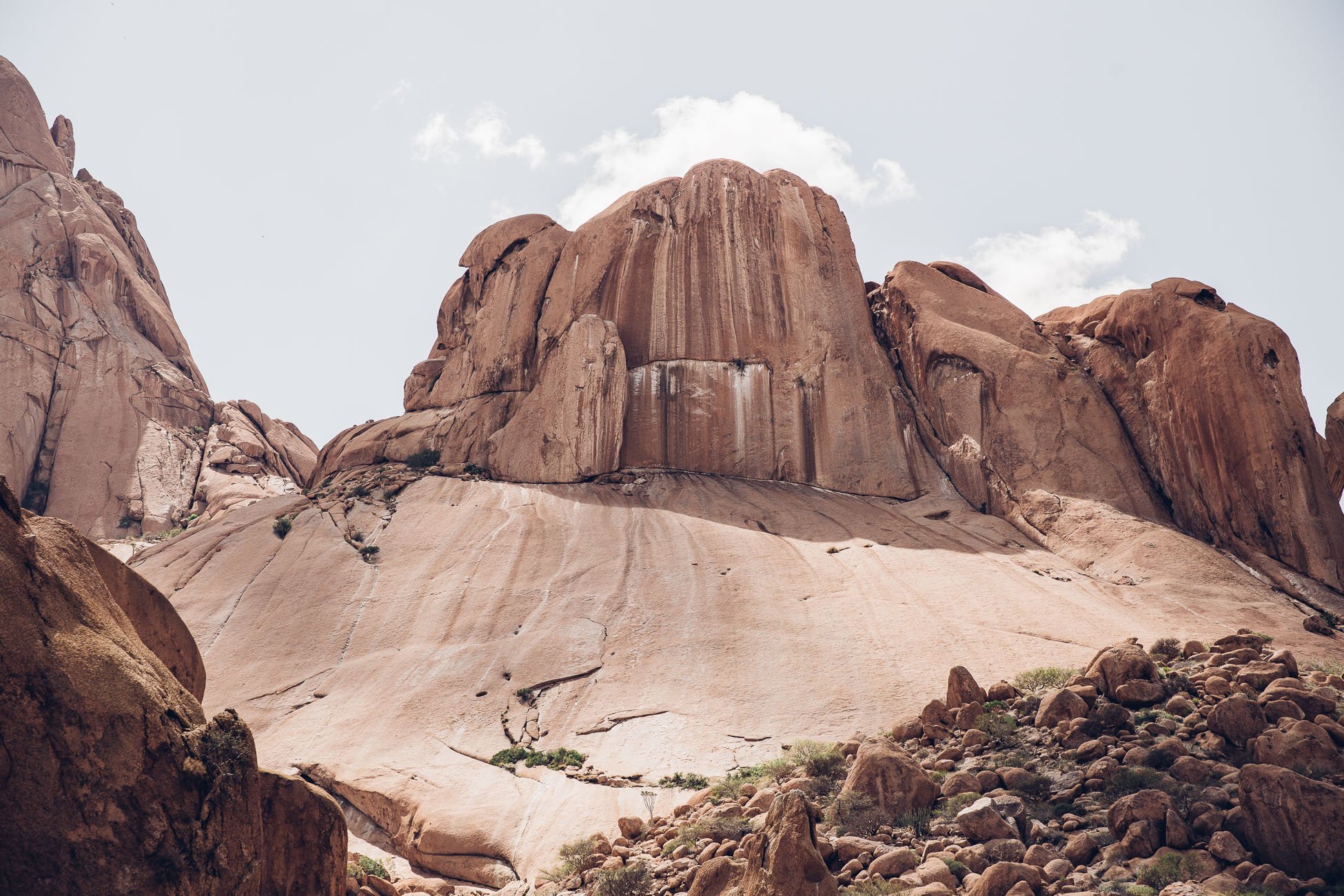 If you want to visit Spitzkoppe you can also stay in a lodge instead of the camping site – which we would recommend!
Apart from that the camping site at Spitzkoppe is incredible (and it's one of the most famous ones in all of Namibia). Every camping spot is so far away from each other, that you have to drive for a couple of minutes and you basically have your own part of the mountain range to yourself.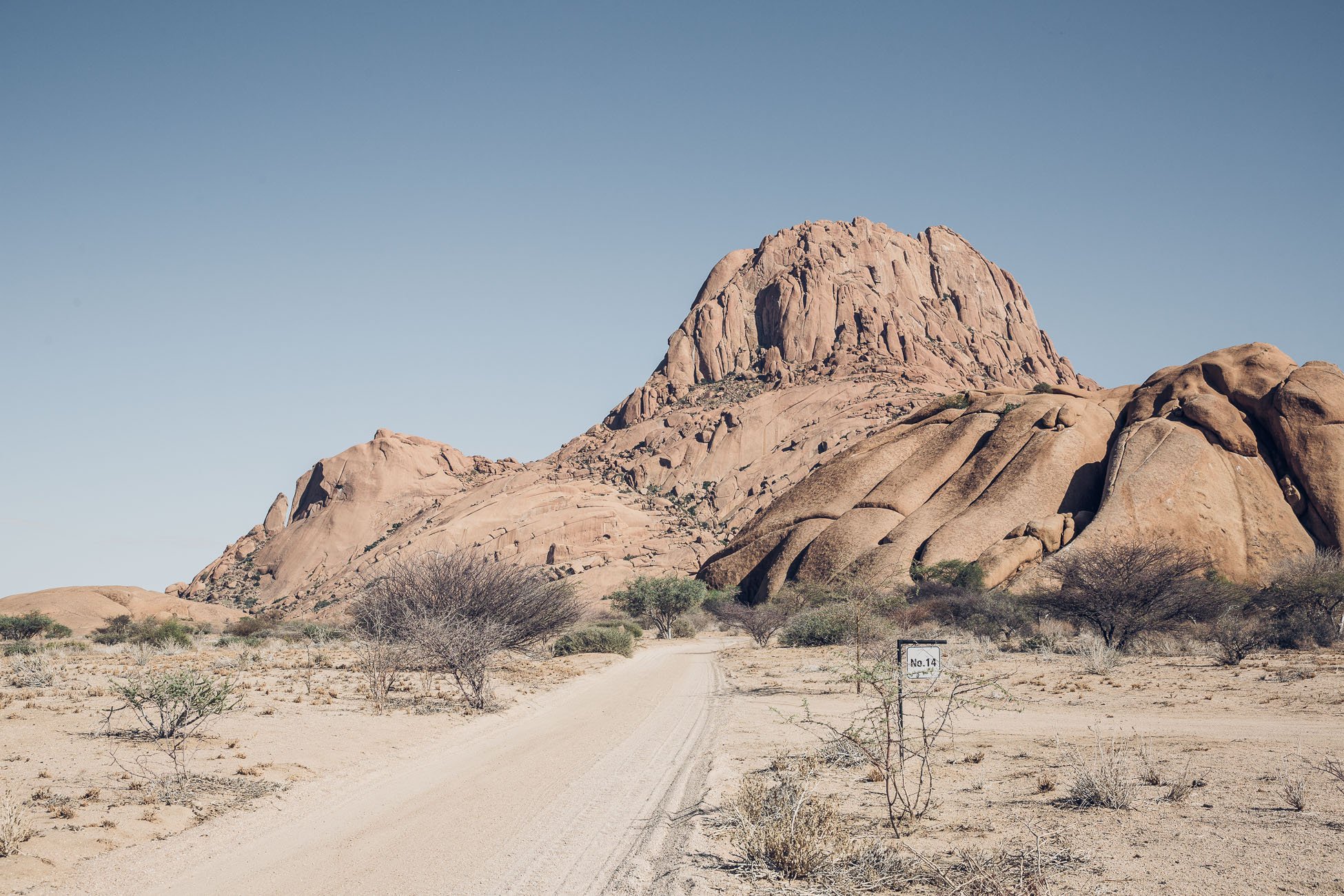 This sandy path lead to our camping spot for the night.
We spent a rather uneasy and turbulent first night in the rooftop tent as it was very windy and the tent was fluttering all night long while the refrigerator went on and off cooling mode, which led to the whole car shaking and rumbling… and then there were all these noises outside! Let's just say, we were clearly spoiled city people at that point in time 🙂  The next morning we had planned to hike around the beautiful Spitzkoppe at sunrise, but we overslept as the batteries of our phones had died at night and therefore we had no alarm. Yay! 🙂
Yet, the natural arch and the Spitzkoppe mountain range are definitely worth a stop and we would recommend to spend at least 1 night there at the camping spot, or if you prefer some comfort at the lodge. And make sure to not miss sunrise!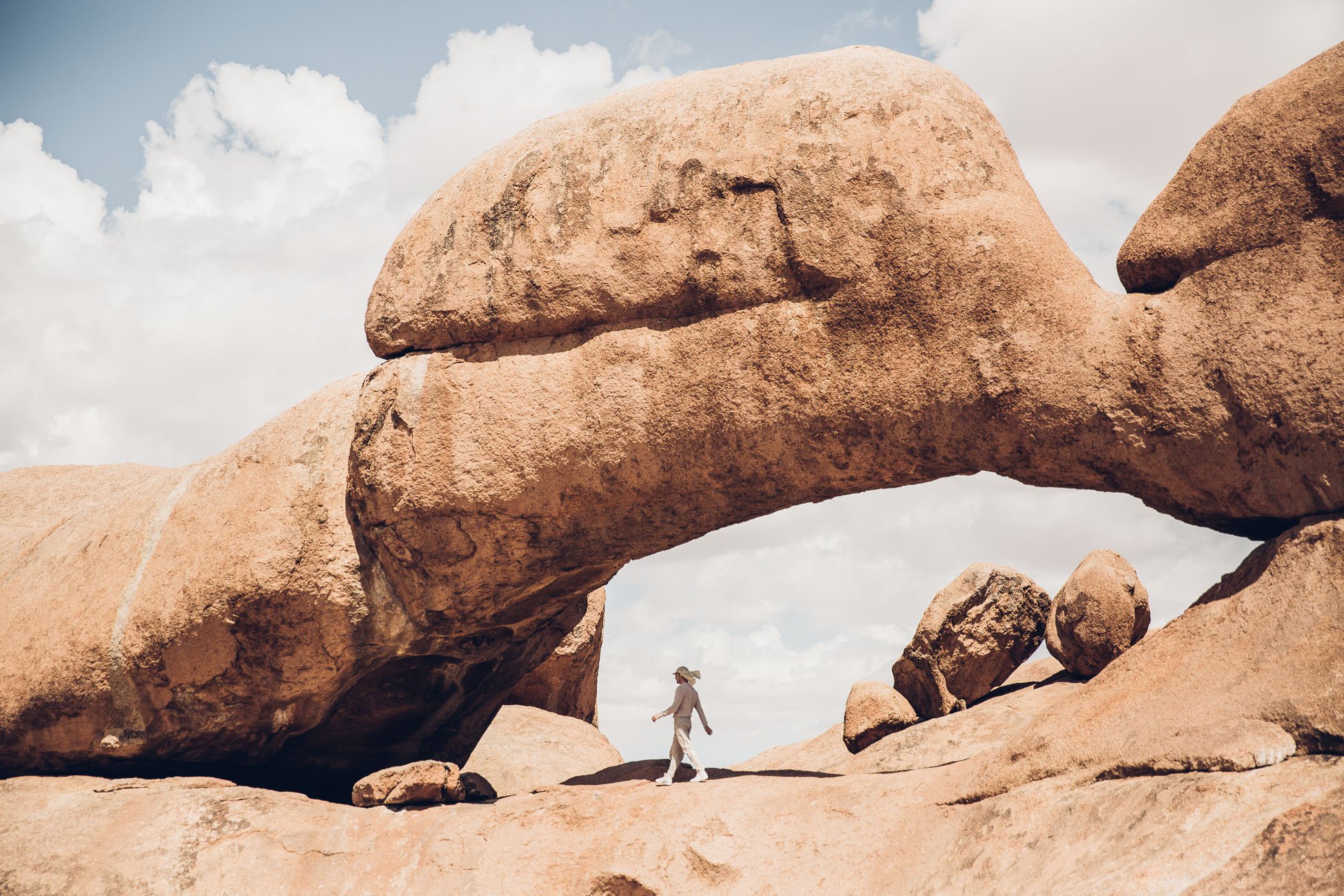 The famous arch at Spitzkoppe – all to ourselves in the (not so early) morning.
Our verdict
Absolute recommendation. Try to arrive during daylight so you can also check out the sunset there! If you don't like camping, definitely make reservations at the lodge 🙂 If you like camping, you'll love the rest camp at Spitzkoppe – it's vast, serene and absolutely stunning!
🛏️ Campground: Spitzkoppe Community Restcamp
🏁 Kilometers: 180km (Erindi – Windhoek, 2:15h), 275km (Windhoek – Spitzkoppe, 3h)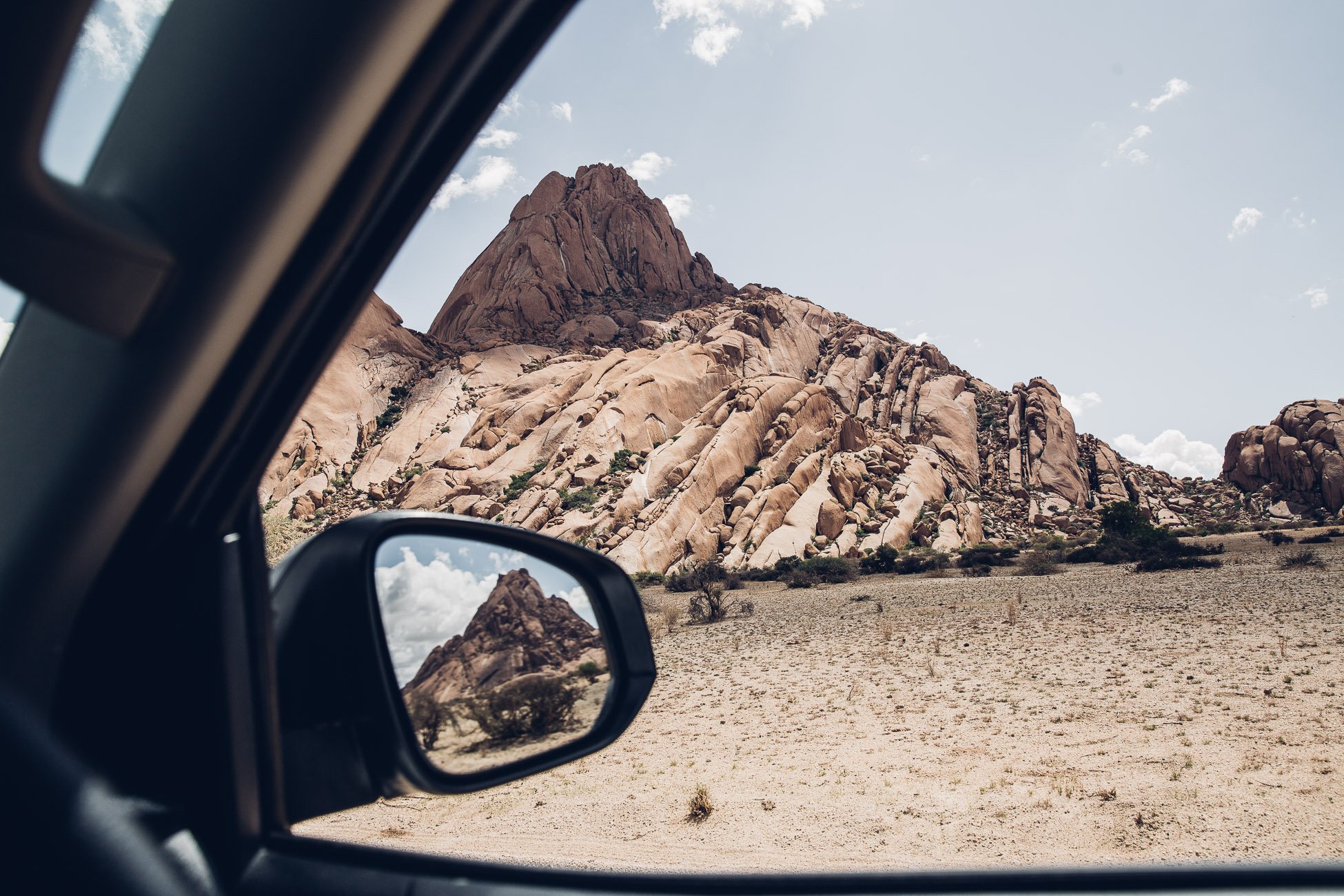 Driving around the Spitzkoppe mountain range is quite scenic.
C.) 1 night: The coastal town of Swakopmund
Swakopmund is the unofficial tourism capital of Namibia (much more than Windhoek). Most of the visitors come here and either pass through during a road trip or stay longer to explore the surrounding area. We had initially planned to just spend one night here on our way further to the South. Turns out this was a mistake! Swakopmund is definitely worth a longer stay. Not just for the (rather quirky) town, but for everything you can see and explore from here.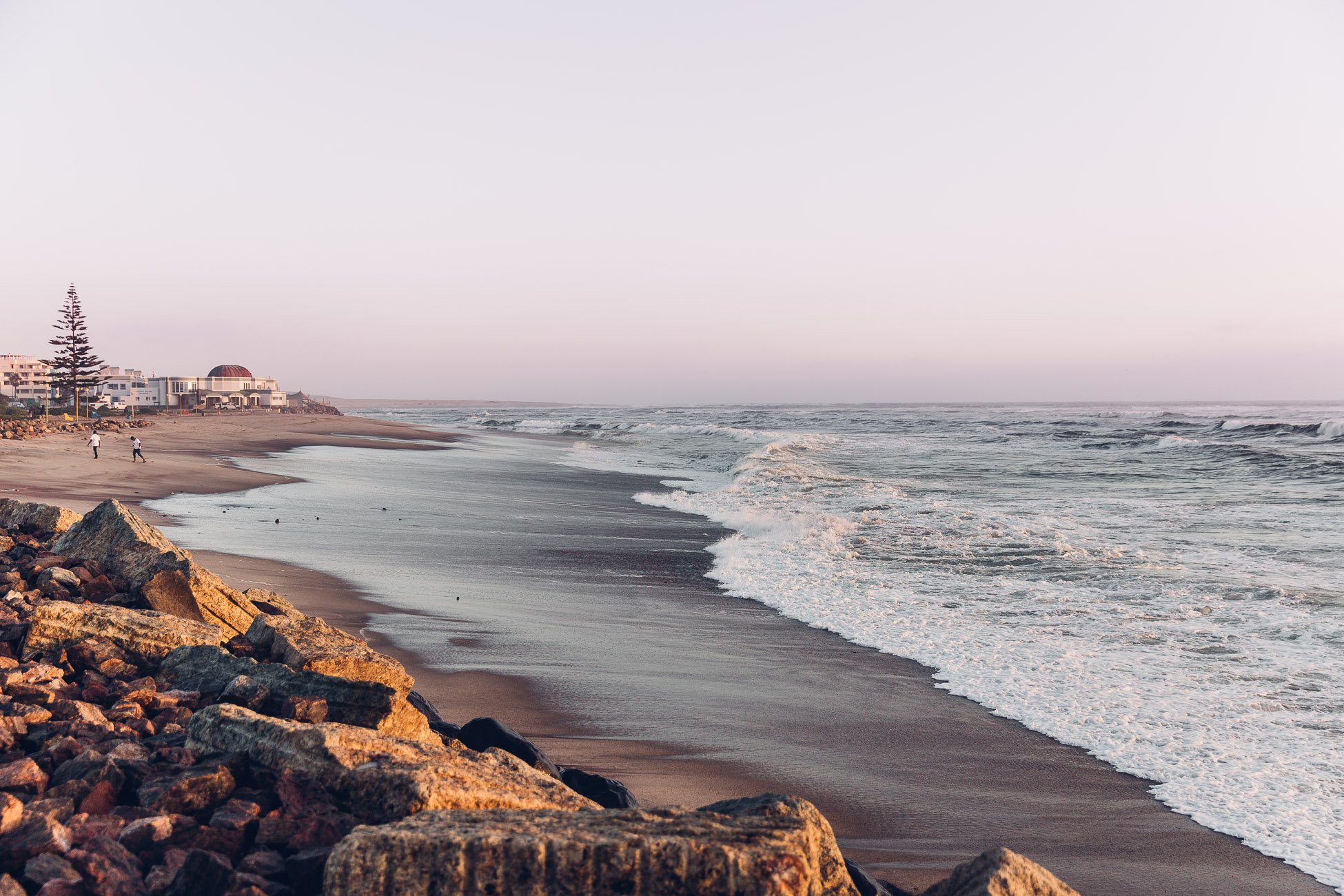 Swakopmund is located at the Atlantic and feels a little like being at the North Sea!
With our limited time in the city we only managed to walk around the city a bit (brrr, it gets cold here!) and then drive on to Walvis Bay to climb "Dune 7" – the famous sand dune. We got lucky and climbed that sand dune while it rained, which is probably quite extraordinary 😉
First impressions of Swakopmund – German architecture & cold, gusty Atlantic winds.
Doesn't feel like Namibia at all…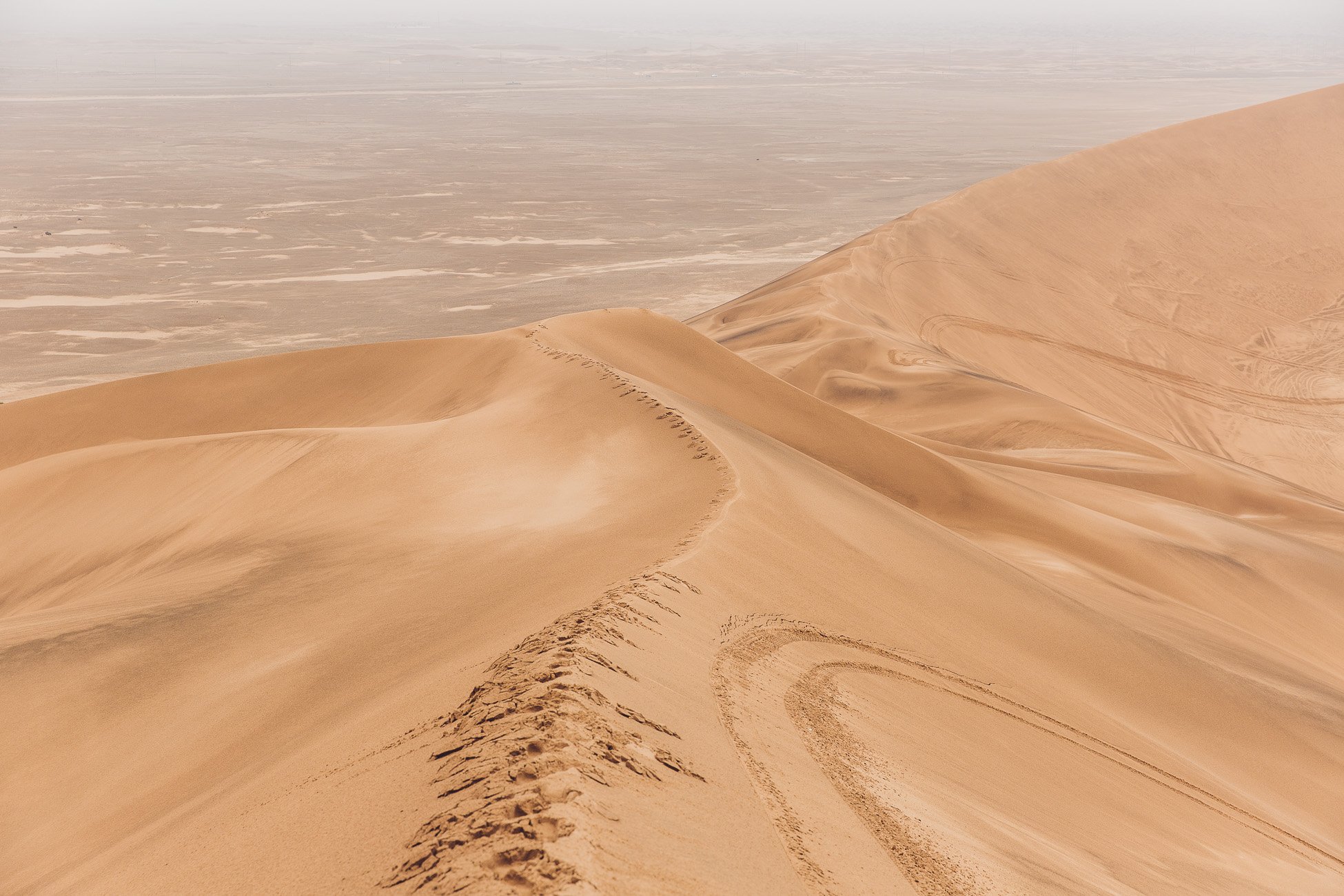 Dune 7 is just 30 minutes away from Swakopmund, but a complete change of scenery.
Since we only spent one night in Swakopmund we didn't have enough time to visit the seals at Cape Cross or see the flamingos at the lagoon of Walvis Bay. Also we had no chance to make our way to Sandwich Harbour – the place where gigantic sand dunes drop right into the ocean.
All of these places were too hard to miss out on, so we decided to return again for another 3 nights in Swakopmund later on. But we'll get to that in our optimised itinerary at the end!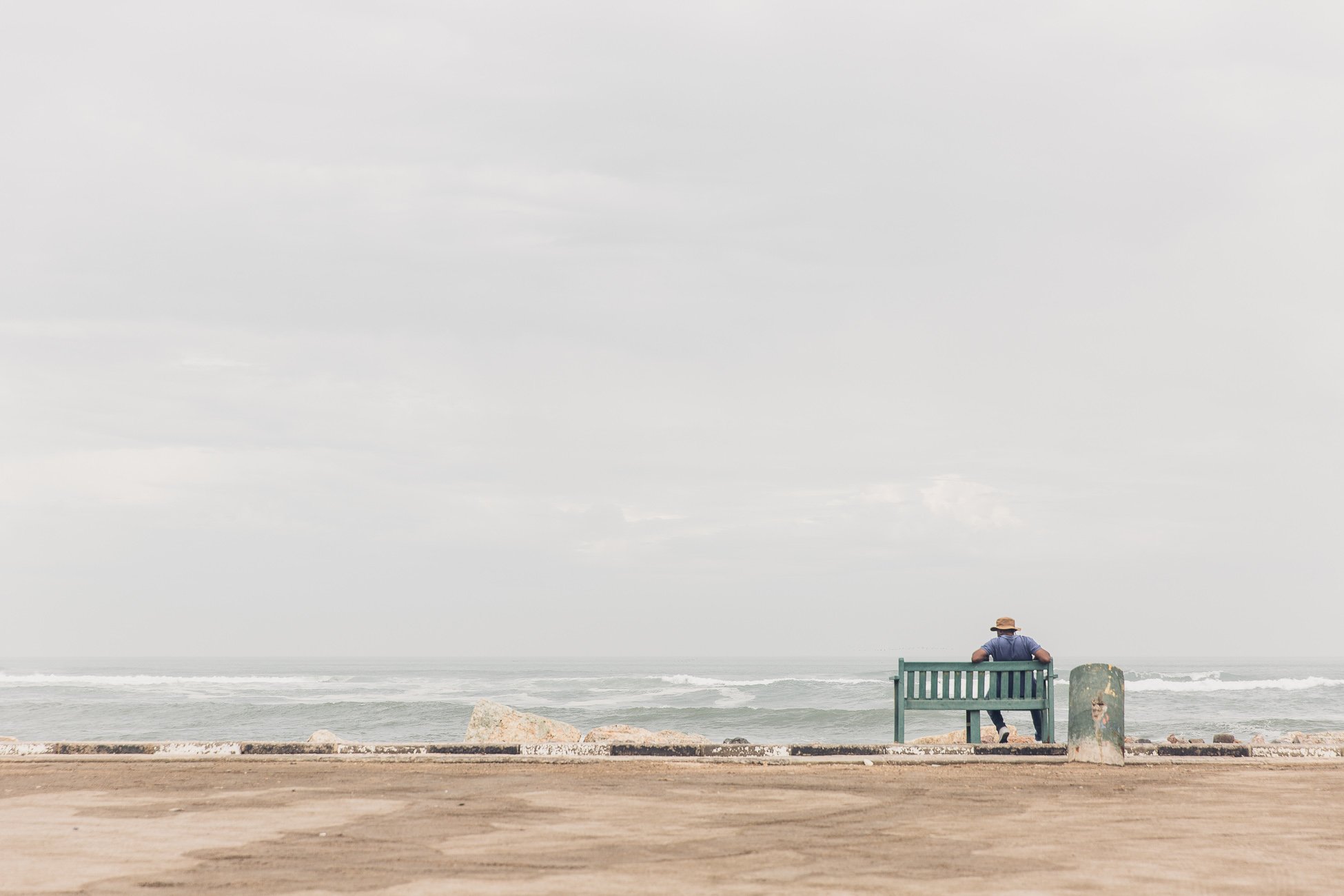 One night in Swakopmund was not long enough – definitely plan a longer stay here!
Our verdict
Make Swakopmund a more central destination during your road trip and stay at least 3 nights here. You'll see why later in this blogpost, when we return for 3 more nights!
🛏️ Hotel: Strand Hotel Swakopmund
🏁 Kilometers: 144km (1:30h)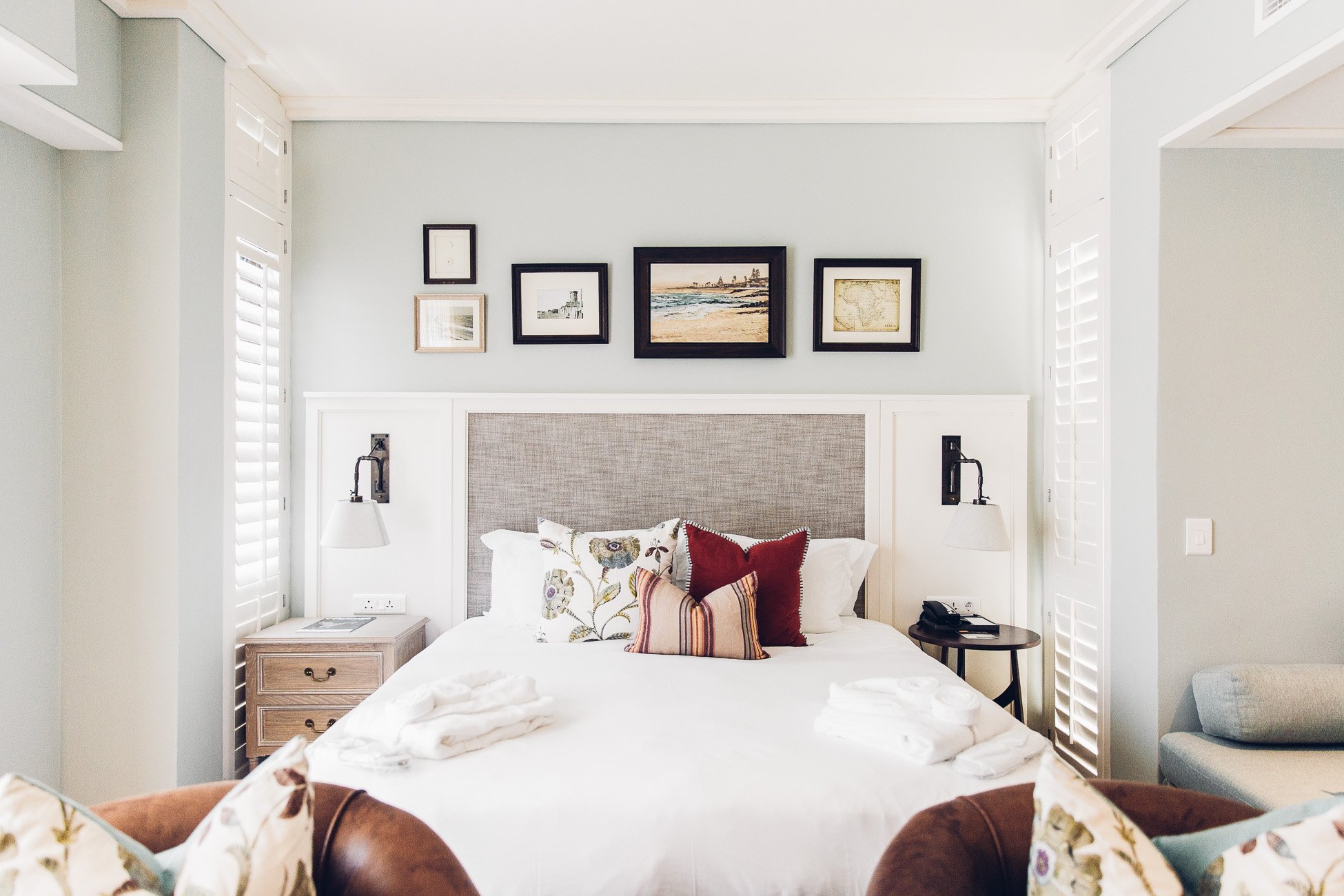 Our hotel in Swakopmund: "The Strand". A very welcomed change after the night in the tent!
Read all about our 4 tips for a visit of Swakopmund:
D.) 2 nights: At the highest dunes in the world at Sossusvlei
Visiting Sossusvlei and the famous trees at the salt pan of Deadvlei was one of the main reasons why we wanted to visit Namibia. Therefore we made sure to stay here for 2 nights so we would have enough time to explore the Namib Naukluft desert.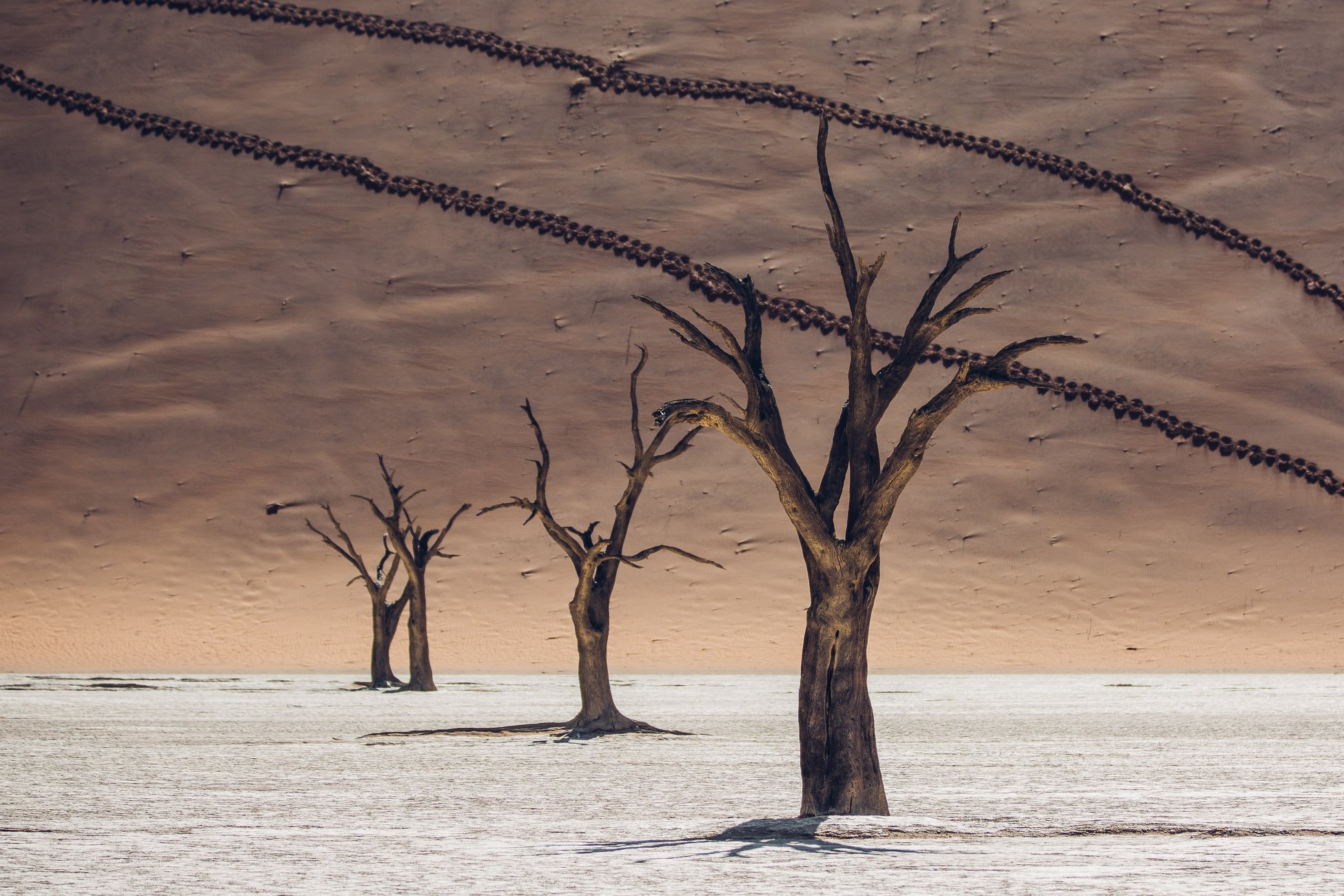 Deadvlei was one of the focal points of our Namibia trip!
The only way to be able to discover Deadvlei at sunrise or sunset is to stay overnight within the gates of the Sossuvlei National Park. There are only three options here: The Sesriem Campsite or two lodges – Sossus Dune Lodge and the newer Dead Valley lodge (which hadn't opened yet when we were there). We stayed at Sesriem Campsite for one night and at Sossus Dune Lodge for one night and definitely preferred the lodge 😉
Important:
If you stay in a lodge outside of the gates, so you will miss the good light – as the Sesriem Gate only opens at sunrise and close at sunset. The drive to Deadvlei from Sesriem Gate takes about an hour and is 60km long. So when you arrive there the light will be different already.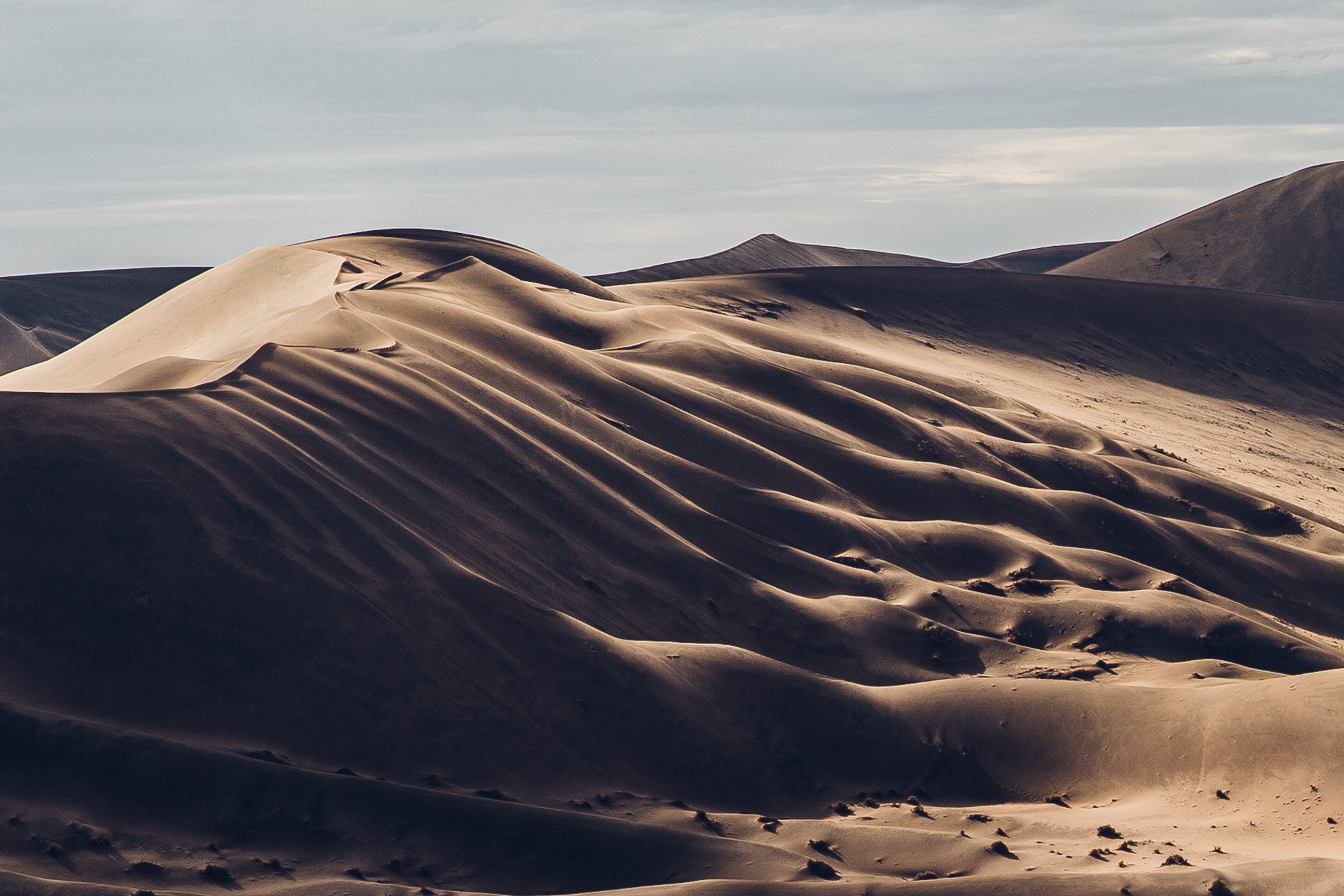 Staying inside the gates of the National Park is a must at Sossusvlei!
We didn't get lucky unfortunately – as our car had a flat tyre when we woke up at 4am and therefore we missed the sunrise at Deadvlei in the first morning… Of course this happened after a hell of a night in the rooftop tent with one of the heaviest thunderstorms and lots of rain – in the middle of the desert!  Just our luck! 🙂
We only arrived at Deadvlei 3 hours after sunrise, but still loved the scenery!
The second morning turned out to make up for the bad start in the oldest desert of the world: We went on a hot air balloon ride, which was absolutely worth the splurge.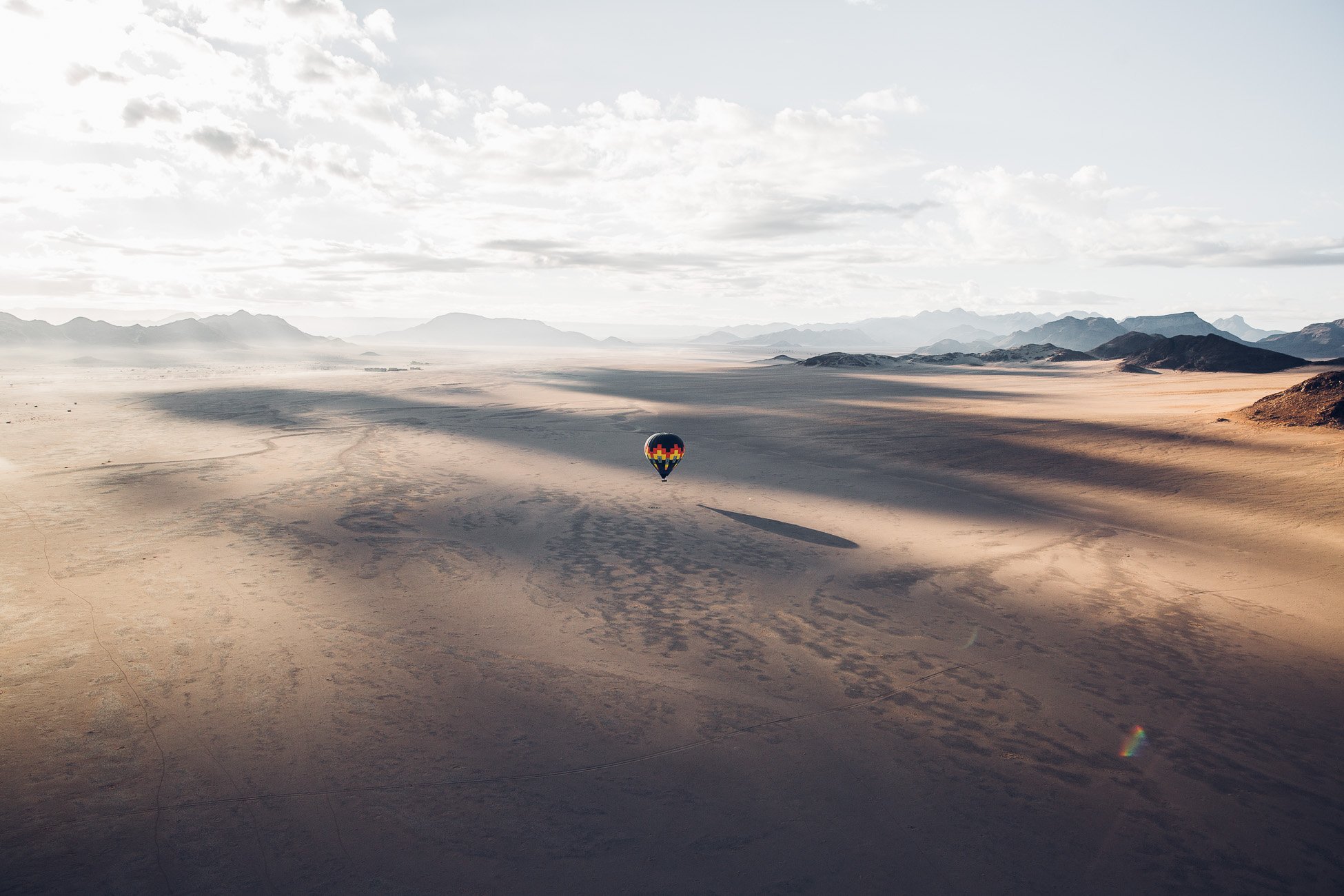 Floating over the Namib desert in a hot air balloon was an incredible experience!
Our verdict
Sossusvlei was one of the highlights of our Namibia visit. We're lucky that we stayed 2 nights, but due to the flat tyre situation we could've easily added a third. Deadvlei is definitely worth the 1 hour car ride inside the Sossusvlei National Park (make sure to reduce the tyre pressure and drive safely in the sand). We also recommend to stay inside the Sossusvlei National Park for at least one night so you'll be able to experience it all at sunrise and/or sunset.
Just make sure to book your camping spot or room at one of the lodges early on, they're really popular!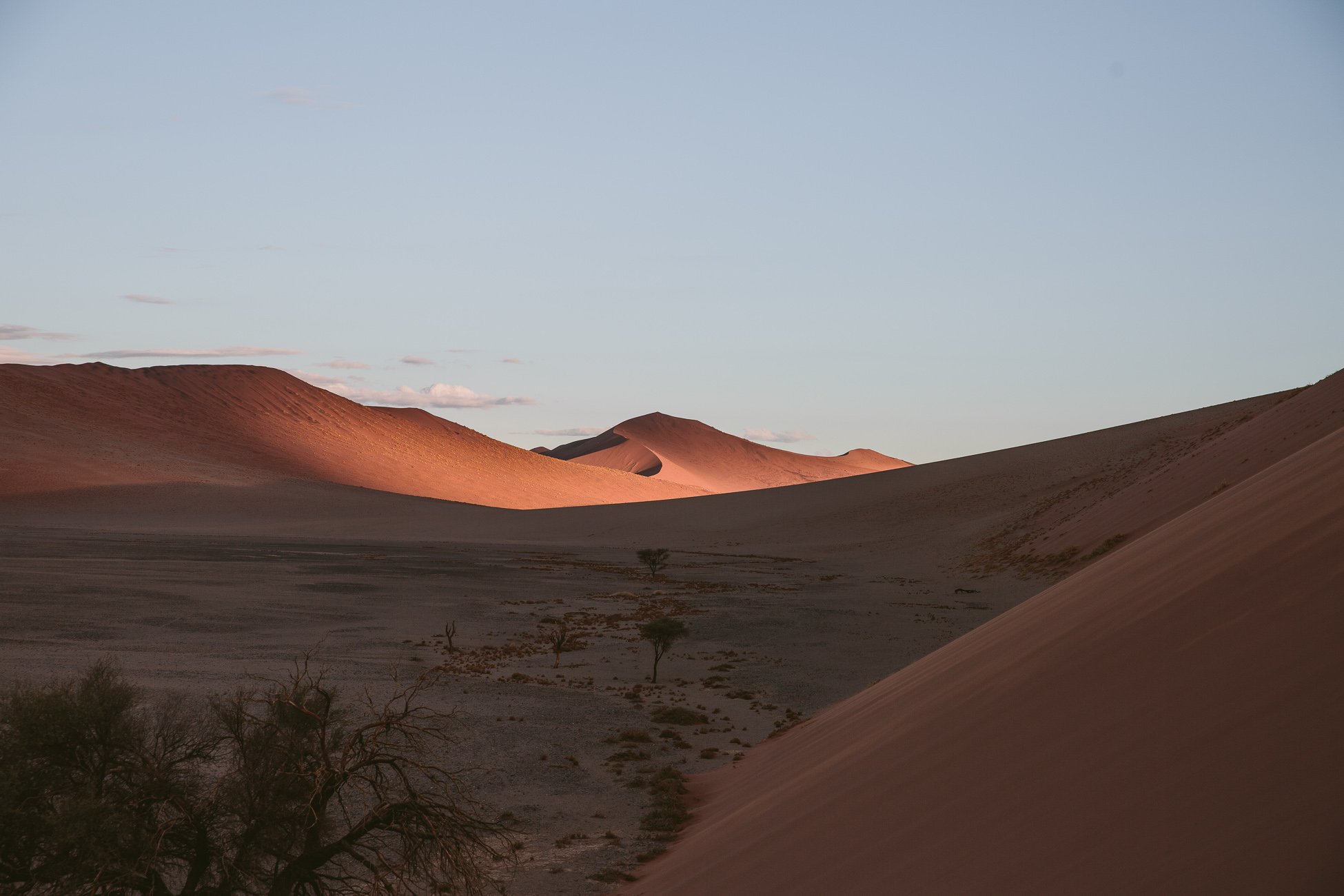 Sunset in the dunes is a magical experience, which you can only see when you stay inside the gates!
Our tipp: If you book a hot air balloon ride you can stay outside of the gates of Sossusvlei, as the sunrise tour will start outside of the park (and you'll be picked up from your lodge). This way you won't have to pay the daily entrance fee for the Sossusvlei National Park without really putting it to use!
🛏️ Campground/Hotel: 1 night at Sesriem Campsite NWR & 1 night at Sossus Dune Lodge
🏁 Kilometers: 347km (4:45h)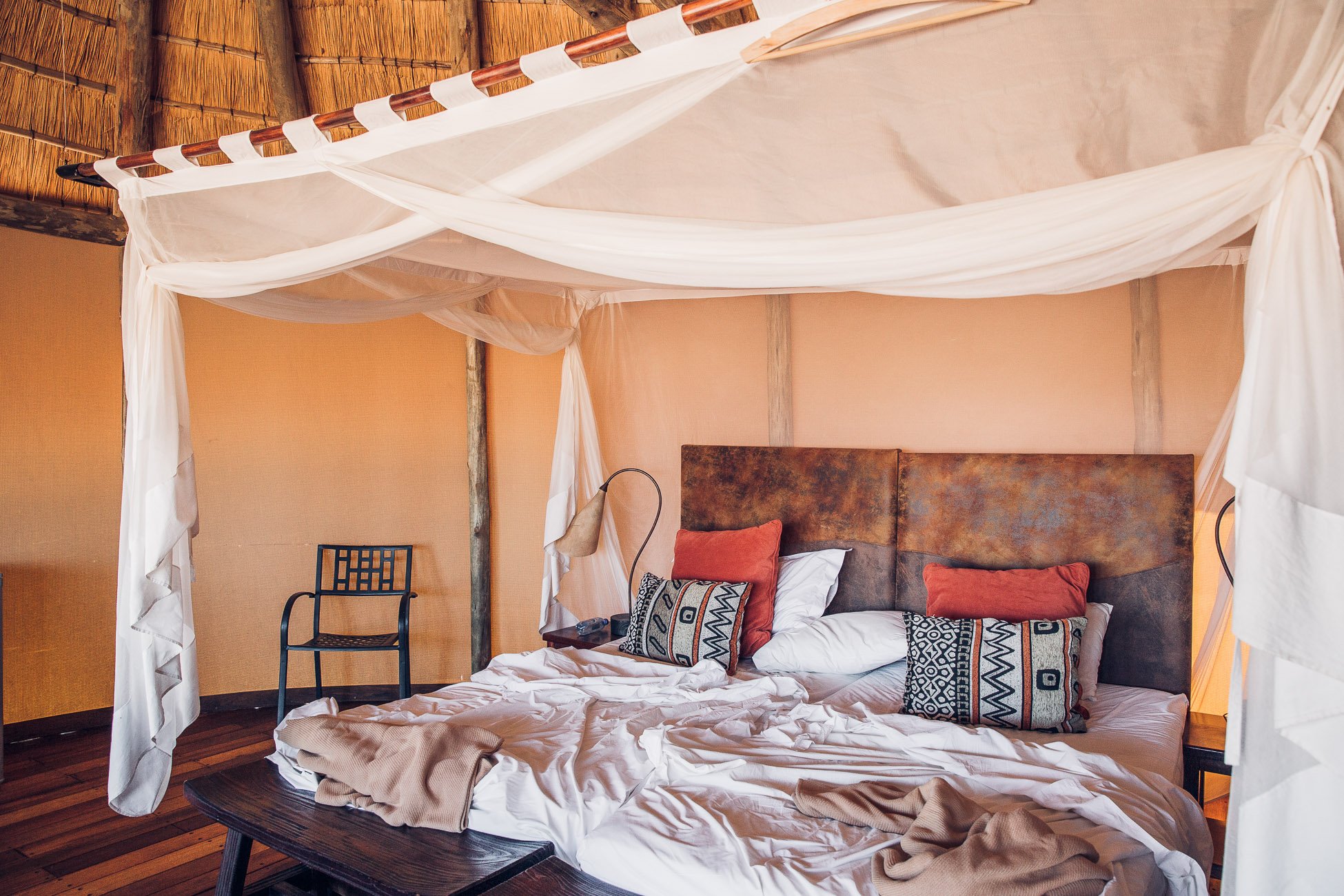 The Sossus Dune Lodge is inside the gates of the National Park and really comfortable.
Reservations required!
E.) 2 Nights: Exploring the NamibRand at Wolwedans
South of the famous Namib Naukluft National Park lies another reserve, which is not as popular, but even more remote and at least equally stunning. It's called NamibRand Nature Reserve and is a privately owned reserve focusing on (luxury) eco tourism. As opposed to Erindi this huge piece of land (over 170.000 hectares), is quite dry and arid and therefore not as much about game drives and wildlife, but more about the serenity & the incredible landscapes.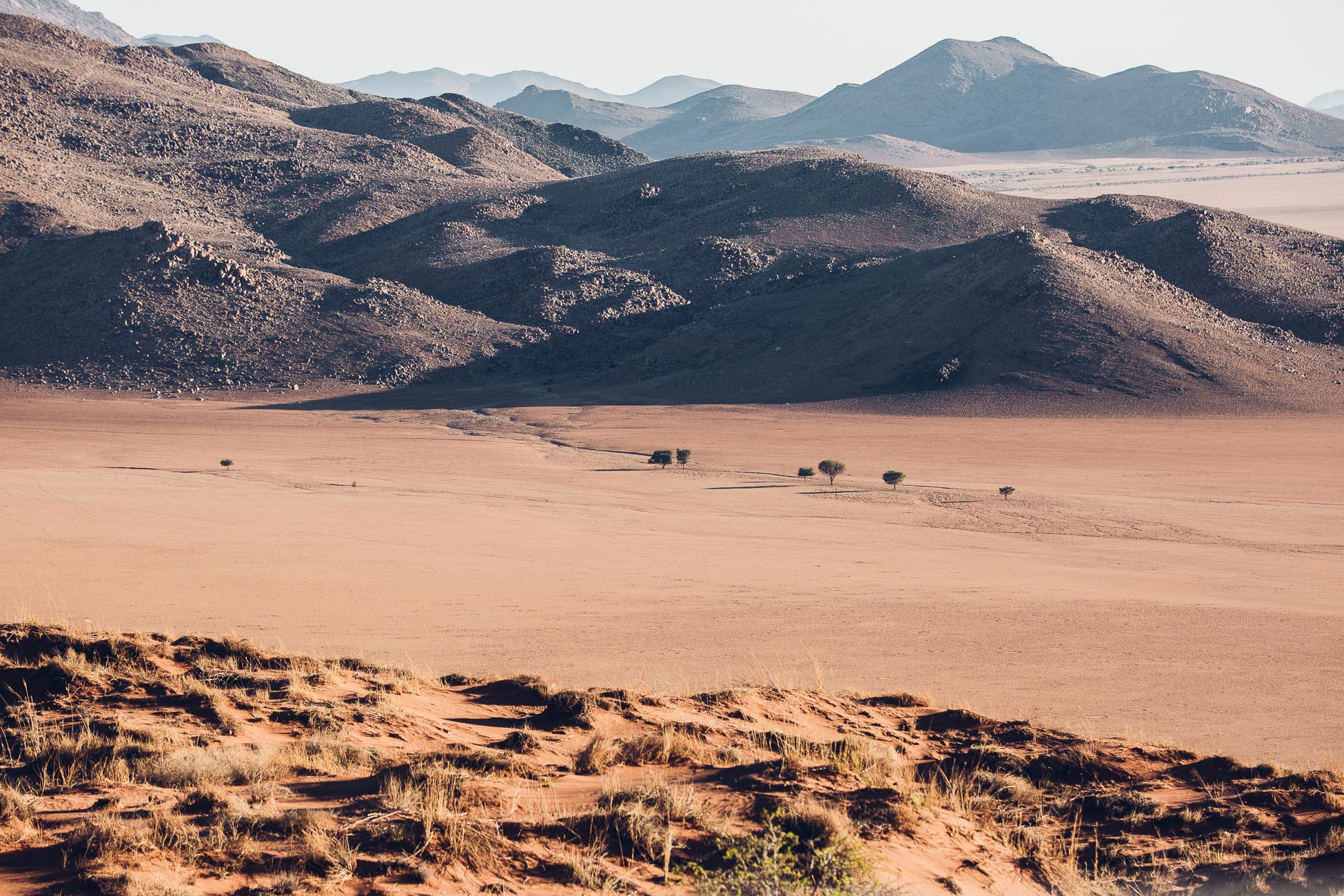 The vast landscapes of the NamibRand – as seen during a scenic drive with our Wolwedans guides.
Wolwedans is the perfect place to unwind, relax and enjoy the stunning vistas and landscapes. The Wolwedans collection of camps has different parts – we stayed at Dune Camp which sits atop a huge sand dune overlooking the plains until the Nubib mountains. The Camp consists of 8 tented chalets, that host a maximum of 16 guests. At dinner all the guests sit together at a communal table and enjoy the wonderful family atmosphere.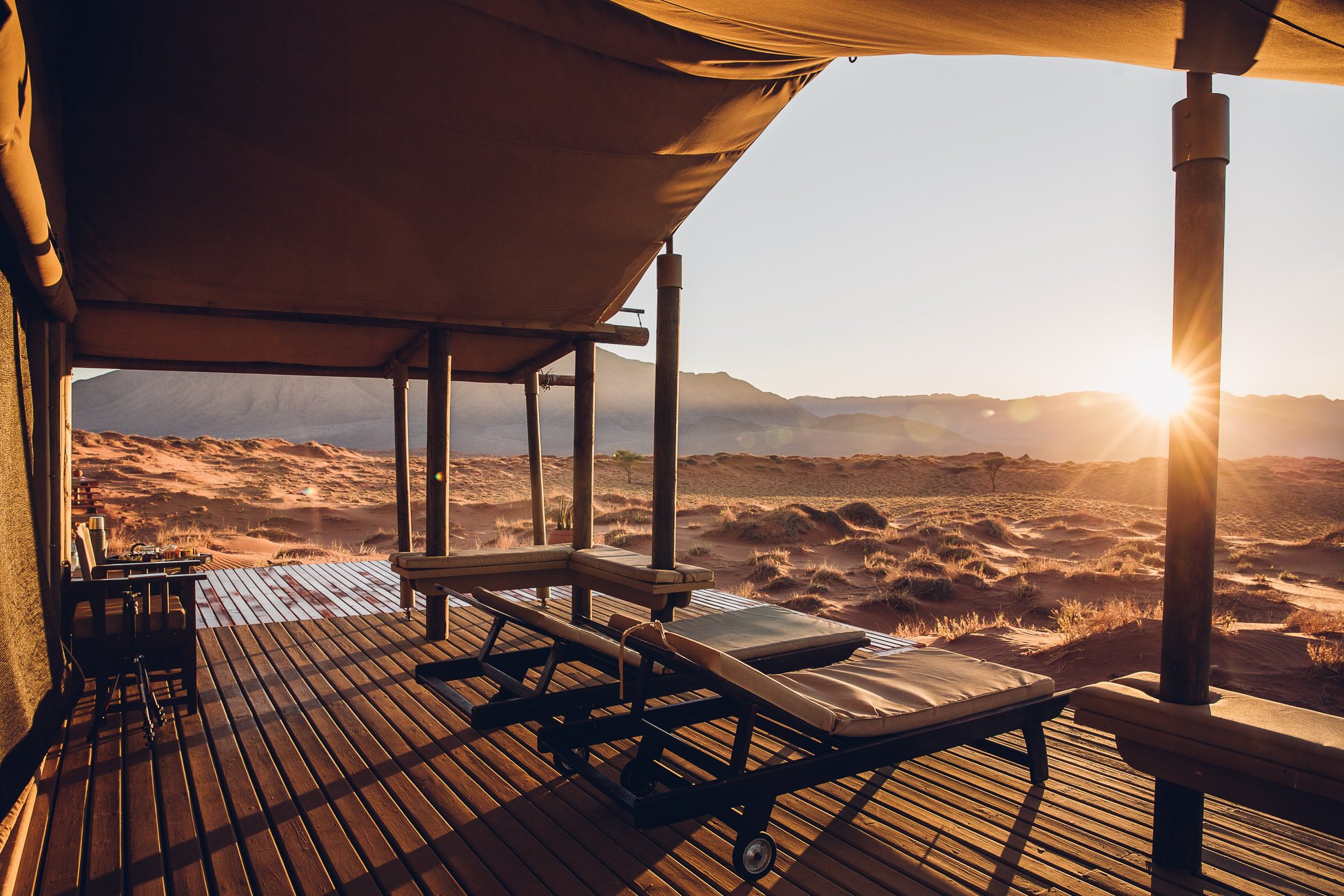 The private camp terraces at the Wolwedans Dunes Camp overlook the sunrise.
Our verdict
This is the perfect place to unwind, sit at the deck to enjoy the sunrise in the morning and go on scenic drives in the afternoon. Don't come here if you want to see an abundance of wildlife – other than Oryx and a snake we only saw some beetles crawling in the sand. Come here to enjoy the incredible nature and vastness of a near empty land. It doesn't get more relaxing and quiet than here (also: there's no wifi!).
🛏️ Hotel: Wolwedans Dunes Camp (here's our full lodge review)
🏁 Kilometers: 91km (1:45h)
The NamibRand is also called "Land of the Oryx" – which is the perfect description.
Read all about our stay at Wolwedans:
F.) 3 Nights: Back at the Atlantic coast in Swakopmund
So, this is where we changed our plans and went back North instead of further to the South. Initially we had planned to drive to Kolmanskop (and the famous mining town that is slowly succumbing to sand) and then on to Fish River Canyon. But there were two reasons why we changed our minds: First off we had missed so much of Swakopmund as this one night there was way too short. And then we also heard so many great things about Etosha, that we also wanted to go back there for more wildlife.
So back we went to Swakopmund and booked ourselves 3 additional nights at the wonderful Strand Hotel.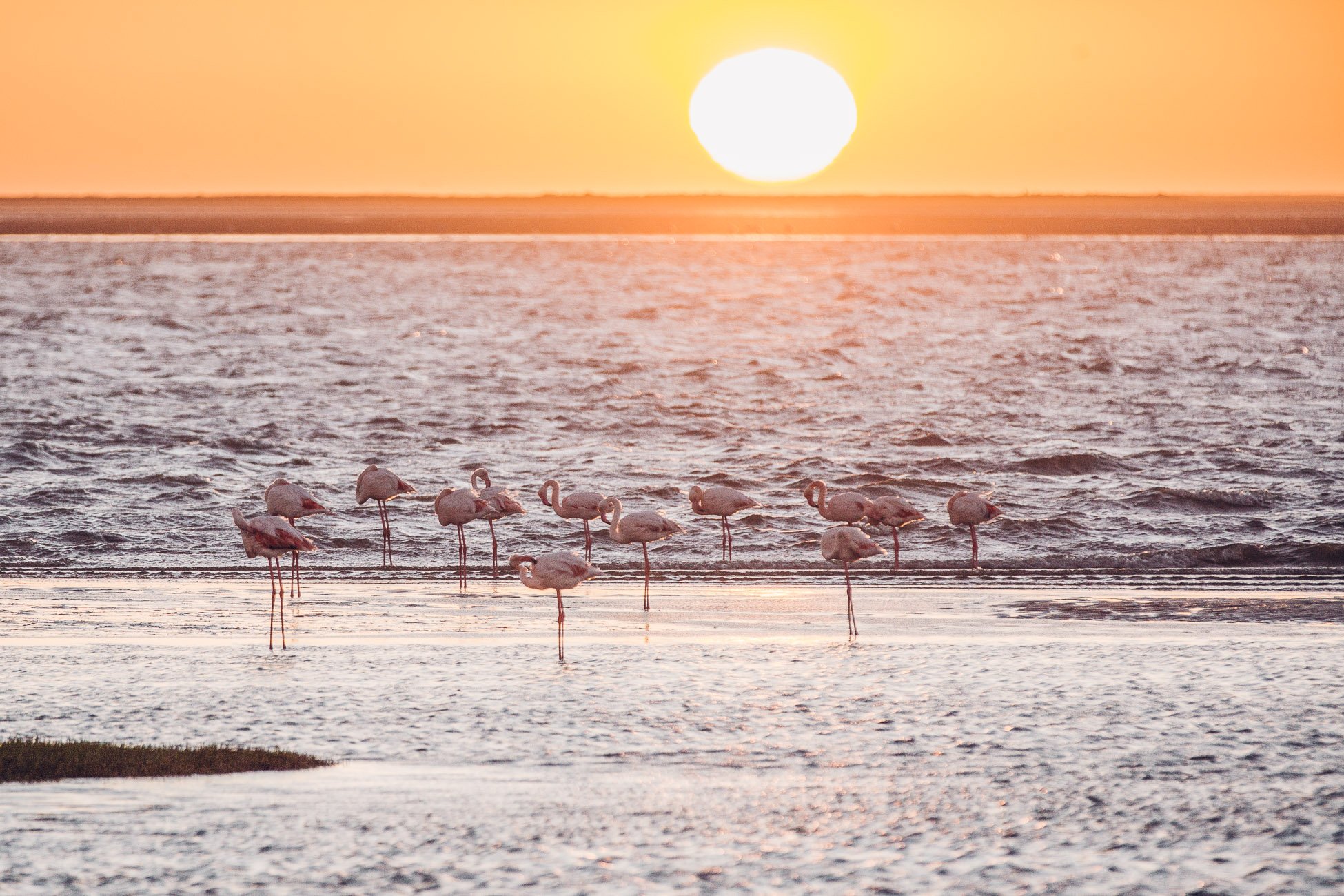 The flamingo colony at Walvis Bay was one of the reasons why we wanted to return!
Not only did we use the days at Swakopmund to exploit the laundry service of the Strand hotel, but also the Wifi. Wolwedans didn't have any internet (officially it does have some wifi, but in reality it's not even fast enough to download your emails) 😉 So we worked a little at the hotel room in Swakopmund, but we also used our time for some experiences. First we visited the famous flamingo colony in Walvis Bay at sunset.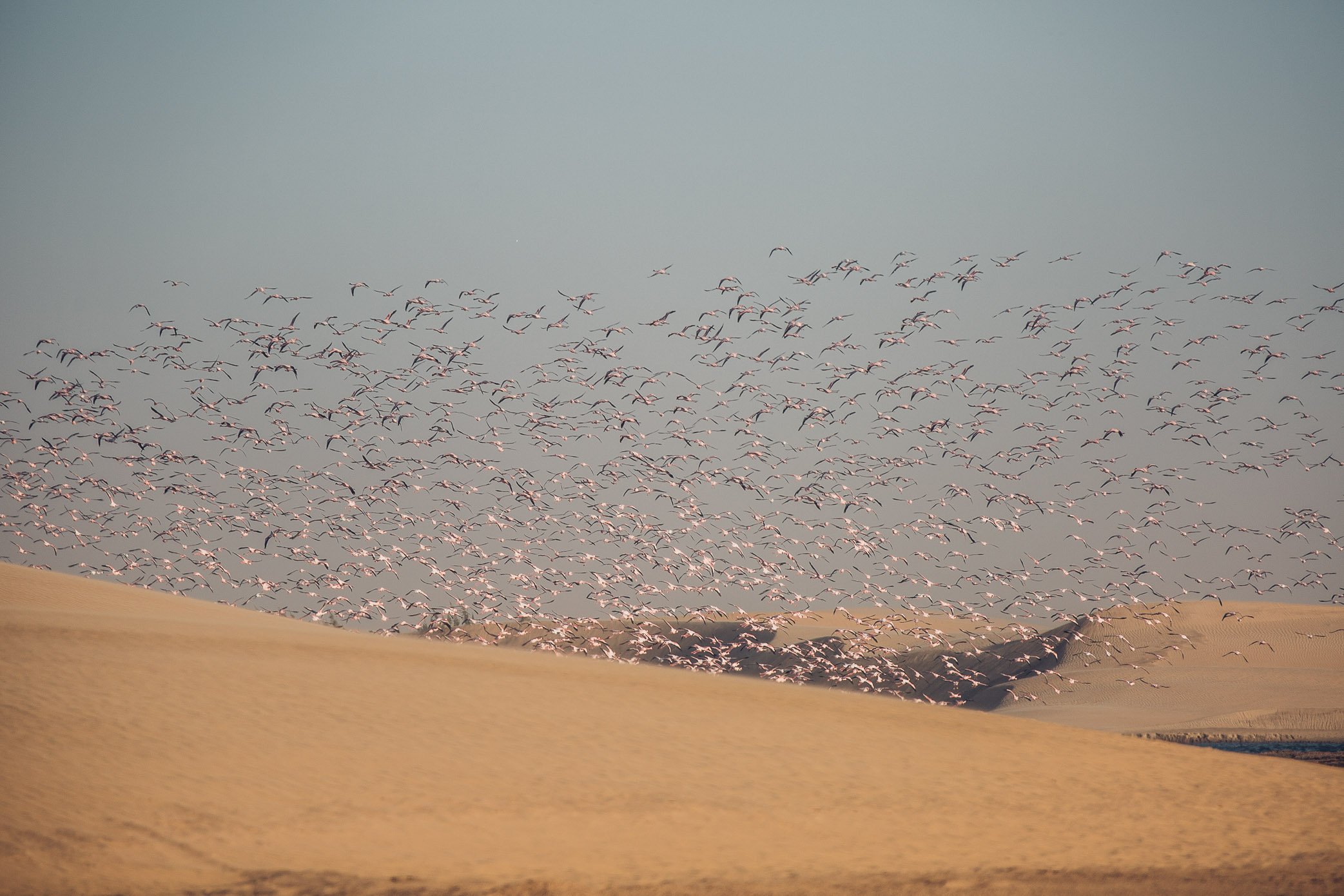 Thousands of flamingos gather here in the lagoon at Walvis Bay – it's an incredible sight!
The next day we booked ourselves a 4×4 tour of Sandwich Harbour, which was an exciting and really unique experience! Our guide picked us up at the hotel and we drove along the coastline, where the sand dunes seem to hit directly into the Atlantic ocean. From there on he took us up on the massive sand dunes – it was wild, windy and cold, but also really scenic up there!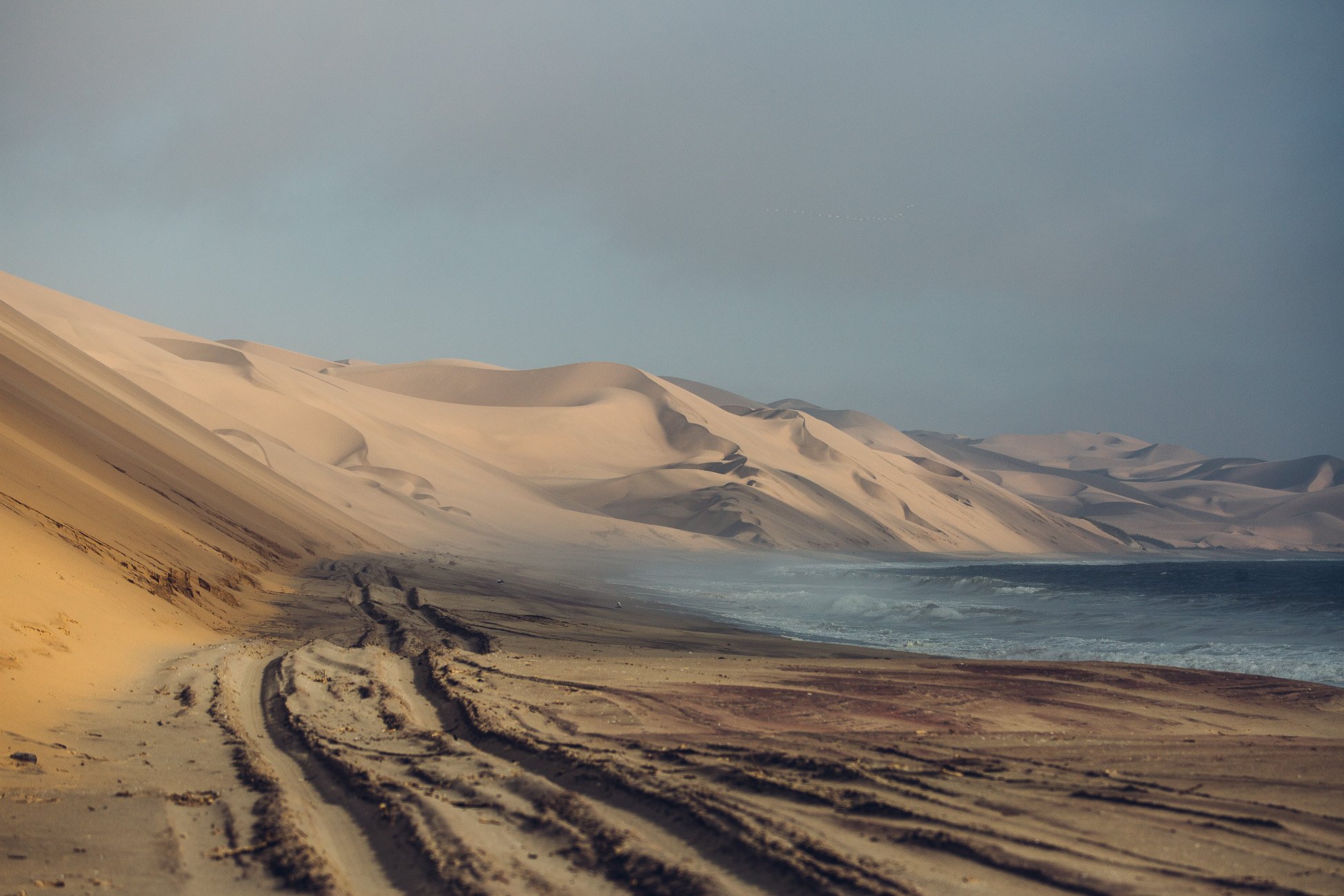 Sandwich Harbour looks like a surreal painting and feels like winter in the desert.
Last but not least we also drove up North to visit the Cape Cross seal reserve. Little did we know how bad those cuties smell. Even days after the visit our cameras and clothes still reeked of dead fish and decomposing seal excreta. We still recommend a visit, just bring a scarf to cover your nose 🙂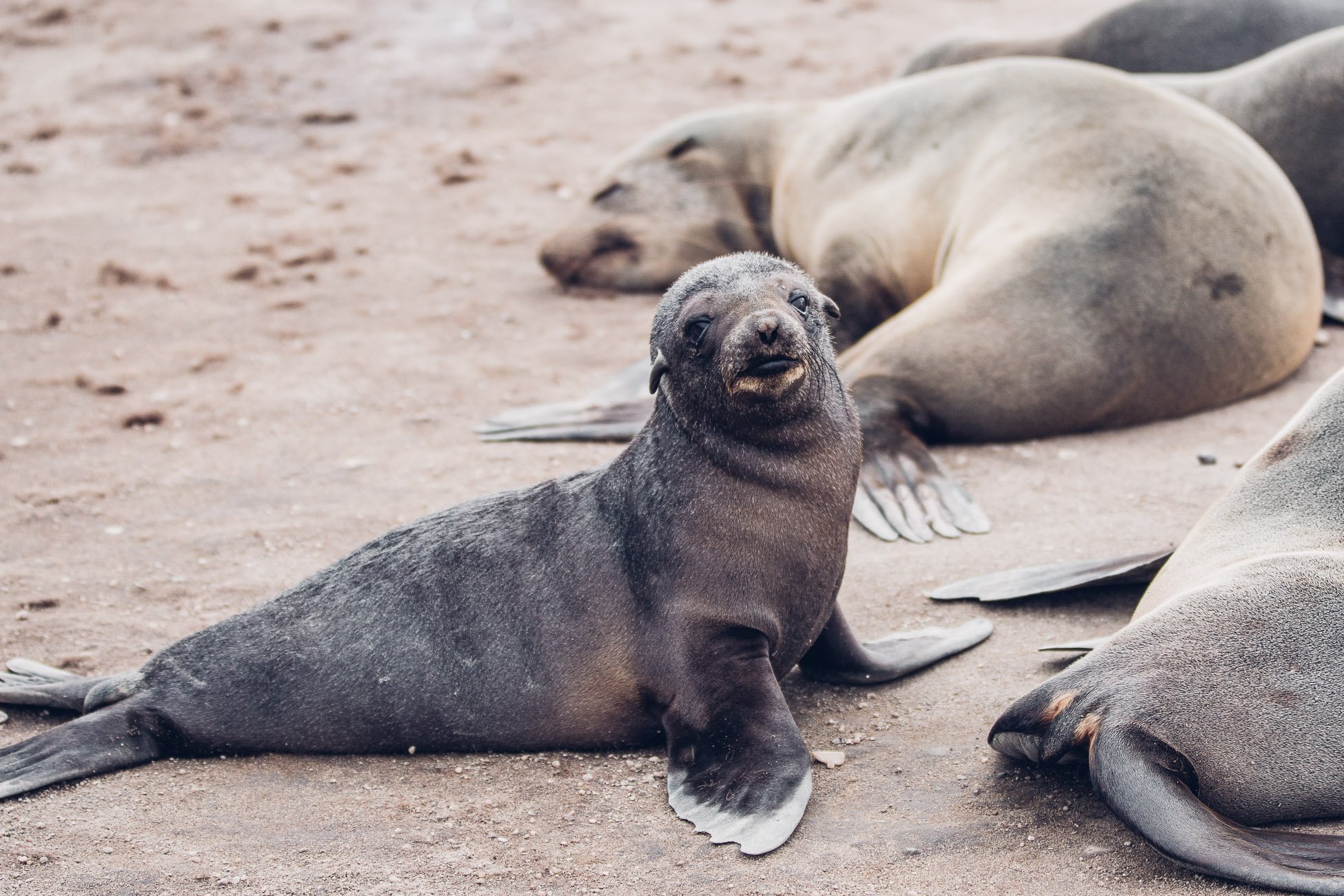 A baby seal at Cape Cross Seal Reserve – cute, but very smelly!
🛏️ Hotel: Strand Hotel Swakopmund
🏁 Kilometers: 430km (6:15h)
The Strand Hotel in Swakopmund offers maritime decor and perfect service.
G.) 2 nights: Self-drive Safari at Etosha
Our last official stop of the 3 week tour brought us up North to the Etosha salt pan. First we had planned to skip the most famous national park of Namibia. Why? Because we thought we would be disappointed after our amazing wildlife sightings at Erindi. Yet everyone kept convincing us to go there, so we finally changed our minds and booked 2 nights at the Eastern gate of Etosha. Truth be told: As much as we love traveling independently a self-guided game drive can never be as mind-blowing as a guided safari with a professional!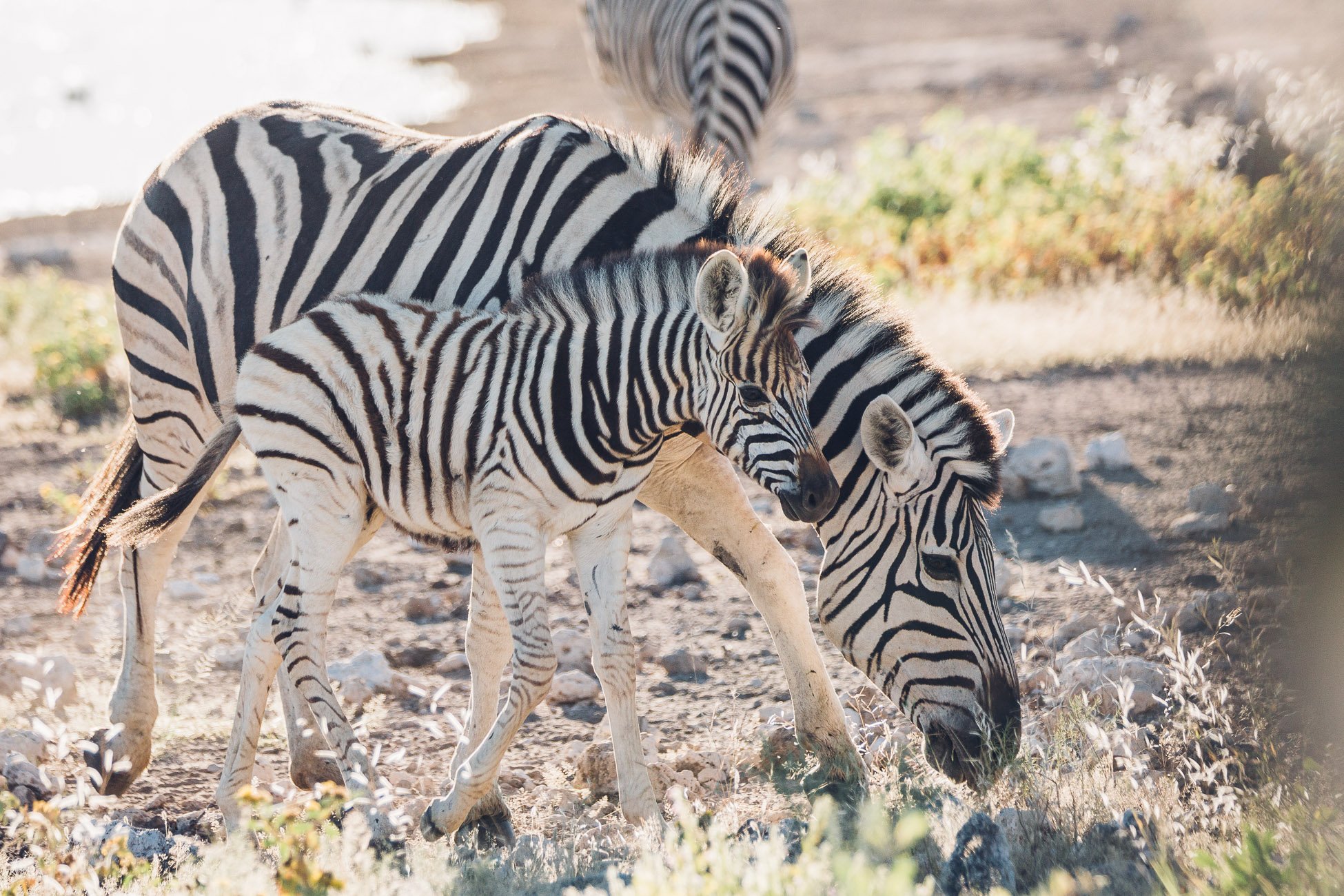 Our close-up encounter with baby Zebras was the best sighting at Etosha.
Etosha is definitely worth a visit as the landscape is so vast and different from the rest of Namibia. But we would recommend that you skip the self drives and rather also book guided tours here if your budget allows (most lodges will offer guided safaris!). This way you'll have much higher chances for better wildlife sightings – and also get explanations about the animals & nature.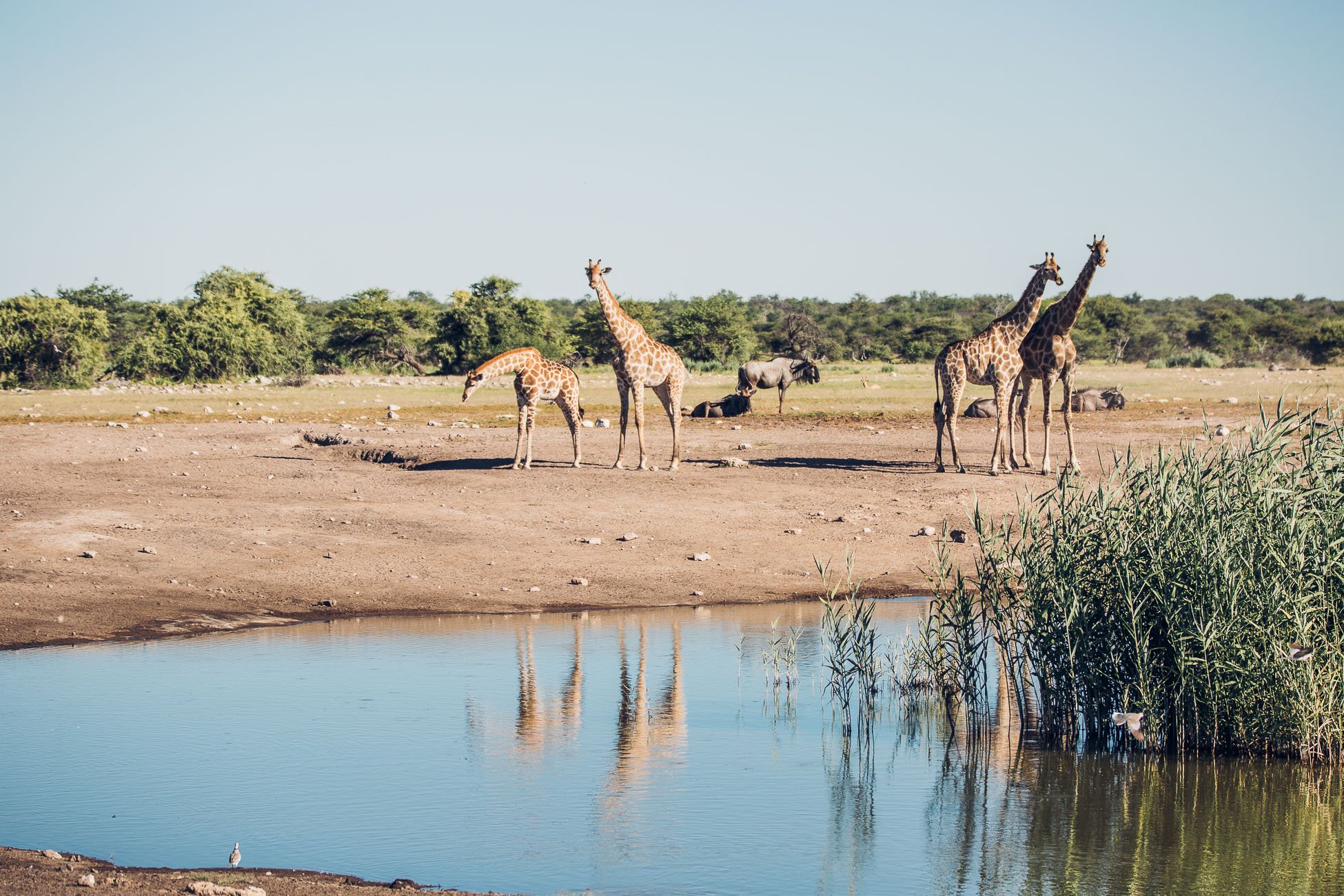 We drove around many hours and also waited around waterholes a while for sightings like this.
With a professional guide we might have also gotten to see elephants or any big cats, which we didn't spot at Etosha.
🛏️ Hotel: Mokuti Etosha Lodge
🏁 Kilometers: 695km (6:30h)
Read more about our visit of Etosha:
H.) 1 night: At Windhoek before our return flight
After many kilometres and hours on the road and many impressions we finally arrived in Windhoek the night before our return flight. We stayed a little outside of the city and were so tired, that we didn't explore the capital of Namibia anymore. From what we hear, we didn't miss a lot 😉 But we made one plan here: To return one day!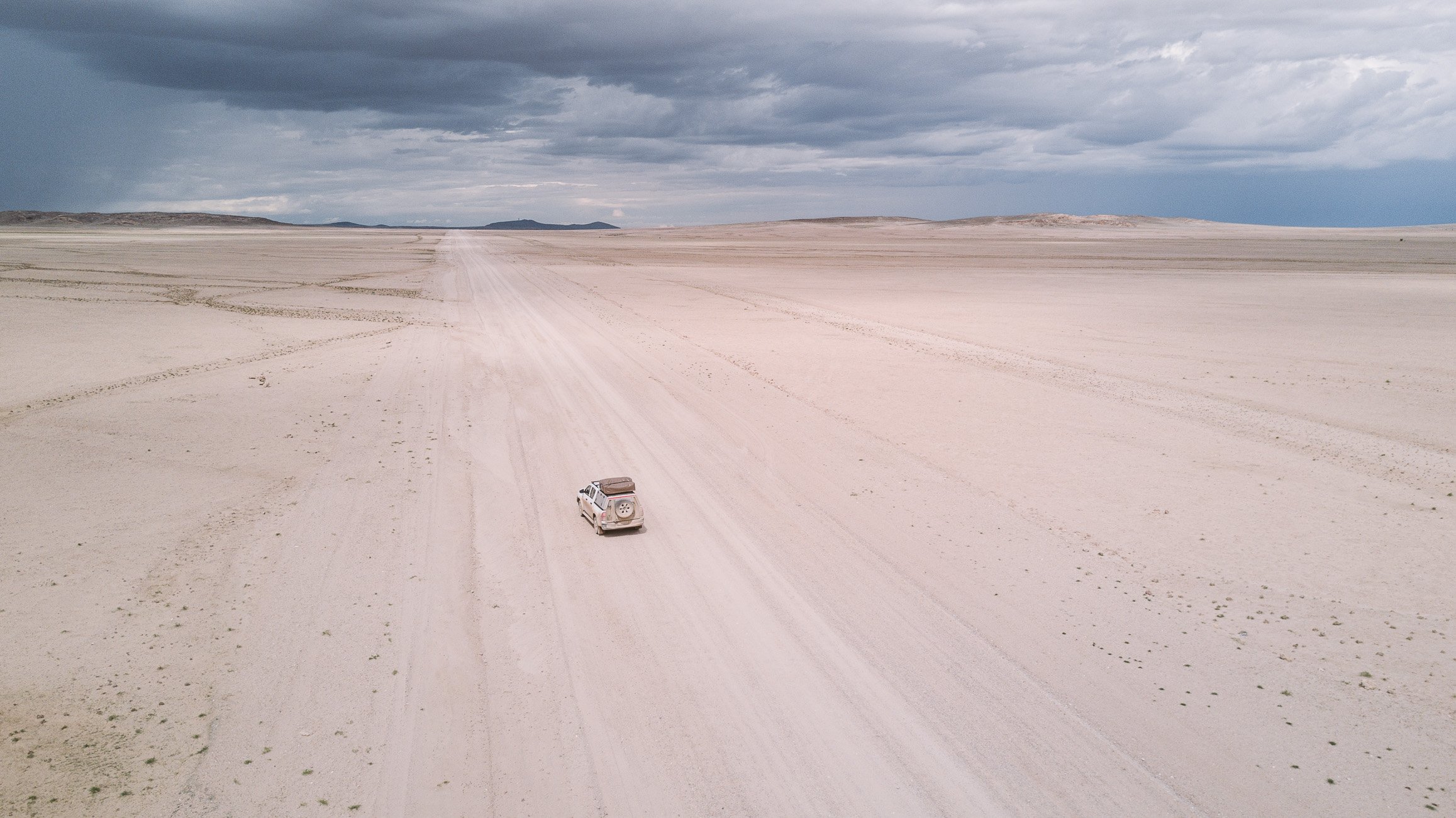 Gravel roads like this are the standard in Namibia.
Good thing we wrapped our luggage in bags, otherwise everything would've been covered in sand.
Those are the memories we'll take away from our 3 week road trip through Namibia. Vast, endless roads, incredible landscapes, changing sceneries and oh so many wild animals!
Namibia is one of the least populated countries in the world and this emptiness actually felt incredibly liberating. One thing is for sure: We want to come back for more!
🛏️ Hotel: Windhoek Country Club Resort
🏁 Kilometers: 536km (5:15h)
What we didn't cover
As stated above we didn't get to go further to the South (although this was in our original plan). After Wolwedans we had originally planned to drive to Lüderitz to see the sand-covered houses at Kolmanskop. Then we wanted to see the Fish River Canyon and make our way on to Keetmanshoop to visit the Quiver Tree Forest. From there we would've gone back North to Windhoek again to complete a full circle.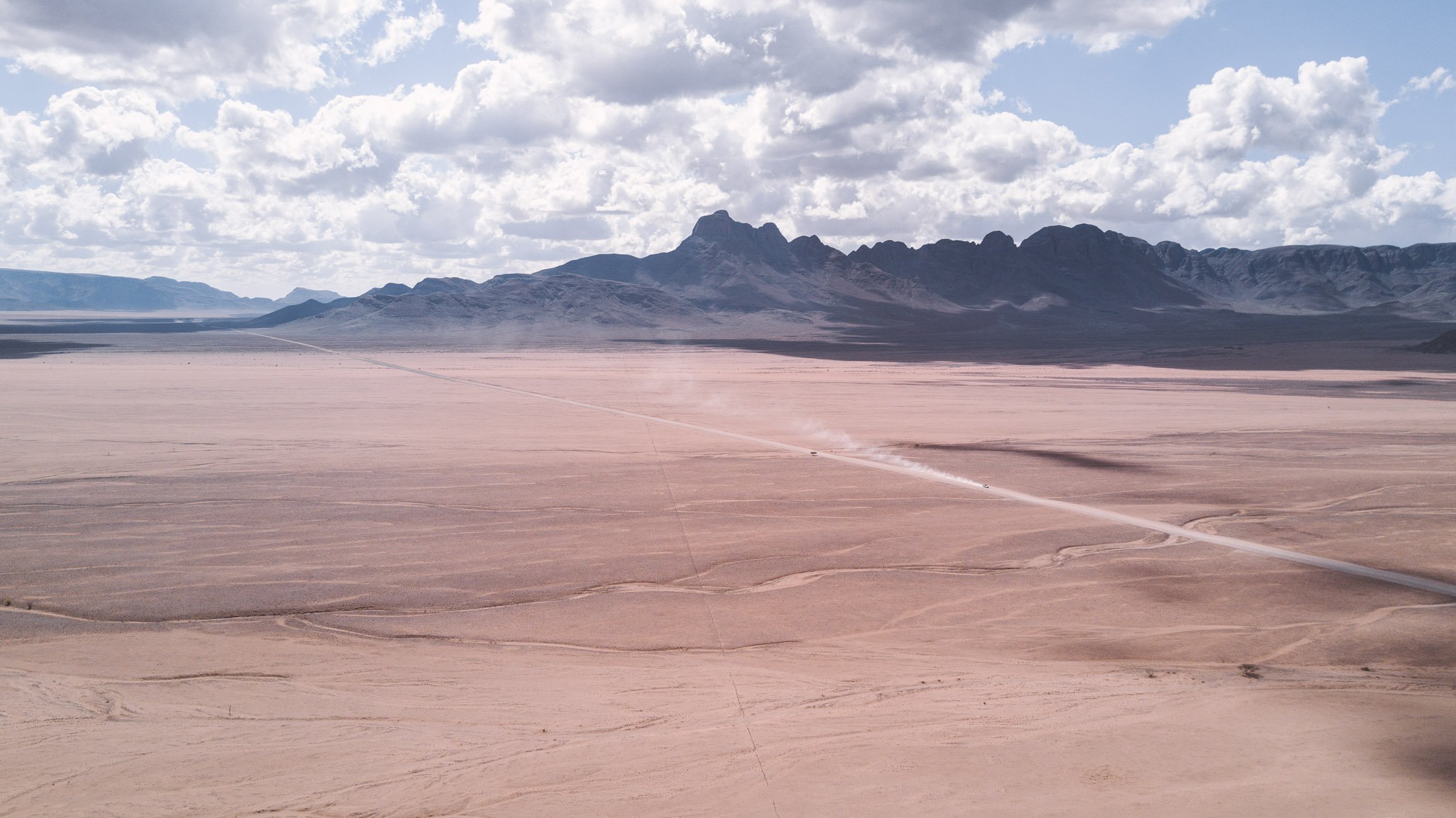 We had underestimated the distances in Namibia – you can't cover everything in 3 weeks!
This whole plan fell apart after we realised that one night in Swakopmund had not been at all enough to cover everything we wanted to see there. You see: As careful as we planned our itinerary in the end 3 weeks are never enough for such a huge country like Namibia. The next time we also want to go even further to the North to the Caprivi strip and then also cover the Southern parts, that we missed out this time around!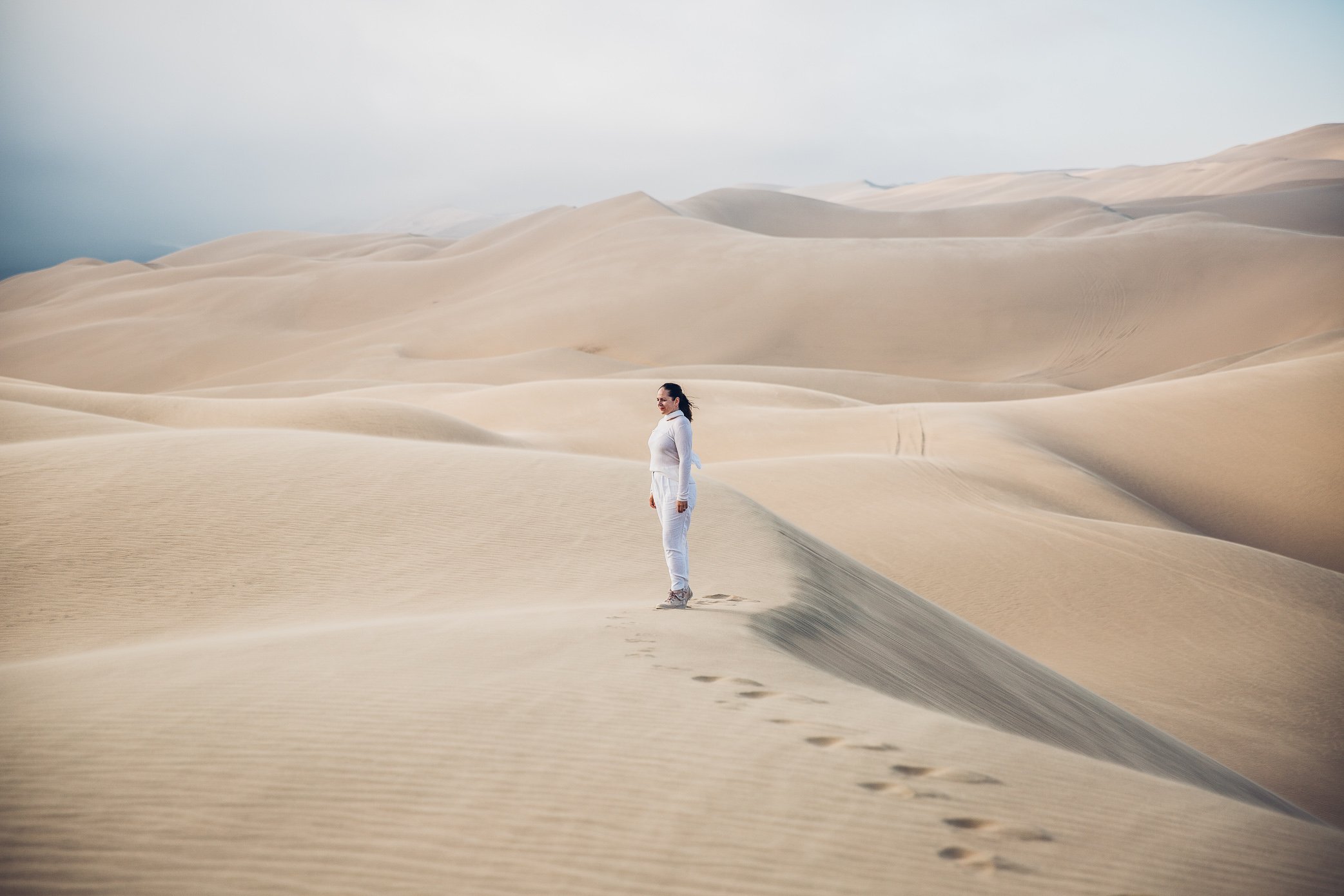 We take away what seasoned travellers call the "Africa virus". We've definitely been infected 🙂
Our recommended 3 week Namibia itinerary
From what we've learned through our mistakes, this would be a more idealised version of our 3 week itinerary. If you have the chance add another week! This way you'll be able to make it to Fish River Canyon, the Quiver Tree forest and maybe add a fly-in safari at the Skeleton Coast or visit the famous Caprivi strip.
1 night: Overnight stay at Windhoek after your incoming flight
3-4 nights: Guided Safari at Erindi Game Reserve
2-3 nights: Guided (!) Safari at Etosha
1 night: Lodge at Spitzkoppe
3 nights: Atlantic coast in Swakopmund
2-3 nights: Dunes of Sossusvlei
2 nights: NamibRand explorations at Wolwedans
2 nights: Kolmanskop
1 night: Overnight stay at Windhoek before your return flight
How to get there
Ethiopian Airlines flies to Windhoek via Addis Ababa with one of the most modern fleets in the world. We enjoyed our flights in the Dreamliner a lot (the planes have bigger windows, that tint automatically and have way better noise cancelling than older models)!
Spread the love and save these images on Pinterest
if this blogpost was helpful for you: