Hello 2019, hello 2 year blog anniversary! We're starting the new year with our annual look back on the best of our travel year. (In case you missed it here's 2016 and 2017). These are the 5 destinations and the experiences, that moved our heart a little in 2018!
Our Top 5 Destinations & Experiences of 2018
Namibia: From safaris to hot air balloons
Myanmar: From temple climbing to the beach
South Tyrol: From summer to autumn and winter
Ireland: Riding in a luxury train
Venice: Escaping the crowds in winter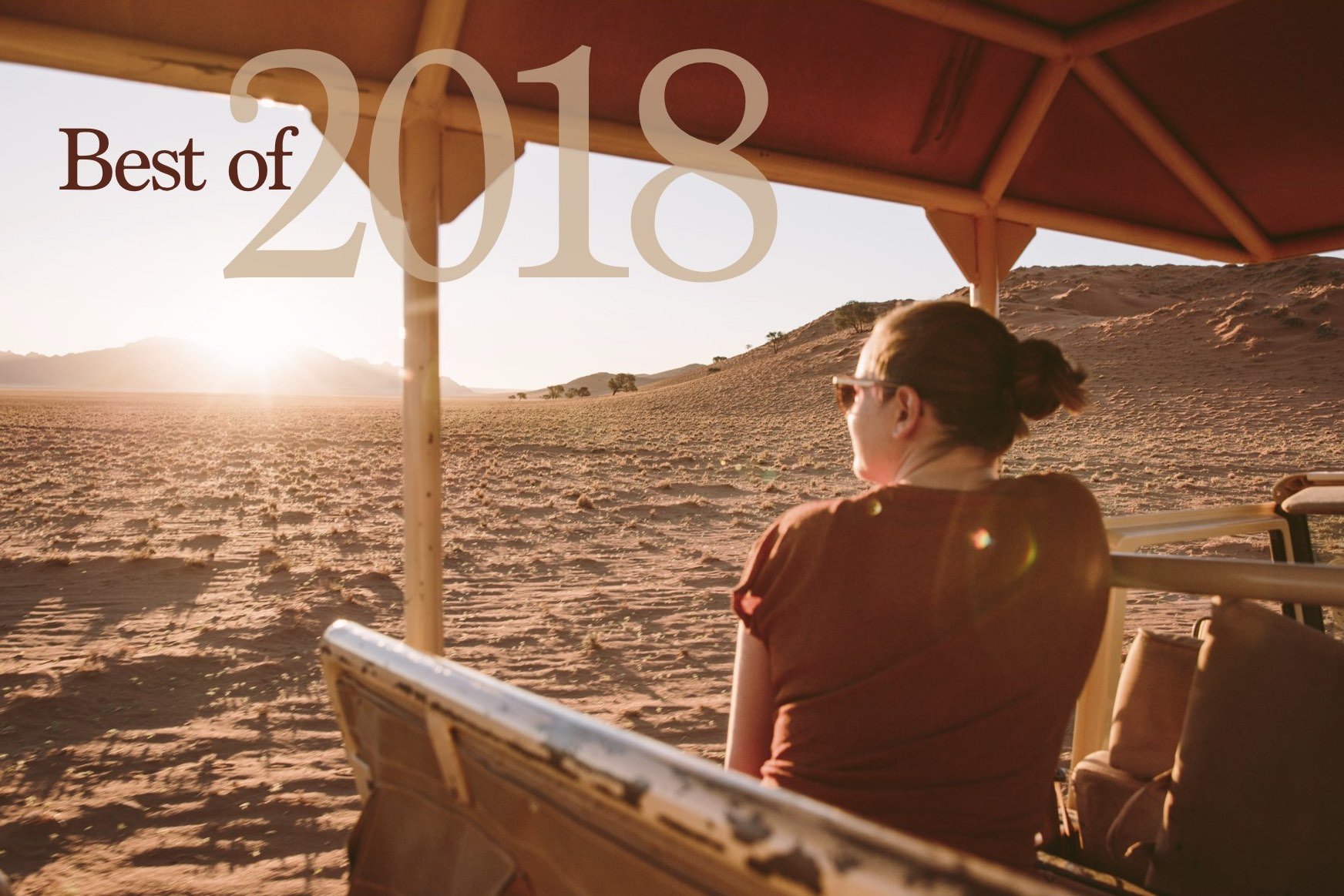 Preamble
At the beginning of 2018 we had made a plan to consciously chase after our most important bucket list items. If you read our 2018 bucket list blogpost you might remember, that we had initially planned to visit 3 of our main bucket list countries in 2018 (namely Namibia, Myanmar and Argentina). So here we are, 365 days later, but we "only" managed to visit 2 out of 3 of these places.
Turns out, we like traveling slowly. And traveling slowly takes time. Turns out, time is limited 😉 (even for travel bloggers) 🙂 So we have to postpone Argentina – maybe 2019 will be the year though! The other destinations we visited in 2018 rather "happened" to us, without a lot of planning from our side. And still we were in for some nice surprises.
#1 Namibia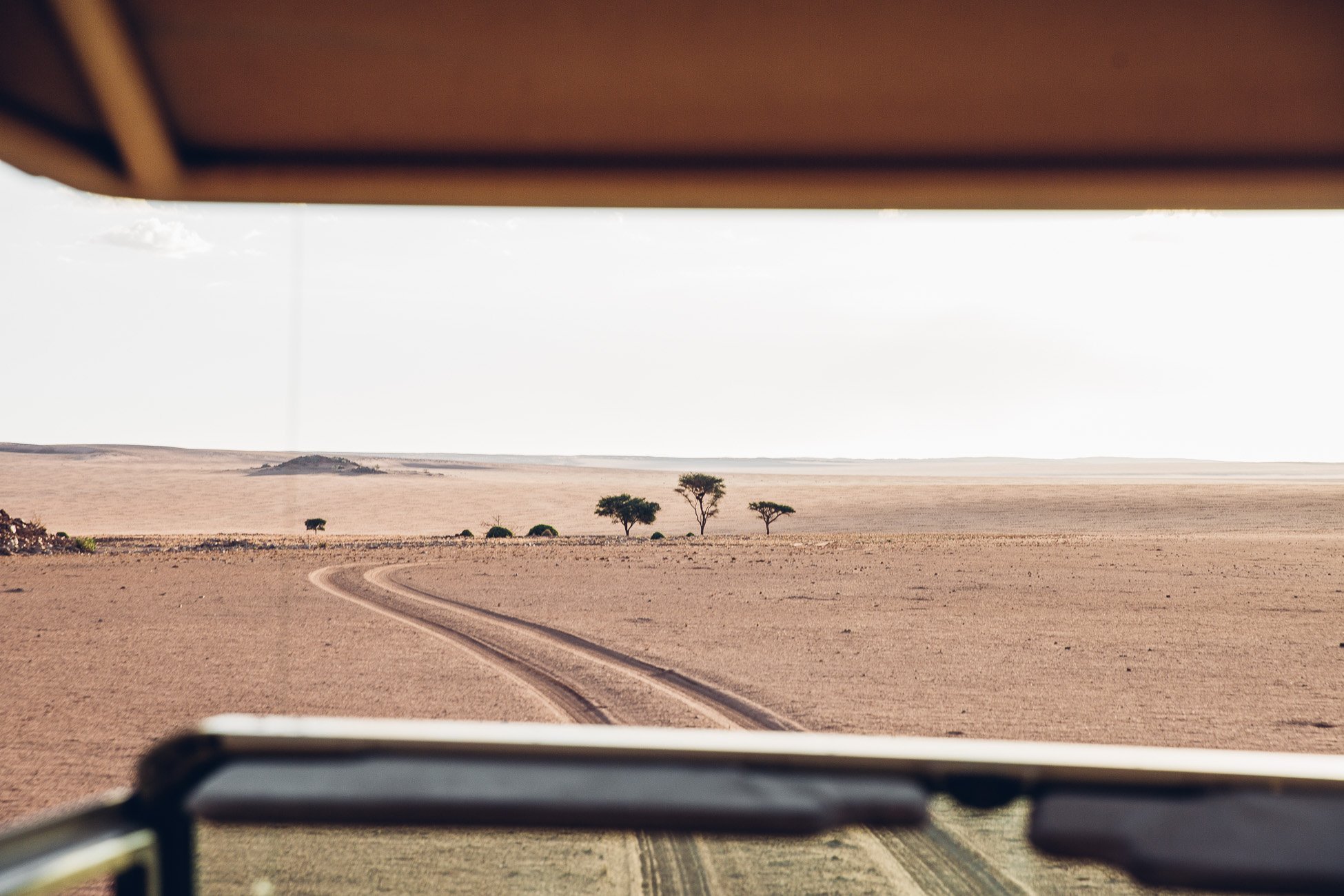 Why we loved it so much?
There's much to say about Namibia. It's not only the perfect country for "Africa beginners", as it is safe and easy to travel, but it also boasts with great diversity. We started our trip with a one-week safari, which made us fall in love with the wildlife, but also the rhythm of the days in nature.
Getting up at sunrise with the animals, resting in the lodge in the midday heat and then venturing out again in the late afternoon until sunset. It doesn't get more relaxing and exciting at the same time. Yet, Namibia isn't only safari holidays, there are sand dunes, wild (and surprisingly cold) Atlantic coastal towns, flamingo colonies, mountains… it's absolutely fantastic – and our 4 weeks were definitely too short!
From safaris to hot air balloon rides – our Namibia trip in April 2o18 was full of incredible experiences.
Why you should visit in 2019?
Maybe you're like us and your bucket list is full with Southeast Asian countries, Thailand, Indonesia, Myanmar, maybe Cambodia – and Africa isn't really on your radar? At least this was us 2 years ago. One trip to Namibia changed our heart completely and we got infected with what seasoned travellers call the "Africa virus". We suggest you join us, because that is one hell of a virus, that should never be cured! 🙂
Read more about it in our blogpost about our first safari.
#2 Myanmar
Why we loved it so much?
Myanmar spoiled us with incredibly friendly people, thousands of temples, natural splendour from jungle to beaches and even some refreshing days in the mountainous areas. We drove electrical scooters through a field of two thousand pagodas, watched sunrises from temple roofs, spent 3 days on a lake eating with locals in their floating homes and took part in the most holy full moon celebration in Yangon at a stupa made from dozen tons of pure gold.
From busy Yangon to relaxation at a tropical beach – Myanmar surprised us with it's variety!
Why you should visit in 2019?
Myanmar was the rising star of Southeast Asian travel in the last few years, when it had opened up after decades of military rule. But now it has fallen from grace again, due to the Rohingya crisis and the human rights violations happening in the country. This massive decline in visitor numbers has hit the country hard and proves to be another burden in the democratisation process. We believe tourism can be a motor for development and therefore visited Myanmar – against all odds.
Tourism not only brings money and supports the locals, it first and foremost also puts pressure on the government. Tourists don't like governments who oppress their people or execute an ethnic cleansing. The public eye is important – we need to shed a light on Myanmar and it's problems – while also enjoying it's incredible beauty at the same time. We think this isn't a contradiction and as a responsible traveler you can do both things!
Get a glimpse of  Myanmar's tropical beaches.
#3 South Tyrol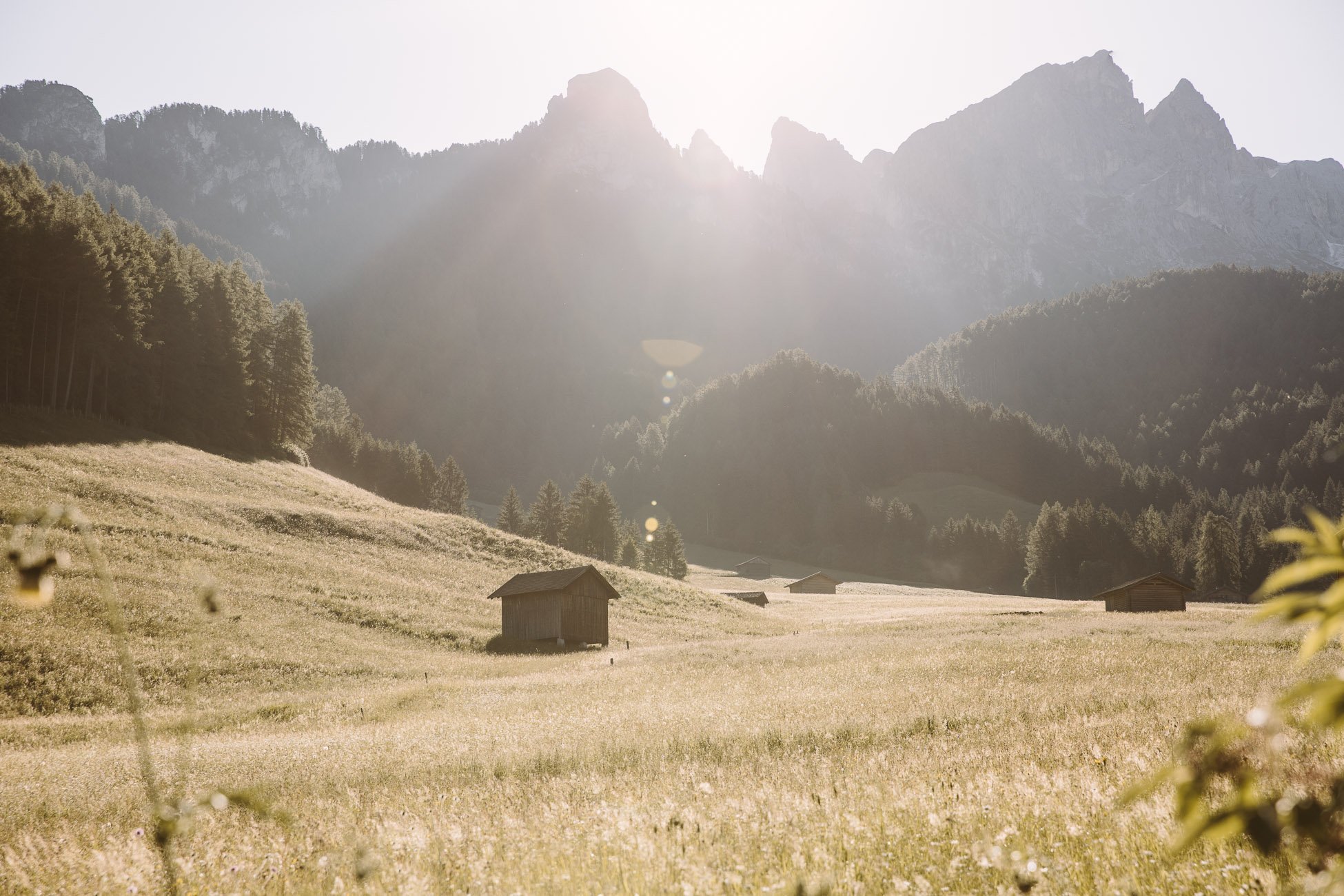 Why we loved it so much?
Neighbouring Italy is always worth a visit… in fact we've been to Italy more than once last year (we'll get to our Venice winter visit a little later). Alongside a Tuk-Tuk road trip through Tuscany we also managed to visit South Tyrol twice last year.
Our first visit in June brought us to alpine lakes and meadows, we went hiking and slept in an alpine hut, but also enjoyed an epic stay in our #1 hotel of 2018. The second visit at the end of November marked the transition from fall to winter – we picked the last fresh apples and then went on a snow hike through the winter wonderland higher up in the mountains. South Tyrol is a perfect blend of alpine and mediterranean lifestyle – you can go from palm-lined piazzas to rustic huts in one day. And it's all topped of with Italian grandezza and wonderful food.
From alpine lakes to the mediterranean town of Meran in one day – that's South Tyrol.
Why you should visit in 2019?
We don't want to pressure you, but in your lifetime we believe you should visit South Tyrol in at least 2 out of the 4 seasons… 😉 The small country has something in store for each season – and natural splendour is only one of them. There's valleys and alps, the UNESCO world heritage of the Dolomites, sleepy mountain villages and Italian towns. You can shop at the beautifully curated Monocle store in Meran, hike in the hidden "Val d'Ultimo" valley, ride a boat on a crystal-clear mountain lake. If you're a nature lover, put this on your map!
Read more about it in our blogpost with 5 tips for an autumn visit of South Tyrol.
#4 Ireland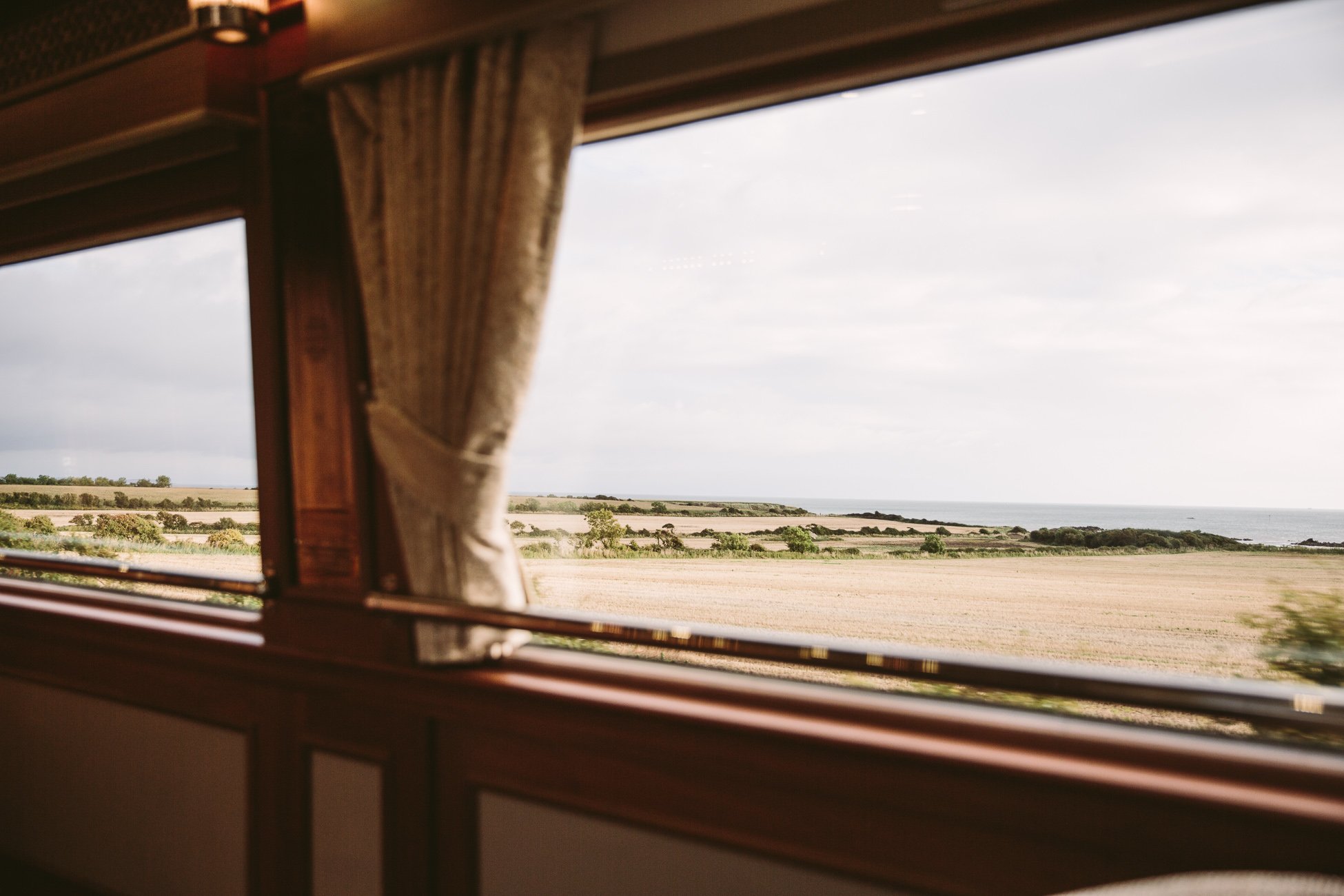 Why we loved it so much?
Last time we visited island we went on a very classic Ireland road trip – from the very Northern coastlines to the famous Cliffs of Moher and Dingle in the very Southwest, all in just under a week. This time around we chose a different mode of transportation and boarded a luxury heritage train in Dublin.
Slow travel is one of the main trends in the tourism industry and it makes sense in times when people rush through their lives non-stop. Watching the beautiful rolling hills of Ireland pass by was the perfect method to calm down and relax, while still getting to places.
The Belmond Grand Hibernian isn't just any train, it's the epitome of luxury.
This is train traveling done exquisitely 😉
Why you should visit in 2019?
Train travel should be on everyone's bucket list for the new year. The slower pace lends itself to a true holiday mode, something we keep postponing in favour for vacations filled with experiences and explorations. Obviously we understand why we all crave to cram as much as possible into the few weeks of vacation we get, but the good thing is that train travel combines the wish to see many different places with the comfort of a hassle-free journey.  Obviously you choose if you prefer a luxury train like the ones from Belmond or board a rustic local train for a change 😉
Read more about it in our blogpost about our luxury train trip through Ireland.
#5 Venice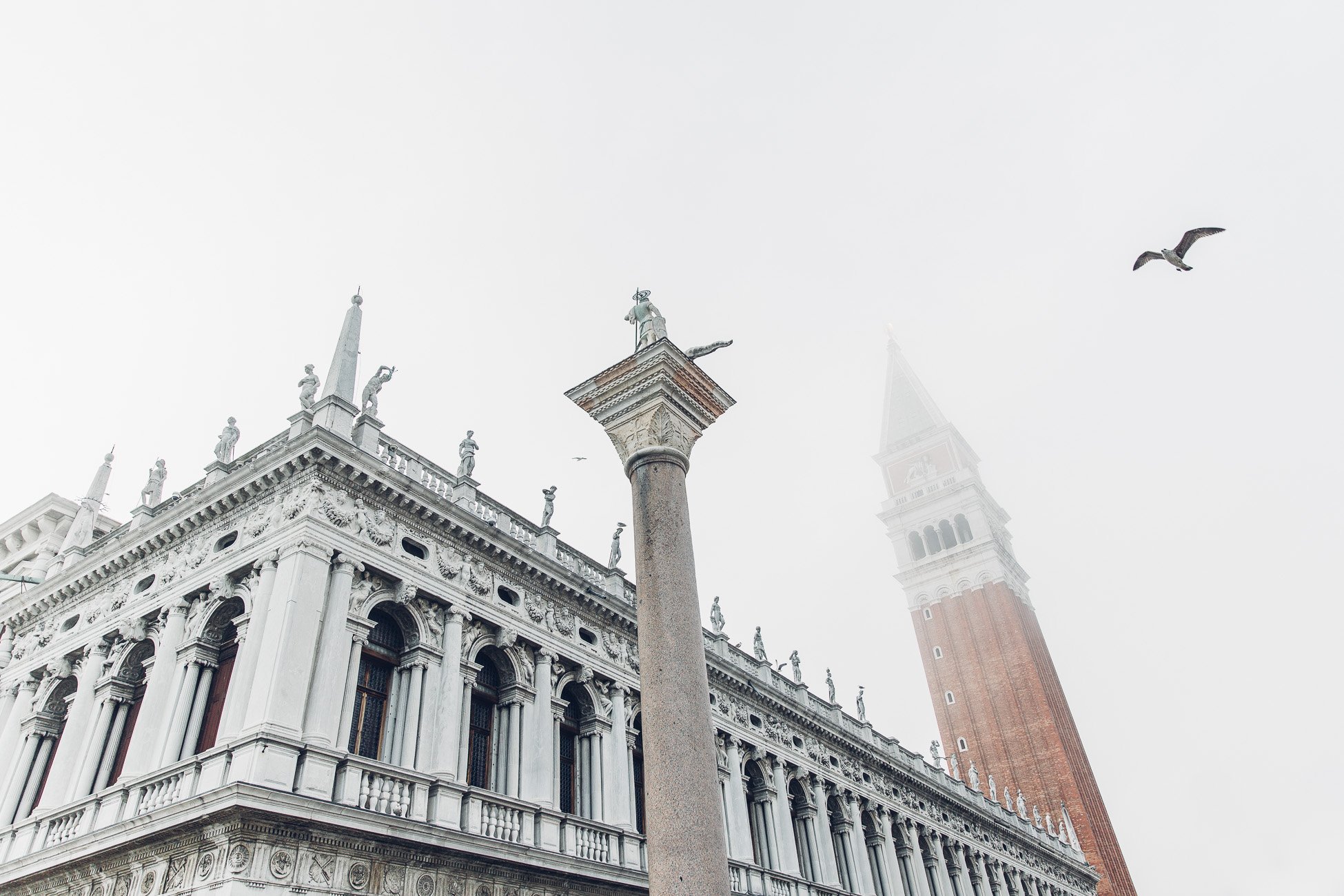 Why we loved it so much?
We know, we know – Venice is the most overcrowded city on the face of the earth. It doesn't need any more advertisement, in fact it needs just the opposite. But then again, you can do it differently. We chose to visit in February, but after (!) the busy Carnival season. This is the very low season in Venice, restaurants close, hotel prizes drop and the city gets as calm as ever. Well, it never is truly calm, but if it's foggy and you venture out early in the morning you'll be able to enjoy a Venice like it maybe felt decades ago, quiet and truly romantic.
Why you should visit in 2019?
Make it your mission to help Venetians reclaim their city! As a tourist there's multiple things you can do to support the cause of the locals. First: Stay longer than one day – nothing is worse for Venice than day trippers, who don't spend a lot of money in the city, while "checking off" their to do list. Don't rent apartments on Airbnb in Venice – as rental prices have skyrocket due to holiday makers, expelling the locals from their own city. Rather stay in properly licensed hotels, eat out in local restaurants and buy from local vendors. Don't be that tourist who brings his/her own supermarket food in a backpack and sits on the steps of a church to eat it. In fact, this is forbidden in Venice anyhow 😉
Read more about it in our blogpost about our wonderful Venetian hotel.
 2019 Preview
This new year is still a blank sheet of paper for us. In fact we haven't booked one single trip, which is untypical for us. We are currently debating and planning, selecting places, arranging and rearranging our travel year. The following destinations are on our 2019 map: Argentina, Japan, Sri Lanka, Zambia, Botswana and maybe a USA road trip to national parks.
What's on your bucket list?