It's one of those tasks, that seems impossible at first. You want to go on your first safari and have to select the perfect country in Africa… but there's so many options! Kenya, Tanzania, South Africa, Botswana – those might be the first that come to mind. In this post we'll give you the gist for every country, that we visited so far (this will be amended whenever we visit a new country) to give you a first orientation.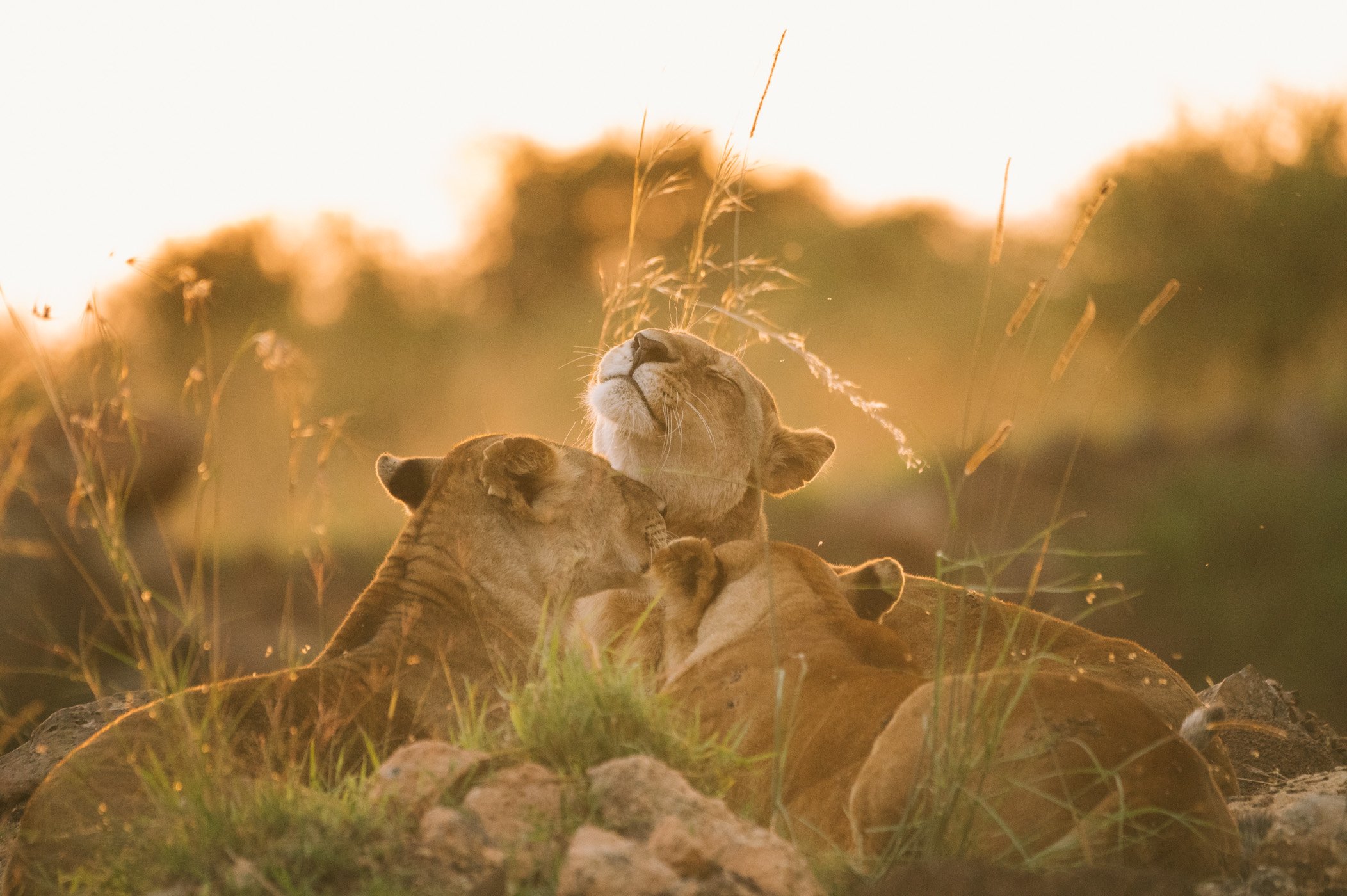 So, you finally want to see wild lions with your own eyes?
Let's see where you could go on your first safari.
Which country to choose for your first safari?
RWANDA
Namibia:

Safaris, sand dunes & incredible landscapes
Why to go to Namibia for your first safari
Namibia was our first ever safari destination – that's why it holds a special place in our hearts. The Etosha National Park is the most famous area within Namibia, but we preferred our experiences in the private game reserve of Erindi. The bonus with Namibia is: It's very safe, easy to travel (also independently – we rented a 4×4 and drove everywhere ourselves) and also an affordable destination for your first safari! Also there's more than just safari experiences to discover. You can climb sand dunes, visit flamingo colonies or fly a hot air balloon over the world famous Sossusvlei. Namibia is also a photographer's paradise because of it's incredibly diverse landscapes!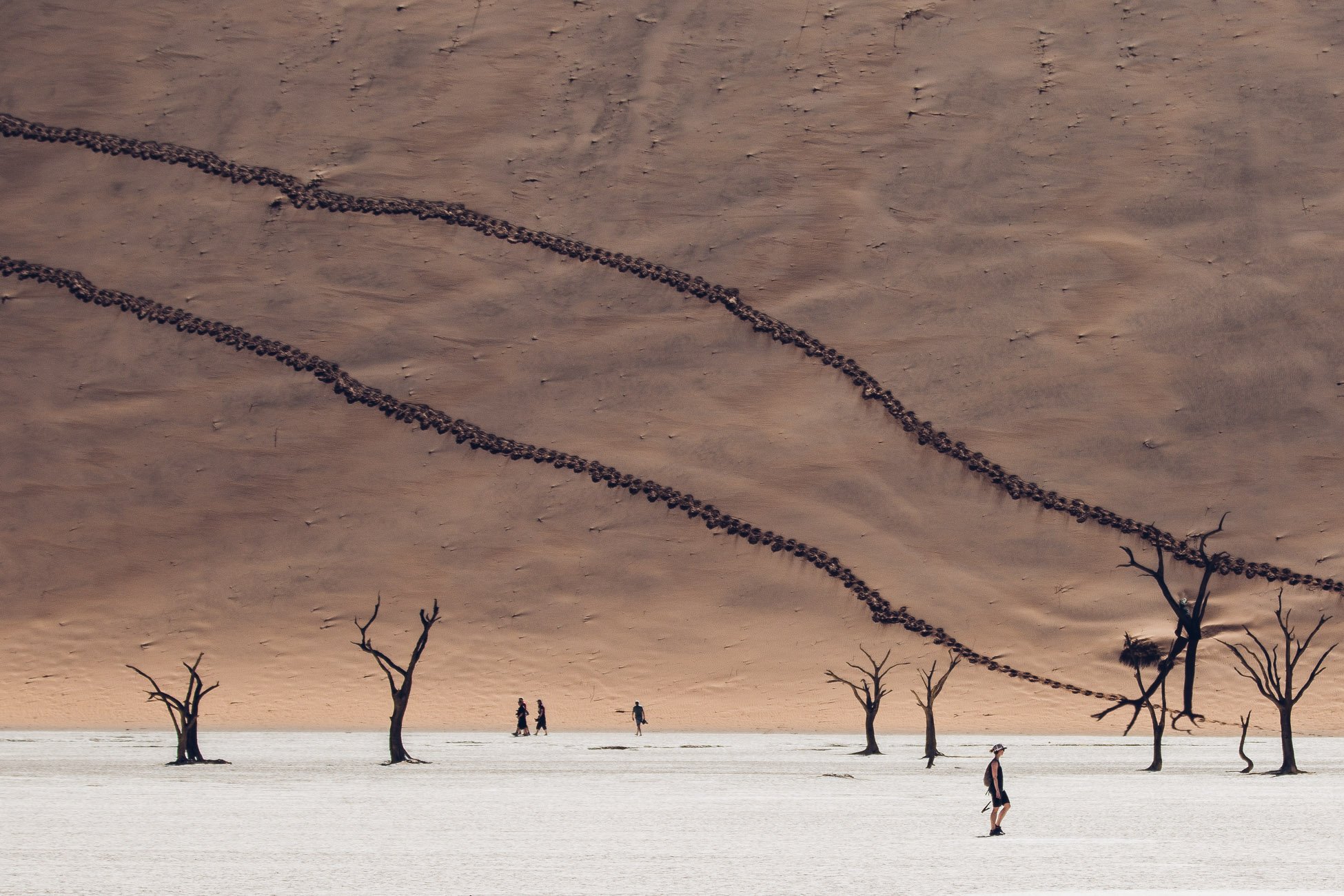 Namibia is more than just a safari destination – there's sand dunes & much more to discover!
Why not to go to Namibia for your first 
safari
There's no good reason not to visit Namibia when it comes to safaris. From very cheap self-drive safaris with scenic camping spots to high end luxury lodges for fly-in safaris – Namibia has it all. If you drive yourself you might be turned off by the vastness of the country and long distances spent on the road, but you can always upgrade to flights and select fly-in camps (if money isn't the issue 😉 ). We loved the road trip as the drives through the endless mars-like landscapes felt like an adventure.
Check our guide for 3 weeks in Namibia!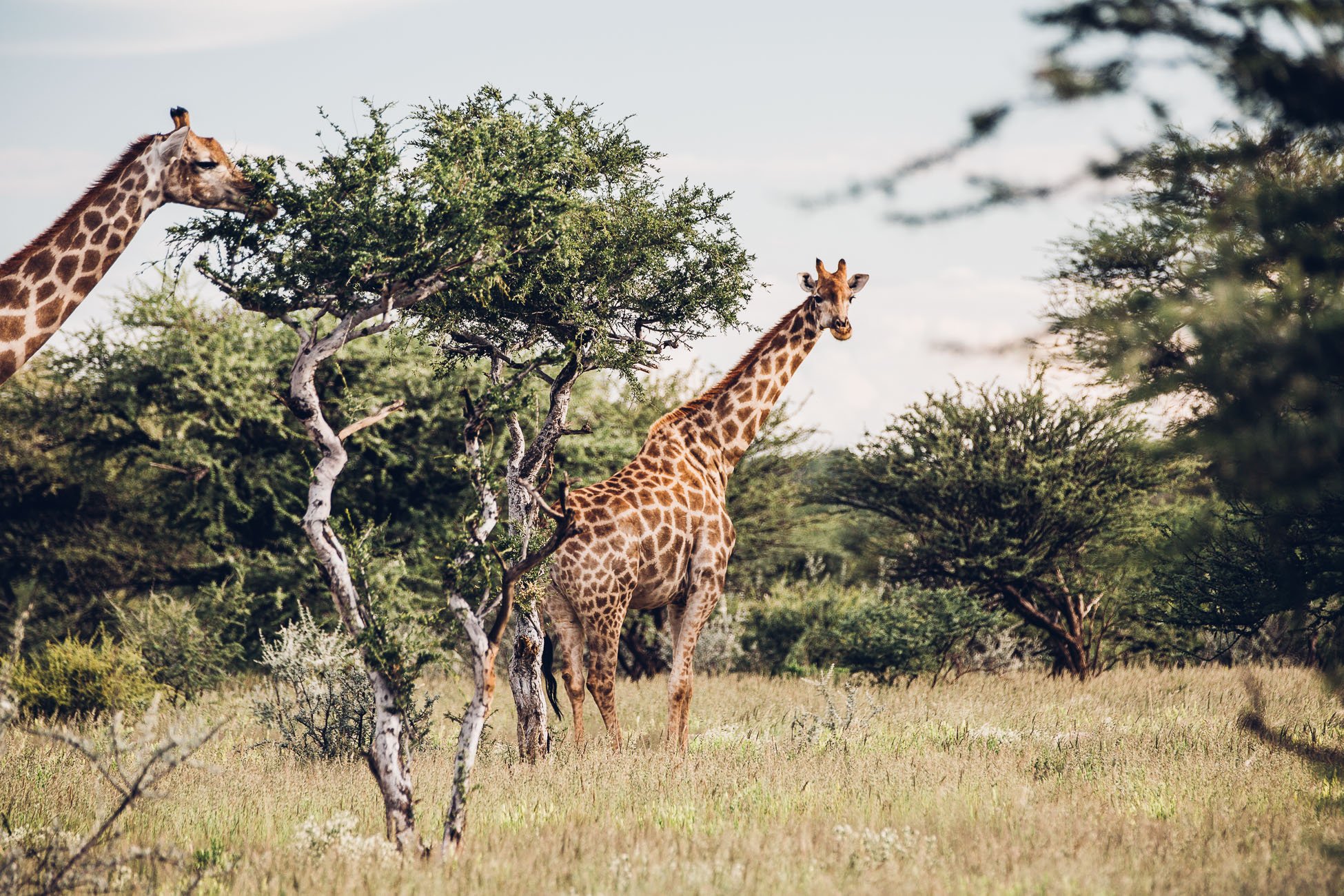 Namibia's green season in April is particularly exciting!
Zambia:

The real Africa – safaris off-the-beaten path
Why to go to Zambia for your first 
safari
Zambia was the second country we visited on a safari and it's the polar opposite of Namibia. Zambia is truly off-the-beaten path, so you'll be able to immerse yourself in true wilderness – often on your very own. There are dozens of National Parks and game reserves that you can visit – all brimming with wildlife and offering exquisite owner-run camps and lodges with truly personal service. Additional to the safari adventures you can (and should) also visit the mighty Victoria Falls – one of the seven natural wonders of the world. Zambia is also the birthplace of the walking safari, here you'll really feel close to nature. Therefore Zambia is perfect if you are looking for an authentic wilderness adventure, that brings you back to the roots of Africa's original and remote bush.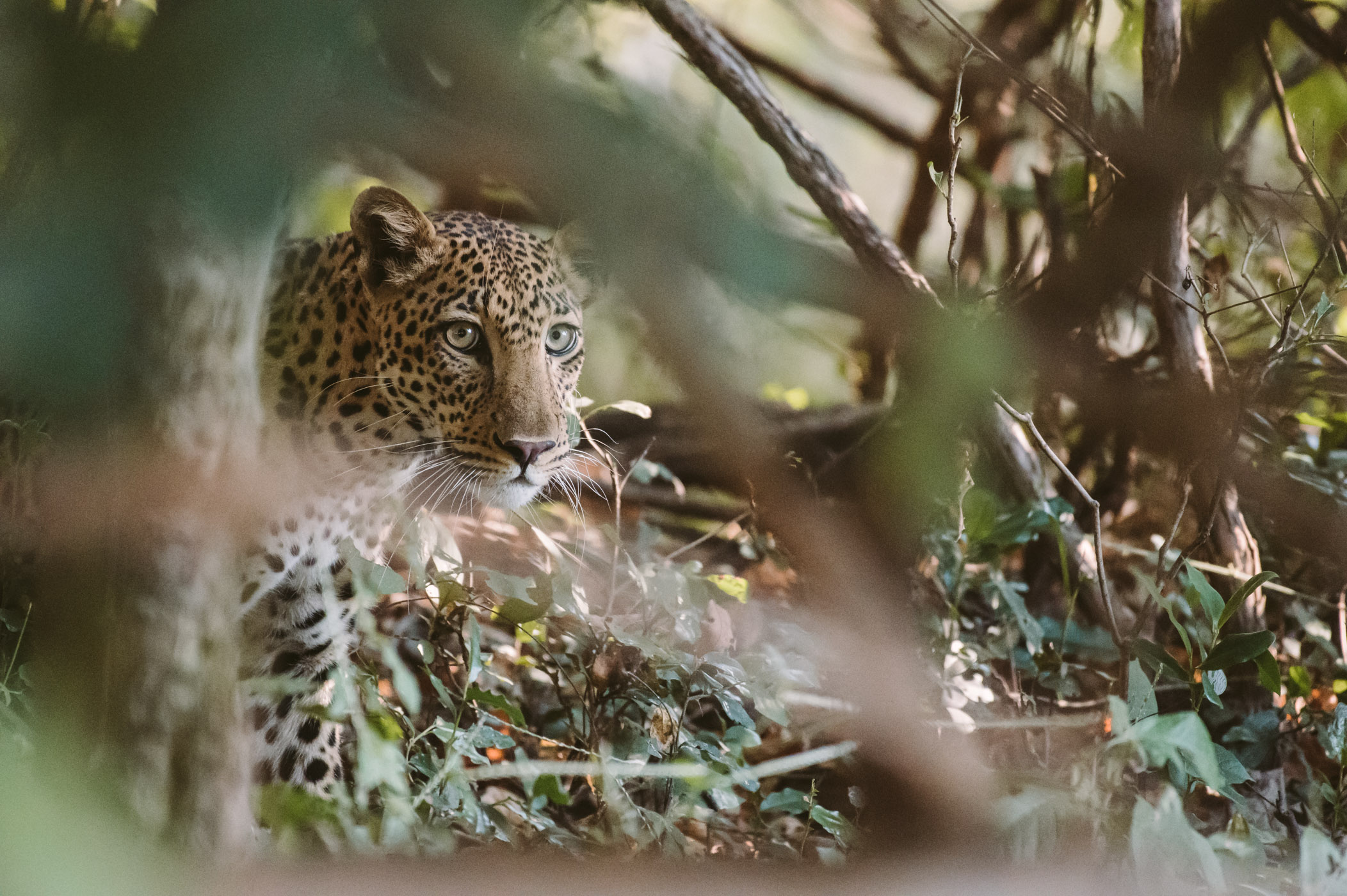 Seeing a leopard in the wild can come true in the South Luangwa National Park in Zambia.
It's also dubbed the "Valley of the Leopard".
Why not to go to Zambia for your first 
safari
While Zambia's tourism industry isn't as developed as in other safari destinations, there are already a multitude of different kinds of accommodations – from very basic fly-camps to luxurious lodges. Yet, they all have something in common: They aren't cheap! So you might want to skip Zambia if you have a very tight budget. Park fees and internal flights can also add up in Zambia, but the investment is well worth it – you're supporting the sustainable development of the tourism industry in a country that is still rather untouched. And you will have much more privacy and intimacy than in more developed safari destinations!
Check our 9 reasons why Zambia should be on your bucket list!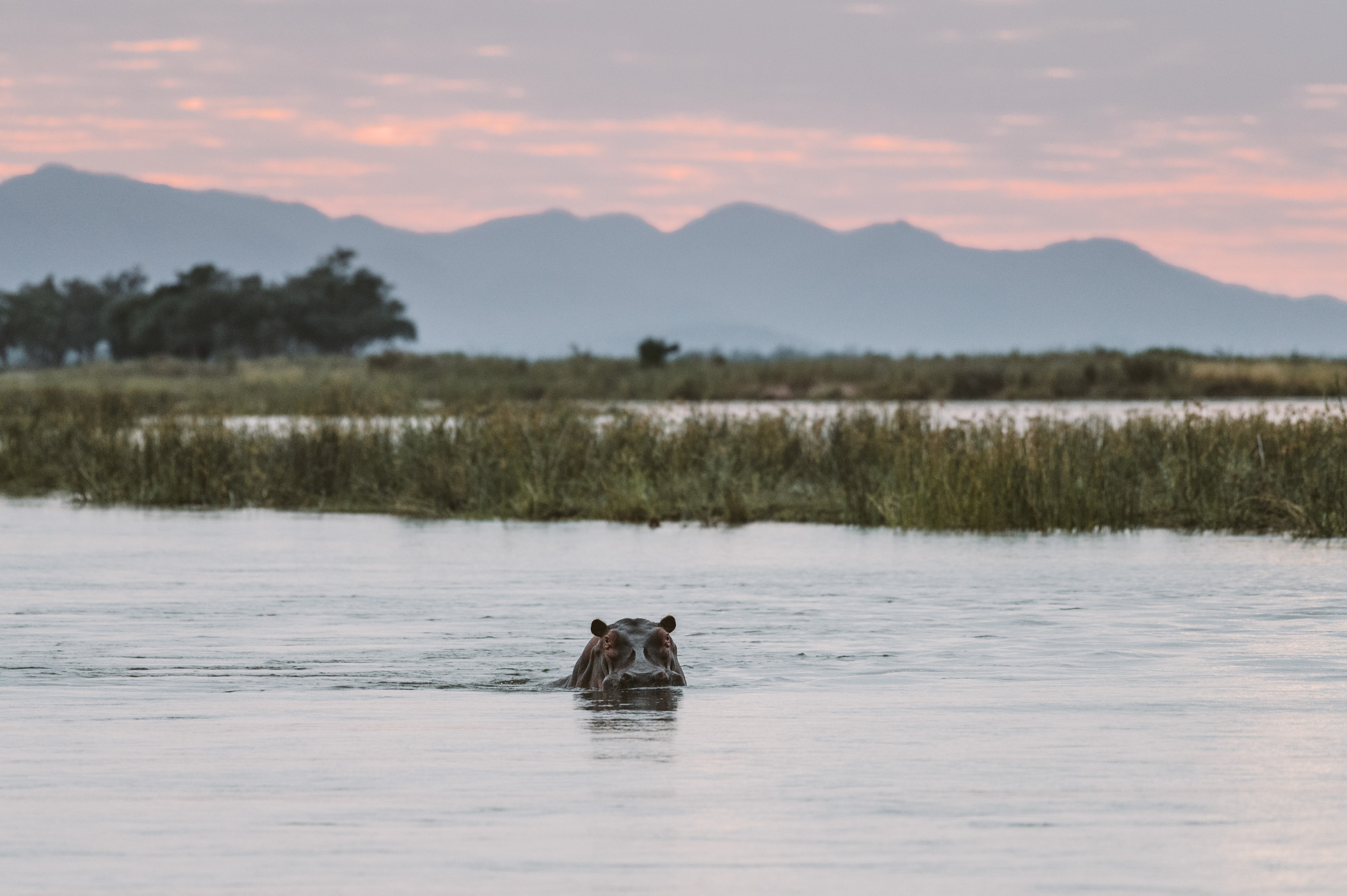 Zambia's National Parks alongside the Zambezi River offer unparalleled river safaris.
Botswana:

Luxury safaris beyond comparison
Why to go to Botswana for your first 
safari
The third African country we visited on a safari was Botswana. Botswana is famous for it's "high quality, low impact" tourism model. With a rather low volume of tourists they create a huge turnover – meaning, basically, it's not cheap to travel through Botswana. You can easily spend 10.000 dollars per person for 2 weeks here, but we believe it will be worth it! There are never any guarantees, but we had some of our most successful game drives in Chobe National Park and the Okavango Delta (seeing the much-sought-after lions, wild dogs and leopards nearly every day). Botswana also has the biggest elephant population of any African country. The wildlife is really plentiful in the North of Botswana, there are private concessions offering exclusive wildlife encounters – and you'll be able to stay in some of the most amazing lodges in Africa.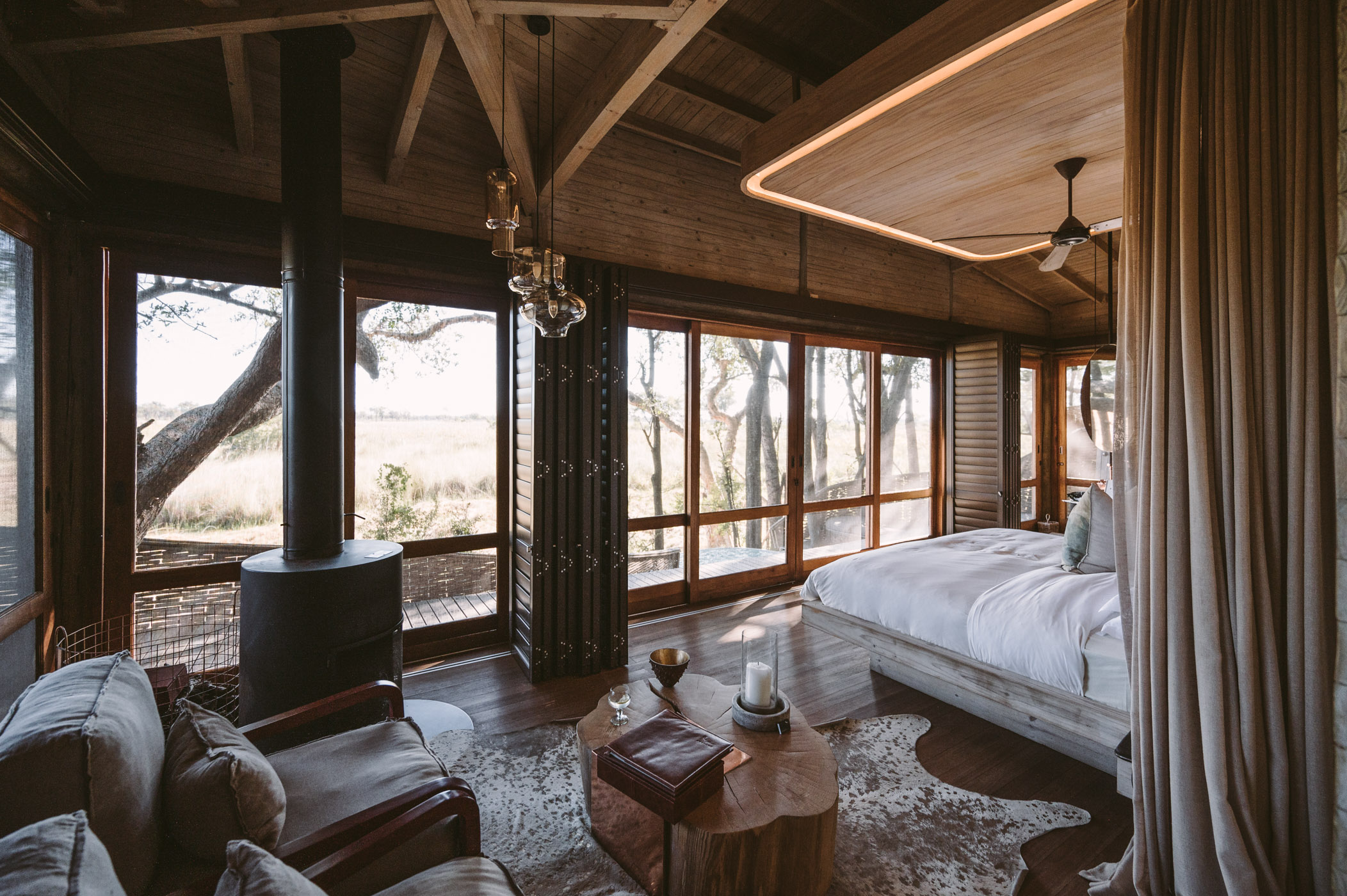 Botswana doesn't only offer wildlife encounters deluxe, but also some of the most incredible luxury lodges.
Why not to go to Botswana for your first 
safari
You will definitely spend more money in Botswana than in Namibia, but this will directly result in high conservation efforts, protected wildlife and natural resources and development of the country. Is it worth it? Yes, we believe it is! Alternatively Botswana also offers self-drive and camping options (attention: those need to be reserved well in advance due to the limited number!).
Read all about our 9 day Botswana discovery!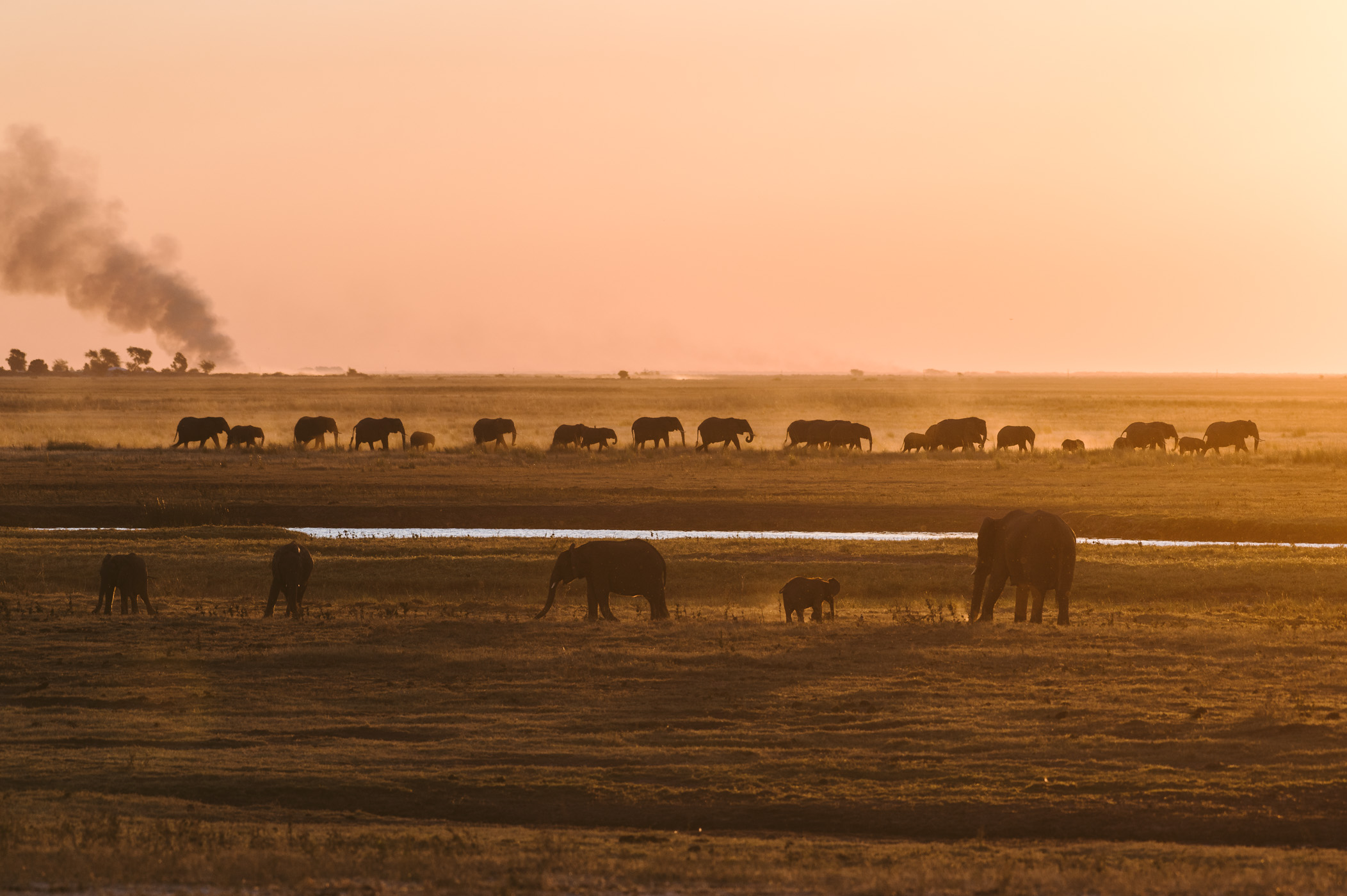 Nowhere you'll be able to see as many elephants as in Botswana's Chobe National Park.
Kenya:

Africa in a nutshell
Why to go to Kenya for your first 
safari
Kenya is the fourth country we visited on a safari. Kenya is on top of the list for most first time safari-goers. It's very safe and easy to travel and has a longstanding safari history and well-developed infrastructure. The Maasai Mara is one of the most iconic safari destinations in all of Africa and it's landscapes served as backdrop to so many famous Africa movies. If you're dreaming of "Out of Africa" style safaris, this is the right choice for you. On top you can easily combine a safari with a beach vacation as the coastline of Kenya offers some of the most pristine beaches.
This is what Kenya is famous for – a scene like straight out of any Africa movie.
Why not to go to Kenya for your first 
safari
If you visit the Maasai Mara during the peak season (while the great migration with it's millions of wildebeests from July to October) you might be disappointed by how many visitors and cars can be squeezed inside the national reserve. In fact it can get quite busy. We visited in the off season in January during the COVID-19 pandemic and still were surrounded by 10 cars when we went to a leopard sighting. Our guides told us that's nothing and usually there can be around 50 cars if they spot a leopard. So if you go to Kenya make sure to be prepared for this or go off-the-beaten path in places like Lewa.
Read all about our 2 week Kenya itinerary!
January is baby season in the Maasai Mara!
Rwanda:

From Big 5 to chimpanzee and gorilla trekking
Why to go to Rwanda for your first 
safari
Since the devastating genocide Rwanda went through an unprecedented transformation and is now a peaceful and plentiful country to travel to. The relatively small size of the country makes it easy to travel and cover different regions in a relatively short amount of time. For first time visitors you can check off the Big 5 during a safari in Akagera National Park, which is one of the most prominent example how a national park can go from depletion to ample wildlife through effective conservation and community involvement. And if you're ready for more of an adventure you can then visit Nyungwe National Park to go chimpanzee trekking and Volcanoes National Park to trek with gorillas.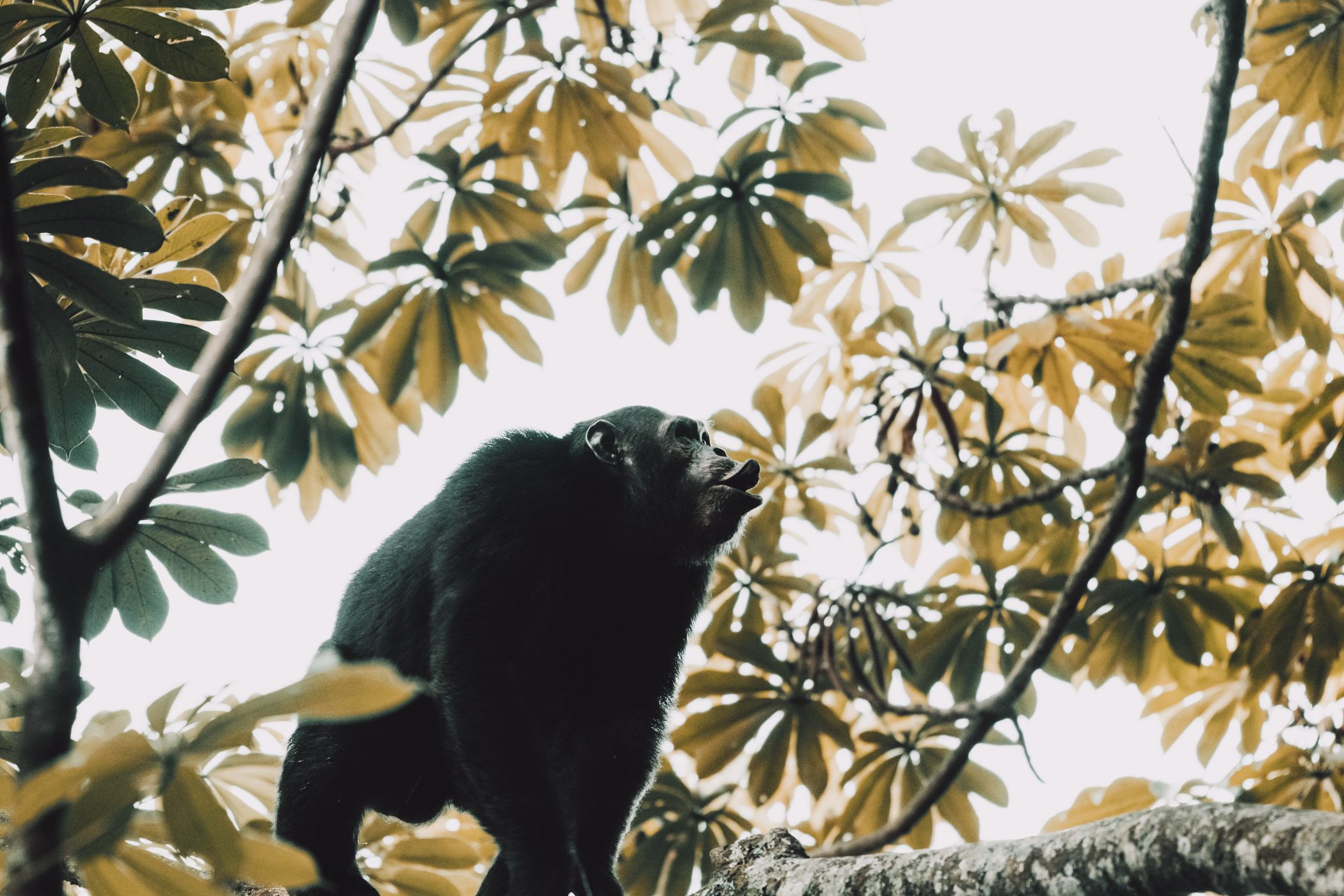 Why not to go to Rwanda for your first 
safari
Many consider Rwanda a destination for more seasoned travellers, because it's tourism infrastructure is not as developed as in neighbouring Tanzania for example. Yet times are changing and Rwanda is catching up quickly. In Akagera, Nyungwe and Volcanoes National Park you'll find incredible local camps as well as luxury lodges. And with the repopulation of Akagera National Park and it's status as Big 5 park you can now combine a classic plains safari with the jungle treks in one trip. So the only reason against Rwanda can be the high prices for the gorilla trekking experience (think over 1,000 USD per day just for the permit).
Read all about our Rwanda itinerary!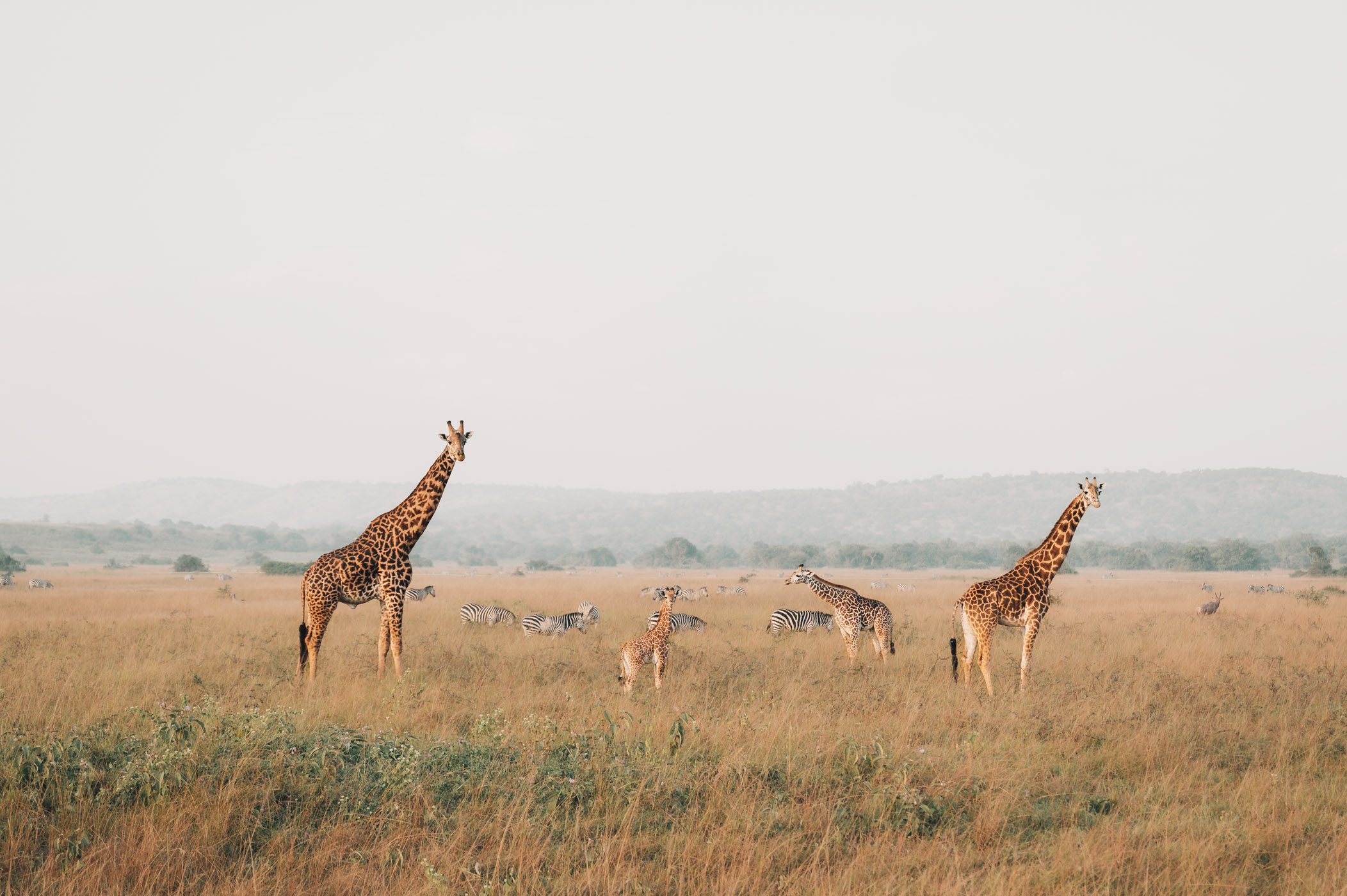 What's next on our bucket list?
Of course there's a couple of famous highlights, that we are yet to see and experience – from the Kruger National Park in South Africa to the great migration in the Serengeti. But we learned that venturing off-the-beaten path gets huge rewards when choosing a safari destination!
Mostly we dream about these experiences today:
Hiking through the jungle to visit the last remaining wild gorillas in Rwanda, Uganda or the DRC
Discover the conservation success story behind Zakouma National Park in Chad
See the last wild white lions of Timbavati in South Africa
Witness the great Zebra migration in the Makgadikgadi pan in Botswana
Experience the second largest wildebeest migration in the Liuwa Plain in Zambia
Visit the iconic Kafue National Park in Zambia before the crowds discover it
Stay at Naboisho Camp in the area with one of the highest lion concentrations in the world
Try out astro photography in the Sossusvlei Desert Lodge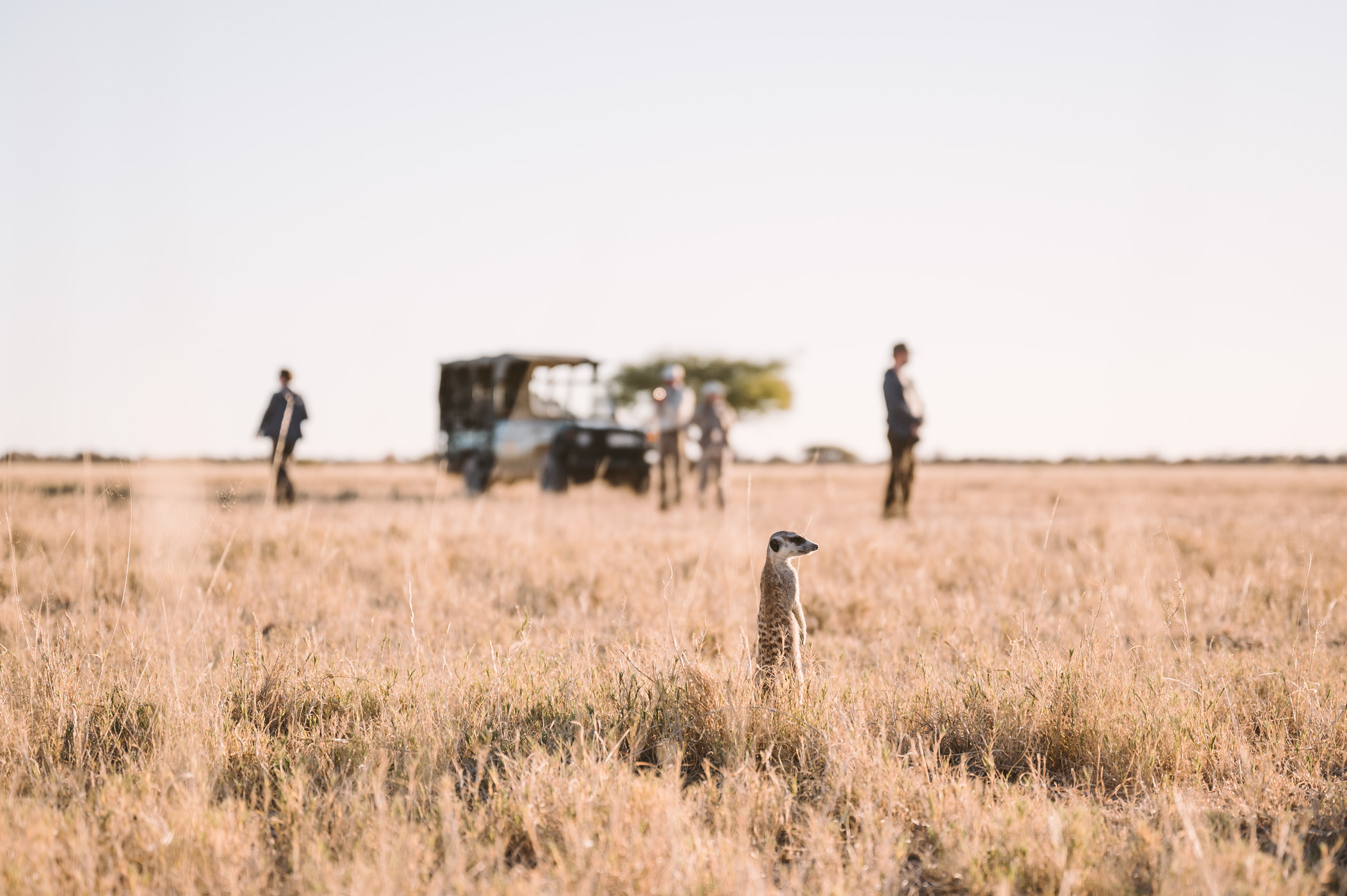 Save this post for later:
Stay tuned as we're discovering more African countries and keep this post up to date while doing so!