It's official: We love Zambia! After countless safaris everywhere from Botswana to Kenya, Rwanda to Namibia we know what we're talking about. Zambia is unique. A true gem. Raw, wild, precious.
There aren't many places as authentic, well-preserved and awe-inspiring left in this world.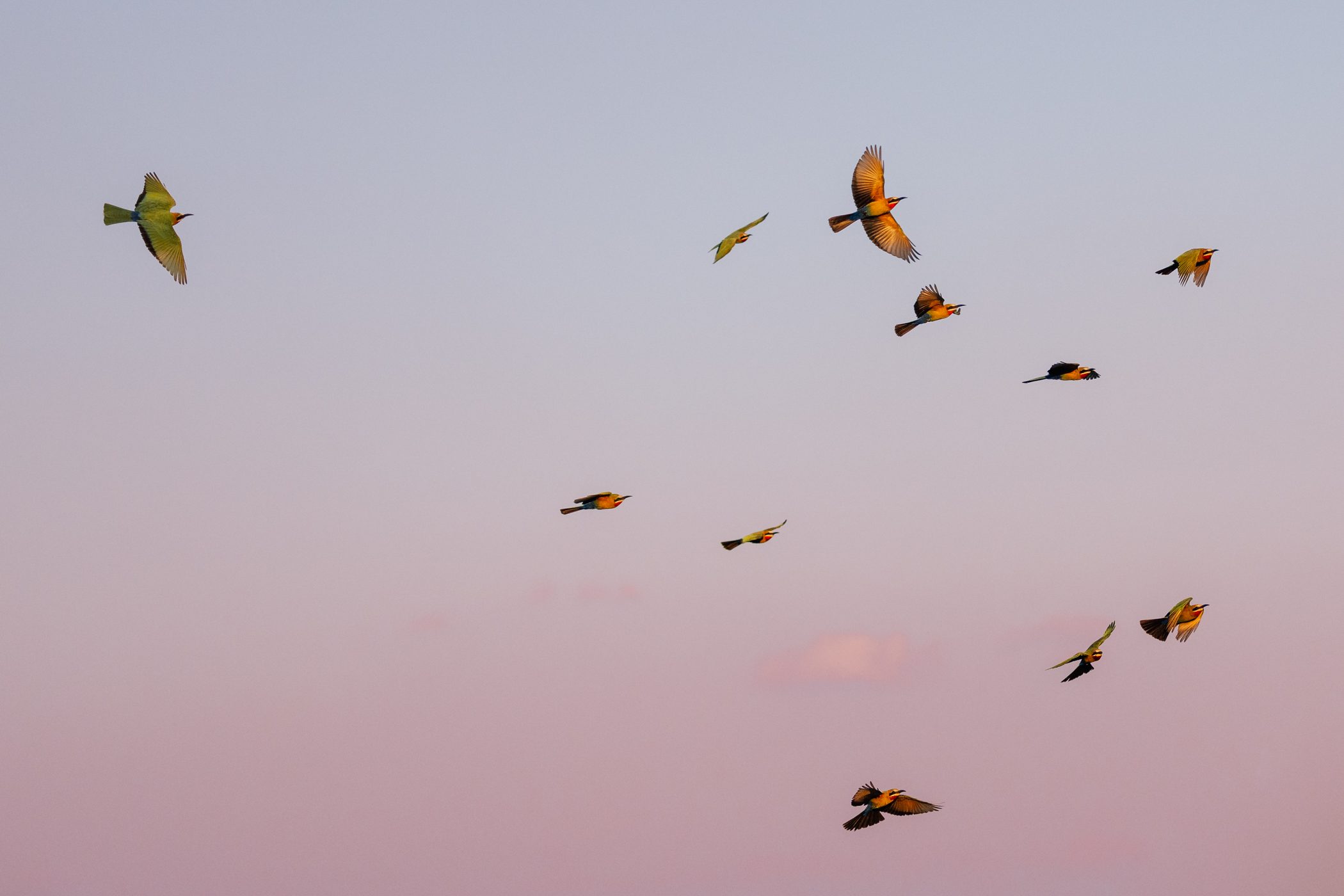 We've been fortunate enough to travel through Zambia extensively during two separate trips and visited the iconic Victoria Falls in Livingstone, the majestic Lower Zambezi National Park with daily leopard encounters and large herds of elephants and buffalo as well as the South Luangwa National Park with it's abundance of cat sightings and Thornicroft's giraffes and even the remote Kafue National Park and the Busanga Plains where lions are a daily occurrence.
In this safari travel guide we're sharing all our know-how for you to put together your own Zambia itinerary with all your best practice tips and a heartfelt recommendation for our travel partners and safari experts Pinto Africa.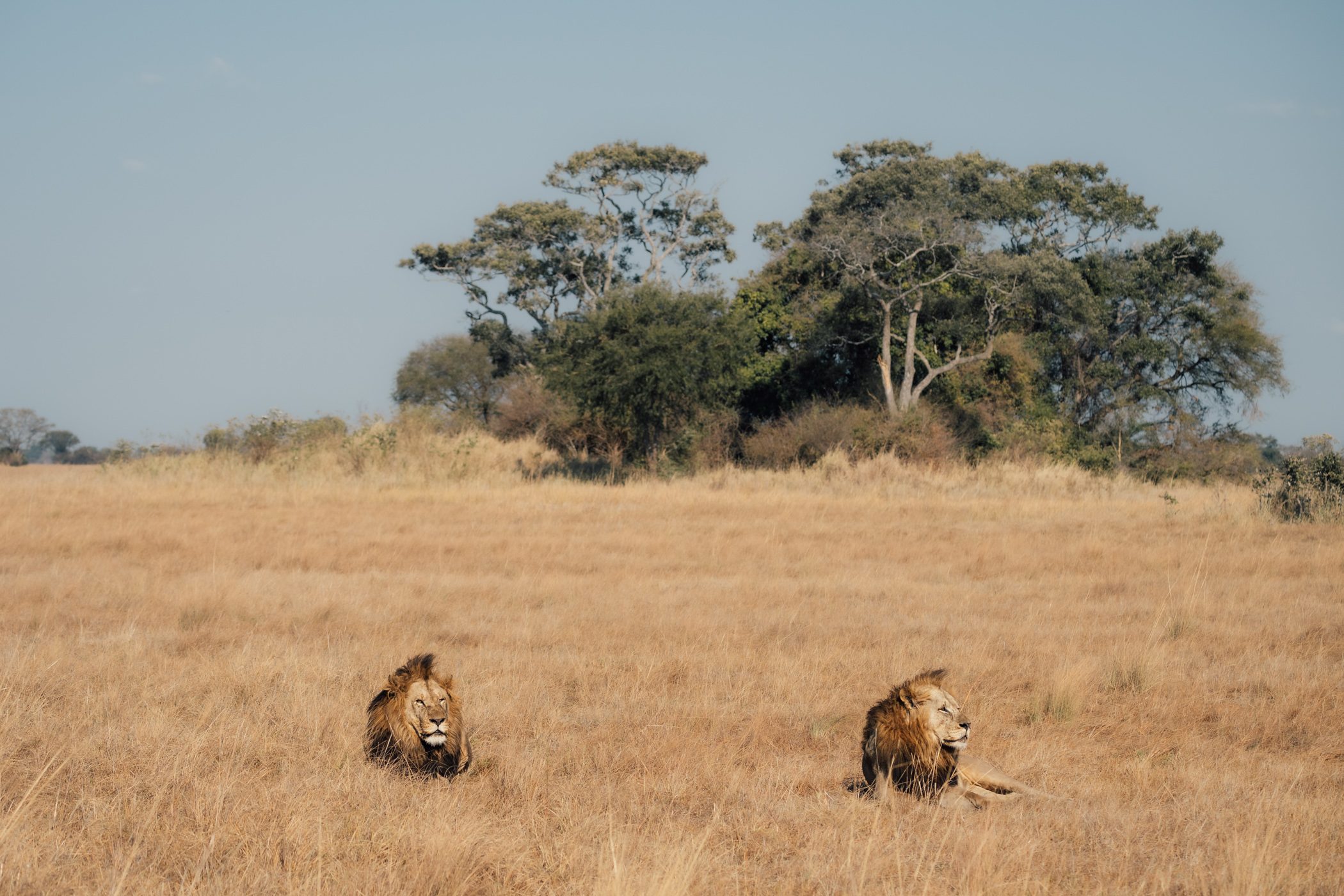 Introducing Zambia
But let's start at the beginning: Before we get into details about Zambia's plentiful regions and National Parks, let us start by introducing you to a map of the country with some of its most important travel destinations. This can be your first orientation when it comes to planning your Zambia trip.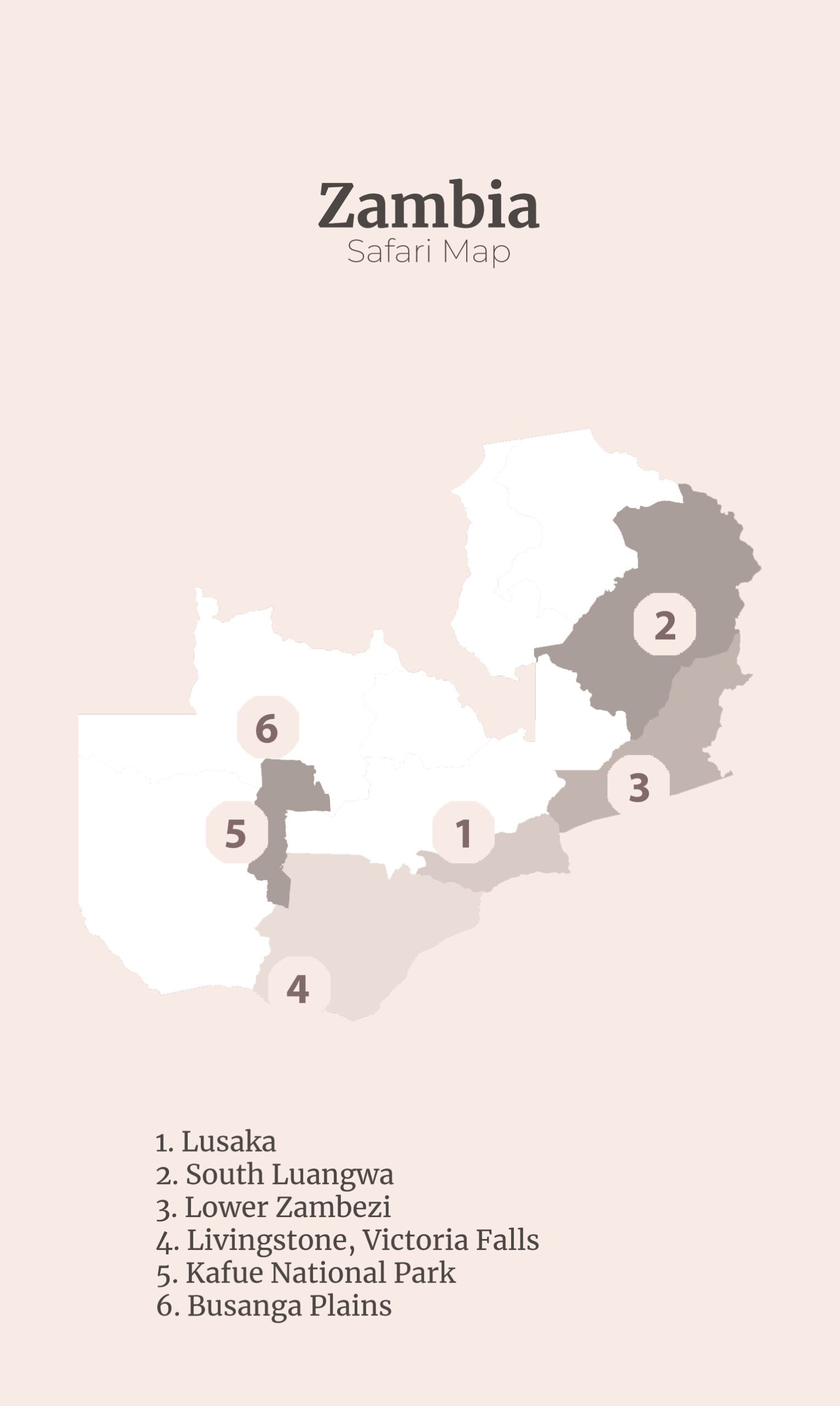 Zambia is a landlocked country surrounded by Namibia, Angola, the Democratic Republic of Congo, Tanzania, Malawi, Mozambique, Zimbabwe and Botswana. It's location in the center of Southern Africa makes it uniquely important as a source of water for many neighbouring countries, but also interesting as a safari travel destination due to it's diversity of ecosystems.
In the next segment we're introducing you to those regions in more detail and explain the differences.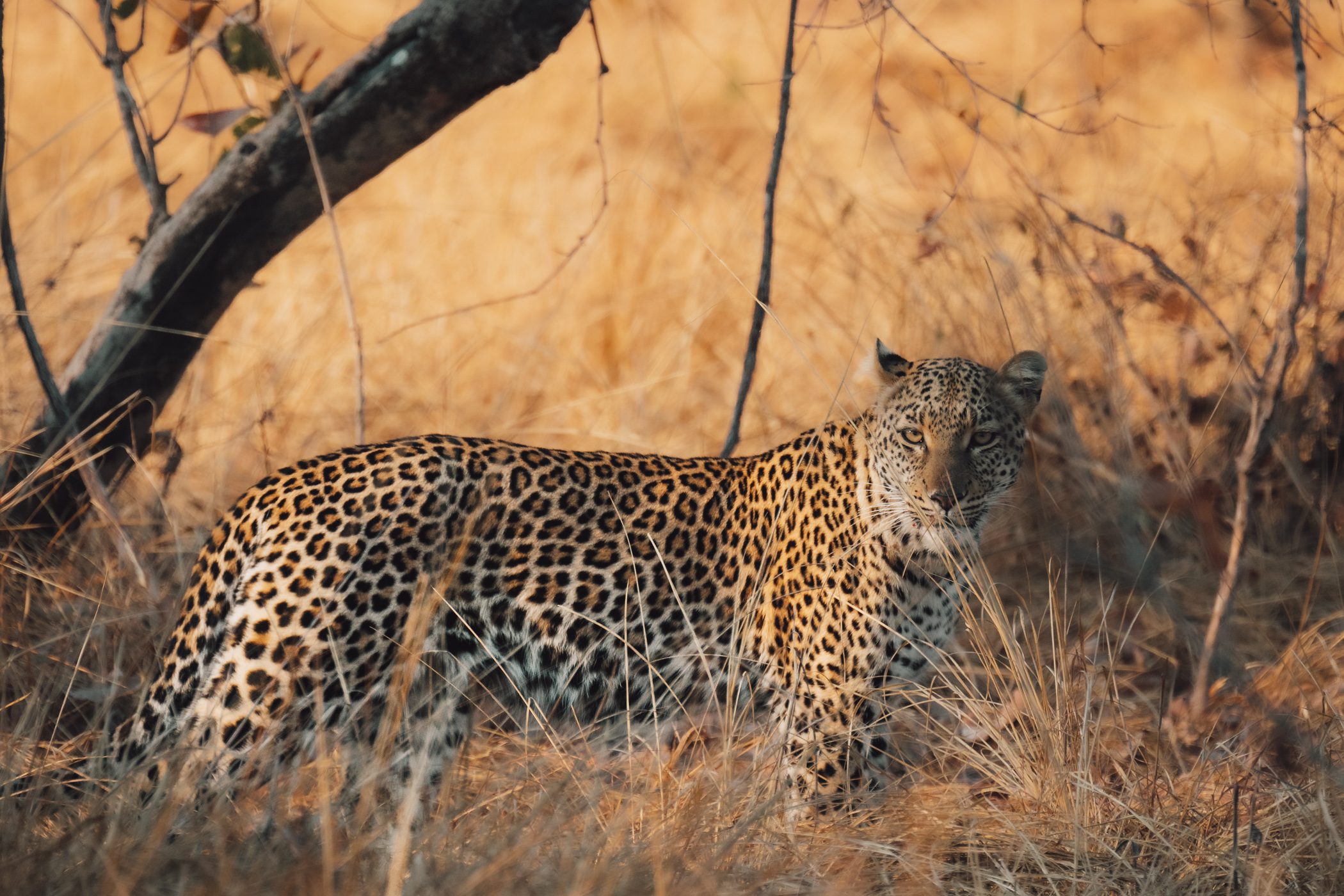 Where to go: Places to visit in Zambia
Most visitors come to Zambia for one of the seven wonders of the world: The mighty Victoria Falls. There's two access points to the falls, one from the Zimbabwean side and one from the Zambian side in a town called Livingstone after the famous European explorer.
But when it comes to safaris Zambia is still a destination, that is often overlooked – mostly for a lack of advertisement. Because the safari experiences you can have here are one-of-a-kind! Zambia is not only the birthplace of the walking safari, but also famous for it's incredibly authentic bush camps.
If you truly love the BUSH – in it's very real and wild sense – Zambia is the place to go!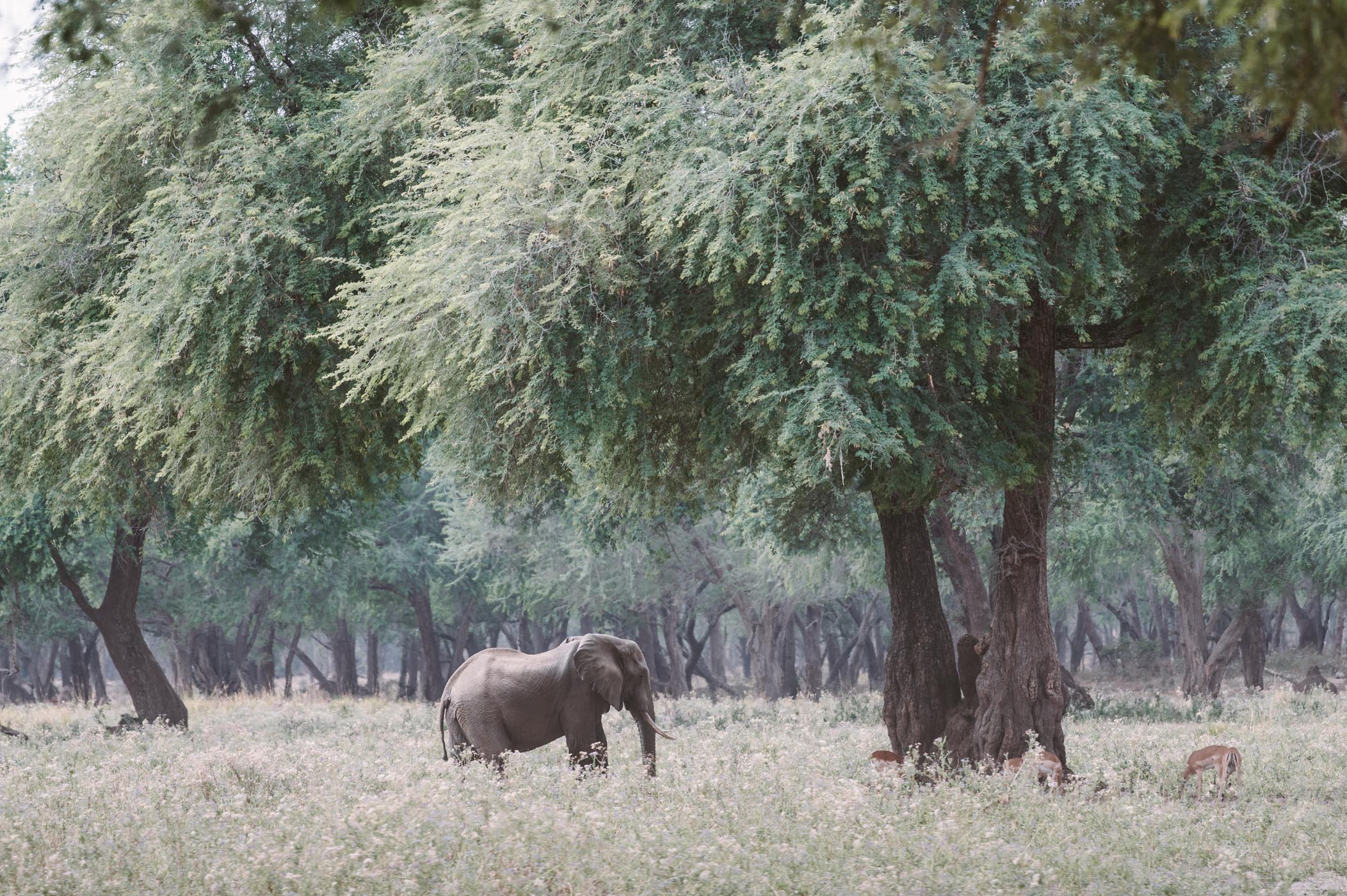 But where to start? From Lusaka to the bush.
Most Zambia trips kick off in Lusaka, the capital city. Some travellers might also start in Livingstone (either flying in from Johannesburg or crossing the border from Botswana or Zimbabwe). From here you then usually take a small bush plane to get to one of the national parks.
During our first Zambia visit we started our trip in Lusaka and then made our way up to the North East to stay at South Luangwa National Park (with it's nickname "Valley of the Leopard"), followed by Lower Zambezi National Park with it's dense Winterthorn forest and river safaris and finished off in Livingstone to see the mighty Victoria Falls. A trip of a lifetime!
When we returned in 2023 we revisited a few favourites like Lusaka, the Lower Zambezi National Park and Livingstone, but we also travelled to the incredibly large Kafue National Park and the stunning Busanga Plains for a completely different ecosystem and the unique wildlife that comes with it.
Let us explain each destination in a bit more detail!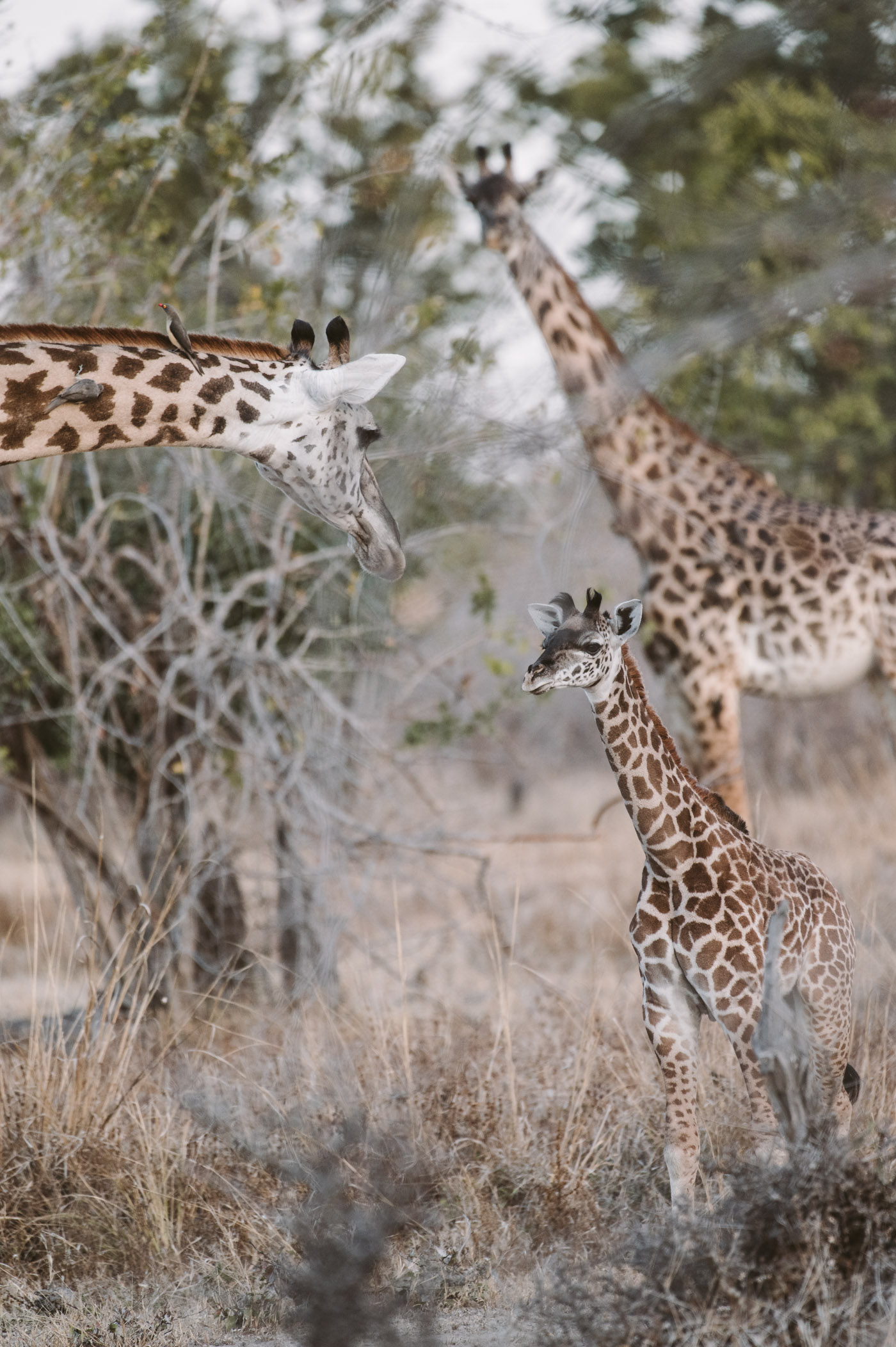 Lusaka – capital city of Zambia
Most roundtrips start in Lusaka, the capital of Zambia. After the long-haul flight Lusaka is the ideal base to start your Zambia trip (as most international flights land here – with a few exceptions that go to Livingstone). 1 or 2 overnights in the capital city are a comfortable way to kick things off. Most guests only stay for 1 night and then head straight to the bush, some even go directly after arriving from oversees – which is also fine if you don't need more time to decompress 😉
Places to stay in Lusaka
Latitude 15 Boutique Hotel
Wild Dogs Lodge
South Luangwa – the valley of the leopards
Renowned as one of the continent's premier wildlife sanctuaries, this park offers an unparalleled safari experience for nature enthusiasts and wildlife lovers. South Luangwa is also called the "Valley of the leopard" and a must do when in Zambia – we had multiple leopard sightings here!
With its diverse landscapes, ranging from lush riverbanks to open savannahs, South Luangwa is a haven for a staggering array of wildlife species, including four of the famous Big Five (elephants, lions, leopards and Cape buffalo). South Luangwa National Park is celebrated for its exceptional biodiversity and the presence of several unique and special species. Some of the notable wildlife species that make South Luangwa stand out include Thornicroft's Giraffe: These are a subspecies of giraffe endemic to the Luangwa Valley.
Why to visit South Luangwa National Park
Leopard encounters guaranteed
Walking safaris
Authentic bush camps at the Luangwa river
Endemic species: Thornicroft giraffes 
Places to stay in South Luangwa National Park
Shenton Safaris Camps
Shenton Safaris Star beds
Lower Zambezi – river safaris deluxe
Lower Zambezi National Park, situated along the Zambezi river and the border with Zimbabwe, is a haven for wildlife enthusiasts and a true paradise for cat enthusiasts. This pristine park is home to a remarkable array of apex predators that contribute to the park's thriving ecosystem.
Leopards: Elusive and enigmatic, leopards are often spotted in the dense riverine vegetation and wooded areas of the park.
African Wild Dogs: Also known as painted dogs, African wild dogs are a critically endangered species and currently Lower Zambezi is said to be home to Africa's largest pack with over 35 individuals.
Lions: Roaming majestically through the open woodlands and along the Zambezi River, lions are the undisputed kings of the Lower Zambezi.
Here you can experience the true wilderness, stay in an off-the-beaten-path bush camp (even on an uninhabited island) and experience walking & river safaris as well as game drives and canoe safaris.
Why to visit Lower Zambezi National Park
Canoe and river safaris on the Zambezi and it's channels
Authentic seasonal fly camps
Diverse landscapes from open plains to iconic Winterthorn forest
Predator abundance (lions, leopards & wild dogs)
Places to stay in Lower Zambezi National Park
Chula Island Camp, Classic Zambia
Kutali Camp, Classic Zambia
Read more about our tips for a safari in the Lower Zambezi National Park.
Livingstone – Victoria Falls
Victoria Falls, known locally as "Mosi-oa-Tunya" (the Smoke that Thunders), is a breathtaking natural wonder that can be visited from Livingstone on the Zambian side of the falls. The Zambezi River plunges over 100 meters into a misty abyss, creating a spectacle of awe-inspiring beauty.
Here you can not only witness this outstanding sight, but truly immerse yourself in the waterfalls (yes you'll get wet!) while exploring lush rainforests and enjoying thrilling activities like bungee jumping and rafting. In Livingstone you can also visit some of the last rhinos in Zambia.
Why to visit Livingstone
Visit the Victoria Falls
River cruises on the Zambezi
Luxury lodges at the riverbank
Action & adventure paradise (Microlight & helicopter flights, bungee jumping, rafting, etc.)
See rhinos on foot in the small Mosi O Tunya National Park
Places to stay in (and around) Livingstone:
Tongabezi
Chundukwa
Tintswalo at Siankaba
Kafue National Park – Zambia's largest National Park
Founded in 1952 Kafue isn't only the largest National Park in Zambia, but also one with a deep and longstanding tradition and history. We finally got to visit the vast park in 2023 and got to experience what the hype is all about! Leopards and lions were a daily occurrence here.
Spanning over 22,000 square kilometers, it offers diverse landscapes, from the Kafue River's meandering channels to vast plains and miombo woodlands. Visitors can spot diverse wildlife, including lions, leopards, and incredible birdlife while enjoying off-the-beaten-path safari adventures.
We stayed at Musekese camp who have access to a part of the Kafue that is otherwise completely secluded. Their own conservancy is testament to their dedication to environmental and wildlife protection and you can get to know the team of scientists and rangers and learn more about what makes Kafue so special.
Why to visit Kafue National Park
Remote wilderness that is off-the-beaten-path
Witness conservation in action at Musekese
High cat density (leopards and lions)
Complete privacy and seclusion with no other vehicles in Musekese
Places to stay in Kafue National Park
Read more about our tips for a safari in Kafue National Park.
Busanga Plains – the North of Kafue
In the very Northwest of Kafue National Park you can find the famous Busanga Plains – chosen filming territory for BBC and the likes for its unspoilt natural beauty and uncluttered visibility. Busanga Plains, nestled within Zambia's Kafue National Park, is a pristine wilderness known for its breathtaking seasonal floodplains. During the dry season, it transforms into a wildlife haven, attracting herds of wildebeest, lechwe, and big cats. This remote and picturesque landscape offers a unique safari experience in the heart of Africa.
What makes Busanga so special is it's huge density of prey (over 20 types of antelopes roam the plains) as well as predators (some of the most beautiful large maned lions can be found here). Also you can go days without meeting any other cars or visitors in this vast wilderness!
Why to visit Busanga Plains
Vast open plains
Lion sighting guarantee (large black manes on male lions)
Lufupa river (tributary to Kafue river) with aquatic wildlife
20 antelope species (rare species like Roan, Sable and Lechwe included)
Places to stay in Busanga Plains
Read more about our tips for a safari at Busanga Plains.
What else is there to see in Zambia?
Apart from these Zambian parks there's a couple more places to be mentioned, which we haven't visited yet personally. These are high up on our bucket list for future Zambia visits (well and they are also testament to the incredible diversity of Zambia as a safari destination):
Liuwa Plains: Here you can witness the second largest wildebeest migration of the world! It's the perfect place for mobile safaris or you stay at the one iconic lodge in the whole park called "King Lewenika".
Bangweulu: This is where you can find the iconic shoebill in the swamps. Safaris here include boating and wading through the water in full protective gear.
Kasanka: The largest bat migration in the world happens here. From what we hear it's an unforgettable experience to witness the sky turn black in an instant when they all start flying simultaneously.
North Luangwa: Under guardianship of the Frankfurt Zoological Society this park will soon be on top of everyone's travel wishlist. Tourism here is developing with much care and a conservation focus, so this place is on top of our Zambia wish list!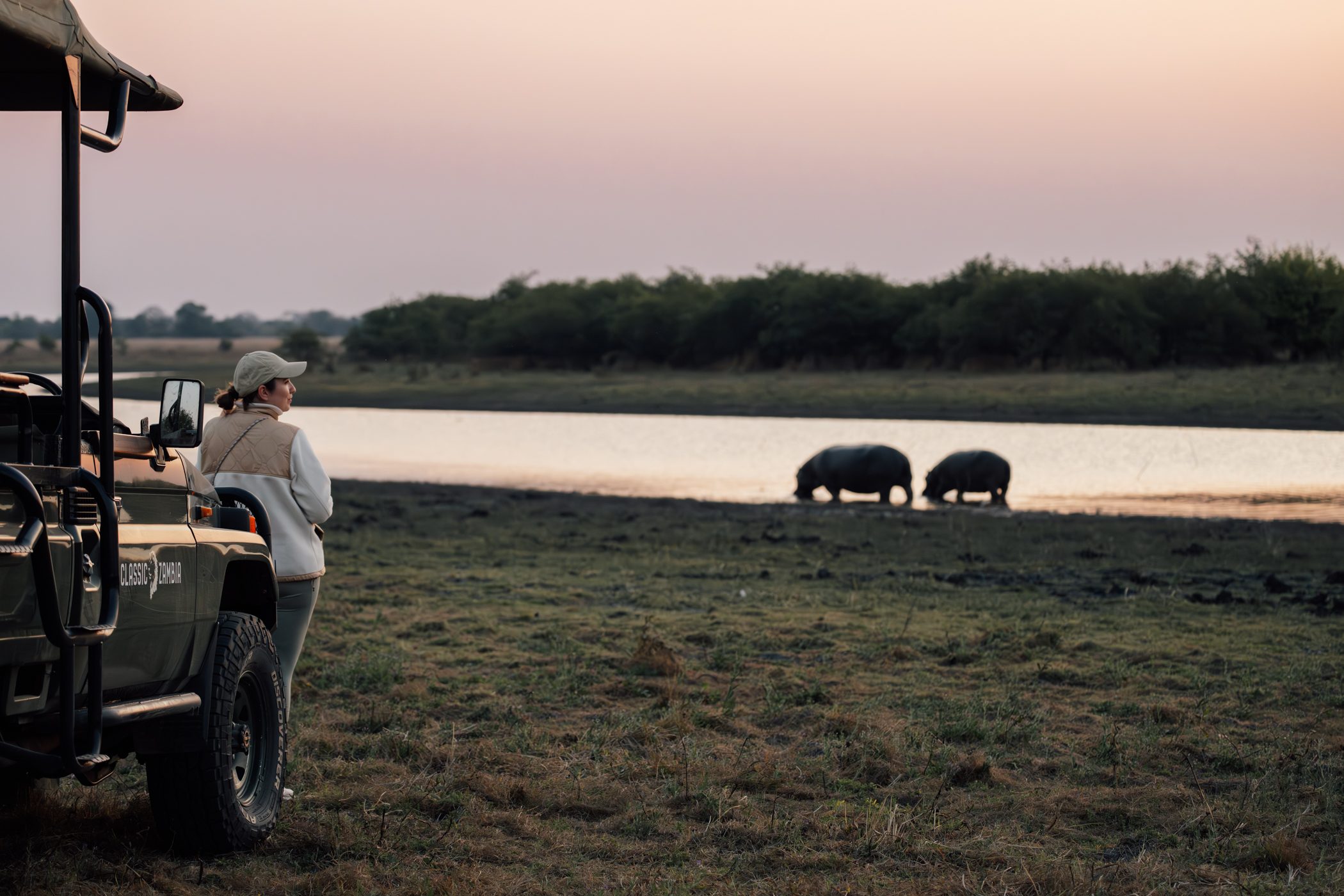 Itinerary: One or two or three week itinerary for Zambia
So now that we have introduced you to all the parts of Zambia that are worth a visit let us propose a few different Zambia safari itineraries depending on how much time you have.
If you have only one week in Zambia:
3 nights Kafue
4 nights Lower Zambezi
If you have 10 days in Zambia:
4 nights Kafue
4 nights Lower Zambezi
2 nights Livingstone
If you have two weeks in Zambia:
4 nights Kafue
4 nights Lower Zambezi
4 nights South Luangwa
2 nights Livingstone
If you have three weeks in Zambia:
4 nights Kafue
3 nights Busanga
4 nights Lower Zambezi
4 nights South Luangwa
4 nights North Luangwa
2 nights Livingstone
These are some options for itineraries that make sense and combine the highlights of Zambia. In our experience you might want to return for a second or third visit anyhow! 😉 And then you can extend your radius and slowly dive deeper into the treasures of the destination.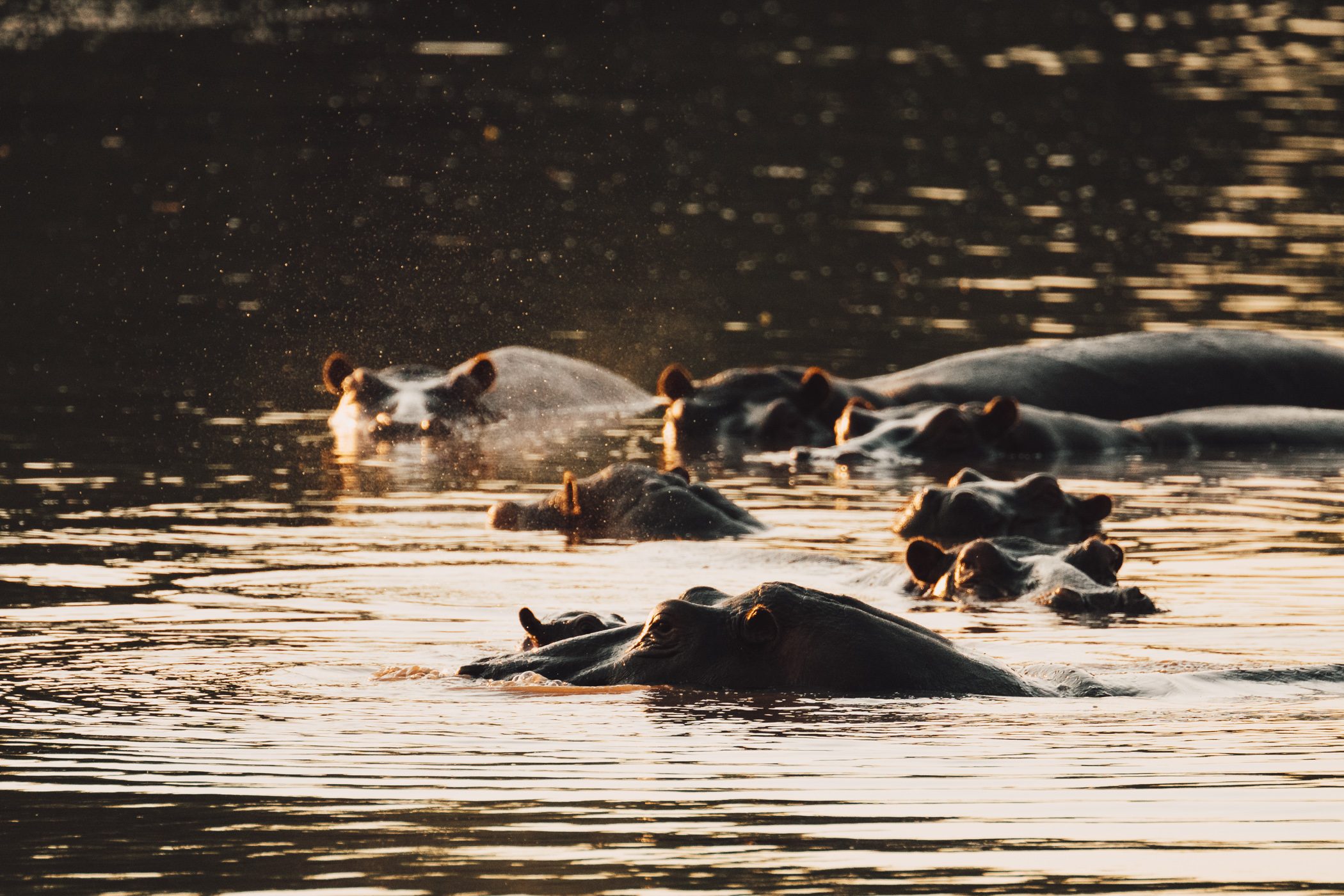 When to go: The best season to visit Zambia
Generally speaking the high season in Zambia runs from July to October. This is the peak of the dry season in Southern Africa – a period when wildlife is more concentrated around water sources, making it easier to spot and observe. July and August are peak winter months with cool temperatures at night and nice and warm days, September and October get hotter and more humid gradually before the rains kick off in November.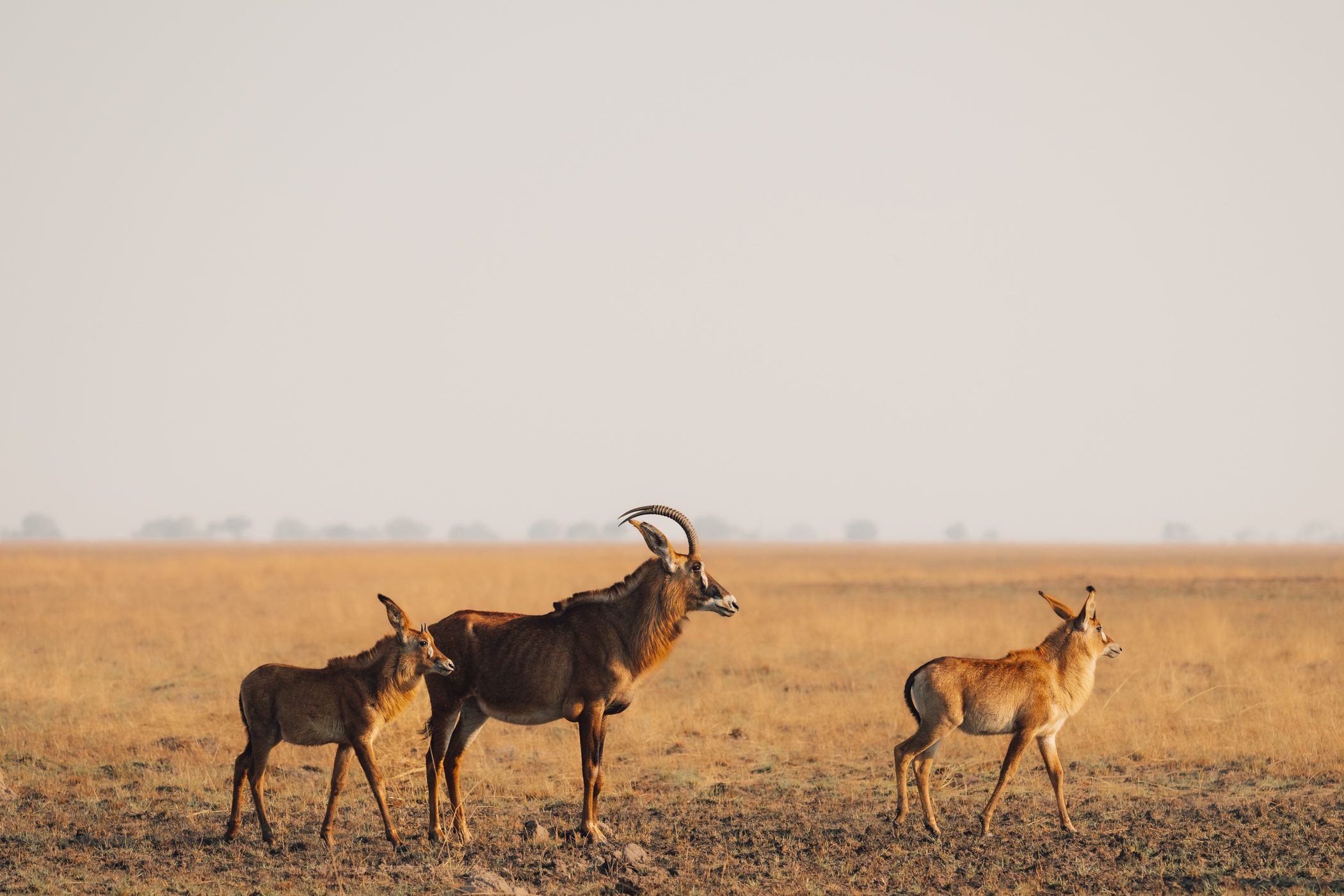 Yet, the best season often depends on personal preferences. The high season is when prices are the highest as well – therefore we believe the "Green Season" or shoulder season in May and June holds its unique charm. This period, at the end of the rainy season, offers several advantages.
Firstly, the rains are slowly subsiding while the landscape is still a lush, vibrant green, making it a paradise for photographers and nature enthusiasts. Wildlife sightings are still abundant and temperatures are comfortable.
Moreover, visiting during the Green Season can be more budget-friendly, as many lodges and safari operators offer discounted rates to attract visitors during this less crowded time. You can often secure excellent deals on accommodation and activities, allowing you to enjoy a luxury safari experience at a fraction of the cost compared to peak season.
Supporting low season tourism also contributes to conservation efforts and local communities. Your visit helps sustain employment and wildlife conservation initiatives during a period when tourism revenues are traditionally lower. Additionally, the smaller crowds allow for a more intimate safari experience, with fewer vehicles competing for prime viewing spots.
While the rains can still occur once in a while, the lush landscapes and cost savings during Zambia's Green Season create a compelling case for safari travelers looking to explore this magnificent African destination with a unique twist.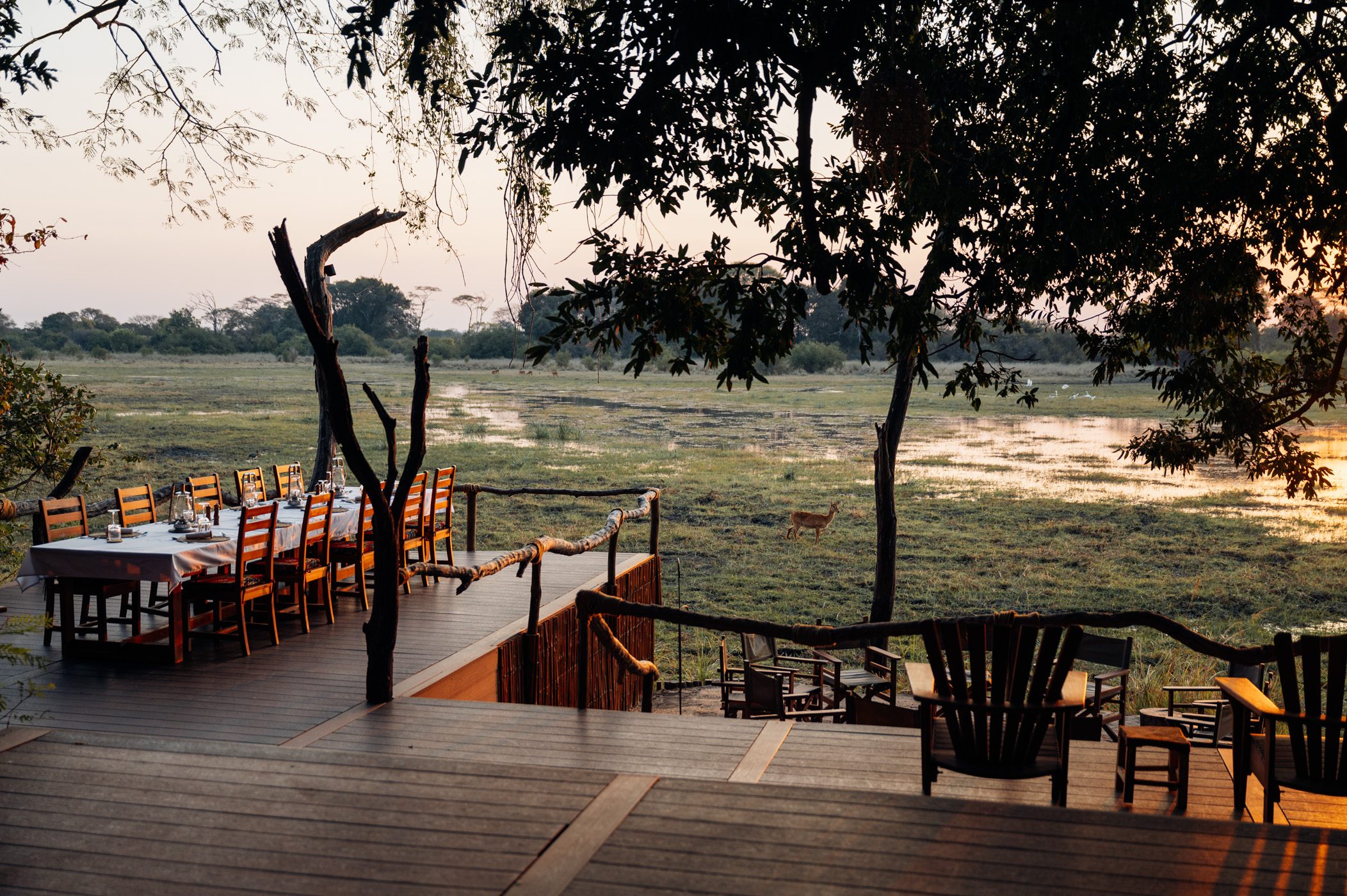 Good to know:
Bush camps in Zambia typically only operate during the dry season, which runs from May to October. During the wet season, from November to April, many bush camps in Zambia often close or have limited operations due to heavy rainfall and difficult travel conditions.
Busanga Plains are flooded and remain inaccessible up until the beginning of July and the season also ends in October.
There's two places that are a bit of an exception to the general rule:
Liuwa Plain, known for the world's second largest wildebeest migration, is best visited when it takes place around October and November
Kasanka's bat migration also happens between October and December.
Therefore these two regions are harder to combine with the rest of the Zambian parks and should be considered for separate visits.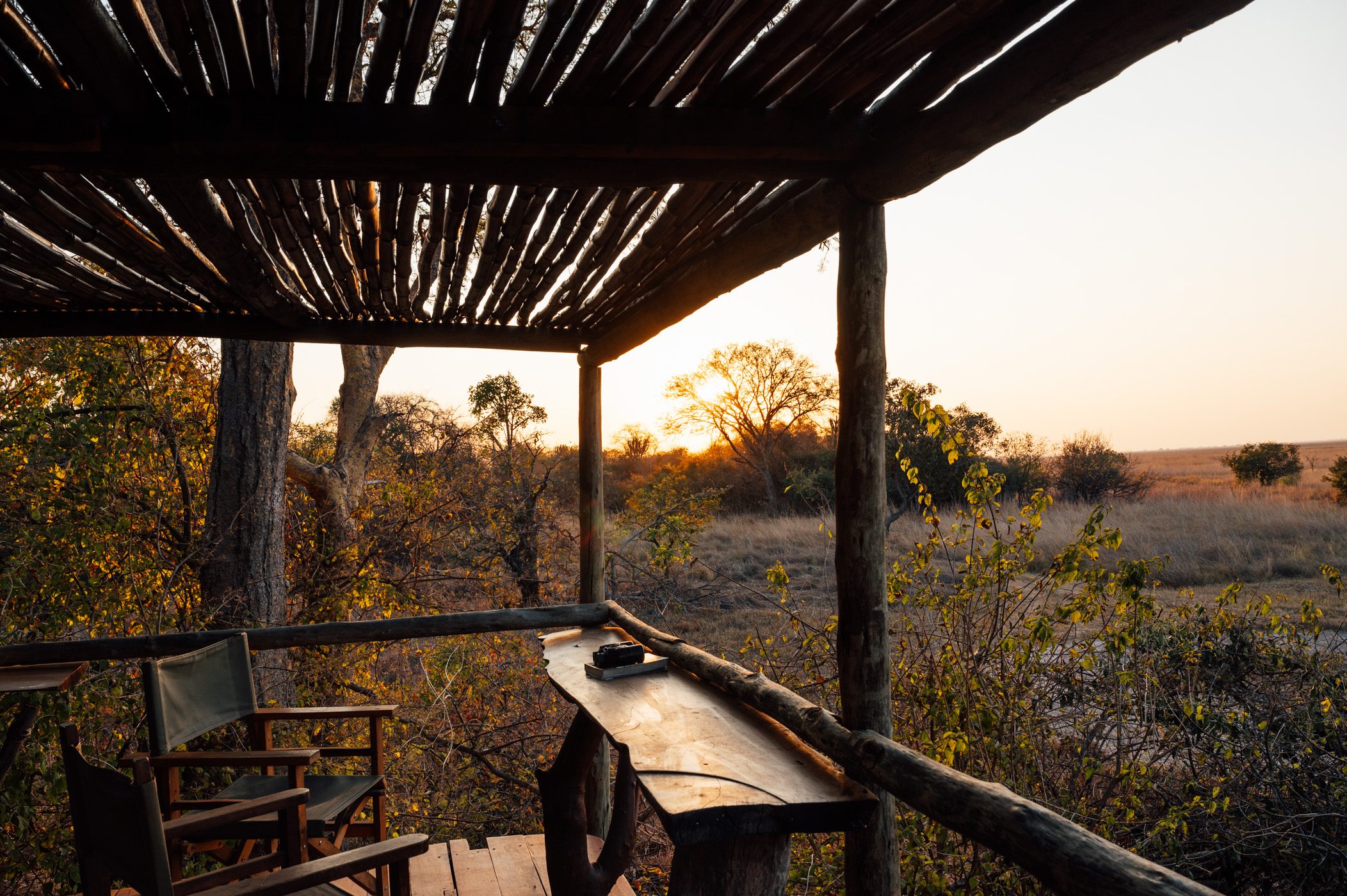 Where to stay: The best lodges & camps in Zambia
Zambia's bush camps offer an authentic and immersive safari experience like no other. Nestled within pristine wilderness, these intimate camps provide a true connection to nature. What makes them special is their remote locations and rustic appeal.
It's not about glitz & glam in most places (some exceptions apply in fancy lodges in Livingstone), but generally Zambian safaris are all about keeping it real and deeply rooted in the early days of safaris.
Another unique feature of some bush camps in Zambia are thatched reed or bamboo chalets, which blend in seamlessly with the surroundings. These rustic yet comfortable accommodations are often handcrafted using locally sourced materials and built new every season.
One thing unites Zambian camps: You'll fall asleep to the symphony of wildlife and wake up to breathtaking views, all while enjoying the warm hospitality of these remote and eco-friendly havens in the heart of Zambia's untamed wilderness.
Read more about our favourite camps in all of Zambia here:
How to book: Safari experts Pinto Africa
We believe booking a safari with a specialist safari travel operator is essential, especially when sustainability and ethical considerations matter. We have been partnering with Austrian safari experts Pinto Africa since our first Zambia trip in 2019 and they have since then been our most reliable and trustworthy source when it comes to safari planning in a socially and ecologically responsible way.
Operators like Pinto Africa possess deep knowledge of local ecosystems and wildlife, but also political park management and community involvement. This way they can ensure that your safari experience aligns with responsible practices.
They prioritize small owner-run accommodations, where much of the money spent also benefits locals, as well as minimizing the environmental impact of a safari. If you book with Pinto Africa you will make sure that the local operators also engage in ethical wildlife viewing, upholding conservation practices and protecting animals from harm.
In the hands of experts, your safari becomes a transformative and responsible journey, fostering a harmonious coexistence between humans and the precious wilderness and the ecosystems they thrive in.
Find out more about Pinto Africa here!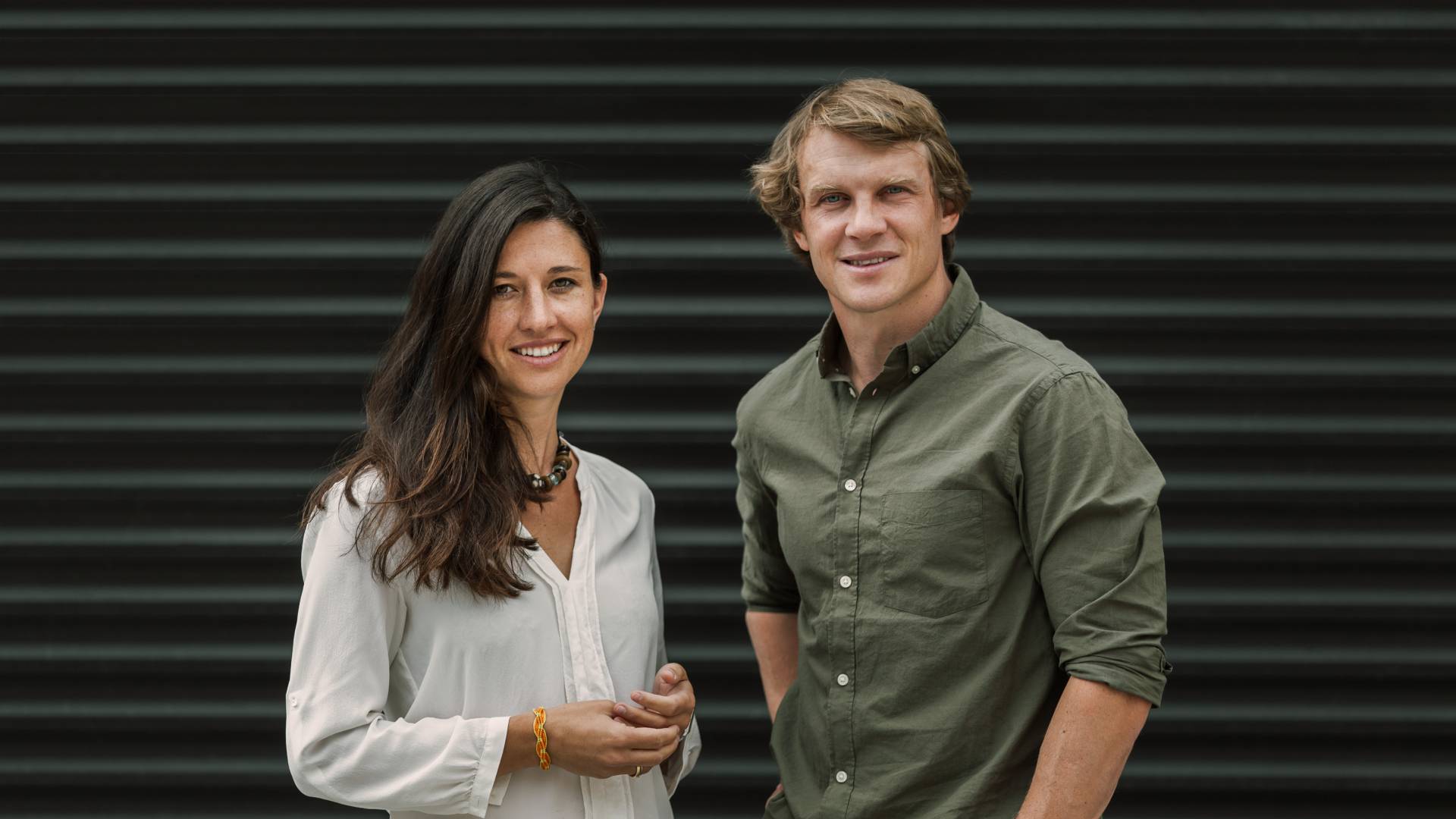 Are you dreaming of a safari in Zambia? Save and pin this post for later!
Disclaimer: This is a sponsored post as part of a long-term collaboration with Pinto Africa. The views in this blogpost are our own.