If you think of Rwanda, what comes to mind? For me it's rolling green hills, foggy mornings and mountain gorillas. Well and coffee, of course! But on my recent trip to Rwanda I learned how diverse this tiny Central African country really is. From savannahs with giraffes and zebras to misty rainforests with chimpanzees, there's more to experience than just gorillas!

From Akagera to Nyungwe National Park
Our 12-day Rwanda journey brought us to two of the most valuable protected landscapes in Rwanda:
Akagera National Park in the East
Nyungwe National Park in the Southwest
Both couldn't be more different. In Akagera you can see all the Big 5 on wide savannahs and plains and go on boat safaris, in Nyungwe you trek through the afromontane rainforest to see chimpanzees and other primates. Welcome to Rwanda, where it's not just about gorillas!
Akagera National Park: A Rwandan success story
There's much to be said about Akagera National Park, from it's dark history with a near-complete depletion of it's wildlife after the genocide, to it's glorious future, with a promising outlook to being fully self-sustaining through tourism in just a few years. Before the COVID-19 pandemic Akagera was already 80% self-financed thanks to the the rising number of visitors, that flocked to the park. Now tourist numbers are starting to increase again and chances are high Akagera will become fully independent from donor funds sooner than later.
And there's good reasons for it! With just four lodges and camps inside the 1,000km2 park seclusion is guaranteed. The offer ranges from the rustic Karenge Bush Camp to mid-level Akagera Game Lodge and Ruzizi Tented Camp and even a high-end luxury lodge called Magashi by Wilderness Safaris. We stayed two nights in Akagera Game Lodge, two nights in Ruzizi Tented Camp and two nights in Karenge Bush Camp and personally would recommend the latter two – we will tell you more about this further below.
The safari experience varies greatly between the North and the South of the park, therefore we would recommend to combine both locations, although the drive from the South to the North can be quite tedious and long, the views alone are worth it. In the North you'll find wide plains and savannahs, where giraffes and zebras gather – while in the South you can have easy access to lake Ihema and the wonderful boat safaris to see hippos and crocodiles up close.
Where to stay in the South of Akagera National Park: Ruzizi Tented Camp
In the South we stayed in Akagera Game Lodge as well as Ruzizi Tented Camp.
Both are just a stone's throw from each other, but the experience couldn't be more different.
Akagera Game Lodge is a rather large lodge with 60 rooms, a huge swimming pool, live music on the deck and buffet-style dinner. The rooms are modern and have AC, but the lower floor rooms unfortunately don't have their own balcony or terrace, hence it doesn't really have the bush feeling, that we are looking for on a safari. Also we prefer the sound of crickets over live entertainment any given day 😉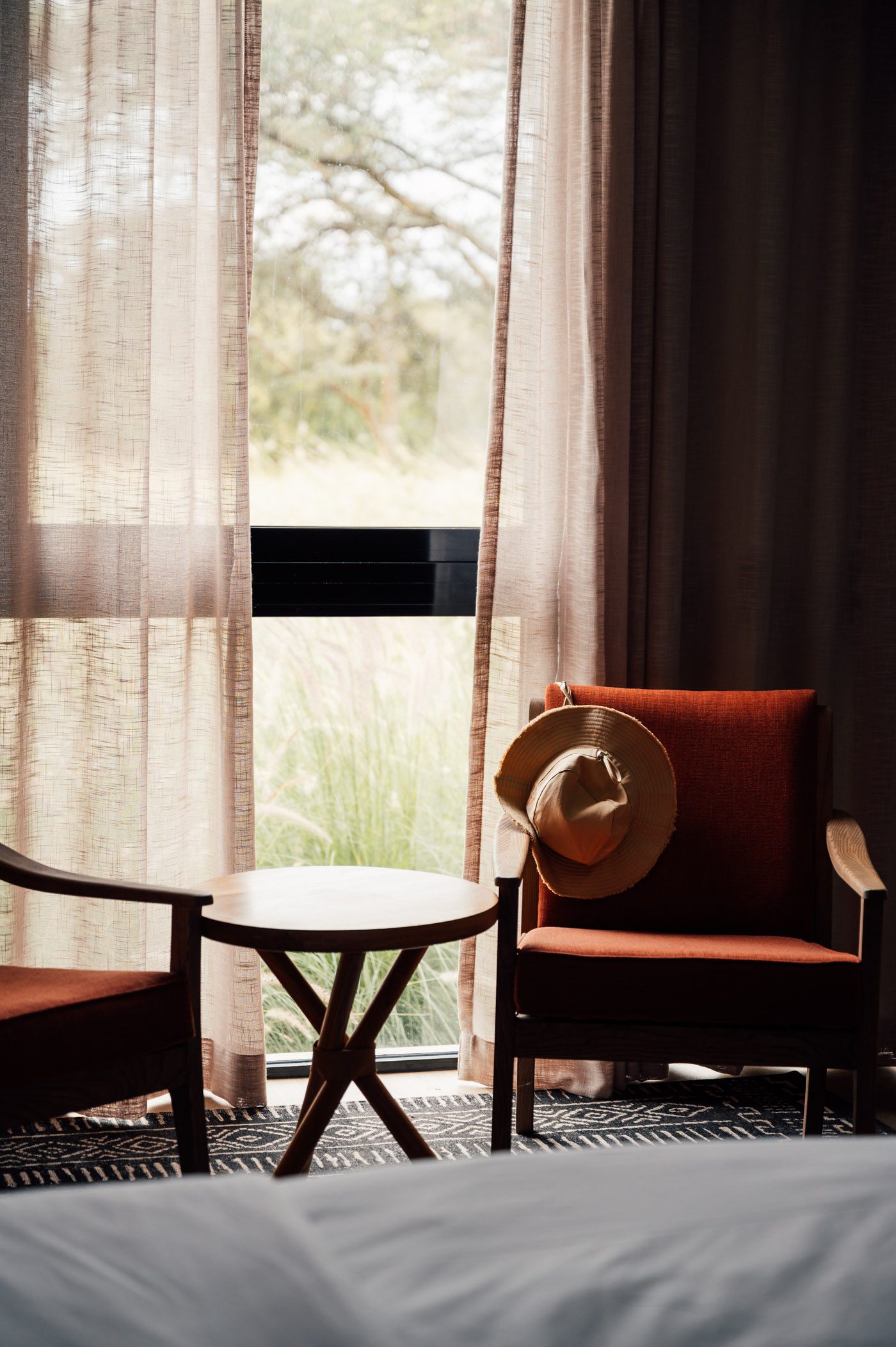 Ruzizi Tented Camp is one of the two camps, that belongs to non-profit African Parks (who manage the park), and is located directly at the shores of Lake Ihema. The 9 tents are connected by elevated wooden boardwalks and offer private en-suite bathrooms, lake-view terraces and a true safari feeling.
At night you can hear the hippos feed and a concert of frogs sings you to your sleep. For those looking for comforts there's massage treatments at the spa bungalow and at night dinner is served on the round deck directly above the water, next to the fireplace.
Where to stay in the North of Akagera National Park: Karenge Bush Camp
In the North we only stayed at Karenge Bush Camp, which is a relatively rustic option with outdoor bucket showers and a full canvas experience. The location couldn't be better though. Overlooking the savannah from an elevation and offering direct access to Kilala plain with it's plentiful wildlife, this is where you want to be.
Unfortunately we didn't have a chance to test Magashi by Wilderness Safaris, but hear it must be stunning. At Magashi you also have access to 6,000 hectares of exclusive-use space, so privacy is guaranteed!
Why to visit Akagera National Park: A rehabilitation story
Most visitors come to Akagera to witness the effective wildlife conservation story. Through significant rehabilitation, that happened in the last 12 years since African Parks assumed management, Akagera is one of the beacons of hope in Rwanda.
Rhinos and lions were reintroduced and at the end of 2021 the single largest white rhino translocation has happened and sees over 30 white rhinos roam the plains of Akagera today. There's elephants, leopards, lions, rhinos and buffalos in Akagera today, making it the only Big 5 park in Rwanda!
From boat safaris to the Big 5 – Akagera is an interesting and diverse safari destination.
Tips for a visit of Akagera
There are a few things that are good to know when you plan a visit:
Covid-19 regulations: When we visited in June 2022 Rwanda still required visitors to provide a negative test result if they want to enter the parks. For Akagera a rapid test is sufficient, which you will do at the airport upon arrival or at one of the testing stations in Kigali.
Akagera has quite a number of Tsetse flies, so don't wear anything black or blue here and bring lots of mosquito spray with high dosage of DEET.
We would also recommend wearing long pants and shirts – especially at dusk or dawn, when the Tsetse are most active.
Bring a hat for the boat safaris!
White rhinos are back in Akagera – thanks to the largest rhino translocation ever undertaken!
Nyungwe National Park: A new addition to African Parks
In the very Southwest of Rwanda you'll find a completely different landscape and ecosystem. On an elevation of 1,900m the climate is much colder than in the lower parts of Rwanda in the East and Nyungwe National Park is one of the last protected afromontane rainforests in the country. While Rwanda is very densely populated human encroachment has become a challenge for most primal forests and you can get a sense of this when you travel through the country by car.
We reached Nyungwe National Park after a 10 hour long drive all the way from Akagera and passed by countless rice terraces and banana plantations on the way. Farming is all-encompassing throughout Rwanda and therefore protecting these last primal forests has become more crucial than ever.
Nyungwe provides 70% of the fresh water supply for Rwanda and serves as valuable ecosystem not just for carbon sequestration and clean air, but also as habitat for many endemic species and the endangered chimpanzees alongside many other primates.
The park is only under African Parks' management since October 2020 and is already seeing huge improvements like reduced poaching and logging. Local communities are directly benefiting from tourism, that is being developed here with much care. The main attraction is the chimp trekking, with two habituated groups, that can be visited during a (rather strenuous) hike through the dense forest.
This experience is one of the once-in-a-lifetime kinds and can't be described in words. We started our chimp trek before sunrise and got lucky to encounter the group as they were waking up in their nests 5 minutes into the hike.
We then followed them for a while and were surprised by the speed with which they cross the forest on their way to breakfast. It wasn't always easy to keep up with them, but there's nothing like looking into the eyes of a chimpanzee and recognising all our similarities in an instant.
Where to stay in Nyungwe National Park
Now comes the unfortunate part 😉 We stayed in a very rustic guesthouse, that we personally wouldn't recommend. Although the team was outstandingly sweet and caring and the location among the tea plantations was great, the rooms felt more like prison cells than guest rooms… In case you want to check it out anyhow – it's called "Ken Barham Guesthouse" and is an option for budget travellers.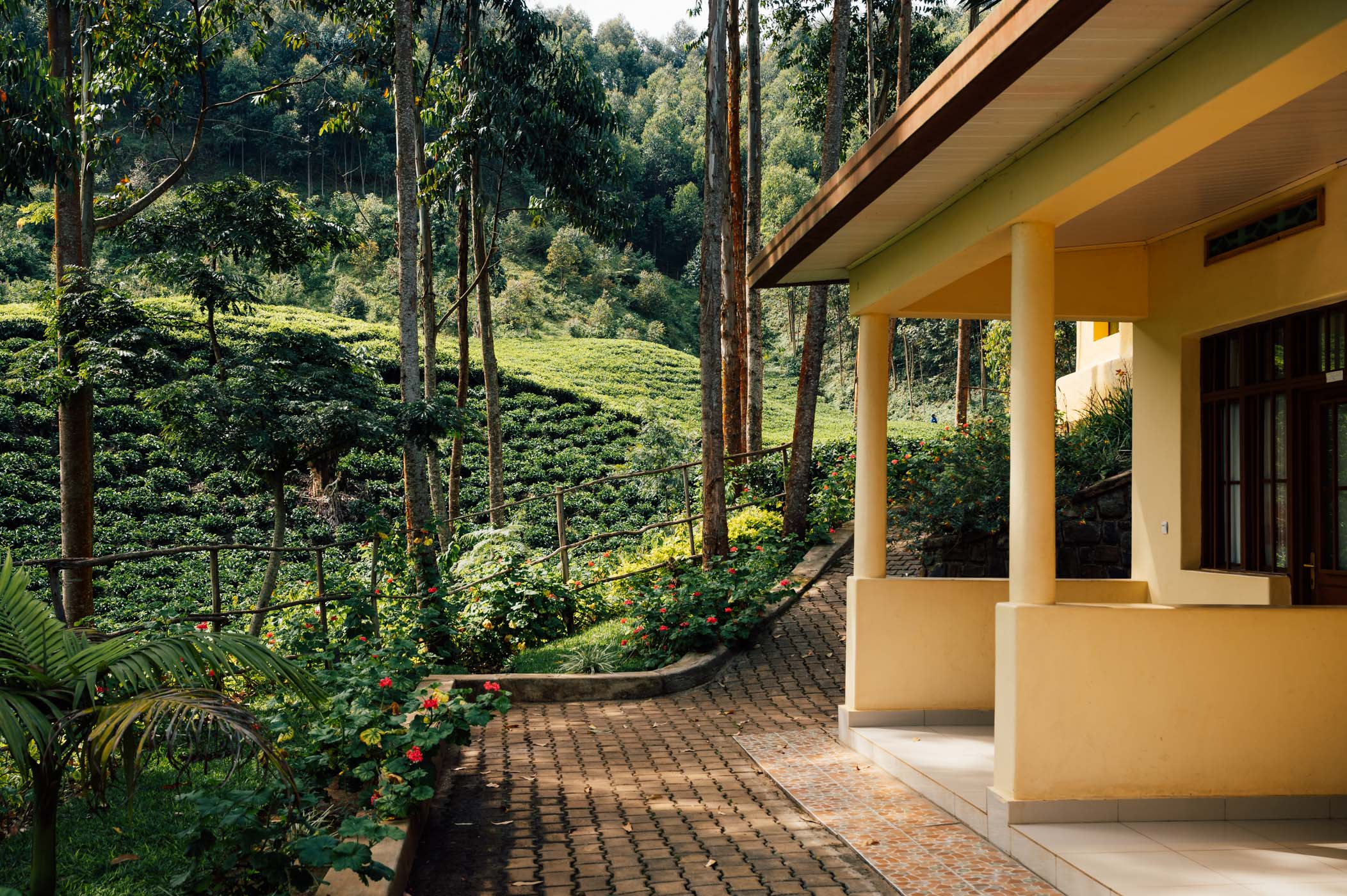 Just a few minutes from our guesthouse you can stay at the super luxurious One&Only Nyungwe House, which would be my recommendation after all. Embedded in the tea plantations it's located just at the edge of the National Park and offers direct access to the countless hikes, waterfalls and primates in the area.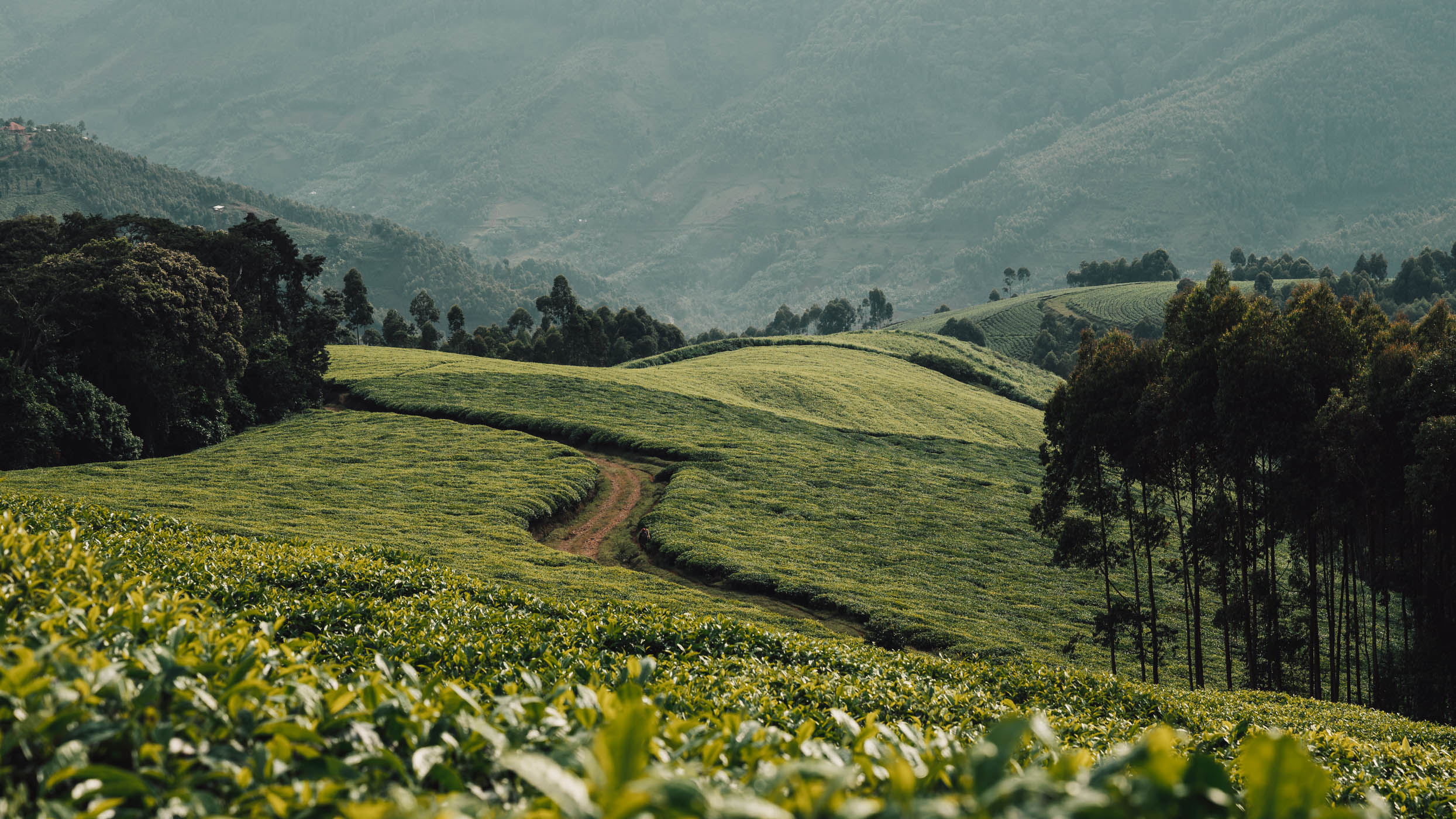 African Parks is currently developing a new eco lodge set to be finished by 2023 and there's also campsites available at their Kisagura and Uwinka Visitor Centers for those of you that don't shy away from a true camping experience in the rainforest (and yes, it rains a lot here, even in the dry season – but the campsites are built on stilts and have rooftops).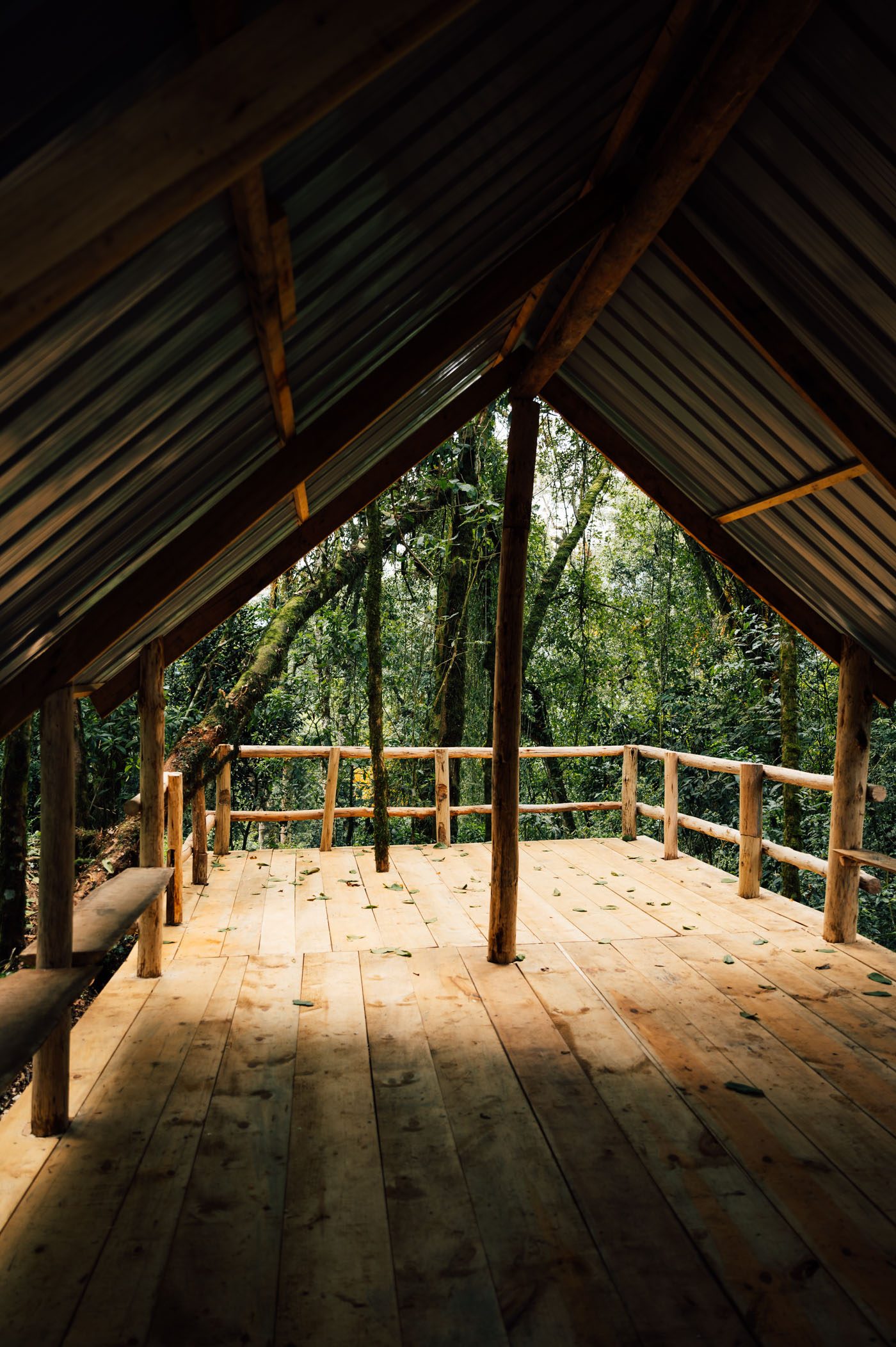 Why to visit Nyungwe National Park: A story of hope
The main reason to visit Nyungwe National Park is of course the chimpanzee trekking. But there's more to do here. We also hiked the Kaviranzovu trail with it's incomparable jungle feeling and the access to one of the countless waterfalls in the park. And of course you have to do the canopy walkway, that will allow for an adventurous balancing act in the treetops!
Yet we believe a huge driver for the tourism development will also be the community impact. Over 600,000 people live in the communities around Nyungwe National Park – many of them are already benefiting from tourism, but there's room for growth. With African Parks managing the park you know that your tourism revenue will really directly benefit the people, and this is a very good reason to visit Nyungwe.
Tips for a visit of Nyungwe
Covid-19 regulations: In June 2022 Rwanda requires a negative PCR test to be able to do the chimp trekking. This can be done in one of the many testing stations and costs 50 USD. If you bought a local SIM card you will get your test result as SMS directly to your phone.
For Nyungwe you need lightweight hiking boots, high socks and long pants, that you will stick into your socks to avoid being bitten by safari ants while hiking. I even brought gators, which was not a 100% necessity, but I appreciated them when we hiked through the very dense forest during the chimp trekking activity.
We would also recommend to wear fast drying outdoor wear, as it's quite humid here and you will sweat a lot 🙂 Also definitely bring a raincoat – even in the dry season.
Best Season: The best season to visit Nyungwe is between June and September and also from mid-December to mid-February in the dry periods. Even then you can have daily showers, but it won't be as extensive as in the rainy season.
Hiring Porters: In Nyungwe I would definitely recommend to hire porters to carry your backpack (and camera equipment!) during the hikes. However light you pack, the hikes can be quite demanding (think a lot of uphill hiking – we did over 17,000 steps and more than 250 floors climbed during the chimp trek). For 10 USD you can hire local community members, who have been hired as porters – and this way also directly benefit from tourism.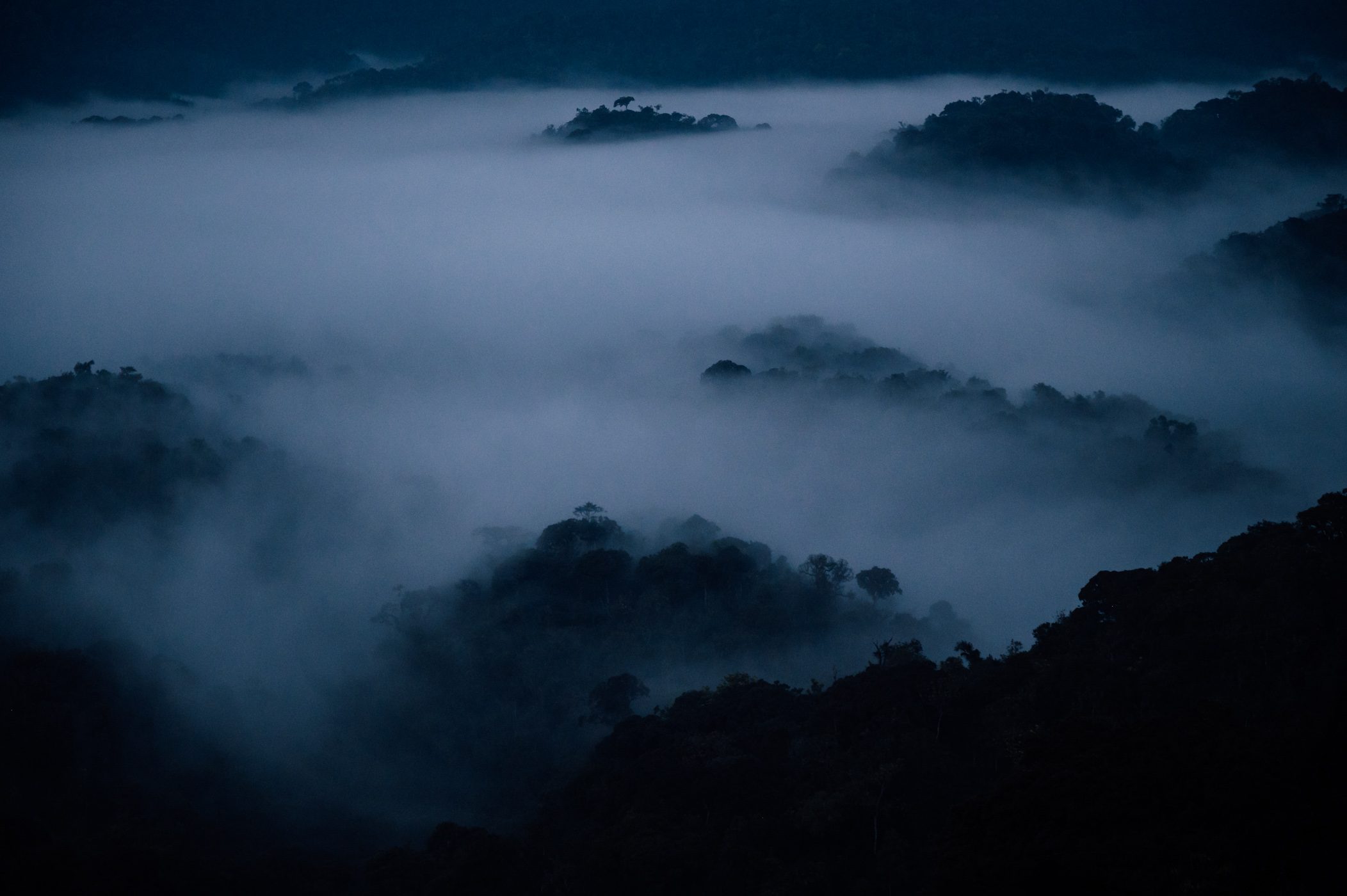 Good to know: General Tips for a Rwanda visit
If you're now interested in visiting Rwanda, there's a few things to consider. In these two weeks we've learned a lot about how to best prepare for a Rwanda trip so here are our main tips:
Visa regulations: For EU citizens you can purchase a visa on arrival in Rwanda, which worked super easy and efficient directly at the arrival hall. You can pay with cash or card. Check the rules for your country before the trip!
Covid-19 regulations: In June 2022 Rwanda required visitors to do a rapid test upon arrival at the airport. It now only costs 5 USD to do the test, and is organised quite well.
SIM cards: We bought MTN SIM cards directly at the airport in Kigali – for around 11 USD you can get 16GB worth of data, which should be sufficient for 10-14 days. The network is excellent and you'll have 4G in most of Akagera and Nyungwe.
Transportation: We hired a driver for our time in Rwanda and would definitely recommend you do the same. The roads are sometimes in quite bad condition and the speed limit is rigorously controlled with more speed traps than we have ever seen in our lives. Many roads have speed limits of 40, 50 or 60km/h, which can feel incredibly slow and will cost you some nerves, especially if you drive yourself. The good part about it is that it is quite safe to drive (as opposed to other countries in this part of Africa – looking at you Kenya…).
Travel times: Due to the very slow driving speed road transfers can take much longer than anticipated (or calculated on Google Maps for that matter). Plan for enough time if you go on the land route – especially between Akagera and Nyungwe. We would even recommend to plan a night in Kigali in between, so you won't have to drive the full 8-10 hours in one go.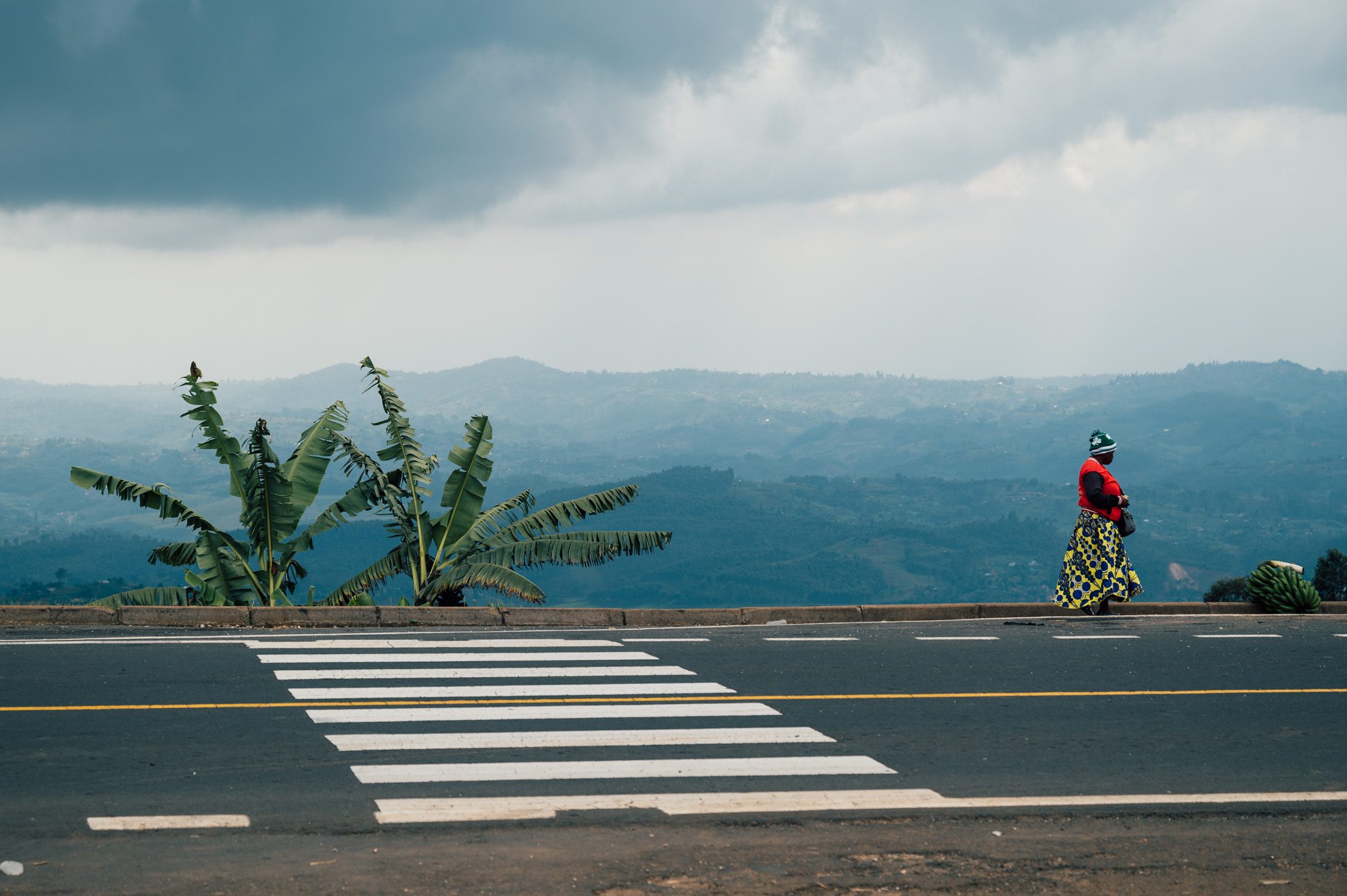 A country worth a visit for many reasons
These were all our tips for a Rwanda visit – we hope you feel inspired to travel to Rwanda one day. The lush & green landscapes, the incredibly gentle & friendly people, the wildlife, the lodges – there's many good reasons for a trip, even if you can't afford to go on a gorilla trek (which we still have on our bucket list for one day hopefully) 😉
Let us know if you have any more questions and feel free to save and pin this post for later: