A safari is a journey into the heart of the wild, an opportunity to witness the majesty of African wildlife in their natural habitat and the most astonishing and diverse landscapes. However, planning a safari can be a complex task, as there are numerous factors to consider.
Whether you're a honeymooning couple, a family with kids, a luxury enthusiast, an adventurous soul, a photography enthusiast, a solo traveler or someone passionate about conservation, there's a safari experience tailored just for you.
In this comprehensive guide, we will delve into the essential aspects of planning a safari, from choosing the right type of safari (yes, there's different types) to considering seasonality, budget, location, flora and fauna, activities, and safety.
Different types of safaris
First and foremost it's important to know that there's a vast difference between certain types of safaris.
Self-guided safari
A low-budget safari usually consists of a road trip through a country where you go on self drives in National Parks. This was also our first safari experience in Namibia and is the easiest way to get a first taste for a safari without overstretching your budget. Just know that you will have to cut back on some experiences (guide's vast knowledge and tracking skills, off-road driving to get you close to special sightings, sundowners or breakfasts in the bush, etc.).
The "real" safari: Individual safaris
Most likely the idea you have of a safari and that you know from movies with sundowners next to herds of wildlife, beautiful tented camps or luxurious lodges in the parks overlooking elephants drinking from the deck while having a dinner next to an open fireplace – this is usually one that is a bit more upscale and booked individually. This makes sure the safari is tailored to your needs and brings you really close to wildlife and the most beautiful parts of Africa's countless wild corners. As soon as you sleep inside the National Parks (or game reserves) in lodges or camps this entails a bit of a higher budget. On top these safaris are usually all-inclusive – with all the food & drinks, daily game drives or other activities included in the nightly fee (exceptions apply).
Luxury fly-in safaris
The most high-end safari is usually one that is called a "fly-in" safari, where you take a bush plane to get to the most remote corners of the wild. These places charge a premium for the incredibly complex logistics that are involved with setting up tourism offers far away from civilisation (think that everything you eat or drink has to be delivered to these corners). The benefit of these types of safaris is the extra privacy and seclusion (there won't be 40 cars around a leopard sighting) and the expert guides in these camps are some of the best you can meet in Africa, who truly make a safari filled with magic and wisdom.
Special interest safaris: Photographic, science, conservation based safaris
But then there's also special interest safaris like photographic safaris, science or conservation based safaris with special activities.
Photographic safaris are you're usually accompanied by a photographic guide and the vehicles should be tailored to photographer's needs (open sides or doors for low angles and more). There's also special interest safaris for "citizen scientists" where you join research activities like wildlife studies or conservation activities like collaring.
Family safaris, women-only trips & group trips
Lastly you can also join trips that are tailored to specific target groups. There's family friendly safaris with special activities on offer for families with children, with camps that are family friendly (think fenced camps without wildlife running around or family tents where everyone can sleep together, etc.). You can also go on women-only safaris or other group trips, that bring you close to like-minded people and can be quite budget-friendly.
So the choices are vast and it makes sense for you to choose well and tailored to your needs. This brings us to the next question you should ask yourself – what type of traveller are you?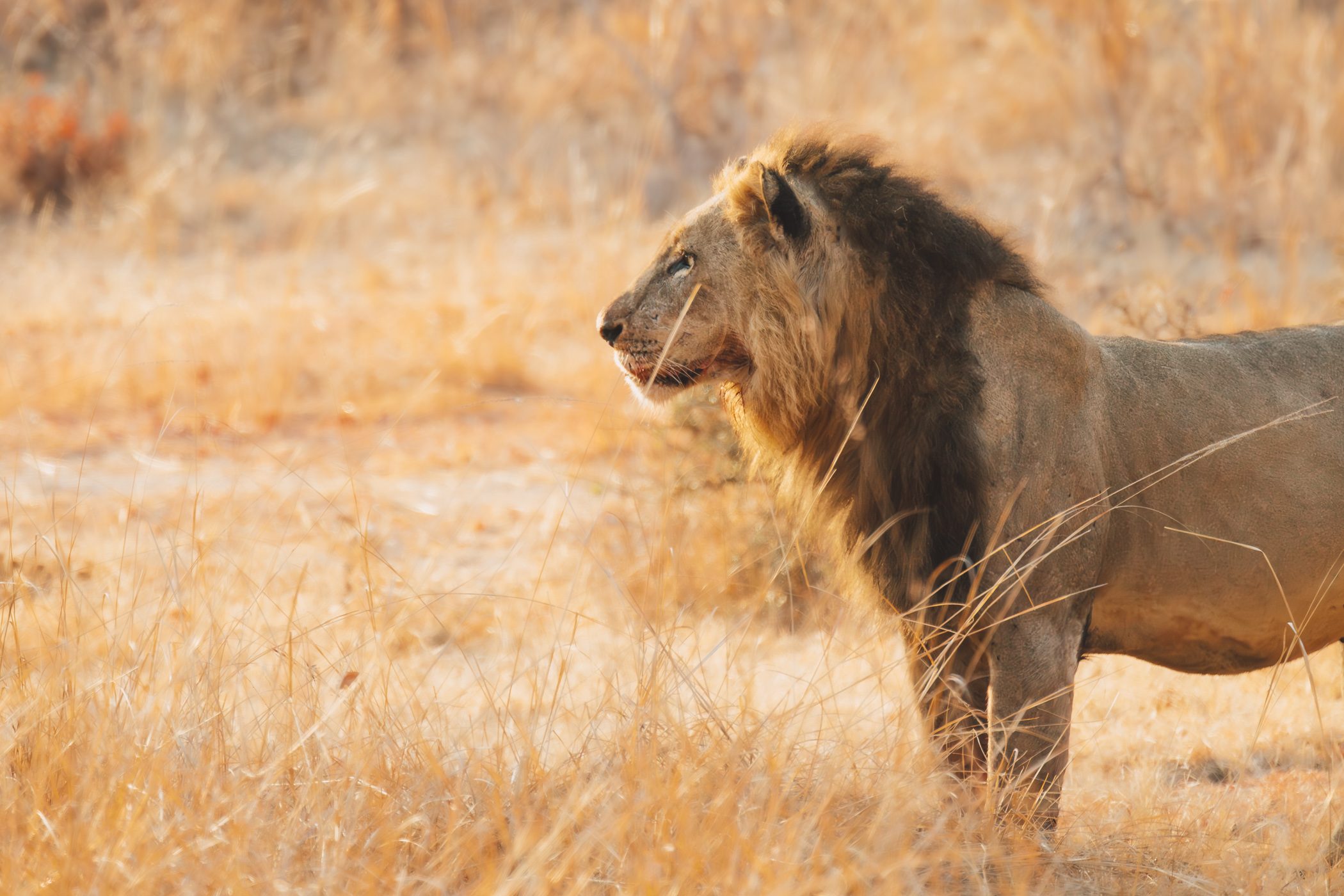 What Type of Traveler are you?
1. Honeymoon or Couple Getaway: For an intimate experience, choose small camps, book a private vehicle and driver, and consider indulging in romantic dinners in the bush under the stars.
2. Family: Opt for kid-friendly options that offer educational experiences, like learning to become a Maasai warrior in the Maasai Mara. Look for camps with family tents and book through specialized safari operators with family know-how.
3. Solo Travelers: Look for camps that don't charge single supplements or camps with communal tables to meet like-minded travelers. Alternatively, consider joining group trips, some tailored do specific interests like city scientist expeditions, archeological trips, women-only trips and many more.
4. Luxury Aficionados: If you seek opulence, high-end lodges are available across the continent, from Botswana's private concessions to Zambia's off-the-beaten path bush camps (find our Zambia favourites here). The ultimate safari experience in the luxury segment is probably chimp trekking or gorilla trekking in Rwanda where you can stay in top-notch lodges.
5. Adventurous Travelers: If you crave adventure, consider bush camps where you sleep under canvas, star beds where you sleep under the open sky or walking safaris where you get up close and personal with wildlife. Zambia is our favourite country for adventurous travels, where you are really in touch with nature! Another option would be to go on self drives, but that's not possible in all national parks and all destinations. The easiest country to choose for a road trip is Namibia (read more about our Namibia road trip here)!
6. Action Travelers: For an adrenaline rush, try bungee jumping and rafting in the wild waters of Victoria Falls' Zambezi River or embark on a mobile walking safari, where you sleep under the open sky each night and get your steps in. Chimp and gorilla trekking is also quite adventurous as you hike through the jungle! You can also climb Mt. Kilimanjaro in Tanzania or hike across sand dunes in Namibia's vast deserts. There's also horseback riding safaris and camel riding safaris – f.e. in Northern Kenya.
7. Photography Enthusiasts: Specialized photographic safaris with photo vehicles (open doors for low angles & equipped with bean bags or monopods/tripods for stabilising), as well as group tours guided by professional photographers, provide ideal opportunities for capturing stunning wildlife moments. Some camps even offer camera & lens rentals. Photographic safaris often don't stop during the mid day heat, but offer full days in the field to make sure not to miss any sightings.
8. Conservation Enthusiasts: Choose camps with a strong conservation focus, some of which have their own conservancies with scientists and rangers, which you can meet during your stay and learn more about the intricacies of conservation and eco tourism (here's one camp with it's own conservancy where we stayed recently).
9. Budget-conscious travelers: If you're dreaming of a safari, but budget is tight consider one of the following options: Choose countries with easy road transfers (fly-in safaris are expensive!). Kenya's Maasai Mara and the Northern Route in Tanzania are budget-friendly destinations, where you can avoid costly flights and also stay in camps outside of National Parks. Another option are group trips in larger groups, where you stay in roadside motels and cheap hostels and then drive into the parks in busses or larger vehicles. Also check our tips for how to plan an affordable safari here!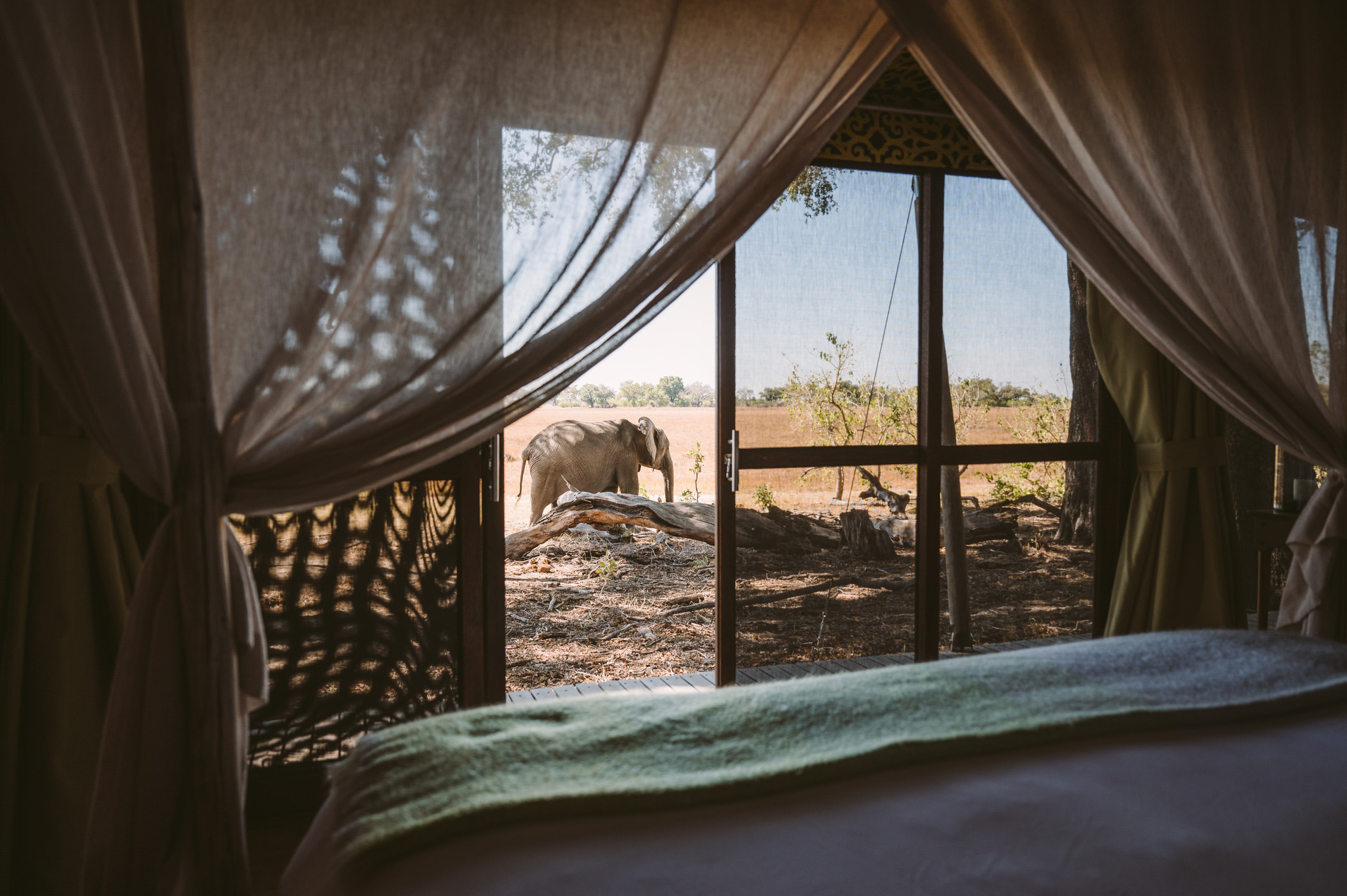 Seasonality: When to go on safari?
The timing of your safari can greatly impact your experience. Africa experiences distinct seasons, each offering a unique atmosphere. Here's a very concise month-by-month overview, but please bear in mind that climate change also affects many regions in Africa making these patterns more unpredictable.
– January: A lush and green season with occasional rains. For those avoiding rain, consider East Africa (Kenya & Tanzania), while Southern Africa offers breathtaking green landscapes and sunsets and a baby season that is in full swing.
– February: Southern Africa experiences its rainy season, but it's still a great time for lush landscapes and a quieter season. East Africa enjoys clear, sunny days and excellent game viewing in what is called the "mini dry season" from January to February – so Kenya and Tanzania are good options.
– March: The last month of East Africa's short dry season, making it a still a great time to visit, especially Northern Kenya where it's relatively warm and dry. Countries like Botswana, Zambia, and Zimbabwe come alive with lush landscapes and vibrant birdlife. While this isn't the best time for big game viewing in these regions, it's ideal for birdwatching and witnessing the green transformation of the landscape.
– April: In Southern Africa, it's shoulder season with the wet season ending, but the landscapes are still green and lush. In some places bush camps are reopening and the prime game-viewing time is starting. East Africa however experiences the "long rains" – so Kenya, Tanzania, Uganda and Rwanda are not ideal destinations.
– May: This marks the start of the dry season in Southern Africa (Botswana, South Africa, Zimbabwe, Zambia, Malawi, Mozambique). Smaller bush camps begin to open, especially in Zambia and Zimbabwe, yet it's still shoulder season with lower prices in many places and therefore a great time to visit.
– June: The dry season is picking up speed with warm days and little to no rain in most of Southern and Eastern Africa – so the high season is starting. Winter is also looming with temperatures dropping in the evening and you'll need a jacket for the cold morning activities. Prices may still be lower before the very peak of the season.
– July: Throughout most of Eastern and Southern Africa this marks the high season, it's dry and winter is here, with warm days and cold nights. With the height of the dry season wildlife congregates around water – so sightings become easier and more plentiful. It's also the ideal season for most beach destinations (except for Cape Town where it's cold).
– August: Now is peak dry season and the height of the safari season with superb wildlife sightings especially around waterholes or along rivers that don't dry out. Exceptional game viewing continues, making it one of the best months for a safari. If you want to combine a safari with the beach the Indian Ocean locations are also quite nice around this time.
– September: Increasingly dry conditions lead to excellent big game viewing across Eastern and Southern Africa. Also temperatures are rising as winter is coming to an end, but it's still not too hot or humid.
– October: A hot month with fabulous game viewing, but the heat can become increasingly unpleasant and humidity is also building in some places. The shoulder season makes for low prices and is ideal for budget-conscious travellers.
– November: November marks somewhat of a challenging month. Rains are starting, but can also be a relief from hot temperatures before. Thunderstorms and sunsets are interesting for photography enthusiasts as they create more dramatic scenes and can enhance the safari photography experience. Lower rates and tourist numbers are a bonus.
– December: The wet summer season is here. Southern Africa gets wetter, but safaris are still possible in some places. Remote bush camps in Zambia and Botswana are closed, yet East Africa's rain is tapering off, so you could opt for a safari and beach combination.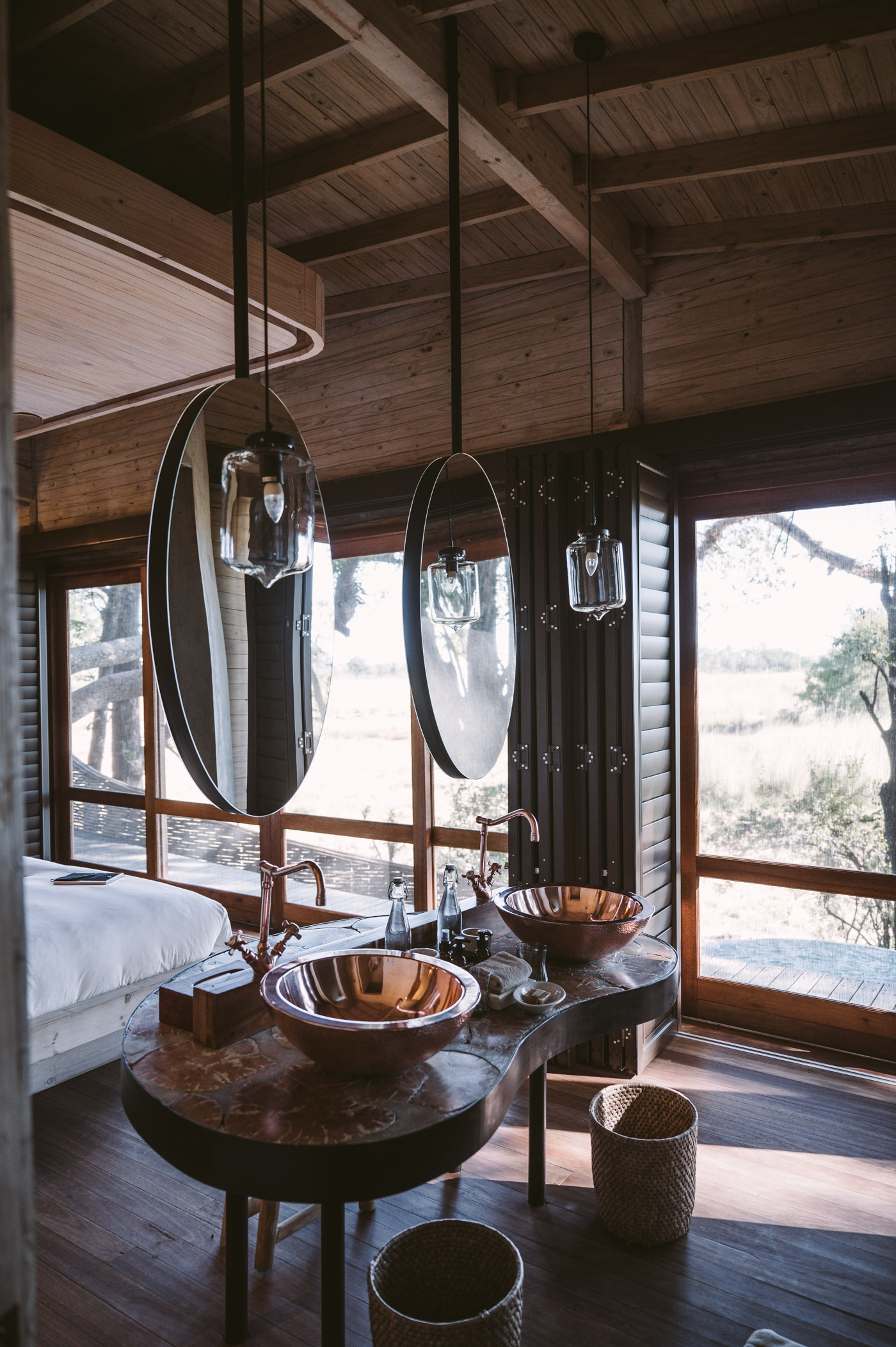 Budget: How much are you willing & able to spend?
Your budget plays a significant role in shaping your safari experience.
– Low Budget: Consider self-drive safaris, staying outside of national parks to avoid daily park fees and choosing affordable, yet simple accommodations (we stayed in some affordable camps in Rwanda f.e.). A low budget safari usually starts at around 2,000-3,000 USD per person for 7-10 days. Some destinations are more affordable (Namibia, Kenya's Maasai Mara, Tanzania's Northern Route) than others (Botswana, Zambia, etc.).
– Medium Budget: If your budget allows for some more expenses definitely opt to stay in camps or lodges inside National Parks (for the best safari experience), but opt for trips in the shoulder season as opposed to the high season. A medium budget would be around 5,000-6,000 USD per person for a 7-10 day safari. You can find more tips in how to plan an affordable safari, that still offers prime safari experiences with expert guided game drives and the possibility to stay in beautiful camps inside of National Parks and Reserves.
– High (or unlimited) Budget: For those seeking ultimate luxury, private lodges & concessions, private vehicles, safari homes with private chefs and butlers, and even booking an entire camp are options. Opt for private hot air balloon rides, helicopter trips, microlight flights and nights out in luxurious private star beds. The sky is literally the limit! The same goes for prices – in luxury lodges you can easily spend 1,500 USD per night per person (and more).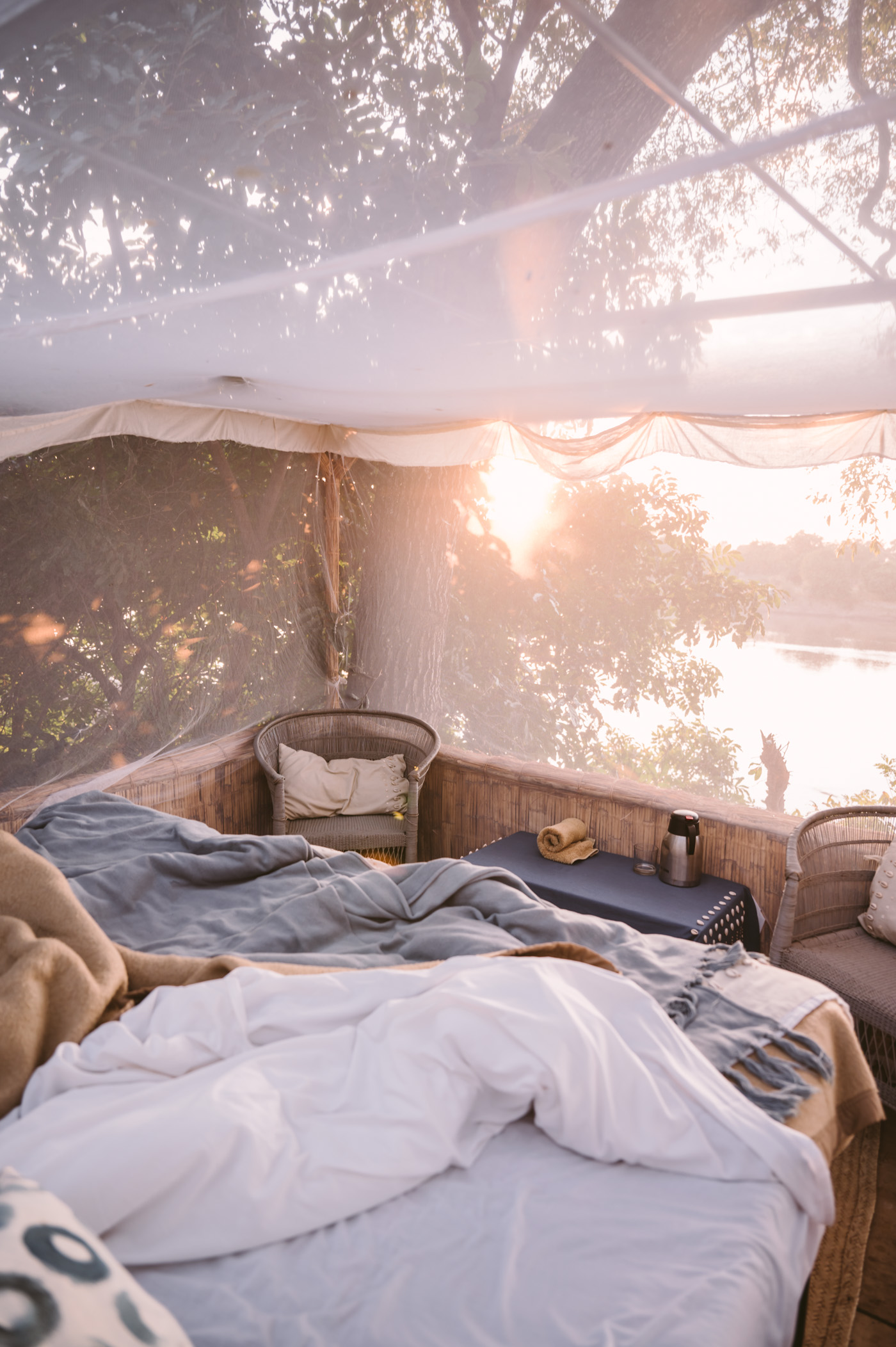 Location: It's not just the country, but also the location!
The location of your safari can dramatically impact the experience. Consider the following factors:
– National Parks vs. Private Concessions vs. Private Game Reserves: The main difference is ownership (National Parks are state owned vs. privately owned concessions and reserves), but there's really no general rules which is better than the other. A factor that will impact your experience are park rules, which greatly vary. So make sure to determine your priorities to be able to come to an informed decision. F.e. if you're a photographer and want to focus on a certain nocturnal species you need to choose a location where night drives and off-road driving are permitted, where you are allowed to use spotlights, where you can book private vehicles and where they offer special photography vehicles (with open doors for low angles, bean bags for stability, etc.). Or if you are on honeymoon and want complete privacy make sure to opt for a park, that doesn't allow self drives or stay in a private concession where only vehicles of your camp are allowed, etc.! There's many things to be considered.
– Ethical & political situation: One more important consideration is the political stability of the destination you're choosing. Consider factors such as periods of voting or campaigning (which might cause unrest in some places) and try to take into account what kind of country you want to support with your tourism dollars. Ethical considerations should also apply (we wrote a whole post about how to plan an ethical safari if you're interested in what this entails).
– Staying Inside vs. Outside of Parks: Staying inside of a National Park (or game reserve) provides proximity to wildlife but usually also comes with daily park fees. Weigh the cost against the benefits. If you stay inside the park you pay daily park fees or conservancy fees, but have the benefit of being where the action is. You can encounter wild animals even inside the unfenced camp, and can spend sunrise and sunset inside the park – there's no rushing to gates or missing sunrise because of a longer transfer. The more budget-friendly option is to stay outside of a park and only drive in for a daily game drive (or even a self drive), but for us personally we really enjoy the safari feeling that you only get when you sleep in the wild.
– Country: Different countries offer each unique ecosystems, species of wildlife and landscapes. Consult our guide about which country to choose for your first safari to learn more. East Africa (Kenya, Tanzania) are what you know from most documentaries and Hollywood movies (Out of Africa and the likes). Southern Africa is incredibly diverse – from the dry arid Namibia to the lush Okavango Delta in Botswana and the vast wilderness of Zambia, there's many different ecosystems here. If you want to see primates (chimps, gorillas) you have to opt for jungles of Rwanda, Uganda or DRC. But there's also upcoming destinations like Chad on the map of many safari enthusiasts!
– Flora & Fauna: Wildlife and landscapes vary by park and country, offering different experiences.
Wildlife: Research the species you want to see, as not all parks are inhabited by the Big 5 (Rhino, Elephant, Lion, Leopard, Buffalo). Some parks or destinations are known for specific species (like lemurs in Madagascar, gorillas in Rwanda, DRC or Uganda, or Grevy's zebras in Kenya, Thornicroft's giraffes in South Luangwa, rhino abundance in Lewa in Kenya, etc.).
Landscapes: Consider the type of terrain you prefer, whether it's savannahs, plains, rolling hills, mountains, woodlands or if you prefer water and river-based safaris. Some places let you combine different terrains (like Lower Zambezi with the Zambezi River, a large open plain, the escarpment and an iconic Winterthorn forest, etc.). It's best to consult with an expert about your wishes!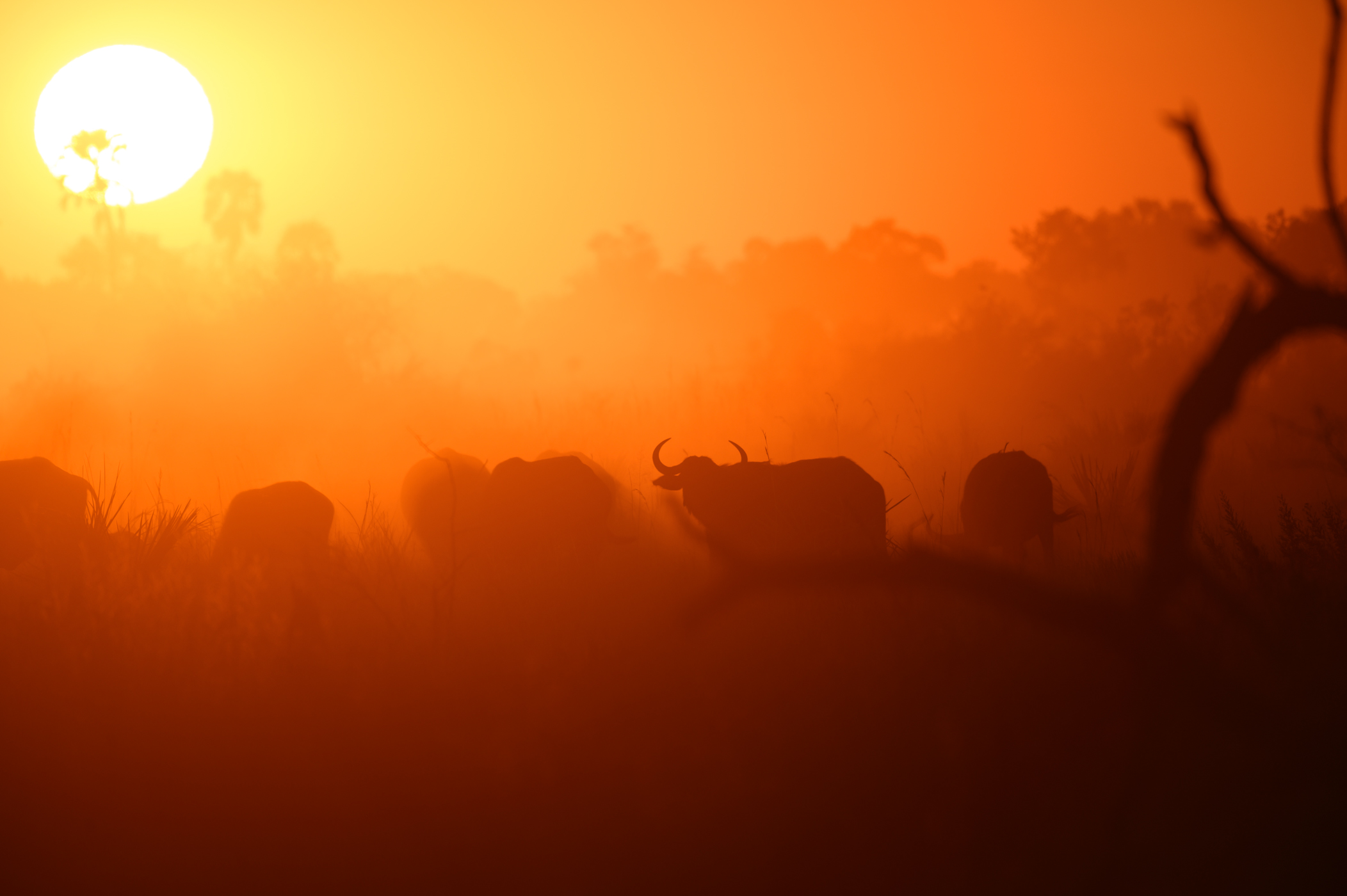 Activities: What do you want to do on your safari?
Customize your safari experience by selecting activities that match your interests:
– Wildlife & Nature: The core of most safaris, with opportunities to observe and photograph wildlife. Most common activities are game drives, walking safaris, canoe safaris, hot air balloon rides, horse back safaris, but there's also camel safaris in Northern Kenya f.e.
– Cultural Encounters: Learning about local cultures, tribes and nomadic heritage or the many languages spoken is not always possible in every destination. Popular examples for cultural trips include Ethiopia round trips or San and Herero cultures in Namibia or Maasai and Samburu people in Kenya. There's companies specialising in cultural Africa trips, but you can also ask your safari experts to choose a destination that allows for this!
– Historic & Archeological Interest: Choose destinations like Lewa Conservancy in Northern Kenya with their hand axe site or destinations like Namibia's Damaraland with cave paintings. There's a huge archeological treasure trove to be found in Africa!
– Kid-Friendly Activities: Ensure your chosen accommodations cater to families. There are kids friendly places with activities tailored towards different age groups – like kid's Maasai warrior trainings in the Maasai Mara in some camps. Game drives are obviously also interesting for kids (it's a giant zoo after all), but make sure to book camps with specially trained safari guides that know how to entertain kids and book your own vehicles, so you don't have to share a car with guests without kids.
– Water-Based Activities: River or canoe safaris are a great way to encounter wildlife on eye level! The most famous are Mokoro rides in the Okavango Delta in Botswana, but you can also opt for canoe and boat safaris on the Lower Zambezi River in Zambia. Or would you like to include waterfall visits like Victoria Falls (either Zambia or Zimbabwe)? If you want the element water as part of your safari you can also visit Akagera National Park and stay in a lodge at one of the many lakes in Rwanda or go to Mana Pools in Zimababwe to watch elephants flock to the water.
– Walking Safaris: Zambia is the birthplace of the walking safari, so that would always be our first option when it comes to walking safaris. Many camps here offer exceptional walking safaris led by expert guides, ideal for encounters with large game on foot. In many places they now started offering walking safaris, but some are more a small walk around the camp. In Zambia you'll really go on immersive hour-long treks, that bring you deep into the bush (always accompanied by armed rangers for safety reasons).
– Star Bed Sleep Outs: This is an absolute must do if you ask us! With sleep outs you can experience the unique thrill of sleeping under the stars, sometimes with only a mosquito net between you and the wildlife or even completely out in the open in places without any dangerous animals like the Makgadikgadi salt pan in Botswana.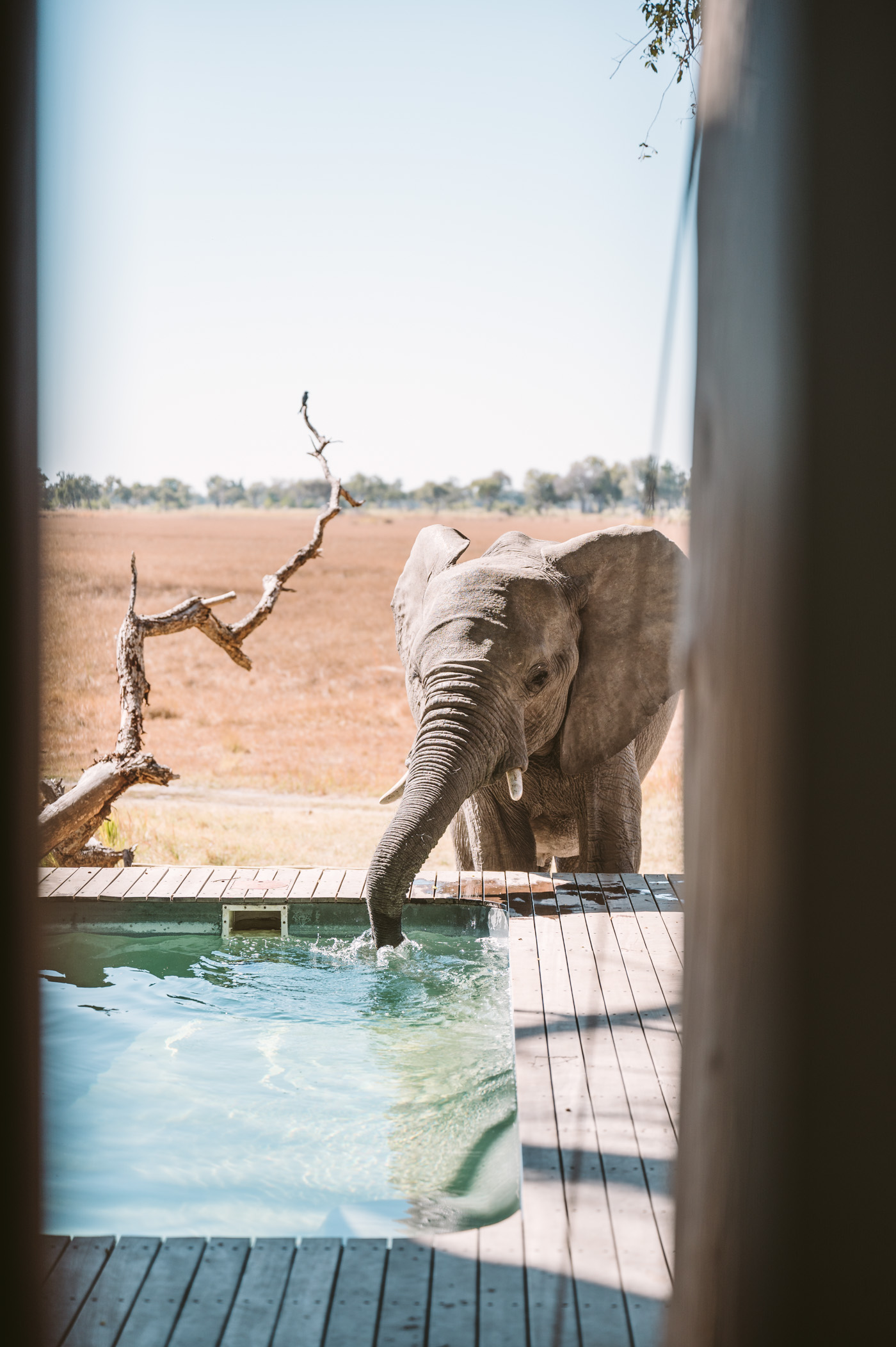 Safety: Is Traveling in Africa Safe?
Safety should be a priority when planning a safari and unfortunately there's more concern than necessary if you talk about travelling to Africa. This comes down to negative media reports and one-sided storytelling. In the end it's a bit more complex to identify risks and safety concerns:
– Cities vs. Remote Bush: Safety concerns can vary between urban centers and remote wilderness areas. Major cities often have typical urban safety challenges, such as petty crime. However, wildlife reserves and National Parks tend to be much safer for tourists.
– Political Stability: Research the political situation in your chosen destination. While most African safari countries are safe for tourists, it's wise to stay updated on current events and any travel advisories issued by your government.
– Mosquitoes and Transmittable Diseases: Malaria is a concern in many African countries. Consult your doctor for appropriate vaccinations and prophylactics. Use mosquito nets and repellents, and take necessary precautions to avoid mosquito bites.
– Drinking Water: In some regions, tap water may not be safe to drink. Stick to bottled water or ensure water is properly treated and purified to prevent waterborne illnesses.
– Women Traveling Alone: Solo female travelers can have a wonderful and safe experience in Africa. Use common-sense safety practices, like avoiding walking alone at night (only valid in cities) and dressing modestly in culturally sensitive areas. Research destinations known for their safety and female-friendly accommodations. There's also more and more bush camps and lodges popping up that are female-led or have female guides and rangers – so this might be an interesting choice for any woman going on a safari alone. There's also women-only group trips on offer!
– LGBTQIA+ Community: LGBTQIA+ travelers should research the legal and social landscape of their chosen destination. While some countries are welcoming, others may have laws that discriminate against LGBTQIA+ individuals. Unfortunately it might be advisable to exercise discretion in conservative areas or seek special LGBTQIA+-friendly accommodations and tour operators.
In general, Africa is a vast and diverse continent with a wide range of safety situations. By being well-informed, respecting local customs and taking necessary precautions, travelers can have a safe and memorable experience on their African safari.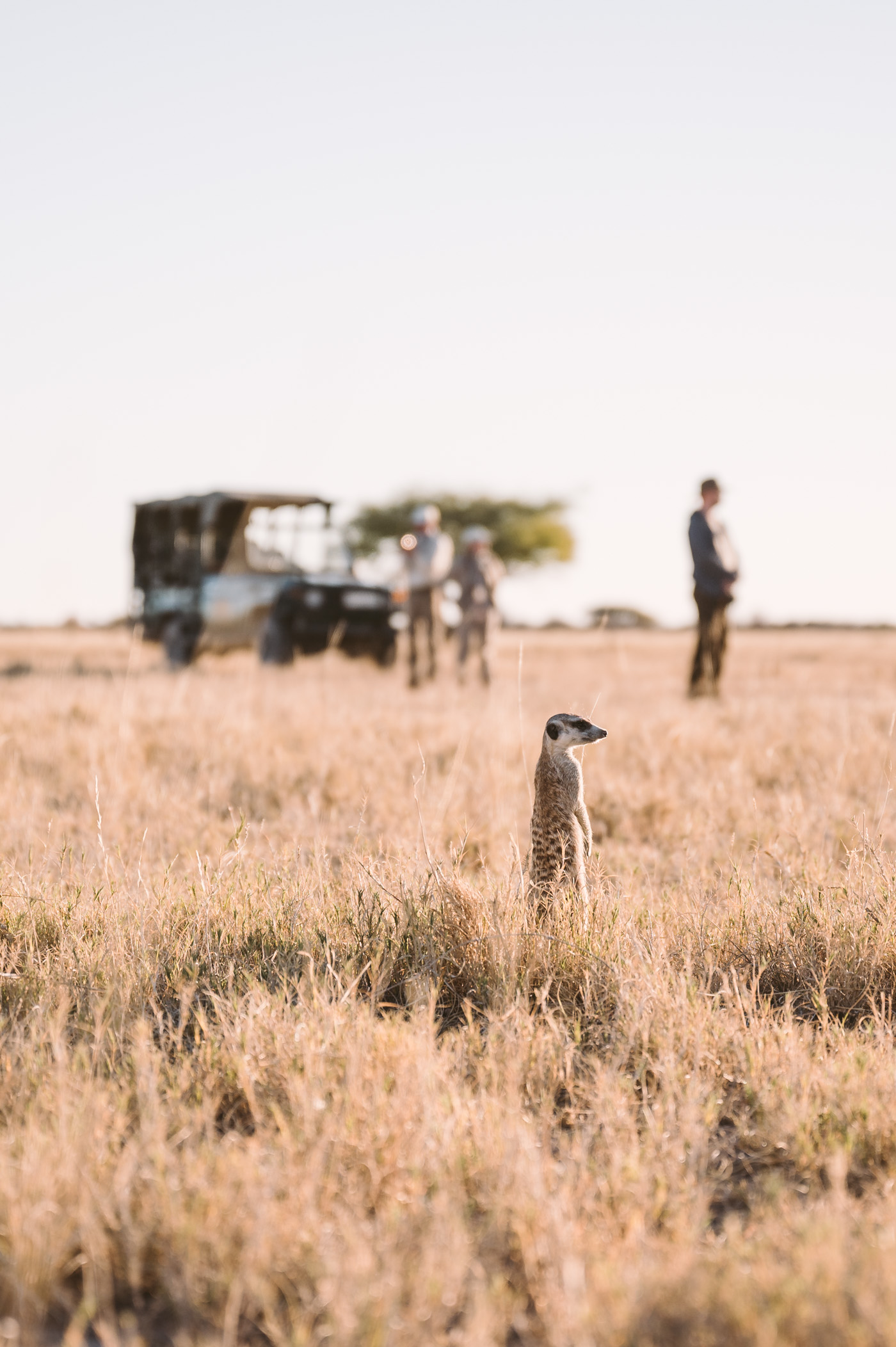 Accommodations: From Luxurious Lodges to Adventurous Camps
Embarking on a safari is a dream for many, and the type of accommodation you choose can greatly influence your experience. Safari lodges, camps, bush camps, and mobile camps each offer a unique way to connect with nature and wildlife. The standards, services and luxuries may vary from country to country and also between the accommodations, but here are some general tips to consider:
1. Safari Lodges: For those seeking modern comforts in the wilderness, safari lodges are the go-to choice. These retreats are usually solid buildings with concrete, steel and glass. Lodges provide a comfortable base for your safari adventures and are typically equipped with modern amenities like air conditioning, wifi and hot water. Lodges are ideal for people who aren't comfortable with sleeping out in nature or nervous about animal encounters. Service levels can vary – there's quite basic lodges as well as ultimate luxury lodges!
2. Safari Camps: Traditional safari camps provide a more immersive experience. They are usually smaller and blend into their natural surroundings. Accommodations range from canvas tents to thatched huts. There's permanent camps, that are open the whole year and seasonal camps. With permanent camps you can expect more luxuries like wifi, swimming pools and maybe some more permanent structures. Seasonal camps tend to offer less amenities, sometimes there's only bucket showers and no hot water or no flushing toilets. Service levels also vary, but generally camps are more intimate and immersed in nature than lodges.
3. Bush Camps: If you're looking to get even closer to nature, bush camps are a great choice. These temporary camps are set up deep in the wilderness, offering an intimate and authentic safari experience. You'll sleep in comfortable tents or thatched chalets and enjoy meals that might be cooked over an open fire while listening to the sounds of the wild. Bush camps often have open-air bathrooms (most likely with bucket showers, but not always – and sometimes they even have fully flushing toilets!). Bush camps still offer comforts like king size beds, proper mattresses, great food, personal service, but usually there's no swimming pools and often also no wifi.
4. Mobile Camps: For the adventurous souls, mobile camps offer a nomadic safari experience. These camps move with the wildlife, following migration patterns and ensuring you're always in the midst of the action. They provide basic but comfortable accommodations in the form of mobile tents, allowing you to explore remote and untouched areas. Often mobile tents are still equipped quite luxuriously with proper beds and mattresses as well as bucket showers and sinks.
5. Walking camps or fly camps: Lastly there's expedition type camps, that are set up every day anew while longer treks. These can be very basic (a mattress and a mosquito net) or a bit more elevated with tents and private bucket showers.
Ultimately, the type of accommodation you choose depends on your preferences and the level of adventure you seek. Whether it's the lavish comfort of lodges or the rugged charm of bush and mobile camps, no matter where you stay a safari promises unforgettable moments with Africa's breathtaking wildlife.
Our best practice is to combine simple bush camps with some that are more luxurious, to get a best of both worlds!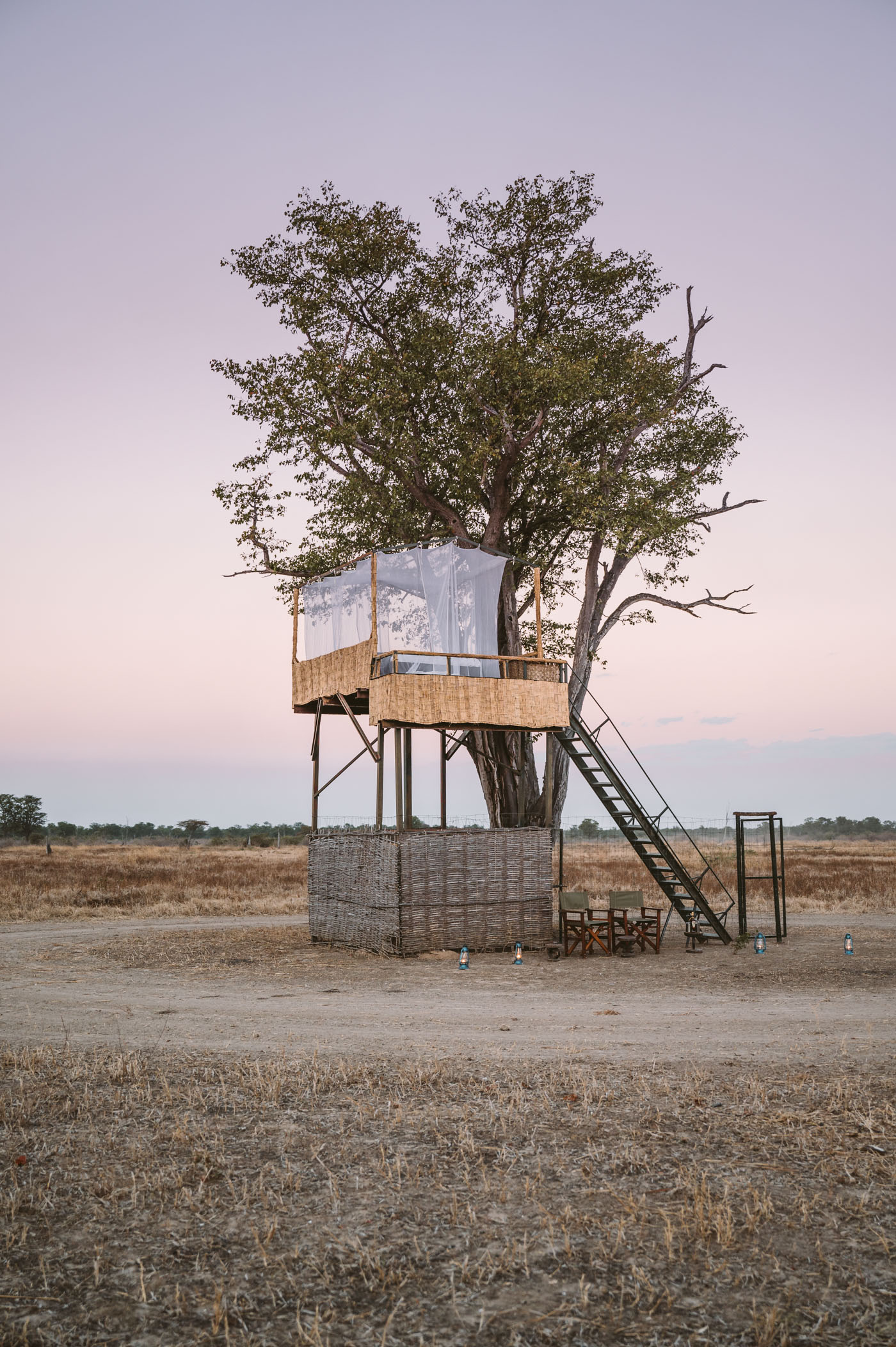 Next step: Choose your destination from our Africa destination guide!
Or pin and save this post for later: