The rotors of our bush plane are whirring unforgivably in our ears, but when our pilot Tanya circles over the Zambezi river views open up of a sprawling forest of Winterthorn trees, elephants stretching to reach the young leaves at the top and the towering escarpment in the background all you can hear are your thoughts: "How is this even real?!".
About Lower Zambezi National Park
I vividly remember arriving in Lower Zambezi National Park the first time back in 2019 and how amazed I felt by the place. Back then Kyle Branch and Luke Evans (now part of newly founded safari company Classic Zambia) picked us up from the airstrip and welcomed us to their then brand new Chula camp. Things had just been set up for the first guests it seemed, their custom tents still brand new, their team just finishing up the last river crossings of the fresh season.
We fell in love instantly with the wild and authentic charm of the place!
Lower Zambezi is one of those National Parks, that somehow are overshadowed by other parks, although they turn out to be just THE place that every safari enthusiast is looking for. Neighbouring Mana Pools National Park in Zimbabwe gets all the fame, but the plentitude of elephants, iconic Winterthorn forest and Zambezi river safaris are just equally stunning on the Zambian side of the river. Plus here you'll experience the added bonus of an incredibly low volume of visitors, which guarantees privacy and seclusion.
Where else in the world can you find yourself on a sighting with two leopards and zero other cars?
Where to stay: Chula & Kutali Camp by Classic Zambia
In 2019 we stayed at Chula camp – the sister property of Kutali Camp (check out our best of lodges from Zambia here). This time we stayed at Kutali Camp, but ultimately both camps follow the same concept & safari style and can be combined perfectly. They are both remote seasonal fly camps on private stretches of land at the banks of the Zambezi river and part of owner-run safari company Classic Zambia.
Classic Zambia has been brought to life by uniting Luke & Kyle's Chula & Kutali camps in the Lower Zambezi with Phil & Tyrone's Museskese and Ntwema Busanga camps in the Kafue National Park. Now with four camps (and a film production company) under one umbrella they are positioned perfectly for Zambian safaris.
Their philosophy is simple: Authentic safari style with expert guiding experiences and a true nature immersion, that leads to a strong conservation approach.
Chula and Kutali are booked by safari experts and wildlife photography enthusiasts on the quest for something special: Authentic safaris guided by some of the best safari guides out there. And all of that in a place that feels as exclusive as it can get.
Chula as well as Kutali Camp are now becoming quite the well-guarded secret by safari industry experts.
What to expect from Kutali Camp
Kutali Camp is a classic tented fly camp with bucket showers and outdoor bathrooms, but elevated with fully functioning flushing toilets, cozy beds with comfortable mattresses and wildlife roaming freely around the only 5 tents. A maximum of 10 guests can stay at Kutali camp at the same time guaranteeing privacy and personal attention from the guides.
Breakfast is shared around the campfire before sunrise, with toast and porridge prepared on the open fire plus one elevated breakfast dish each day (think cilantro-infused avo toast with poached eggs). After the morning activity guests assemble back at camp for a family-style lunch (unless you plan to stay out in the bush, which can be arranged).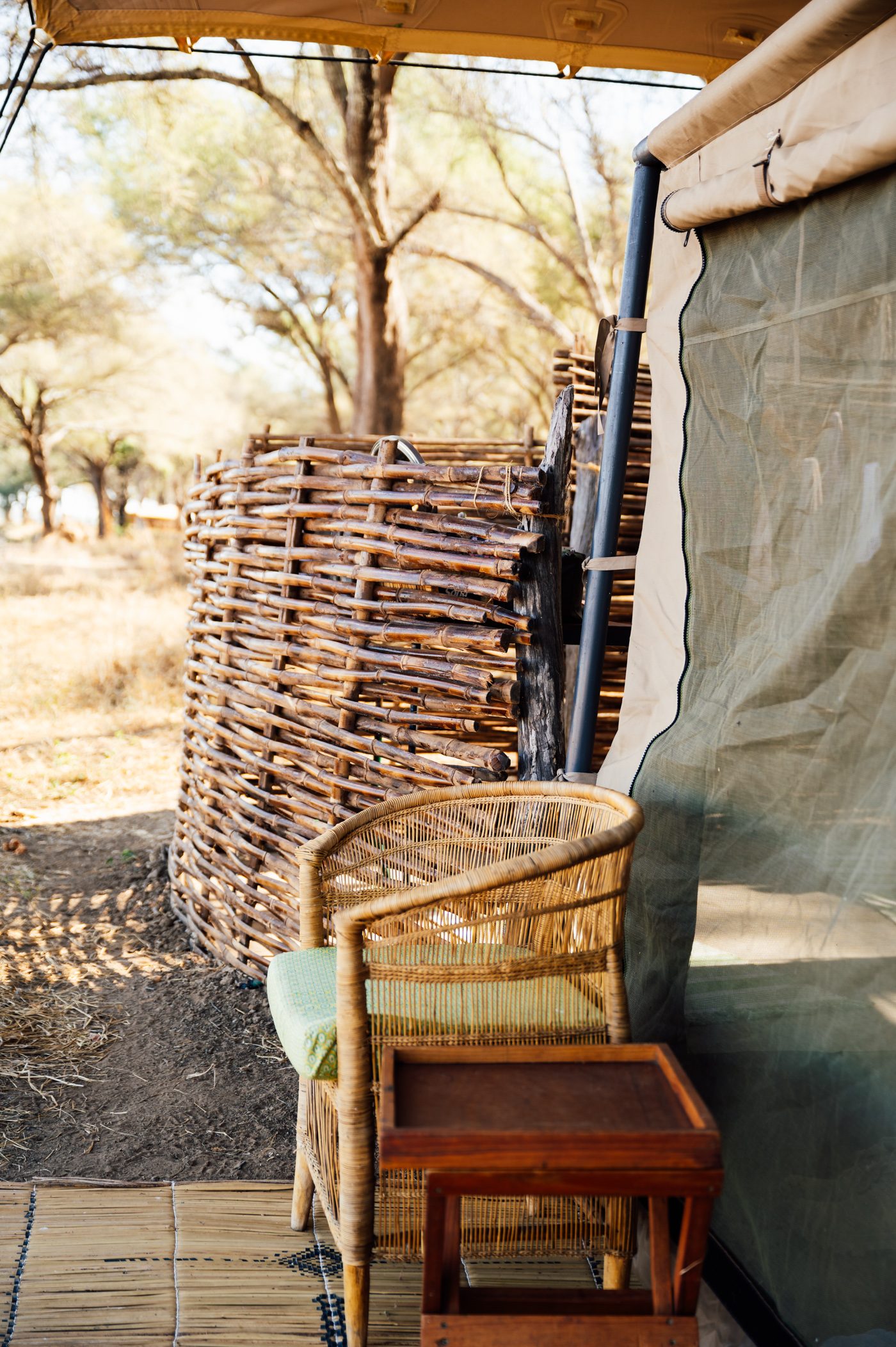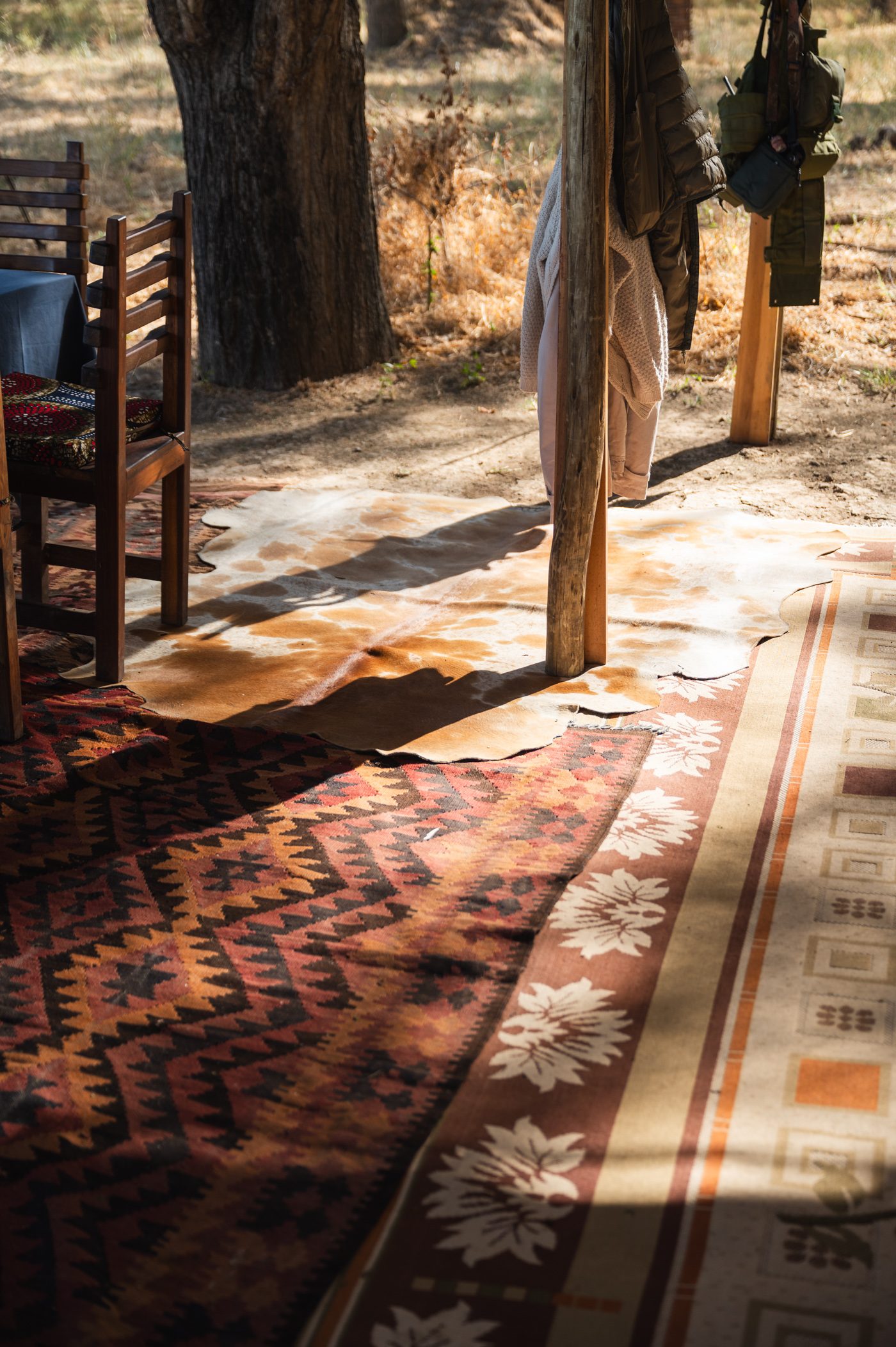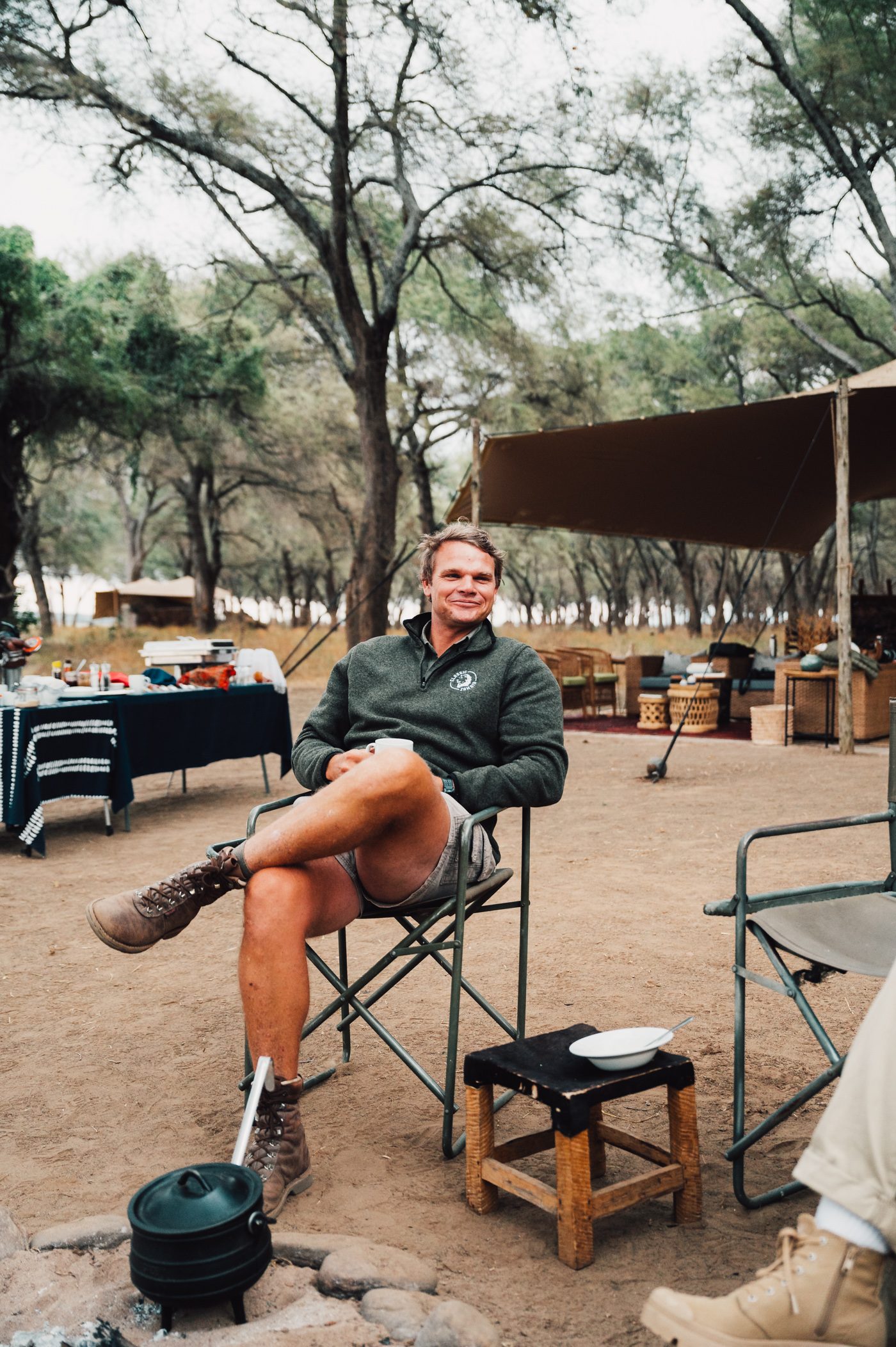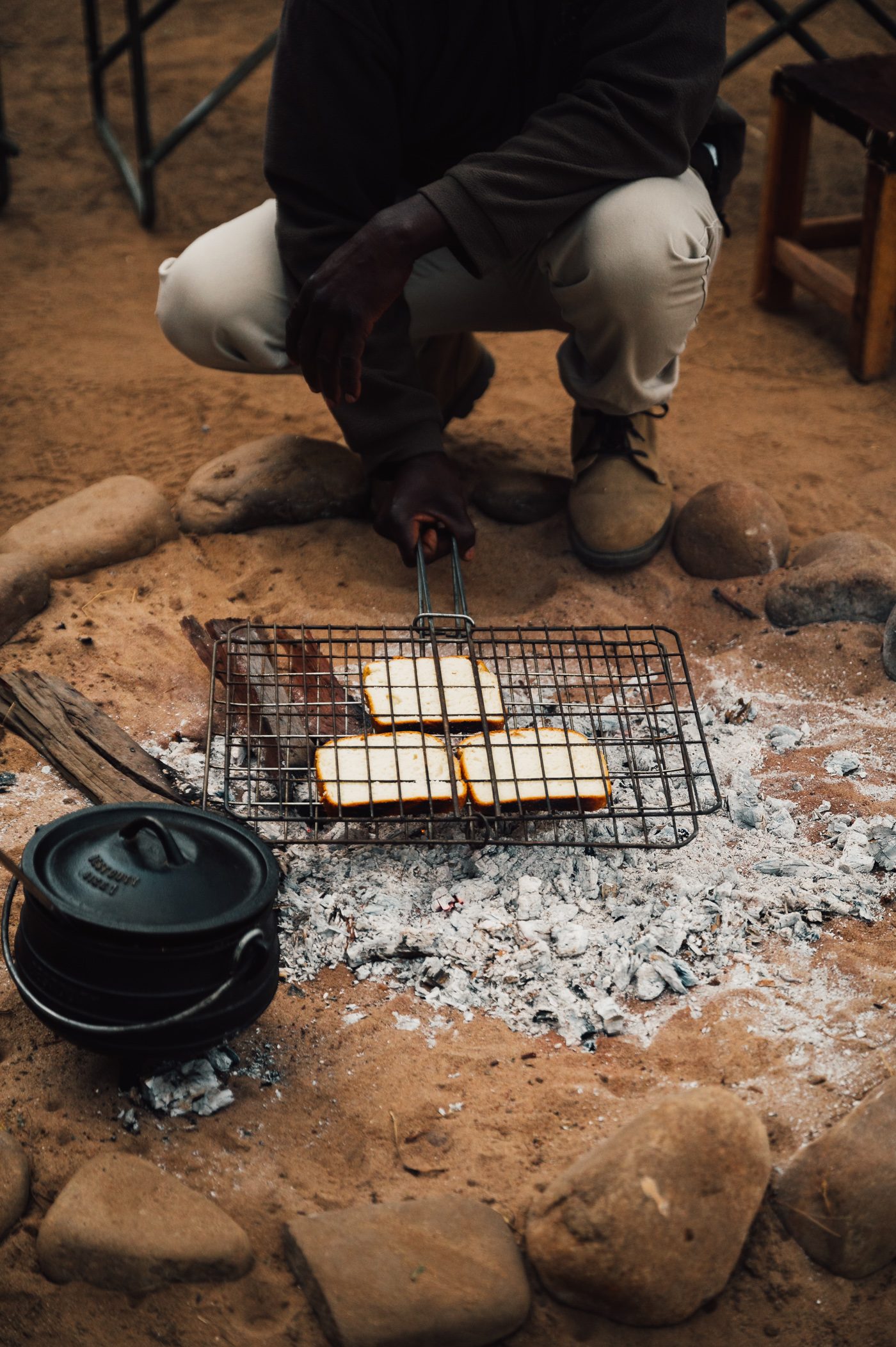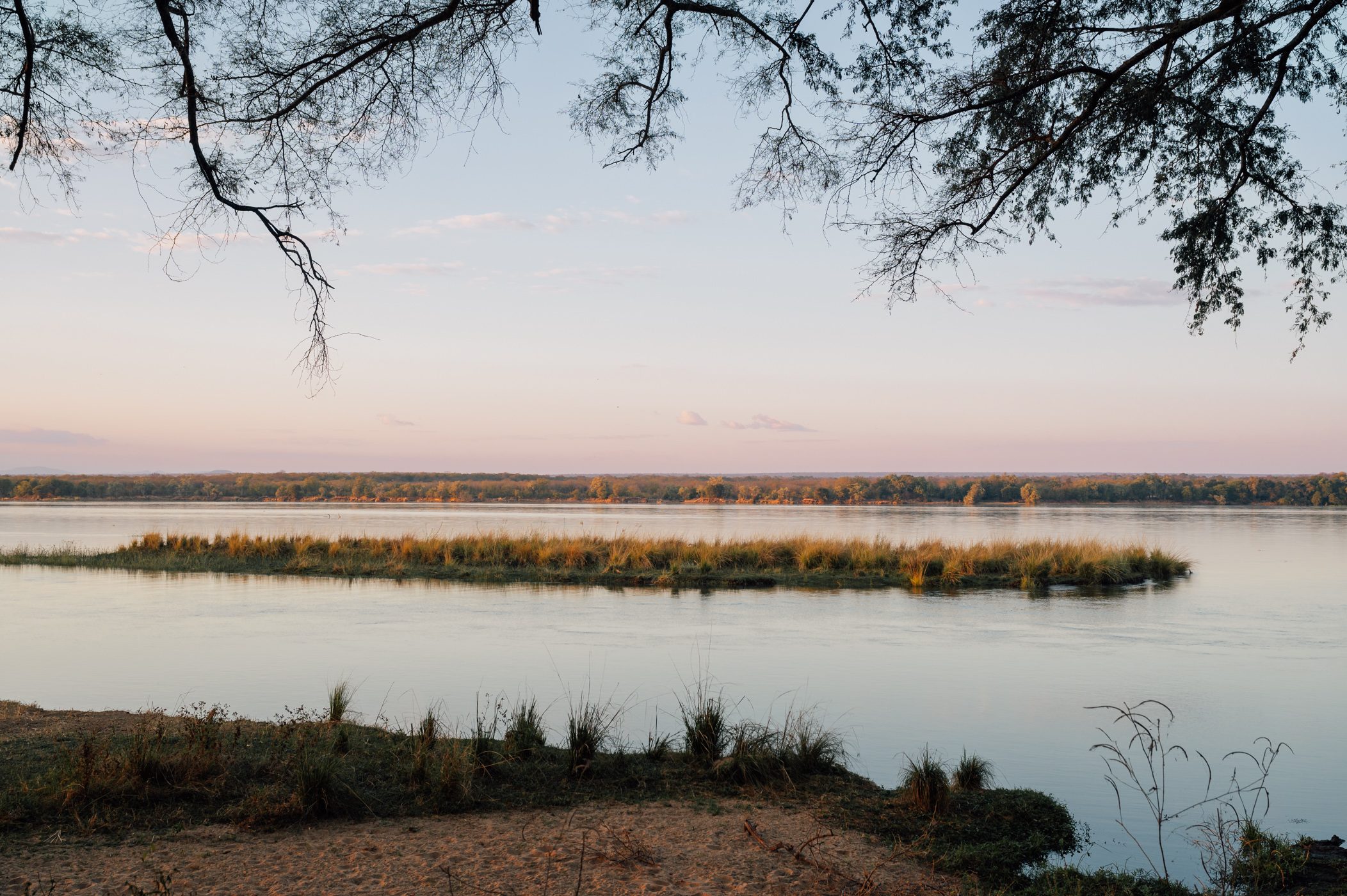 A short nap or hot bucket shower later you find yourself back at the main tent to get ready for your afternoon activity that usually ends with a sundowner either on the plains or at the river with ample wildlife before dinner is shared at the communal table, always accompanied by one of the guides.
The people you meet at Kutali Camp make for the best conversations you can have on a safari! All of them united by a deep passion for the wild and dedication to nature conservation.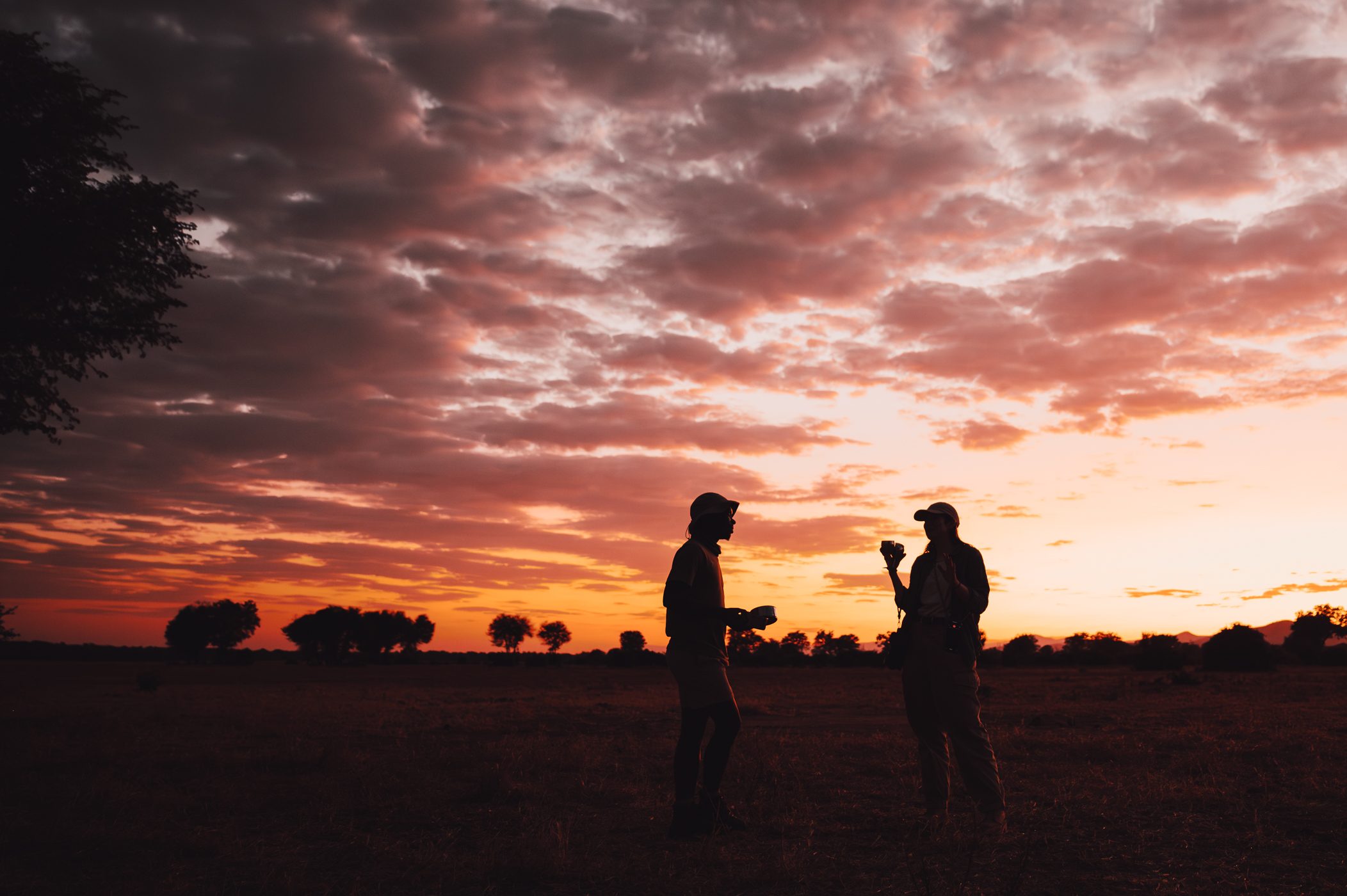 Activities in Lower Zambezi National Park
Activities include walking safaris (Zambia is the birthplace of the walking safari and it's a signature activity here) as well as river safaris on motorised boats. Another special experience are canoe safaris on some of the tributaries to the Zambezi river. This tranquil safari brings you close to wildlife on eye level, which is a very unique feeling!
Of course regular game drives are also on offer, where you can expect predator sightings every day (we saw leopards every, single, day!). Elephants are ever-present and since 2023 Lower Zambezi National Park is also home to what is believed to be Africa's largest pack of wild dogs with over 40 individuals!
The right traveller type for Kutali Camp
The type of guests that Kutali attracts are usually more seasoned and experienced safari goers on the lookout for something special. Funny enough personally this was only our second safari back in 2019 and we really were newbies (our first safari was in a private game reserve in Namibia and a self drive in Etosha), so we didn't have a lot to compare it to.
Now a few years and a few more safaris under our belt later (Kenya, Botswana, Rwanda) we understand better what the true qualities of the Lower Zambezi National Park and safari camps like Kutali are. When compared you'll rarely find the same experience anywhere else – especially for the price point. Nights at Kutali start at 690 Dollars per person. At this price point you'll rarely get the exclusivity and privacy combined with the outstanding density of wildlife and expert guiding.
So in essence we believe this camp fits many demographics except for those looking for a pool, AC or wifi. The luxury of Kutali is to be away from modern life as we have come to know it for a bit!
Practical Tips for Lower Zambezi National Park
How to get there: Bush plane connections from capital Lusaka or other national parks like South Luangwa or Kafue or from Livingstone to Jeki airstrip. From there it's a ground transfer that doubles as game drive to the camps.
Season: Beginning of May to End of October.
Prices: Starting at 690 USD per person (shoulder season May and June) to 890 USD (high season July to October) at Kutali and Chula Camp.
Duration of stay: We would recommend 3 nights at Chula and 3 nights at Kutali Camp to make your best out of Lower Zambezi National Park.
What to pack: Warm jacket for early morning activities and nights at the campfire, warm pyjama for nights in the tent.
What you don't need to pack: Reusable water bottles, shower gel, conditioner, shampoo, hot water bottles, mosquito repellent for clothes and skin, flash light (provided by the camp)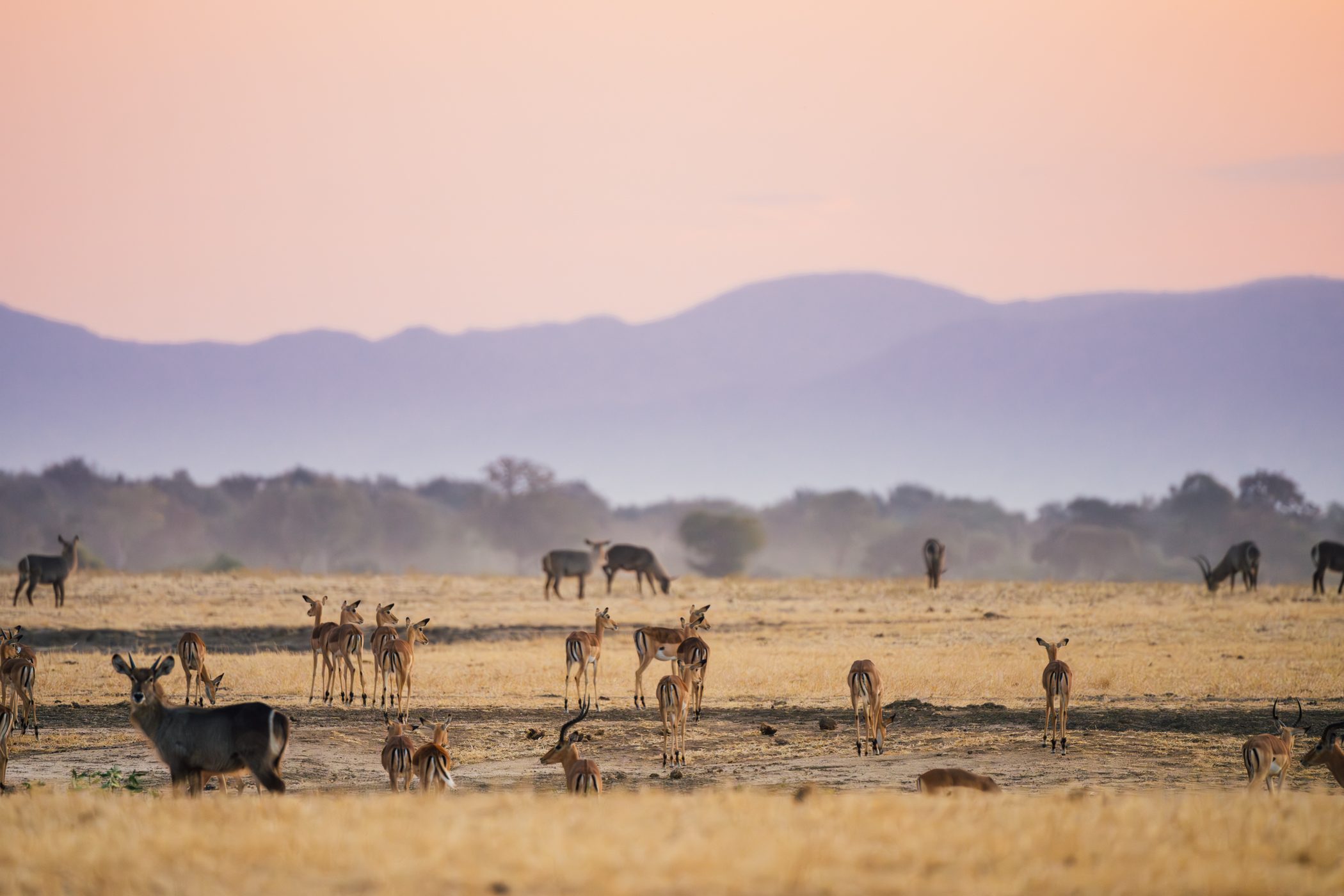 If this blogpost was helpful or you want to save it for later you can pin it here:
If you want to learn more about Zambia, find out why we love it so much in our "9 reasons to fall in love with Zambia" story.
Next up: Musekese at Kafue National Park.
Disclaimer: This is a not a sponsored post, but we were invited to stay at Kutali Camp as part of a collaboration with Classic Zambia. The views in this blogpost are our own.