Most of Germany's tourism centres around city trips. From Berlin to Hamburg, Munich to Cologne – the plentitude of eclectic cities draws in most of the visitors. But the natural treasures that Germany holds are waiting to be discovered. We ventured out to Brandenburg for a few days to find some tucked-away corners in the regions of Prignitz & Uckermark and we can honestly say the regions we visited took us by great surprise (but see for yourself).
Stay a little longer: Combine city & nature
Our trip started in the Hanseatic town of Lübeck. After two days of exploring the city we made our way down South to Brandenburg. And that's already our first tip: If you plan a city trip to Germany, why not combine your city exploration with some extra days in nature and extend your trip for a bit? This way you'll experience the best of both worlds and also contribute to a sustainable rural development in Germany (more about that below).
How to get around: Electric cars, bicycles & sleeper trains
We simply rented an electric car in Lübeck for three days and stayed in the Prignitz and Uckermark regions (where we rode bicycles and canoes) and then ended our trip in Berlin. At the Berlin central train station we returned the rental car (make sure to book a one-way rental) and then took a train back home to Vienna. Next time we would make sure to book a sleeper cabin in the night jet (a direct train connection between Berlin and Vienna). There's even private single or double cabins with your own toilet and shower, so that's the most comfortable way to travel between European cities in a sustainable fashion. And that's what this trip was all about!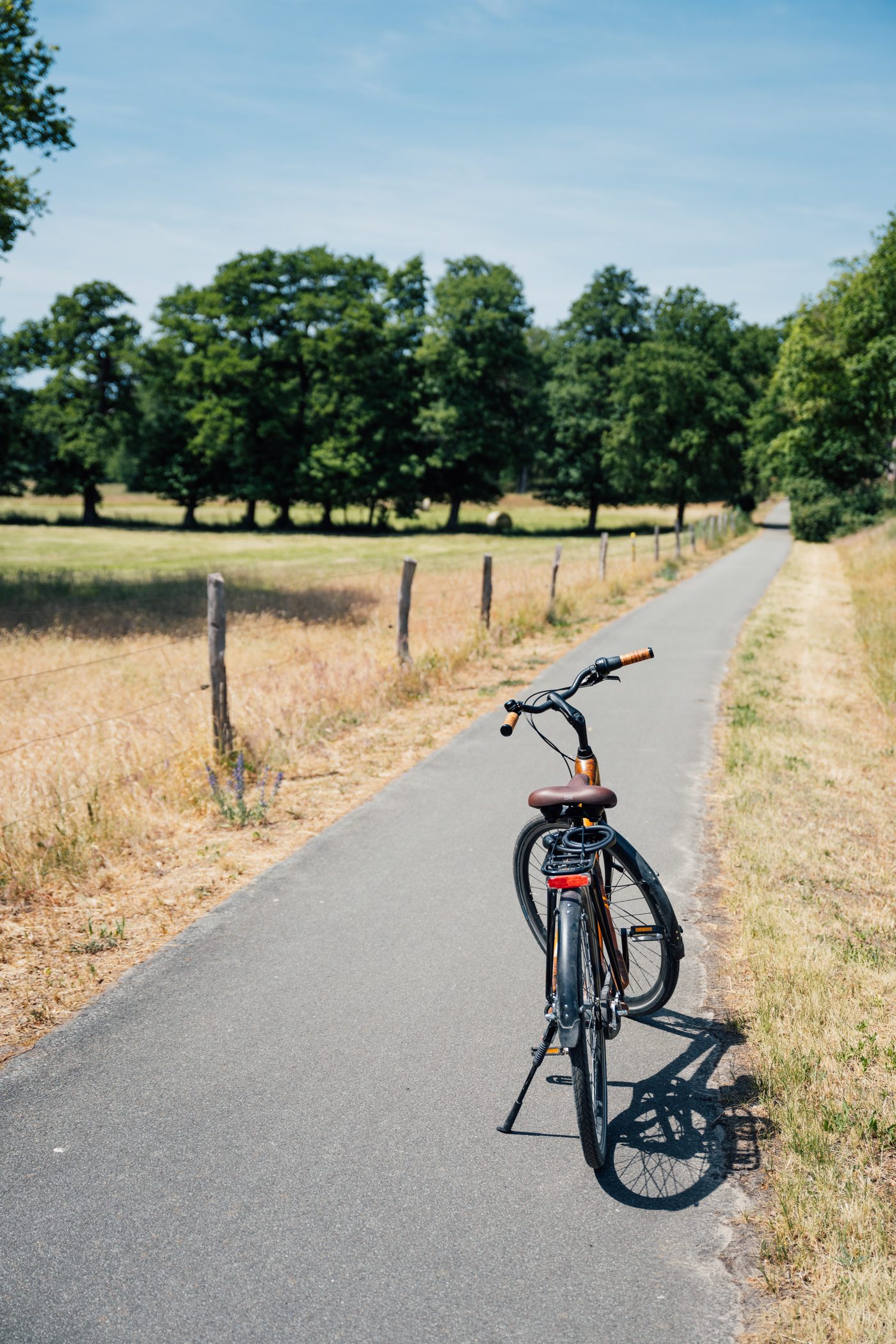 Prignitz & Uckermark: Treasures of Brandenburg
The Prignitz and Uckermark regions invite for slow travel experiences in a sustainable and responsible way. Tourism here centres around cycling, canoeing and simply immersing oneself in protected nature parks and UNESCO biosphere parks. The protection of natural resources and tourism go hand in hand here, and that makes it so valuable!
Both regions are located in Brandenburg, the state that surrounds Berlin, and are just a 1-2 hour drive away from the city of Berlin. But also Hamburg and Hannover aren't far away, so these parts of Germany are easily accessible and combined with a city trip.
As most countries Germany is facing rural depopulation and nature degradation. And so responsible tourism can become a means to tackle these issues. On this trip we've got to know new touristic concepts that revitalise regions, from a new vegan hotel (in a castle!) located in a town that's otherwise dotted with abandoned houses and suffering from an aging and declining population to a restaurant in a former flour mill, that is now a hub for the towns touristic development.
Prignitz: From lakes & rivers, cornfields & pine forests
But back to the start! So we started our journey in Lübeck and drove through landscapes that looked like they're straight out of a fairytale. The 1,5 hour drive down to Prignitz is already a mini vacation in and by itself – we pass by golden rows of cornfields dotted with red poppies and blue cornflowers, cross through shaded alleys of century old plantain trees and forests of fragrant pine trees. The further we come the quieter it gets. It turns out that Prignitz is the least densely populated part of Germany, and that's tangible.
The Elbe river: Back to nature
Here the Elbe river is the dominating force. It's one of the main waterways in Germany and as such has faced industrial exploitation and human interference for centuries. But now the trend is reversing and there's many efforts to restore and recultivate the natural resources of the river and its surrounding swamplands and pasture landscapes.
In Prignitz you can explore the UNESCO biosphere reserve called "Flusslandschaft Elbe" (river landscape Elbe). We went on an early morning canoe river tour on the tributary Löcknitz together with a guide to learn more about the incredible biodiversity (over 200 species of birds) and how the relocation of the dikes is positively impacting the nature and also helps as effective flooding prevention.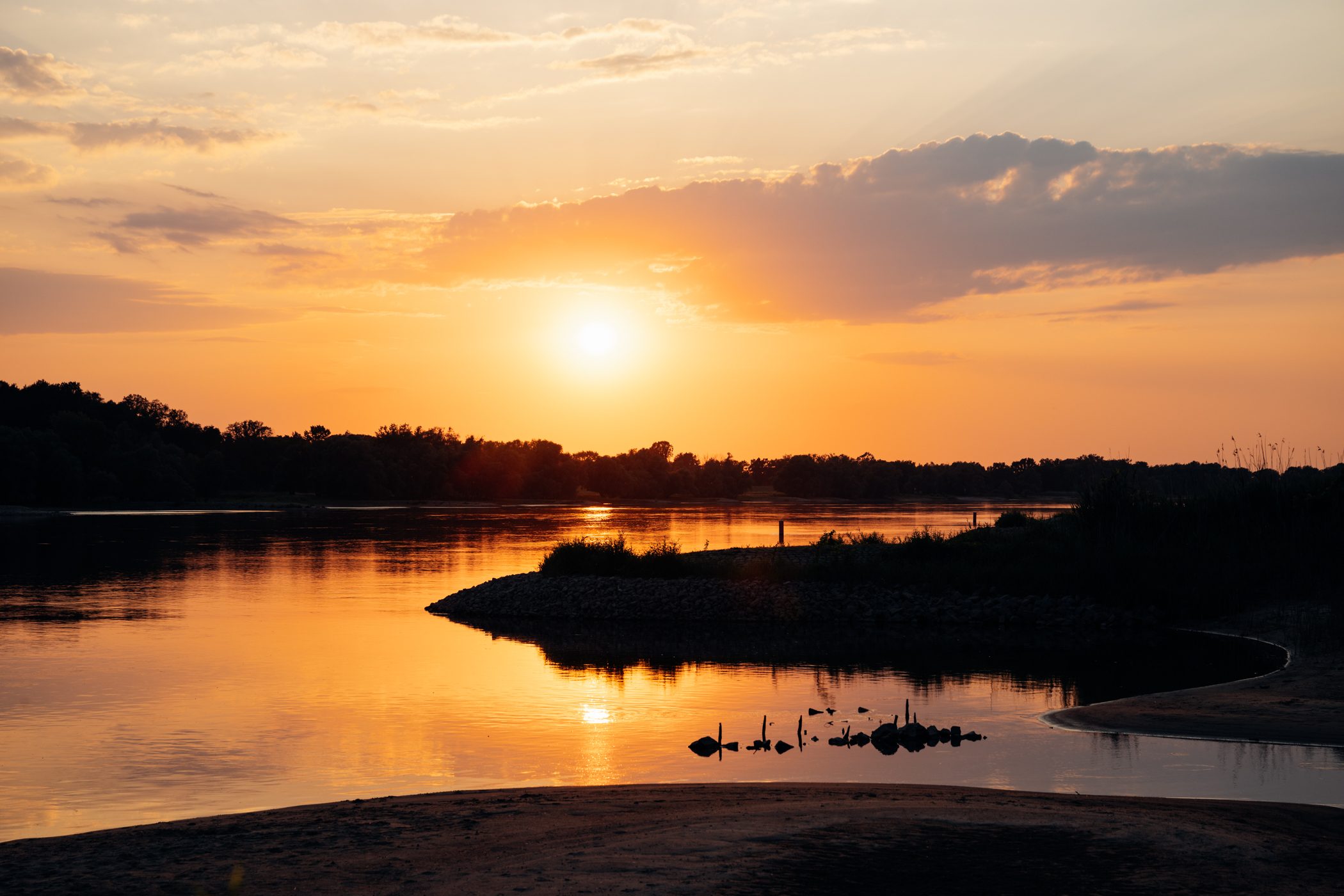 Where to stay in Prignitz
In Prignitz you can stay at ahead Burghotel (Burgstraße 3, 19309 Lenzen (Elbe), www.aheadhotel.de), Germany's largest organic & plant based hotel located in a castle surrounded by a lush park and the Löcknitz river – and take part in their activities like yoga and mindfulness meditations. The highlight is their 100% vegan cuisine, that can easily compete with vegan hotspots in cities like Berlin. The new concept was started in 2020 and has since then drawn visitors to the sleepy town of Lenzen (all 39 rooms were fully booked when we were there!).
Another option is the lovely "Alter Hof am Elbdeich" (Am Elbdeich 25, 19309 Lenzerwische, www.alter-hof-am-elbdeich.de), a restaurant & hotel centered around Ayurvedic principles located directly at the Elbe river dike in three historic brick stone buildings, one with a traditional thatched roof.
The third option are "Elbeglück & Pfarrhaus Mödlich" (Lenzener Str. 23, 19309 Lenzerwische, www.pfarrhaus-moedlich.de), which have both been revitalised with much attention and love to detail by photographer Frîa Hagen, who is now a true hostess and you can tell she really appreciates and takes care of her guests and found her personal happiness in the Prignitz.
What to do in Prignitz
Apart from canoe tours there technically isn't so much to do, which also is a part of the appeal of the region. We rented a MyBamboo bike from ahead Burghotel and visited local winemaker Philipp Maußhard (Weinbau Schloss Eldenburg), who is a pioneer and started producing organic wine from non-traditional grapes like Muscaris and Souvignier Gris in Brandenburg, a state that also isn't traditionally known for wine making.
Another must is a visit of the small "artist village" Breetz with its only 20 inhabitants. Here you can visit the "Antikscheune" with a collection of antiques, the gallery of local artist Horst Oppenhäuser (where you can also take part in watercolour lessons or stay in one of his vacation homes) and enjoy breakfast on the sunny terrace of "Café Raum für Altes und Schönes" (Kastanienallee 9, 19309 Lenzen), where the hostess Katja Stegemann will pamper you with homemade raisin bread and strawberry jam.
That Prignitz is drawing in artists from all over the country is tangible everywhere. You will notice the bronze sculptures of renown artist Bernd Streiter in many parts of the region, his most famous (and first commissioned) piece is the Charon at the Elbe dike, which conveniently is located right next to the Café "Elbeglück" (Lenzener Str. 13, 19309 Lenzerwische), that is also run by lovely Frîa Hagen and where she serves her home cooked meals.
Other than that: Relax, read a book, walk along the Elbe river at sunset, count the countless storks nests and watch them take care of their offspring and let your soul unwind!
Uckermark: Pristine lakes & rides on rafts
Our second stop led us to the Uckermark region, specifically to the small island town of Lychen. If there's two words that explain the Uckermark it has to be: Pristine lakes. The town Lychen is surrounded by as many as 7 lakes on each side. That's why they call Lychen an island, although it's far away from the sea…! And when you draw a 10 kilometre circle around Lychen you can count as many as 100 (!) lakes.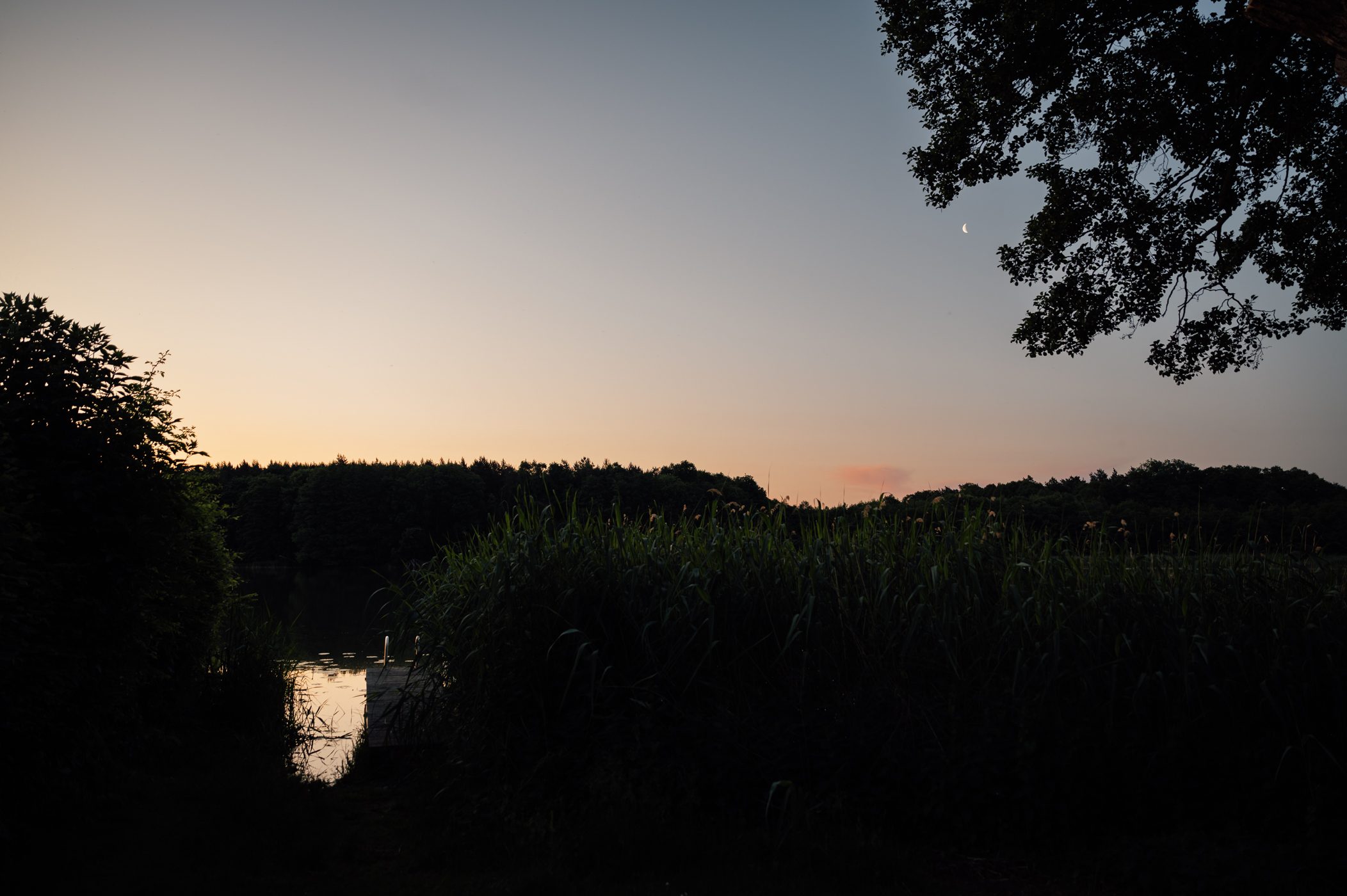 As Austrians we are used to lakeside holidays, but these lakes in the Uckermark have one unique quality: Not much traffic! We visited on a very warm and sunny weekend in June, but when we went out for sunset on our canoe there were only two boats on the whole lake. One fisherman and ourselves. That's hard to come by on any lake in Austria (well, unless you have to hike up a steep mountain to get there).
Where to stay in Uckermark
We stayed in one of the very modern apartments of "Bootschaft Lychen" (Templiner Str. 3, 17279 Lychen, https://bootschaft-lychen.de), that has its own lake access and comes with complimentary canoe and bike rentals.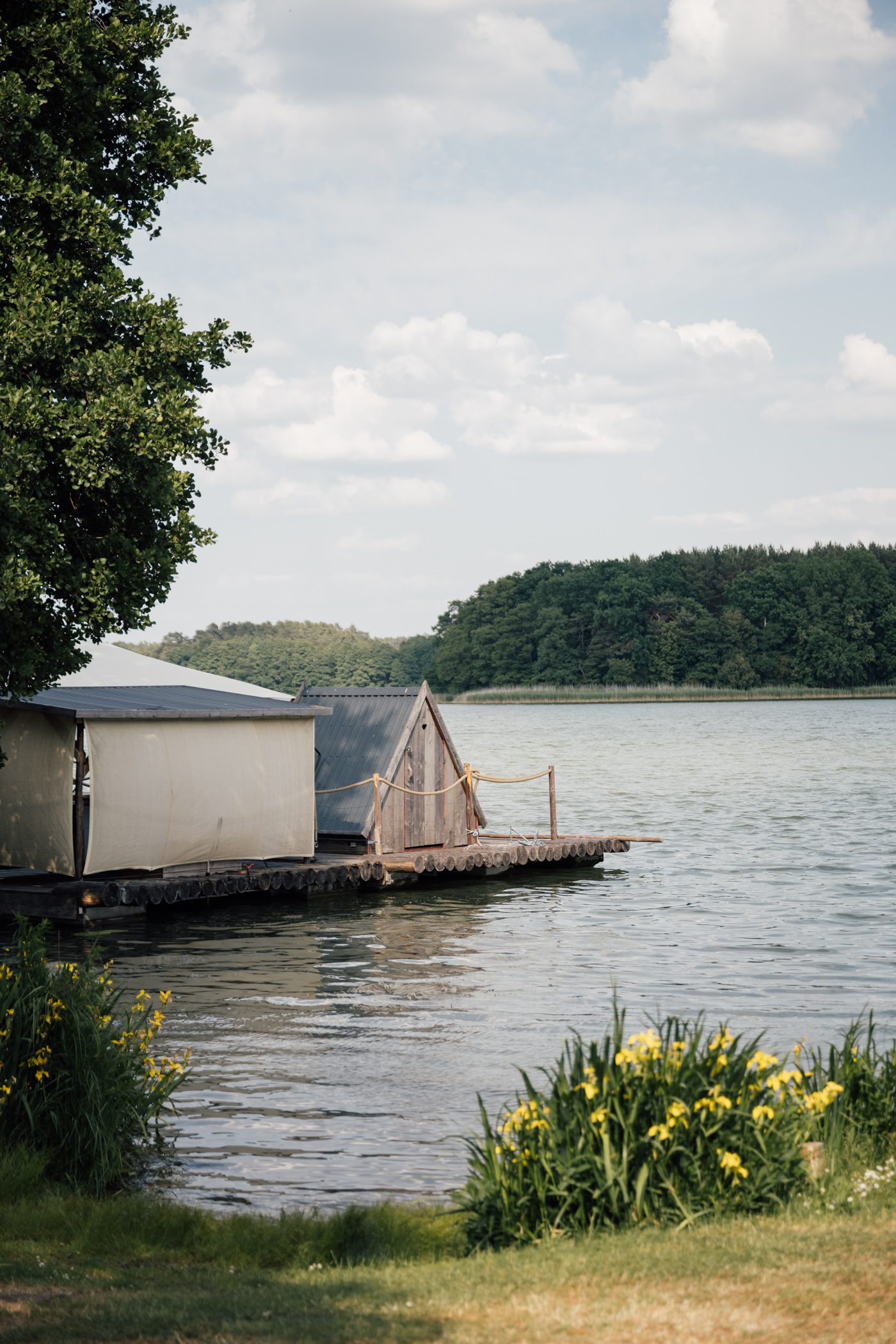 Other options include vacation rentals in the former "Heilstätten Hohenlychen" (a former sanatorium for tuberculosis patients and wartime hospital). These beautiful half-timbered houses are being revitalised one building after the other and located on a small knoll overlooking the serene Zenssee lake.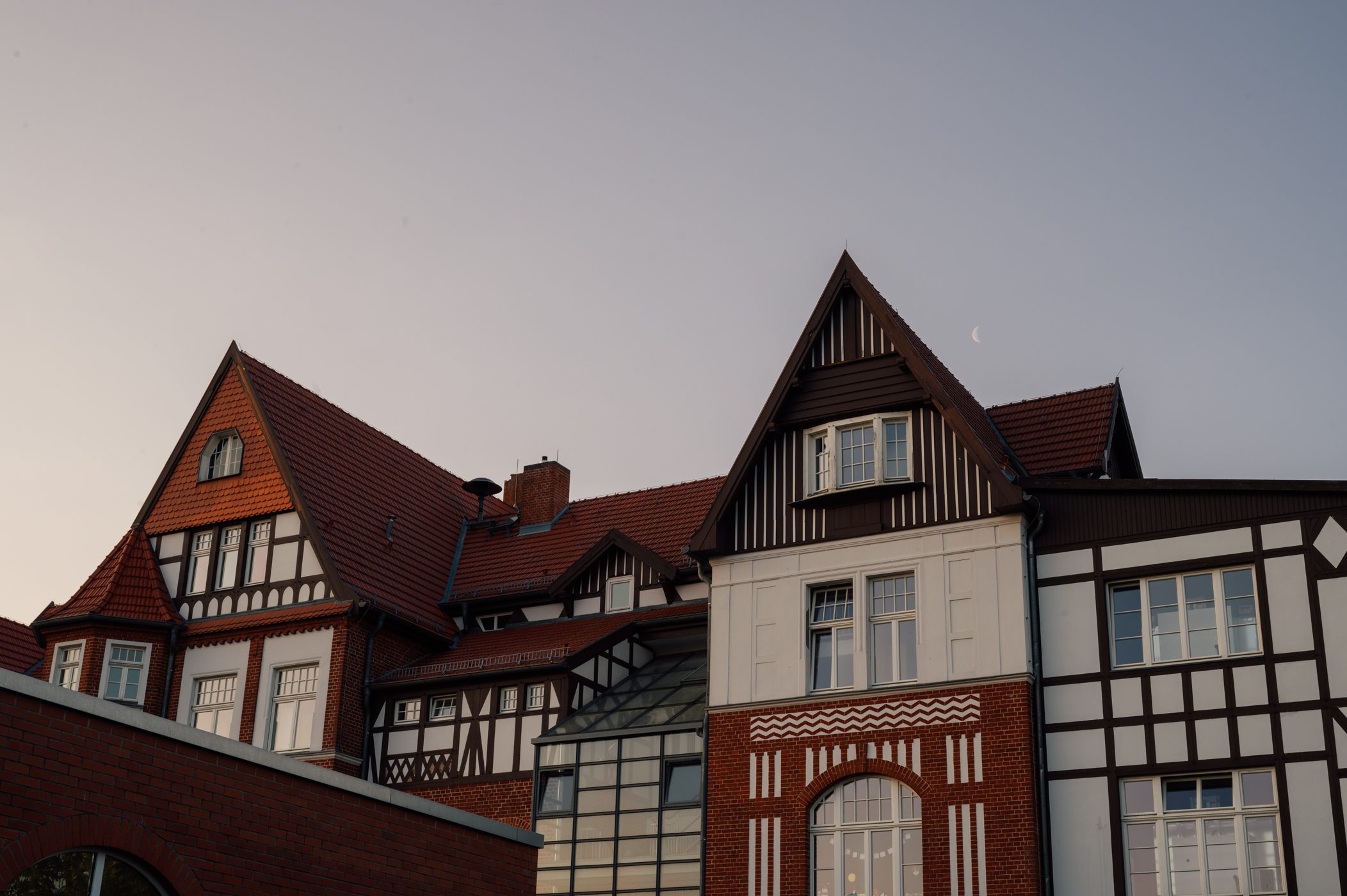 What to do in Uckermark
The main reason we wanted to come to this part of Brandenburg was to discover the UNESCO cultural heritage of timber rafting. Lychen is located adjacent to large forests, that have been cultivated for timber since centuries. Since the 70ies this tradition is swindling. Timber is now being transported on trucks and railroads and not on waterways anymore.
But the town of Lychen still lives and breathes timber rafting – and so guests can go out on a raft for a tour of the Oberpfuhl and Zenssee lakes and learn about the traditional craft. There's even a small museum dedicated to timber rafting (Flößerei Museum Lychen, Clara-Zetkin-Straße 1B, 17279 Lychen) as well as a yearly celebration and showcase at the beginning of August.
At the end of 2022 UNESCO has declared timber rafting part of the intangible cultural heritage of mankind, recognising the tradition that dates back to the medieval times. Without timber rafting none of the cities' development in Germany would have been possible and each time you walk around half-timbered houses in Germany you'll now be reminded of how much work was put into transporting the wood to the cities from places like Lychen.
You can buy fresh sourdough bread and pretzels from local artisanal baker Julien Strittmatter and his "Handwerksbäckerei Lychen" (Stargarder Str. 21, 17279 Lychen), as well as sample authentic dishes in the lovely garden of revitalized grain mill "Mühlenwirtschaft und Kaffeemühle" (Stabenstraße 2, 17279 Lychen), that is run by journalist and politician Carla Kniestedt and her husband. Sample gluten free and vegan cakes at "Kunstpause Café" (Berliner Str. 60, 17279 Lychen).
One day make a short trip to neighbouring Templin (where Angela Merkel lives) and don't miss sampling the Uckermark rose delicacies at "uckerose Rosenlaboratorium & Manufactur" (2 locations: Passage of Ernst-Thälmann-Straße 11, 17268 Templin, as well as Schoko & Weinlädchen, Berliner Str. 10, 17268 Templin, www.uckerose.de), where founder Elena von Gieck will share her passion for the fragrant local roses and her art of turning them into delicacies from mousse to elixir.
Other than that: Hike along Zenssee lake and paddle around with a canoe on the Oberpfuhl lake all the way up to Küstriner Bach, where they used to raft the timber from. Unwind and relax at the lakeshore and watch dragonflies dance on the countless water lilies. And listen to the sounds of cranes and woodpeckers at dusk!
Final thoughts on sustainable traveling in Germany
This trip took part in collaboration with the German National Tourist Board and is part of one of their initiatives to foster sustainable & responsible traveling. The three core principles are the so called "ESG pillars", ecological, societal and governance factors of sustainability. So it's not just mobility and transportation (although we did drive an electric car and trains), but it's a much more holistic approach towards changing the travel industry.
Many of the projects mentioned above are certified in some way or another, others are too small for certificates, but naturally work with regional organic products or are innovators when it comes to topics like reducing water consumption, recycling, food waste reduction and so much more.
But the main takeaway is that we as travellers can play a role in creating a more sustainable and long-term viable form of tourism, when we choose to support projects like these, stay at sustainable hotels, eat more plant based food, when we exchange ideas with our hosts, when we stay longer at one place as opposed to hopping around from one place to the other, when we choose rural regions, where tourism often is the only form of revenue left, etc.
It's up to us and politics together to create awareness and a mutual understanding that tourism can become a force for good as well, if done with care and love!
If this blogpost was helpful or you want to save it for later you can pin it here:
Disclaimer: This is a sponsored post as part of a collaboration with the German National Tourist Board. The views in this blogpost are our own.