Malaysia surprised us in many ways during our 3 week round trip. From pristine beaches to sprawling tea plantations, from multifaceted metropolises to untouched rainforests–the country boasts a variety of nature, rich history and culture, that makes it an incredibly diverse destination to discover. In 3 weeks you can see quite a bit, so let us share our itinerary for you to follow in our footsteps–alongside some personal tips to make your travel experience even better.
It's not just the beaches that make Malaysia an interesting destination. But they're not bad either…
Recommended 3 week itinerary of Malaysia: From South East to North West
This itinerary only covers peninsular Malaysia. If you're also interested in exploring the island of Borneo we suggest to bring more time or skip peninsular Malaysia altogether–both parts will not fit into a 3 week itinerary.
Peninsular Malaysia is incredibly diverse already, but don't expect to see orang-utans or the famous wildlife of Borneo here. There is still wildlife like dusty langurs or long-tailed macaques alongside a huge variety of birdlife on peninsular Malaysia, so for nature and wildlife enthusiasts there's also a lot to do on the mainland!
Outside of Malaysia: 3 days in Singapore
Beach days: 3 days at Desaru Coast
Capitol city exploration: 3-4 days in Kuala Lumpur
Tea plantations & rainforests: 1-2 days in Cameron Highlands
Colonial history & culinary capital: 3-4 days days in George Town, Penang
Island paradise: 4-6 days in Langkawi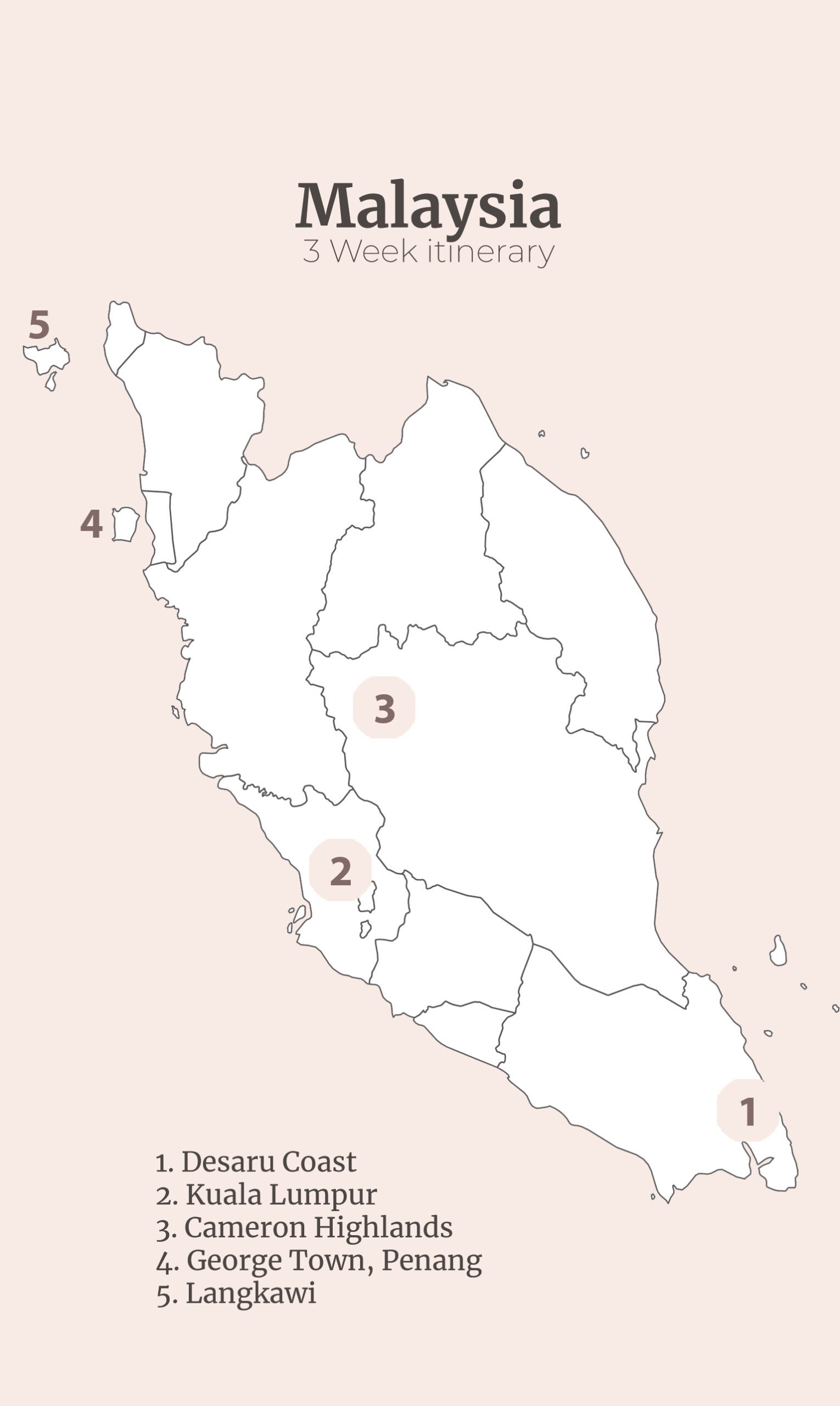 Fly into Singapore or Kuala Lumpur
We kicked off our trip in Singapore and not in Kuala Lumpur–mostly because we wanted to make our way up from the South to the North of Malaysia and Singapore is located at the very Southern tip of Malaysia. Also this was the easiest way for us to fly in.
The land border between Singapore and Malaysia is easy to cross and this way we didn't have to drive zigzag through the country to cover South and North. Obviously you can also fly to Kuala Lumpur in the beginning and then take things from there–just know that KL is located quite centrally in Malaysia, so it won't be as straightforward to kick off a roundtrip here.
We didn't fly into Malaysia directly, but started our trip in Singapore and then crossed the land border into Malaysia.
3 days at Desaru Coast
After 3 days in Singapore we travelled to Desaru Coast at the South China Sea–which is the East Coast of Malaysia. This very Southern part of Malaysia was previously relatively undeveloped from a tourism perspective, but is now becoming a new trending destination with a couple of beach resorts. We stayed at One&Only Desaru Coast, which had only opened its doors in 2020 and is the newest 5 star addition to the coastline.
Since our trip had kicked off with a few intense days in the city of Singapore it was perfect to then head to the beach to relax a few days before continuing the journey. Also the Desaru Coast is only a 2 hours drive away from Singapore, so it's easy to reach by car. Driving in Malaysia is also quite easy, but we hired private drivers for most of our inland journeys, as this was more convenient for us.
Head to the Desaru Coast if you're up for beach relaxation, spa treatments and a first dip into the South China Sea.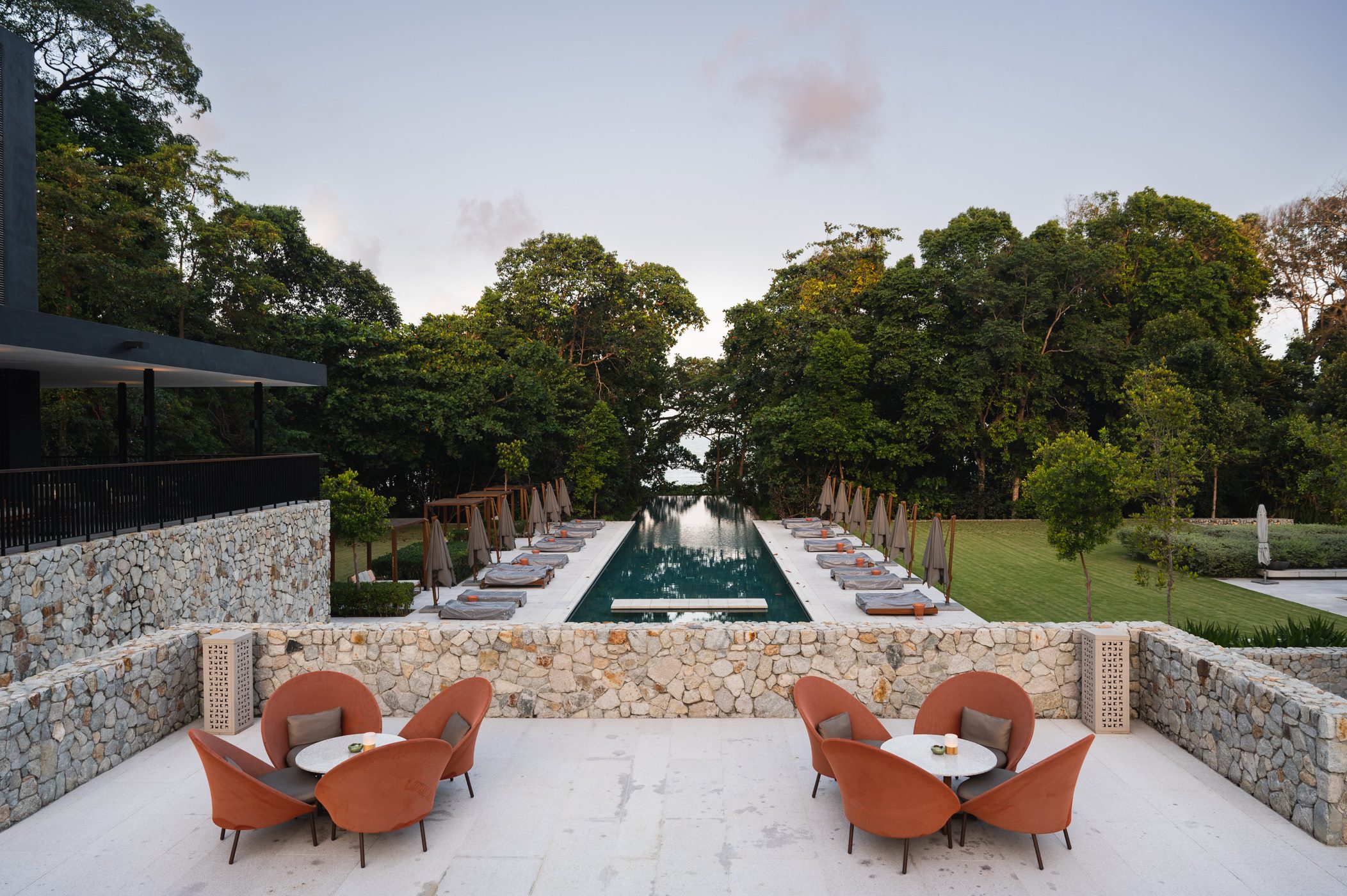 3-4 days in Kuala Lumpur
We then continued our path to the North directly to Kuala Lumpur (and only passed by Malacca–which is worth a stopover if you have some extra days). KL is about a 4 hours drive from the Desaru Coast on tarred roads, that are in great condition passing by the countless palm oil plantations, which sadly Malaysia is so famous for. Kuala Lumpur is a city of great diversity and many cultural influences.
We stayed in Chinatown, which allows for a peak into the history of the city and is dotted with a variety of restaurants, temples and markets. Kuala Lumpur is definitely less polished and futuristic than Singapore, so it's a bit more rough around the edges which we personally don't mind.
Stay in Kuala Lumpur for an eclectic mix of culture, history and modernity, interesting architecture and of course the markets and street food. If you prefer upscale cuisine you'll also have plenty of choice from Michelin star decorated restaurants.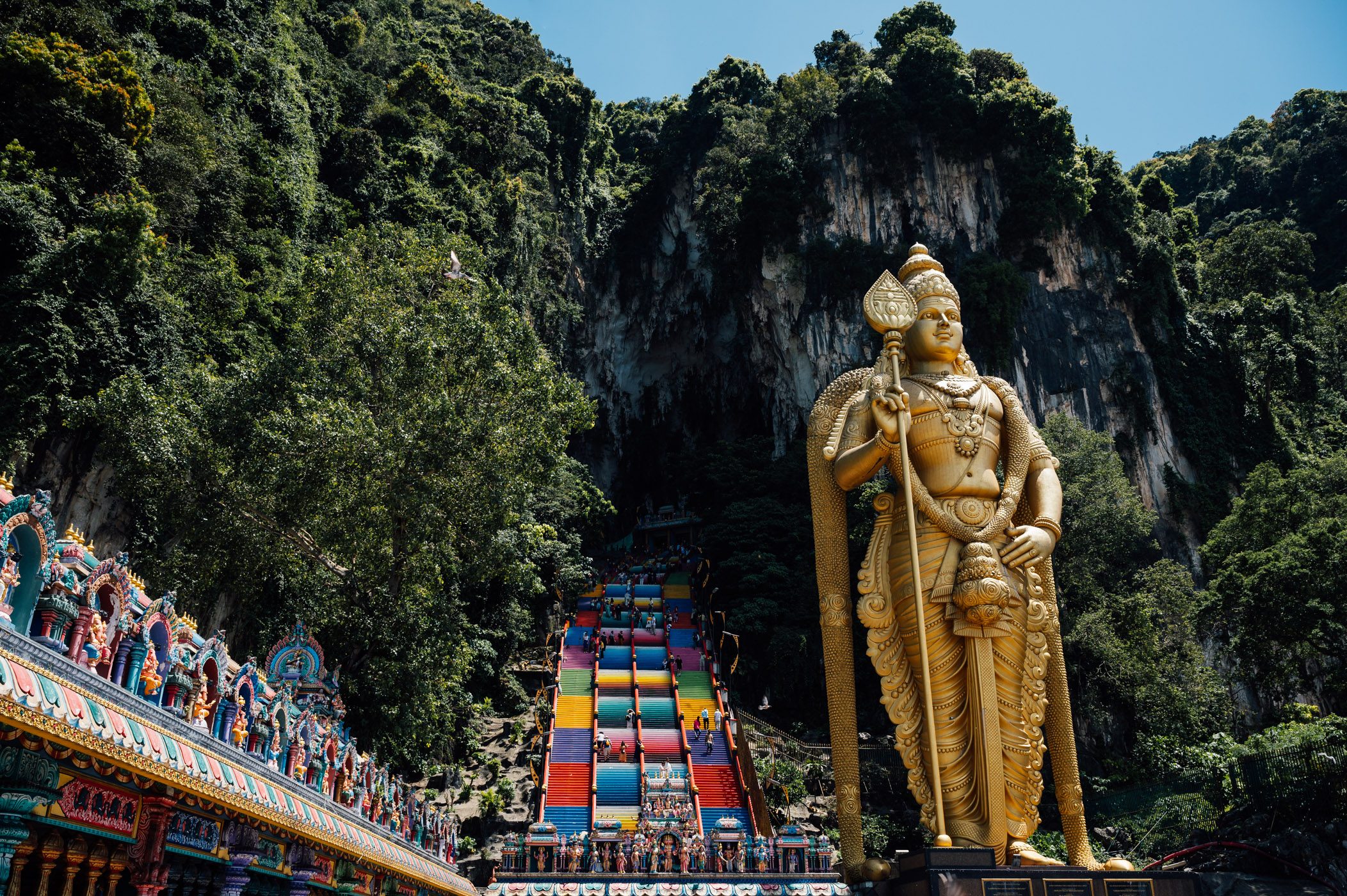 1-2 days in Cameron Highlands
Next on our agenda was an escape from the city heat up in the mountainous Cameron Highlands region. Located at 1,500 meters above sea level temperatures drop significantly and you'll finally get to cool down a bit after sweaty days in Kuala Lumpur. The region became famous in the 1930s when British expats started discovering the highlands and built Tudor style cottages at the mountain ridges within the lush rainforest.
But today it's not (only) the rainforest that attracts visitors, but the sprawling tea plantations and the countless (rather disgusting) strawberry farms. To be honest, we had mixed feelings about our visit of Cameron Highlands. The traffic was horrible and the strawberry farms aren't just an eyesore, but also illegally tap water from the rainforest. Yet, it's location right in the middle between Kuala Lumpur and Penang made it an ideal stopover for us. We stayed 3 nights, which was definitely on the longer side, so we would recommend only 1 or max. 2 nights here.
Come to the Cameron Highlands for rainforest hikes, followed by high tea at 5pm  and the obligatory tea plantation visit, but don't stay too long.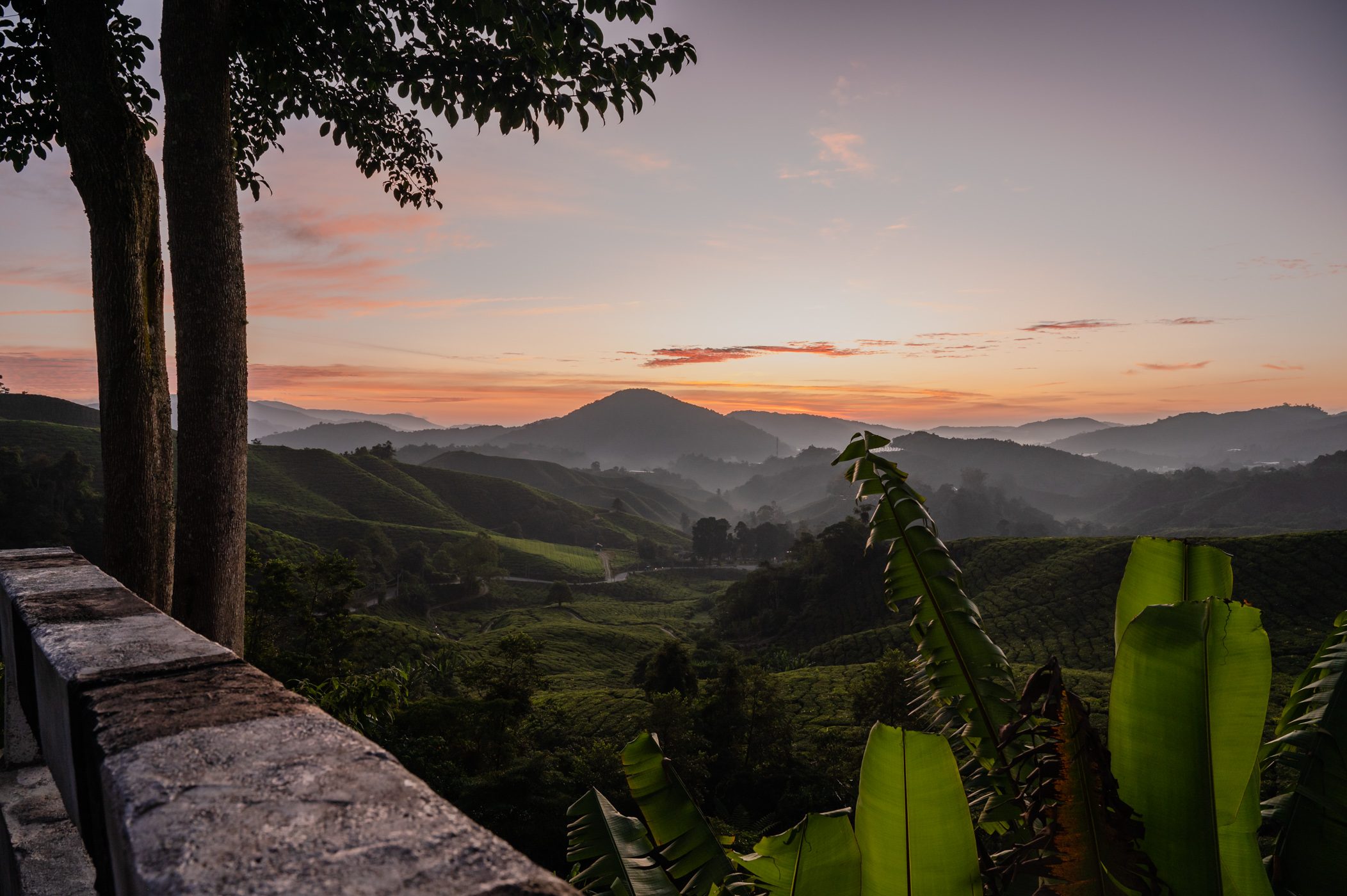 3-4 days in George Town, Penang
Following the cool-down period in the highlands we continued our journey to finally touch down at the West Coast of Malaysia at the Indian Ocean. But before heading to our final beach retreat we had one last stop: The famous former Straits Settlement George Town on the island of Penang.
If you're now imagining a classic South-East asian island holiday destination, stop and rethink and rather change your mindset to Miami Beach meets Bangkok. The greater metropolis region of Penang is the second populous area in all of Malaysia–so Penang is a bustling city on an island, all accompanied by high rises, hip cafés, concept stores and a young, diverse population. Yet the city centre of George Town has kept much of its historical charm with small traditional Chinese sundry shops and colonial mansions, some brought to new glam, others more rustic and decaying. We fell head over heels in love with Penang and plan on coming back for sure!
Make a stop in Penang for a hip city break combined with Peranakan traditions and the famed culinary variety of the city. The street art is a tourist magnet alongside the various coffee shops, bakeries and concept stores.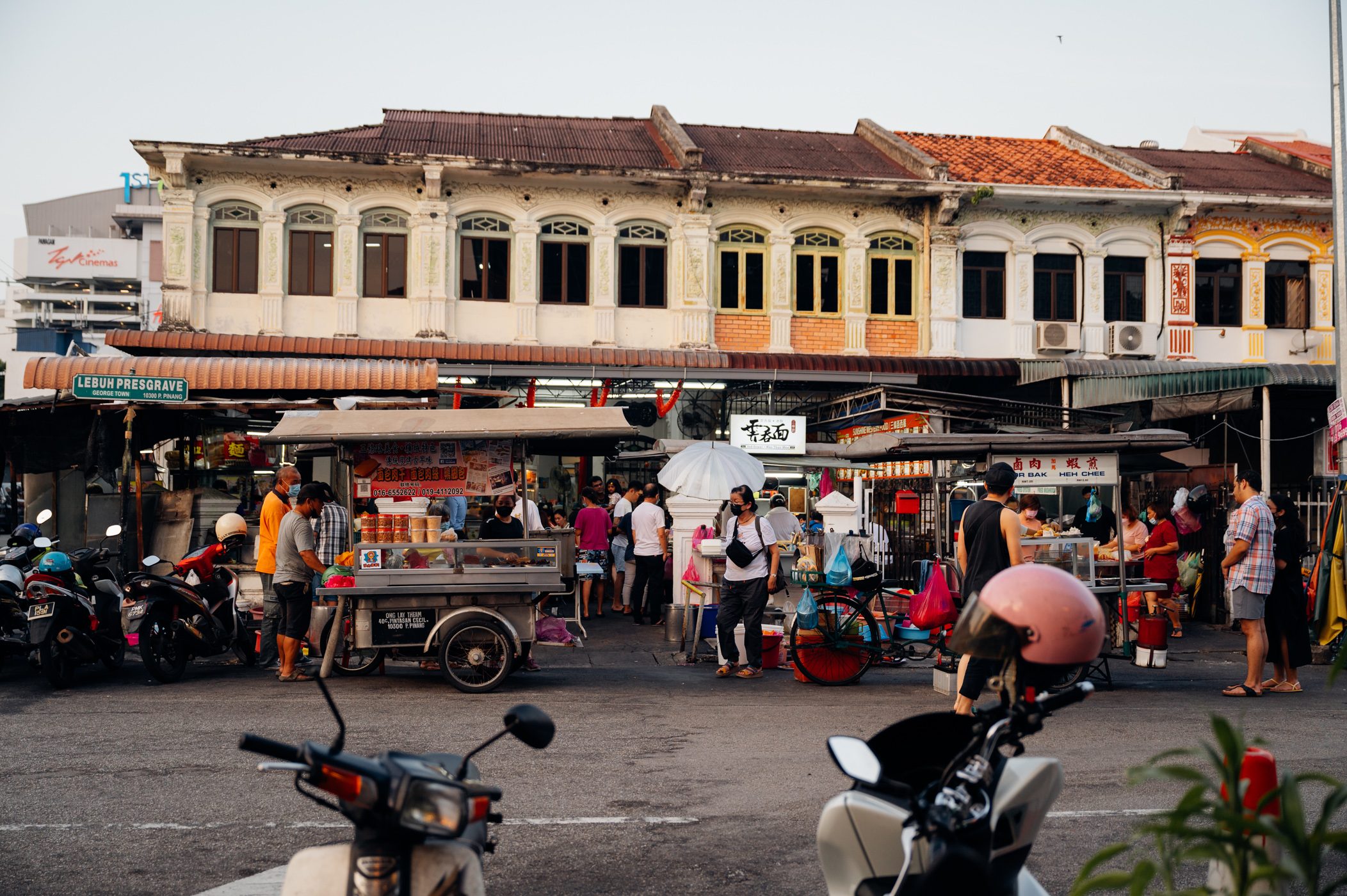 4-6 days in Langkawi
Our final stop of our 3 week Malaysia round trip brought us to the island of Langkawi, which is located in the very North West of Malaysia. The island is directly facing Thailand (you sometimes feel like you could swim over) and offers one of the best beaches we have ever been to. Now we have to admit, we didn't explore a lot of Langkawi, because we stayed at the most iconic hotel here–"The Datai".
The resort is located at the most incredible bay and seamlessly blends into the lush rainforest, that covers the mountainous island. Here we spent 3 days completely unwinding from the round trip and just enjoyed everything the hotel has to offer–from upcycling workshops to forest bathing, Malaysian cooking classes and a course in bee-keeping. This was the perfect way to end the trip for us, but we definitely want to see more from Langkawi next time we travel there!
Visit Langkawi for an island paradise with pristine beaches and tropical rainforests, bird watching, sailing, kayaking, snorkelling and much more.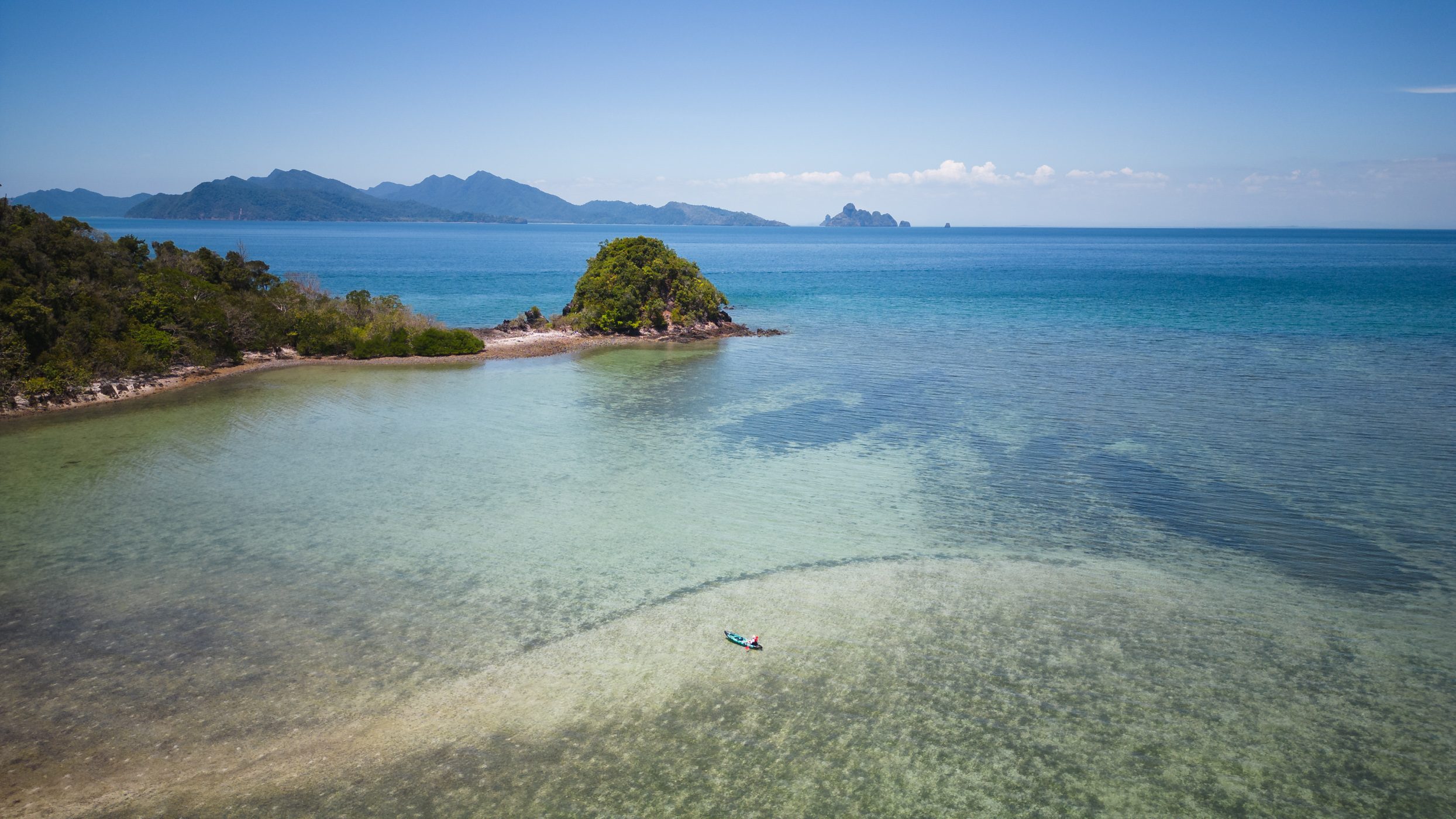 Extra time in Malaysia?
If you have a few extra days of holiday you can add a stopover in Malacca for its colonial history, Peranakan traditions and cuisine and the famous red city centre. Alternatively you can plan a few days in Ipoh, which is said to be a more down-to-earth version of Penang with some iconic temples to visit alongside the marble quarries and caves. If you're up for more islands and water activities the Perhentian Islands in the South China Sea could also be an option–also depending on the season you're planning your visit (the West and East Coast of Malaysia have different climates and monsoon seasons – so bear that in mind when planning your trip).
We visited Malaysia in March, which is when things tend to be dry on the West Coast, but can still be affected by late monsoon rains in the East (which we also experienced at the Desaru Coast and in Singapore with a few really rainy days).
Our take-away from the time in Malaysia
We were rather surprised by the variety that Malaysia has to offer, also due to our lack of preconceptions. While Thailand and Vietnam are famous on any tourist's radar, Malaysia is somehow standing in the shadow of it's South East Asian competition. Yet the cultural diversity with influences from China and British colonial times together with Malay culture and traditions makes for an appealing mix, as well as the natural splendour and the welcoming and lovely people. And don't get us started on the food (although vegetarian options are still not always easy to come by), but there's so many incredible restaurants and food stalls to choose from, that you'll definitely gain a few pounds!
What makes travelling Malaysia easy (especially when compared to other Asian destinations) is the wide spread use of English as well as the favourable prices for Western tourists. In Malaysia you'll get a lot for your bucks, also when it comes to the very high standards in hospitality (everywhere except for the Cameron Highlands maybe, which is a little less polished).
Our bottom line is: Don't make the same mistake as we did and overlook Malaysia for too long, it's worth a trip in South East Asia!
Want to go to Malaysia, but not right now? Save & pin this post for later: