Zambia is completely off-the-beaten path when it comes to Africa – up until today the country is virtually overlooked by Safari travellers. Over 50% of Zambia visitors only set foot in the country to see the Victoria Falls (if they even cross the border from the Zimbabwe side of the falls). But there's so much more to discover, especially an abundance of wildlife – it's time to put Zambia on the map! Let us show you 9 very compelling reasons why Zambia should also be on your bucket list.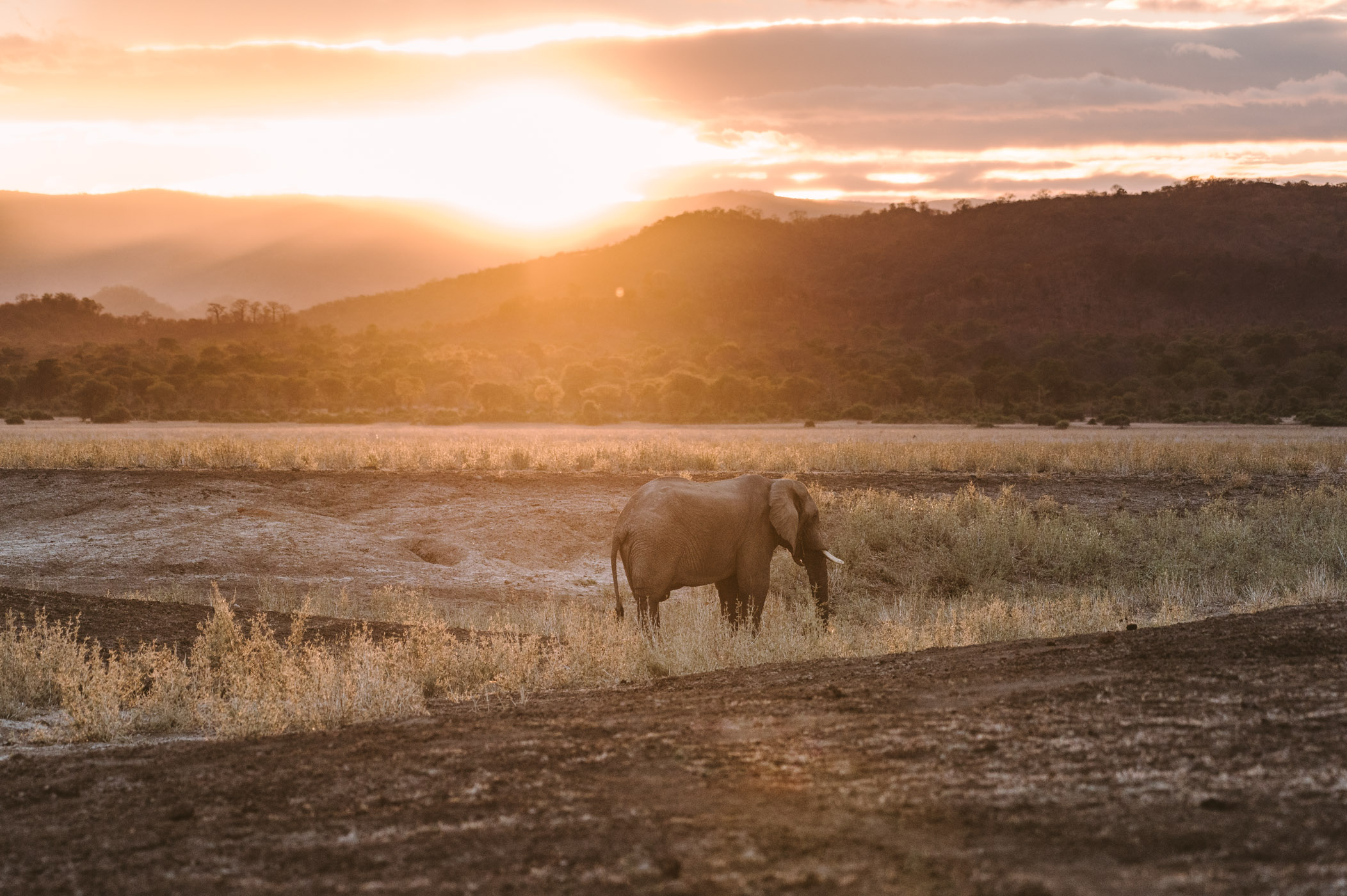 A male elephant enjoying the sunset in the Lower Zambezi National Park.
He might not have seen any tourists before us!
Discover the wild & remote "Real Africa"
After our 3 weeks in Namibia last year we knew we wanted to return to Southern Africa sooner than later. It was then a matter of good luck and fortune when we got contacted by Austrian travel experts Pinto Africa if we'd like to travel to Zambia with them. Fast forward a couple of months and here we are deep in the bush of Zambia – also dubbed the "real Africa". And we already fell in love!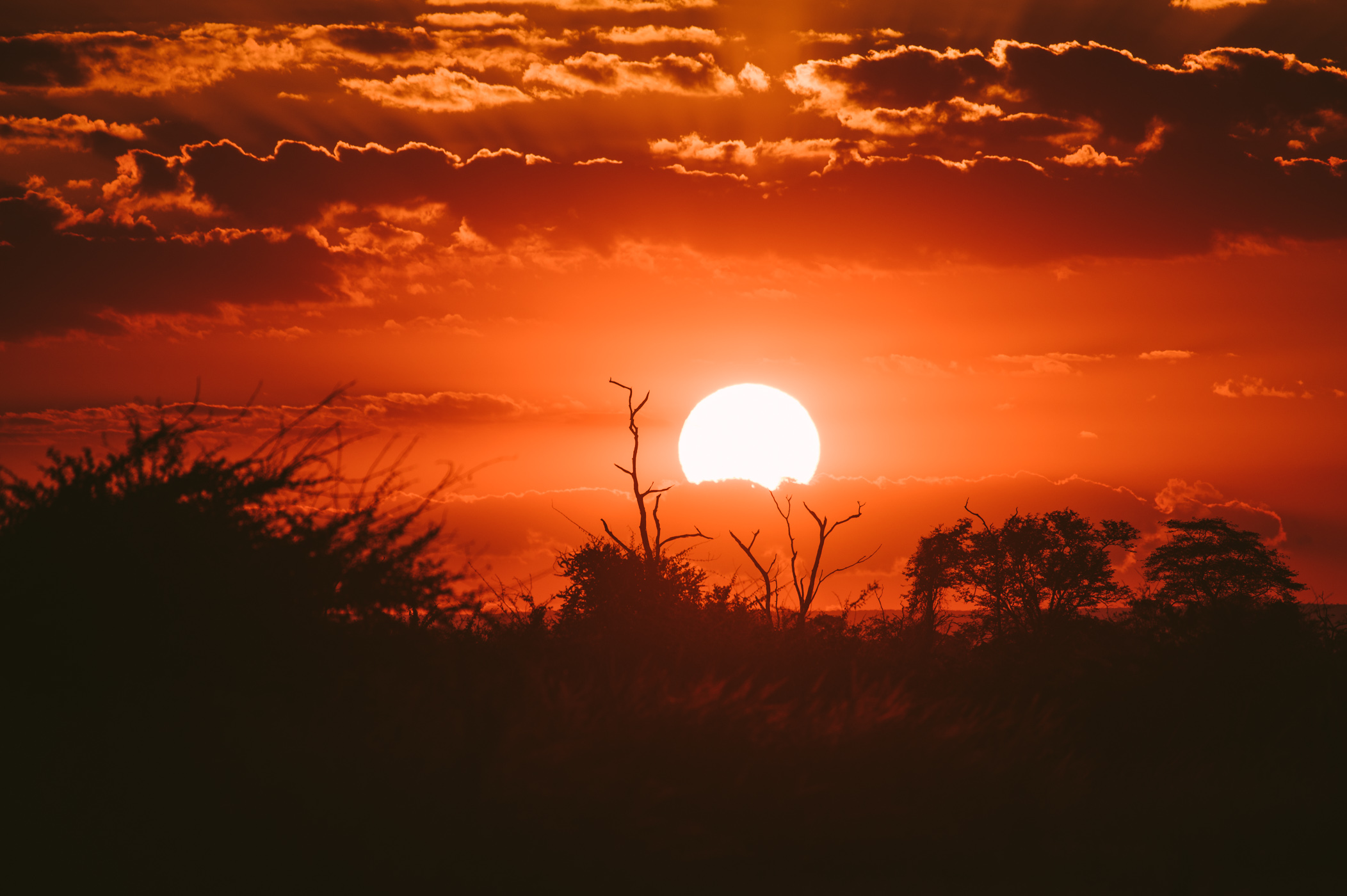 Sunsets in Africa are often spectacular – but even better when you experience them completely off the beaten path.
Around 30% of Zambia are dedicated for wildlife as either national parks or game reserves. These regions feature some of the most abundant wildlife in all of Africa – with the added bonus, that you have the animals all to yourself! If this isn't a good reason all by itself, than just wait for the other 9 reasons why Zambia rocks!
Zambia has some of the most abundant numbers of wildlife – all in areas as remote as it gets!
9 compelling reasons to visit Zambia
So without further ado, here are our 9 reasons for Zambia:
The best kept secret in Africa: Low tourist numbers
The real Africa: Back into the bush
Wildlife deluxe: 30% of Zambia are reserved for wildlife
Water, water, water: The mighty Victoria Falls & all the rivers
South Luangwa: Home of the leopard
Lower Zambezi: A private Safari island
Personal service & dedication: Small owner-run camps & lodges
Easy to reach: Connected via Lusaka
Safety & ease of travel: No need to worry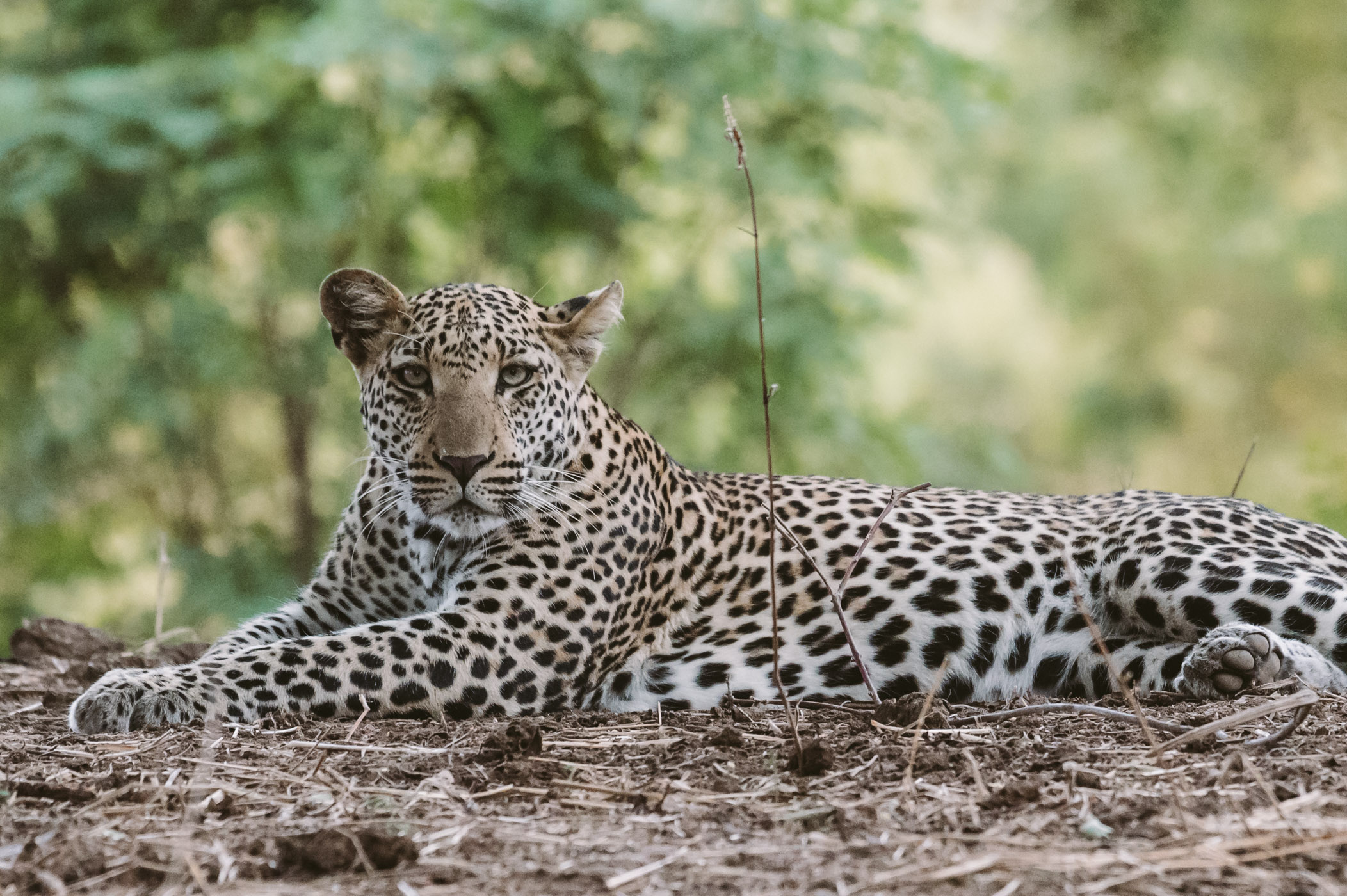 Just during our first 5 days in Zambia we saw 5 different leopards!
1. The best kept secret in Africa: Low tourist numbers
When you look at the number of tourists coming to Zambia it becomes clear why it's so off-the-beaten path. There's only around 1 million tourists visiting the country every year – and as stated above over half of them visit solely for the Victoria falls (all the way in the South of the country) and never set foot in one of the 20 National Parks or 34 Game Reserves.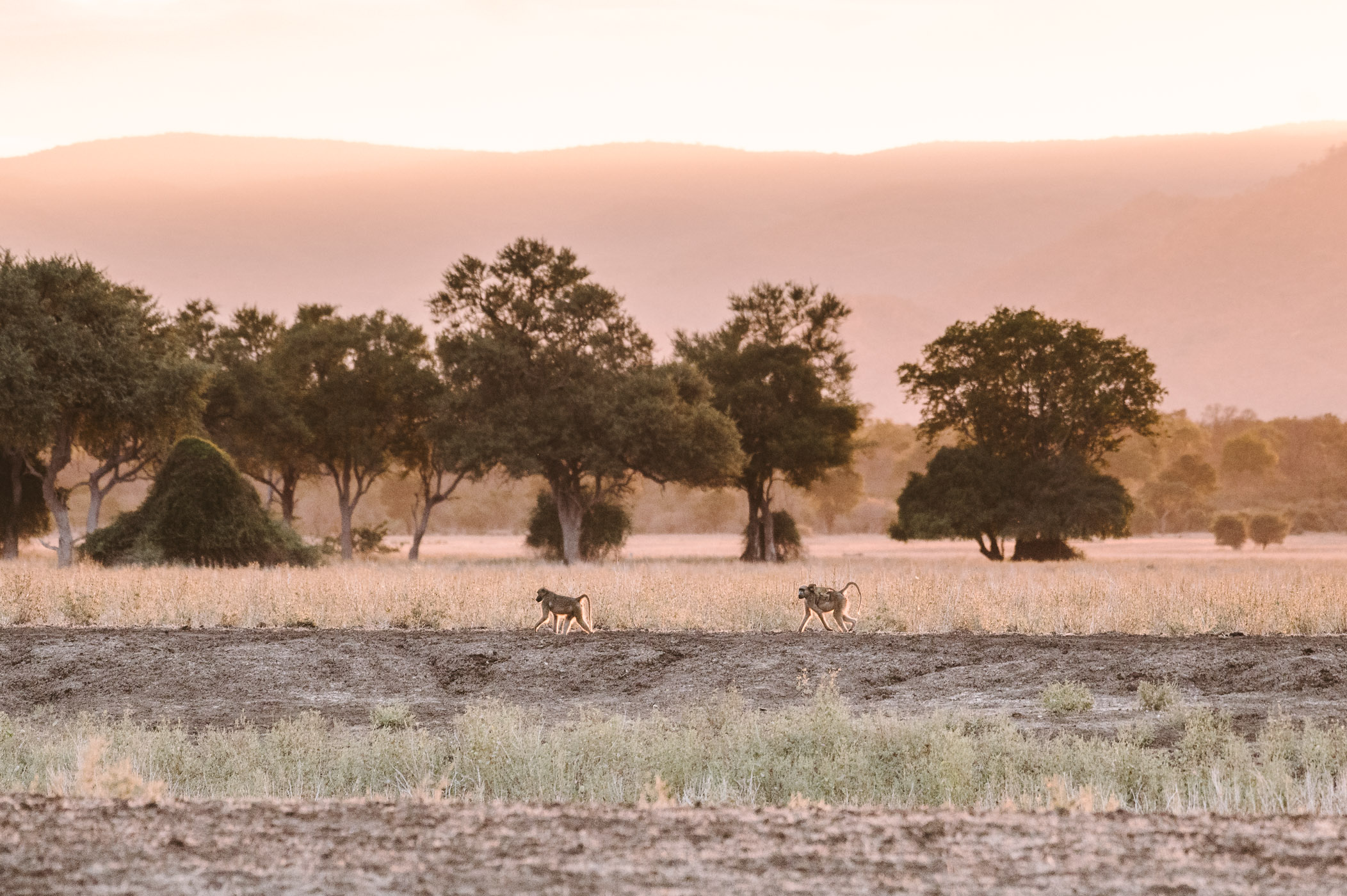 It's more likely to meet baboons than humans in Zambia.
We visited 2 different National Parks (South Luangwa and Lower Zambezi) and got a sense for how remote you can go in Zambia. Especially our stay in a fly camp on an uninhabited island in the Lower Zambezi National Park was as close to nature as one can get. But we'll get to that in the next reason for  a visit of Zambia!
From elephants to buffalos – Zambia lets you tick off our Big 5 game easily!
2. The real Africa: Back into the bush
When you go on a safari you can choose accommodations ranging from luxury lodges to mobile camps directly in the bush. All have their pros and cons and we personally prefer a good mix. After a few days living in simple tents in the bush with wildlife encounters to the max we love to relax in a luxurious lodge for a couple of days. The balance makes a safari perfect for us!
But when it comes to remote nature experiences nothing beats original bush camps and walking safaris.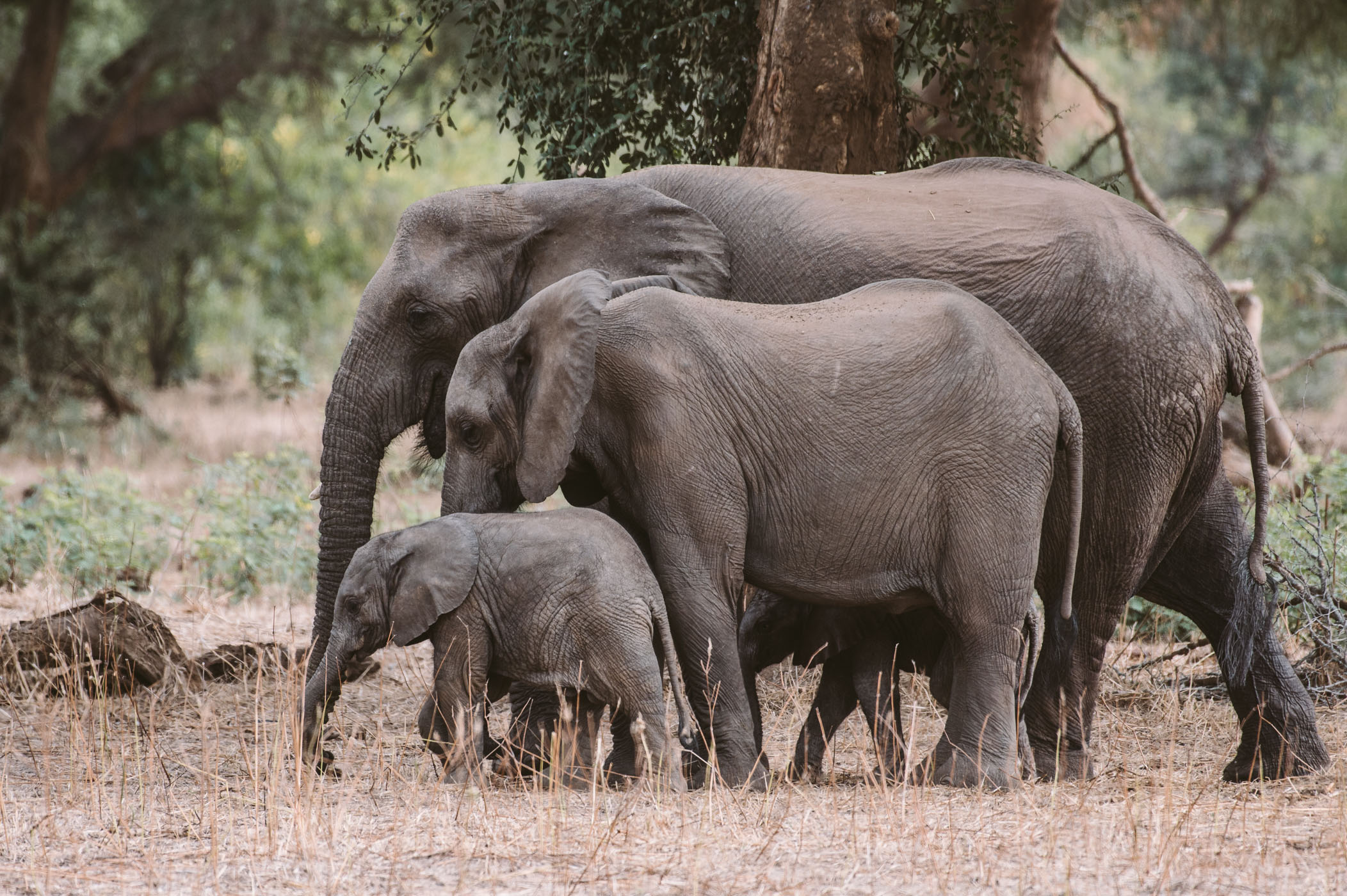 Did you know that Zambia is the birthplace of the walking safari? While walking you can discover not just the big things, but also adjust your senses to the small things – learning how everything is interconnected. You'll be able to read tracks, learn about insects and plants and maybe even see the "Small 5" (the real challenge when it comes to a Safari!).
On a walking safari you learn to read tracks and see the little things!
Zambia is where the walking safari originates from – so it's done best here.
3. Wildlife deluxe: 30% of Zambia are reserved for wildlife
A whopping 30% of Zambia is dedicated to nature & wildlife. That's over 200.000 km2 – or 2,5 times all of Austria! While those numbers are hard to imagine, what's even harder to figure out is where to go on a Safari when visiting Zambia.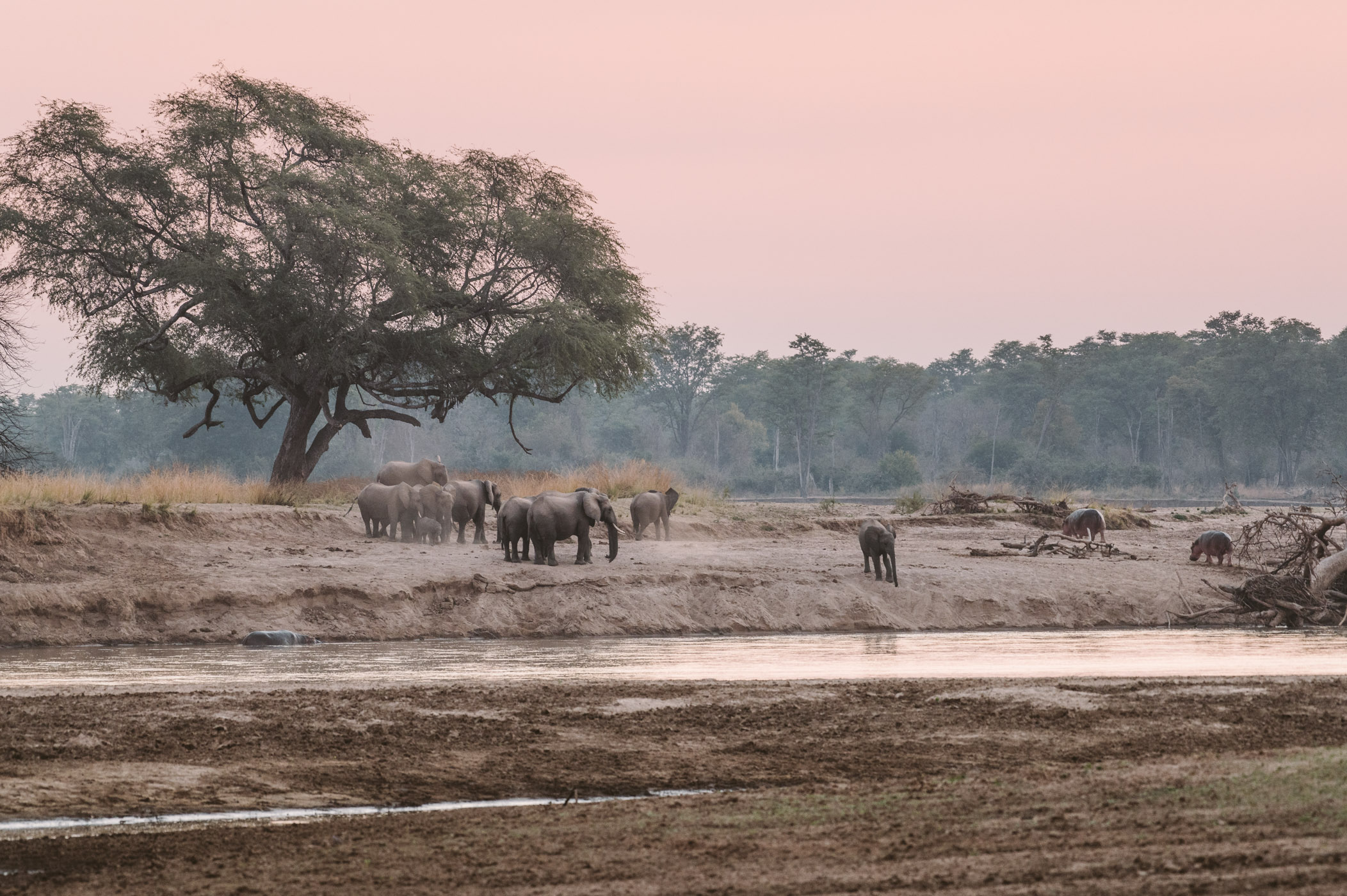 From the 20 National Parks there's 3 that are the most prolific in Zambia:
South Luangwa National Park
Lower Zambezi National Park
Kafue National Park
We visited two of those – the South Luangwa and Lower Zambezi National Park – and will tell you a little bit more about why they make great safari locations.
When the sun sets during a game drive (or river safari) it's always a magical moment.
The 3 National Parks feature the 3 most important rivers in Zambia – the Zambezi, Kafue and Luangwa river!
4. Water, water, water: The mighty Victoria Falls
But before we come to the wildlife, let's talk about one of the main reasons to visit Zambia: The incredible Victoria Falls, called "Mosi-oa-Tunya" by locals – "the smoke that thunders". Now while we think it's impossible to show their grandeur in photos, let us tell you they are one of the 7 natural wonders of the world for a very good reason. We've never seen water drops float upwards in the air like there before. Pure magic!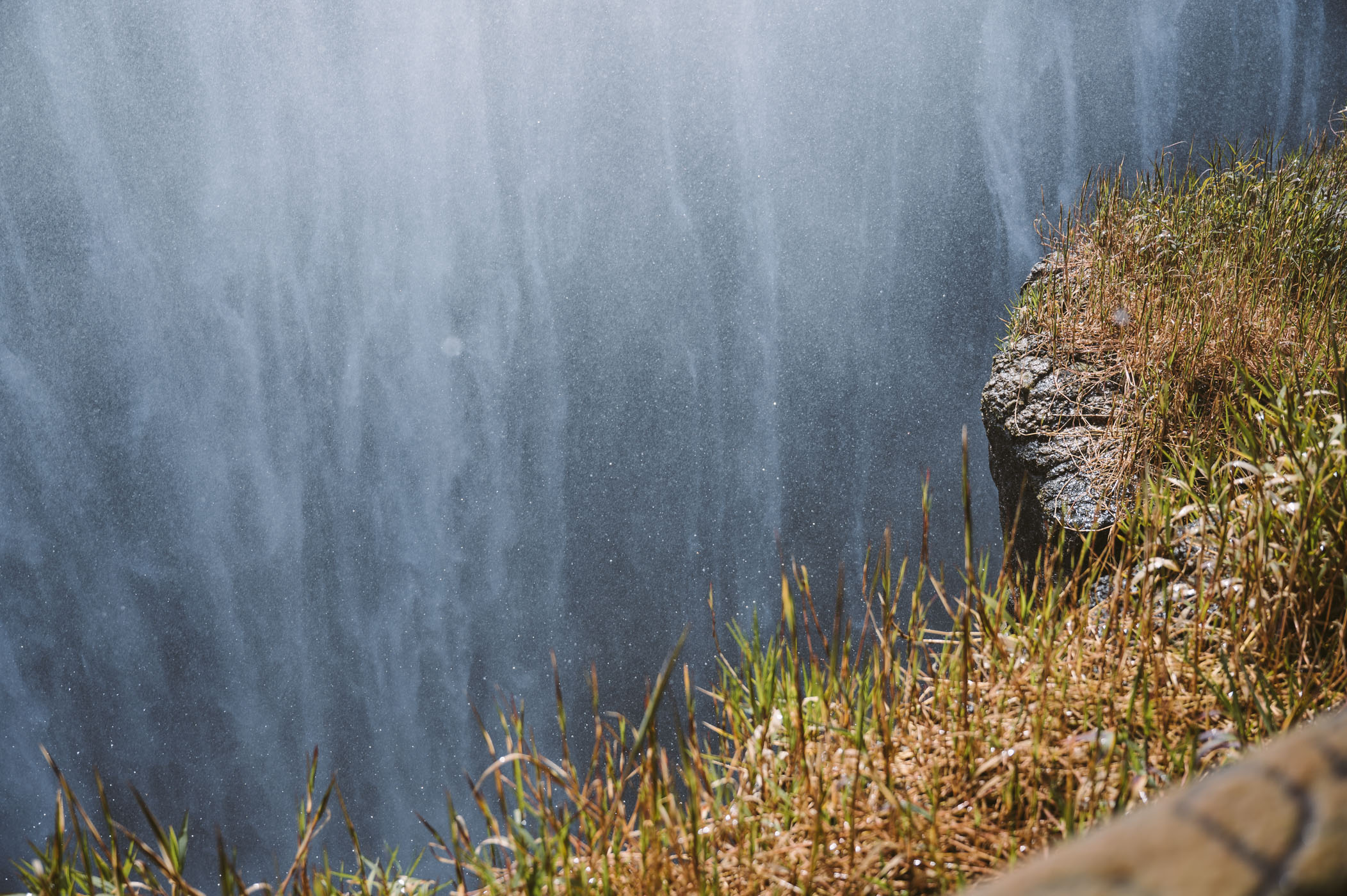 It's hard to show the magic of the Victoria Falls in photos – you have to see it for yourself one day!
And when compared to the Niagara Falls the Victoria Falls are just way more natural and untouched. Here you'll see locals going into the water for a quick dip to cool off and you'll be able to walk along the riverbed almost by yourself (while we had to stay in line for some of the viewpoints at Niagara Falls for hours!).
The sheer size of the falls is astonishing!
And it has a special atmosphere that is hard to describe or show in photos…
And by the way: Zambia has more natural water resources than any other southern African country! So it's not just Victoria Falls, but all the other falls and rivers – an incredible asset.
Where we stayed in Livingstone:
Tongabezi
Chundukwa River Lodge
5. South Luangwa: Home of the leopard
But now it's time to talk about the most important part of Zambia: The wildlife! The concentration of animals around the Luangwa river and alongside it's lagoons is said to be the most intense in Africa. Once we entered the gates of the South Luangwa National Park we already saw giraffes, zebras, hippos – all within an arm's length of our car.
South Luangwa isn't only the home of the leopard, but also of many other animals!
And the South Luangwa National Park comes with it's own nickname – it' called the "Valley of the Leopard". During our 4 days in the area we saw 2 different leopards on multiple occasions and can only give testament to that nickname. Spotting leopards is incredibly challenging – especially in the forests – so you can only imagine how many more leopards must live in the area if we already spotted those 2 in this short period of time!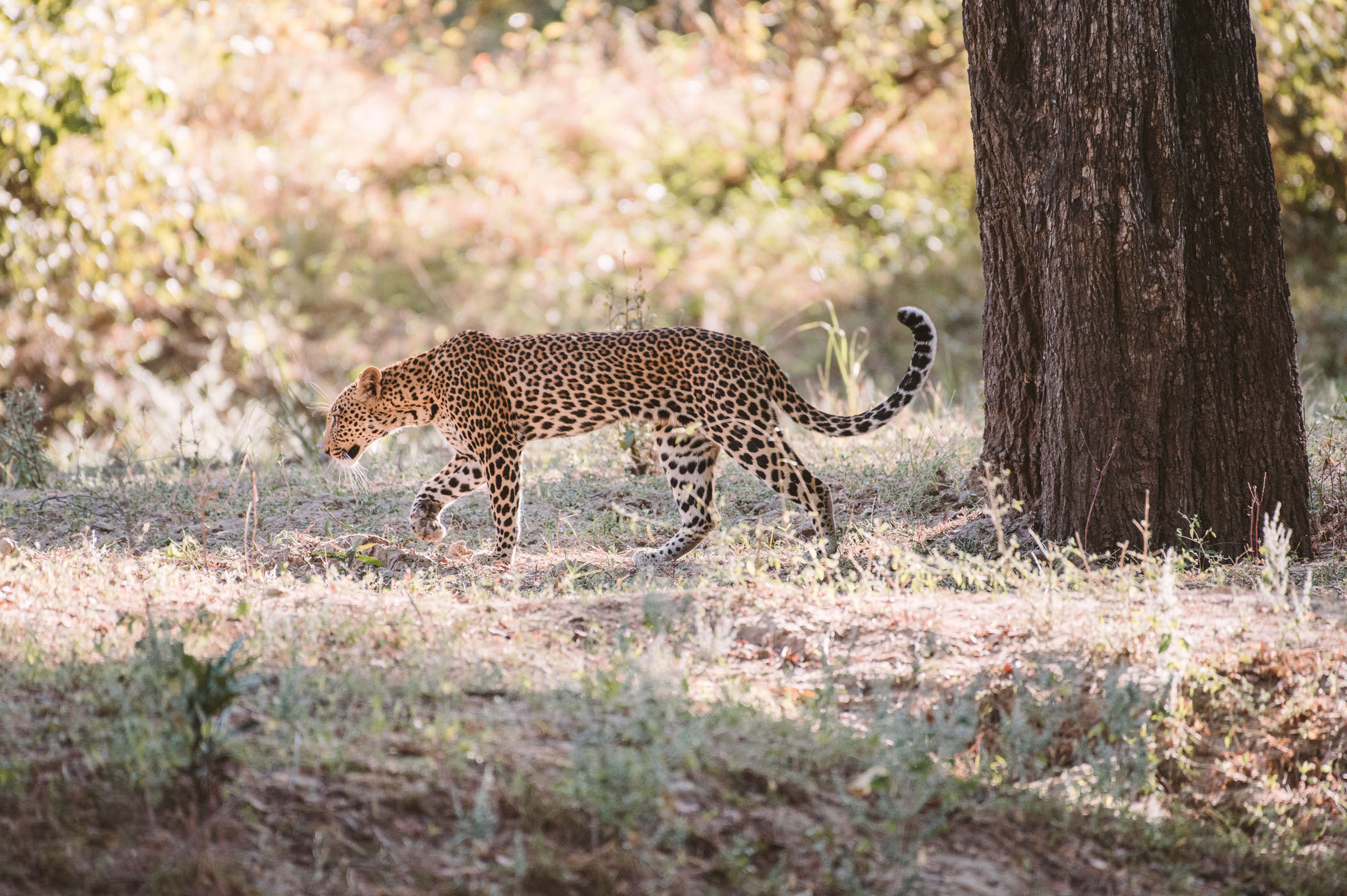 Seeing leopards in the wild was a dream of mine and I can safely say this dream has been fulfilled in Zambia!
Where we stayed in South Luangwa National Park:
Shenton Safaris
6. Lower Zambezi: A private Safari island
The Zambezi is one of the most important rivers in Zambia (it's also the river that feeds the Victoria Falls). Alongside the riverbanks you'll also find the Lower Zambezi National Park. This smaller park is relatively undeveloped making it one of the most remote places to visit, that is still fairly easy to access from Lusaka (via a 30 minute plane ride).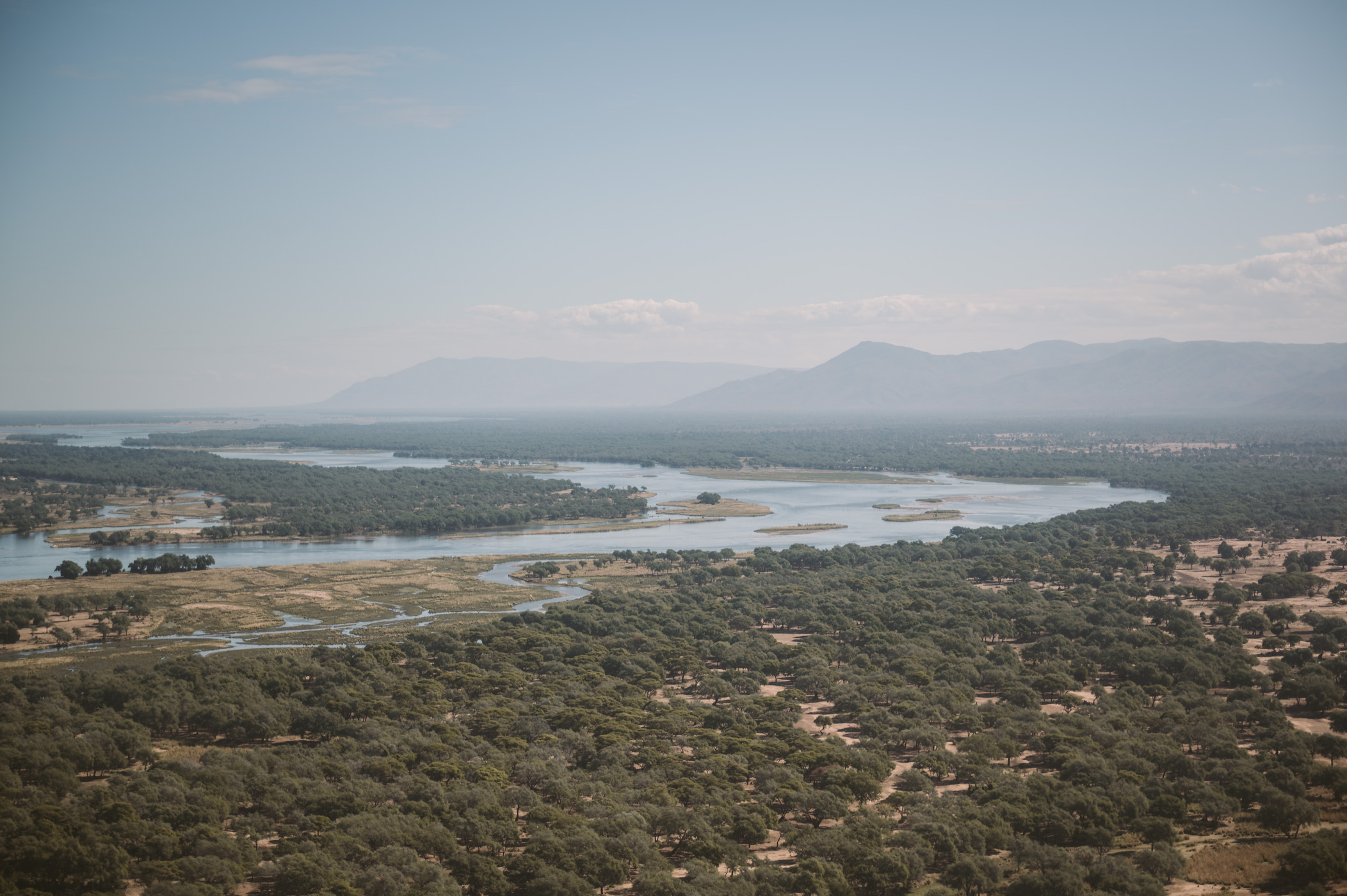 Upon arrival on the small jet you'll see the vastness of the Zambezi river.
From Jeki airport the guys from Tusk & Mane will pick you up – first by car, then by boat – to get to the private island.
If you're lucky (like us) you'll see the first animals along the way.
What you can experience here is a very special form of Safari holiday. You can stay in a fly camp on an uninhabited island! The camp is only accessible via boat and you'll sleep in custom-made and uniquely designed tents, that are comprised almost exclusively out of mosquito net. This way you'll feel truly immersed in nature! And although it's only a seasonal camp it features comforts like sinks with drainage and fully flushable toilets.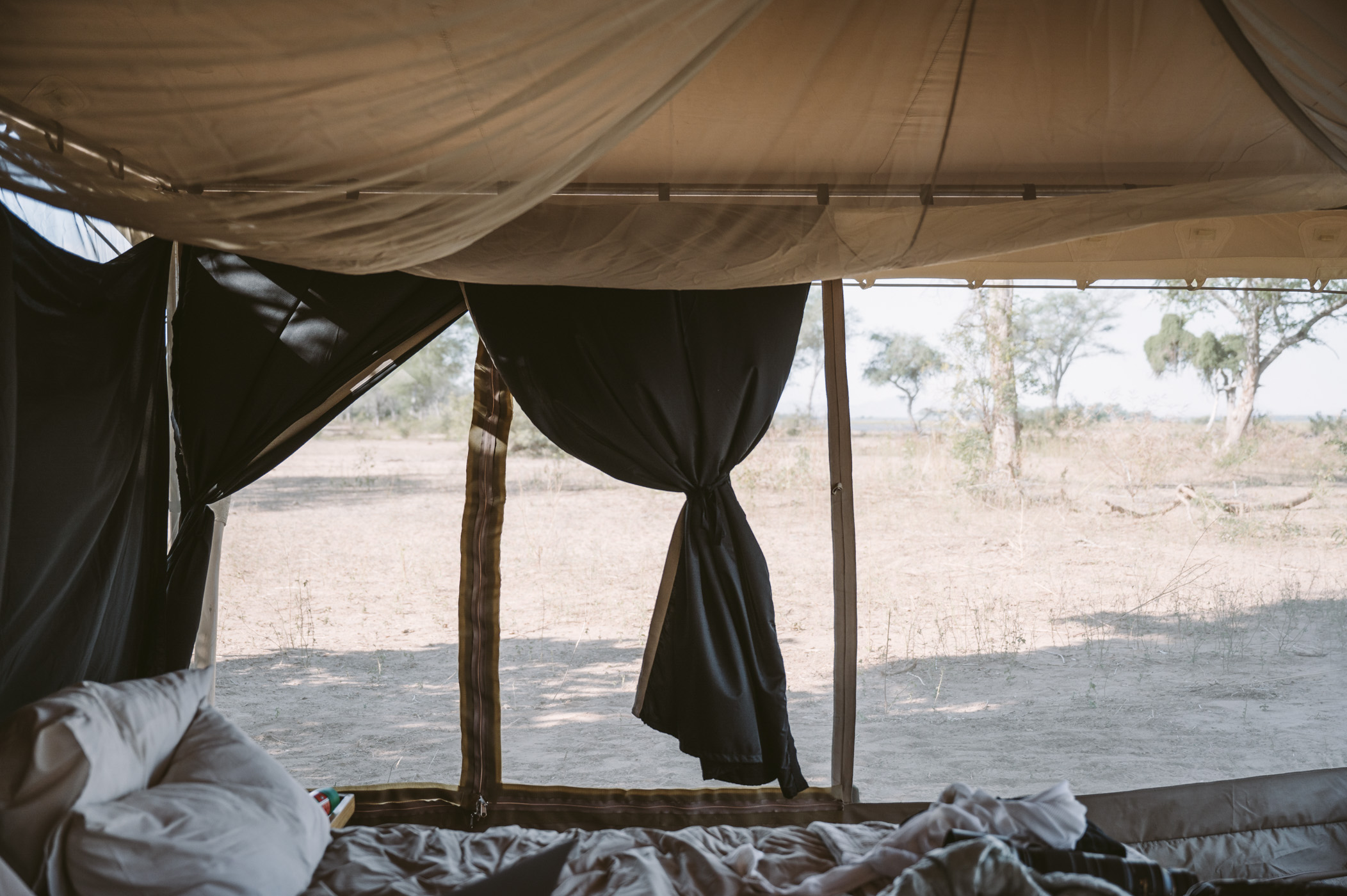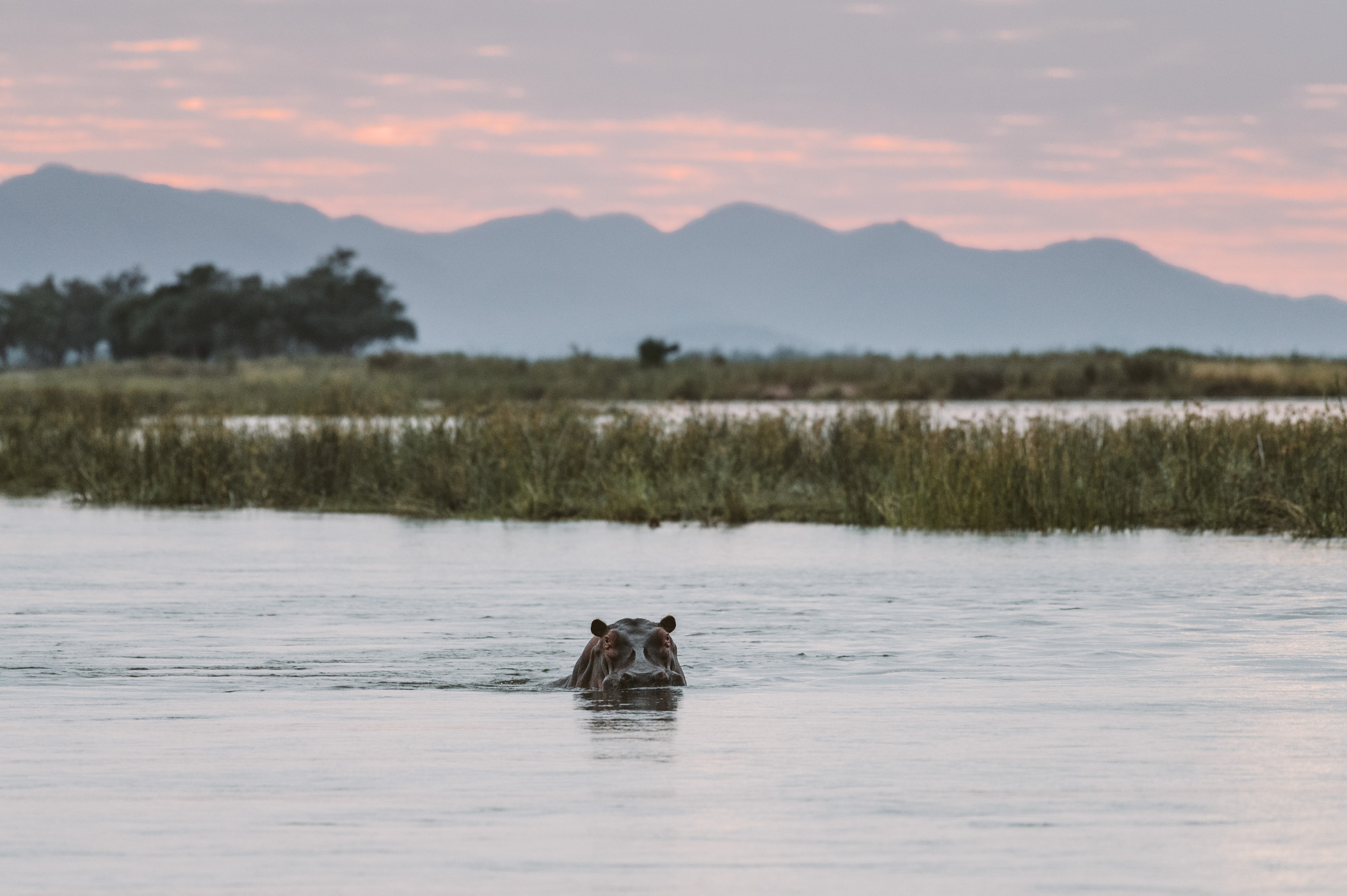 The tents of Tusk & Mane are located on a remote island in the Zambezi river.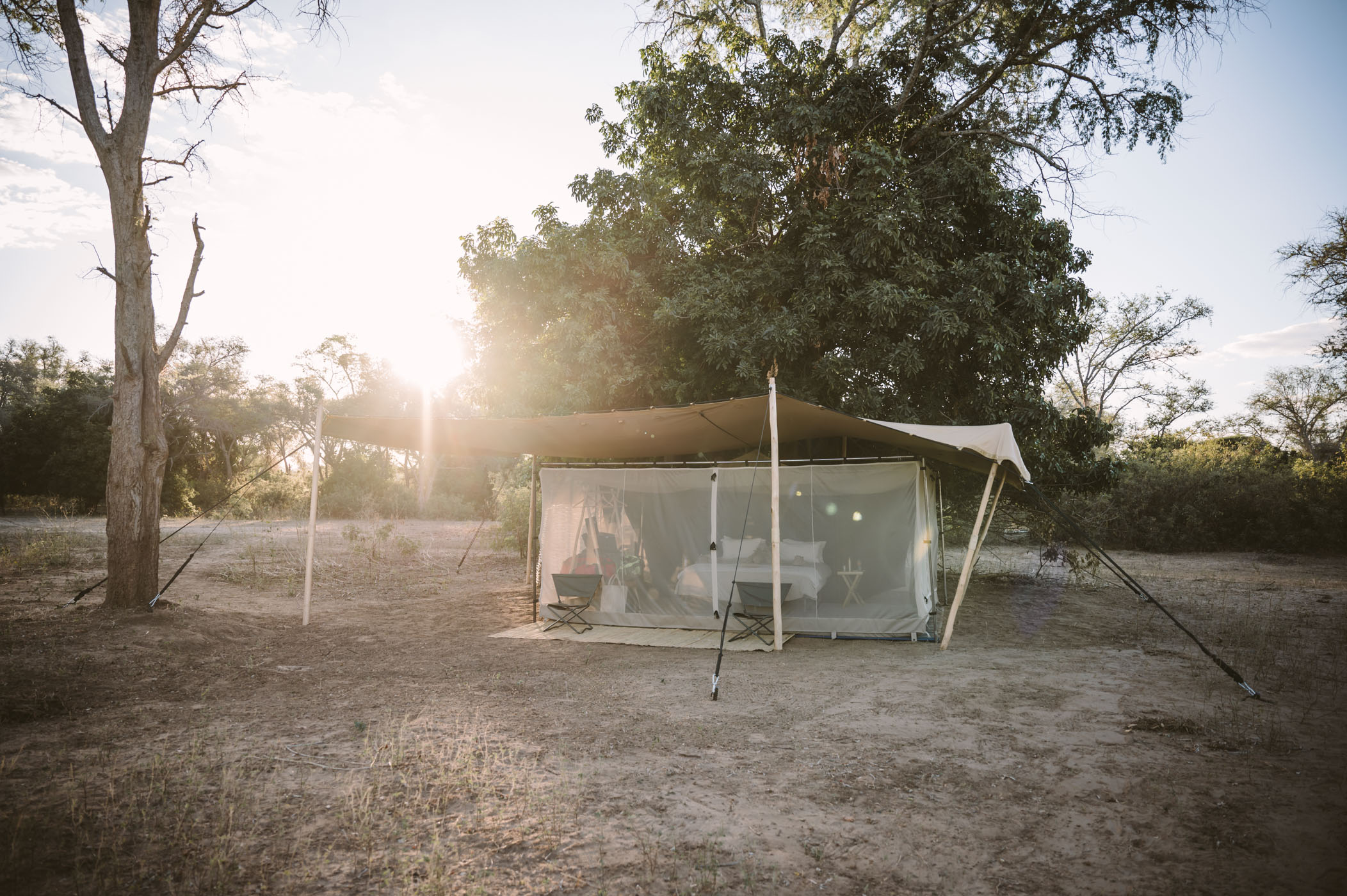 The Tusk & Mane fly camp in the Lower Zambezi National Park
Here in the Lower Zambezi National Park the Zambezi river separates Zambia from Zimbabwe and amidst the wide riverbed there are some scattered islands, which are only accessible by boat. We stayed in the Chula fly camp of "Tusk & Mane" for 3 nights – on an island called "Discovery island" all by ourselves. There are no other camps on the huge island! From here on we went on river safaris on their pontoon or walking safaris in the untouched forests of the island.
There's no better way to connect with nature and learn about the wildlife in Zambia!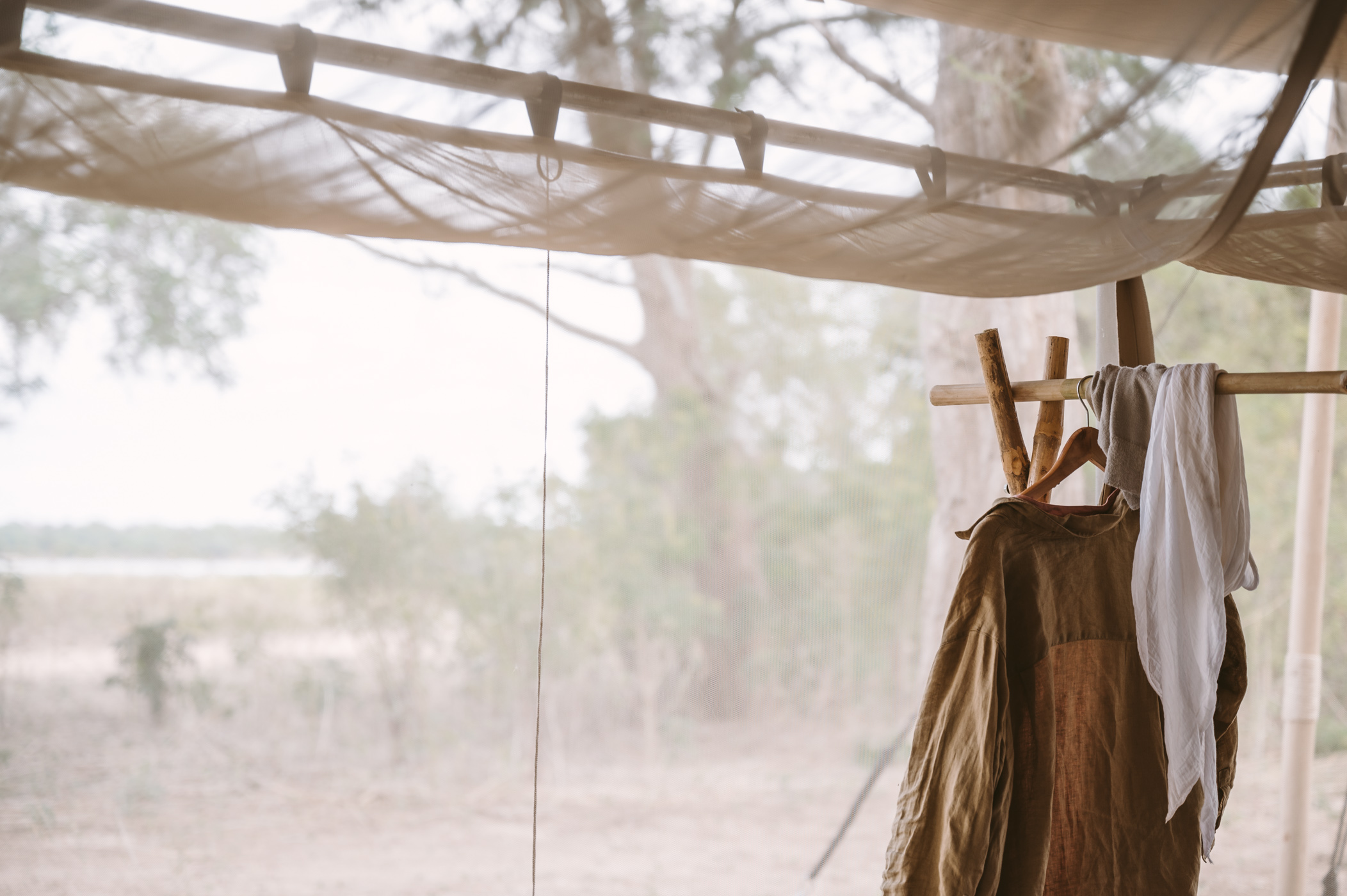 Check out more about our camp here: Tusk & Mane
7. Personal service & dedication: Small owner-run camps & lodges
One of the main qualities of a country that has a relatively small tourism industry is the dedication of individuals towards developing the area. All the camps and lodges we tested in Zambia were small entities, that were completely owner-run. This way you'll get up close with their personal stories and learn a lot about the region from the people who are involved directly.
Shenton Safaris in the South Luangwa is small and owner-run with very personal service!
We even got to spend two nights in their star beds, which is one of the best experiences you can have in the bush.
The expertise of the hosts is incredible and it's great to learn more about the efforts they are undertaking to develop the tourism industry in Zambia in a sustainable way. By staying in owner-run lodges and camps you can support the country's tourism industry directly, without going through huge international corporates.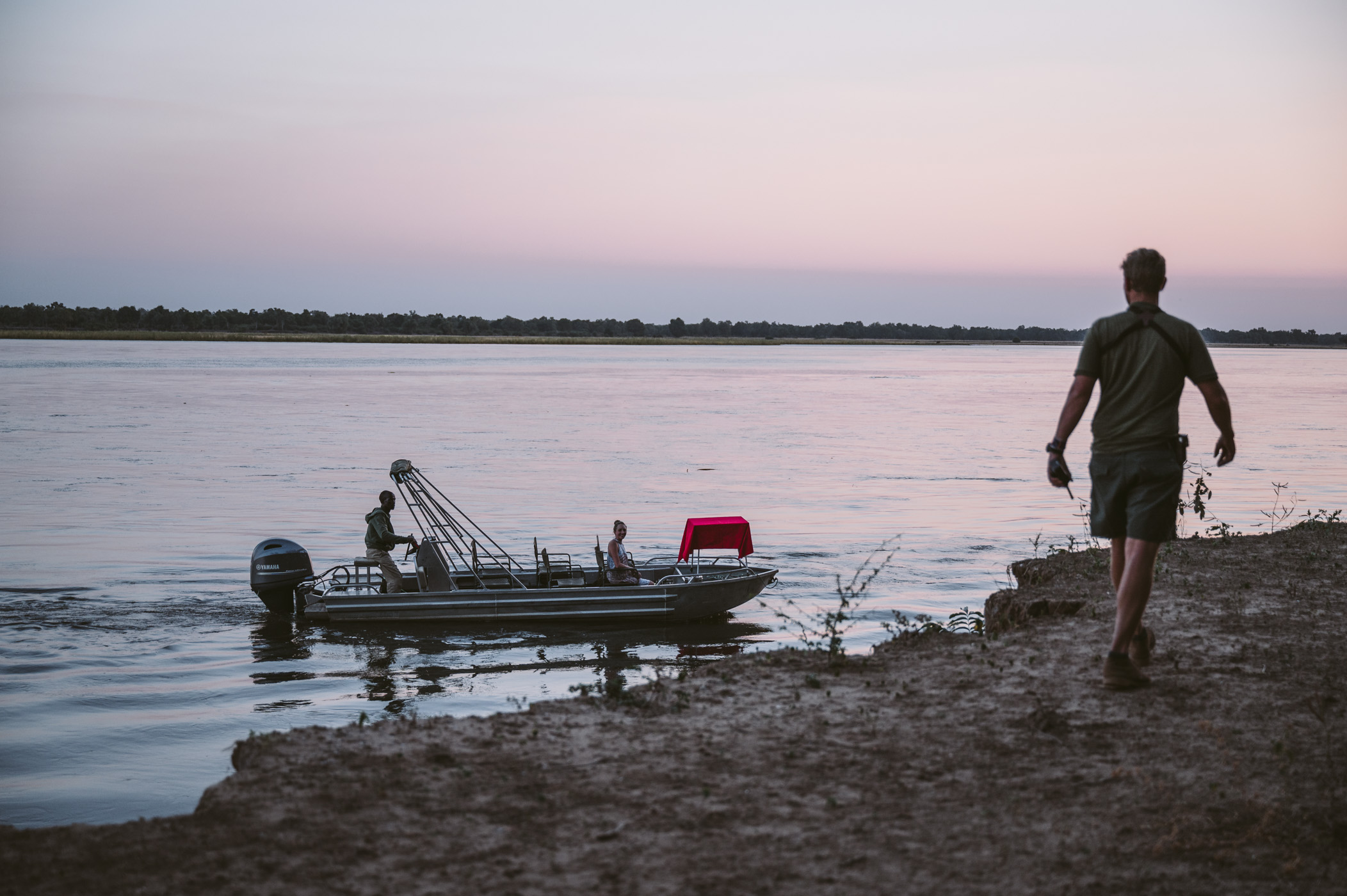 The team of Tusk & Mane is setting up a Sundowner along the banks of the Zambezi river.
From sundowners to the fireplace at sunset – the camp owners will be at your side!
Read all about the lodges & camps we tested while in Zambia!
8. Easy to reach: Connected via Lusaka
So, if these aren't enough good reasons for you to visit, then here are some more technical arguments. Zambia is quite easy to reach via it's capital city Lusaka and the modern international airport. We flew into Lusaka with Ethiopian Airlines (which has one of the most modern fleets) from Vienna with a stop in Addis Abeba. Usually the flights go to Lusaka directly from Addis Abeba, but we had an additional short stop in Harare to drop off and pick up passengers (while we stayed in the aircraft for about 45 minutes).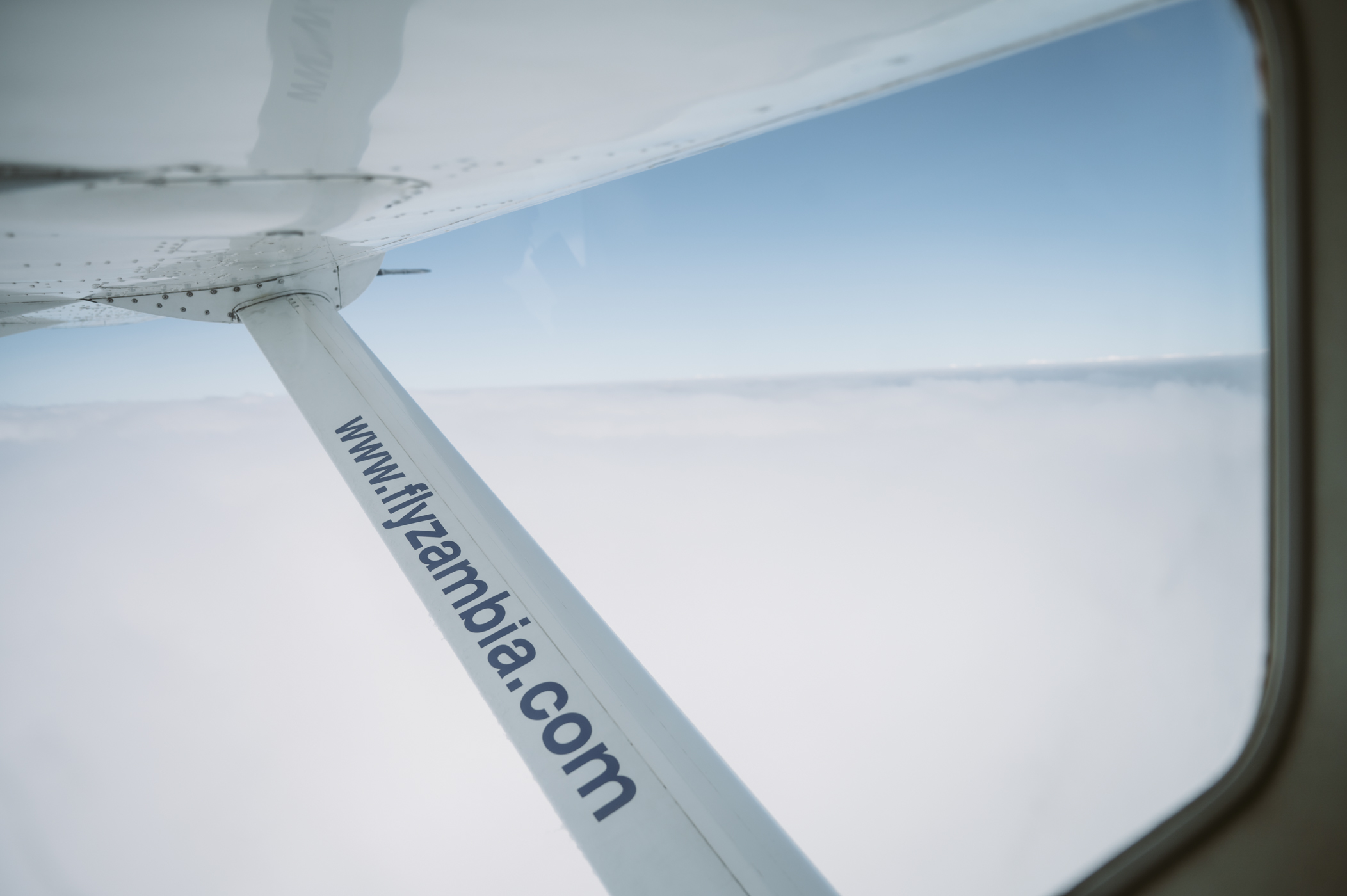 Within Zambia we flew in small aircrafts by national carrier Proflight.
Although there is no direct connection to Lusaka from Vienna (yet), our travel time was not too bad with around 15 hours and we arrived in Lusaka in the early afternoon hours with ease. There's no time difference, which makes things even more comfortable. The immigration took us about an hour and then we were picked up to go to our hotel.
Lusaka is the gateway to Zambia.
And the Latitude 15 hotel one of the best places to stay!
We recommend to stay in Lusaka for a night before you head out for your Safari adventures! Without having to fight a jet lag that's as easy as it gets 🙂
Check out more about our hotel in Lusaka here: Latitude15 hotel
9. Safety & ease of travel: No need to worry
Last but not least it's good to know, that Zambia is renown to be one of the safest countries in the world to visit. Although 54 percent of people in Zambia live below the poverty line, the democracy in Zambia is quite stable since many years (as opposed to some neighbouring countries) and the country has really low crime rates.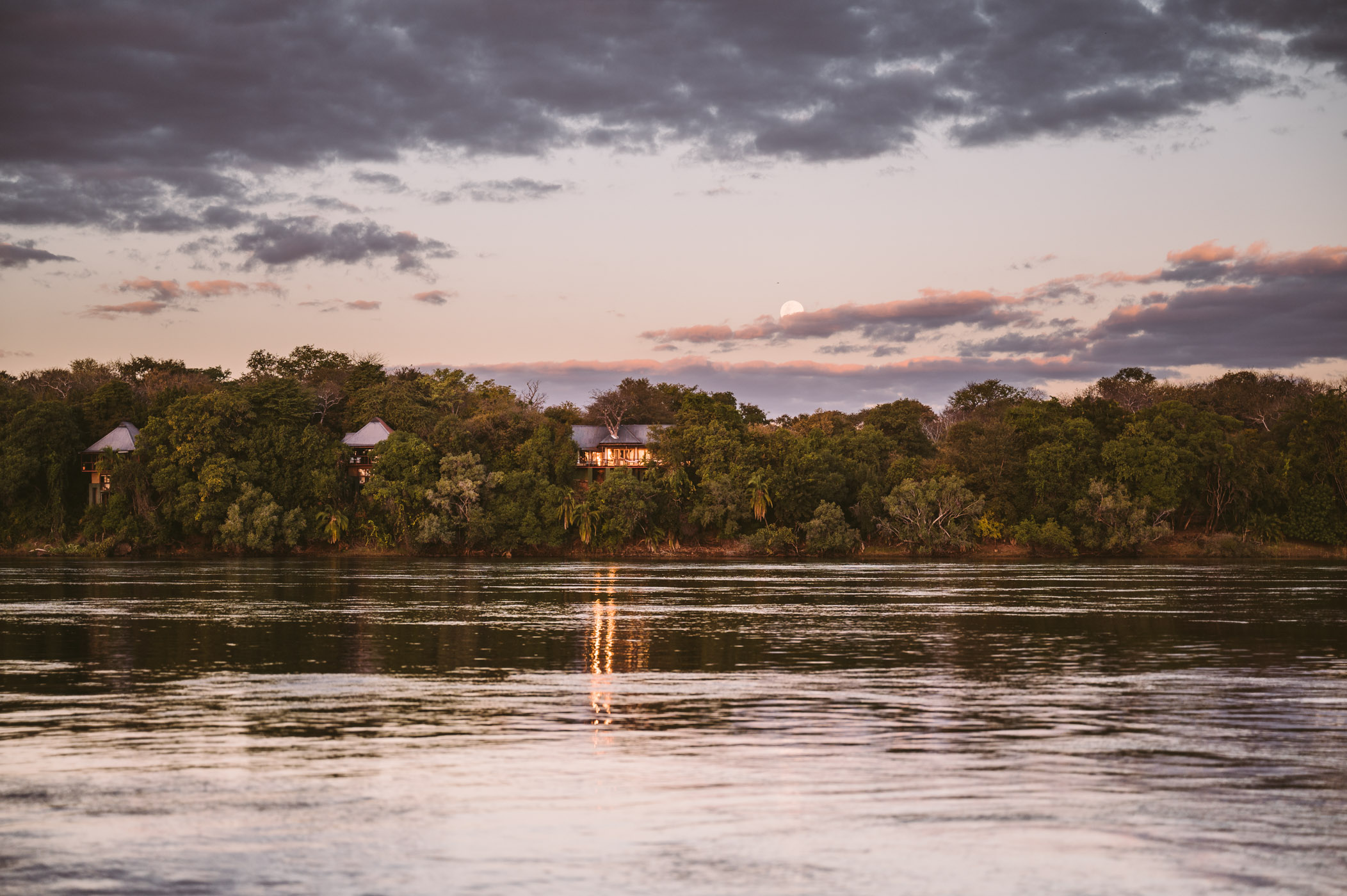 Zambia made it into the top 10 lists of safe countries to visit in the world!
Once you're in Zambia traveling around is really comfortable & fairly easy – the national carrier Proflight has daily connections to most of the important National Parks and from the airports (or airstrips) you'll be picked up by your lodge or camp. We hear that it's also possible to do self drives in some parts of the country, but haven't tested that ourselves.
We used the services of Proflight during 3 flights within in Zambia and each was on time and very comfortable.
Our last flight was even a private one with just us two as passengers in a small Cessna!
When traveling to countries like Zambia it's always good to check with a doctor about necessary vaccinations and also Malaria prophylaxis. Since we travelled to Zambia in the dry season we only brought Malaria standby medicine (and we only encountered one or two random mosquitoes during the whole time there) – so it's not a high risk area. But this is obviously a personal choice and you can also easily take Malaria medicine ahead of the trip. All in all Zambia is also a very safe country when it comes to your health!
How to plan your stay in Zambia
When it comes to planning we recommend to use a specialised travel agency to set up your trip in Zambia. There are many lodges which don't offer online booking and planning an individual trip can be quite complicated here. When you're based in Austria like ourselves we can highly recommend the services of Pinto Africa.
The couple Bettina & Luke Evans run Pinto Africa and Luke is also one of the founders of the Tusk & Mane camp in Zambia. He grew up in Zambia and both of them lived in Zambia for many years, before going to Austria. So you'll be in great hands with them! We can't thank them enough for planning our Zambia trip and getting us in touch with the "real Africa".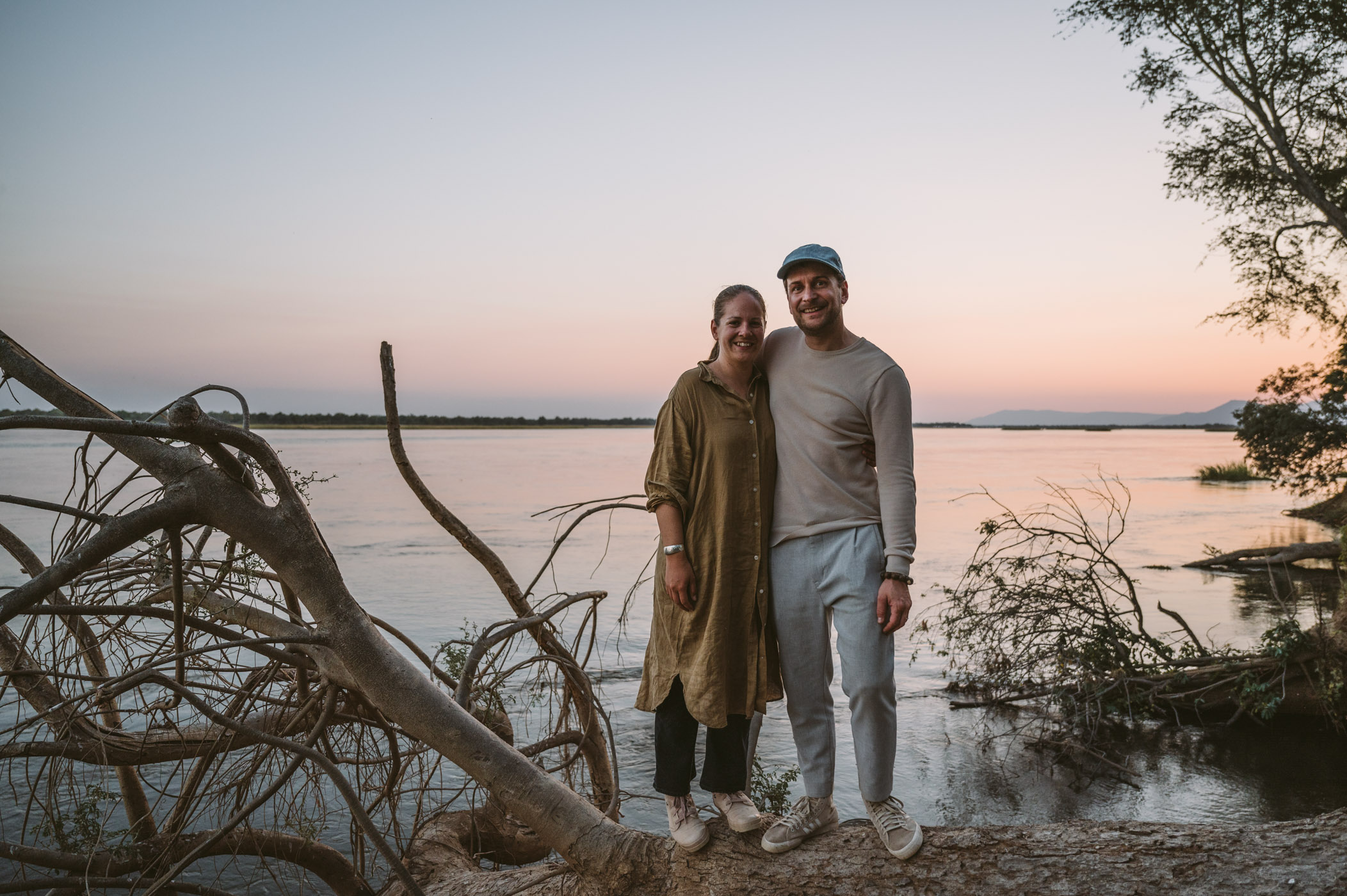 This is us in Zambia! <3
We hope you'll fall in love (with the country) just like us 😉
Zambia, here we come (again)!
So, these were our 9 very good reasons to visit Zambia! We hope we've got you convinced to put Zambia on your bucket list, because we truly fell for that country. We definitely want to return one day to see the world's second largest wildebeest migration in the Liuwa plains or the largest National Park of Zambia – the Kafue!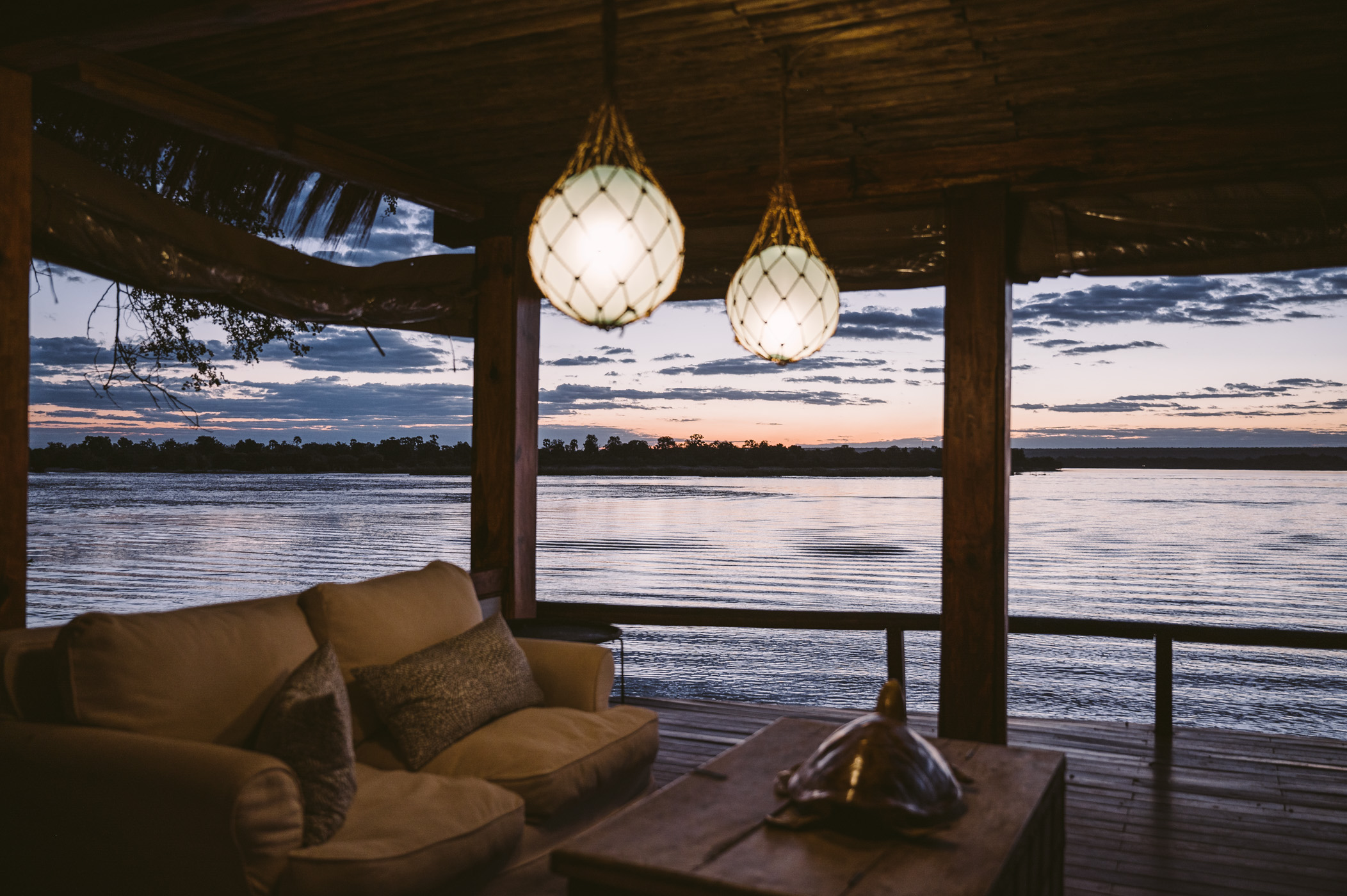 In the next blogpost we'll show you a couple of the wonderful lodges in Zambia!
This is Tongabezi alongside the riverbanks of the Zambezi in Livingstone.
Read more about where to stay in Zambia:
Disclaimer: This is not a sponsored post, but we were invited to discover Zambia by Pinto Africa in collaboration with local partners (ProFlight airline, Zambian Ground Handlers, Shenton Safaris, Tusk & Mane, Tongabezi Lodge, Chundukwa Lodge). We were not required to post anything from this trip. The views in this blogpost are our own!