On the flight in we get a glimpse of how vast Kafue National Park is. For over an hour we're flying over the South-Eastern part of Kafue National Park and all we can see is savannah and plains and sometimes a glimpse of the Kafue river, that lends the park it's name. It's our second trip to Zambia and one of the main reasons was to finally also make it to Kafue National Park, which we had missed during our first Zambia trip.
About Kafue National Park
In fact up until today many Zambia travellers don't make it all the way to this iconic National Park. The main reason is usually that it's harder to reach and there are less flight connections. But transportation methods are increasing with the demand to travel to this region of Zambia and so things are getting easier by the season.
For us it was one simple direct flight out from Jeki Airstrip in the Lower Zambezi National Park straight to Lufupa airstrip in the Kafue. But it will get even easier as the safari company we travelled with (Classic Zambia) has just purchased their first own aircraft, which will further increase the connections between the parks.
We believe that the Kafue will start attracting more and more visitors in the future!
The reasons for the appeal of Kafue National Park are plenty: Firstly, it is the oldest and largest national park in Zambia and covers a size that is larger than Slovenia. It's large size makes for an incredibly high amount of biodiversity, but wildlife viewing greatly varies from region to region within the park. And so does accessibility. The South is relatively remote and visited rarely, the North is where the abundance of wildlife makes things interesting and where most of the camps are located. And when we say "most of the camps", we really mean a very small amount.
So one of the key USPs of the Kafue is its seclusion and privacy. At our daily carnivore sightings at Musekese there are never any other visitors apart from those from Musekese camp.
When it comes to wildlife you can find a high density of animals (prey and predators) in the North at Busanga Plains as well as in the place we visited called Musekese, East of the Kafue river.
Musekese Conservation and it's success
Yet, this density of wildlife at Musekese didn't just appear by chance. Poaching used to cause steep drops in wildlife in this part of the Kafue as it is adjacent to public land without any buffer zones to the East. Also there were no tourist camps East of the Kafue river until 2012.
When the founders of Musekese Camp Phil and Tyrone set up their camp they started going on walking safaris for days on end without any signs of predators (there were no roads back then!). Fast forward more than 10 years later and there's 16 identified leopards just around their camp. And these leopards didn't just appear by luck. Phil & Tyrone made it their mission to conserve a landscape the size of the Maasai Mara when they set up Musekese Conservation in 2018.
The reason to start their own conservation unit was that they lost 10 carnivores (lions, leopards and even a wild dog) to snares in 2017.
Since then their law enforcement & scientific conservation approach has led to increasing numbers of prey and predators in partnership with organisations such as Panthera and the DNPW (Department of National Parks and Wildlife of Zambia). If you visit Musekese you can also meet the team of Musekese Conservation at their base camp and learn about their work and how they are collaborating with local communities to increase their impact.
This visit directly supports their efforts and should be mandatory for every traveller if you ask us.
Where to stay: Musekese Camp by Classic Zambia
In this part of the Kafue there's only one camp to stay at anyhow – and that's Musekese Camp. The camp is located strategically at the edge of a lagoon, which guarantees wildlife sightings from your private deck. For us personally, this is the pure safari feeling. Sitting on your private veranda on a classic safari chair overlooking antelopes wade through the lagoon, while hippos are sleeping and elephants are crossing to get to the Kafue river.
The camp itself consists of one main area with a bar, lounge, dining terrace and a fire pit (on eye level with the lagoon!) and only 5 guest tents. Each guest tent sits at the edge of the lagoon, built like a string of pearls next to the water. So the wildlife viewing is guaranteed from each tent.
We stayed at "Fig" tent, which is one of the most stylish tents we've ever set foot in. Yet no fancy interior designer did their magic here, it's all designed by owners Phil & Tyrone personally, together with a team of local craftsmen. Yet every detail is done right and the tents are exquisitely furnished. Drinking water from the pipe and hot water from the shower 24/7 are just some of the luxuries at Musekese Camp.
Yet, they would probably never call their camp luxurious. The philosophy behind Musekese and the new-found parent company Classic Zambia is all about authenticity and classic safari style. The key element is exceptional guiding by some of the best trained guides in the industry like John D. who's been guiding since over 35 years and is now training a new generation of guides on top of their 6 year industry standard training.
The Classic Zambia philosophy is simple: Authentic safaris with expert guiding experiences and a true nature immersion, built on the foundation of a strong conservation approach.
If you want to check out their other camps check out our blogpost with the best of lodges from Zambia here.
What to expect from Musekese Camp
Musekese Camp is not your standard tented camp, but comes with some upgraded amenities. Even though you're sleeping in a tent, there's wooden floors and even an interior bathroom. The tents come equipped with en-suite warm water showers (from the pipe, no bucket showers here) as well as fully functioning flush toilets and even drinking water from the tap.
Breakfast is shared around the campfire before sunrise while watching the lagoon come to life right at eye level. The fireplace location at the edge of the lagoon is a new addition and has been lowered on purpose to give visitors an even closer look at the wildlife.
A light lunch with one warm dish and several salads, home-made bread and chutneys is served at the elevated wooden deck, while watching elephants gather in the lagoon. And then the same terrace is turned into one of the most iconic dinner set-ups that we have ever seen right at sunset.
While the sun disappears right across the lagoon a communal table is set for all guests (a maximum of 10 can stay at the camp at the same time). Lanterns light the scenery and the three-course meal is a creative and well-rounded affair (and as a vegetarian we're not an afterthought, which is also much appreciated).
Activities in Kafue National Park
One of the appeals of Musekese is also the diversity of activities. Of course you can go on daily morning & afternoon game drives (which served us carnivore sightings every single day), but additionally there's Kafue river safaris on motorised boats, that bring you all the way to tributary Lufupa river with it's gentle waters and abundance of hippos, crocodiles and birdlife.
And of course it wouldn't be Zambia if there weren't walking safaris. The on foot safari was invented right here in Zambia and is a signature experience, that you shouldn't miss when visiting!
Personally I had one goal for this trip, I wanted to finally see a leopard up in a tree and this mission was accomplished here at Musekese with a beautiful female leopard, who had just lost her kill to an impressive male leopard. She could barely escape up the tree and we saw the whole scene unfold before our eyes. A moment to behold forever!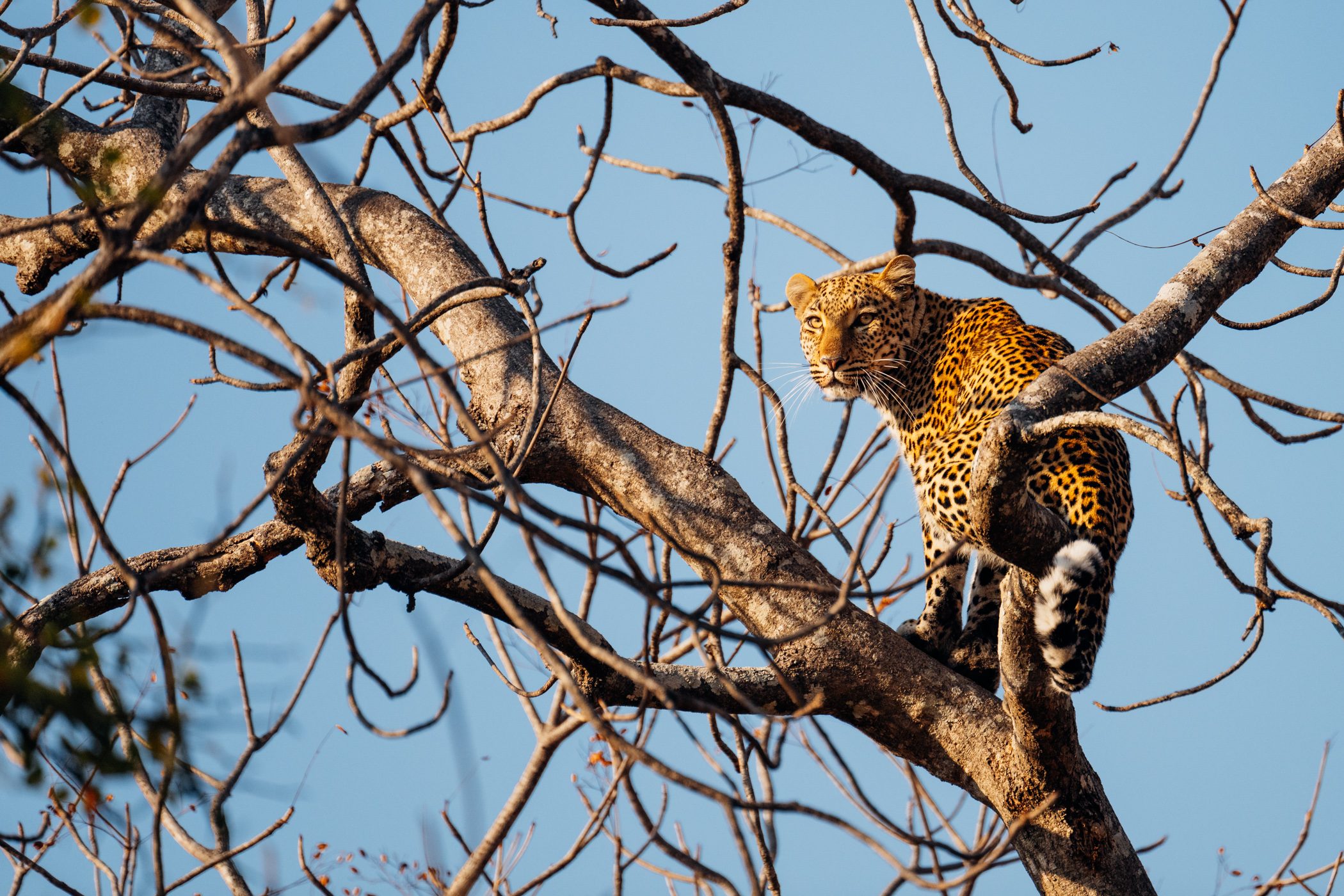 The right traveller type for Musekese Camp
The type of guests that Musekese attracts are mostly conservation-minded safari goers. The people we met at camp were specifically looking for safaris that go a bit deeper than the usual game drive expedition and who want to learn the intricacies of what goes into managing a landscape like this. It's not all just fun & games here, but you'll seriously learn about the efforts that are necessary to allow us to see the wildlife we get (almost) "served" on a daily basis.
Given the luxuries of the camp there's also guests who just appreciate it for its beauty and iconic location, as well as the private safari experience that you can have here. The only guests that wouldn't feel happy here are the ones looking for wifi, a room with AC or a swimming pool – as those wouldn't be served here.
Practical Tips for Kafue National Park
How to get there: Bush plane connections from capital Lusaka or other national parks like Lower Zambezi or from Livingstone to Lufupa airstrip. It's also possible to drive to Musekese, but not in a one day trip – so this is only for more experienced safari goers. From Lufupa airstrip it's a very short ground transfer (5-10 minutes) to a boat, then crossing Kafue river to the East and then another short ground transfer to camp.
Season: Beginning of May to end of November.
Prices: Starting at 690 USD per person (shoulder season May and June, November) to 890 USD (high season July to October).
Duration of stay: We would recommend 4 nights at Musekese and then a ground transfer up to Busanga Plains for another 3-4 nights stay at Ntemwa Busanga Camp.
What to pack: Warm jacket for early morning activities and nights at the campfire, binoculars for watching wildlife from your private deck.
What you don't need to pack: Reusable water bottles, shower gel, conditioner, shampoo, hot water bottles, mosquito repellent for clothes and skin, flash light (provided by the camp).
Good to know: Kafue has a reputation of being a Tse Tse fly stronghold, but camps like Musekese put a lot of effort into providing a pleasant experience by putting up countless Tse Tse traps (even outside the camp). During our visit in July 2023 we could sit outside on the deck without a single Tse Tse fly even passing by, but this also depends on seasonality and can not be 100% guaranteed. Definitely don't wear black or dark blue clothes here, as those colours attract Tse Tse flies.
If this blogpost was helpful or you want to save it for later you can pin it here:
If you want to learn more about Zambia, find out why we love it so much in our "9 reasons to fall in love with Zambia" story.
Next up: Ntemwa Busanga Camp in the North of Kafue National Park.
Disclaimer: This is a not a sponsored post, but we were invited to stay at Kutali Camp as part of a collaboration with Classic Zambia. The views in this blogpost are our own.