After many years of dreaming about a Japan trip, we finally made it this spring! When ANA invited us to test their new direct flight connection between Vienna and Tokyo we were more than excited. Finally we would be able to visit all the places from our bucket list – from temples to shrines, from torii gates to vegetarian Ramen restaurants.
Let us show you our guide for 10 incredible days in Japan.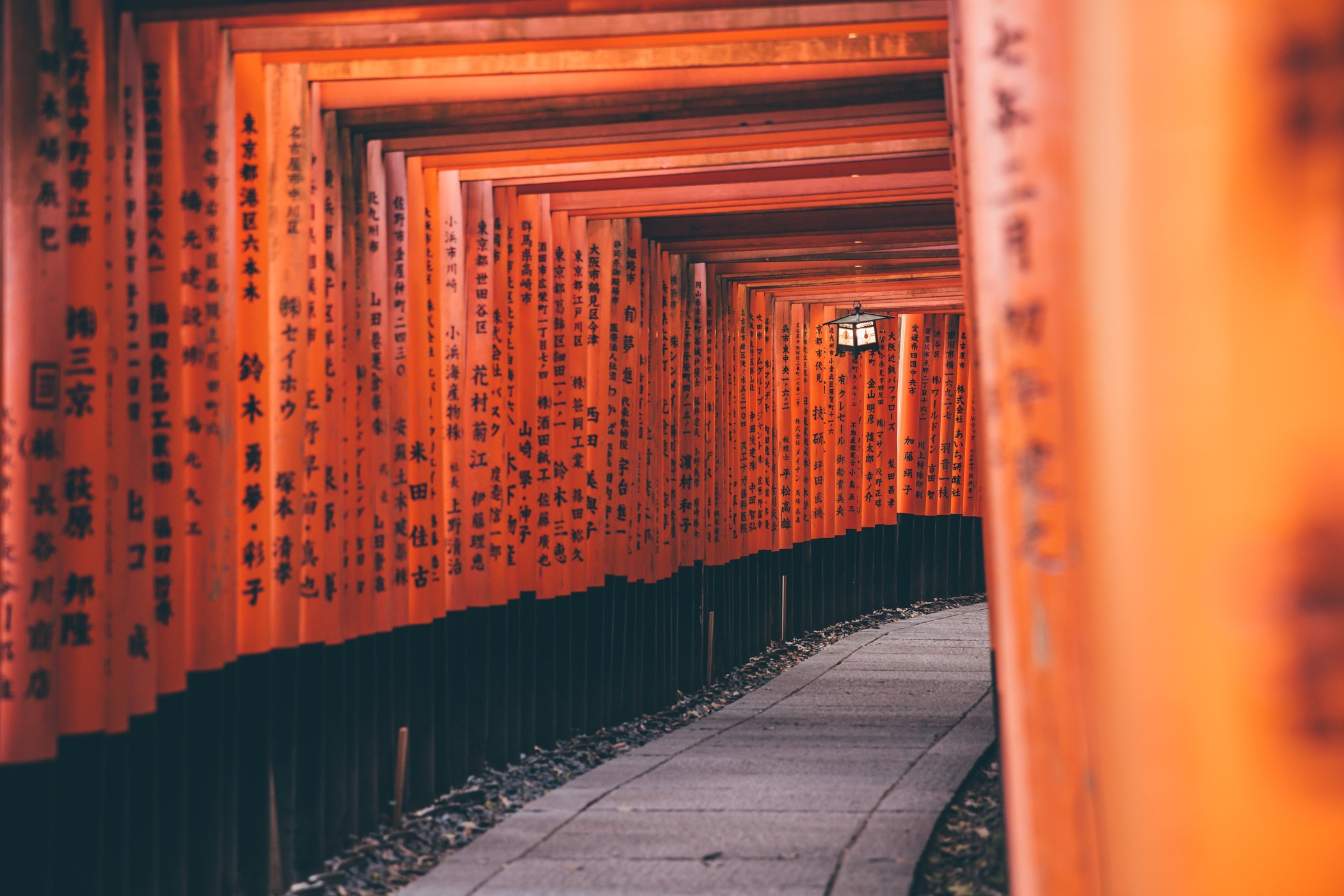 The torii gates in Kyoto were on our bucket list for years!
Japan in 10 days: From the Seto Islands to Kyoto & Tokyo
There are many ways to plan a 10 days trip around Japan for first time visitors like us, but in hindsight we loved our 10 day itinerary and wouldn't want to change a thing! We got to spend 2 nights on the famous art islands in the Seto inland sea, then travelled on to spend 3 nights in Kyoto and finally 4 nights in Tokyo.
This way we combined the two most important cities of Japan with Naoshima & Teshima, which are rather uncommon places to see for first time visitors, but gave us a glimpse of a very different and almost rural, yet very artistic side of Japan.
From the bamboo grove in Kyoto to the Senso-ji shrine in Tokyo and the art islands in the Seto inland sea.
We spent 10 very diverse days in Japan.
If you have more than 10 days
If you have more time at your hand we would recommend to visit other areas of Japan as well, like the famous Mt. Fuji (where you should spend at least 2-3 nights to be able to see it, as it often hides in the clouds), the capital of food Osaka with the Nara deer park and maybe also some hidden gems like Mt. Koya (Koyasan) or the onsen town of Ginzan. We will definitely return for more, as we've really fallen in love with Japan during this trip!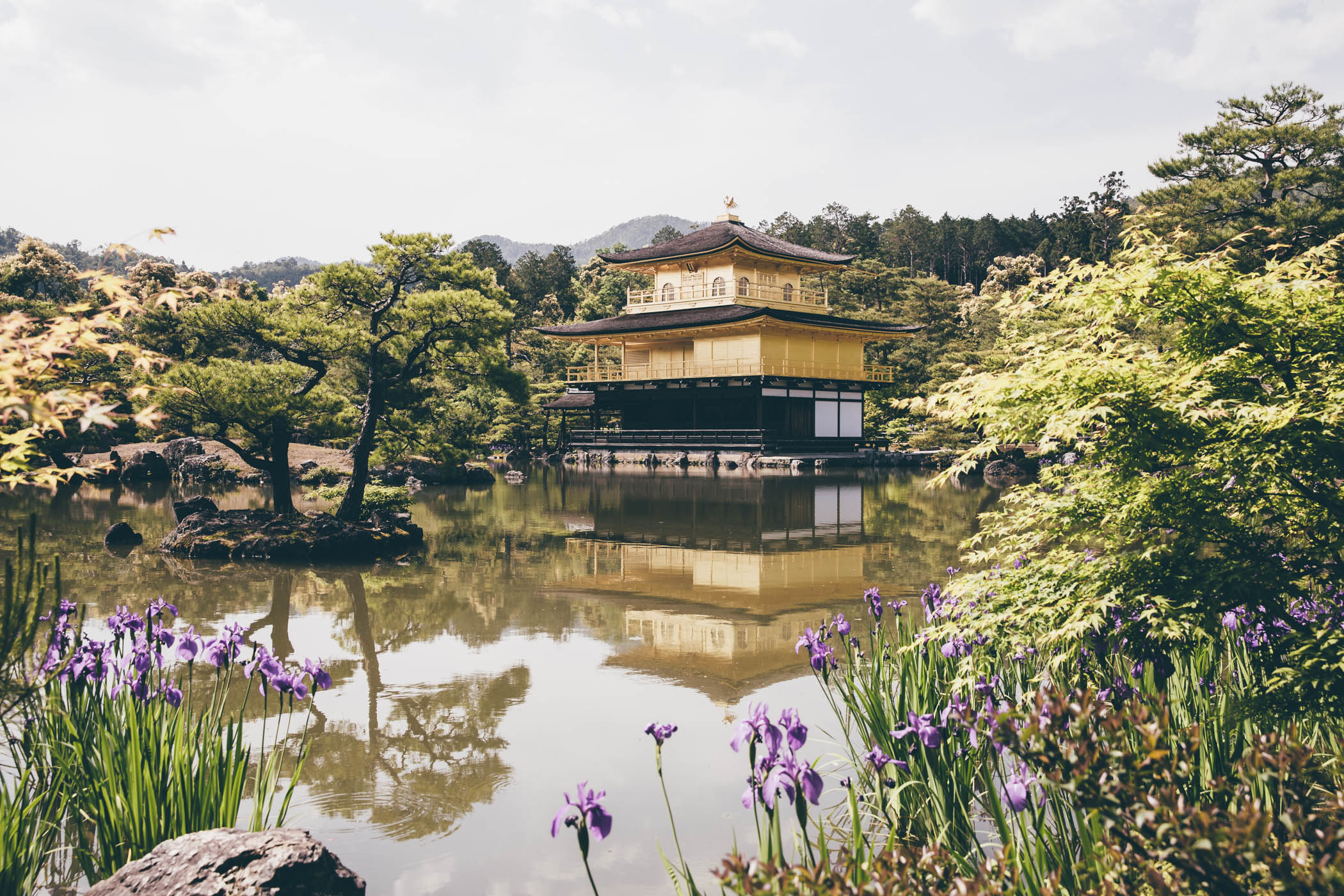 The golden pavilion in Kyoto was also on our must see list.
You can use the wearejapan.com website by ANA to gather more ideas for a longer Japan trip.
Our 10 day Japan itinerary
Japan is way too big and diverse to cover everything in 10 days, but this itinerary will give you a wonderful first glimpse and very varied insight into the country:
The contrasts of Japan become tangible during a trip from Naoshima to Kyoto and Tokyo.
2 nights on the Seto art islands during the Setouchi Triennale
The so called "Seto inland sea" is located in the western part of Japan. Here you'll find many islands and 12 of them have evolved to become the famous art islands – hosting celebrated art festivals and boasting with art installations, museums and other cultural attractions.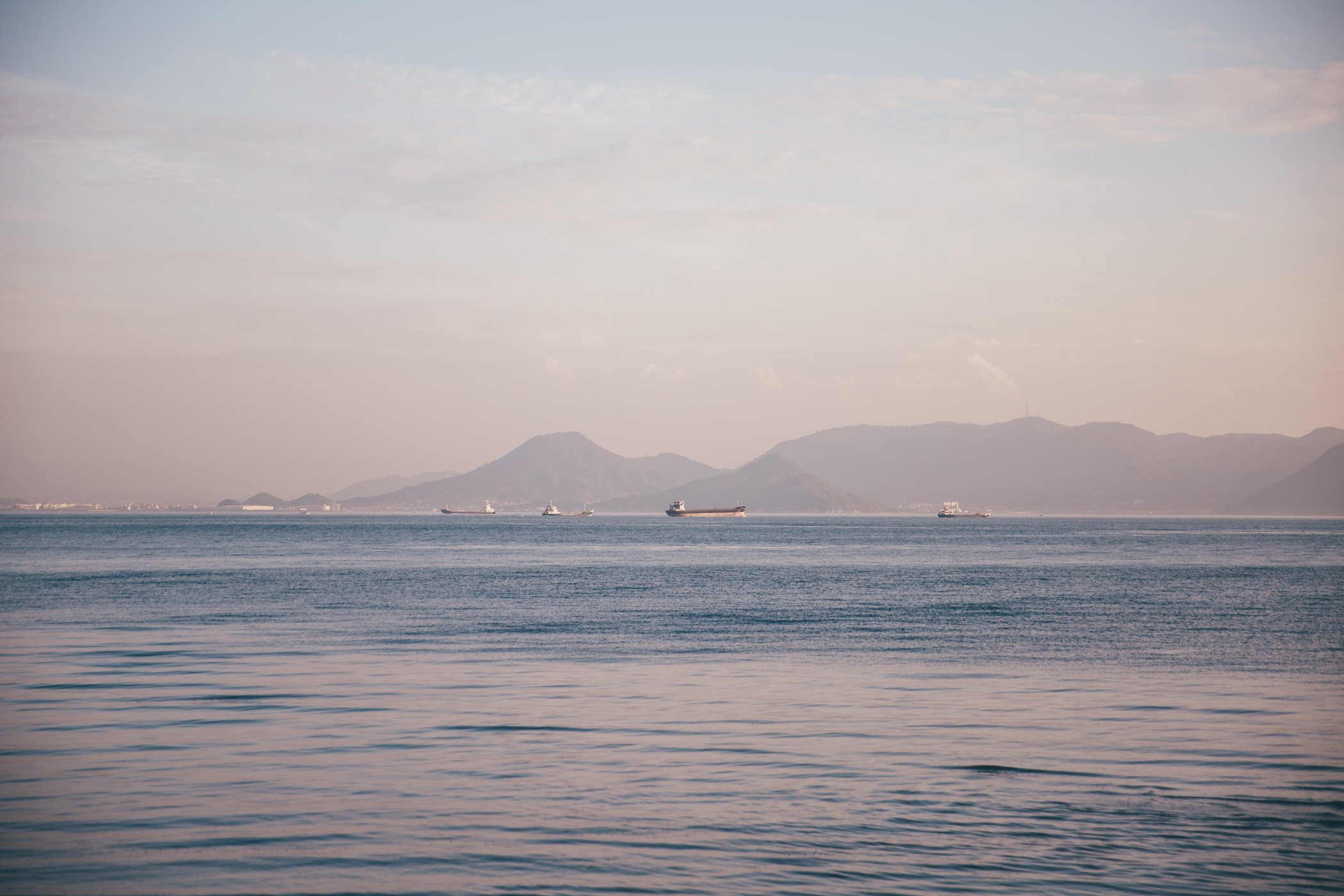 The Seto islands aren't just about nature, they are famous for their art & creative community.
How to get to Naoshima
From Tokyo the best way to get to the Seto islands is to take a short flight to Takamatsu and then take the ferry. We stayed 2 nights on Naoshima island, which is one of the main art islands with many museums and installations!
Once you arrive on the islands via ferry you can rent e-bikes to get around and visit the art installations.
Visit during the Setouchi Triennale
The Setouchi Triennale brings new artworks and lots of events to the islands – also during the time of the Triennale the ferries run more frequently. As a visitor you get to buy Triennale passes that include many of the museums and attractions and then rent bicycles to drive from one to the other and discover the small islands along the way.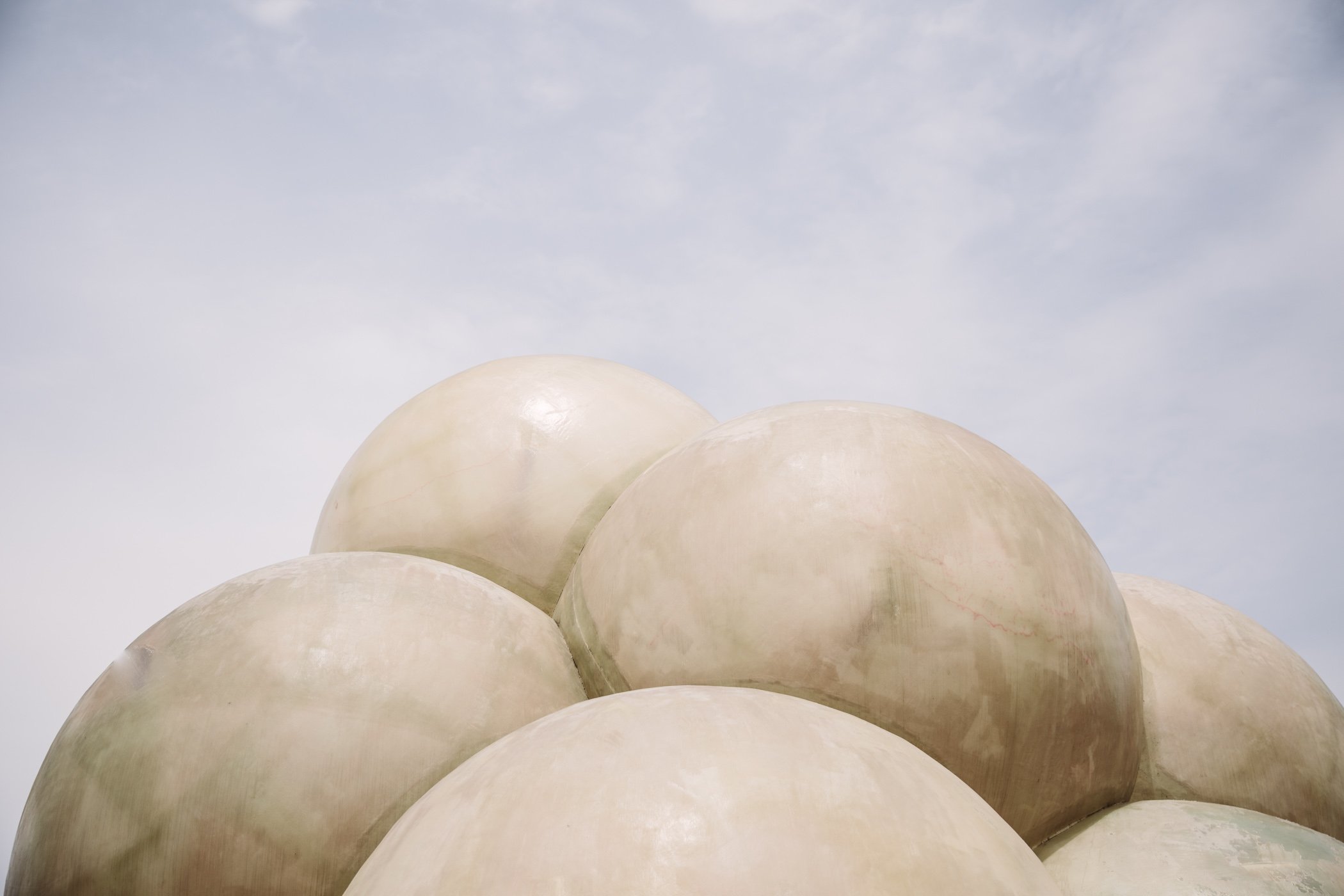 This installation doubles as parking lot for bicycles and waiting area for the harbour.
What to see in Naoshima
We stayed on Naoshima to visit the Chichu Art Museum, the red and yellow pumpkins by Yayoi Kusuma and the Art House project as well as the Ando Museum and the Benesse House. It's incredible how many options that small island offers!
From Yayoi Kusuma's pumpkins to Tadao Ando's museum and the Benesse house – Naoshima boasts with culture.
What to see in Teshima
The next day we took the ferry to neighbouring Teshima island to visit the tranquil Teshima Art Museum, an organically shaped whitewashed concrete building with water installations. As with many of those places photography isn't allowed inside, but the immersion is part of the experience. You'll sit down on the floor and watch the water bubbles slowly appear in tiny holes in the ground and float to a pan in the middle of the structure while the sun shines in through a large round opening in the ceiling.
The Teshima Art Museum doesn't allow photography inside, but is a true immersive experience.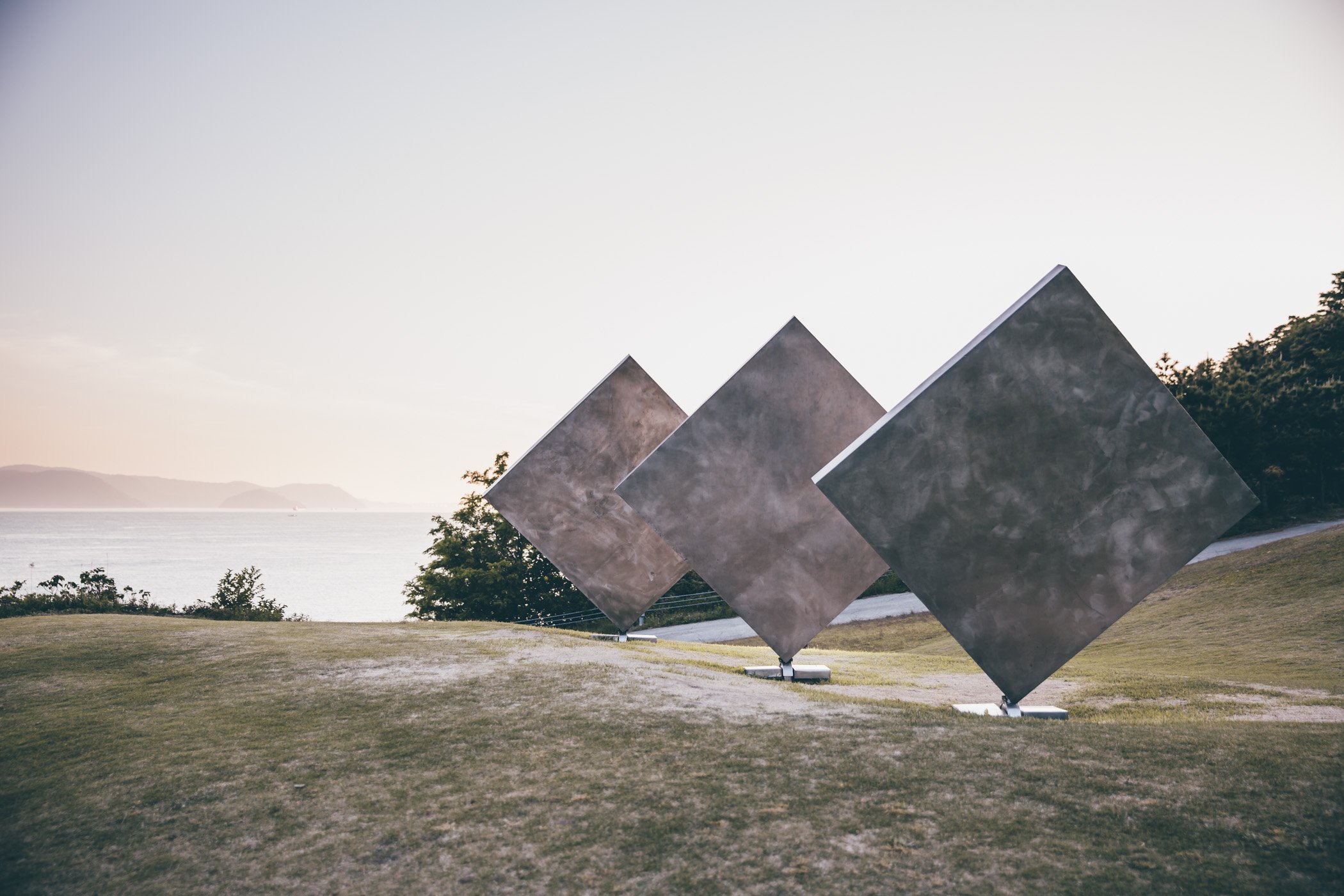 If you're searching for calm & quiet, while stimulating your mind and senses and getting a true feel for Japanese culture – the Seto islands are your place to visit!
3 nights in Kyoto – the city of temples
From Naoshima we took the ferry to get to Uno and then two trains to arrive in Kyoto (the trip was a total of 4 hours). The Japan Railpass is a great option for trips like these, as it includes most of the trains in Japan – also some of the super fast bullet trains (Shinkansen), which easily let you get around.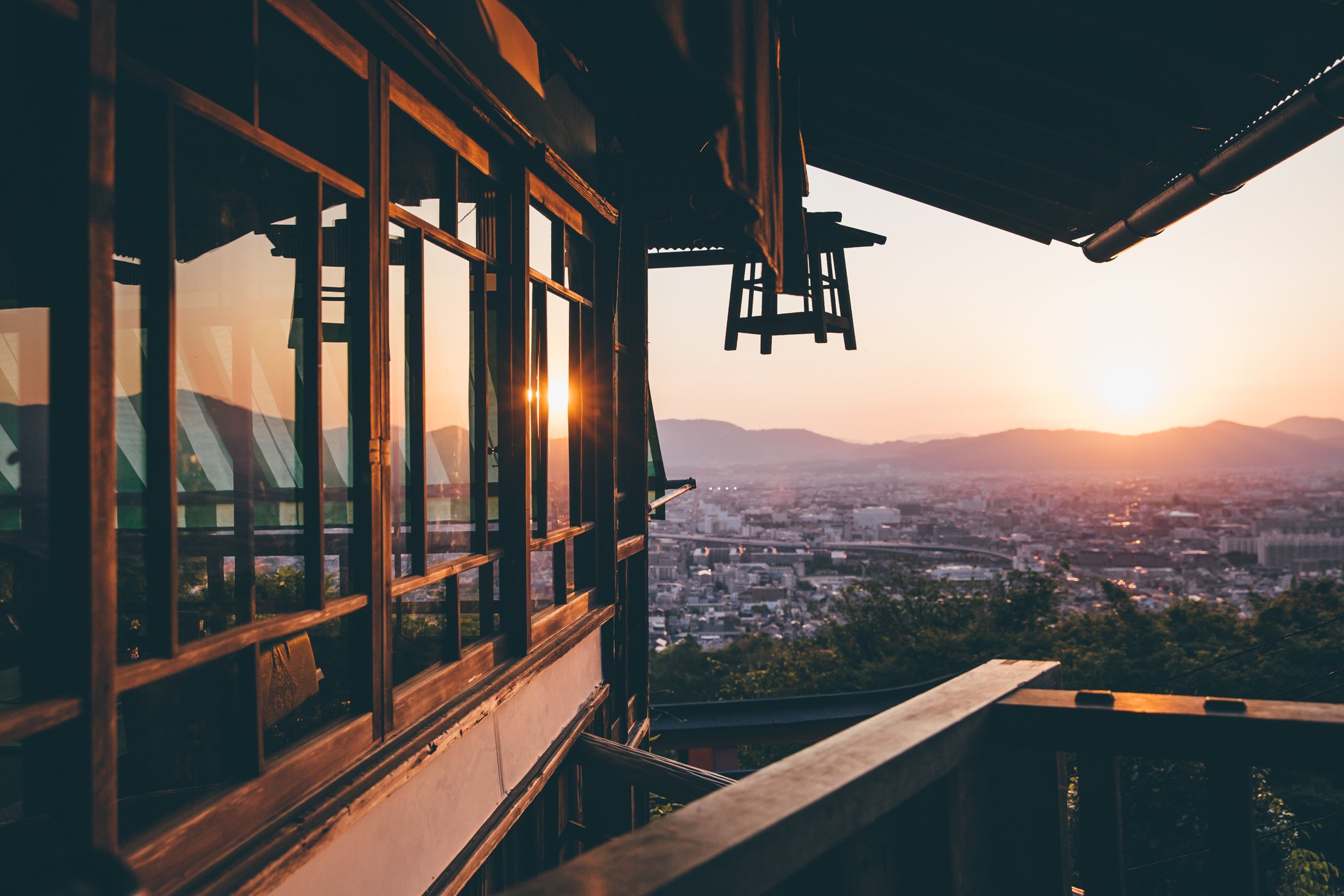 Kyoto is truly the city of temples – you could spend every day with temple visits – and not get bored.
Where to stay in Kyoto: Gion district
Upon arrival in Kyoto we checked into our wonderful guesthouse right next to the Gion district, which is the part of Kyoto where the Geishas live and host their guests in the evening. We highly recommend staying at the "Old Kyoto Machiya" guesthouse – especially in the Garden Suite as it is designed in the traditional Japanese style with Tatami mats and it's own private Zen garden.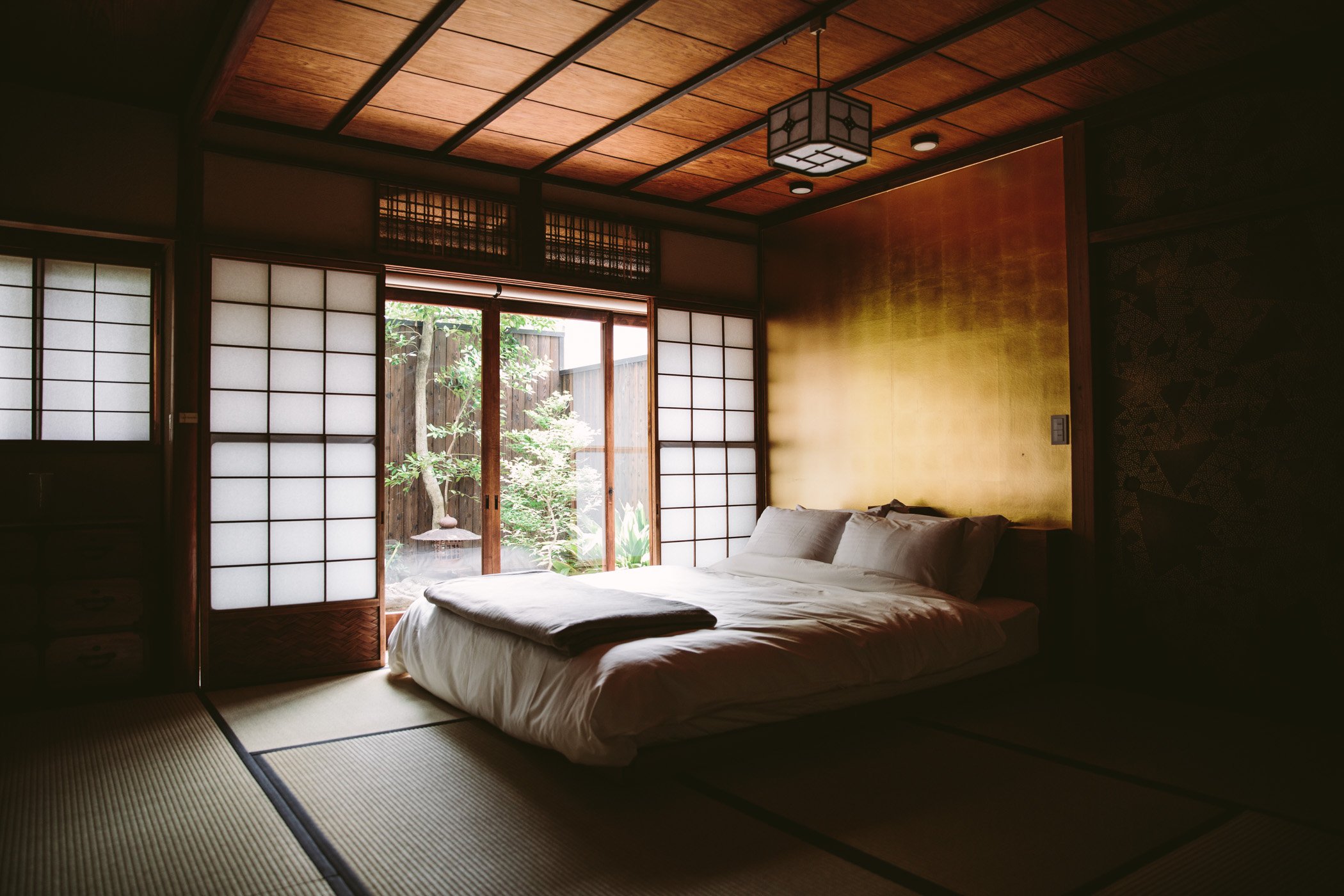 The garden suite at the "Old Kyoto Machiya" in Gion features a Tatami style bedroom and a private Zen garden.
Discover Kyoto by bike
From here on we discovered most of Kyoto by bike. We weren't aware how easy it is to ride bicycles in Japan, but were pleasantly surprised! First we cycled around the Higashiyama district to visit our first two temples in Kyoto – both very different, yet with a very special atmosphere.
Although Kyoto is widespread and rather hilly it's easy to discover some of the main attractions and temples by bike.
Which temples to visit in Kyoto
We first visited two temples, that are not the main attractions, but worth a visit! At Kennin-Ji temple you'll see many girls dressed up as Geishas taking photos, but also one of the most impressive painted ceilings in all of Kyoto. At Sanjūsangen-dō a collection of 1.001 gilded life-size Buddha statues await you in the longest wooden hall in all of Japan.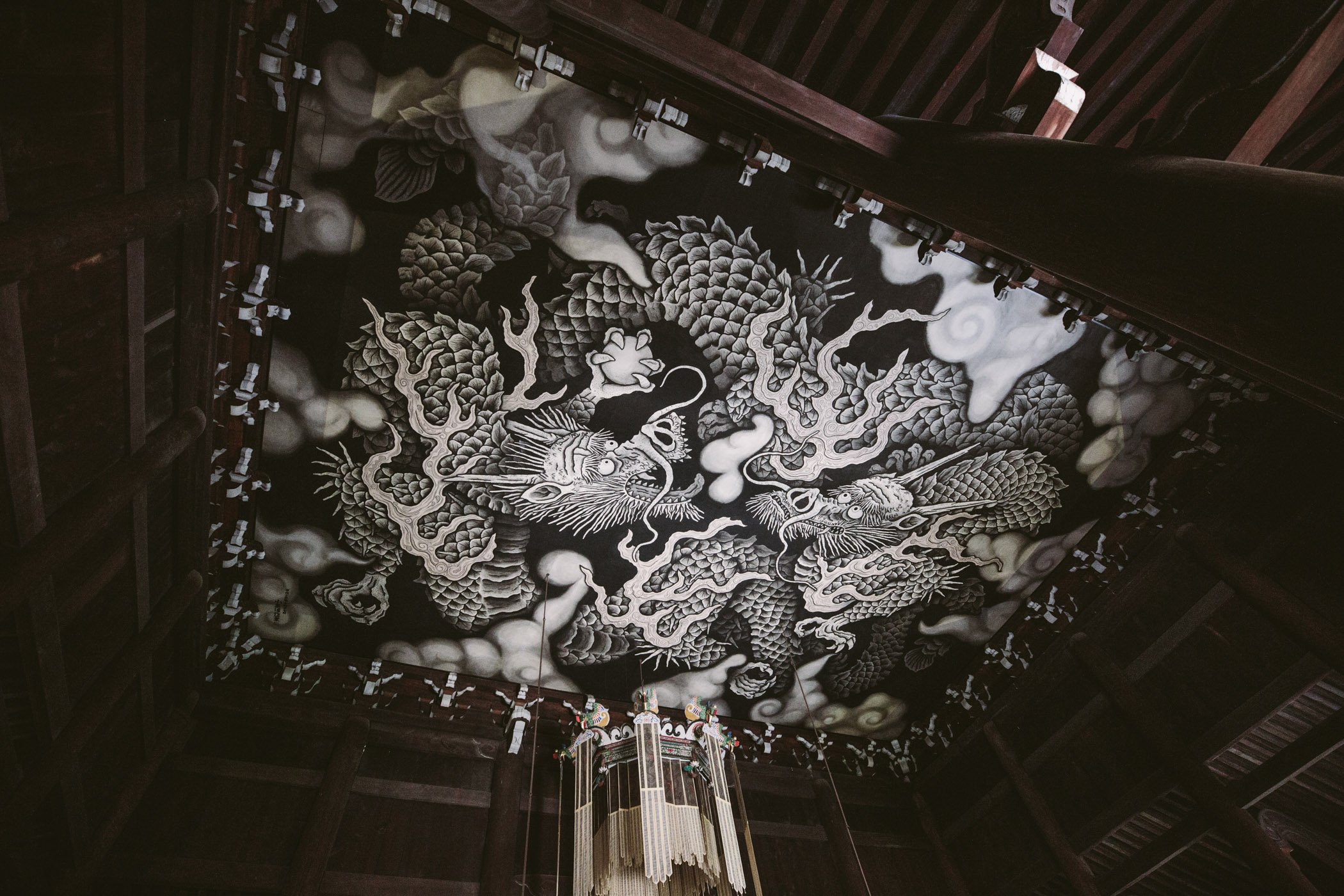 Kennin-Ji temple features am impressive dragon clad painted ceiling and visitors dressed up as Geishas to take photos.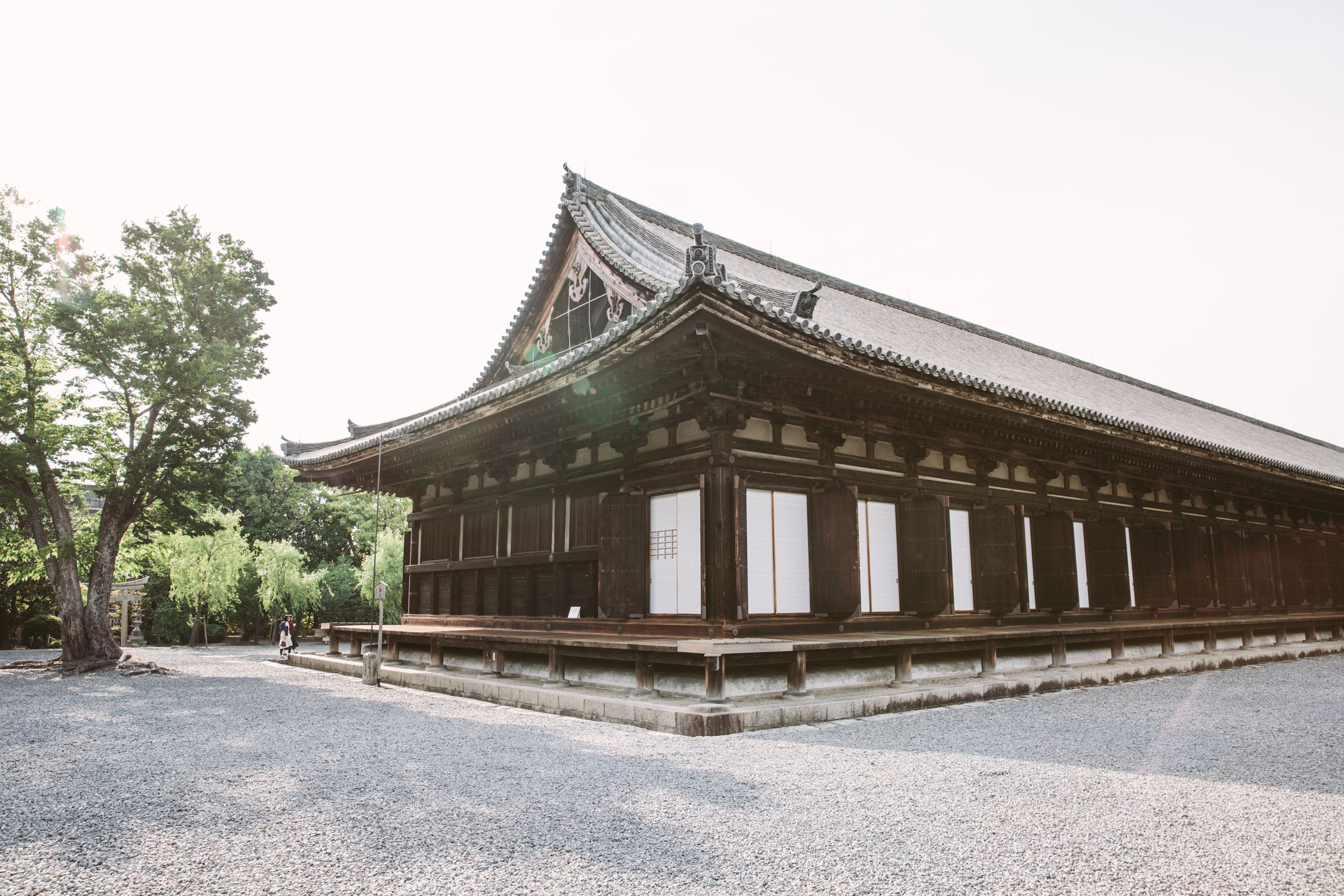 Sanjusangen-do features the longest wooden hall in Japan, but the inside is even more impressive.
It's not allowed to take photos of the 1.001 golden buddha statues, but this visit will leave a lasting impression in your mind!
Kiyomizu-dera under construction
While the main attraction of Kyoto – the "Kiyomizu-dera" is currently undergoing renovations, we still decided to pay the temple a visit. In Japan temples are never just one building (like churches in Europe), but usually vast grounds with many different temple buildings – from the main shrine to many annexes. So even if the main building at Kiyomizu-dera is hidden in scaffolding, you'll still be able to see not only the nice view over Kyoto from the hill, but also the other adjacent buildings of the temple, that are well worth a visit!
Kiyomizu-dera in Kyoto is worth a visit, even when the main temple is under construction.
A night in a Zen temple
Our favourite experience was staying one night at the "Shunkoin Temple", which we can highly recommend. Not only will a very well-educated monk introduce you to the ideas of Zen Buddhism and teach a meditation class, but you'll also be able to sleep inside the temple grounds (in very simple, yet comfortable quarters).
Taking part in a Zen meditation class and staying overnight at Shunkoin temple was our favourite experience in Kyoto.
The best photo spots in Kyoto
We'll write a separate blogpost about Kyoto, but other than what you already read we can also recommend to visit the impressive Fushimi Inari-Taisha with it's thousand red torii gates – especially at sunset. When you walk the paths through the torii gates up the hill you'll arrive at a wonderful lookout spot after a while (plan 1-1,5 hours for the hike).
The Fushimi Inari-Taisha is worth the hype!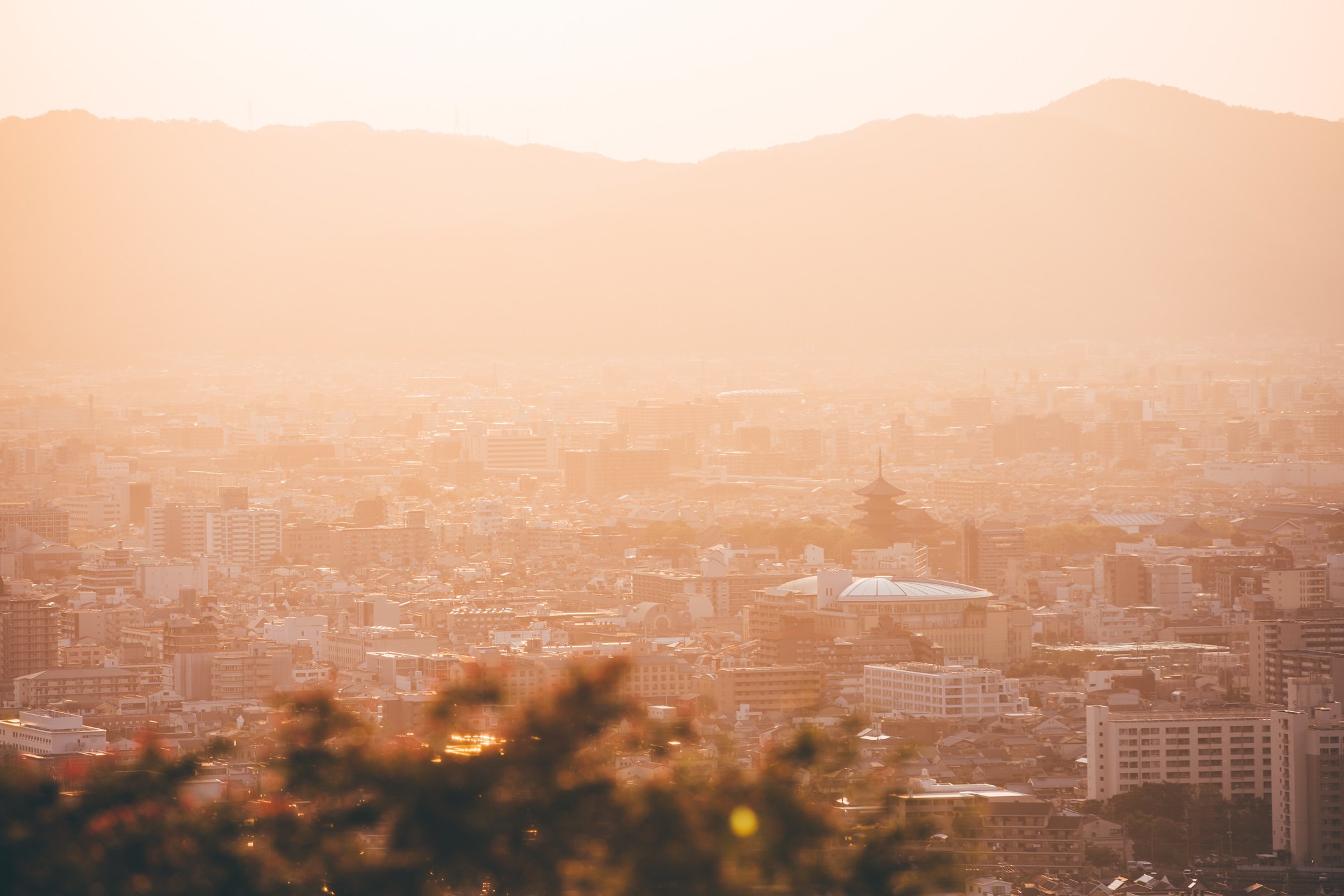 Once you arrive at the top you'll be rewarded with a great sunset view of Kyoto.
And last but not least you might want to take the trip to the Arashiyama Bamboo Grove (about 20 minutes by Uber from the Shunkoin temple in the west of Kyoto), but make sure to go there early enough at sunrise to really be able to enjoy the so called "forest bathing" in quiet and peace. It gets quite crowded later!
If you want to experience traditional forest bathing in peace and quiet –
you'll have to get up early for a visit of Arashiyama Bamboo Grove.
If you want to experience the traditions of Japan and get a feel for the history and culture of the country, then Kyoto is the right place to visit!
4 nights in Tokyo – a city of contrasts
After our wonderful & tranquil time in Kyoto we were honestly a bit afraid of Tokyo. How would this metropolis of over 37 million people feel? Will we constantly have to handle sensory overload? Will we be overwhelmed by the masses of people? And then we got pleasantly surprised.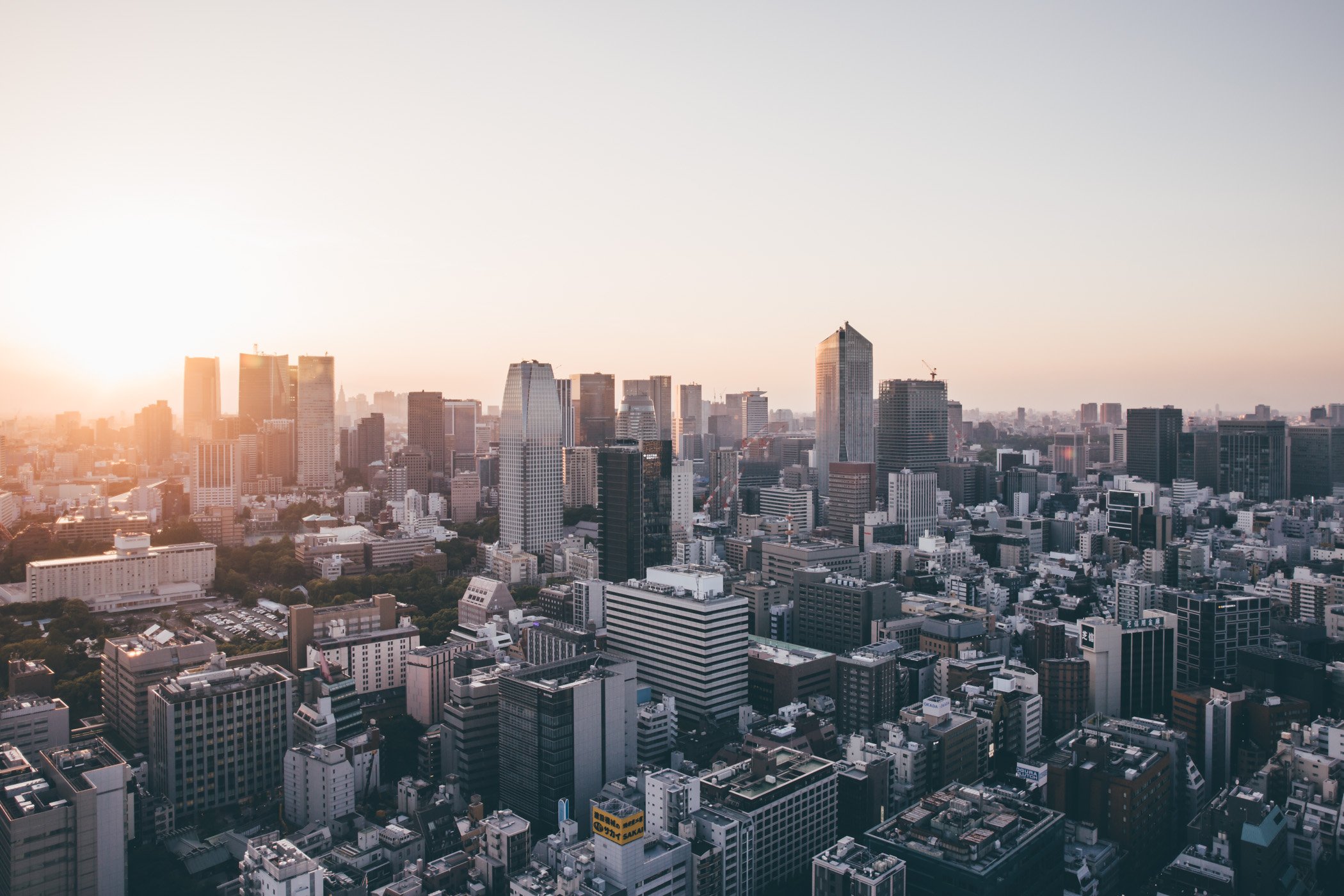 Although Tokyo is huge we experience the city as a calm and relaxing place.
A culture of respect & understanding
Never have we experienced such a quiet and relaxed city of millions before. In Tokyo you'll really get a sense for the Japanese culture of respect and understanding – even when there's so many people living in such condensed space, their way of treating each other results in an atmosphere of calm & peace that we have never felt before in a city.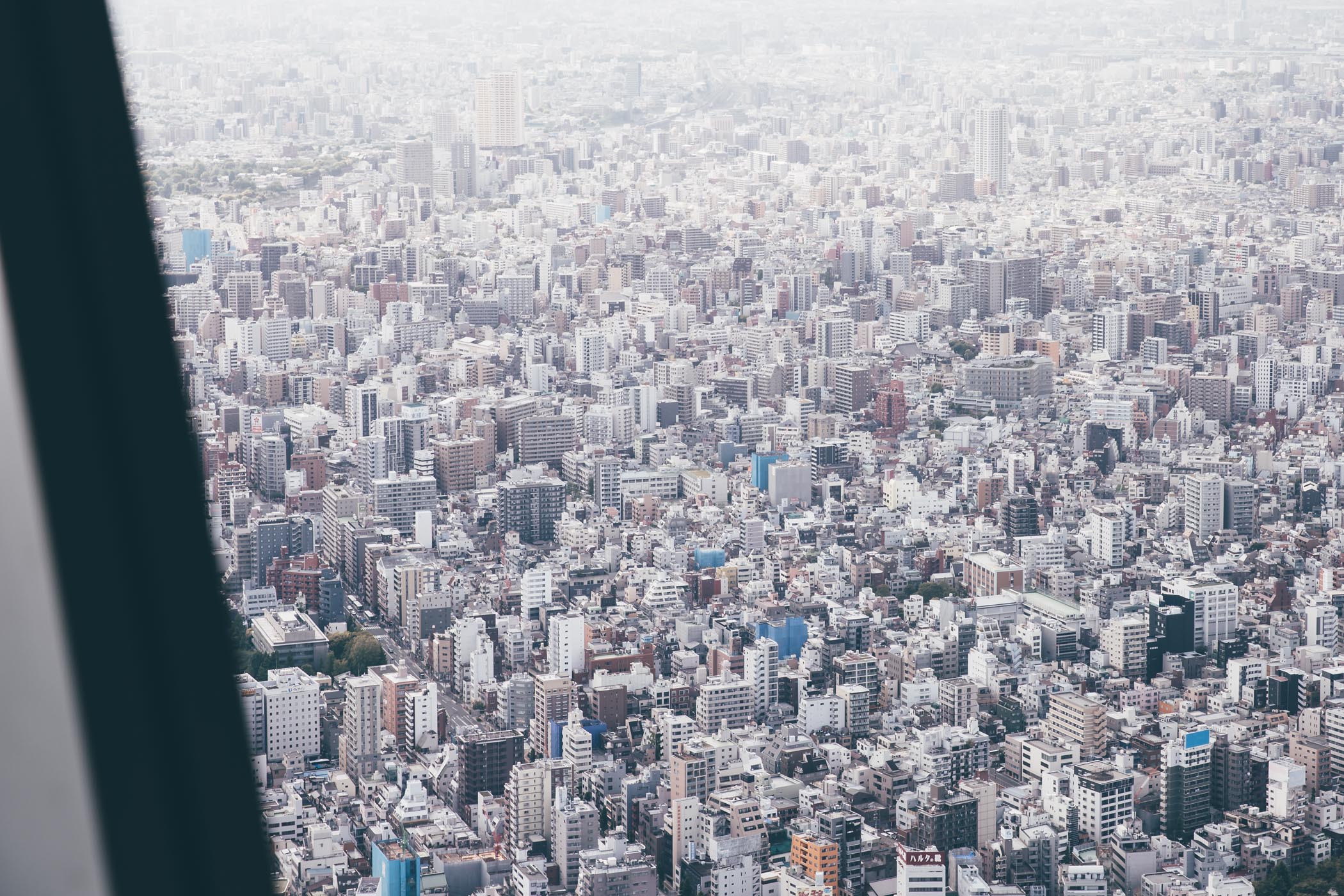 While the city might seem like a crazy maze from above it actually offers a lot of tranquility.
Omotesando: From shopping & temples
When we walked through the side alleys of the shopping district Omotesando we found a temple among high rises, with families visiting their ancestor's graves and bowing in front of a buddha statue. During rush hour the subway might be crowded, but you could hear a pin drop as everyone's quiet and cautious. This is the quality of Tokyo – it's like the opposite of NYC!
The Zenkōji Temple in Tokyo sits amidst high rises in a busy shopping district.
Where to stay in Tokyo: Hoshinoya Hotel
Our highlight of Tokyo was the masterfully done "Hoshinoya Hotel", where we left our shoes at the entrance, dressed in the provided Kimonos, bathed in the rooftop Onsen, got to be part in a private tea ceremony and saw a traditional Japanese spinning top performance. Our room was a 80sqm suite – completely covered in Tatami mats and discretely hidden away by original rice paper shades. Read our full hotel review of Hoshinoya Tokyo here!
The Hoshinoya Hotel in Tokyo is a truly Japanese retreat amidst the city center.
What to see in Tokyo
And what to visit? Of course you'll have to see the famous Senso-Ji temple and the adjacent Asakusa shrine, even if it doesn't feel as traditional as the temples in Kyoto. If you want to see the city from above we recommend the sunset from the observation deck at Roppongi Hills.
The Senso-Ji temple is one of the most important shrines in Tokyo.
The observation deck at Roppongi Hills Tokyo is the best place to see the city from above.
360 degrees from an open deck deliver unobstructed views.
What to do in Tokyo
One of our favourite activities in the city was a private Kintsugi workshop, where we learned the traditional technique of repairing broken pottery with gold – as to cherish the history of an object, rather than disguising it. This was one of our most intimate and wonderful experiences in the city!
The gold repair workshop – also called "Kintsugi" – was a special experience in Tokyo.
If you want to learn how Japanese people manage to live together by the millions in a culture of respect and understanding, then immerse yourself in the tranquility of Tokyo!
How to get to Japan from Austria
The new daily direct connection to Tokyo by ANA (All Nippon Airways) is the most comfortable way to get to Japan. Not only does ANA fly to Haneda airport (which is closer to the city than Narita), but their fleet also features the new Dreamliner, which is my favourite airplane with it's incredible noise reduced cabin and huge windows.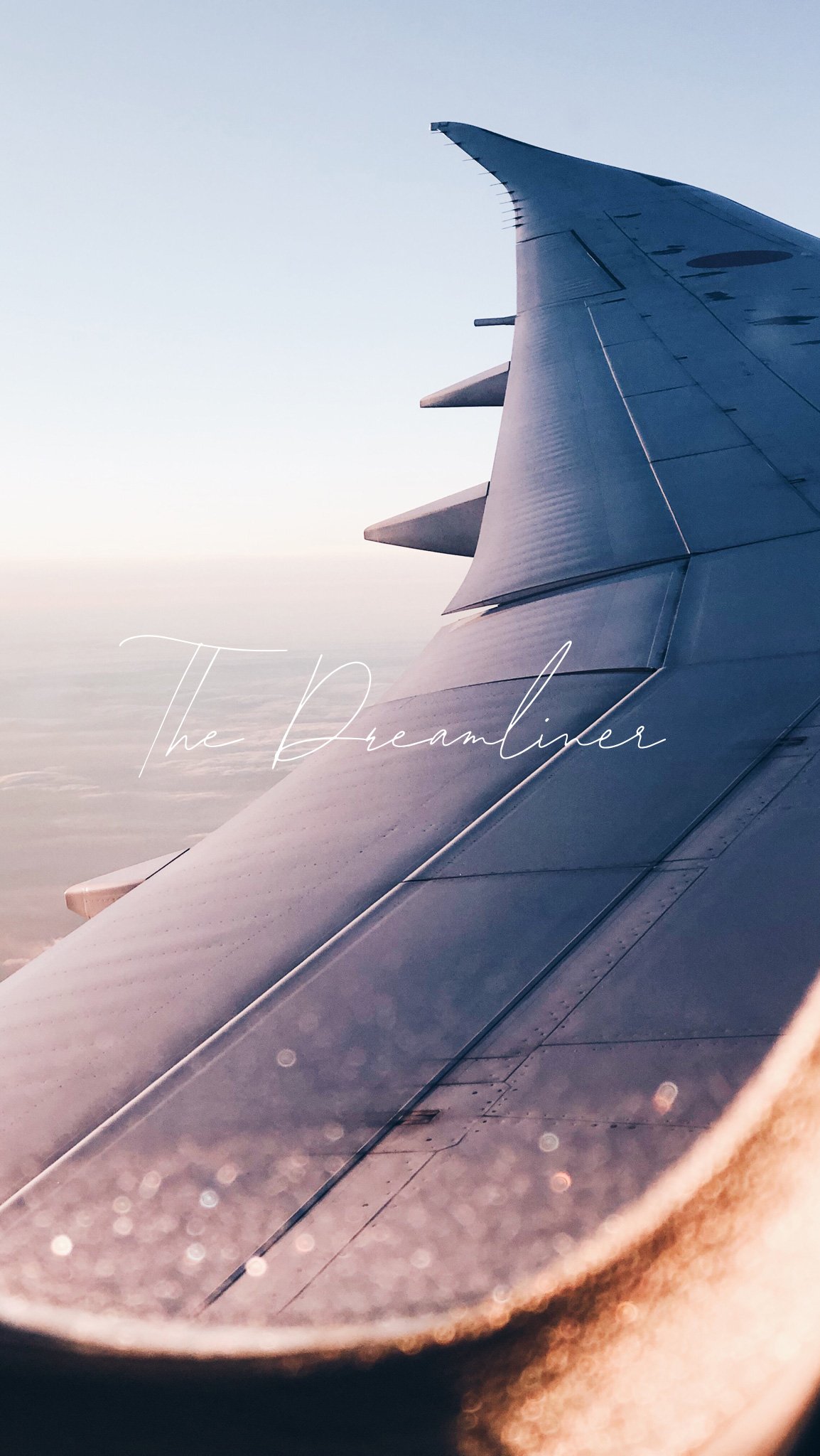 On the flight to Japan we got lucky and scored an upgrade to Business class (our first time in the Business class – this was quite an experience!). But the Premium Economy on the flight back didn't lack a lot behind the Business class. Even in the Premium Economy you'll get priority check-in, access to the lounge at Haneda airport, priority boarding, noise cancelling headphones, very comfortable and large seats with a great recline, two foot rests, a blanket and pillow – a lot of comfort for such a long flight (10-11 hours).
Japanese service also goes a long way on such a flight – when the stewards introduce themselves with their names personally and read any wishes from your lips you get to extend your Japan trip right until the airport in Vienna 😉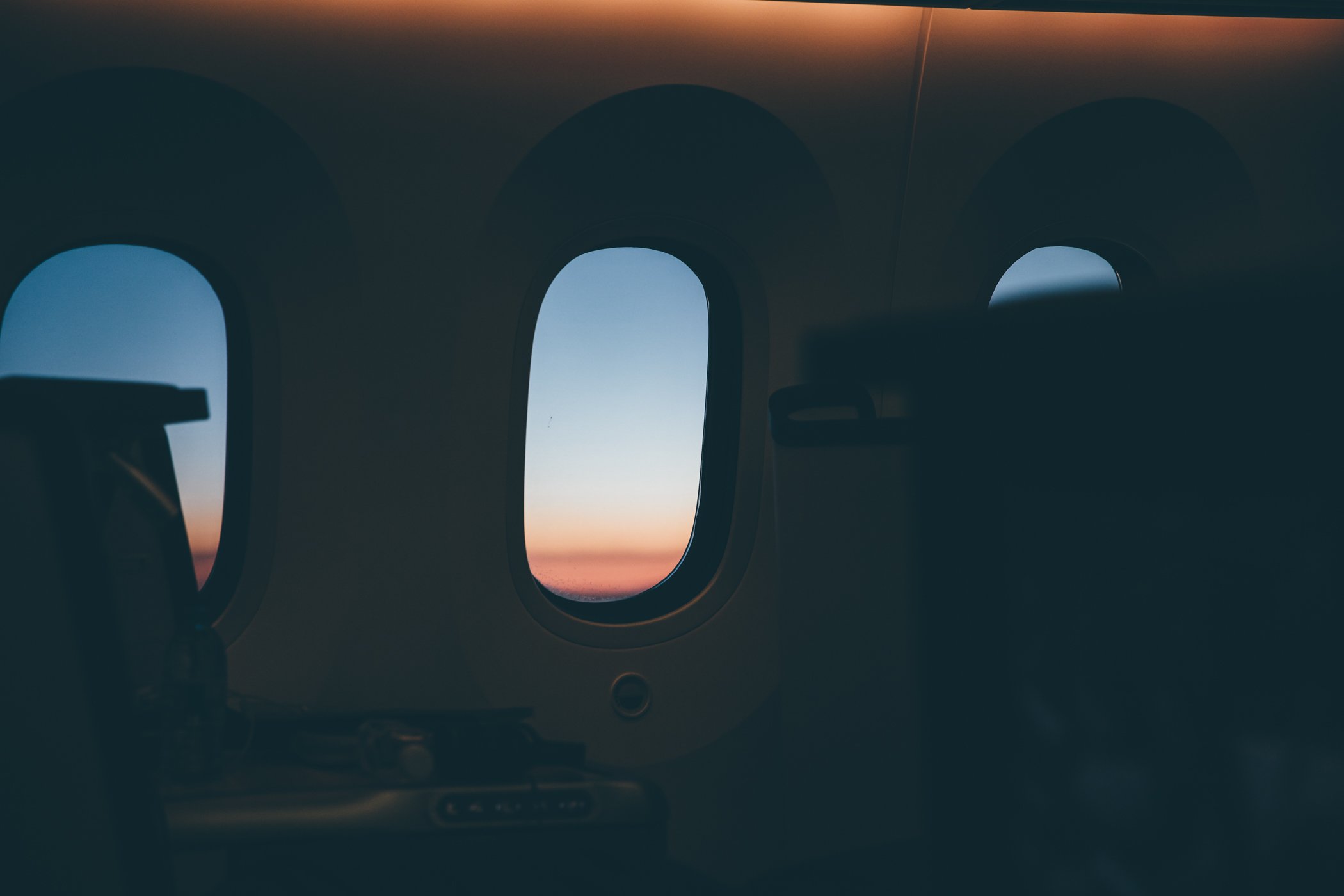 Disclaimer: We were invited to visit Japan by ANA for 5 nights as a complimentary press stay, but extended the trip at our own private expense. Also we were not obligated to write about our trip with ANA, so our views in this blogpost stay independent from that invitation.