Now that we've shown you our 9 reasons why Zambia should be on your bucket list – let us give you some infos on where to stay when you travel to the country nicknamed the "Real Africa". From small bush camps to luxury lodges along the Zambezi river bank – Zambia has it all! We love combining adventure and luxury travel, so Zambia had us covered in both areas.
Are you dreaming of visiting Zambia? Let us show you some of the best lodges and camps in the country!
Where and what: Regions to visit in Zambia
Before we show you some of the lodges in Zambia, let us start by introducing you to a map of the country and which parts we visited. This can be your first orientation when it comes to planning your Zambia trip.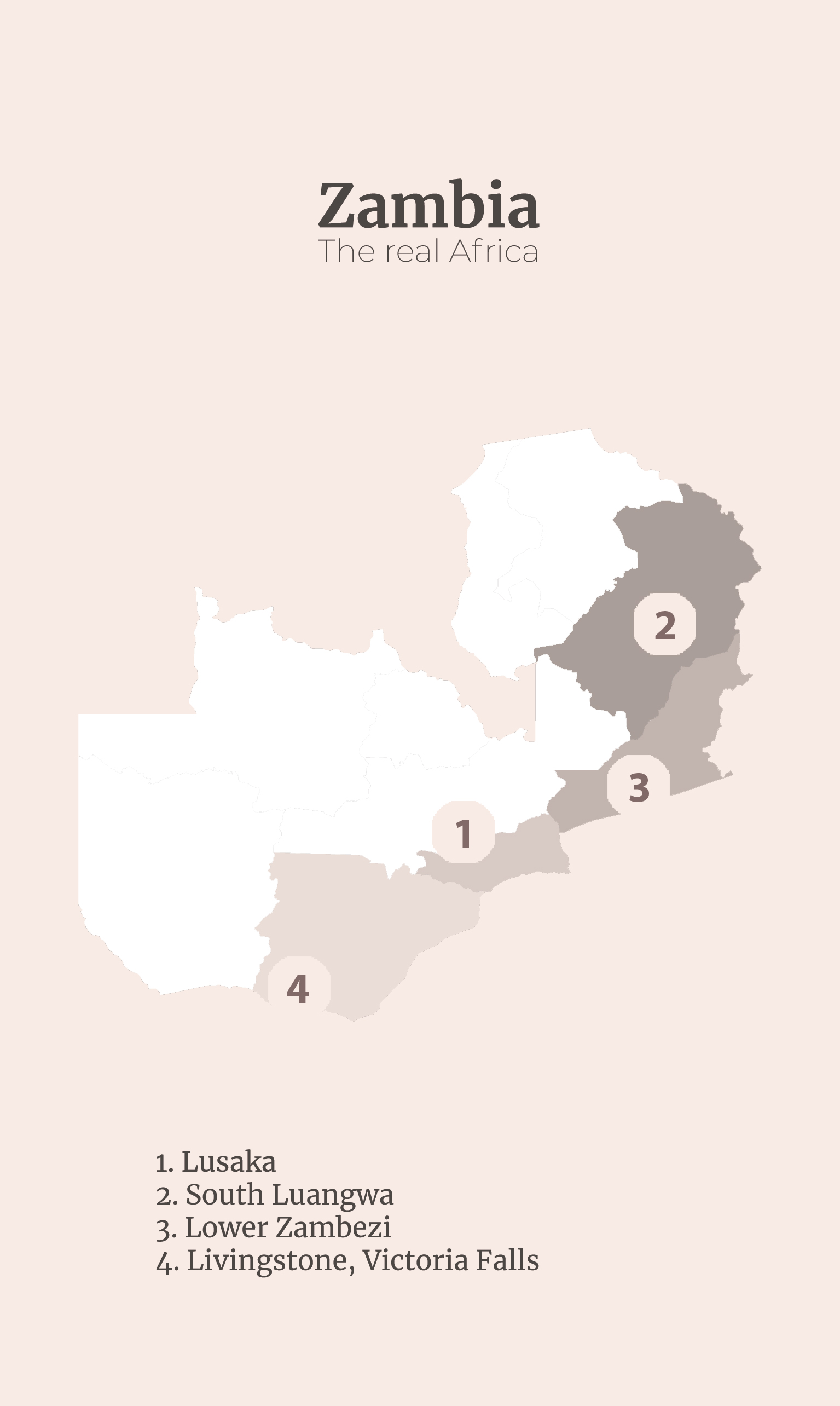 1.) Lusaka:
We started our roundtrip by staying 2 nights in Lusaka, the capital of Zambia. This is the perfect start into your Zambia trip (as most flights land here) and a comfortable way to kick things off. Most guests only stay for 1 night and then head to the bush, which is also fine if you don't need more time to decompress 😉
2.) South Luangwa:
Then we went on by plane to Mfuwe, and stayed 4 nights incredible South Luangwa National Park at the border to Malawi. This region is also called the "Valley of the leopard" and a must do when in Zambia – we had multiple leopard sightings here!
3.) Lower Zambezi:
Next we went on by plane to Jeki, from where we got transported by car and boat to a remote island to stay 3 nights in the Lower Zambezi National Park. Here you can experience the true wilderness, stay in a off-the-beaten-path bush camp and experience walking safaris.
4.) Livingstone, Victoria Falls:
Last but not least we flew to Livingstone to visit the famous Victoria Falls! We stayed in Livingstone for 2 nights. Here you can not only see the "smoke that thunders" (how locals call the falls), but also visit some of the last rhinos of Zambia!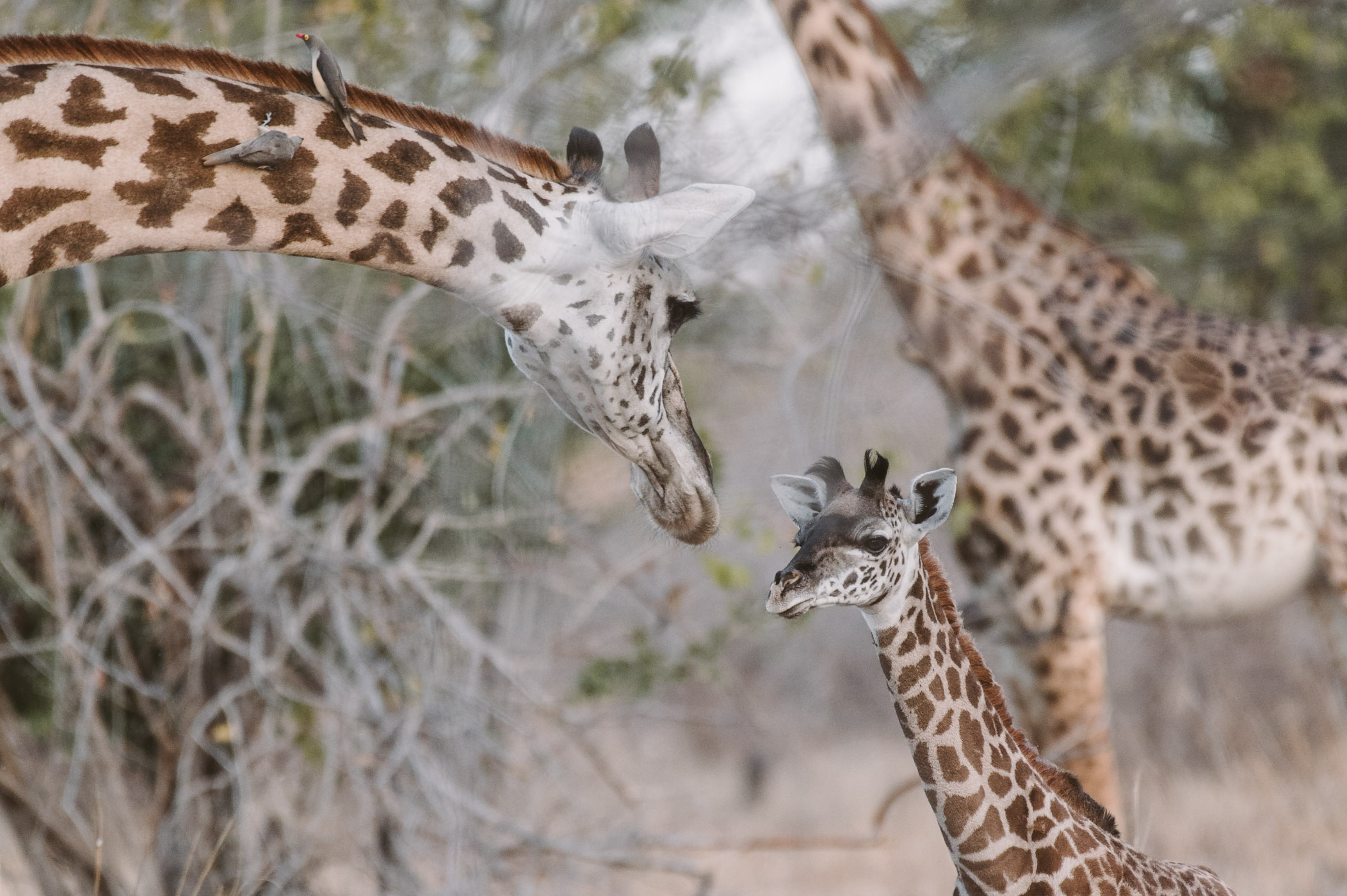 Zambia's wildlife is among the most abundant in all of Africa!
We recommend to include some of the National Parks into your roundtrip and not just the Victoria Falls.
Unfortunately we had no time to visit Zambia's largest National Park – the Kafue in the Western part of the country, but this will not have been our last visit of Zambia anyhow 😉 We also heard you can witness the second largest wildebeest migration of the world in the Liuwa Plains, so there are good reasons for us to return to Zambia!
Where to stay in Lusaka
Most travellers start their Zambia visit in Lusaka, the capital of the country. While the city itself doesn't have too much to offer it's the perfect gateway to a Zambia trip. We stayed in the super chic Latitude 15 boutique hotel and can highly recommend it.
Where to stay in South Luangwa National Park
The South Luangwa National Park is home of the walking safari and also dubbed the "Valley of the Leopard". You should come here when you want to encounter leopards, see the magnificent ebony forests and spend time alongside the riverbanks of the Luangwa river where you can't even count the hippos anymore! We stayed in the wonderful owner-run camps of Shenton Safaris, who truly focus on the needs of photographers. Here we got to test all 4 different kinds of accomodations!
Mwamba: Africa's best place to hide
Upon arrival you'll pass by the welcome area, that also doubles as a bar. A small stream passes by the camp and next to the fireplace you might already be greeted by the first giraffe staring right at you! The camp is set up anew every season after the rains and is done with only natural materials. The rooms feature a thatched roof and outdoor bathroom.
Mwamba camp by Shenton Safaris in South Luangwa National Park Zambia
Numbu Star bed
When you stay at Mwamba you have the chance to book a night in the "Numbu Star bed". We absolutely recommend that experience. After dinner you'll be driven to a remote plain with nothing but one tree on it. This tree functions as the base of the star bed, that sits atop a platform and is therefore unreachable for any wild animals. Here you'll sleep under a mosquito net listening to the lion's roar in a not so far distance.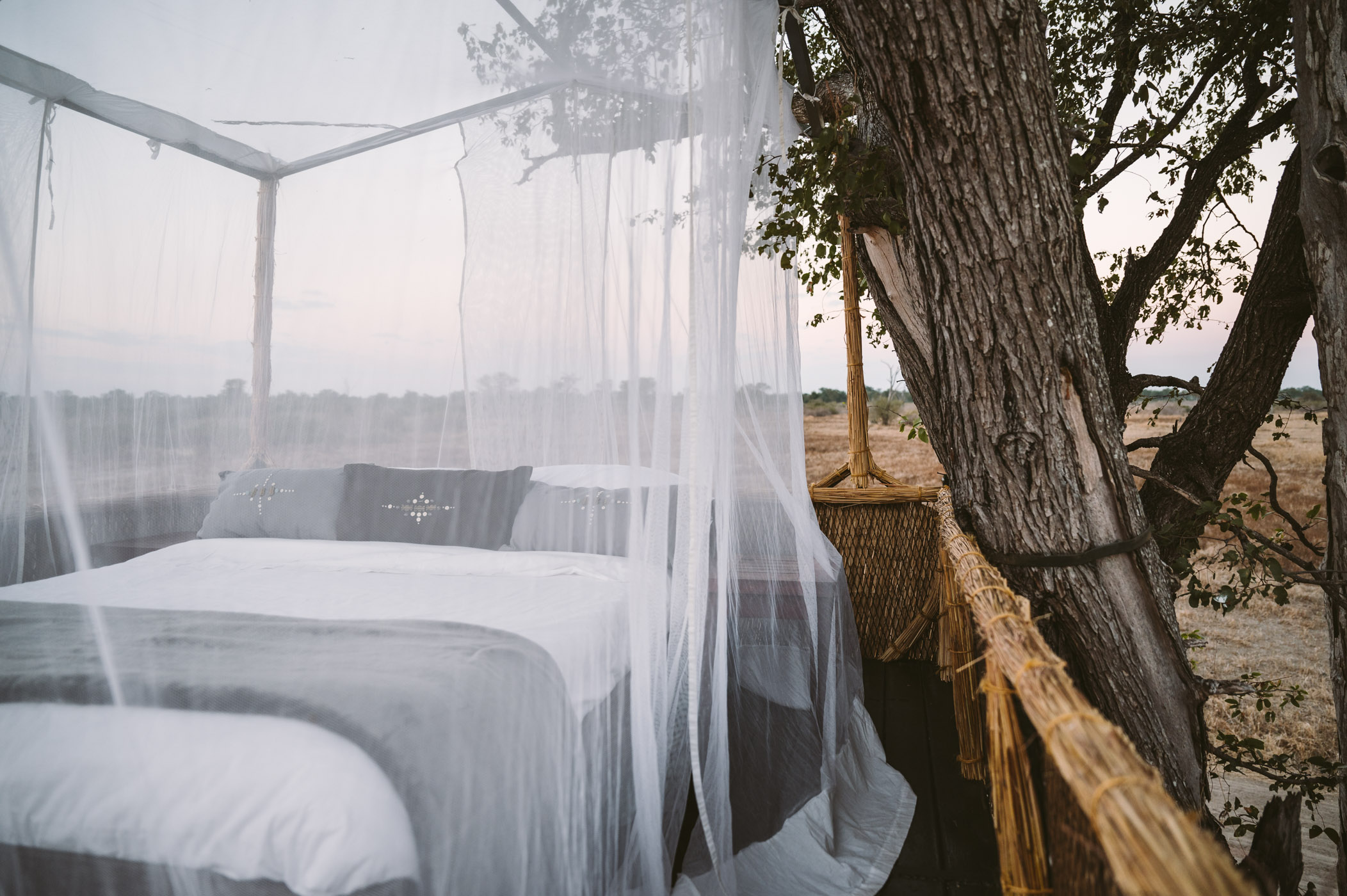 Numbu star bed by Shenton Safaris in South Luangwa National Park Zambia
Kaingo: Home of the leopard
Only a short walking safari from Mwamba you can check into the more permanent lodge of Shenton Safaris called "Kaingo". They also call this the "home of the leopard" and we can only confirm that the title is well deserved! We had some amazing close-up encounters with leopards here. The camp itself is located right next to the Luangwa river and offers some of the best cuisine we had in Zambia! Also the team sets up hides every year where you can get close to animals like nowhere else.
Kaingo by Shenton Safaris in South Luangwa National Park Zambia
Elephant Hide Star bed
Since we loved our first star bed night out so much, we decided to also test the star bed at Kaingo. This is very different experience as this star bed is set up right next to the river! Here the hippos will sing (or fart) you into sleep 😉 Waking up for sunrise over the Luangwa river is a once in a lifetime experience which you won't want to miss!
Elephant Hide star bed by Shenton Safaris in South Luangwa National Park Zambia
Where to stay in Lower Zambezi National Park
The Lower Zambezi National Park is a rather undeveloped and truly remote area of Zambia. Here we got to stay at a very special fly camp called "Tusk & Mane". The camp has two different locations and moves every couple of days in between the two places. We stayed in the so called "Chula camp" on an uninhabited island within the Zambezi river.
Fly camps are usually very basic, but the owners at "Tusk & Mane" have spent a lot of energy at providing a stylish and well-designed camping experience, although you're really in the middle of nowhere! The camps are only accessible by boat, but they managed to bring in custom-made tents, copper sinks, water closets, bamboo dressers – everything you could dream of.
Tusk & Mane Fly Camp Lower Zambezi National Park Zambia
Where to stay in Livingstone
Last but not least we stayed in Livingstone to visit one of the 7 natural wonders of the world – the impressive Victoria Falls. Here we tested two different lodges, both located about 20-30 minutes away from the hustle and bustle of the are around the falls. We definitely recommend to stay a bit away from the falls, so you can enjoy the piece and quiet of the Zambezi river.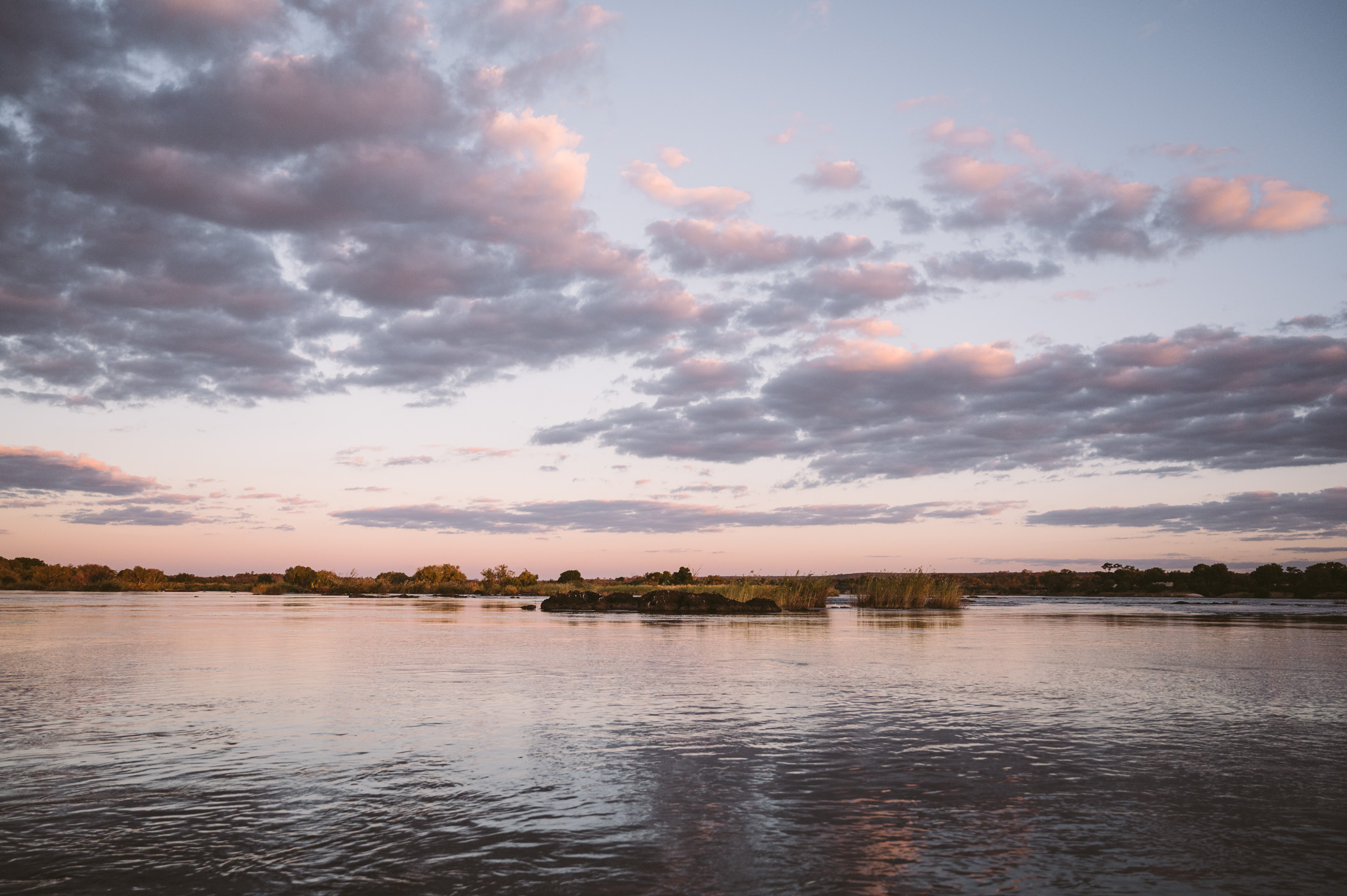 Staying a bit away from the Victoria Falls is a good idea in Livingstone to enjoy the solitude at the Zambezi river.
Tongabezi Lodge
We spent our first night at one of the fabulous river cottages in the world-renown Tongabezi lodge, that is winning awards all the time – and let us tell you, rightfully so. Design wise this lodge was our favourite in all of Zambia. We loved the neutral color palette and attention to detail. This lodge is a bit bigger than the other ones we stayed at, so it might feel less intimate. But they also offer evening entertainment, a shop with local design and souvenirs, as well as two different pools. We especially enjoyed a sunset cruise on the Zambezi river with sundowner served on a sandbank in the river!
Tongabezi Lodge in Livingstone Zambia
Chundukwa River Lodge
Lastly we stayed in one of the most heart-warming lodges in Zambia, run by the sweetest couple Gail & Doug. They not only built a wonderfully intimate lodge right at the riverbank of the Zambezi, but also host an animal shelter for all sorts of rescues. Their personal service made us feel incredibly welcome and made the lodge truly deserve the title "home away from home" (as much as this phrase is stressed already) 🙂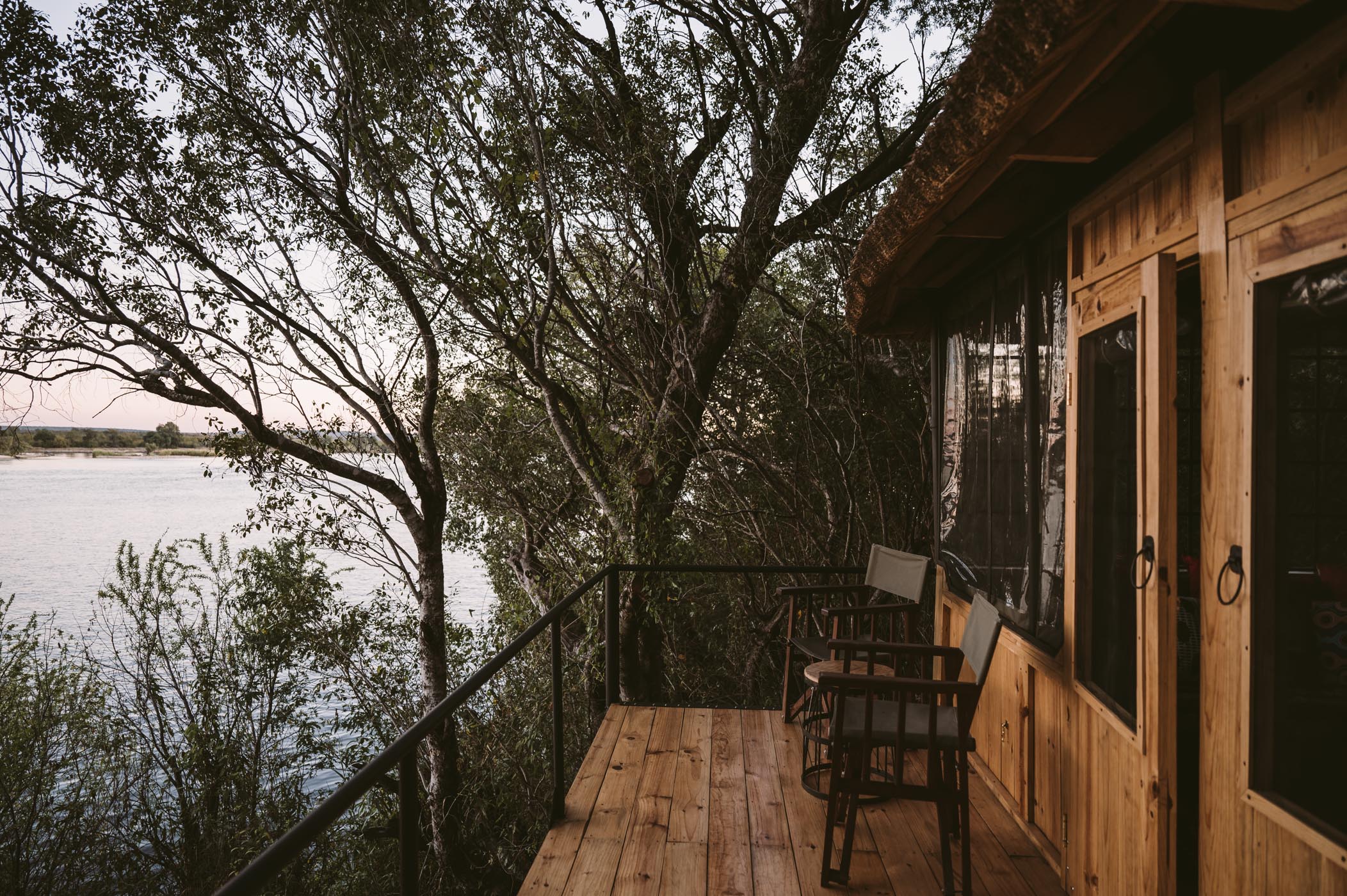 Chundukwa River Lodge in Livingstone Zambia
Best of Zambia
This was our Best of Zambia's lodges and camps – we hope you now got an even deeper wish to visit the country, that so desperately needs tourists to discover it's hidden secrets! If you dream of seeing leopards in the wild, then we can highly recommend Zambia – we got to encounter 5 different leopards during our days in South Luangwa and Lower Zambezi and will never forget looking into those all-knowing eyes.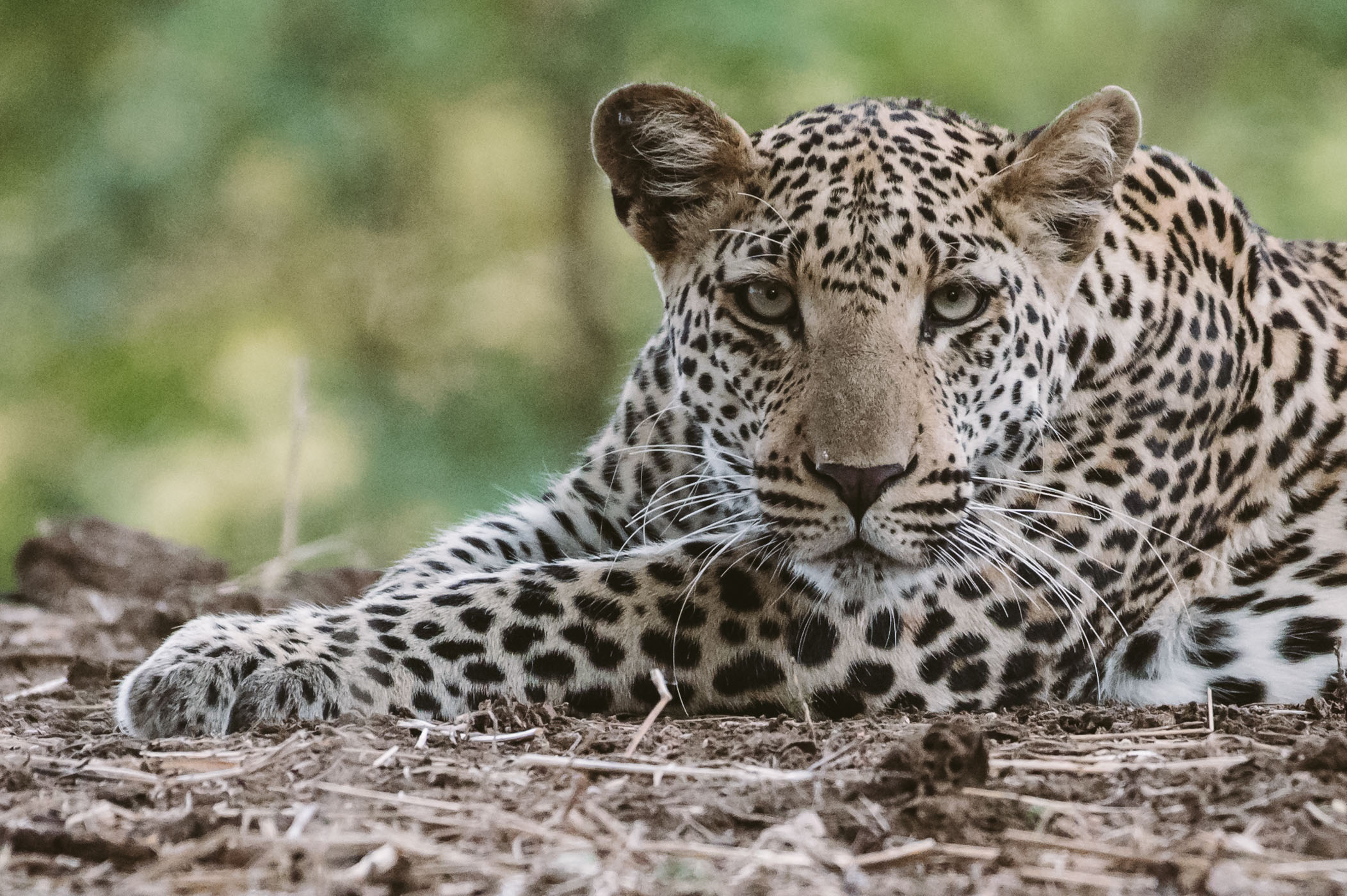 If you dream of seeing leopards in the wild then Zambia is the right place to travel to!
Zambia & all the leopards will definitely see us again.
How to travel Zambia
Last but not least let us recommend the services of Austria based travel agency "Pinto Africa" if you want to book your Zambia adventure. The couple-run agency has the most profound know-how of Zambia, as Luke grew up in the country and once he married Bettina they lived there together for a while (before moving back to Austria to start Pinto Africa)! They have a profound local network and will provide a tailor-made trip planned just for your needs.
And if you haven't yet seen our 9 reasons for a Zambia visit, click here:
Disclaimer: This is not a sponsored post, but we were invited to discover Zambia by Pinto Africa in collaboration with local partners (ProFlight airline, Zambian Ground Handlers, Shenton Safaris, Tusk & Mane, Tongabezi Lodge, Chundukwa Lodge). We were not required to post anything from this trip. The views in this blogpost are our own!