(Last update: September 2020). Are you planning to visit Portugal's second largest city – colorful, eclectic Porto? We spent 3 days in the picturesque city – exploring the myriads of tiles, narrow alleys and watching countless seagulls. In this blogpost we share what's there to see, do and taste during a 3 day visit in Porto.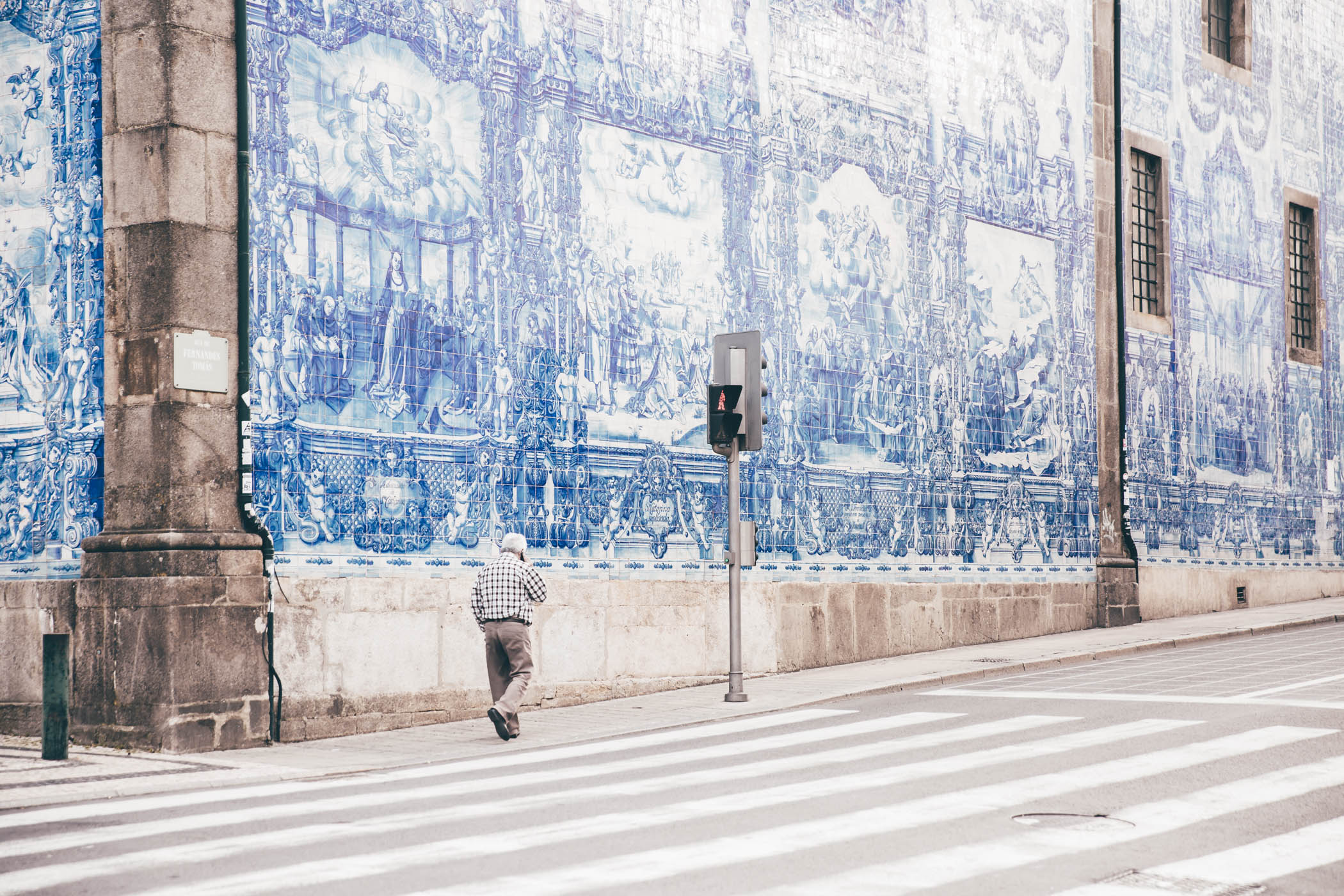 No Porto visit is complete without chasing tiles – as seen here on the wonderful Capela das Almas.
Our itinerary for 3 days in Porto
We dedicated our 3 days to 3 very different explorations of Porto.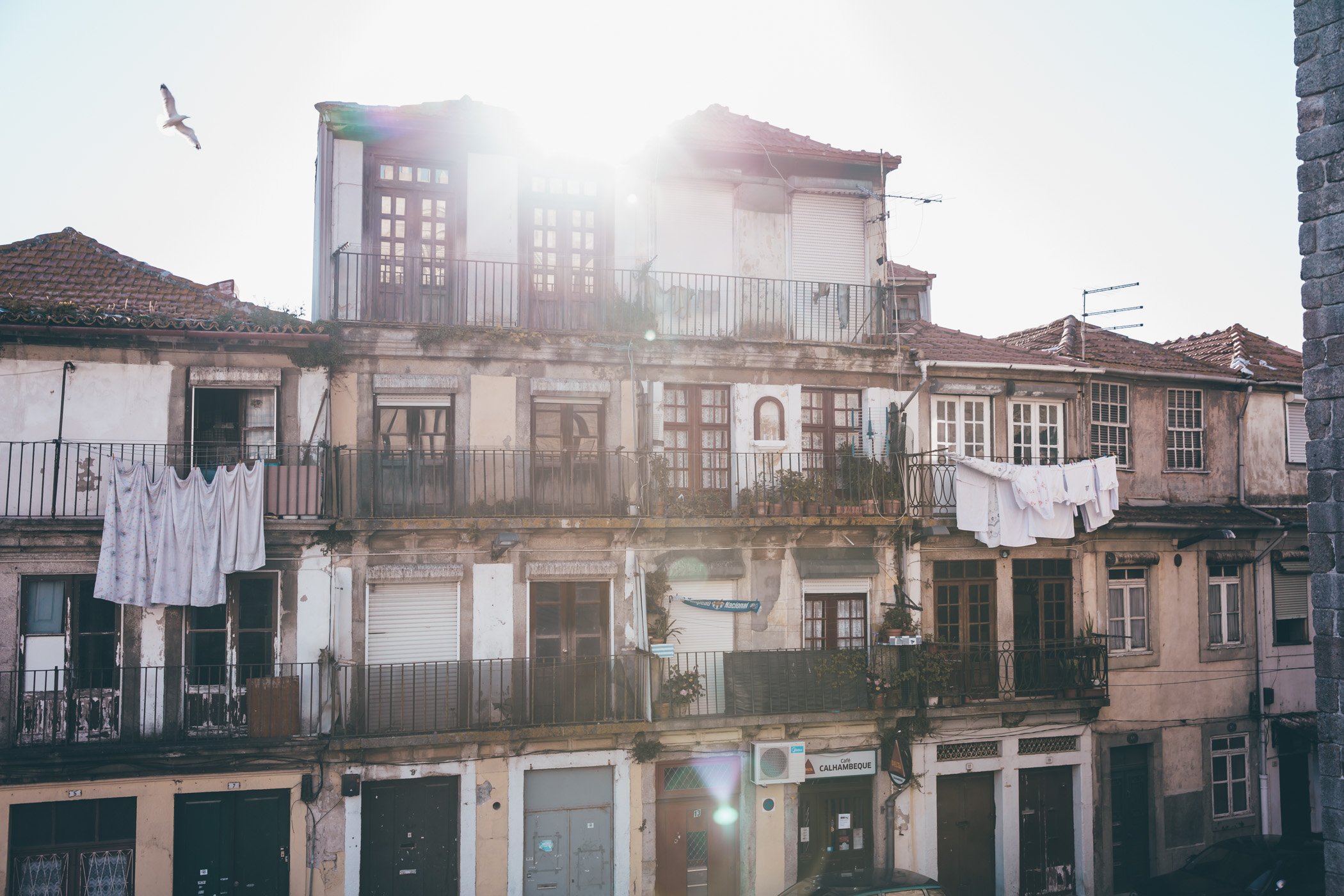 Day 1: Exploring the Se district around the cathedral of Porto.
DAY 1: We spent the first day in the city exploring our neighbourhood – the Ribeira and Se districts with all their staircases leading up to countless lookout spots over the city, called "Miradouros" in Portugal. We saw the most important sights within walking distance, from churches to cathedrals and of course all the tiles!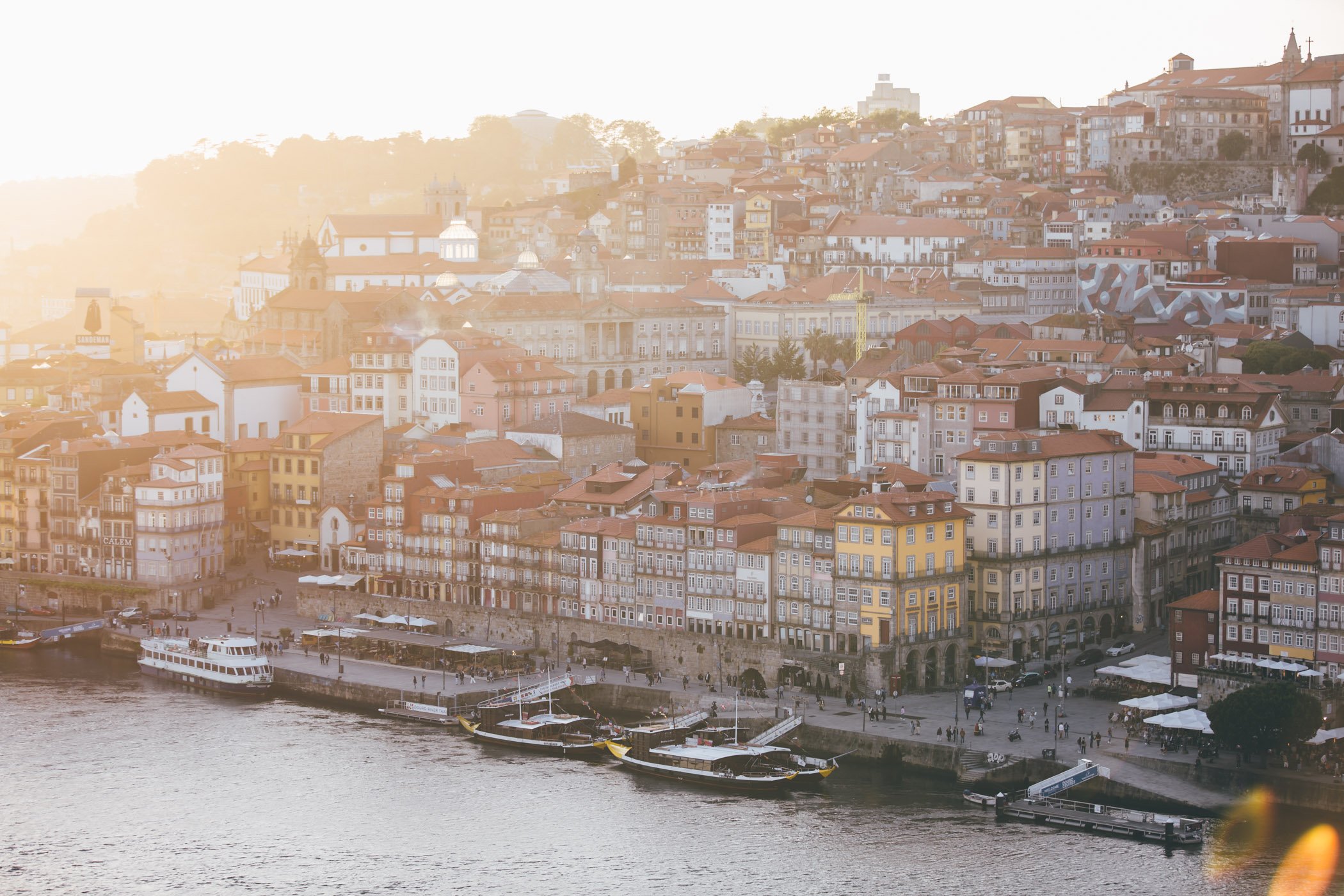 Day 2: Listening to Fado at the river banks of the river Douro.
DAY 2: The second day was a Tuesday and therefore we could experience a local Fado night in a small bar at the river banks of the river Douro. Before this very authentic experience we researched some of the city's best shopping and food – like the "Francescinha", a local specialty.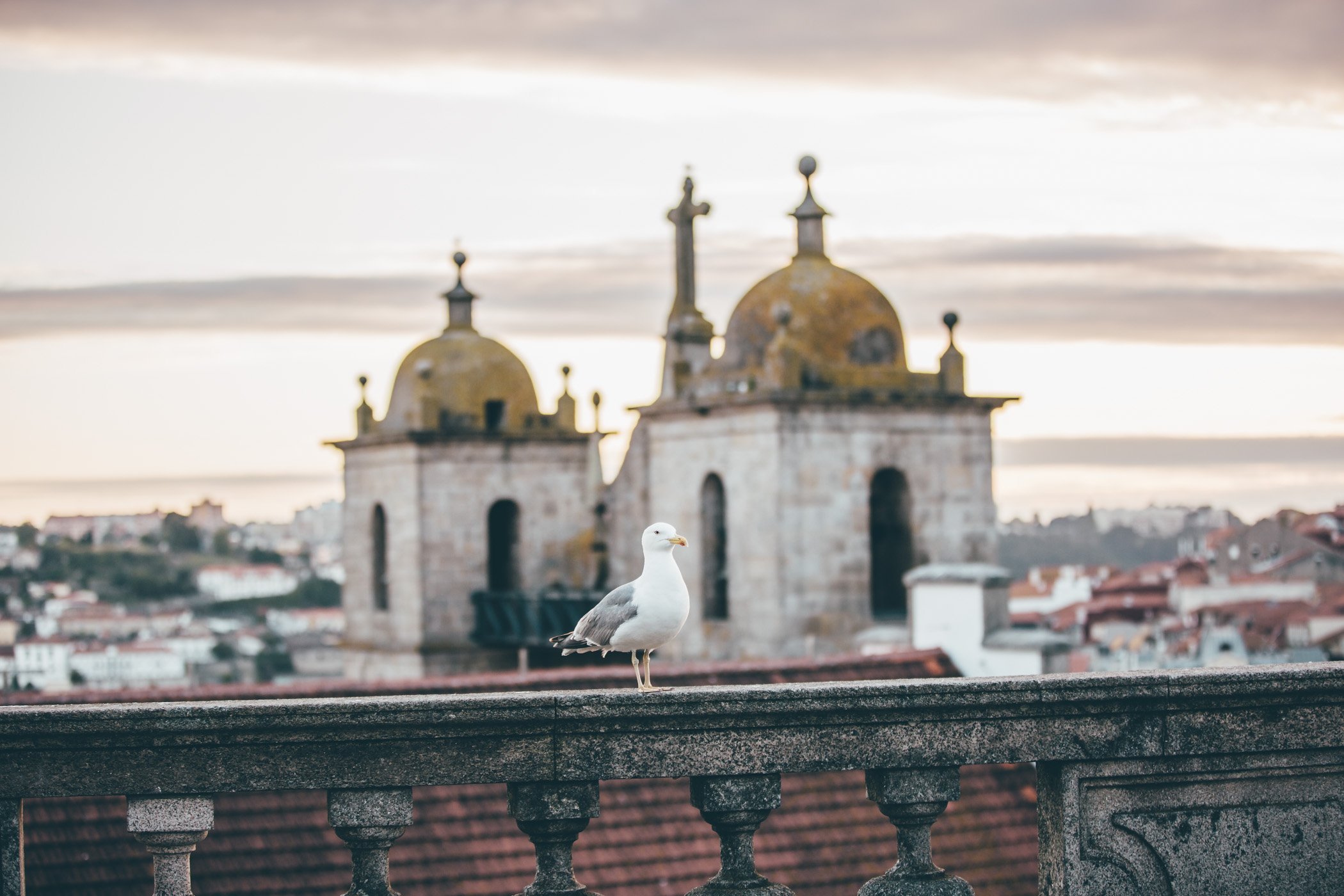 Day 3: Stopping to count the seagulls… 🙂
DAY 3: And the third day brought us to the other side of the city. After crossing the Luís I bridge we strolled around "Vila Nova de Gaia" between all the local Port wine manufactures. And of course we also attended one of the imperative tours of a Port winery (including a tasting). The highlight was a sunset sailing cruise from the marina in Afurada all the way to the Atlantic Ocean and back.
Porto at sunset is as magical as it looks.
But let us share our full 3 day Porto itinerary in more detail. Let's get started!
Day 1 in Porto: Stroll around and visit the most important sights
After taking an early flight to the city check into your hotel or guesthouse. We stayed at the "Casa dos Lóios Boutique Guesthouse", which has the ultimate central location and small, but beautiful rooms with modern amenities and antiquities, that add to the local flair.
Casa dos Lóios Boutique Guesthouse Porto
After check in we recommend to grab lunch in the neighbourhood. We tested the local vegetarian restaurant called "Da Terra", which offers a lunch buffet with many different options from salads to quiches, olive tapenade and homemade bread.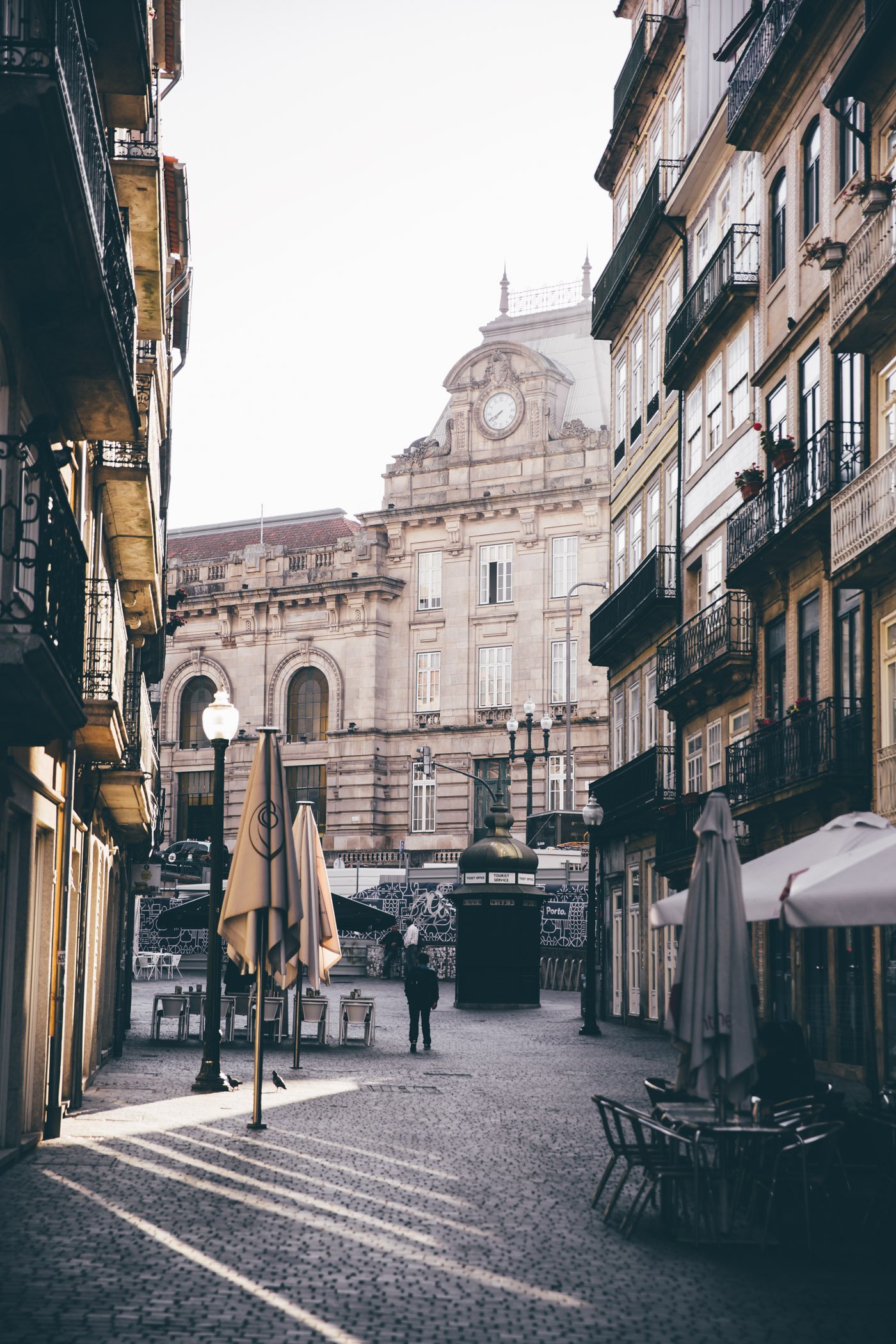 Then it's time to walk around the Ribeira and Sé districts, which are both boasting with the most important sights of the city – plus incredible views of the Douro river and across the other side to the wineries of Vila Nova de Gaia (which we will also visit on Day 3).
An afternoon stroll in Porto might contain many stairs, but it's worth the climb for the views!
Places to see during Day 1 in Porto
During your first stroll through the city there are a couple of important sights & viewpoints, that you can visit along the way. We love getting lost during a city stroll, but also appreciate to have a couple of fix points to check out in between – so here are our favourites: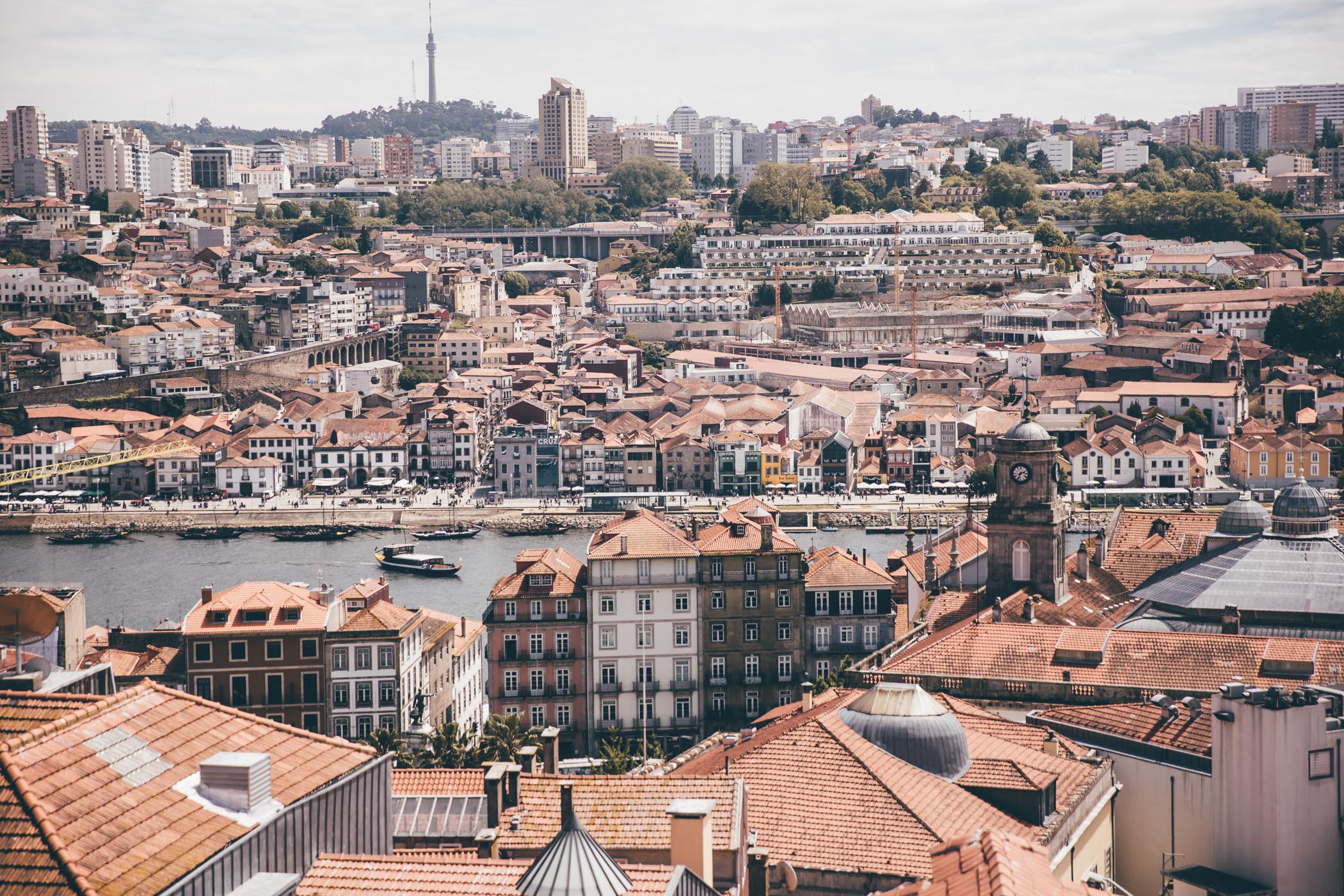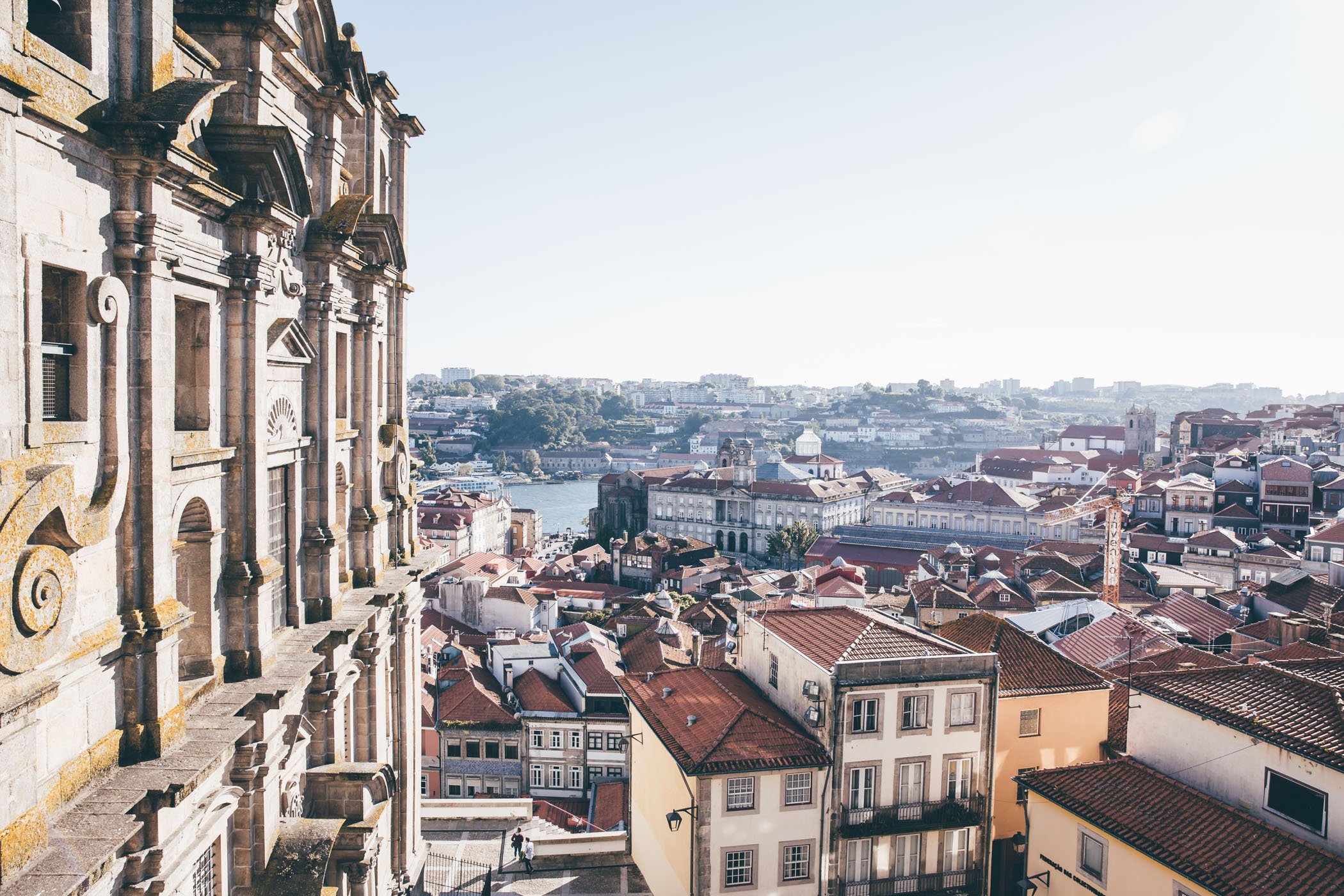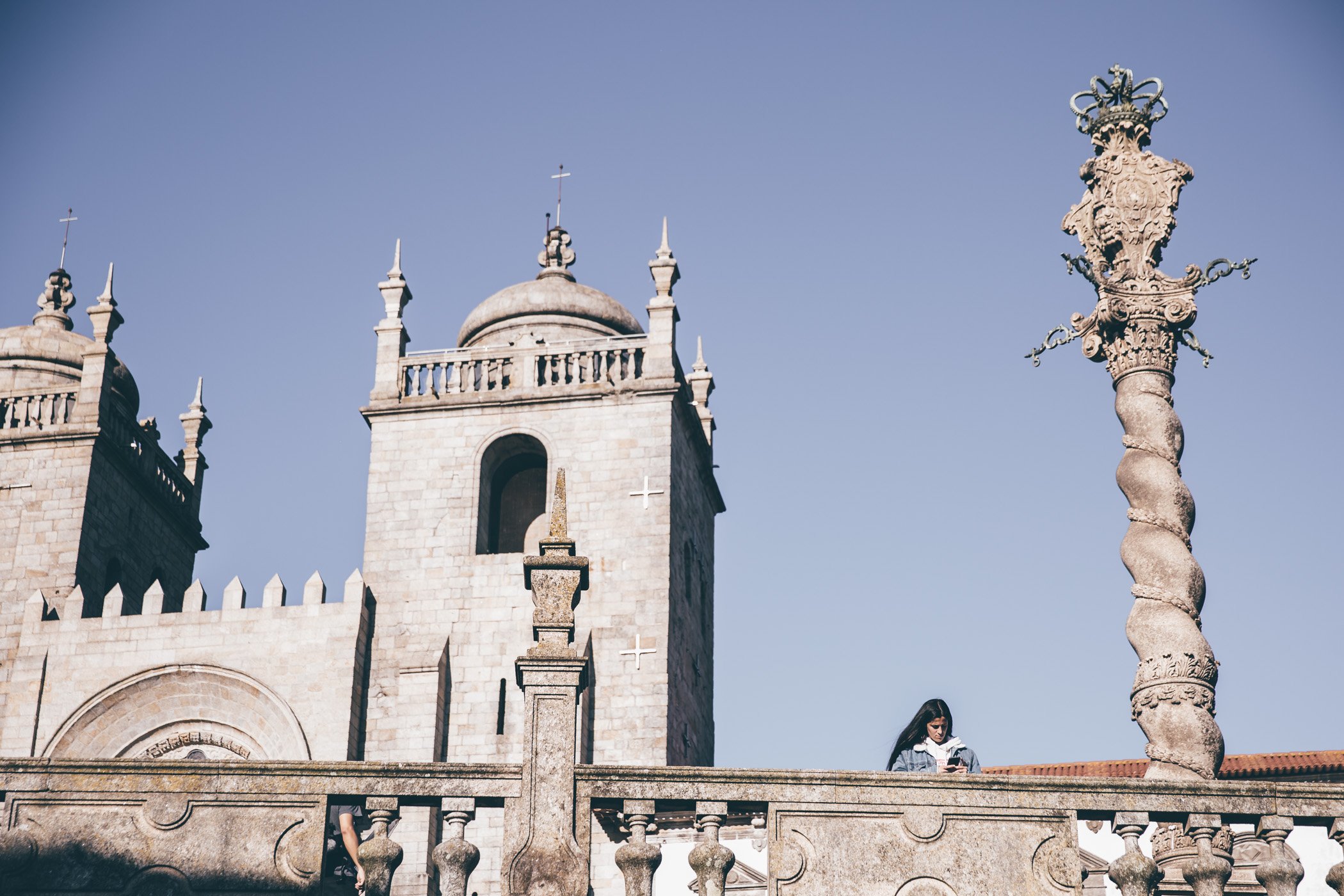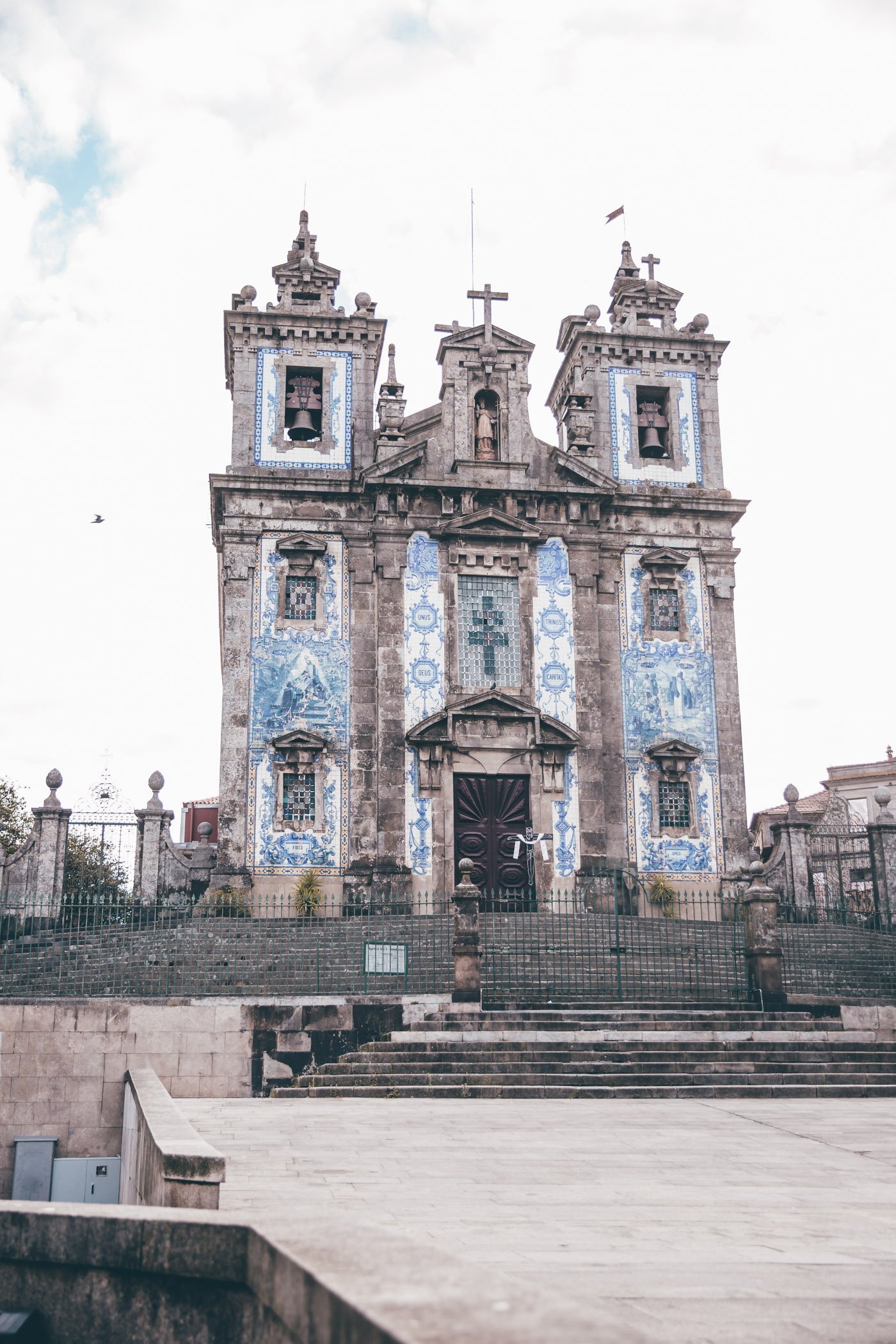 Here's the full list of sights for Day 1 for you to copy & paste to your itinerary:
Miradouro da Vitoria, R. de São Bento da Vitória 11, 4050-292 Porto, Portugal
Miradouro da Rua das Aldas, R. das Aldas 1, 4050-026 Porto, Portugal
Sé do Porto, Terreiro da Sé, 4050-573 Porto, Portugal
Igreja do Carmo, R. do Carmo, 4050-164 Porto, Portugal
Porto Sao Bento Train Station, Praça Almeida Garrett, 4000-069 Porto, Portugal
Capela das Almas, Rua de Santa Catarina 428, 4000-124 Porto, Portugal
Igreja Paroquial de Santo Ildefonso, R. de Santo Ildefonso 11, 4000-542 Porto, Portugal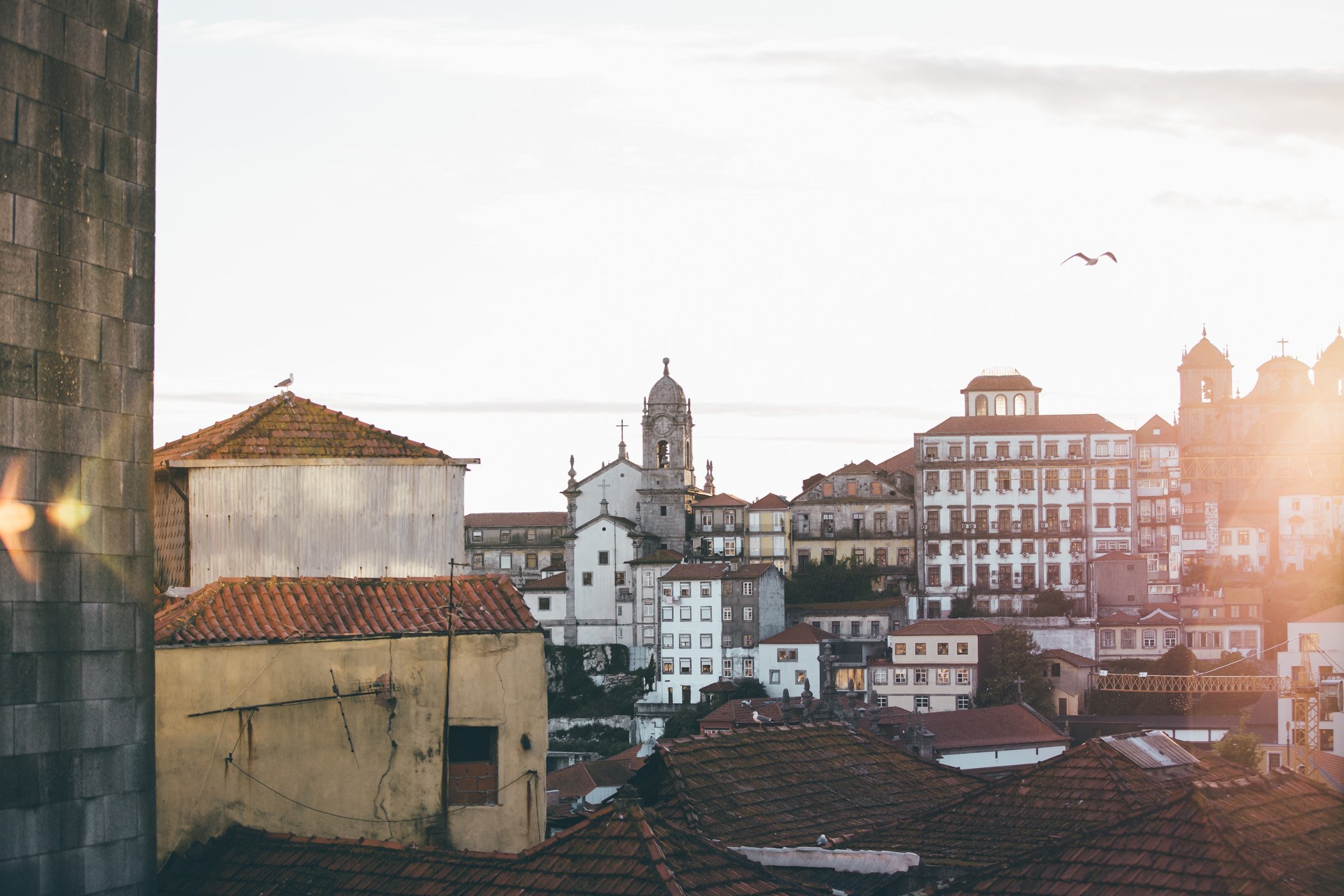 Sunset in Porto as seen from the Sé do Porto
After a sunset from one of the Miradouros (we recommend the one up at the Sé do Porto) you can sit down for dinner in one of the many restaurants in the neighbourhood. We really loved "Portugues de Gema" and "Raiz" restaurant.
Day 2 in Porto: Shopping & Food
One of the first things we did at Day 2 in Porto was to climb up the (super narrow) spiral staircase at the city's landmark "Torre dos Clérigos". Once we made it to the top we enjoyed a 360 degree panorama of Porto. Be aware, that this isn't for people who are afraid of heights or narrow spaces, as the staircase is a bit adventurous. The view makes it worth the climb though!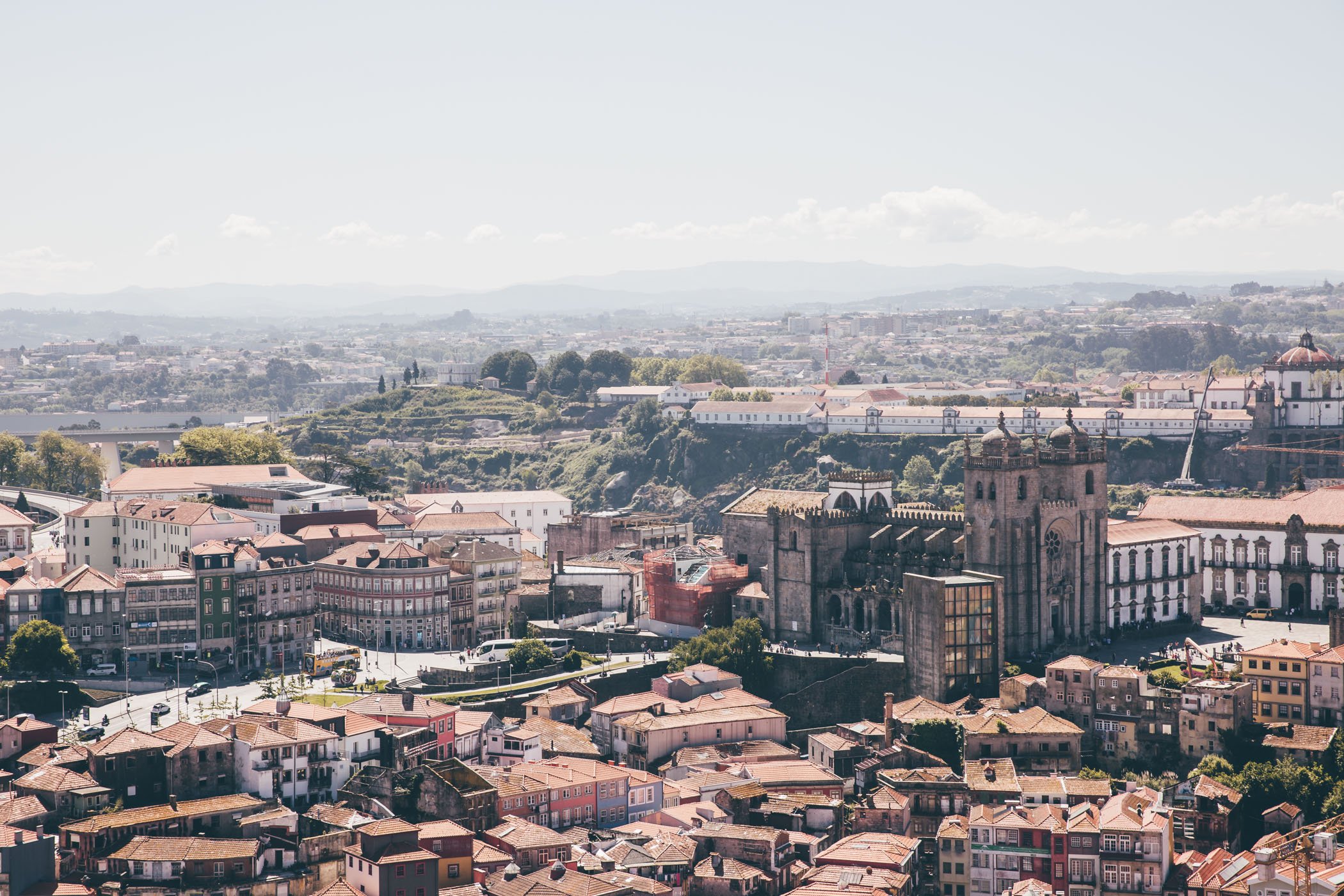 Souvenirs with style
After this we decided that it was time to shop for some local handcrafts and souvenirs. Luckily there are many options right in the vicinity of the Torre dos Clérigos – the most impressive being "A Vida Portuguesa" with a wonderful selection of Portuguese delicacies and handcrafts from tiles to fabrics and wood carved objects.
If you prefer a more modern take on souvenirs we recommend bringing locally manufactured linen wear from "Mr. Mood" or woolen products from "Burel Mountain Originals".
Mr. Mood Linenwear, handmade in Portugal
Lunch: Vegetarian Franceshina at Lado B Café
No Porto visit would be complete without trying out the local trademark dish called "Franceshina". This cheese sandwich is usually filled with plenty of meat, but luckily the folks at "Lado B Café" had the glorious idea to offer a vegetarian version with tofu sausages. It's a seriously hearty and calory-rich dish, that you probably either love or hate – we definitely loved it!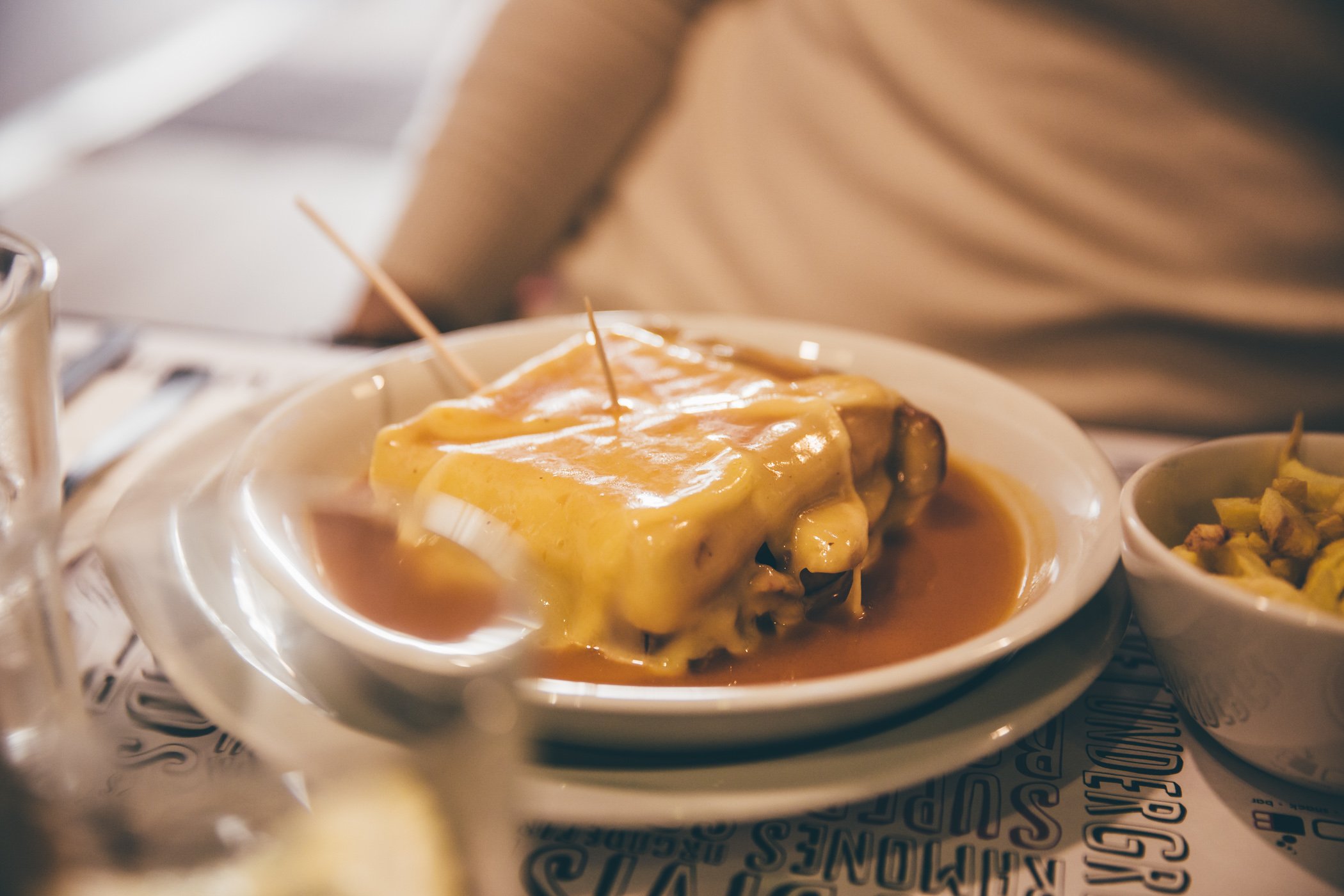 Coffee & Pastel de Nata at Café Majestic
After our "light" lunch we made our way to the famous "Café Majestic", which is just minutes away from Lado B. Here you can get the obligatory fix of "Pastel de Nata" and a cup of coffee in decadent style. People watching is a must here (just bear in mind, that you might have to stand in line to get in – that's how popular it is. But it is worth the wait!).
Afternoon stroll at Jardins do Palácio de Cristal
In the afternoon we recommend to check out the wonderful gardens of "Jardins do Palácio de Cristal", which offer incredible views of the city and lush grounds filled with fountains, ponds and roses and the occasional peacock wandering around in between.
Shopping: Art & Shopping at Cedofeita district
Closeby to the gardens you'll find the Cedofeita district – a hip art & culture neighbourhood in Porto. Here you can also do some more shopping, as there are a quite a handful of interesting design and popup stores in the vicinity. We especially recommend the "Earlymade" concept store with it's very Zeitgeist  colour-coordinated selection of upcoming designer clothes (attention, they have quite strange opening hours!).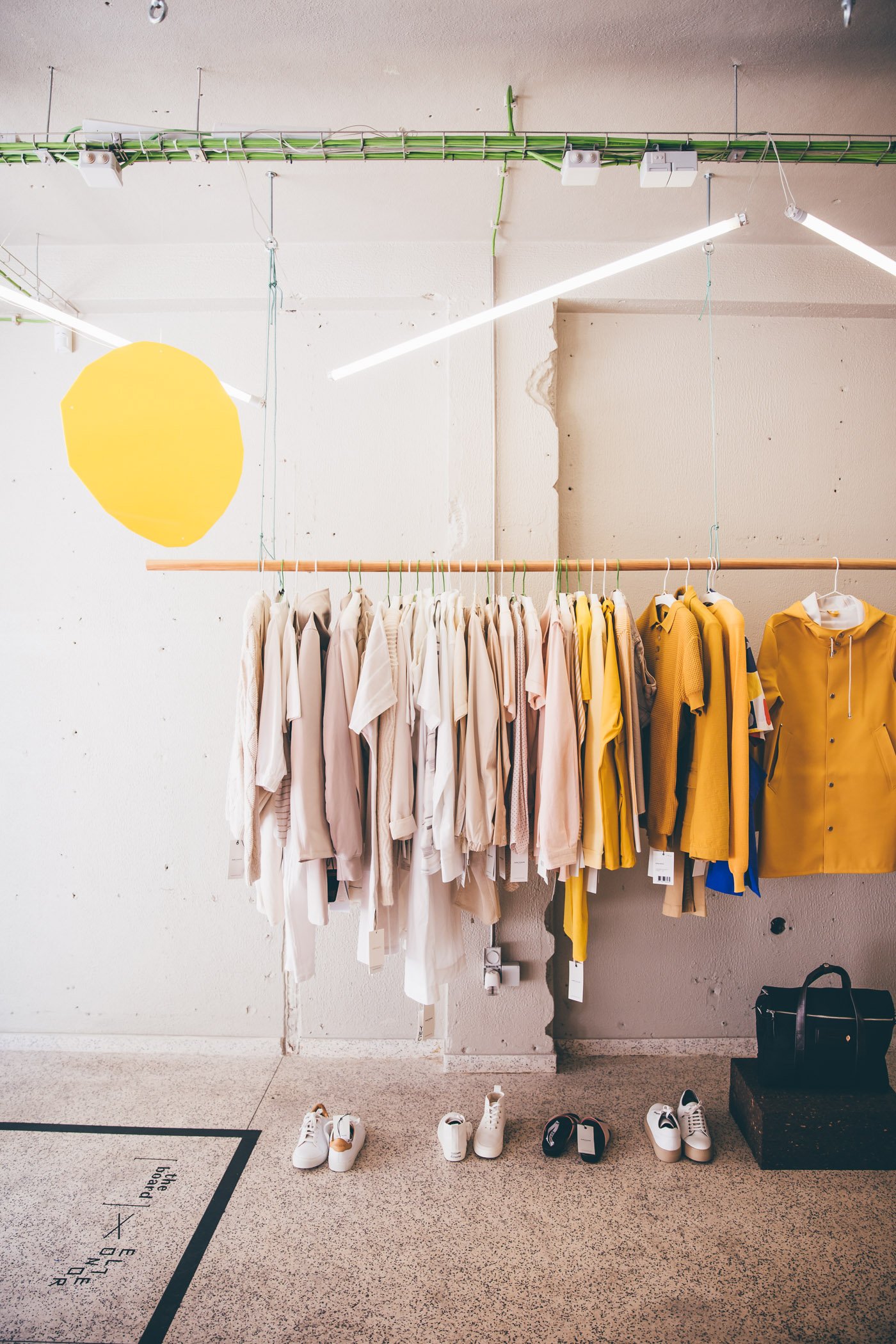 Tuesday is Fado night in Porto
If it's a Tuesday (like it was for us) you're now in for a treat. Take an Uber (or taxi if you will) to go to the small bar called "Adega Rio Douro" at the banks of the Douro river. Every Tuesday this little bar becomes a hotspot for locals (especially for the elder generation) to meet up for an evening of Fado, the world renown melancholic music (originally coming from Lisbon).
Our tip: Come early (it starts around 5pm), order a wine at the bar and grab a seat inside for the best way to experience the music & atmosphere.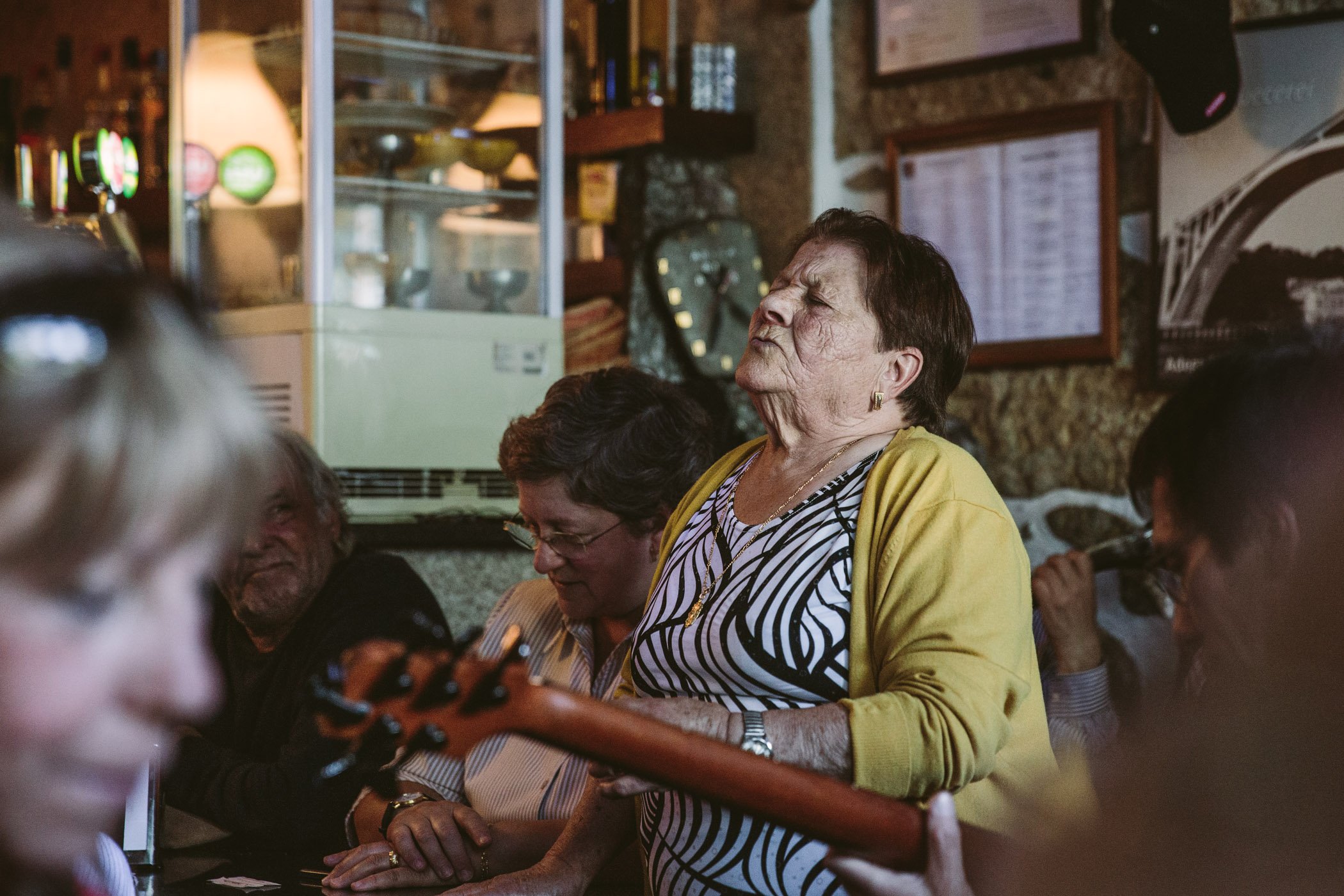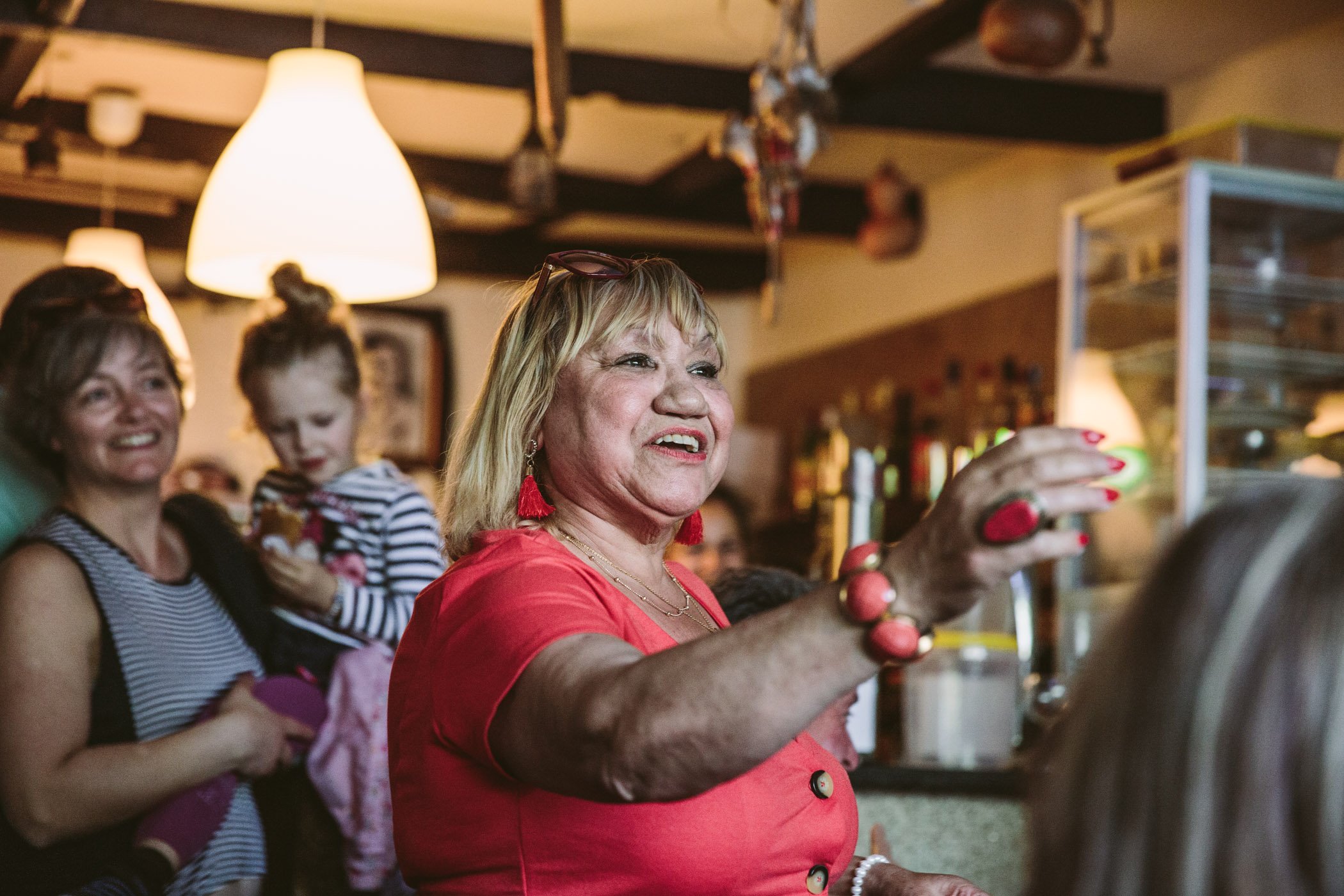 Sunset cruise at Afurada
Just before the sun sets you should now travel over the bridge to get to the marina of "Afurada", the fishermen's village just across the river. From here on you can enjoy a sunset sailing tour, that brings you all the way to the Atlantic Ocean and back, drinks and a snacks included.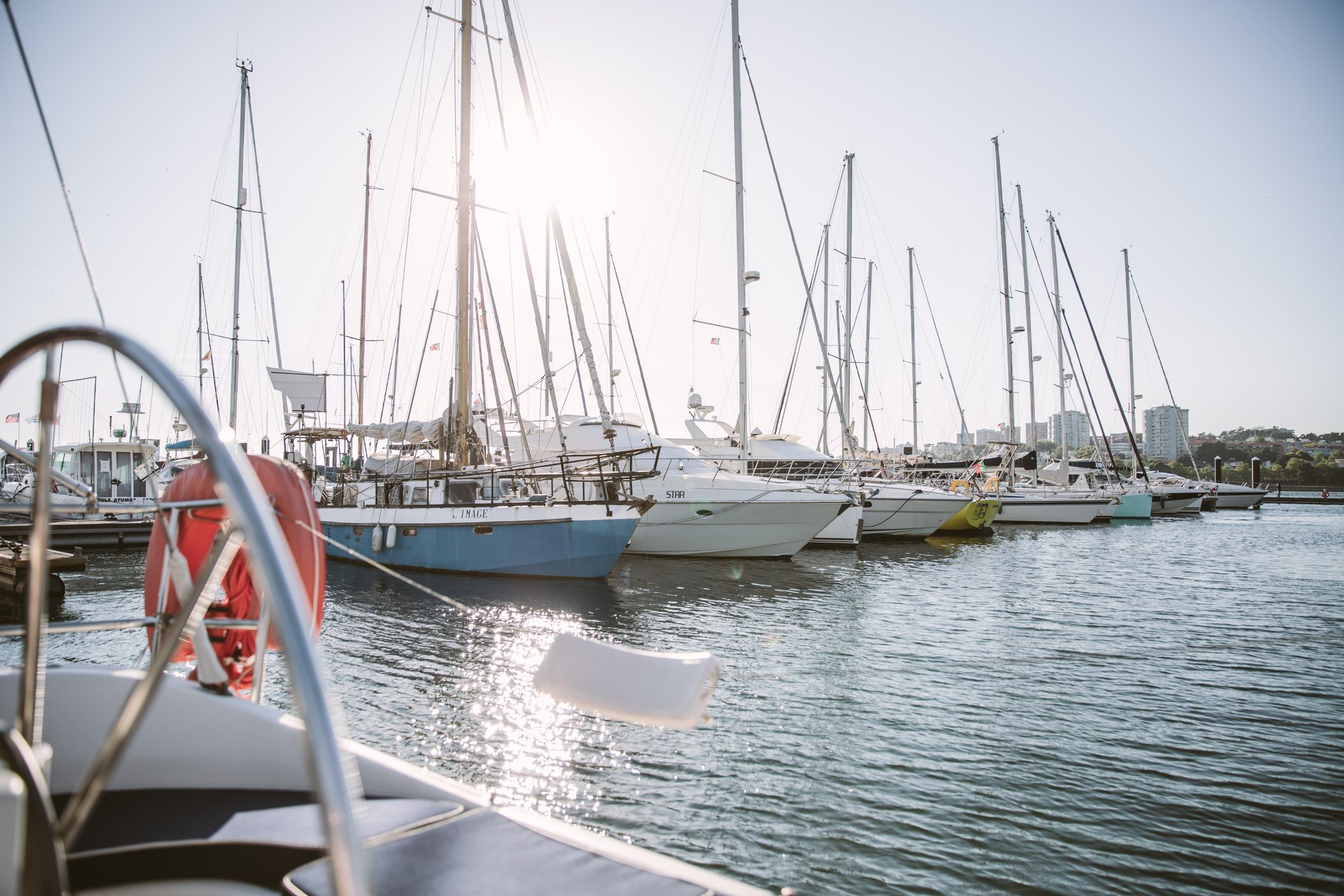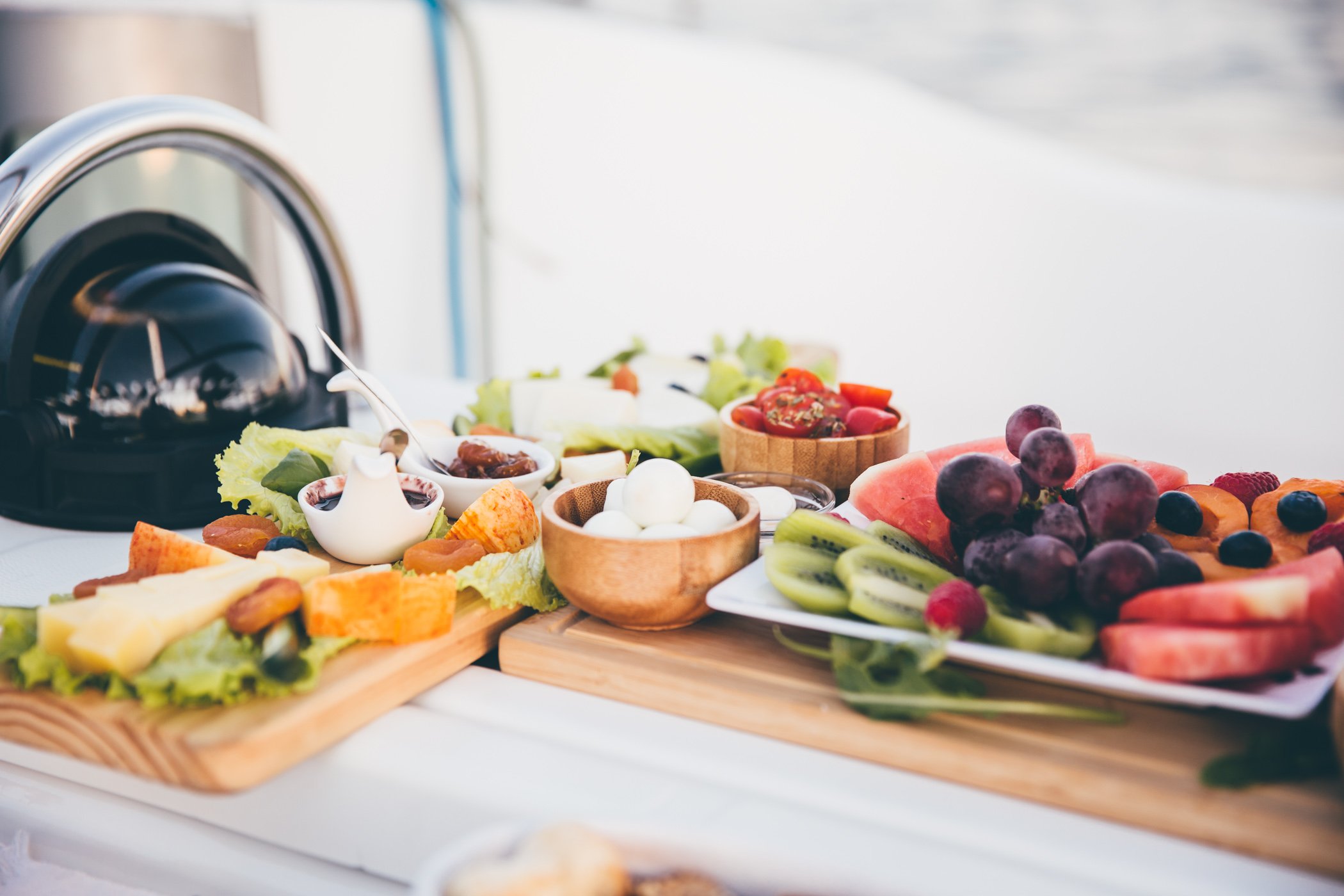 The sunset sailing tour from Afurada includes a light dinner.
It comes with quail's eggs, homemade spreads, fruit and a selection of local cheeses.
We booked our tour with a small local company called "Rodani" and loved the elegant yacht & personal service of Tomás and his wife on the boat. Our tip: Bring a light jacket and scarf, because it does get cold once you're out on the ocean.
When the sun sets it can get a bit chilly (at least in May, when we went to Porto!).
After this wonderful experience you can enjoy dinner back in the city or go to bed directly, because the snacks on the boat are actually quite plentiful.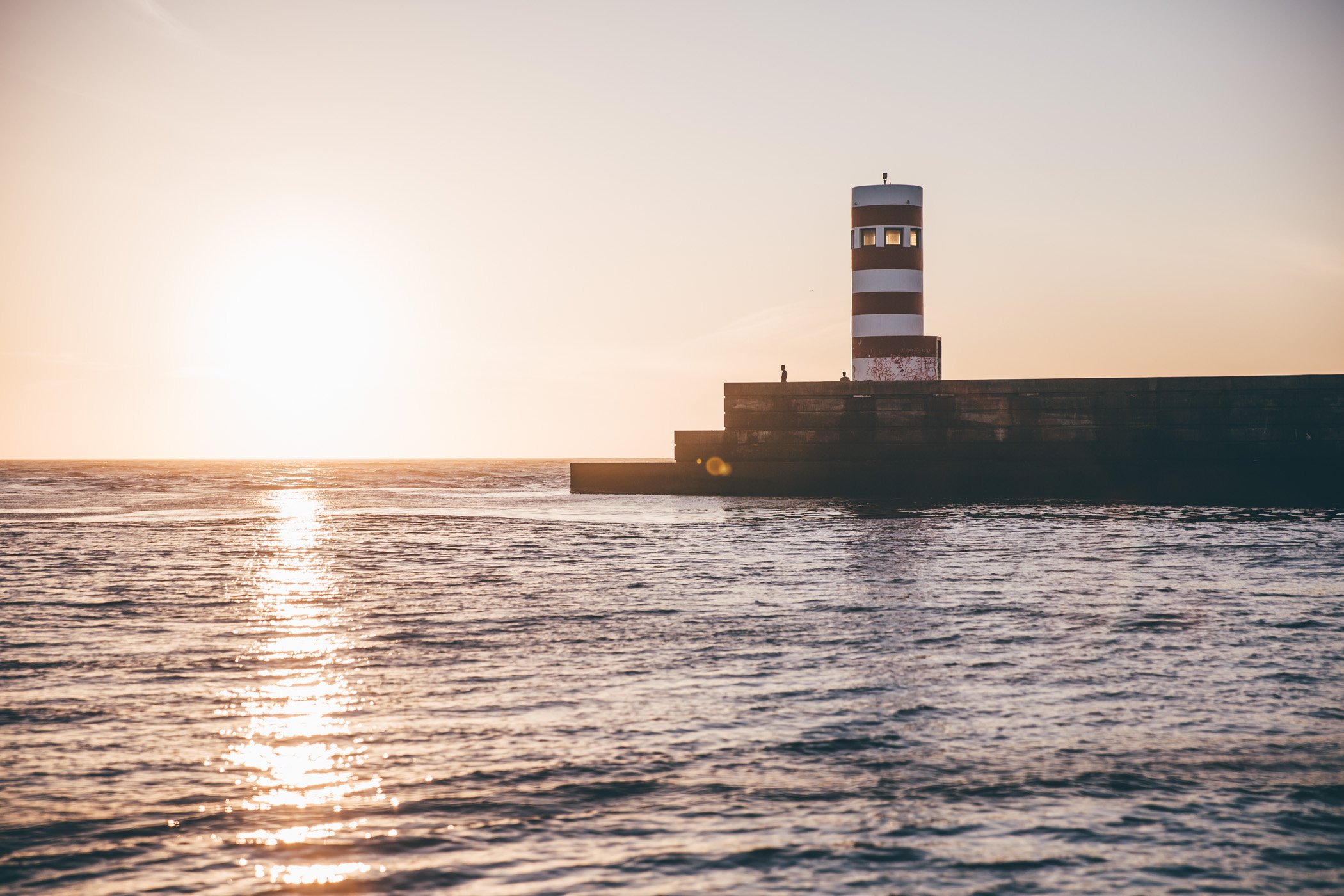 The end of Day 2 in Porto – sunset at the lighthouse "Farolins da Barra do Douro".
Day 3 in Porto
Our last day in Porto was dedicated to the other side of the river. Once you cross the Douro river you're technically not in Porto anymore, but that doesn't stop anyone from a visit. Here you can get a taste of the famous Port wine, which originates from this part of the city called "Vila Nova de Gaia".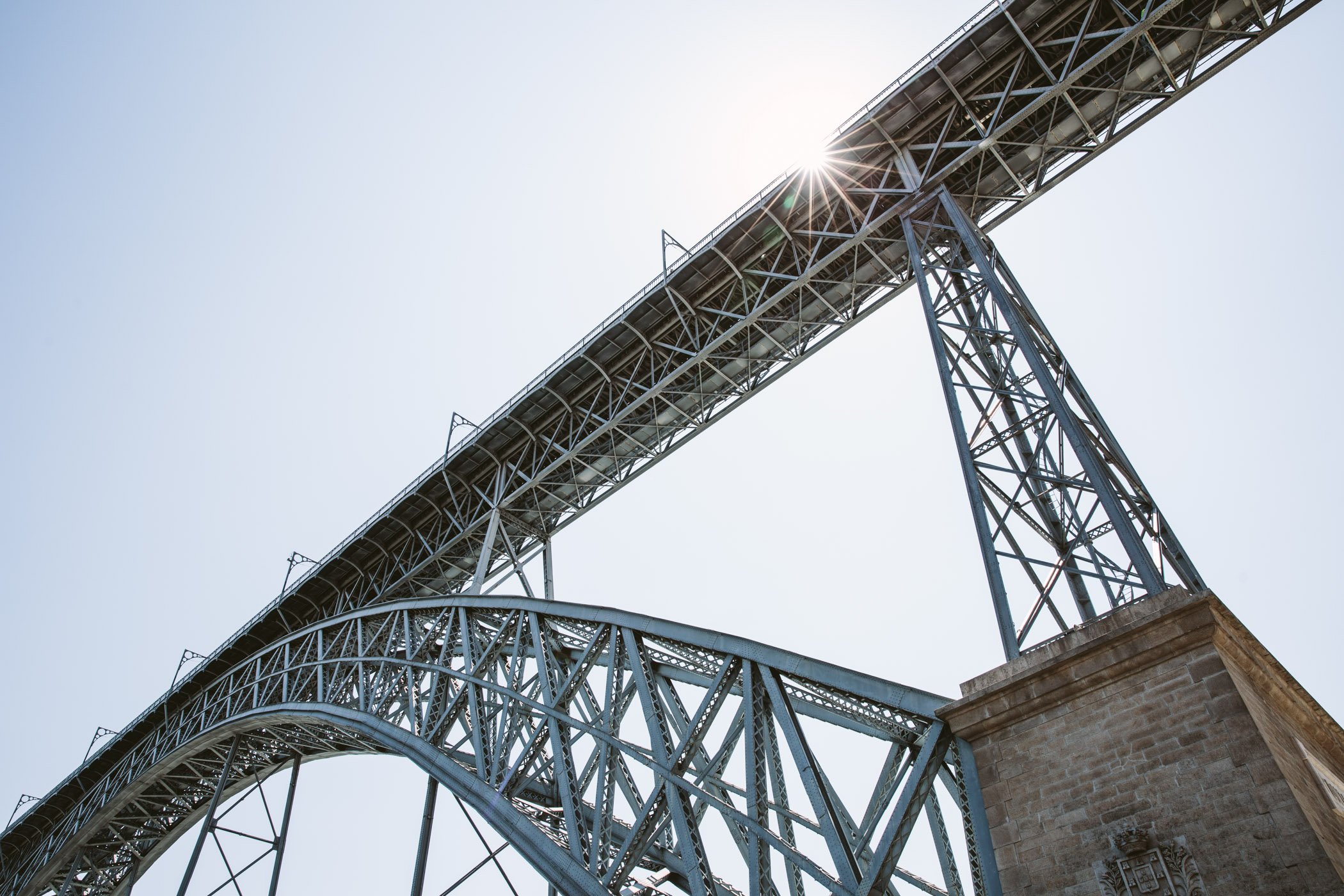 You can cross the Douro river by boat or on the famous bridge called "Ponte Dom Luís I".
Port wine tasting in Vila Nova de Gaia
There are countless wineries lined up next to each other in Vila Nova de Gaia, so it's not easy to choose where to take a tour and try out a couple of the fabulous Port wines. We ended up choosing a tour of "Croft" including 3 different Port wines to taste and can absolutely recommend it.
We chose a tour at Croft Port and can recommend it very much!
In this short tour you'll learn the basics about Port wine and see with your own eyes how they are still stored the old school way in huge wooden barrels. We promise you'll go home with at least one bottle as a souvenir 😉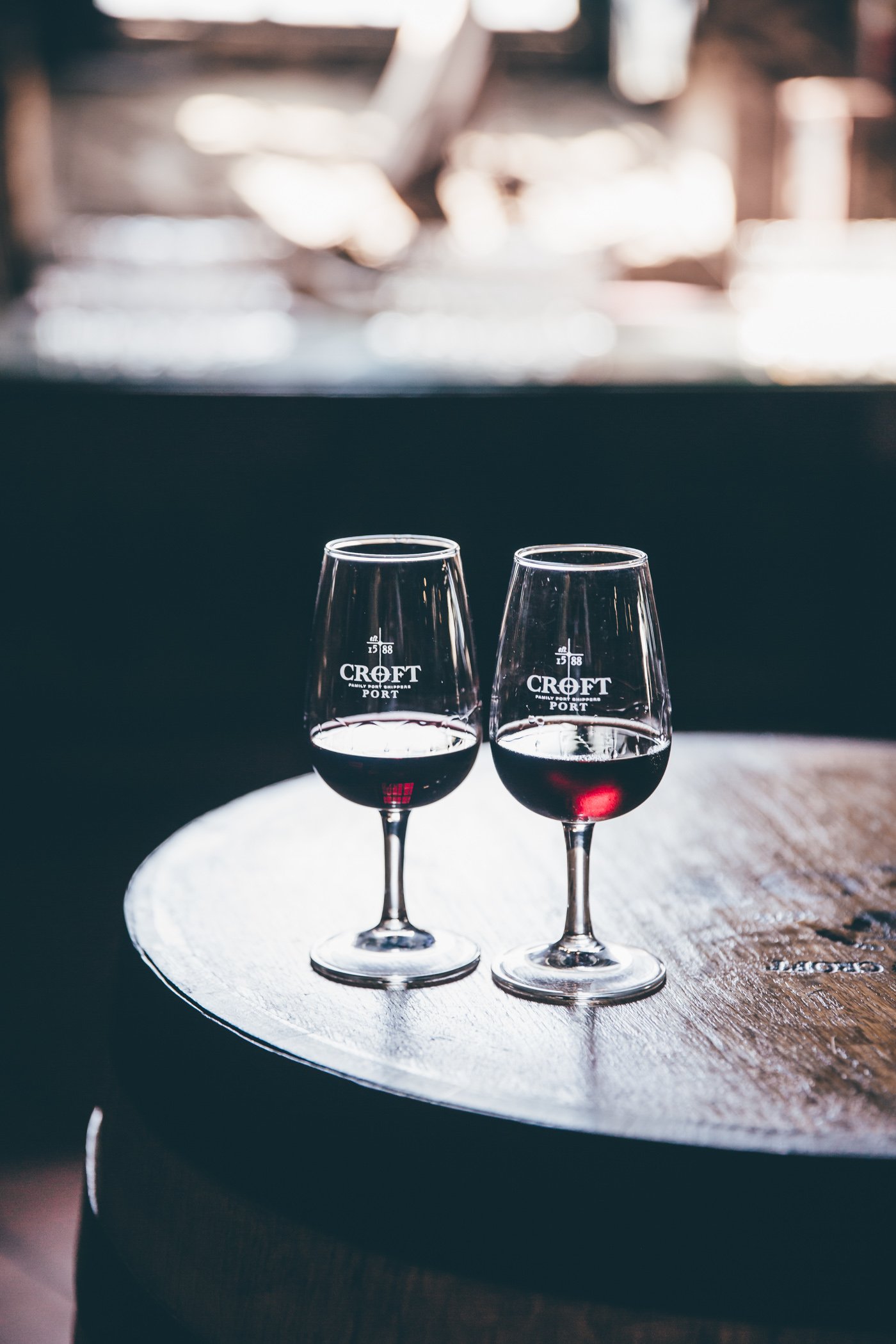 Tasting Port wine at "Croft" in Vila Nova de Gaia.
The fishermen's village of Afurada
If you already crossed the river we recommend to rent bikes and discover the fishing village of Afurada (with it's fabulous open air laundry).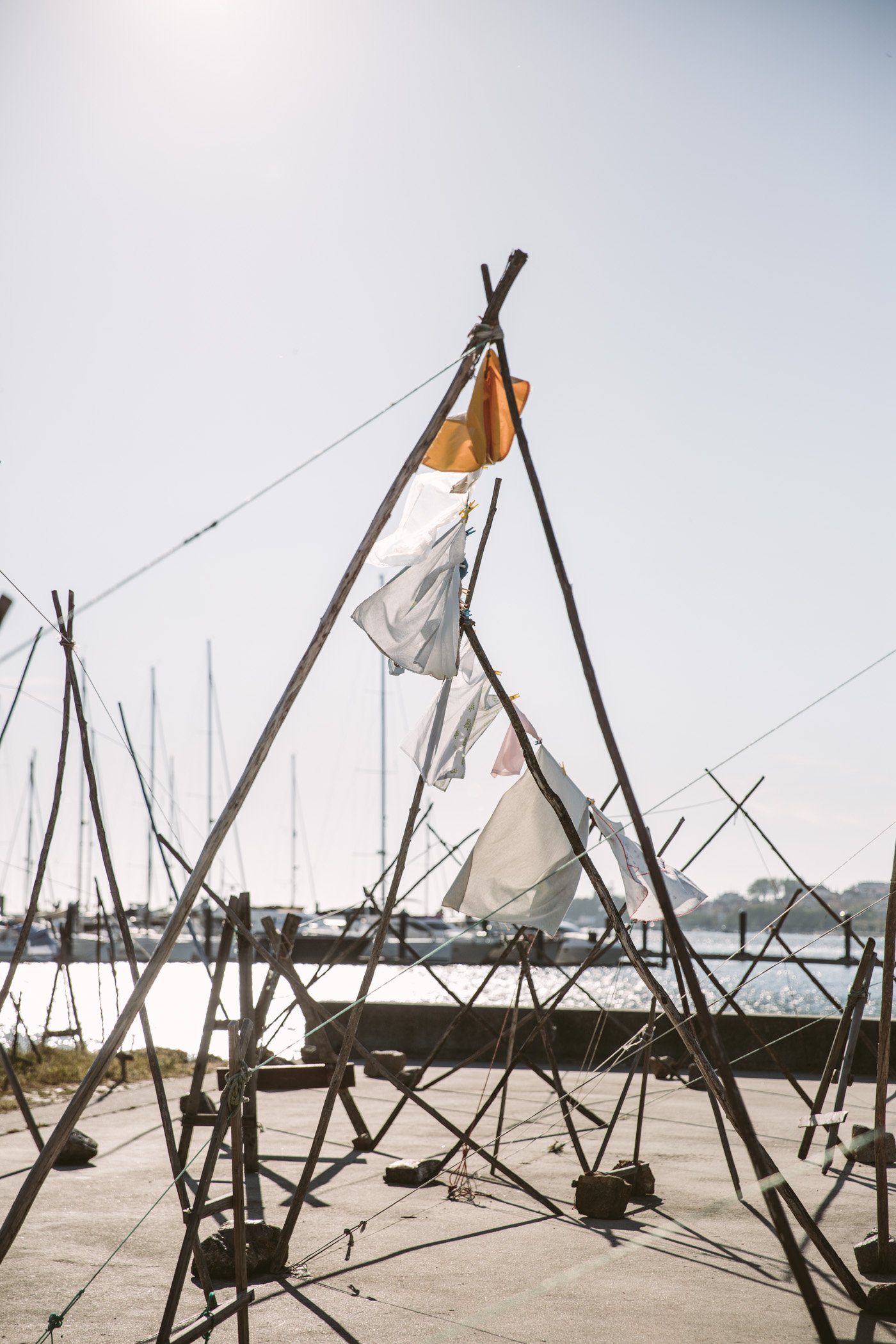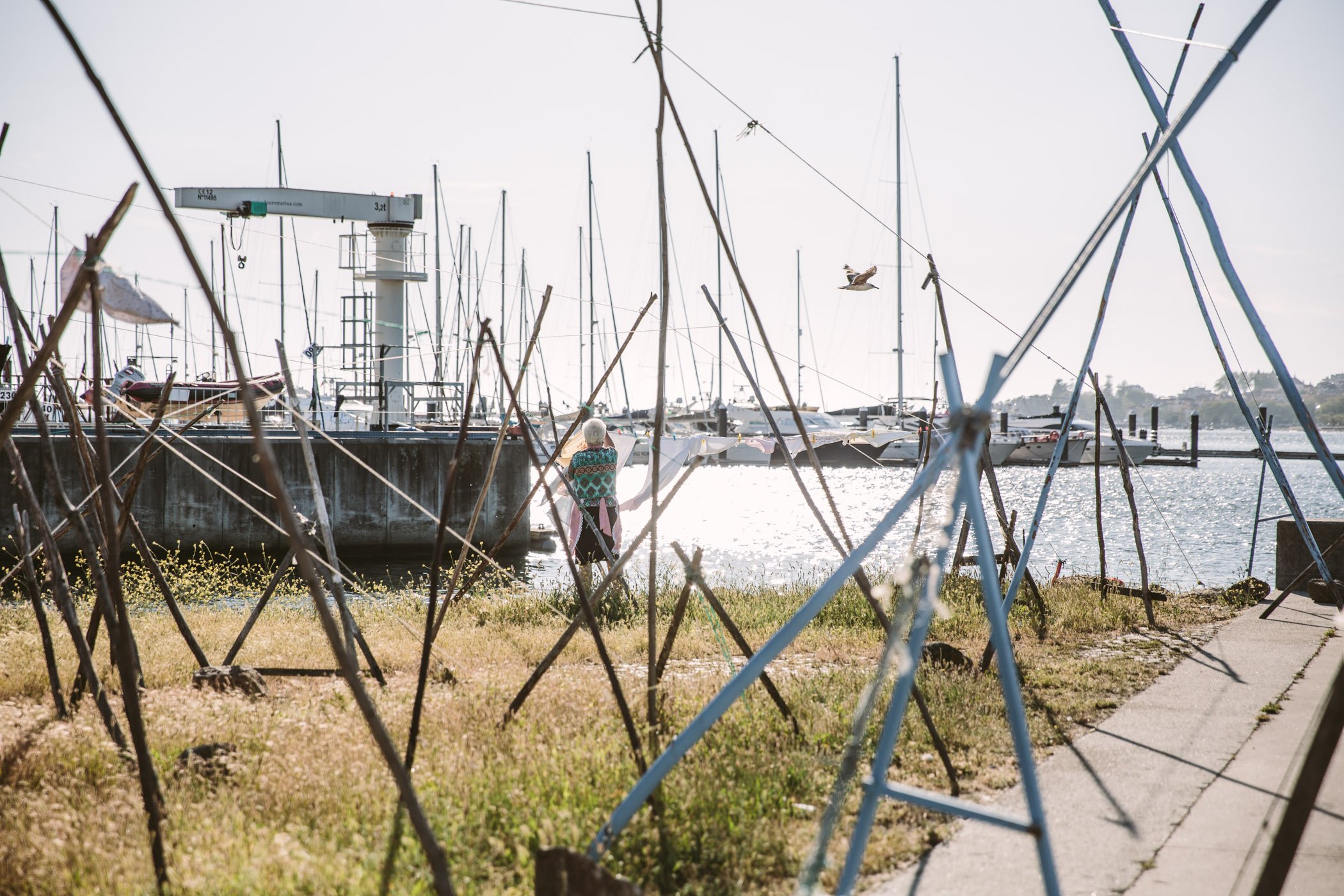 A touch of local life at Afurada – the public laundry (located here).
A view of Porto from the other river side
If you're not up for the cycling tour you can also walk around the neighbourhood until you reach the lookout spot up at the "Mosteiro da Serra do Pilar".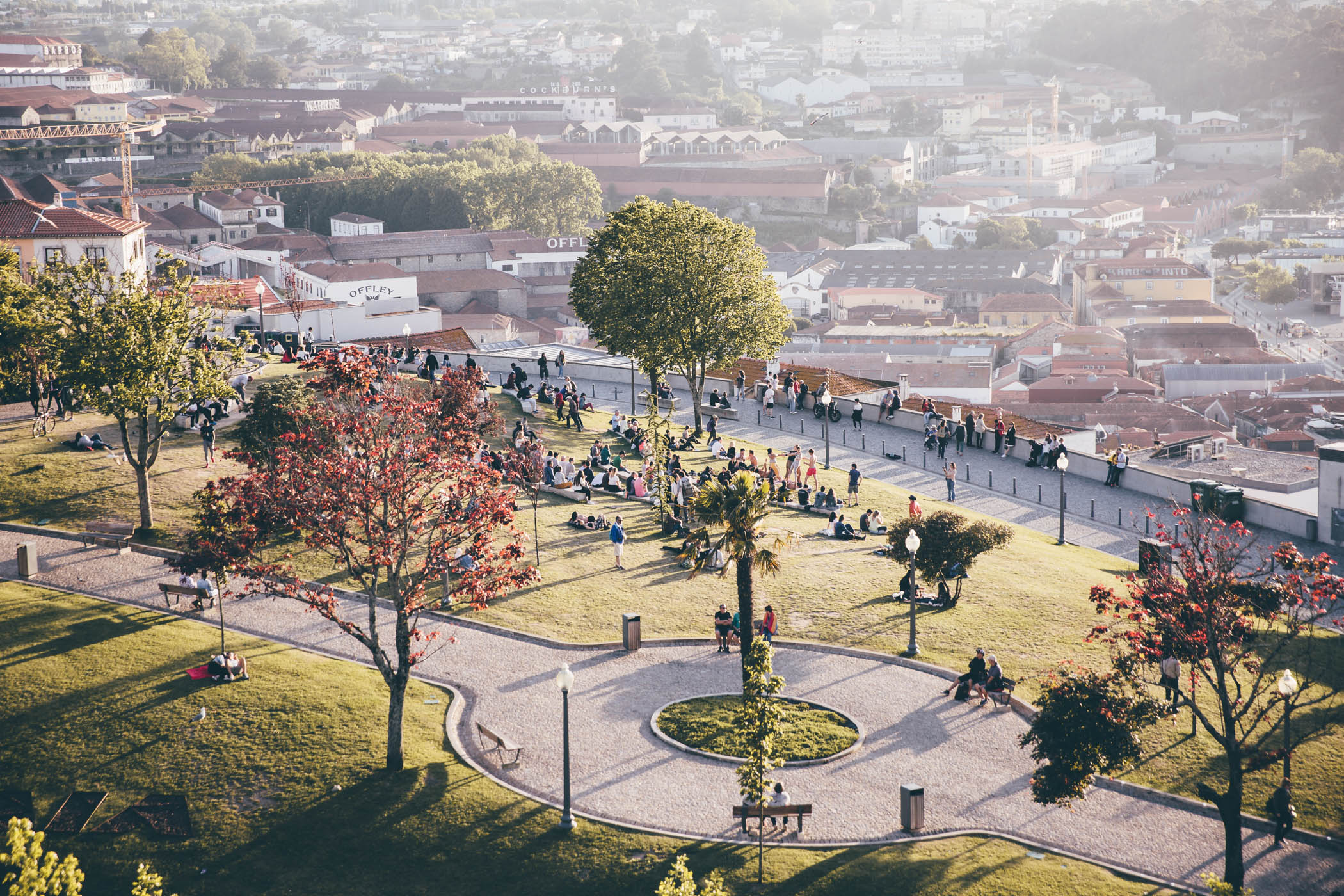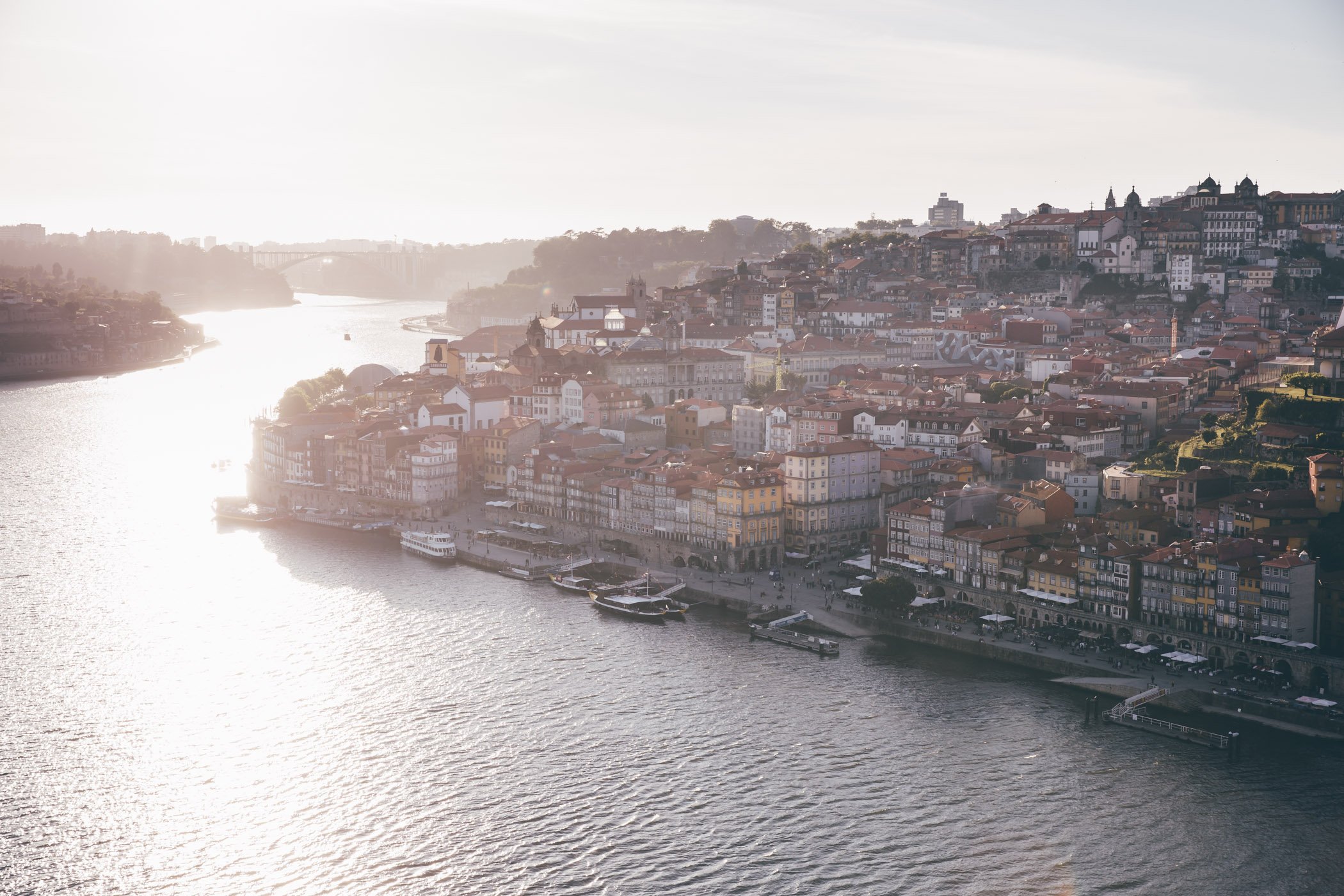 Enjoy the view of Porto from the "Miradouro da Serra do Pilar" (Location here)
And in case you're too tired to walk uphill all the time we recommend to take the cable car "Teleférico de Gaia" from the riverside station called "Estação Cais de Gaia". You'll thank us later! (This city does have many many stairs…) 🙂
Start the cable car ride on the bottom at the "Teleférico de Gaia – Estação Cais de Gaia" to arrive on top with a great view!
Sunset over Porto
Once you made your way up the hills of Vila Nova de Gaia we recommend to stay until the sun sets over Porto. This is one of the most magical experiences in the city! Best enjoyed with a glass of Port wine of course 🙂
Our last sunset over Porto as seen from Vila Nova de Gaia.
Pin and save this post for later
Disclaimer: This was initially a sponsored post in collaboration with the airline LEVEL. Unfortunately the airline went bankrupt in the summer 2020, so we removed the parts referring to their services. In the video they are still mentioned as our carrier. The views in this blogpost are our own.