(Last update, August 2023). Are you planning a trip to Botswana? We combined a 20-day safari to Zambia & Botswana at the start of the high season in June and will let you in on everything we learned and discovered along the way. In this blogpost we're sharing our itinerary for 9 days in Botswana. (If you're also looking to combine your trip with Zambia check out this post.)
During these 9 days we covered the most important regions from the Chobe National Park in the North to the Okavango Delta and even the incredible Makgadikgadi Salt Pans!
For us this was the perfect way to discover Botswana – keep on reading for the full 9 days itinerary.
Lion encounters are a given in Botswana… <3
Where to go in Botswana
During our 9 days in Botswana we stayed 2 nights in the Chobe National Park in the very North of the country. Then we flew to the Okavango Delta for 3 nights (and stayed in 2 different lodges). Lastly we flew to Maun where we rented a 4×4 car and drove towards the Makgadikgadi Salt Pan. There we stayed 1 night in a lodge in Gweta and 1 night in a sleep-out under the stars on the Makgadikgadi Salt Pan. Lastly we stayed 1 last night in Maun as a transfer stop before heading to Johannesburg (from where we flew back home).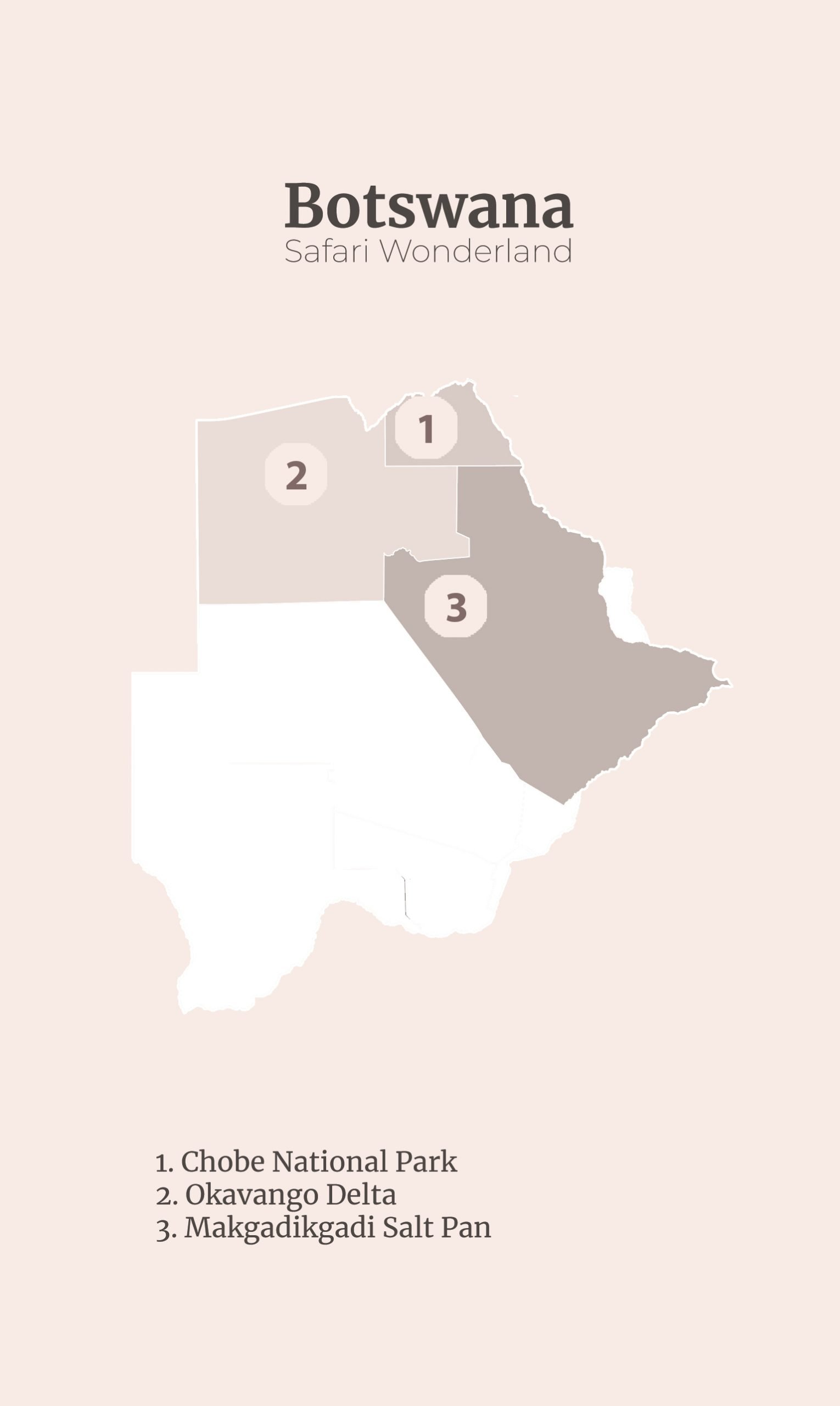 What we left out in Botswana
As we had already spent almost two weeks in Zambia before entering into Botswana we didn't have enough time to venture further to the South and dive deeper into the Central Kalahari desert. So this part will have to wait for another visit 😉
Most of the famous wildlife experiences are to be found in the North of Botswana anyhow (and we had already visited Namibia and experienced our fair share of desert life there). But if you have more than 9 days we would definitely recommend to extend the trip and also visit the Kalahari desert!
The Makgadikgadi Salt Pan was the furthest South we made it during our 9 days in Botswana.
9 days in Botswana: Our itinerary in detail
Our route:
From leopards to elephants – wildlife encounters are plentiful in Botswana.
Day 1:

Crossing the border from Zambia and arriving in Chobe National Park

As we had spent the previous 11 days in Zambia (read all about why we recommend to combine Zambia and Botswana here) we crossed the border to Botswana on the ground at the Kazungula border crossing. Our last stop in Zambia had brought us to the Victoria Falls and from there we took a taxi to Kazungula. We then jumped on a boat, crossed the Zambezi river, got our Botswana Visa at the border checkpoint on the other shore, changed our dollars to Botswana Pula and then hopped into another taxi to the airport of Kasane. All in all this procedure was quite easy and uncomplicated!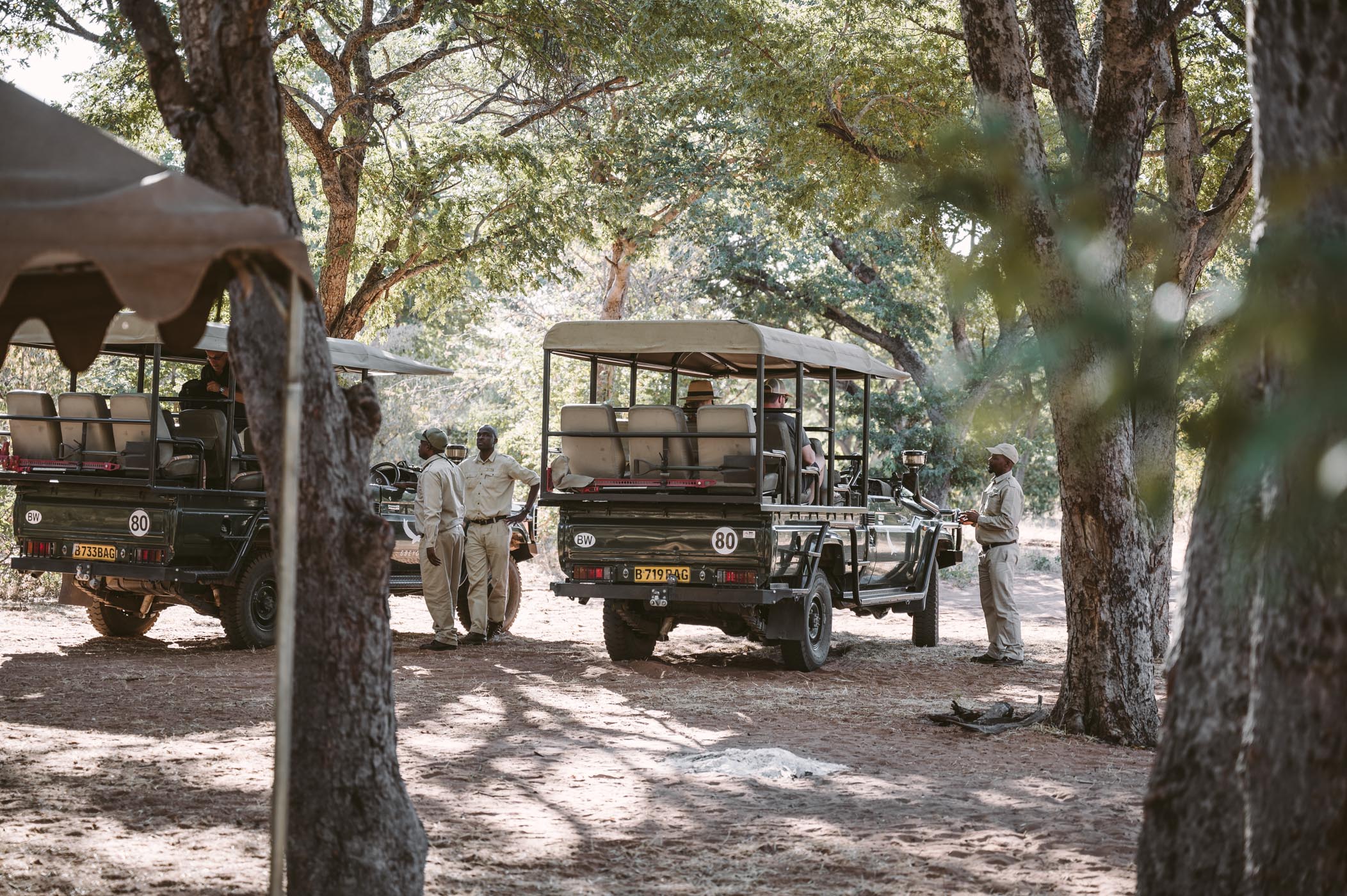 These vehicles are used for game drives and also to pick up guests from the airport.
In Kasane our Botswana trip officially started. We had booked 5 nights in different camps and lodges of &Beyond and they picked us up from the airport and brought us to the first camp inside the Chobe National Park. Chobe is famous for it's abundance of elephants – over 120.000 of them live in the park, the highest density in all of Africa!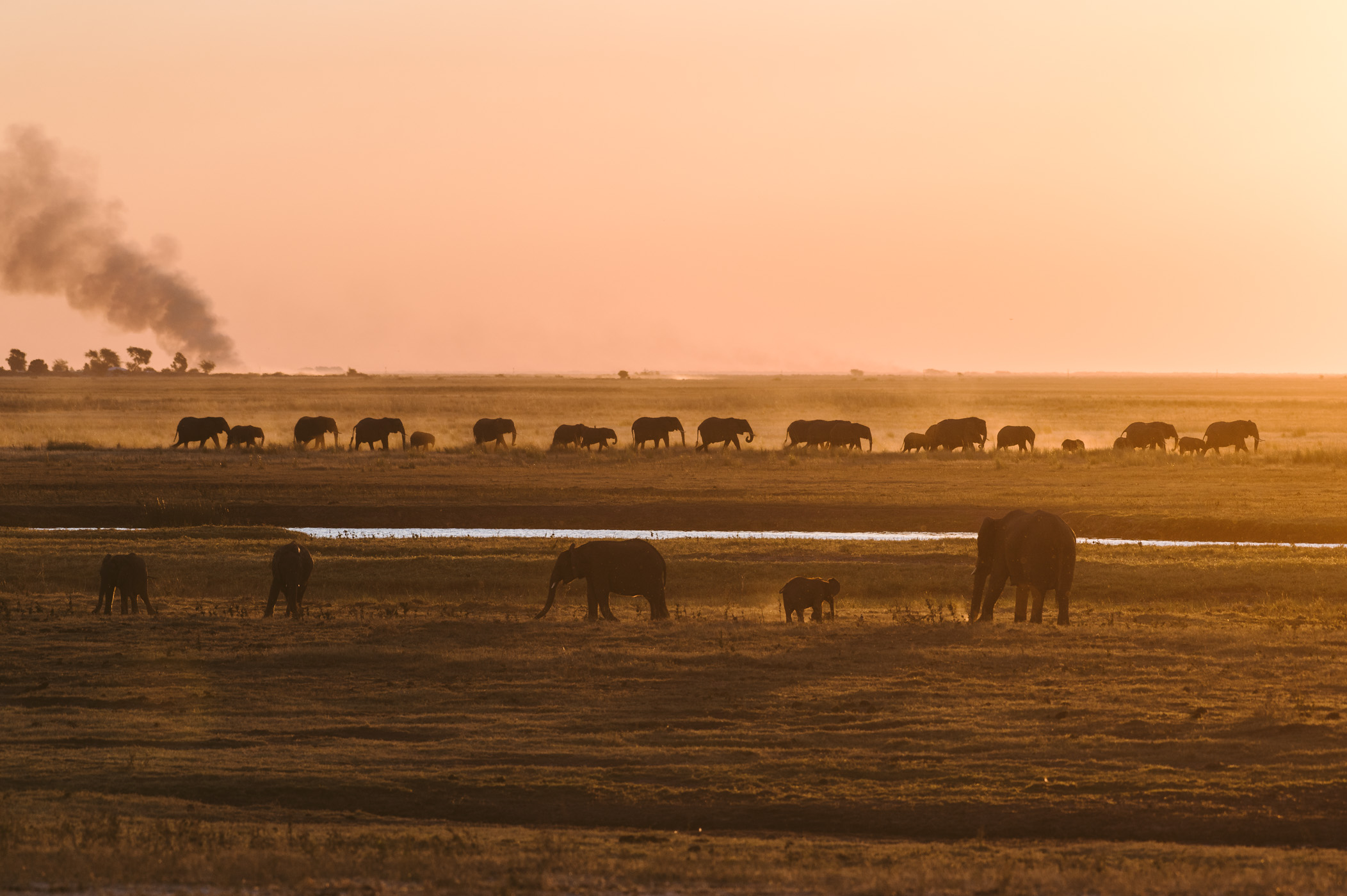 The abundance of elephants is unparalleled in Botswana's Chobe National Park.
The Chobe National Park is also world-renown for it's biodiversity and quite a visitor's magnet. We therefore really recommend staying inside the borders of Chobe National Park, to beat some of the crowds. When you book a lodge or camp within the gates you'll be able to go on game drives as early as sunrise and up until sunset, which makes all the difference!
Game drives in Chobe National Park offer huge biodiversity!
During the day leopard sightings can attract many cars. We got lucky with leopard encounters all by ourselves at sunset & sunrise and when we returned to our camp there were almost 10 cars surrounding the poor animal later in the day!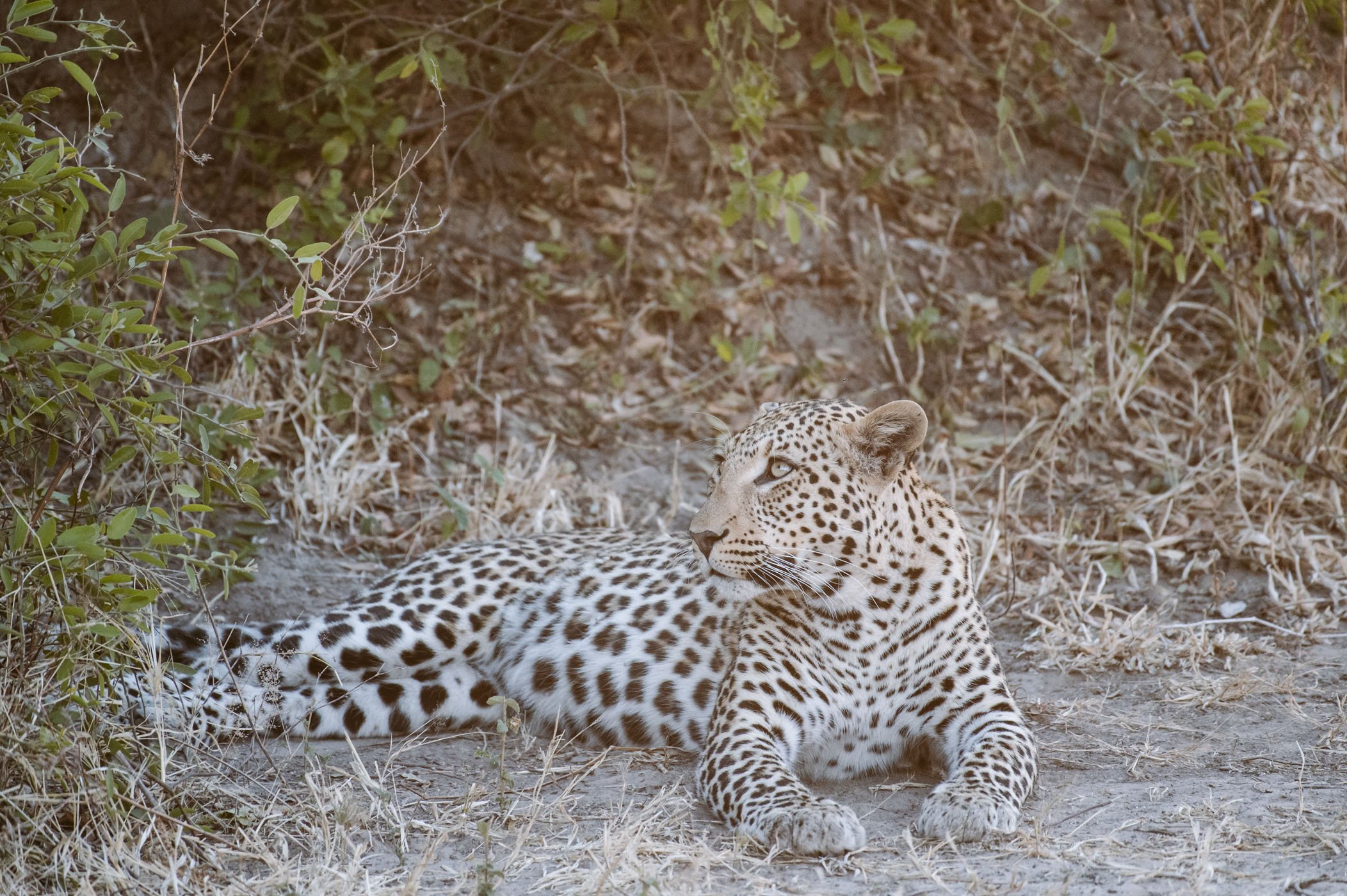 We had the chance to see this leopard all by ourselves!
Day 2:

Chobe National Park & Pangolin Photo River safari

A speciality at Chobe National Park are river safaris, so this is a must do! Seeing the wildlife from a boat is a totally different experience than from a car. As we stayed with &Beyond for 2 nights a photo river safari was included in our package.
A photography boat safari is a special experience on the Chobe river.
We went on a boat with Pangolin photo safaris on the Chobe river and enjoyed not only the new perspectives, but also the photography tips we received from the guide. If you're new to photography you'll get a great beginner's tips as well – and the boat is equipped with built-in monopods and DSLR cameras for each participant. At the end you'll receive your memory card with all the photos you took on the boat, which makes for a great souvenir!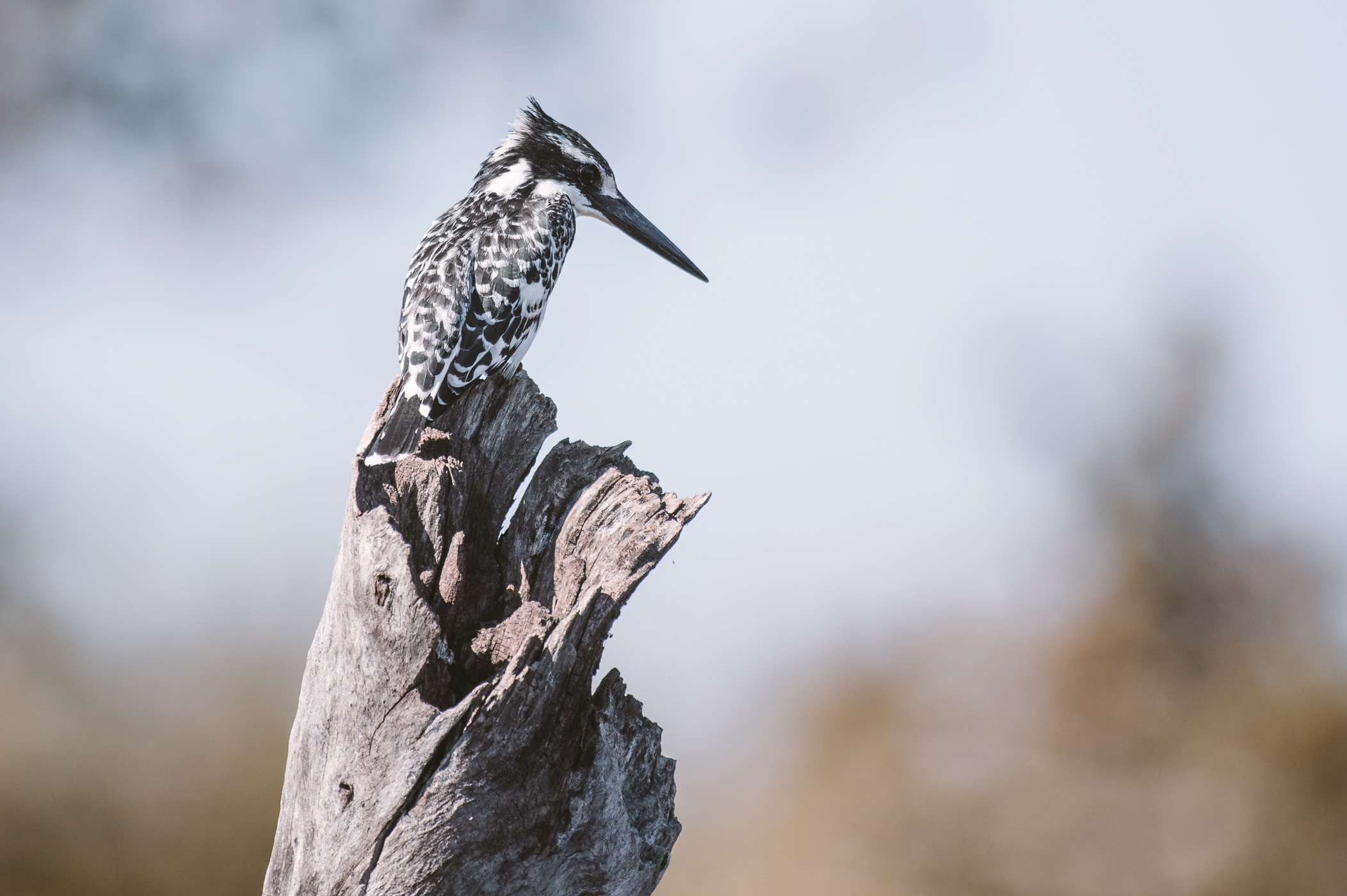 On the Chobe river boat safari you'll spend time with different animals than on land.
Day 3:

Transfer to the Okavango Delta

Our last day in Chobe started with a combined early morning game drive and transfer to the airport. Our jeep got stocked up with our luggage and together we drove through the Chobe National Park for a last game drive, before then heading onwards to the airport of Kasane. With a small aircraft we then headed towards the Okavango Delta.
These small aircrafts are the best means of transport in Botswana between the remote camps.
The Okavango Delta is like the crown jewel of safaris in Botswana. This area is usually known for it's abundance of water, stemming from the Okavango river (which has it's roots in Angola) – and is also dubbed "the river that never finds the sea". Instead of ending in the ocean the water seeps away into the Kalahari desert.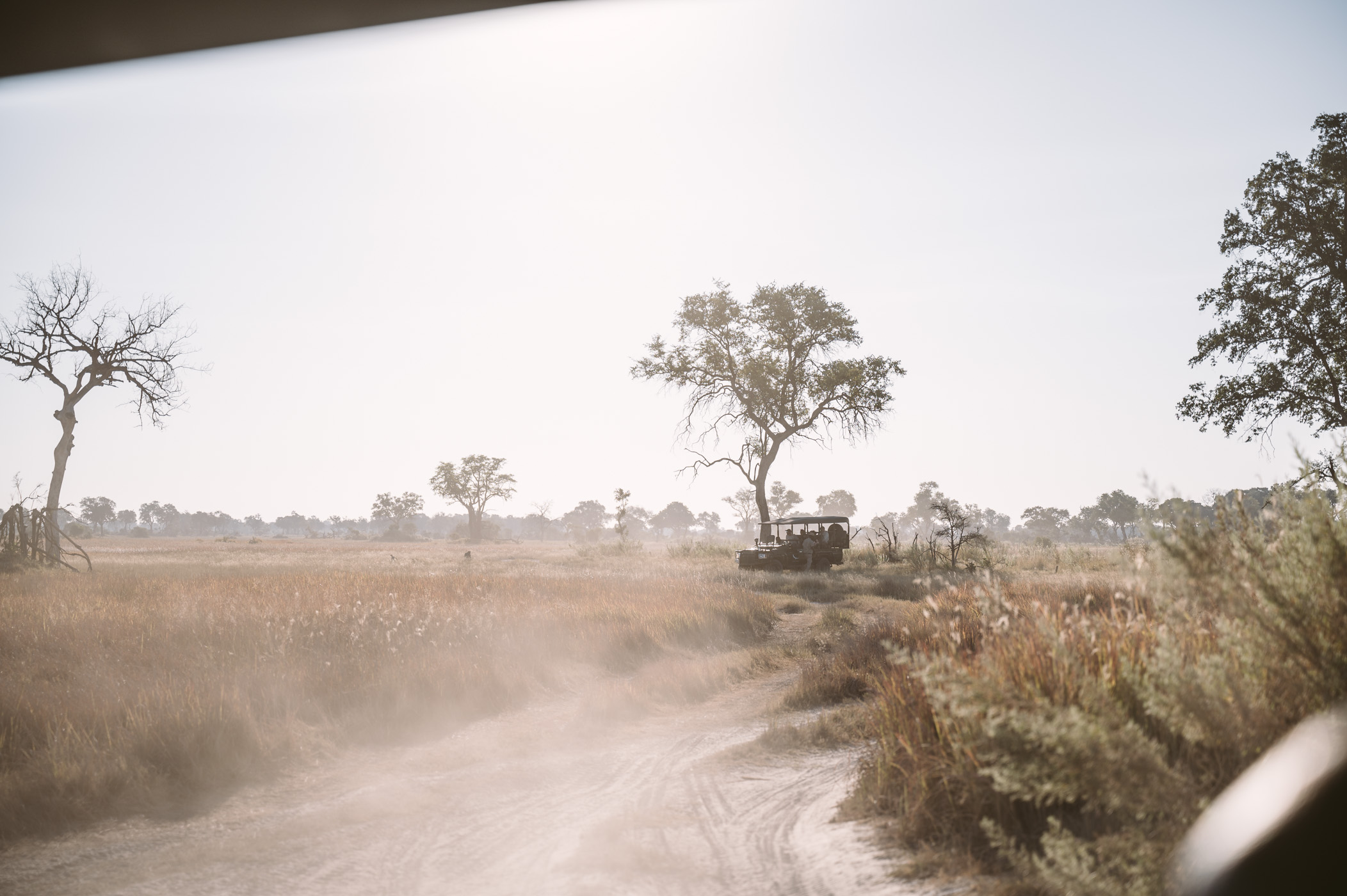 The Okavango Delta is unusually dry in June 2019 – a severe drought has hit the whole region.
Unfortunately the region had been hit by a severe drought in 2019 and what usually would be filled with countless channels with crystal-clear water was already completely dry in June (the beginning of the dry season). Therefore we didn't have a chance to go on one of the famous Mokoro river safaris in a small wooden mokoro boat. Instead we opted for regular motorised game drives.
The animals are facing a harsh dry season this year 🙁
Day 4:

Okavango Delta

Our first game drives in the private concession where the Xaranna camp is located within the Okavango Delta were extremely successful. We had encountered a group of lions chasing a herd of buffalos well into the sunset and a pack of wild dogs with pups that were just leaving their den for the first time. Northern Botswana has one of the few remaining large populations of the endangered African wild dog – so this was extra special.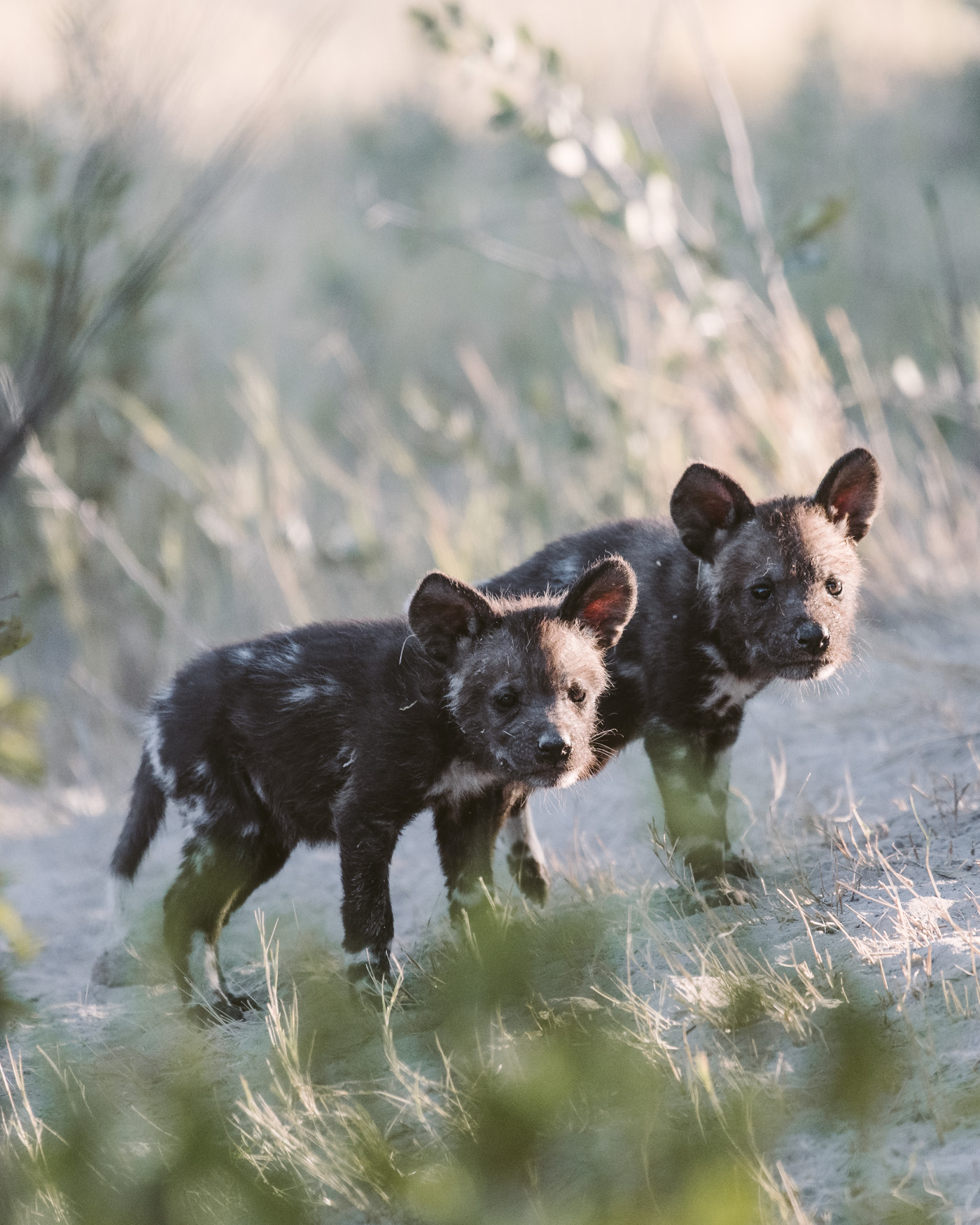 Meeting these wild dog pups at the den was an extraordinary experience.
Not much later we saw an impressive male lion relaxing in the high grass of the savannah. It wasn't until later that day that we found out said lion was protecting a female that had just given birth to cubs close-by. So we drove there again in the afternoon to find the lion mother with her cubs who had barely opened their eyes – all of them covered behind logs and grass in their secret hideout.
This male lion was guarding a female with new-born cubs!
When we then met a young leopard who was very interested in us and our car (and even made an attempt to climb up the rear end at one point) – that's when we knew why the Okavango Delta is so famous. These wildlife encounters were all fairytale-worthy!
We stayed with this leopard for a while tracing her steps through the grass until she found a place to rest in the shade.
Xaranna is one of our favourite lodges to date. The combination of luxurious amenities with tented structures unites the best of both safari worlds. You feel connected to nature as you sleep under canvas, while you still get to enjoy the absolute top luxuries like private pools and huge en-suite bathrooms, a fully stocked mini bar in your room as well as an AC (that can turn into a heater at night during those cold winter nights that can occur in June).
Day 5:

Okavango Delta

After two days at the Xaranna Camp we moved on to another lodge in the Okavango Delta, the famous Sandibe Lodge by &Beyond. Now this lodge is something else when it comes to the architecture & design. The absolute luxury is that it has exclusive traversing rights to a whole stretch of land within the private concession. This means absolute solitude. We only spent one night in this luxurious lodge, but would definitely recommend to add it to your itinerary! (You can read more about all the &Beyond camps and lodges we stayed in.)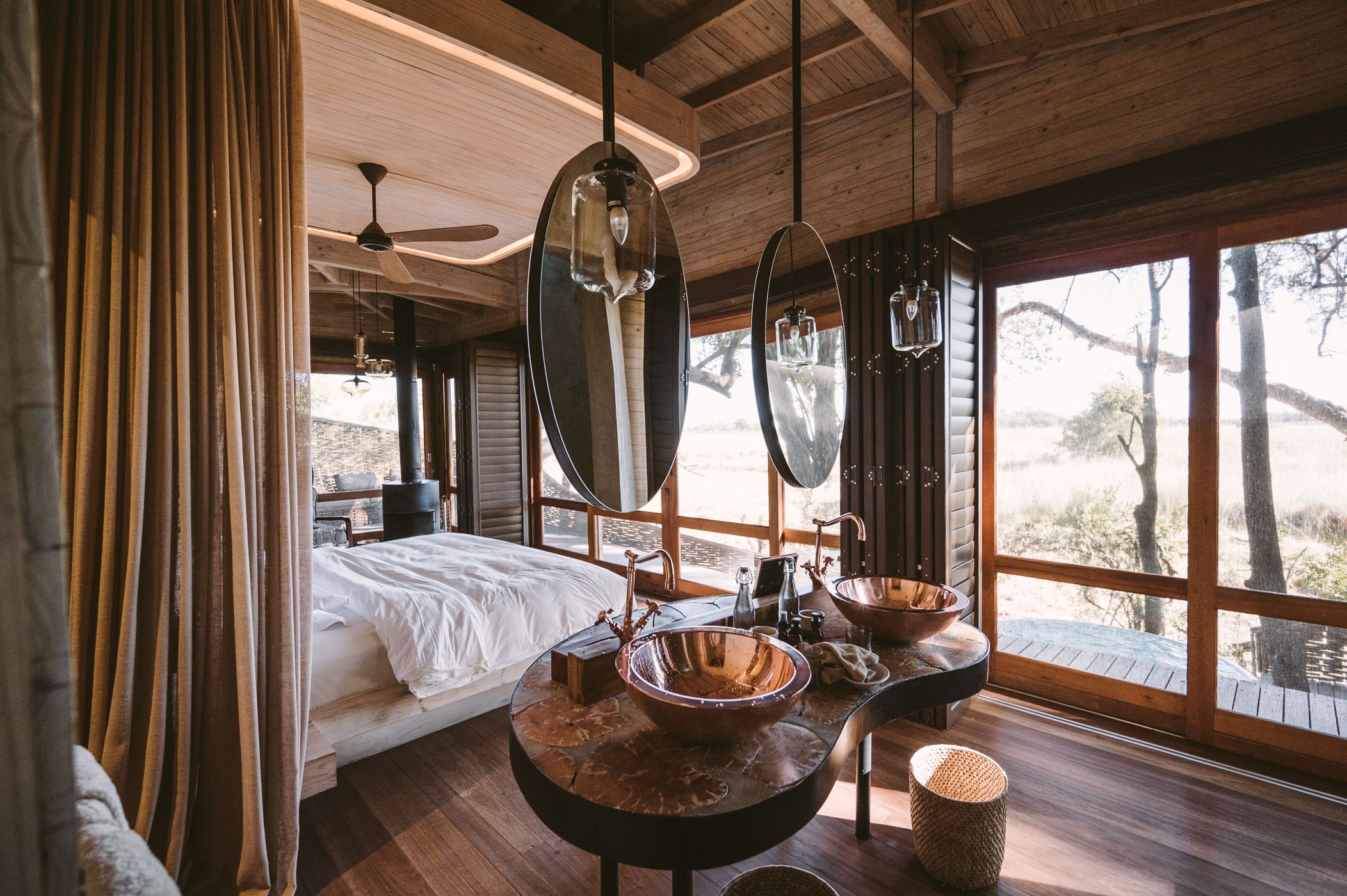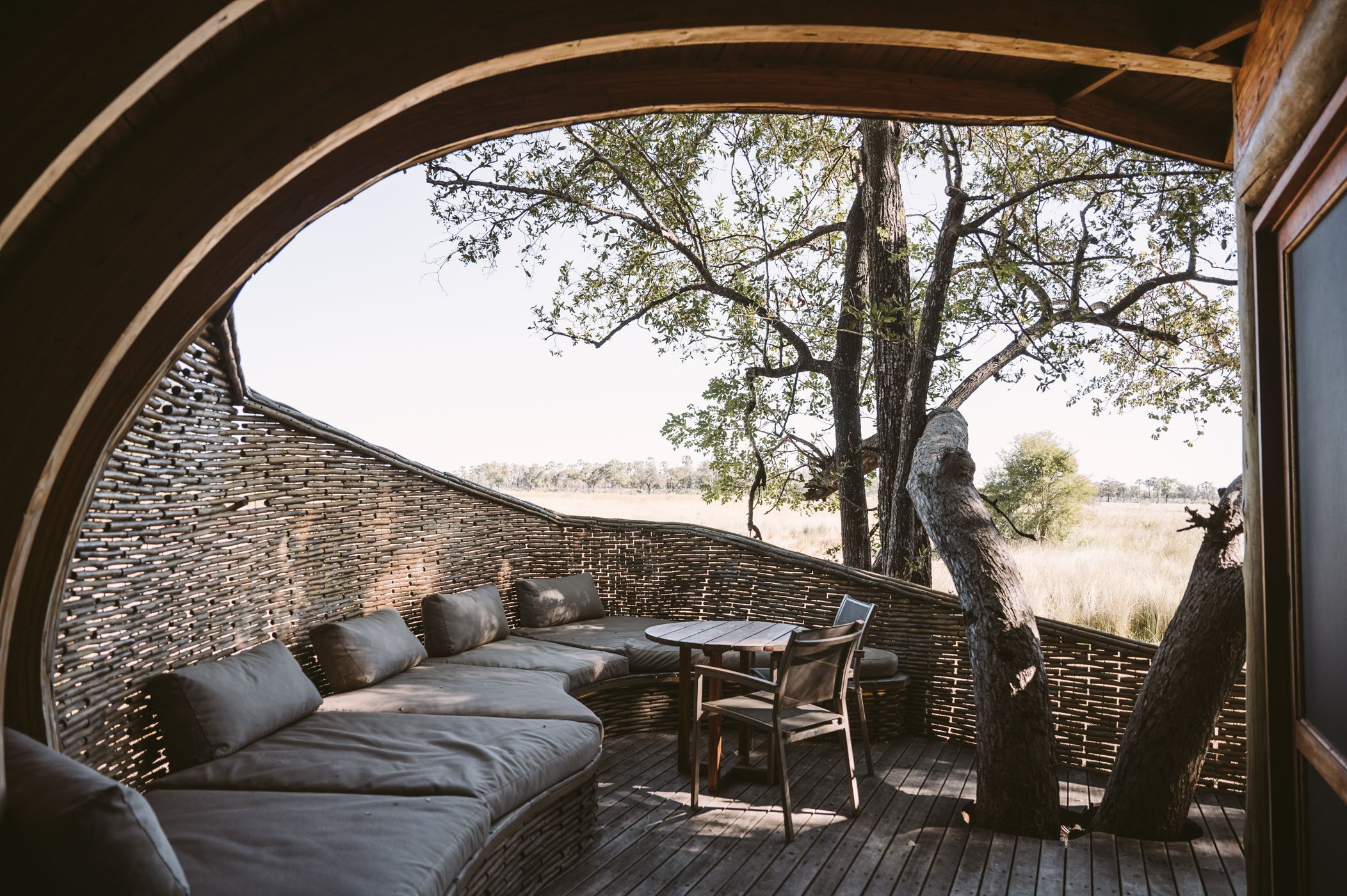 Day 6:

Okavango Delta & Gweta

On day 6 it was time to leave the Okavango Delta behind. We flew with another small aircraft from the Sandibe airstrip to the airport of Maun. This small town is the main hub for Botswana's safari industry. From here on planes leave in every part of the Delta, but you can also rent cars here for self-drive trips. So this is what we did – to get a taste of a different kind of experience here in Botswana.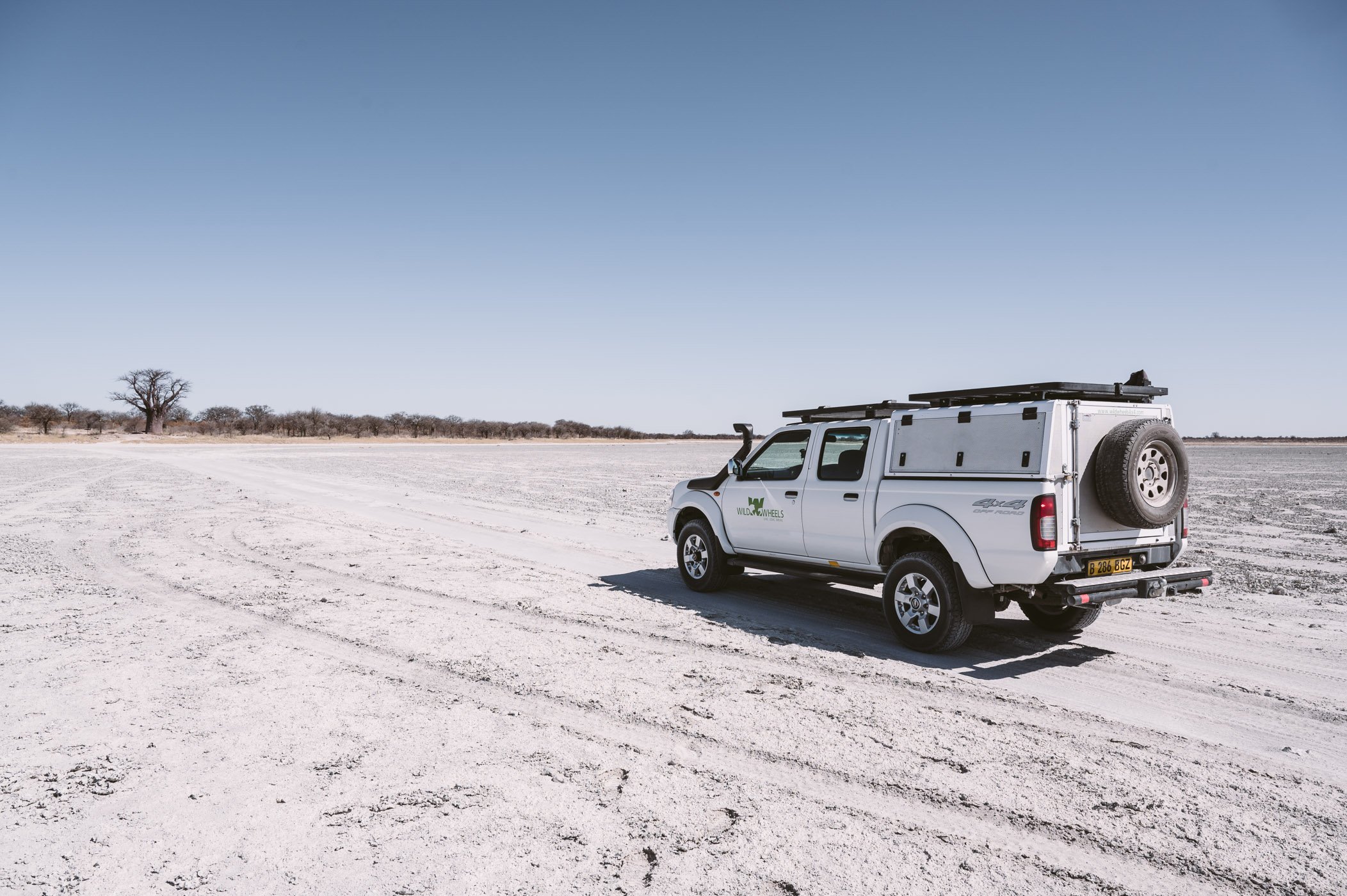 If you rent a car in Botswana make sure it has 4×4 drive and a spare tire.
We rented a 4×4 car and took the (adventurous and pot-hole clad) road from Maun to Gweta. This sleepy little town wouldn't be necessarily worth a trip if it wasn't for the adjacent Makgadikgadi Salt Pans. But before we could explore the Salt Pans we spent a night in a small lodge called Planet Baobab amongst huge baobab trees. For these trees alone a visit of this area of Botswana is worth the detour!
The chalets at Planet Baobab are located amidst Baobab trees.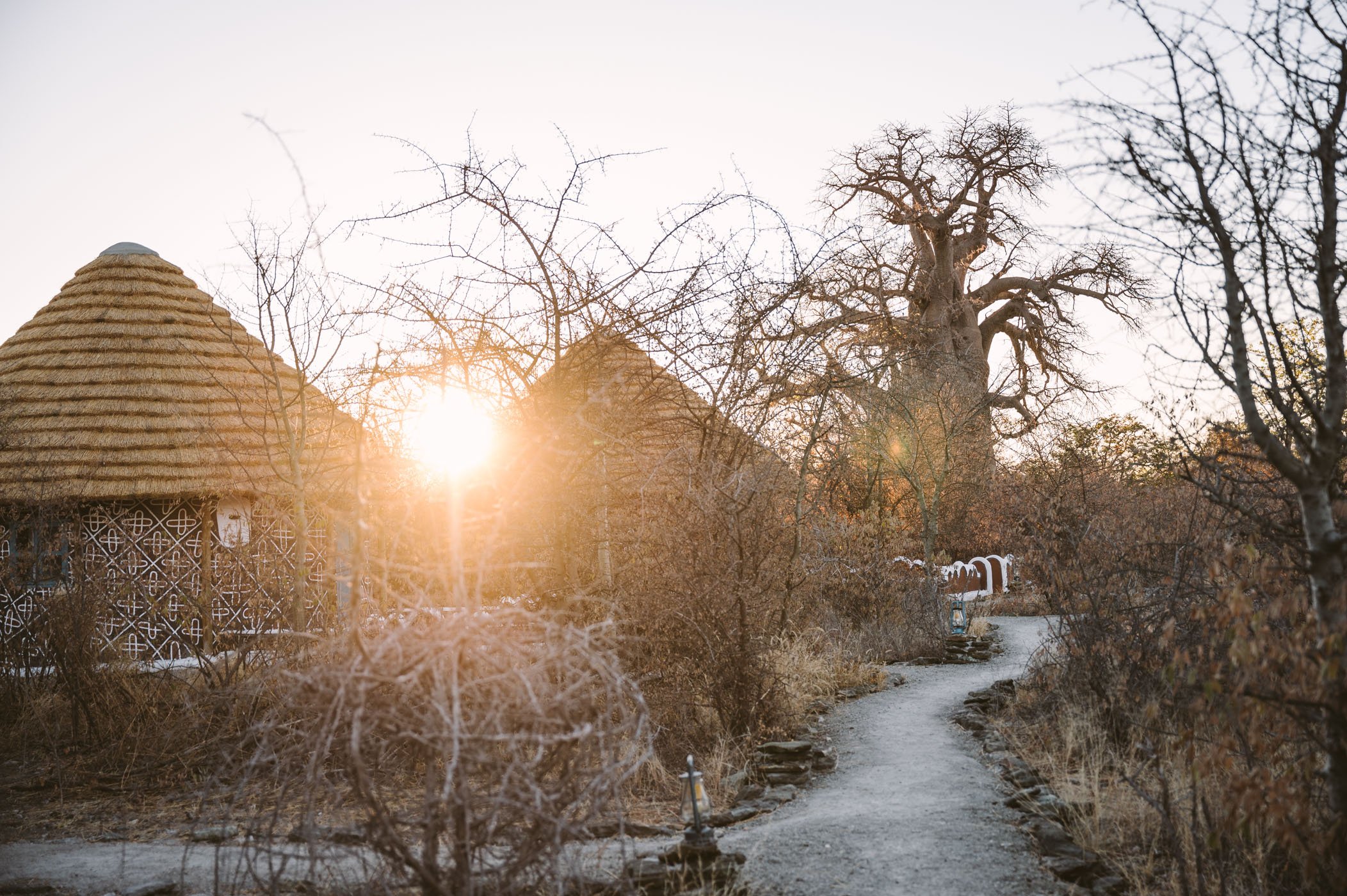 Day 7:

Gweta & Makgadikgadi Salt Pans

The next day was finally dedicated to the Makgadikgadi Salt Pans. This collection of salt pans is among the largest salt deserts in the world. This used to be one giant salt lake before it dried up around 4.000 years ago. Now it's one of the least inhabited regions in all of Botswana. Only parts of the Northern salt pan get flooded during the rainy season and then attract flamingos. But in the dry season there isn't a living soul to be found on the pans, not even any insects.
This is the Ntwetwe pan – part of the Makdgadikgadi Salt Pans in Botswana.
Because there aren't any wild animals here the salt pans lend itself to a sleep-out under the open Milky Way. And that's exactly what we did here. We spent the whole day discovering the border of the Ntwetwe Salt Pan with it's grassland and meerkat colonies before driving onto the Salt Pan with quads and finally sleeping on mattresses right out in the open (read more about this sleep-out experience).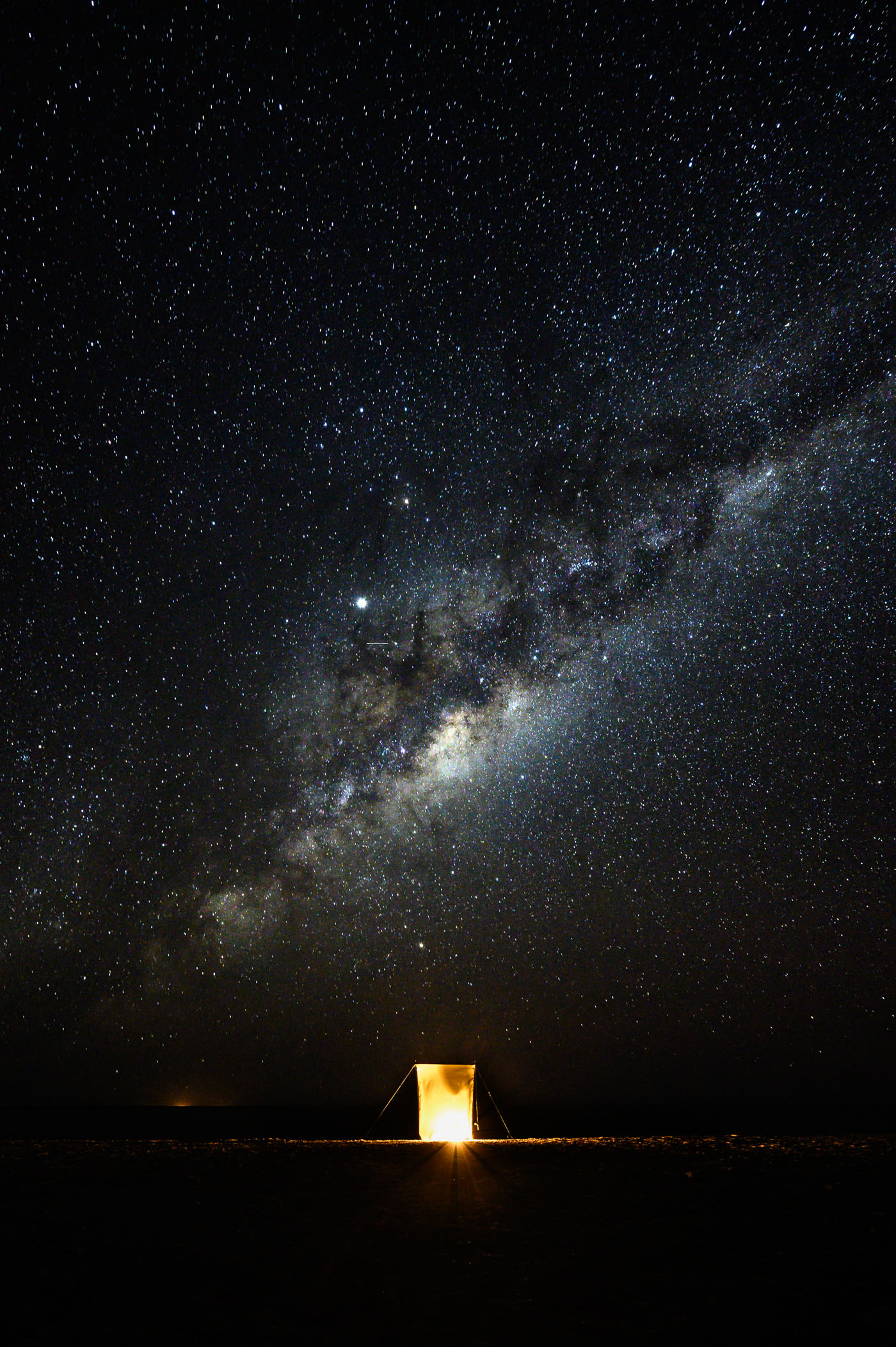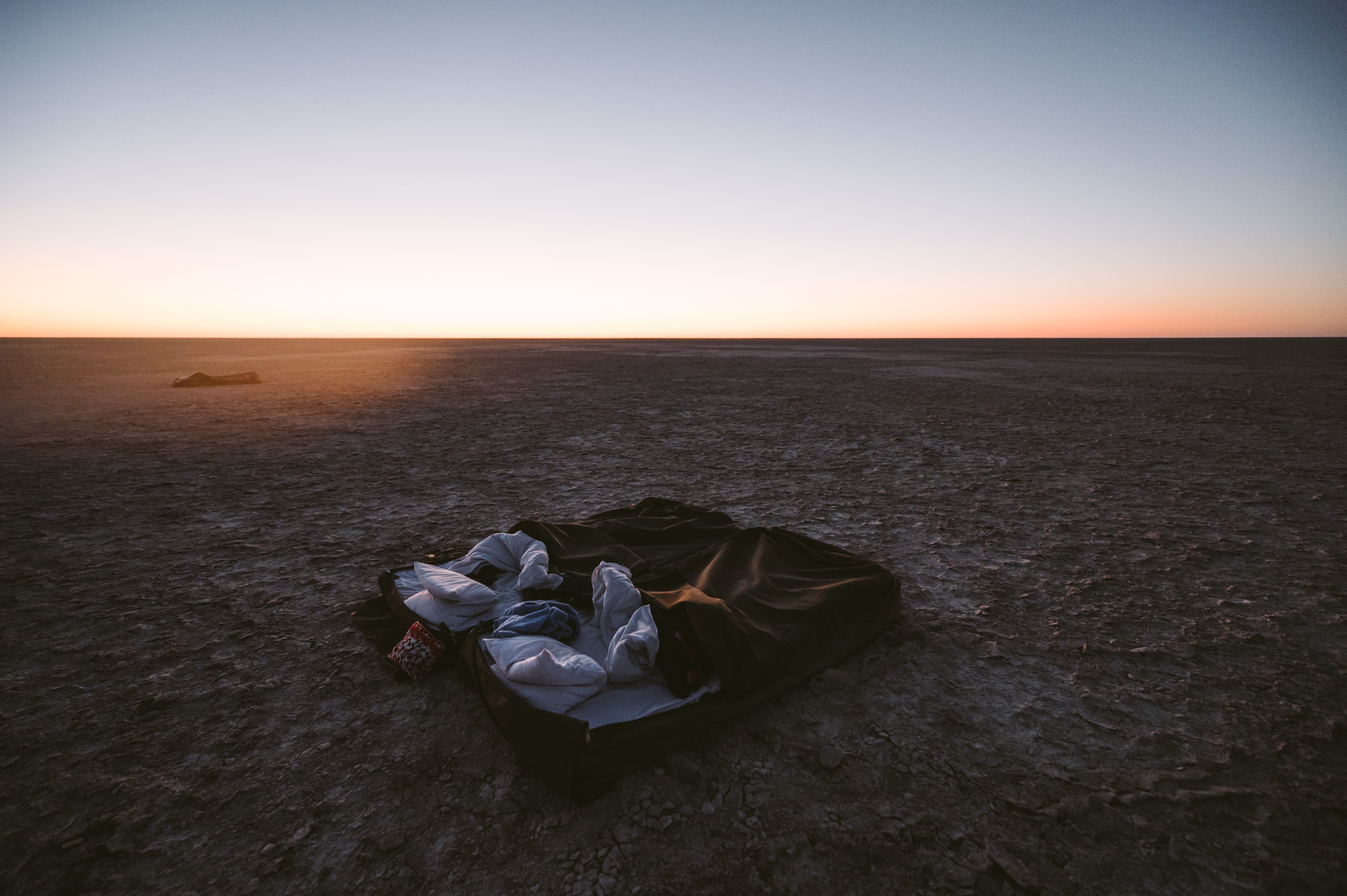 Day 8:

Makgadikgadi Salt Pans & Nxai Pan & Maun

After heaving a light breakfast in the middle of the Salt Pan we took our quads and drove back towards civilisation.
We got up with the sunrise in the Salt pan and drove back with our quads.
We then had a proper breakfast at Planet Baobab, checked out and took our car to drive back to Maun. On the way we made a stop at the Nxai Pan National Park. You could potentially spend a night in the park here as well, but we didn't have time for that unfortunately. Therefore we also couldn't make our way all the way to the Northern parts of the National Park, but could only go as far as the famous collection of Baobab trees called "Baines Baobabs".
The Baines Baobabs in the Nxai Pan.
For us this wasn't worth the long and challenging drive on sandy paths in the National Park.
Driving in the park was adventurous as all the roads are simply sand pistes – so we recommend a good 4×4 and solid driving skills if you want to visit the Nxai Pan! Also be warned: Some of the roads are single lane roads, but not one-way streets. So you will have to be careful and watch out for oncoming traffic. After all the baobab trees we saw in Gweta and at Planet Baobab we weren't too impressed with the Baines Baobabs to be honest – but maybe it had to do with the harsh sunlight and less favourable photography conditions compared to the softly lit trees before.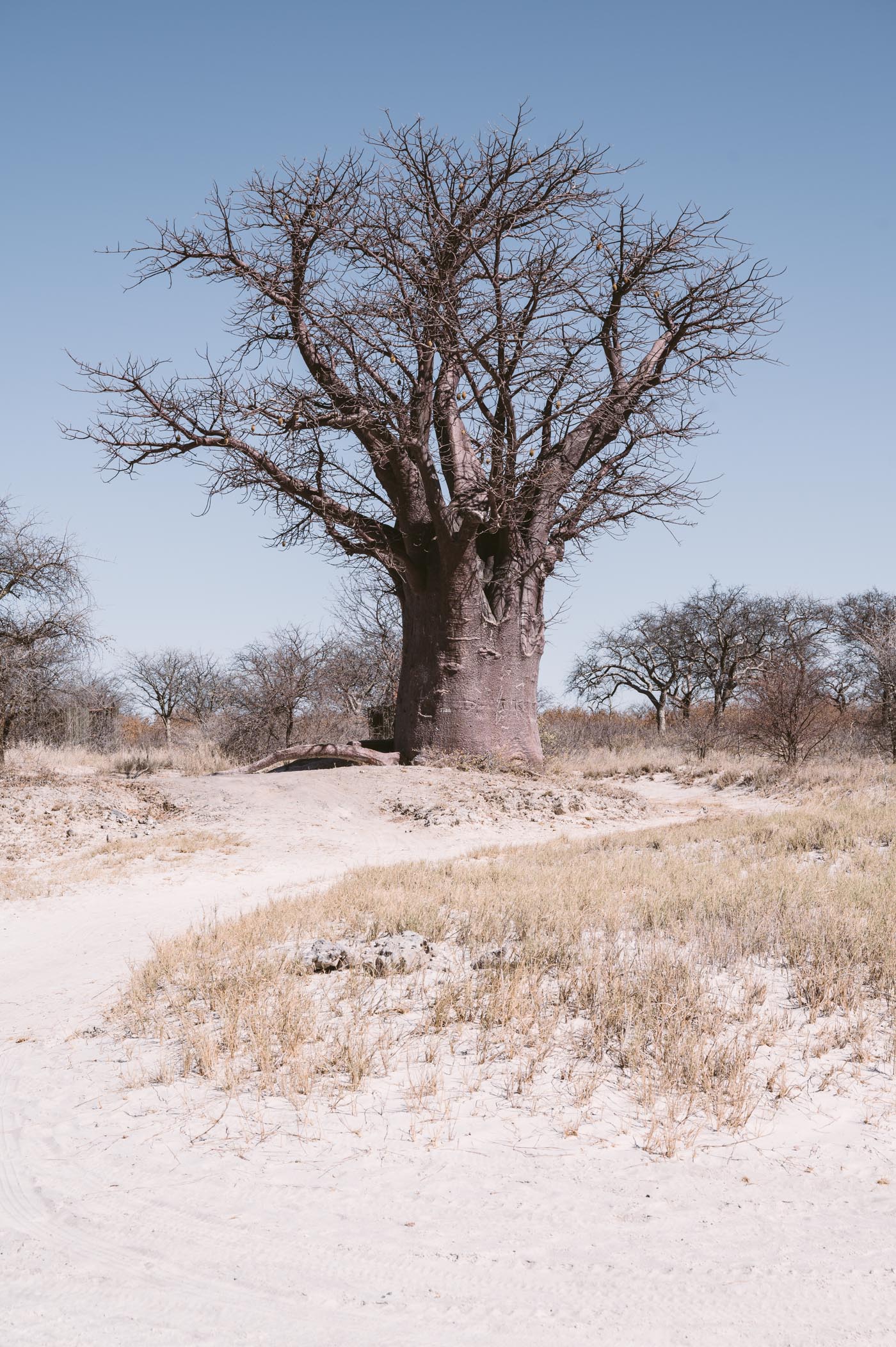 Where to stay:

Choose your hotel in Maun (we stayed at a private homestay)
Day 9:

Maun

After we had spent one night in Maun we visited a local photography exhibition and went for lunch at Marc's eatery and had a really nice iced coffee at Dusty Donkey Café. Other than that there isn't a lot to see or do in Maun. We then returned our rental car at the airport and left by plane to Johannesburg – as this was the closest international airport to easily reach from Maun.

From there we had booked our flights back home to Vienna (via Addis Ababa with Ethiopian Airlines). As this wasn't possible in one day we stayed in Johannesburg for one night – in the wonderful Satyagraha House, which used to be where Mahatmi Ghandi lived in South Africa. This was the perfect farewell from our Africa trip for us!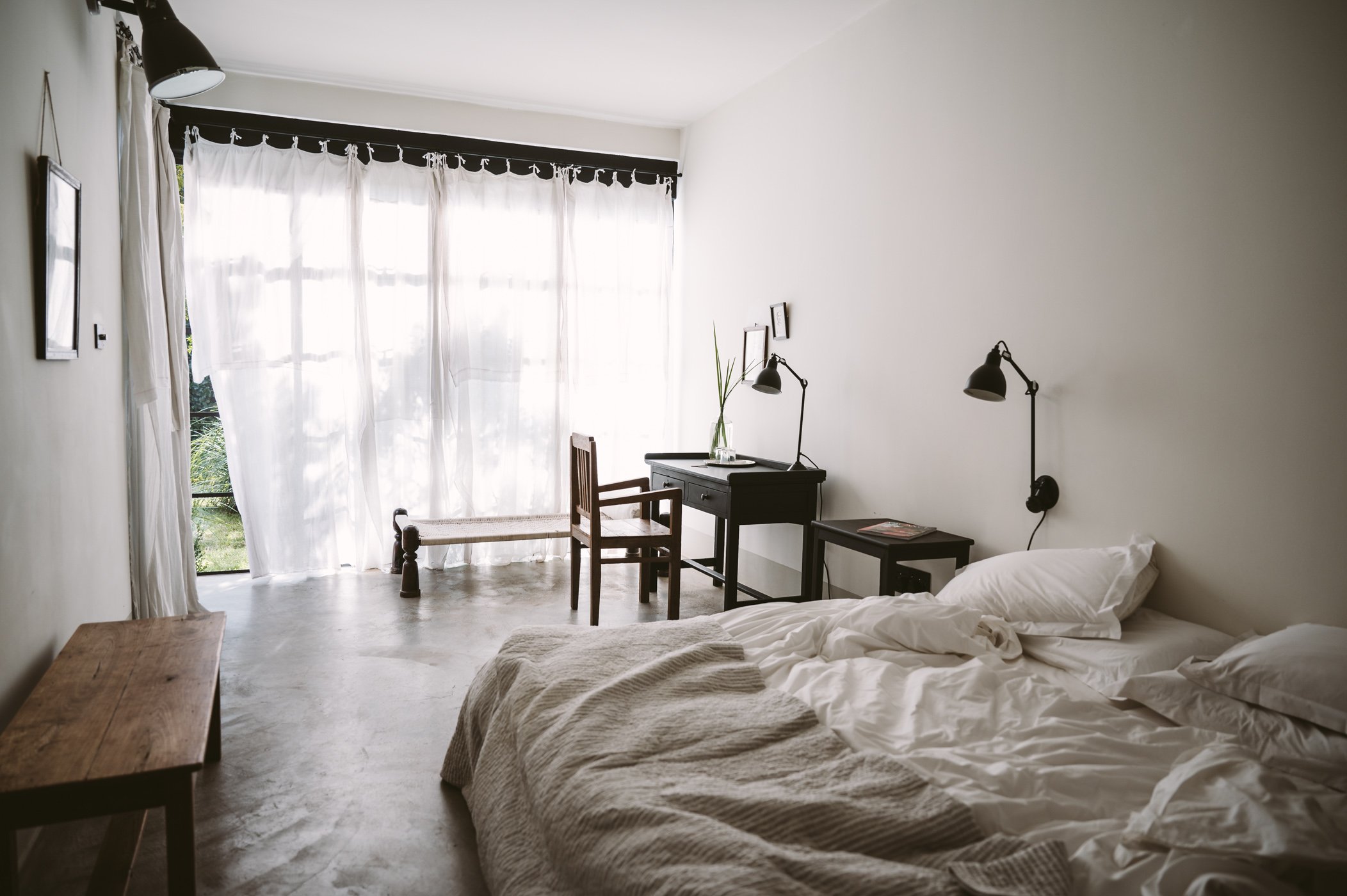 If you ever make it to Johannesburg make sure to stay in Ghandi's old house – the Satyagraha house & museum.
Summary of our 9 days in Botswana
We hope this 9 day Botswana itinerary helps you plan your personal Botswana safari trip! Botswana was the third country we visited on a safari (but definitely not the last) and it impressed us with the level of luxury and hospitality.
Botswana was easily the most expensive country we visited so far. Keep on reading to find out a few more insights into the famed high-end tourism industry to give you an idea about the price levels and if it's worth the splurge.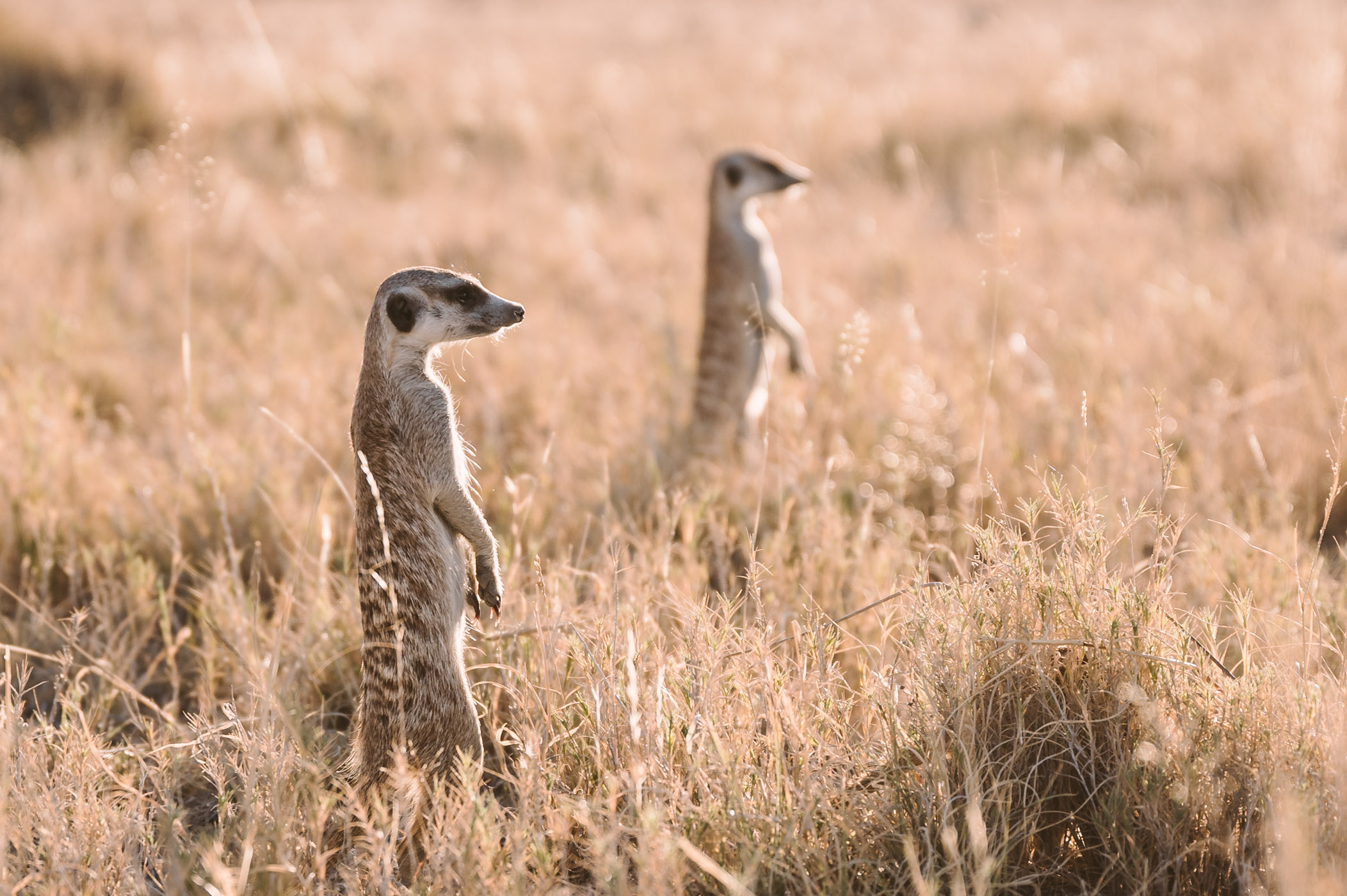 Visiting these meerkats wasn't cheap, but is it worth to splurge on a Botswana holiday?
In the meantime if you'd rather know more about the lodges and camps we stayed in during our 9 days in Botswana check our blogpost about our accommodations in Botswana.
The famous tourism industry in Botswana
Botswana created a sustainable tourism model on the foundation of making billions with diamonds since the 1960s. The landlocked country in between Namibia, Zambia, Zimbabwe and South Africa invested the diamond money in creating a unique business model for their tourism industry (which didn't exist back in those days). Today Botswana's low volume high revenue tourism strategy serves as an example all over Africa and the world.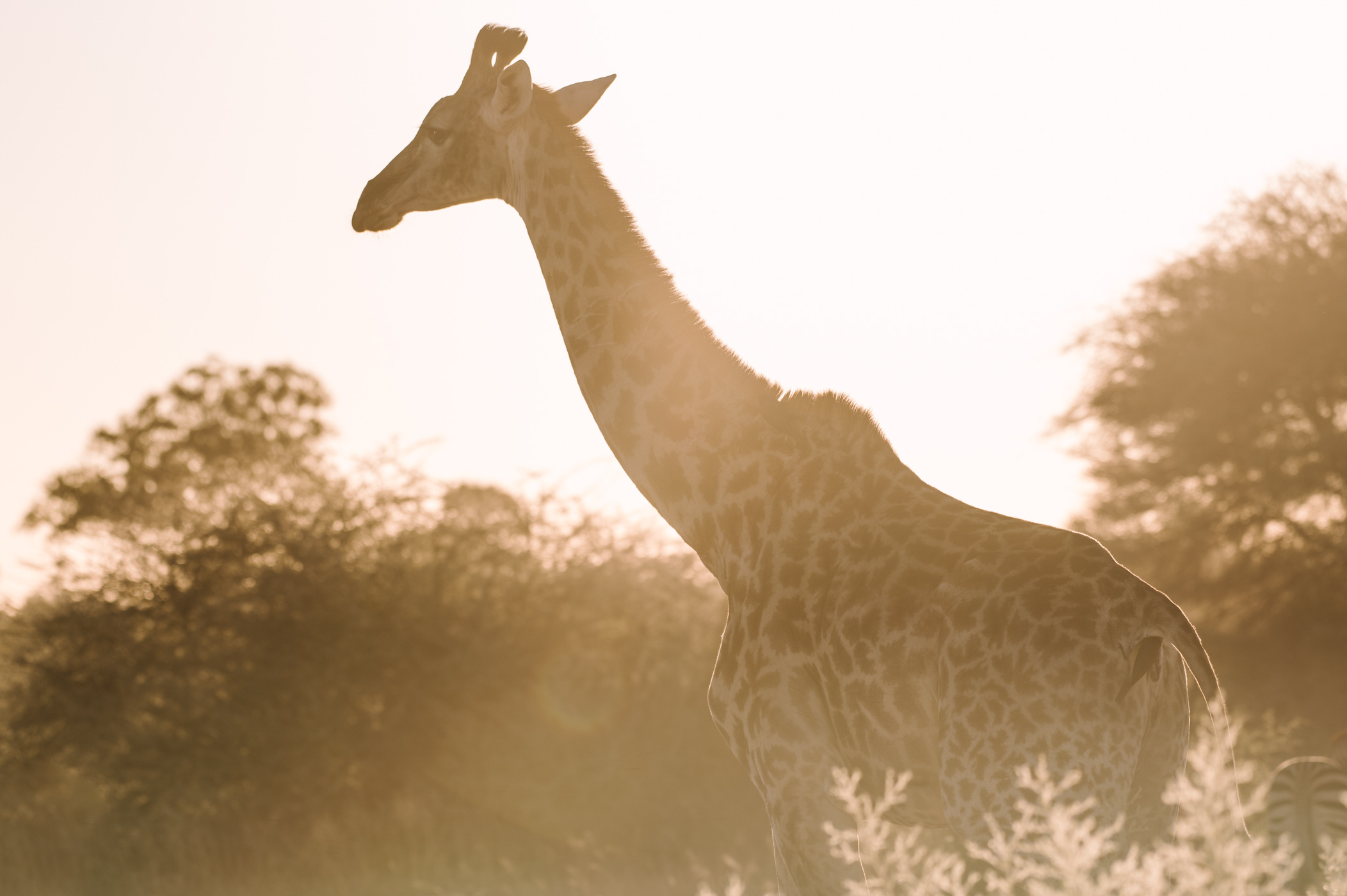 Wildlife encounters come with a hefty price tag in Botswana. But is it worth it?
If you choose a safari destination it's obviously worth looking into value for money. When you choose Botswana you know that you might have to spend more than in many other countries in Africa for your safari adventure.
This business model helps support the local economy and also assists with keeping the balance in the fragile eco system. Limited numbers of tourists help keep the natural resources intact. Higher prices also mean that a bigger portion of that money can be invested in local initiatives. That's why we believe it's worth spending extra money in Botswana to support this sustainable system!
Also the higher price points award you more luxurious stays and private wildlife and nature experiences.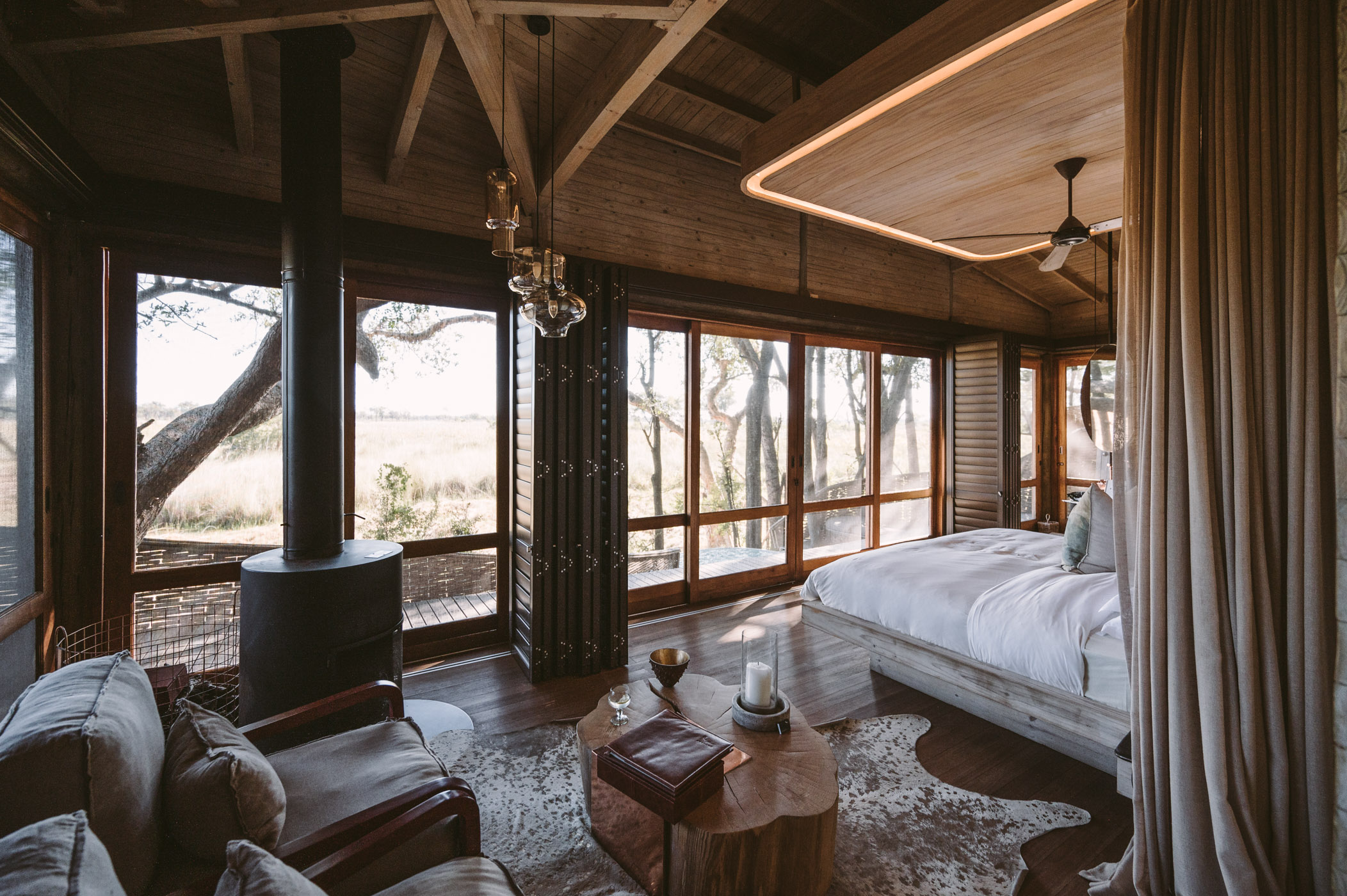 The lodges are quite incredible in Botswana, so they are also worth the extra spend!
Prices in Botswana: Budget vs. Value
When you travel through Botswana you can easily spend 1.000-2.000 dollars per day and person. This kind of money will bring you to some of the most exclusive lodges, and to areas that aren't accessible any other way. Of course you can also plan a self-drive through Botswana and save money that way, but it won't give you access to places like the private concessions within the Okavango Delta – which provide some of the best game viewing opportunities in Botswana!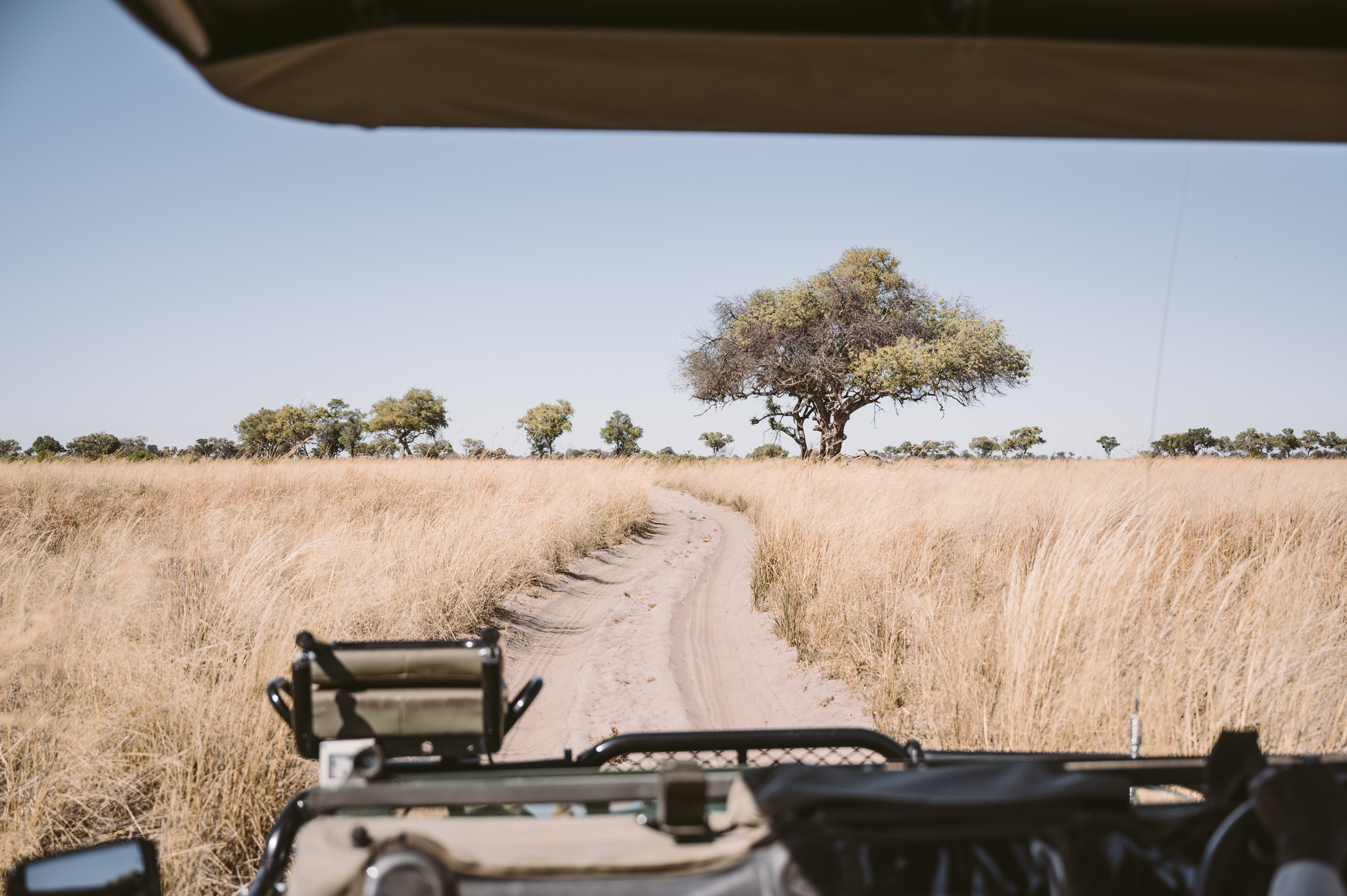 Self drives won't get you into the private concessions in Botswana.
But is it worth the money?
After visiting the budget-friendly Namibia last year and the rather expensive Zambia as well as the more affordable Kenya and many more we can tell the difference between these destinations. We believe destinations like Zambia and Botswana are worth the money as they offer some of the most impressive wildlife encounters while also keeping the highest standards when it comes to accommodations & service levels, as well as nature conservation and privacy.
Compared to Zambia we have to say that we did have even more private experiences in Zambia with its very remote wildernesses, but a little less luxury (we stayed in tented camps rather than luxury lodges there).
Zambia and Botswana come at similar price tags – but they have different target markets.
Zambia is more remote and wild, while Botswana is more developed and luxurious.
The tourism industry is much more developed in Botswana – which makes for more comfort, more luxury and a more reliable service experience in some cases. Therefore we believe Botswana is the right destination if you are a more experienced & discerning traveler and value the extras of such developed regions.
If you prefer to tread more off-the-beaten-path and are a more adventurous traveler you might want to check out Zambia as an alternative destination. We loved combining both countries and experiences to see more unique landscapes, species and cultures in one trip.
Combining both destinations is a great way to see for yourself (and crossing the border is fairly easy as well)!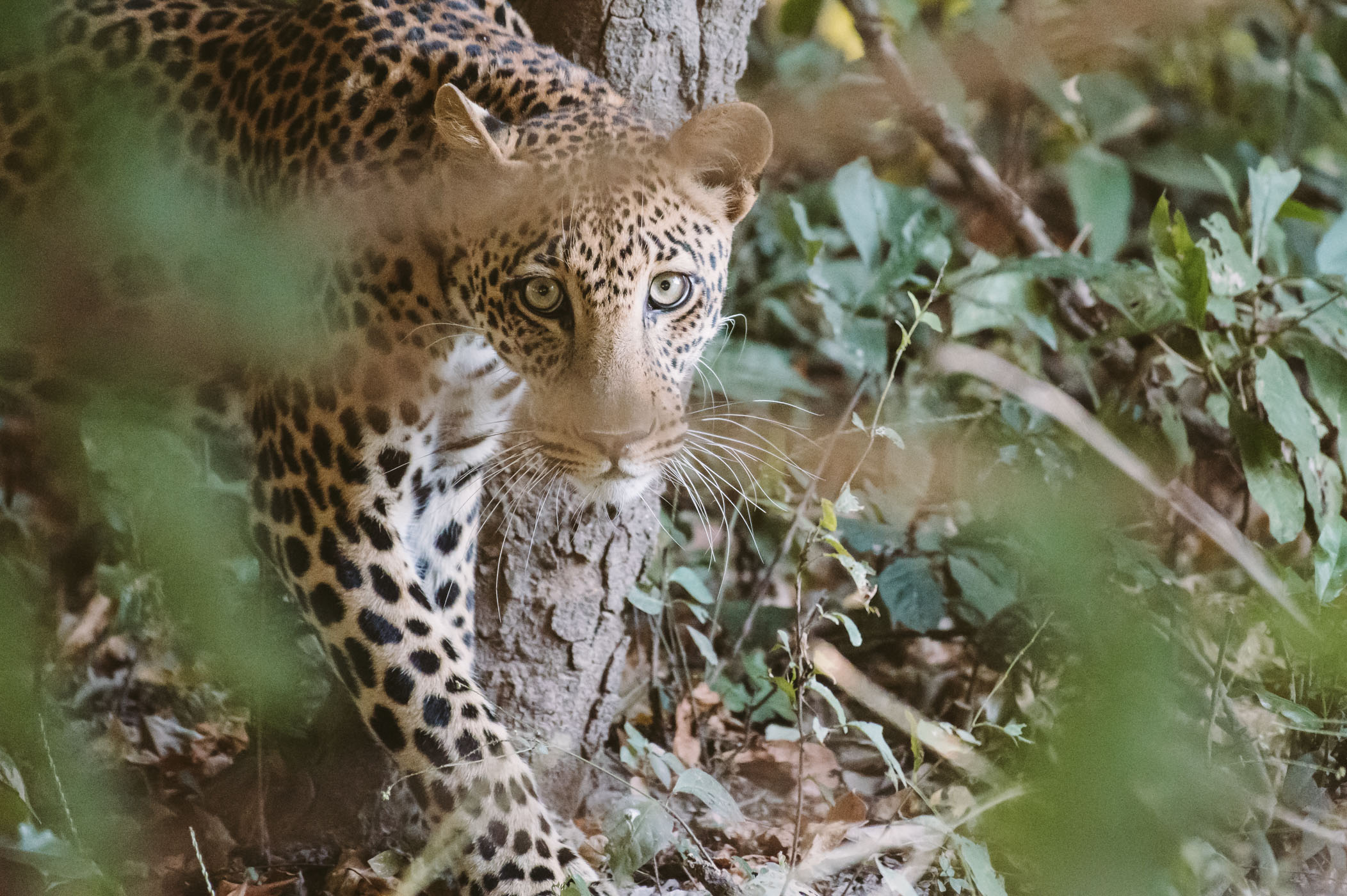 We recommend to combine Zambia with Botswana. Especially if you visit the home of the leopard!
If you are thinking about combining Botswana with Zambia, make sure to read our 9 reasons why Zambia should be on your bucket list!
Found this blogpost helpful? Pin and save it here: