Are you looking for a 14 days Iceland itinerary, that covers the most important highlights, but also takes you off-the-beaten path? Then you've come to the right place! We partnered up with Iceland specialists Katla Travel who put together a 14 days self-drive roundtrip itinerary, that brought us to the very famous sights of Iceland as well as to some more remote regions in the highlands and the Eastern fjords. As we received many requests on Instagram to share all the details of our trip – here's our full itinerary including all the infos where we stayed and what's there to see.
Our Landrover Defender brought us safely through the highlands.
14 day self drive route for first time Iceland visitors
If you have never been to Iceland before, this route for first time visitors will cover the main attractions of Iceland. You will have the chance to check out the Golden Circle as well as the Southern coastline of Iceland with the very well-known waterfalls and black sand beaches.
Our favourite areas of Iceland: Haifoss waterfall and Landmannalaugar
But to make the trip more interesting we focused our time on some more remote areas. We chose the highlands for their immense beauty and vast deserted landscapes and the Eastern fjords for their off-the-beaten-path charm and rocky coastlines and beaches.
Driving is half the fun in Iceland – the road is an endless attraction by itself.
From the main attractions to the remote highlands
We started our tour at the Golden Circle and got a first taste of what Iceland's over tourism problems feel like in reality. But after a half day here we headed straight for the highlands and discovered a completely different Iceland – with remote deserted regions and the famous magical atmosphere that Iceland is known for. The Eastern Fjords were also truly stunning and off-the-beaten path.
At the end of our round trip we returned to Reykjavik via the completely overrun Southern coast, which left a bit of a bitter taste in our mouths. Highlights like the Skogafoss waterfall are intensely overcrowded. The parking lots there are filled with hundreds of cars and busses, spoiling the natural beauty of the waterfall for us. The main reason for this are the stopover trips, which bring visitors to Iceland for a maximum of 3 days. This short time doesn't leave more than the South Coast to explore for most visitors.
We therefore recommend to keep the time at the Golden Circle & Southern coast of Iceland short and focus on the highlands and Eastern Fjords!
As soon as you leave behind the Golden Circle and drive to the highlands it gets quiet and magical.
14 days in Iceland: Our itinerary in detail
Our route:
Our hotels & guesthouses: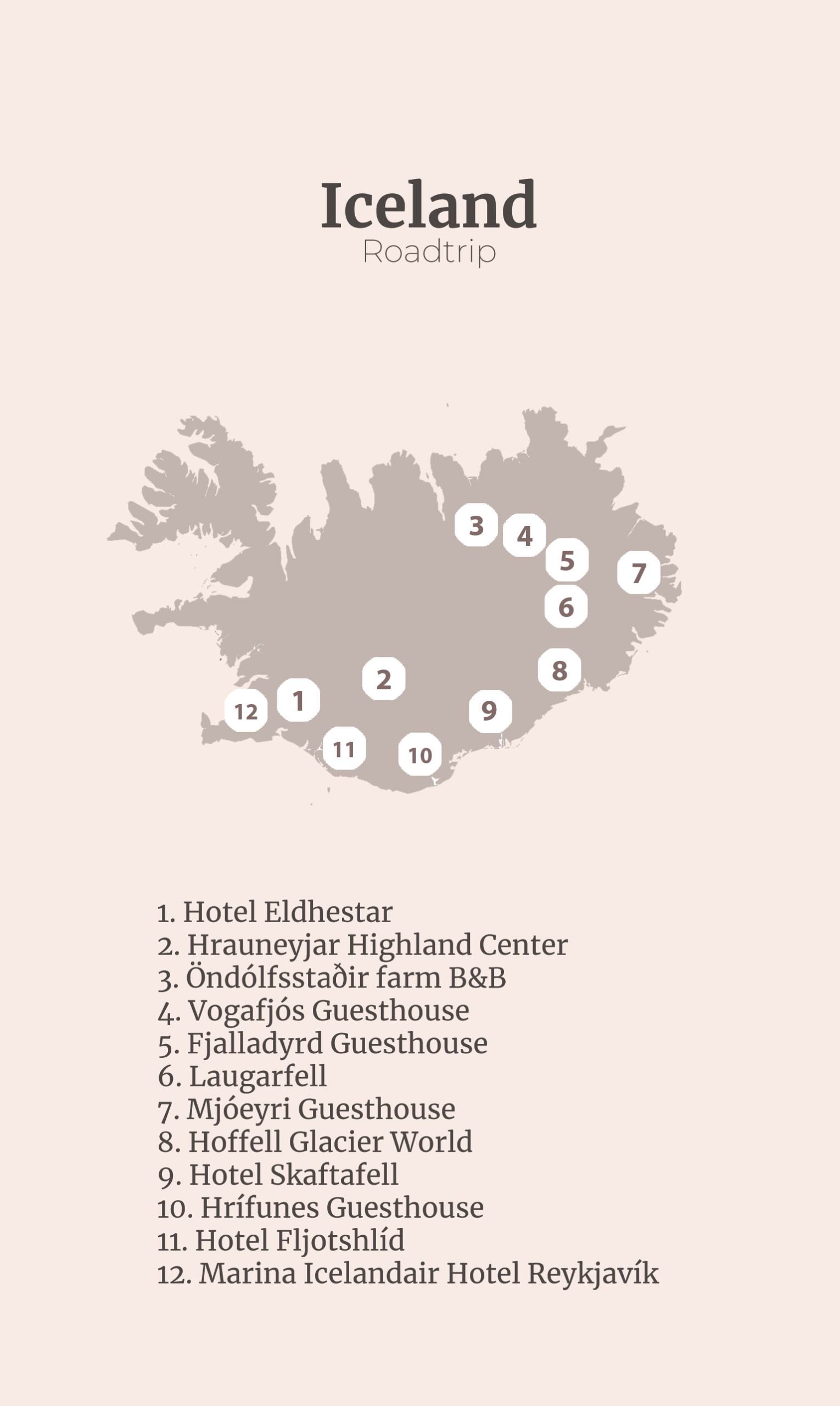 What we didn't see & would like to add
This route doesn't cover the West Fjords of Iceland, which we would love to visit during our next trip to Iceland. If you have more time at hand we would definitely recommend to extend the round trip and also include the Western Fjords.
As you can see in the graphic above we also changed hotels almost every night – with only 2 exceptions (Hrauneyjar Highland Center and Laugarfell). If you want to take it slower, we would recommend to extend the stay in the Fjalladyrd guesthouse, which was our very favourite place to stay!
At the Fjalladyrd Guesthouse we would've loved to stay longer than one night!
Day 1:

Arrival in Reykjavik  > Pick up car and drive about to the first hotel close to the Golden Circle

Let's start at the beginning! First we picked up our rental car at Hertz Iceland at the airport of Kevlavík. We opted for one of the best cars for offroad driving – a Landrover Defender. Road conditions in Iceland can be tricky (to say the least), so we highly recommend a solid 4×4 with a sealed motor (so you can cross rivers).
This is one of the better roads! Ripples, but not holes.
Our first stop was in Reykjavík to buy a raincoat (at Reykjavík raincoats) and stock up on groceries. We knew that we needed to have a solid supply of food, as we were driving through remote parts of Iceland without any restaurants at times. Then we left the city to drive to our first destination for the night: The hotel Eldhestar, which is located about 45 minutes outside of Reykjavík. This is the perfect gateway to the golden circle – our stop for the next day.
Where to stay:

Eldhestar Hotel
At hotel Eldhestar the rooms are simple and activities revolve around horse riding!
Day 2:

Golden Circle visit > Drive to Hrauneyjar Highland Center

The second day started with our first Iceland horse encounter at the hotel Eldhestar and breakfast. We checked out around 10am and then left for our first exploration of one of the main attractions of Iceland: The so called "Golden Circle" – which actually encompasses three separate destinations:
 Thingvellir National Park
Geysir & Strokkur
Gullfoss waterfall
All three are quite well-visited (mostly as day trips from Reykjavík), but worth a short stop if you ask us. The Thingvellir National Park holds outstanding geological significance as this is the location where the American and Eurasian tectonic plates drift apart and form a huge ridge. Geysir is – well as the name says – a geyser, where you can witness the power of the volcanic activity. Next door neighbour "Strokkur" is actually the more active geyser, which erupts every 5-10 minutes. And last but not least Gullfoss – which is an impressive waterfall, but also a very crowded one.
The Golden circle is a must do when in Iceland for the first time, but not our favourite part of the roundtrip…
We didn't spend a lot of time in the Golden Circle, instead opting for a cozy lunch at a local farm called Efstidalur and then heading on to our next destination: The Hrauneyjar Highland Center, our first gateway to the highlands!
At Efstidalur farm we had delicious veggie burgers and so called "fairy potatoes", which we highly recommend.
Where to stay:

Hrauneyjar Highland Center
Our room at Hrauneyjar Highland Center – small and cozy, but with a great view!
Day 3:

Day trip to Landmannalaugar

Our next day started early – as we had a long day trip planned to visit the incredibly colorful mountains at Landmannalaugar. The roads leading there are only open for 4×4 vehicles and you need to make sure your rental company allows you to take your car on F roads before you go there.
The roads to Landmannalaugar are scenic and invite for many stops along the way!
Although the drive is only 40 kilometres long it takes a while to get to Landmannalaugar – not only because of the gravel roads, but also the scenic surroundings and of course some river crossings along the way. This was our first proper "adventure" on Iceland. On the way in we stopped at Sigoldufoss waterfall and Sigöldugljufur – and couldn't believe that this attracts less visitors than the Golden Circle… 🙂
We were alone at Sigoldufoss waterfall – which is of course smaller, but still impressive!
Once we arrived at the parking lot of the Brennisteinsalda camping area it started to pour. So we waited for 20 minutes and when it cleared up a bit we started our hike – first crossing the Laugahraun lava field. The easy hike then ends and a steeper ascend starts to get up the first mountains close to Brennisteinsalda.
At Landmannalaugar you can go on multi-day hikes, but we had to return the same day, so we only climbed up the first mountain to get a view of the so called "sulphur wave" of Brennisteinsalda. Once on the mountain top we got surprised by a mini snowstorm with hail, but were too exposed to seek shelter. Just 10 minutes later the sun came out again and we started our way back to the car. Soaked, but happy!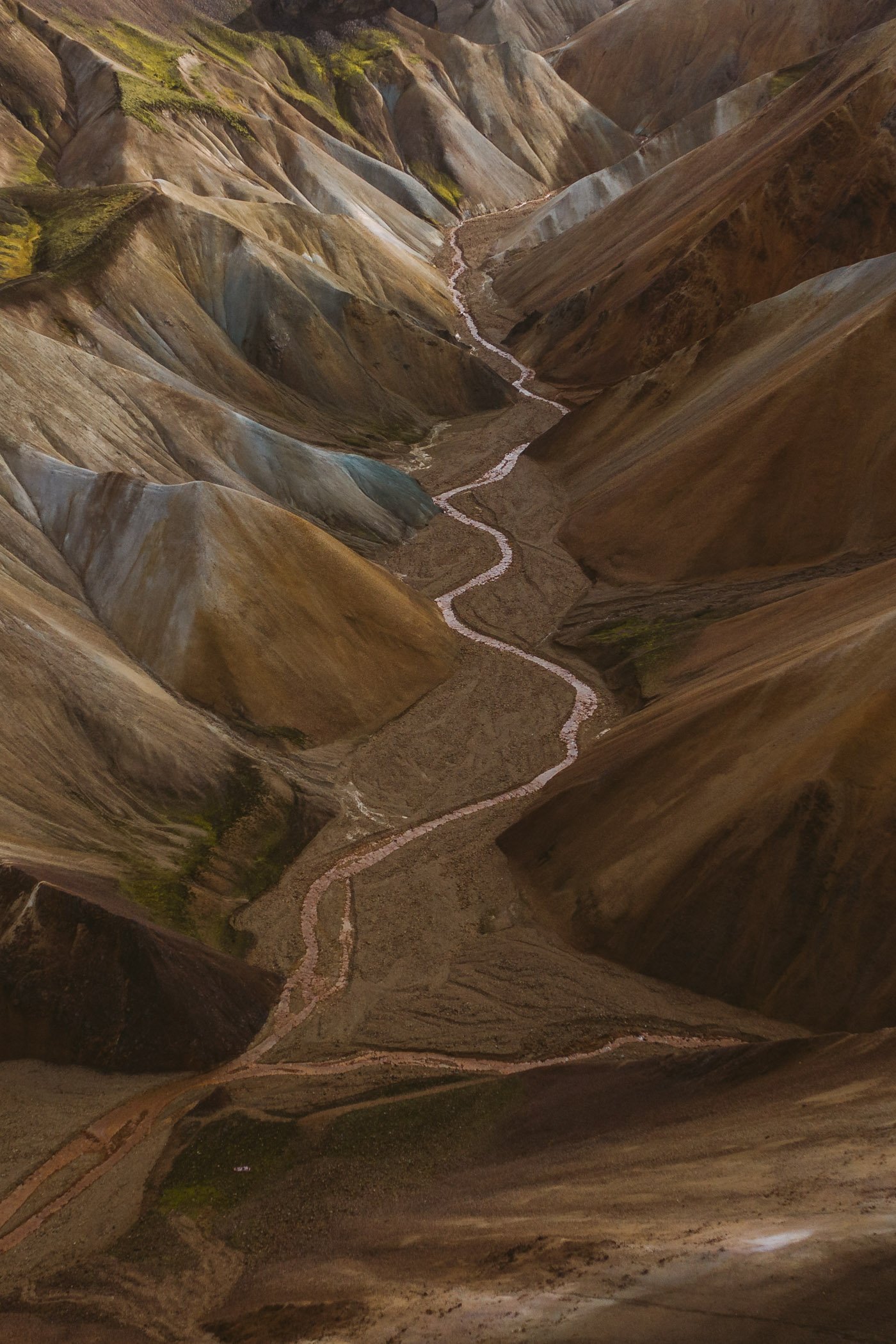 The colours are defined by yellow sulphur, green moss, red iron enclosures and already some snow in September!
We returned to our hotel that evening, but not before making one final stop. Another waterfall was close by and we didn't want to miss it: So a short stop at Haifoss had to happen!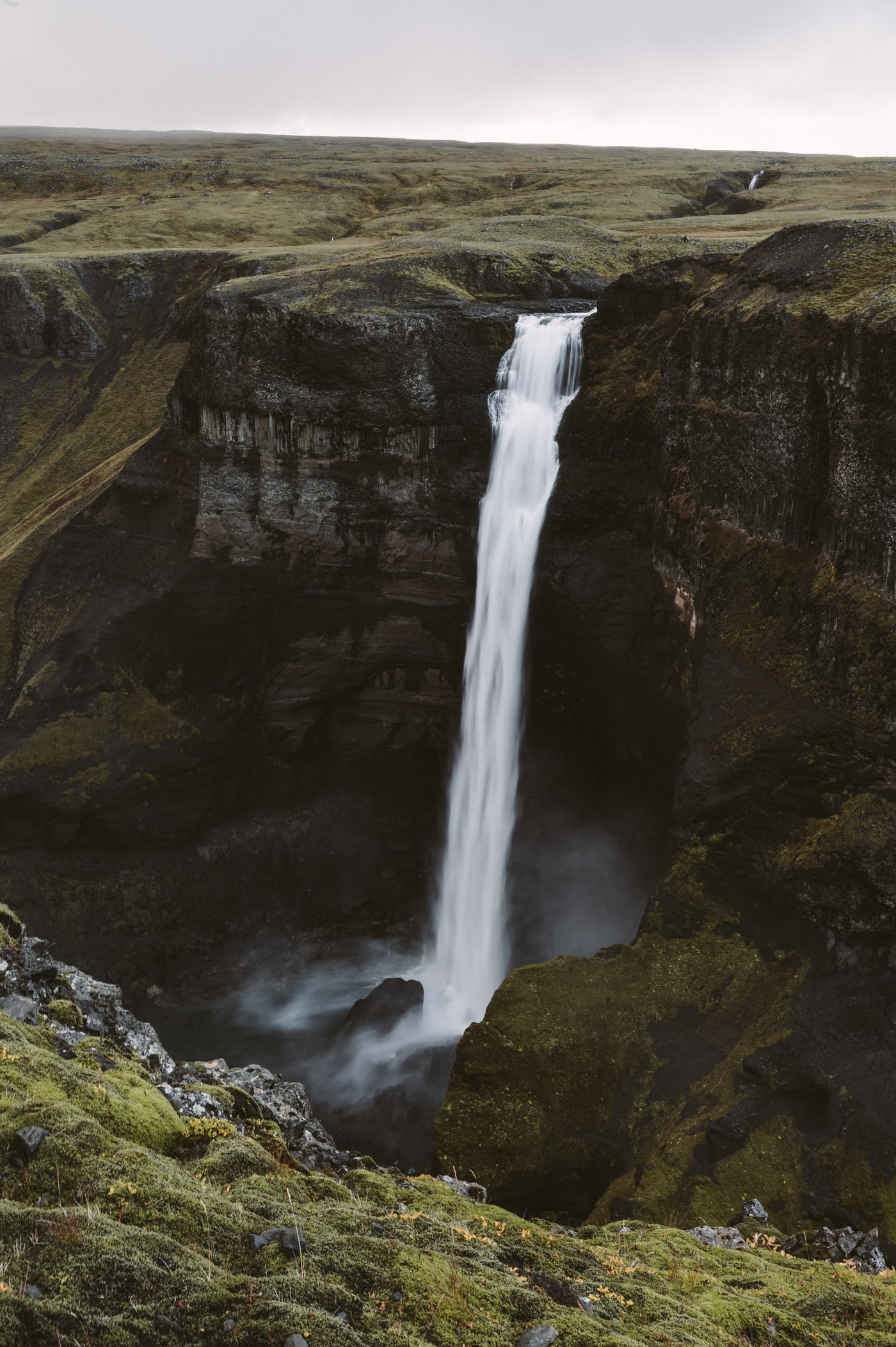 Where to stay:

 Hrauneyjar Highland Center
We stayed two nights here in the Hrauneyjar Highland Center.
It's ideally located for a day trip to Landmannalaugar, but also to continue the road trip to the North via the F26 street.
Day 4:

Highland crossing on the way North (Road F26) & Aldeyjarfoss waterfall

Today was the day! We were about to cross the highlands on the F26 road. 255 kilometres and 5:30 hours of driving awaited us. And when we woke up it started snowing! A prerequisite to any Icelandic road trip is to check the road conditions on a daily base on road.is – a quick check later and we knew we were ok, the road was still open. So we filled up our tank at the gas station at Hrauneyjar (conveniently located right in front of our hotel) and started our trip to the North.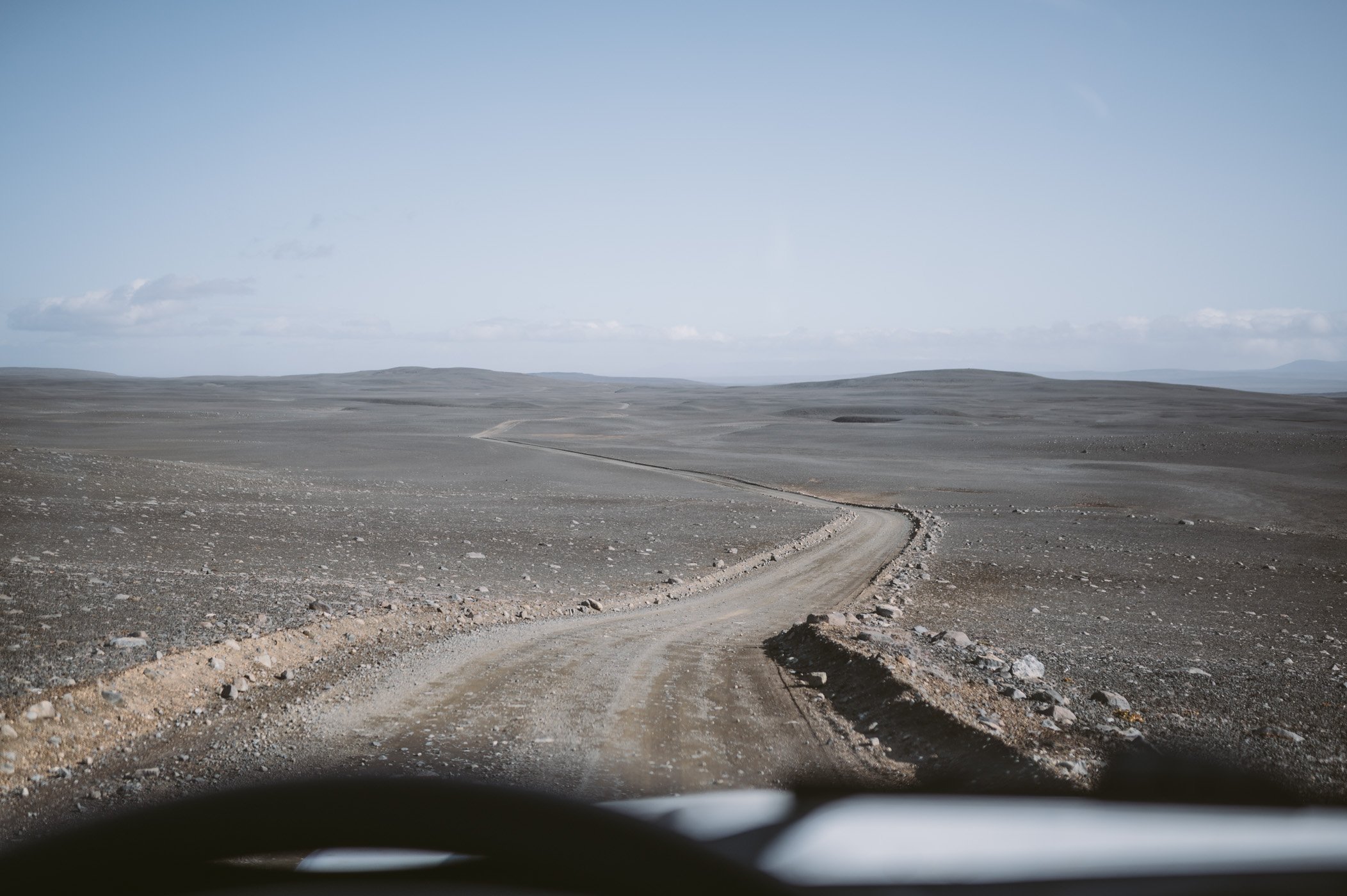 Luckily it stopped snowing at some point and we could also get out of the car for short toilet breaks 😉
The landscapes are hard to describe, but it changed from scenic to even more scenic and we only met one other car at the very end of the 5 hour drive. At the end of the F26 road we made a stop at another very impressive waterfall called Aldeyjarfoss, where we met 2 other people and felt like we were back in civilisation 🙂
Aldeyjarfoss was one of the most impressive waterfalls we saw – mostly due to the crazy basalt columns and remote location.
Where to stay:

 Öndólfsstaðir farm B&B
Farmstays are sometimes quite rustic, but here at Öndólfsstaðir farm B&B rooms had been modernised.
Day 5:

Whale Watching Tour Húsavík & Geosea Geothermal Sea Baths

Before heading out to our whale watching tour we made a short stop at close-by Goðafoss waterfall. Due to it's location right next to the street it was not too impressive, but still worth a short stop.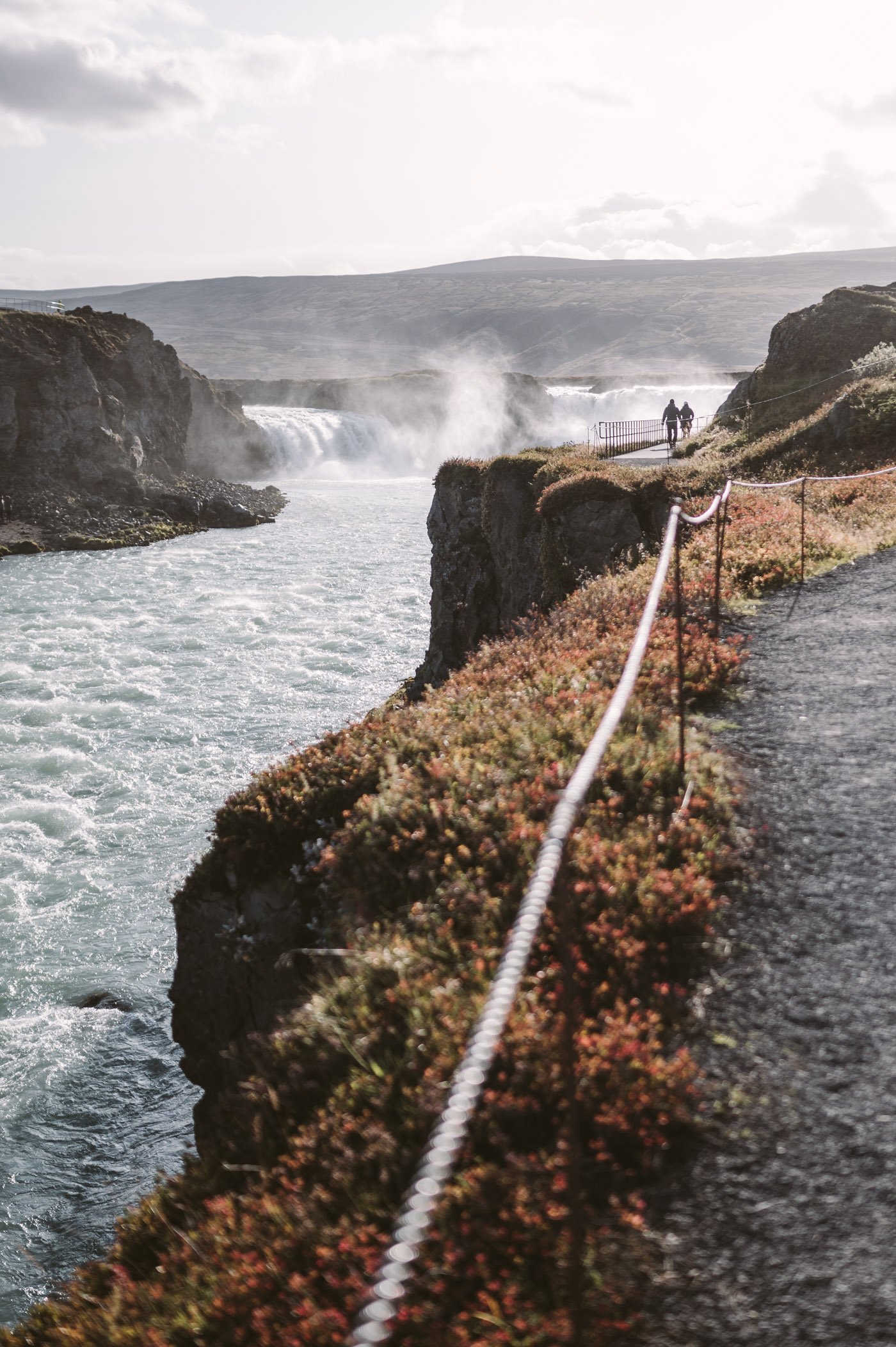 In Húsavík we then boarded a fully electric ship of pioneering whale watching company "North Sailing". This ship is completely carbon neutral and therefore the best option if you want to go on a so called "silent" whale watching trip in Iceland. Unfortunately we didn't get too lucky and only saw one whale from a distance, but would definitely return for another chance!
The so called "Silent Whale Watching" tour by North Sailing is the most eco-friendly way to go whale watching in Húsavík
After this cold few hours on the water we warmed up right at the harbour of Húsavík in the "Gamli Baukur" restaurant. Here we had some of the best vegetarian food in all of Iceland, so we definitely recommend a lunch stop here!
Definitely stop for lunch at Gamli Baukur in Húsavík!
Húsavík is also home to one of the most scenic geothermal baths in all of Iceland, the "Geosea – Geothermal Sea Baths", which are located right at the cliffs overlooking the ocean.
The hot geothermal water is a welcomed relaxation after a gloomy and grey day!
Where to stay:

 Vogafjós guesthouse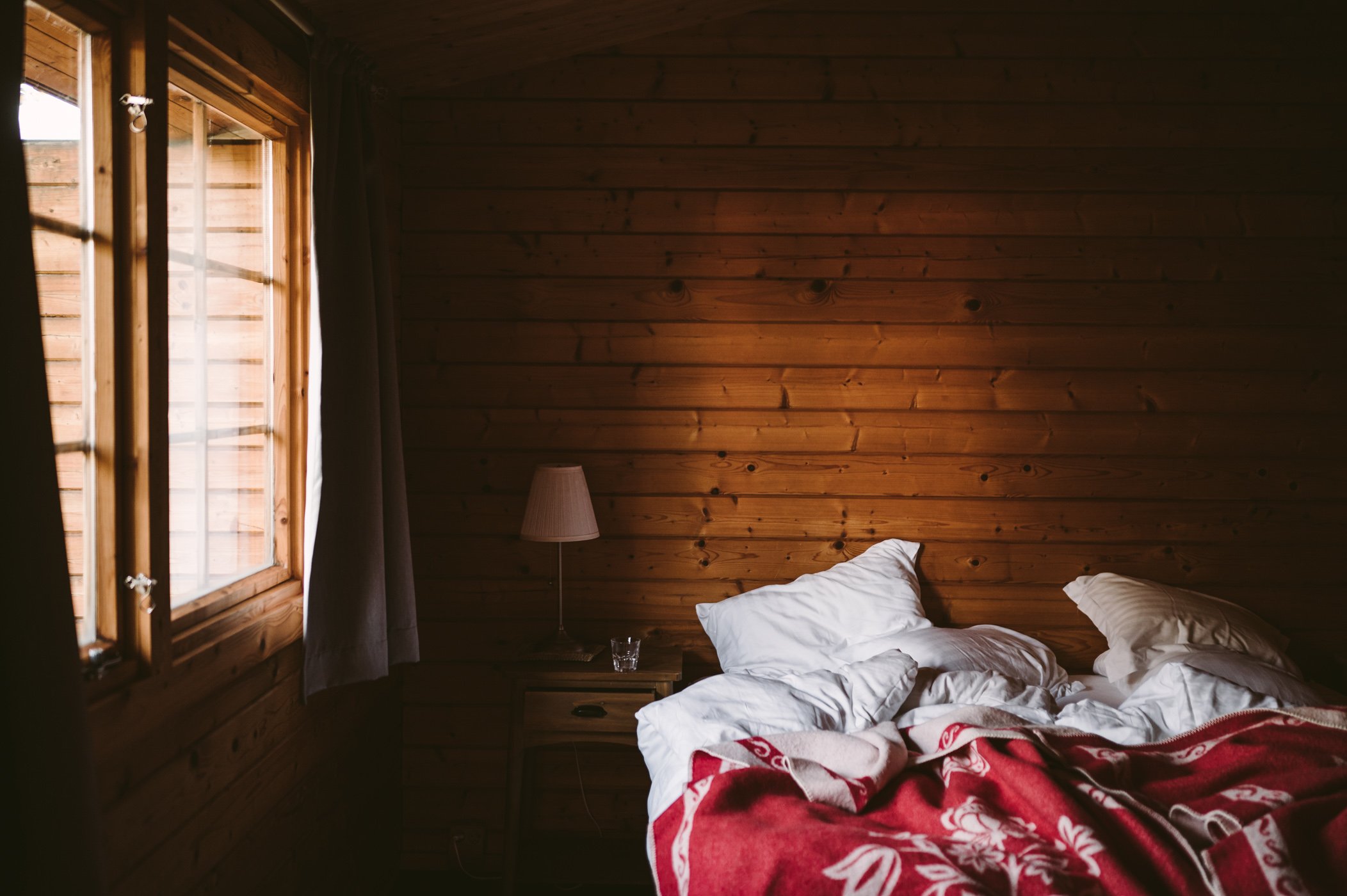 At Vogafjós we slept in a super cozy wooden cabin with heated floors and enjoyed the homemade bread and cheese!
Day 6:

Myvatn Nature Baths & Exploration of Hverir & Krafla, Check-in at Fjalladyrd & meet-up with Arctic Foxes

On our 6th day in Iceland we had booked ourselves tickets for the second-famous blue lagoon in Iceland. As we knew we might not be able to make it to the original near Reykjavík we instead opted for the Myvatn Nature Baths. Turns out this was a wonderful idea! We came first thing in the morning when the bath had just opened and had the (really hot) pools almost to ourselves. Within the first hours the baths started to steadily fill up, so we recommend to come early for some solitude!
Definitely come early if you want to enjoy the Myvatn Nature Baths in quiet – they start to fill up during the day.
After this relaxed morning we were ready to explore the surrounding area and started with a hike up to the volcanic cone Hverfjall. It's a 10 minute steep climb to get to the edge of the Hverfjall volcano and this incredible viewpoint.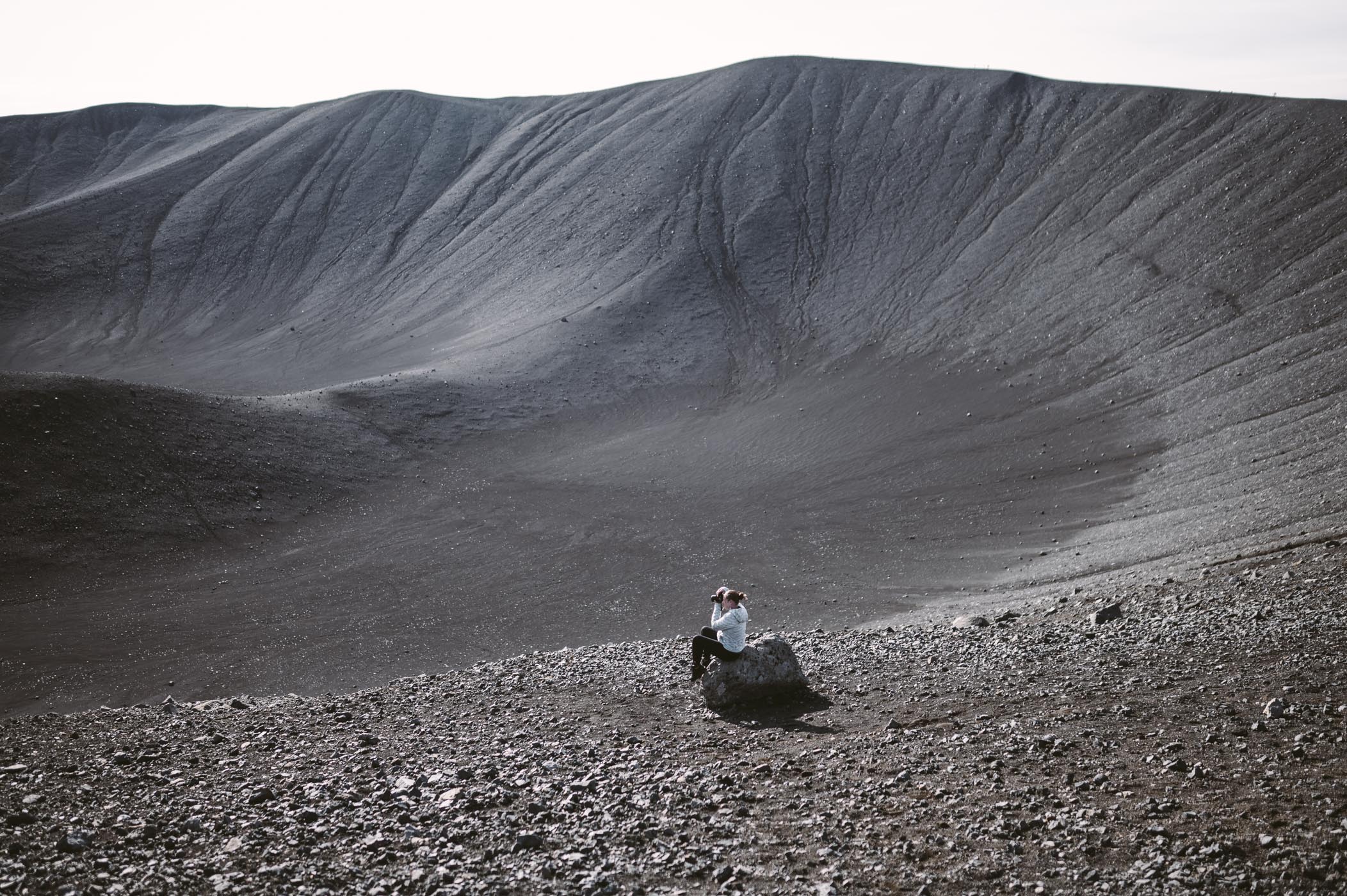 Can you spot the tiny people? You can hike around the volcano on the edge.
Next up was the Hverir geothermal field with it's boiling mud ponds and sulphuric smoke. This is again located right next to the street and gets quite busy. And yes, it smells 😉 But we easily spent 2 hours here walking around and discovering ever new angles to take photos of the yellow grounds and smoke!
The Hverir geothermal field in Iceland's North showcases the power of the activity below earth's crust.
Lastly we made our way to the Krafla crater with it's ultra-blue water. We were not too impressed with this place though, as the car park is only 2 minutes from the crater and the really interesting perspectives are mostly found on drone photos. Maybe it also had to do with the lack of sunlight, so the water didn't really show all it's color.
The blue color is only visible from above (this is a drone shot).
As you can see the car park is right next to the crater, which also spoils the experience a bit.
From here we drove to our next accommodation – the Fjalladyrd guesthouse. This guesthouse is located only around 8 kilometres South of the Ring road (#1), but feels like it's deep in the highlands. Upon arrival we were greeted by two arctic fox pups who played cheerfully right next to our house. We could barely believe our eyes!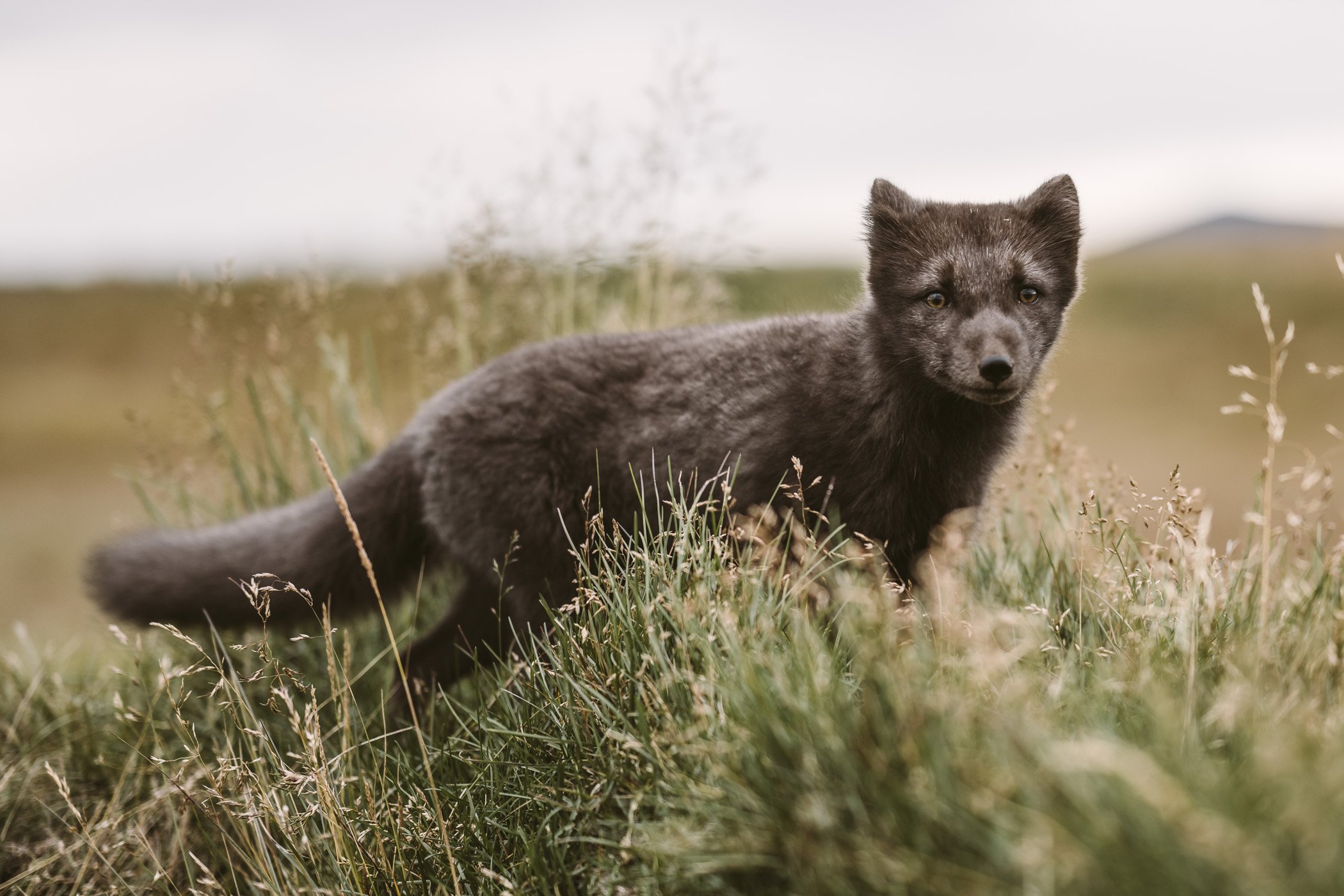 This arctic fox encounter was easily our favourite wildlife moment in Iceland!
Where to stay:

 Fjalladyrd guesthouse





Fjalladyrd Guesthouse was our favourite place to stay.
If you have more time make sure to stay at least 2 nights here!
Day 7:

Highland exploration and hike to Askja & Stuðlagil Canyon

Fjalladyrd has the perfect location for a day trip to Askja – an iconic volcanic crater. The road to get there is another heavy duty F road, so nothing for smaller cars. On our way we saw a tow truck loading up a smaller SUV with passengers who must have waited for hours for their rescue in the middle of nowhere.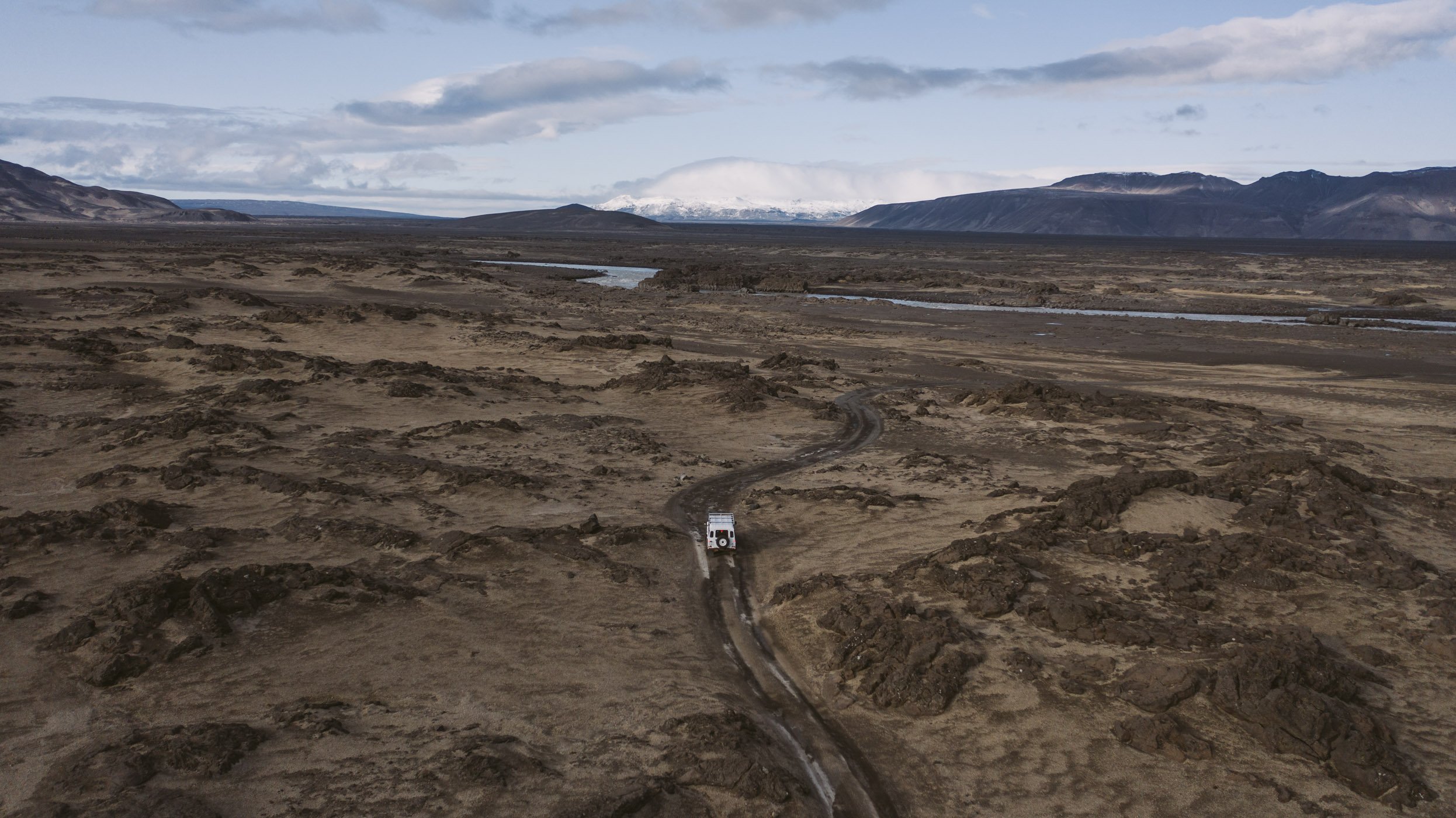 The road to get to Askja is one of the more challenging parts – but absolutely worth it!
It's a 3 hour drive to get to the Vikraborgir Car Park, which is as close as you can get to the caldera. From here it's usually a 30 minute hike to get to the Askja crater – unless, well – unless there's a fresh thick layer of snow. We were advised by the rangers at Dreki hut to drive carefully and also to stay away from the crater's edge on the side where the snow was hanging over. Although it was a long drive and hike to get there, this was absolutely worth it! But just look for yourself: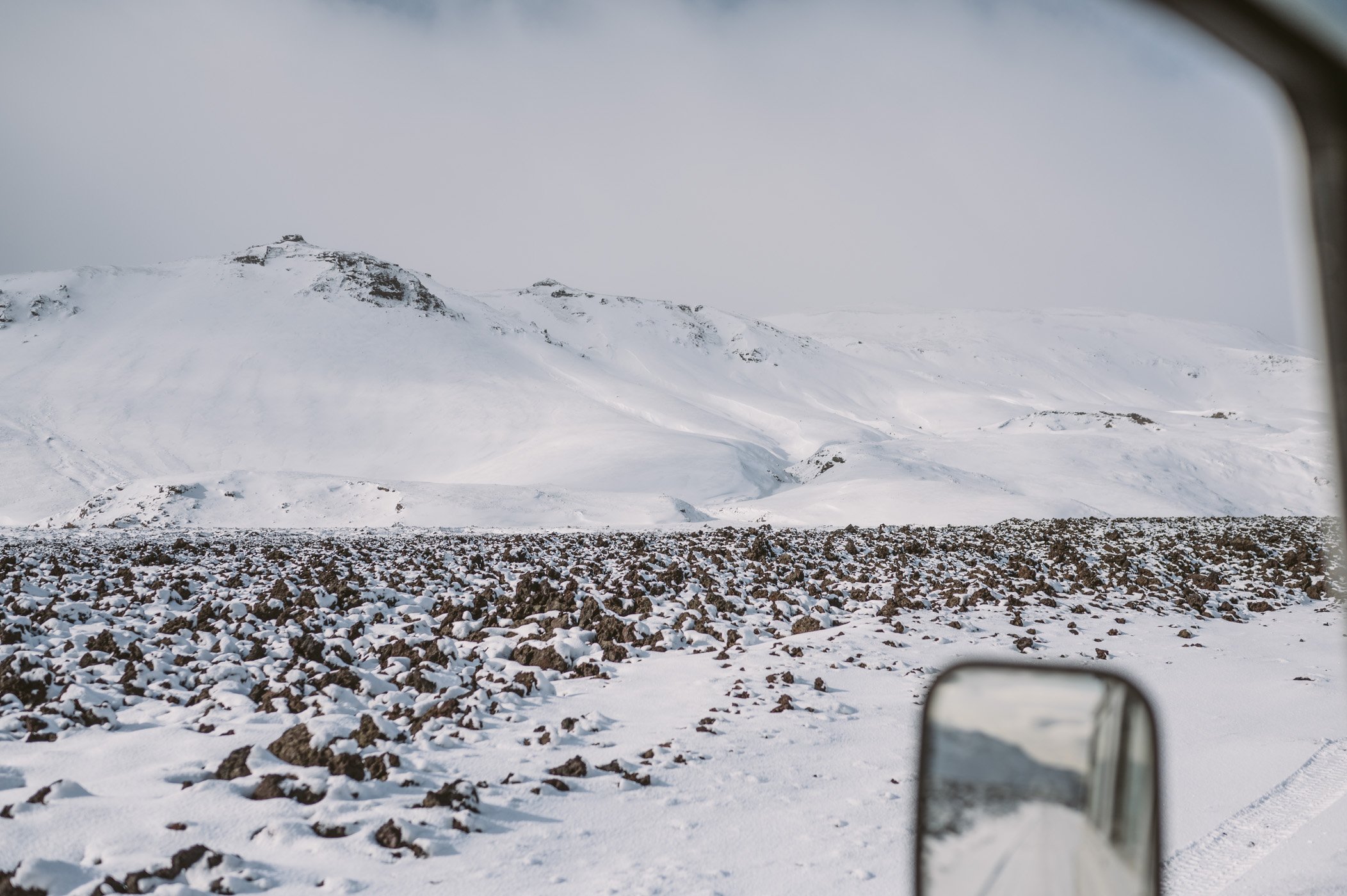 The turqouise water of the lake in the Askja crater – an iconic view!
After this snowy hike we had to return the whole way – so another 3 hours on the F road back to the North. That's why we wished to have booked another night at Fjalladyrd guesthouse. But we had to keep on driving to our next destination – 250 kilometres away from Askja.
These roads seem endless sometimes…
Well, so we did the slightly crazy thing and added another small detour to the already long journey 😉 But this was the only moment where we had the chance to access the Stuðlagil Canyon – and we really wanted to see it. Long story short: Turns out if you want to get to the proper viewpoint you have to hike on the Eastern side of the canyon for more than 1-2 hours and we didn't have enough time for that exercise. So we only got a glimpse from the Western side of the canyon, which was ok, but not amazing!
Stuðlagil Canyon as seen from a drone's perspective.
To get to the proper viewpoint a longer hike is necessary – so plan accordingly and take the Eastern access.
After all these activities we finally checked into Laugarfell quite late in the evening. At least here we had booked 2 nights, so we could get comfortable 🙂 Luckily this lodge is located incredibly scenic in the middle of nowhere and has it's own private hot spring.
Where to stay:

Laugarfell
At Laugarfell we enjoyed the remote location, private hot pots and waterfall next to the lodge.
Day 8:

Day of relaxation at Laugarfell & private hot springs

Since we arrived at the halftime of our trip it was time for a resting day here. We mostly just took a short walk around the lodge to the waterfall and chilled in the hot springs. Laugarfell is the perfect place to recharge your batteries as there isn't a lot to do or see here except for hiking and visiting the local geese.

If you do want to go on a little exploration you can check out the Kárahnjúkavirkjun hydropower plant with it's adjacent Hafrahvammagljúfur canyon.
The Hafrahvammagljúfur canyon has interesting sediments and colours.
Where to stay:

 Laugarfell
Day 9:

Hike to Hengifoss waterfall & Lunch at an Organic Farm & Drive to Eastern Fjords (Stay in Eskifjorður)

Re-energized after that day of relaxation in Laugarfell we made our way to our first stop of the day – a hike to the iconic Hengifoss waterfall. It's about a 2 hours hike, but we spent easily 4 hours here, trying to get as close as possible and also flying our drone to get heightened perspectives. The waterfall wasn't too busy with around 4-5 other cars there at the same time.
Hengifoss is the fourth highest waterfall in Iceland – but it's particularly interesting due to it's colourful sediments
The red color comes from iron oxidation, which is happening in the volcanic layers.
After this hike we discovered a nearby organic farm, that serves vegetarian lunch! So off we went to Vallanes Organic Farm for an incredible all organic and vegetarian feast. Lunch is served at a buffet here, so don't come too late to not miss any of the salads, pickled veggies, dips and sauces.
At Vallanes Organic Farm you can taste their homemade fermented veggies, vegetarian patties & much more.
From here on we finally made our way to the East Fjords of Iceland – to be exact to our next accommodation in the sleepy village of Eskifjorður. Only around 3% of Iceland's population live in the region of the East Fjords, making this part of the country especially quiet and secluded.
The East Fjords of Iceland are defined by narrow fjords and steep cliffs.
Our guesthouse here was truly one of it's kind – a red wooden cabin located on a triangular peninsula amidst the fjord. It probably doesn't get more Icelandic than this. If you also want to stay at Mjóeyri guesthouse make sure to book one of the cabins – as they also offer rooms in the main building, which wouldn't be as atmospheric.
Waking up with a view of the fjord – a perfect morning in the East Fjords of Iceland.
Where to stay:

 Mjóeyri guesthouse in Eskifjorður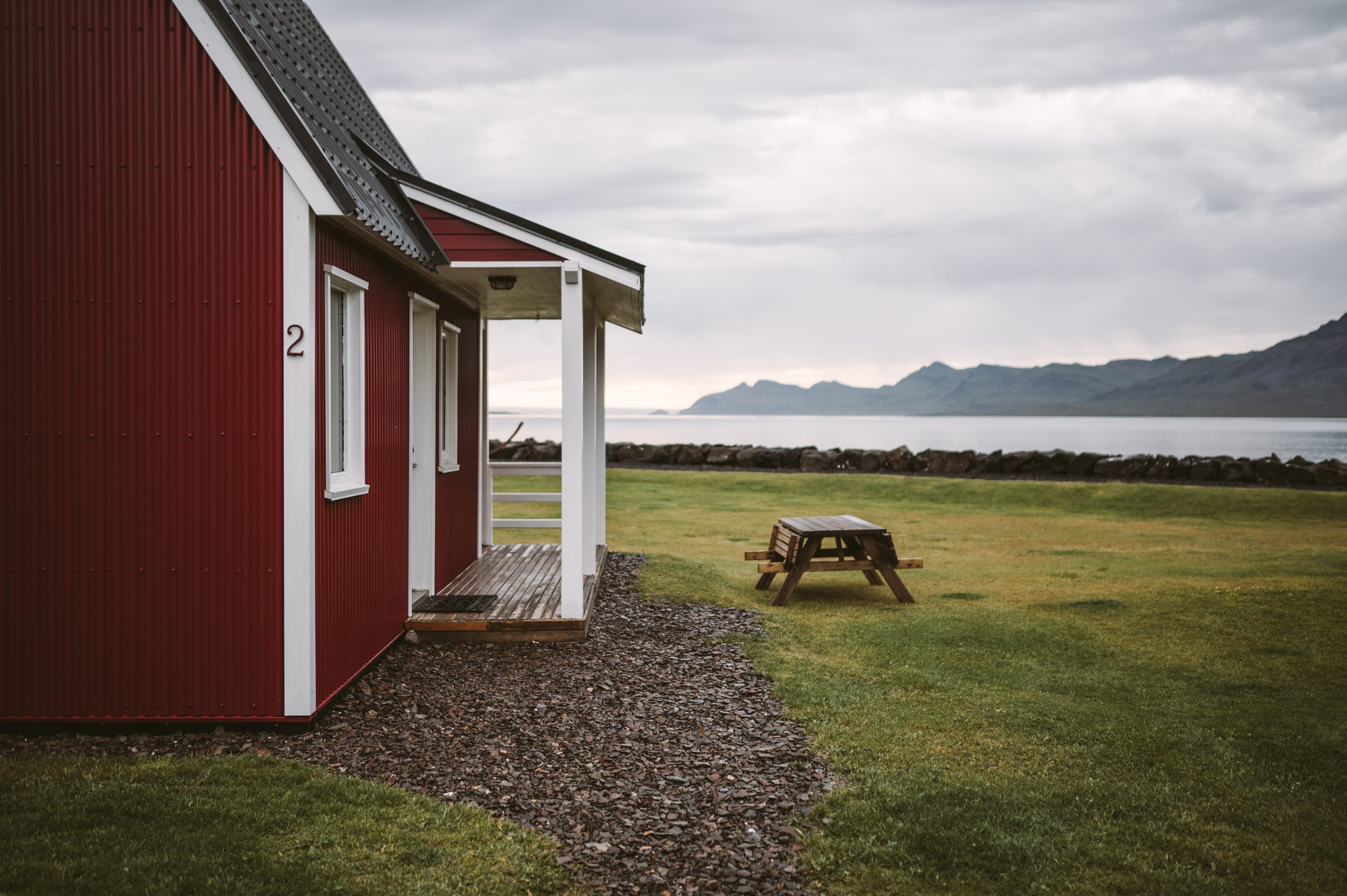 At Mjóeyri guesthouse we were greeted by yet another Arctic fox puppy.
If you are up for a hot tub, they built one inside an old fishermen's boat – a fun element 😉
Day 10:

Eastern Fjords exploration with a lunch stop in Djúpivogur & visit of Stokksnes and Vestrahorn

As our time in Iceland was slowly heading towards it's final chapter we started making our way back to the South from this day on. From here on out we noticed the change – coming from the remote regions we were now making our way to the more commonly visited areas of Iceland. The further South we made it the more cars we met on the streets and the more other tourists we encountered.
Views like these would become rarer on our way down to the Southern parts of Iceland.
Parking somewhere along the coast completely alone is more likely in the Eastern Fjords.
But first we drove along the scenic East Fjords coastline – always hugging the narrow road in-between the cliffs and the ocean. Our first stop was in the fishermen's village of Djúpivogur, where we had lunch in the restaurant of Hotel Framtid overlooking the harbour.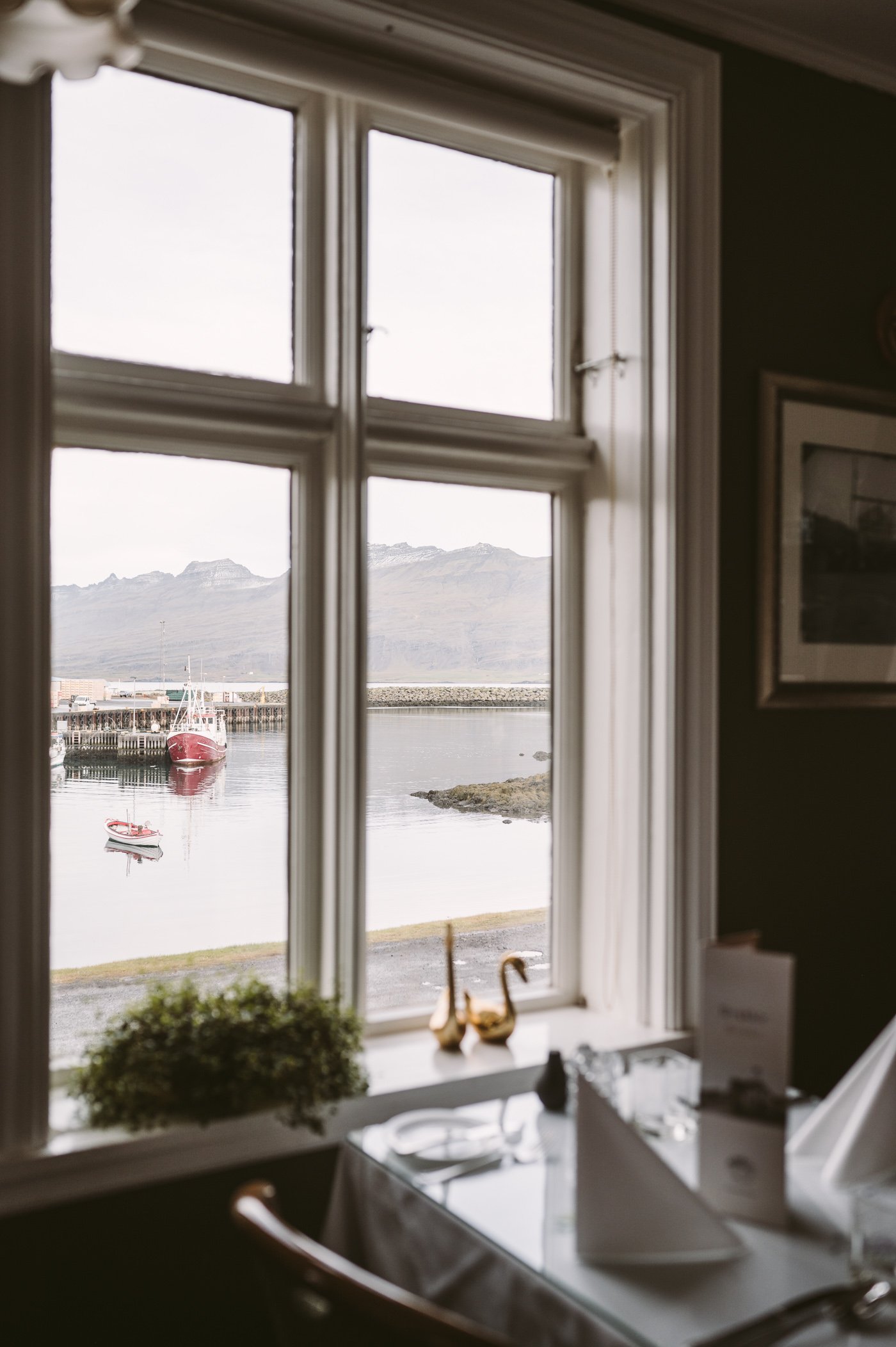 The restaurant at Hotel Framtid in Djúpivogur served delicious vegetarian onion soup and pizza.
Along the way further to the South we stopped at the iconic Stapavík – a small bay with a stone needle sticking out of the beach. Even if this photos make it look like we were along, there were actually at least 20 other visitors there with us, even a bus had stopped with a group. So, yes – we were reaching the civilisation again.
Just a few minutes North of Stapavík we enjoyed these views all by ourselves.
It's often more rewarding to stop somewhere without any Google maps entries.
Next up was a stop at the equally well-known Hvalnes Lighthouse. Unfortunately it was quite a foggy and rainy day, so there wasn't a lot of a view of the mountain range.
The black beach next to Hvalnes Lighthouse was stormy and rough on that day.
And then we finally made our way to one of the most anticipated stops along the East coast of Iceland: The famous headland of Stokksnes with a view of Vestrahorn. Well, let's be real: We didn't see any of it due to the fog and cloudy conditions that day. To get there you have to pay an entrance fee at the Viking Café. With your ticket you can then open the gate to drive down the iconic street to the headland. We waited around for 1-2 hours to see if the weather would clear up, but it actually got worse – so this is all we saw 🙂
That's the disadvantage of Social Media – you know how this place could look like with a clear sky 😉
After this slightly disappointing visit we drove towards the glacier of Vatnajökull, which covers around 8% of all of Iceland and is the largest glacier in Europe (or second largest if you count the one in Russia to Europe) 😉 We slept in a hotel with the promising name "Hoffell Glacier World" right next to Hoffellsjökull glacier. Unfortunately we couldn't see the glacier from the hotel – maybe due to the still quite foggy weather conditions or maybe because the glacier had retreated too much lately to be really seen from the hotel?
Where to stay:

 Hoffell Glacier World
The Hoffell Glacier World is located very close to the Hoffellsjökull glacier and offers modern and spacious rooms.
Day 11:

Glacier Day: Visit of Hoffellsjökull, Diamond Beach as well as Jökulsárlón & Fjallsárlón glacier lagoons

This day is dedicated entirely towards glaciers and ice! We hope you like it cold, because today you're definitely getting a fair share of sweet sweet iciness. From Hoffell Glacier World it's only a 15 minute drive to the outlet glacier of Hoffellsjökull, which is a part of Vatnajökull. From here on you can start hikes at the glacier! We had a long day ahead of us, so we didn't have time for a hike unfortunately. Instead we had planned to visit three of the most incredible icy attractions in Iceland:
Diamond beach
Jökulsárlón glacier lagoon
Fjallsárlón glacier lagoon
Let's start the glacier discovery…
When we say icy "attractions" we mean it quite literally. This is like the Disneyland of glaciers. Think huge parking lots, dozens of buses and even more cars, restaurants, food trucks, adventure companies offering their services from glacier hikes to lagoon boat rides – you got it all. If you're looking for solitude, this isn't the place to go. And although we really don't like overcrowded places, these 3 places still left a lasting impression on us – just for their sheer magnitude and gorgeous scenery. Just be warned, that you won't be alone there!

You can rent Kayaks at the Jökulsárlón glacier lagoon to get even closer to the huge icebergs and the seals!
All three places are quite close to each other – so you can easily combine a visit of Jökulsárlón, Fjallsárlón and Diamond Beach in one day! When we visited it was quite cloudy, foggy and rained – but it was still beautiful! We can only imagine what this must look like in good weather 🙂



Even if you're not alone at the Diamond Beach, this place still leaves you speechless!
Last but not least we visited Fjallsárlón which was our favourite place! Here you can hike along the lagoon and get spectacular views of the glacier.
At the Fjallsárlón glacier lagoon the fog had cleared a bit and so we got a better view of the glacier!
After these 3 icy attractions we made our way to our hotel for the night – but without having to say goodbye to the glaciers yet. Hotel Skaftafell is located right next to the glacier, in fact there's a small private hiking path right behind the hotel  leading it's way directly to another glacier lagoon, which you won't have to share with hundreds of other tourists.

You only have to climb this little hill to get the view of the glacier behind Hotel Skaftafell.
Where to stay:

Hotel Skaftafell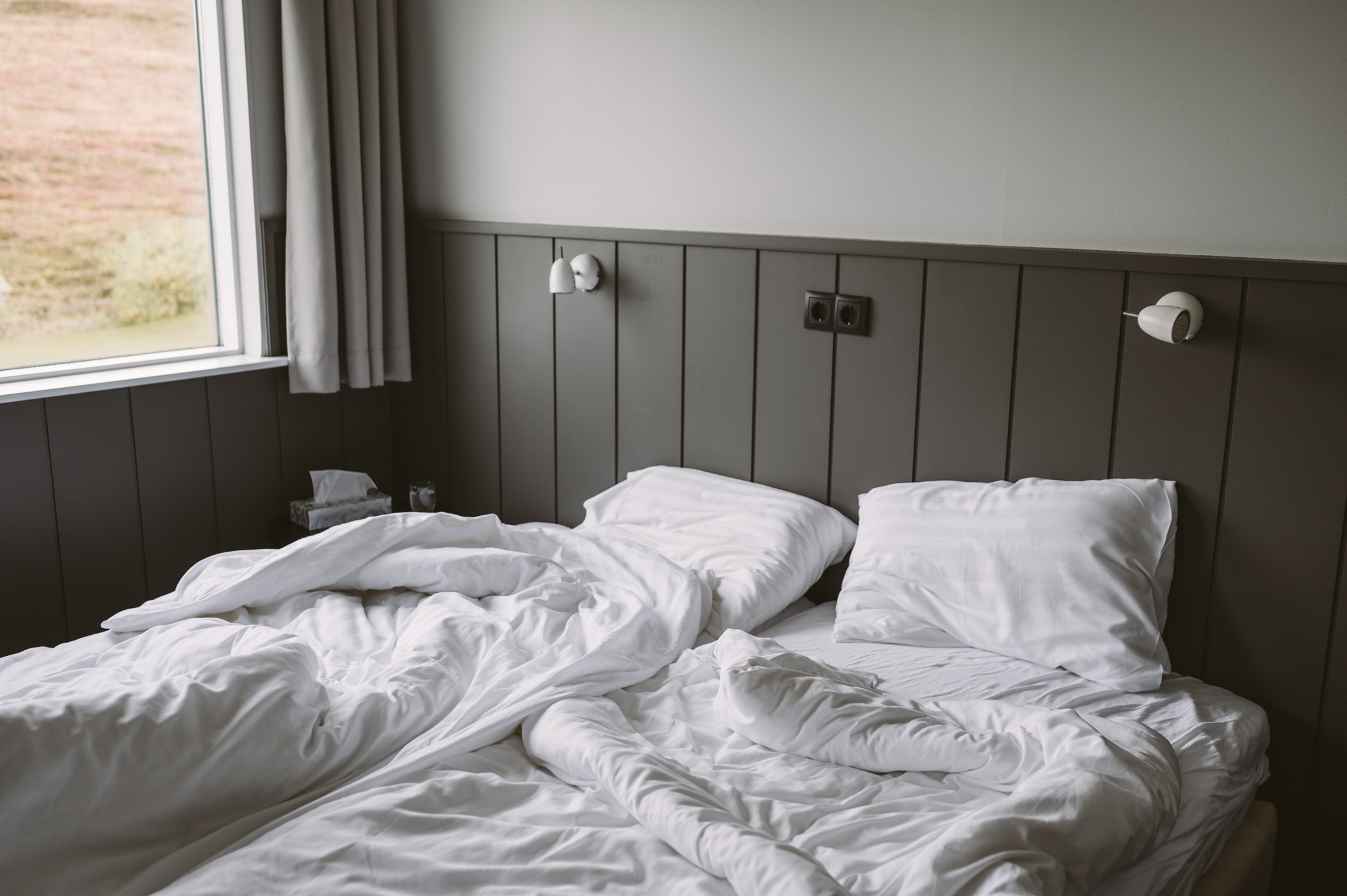 At Hotel Skaftafell we got spoiled with a 3-course vegetarian dinner.
Some of the rooms had been recently renovated in elegant & muted colours.
Day 12:

Hike to Svartifoss waterfall & visit of Fjaðrárgljúfur canyon

Today we decided to hike to the incredibly overrated Svartifoss. In retrospect we could've skipped this part. Not only had we seen much more impressive waterfalls before, the 1 hour hike was also overcrowded and once we arrived at the waterfall we had to fight for a small spot on the viewing platform to get a photo. We would suggest you do yourself a favour and skip this waterfall. We recommend to instead go to the North and visit Aldeyjarfoss (which has similar basalt columns, but is much less crowded).
We didn't really enjoy our visit of Svartifoss due to the mass of visitors there.
Now you could potentially say the same thing about the next place we had on our agenda for this day: Fjaðrárgljúfur Canyon. That's the canyon that had to be closed for reconstructions this year, because it was so destroyed from mass tourism. Now the canyon has reopened and offers clearly marked walking paths and metal viewing platforms and most of the former mud paths have been closed to protect the fragile nature. Although it was quite well visited (and some tourists climbed over the fences to get "the shot"), we still enjoyed our time here – due to the unique landscape.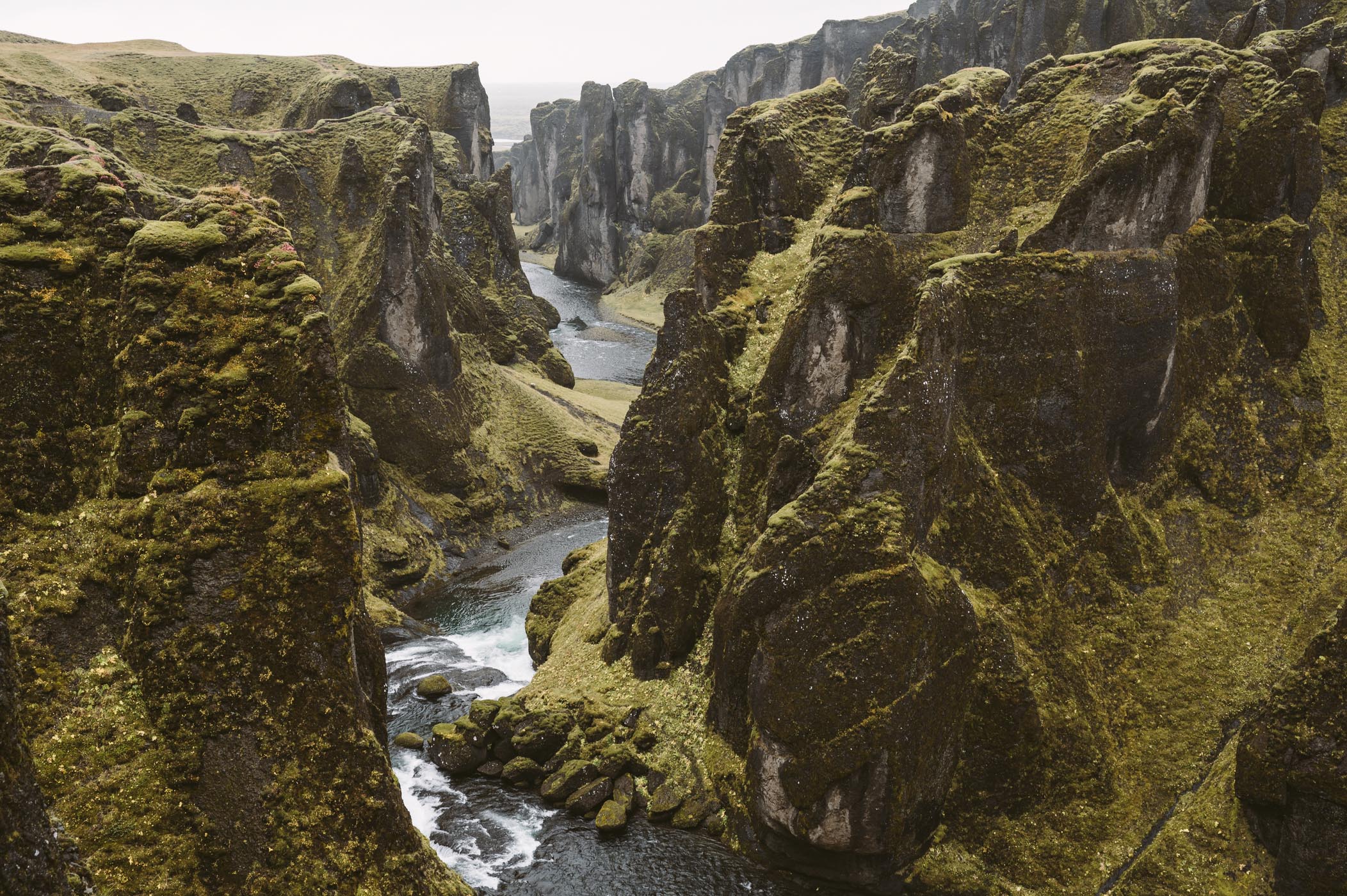 If you visit Fjaðrárgljúfur Canyon make sure to stick to the marked paths and viewing platforms.
After these rather touristy explorations we couldn't wait to get away from the Ring Road 1 again to our place for the night. We stayed in one of the modern cabins at the Hrífunes Guesthouse – again another perfect recommendation by Katla Travel. Looking out at the vast landscapes and enjoying dinner & breakfast together with the other guests at the communal table were our highlights of this visit.
Where to stay:

 Hrífunes Guesthouse
At Hrífunes Guesthouse guests sleep in modern units and eat homemade delicacies together at the communal table.
Day 13:

 Highlights of Southern Iceland: 

Vík Church, 

Reynisfjara Black Beach, Dyrhólaey, Skogafoss, Seljalandsfoss, Gljúfrabúi

Are you ready for the highlights of Southern Iceland? We decided to use the final stretch of our round trip to check out some of the most visited attractions in all of Iceland. Was it a clever idea? Maybe not. It's a bit like going to Paris and checking off the Eiffel Tower. You kind of feel obliged to do this 🙂 We're not saying these places aren't beautiful, they indeed are quite impressive! But they are so incredibly crowded, that it's not really a pleasure to marvel at the natural grandeur of those waterfalls and beaches. In case you still want to check them off your To Do list, here's what you could potentially fill your day with:
Vík Kirche
Reynisfjara Black Beach
Dyrholaey
Skogafoss
Seljalandsfoss
Gljufrabui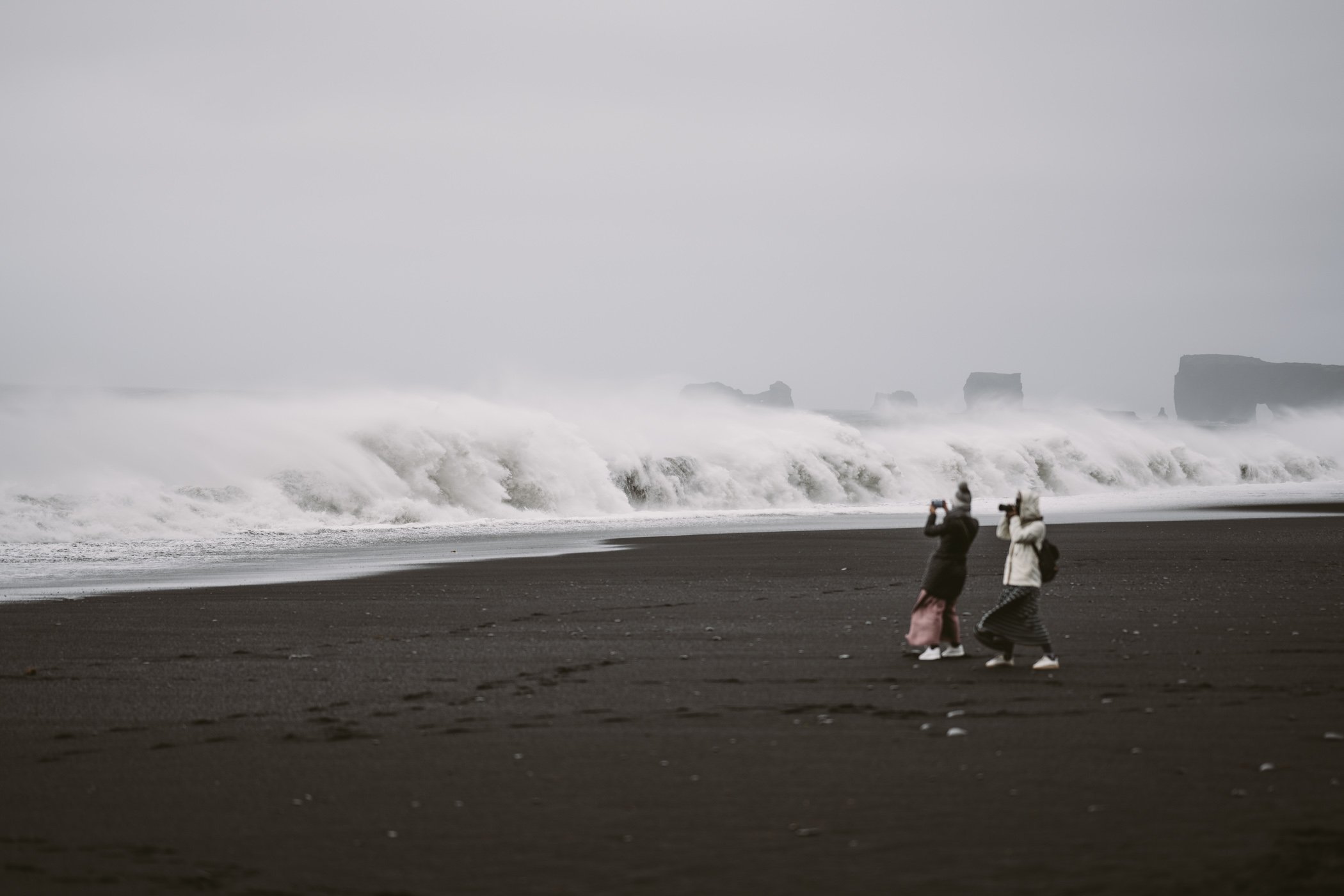 From Vík church to Reynisfjara Black Beach and Skogafoss – that's the best of Southern Iceland in a day.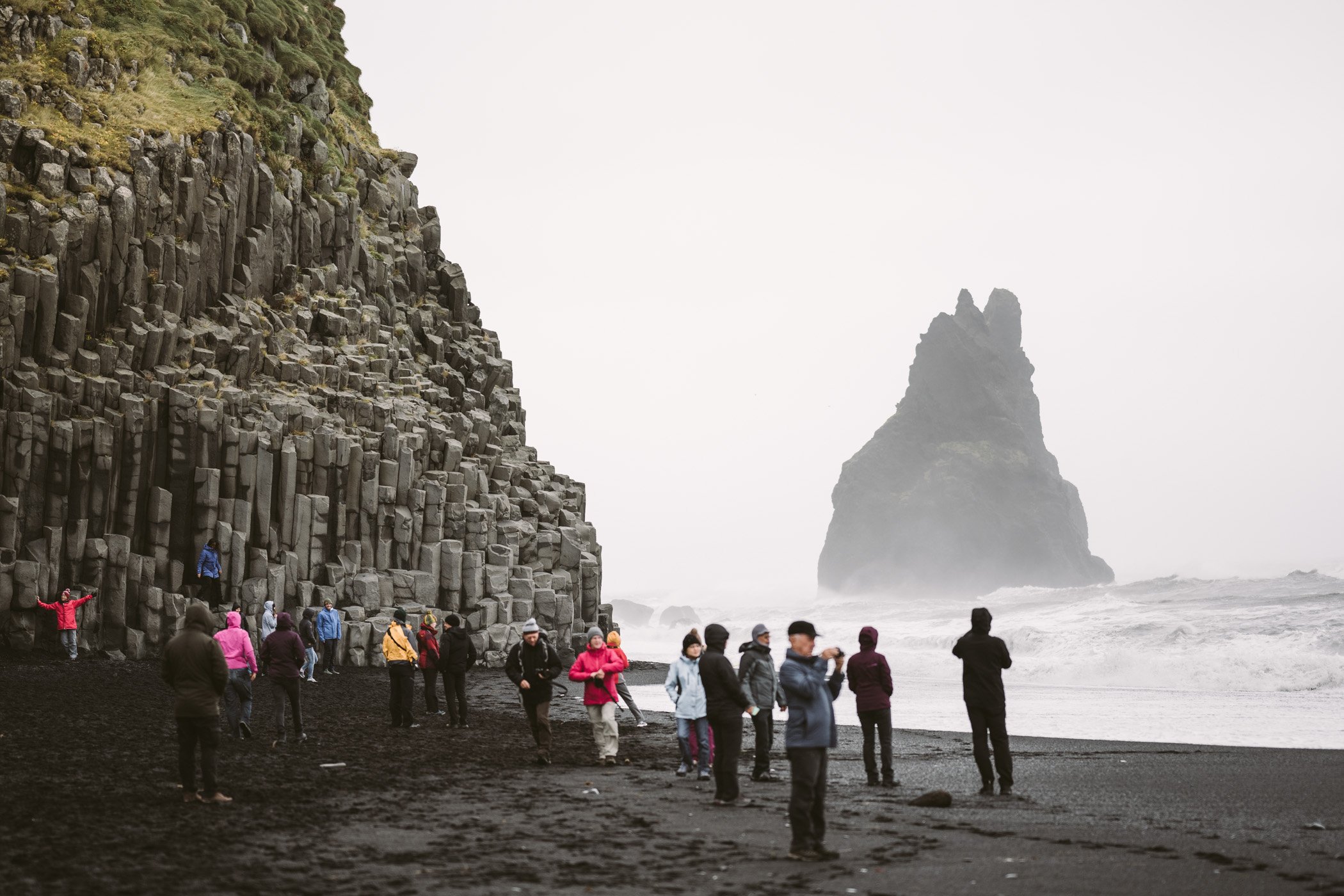 And here's how reality looks at these places.
We couldn't wait to escape the crowds and spent the sunset at the beach right next to the ferry terminal of Landeyjahöfn. This is of course not a tourist attraction, but we enjoyed our time here way more – in solitude, watching the sunset.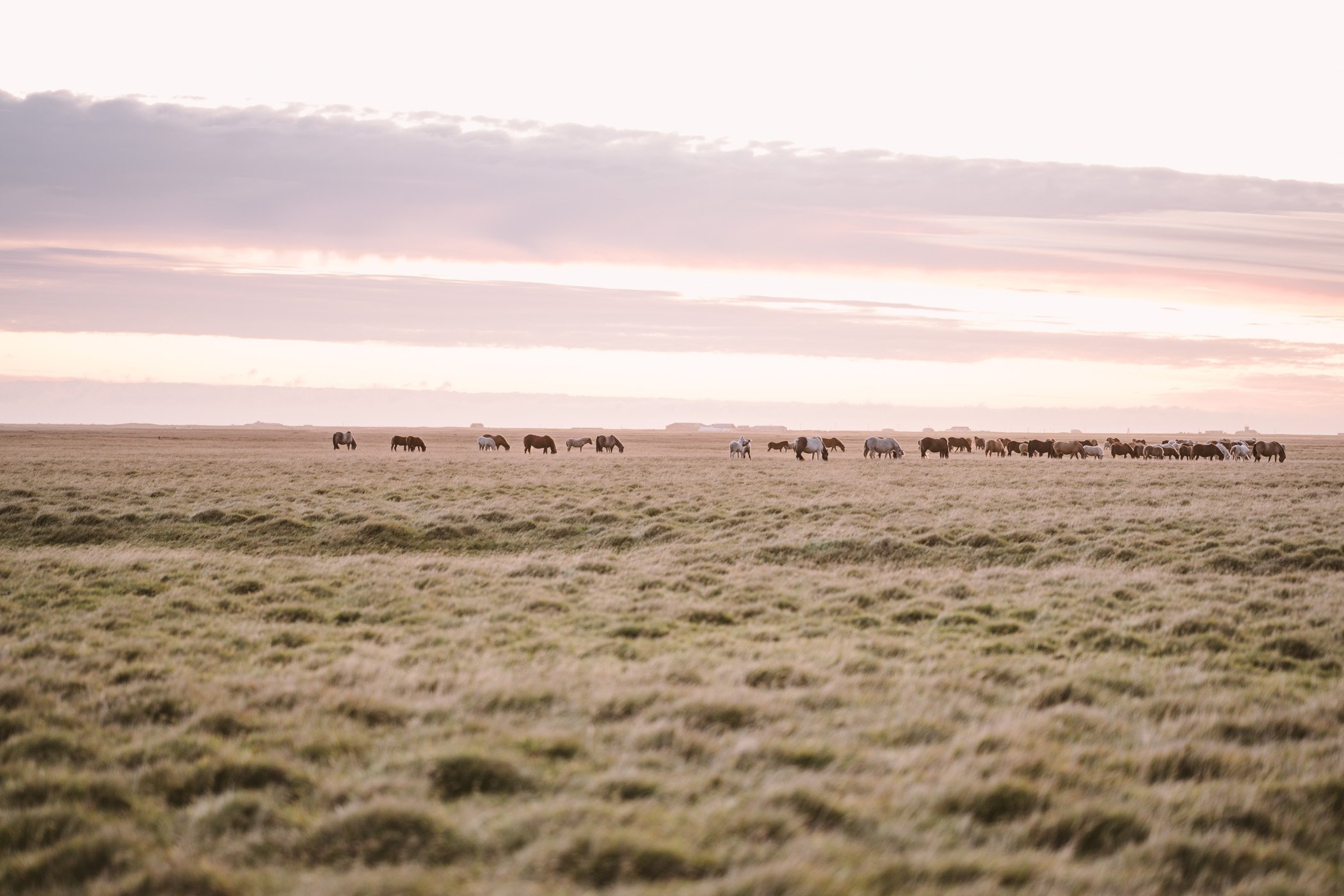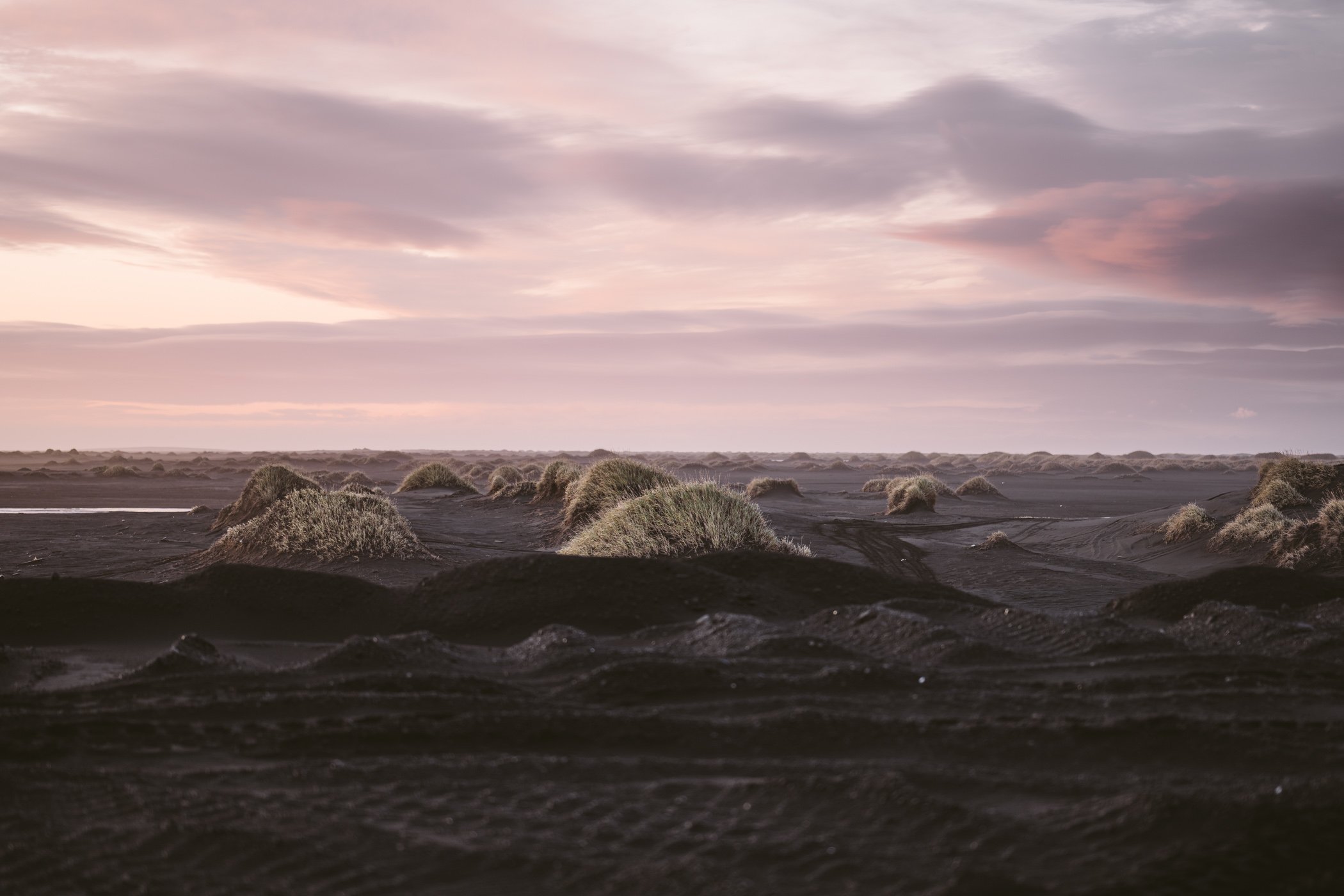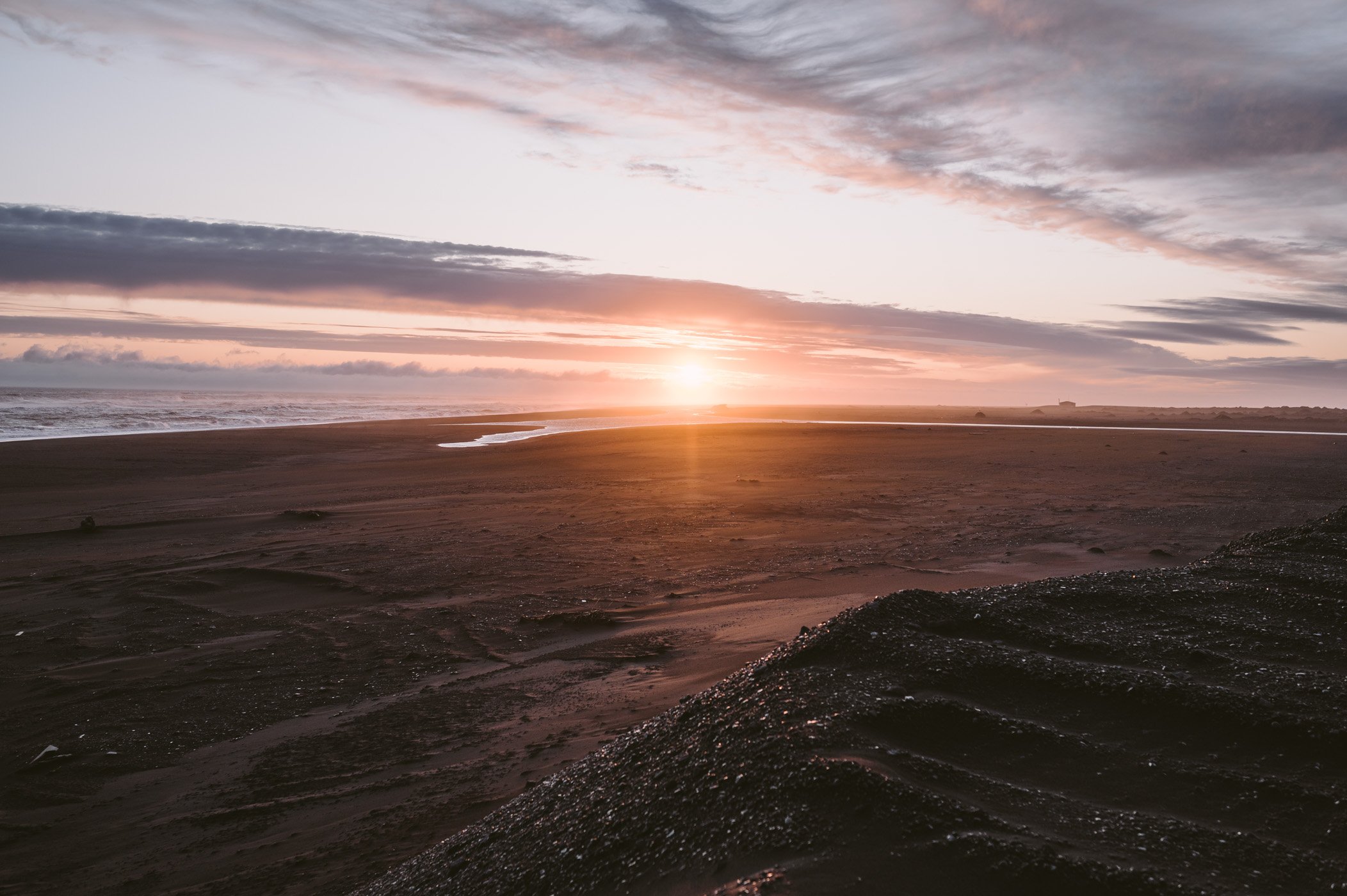 If you want to visit that beach next to Landeyjahöfn you can either park your car at the ferry terminal and walk or – if you have a proper 4×4 – drive on the black sand (carefully!).
We then checked into Hotel Fljotshlíd where a group of grannies were currently spending their knitting holidays. How adorable! This place has it's own sheep farm and a very integrated sustainability approach. They are even letting customers know how much food waste occurs every day and much more.
Where to stay:

 Hotel Fljotshlíd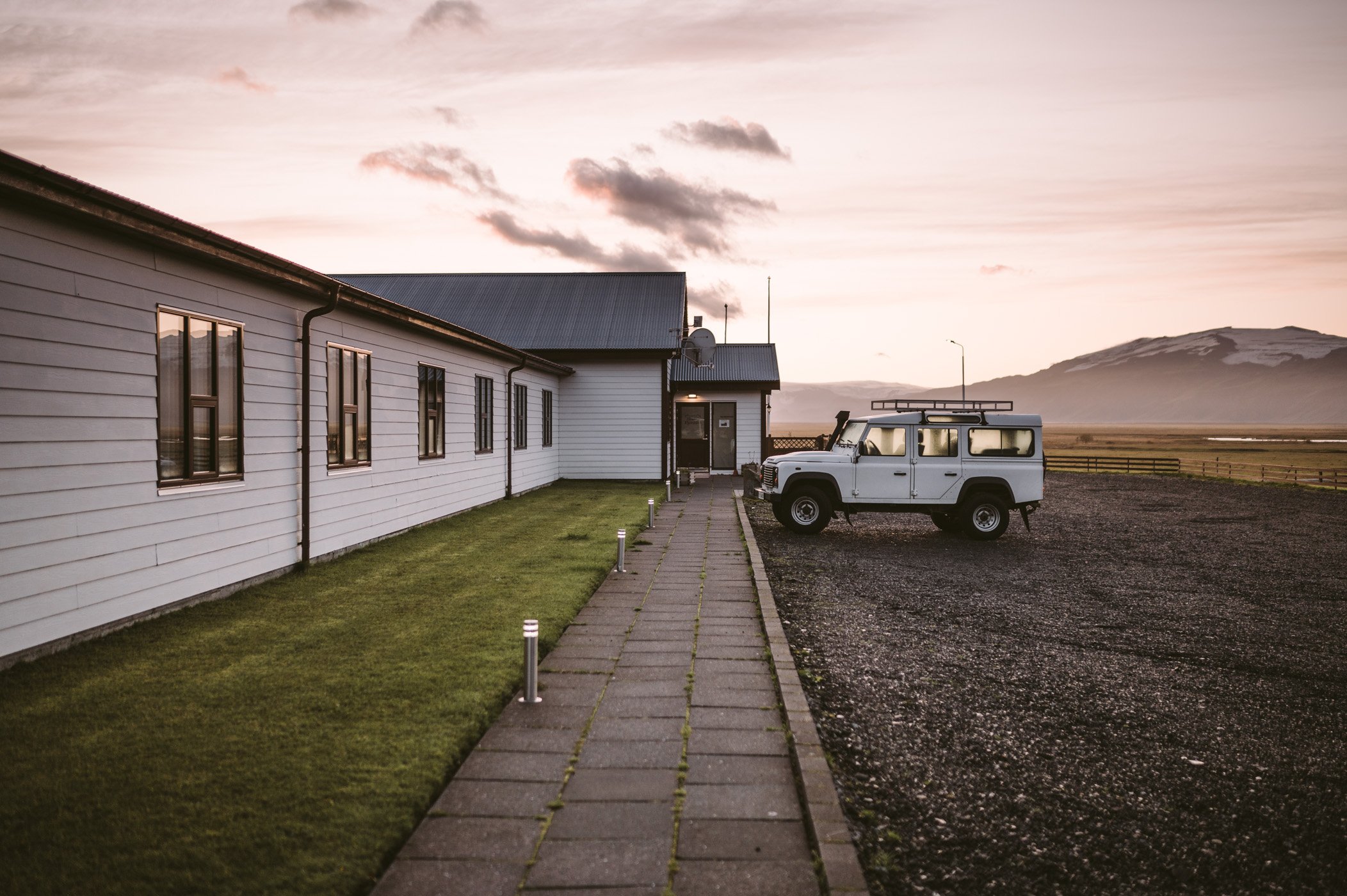 We stayed in one of the rooms in the main building, but would recommend to book one of the cabins instead!
The location is wonderful anyhow.
Day 14:

Scenic flight with Volcano Pilot & one night in Reykjavík

If you've read until here – congrats! This is our final day in Iceland and we spent it with a very special experience. We booked ourselves a private flight with "Volcano Pilot". Unfortunately the weather wasn't on our side and we had a lot of fog and clouds, but it was still a memorable trip! The cool thing is that you can open the windows of his plane to get the best views (and photos obviously 😉 ).
A scenic flight over Iceland with Volcano Pilot is a splurge, but gives amazing new perspectives.
After this scenic flight we checked into our final hotel of the trip – the Marina Icelandair Hotel Reykjavík, which is located conveniently at the old harbour. Make sure to book a room with harbour view!
Where to stay:

Marina Icelandair Hotel Reykjavík
The newly opened Marina Icelandair Hotel in Reykjavík is located directly at the old harbour.
14 days in Iceland: Final words
This was our 14 day self drive road trip itinerary for Iceland! We hope you got inspired to visit Iceland, we sure will be back one day to discover more of the West and spend some more time in the highlands.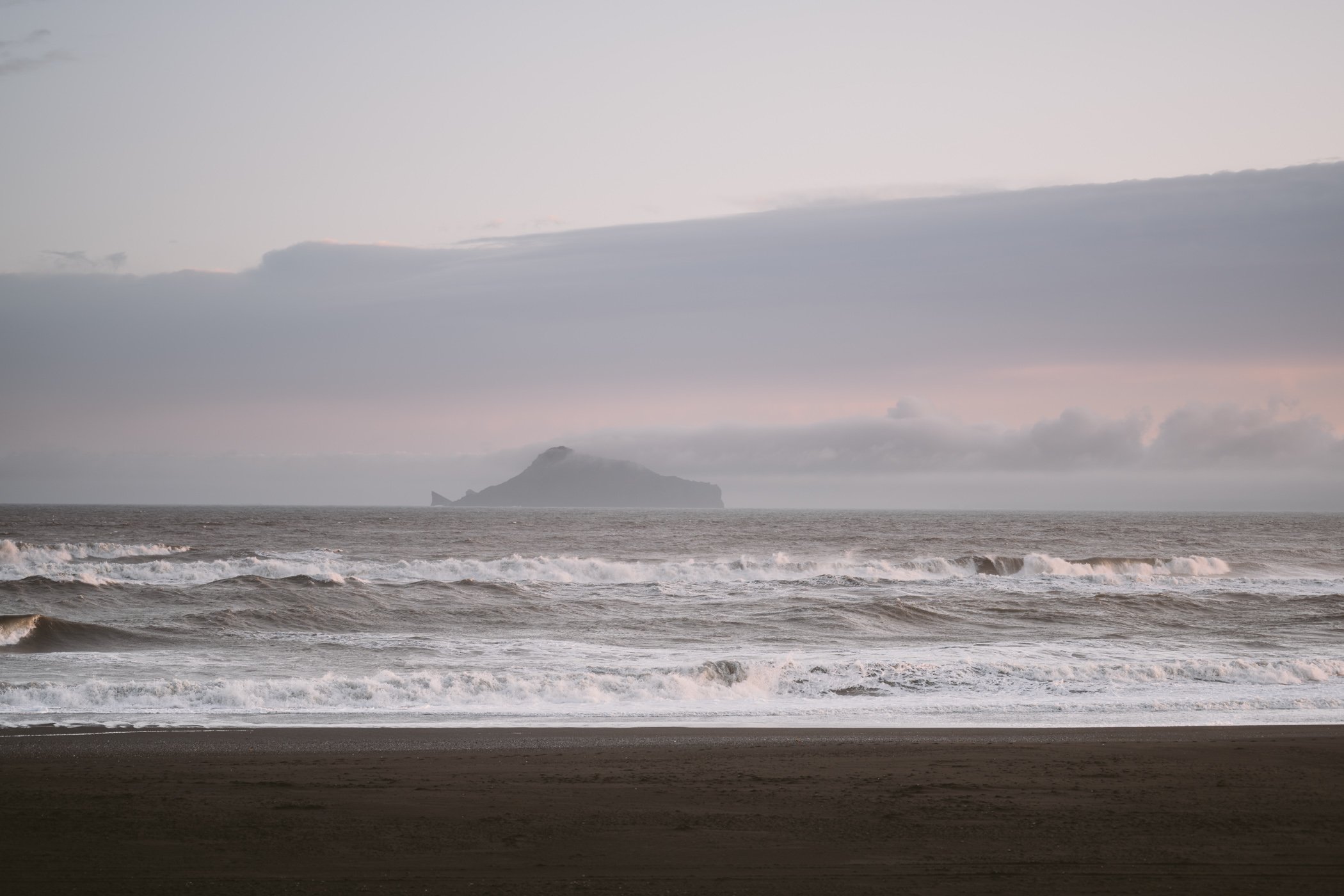 Whatever type of Iceland trip you are planning – from self-drive adventures to family vacations – we can highly recommend the personalised and professional services of Iceland specialists Katla Travel!
Disclaimer:
Katla Travel invited us on this trip in partnership with Hertz Iceland and the local farmstays, lodges and hotels. We paid the flights ourselves. The views in this blogpost  stay independent from that invitation.