When visiting the vast Kafue National Park there's one region that's specifically enticing to travellers: The Busanga Plains in the very Northwest of the park. This unique wetland ecosystem remains flooded throughout most of the year and is only accessible during a short dry period from July to October. Yet when it's dry it's a wonderland for safari lovers as the plains are extremely rich in wildlife – from an incredible 20 species of antelopes to the famous large-maned lions that roam the grass-covered landscapes.
About Busanga Plains in Kafue National Park
The fertile Busanga Plains are probably the best-known part of the Kafue National Park. Most visitors come to this area of the incredibly large Kafue. There's a number of camps located in Busanga Plains, but it never feels crowded. In fact you can go full days without meeting any other car! The park is notable for its lions, zebras and an abundant birdlife. During our 3 nights there we also got sightings of leopards, hyena, jackal and even a nocturnal serval – the only highlight we missed were the cheetahs, which can also be spotted here.
Reasons that make Busanga Plains so special:
Like several different National Parks in one

 

Uncluttered plains landscape that makes for great sightings and photography
Large Baobab trees and woodlands at the edge of the park
Lufupa river system (tributary to Kafue)
20 species of antelopes like rare sable antelopes, red lechwe and roan
Famous for lions with large black manes

 
If you travel to Zambia between July and October Busanga Plains should be on your must visit list!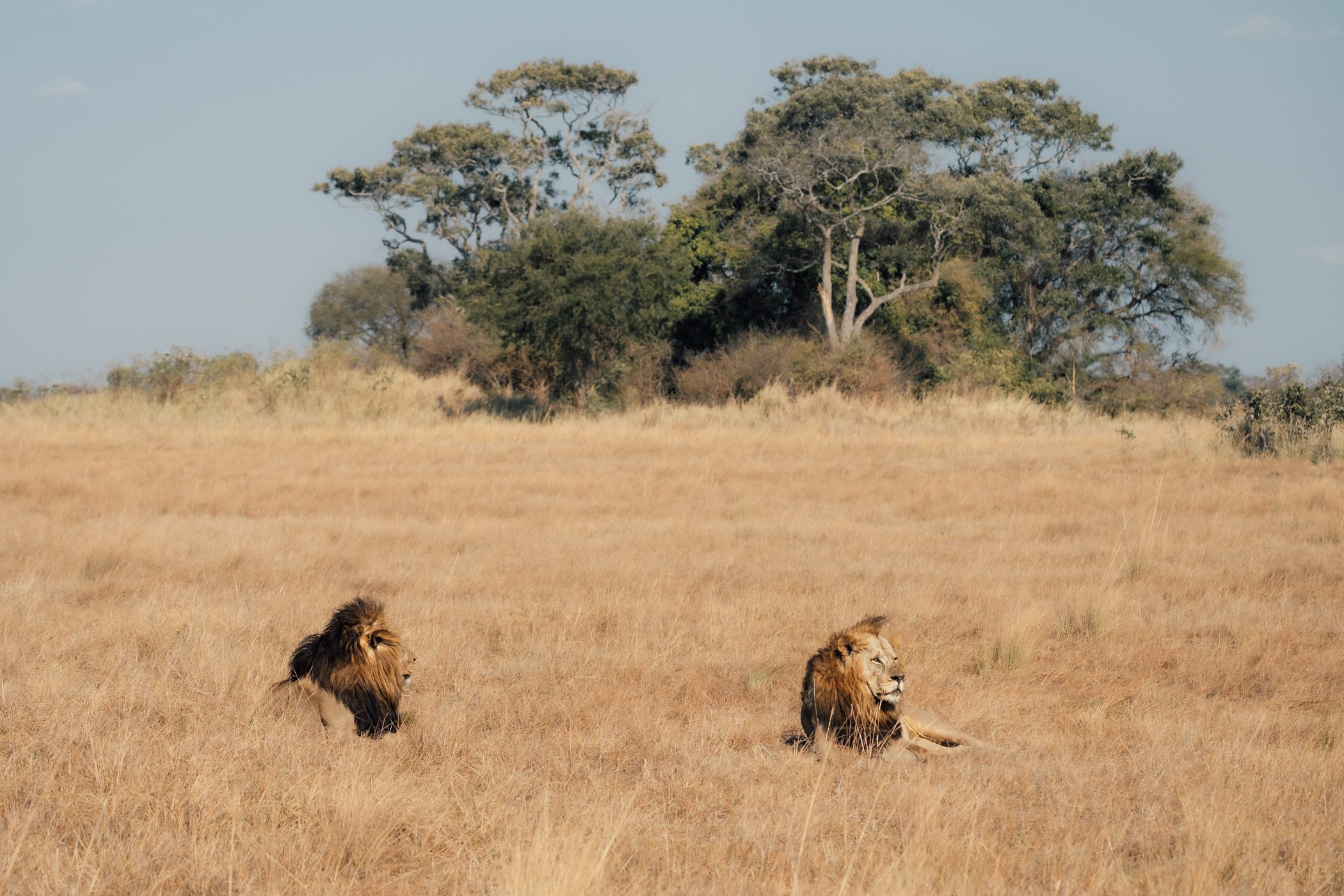 Where to stay: Ntemwa Busanga Camp by Classic Zambia
At the southern rim of Busanga Plains you can stay at an incredibly intimate bush camp called "Ntemwa Busanga" by owner-run safari company Classic Zambia. Their ethos revolves around authentic safaris with expert guiding and an unspoiled nature immersion. The camp only consists of four thatched bamboo chalets, each located under a large tree overlooking the plains.
The chalets have just been built in recent years and are small, but comfortable. We especially loved the outdoor bathrooms equipped with traditional safari bucket showers. Even though we visited at the very beginning of the season when it's still quite cold we loved showering under the tree canopy to the sound of birds flying by.
Lunch and afternoon tea is served at the elevated lookout platform, but breakfast and dinner are served down at the fire pit, which is completely open. We had daily visitors from Dottie (the camp's resident bush buck) as well as leopards, elephants and hyenas, which we heard first and then spotted with our flash lights! It doesn't get more immersed in the wild than this really.
If you want to see more recommended camps & lodges in Zambia check out our blogpost with the best of lodges in Zambia here.
What to expect from Ntemwa Busanga Camp
Ntemwa Busanga Camp is rustic, yet incredibly intimate and secluded. There's no wifi, cell phone service or other forms of connection – so all that remains is to feel connected to nature and the incredible beauty of the Busanga Plains. And even if you feel like you've fallen off the face of the Earth chef Simon whips up delicious food in the bush kitchen every day, that properly spoils every guest.
We especially loved the gathering around the fire pit for breakfast and dinner and shared stories from the days in the bush! Our guides Caesar and Yvonne would join alongside the camp hosts Grace and Victor. During our stay we were the only guests in camp, so we eventually felt a bit like part of the Ntewma family!
Activities at Busanga Plains in Kafue National Park
Due to the vastness of Busanga Plains game drives are the standard activity here. Most guests even choose to go on full-day game drives and stay out for lunch to cover more grounds. There's a vast road network across Busanga Plains and guides know the lion prides that roam the plains very well – so lion sightings are almost guaranteed here.
Sundowners are served next to Lufupa river with hippos grazing meters away from the car while flocks of birds pass by – from bee eaters to crowned cranes.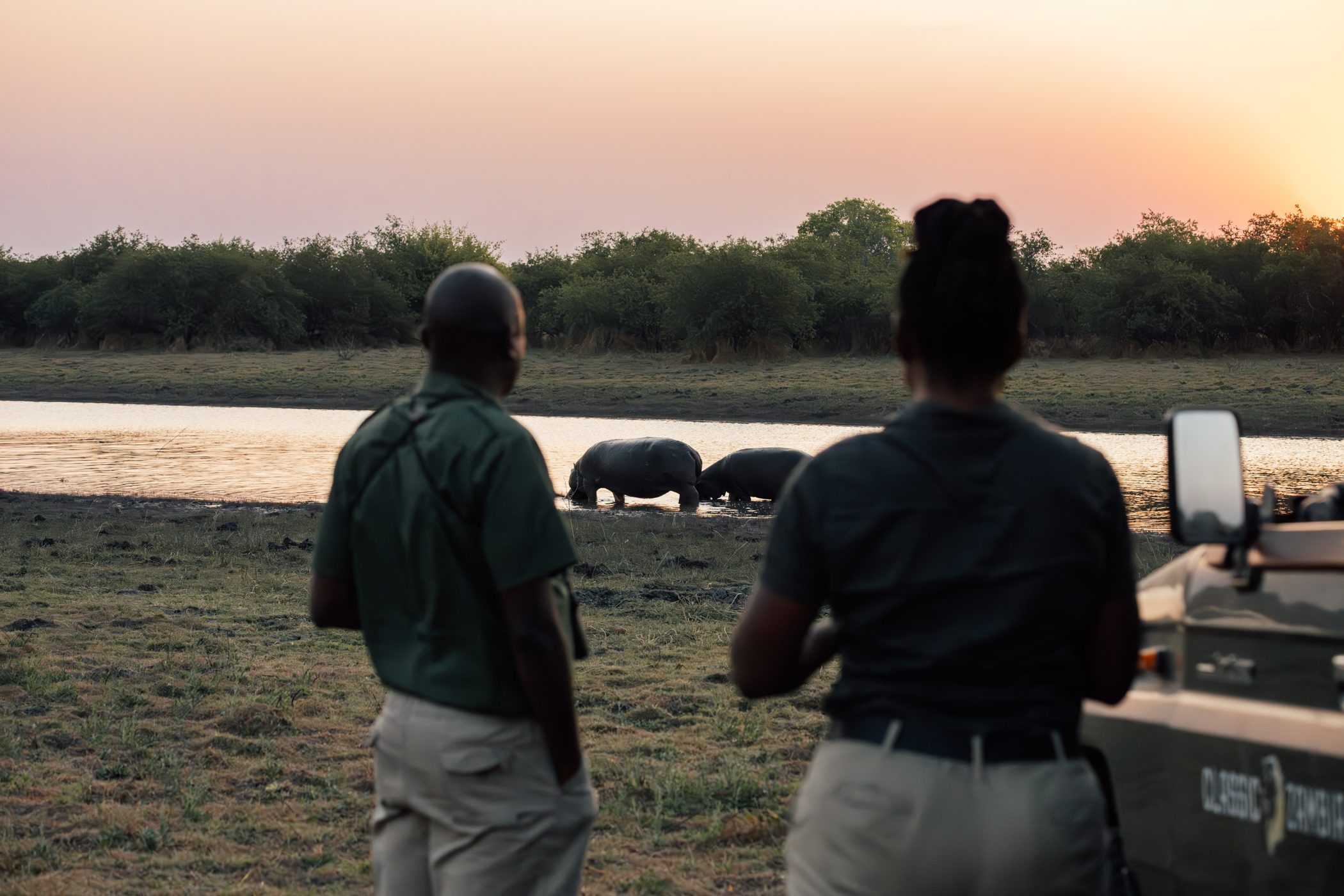 The right traveller type for Ntemwa Busanga Camp
A trip to Busanga Plains is usually something that is done by more experienced safari goers. Yet it also works for first-time visitors like my friend Kady who joined me during this trip. Just know that you probably will be spoiled for life when you come here for the first time! Not only are the sightings magnificent, but the added bonus of the seclusion and privacy are what makes this place so irresistible.
We wouldn't recommend Ntewma Busanga Camp for guests who are looking for the ultimate luxury as the camp is rustic and simple. If you're looking for large suites with ample space to relax or plunge pools this wouldn't be the right place for you.
Practical Tips for Busanga Plains & Kafue National Park
How to get there: Bush plane connections from capital Lusaka or other national parks like Lower Zambezi or from Livingstone to the Busanga airstrip. Many guests combine Musekese and Busanga Plains and drive up from Musekese – which is a 4 hour game drive through Kafue National Park.
Season: Beginning of July to end of October.
Prices: Starting at 650 USD per person.
Duration of stay: We would recommend 3 nights at Busanga Plains and a combination with Musekese Camp (see more about Musekese here) so you can see a different part of Kafue as well and use a ground transfer.
What to pack: Warm jacket for early morning activities and nights at the campfire, clothes that can be hand washed as there are no washing machines up here and laundry is done by hand.
What you don't need to pack: Reusable water bottles, shower gel, conditioner, shampoo, hot water bottles, mosquito repellent for clothes and skin, flash light, bathing robes, slippers (provided by the camp).
Good to know: Before our drive up to Busanga Plains from Musekese we were warned about the Tse Tse flies (which usually are active during the day and not just at dusk and dawn like other insects). We seemed to be lucky as we only encountered maybe 4-5 Tse Tse flies during the whole 4 hour drive, but we also were there during a heavy cold wave that had hit all of Southern Africa in July – maybe that's what made them less active. We heard that Tse Tse flies can be quite disturbing at other times. So make sure not to wear any dark blue or black color clothes and use insect repellent generously. At the camp itself they do a great job putting up Tse Tse traps to make sure the stay is pleasant.
You can find out more about the camps by Classic Zambia here!
If this blogpost was helpful or you want to save it for later you can pin it here:
If you want to learn more about Zambia, find out why we love it so much in our "9 reasons to fall in love with Zambia" story.
Disclaimer: This is a not a sponsored post, but we were invited to stay at Ntemwa Busanga Camp as part of a collaboration with Classic Zambia. The views in this blogpost are our own.