City of lights, vegetarian capitol of Europe, the often overlooked Flemish city of Ghent bears many titles. Yet the official tourism claim of the city is "more than a one night's stay", which already indicates it's dire position in competition to Brussels, Antwerp or Bruges. Most visitors only come for a day trip or a short overnight trip. In partnership with Romantik Hotels we got to stay in Ghent for 3 nights at the historical The Verhaeagen in January and have compiled a long list of reasons why it's worth to stay in Ghent a bit longer.
What makes Ghent special
First and foremost the city is defined by canals, churches and cobblestones and it's strategic location alongside one of the major ship trading routes at the confluence of the rivers Scheldt and Leie. Ghent used to be one of the most wealthy and populated cities in Europe during the Middle Ages up until the 16th century. And you can still sense it's importance and prosperity today.
Yet it also has positioned itself at the center stage of food & design lately, with an incredible density of interesting restaurants, museums and concept stores. And all of this in walking distance if you stay somewhere close to the centre. So leave your car behind, hop on a train from Brussels and come to Ghent for a long weekend.
Ghent in a nutshell:
Canals, scenic waterways & cobblestone pathways: The city is easy to walk
Award-winning nightly illuminations: Magic waits at sunset
Vegetarian Thursdays (invented 40 years ago!): Some of Belgium's best restaurants with many veggie options
Medieval, gothic and baroque architecture door to door
Elegant hotels in historical palaces invite for boutique stays
Where to stay in Ghent: Romantik B&B The Verhaegen
Location is key when wanting to discover Ghent. While the city in East Flanders counts about 250,000 inhabitants the main attractions are all found in close proximity from each other quite centrally located. When we look for a city hotel we always look for a central location – yet there's one more even important thing: personally love to opt for smaller boutique size stays with lots of personality and local flair. We don't care for standardised hotel rooms that look like we could be anywhere in the world, but want to feel the destination from the get go.
The Verhaegen is such a place. The 9-room boutique hotel occupies the former winter palace of Count and Countess D'Hane-Steenhuyze (back in the 17th century) and has since undergone much care and love, while keeping true to the original structure and decor. Interior design couple Jan & Marc purchased the property in 2004 and have put in a meticulous labour of love, keeping the original stables, but also creating a wellness area with a heated indoor pool in the courtyard building (that used to house a glass factory) an much more.
Upon entering you learn to appreciate their maximalist design approach as you discover richly decorated historical salons and learn about the history of the former inhabitants and the city along the way.
3 days in Ghent: What to see & do
Before we show you more from The Verhaegen let us share our itinerary for 3 days in Ghent. There's a lot to see & do, so this is a good mix of a peak behind the historical facades alongside modern cuisine and shopping:
Day 1 in Ghent
After a relaxed breakfast you can take the train from Brussels to Ghent. It's about a 1,5 hour easy train ride which allows you to arrive before noon to drop your luggage at The Verhaegen and start your city explorations. From the B&B it's just a few minutes to arrive at one of the "Leis", the cobblestone pathways along the canals of the city. You'll be greeted by small curated shops like Agnes & Maurice (Predikherenlei 9), where you can peak through the windows or do your first shopping for local design items. We follow the souvenir tip of Jan & Marc who suggest to buy the traditional mustard in a ceramic jar at Tierenteyn-Verlent (Groentenmarkt 3).
Then it's time to discover a few of the famous streets of the city, like Serpentstraat with it's colourful flags and the graffiti street. Around the corner is clothing store Shelter (Hoogpoort 9) with a huge selection of fair-trade and sustainable clothes. If you're looking for designer menswear .Nu (Henegouwenstraat 71) is worth a visit as well.
This first shopping spree renders us hungry so we set up for lunch at vegan bistro knol&kool (Heilige-Geeststraat 30, 9000 Gent) and have a hearty leek-mustard soup with freshly baked sourdough bread and incredible vegan butter from local brand Omage. The bistro also doubles as organic supermarket so we stock up on elderflower juice and more vegan cheese and butter from Omage before we head out again.
Before heading back to The Verhaegen we make a chick stop at Saint Nicholas' Church (Cataloniëstraat), where we get lucky to experience an organist practice for her concert.
After a short break in our room our goal for the first evening awaits: Climbing the tower of the world famous Belfry of Ghent (last entrance is at 4:30pm). The climb turns out to be a comfortable elevator ride up and on top we get a 360 degree view of the city.
When the sun sets we quickly make our way down to Graslei and Korenlei, the two most famous canal-side streets of Ghent to get a first glimpse of the nightly spectacle of the light show.
Ghent's nocturnal light show dates back to 1998 and has since won many accolades and prizes. It's not only magical, but also a sustainable concept, that tries to minimise energy consumption by reducing the light to atmospheric sparkles. There's different light routes that you can check on Ghent's website to discover the displays.
Our day ends with dinner at Lepelblad (Onderbergen 40), which was recommended by the owners of The Verhaegen. A small bistro with regional fare, but not 100% suited for vegetarians in our opinion.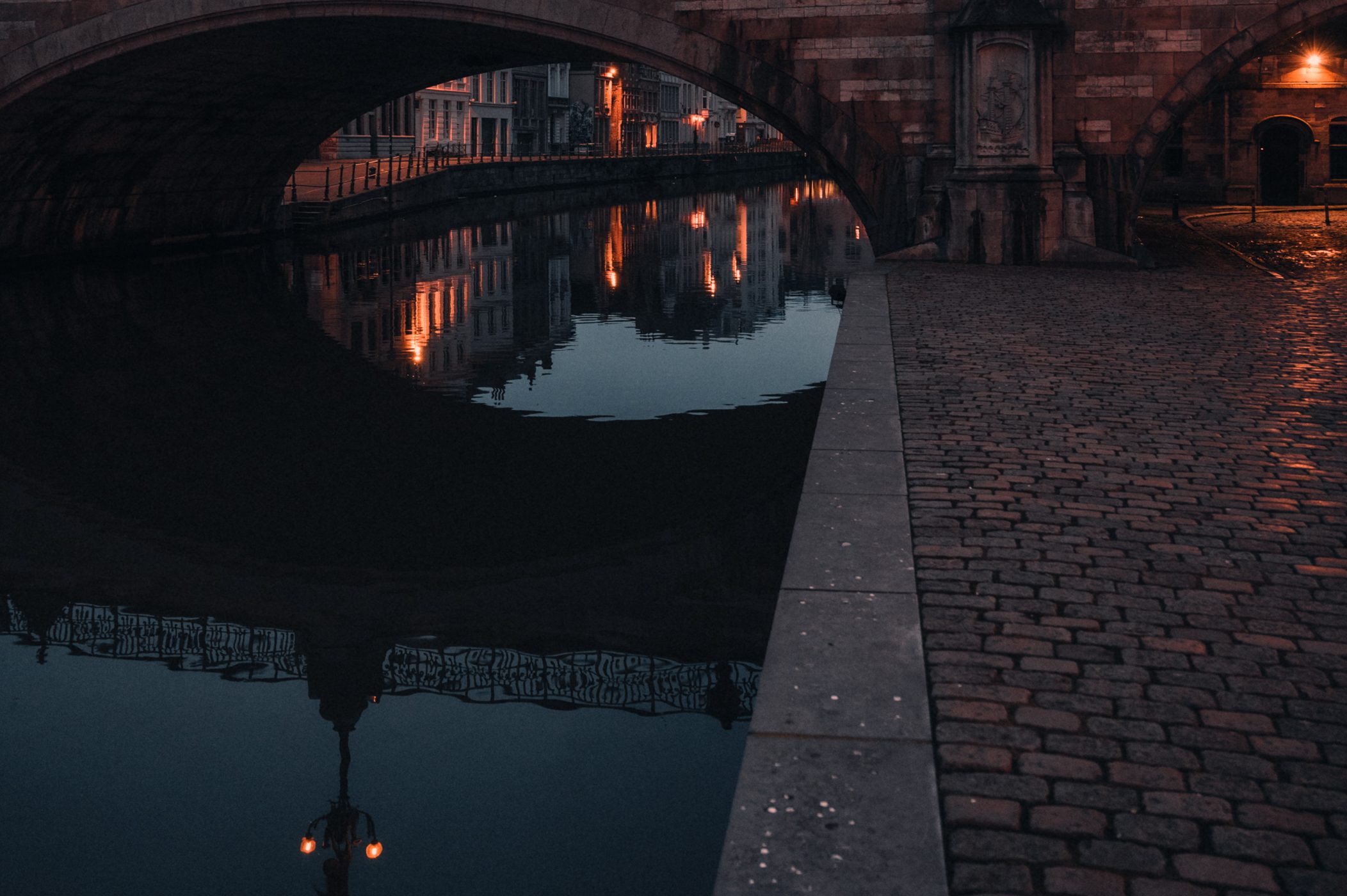 Day 2 in Ghent
Although this might be an obvious start in the day – we kick off day 2 with a sumptuous breakfast at The Verhaegen. Why it's worth mentioning this? You'll get to feel like your own kind of royalty when enjoying the served breakfast in the turquoise-blue saloon of The Verhaegen – all decked out in personalised stitched linens, silverware and original vintage 70ies glass bowls.
After this luxurious breakfast we had out for an exploration of the local markets. Each Friday it's time for "Vridagmarkt" and "Rommelmarkt" flea market and locals flock to the squares for fresh fish or spotting some antiques. The markets are small and won't take up too much time, but once you're in the neighbourhood you should check out the antique shops like antiek-depot market15 (Baudelostraat 15). Ghentians seem to not only enjoy their antique shopping, but love to sit and drink coffee in the stores as well, so they often double as cafés.
From here it's just a few meters to cross over to famous Patershol district, which is supposedly lively and full of shops and restaurants. Well, not so much in winter it seems. But it's worth for a visit of Confiserie Temmerman (Kraanlei 79) alone, a fifth-generation family business selling all sorts of sweet treats including the original Neuzen aka Cuberon (a raspberry flavoured gummy like sweet). According to the owners the recipe dates back to the great great grandparents and 1904!
To warm up and fill your bags with some more interesting souvenirs you can then head to department store De Post (Korenmarkt 16) where we especially got sucked into the exorbitant selection of niche perfumes. From here you can continue your way South towards a rather hidden gem – the Hotel d'Hane-Steenhuyse (Veldstraat 55, only open FR-SUN). Yes you guessed it by the name – this palace belonged to the same family as The Verhaegen and is a larger and even more luxurious city palace they built back in the 17th century. You can take free tours of the richly decorated palace and make sure to not skip the staff kitchen in the basement!
After this walk down the memory lane it's time for a late lunch at one of Ghent's most famous tea rooms called Alice (Onderbergen 6). Delicious quiches and cakes are served in ornamental tea rooms with historical flair. After this we decided to head back to the hotel to relax and rest a bit. For dinner we scored a table at open-kitchen restaurant Door73 (Hoogstraat 73), the sister of fine dining champion Oak (both are in the same road, but tables at Oak are even harder to get). The vegetarian selection isn't huge, but the team makes a great effort to serve us many exceptionally creative and tasty dishes from their sharing menu – our favourites being the beetroot and patatas bravas. This gives us a first taste of the creative dining scene of the city!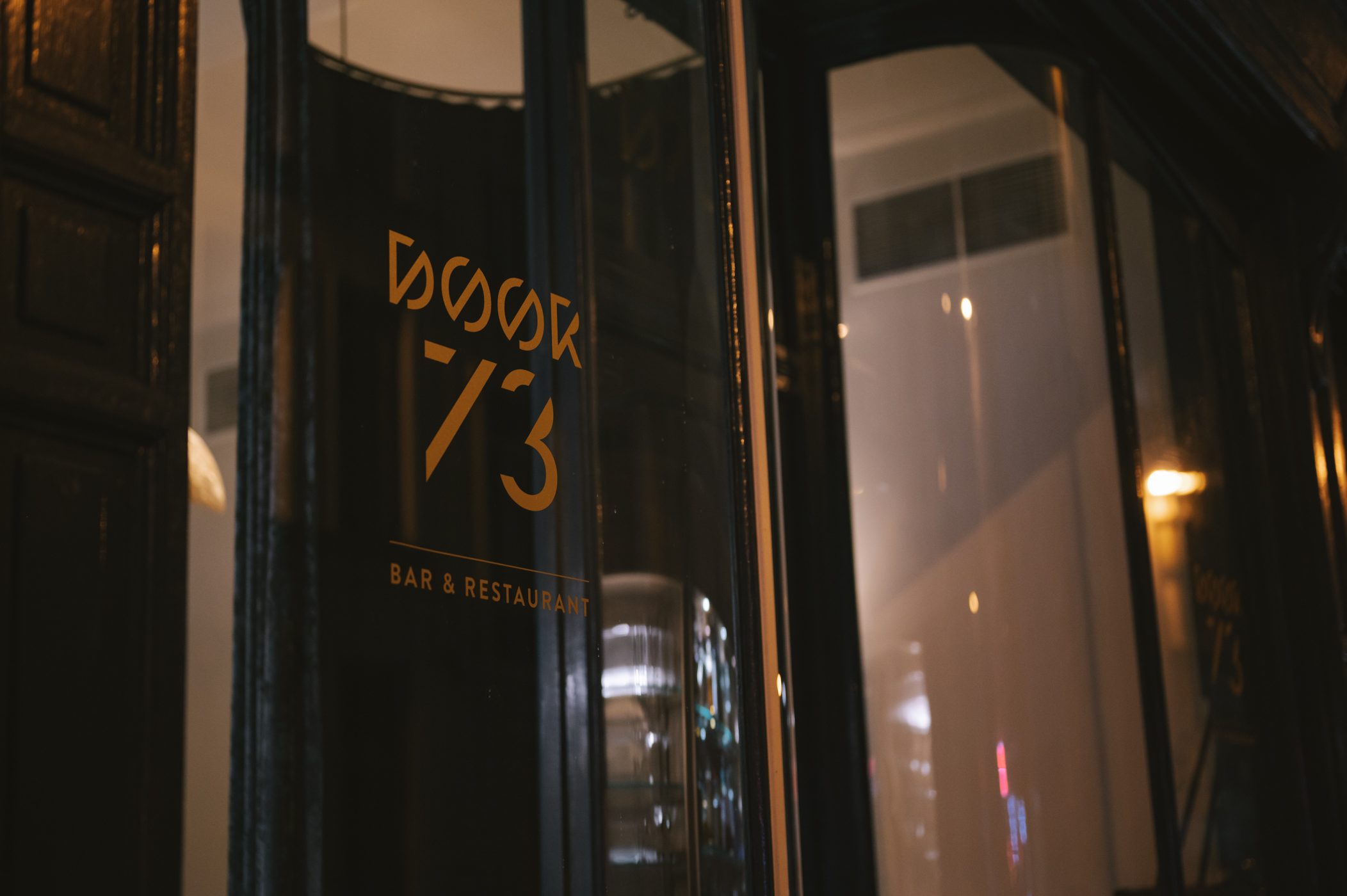 Day 3 in Ghent
On day 3 it's finally time to visit one of Ghent's most famous sights – the altarpiece at St. Bavo's Cathedral. To see the "Adoration of the Mystic Lamb" by the painting brothers van Eyck we recommend to purchase tickets online for your time slot, otherwise you'll have to wait in an even longer line. The colours and contrasts of the 15th century altarpiece are incredibly impressive, but don't forget to also stop at the Rubens painting in the first chapel and take some time to discover the rest of the cathedral and the impressive choir.
Right around the corner you can buy some exquisite Belgian chocolate at Chocolaterie Luc Van Hoorebeke (Sint-Baafsplein 15) – we especially recommend the dark chocolate covered coffee beans! And when you're appetite is just awakening, don't forget to also try one of the main Belgian delicacies, fresh "Frites" (fries, usually fried twice for extra crunch). Our tip would be to stop at Frites Atelier (Groentenmarkt 20) even if there might be a line – it's worth the wait! You can go for basic fries with ketchup and mayo or opt for one of their deluxe versions like truffles and kimchi.
After walking 20,000 steps for the last two days we're taking it a bit slower today and only visit one of the final must do's of the city: The medieval Gravensteen castle. The good news: It's conveniently located in the city center of Ghent. The bad news: You have to climb some stairs to get up to the top. If you want to learn more about the history you can rent audio guides, but don't skip the rooftop for impressive views over the city.
A last walk home alongside the dimly lit canals brings us back to the hotel, where we cook our own dinner tonight. Our suite at The Verhaegen features a large kitchen, so we enjoy a comfortable evening back at "home".
Other options would include a visit at the renown "The Cobbler" bar or reserving a table at one of these restaurants:
Restaurant Favorites
Elders: Fermented food like celery steaks, 60 Euro menu (https://www.elders.gent)

 

Publiek: 85 Euro Fine Dining 5 course menu, 5 Gänge (https://www.publiekgent.be/diner)

 

Raaf: Super hip restaurant, 55 Euro menu, not many vegetarian options
Amigo: Mexican & Middle Eastern sharing menu, casual atmosphere
Bicho Malo: Mexican food
Nonam: Fancy fine dining in a cool Boutique Hotel
Café 't Kanon: Paris vibes with outside seating
Oak: NYT recommended, 7 course menu for 139 Euro, très chic (often booked out for weeks in advance)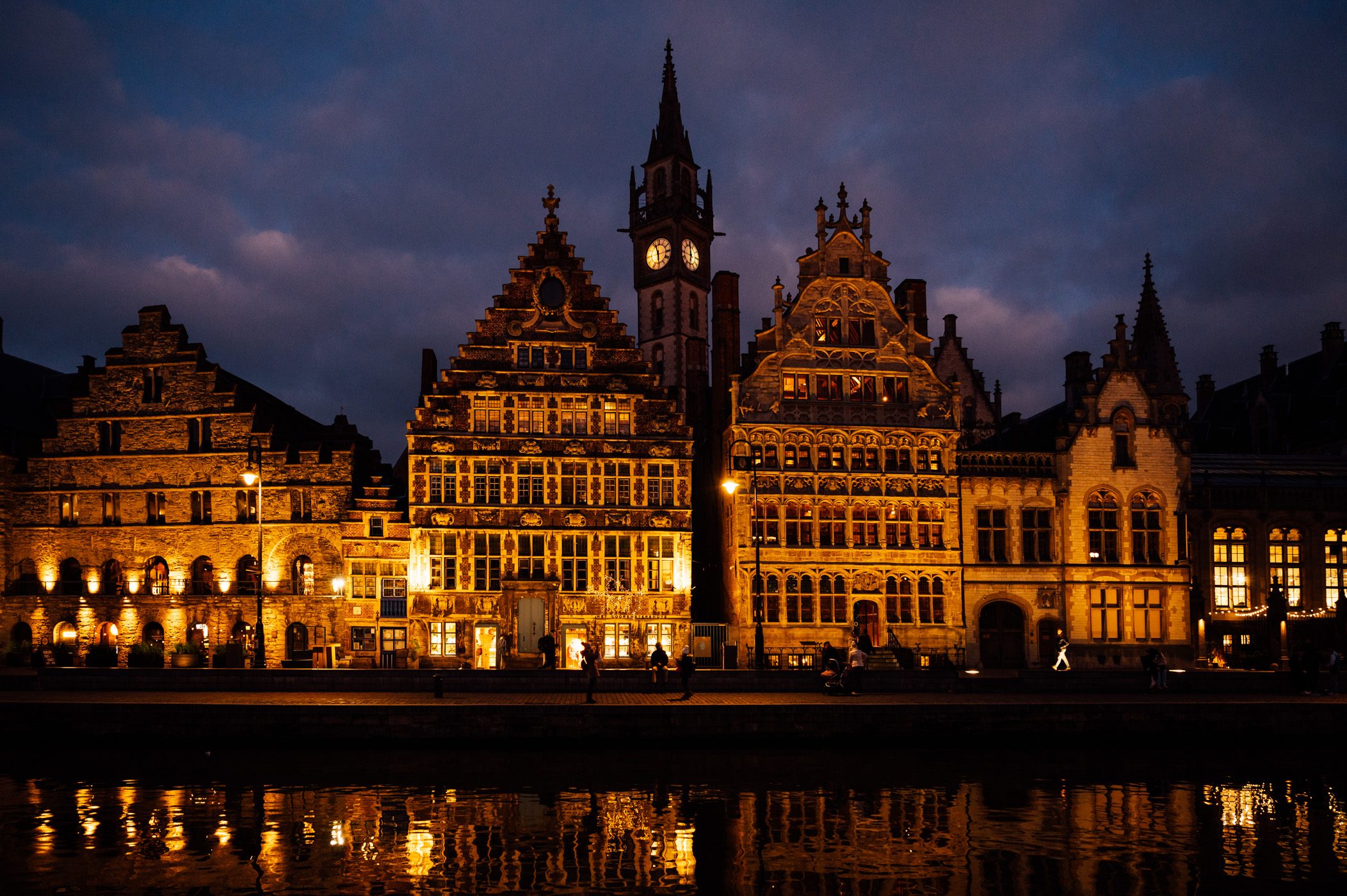 Day 4 in Ghent
Before checking out of your hotel we recommend a visit of the famous "Kouter Bloemenmarkt", which is only open Sunday mornings until noon. Here you'll get to mingle with the city's haute volée who are shopping for flowers or enjoy a glass of champagne and fresh oysters at the "De Blauwe Kiosk", right next to the market.
For those of you who don't care for oysters we recommend to check out the gluten-free bakery Chambelland close by (François Laurentplein 4) or WAY – Specialty Coffee Shop, a plant based café close to the hotel (Voldersstraat 58). After a delicious vegan lychee rose tart it's finally time to head back to The Verhaegen to check out and leave for the train station to head back to Brussels.
More infos about Romantik Hotels
Our journey brought us to The Verhaegen in collaboration with Romantik Hotels, a collective of locally anchored hotels that focus on personalised services, culinary delights and historical and regional flavour. They are currently celebrating their 50 year anniversary, which proves that their concept is as relevant today as it was decades ago. Modern travellers are looking for unique hotels, that don't fit into a box and open the doors to authentic local experiences.
Interested in a trip to Ghent, but not right now? Pin this post for later:
Disclaimer: This is a sponsored post as part of a collaboration with Romantik Hotels. The views in this blogpost are our own.