Are you looking for a private mountain getaway in an adults only chalet village? Then LaPosch – dein Bergaway – could be the perfect choice! We've had the chance to stay in one of their exclusive luxury pool villas for a couple of nights recently and it proved to be just the right dose of privacy with added exclusive hotel services.
Let us show you more from this special place in the Tyrolean mountains of Austria.
The promise: Quietude & Adults Only
With the growing offering of chalets and chalet villages in Austria hosts are increasingly carving out their niches and tailoring their offering more specifically to certain target groups. LaPosch was actually the very first chalet village in Tyrol when they started back in 2008, but they never stood still. One of the latest changes is their switch to an adults only concept.
The main promise of the alpine getaway is now undisturbed quietude and a really private retreat.
The location: Between Zugspitze and Biberwier
Although Zugspitze is actually Germany's highest mountain, there's access to the glacier & skiing arena from the Austrian side as well. The so called "Tiroler Zugspitzarena" is where LaPosch is located. Specifically in the small Biberwier village, that really doesn't have a lot else to offer – which is a good thing, as it keeps the location very quiet.
The plus points are most importantly the quietude and privacy – the chalet village is hidden away between a small mountain stream and the cross country slopes. Another advantage is the close proximity to a few different family and beginner friendly skiing arenas like the Ehrwald or Zugspitze. The only downside is that there's some power lines that cross the adjacent forest next to the chalet village, although you will probably forget that they're there after the first day.
The chalets: Unique & rustic
In total there's 16 different chalets at LaPosch and each comes with it's unique characteristics. We got the chance to see a few different categories and the LaPosch team is always there to suggest the right fit for your personal needs.
Six villas have direct access to the "crystal lake", others are at the edge of the village for some more privacy, some are for couples, others have two bedrooms, etc. One thing unites all the chalets: They are built with a very individual touch as the owners of LaPosch design all the chalets personally. They even employ their very own carpenter, who not only tailor-makes many wooden elements of the chalets, but also builds tables and lamps that are up for sale for guests to take home as a souvenir!
Our chalet: Pool Villa #5
We stayed in the Pool Villa #5, which is one of the two villas with private heated outdoor infinity pools. In winter this is obviously an incredibly luxurious add-on, which we thoroughly enjoyed every day after our winter hikes and skiing adventures.
This villa has a large living space with an indoor jacuzzi, a fireplace as well as a very cozy master bedroom and a spacious bathroom. The large kitchen is equipped with everything you'd need to cook for yourselves (but there's a fantastic restaurant, so we really didn't use it much – but we'll get to that later). For coffee aficionados there's even a portafilter machine. Upstairs you'll find a very cozy "nest" to hide away and read or just take a nap.
Our highlight was the private pool & our own sauna directly next to the bedroom!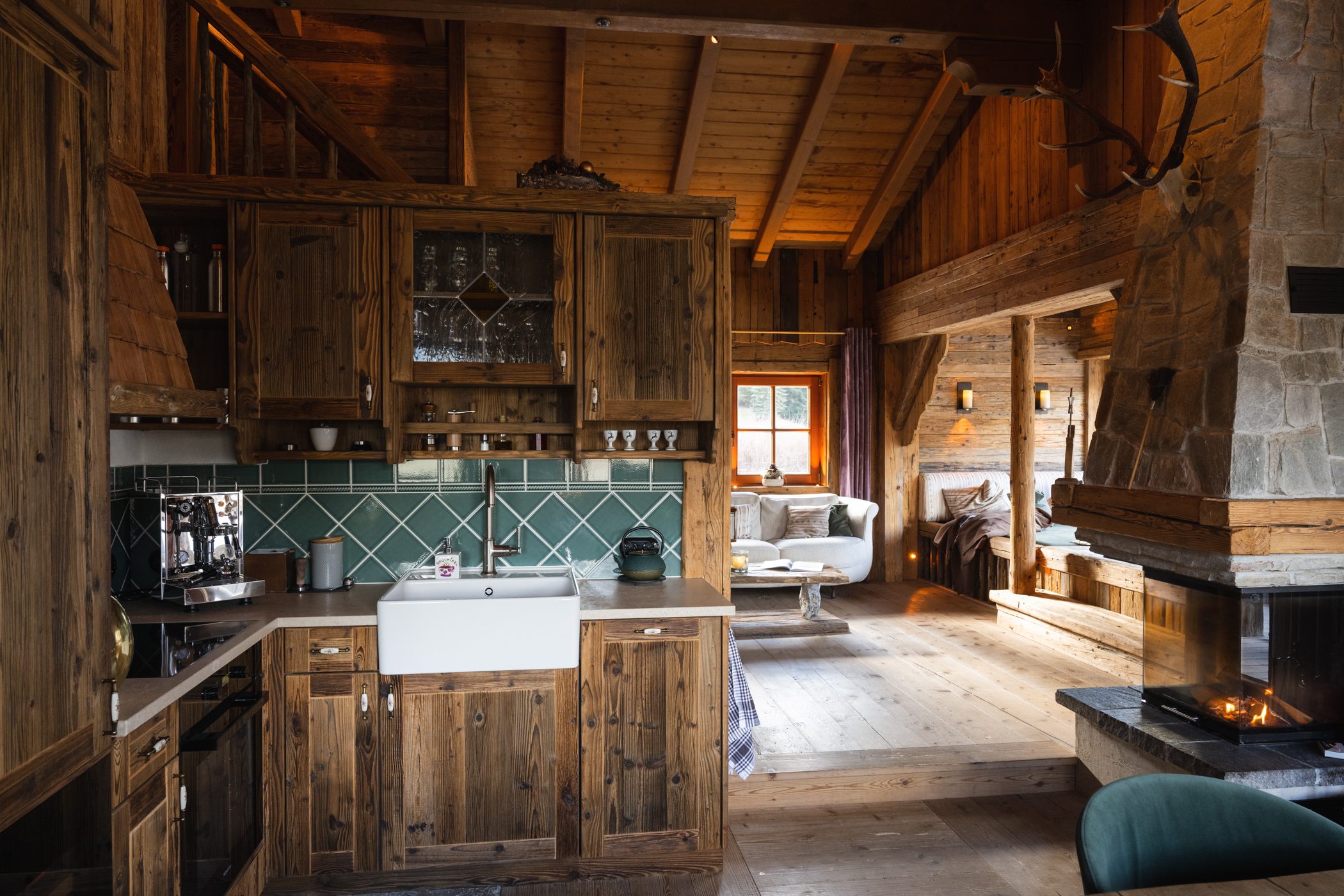 Services deluxe: From breakfast to dinner at the chalet
One of the core promises of LaPosch is that guests can enjoy service as if they were in a hotel, just with the added bonus of absolute privacy. Their own chalet restaurant "Das Walter's" delivers on that promise every day. From the discrete breakfast service (you choose between a breakfast basket or a complete table setup service) to dinner in your own chalet – you won't miss anything.
Two days a week the restaurant offers a rustic & very traditional Austrian dinner service with either Fondue or Raclette or a typical "Jaus'n" (basically a wide variety of cold cuts with bread and veggies). The other days there's a 3-course menu with a choice of two different courses as starter or main – and they even offered us a fully vegetarian and gluten-free version each night.
If you're a bit more active you can of course also visit the restaurant (it's just a few steps away from the chalets anyhow). At Walters you can watch chef Manuel preparing the dishes in a semi-open kitchen and the selection is an enticing mix of regional specialties and creative cooking. We thoroughly enjoyed the dinner there and would recommend to make reservations at least one night at the restaurant during your stay to experience Manuel's work in perfection.
What to do in the region
Every day the LaPosch team delivers suggestions with their morning post and so we decided to follow their recommendation the first day and visit close-by Neuschwanstein castle in Germany. The second day we took the cable car up to Zugspitze and enjoyed an incredibly scenic skiing day at the Zugspitzplatt arena with perfect conditions on over 2,500 meters above sea level. This high altitude skiing arena guarantees that you can go skiing even in a warm winter, when there's not so much snow down in the valleys.
But the most important thing to do is to enjoy the chalet and just unwind and relax!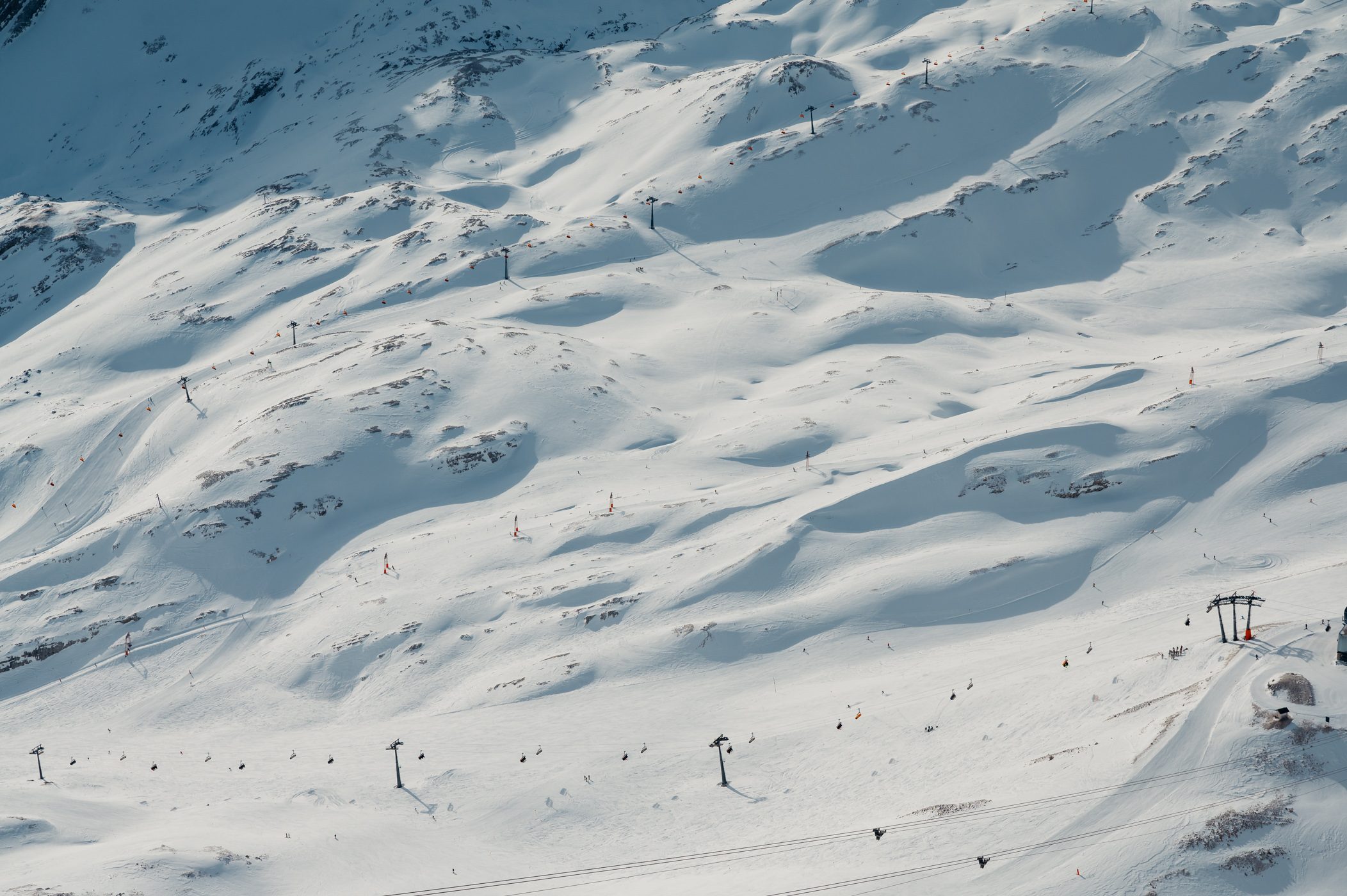 Our personal highlights at LaPosch – Dein Bergaway:
Our private sauna & heated infinity pool
The pillow menu that features local Swiss stone pine pillows
Chef Manuel's vegetarian Raclette with delicious dips and veggies
The sound of the crackling wood in the fireplace next to the dining table
The Bang&Olufsen sound system
The farewell chocolate with crispy apricot wafers – so so good!
Interested in a trip to LaPosch – dein Bergaway, but not right now? Pin this post for later:
Disclaimer: This is a sponsored post as part of a press stay at LaPosch – Dein Bergaway Chalets. The views in this blogpost are our own.