When going on a safari in Botswana there's a couple of different types of accommodation to choose from. Lodges can be ultra luxurious with private plunge pools, air conditioning and free-standing tubs. But you can also stay in so called fly-camps, which are tented and a bit more rustic, but still filled with all the comforts one could ask for (think king size beds and flush toilets). During our trip through Botswana we got to test 3 different camps by &Beyond – one of the world-leading luxury safari companies in the world.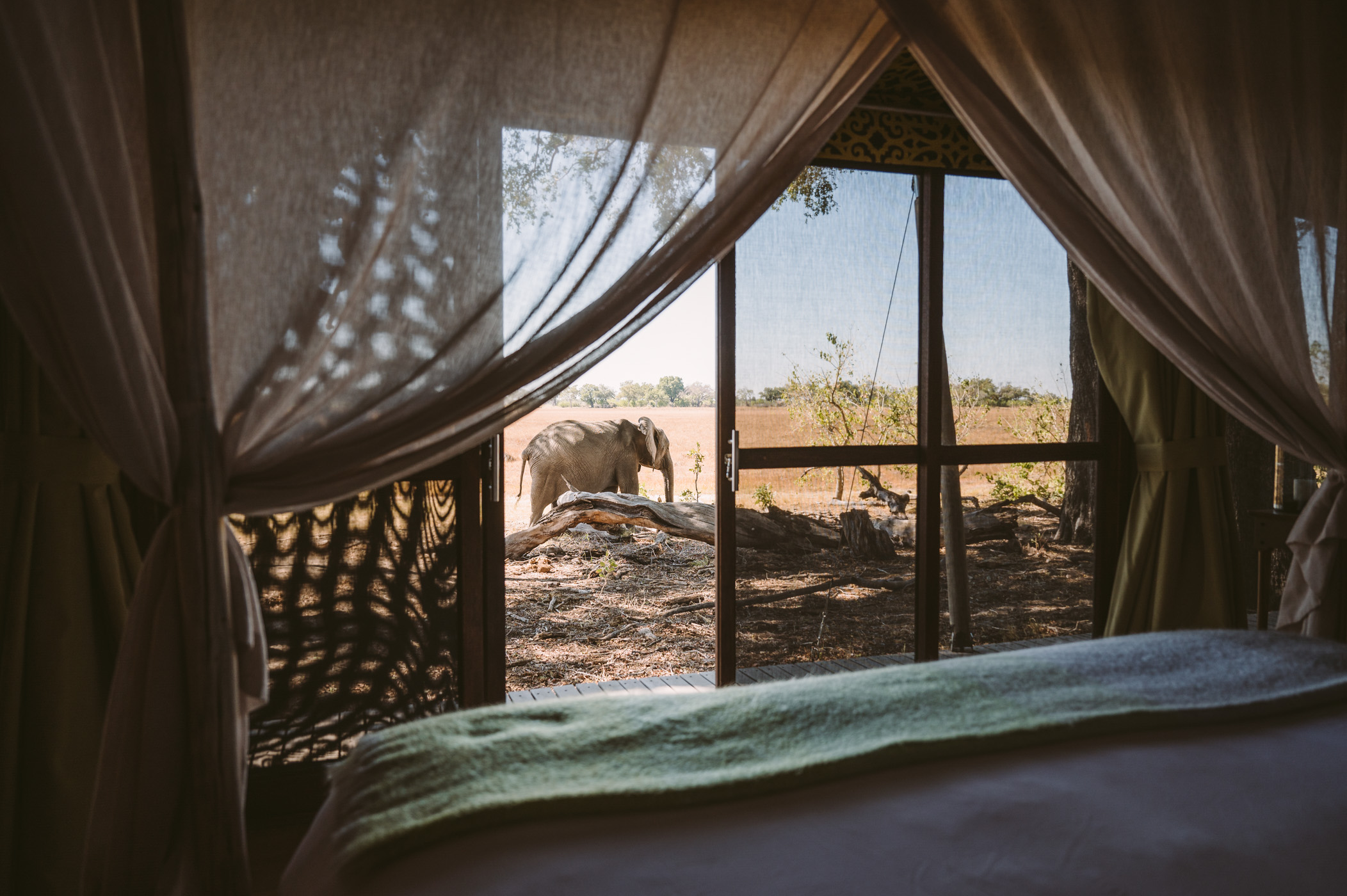 Moments like these are what you're dreaming of when going on a safari!
&Beyond Chobe Under Canvas
Chobe National Park is the home of the elephant. Here the elephant population is unparalleled in it's density with around 120.000 elephants inside the park! But, Chobe National Park is publicly accessible – also for self-drives – and can therefore get quite busy at times. Hence it's an advantage to stay inside the National Park, which gives you a head start in the morning and also let's you enjoy the sunset inside the park (while the others are racing back to get to the gates).
These sightings were only possible because we stayed inside the park gates of Chobe National Park!
We stayed at the &Beyond Chobe under Canvas camp. This tented camp is positioned in a way to bring you as close to wildlife as possible. They move location every couple of days – always without leaving any traces behind. Everything is portable, from the fully equipped spacious tents with ensuite bathrooms to the outdoor kitchen. We stayed here for 2 nights and experienced some of the most incredible game drives with huge herds of elephants crossing our paths in the sunset to multiple lion and leopard sightings. When staying 2 or more nights you also get to enjoy a boat safari on the Chobe river which is a very cool extra!
At Chobe under Canvas you'll sleep in tents, that offer all the necessary comforts.
The tents feature a kingsize bed, that get cozy at night while being warmed up with hot-water bottles, flush toilets, bucket showers, which are filled with hot water in the morning and/or evening. There are also bathrobes and binoculars provided for each guest. At night dinner is served under the open sky, accompanied by drinks at the fireplace. The game drives start right in front of the camp, as you're fully immersed in the National Park – which of course is the biggest asset!
Staying in tents brings as close to nature as possible!
Our verdict:
We aren't the biggest fans of camping in general, but staying at Chobe Under Canvas doesn't feel like camping at all. It's more like glamping! You'll get pampered with everything you need. The steaming hot bucket shower is filled every day in the morning with a gentle wake-up call before sunrise. You get to shower inside the tent and then wrap yourself in your bathrobe – before getting served a hot breakfast, and then it's off to another game drive!
Yet, fly-camping is of course more rustic than staying in a lodge. So this might be the right option for travellers who are more experienced when it comes to safaris or simply more adventurous. At night you'll hear the sounds of the animals close-by and of course there's no heating – so it might get a bit chilly at night. We still didn't miss a thing here!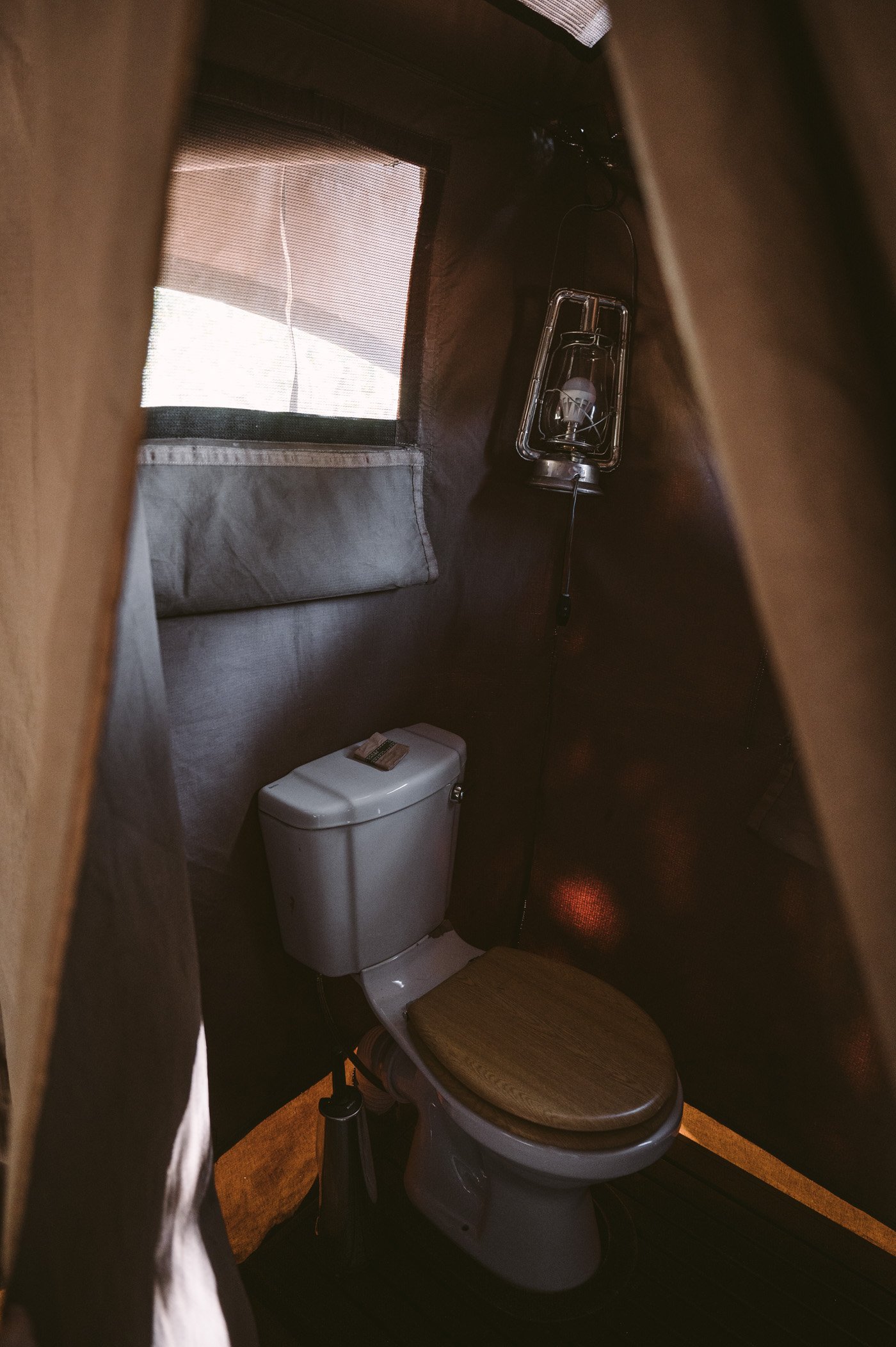 And just in case you're wondering: The tents are equipped with proper toilets 😉
&Beyond Xaranna Okavango Delta Camp
Our next stop brought us to the famous Okavango Delta, where &Beyond has a couple of different lodges. We stayed in the Xaranna camp, which is located in a private wildlife concession on its own Delta island. This means absolute solitude and a completely different experience than in the Chobe National Park. Here you won't meet any other cars during your game drives!
A small aircraft flies you into the Okavango Delta where you'll be picked up from the sandy airstrip.
From there the transport starts to the private camp.
Xaranna offers private sun decks and plunge pools in each of it's 9 tents.
Although this is still a "tented" camp, it's much more elaborately equipped than the Under Canvas option 😉 We're speaking of private plunge pools, heated interiors, wifi, a stocked minibar, etc.! So this of course isn't camping anymore, although it's still tents sitting atop of wooden pillars. If you get lucky then you'll be greeted by herds of elephants who simply walk by or casually drink from your pool 🙂 The staff even stopped putting chlorine in the pool water, so that the elephants would get good drinking water quality.
Elephants are a common sight at Xaranna camp – they visited us every day!
The rhythm in a safari camp is always following the beat of the nature. Mornings start early at sunrise to catch the action in the bush and then mid day hours are spent in the lodge, eating and relaxing. In the late afternoon the second game drive happens until sunset. Usually you'll get to enjoy a sundowner somewhere in the bush and then return to the lodge for dinner. So following the wildlife experiences food is a very important element of a safari 😉 At Xaranna we got spoiled with exquisite vegetarian options – a lot of creative dishes with fresh fruit and vegetables, which isn't an easy task to fulfil somewhere in the middle of the bush!
Our verdict:
This was our favourite lodge in Botswana. The whole vibe is very laid-back, while still offering all the luxuries one could ask for. The lily pond theme is tangible throughout the lodge with muted green and rosé coloured elements and many many hippos in the decoration 🙂 We also loved being so close to nature and felt somehow almost embedded into the elephant herds, that live in the area. The fact that the lodge is built quite close to the ground made us feel especially connected to the wildlife!
&Beyond Sandibe Okavango Safari Lodge
The crowning jewel of the &Beyond collection recently opened in another part of the Okavango Delta. Sandibe's architecture is extremely different from all the other lodges – and while it's still inspired by nature and especially the shape of the elusive pangolin, it comes across very contemporary and almost urban-cool.
The architecture at Sandibe lodge is stunning to say the least!
To get to this lodge we took another small aircraft and after a 15 minute flight we arrived at the airstrip where we got picked up by our driver. This part is always exciting as it's usually already the first game drive. Although you're "only" on your way to the lodge, you'll already see the first animals, maybe even right at the airstrip! 🙂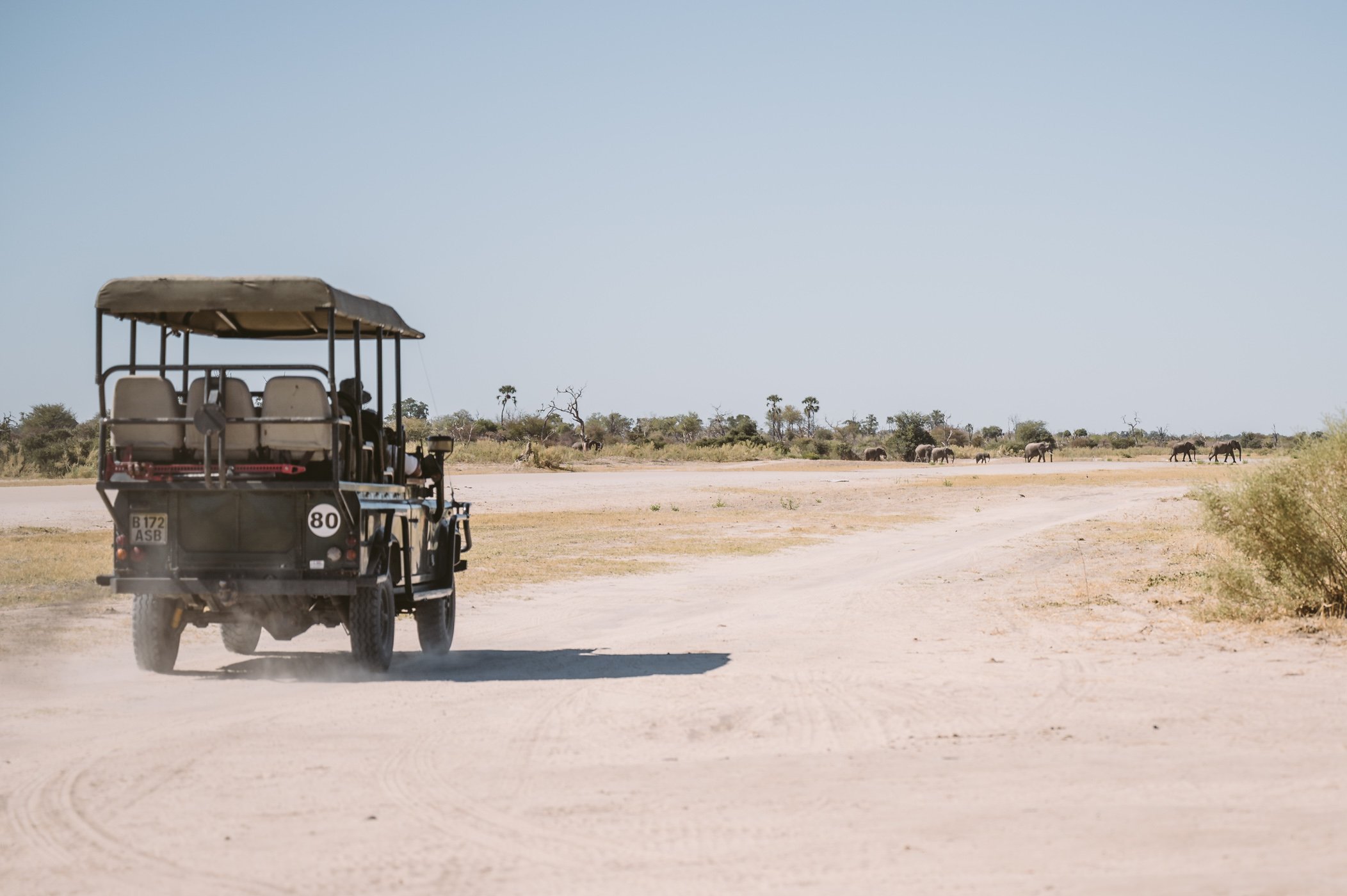 Elephants crossing the airstrip at Sandibe!
We only stayed one night in Sandibe, which is definitely too short. Upon arrival at the lodge we immediately wanted to marvel at all the wonderful design details for longer! Also we didn't have a chance to really relax at the deck… so we simply have to return 😉
Every detail is designed to perfection at Sandibe!
The 12 air-conditioned suites at Sandibe are built on stilts – towering over the landscapes of the Okavango Delta. The open concept looks extremely elegant and offers a lot of space, but didn't feel as cozy as our tent at Xaranna. Maybe that also has to do with the fact, that we didn't have enough time to really lounge around here though 😉 When we arrived at the lodge we only had half and hour to eat something and get ready for the afternoon game drive!
We didn't have enough time to enjoy the wonderful suite (or food) at Sandibe unfortunately.
Our verdict:
Sandibe is perfect for travellers looking for a more sophisticated and elevated safari experience. So if you care for outstanding architecture and design you've definitely come to the right place here! We felt not as connected to nature here though because of the elevation of the suites, that didn't allow for close animal encounters like we had at Xaranna. But we would definitely give Sandibe another try and this time stay longer than one night to get a proper feeling for the place!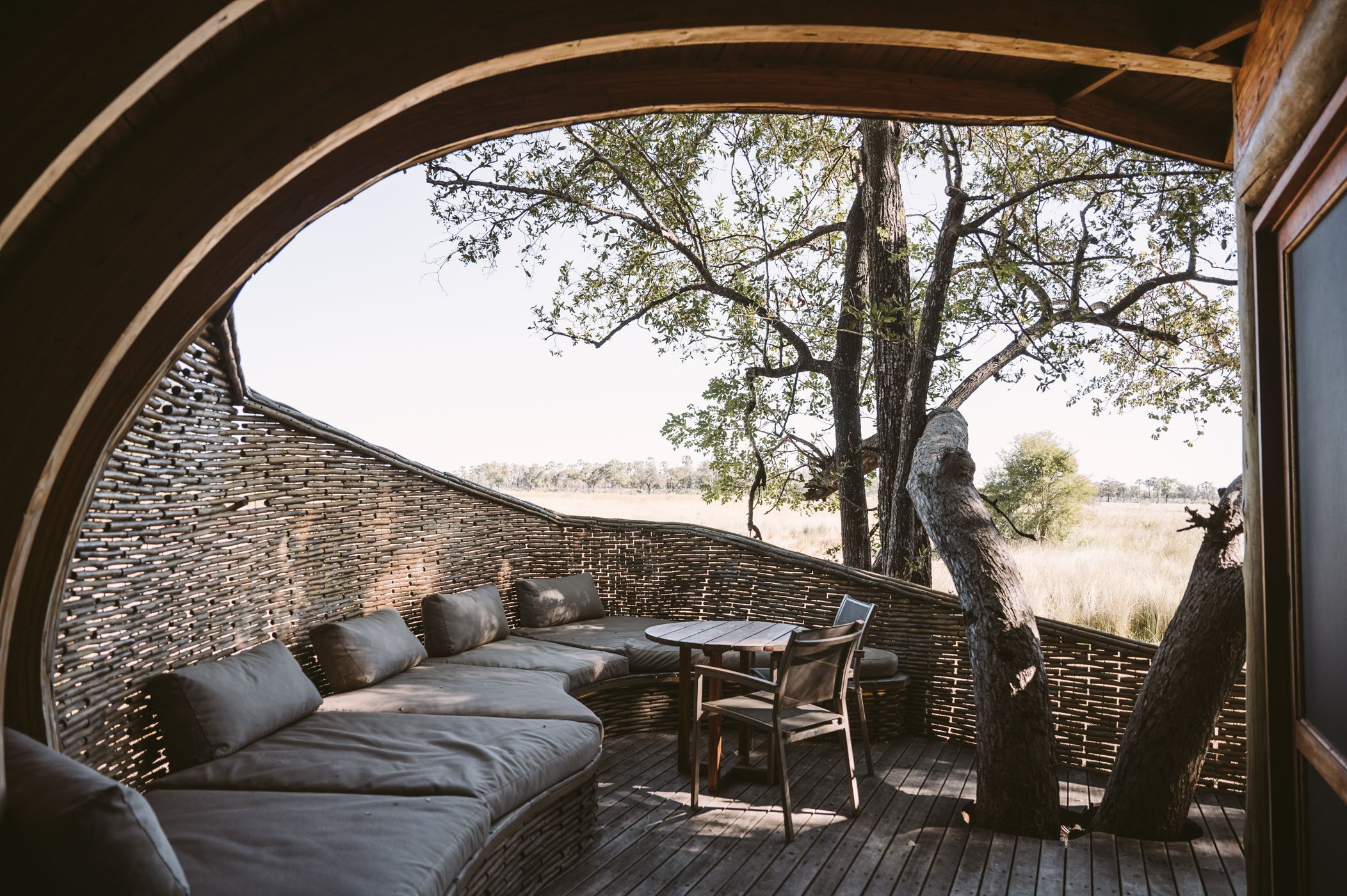 Next time we want to enjoy a bit more time on this privat deck.
Summary: Where to stay in Botswana
If you're planning your Botswana trip we recommend to combine fly-camps with lodge experiences to get the best of both worlds. Both have their pros and cons and maybe you still have to find out what fits your needs perfectly. If you're on a budget you can of course get an incredible taste of nature while staying under canvas embedded in the National Parks. If you prefer a bit more comfort and luxury then you might want to opt for a solid lodge, that offers wifi, private pools and heating (or air-conditioning if you visit in the hotter periods of the year). In Botswana you have the luxury of choice anyhow 😉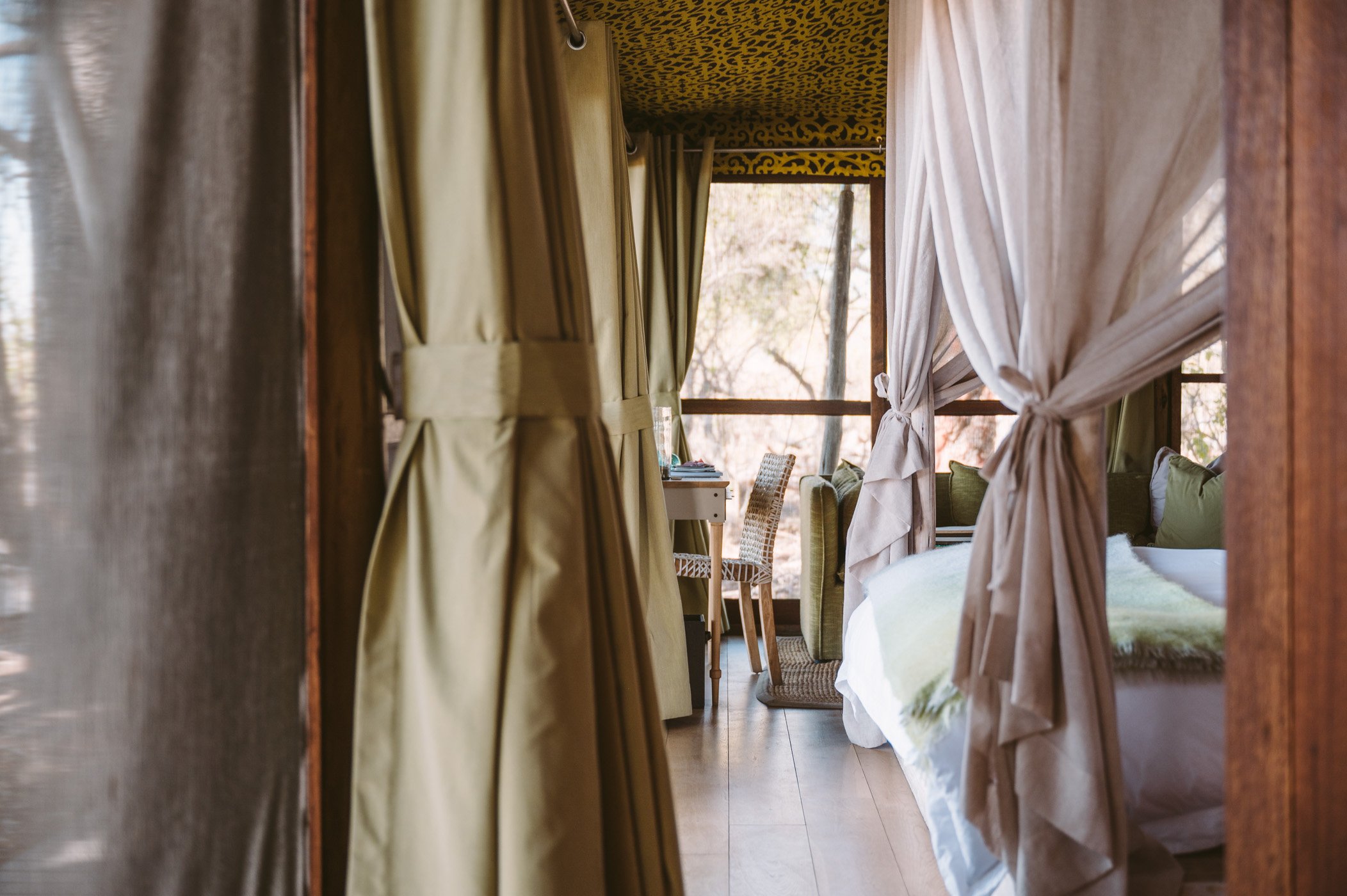 Whatever type of accommodation you choose we can highly recommend &Beyond!
Disclaimer:
We were invited to stay with &Beyond, but our views of the lodges stay independent from that invitation.