Are you dreaming of a Tuscany holiday? Driving up a pine tree-lined alley in a chic car, sitting on a terrace on top of the rolling hills, overlooking the picturesque landscape while the sun sets in the distance? This is exactly what you'll get at Belmond's newest Italian icon, although "new" might be misleading, as Castello di Casole is actually a castle that dates back to the 10th century! Welcome to Belmond Castello di Casole.
It's a warm June day, when we drive up the hidden alleyway that leads up to Castello di Casole. The last rays of the warm summer sun touch us when we drive through the newly created rose garden and are welcomed by the elegant Belmond staff. Our bags are quickly unpacked, the car stored away by the valet service and we're entering our Tuscan retreat.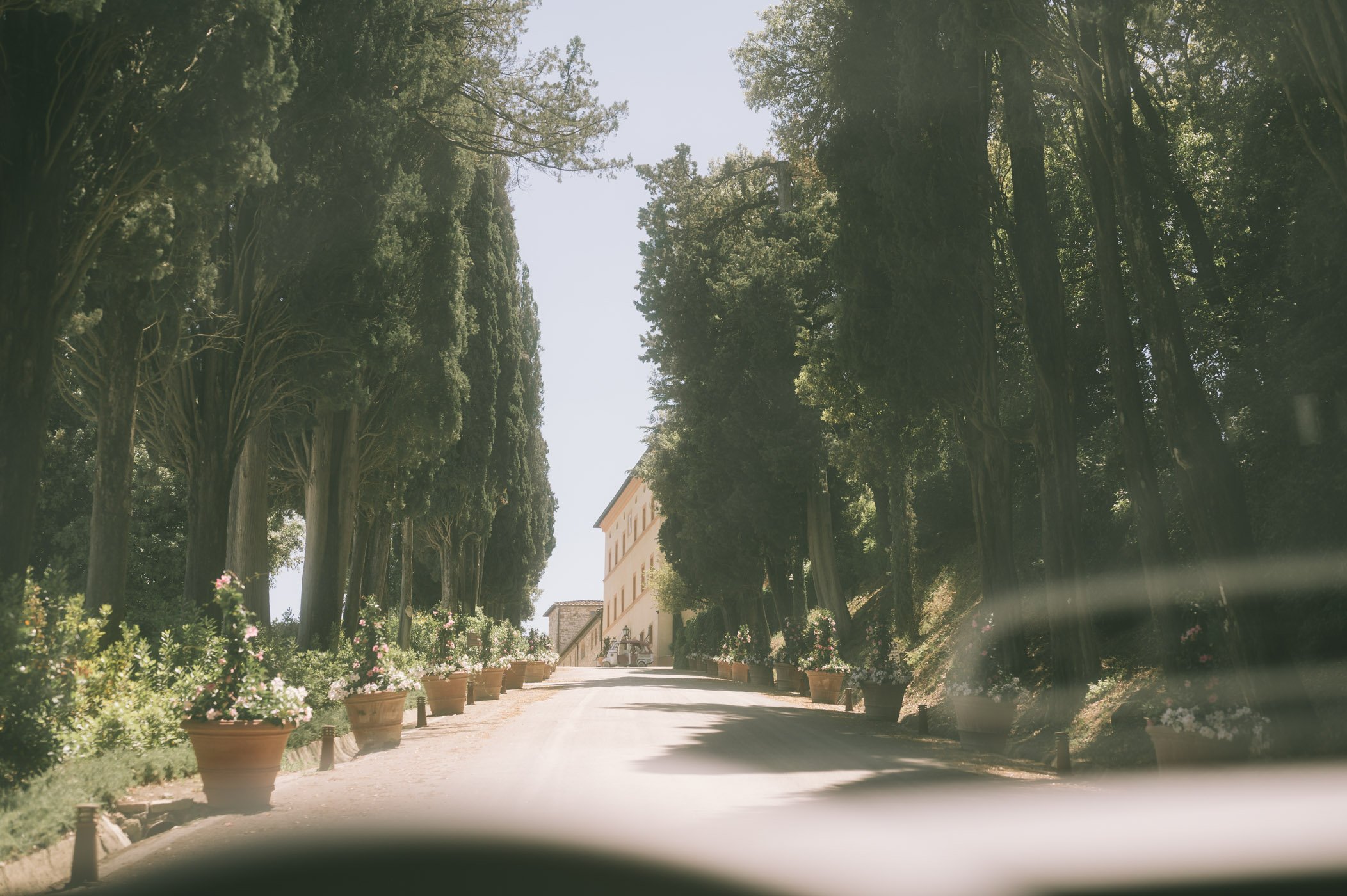 Taste of Belmond: The art of aperitivo and Italian cuisine
We're welcomed on the terrace to a true Italian tradition – aperitivo, followed by a dinner with fresh homemade pasta, fruity tomato sauce, their own harvested truffles and of course parmesan, that's grated at the table. While we regale ourselves in fine Italian cuisine the sun is setting behind the hill, that is home to neighboring Casole d'Elsa – a town of artists and creatives, as we learn the next day.
From watercolour workshops & unique experiences
After a good night's sleep we decide to spend the first day in Tuscany with a deep dive into slow traveling and the artistic side of Tuscany. Castello di Casole organizes all kinds of unique experiences for their guests and we opted for their Tuscan watercolour class.
The artist welcomes us to a table set with hundreds of different colours, brushes and paper – and invites us to take a moment to find inspiration, be it the landscape or an object or something more abstract. We quickly decide to paint one of the lemons, that hangs from the abundant lemon trees around Castello di Casole. What follows are 2 hours of pure bliss and we almost forget that we have lunch planned, because we're so immersed in painting.
Other experiences at Castello di Casole include:
Truffle hunting (in the main season October)
Stargazing with an astronomer
Pasta & pizza cooking classes
The location of Belmond Castello di Casole
If these experiences aren't enough and you decide to venture out to discover more of Tuscany then you're in a prime location. Castello di Casole is just 30 minutes from Siena, 60 minutes from Florence or an hour from the scenic coastline.
As we've already been to Siena, Florence and even alabaster capital Volterra, we decide to skip the most prominent highlights of the region and focus on the hidden gems. If you want to learn more about our discoveries read our blogpost here:
Read our blogpost about what to see in Tuscany: A road trip through Tuscany
From Cala Civette – a hidden beach – to the cypresses of San Quirico… there's a lot to see & do in Tuscany!
The rooms at Belmond Castello di Casole
We stayed in one of the so called "Exclusive Suites" during our 4 nights at Castello di Casole. These are located in the historical building and feature between 70 and 90 sqm – separated between a spacious living room, bedroom and a huge bathroom. The rooms are equipped with antique furniture and art and feel like novelists have written books here.
The ideal traveller type for Castello di Casole
A stay at Castello di Casole is perfect for Italy travellers looking for a deep dive into the rich traditions and history of Tuscany and don't feel intimidated by thick stone walls and imposing castle atmosphere. We've stayed in other castles (in Germany and Austria before), that had a bit of a cold medieval atmosphere, but nothing feels cold about Castello di Casole. It's warm, inviting and truly elegant.
Or save this post for later
Disclaimer: This is not a sponsored post, but we stayed at Belmond Castello di Casole as part of a press trip. The views in this blogpost are our own.