Have you ever been to the "Top of Europe"? Standing at 3.454 meters above sea level at the so called Jungfraujoch earns you a stamp in the passport. Because you made it to Europe's highest train station!
The steep Eiger Northface is quite a view… unfortunately it also has some tragic stories to tell.
First things first: Cheese Fondue
But what did we first do when we arrived in Wengen (after we checked into the wonderfully old and charming Hotel Regina)? We got ourselves a transfer to Mary's Café to eat a huge bowl of Cheese Fondue (well and some Raclette of course, because… well, there's never enough cheese). ?
Mary's Café is kind of an institution in Wengen, the small mountain village we are staying in for this weekend. It's located directly next to the slope and everyone goes there for lunch. Even for late cheese filled lunches at 3pm!  ?
There's even some live accordion music at Mary's Café.
Wengen is a car free village – to get to Mary's Café from the center would be a 30 minute walk. But we were hungry! The cool thing: The lovely folks at Hotel Regina offer a shuttle service with their electrical "car" (which is more like a small truck mobile).
But wait a minute: How do you get there without a car?
Coming from Austria it's not too far – but still a bit of a journey – to get to the Top of Europe in the so called Jungfrauregion:
Take a plane from Vienna to Zürich (or go there by train or car, but you'll be happy to have saved some travel time on this part of the journey, believe us!) 🙂
Rent a car or take the SBB train (but be aware that tickets for the Swiss train are quite expensive, our rental car + gas was cheaper than just one ticket with the train, let alone two tickets)
Drive to Lauterbrunnen
From here on you have to park your car (costs about 15 Euros for a weekend) & take the regional train up to Wengen
Then you have to take another train up to Kleine Scheidegg
The last train brings you from Kleine Scheidegg up to the Jungfraujoch
This sounds like quite a ride, but it's best done in parts.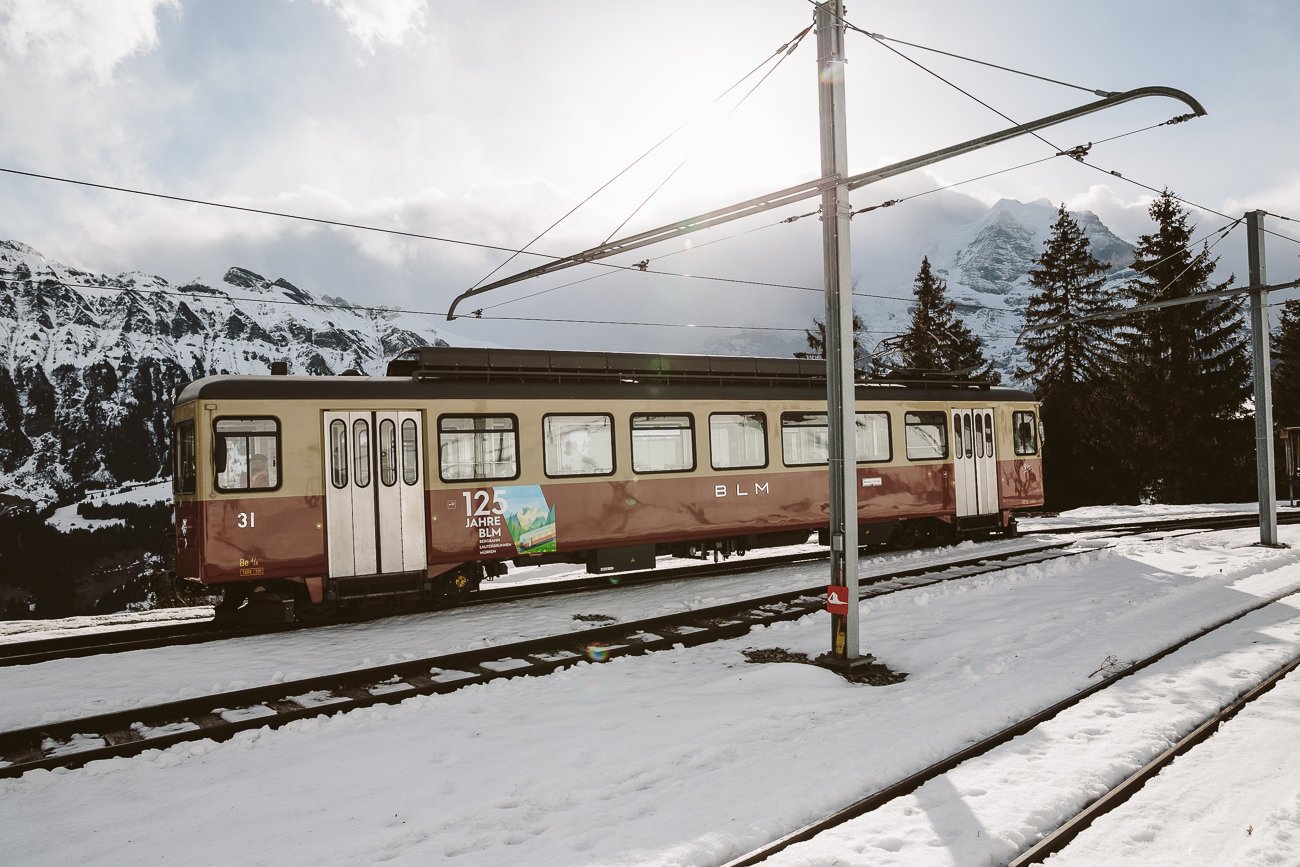 The Swiss train system is incredibly well developed – even up in the mountains. It's just very expensive!
Stay in Wengen to be among the first at the Top
Wengen is the perfect "base camp", when it comes to a trip to the "Top of Europe". From here on it's only two more trains to get up to the top of the Jungfraujoch and you can be among the first to experience it any given day.
These views are best experienced in the morning, before hundreds of Selfie stick clad tourists join you.
Be prepared: The "Top of Europe" is quite popular with Asian tourists. Our early morning train was packed with Selfie stick-carrying tourists, some even with Espadrilles and other "gear", that doesn't really make sense at over 3.000 meters altitude 😉
It's best to arrive with the first train and take the tour quickly.
You'll have this platform all to yourself for half an hour, before this happens 😉
What to do at the "Top of Europe"
Once you arrived at the highest trainstation of Europe you can take a tour with various interesting stops. The most iconic being the "Ice Palace" – a series of tunnels and art works carved into and created from mirrorlike smooth ice.
Artists carved these ice sculptures at the Ice Palace at Jungfraujoch
After you discovered the Ice Palace it's the perfect moment to go right to the "Plateau" before all the other groups are coming. This way you'll get to enjoy the incredible view of the Aletsch glacier all by yourself.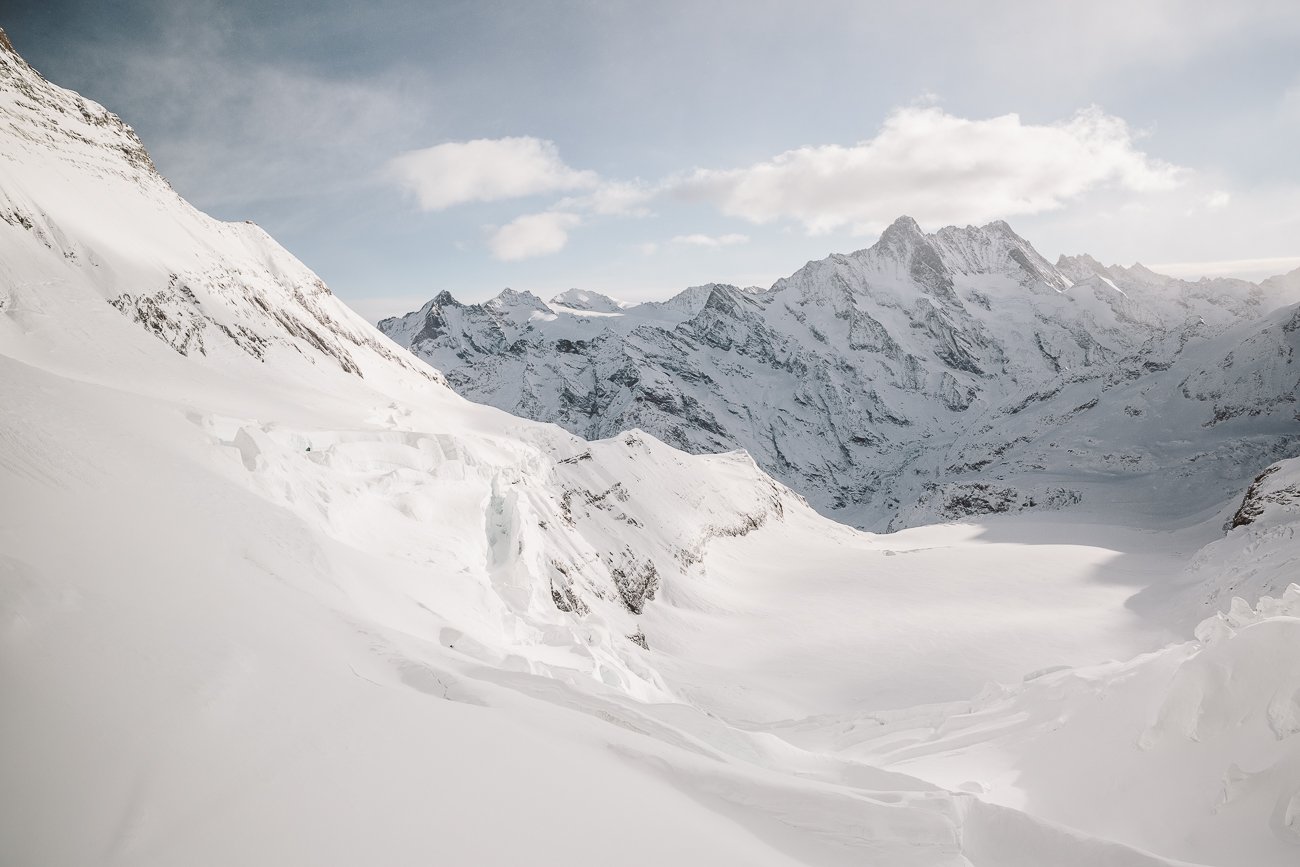 View of the Aletsch glacier from the Jungfraujoch
Then it's time to discover the rest of the Jungfraujoch station – including a Lindt Swiss Chocolate shop that feels like straight out of a Disney movie. You can try and take the elevator up to the so called "Sphinx"! (Unfortunately the viewing platform was closed for safety reasons during our visit.)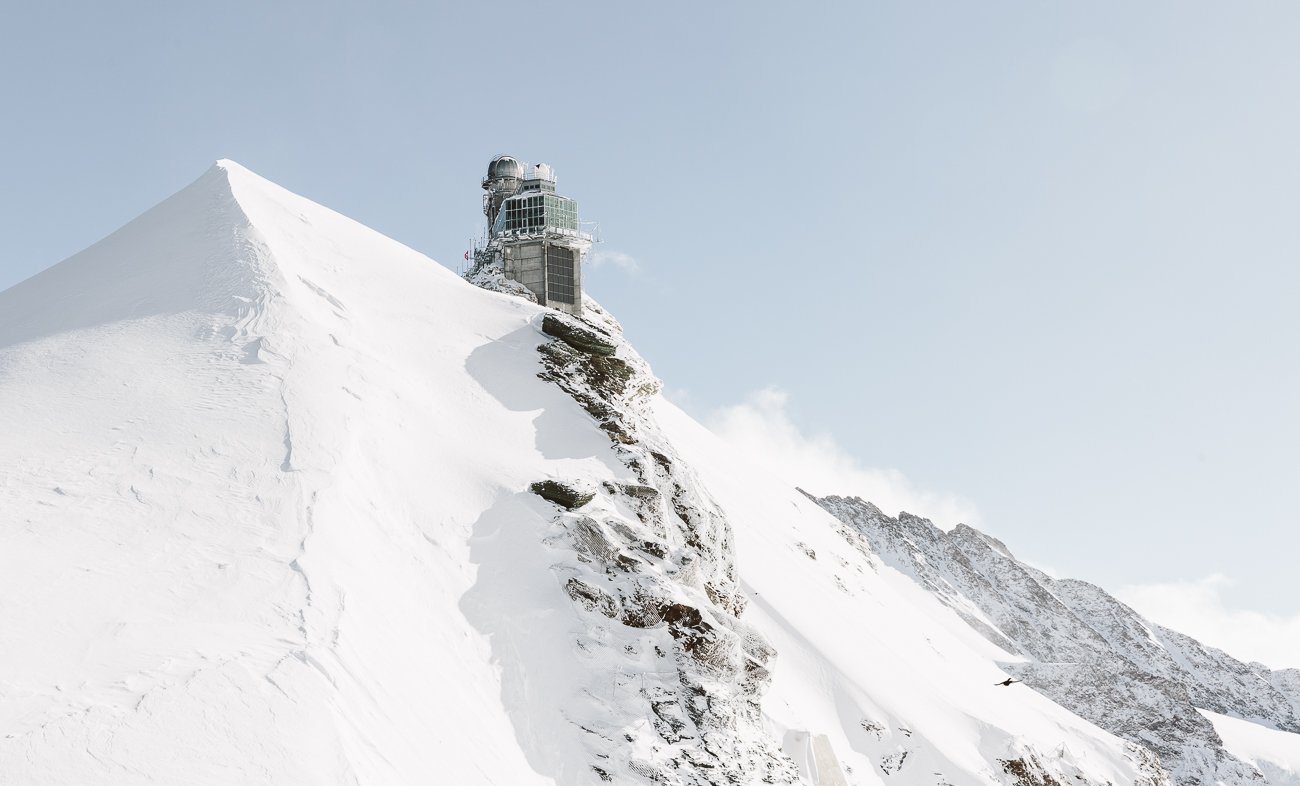 This is the Sphinx as seen from the Plateau.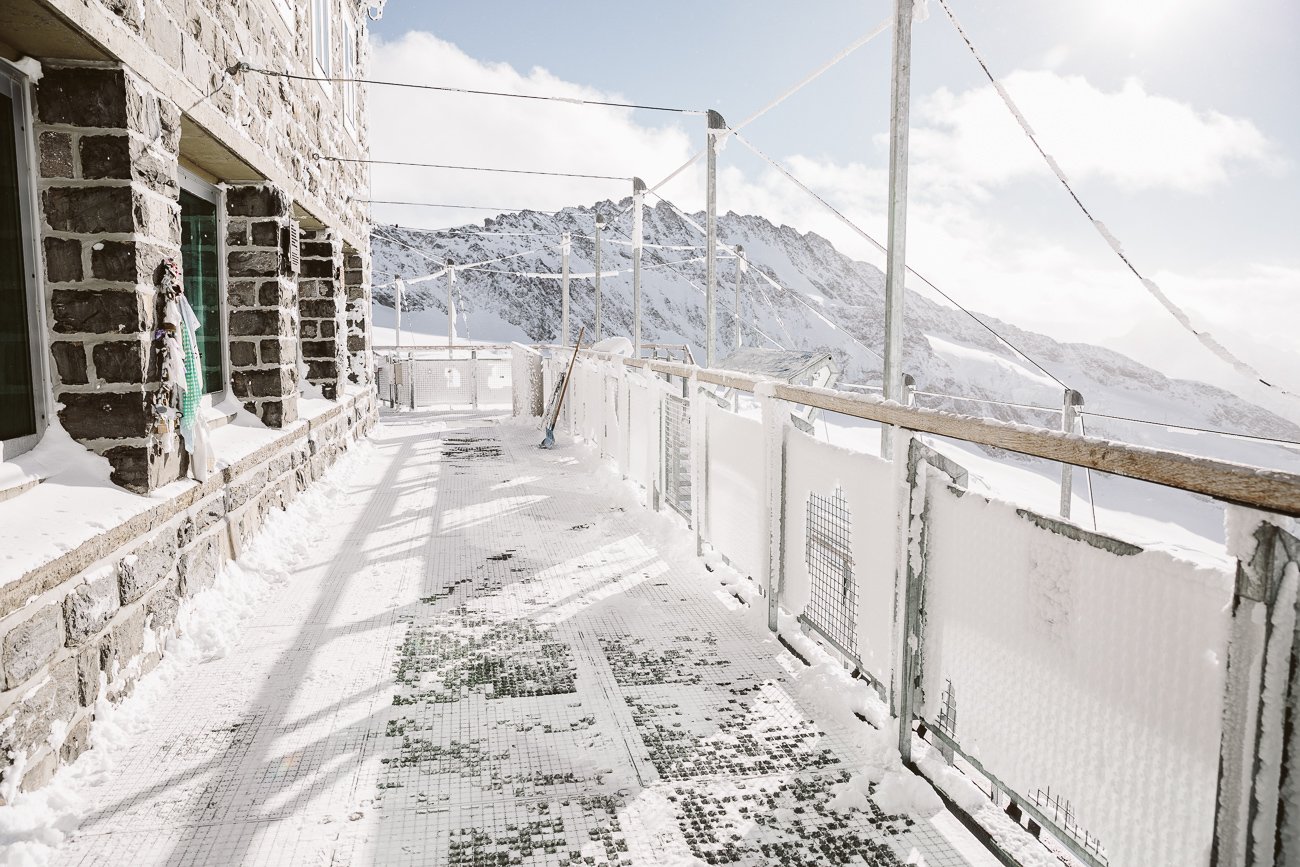 We were not allowed to step out to the terraces due to snow, ice or wind – nobody could really tell us the reason 😉
If you are hungry now, we recommend you take the train back to Kleine Scheidegg. We did get a spectacular breakfast up at the restaurant of the Jungfraujoch, but this is not part of their regular offering. They usually only open later for lunch – which means you'll be amongst hundreds of tourists.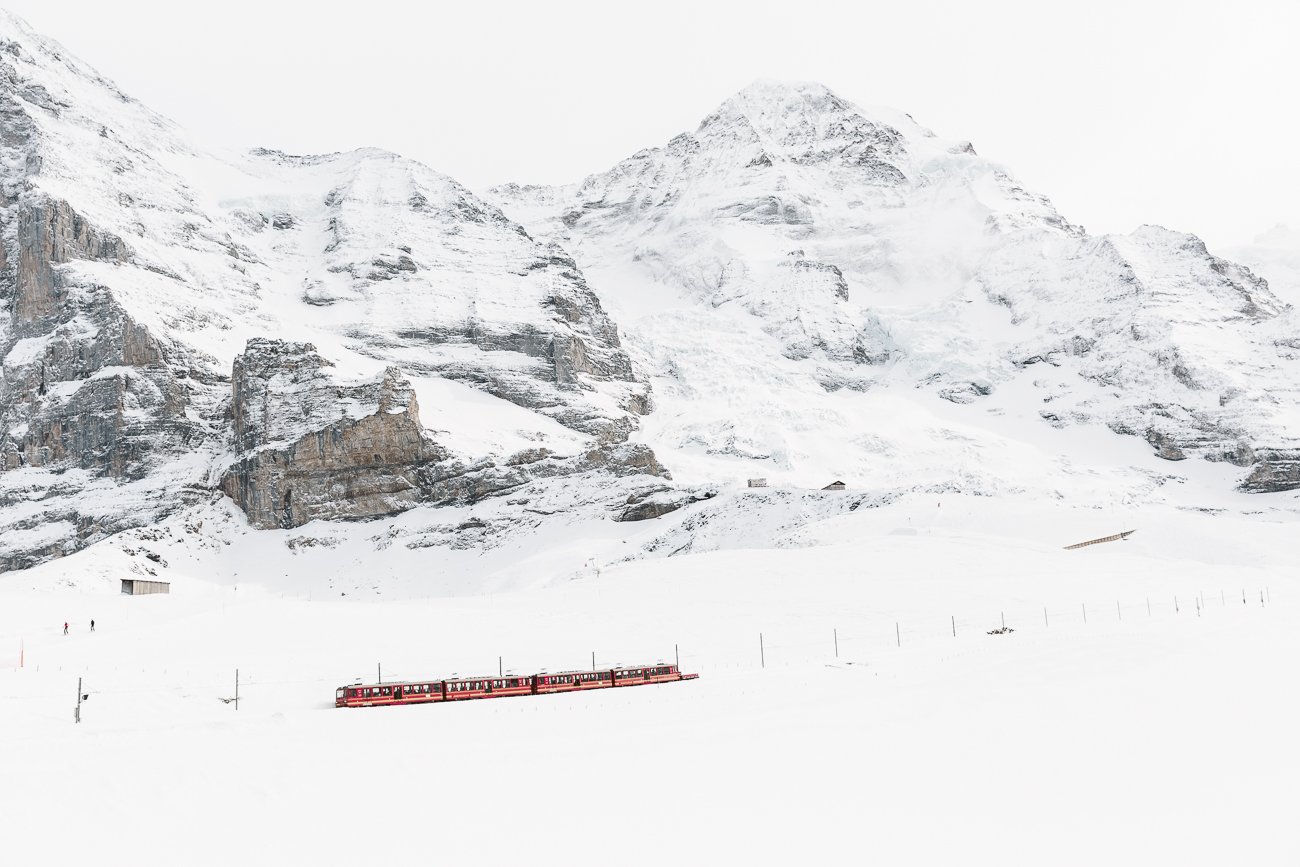 A lunch break at Kleine Scheidegg
After you return from the top of Jungfraujoch you can rest a little and take a lunch break at Kleine Scheidegg. Next to the train station there are some hotels, restaurants and even shops (where you can buy back-up sunglasses in case you forgot yours and are turning snow-blind… just saying!) 😉
Kids enjoying the lunch break at Kleine Scheidegg – in the background the Hotel Bellevue
You can relax on the sun terrace of the Hotel Bellevue des Alpes (and eat some more cheese for example) 😉 The Jungfrauregion offers some of the most iconic Grand Hotels – if you can't afford to stay there, at least experience it during lunch!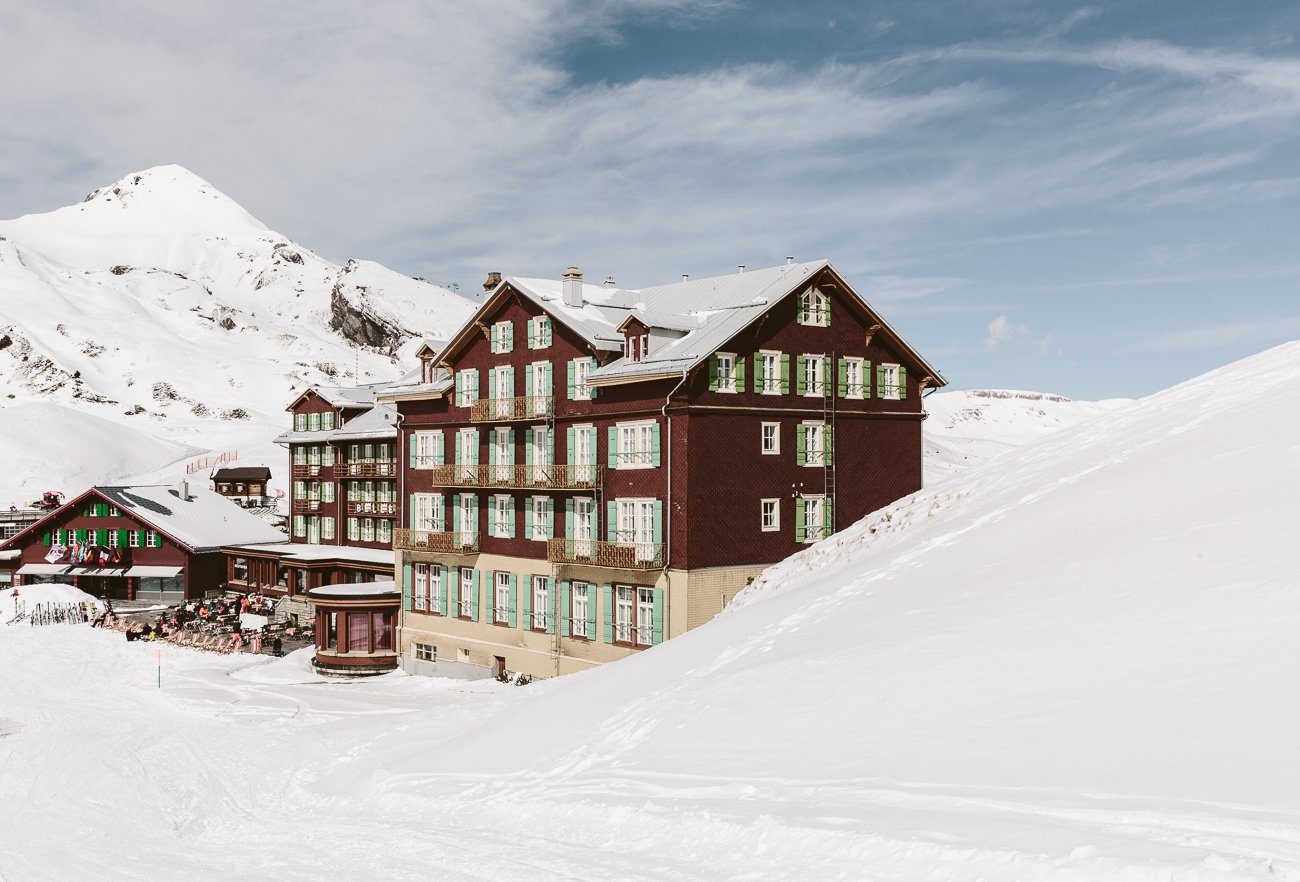 How amazing is this location!? Unfortunately rooms start at 350 Euros per night.
How much to spend on a glacial weekend in the Jungfrauregion
Be prepared: The prices are steep, so you have to be ready to spend a little more than on a regular weekend trip!
Tickets to the "Top of Europe": 60 Euros per person (buy here).
Tickets for the train from Lauterbrunnen to Wengen: 6,50 Euro per person (SBB)
Double room at Hotel Regina in Wengen: Starting at 280 Euros (book here)
You can save some money by taking a rental car as opposed to the SBB for the trip from Zürich to Lauterbrunnen. Also it might be a good idea to buy some drinks and snacks at the supermarket to not solely rely on expensive cheese fondue 😉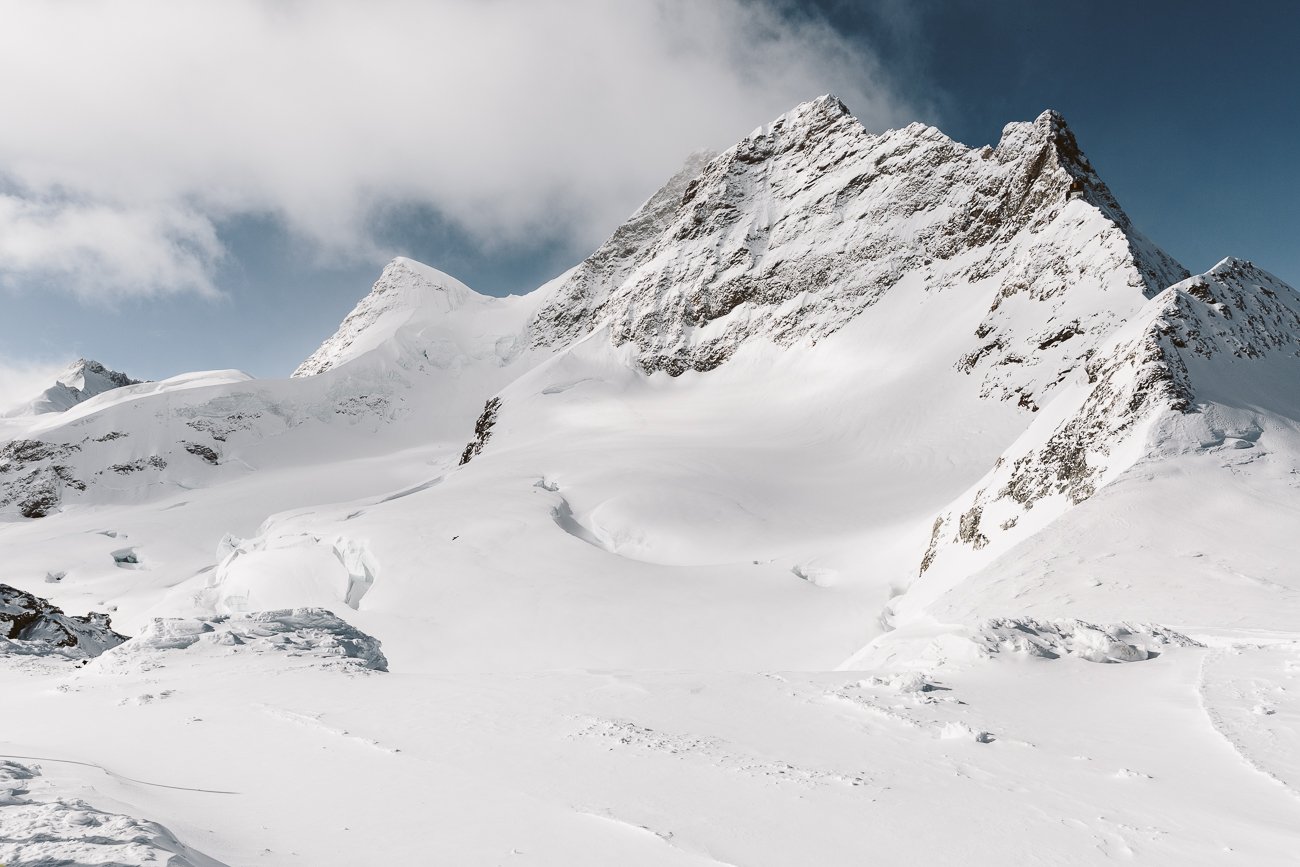 The verdict
It's quite incredible to imagine how the train up to Jungfraujoch has been built over 100 years ago. When Adolf Guyer-Zeller had the idea to blow holes in the mountain to build tunnels for a train, he was not declared crazy, but supported by the locals! Who would've thought? But they all saw the touristic potential and it has paid off until today.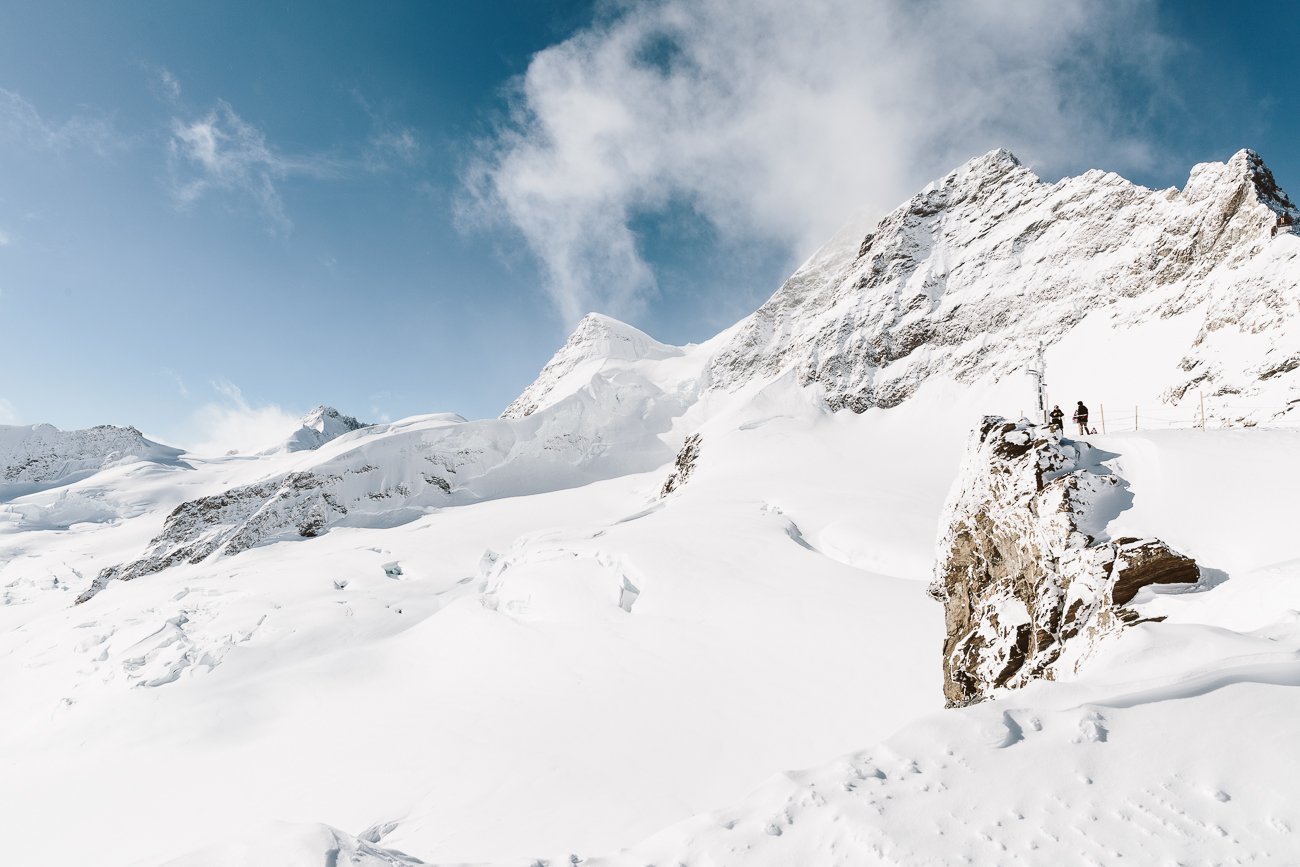 These views wouldn't be accessible if it weren't for a visionary!
Unfortunately Mr. Guyer-Zeller died from pneumonia before the train and Europe's highest train station were finally completed and operational in 1912.
But his legacy is still there today and as popular and spectacular as he would've imagined!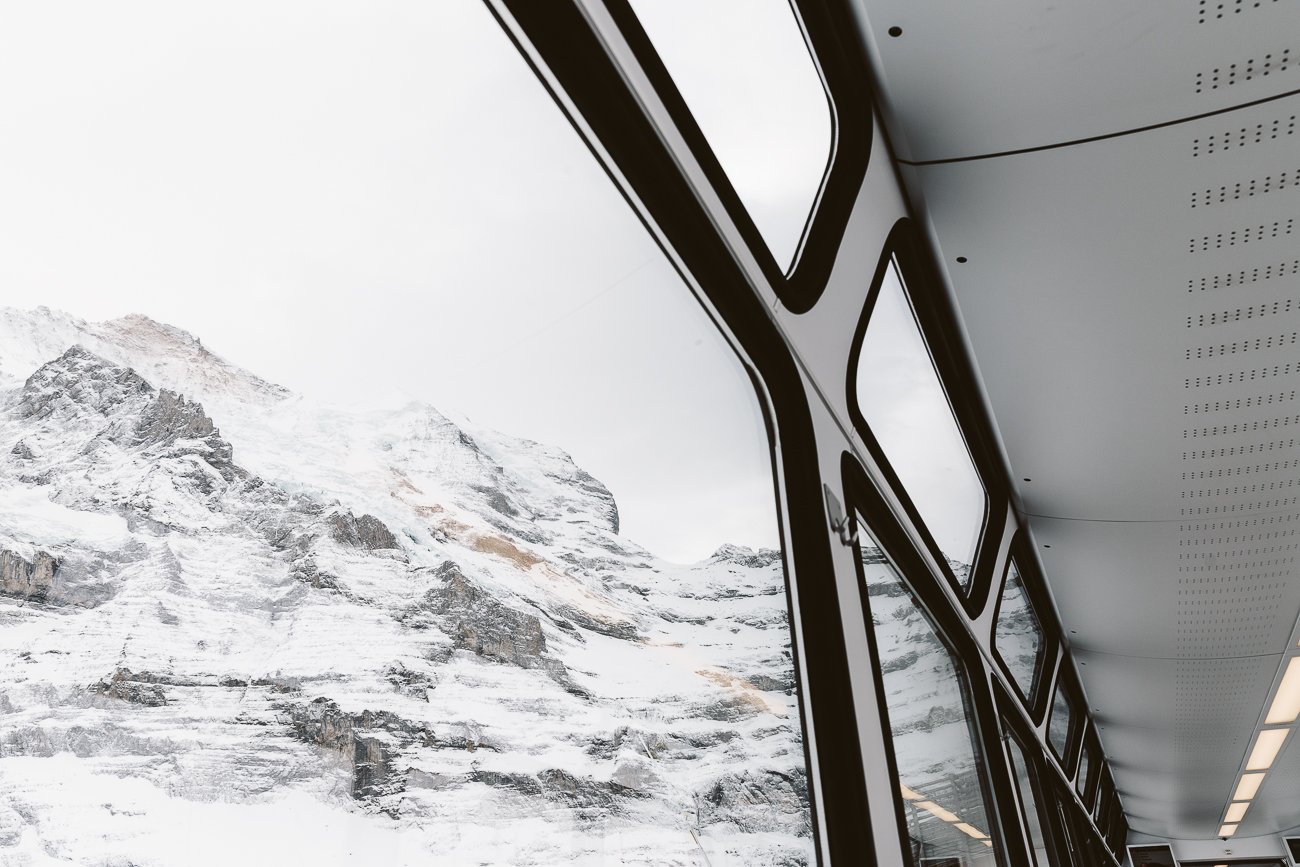 We can highly recommend visiting the Jungfrauregion for a weekend to discover the "Top of Europe", but also to go on snow hikes or just relax in one of the Grand Hotels.
Disclaimer: We were invited to the Jungfrauregion by the local tourist board, but our views stay independent from that invitation.