Hamburg is rainy. I guess you know that by now – since we already showed you how to escape the rain in our last blogpost. Well, be brave Hamburg visitors: Now it's time for our Top 5 outdoor activities in Hamburg.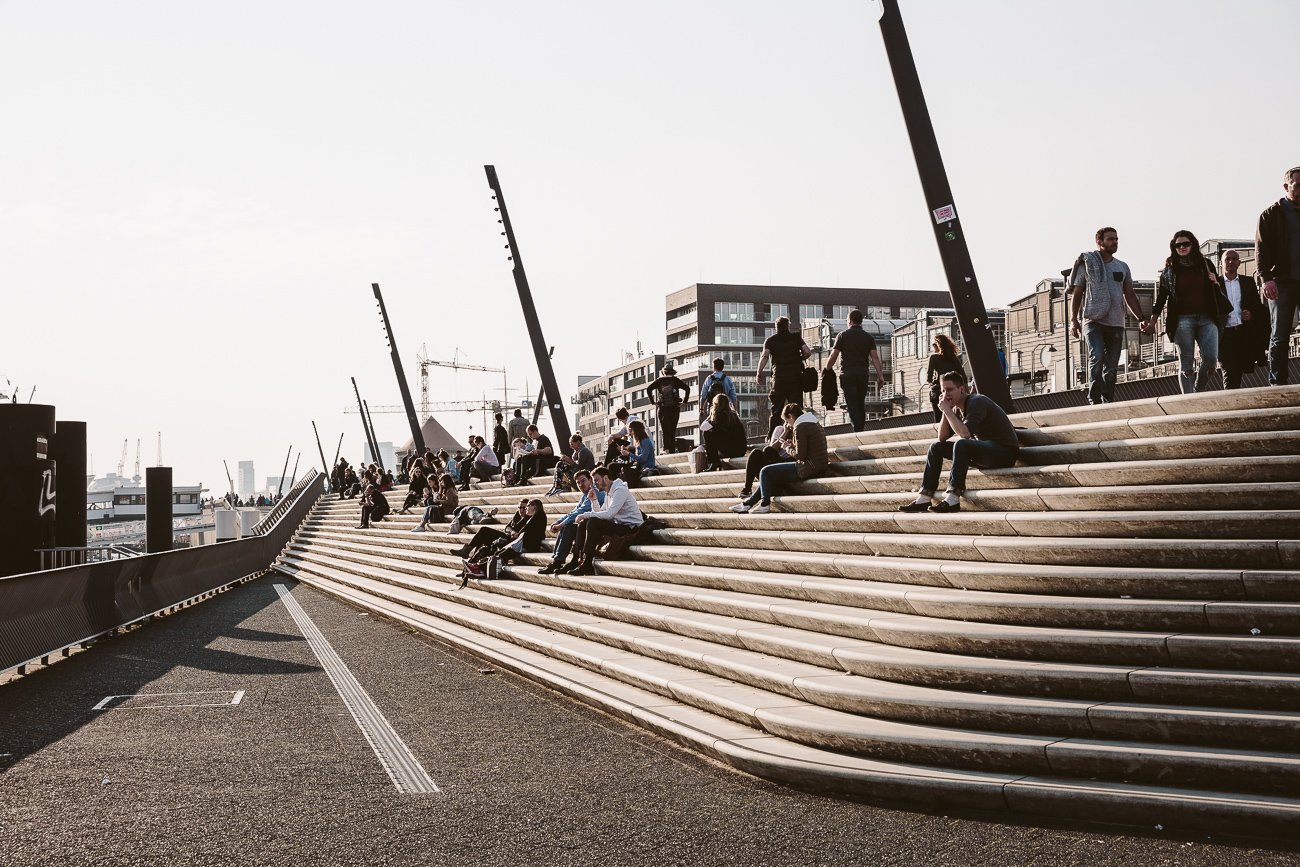 Yes, there are sunny days in Hamburg. Sometimes!
Top 5 outdoor activities in Hamburg worth braving the rain
Although it might be wet and uninviting, there are a couple of outdoor activities in Hamburg, that you won't want to miss – even if they are outside and even if you'll get soaked a bit.
A boat tour of the harbour
A visit of the flea market in the so called "Schanzenviertel"
Walking through the "Speicherstadt" and the "HafenCity" districts
Discover the architecture of Hamburg like the Chilehaus
If you're a Beatles fan: Do the famous Beatles tour of Hamburg
"There is no bad weather, only inappropriate clothing".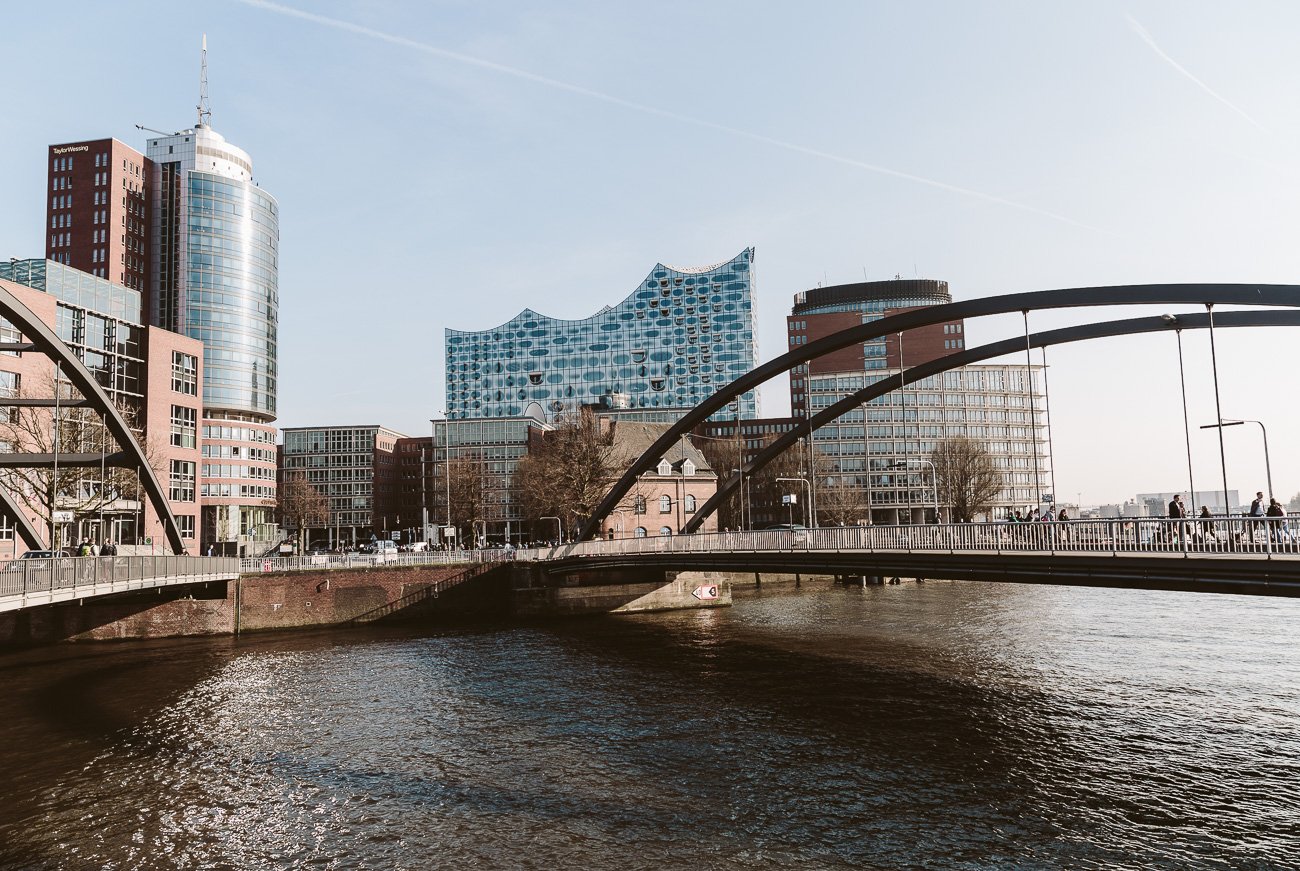 Maybe you get lucky and see some sunshine as well.
1.) A boat tour of Hamburg's harbour
This is THE ultimate must-do when you're in Hamburg. Of course it's more fun, when the sun is shining and you can sit on deck comfortably, but it also works in winter or during rainy days.
Some of the boats are heated and you can enjoy the tours from the inside as well. You'll pass by the biggest container ships in the world and get some interesting facts along the way. This is really unique and you shouldn't miss it!
Also, you'll get the most amazing views of the Elbphilharmonie from the boat!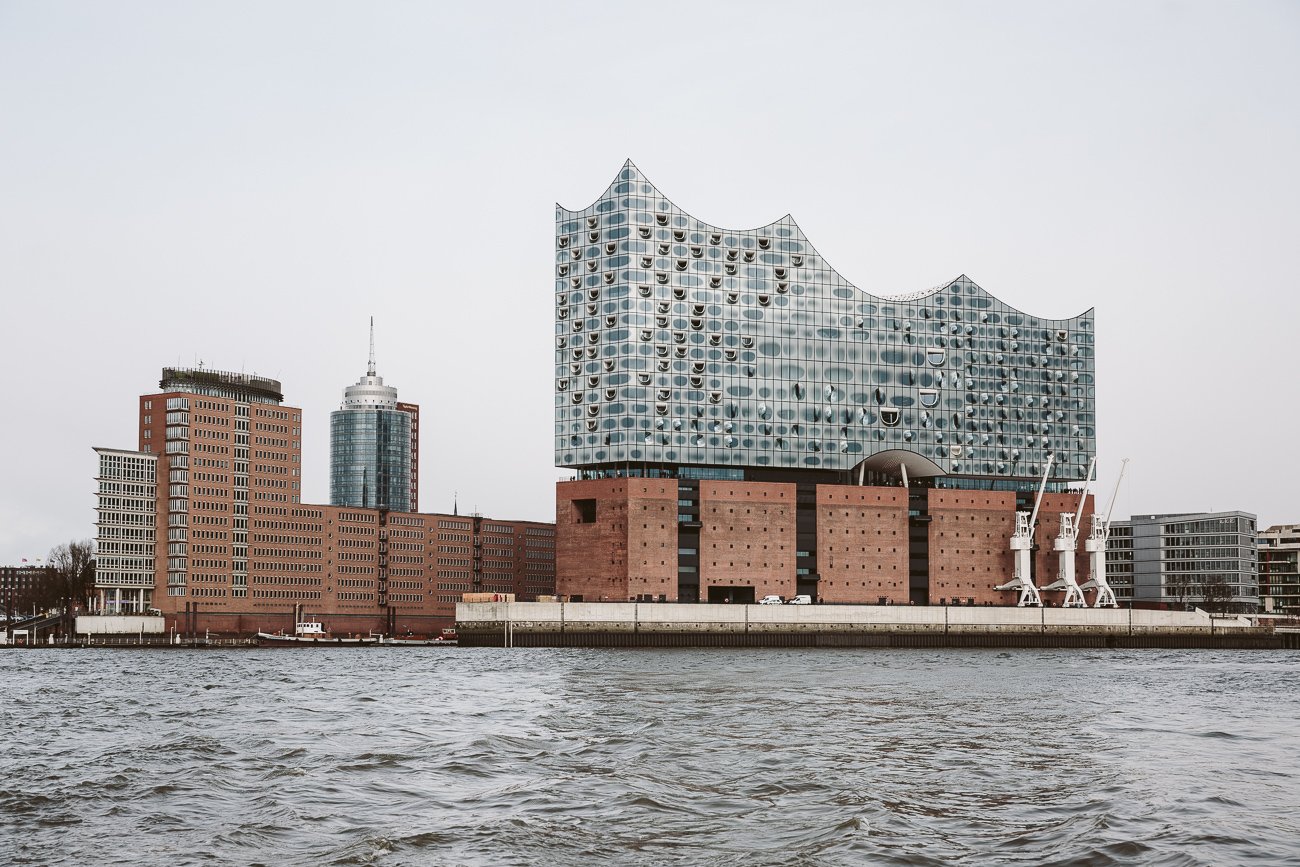 The view of the Elbphilharmonie from the boat during a harbour tour in Hamburg
?️‍?️ Pro tip:
There's douzens of different ships and tour operators of the harbour in Hamburg (here's an overview of all the companies and tour options). They cost everything in between 15 and 45 Euros. But: only the smaller ships (called "Barkassen") can also fit under the bridges of the Speicherstadt. Make sure to book the right tour! We went on tour with the Barkasse "Buenos Aires" by Barkassenbetrieb Bülow. It doesn't start from Landungsbrücken (like most of the other tour operators), but directly from the Speicherstadt – a tour costs 15 Euros.
?️‍?️ Pro tip:
A special moment to visit Hamburg if you're into ships are the Hamburg Cruise Days in September –  cruise ships, countless accompanying ships and events, fireworks – it's all there! There's special light cruises and other creative tours of the harbour these days.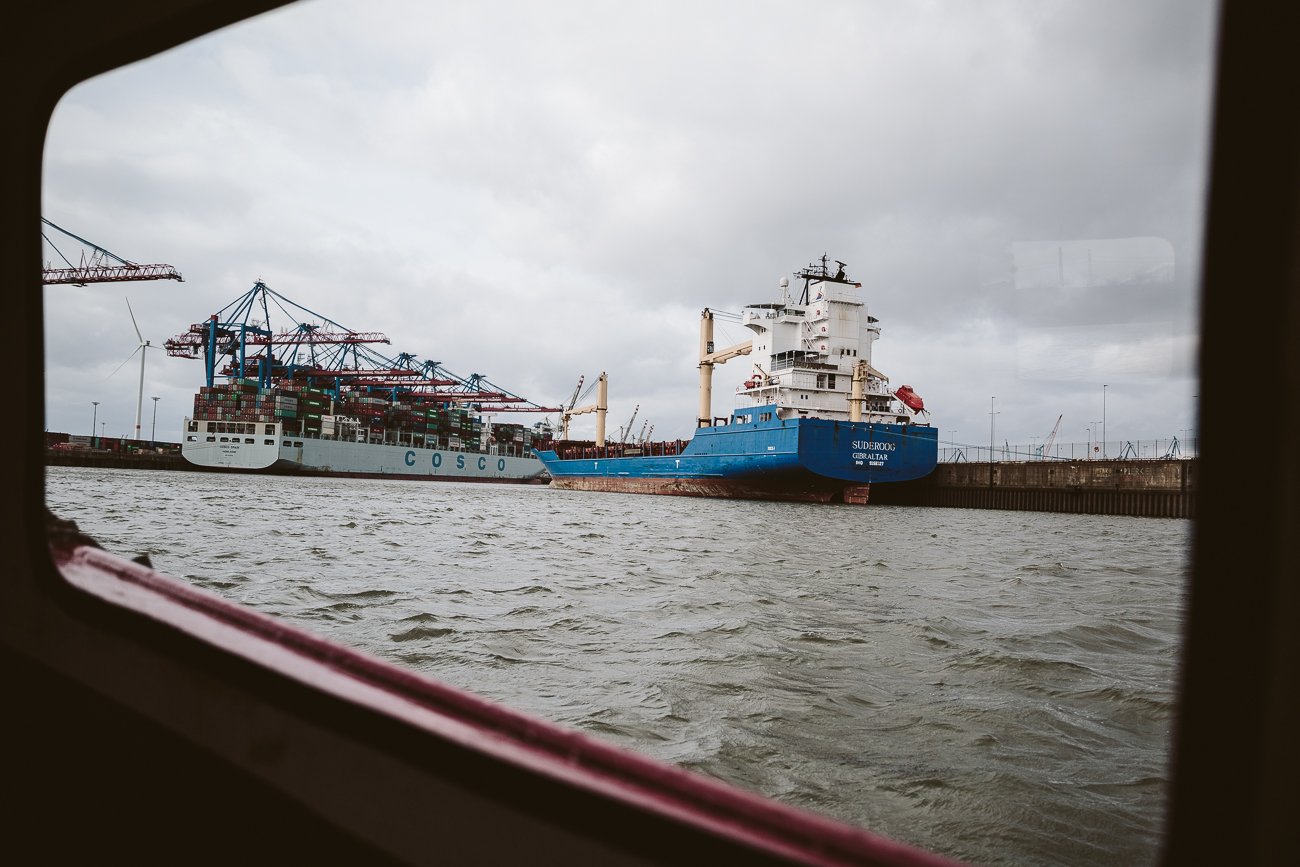 Only with the big or XXL harbour tours you'll also get to see the commercial harbour!
2.) A visit of the flea market in the "Schanzenviertel"
The so called "Flohschanze" is open every Saturday and worth a stroll to discover local products and enjoy some people watching. If it's rainy then you can escape to a few indoor areas and the lovely shop "Hanseplatte". Yes – it's a records shop, but it also sells cute Hamburg souvenirs, that are not cheesy. If you're in the neighbourhood make sure to also walk through "Markstraße" – it's the hotspot for local designer shops and small cafés.
3.) Walking through the "Speicherstadt" and the "Hafen City" districts
The Speicherstadt district is part of the Unesco world heritage since 2015. It's the world's biggest ensemble of traditional warehouse blocks and now hosts museums, restaurants and many offices (of hip agencies and such). This area is worth a stroll, even when it rains.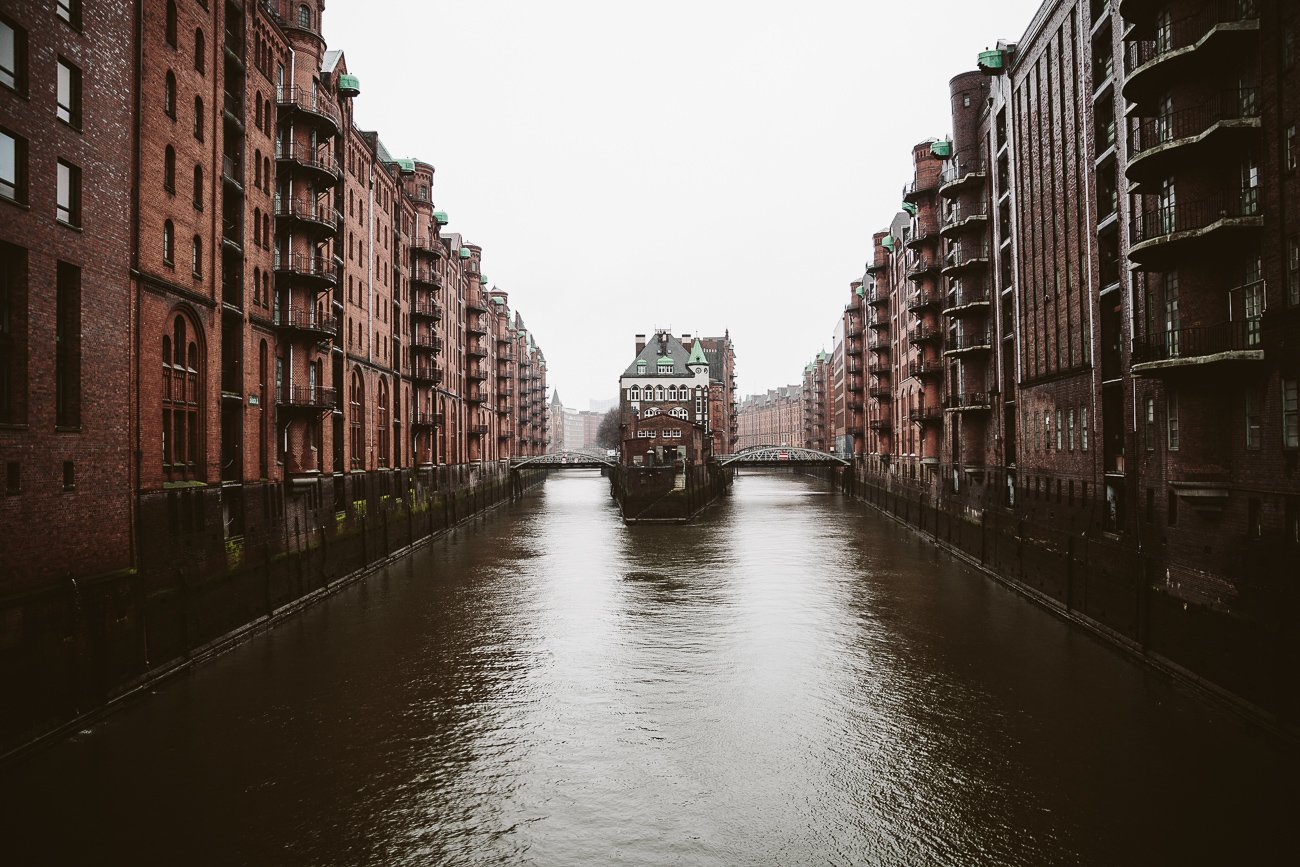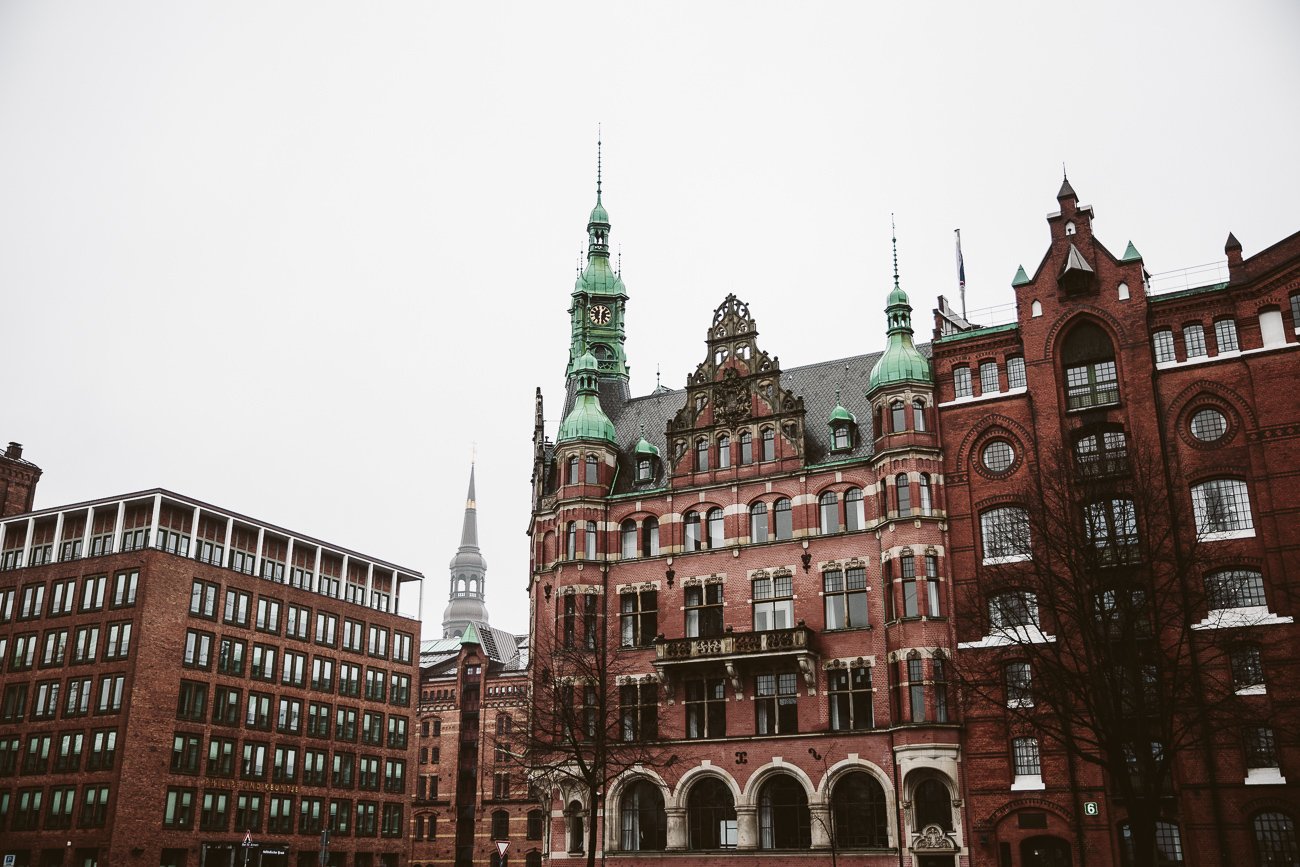 The Hafencity is currently Europe's biggest urban development project. It was announced 1997 and is in progress ever since. 62 projects have been completed, while 70 are still being developed. The Elbphilharmonie is an integral part of this new district, but your visit shouldn't end here.  Every time you'll come back to Hamburg there will be something new in this area. The Hafencity will increase Hamburg city's size by 40%!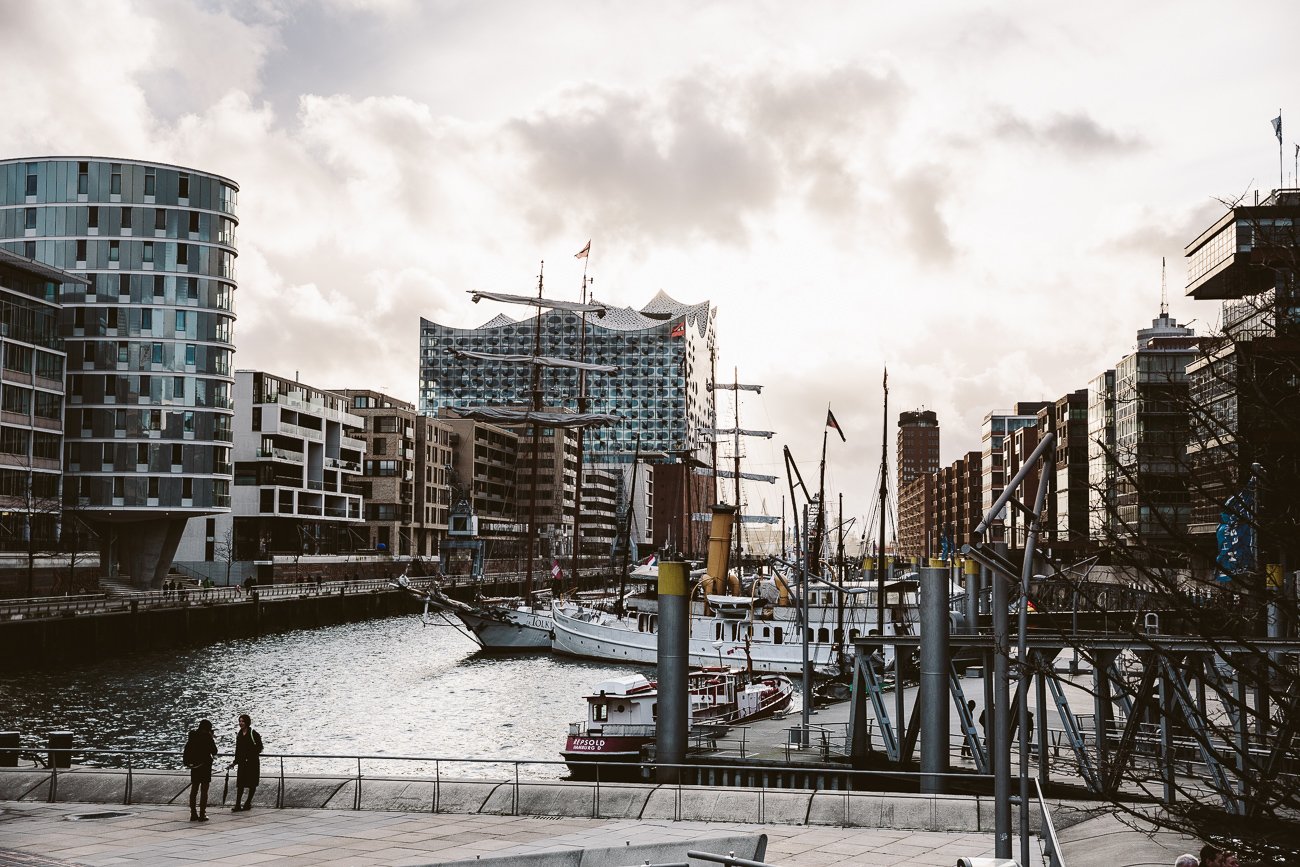 The first residents moved into the Hafencity in 2005. Now the Elbphilharmonie is also finally ready!
4.) Discover the architecture of Hamburg (like the Chilehaus)
Hamburg has a lot to offer for architecture fans of all periods. A special area to discover is the so called "Kontorhaus" district with the Chilehaus, which is also part of the Unesco world heritage. This distinctly shaped building from 1924 is now being let to business owners.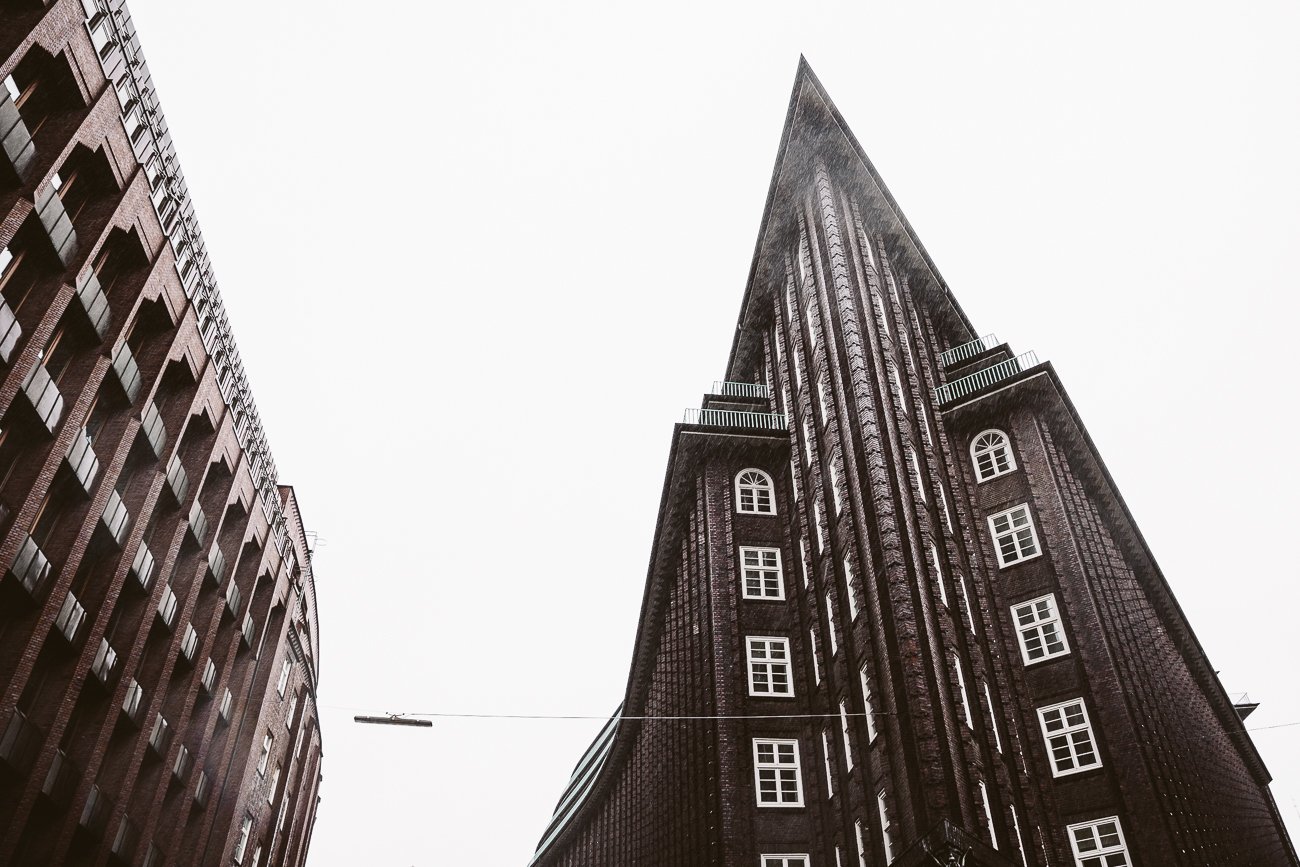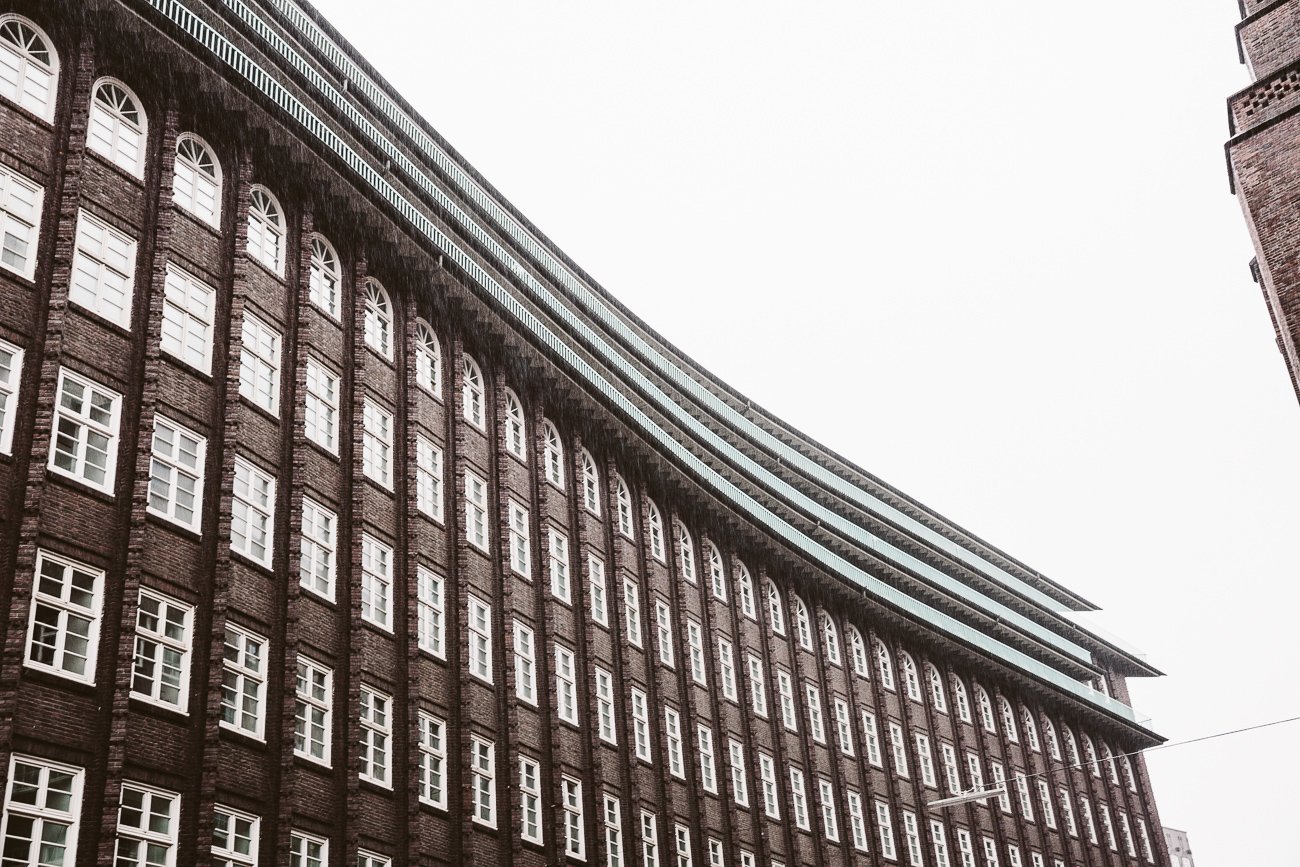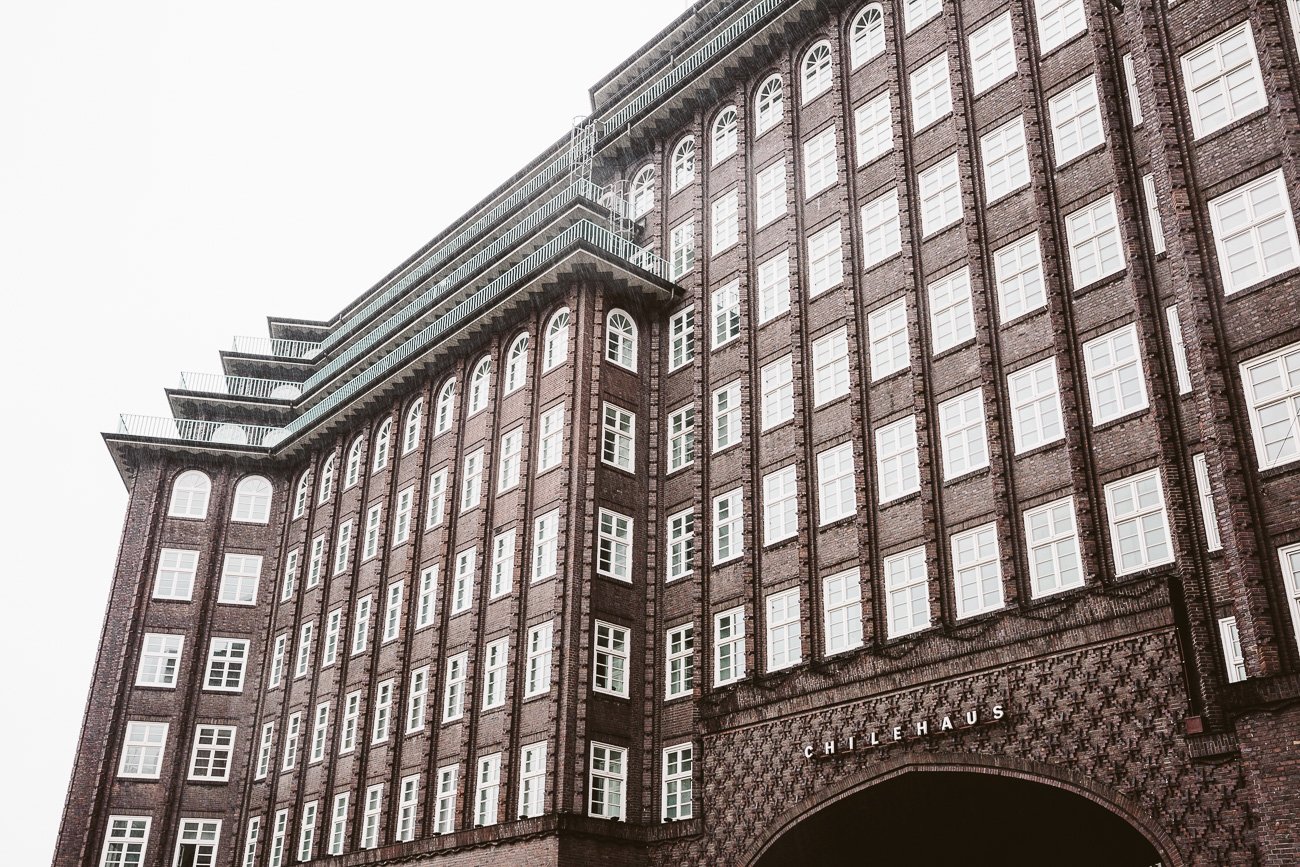 5.) The Beatles tour
This really is something special for all the Beatles fans out there. You won't find a person who knows more about how the Beatles kicked-off their career in Hamburg than Stefanie Hempel. She lives and breathes music and Beatles know-how and has some spectacular personal stories to tell.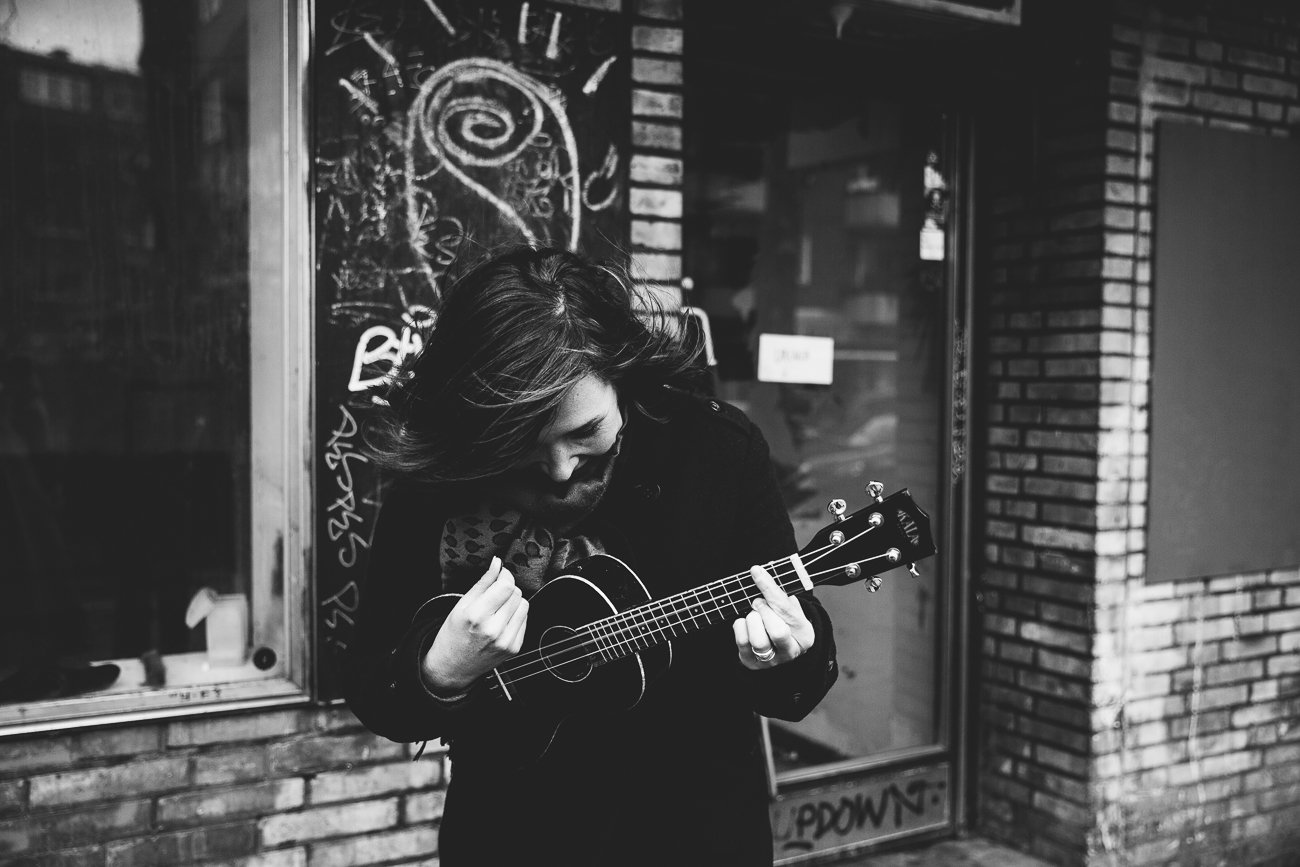 Stefanie Hempel plays the Ukulele during the Beatles tour.
Those are our Top 5 outdoor activities in Hamburg, that you shouldn't skip. Even when it rains. So better pack your umbrellas and your boots and get ready!
☔☔☔
Extra Hamburg tips
Here are a few extras, that you can explore when in Hamburg.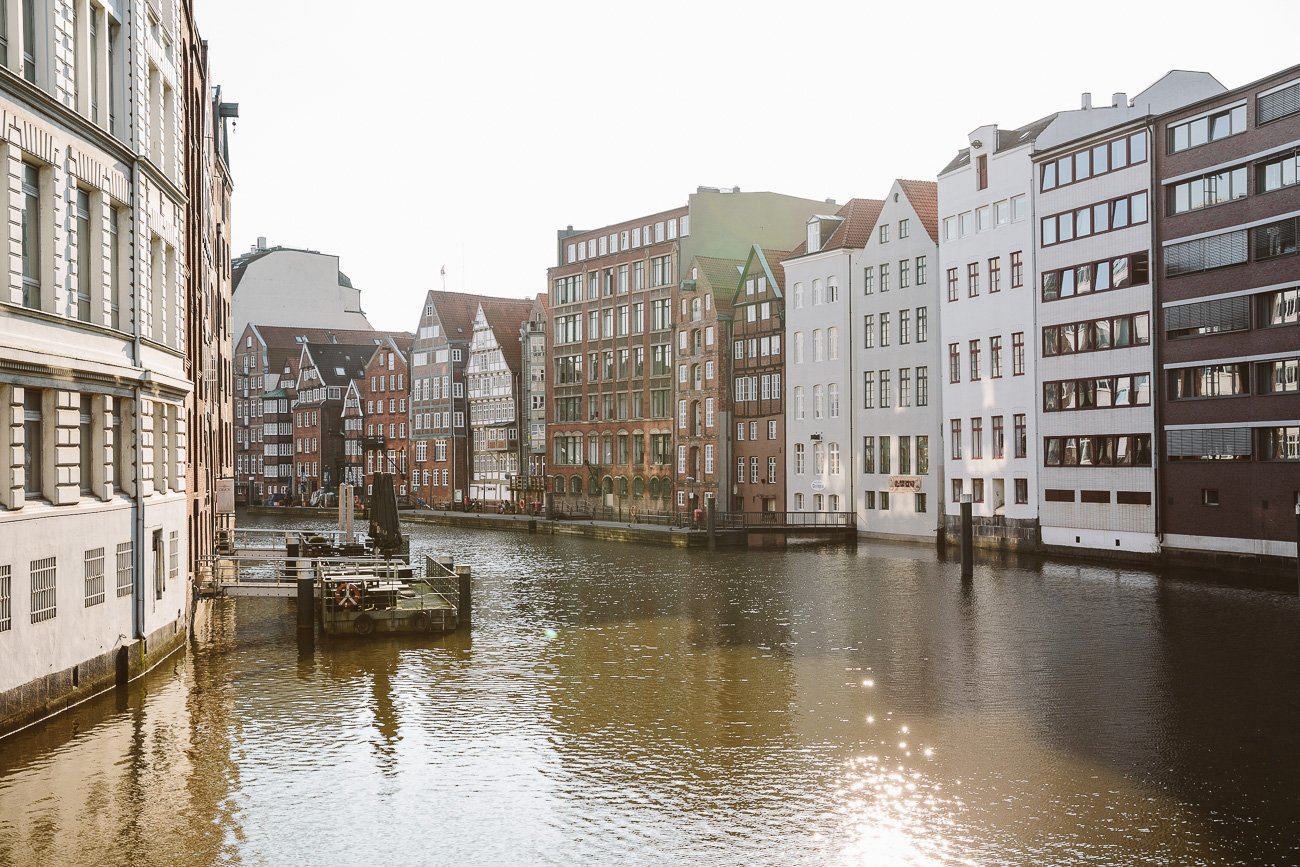 The Nikolaifleet is a popular line of old houses in Hamburg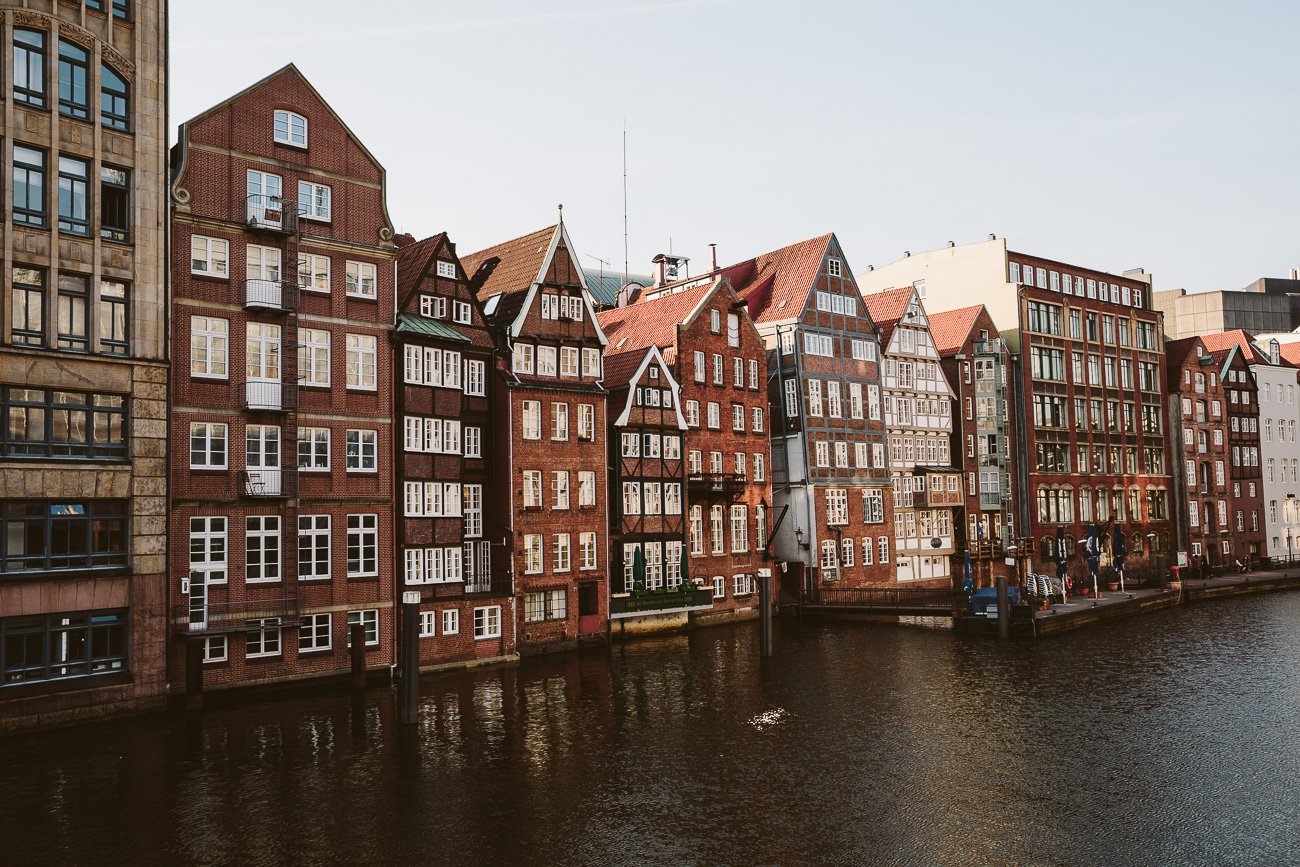 On a sunny afternoon you can stroll alongside the harbour from Baumwall to the Landungsbrücken and enjoy it with the locals.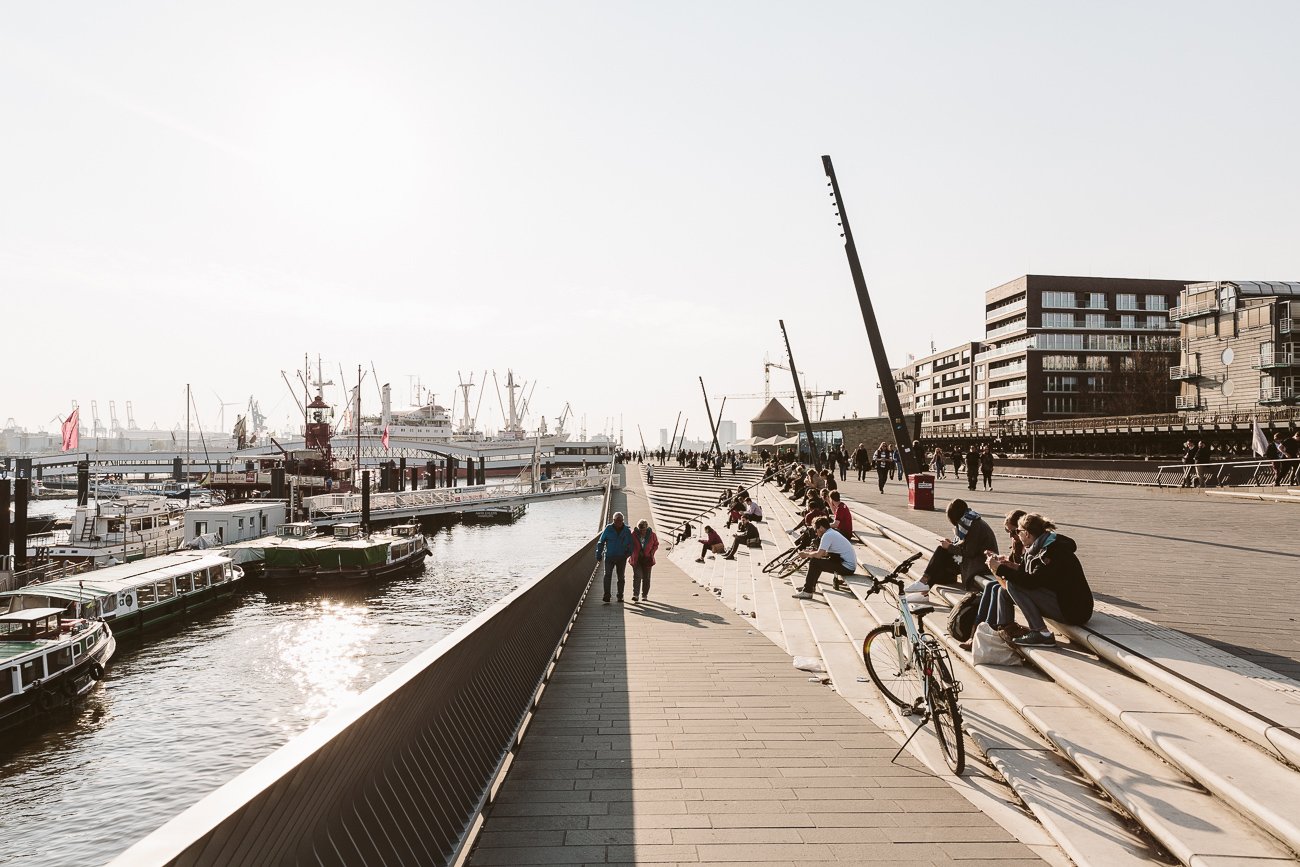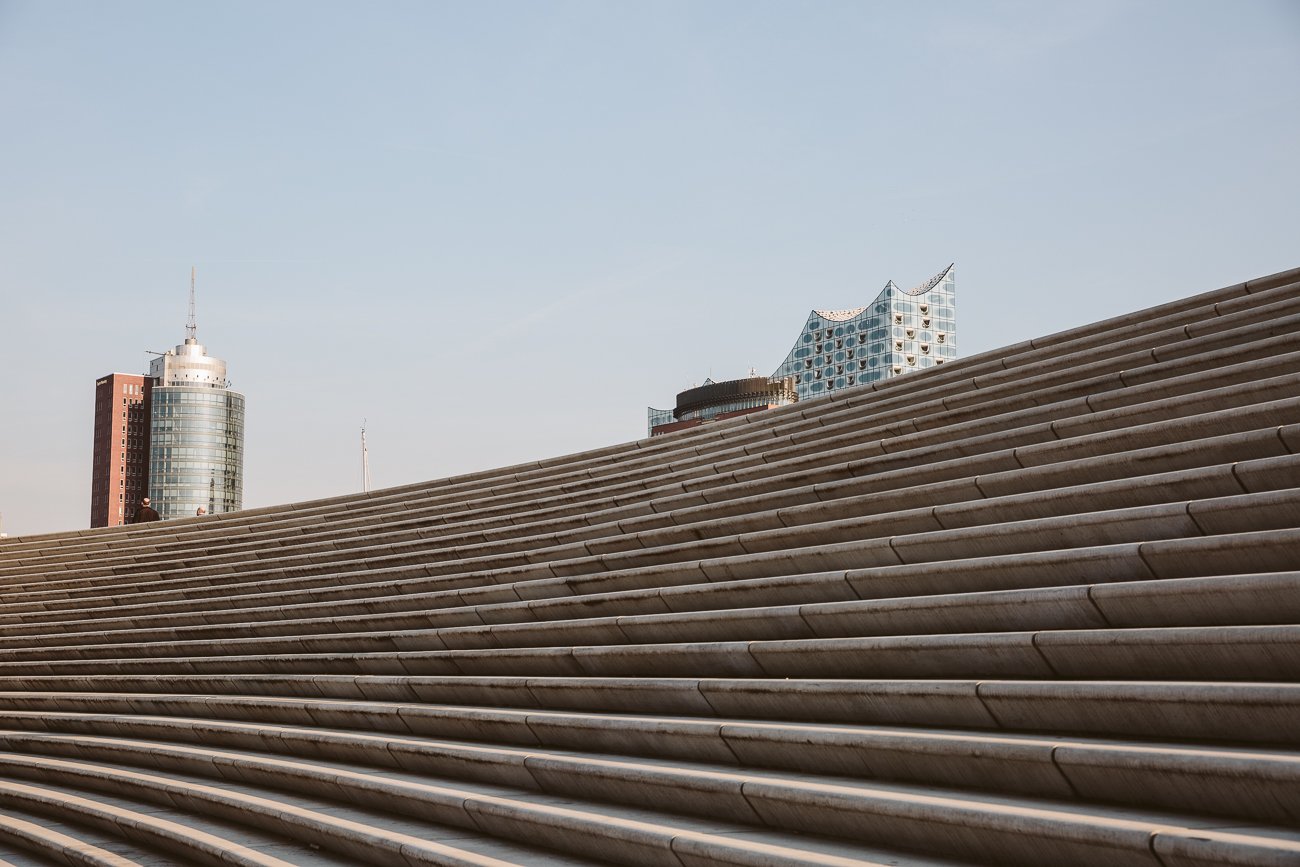 The late Zaha Hadid designed those stairs at the Baumwall.
What to skip in Hamburg
Here's what we think you can easily skip in Hamburg:
? Don't try to understand the culinary tradition (especially if you're a vegetarian).
The traditional dishes are either sausage with kale (where they cook the kale in pig's fat and include some extra sausage for "better taste")  or cured, minced meat mixed with beetroot and potatoes (and sometimes also some extra fish & lard to make it more "tasty"). This basically means you can go to Asian restaurants or eat a Veggie burger without a bad feeling on missing out on the original Hamburg cuisine ?
? We can recommend the vegetarian burgers at Oberhafenkantine. The building has been swept away by tidal flooding a couple of times and is especially charming. It's close to Speicherstadt and Deichtorhallen.
? Don't try to understand St. Pauli and the love Hamburg has for the red light district.
We really tried to grasp what St. Pauli and the Reeperbahn is all about. What we found was: Table dance bars and other red light clubs on the verge of bankruptcy (well, the internet is a valid competitor). Restaurants, that don't even serve any inspired vegetarian dishes (think "Green Salad" as the only vegetarian starter). Drunk people at 5pm – running through the streets chanting some unidentifiable tunes adorned with beer cans in their hands.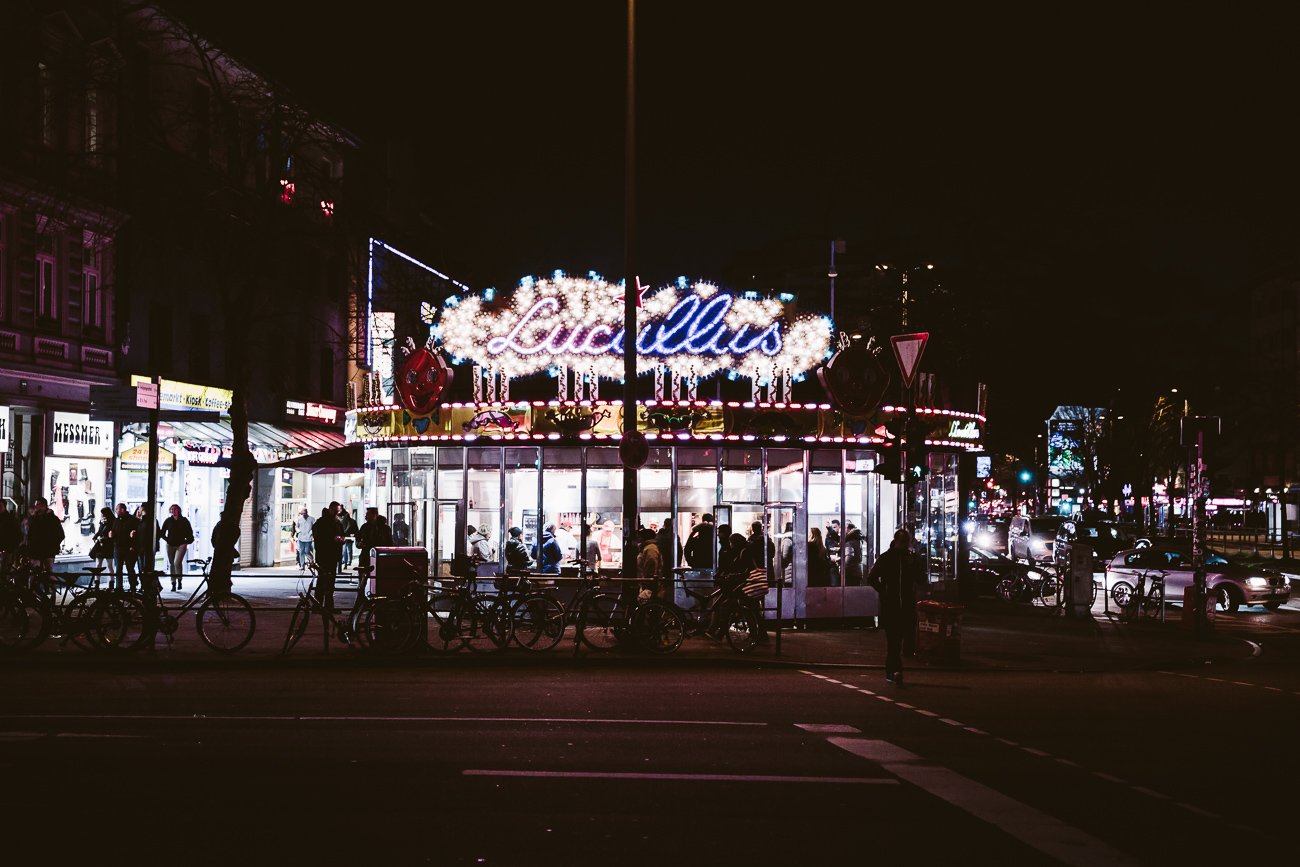 We learned that the bars and restaurants have a hard time, because people don't consume a lot, they just bring their supermarket beer to St. Pauli. And to top it all off we went to a musical called "Heiße Ecke", which tries to be a mix of German cabaret (which basically only Germans understand) and semi-serious musical (think Disney trained voices and catchy scores).
All in all St. Pauli stays a mystery for us and we really don't understand the hype about it.
But do find out for yourself! If you want to see the indoor activities, make sure to check out our blogpost about the Top 5 indoor activities in Hamburg.
Disclaimer: We were invited to Hamburg by the local tourist board & the Elbphilharmonie, but our views stay independent from that invitation.