The Arlberg: A mountain with a history.  The place where skiing was ultimately brought to life in Austria. Let us take you to the cradle of alpine skiing – to St. Anton am Arlberg!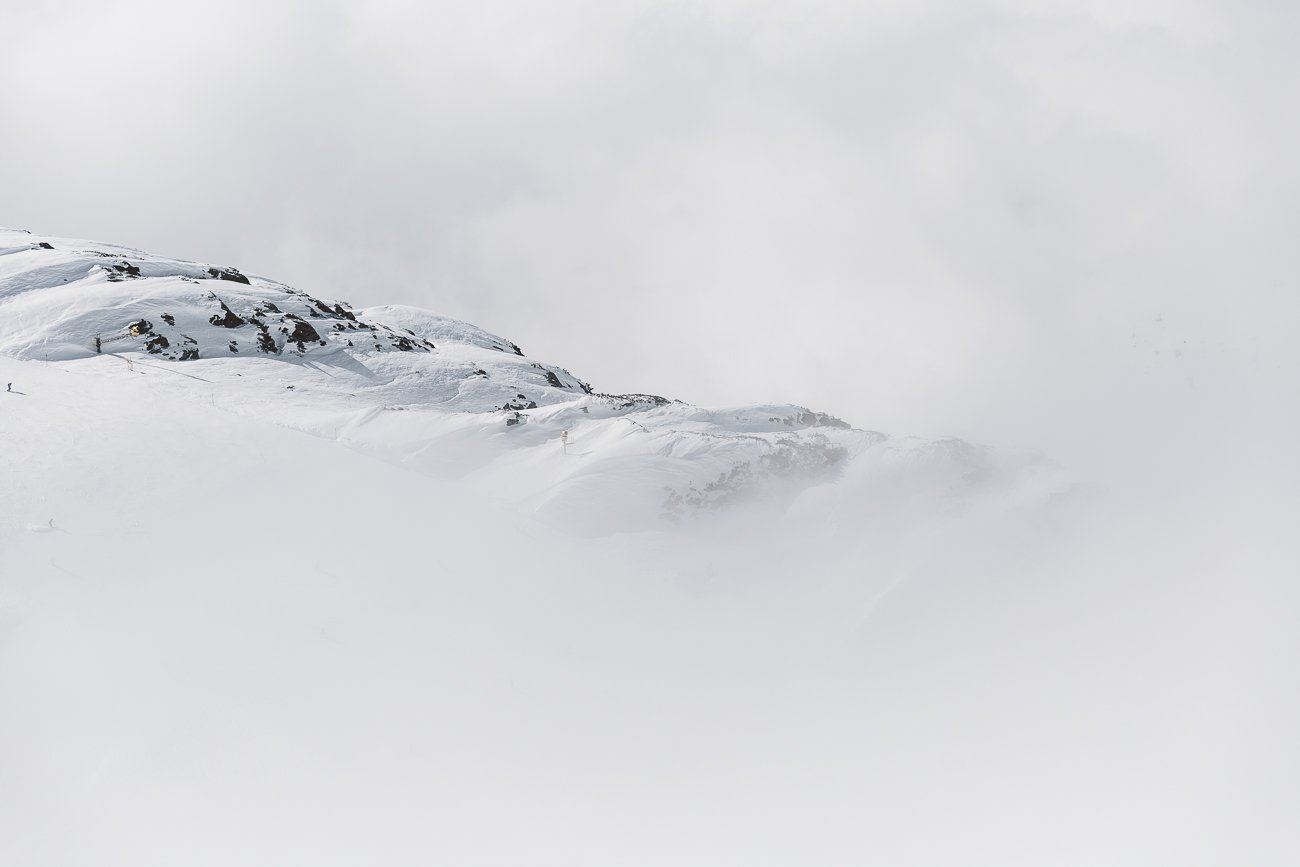 A mountain with history: The Arlberg
If you tell your friends, that you're travelling to the famous Arlberg, they will all have the same pictures of skiing and it's birth in Austria in their minds. The name is connected with the idea of alpine skiing so closely, that it's hard to imagine it any other way!
The Arlberg hosted the world's first skiing club, the first skiing race in the Alps and also the first ski lift in Austria. But the innovation didn't stop there. In 2004 the first heated chair lifts were also introduced at the Arlberg! Welcome to the cradle of alpine skiing in Austria.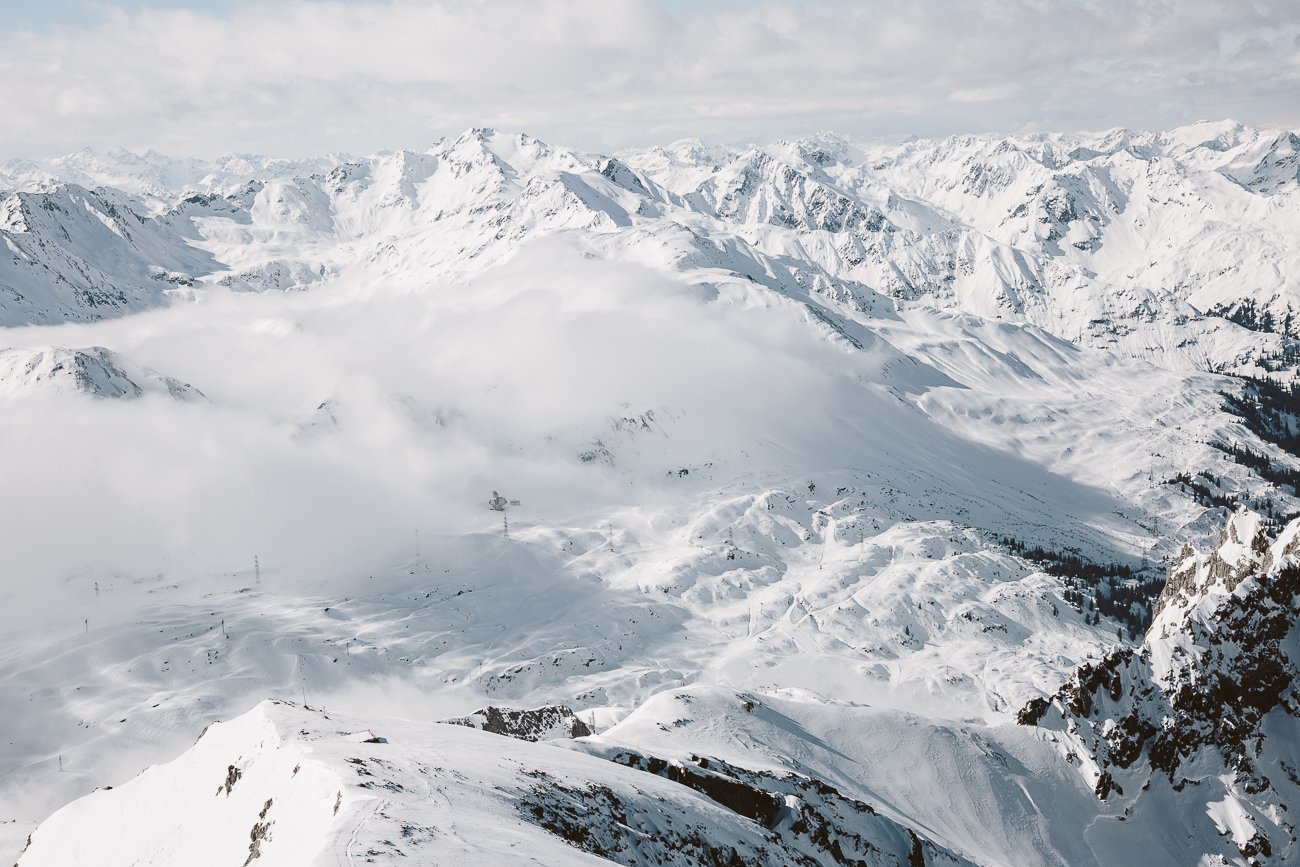 We spent 4 days here in March and combined skiing & snowboarding with relaxation, hiking, gourmet experiences and even a horse carriage ride. Here are our tips for a visit of St. Anton am Arlberg and the surrounding Ski arena.
St. Anton am Arlberg: The sportsmen's village
The Arlberg region is divided between Tyrol and Vorarlberg. But it's also divided into areas with different focal points when it comes to tourism. St. Anton praises itself as being the perfect destination for real sportsmen.
Now – as you might know – we love the outdoors and travelling, but aren't the fittest couple in the world. And also not the sportiest people ? But: We did like the spirit of St. Anton. It is relaxed and not too posh. Also it's well connected with three valley stations to different parts of the skiing arena.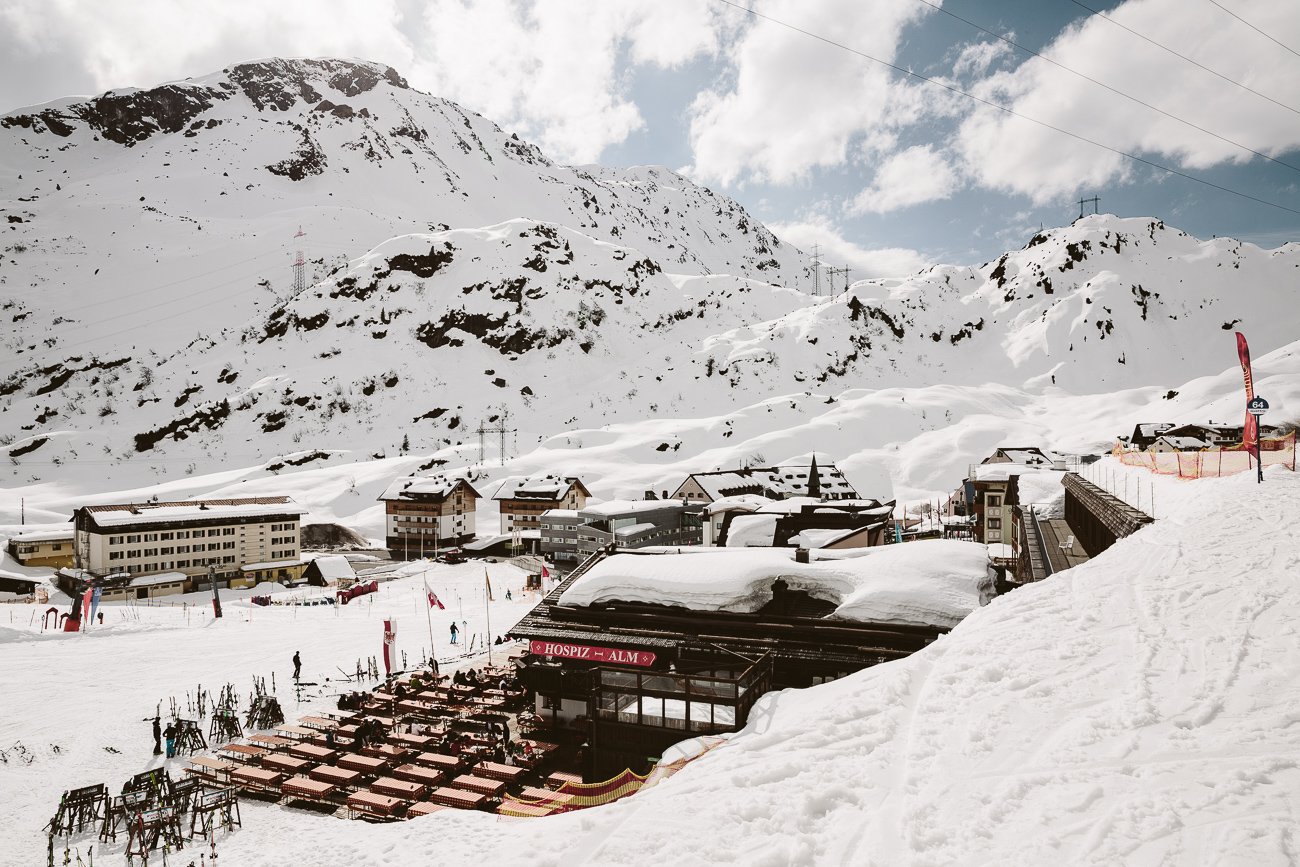 The view of St. Christoph as seen from Arlberg Thaja
The downside: St. Anton is located at the lowest point of the region (1.304m), therefore there was no snow in the village anymore in March. While St. Christoph (at 1.800m) still had some snow. This makes it a little less romantic, but more practical to access via car.
Our place to stay: Hotel Schwarzer Adler
Have you ever been to a hotel, that has been family owned since 18 generations? We haven't, but believe us, now we are hooked to this idea! If people tell you a visit to their hotel should feel like a family visit, it's mostly just advertising doing the talking. But here it is just so obviously the truth, that there's no denying the fact!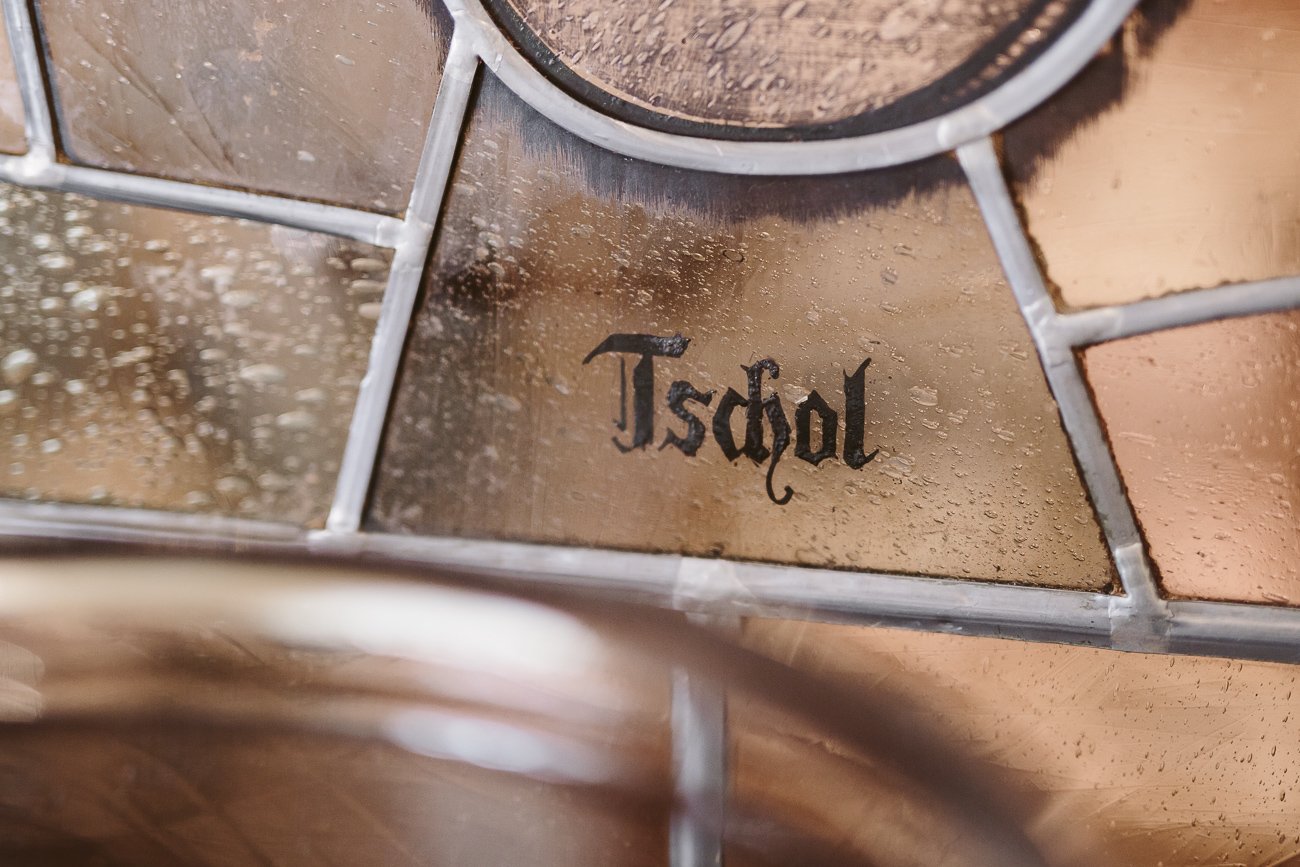 Family Tschol runs the hotel in the 18th generation… unbelievable!
So we enter the Hotel and are welcomed by Klemens Tschol, who will take over the hotel from his parents at some point. Now he's just smiling at us, handing over the key cards to our room and off we go. No formalities, no trained sentences – just a young Tyrolean dude who just returned from his morning skiing round, which he usually does before coming to the hotel. His red cheeks are our witnesses ?
 Our room #417 at Hotel Schwarzer Adler, St. Anton am Arlberg
So we move into our spacious room, that has been renovated with great attention to detail. The materials are warm and cozy, the wood smells softly and we immediately unpack the robes. The wellness area is always our first stop!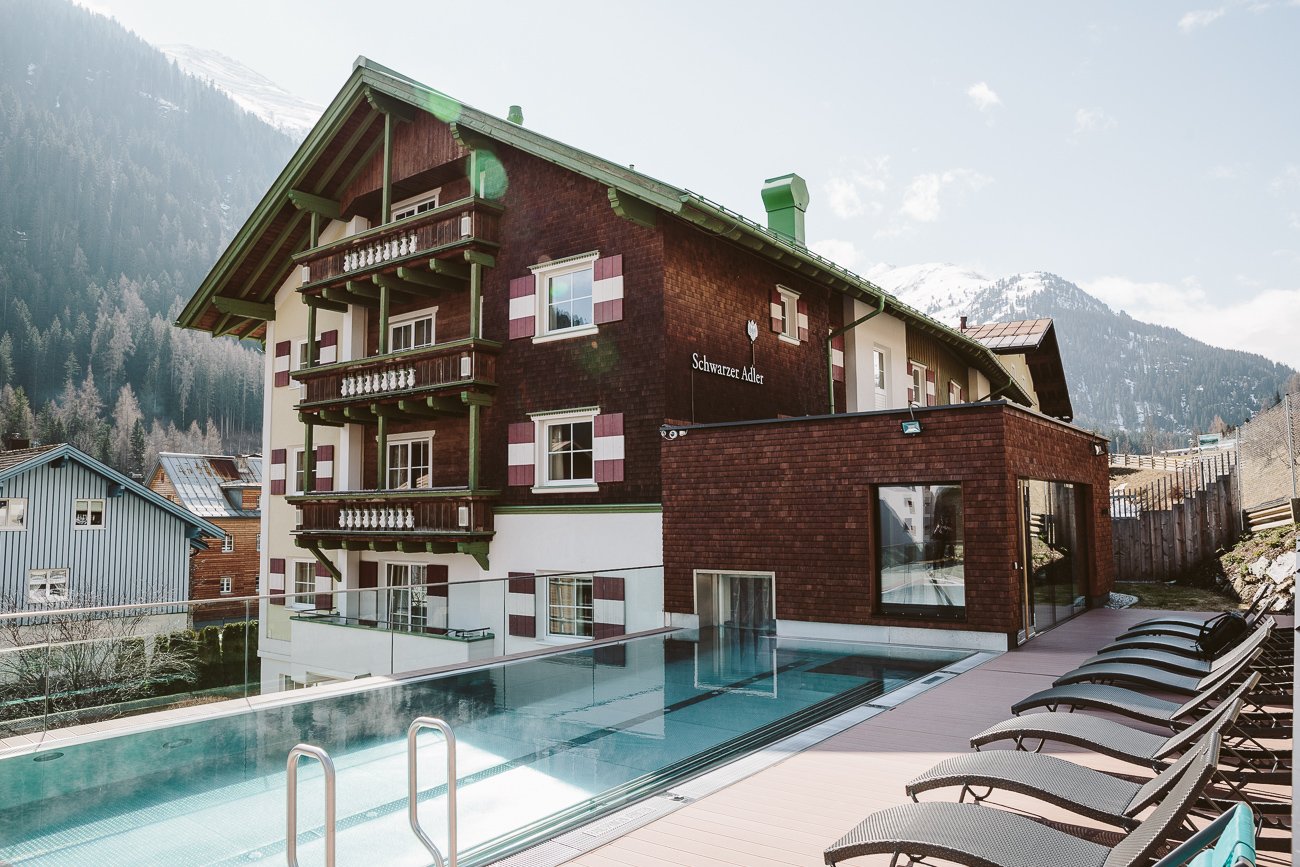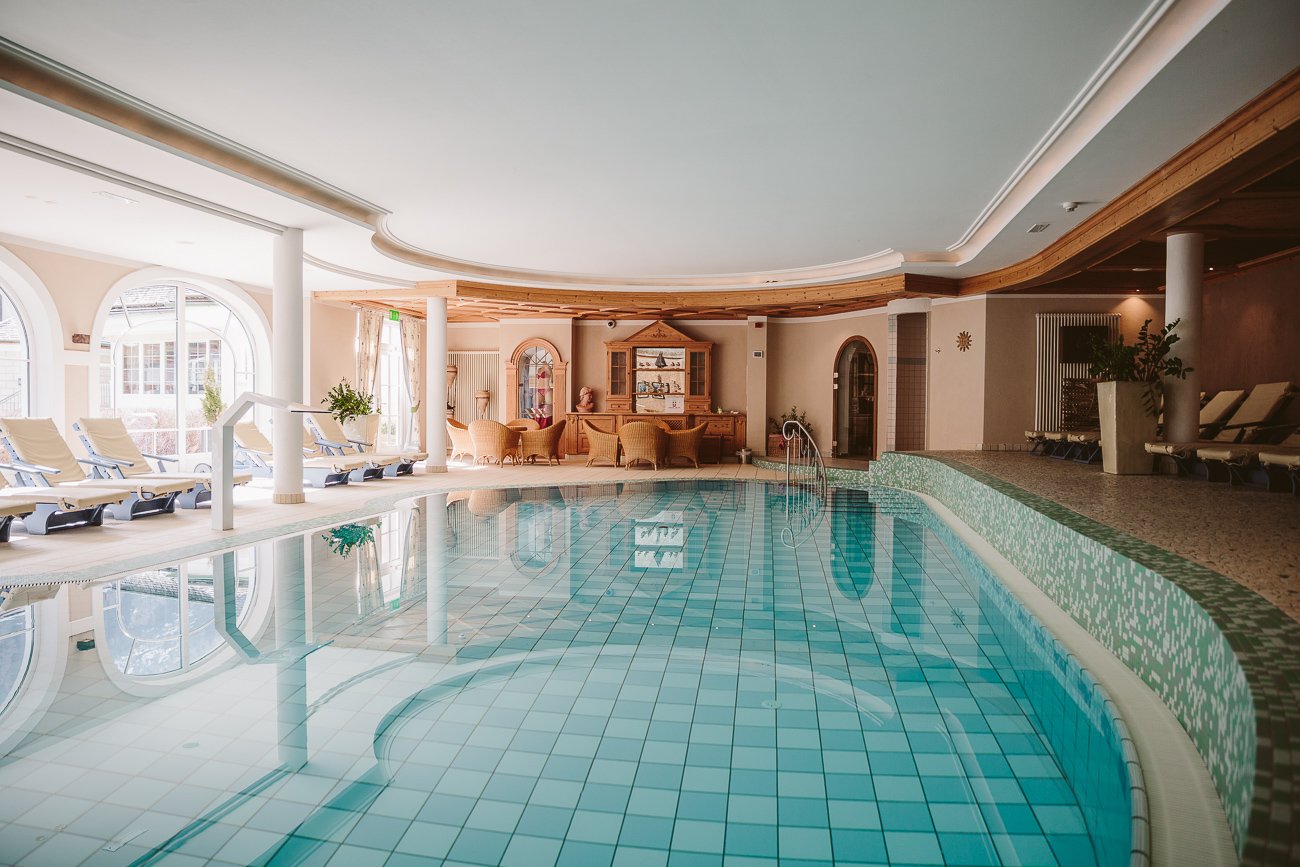 After a few laps in the indoor and the outdoor pool we try the Sauna and Infrared cabin – there's even an area for people who don't want to be naked (just in case you didn't find time to go to the waxing studio before your visit ?).
The next morning we are expected with a early breakfast for champions (7pm), so that we're ready to catch the first ride up to the mountain at 8:45pm.
Ready for the mountain exploration: First stop Valluga
Klemens recommended to take the first cable car up to Galzig and then on to Valluga. From the hotel it's only a 5 minute walk through the pedestrian zone to the first cable car. We're there with approximately 50 other people who decided to get up early for the first ride.
The third and last cable car up to Valluga is super tiny (and only fits about 4 or 5 passengers). But we're alone in there! And then we arrive on top & see this spectacular view: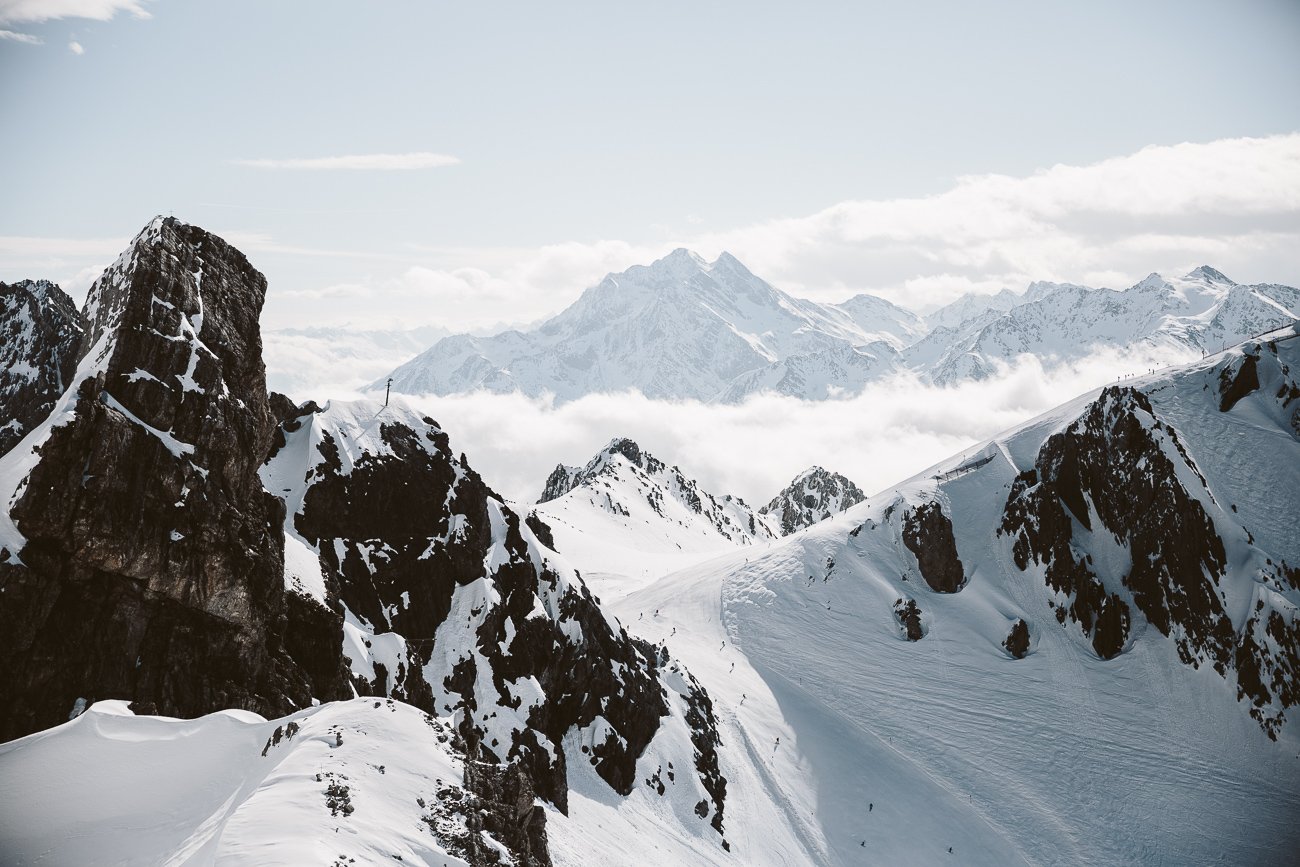 The viewing platform at Valluga is located 2.809 meters above sea level
When we left St. Anton it was still covered in morning fog, but at 2.800 meters the views were incredible!
We didn't bring our skiing equipment, because you're not allowed to have it with you on top of Valluga. In retrospect we should've brought it and just stored it at the top station of Galzig. This way we could've taken the chance to be on the fresh slopes without going back to the hotel to pick them up!
Time to go skiing & snowboarding
Since we didn't bring our gear up to Valluga, we take the cable car back down (and jealously squint at the skiers drawing the first lines). We quickly pick up our gear at the hotel and start our first day of alpine adventures.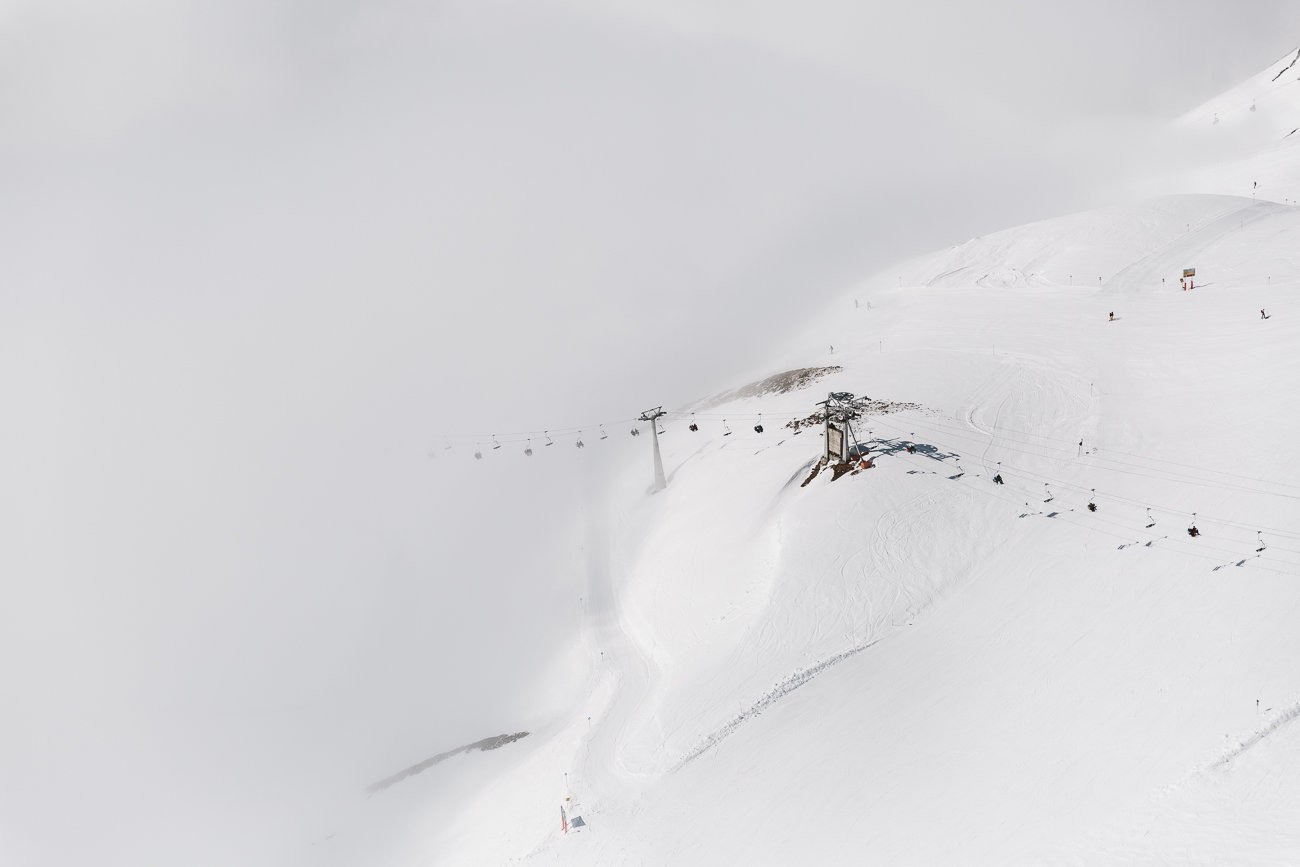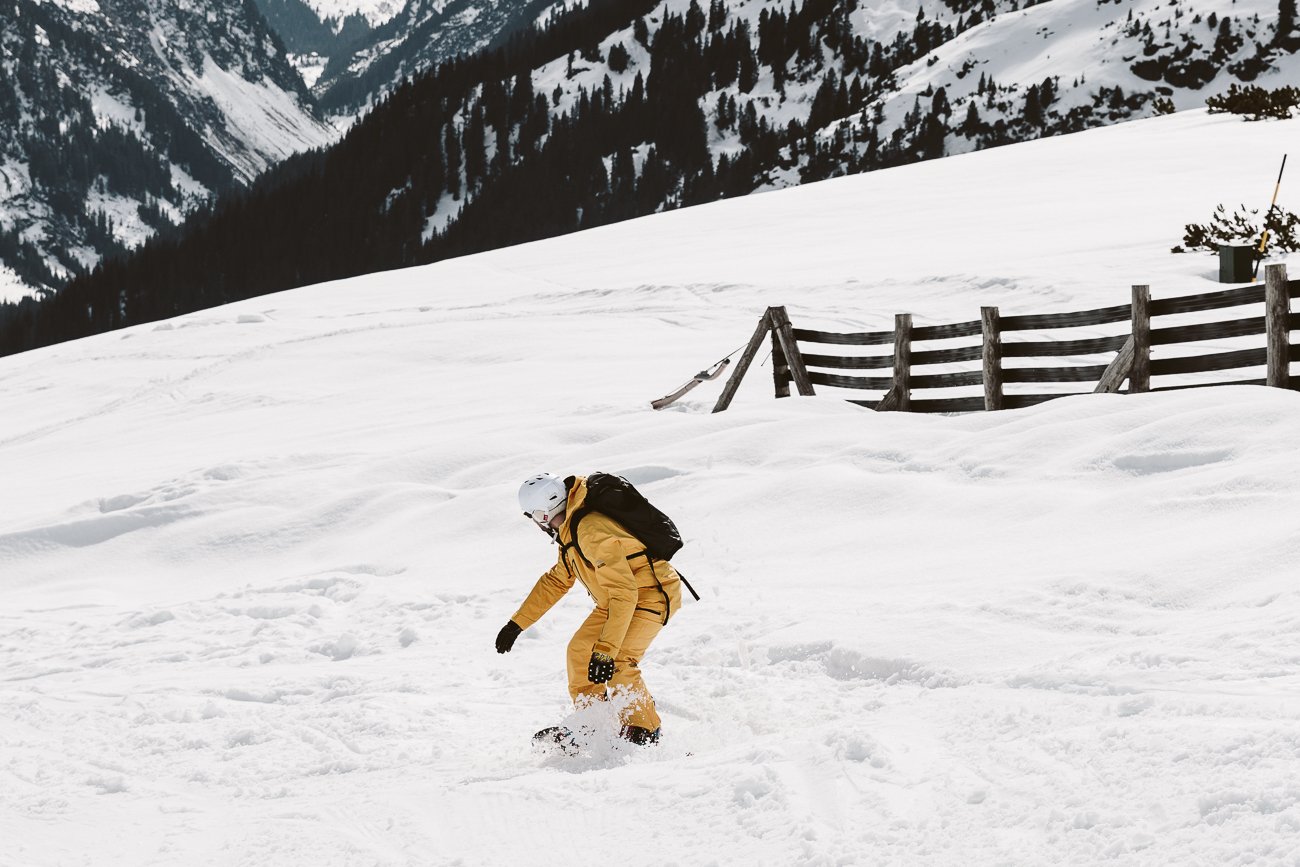 Since this season the Arlberg is Austria's biggest connected ski arena. Over 100 slopes are just overwhelming! We start from the Galzig and then the Vallugabahn 1 and slowly make our way to St. Christoph. We go up and down, left and right and never take one piste twice.
And did we mention that there's 87 lifts to choose from! This makes for a skiing paradise. No way we can see everything in 3 days.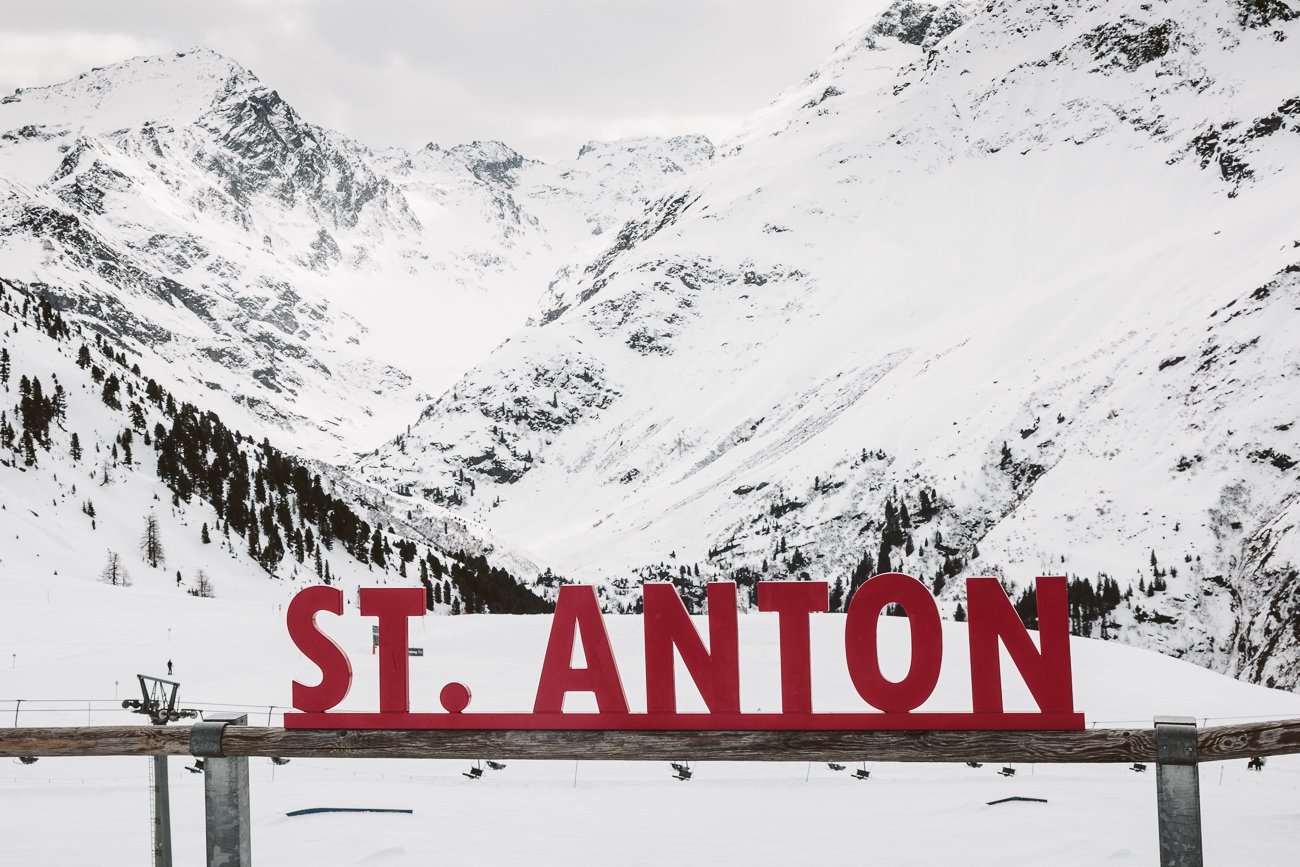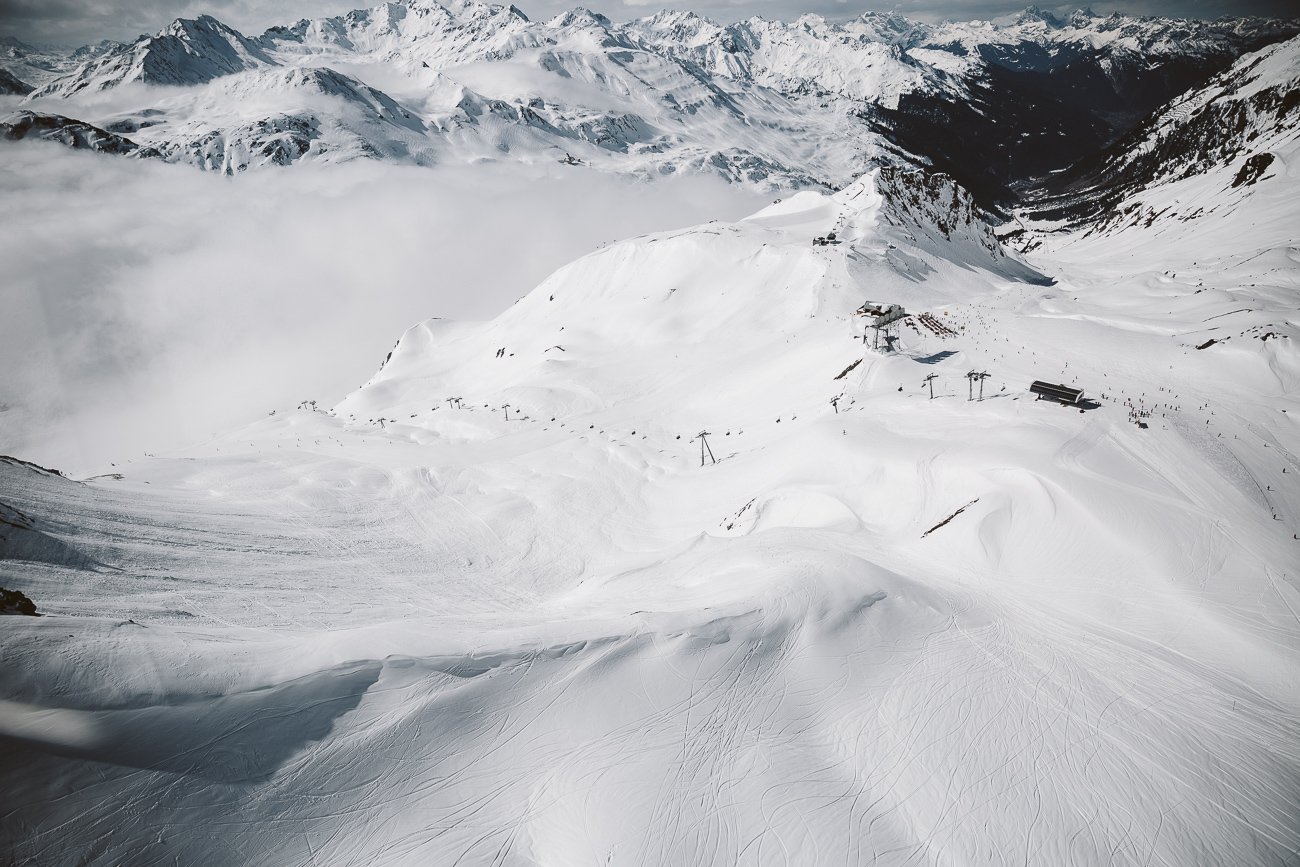 Lunch break at Arlberg Thaja
After some calorie burning activity, it's time to refuel! ? We stop at the Arlberg Thaja, which is a newly opened skiing lodge. Our highlight: It serves hot meals all day long. Yes – serves! No standing in line at buffets. Proper service and freshly cooked food. Yay for that!
Kaiserschmarrn is a staple… it's almost like skiing doesn't come without it!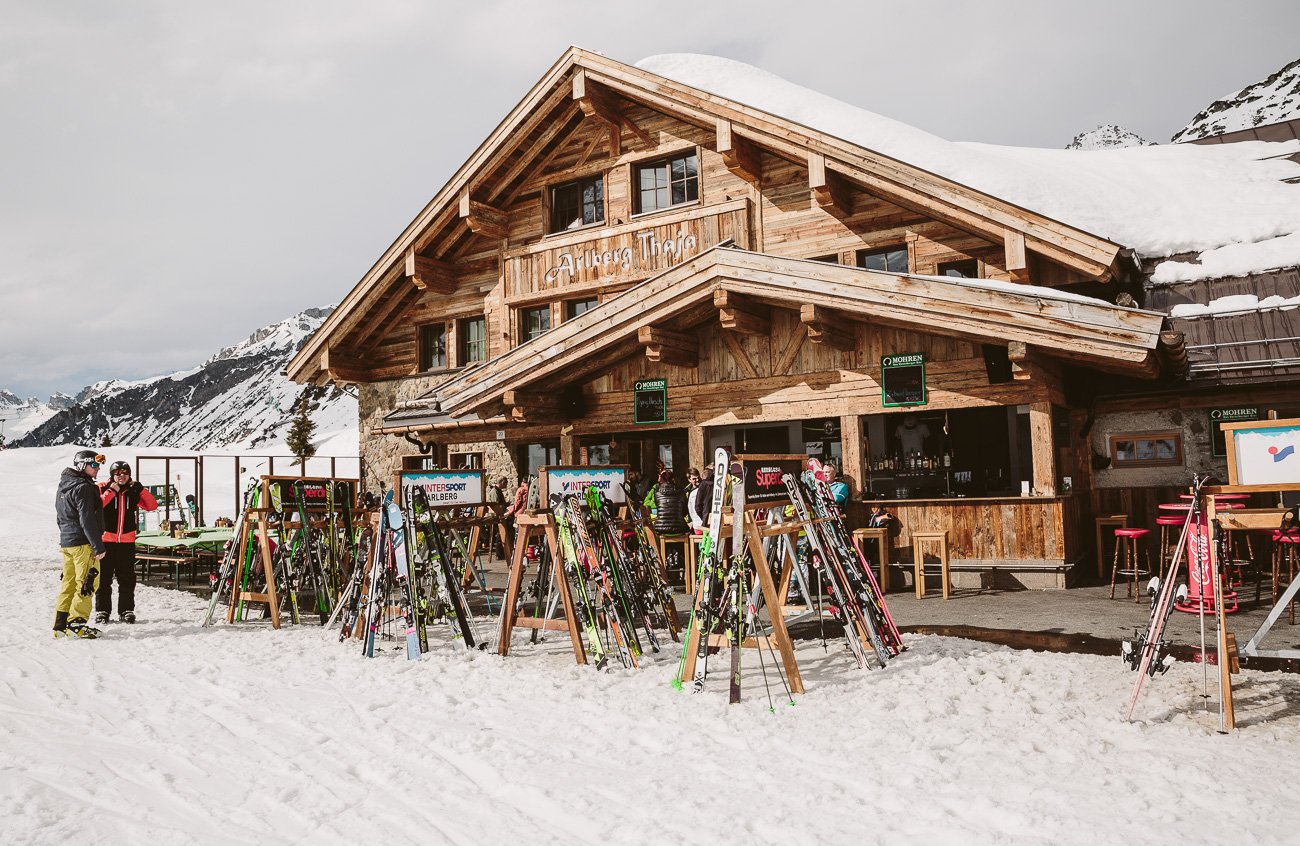 Après skiing done differently
So, now we have to be honest with you: We hate traditional Après Skiing. The music, the sweaty scent of the air in the huts, the drunken people. No – not for us! So when we get back from skiing we usually go to the wellness area of the hotel or – well, we get creative. In St. Anton you can book a ride in a horse carriage to a storage lake. That sounds more like our kind of program!
Stefan and Karin have their own Noriker horse stud farm and also offer rides with their carriage.
The one hour ride costs 100 Euros (for up to 4 people) and leads through the woods of the Verwall valley. It's usually a roundtrip, but we decided to be dropped off at the end of the valley and hike on to the storage lake.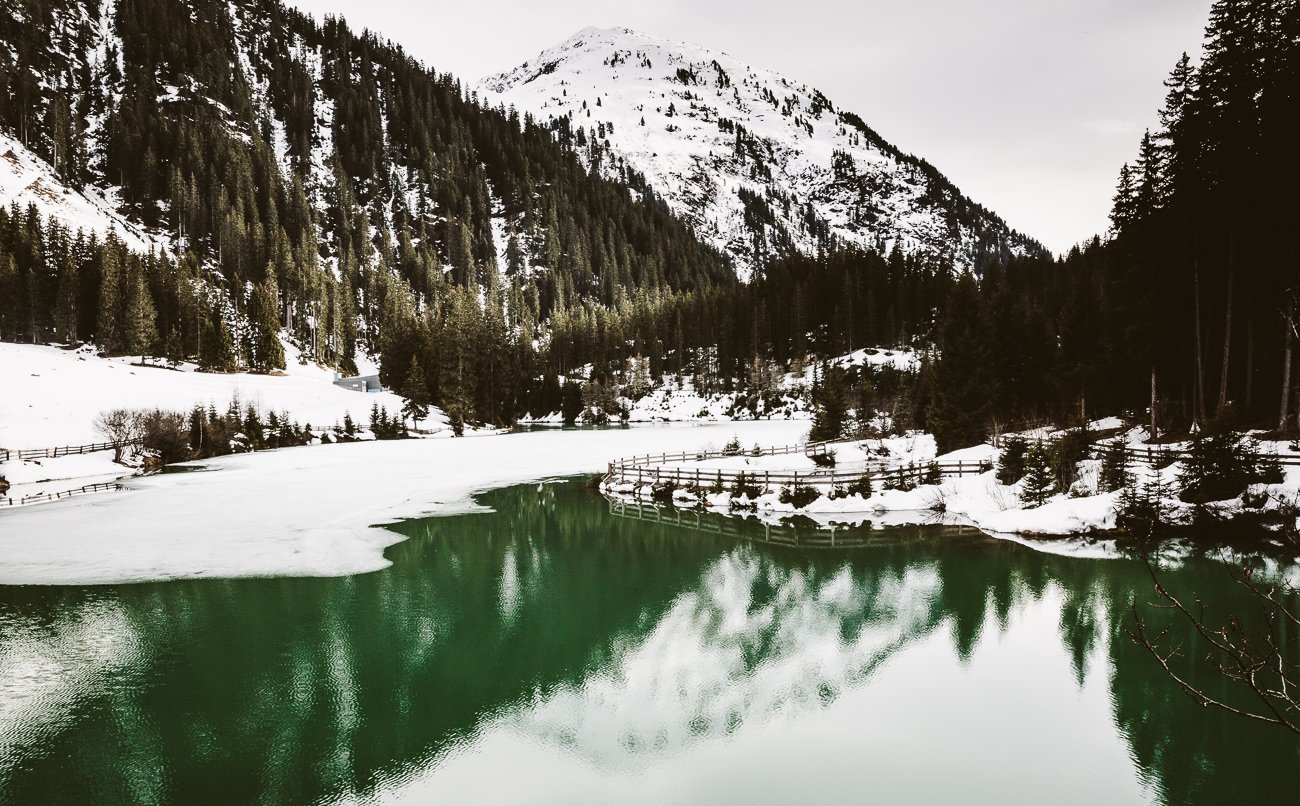 The Verwall storage lake was still half frozen in March.
After circling the lake we decided to walk back to the entrance of the valley (where we parked our car). It was a one hour hike and we returned to the hotel looking just like Klemens when he welcomed us. Red cheeks and big smiles on our faces ?
Our last "task" of the day: Dinner at the À la carte restaurant of Hotel Schwarzer Adler
A goodbye with a promise
The red cheeks stayed with us for the 5 hour drive back to Vienna… We take it as a reminder of a great time at the Arlberg. And we promised Klemens that we would be back in summer. Because now we're family!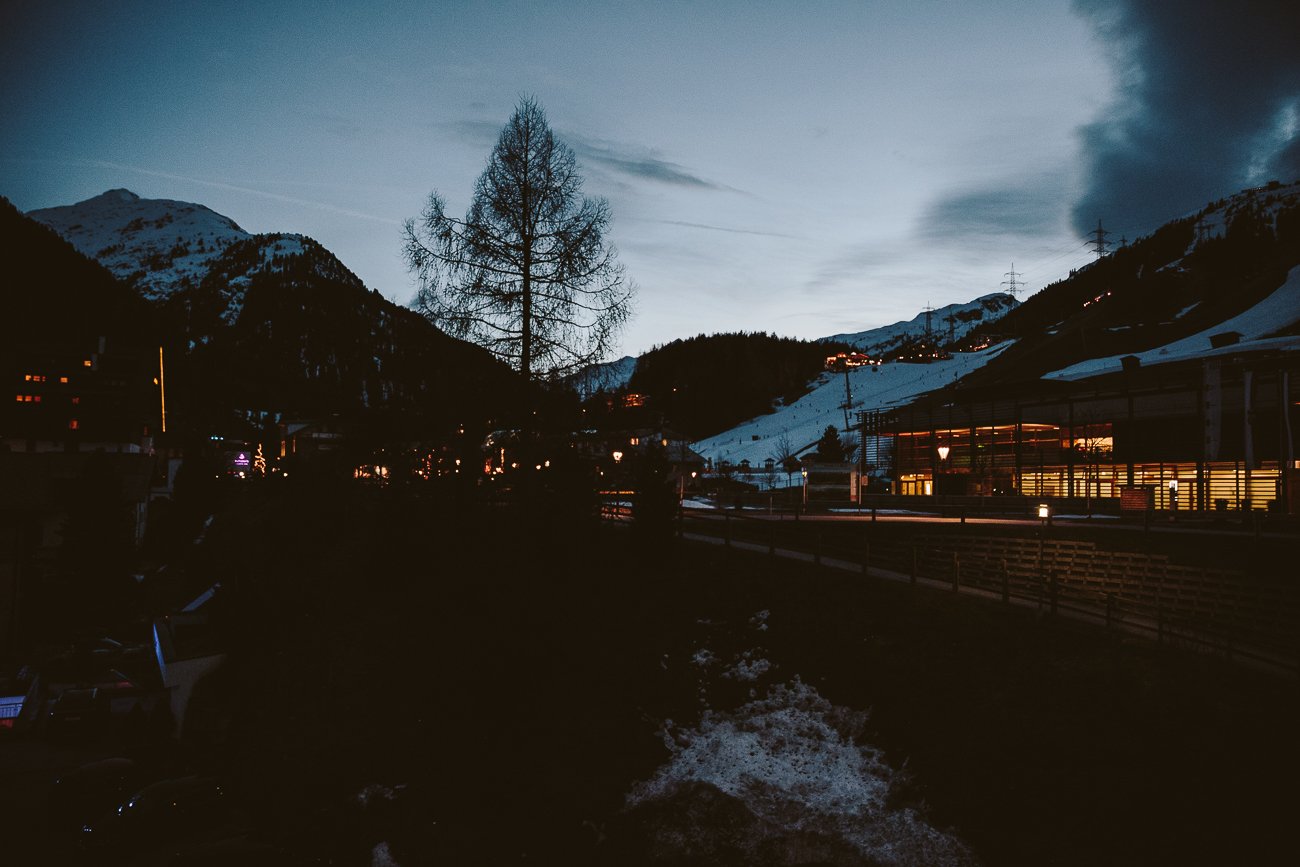 The renovated rooms at Hotel Schwarzer Adler start at 184 Euros and include:
Luxury half board (buffet breakfast and 5-course dinner, vegetarian options available)
Wifi in the rooms
Parking spot (this is crucial in St. Anton!)
Ski storage at the valley station of Galzig cable car
Robes & slippers for the also included Wellness & Spa area
And there's even a Tesla charging station that is free!
Disclaimer: This is a sponsored post for the Hotel Schwarzer Adler. We were invited to St. Anton am Arlberg by the Hotel Schwarzer Adler, but our views stay independent from that invitation.