Many of you have been inquiring lately what we pack for a safari, which essentials to bring and what to leave at home. The main question is: What do you truly need on a safari? And how can you manage to abide by the 15-20kg bush plane luggage weight limit (and that's the total weight – including your carry-on and personal items)!
So here's our absolutely essential, proven-in-detail, fully explained safari packing list with everything you need on a safari plus all our tips what you really don't need.
Disclaimer: This post is written by a woman, who often travels solo or with her husband and no kids. This packing list might look a bit different for a man or very different for a family with kids.
At the very end of this post you'll find a FREE downloadable pdf packing list.
The clothes should be lightweight, durable and neutral coloured. And it's all about layers!
Safari packing list: Luggage
This is the first piece of advice: Unless you go on an ultra luxury safari without any weight or luggage limitations you should always bring luggage that works on bush planes, in open safari vehicles and on sandy paths in bush camps. So in essence: no hard case trolleys.
Instead it's recommended to opt for duffle bags as they can easily be stowed – no matter if you travel by Mokoro boat or on a helicopter. As a bonus if they're well made they have really durable zippers and close well so no sand and dust can get into your bag. My luggage usually consists of:
1 x North Face duffle bag large (weighing about 10kg when fully packed, check-in luggage on long haul flights)
1 x North Face duffle bag small (weighing about 5kg when fully packed, carry on luggage on long haul flights – this is mostly for my camera gear, which is stowed in separate camera inlets inside the duffle bag. Usually there's some extra space in this bag for souvenirs…)
1 x small waterproof backpack (personal item, mostly for my travel documents and laptop)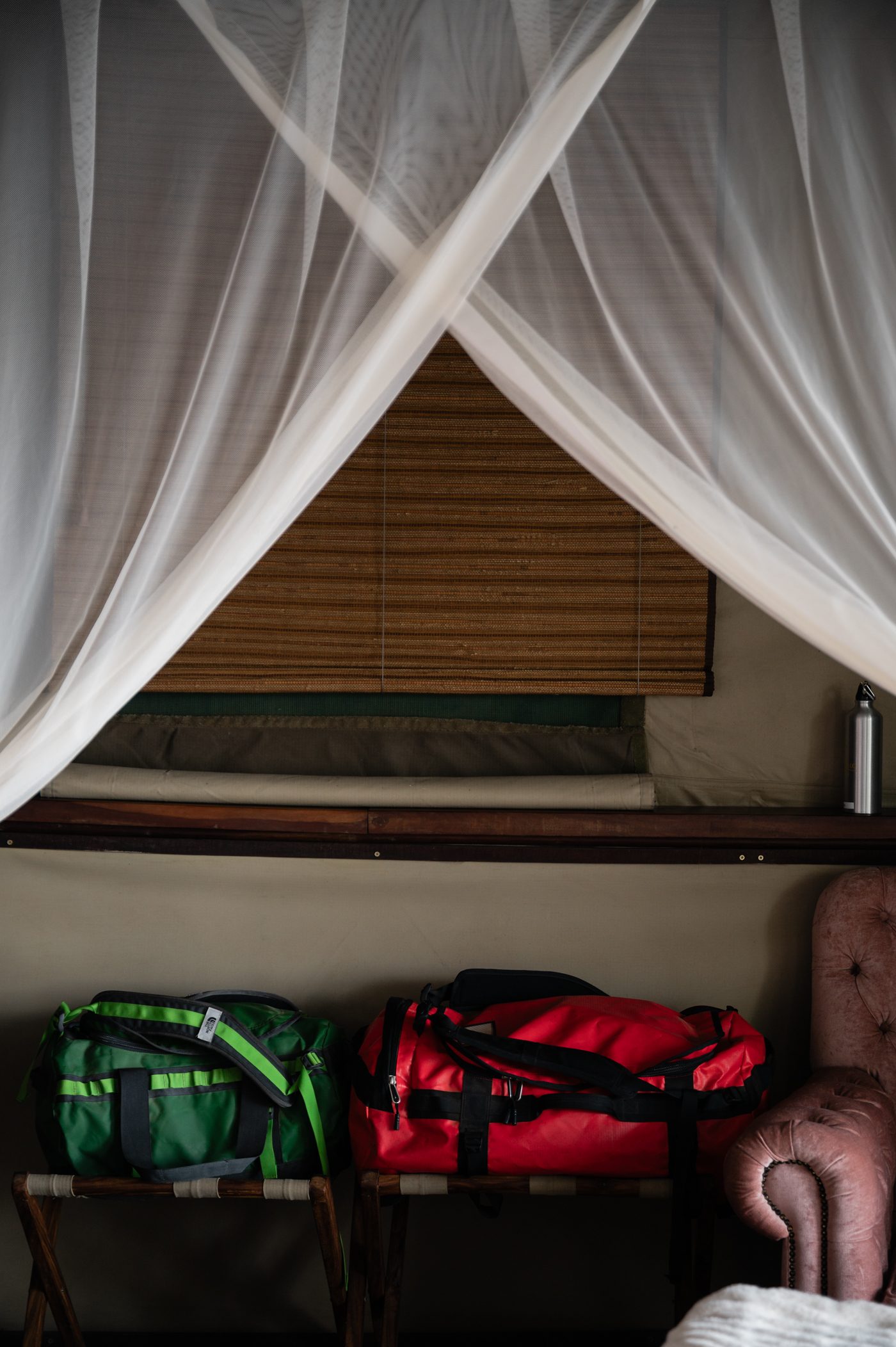 Safari packing list: Clothes
It's important to note a few things before we jump into the details of my garment packing list:
It doesn't matter if my safari is 5 days or 3 weeks – I would always pack the same amount of clothes.
Camps and lodges in the bush offer complimentary laundry services for everything except for your delicates (exceptions apply, but generally this is the rule).
This means you essentially need 2-3 sets of clothes, because laundry can sometimes take 2-3 days to return (they might be hand washed and dried outside in many camps in lack of washing machines).
The only item where I pack supply for more days is underwear, although most camps offer laundry detergent and so you can always wash your delicates yourself by hand when in need.
My friend & travel buddy Kady is wearing our trusted Palladium boots here. And for cold mornings you should always bring a lightweight insulated jacket.
These are the garments I bring:
1x lightweight insulated jacket (this is essential when travelling in the dry season = winter in many South African destinations, it gets cold at night!)
1x thin scarf (I use this to protect my neck from wind and sunburn)
1x thick scarf (this is a personal preference, but I love it and use it as pillow on planes and for very cold morning and evening game drives)
1x Long Cargo Pants (mine are relatively thin and are tapered at the ankles to avoid any insects to crawl in – this is only essential for walking safaris, not for game drives)
3x leggings (these are my go to "pants" on game drives – comfortable, easy to wear and wash, dry quickly. The only downside is that Tse Tse flies can bite you through those, but they literally bite through down jackets as well…)
2x long sleeve linen shirts (I wear these over sleeveless tops on warm days and just around camp for lunch etc.)
5x pairs of socks (high enough so you can put them over your tapered long pants to avoid ants to crawl into your pants)
2x long sleeve wool under layers (I usually bring quick dry wool long sleeves on winter safaris to layer in the mornings and evenings)
2x short sleeve / sleeveless T-Shirts
1x pair of Sunglasses
2x hooded sweaters (one jersey and one cashmere hooded sweater – layered over the long sleeve shirts these are perfect for the chilly mornings and the hoodie helps me spare packing a wool beanie)
7x underwear
2x pyjamas (again, it gets cold at night and if you sleep in a tent or even a regular safari camp you'll want to wear a pyjama. I bring 2, so one can be washed once in a while.)
1x pair of Palladium ankle high light linen boots (these are the perfect safari shoes for me. I wear them on cold days, for walking safaris, hiking, etc. – everywhere except for the rainforest)
Alternatively: 1x pair of waterproof ankle high hiking boots (if I go on safari in Central Africa – think gorilla or chimp trekking and moist rainforest conditions)
1x pair of Birkenstock sandals (I use the Arizona Eva model, which is 100% plastic and therefore can be easily washed and doubles as my showering and outdoor bathroom shoes)
1x safari hat with a wide brim (to protect your face and neck – especially for boat or canoe safaris!)
1x basecap (for walking safaris)
Sometimes: 1x swimsuit (if I check into a lodge with a pool or combine my safari with a beach stay)
During the days it usually gets warm enough for linen shirts and t-shirts – even in winter.
Layering is essential on a safari – when we left in the morning we needed a jacket, on the plane we used them as pillows and when we landed it was warm enough for t-shirts and linen shirts.
Safari packing list: Toiletries
A short disclaimer here: I generally wear very little to no make-up, so this might read almost like a men's toiletry bag. Of course you can add a few items if you prefer to have some glam in the bush. My experience is: You'll be comfortable with less and less every day 🙂
Also it's important to know that there's countries that forbid the use of single use plastics (so think about this when you pack cotton swabs, floss picks, contact lenses, etc.). Everything that is packaged in single use plastics should be avoided if possible. I've listed a few alternative products below.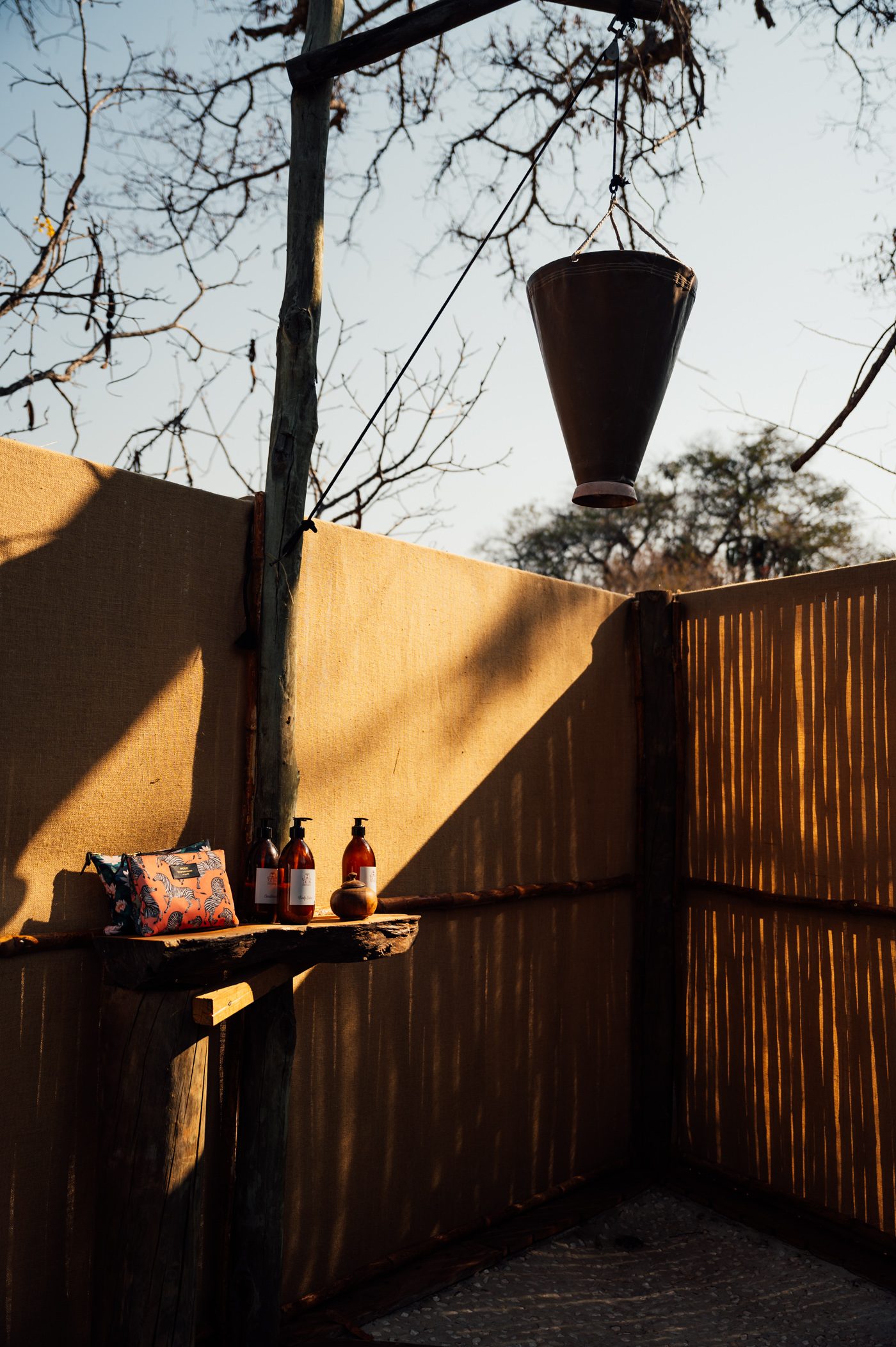 What's in my safari toiletry bag:
Sunscreen with SPF50 (try to bring environmentally friendly products, as your waste water will remain in the bush)
Face Cleanser (this is one of my luxury products, but I can't go to sleep without a proper face clean, even in the bush)
Antioxidant (I'm trying to avoid sun damage to my facial skin, so this is also an essential for my face care routine)
Toothpaste
Tooth Brush (I even bring my electrical tooth brush, but that's a very personal choice – since I travel so much I don't want to compromise on my routine here)
Deodorant (without perfume! You should never wear perfume on a safari, as animals have a very sensitive sense of smell and any unnatural scent can deter wildlife.)
Tampons or your preferred feminine hygiene product (again: these will remain in the trash in the bush camps, so I use biodegradable organic cotton products. Personally I wouldn't bring a menstrual cup on a safari as access to fresh water might be limited during the day when you're out in the field, etc.)
Biodegradable (!) dental floss (I use floss picks made from bamboo)
Reusable ear swabs (I bought a washable one, that I use on safaris – it's not perfect, but better than creating unnecessary waste.)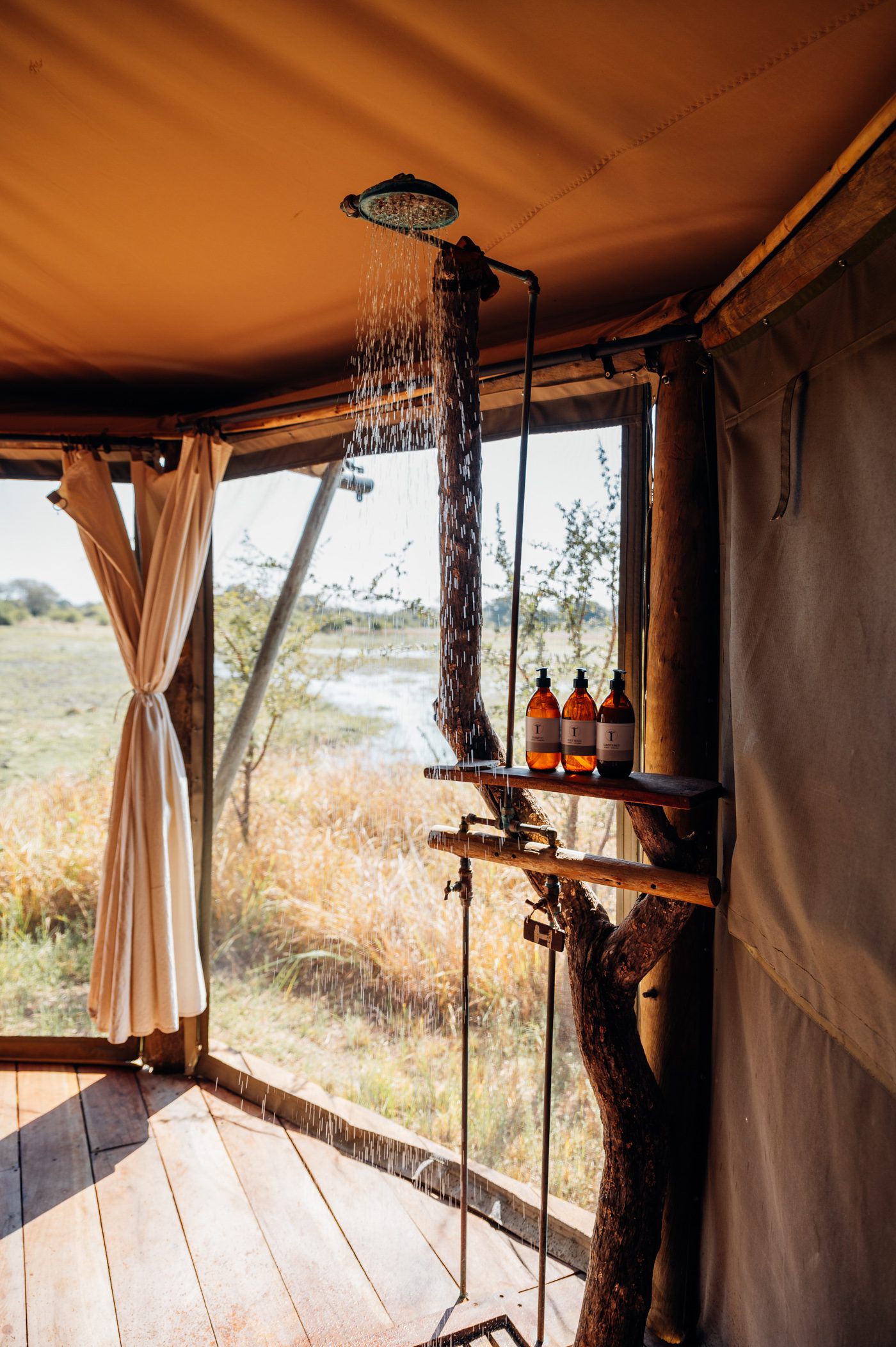 Toiletries that you don't need to bring:
Shampoo, conditioner, shower gel, body lotion! All of these are provided in the camps (and they will make sure the products are biodegradable and do not damage the soil or create toxic waste water).
Towels: Camps and lodges always provide fresh towels. Unless you'll go camping individually or stay in rooftop tents etc., then I would recommend quick dry travel towels.
Safari packing list: Camera & Equipment
This is a special section for the photography enthusiasts among you. As a professional travel photographer I bring quite an extensive amount of equipment, but I still bring a lot less than the "real" wildlife photographers. Their luggage almost exclusively consists of camera equipment.
The main difference is that I rely mostly on zoom lenses, to keep the camera equipment down to a minimum. Wildlife photographers often bring prime lenses and then you need a lot more than me 🙂
Here's what I bring to take photos and videos (and work):
Nikon Z8 (my primary camera)
Nikon Z6II (my secondary camera)
NIKKOR Z 100-400mm 4.5-5.6 lens (for wildlife shots)
NIKKOR Z 24-70mm 2.8 lens (for landscapes, portraits, travel shots)
5x camera batteries (some days you might not be able to charge. Remember many safari camps don't have power outlets in the rooms, but only at the main tent – so it's always a bit of logistics to charge equipment.)
3x extra memory cards (it gets very technical here, but I bring one very fast ultra professional card for each camera with 512GB and the extra cards are all smaller. On my last safari I shot 500GB worth of photos and videos in a few days.)
3x 1TB SSD hard drives (this is to make sure I can create duplicate back-ups during the trip.)
2x camera battery charger (to charge 2 batteries at once)
Laptop + charger (this is only necessary for my photo back-ups and editing sessions. If I weren't a photographer I would probably leave my laptop at home on a safari, there's often no internet anyways.)
Mobile phone + 2 charger cables (1x regular cable for regular power outlets and 1x "old" USB cable for planes and safari vehicles)
1x power adapter (these are heavy and bulky, so you can also check with the camps you're staying at if they provide adapters or if – like in Zambia – they had multiple different types of sockets for all sorts of chargers.)
1x multi-outlet power strip (I still bring one of those with at least 3 sockets, so I can charge more devices if there's only one outlet available)
1x battery pack (this is to charge my phone or laptop when there's no power available for whatever reason – we had fly-camps that relied 100% on solar and then 3 overcast days = no power. So it's the ultimate backup, but only necessary, because I do need to work on these trips.)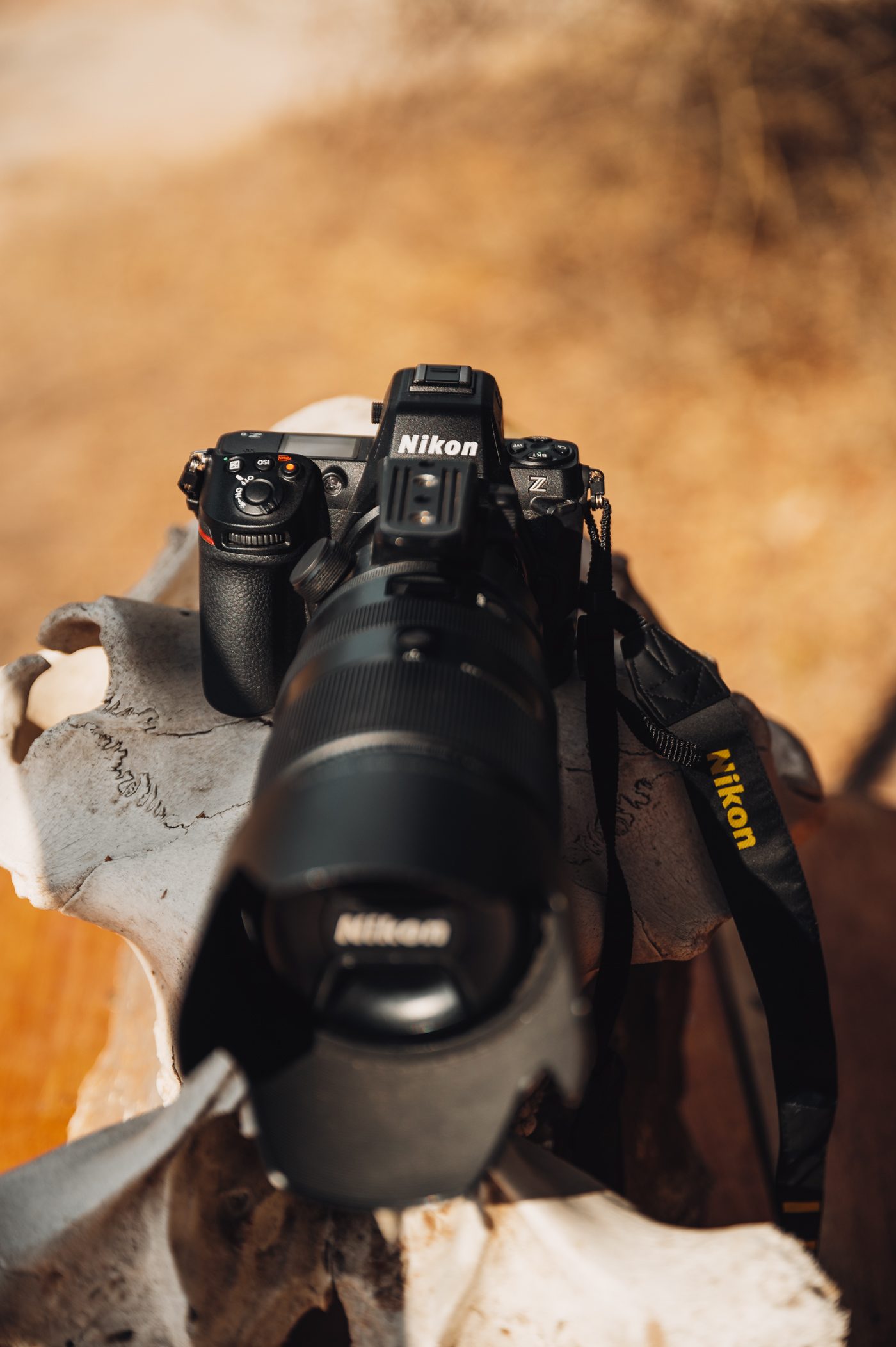 Safari packing list: First-aid kit
This is a delicate one, as I'm no medical expert, so please don't take this list and rely on it 100%, but consult your doctor before your trip. Also each location within Africa has different preconditions when it comes to tropical diseases, etc. – so these recommendations are to be taken with caution.
Malaria medication (Malarone or similar. Please consult your doctor about the options when it comes to standby vs. prophylactic intake of malaria medication.)
Ibuprofen
Clinical thermometer
Band-aids
Antihistamine (I sometimes react to insect bites)
Immodium
Wound Disinfection
Blister Pads (if you go on many walking safaris)
Gauze bandages
Disinfectant Spray
Tissues
What I didn't pack on my last trip was any regular flu medication and of course I caught a cold… my travel buddy Kady luckily had pastils against sore throat, nose spray and the likes. So you might want to add these to your list!
What you you don't need to bring:
Mosquito repellent (with a high DEET content)
Insect repellants are usually provided by each camp. Often they even have two different types – one for your skin and one for your clothes. Also they provide the local products, that often work much better than what you can bring from your home country.
Safari packing list: Miscellaneous
Lastly here are few miscalleaneous items that are quite essential for any trip.
Passport
Wallet with credit card, debit card, insurance card, etc.
US Dollars (even when travelling from Europe I usually exchange US dollars ahead of the trip as those are accepted in every country. Make sure the bills are not torn or old or anything scribbled on them. Locals will only accept dollar notes in good condition as otherwise the banks will not exchange to their local currency. You can read more about my most important money tips for a safari here.)
Vaccination card (you might have to provide proof of a yellow fever vaccination or a COVID vaccination – make sure to check the requirements for the destination you're visiting).
What you you may or may not need to bring:
Binoculars: I personally never bring binoculars, because I always look through the viewfinder of my camera with the long tele zoom lens instead. In many camps they also provide binoculars, either one pair per game drive vehicle or in more luxurious lodges there's even a pair waiting for each guest in the room.
Reusable water bottles: Even in more rustic fly camps these will be provided for the duration of the stay, but if you want to make sure to also have a water bottle ready for travel days, on airports, etc. you can bring your own.
What you you don't need to bring:
Headlamp: Usually camps provide flashlights or lanterns for nightly toilet visits or trips to the main tent. In many camps you're not allowed to walk outside of your tent alone at night (because they're unfenced and wildlife will pass through). So a team member will always be there with a flashlight.
Gators: I brought gators to Rwanda for the chimp trekking and used them once during a 2 week trip. So unless you plan on going jungle trekking regularly I think those are not really necessary.
If this blogpost was helpful, make sure to also check our guide for safari beginners!
Or pin and save this post for later: