In the last two years the pandemic affected tourism and especially city tourism quite negatively. This not only creates economic issues, but also threatens cultural exchange and intercultural learning and understanding. That's why the Vienna Tourist Board came up with the idea of a city exchange program to revive city tourism in Europe. They call it #UnitedCitiesOfTourism and asked me (Marion, the founder of this blog) to become one of the ambassadors for this program. For that purpose they sent me from Vienna to Berlin on a small city exchange trip!
And the cool thing is: You have a chance to win one of over 2.000 (!) trips like this if you're from Vienna.
All you have to do is sign up and register to win – like one of my Instagram followers did and already won a trip this week! There's a multitude of cities that you can be sent to – from Milan to Paris and of course also to Berlin. So let me show you what's to see and do in Berlin to give you a little taste of the city!

The #UnitedCitiesOfTourism campaign runs from May to June – the perfect months for a city trip in Europe!
How to travel from Vienna to Berlin: The #nightjet
If you win a trip to Berlin chances are high you'll be sent over from Vienna on the ÖBB's super comfortable Nightjet. This night train takes about 11 hours from Vienna's main central station to Berlin, but if you take the Nightjet you'll simply spend those hours sleeping!
I tested two different compartment types, the standard single sleeper and the deluxe with my very own shower and toilet (inside my cabin!). Both guarantee maximum privacy as you have the compartment all to yourself. There's a welcome drink, snacks and breakfast included (with plenty options – even vegan and gluten free to choose from).
The ÖBB provide pillows, a blanket and fresh linens and upon boarding the train the bed is already made up. So you simply retreat to your private cabin, close the window blind and are ready to jump into your pyjamas and sleep. And then the next morning you arrive in Berlin well rested and ready to explore the city!
Where to stay: Hotel Oderberger Berlin
When choosing a hotel in Berlin it's key to first consider the location. Berlin has 12 main districts with very different characters and then there's the so called "Kieze", which are like little urban cosmoses within Berlin.
Some are quite sought-after on the real estate market, like the famous "Prenzlauer Berg" in the Pankow district. This is where Hotel Oderberger is located. Smack in the middle of contemporary vegan eateries, sustainable pop-up shops, Sunday flea markets and everything else you'd imagine in a hip urban quarter.
The hotel itself has quite a lot of history, as it used to serve as the main public bath of the quarter since more than 120 years! When apartments started having their own bathing facilities the importance of the public baths slowly declined and so the bath closed it's doors in 1986 and instead hosted famous parties, clubs and photo shoots.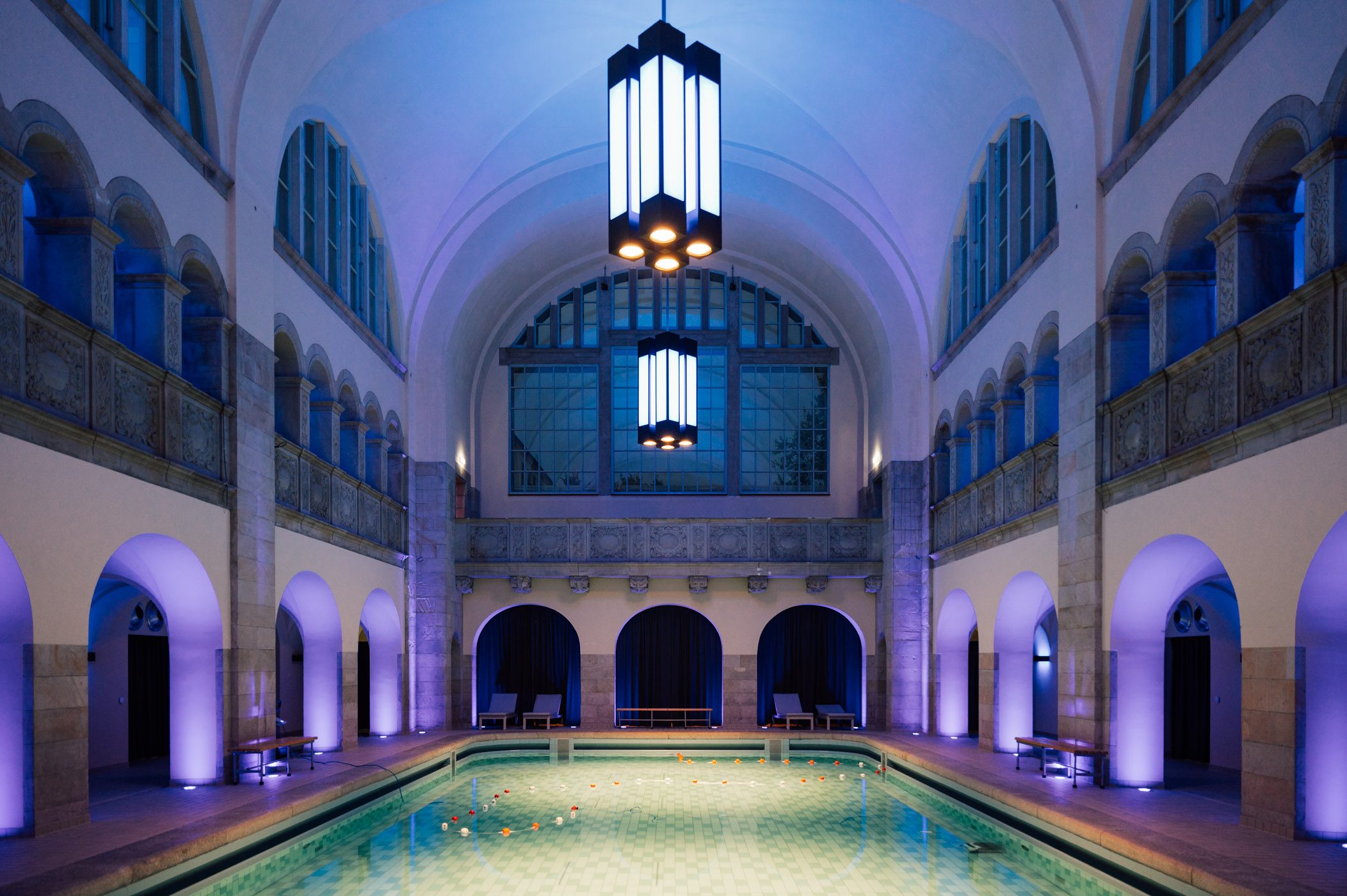 Fast forward to today it has not only become this incredible hotel, but the swimming pool has also been revived. As the whole building is listed one of the city's legal requirements was to keep as much of the historic structure as possible and also to keep the pool publicly accessible (external guests have to book time slots, while hotel guests have access all day).
Make sure to check out the historic pool as well as the backyard breakfast terrace during your stay at Hotel Oderberger – both are quite unique!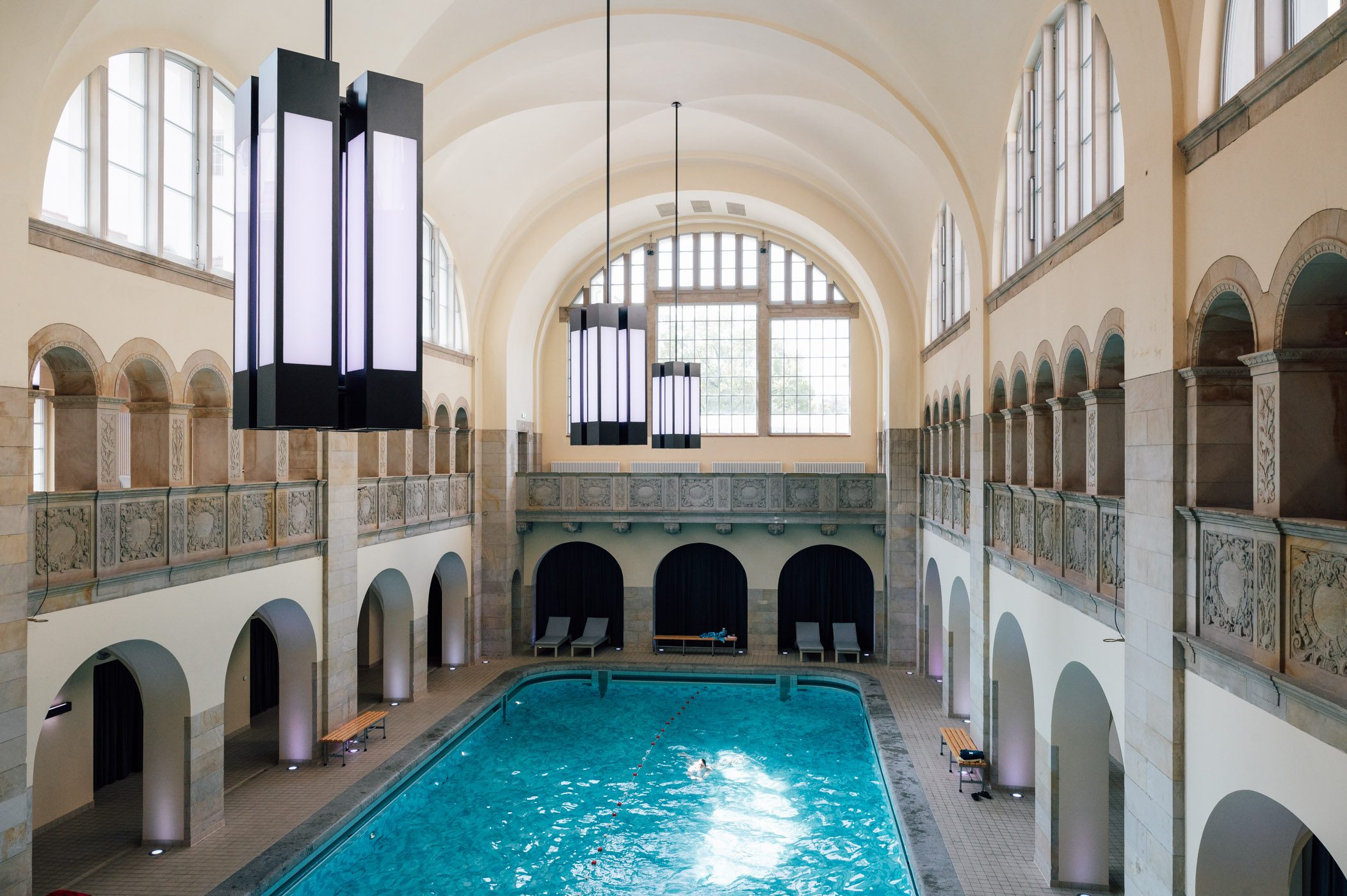 What to do in Berlin: Explore Prenzlauer Berg
Even if you don't stay in the neighbourhood I would recommend a visit of Prenzlauer Berg, especially on a Sunday when there's the famous Flea Market at Mauerpark (Gleimstraße 55, 10437 Berlin).You can get off the subway at Eberswalder Street and stop by at "Zeit für Brot" (Eberswalder Str. 26, 10435 Berlin) for their freshly baked Cinnamon rolls and then stroll to the park to find vintage gems!
If you visit Prenzlauer Berg during the week I recommend to stop by to shop at female-led sustainable concept store Jyoti (Oderberger Str. 42, 10435 Berlin). For lunch I'd recommend Asian cuisine at "The Flying Monkey" (Kastanienallee 15, 10435 Berlin). Other than that just immerse yourself in the Kiez and explore the beautiful streets – especially Oderberger Street and Kastanienallee are worth a visit.
What to do in Berlin: Find nature spots
Whenever I visit a city I try to find some natural spots – especially in the springtime when everything is in bloom. May is the perfect month for a Berlin visit, Sakura season is not over yet, while the wisteria and peonies are also already starting to embellish the whole city. The perfect spots for a dose of flowers are the so called "Gardens of the World" (Blumberger Damm 44, 12685 Berlin).
This collection of eclectic gardens is located a bit away from the center, but you'll need half a day for a visit anyhow. It's a sprawling area with a Japanese, Chinese, Korean, Balinese, Christian, Jewish, English and Oriental garden – and much much more. My personal favourite was the Chinese garden with it's large Koi filled pond and the adjacent tea house where you can sample steamed dumplings and rice cake.
Another option for a blossom-filled walk (or bike ride) is the so called "Kirschblütenpfad" (KGA Bornholm I 1, 10439 Berlin) at Bornholmer Street. Berliners go here for a picnic at the weekends and there's a nice laid-back atmosphere.
What to do in Berlin: View the city from above
A must do in any city is to seek out some elevated place to get an overview. In Berlin there's plenty of spots – but two of my personal favourites are the rooftop terrace at the Park Inn by Radisson Berlin (Alexanderpl. 7, 10178 Berlin). Here you have to pay an entrance fee and there's a wire-mesh fence. It doesn't sound that romantic, but the views are unbeatable – especially since your smack in the front of the famous TV tower of Berlin!
Another lesser known option is the circular roof at "Französischer Dom" (French Church, Gendarmenmarkt 7, 10117 Berlin). You have to climb 200+ stairs up here, but the staircase itself is a sight to behold. Unfortunately this isn't open for sunrise or sunset, but it's still worth a visit during the day!
What to do in Berlin: See the classics
No Berlin visit is complete without checking off a few of the absolute classic sights. My favourites are the iconic Bode Museum at the museum island (Am Kupfergraben, 10117 Berlin) – from outside and inside – as well as the Berlin landmark "Brandenburg Gate" (Pariser Platz, 10117 Berlin). Here you can take the obligatory Berlin selfie and walk through once 😉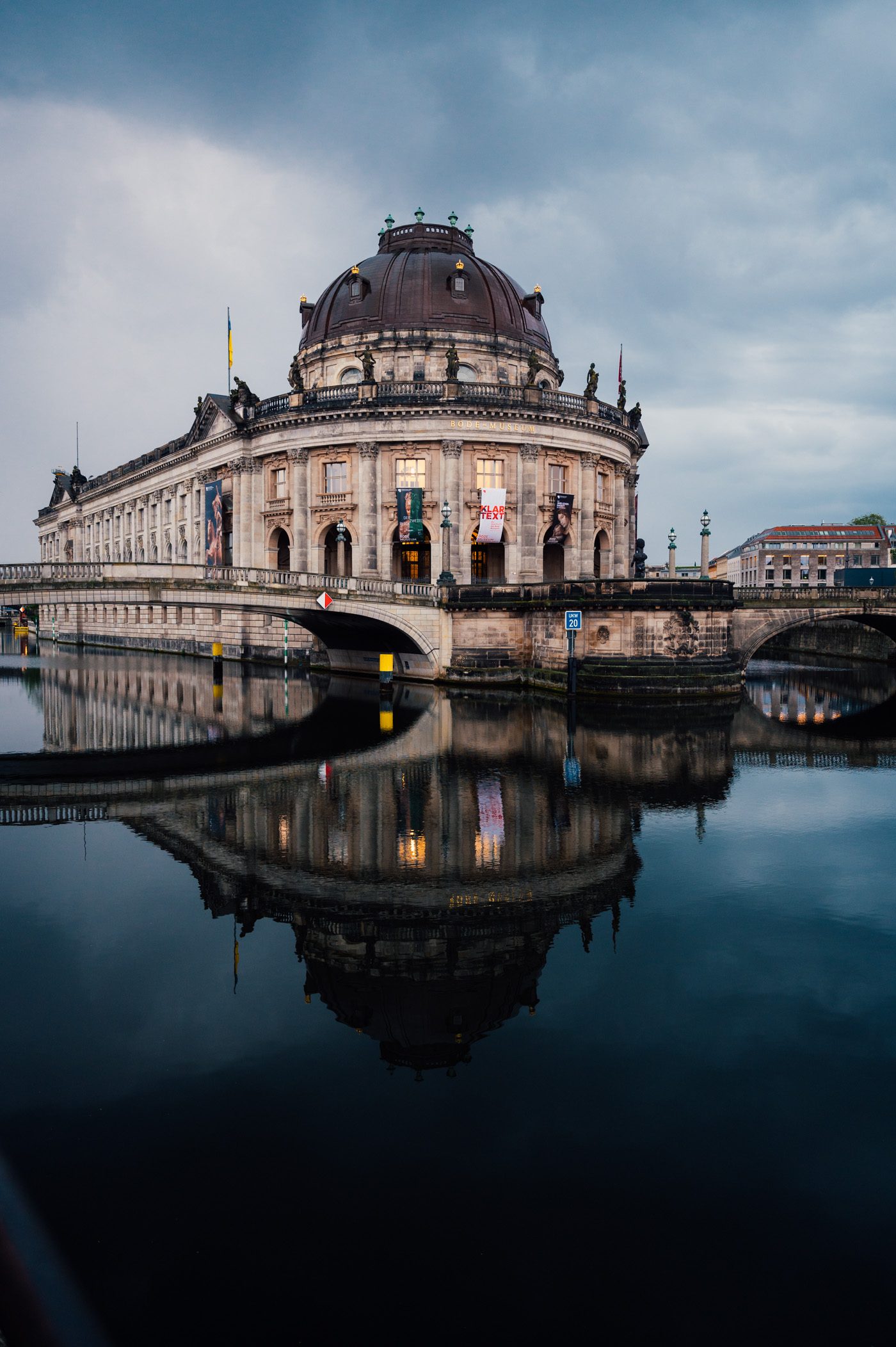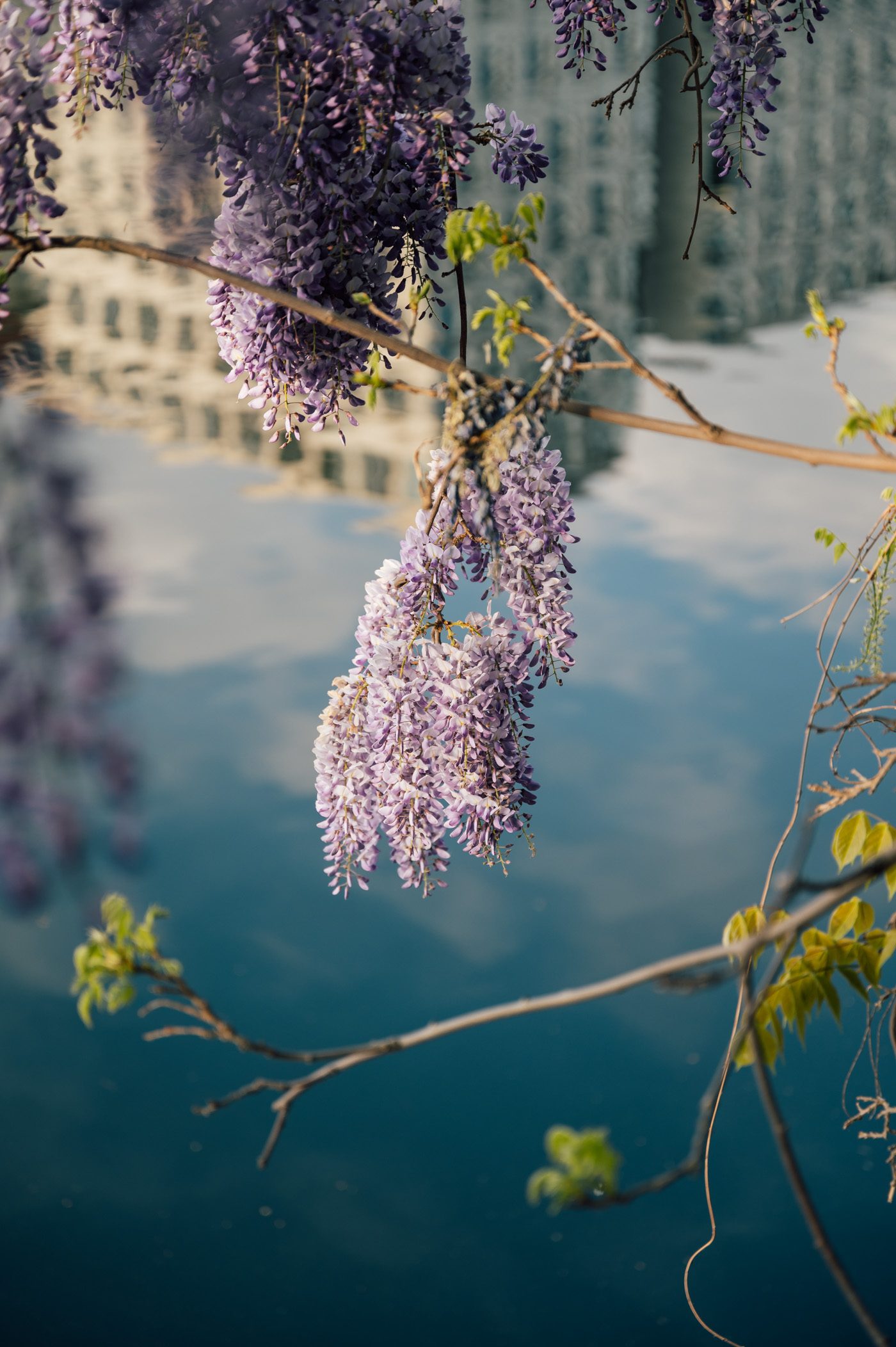 For architecture enthusiasts the government district in Berlin is quite interesting – especially the striking facade of the "Marie-Elisabeth-Lüders-Haus" (Adele-Schreiber-Krieger-Straße 1, 10117 Berlin). In the early morning you can get lucky and catch the occasional stride by photo with a jogger or biker!
Connecting Vienna with Europe
After these explorations of Berlin I want to say that I really appreciate the idea to connect Vienna with other European cities and work together on reviving cultural exchange through tourism. It's rare that tourism boards collaborate in this form and start promoting each other, so this is quite a nice example of European unity and a celebration of our togetherness and the whole European idea!
More about the #UnitedCitiesOfTourism project
If you want to learn more about the campaign and how you can play a role – and help your city by visiting Vienna – make sure to check out the landing page with more infos here!
If you're still undecided pin and save this post for later:
This post was sponsored by @viennatouristboard and @visitberlin.