(Update, November 2022). Hidden in Austria's very South there's a brand new health retreat focused on contemporary detox cures for a new generation of guests. In the high valley of Bad Bleiberg the wisdom of the early days of fasting and thermal water cures is present, but there's a new energy arising in town.
The new BLEIB BERG Health Retreat turns standard cures into self care retreats. Here fasting becomes holistic detoxing and health care transforms into rejuvenation.
The brand-new BLEIB BERG Health Retreat is located in the cure village of Bad Bleiberg in the Carinthian mountains.
A new kind of health retreat
There's many fasting, cure and detox clinics and hotels in Austria – many of them follow principles of F.X. Mayr or Buchinger, some are rather simple and reduced (think monasteries) others are very chic and attract the Hollywood crowd. But BLEIB BERG has found a very interesting niche for itself right in the middle of this spectrum – targeting guests who are discovering the benefits of fasting cures, but who also care for high-tech medical equipment, thermal water pools, ice bathing, cryo therapy and yoga. It's hip, without being pretentious, luxurious, without being overly expensive.
At BLEIB BERG everything is entered around high-tech medicine combined with holistic cures.
Cures with a side of thermal water and healing tunnels
And then there's the added benefits of the health retreat's very own healing tunnel deep in the mountain, where you can breath micro clean air with 99% humidity to give your airways a much needed recovery, as well as the unique mineral rich thermal water, that was discovered in the 1950s here in Bad Bleiberg. Both things combined make for a detox retreat like no other in Austria.
To combine a personalised detox cure with thermal water therapy and healing tunnel treatments – this is only possible at BLEIB BERG.

The thermal water and healing tunnel are added benefits at the BLEIB BERG Health Retreat.
Why should you detox?
The recommendation is that you detox at least once a year, to give your digestion a break and support your immune system. We stayed at BLEIB BERG for the minimum duration of 7 days, which is a great start for a detox cure. The medical experts would recommend to extend this to at least 10-14 days, but you can also continue the reduction for a bit longer at home (how long will be determined for every guest individually).


There's four different levels of fasting at BLEIB BERG Health Retreat – the food shown here represents level two.
Without being medial experts, we learned as much: Most of our immune system is located in our gut and with the way we eat we put stress and pressure on our digestion most of the time. However healthy you think you might already eat, even high amounts of dietary fibre in whole grain and raw veggies are hard to digest. So once in a while you should give your digestive system a break.
It's all about reduction at BLEIB BERG Health Retreat – from the food to the design.
The cure isn't essentially about loosing weight, but about supporting your body in all it's vital processes – from cell renewal to your immune system. And the retreat isn't only about food reduction: It's as much about your mental health, fitness, checking your blood work and other vitals and really all about gaining introspective and looking after yourself holistically.
This way you'll gain as much as possible from the days spent surrounded by the incredible mountain scenery in Bad Bleiberg.
What a day at BLEIB BERG looks like
Each guest gets a personalised program during the cure, but we still wanted to share an exemplary day at the health retreat with you. So you'll get an idea, what a retreat here looks like:
06:30am Wake-up
06:45am Drink Epsom salt
07:00am Active Awakening with a fitness trainer
07:45am Breakfast
08:30am Progressive muscle relaxation with a psychiatrist
10:45am An hour at the healing tunnel for breathwork
12:00pm Liver wrap in your room to prepare for lunch
12:30pm Lunch
2:30pm Abdomen Massage with a F.X. Mayr certified doctor
4:00pm Spa Ritual with tea, massage and relaxing treatment
5:30pm Dinner
7:00pm Guided Mind Journey
Other program items include cryo therapy in a -110 degree Celsius cold chamber, altitude training with CellAir, personal fitness training with an ICAROS machine, lymphatic drainage, VISIA skin analysis, high tech facials and much more!
There's a multitude more of different spa & medical treatments available at BLEIB BERG.

From lymph drainages to altitude training, from personal training to liver wraps – days are filled with self care activities.
The 4 different programs at BLEIB BERG
Before your stay you can generally choose between 4 different programs – from "Stay healthy" to "Stay active" and each program determines your personal focus. Some are focused on sports, fitness and activity, others on mental health or gut health. The core of each program is always the "Stay young" method developed by BLEIB BERG.
We both went for the "Stay healthy" cure, which focuses on gut health, detox and reduction and is the trademark program at BLEIB BERG.
During the cure there's also time to enjoy the surrounding nature – like the Dobratsch nature park.
The specialty: Mobile sleep lab at BLEIB BERG
One of the unique offers at BLEIB BERG is their mobile sleep lab, which you can do in the comfort of your own room. This is on offer because the medical director Dr. Bruno Pramsohler is not "only" a neurologist, but a sleep specialist – so people with all sorts of sleep problems flock to his private practice. And he also brought his knowledge to BLEIB BERG.
You can book a sleep lab package as additional element of the cure. This polysomnography includes an analysis of your heart rate, breathing levels and oxygen saturation and gives insights into your sleep quality. Problems such as sleep apnoea can be discovered with this. Usually waiting periods for sleep labs can be rather extensive, so it's a great option to also do this while your stay at BLEIB BERG if you have any problems sleeping.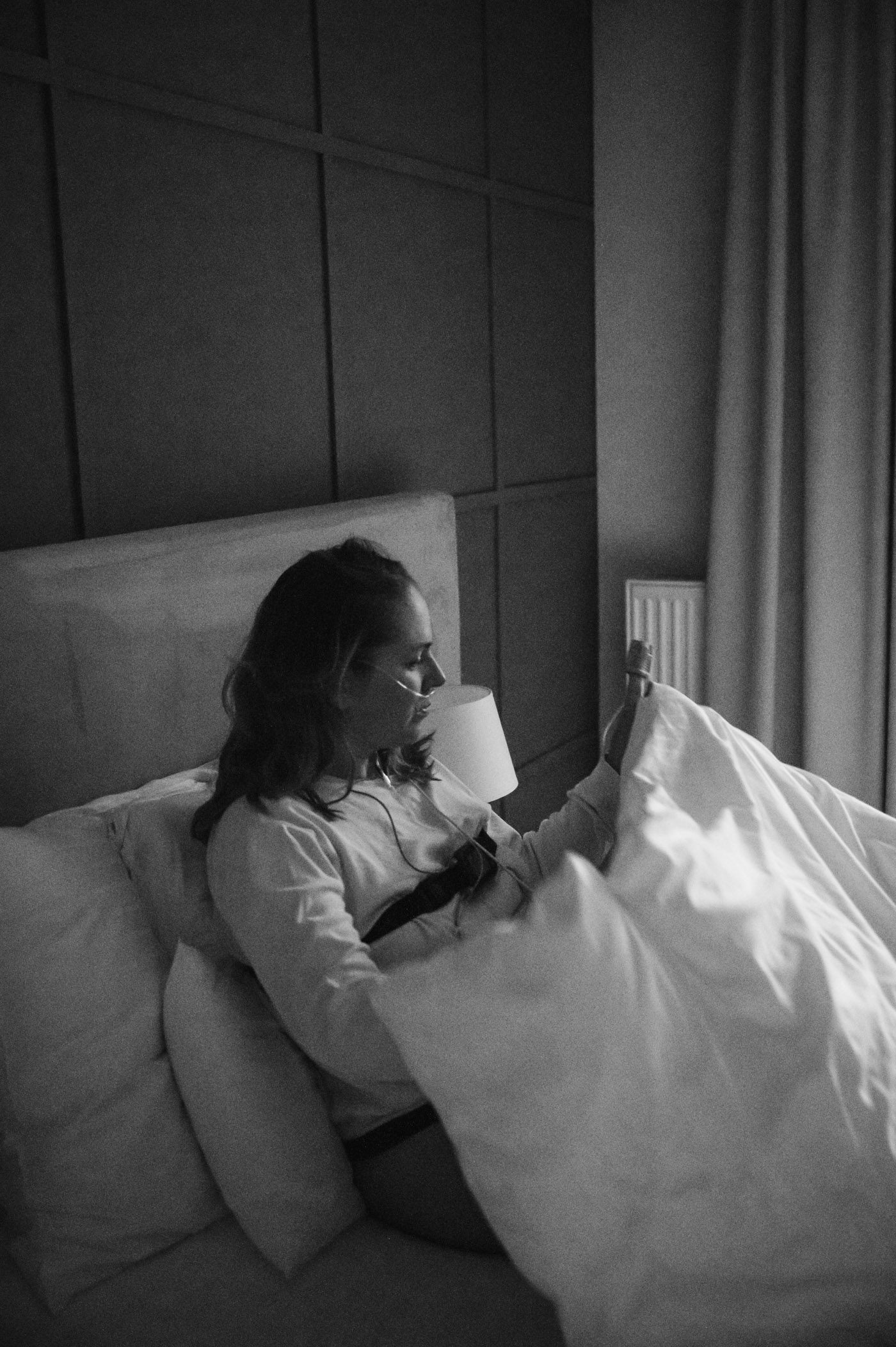 In the neighbourhood: What to do around Bad Bleiberg
Laghi di Fusine in Italy
Usually a week at BLEIB BERG gives enough time so you can also do a few excursions in the surrounding regions. Wether you bring your own car or rent the electric car provided by the municipality of Bad Bleiberg, we would recommend one place specifically – the beautiful "Laghi di Fusine". These two lakes are located just across the border and only 30 minutes away from Bad Bleiberg.
Our tip: Go early in the morning to beat the crowds!
Sunrise at Gerlitzen Alp
When thick fog is covering the lakes of Carinthia one place is sure to be a above the clouds: The Gerlitzen Alp. This is about a 1 hour drive away from Bad Bleiberg, but well worth an early exploration to witness the sunrise above the clouds.
Our take-away from one week at BLEIB BERG
Honestly, there's a lot more to be said about our health retreat at BLEIB BERG, but there's only so much room in a blog post. But one thing is for certain: We felt energised and recharged, as well as deeply relaxed and rested already after the first few days here. We leave the cure with a feeling of new insights and motivation to take care of our bodies and mind also after the retreat!
That's why we decided to return for a second retreat half a year later. This rhythm is perfect to give your body a break every 6-12 months at least.
While the facilities itself might not all be the most stylish or modern throughout the resort (it has been a regular convalescent home before and has only been transformed in 2022), the location in the mountains, the incredibly sweet and caring team and the professional medical treatment make up for the lack of stylish design in some areas.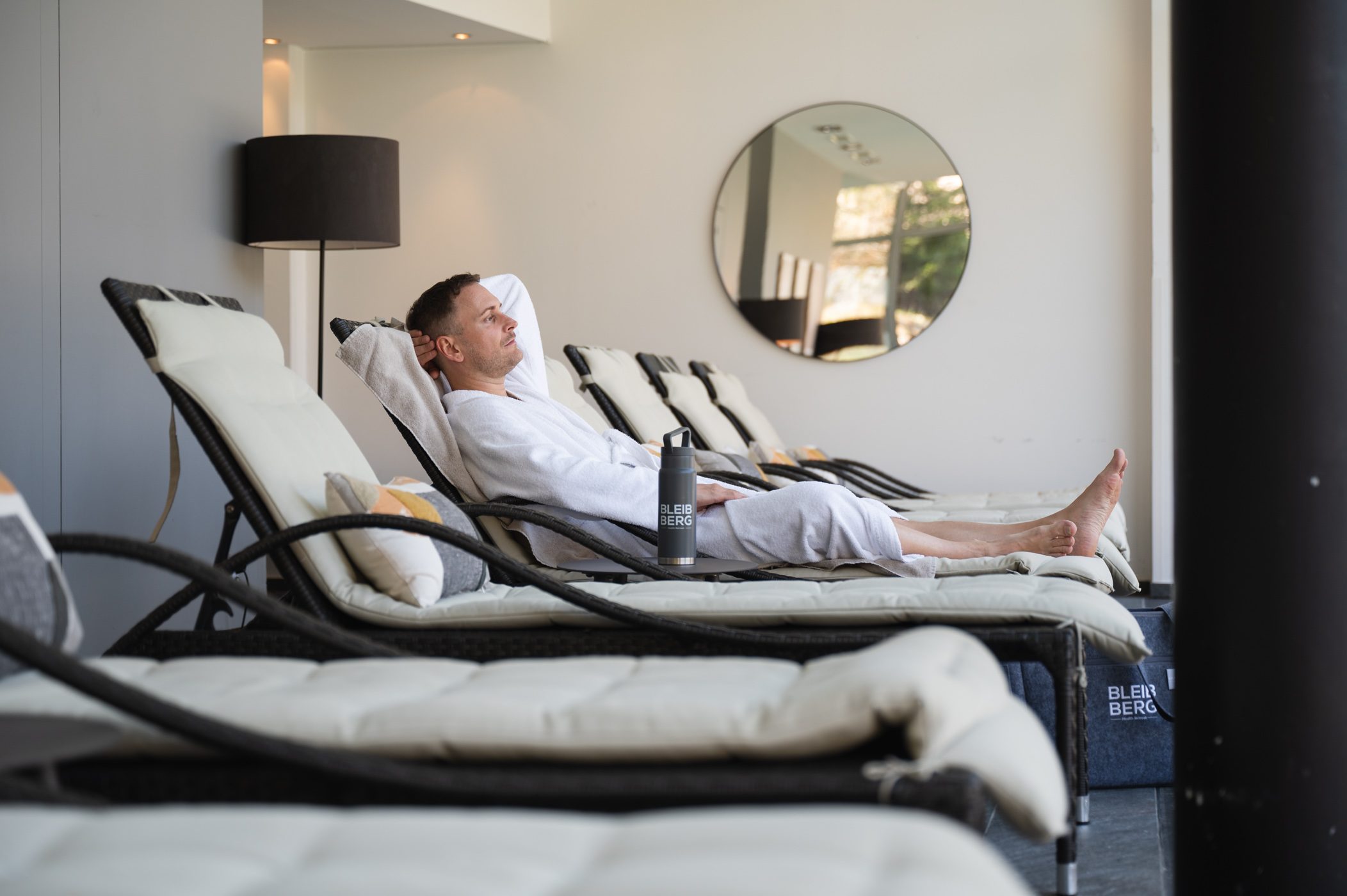 So, in essence – don't expect the fanciest of all spas or architecture that blows you away, but the rooms have been carefully updated and there's cozy nooks and corners throughout the resort. In the end it's not about the design anyways, but about the way the stay here makes you truly take care of your body and mind and the incredible healing and soothing effects a cure here can have on you.
ONLY UNTIL 30th of June 2023: Use code "MARION20" to get 20% discount on all stays!
If you're still undecided pin and save this post for later:
Disclaimer: This is a sponsored post. We stayed at BLEIB BERG as part of a press trip. The views in this blogpost are our own.