Whoever travels to Jordan puts Petra on top of their list. The rose coloured city is a visitor magnet – and rightfully so. The intricate facades that have been cut into the stone as early as 300 BC are fascinating and catapult you back in the days of the Nabataeans in an instant.
There's a lot to see and discover in Petra – so here are our 7 best tips for visiting Petra!
1. Start your visit early in the morning
Petra is a huge compound. But it's most famous part is obviously the so called "Treasury" (also called "Al-Khazneh"). If you want to experience Petra and The Treasury in solitude you'll have to be one of the first to enter in the morning. Petra usually opens at 6am and it's worth getting up early for it!
These kinds of photos are only possible early in the morning.
At noon the plaza in front of the Treasury is crowded with tourists.
We only arrived at 6:30am and there was a whole bus full of tourists ahead of us at the gate. But the Treasury is located about 2 kilometres from the entrance of Petra ("Petra Visitor Center"). So we managed to get ahead of that whole group within the walking distance. It usually takes about 30 minutes to walk this path, but we managed to arrive within 15 minutes and therefore were among the first at the Treasury.
The paths to The Treasury through the canyons of Petra are only this empty early in the morning.
At noon the canyons are filled with hundreds of tourists.
2. Make your way to the top of Petra – The Monastery
"Ad Deir" or "The Monastery" is probably the most impressive building in Petra, but not all of the visitors make their way up there. Why? It's on top of a mountain and can only be reached by taking approximately 900 steps up towards it.
The views from the top of Petra are incredible.
Some visitors get on the back of a donkey for this path, but we decided to walk. Turns out – it's not that bad! The steps aren't steep and there are multiple opportunities to rest along the way. Be it one of the countless Bedouin tents for a cup of tea or to shop for a scarf, or just a lookout spot over the mountains surrounding Petra.
The 900 steps up to the Monastery are not that hard to walk – and feature great views!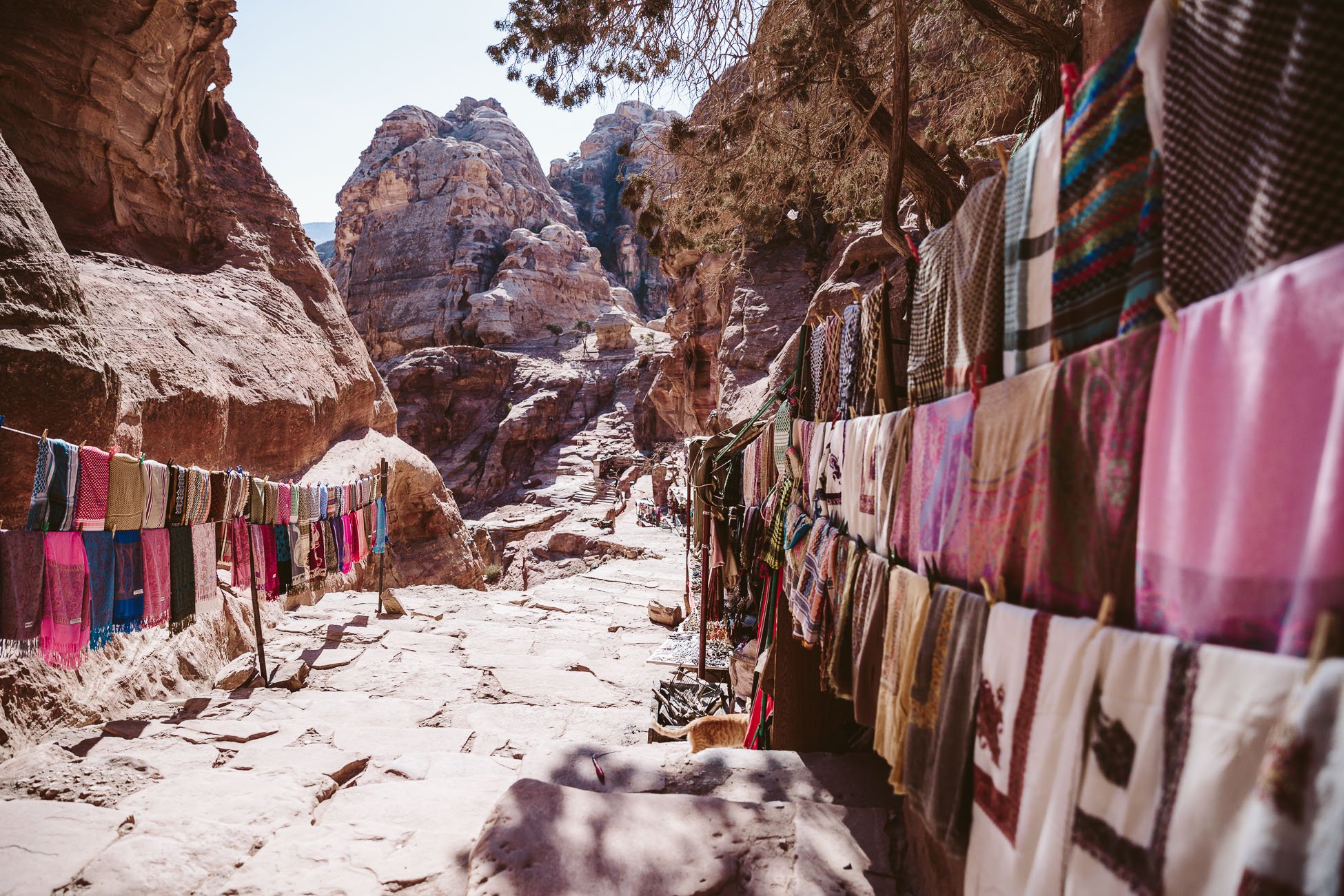 Bedouins sell their items along the way.
Don't promise to buy something later, if you won't do it – they remember your face and promise!
3. Visit the "most beautiful" lookout spot above the Monastery
When you arrive at the Monastery you'll notice the signs pointing to the "Best view". It will be tough to decide which path to take, as there are multiple signs all pointing in different directions. Basically every hilltop surrounding the Monastery has the best view 😉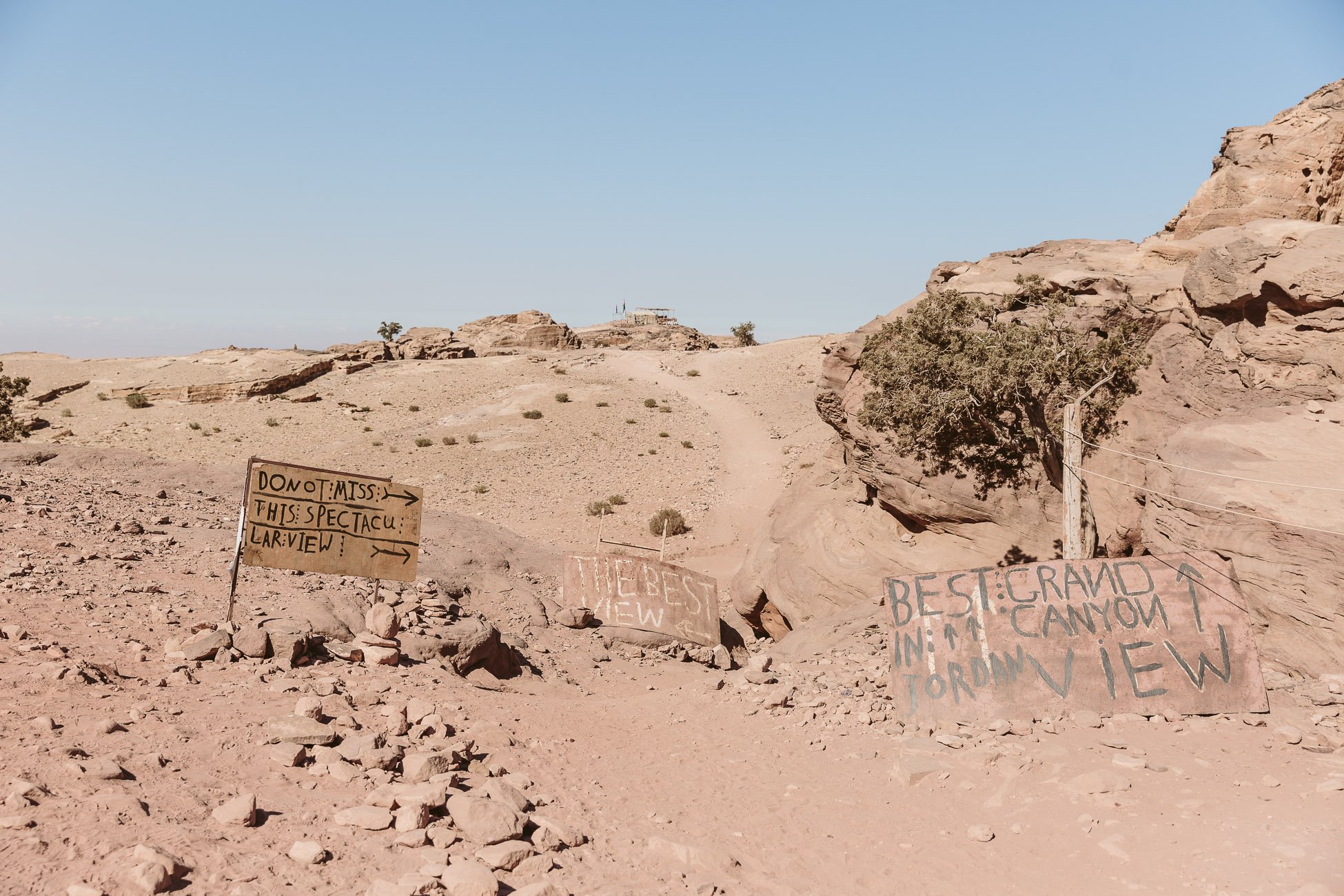 It's hard to trust one of these signs – but it's worth to follow any one of them! 🙂
The Bedouins are clever. Some of them secured the spots on the hilltops to set up camp. They built small tents on the tops and serve tea and sell their jewellery or other handcrafted items. And each of them is probably convinced that they offer the best view of Petra 😉
Petra is located in a huge canyon – it's size is only visible from above!
It's up to you to decide. Our small group split up and we visited two different lookout spots – both were incredible and worth the extra 100 steps to get up to!
Definitely take the extra steps up behind the Monastery – it's worth it for the view!
4. See the Treasury from above
If you check Instagram you'll notice several photos of the views from above down on the famous Treasury facade. But be warned: The paths to get up there aren't easy! But we decided it was worth the risk for this view.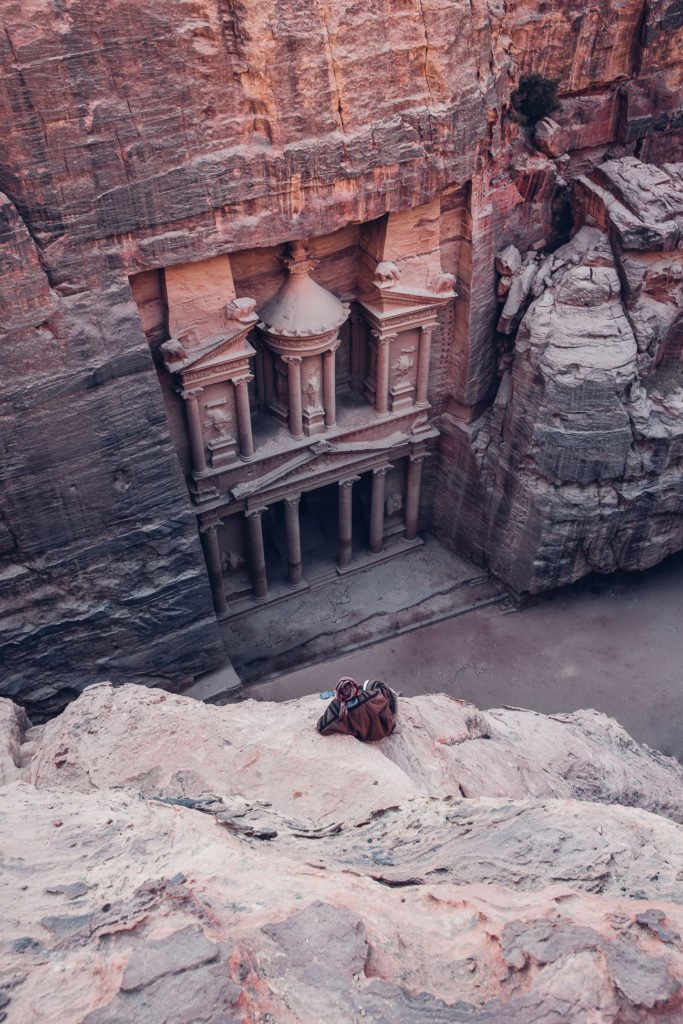 Our Bedouin guide Mohammed listening to music on his smartphone… with a view!
There's basically two paths and two different locations with a view up there: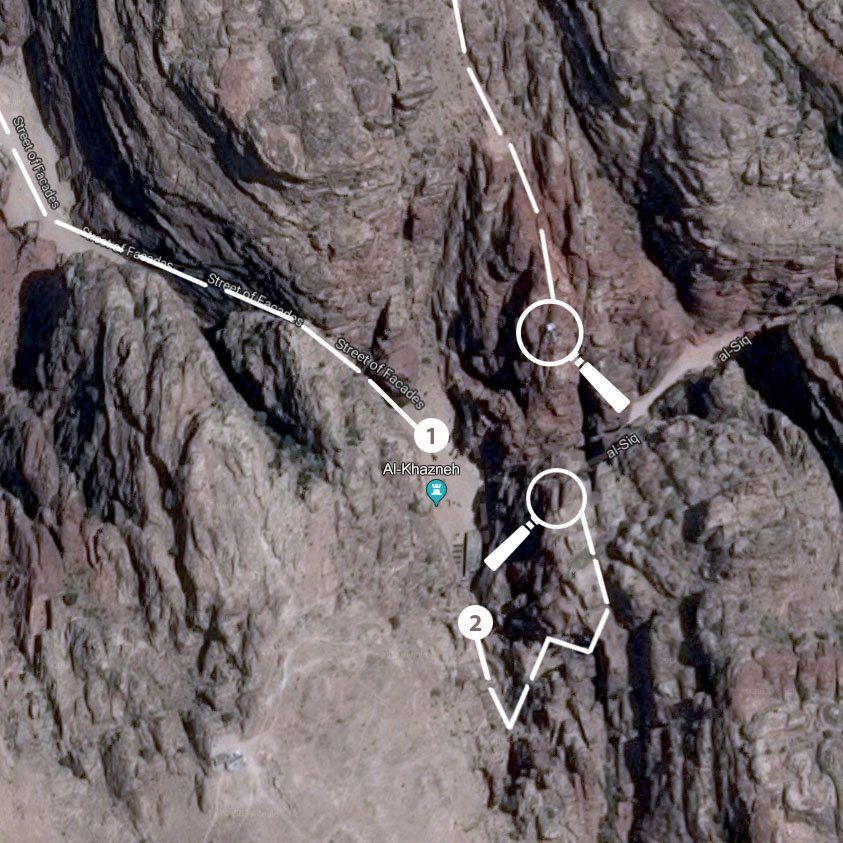 Path #1
The "official" path starts in the North of Al-Khazneh. You have to walk all the way to the tombs and then hike uphill on the backside of the canyon. This path takes about 1,5 hours each direction. Bedouins offer horse or donkey rides up there. We're honestly not really sure if that tent on top has been set up there legally, it all seems to be much of a grey area 😉
These are the tombs of Petra – the path starts on the back of these mountains.
Our problem was, that we didn't have enough time for the long path. Therefore we had to take the shorter, but definitely unofficial path.
Path #2
The really risky path starts right in front of the Treasury (on the left side). There's a sign warning trespassers, which is clearly overruled by some of the Bedouins. If you pay one of the Bedouins a sum of about 20-30 dollars, he'll take you up this path. They must have a deal with the local security personel and police, because they gladly look away if Bedouins take tourists behind this sign.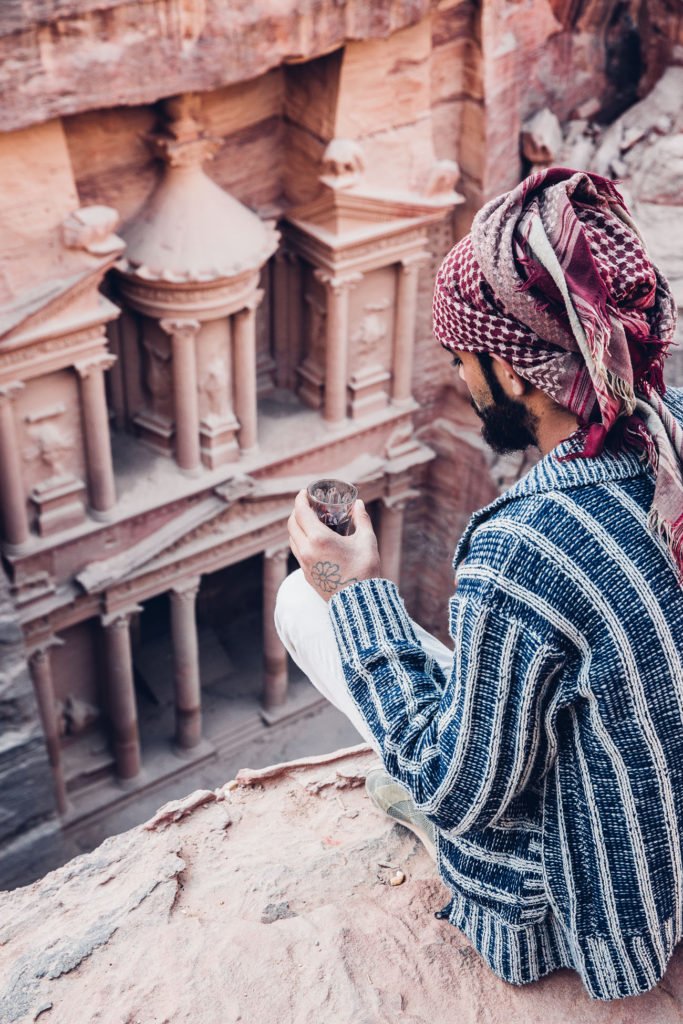 Our Bedouin guide Mohammed enjoying a cup of tea on top of the Treasury in Petra
The problem is: The path up here is unsecured and rather risky!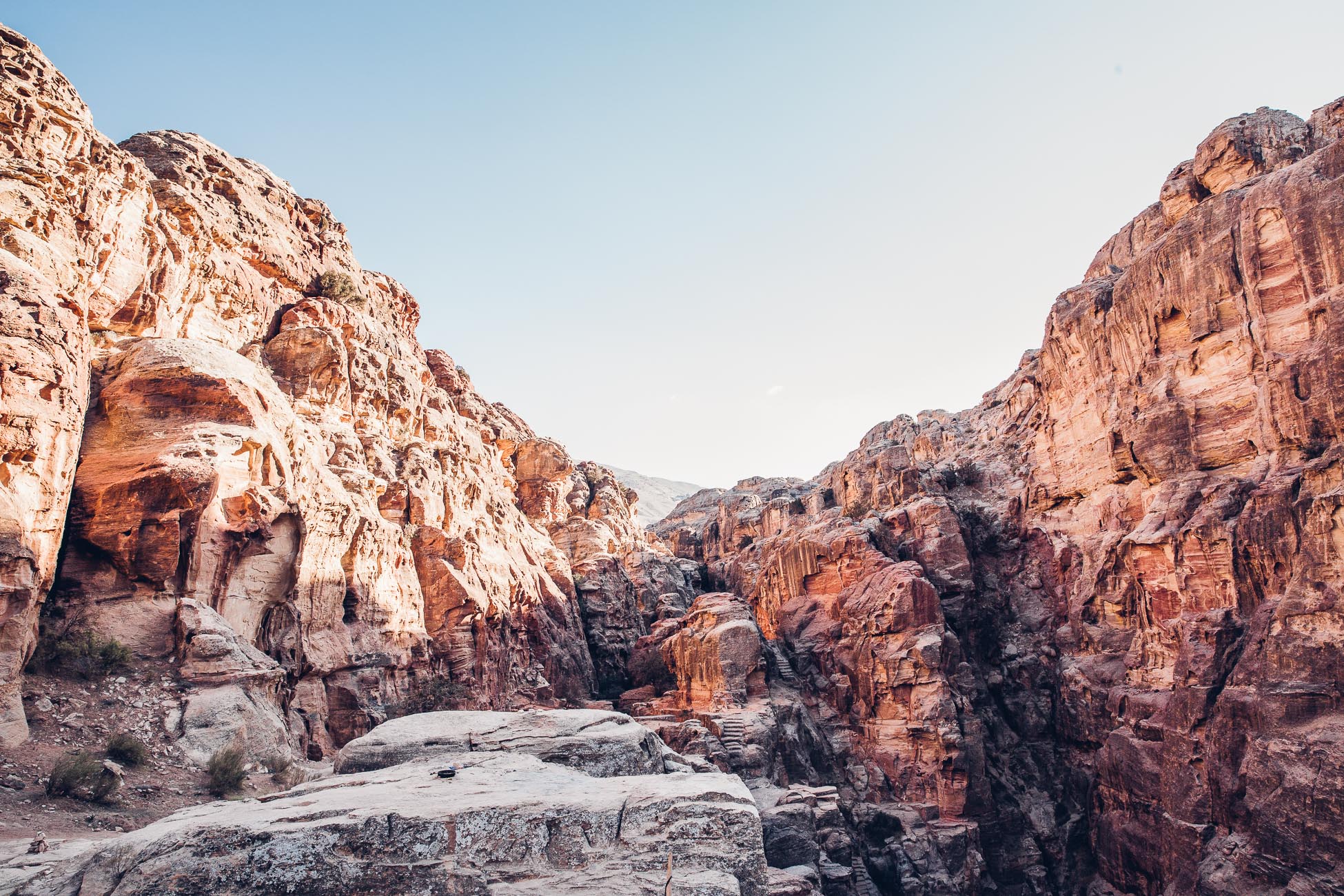 You'll have to hike up through this canyons along slippery paths and also climb a bit!
Our group wasn't really equipped for this kind of hike – so we had a few problems getting up there (imagine girls in dresses, cameras in our hands, sandals on our feet).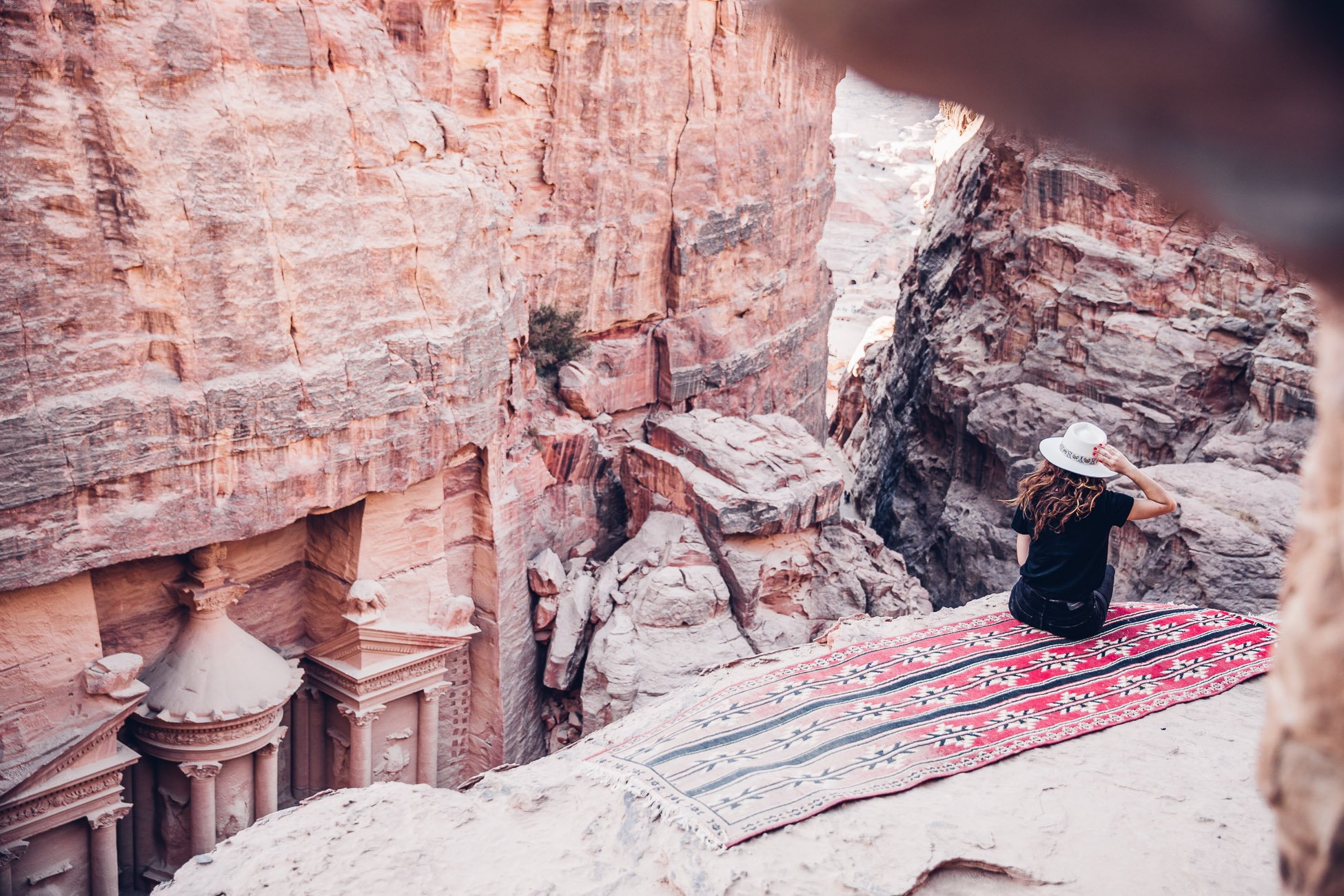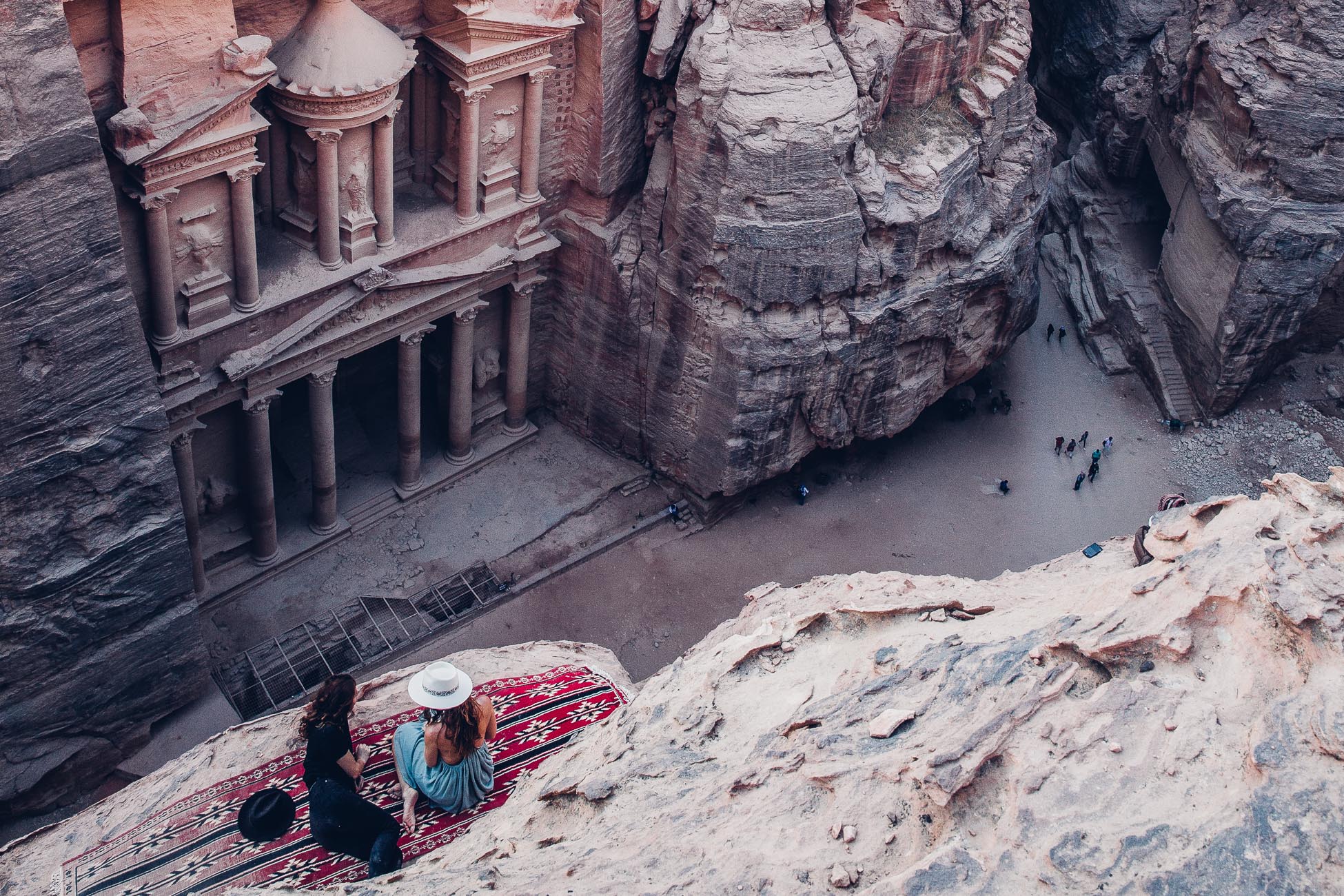 So if you really decide to take the short cut (it takes only 15-20 minutes to get up this way), make sure to bring a backpack to store your camera, wear pants and good shoes!
5. Choose the right day for a visit of Petra
If you plan your Jordan trip, make sure to plan the right day to go to Petra. Why? The famous candle light spectacle "Petra by night" only happens three times per week: Monday, Wednesday and Thursday.
Petra is incredible during the day, but even more magical at night!
6. Visit Petra by Night
If you selected the right day, definitely include a visit of "Petra by Night" to your itinerary. With over 1.500 candles the Treasury and the whole path towards it are lit up those nights. The spectacle starts once it's dark, but first all the visitors from daytime have to leave the area. Then Petra is closed for a while to prepare everything for the night show.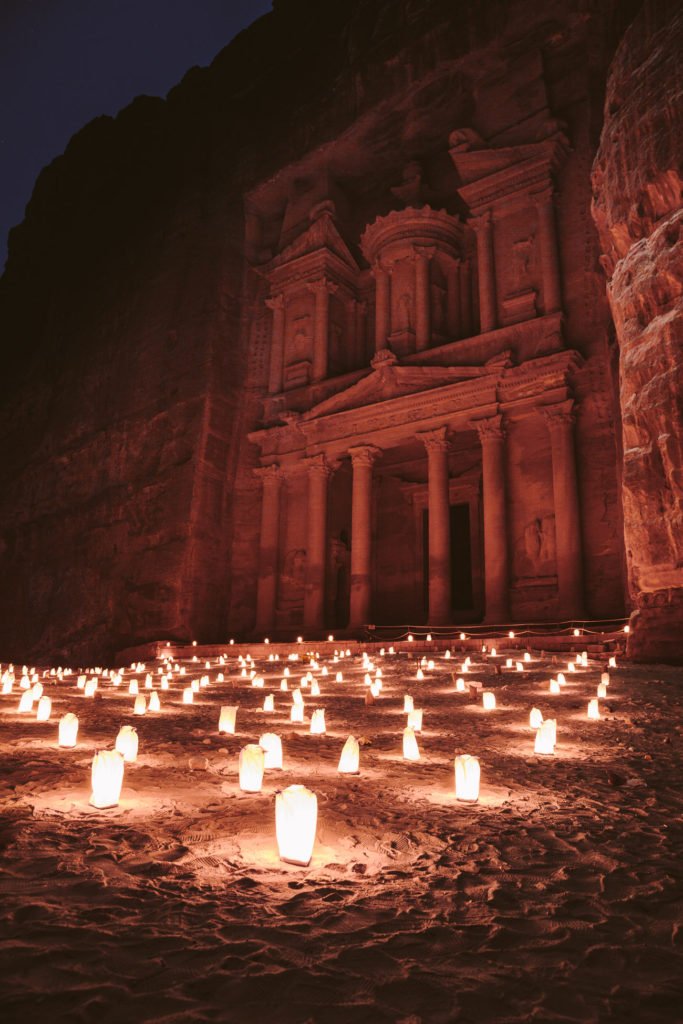 We recommend to come a little later (10 minutes after the opening time). This way you won't be running towards the Treasury stuck in a group of hundreds of tourists, but just walk a little behind them all by yourself. We have never experienced anything more magical than this 2 kilometre walk towards the Treasury through an alley of candles.
We arrived at the Treasury after all the other visitors, but it didn't make a big difference. There are seats in between the candles – those were already taken. But we preferred to sit further back anyhow, as it makes for a better view of the whole scenery.
Once everyone arrived Bedouins serve tea and the show starts. The show features Bedouin live music and a light show, where the facade of the Treasury is lit up in different colours. It doesn't take longer than 20-30 minutes, but it's a great way to feel immersed in the location. And it makes for amazing photos!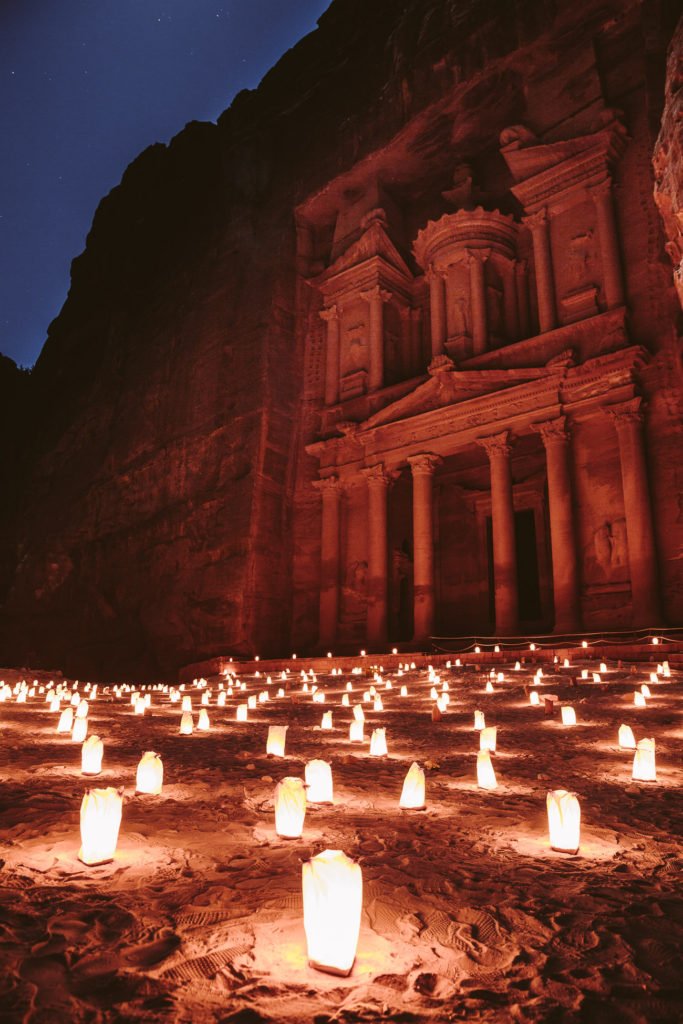 Photography tip:
If you want to take photos here bring a tripod and a wide angle lens. My 24mm lens was actually not wide enough – so I recommend bringing a 16mm or even wider! There will be at least 15-20 other photographers with tripods, but they aren't a big problem. The bigger problem are the people sitting in between the candles and taking photos with their phones with flash. Therefore you'll have to wait until the very end (when visitors are leaving) to catch the best photos!
7. Stay overnight
We highly recommend to include the Petra by night visit into your itinerary. This also means you should plan to stay one night in Petra. We stayed in the famous "Mövenpick Resort Petra", which is absolutely stunning and located directly across the street from the entrance to Petra.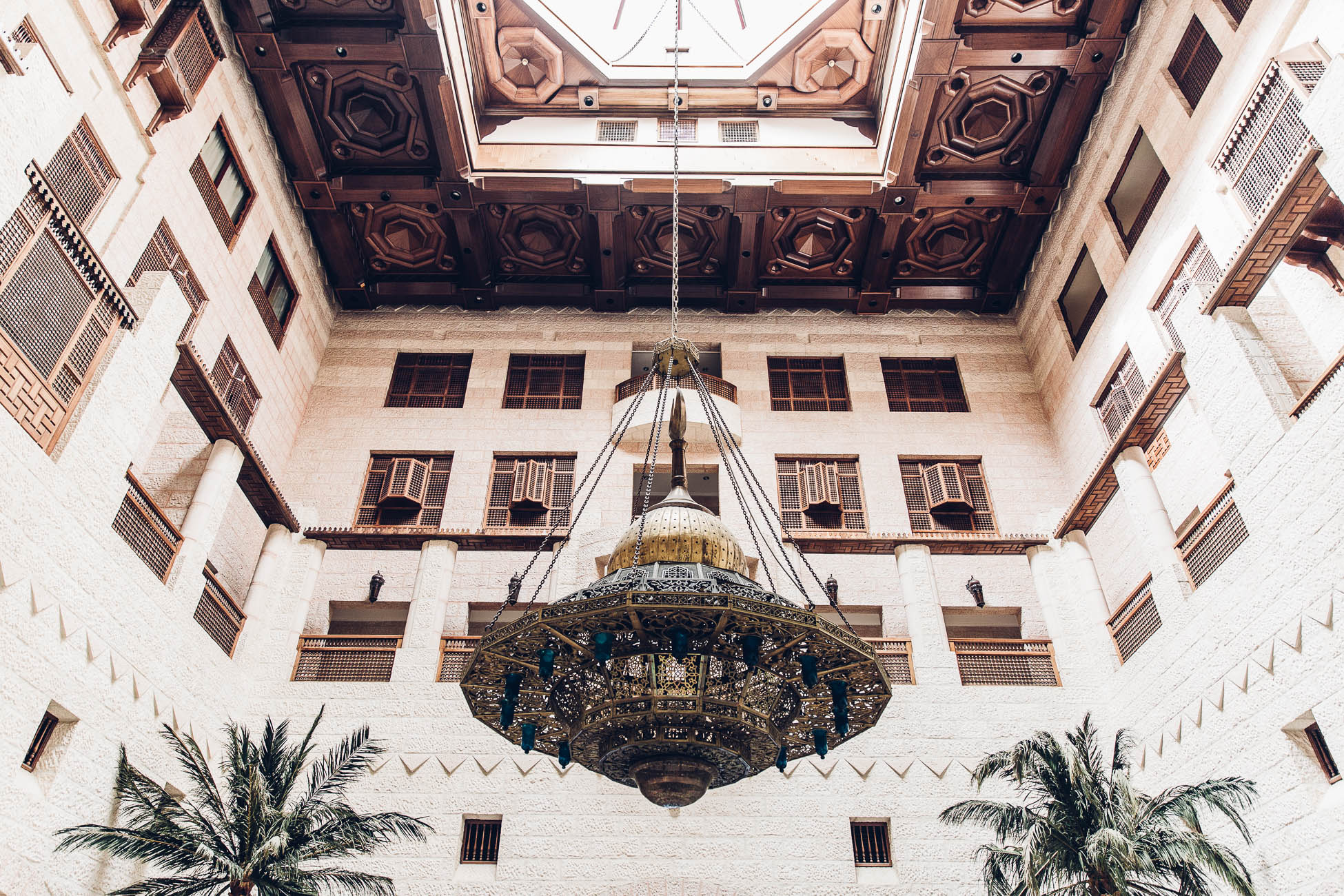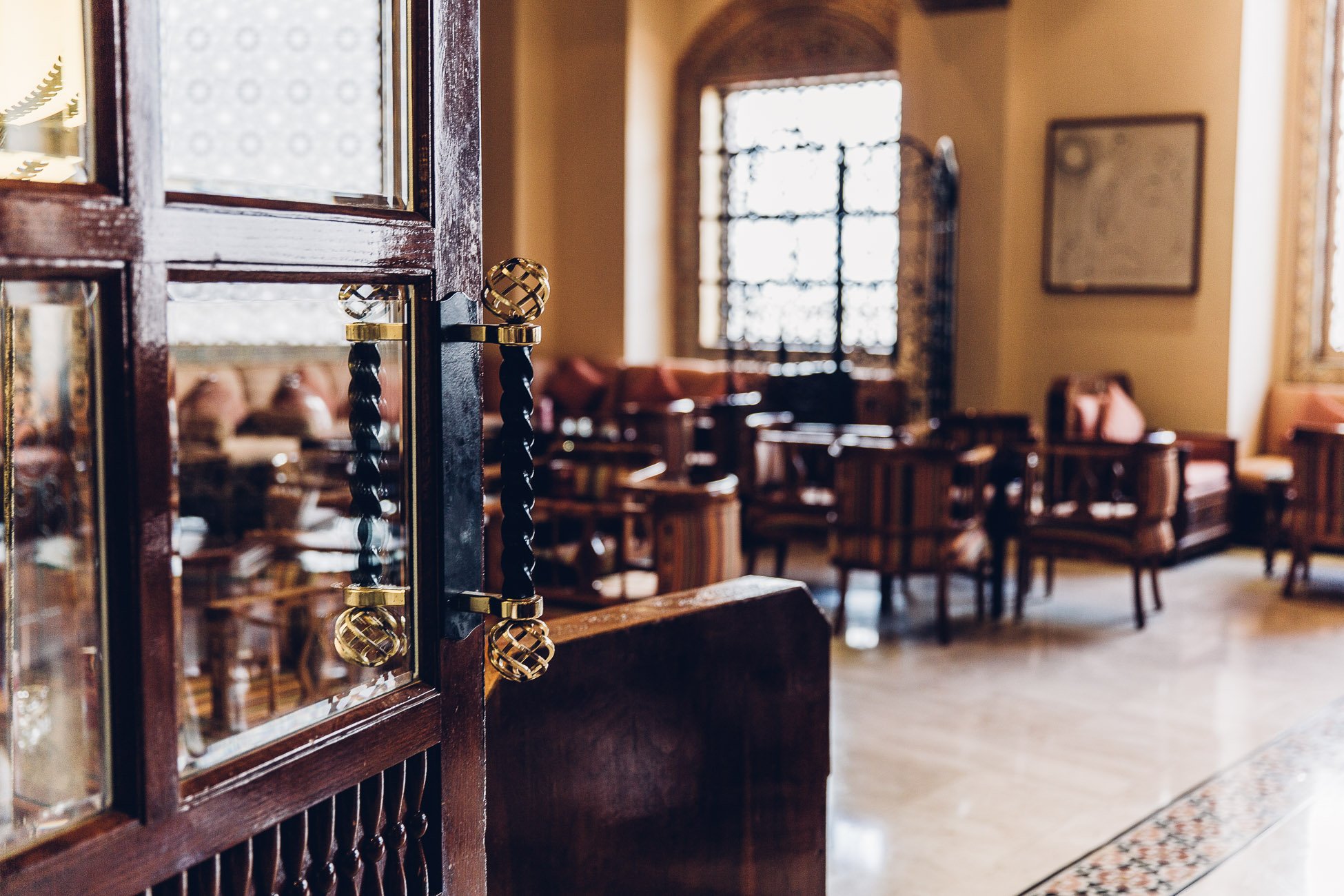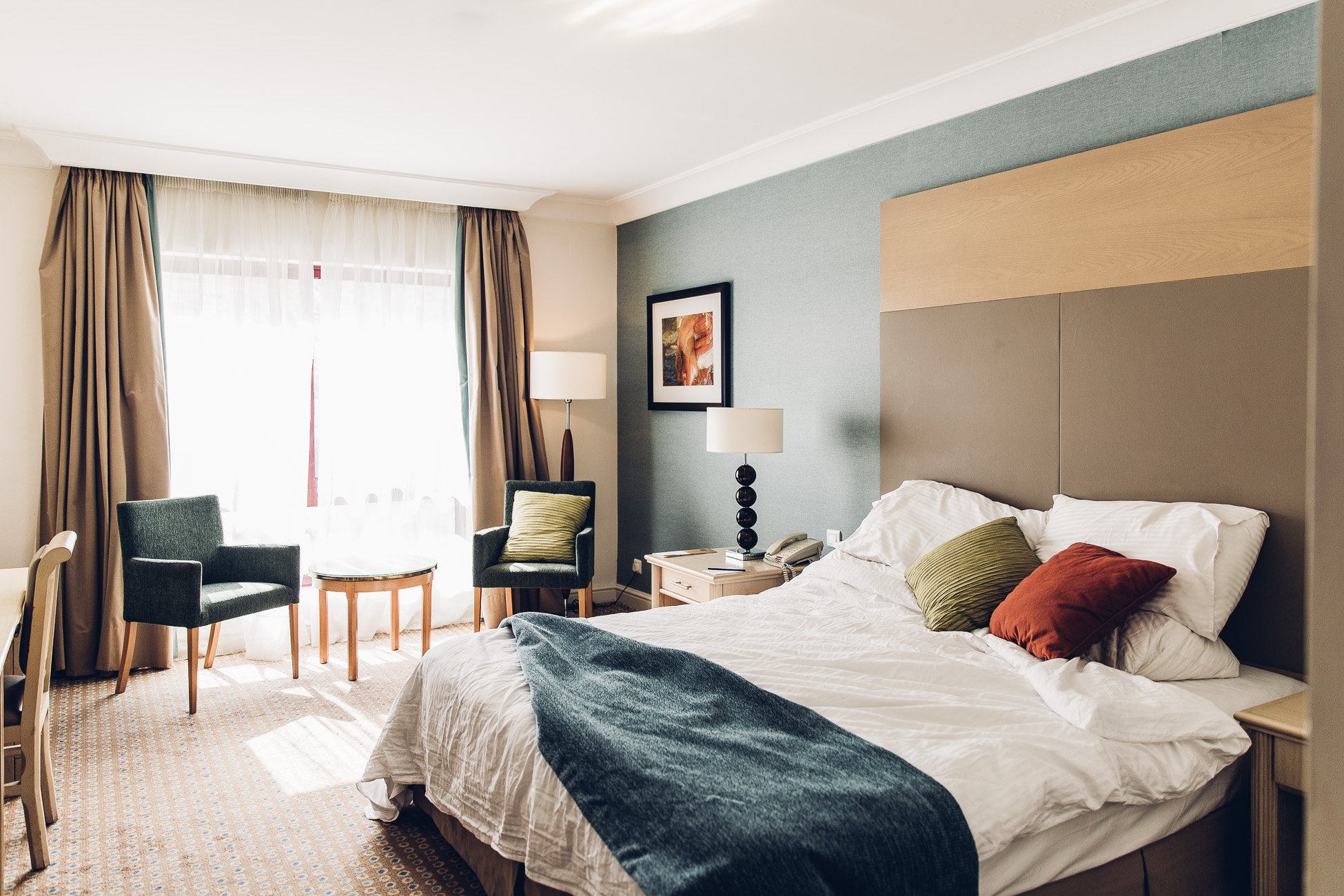 Practical tips: Food, drinks & Clothes
If you visit Petra be prepared to walk a lot. A. Crazy. Lot. We spent the whole day in Petra (and you'll need that time) and managed to walk more than 20 kilometres that day. And then we had to walk the whole way back to the exit, before we re-entered for Petra at Night. And we didn't even see everything!
Basically: Wear your most comfortable shoes! If you plan on hiking to the lookout spots make sure to wear closed boots or at least high-top sneakers and also bring enough to drink (although the Bedouins will serve tea and cold drinks in their tents on top).
If you get hungry you can eat lunch at the "Restaurante Crown Plaza Basin" (managed by the Crown Plaza hotel). It's basically a huge buffet lunch, that costs about 25 Euros. Book this in advance here!
More photos of Petra
And if you haven't had enough – here are some extra photos of Petra.
We recommend to also take some detours when walking around Petra
Like this narrow canyon that leads to the so called "Lion Triclinium".
If you're in Jordan consider including it's capital city Amman into your itinerary. We compiled our tips for a city visit here:
If you liked this post, please help us spread the word and pin this to Pinterest: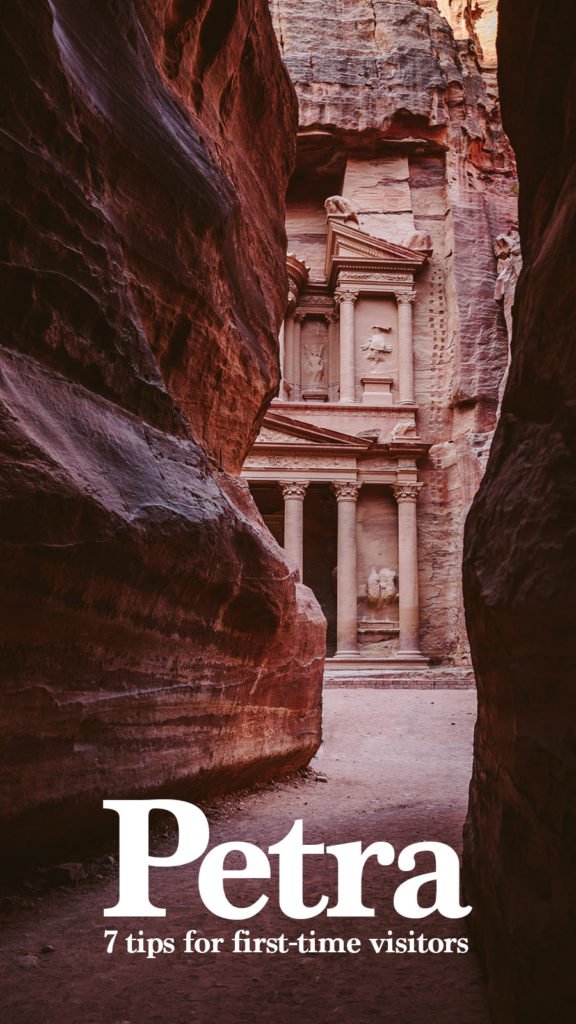 Disclaimer: We were invited to visit Jordan by the Official Tourism Board. The views in this report are our own.