(Updated April 2023). When traveling to Jordan there are a couple of highlights to discover. The Top 3 are most likely Petra, Wadi Rum and the Dead Sea. But if you visit for one week you can also explore some less discovered places like Dana Biosphere Reserve or the Hot Waterfalls at Ma'in. Here's our itinerary for one week in Jordan that covers the highlights as well as some hidden gems!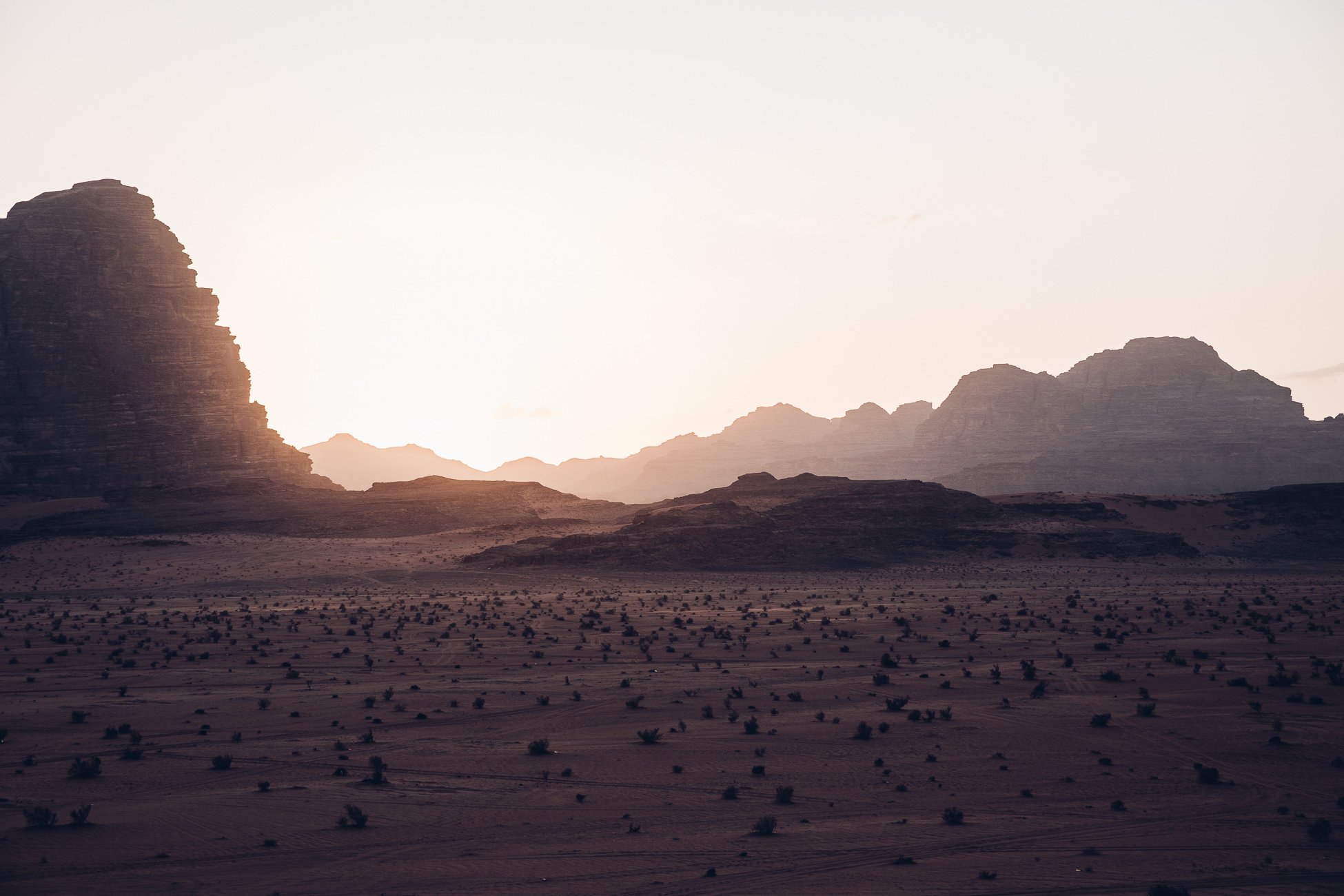 Sunset in the desert is only one of the highlights of a visit to Jordan!
Our route
We flew from Vienna directly to Amman – the capital of Jordan. Direct flights with Austrian Airlines are available, but not really cheap. A more affordable option would be to fly to Israel and cross the border close to Eilat. If you fly directly to Amman you can get your Jordan visa at the airport, travelers crossing the border from Israel may have to obtain their visa beforehand at the embassy (make sure to check current regulations ahead of time)!
Either way you'll be able to circle through Jordan in one week easily. The country has a lot to offer and the distances aren't too big. Our route through Jordan in one week was comfortable with no drive longer than 3-4 hours:
Day 1: Amman
Day 2: Wadi Mujib & Ma'in Hot Springs
Day 3: Dana Biosphere Reserve
Day 4: Petra
Day 5: Wadi Rum
Day 6: Dead Sea
Day 7: Return to Amman
Less than a week in Jordan?
If we had less than a week time we would've probably skipped Dana as it's located rather remote and there isn't as much to discover except for a lot of hiking options. If you can't manage to squeeze in a night at the Dead Sea we recommend to do this from the Western shore in Israel on another visit.
The Dead Sea is stunning, but can also be visited from Israel's western shore.
Day 1: Amman
We arrived at Queen Alia airport in the afternoon, so we stayed in Amman for one night. Check our blogpost about 24 hours in Amman if you're up for a city visit (which not a lot of Jordan visitors do, so it's still rather untouched).
From the Roman theatre to the Temple of Hercules – there's some interesting sights to discover in Amman.
Day 2: Wadi Mujib & Ma'in Hot Springs
At our second day we left Amman early in the morning to arrive at Wadi Mujib before noon. Wadi Mujib is a famous canyon where you can hike through water. This is a fun, but also physically challenging activity. Be prepared to get soaking wet (you have to climb up smaller waterfalls).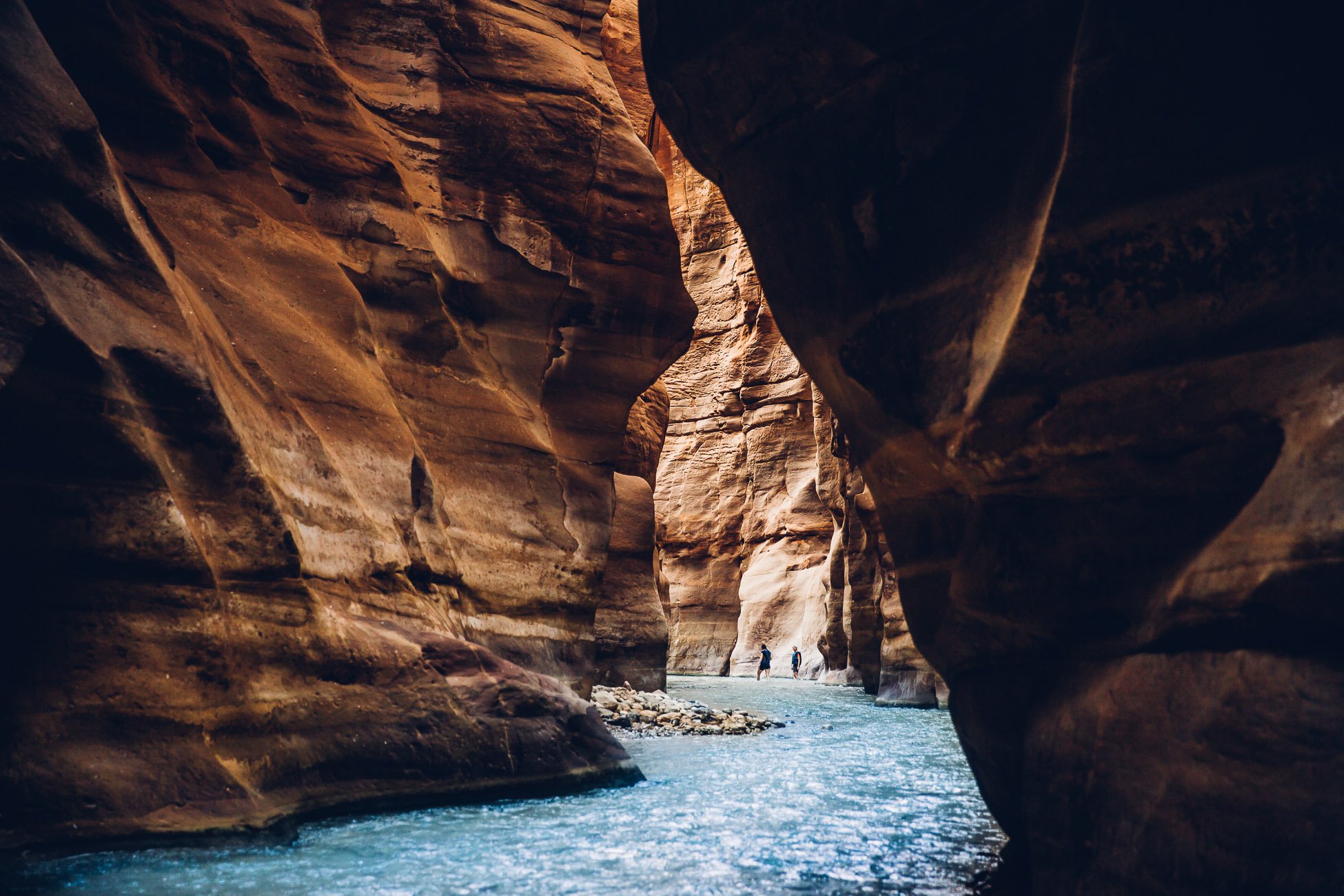 It's absolutely worth it though, just make sure to wear the right shoes (either water shoes or sneakers with profile). If you want to take photos we recommend to bring your own waterproof bag (by waterproof we mean really sealed off!). You can rent bags at the visitors center, but unfortunately they were out of bags when we visited! Therefore we couldn't bring all of our cameras all the way to the end of the trail.
The hike lasts about 3-4 hours (depending on how long you want to stay at the waterfall at the top). Upon return it's recommended to have a full set of dry clothes prepared.
We then grabbed lunch at the Mujib Chalets, which are part of "Wild Jordan" – an ecotourism initiative in Jordan. They serve a buffet-style light lunch there with an incredible view of the Dead Sea as added bonus. You can also stay in the chalets for about 75 JOD (90 Euros) per night. The chalets seemed rather sparsely decorated, but the location at the cliffs of the Dead Sea is impressive!
From here on it's a 40 minute drive to Ma'in. This is like an oasis amidst the otherwise Mars-like landscape of Jordan. After passing by dry rocks and mountains for a while you suddenly enter an oasis of palm trees and steaming waterfalls. Welcome to the Hot Springs of Ma'in!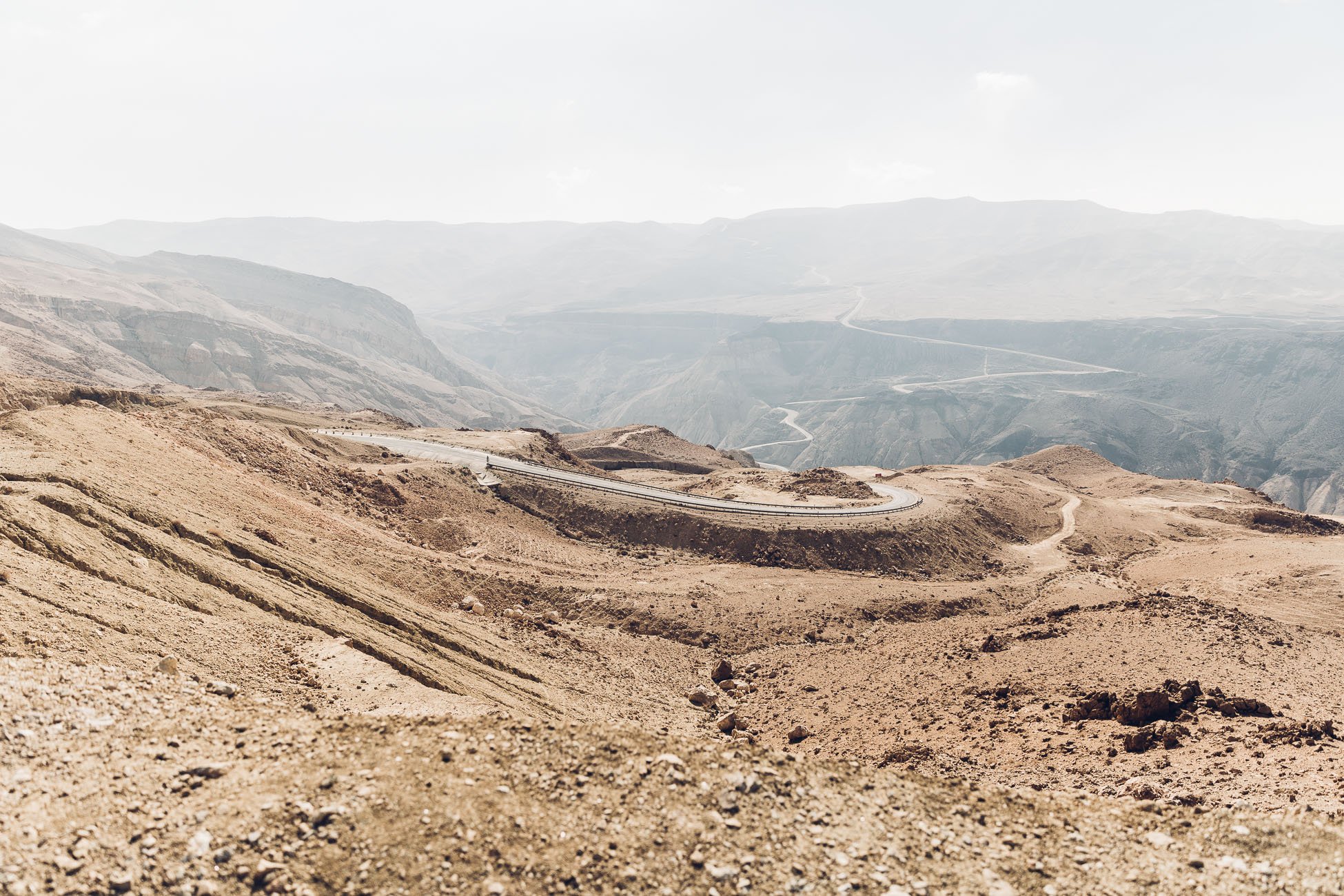 From the dry landscapes to the lush oasis of Ma'in!
Make sure to check in at the Ma'in Hot Springs Resort & Spa as this will provide exclusive early access to the Hot Springs, before it's open to the public. Even early in the morning we shared the waterfall with at least 30 other hotel guests, so you can imagine how crowded it becomes during public opening hours.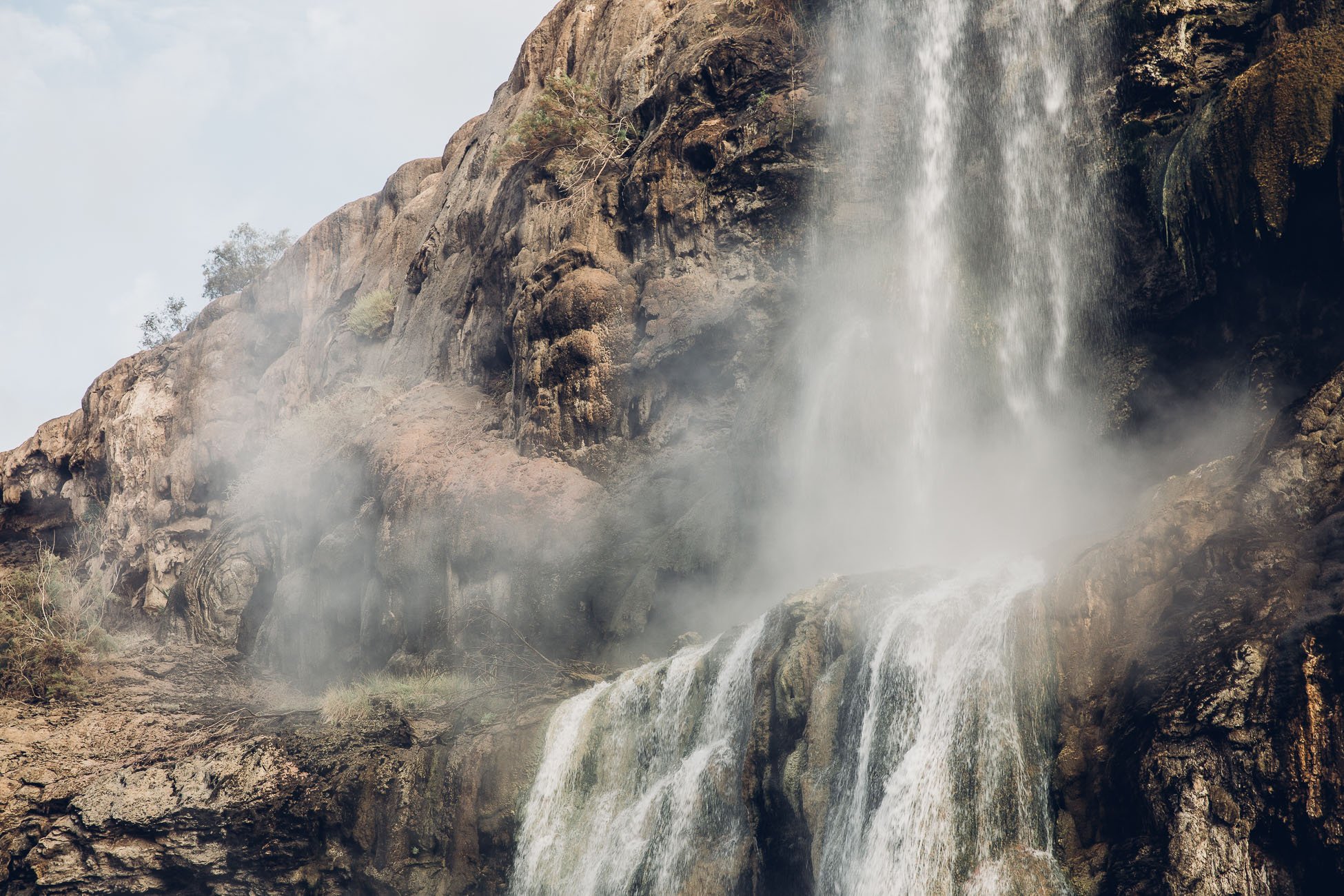 The water that comes floating down the waterfall is up to 40 degrees Centigrade hot, but you'll feel absolutely renewed after bathing there! The hotel itself is also quite beautiful with huge terraces and very authentic interior.
Day 3: Dana Biosphere Reserve
After bathing in the Hot Springs of Ma'in we eat breakfast and start our trip to Dana Biosphere Reserve. The location of the town of Dana is quite impressive, nestled in the cliffs overlooking the multiple layers of mountains.
Our guide picked fresh pomegranates for us!
Dana itself is an abandoned town that is now revitalised by Wild Jordan. Local families are returning to the village and are employed in the local guest houses or as tour guides.
There's not a lot to discover in Dana, except for hiking trails.
This is probably one of the best places to watch the sunset – especially since our hotel "Dana Guest House" has the best location in town. It's also part of Wild Jordan and offers hiking tours and a gift shop with local products.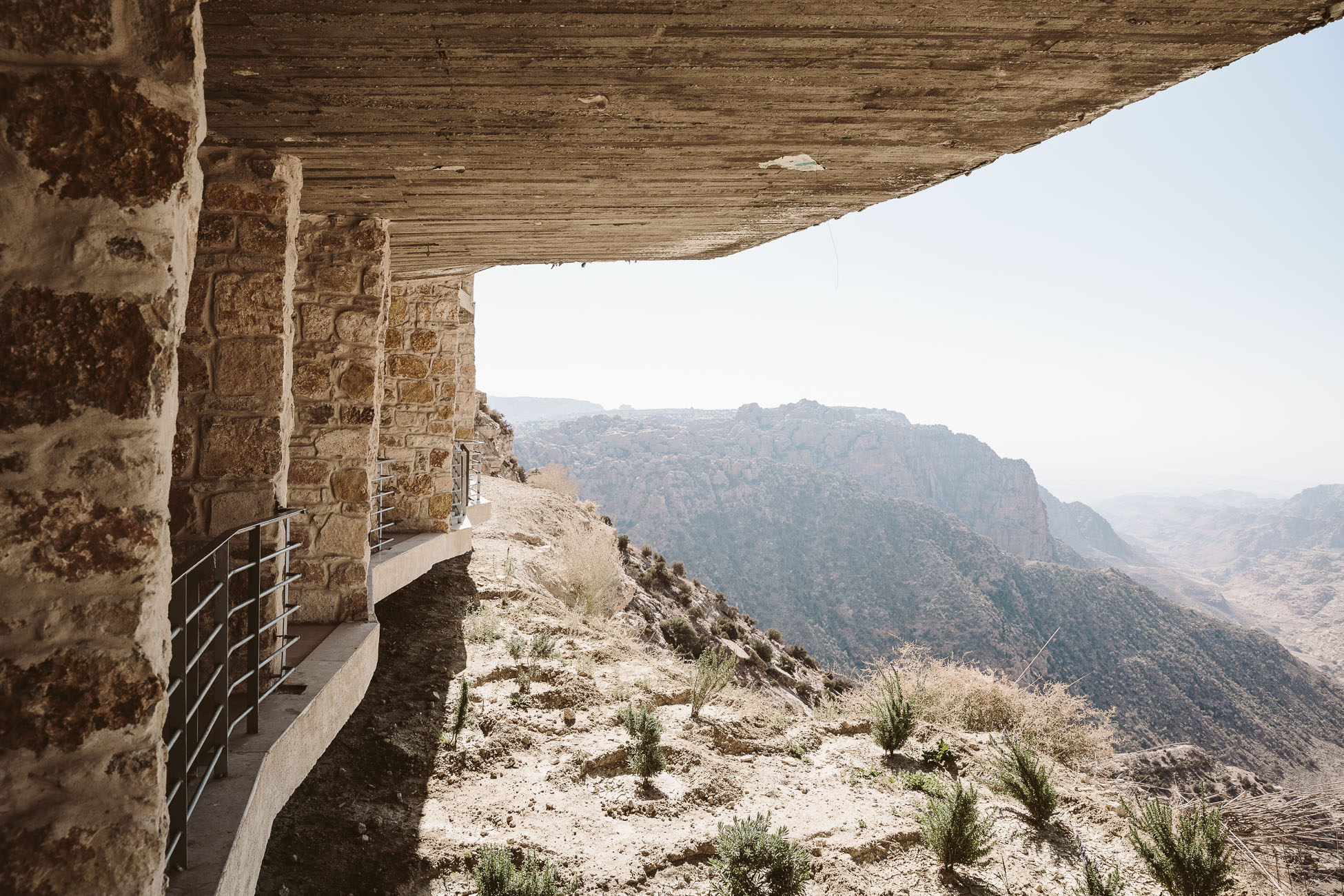 Sunset colors at Dana Biosphere Reserve – as seen from our terrace at Dana Guest House.
We found Dana itself to be rather uninspiring, although we enjoyed the hike and the views were of course fantastic. If you're into hiking, then we would definitely recommend to plan a stay in Dana, but otherwise you can also skip the mountain village and save some time.
Day 4: The wonders of Petra
After a very short night in Dana we arrived in Petra the next day at 6:30am. We decided to get up at 4am to be able to drive to Petra and still be amongst the first to enter the rose-colored city. And it was oh so worth it! Read our blogpost with 7 tips for a visit of Petra (tip #1 being to arrive early before the crowds) 😉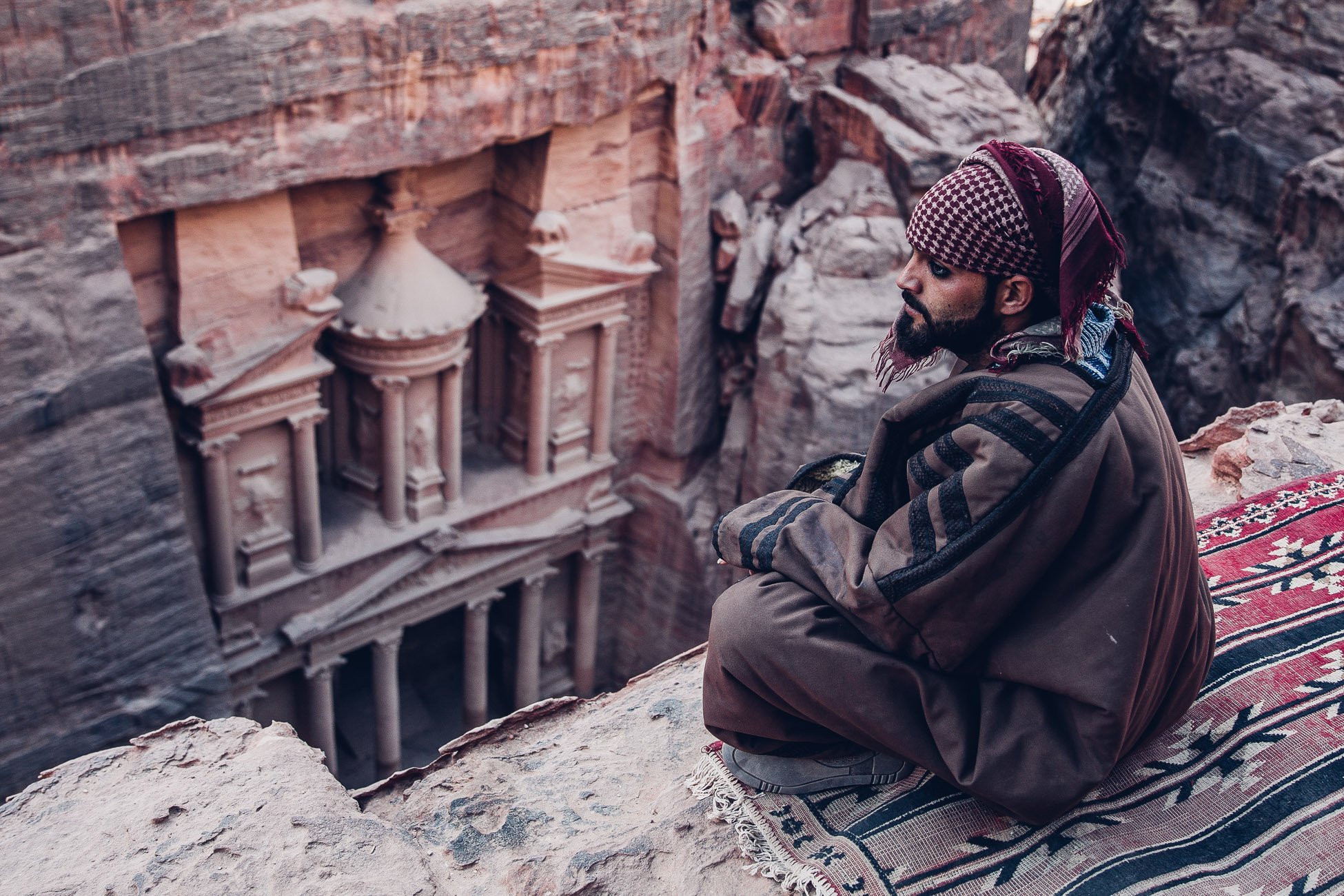 Getting up to this lookout spot in Petra is a bit of a challenge, but worth it (as long as it's still legal to go there).
We stayed in Petra for a night, so we could also visit the "Petra by Night" show and we absolutely recommend to do the same.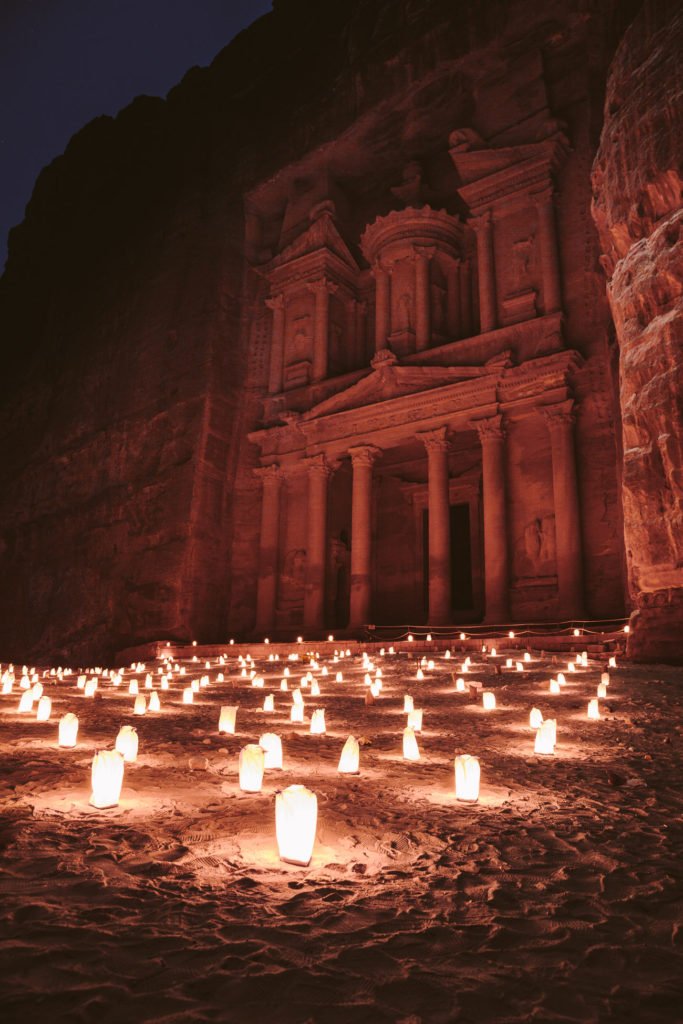 You can also take part in a Jordanian cooking class at Petra Kitchen, which we thoroughly enjoyed. You'll learn a lot about the different spices and traditional dishes and have a true local experience that includes a shared dinner at the end of the class.
Day 5: Wadi Rum
The next morning we ate a luscious breakfast at the Mövenpick resort Petra (which is conveniently located right next to the entrance to Petra), before we started our 1,5 hour drive to the desert of Wadi Rum. Wadi Rum is famous as a filming location (The Martian), but it's also still home to Bedouin families of the region.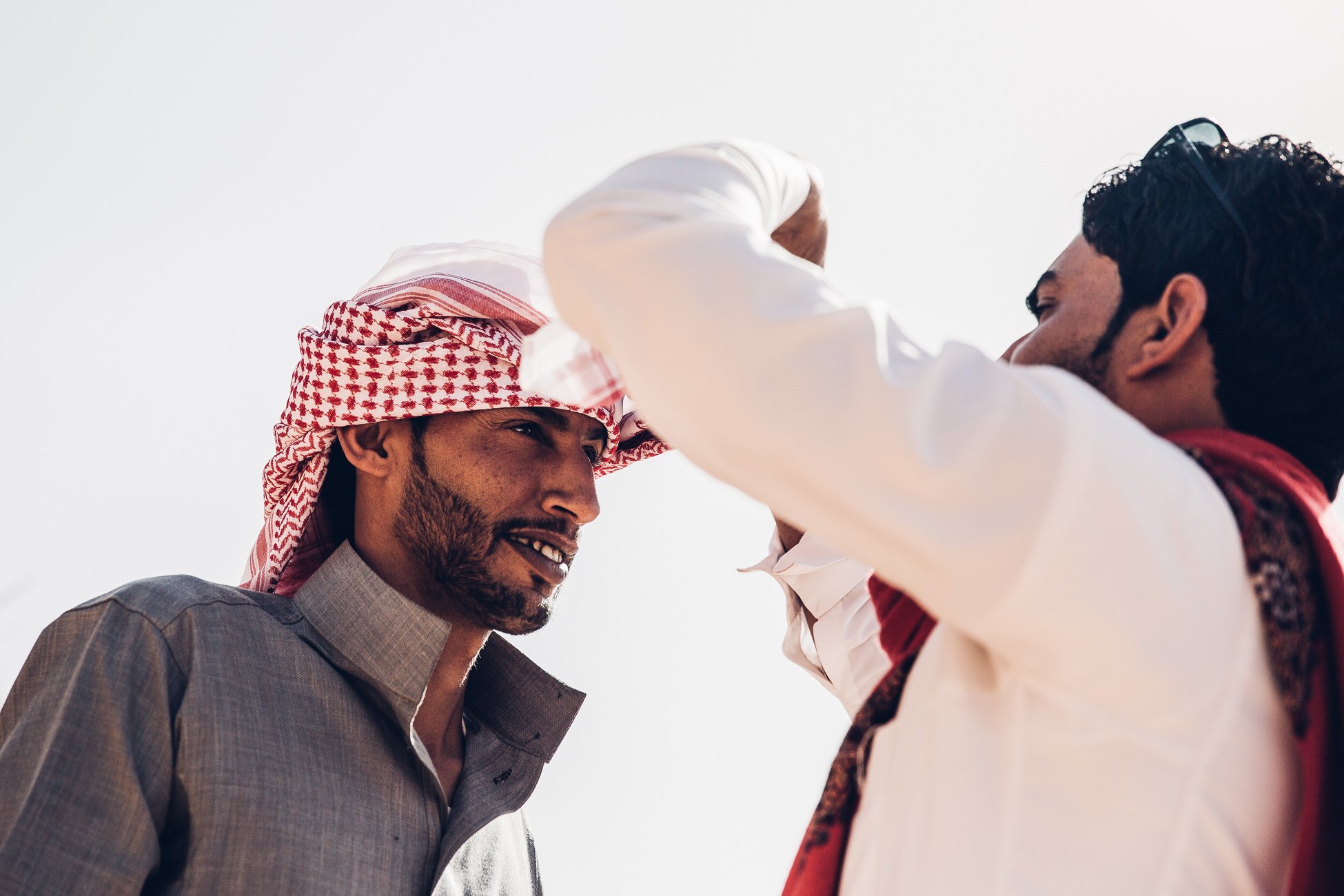 Our guide gets his scarf done the traditional way – each Bedouin family has it's specific knotting technique!
Most of them aren't living the nomad lifestyle anymore, but settled in Wadi Rum Village by now. They maintain parts of their heritage, like herding camels – but mainly for tourism nowadays.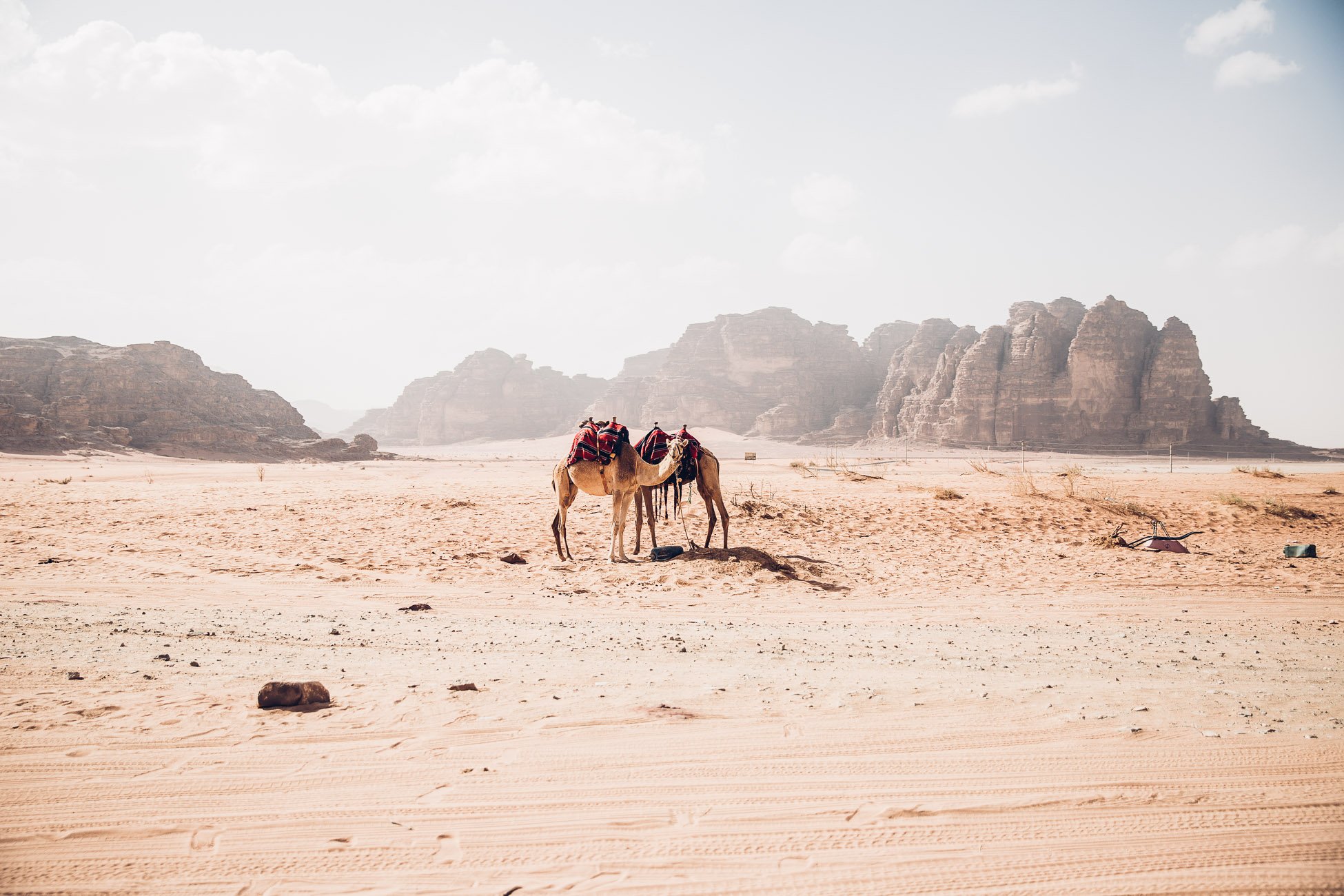 The camels are part of the Bedouin heritage, but nowadays usually only serve touristic purposes.
So you can guess it, Wadi Rum has become quite a very touristy area. Most visitors stay overnight in one of the many desert camps. The camps are spread out over the desert, so it won't feel too crowded – but you'll definitely meet other tourists outside of your camp.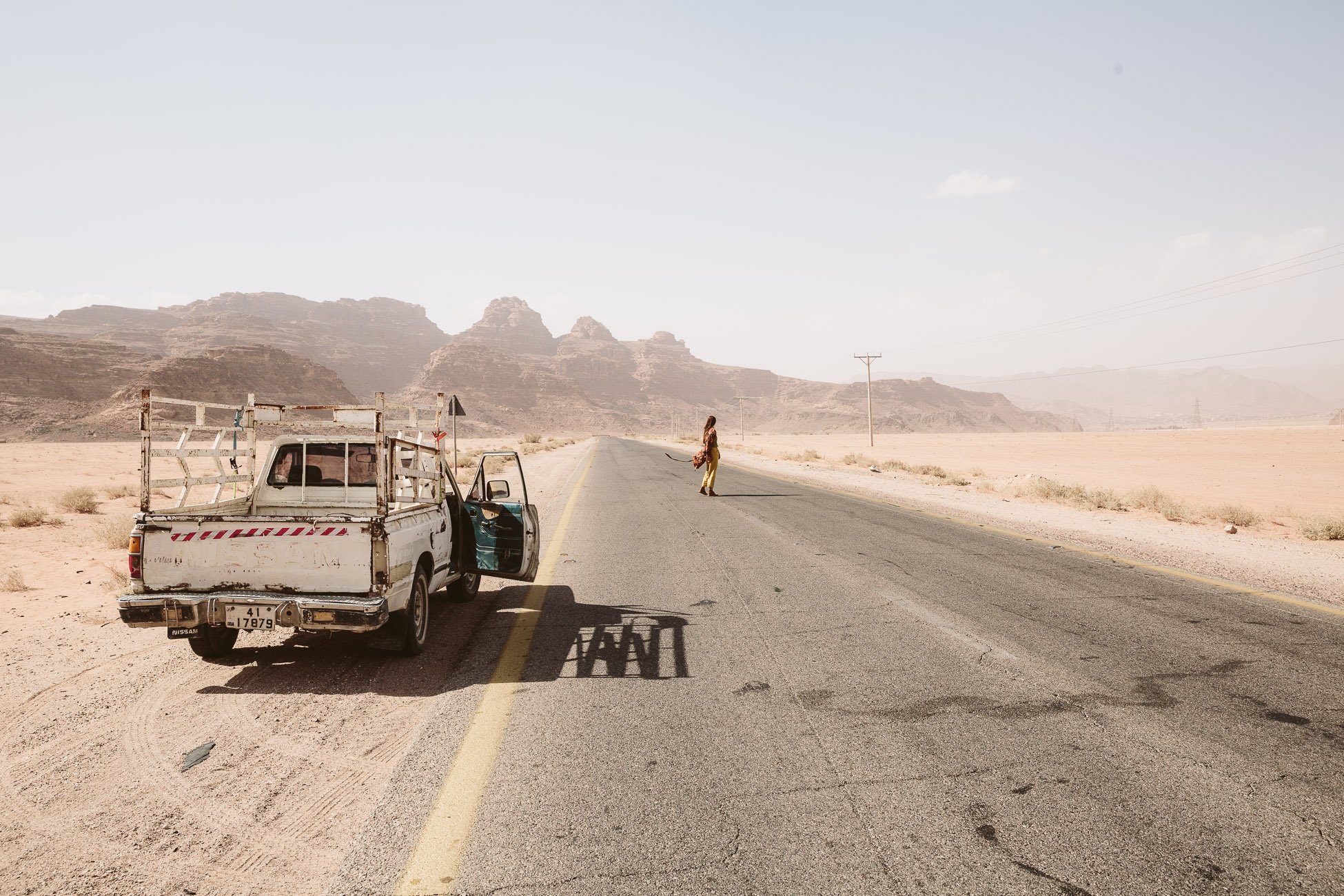 The road to Wadi Rum – it feels empty here, but that's a classic desert mirage.
We stayed at Hasan Zawaideh Camp (before they installed the now famous bubble tents, that every second camp seems to offer in Wadi Rum). We stayed in one of the more traditional tents back then, which is a very affordable, but quite basic version of a Wadi Rum camp.
Our room in a "tent" at Hasan Zawaideh Camp.
We didn't need the ventilator, but would've appreciated a heater at night!
Across the plains of the desert we spotted the luxury version called Sun City Camp who were the first with bubble tents – the transparent dome houses, that look rather futuristic. If you prefer a more upscale stay at Wadi Rum this could be an option (try and book ahead of time, it's very popular).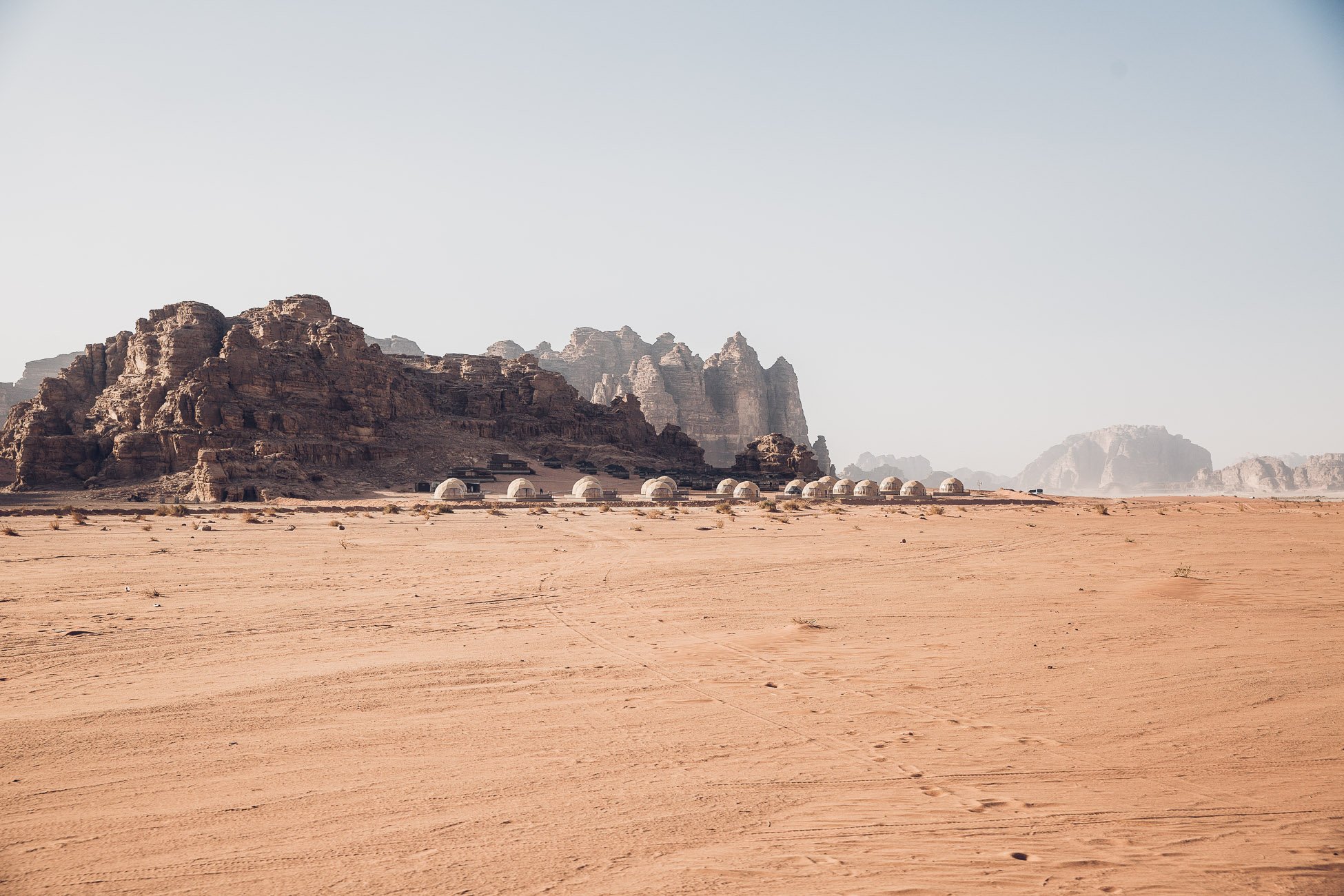 They call these dome houses of Sun City Camp "Martian homes" – very accurate of a name!
After setting up camp in our "tent" (it comes with a bathroom after all) we did what most visitors do in Wadi Rum: A Jeep Safari at sunset.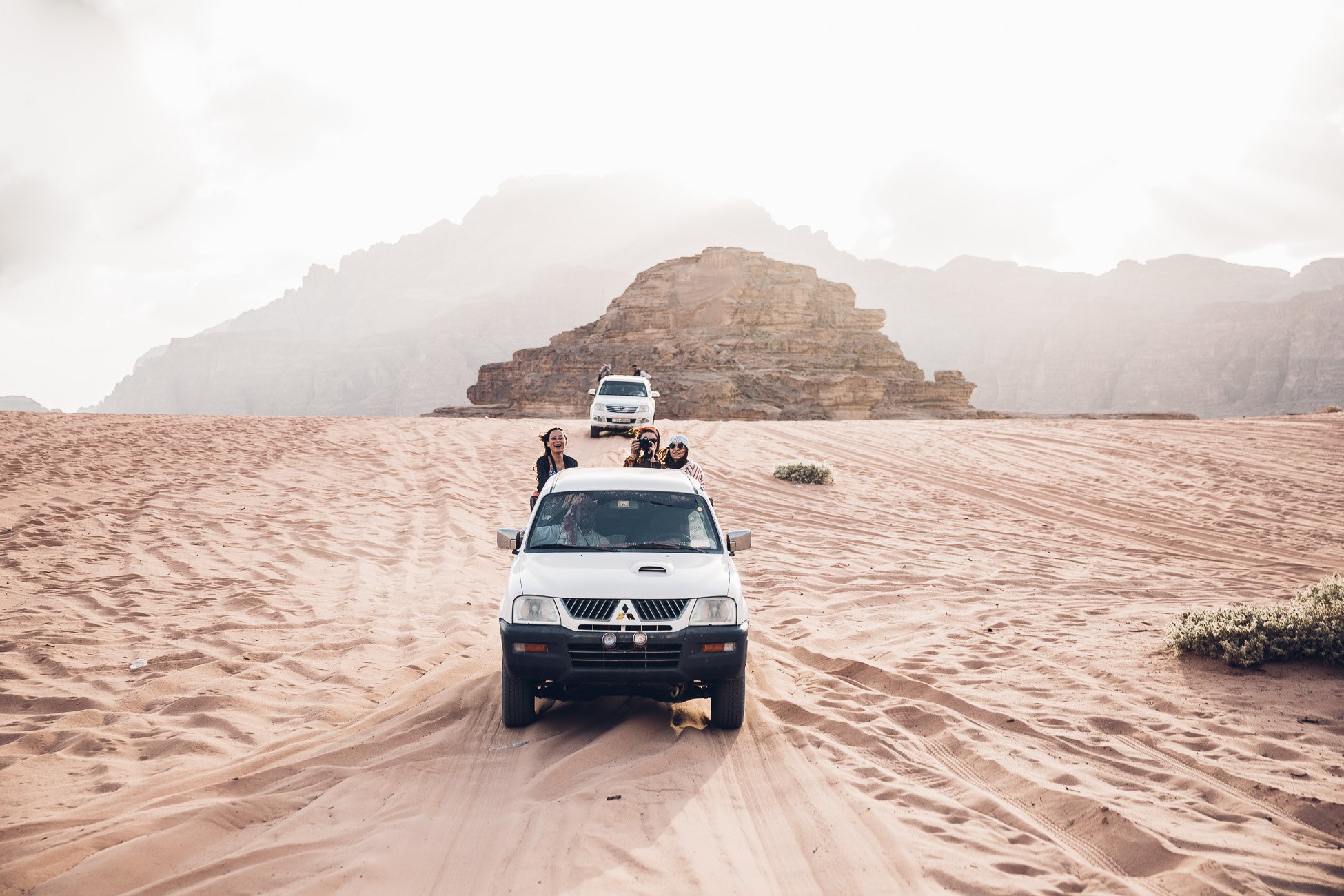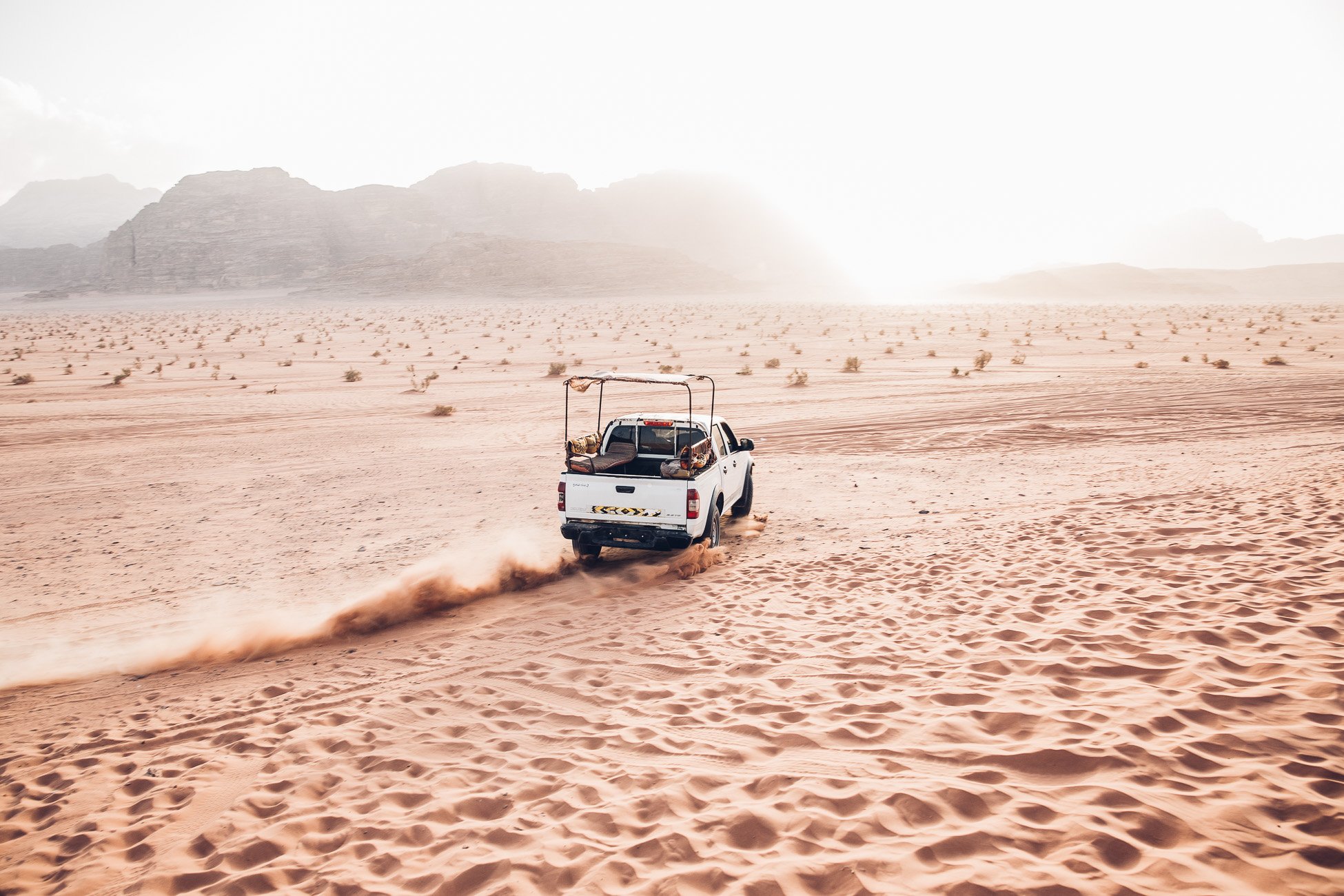 Now you have to be warned: You won't be alone in the desert. There's a dozen tour operators and they all drive the same routes. So you'll be together with many many visitors at each location.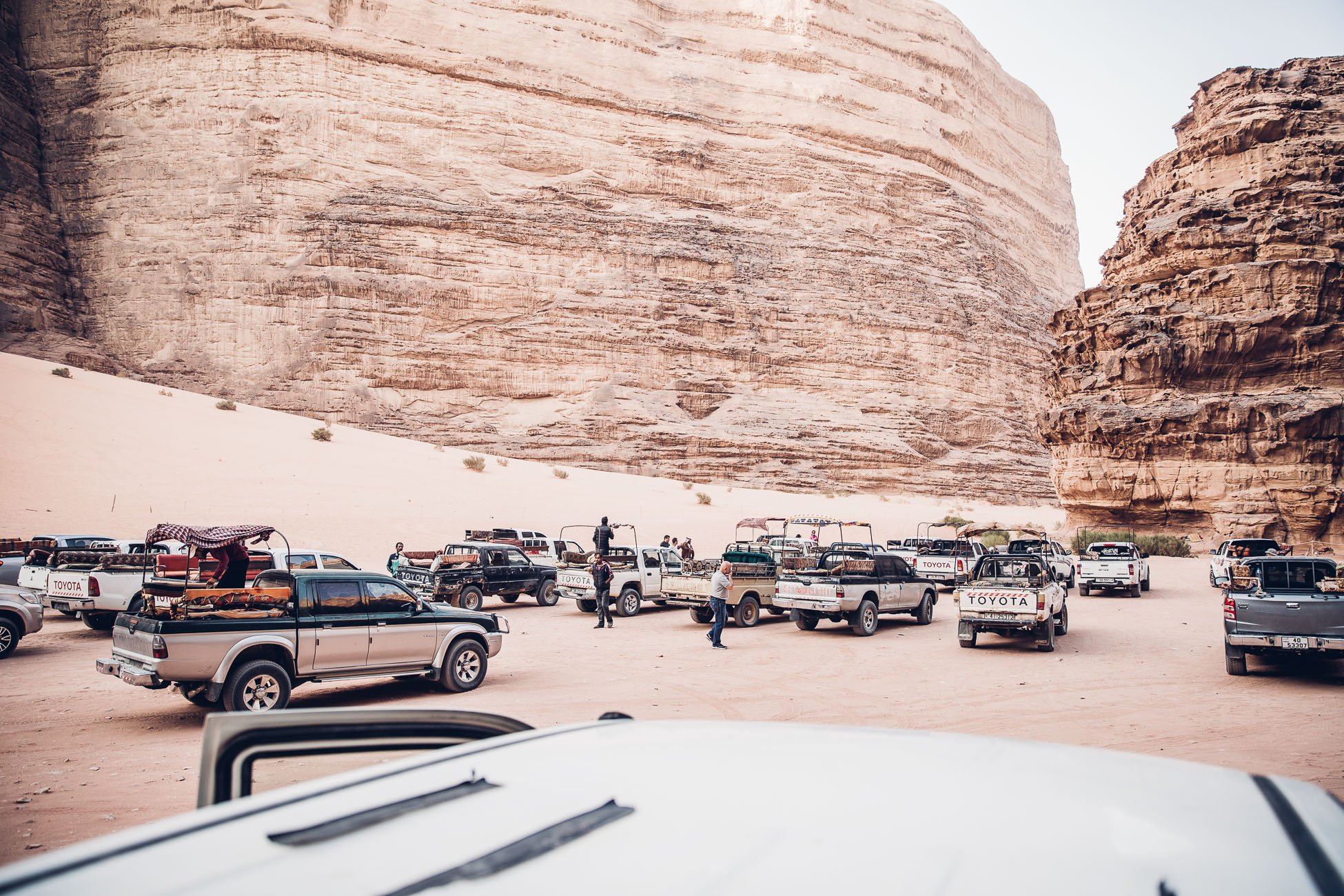 This is the reality of Jeep Safaris in Wadi Rum!
We told our driver to just keep on driving to stay ahead of the pack. This way we arrived at the one famous rock, which is the perfect sunset lookout spot, ahead of the crowds.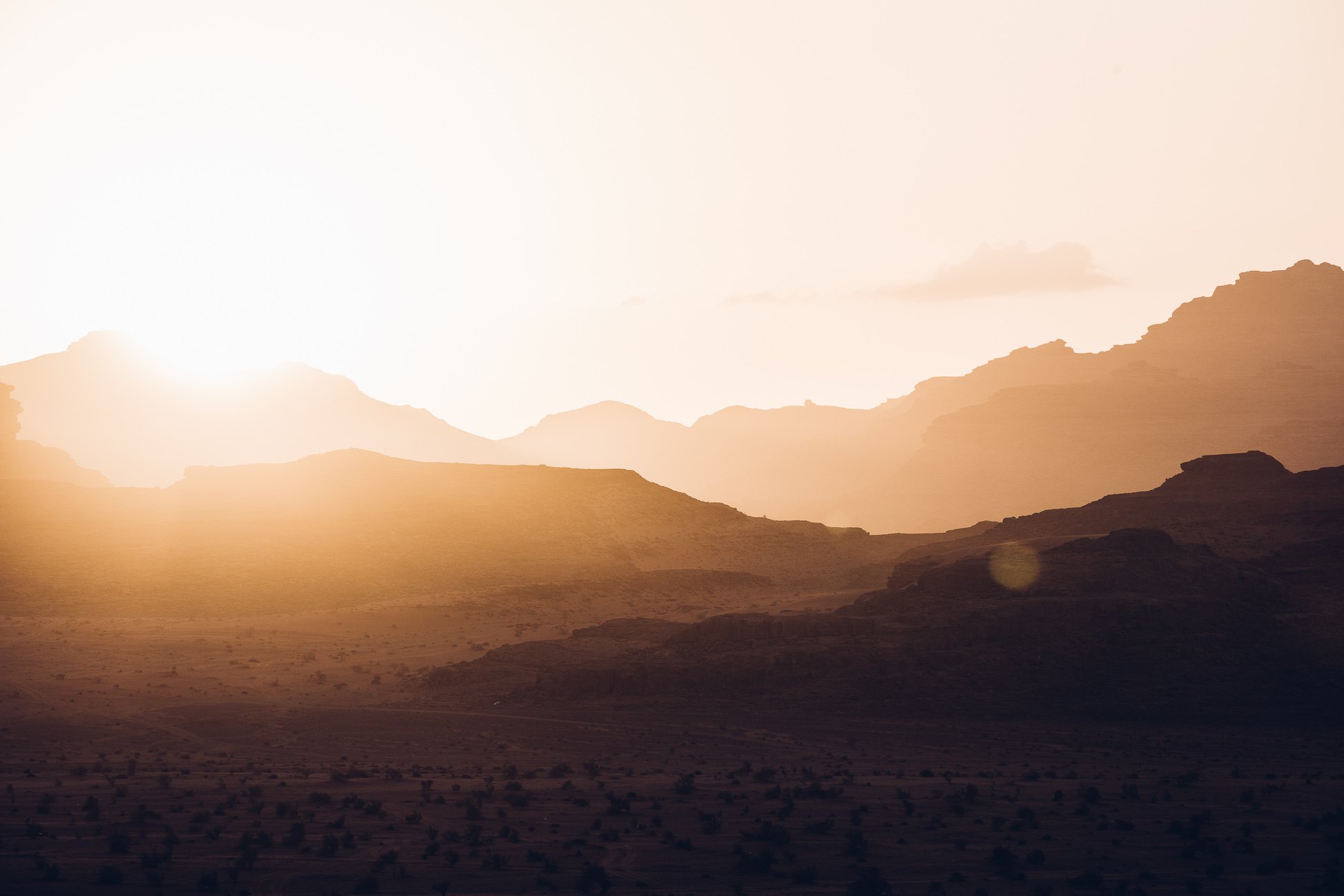 We only had this place for us for 10 minutes, then all of the jeeps assembled here and we watched the sunset together with approximately 100 other visitors sitting all together on the rocks.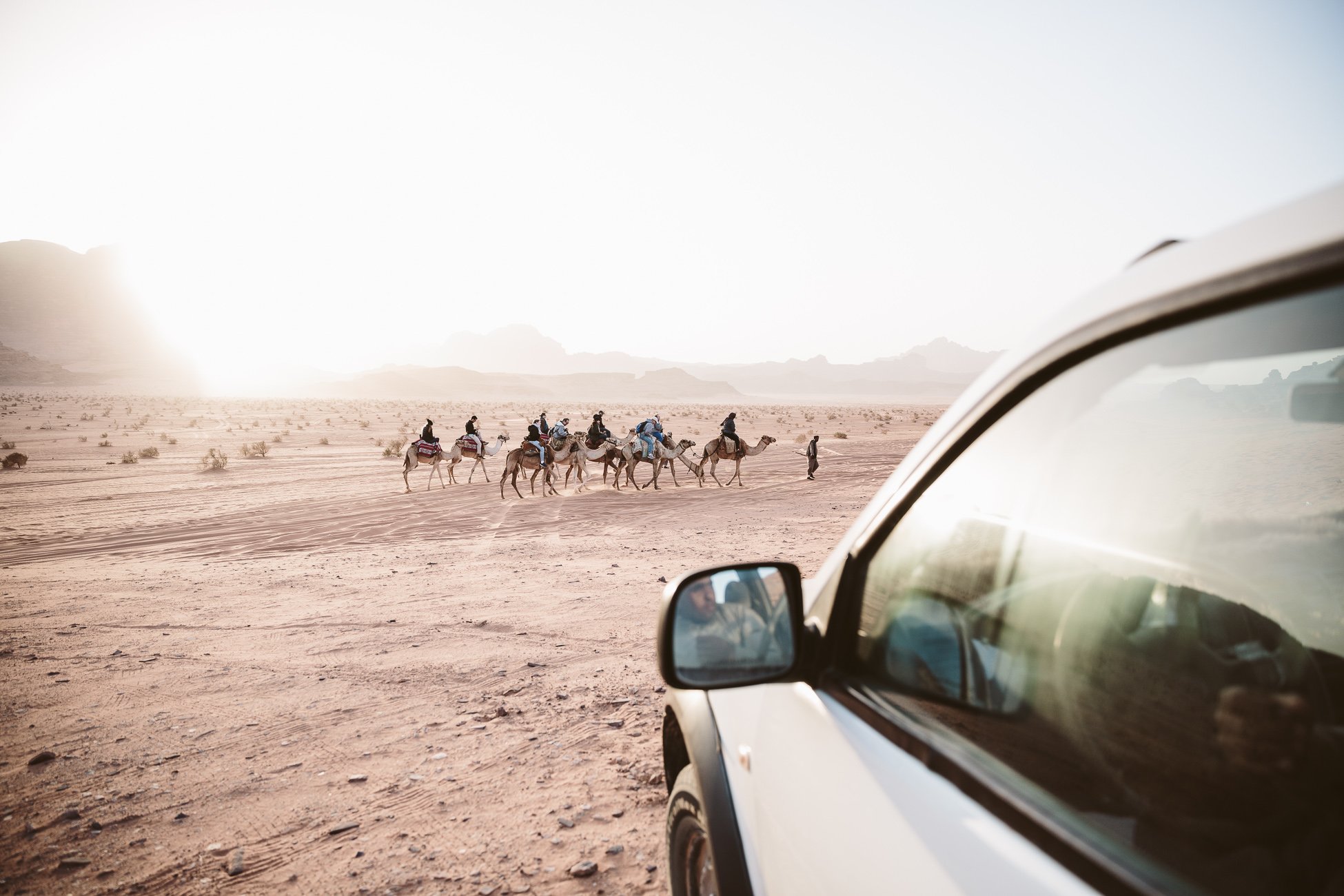 The camel tours at sunset are constantly interrupted by jeeps passing by.
We wanted the setting for our camel tour to be less crowded and therefore opted for a sunrise camel tour the next morning. This was a perfect idea as we were absolutely alone in the desert. Therefore our recommendation would be to do the jeep tour at sunset (when it doesn't matter as much that it's crowded), but the camel riding at sunrise (if you even want to do it – from an animal cruelty perspective this is something to consider as well).
Finally we got that "Martian" movie feeling we were searching for!
We recommend to do the adventurous Jeep Ride in the evening and the calm and romantic Camel Ride early in the morning!
Each Bedouin Camp offers a rustic dinner at night – at Hasan Zawaideh Camp they do a special kind of barbecue, where the food is grilled underground covered by sand. It's quite a spectacle and tastes really special (unfortunately the vegetarian stuff is mixed on the grill with the lamb and chicken though – so it will be touched by meat juices…). Maybe this has changed in the meantime, but it might be worth informing the staff beforehand if you're vegetarian or vegan.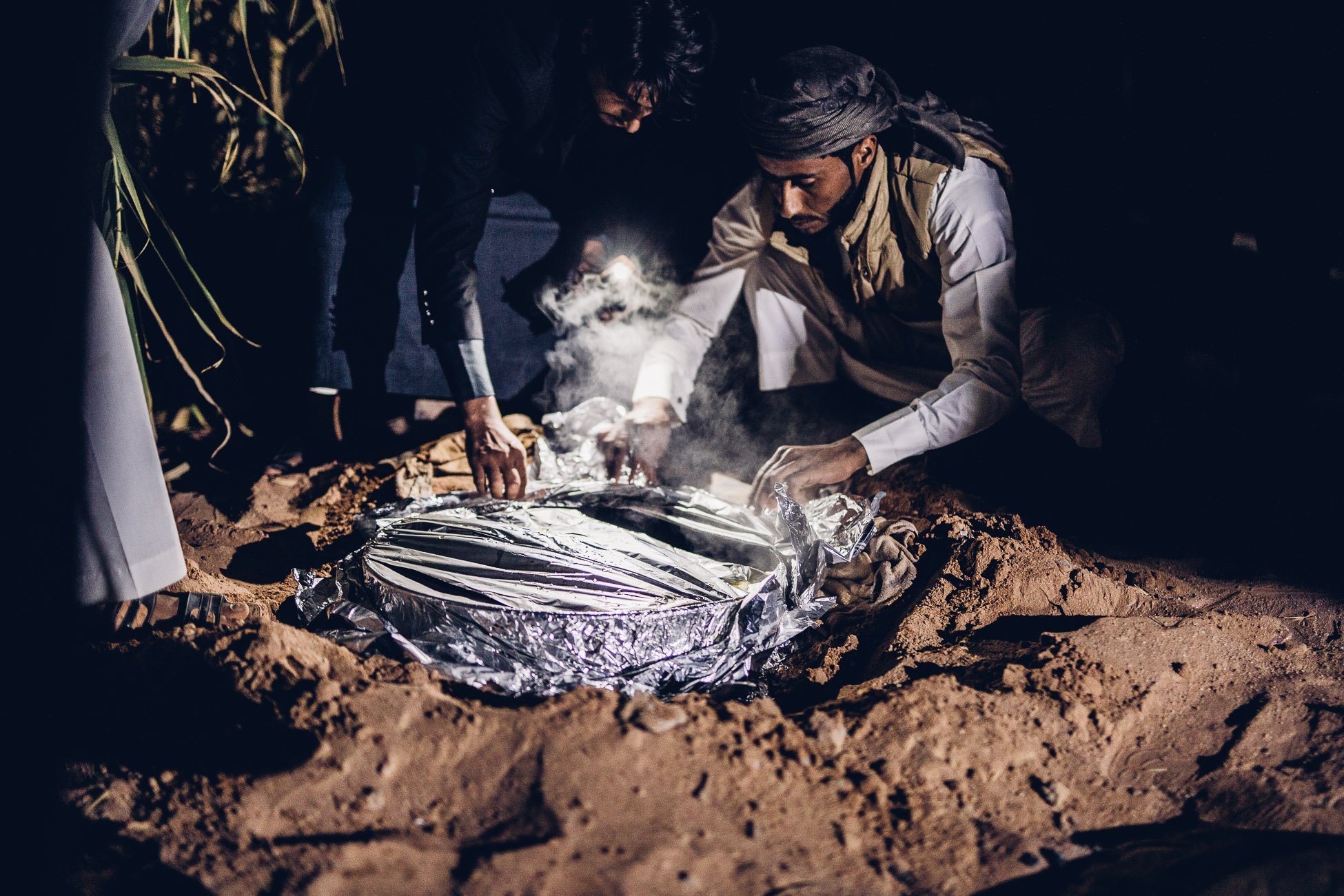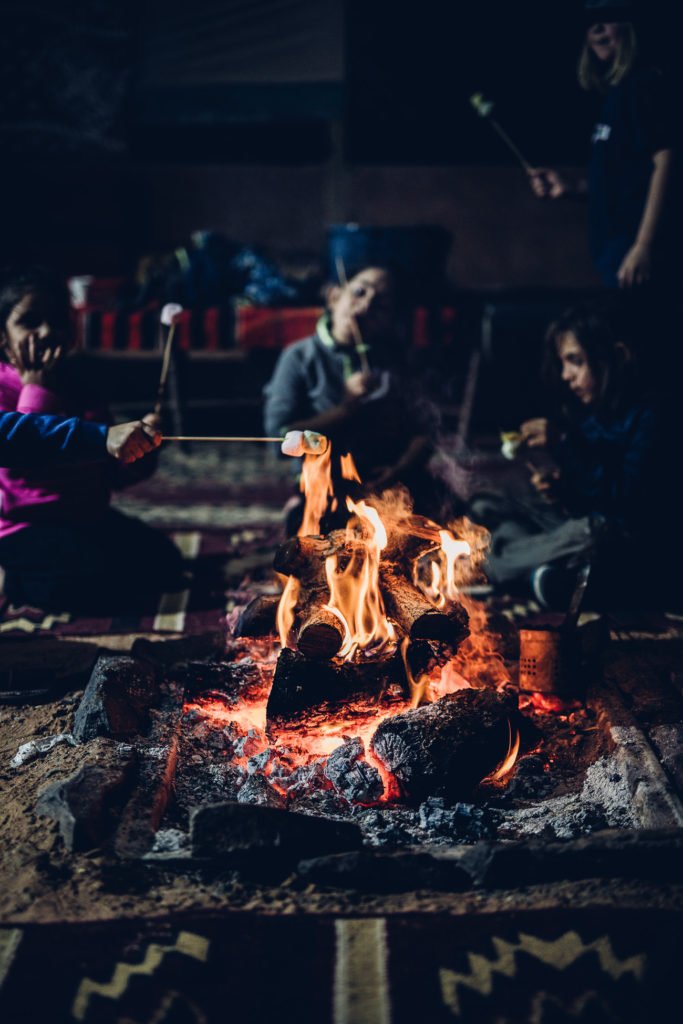 The kids enjoyed marshmallows after dinner in the tent.
The next morning we saw a hot air balloon floating over Wadi Rum and would definitely put that on our To Do list for the next visit!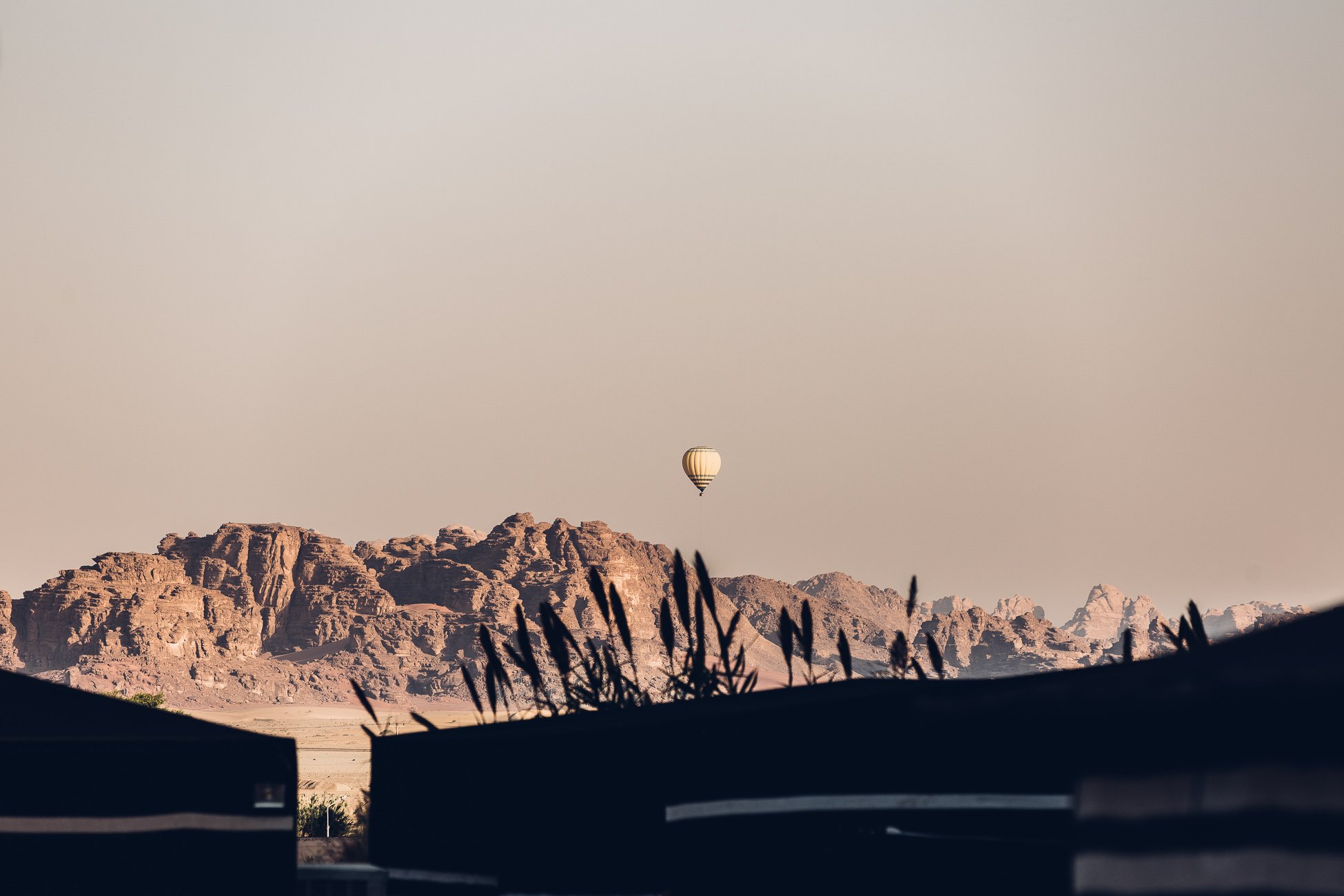 This looks like a perfect way to end a visit of Wadi Rum!
Day 6: Dead Sea
After the sunrise camel ride and a hearty breakfast it was time for us to leave our desert camp. This would be our longest drive as our next hotel was located at the very North of the Dead Sea – so it took us 4 hours to get there. All the hotels (except for the rustic Mujib Chalets) on the Jordanian side of the Dead Sea are located at the very Northern tip, so that's where we stayed as well.
The longest car ride during our Jordan trip!
The northern tip of the Dead Sea is the only area where you can access the water through a beach. The rest of the East Coast of the Dead Sea has steep cliffs (some locals built paths to get down to the water at other spots, but there are no hotels or amenities there).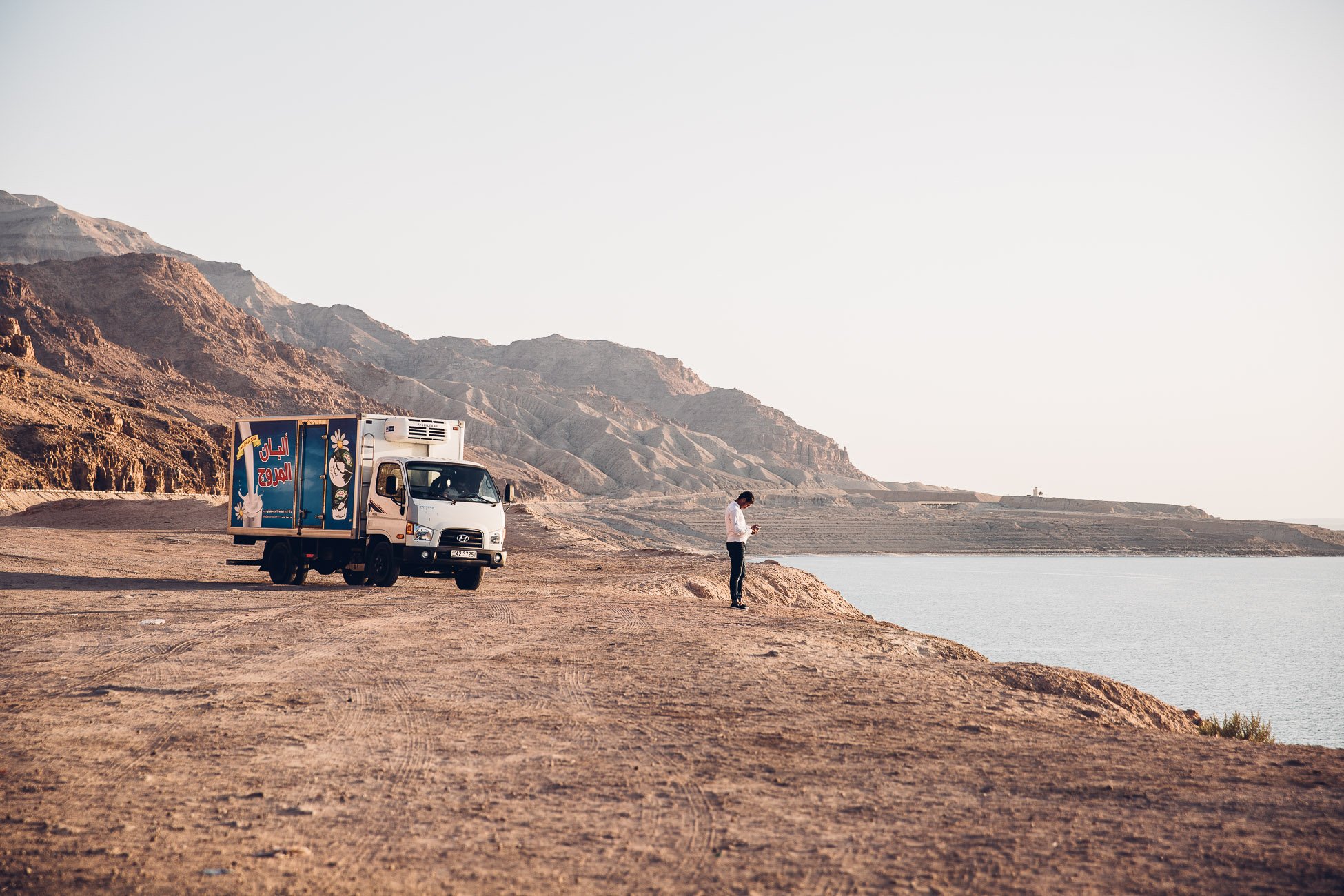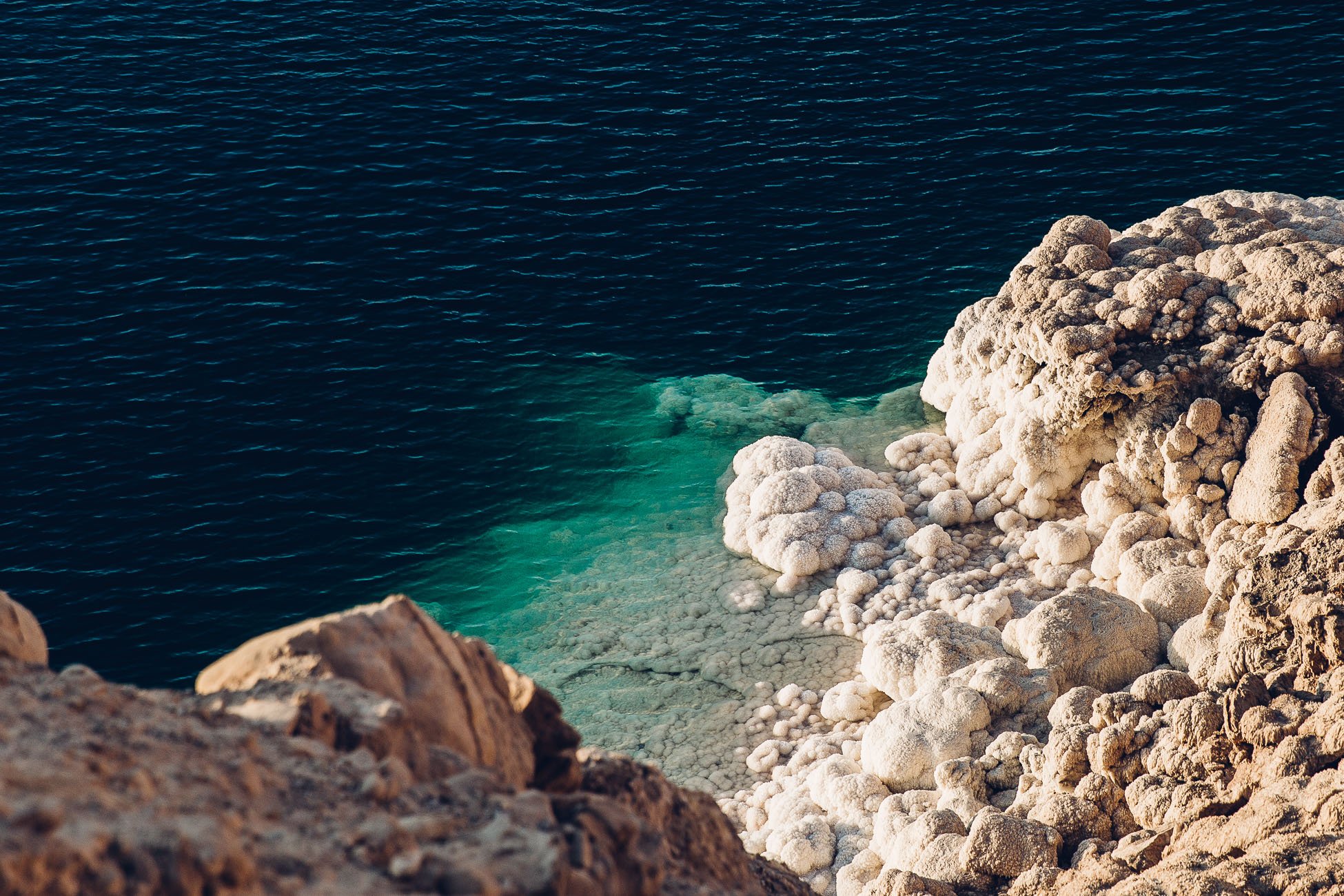 This is what most of the East Coast of the Dead Sea looks like – it's inaccessible for bathing.
We stayed at the Crowne Plaza Jordan Dead Sea Resort & Spa, but wouldn't recommend it for couples. It's a family-oriented hotel and therefore not really our cup of tea 😉 We hear the Kempinski Hotel Ishtar Dead Sea should be great, so rather opt for this hotel if you're not travelling with children.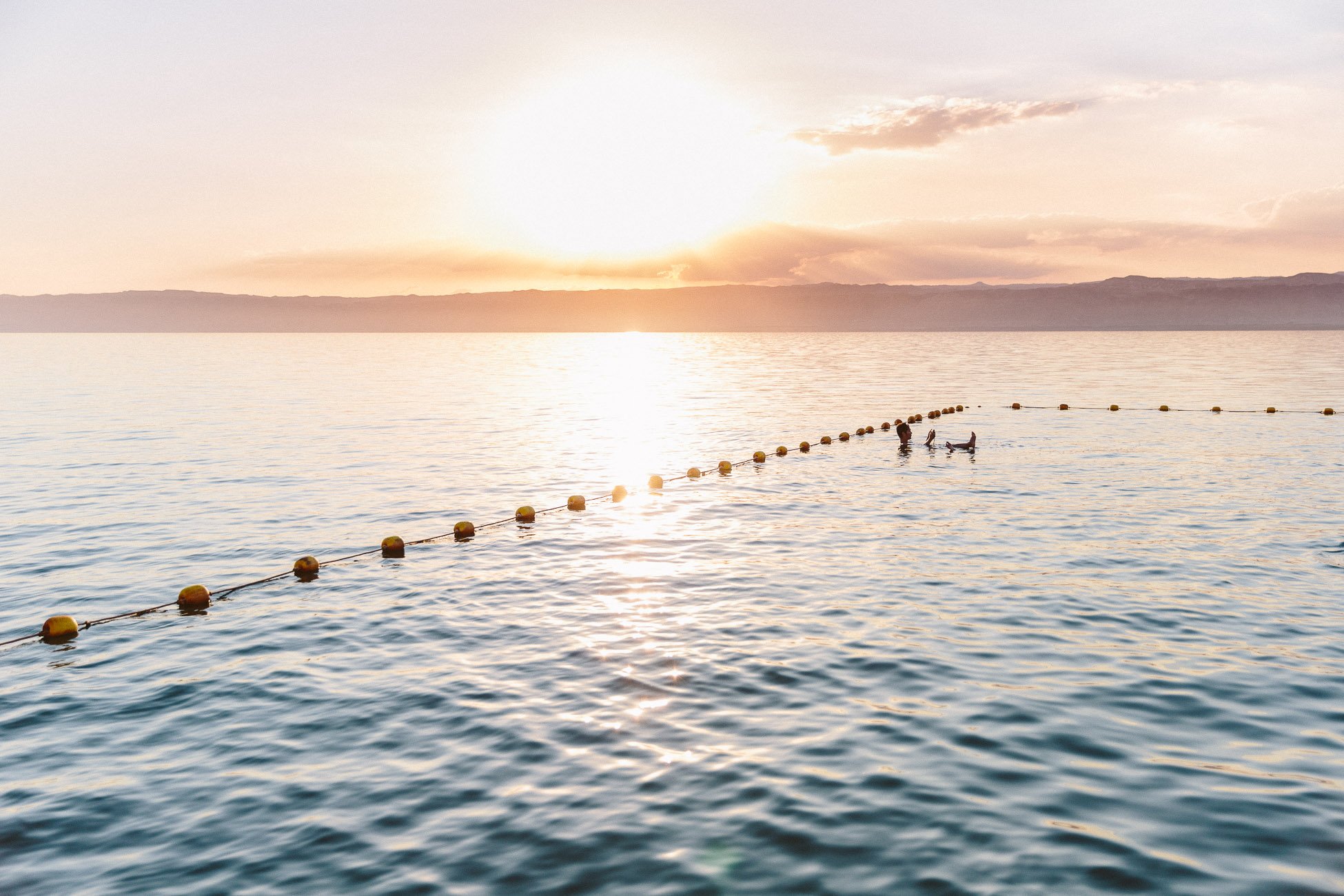 At the Dead Sea there isn't a lot to do except for floating in the incredible water, wearing mud masks and getting spa treatments. The water feels oily and soft and makes your skin feel like newborn. Just watch out to not get any water in your eyes (and don't shave for at least 2-3 days before your visit!).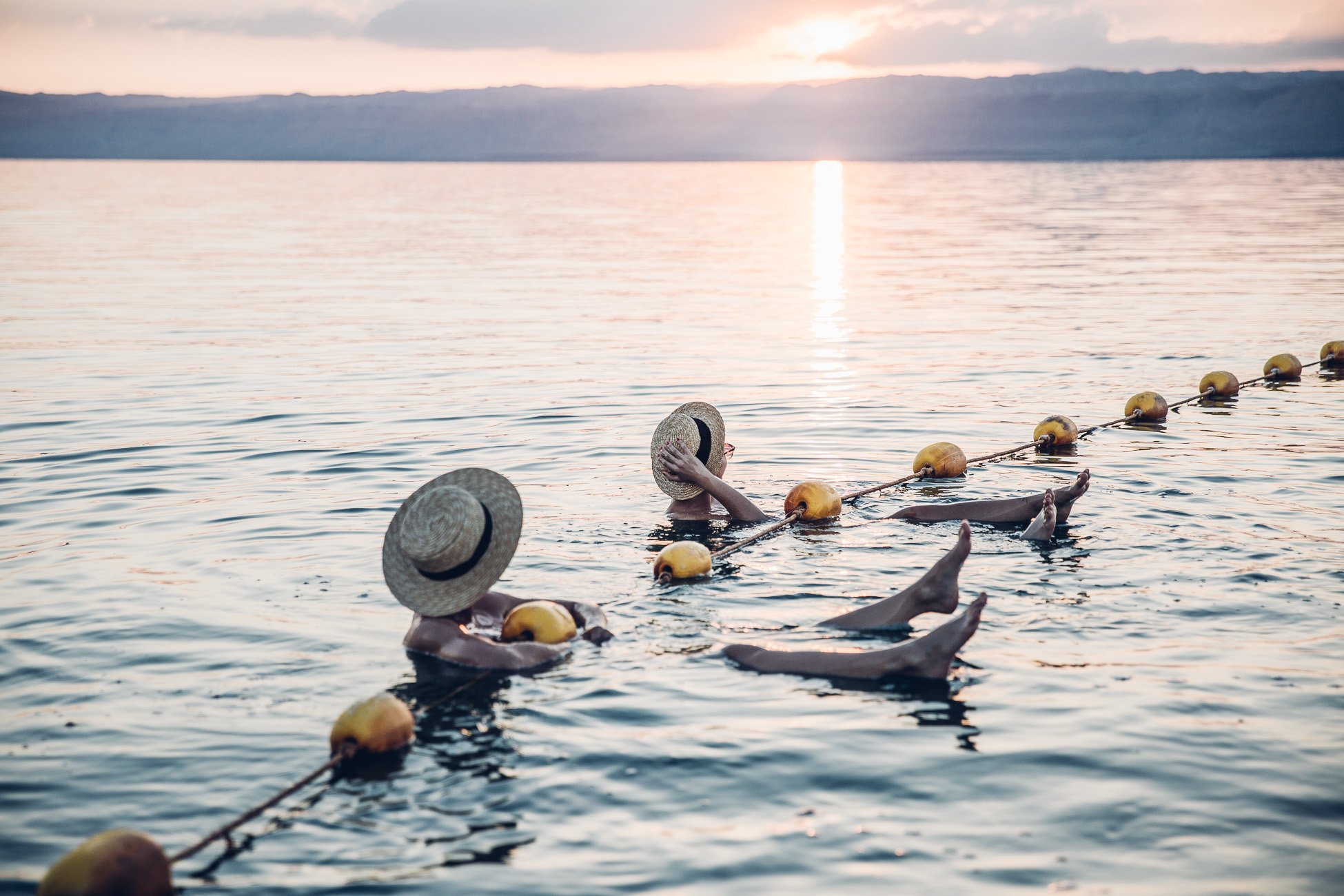 Sarah and Julia enjoying their floating time in the Dead Sea.
We definitely could've stayed there longer than one night. With only one night here we only managed to get in the water twice – once in the evening at sunset and then another time before breakfast. The healing effect might take a little longer to appear as well…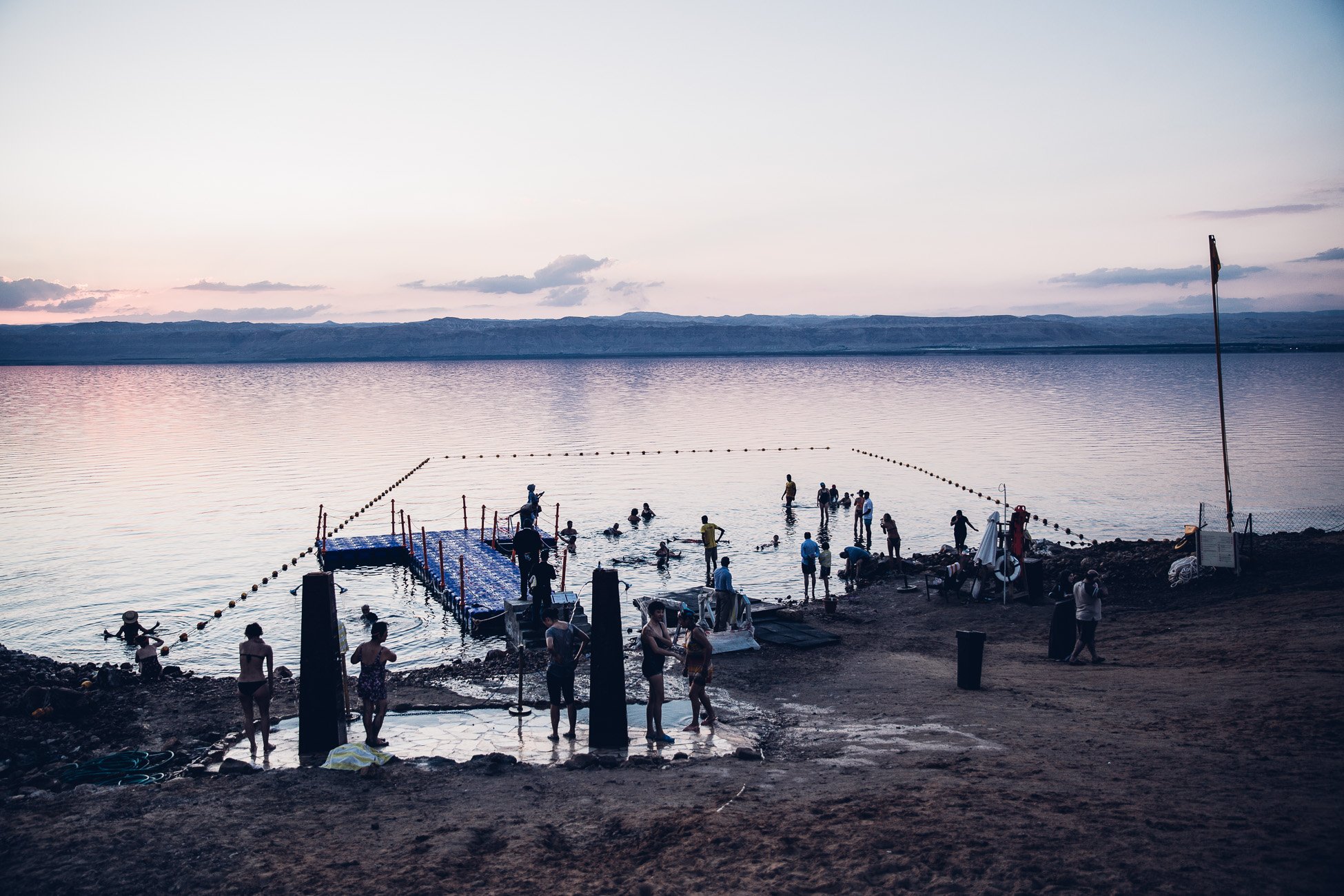 This is the reality of our "beach" at the Crowne Plaza – not the most calm experience unfortunately.
Good to know:
The Crowne Plaza has a designated swimming area and you're not allowed to enter the water outside of it. The hotel also has lifeguards on duty and also regulates the hours you're allowed to enter the water. It's for your own safety, we watched a couple of swimmers having trouble (like getting the water in their eyes or not managing to turn to their back again!).
So it's not as calm and quiet as you would imagine it to be. We believe you can have a better and calmer experience in one of the other hotels here.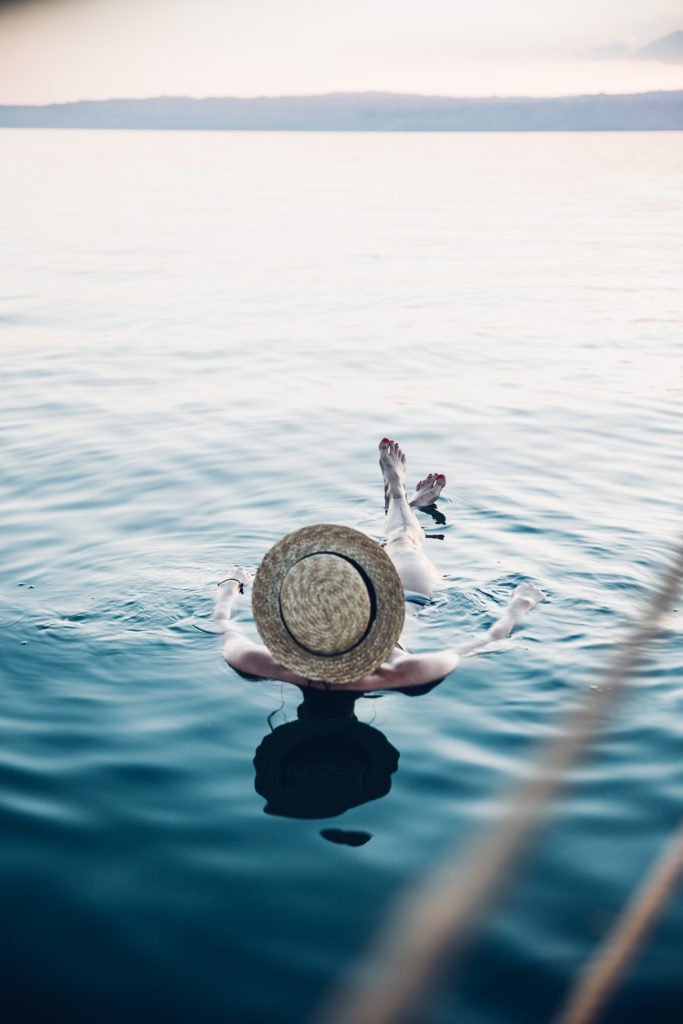 Photography Tip:
At the very Southern tip of the Dead Sea you can stop your car at the roadside and access the shore to take photos of the dried up surface that is completely covered in salt.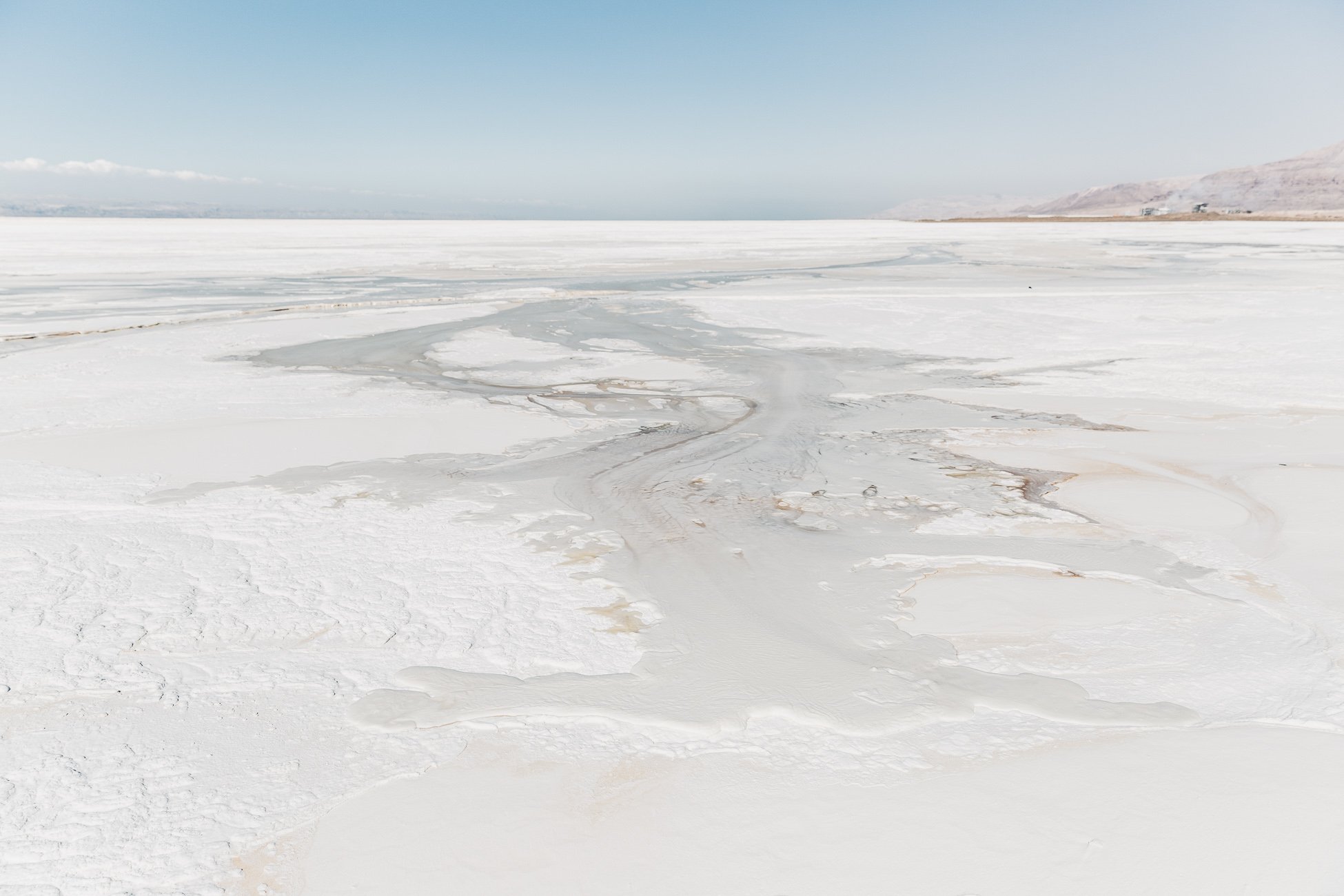 Be careful when stepping on the surface!
In between there are super soft and muddy parts and even some streams of extremely viscous salty water.
Day 7: Back to Amman
After a last swim in the Dead Sea and a nice breakfast at the hotel we drove back to Amman – with a head spinning of incredible memories and a hard drive full of photos. We went directly to the airport (which is stunning by the way – if you're into architecture plan a bit of time here to discover the building).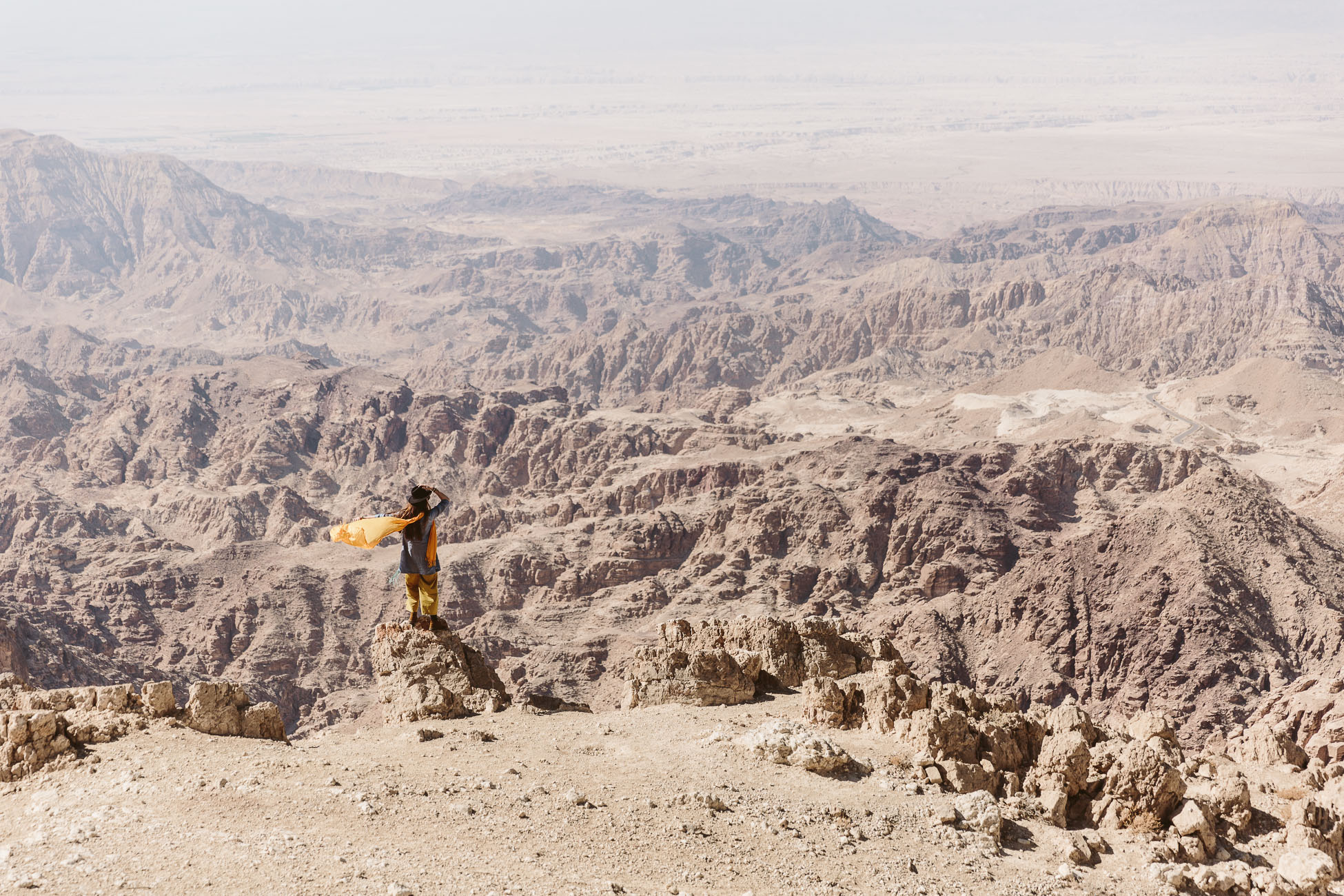 Alina enjoying the view of the Jordan valley!
How to get around in Jordan
A lot of people asked us if it's safe to travel through Jordan. Our answer is: We never felt unsafe! We passed by 2 military checkpoints during the whole trip and there were no other incidents on the street. We have to say, that we didn't drive ourself, but had a guide and driver provided by the tourism board of Jordan. But our bottom line is: We wouldn't be afraid of driving there ourselves.
Our driver Majed and our guide Burhan were excellent company during our trip 🙂
The streets are in good condition and there's not a lot of traffic (except for the capital Amman). The main roads between Wadi Rum, Petra and the Dead Sea are built for tourists and locals drive quite safely. So the next time we would definitely not shy away from an individual trip and rent a car in Jordan and drive ourselves.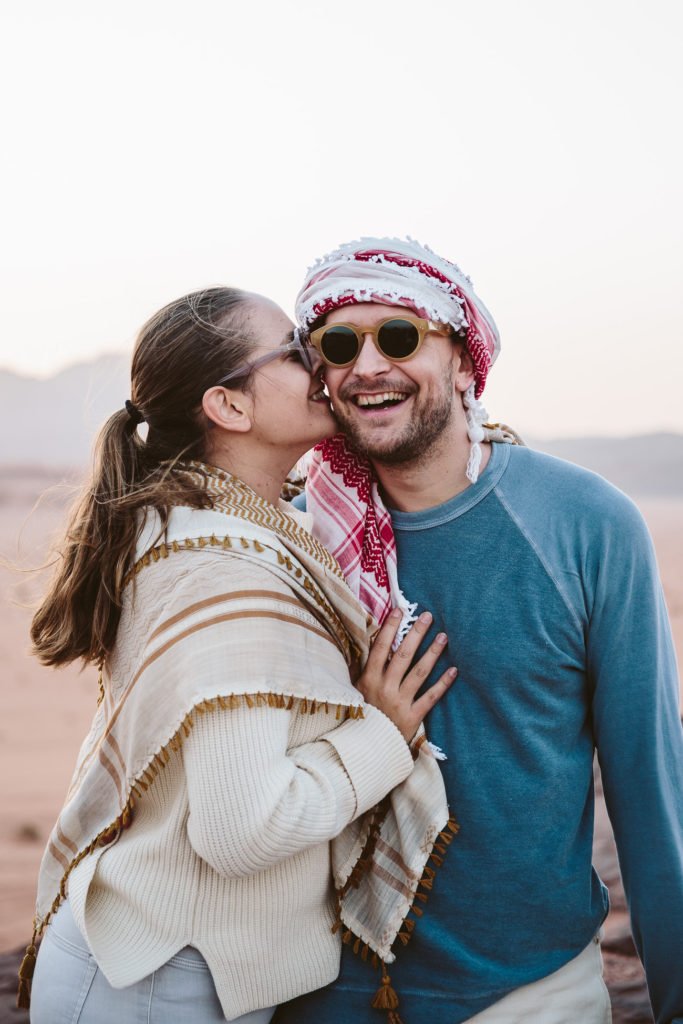 Thanks to Sarah for taking this photo of us! 🙂
If you liked this post feel free to pin this on Pinterest:
If you want to read more about Jordan, make sure to check our 7 secrets to a perfect visit of Petra:
Disclaimer: We were invited to visit Jordan by the Official Tourism Board. The views in this report are our own.