Just a short 20 minute bush plane ride from Lewa (read more about it here) lies the escarpment of the Laikipia plateau. This is where Ol Malo pegs itself to the edge of the cliff – with an infinity pool overlooking the vast landscape and some very unique safari activities. Guests come to Ol Malo for a variety of reasons, but on top of the list are the one-of-a-kind helicopter adventures with Andrew, one of the Francombe family members, who own and run the lodge.
But there's more to it: We're talking nights in a very special star bed, camel-riding safaris, walking safaris and completely authentic Samburu manyatta visits.
The infinity pool at the edge of the Laikipia plateau is one of the architectural highlights of Ol Malo Lodge.
Open roof top safari vehicles & other specialties
The moment we arrive at Ol Malo we get a sense for the focus on tailor-made activities and experiences. Even the airstrip pick-up is special, the car isn't your everyday safari vehicle, but features an open-top where you can sit on benches at the roof to overlook the landscape even better. We lean back, put our feet up on the roof and enjoy the views.
The camels are unique to this part of Kenya and were brought by Nomads from the very North of Africa.
Perched at the cliffs: The Ol Malo lodge
Not much later we arrive at the lodge, although we can't see much of it at first. Through a labyrinth of fetched roof pathways we make our way to the edge of the escarpment – and there it opens up. The heart of the Samburuland is laying there in front of us. We see waterholes, rocky outcrops, the river passing by – it's like a scene from a movie.
Just sitting here and watching the scenery is an experience in itself.
Back to the roots & hand-made luxury
The lodge itself is built by hand in a way, that is both luxurious and traditional. After a welcome drink we get to inspect our room, which is much more than that – it's a two-story house perched atop the cliff – with our own private terrace, open-air bathroom, indoor bathroom – all clad in a window-front, that overlooks the whole scenery. It's simply jaw-dropping!
The lodge is perched atop the cliffs and built in a very organic way using all natural materials.
Walking Safaris & starry nights
But our first night's sleep shouldn't happen at the lodge. We are told to pack a light overnight bag for the first experience – we're staying in the new treehouse, a star bed that is built into a tree next to a water hole. Two years ago we made our initial star bed experience in Zambia and we remembered that unique feeling of sleeping in the bush open-air vividly. So we pack our toothbrushes, a jacket and fresh clothes for the next day and off we go.
Here at Ol Malo there's a huge focus on walking, horse-riding or camel-riding safaris, so our first encounter with the land happens on foot.
While our overnight bag gets transported to the treehouse, we walk with our local Samburu guide Laban. He isn't much of a talker, but let's nature speak most of the time. Silently we glide through the bushland, focusing on the small details, the cacti, the insects, the trails on the ground. It's always a special experience to go on a walking safari!
Walking safaris are a key activity at Ol Malo.
A special night under the stars in the Ol Malo treehouse
And then we arrive at the treehouse! The way it is built into the tree is quite unique – a spiral staircase leads up to the wooden platform in the treetop. Up there we find a comfy mattress (with sheets, pillows and everything you need 😉 ) as well as a table and two chairs for our dinner.
Next to the water hole a fire is burning and the Ol Malo team prepares our dinner in an iron casket. It's just an hour until the sun sets, so we enjoy our dinner up on the platform and then get ready for bed. In a star bed you usually go to sleep according to the natural rhythm, you get ready for bed with sunset, use the toilet one last time and then lie down to enjoy the stars lighting up in the sky.
The treehouse at Ol Malo is located next to a waterhole and offers all the comforts one could ask for when sleeping open air.
Isn't it scary to sleep outside? Aren't there wild animals all around? What do you do when you need to go pee at night?
These are the most common questions people ask us about the star bed experience. At Ol Malo it's the first time we sleep outside without even a mosquito net. In Zambia this was essential, but here there's no mosquitos and no Malaria, so you can truly sleep open-air. This is the only concern we have at the beginning, but it turns out to not be any problem – there really weren't any bugs disturbing us in the night. Of course the outdoor toilet is one of the things you take into consideration with your liquid intake at dinner already 😉 If you do need anything at night there's a walkie-talkie at your disposal and the guide will also stay close-by just in case.
All in all a night in the star bed is the least scary, but most peaceful night you can have in the bush. You wake up with the sun, no alarm needed and experience first hand how it feels to be fully immersed in nature.
Waking up with the first light of the day happens naturally in a star bed.
Camel-riding safaris – another specialty of Ol Malo
The next morning we get picked up by our guide and two local Camel herders. Camels have arrived in Northern Kenya centuries ago with nomadic tribes from Northern Africa and have become a local "staple" every since. Camel-riding safaris are one of the specialties at Ol Malo and so we try it as well. The camels navigate between the thorn bushes guided by the herders and we get to enjoy a new vantage point.
After one hour of swaying and rocking gently we arrive at our bush breakfast. Another special experience brought to us by the team at Ol Malo. While the chef prepares bush style omelets, we listen to the stories of the local Samburu warriors and how the lodge works together with them.
A camel-riding safari is a unique experience offered at Ol Malo.
Manyatta visit: An authentic encounter with Samburu warriors
Later that same day we are treated to experience something unique: We are invited to visit one of the Samburu manyattas for a gathering of the Samburu warriors and their traditional dance. There's nothing staged about this, but because of the close ties that Ol Malo has with the local communities, we are simply allowed to take part in their normal proceedings.
A manyatta is a small settlement of Samburu families – usually one elder lives there with his wives and children. Each wive gets her own house.
All the young men of the tribe are set to become warriors at a young age (between eight and twelve or so) and then are responsible to protect the cattle and land. On the quest for status and pride the warriors then visit the tribe's local manyattas to sing and dance (with huge leaps) to tell the stories of their achievements. The young girls are then allowed to choose their preferred partner as a "boyfriend" and they will also join the dance and hold hands with their chosen one and giggle all the way 😉
Samburu warriors visit a local manyatta to sing, dance & leap – a display of their achievements and power.
There's much more to be said and learned about the Samburu culture, which is exactly what you can achieve at Ol Malo. It's a window into another world and in a very authentic way too. Andrew and Chyulu from Ol Malo tell us that many guests are disappointed by the Maasai encounters in the Mara that feel all too staged and therefore are hesitant to visit the Samburu, but this is a completely different experience.
It doesn't get more authentic than this!
Also just as a side note – you are not allowed to give money or trade with the Samburu. The interaction is strictly regulated to not interfere with their way of life. If you want to support the community work there's the Samburu Trust, that was founded by Julia Francombe and works closely with the tribes especially in matters of healthcare and education.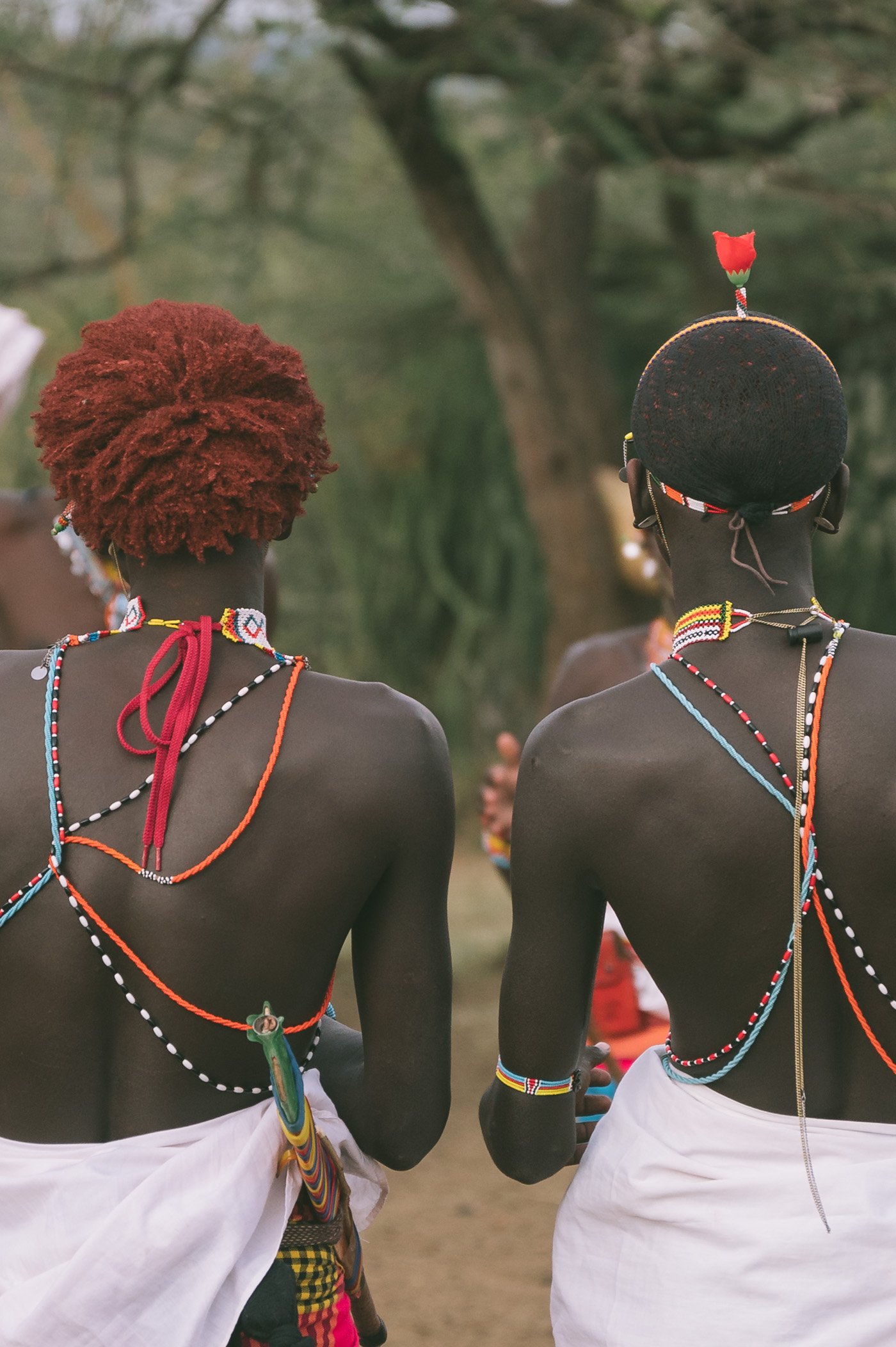 Pool-side dinner & sweet dreams at Ol Malo Lodge
After a romantic pool-side dinner we go to sleep in the lodge for the first time – our heads spinning with the encounters and experiences of the day. The wind gently rustles the thatched roof and we dream of the Samburu way of life. We still hear their chants in our ears and imagine what it must be like to live a life like in the old days, but embedded in today's society.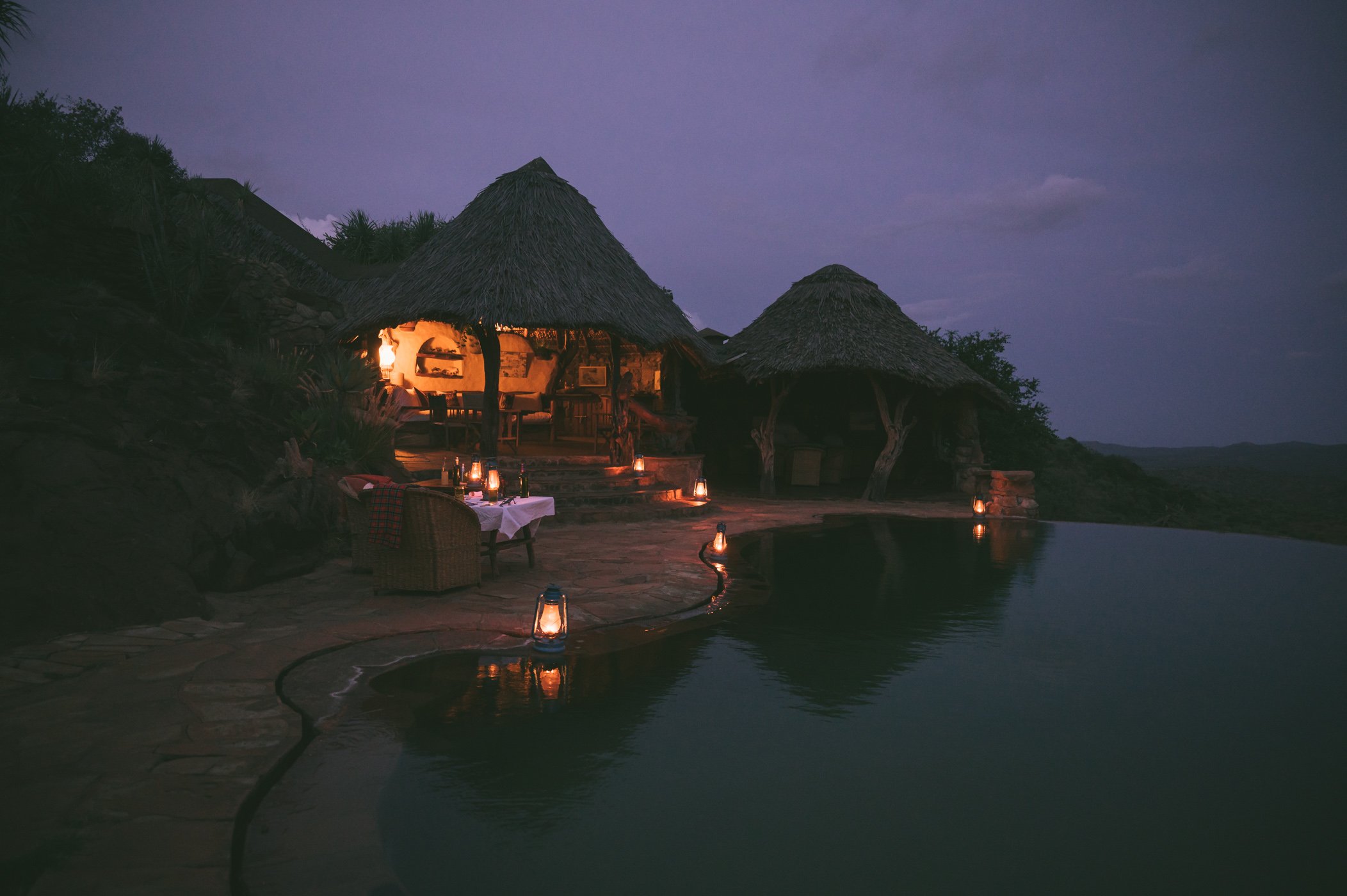 Dinner is served pool-side this evening at Ol Malo lodge.
Ol Malo Choppers: Adrenaline kicks & unique views
And as if this weren't enough the next day will bring a huge surprise. After breakfast we get a tour of the organic gardens and horse stables at Ol Malo. And just when we turn around the corner, there comes Andrew in his helicopter. He flies closely over us, lands the chopper and calls us over. Little did we know that we would get a special airborne tour of the vicinity that day!
Another vantage point of Ol Malo house – as seen from the helicopter.
Open door helicopter rides
Seconds later we find ourselves in the helicopter, headphones on, feet dangling out the open doors. Andrew is a hell of a helicopter pilot and navigates the chopper through the narrow river bed, up a steep cliff – just to land on top of a huge mountain. We're allowed to get out of the helicopter to take in the views and take a few photos, before we head back. Andrew yells "Are you ready?" turns on the music and with a sideways move lets us fall off the cliff with the chopper. It's like the coolest rollercoaster ride we ever went on.
Next time – we swear to ourselves – we'll book a full day helicopter tour with Andrew.
If you book a full day tour he usually takes you either up higher to the North – to the sand dunes of the great Rift Valley – or to the Turkana salt lake to see flamingos from above.  That's one of those once in a lifetime experiences that you can get at Ol Malo! After our short tour we find ourselves back at the lodge one last time. After two nights we have to pack our bags – again, this was definitely too short…
It's hard to say goodbye from these views – Ol Malo is worth a longer stay for sure!
How to get to Ol Malo
We flew from Lewa Downs Airstrip to the Ol Malo airstrip directly – this is just a short drive away from the lodge. On the way back we boarded the plane to the Maasai Mara from the Loisaba airstrip – which is a 1 hour game drive away from Ol Malo lodge. Both airstrips are accessible with bush planes, but Loisaba offers more frequent connections with Air Kenya.
Isiolo, Kenia
Starting at 930 US$ per person
Includes full board, all activities (excluding helicopter rides), free laundry service, pick-up from airstrip
Tropic Air brought us up to Ol Malo in a private charter. But there's also regular Air Kenya connections via Loisaba airstrip.
How to book your stay at Ol Malo
We booked our Kenya safari through Austrian tour operator "Pinto Africa", who specialise in sustainable, eco-friendly safaris. They always work together with local incoming agencies to provide a well-balanced itinerary, that also supports the local communities, small boutique owner-run lodges and conservation. In Kenya they work with "Bush & Beyond", who represent all the lodges we stayed at (The Emakoko, Lewa House, Ol Malo & Tangulia Mara). We would highly recommend booking your Kenya safari with an expert (read more about why we recommend this here).
Save this post for later:
Disclaimer: This is not a sponsored post, but we stayed at Ol Malo as part of a press trip with Pinto Africa. The views in this blogpost are our own.