Kenya might be the ultimate safari destination. It combines some of the most intriguing landscapes with teaming wildlife, wonderful lodges and safe and easy traveling and is often described as Africa in a nutshell. In Kenya you can have it all – from camel safaris to tree-climbing lions, from canvas bush baths to hot air balloon rides. After our last safaris in Namibia, Zambia and Botswana this was the first time we got to visit East Africa and it certainly lived up to it's reputation!
The landscapes of Kenya's Maasai Mara are famous from movies – and live up to the expectations!
Our two week itinerary in Kenya
When you plan a two week trip around Kenya we recommend to not just focus on the Maasai Mara (although it might be tempting), but also go to Northern Kenya to trod a bit off-the-beaten path as well.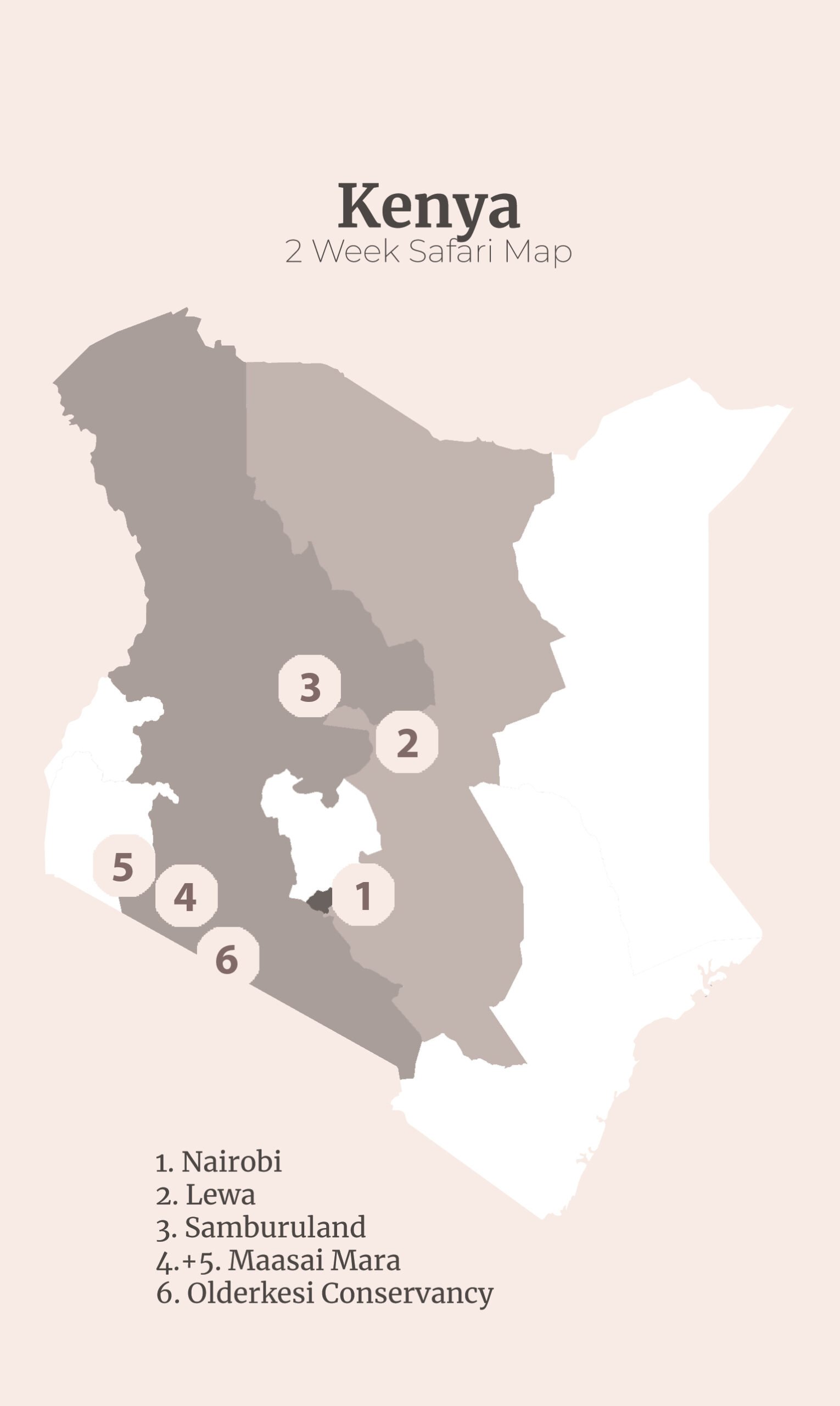 If you have three weeks or more you could then add the East of Kenya with Amboseli and Chyulu Hills and a stint at the coastline with it's pristine beaches (Lamu or Diani for example).
Which regions to visit during a two week Kenya roundtrip
We spent two weeks in Kenya and travelled to these regions:
Nairobi (2 nights): The capital of Kenya serves as the gateway to a safari roundtrip, but nowhere else you'll be able to see lions with a skyline in the background.
Lewa Wildlife Conservancy (2 nights): This world-famous conservancy has one of the best track records with safeguarding rhinos – over 200 black and white rhinos roam the lands of Lewa.
Samburu (2 nights): This part of Northern Kenya is the perfect place for authentic encounters with the colourful Samburu warriors and an ideal location for walking and camel safaris.
Maasai Mara (7 nights): The most renown safari destination in Kenya is the place to see the Big 5 and if you visit between July and October you can also witness one of the main attractions – the Great migration.
Nairobi (1 night): At the end of our trip we recommend another night in Nairobi to relax (and in our case to get COVID-19 tests so we could return home).
Northern Kenya offers off-the-beaten path encounters.
Nairobi
The bustling metropolis serves as the entryway to Kenya. We recommend to stay two nights, so you get to experience what Nairobi has to offer, like a visit of the endangered Rothschild giraffes at the giraffe center, a city safari in Nairobi National Park and a tour of Karen Blixen museum.
Where to stay in Nairobi
The Emakoko: An authentic safari home at the edge of the National Park
Hemingway's Nairobi: A suite-only resort with international appeal
Our tip: Stay two nights upon arrival at "The Emakoko" for your first safari taste and one night before you leave at Hemingway's for R&R at the pool in the beautiful garden.
In Nairobi you can already get your first taste of the safari life – in it's very own National Park!
Lewa Wildlife Conservancy
Lewa has been transformed from a cattle ranch to one of the most successful conservation stories in Kenya. It now houses 13% of all Kenyan rhinos and a large population of the endangered Grevy's zebras – both part of the so called "Northern Five", all animals that you can only see here in Northern Kenya. To top things off this part of Kenya allows for really private safari experiences in a landscape, that seems like straight out of any Africa movie. Think views of grass-covered plains with the crags of Mount Kenya peaking out in the background.
Where to stay in Lewa
Lewa House is one of the last remaining owner-run lodges in Kenya and was definitely our favourite place when it comes to atmosphere, architecture and location. Stay in an Earth pod and we guarantee 2 nights will be too short!
Our tip: If you have more time we recommend to stay here for a long safari – next time we visit we want to stay a week at Lewa House. It's the perfect place to unwind and dive deep into the cradle of humankind.
Lewa Wildlife Conservancy is famous for it's incredible rhino population – but has so much more to offer!
Samburuland
Northern Kenya is a lot about special experiences rather than simple game drives. If you're looking for cultural interactions with the local Samburu warriors, that are entirely unstaged and authentic, this is the place to go. Other things to do include: Camel safaris, helicopter rides, sleep-outs under the stars in a tree house, walking safaris and horse riding safaris. It's all about unique activities here!
Where to stay in Samburuland
Ol Malo is perched atop a cliff and offers some of the most incredible views of Samburuland. The owner-run safari home is not just an architectural gem, but also specialised in creative and unique activities and with Ol Malo choppers you'll be able to experience some of the best helicopter rides in Kenya.
Our tip: Definitely book a night in the treehouse to experience sleeping out in the open in Kenya – this is something you'll never forget!
Ol Malo is worth a visit for it's location alone.
Top this off with helicopter rides & camel safaris and you know why we recommend this place!
Maasai Mara
We visited the Maasai Mara in January, so outside of the main season (the last wildebeest and zebras leave in October/November when the great migration moves back to Tanzania and only return in July). But that doesn't mean the Maasai Mara is empty. In fact we saw plenty of wildlife – from tree-climbing lions, a coalition of 5 cheetah brothers to a wonderful leopard encounter. The Maasai Mara is big and so we recommend to stay in different parts of it to experience the unique landscapes and local wildlife in it's different corners.
Where to stay in the Maasai Mara
Tangulia Mara Camp: The first Maasai-owned camp in Kenya – authenticity & community approach are key to this place.
andBeyond Bateleur Camp: The epitome of luxury and style and a private concession to escape the hustle of the Maasai Mara.
Cottar's 1920s Camp: Retro vibes deluxe in a tented camp run by the oldest established and continuing safari family in Africa.
Our tip: Make sure to take your time to experience what the Maasai Mara has to offer. You should see the Mara Triangle as well as the National Reserve from the North all the way to the South and the border to Tanzania's Serengeti.
This is what the Maasai Mara looks like any given day – dotted with Acacia trees.
Can you spot the giraffes?
Where to book your safari in Kenya
We work together with Africa travel experts Pinto Africa since two years and their services aren't just professional and reliable, but they also put a focus on sustainable, eco and socially conscious safaris. If you plan a trip with them you can make sure that you give back to the local communities and support the conservation of these precious eco systems and wildlife.
Each of their Africa itineraries supports small owner-run lodges as opposed to large corporates. They rely on local partners and you can rest assured that your safari will not just be filled with the most incredible memories, but also leave a positive impact in the destination.
Pinto Africa carefully selects local partners and emphasises sustainable and socially conscious safaris!
Pin and save this post for later:
Disclaimer: This is not a sponsored post, but we stayed in the mentioned safari homes and lodges as part of a press trip. The first week of the trip was organised and supported by Pinto Africa. The views in this blogpost are our own.