From Lamu to Mombasa – Kenya's beaches are world-renown. But have you heard of Kuruwitu before? This little town about 1 hour North from Mombasa promises what a beach holiday is really about: Seclusion and privacy, the ultimate way to relax at the beach (which is most welcomed after a safari or a Nairobi city trip alike). Welcome to Cardamom House by Secluded Africa!
Swahili-style architecture meets a secluded bay.
Privacy at Kenya's coast: Cardamom House's promise
During our last Kenya trip we didn't have enough time to also go to the beach and deeply regretted this choice! So we made sure to plan a few days at the coastline for our second visit. And let's just say we thoroughly enjoyed our time there! The advantage of the beach in front of Cardamom House is that it's located at a naturally secluded bay. Both sides are protected and cut off from other public beaches by large rocky outcrops, so guests won't be bothered by the infamous beach boys of Kenya.
The beach at Kuruwitu is naturally closed off by rocky outcrops on both sides.
Where to stay: Cardamom House by Secluded Africa
At Kuruwitu beach there's only a handful of villas and houses, most of them are privately owned. And in between there's Cardamom House – the newest addition in the line-up of barefoot luxury lodges by Secluded Africa. Cardamom House was only opened in 2021 and will soon be booked out for months in advance, that much is sure!
No trees have been cut for the expansion of Cardamom House.
Seclusion and family feeling
The atmosphere at Cardamom House is all about quietude and relaxation with a family vibe. The owners of Secluded Africa Mario Enzesberger (an Austrian export) and his wife Gill and son Mario Jr. live there as well and treat you like you're one of the family members immediately. Their super relaxed ridgeback dogs Sissi and Franz stroll around the property and greet guests with their soft snouts upon arrival (you should better like big dogs if you come here) 😉
Everything screams family vacation here (which you can also enjoy as a couple!).
Relaxation and a family atmosphere.
The villas at Cardamom House
Cardamom House consists of four different villas – each inspired by Swahili architecture and design, mixed with bits of Lamu and Afro Chic. Nine rooms are spread out among those four buildings, making sure guests enjoy privacy and seclusion throughout their stay!
Simple architectural elements meet afro chic ornamentals.
Manda Toto: The main villa at Cardamom House
The main villa called "Manda Toto" sits perched atop a bed of million year old corals overlooking the blue and turquouise hues of the Indian Ocean. On the ground floor there's the bar and reception area as well as the pool and terrace, where dinner is served some days (the team usually surprises guests with new dinner locations each night during the stay). On the first floor there are two penthouse suites with a connecting terrace and their own private kitchen, that can be rented exclusively, as well as two additional guest rooms that face the garden.
The balance between nature and architecture.
The Tower Suite and Lulu & Shela villas
But that's not all, there's the tower suite with it's spiral staircase and lofty rooftop terrace and the Lulu and Shela villas, which can be rented separately or together. All the buildings are connected by small pathways that lead through the jungle and tree canopy; as one of the main requirements to the architect was that no tree should be removed during the renovation.
The Tower Suite at Cardamom House has the best views.
Our room: The Penthouse suite at Manda Toto Villa
We stayed in one of the two penthouse suites in the main villa – consisting of a spacious bedroom and separate walk-in closet as well as an outdoor bathroom and indoor shower. The main attraction is definitely the large terrace that overlooks the Indian Ocean – getting up at sunrise comes easily here when the first rays of sun rise over the horizon.
The Presidential Suite at Cardamom House.
Breakfast with a view
At Cardamom House breakfast is served on the terrace by a butler, who will be assigned to each guest for the duration of the stay. Every day there's the signature smoothie bowl and one hot dish, prepared freshly by the all-female chefs! There's plenty of vegan options – they even offered handmade vegan sausages.
Breakfast is served at the terrace of the Presidential Suite at Cardamom House.
The food at Cardamom House
A very special shoutout goes to the all female kitchen team at Cardamom House. We challenged them a bit since we don't eat seafood, which of course is a staple here at the coast. But they managed to offer a very creative and balanced fully plant based cuisine, that was among the best we had during the whole Kenya trip.
The all-female kitchen team serves creative cuisine – also for plant-based foodies.
Sundowner deluxe on the rooftops
Each evening guests can enjoy sundowners throughout the property – but the best views are enjoyed from the rooftop of the Tower Suite. The team prepares fresh cocktails and some nibbles before it's time to head back down to freshen up for dinner.
Sundowner at Cardamom House.
What to do around Kuruwitu and Vipingo
Snorkelling safari & coral tour at Kuruwitu Conservation & Welfare Association (KCWA)
In the early 2000s, overfishing and unsustainable fishing practices had resulted in declining fish numbers in Kuruwitu. Therefore the local fishing community came together to form the first locally managed marine area in all of Kenya. Today sustainable marine tourism provides alternative livelihoods for the coastal communities here – and you can support them by booking a snorkelling safari! A local guide will show you around and also explain how the coral reintroduction program is done – it's quite impressive.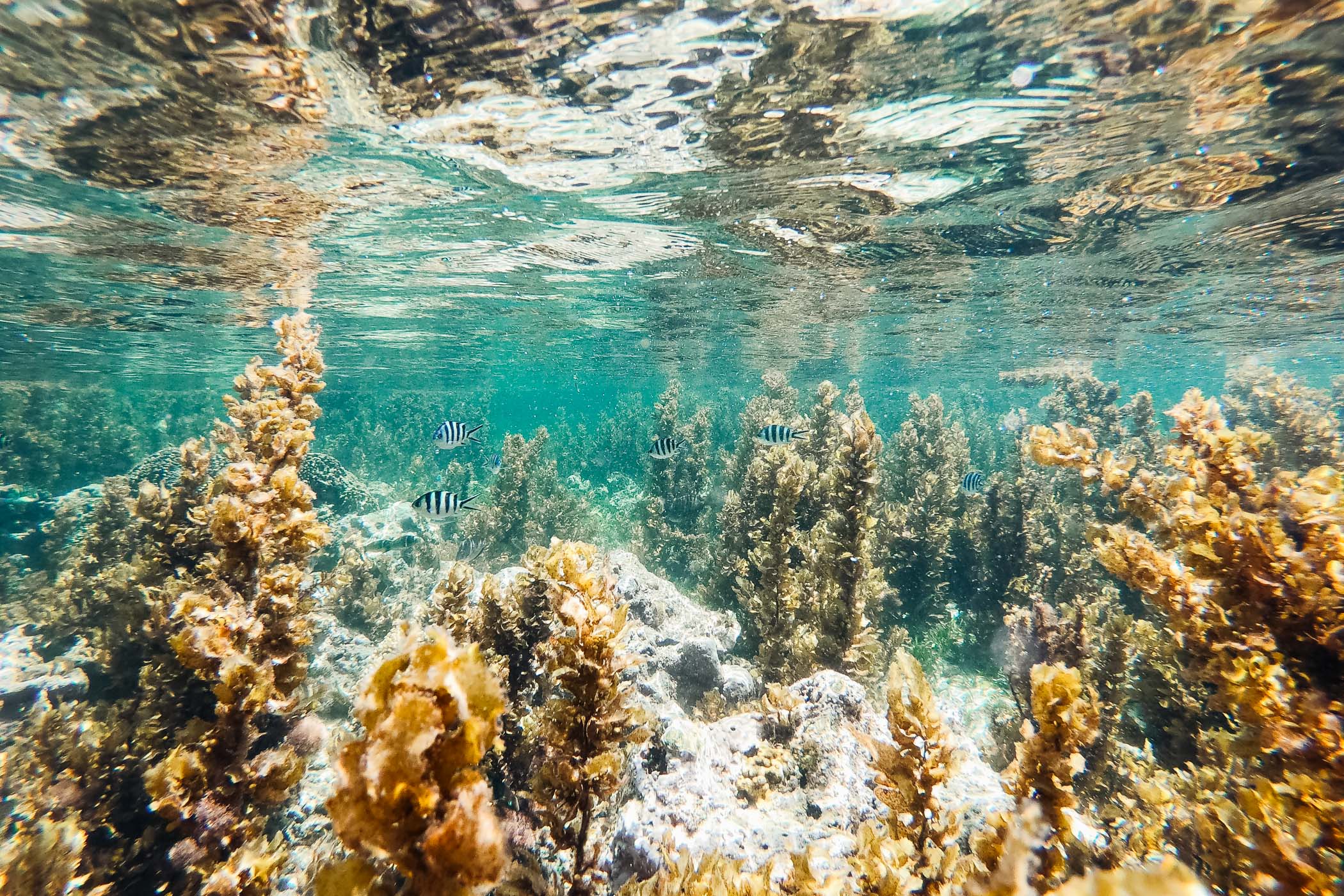 After the snorkelling safari make sure to sit down for some drinks and beach food at Kuruwitu Beach Bar!
Other options for activities include dhow rides in close-by Kilifi, golf at the Vipingo range or day trips to Mombasa. As we only stayed for 3 nights we didn't get to test all the activities (well honestly, we also wanted to lounge at the beach for a bit 😉 ), but we would recommend to stay for at least 4-6 days so you can also make use of the offered excursions!
How to get to Kuruwitu / Vipingo
We drove to Kuruwitu by car from our previous stay at Tsavo West, which is about a 3 hour drive on a tarmac road. On the way back to Nairobi we then flew with Safarilink from the Vipingo airstrip, which is a comfortable 50 minute flight. From Mombasa it's just under an hour drive by car towards the North, so also very easily done as a weekend getaway.
A beach holiday in Kenya is the perfect add-on to a safari!
Pin and save this post for later:
Disclaimer: This is not a sponsored post, but we stayed at Cardamom House as part of a press trip in collaboration with Magical Kenya. The views in this blogpost are our own