Choosing the right camp within the Maasai mara isn't an easy task. There's so many different lodges to choose from that you can easily loose yourself in the offers! In the end it comes down to a few factors – especially location, service levels and character. In our Maasai Mara overview post we've written about the different locations and what makes them so unique. Once you've selected the right location within the Maasai Mara then it's time to choose your accommodation.
andBeyond Bateleur Camp is the right choice for you if you're looking for a private concession within the Maasai Mara – as this means it will only be andBeyond guests that have access and therefore much more privacy than in other parts of the often over-crowded Maasai Mara. Other arguments for Bateleur Camp are the access to the Mara Triangle with it's abundant Big Five population (and yes, even rhinos, which are rare in other parts of the Mara). And then of course comes the exceptional (I even want to say over-the-top) service and the well thought out architecture of the camp, that has a historic appeal, while offering contemporary amenities.
Location: Private Concession & the Mara Triangle
Let's first start with the location. The Maasai Mara National Reserve is sometimes the victim of it's own success. Especially during the high season during the great migration it's no exception to have dozens or sometimes even hundreds of safari cars at one location! This makes the safari experiences much less private than one would hope. That's why a private concession is the epitome of luxury in the Maasai Mara. andBeyond has leased such a private concession and we were lucky enough to have incredible cheetah sightings inside their private concession – with just two andBeyond cars there…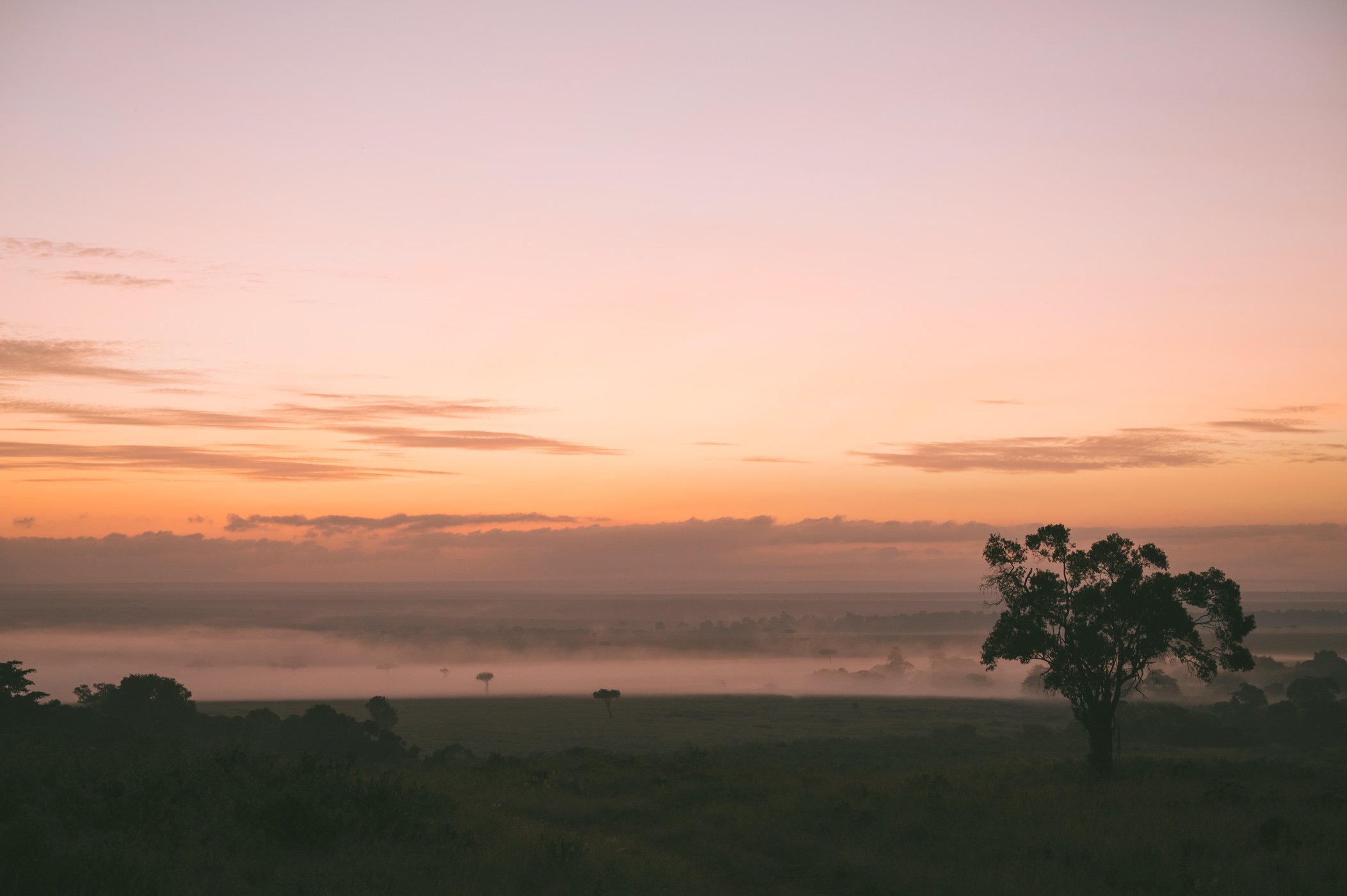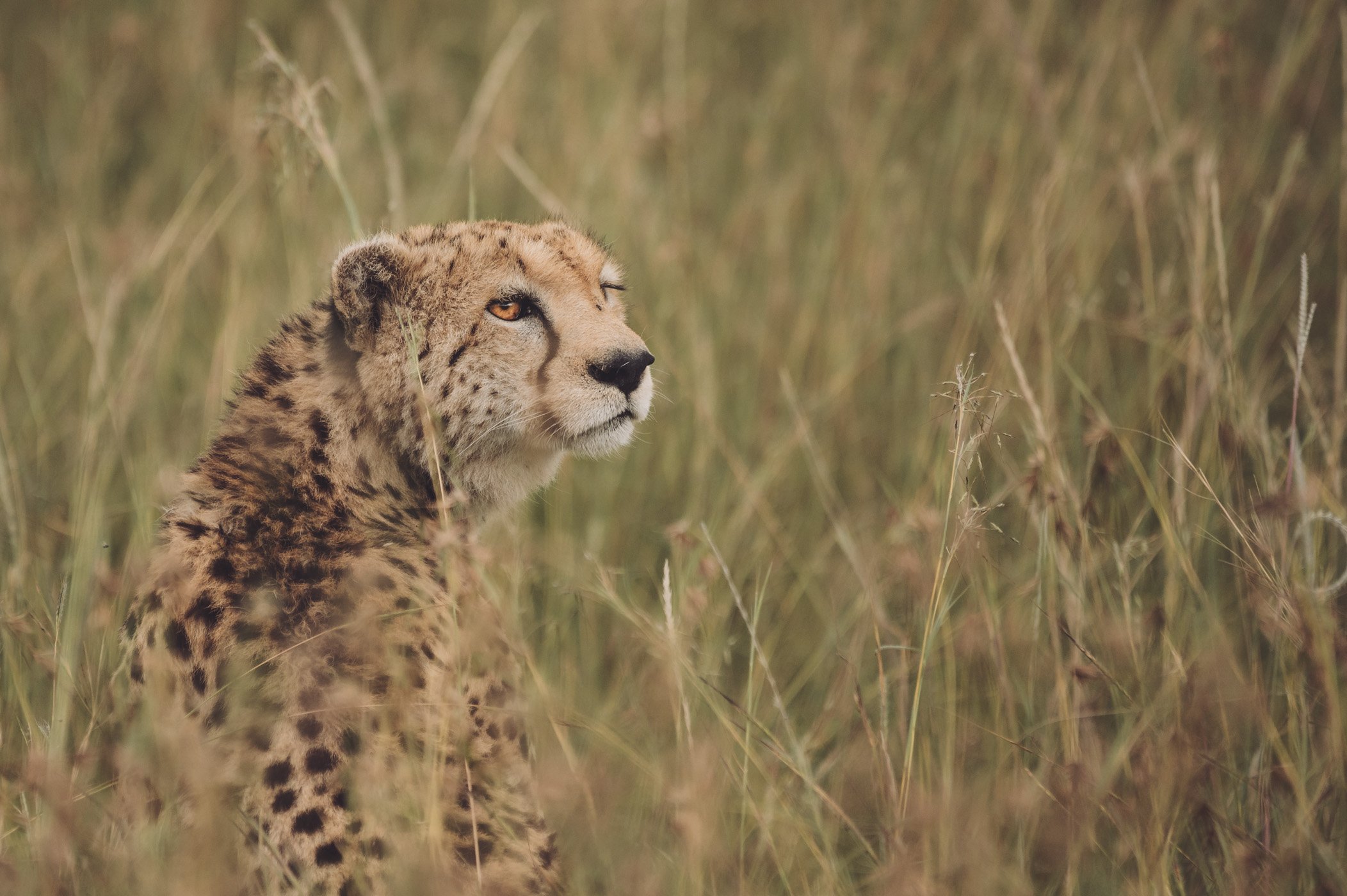 Outside of the private concession you can choose to do your game drives either in the Mara Triangle or the Maasai Mara. If you want to see all the Big Five on your safari then the Mara Triangle is the right place to go.
There are only two or three camps inside the Mara Triangle and a handful at the periphery that are allowed to bring their guests inside – andBeyond being one of those selected few.
This makes the Mara Triangle a lot more private than the Maasai Mara National Reserve, while still offering the same abundance of animals.
Read more about the different parts of the Maasai Mara here!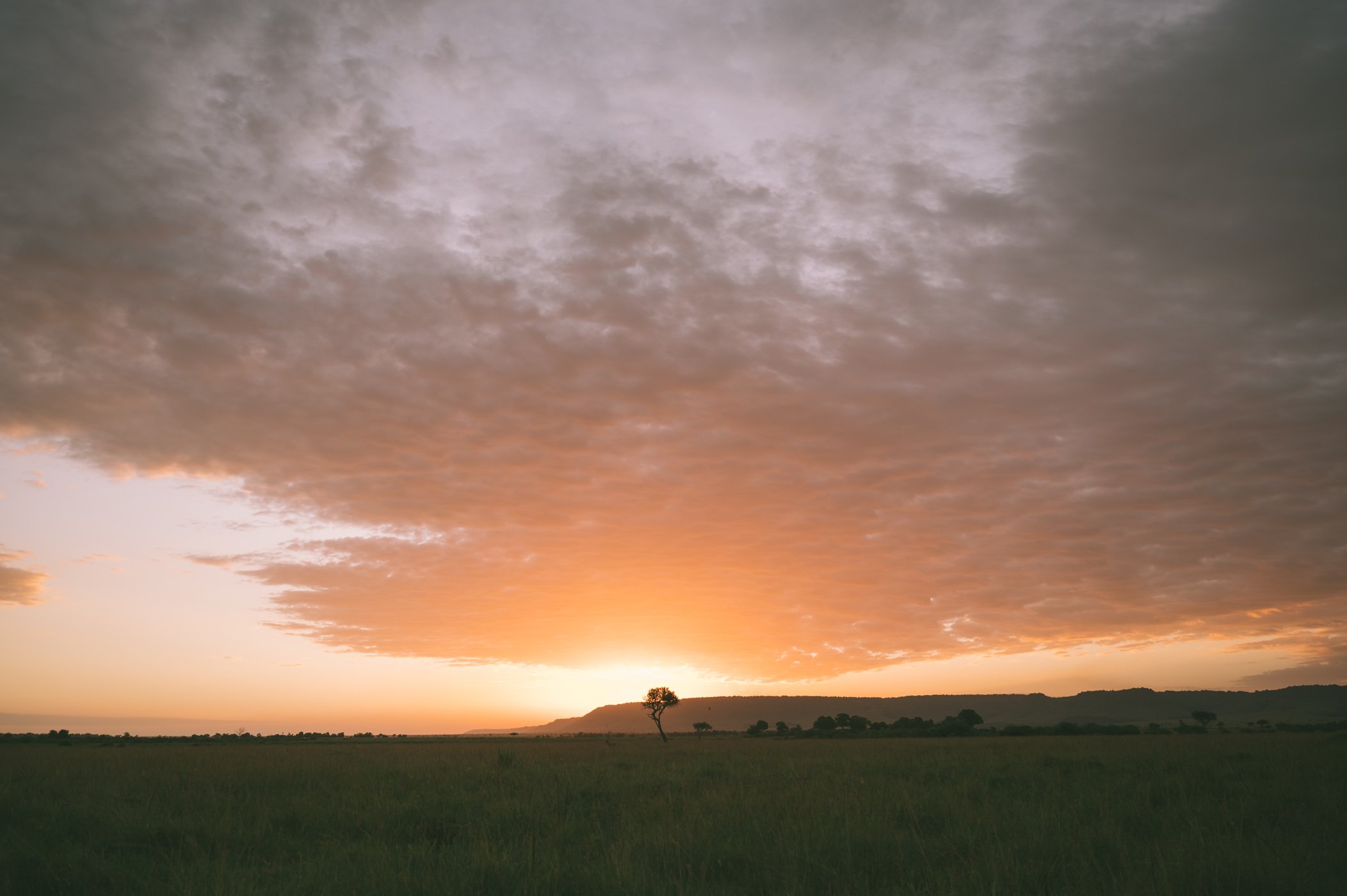 Safari deluxe: What kind of wildlife encounters to expect from the Mara Triangle
During our 3 night stay with andBeyond we got extremely lucky – and again, it was the low season – with very high grass, which makes wildlife sightings much more challenging. Already on the way to Bateleur Camp we were treated to our first cheetah encounter within the private concession. We stayed with her for a while before checking into the lodge a bit later than initially planned 😉 Just minutes later we passed through the gates to Bateleur Camp and were greeted by one of the resident blue monkeys (also called diademed monkeys). She came right up to us next to our car and inspected the new guests thoroughly.
andBeyond Bateleur Camp is located at the base of the Ooloolo escarpment in a remnant riverine forest, that is inhabited by these blue monkeys (and many more animals). From the deck of the lodge you can overlook the plains of the Maasai Mara with giraffes and elephants passing by in front.
The next day we got lucky again and were treated to a pride of lions that had learned how to escape the omnipresent flies, that bother them during their midday sleep: The method to beat them is to climb up into the trees. Let's just say one thing: Lions really aren't meant to climb trees and they look just as clumsy and frankly a bit pitiful, when they try 🙂 But once you sat in a car next to a pride of tree-climbing lions you can't really say you've been thoroughly entertained by lions before. Sometimes they will sit for minutes in a the most uncomfortable position before thinking long and hard how to get up to another branch. At other times they will pee on the rest of the pride from up in the tree. It's just a real comedy to watch them!
But to summarise it all: If you're looking for crossing off the Big Five – the Mara Triangle will have you covered!
Architecture & Design: A walk back in memory lane
If you're into heritage, colonial architecture and reminiscences of the past, then andBeyond Bateleur Camp is the right place for you. The tented camp welcomes you with a seating area that looks like straight out of an old Africa movie. There's an open tea cart, a gin bar, ample cushioned chairs and sofas. You'll immediately feel welcome (even if your first task is to fill out a COVID-19 form and get your temperature checked – protocols are adhered of course and safety comes first). From here the camp opens up to the open boma where lunch (and dinner on warm evenings) is served and an open fire invites for a drink and chat about the experiences of the day. You'll see the glowing trails of fireflies passing by all night long from here and feel like a kid again!
To the left side of the main tent is a gift shop, infinity pool and the gym and spa and on the right side the rooms are scattered throughout the forest.
The rooms at andBeyond Bateleur Camp: Between history & present
Each of the 9 tents of the camp is built in a unique way. There's a central kingsize bed surrounded by a wooden & leather console, that also doubles as a writing desk. There's a cozy corner to sit and drink something from your private bar (not mini bar, just bar!) inside. On the back of the tent there's a copper and brass "winter garden", that lets light in on the free-standing bath tub. On the left and right side there are two cabins for the indoor shower and toilet and then it opens up on the back to the outdoor shower under the tree canopy. And if that wasn't enough there's a spacious private deck opening up in the front with a U-shaped lounge sofa, so you can soak up the views of the Maasai Mara and the wildlife that passes by.
Exceptional service: From private butlers & gold-standard guides
And here comes another argument for andBeyond: Their service levels are up to the highest standards. This is where the international lodge chain really excels and plays all their cards. Each tent comes with it's own private butler, who will tend to guests every needs. Our guide James was even one of just a handful of gold-standard guides in the Maasai Mara – the highest accolades a guide can achieve. Of course all of this is not as intimate as the owner-run lodges we stayed in before. It's a more formal atmosphere and we believe that this attracts a different type of traveler.
While owner-run lodges transport a family atmosphere and are often defined by communal dining and sharing of stories at one table lodges like andBeyond Bateleur camp are more about intimacy and privacy. Guests enjoy their private dinner setting and private butler and stay more in their private quarters during their vacation. We believe this is perfect for honeymooners or couples that are looking for a very romantic getaway – or for families that just enjoy being among themselves.
The food: Vegetarian delights & creativity
The same as above goes for the culinary services of andBeyond. This is just up to the highest standards (photos tell more than words in this case, so just look at a selection of the food we got to enjoy). Our favourite was probably the breakfast – served on a huge tray at the table with fresh smoothies, freshly baked bread and of course any warm dishes are freshly prepared as well.
Sometimes you forget you're in the bush when you eat at andBeyond. You could very well also be in a fancy restaurant in a metropolis.
And that's maybe what safari purists will criticise – it's almost too fancy 😉 But we believe this is such an added value (especially for the prize that is still relatively low when compared to other lodges). So, in the end it's up to your wishes and preferences. For us a perfect safari is a great mix of all of these factors – incredible wildlife encounters, private settings, romantic dinners under the star canopy and sometimes we also splurge on some luxury experiences.
Experiences: What else is there apart from game drives?
Talking about experiences it's important to say that the Maasai Mara is all about game drives. This is the main activity and just exciting and varied every day. From herds of elephants walking into the sunset to tree-climbing lions – you'll never be bored on a game drive here. But of course there's some experiences to add to your itinerary – from hot air balloon rides to bush breakfasts and Maasai village visits.
The gist of it: Why to choose andBeyond Bateleur Camp
Let's summarise why we believe andBeyond Bateleur Camp is the right place to stay at during your Maasai Mara visit:
Private concession & access to the Mara Triangle
Highest service levels & food & architecture standards
Professional & skilled team members
The right traveller type for andBeyond Bateleur Camp
It's the perfect place for discerning travellers looking for a very comfortable safari with all the luxuries they are used to from home (and more – you possibly don't have a private butler, do you?) 🙂 On the other hand the lodge is nothing for safari purists or longstanding safari goers who prefer to camp out in the open or people who want a very authentic cultural interaction. If you're going on your first safari or a honeymoon or if you're celebrating your wedding anniversary, this is the right place to choose!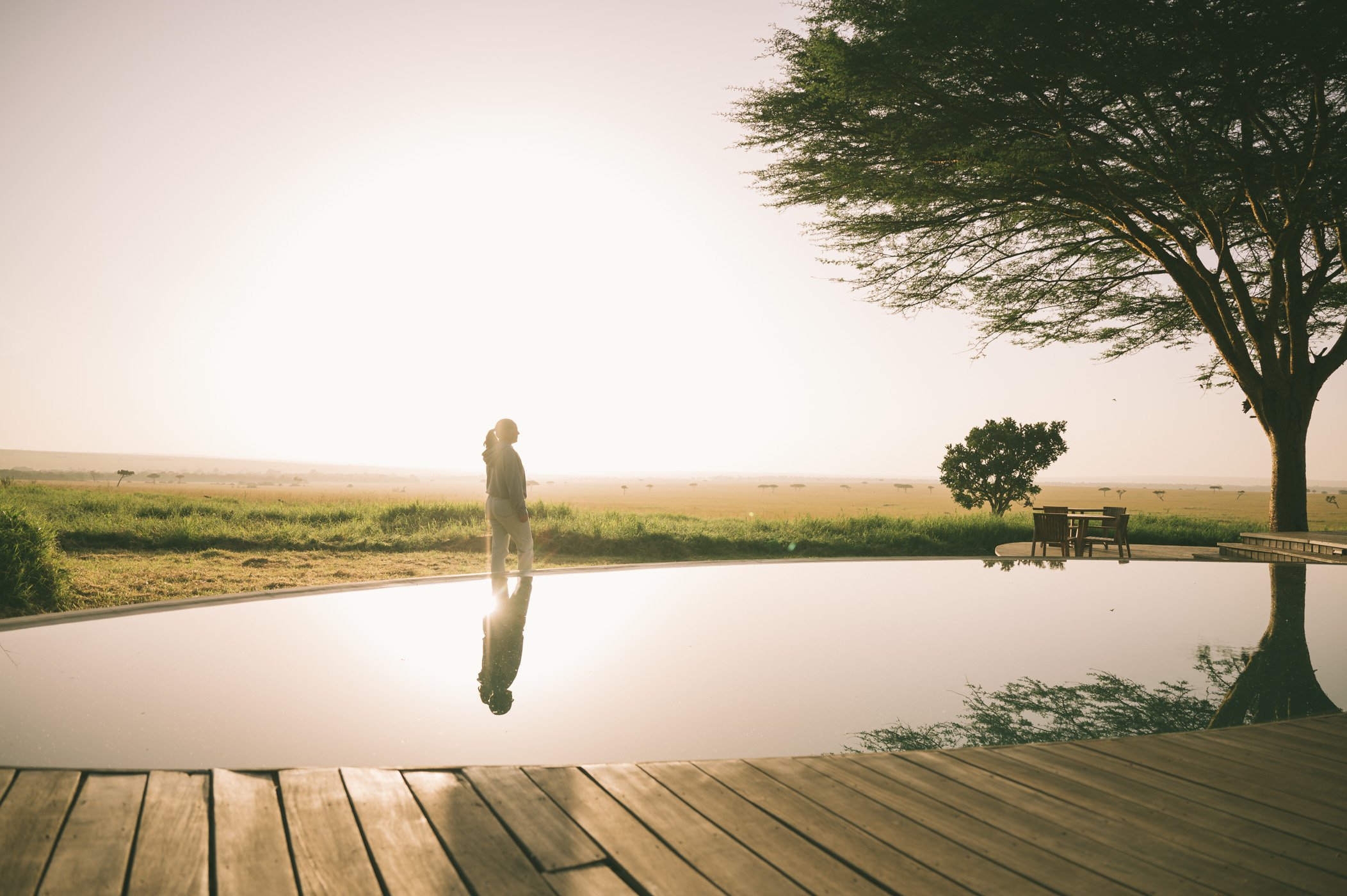 How to get to andBeyond Bateleur Camp
We came to andBeyond Bateleur Camp by car as we had stayed quite close-by before in another camp. Usually guests fly in to the Mara Musiara airstrip directly – which can be seen from the camp, that's how close it is. A little warning here: This airstrip can become quite busy in the main season during the great migration.
Masai Mara National Reserve, Kenya, Kenia
Starting at 725 US$ per person
Includes full board,  soft drinks, house wines, local brand spirits and beers, teas and coffees and refreshments on game drives, laundry service, Safari activities including – game drives, night drives, nature walks,  Maasai dance, Maasai talks, Africa Foundation visits, Emergency medical evacuation insurance, Transfers to and from the lodge airstrip, a complimentary pair of Swarovski Optik binoculars per room for use during your stay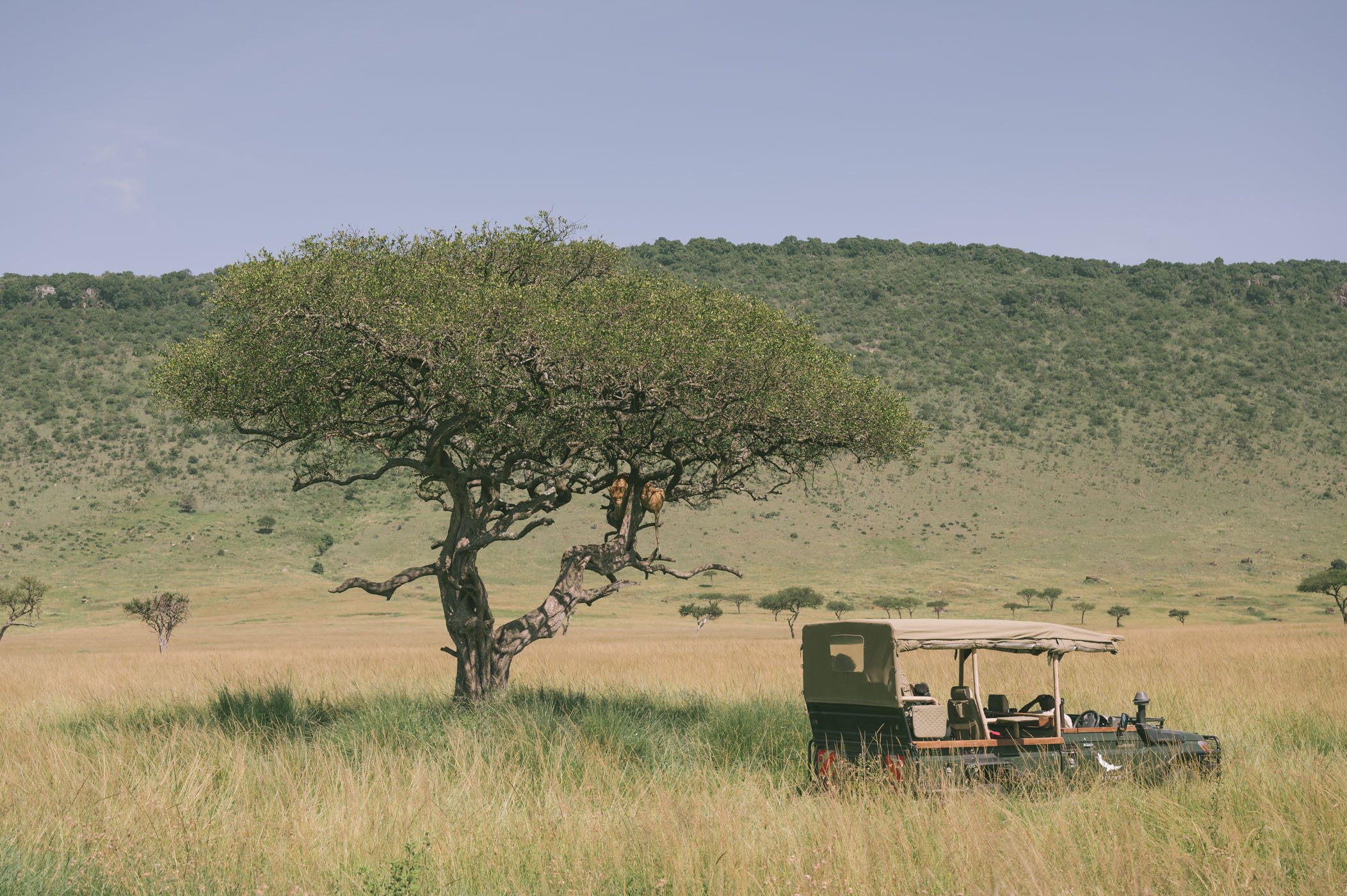 Save this post for later:
Disclaimer: This is not a sponsored post, but we stayed at andBeyond Bateleur Camp as part of a press trip. The views in this blogpost are our own.