Bon Bini means "Welcome" in Papiamento, the local language of Aruba. But let's start at the beginning! Have you ever heard of Aruba before? The island is part of the so called "ABC" island archipelago consisting of Aruba, Bonaire and Curaçao in the very South of the Caribbean. Let me introduce you to Aruba – how to get there, where to stay and which hotel to stay at!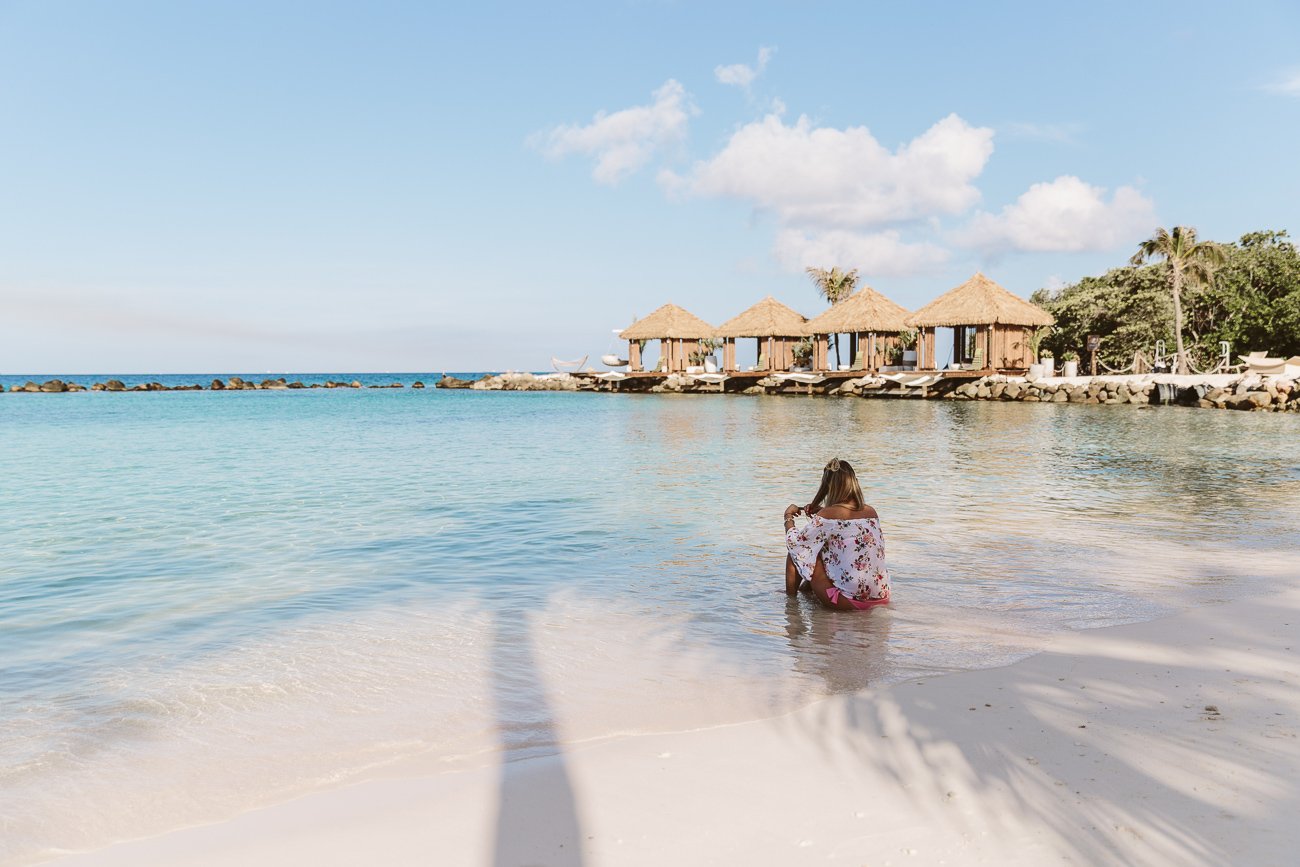 The beach at Renaissance Island – a private hotel island!
How to get to Aruba
As Aruba is a part of the Kingdom of the Netherlands there are direct flight connections with KLM from Amsterdam to Aruba's capital Oranjestad (starting at 765 Euros, 12h flight time). We stayed in Florida before so we flew directly from Miami with American Airlines, which is only a 2,5 h flight and there are rather cheap connections (25o dollars). When planning to go to the Caribbean we can highly recommend combining this with a Miami visit.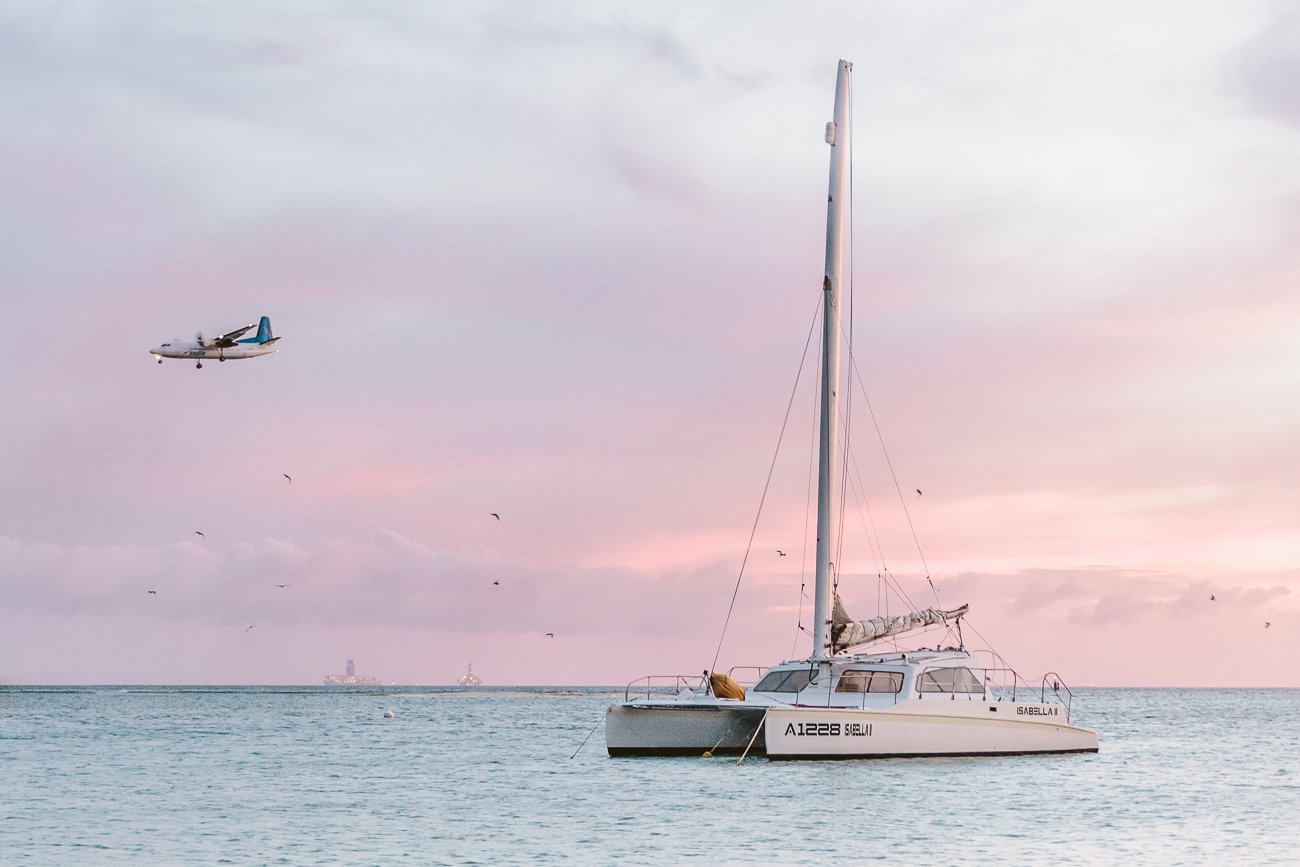 You can watch the planes land from Surfside Beach.
The best season to visit Aruba
Aruba has no real best and worst season when it comes to it's climate. The island has more or less the same temperatures and climate year round. It also isn't affected by cold fronts (like the Bahamas during our visit in January) or hurricanes (like we encountered in Florida in September). It's location close to the coastline of Venezuela is far enough from the weather phenomenas of the rest of the Caribbean.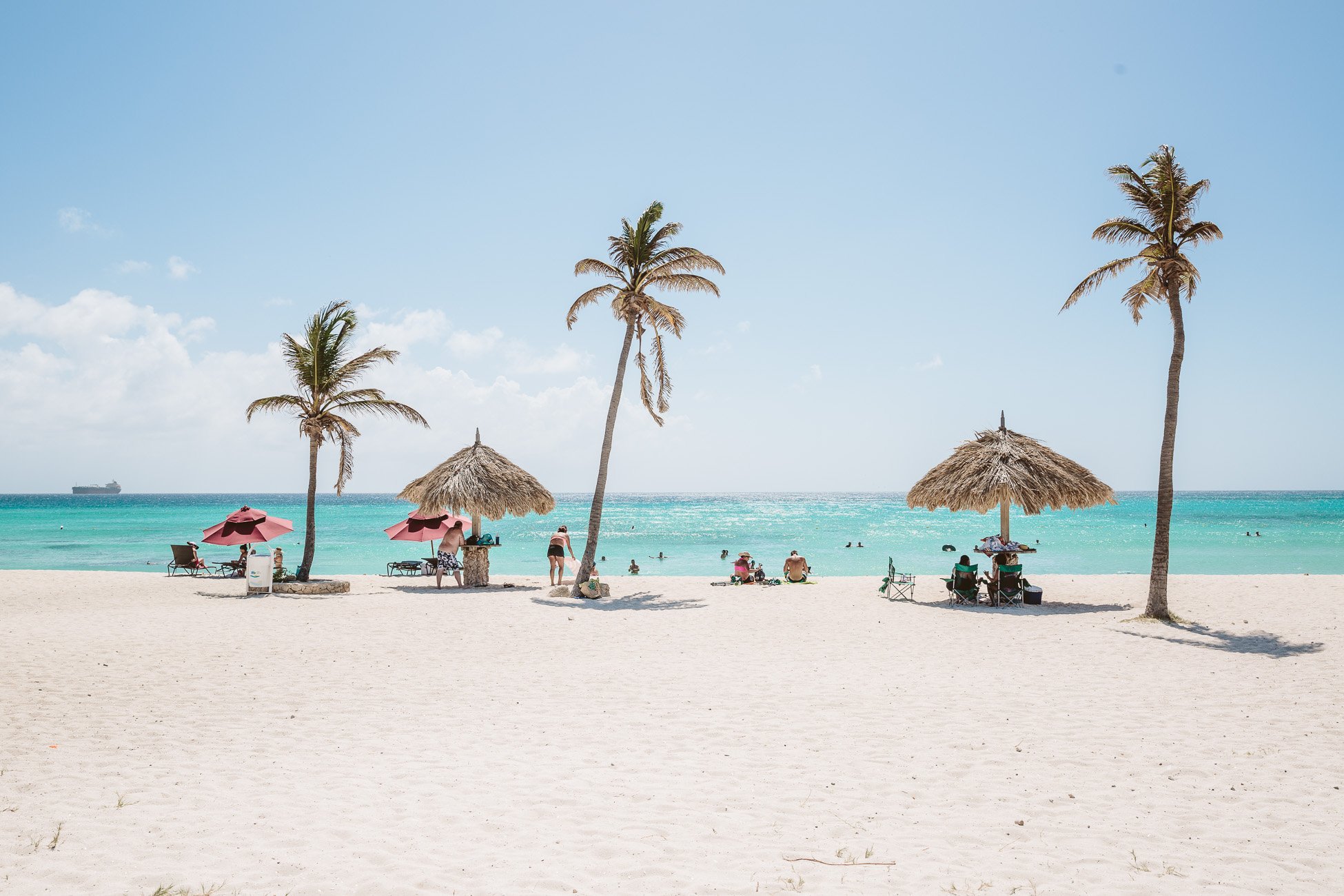 Arashi Beach in the very North of the island – perfect weather in every season.
Therefore it's best to take into account that there is low and high season for tourism, as those can mean some considerable price differences when it comes to hotels! The high season is from December to April, low season from May to December (some hotels have a mid season from May to August).
We went in September and the weather was beautiful. Aruba rarely gets any rain (we didn't see one drop during our week there) and the clouds also never stay long. The constant breeze makes the high temperatures quite bearable year round! Unfortunately – although it was low season – prices were quite high, because of the Electric Festival happening on the island. So plan ahead the best period to come and also check the local events.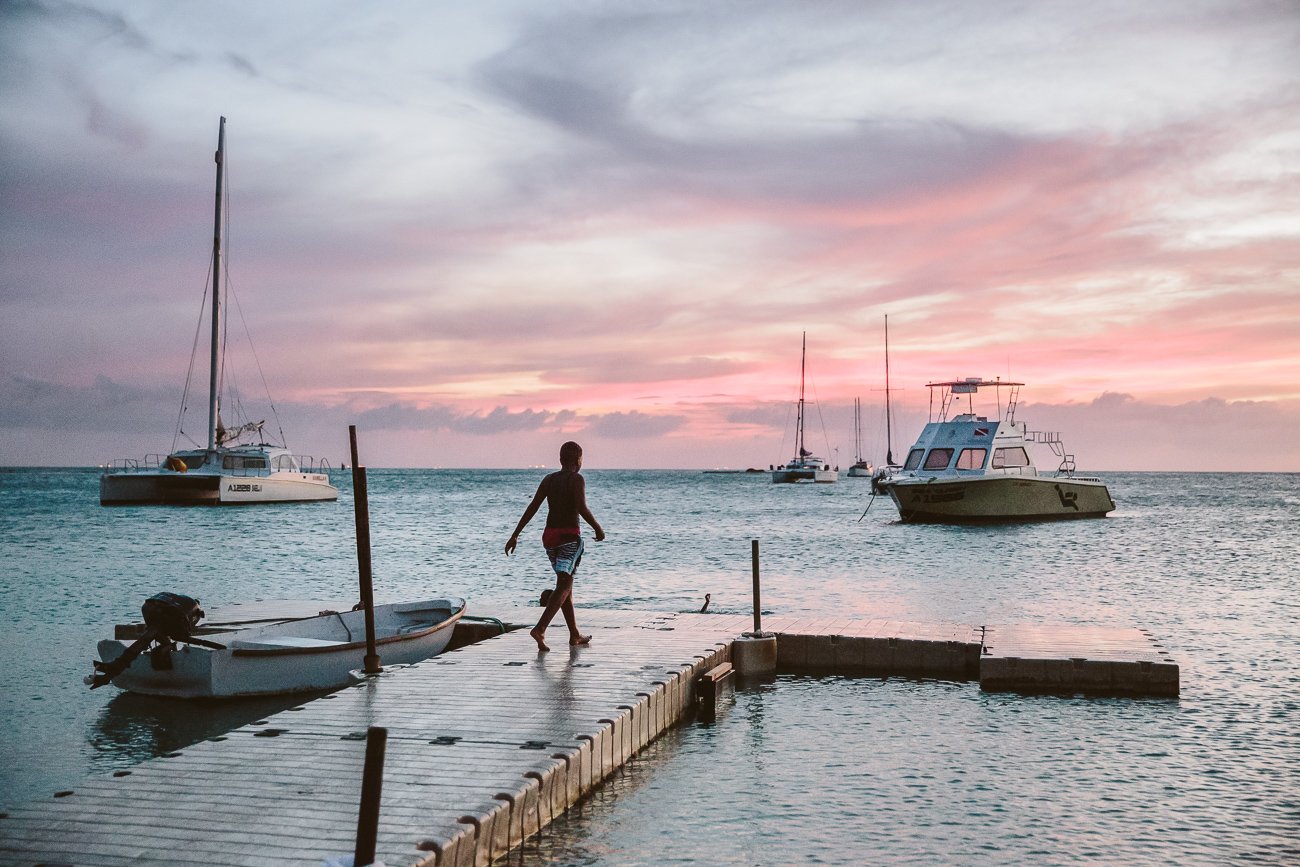 The water temperature is also warm year-round – you can still take a dip at night!
Where to stay in Aruba
Aruba is a rather small island. From the Northern to the Southern tip it's not even a 1 hour drive. In general the West Coast of Aruba is the habitable coast. This is where you'll find sandy beaches and turquoise water to snorkel in. The East Coast is rough and windy and large parts of it are dedicated to Arikok National Park without any (hotel or other) infrastructure.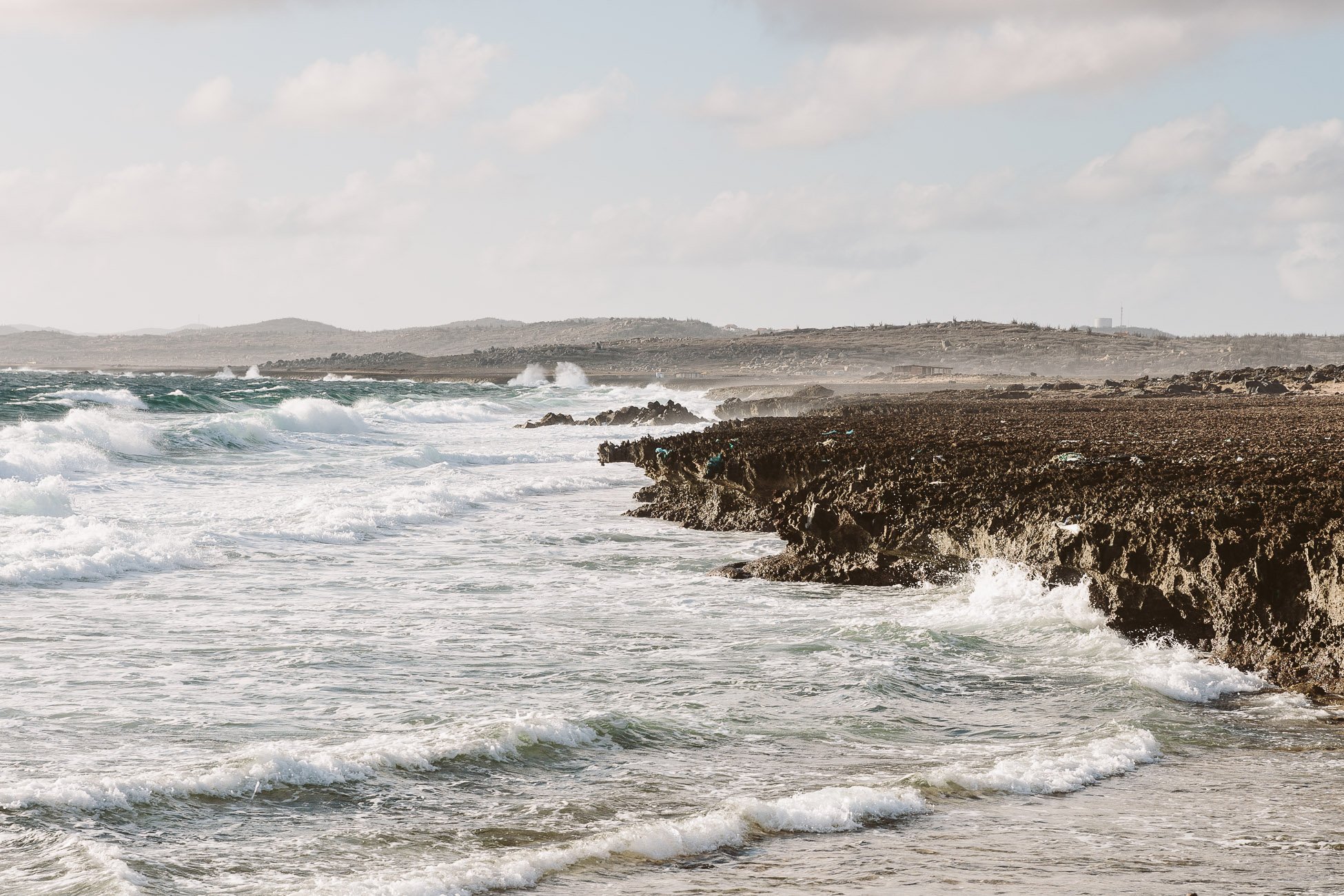 The East Coast ist great to explore during a visit, but not the best place to stay.
Most visitors stay in the area of Palm Beach just North of Oranjestad. Here's where one high rise hotel lines up next to the other one and there are no spaces left at the beach. We recommend to stay outside of the Palm Beach area and either find a hotel or Airbnb further towards the South (and San Nicolaas) or to the North – where we stayed.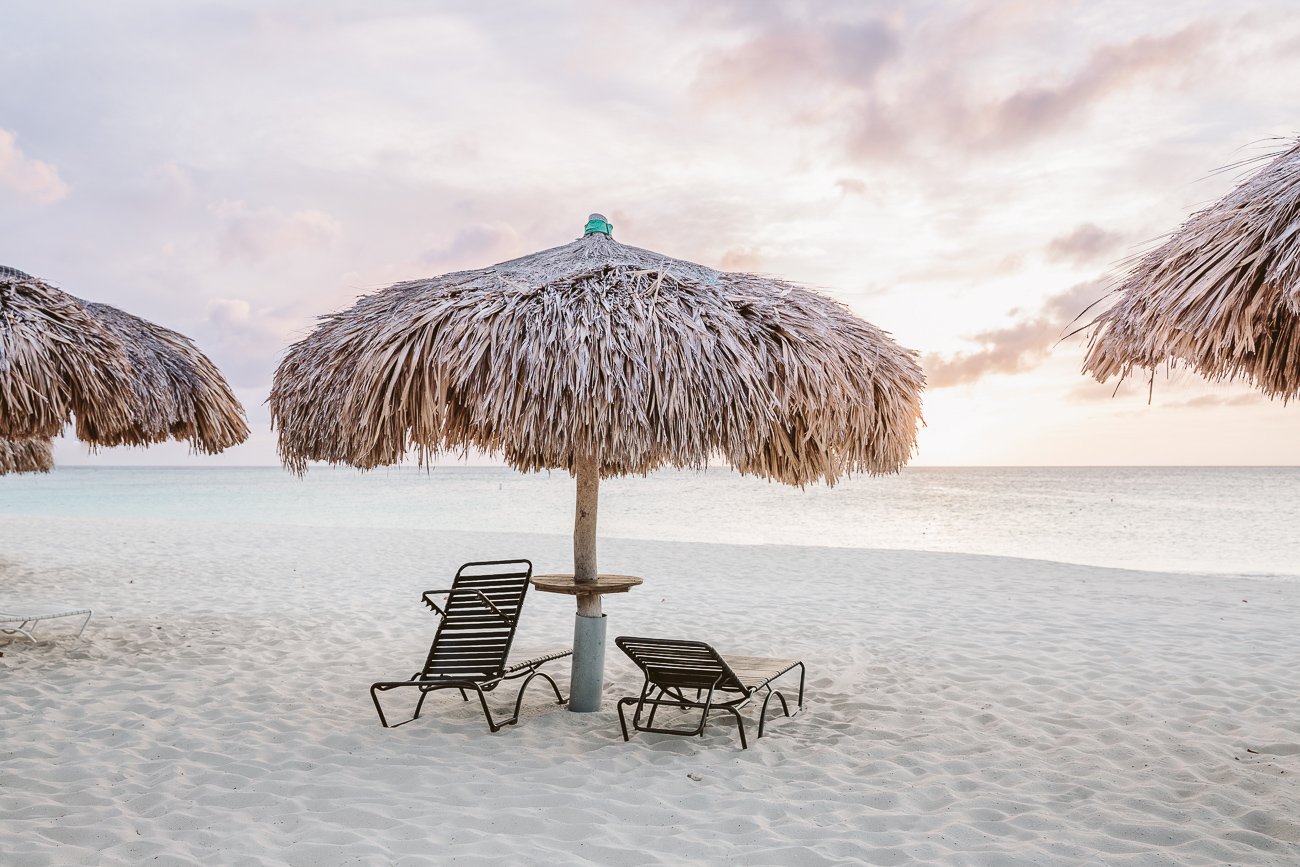 The West Coast of Aruba has sandy beaches and more infrastructure for tourists – like here at Eagle Beach.
Hotels in Aruba
This is where the tricky part begins. As with all of the Caribbean islands, hotel prices are relatively high and standards aren't as high (when compared to similar price ranges in Asia or even the US and Europe). The demand is high enough (especially with American and Canadian visitors) and therefore these prices seem to be justified, but don't expect to get a lot for your money here!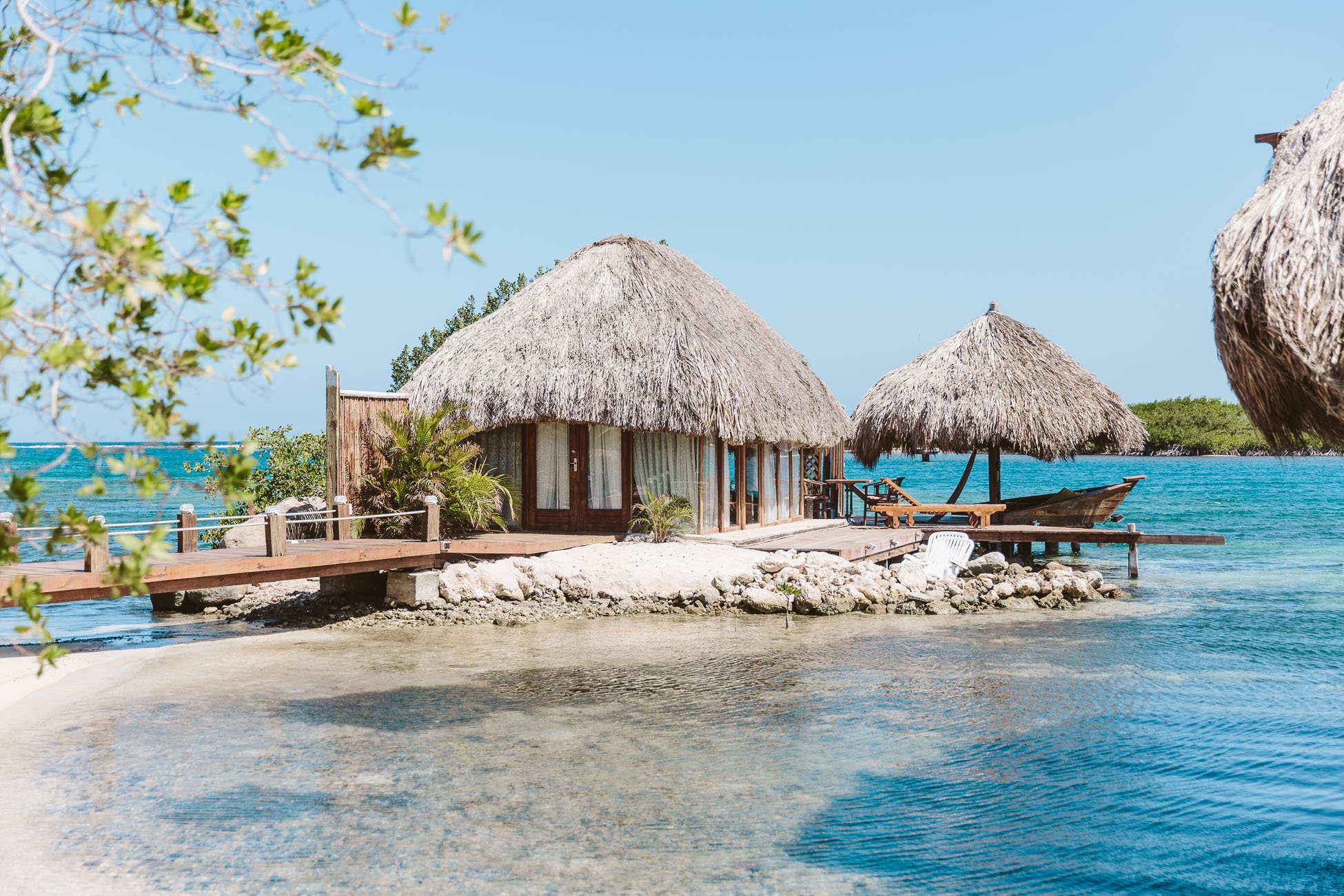 The Ocean Villa "Dushi Sue" at "The Old Man and The Sea" is pure luxury, and costs 640 dollars per night.
Option for Budget Travelers: Sunset Beach Studios
We stayed in a small apartment hotel called Sunset Beach Studios, at the northern tip of the island. Rooms start at 105 Dollars per night (low season, no breakfast served). These Garden View Studios feature one big enough room with a queen bed, small sofa, wardrobe with safe, TV and a kitchenette (with a big fridge, so you can prepare your own food – but beware, food prices at supermarkets are also quite high in Aruba).
The bathrooms are super tiny in the Garden View Studios – so even with two people you'll have to schedule your bathroom visits (the toilet is also squashed in there between the tiny sink and the small shower). Thumbs down for the bathrooms!
We recommend upgrading to the Ocean View Studios for more space!
The advantage: With only 14 rooms you'll get personal service and will basically have the pool and whirlpool for yourself (at least during the low season).  The couple that owns and runs the place is super lovely and will help you make your stay extra comfortable (think snorkelling spot tips, welcome cocktails, sharing their barbecue grill). The studios also have free wifi, that works ok (unless you have 4 bloggers trying to upload photos at the same time).
We would recommend to book one of the larger rooms with ocean view (starting at 160 Dollars per night in low season) – although you have to know that the location doesn't have any real beaches. It's all rocks and sharp shells up here. But you'll have your own terrace with sunset views (bear in mind that there's a street in between the hotel and the beach, so the view might get interrupted by a group of Segways or a colourful tour bus).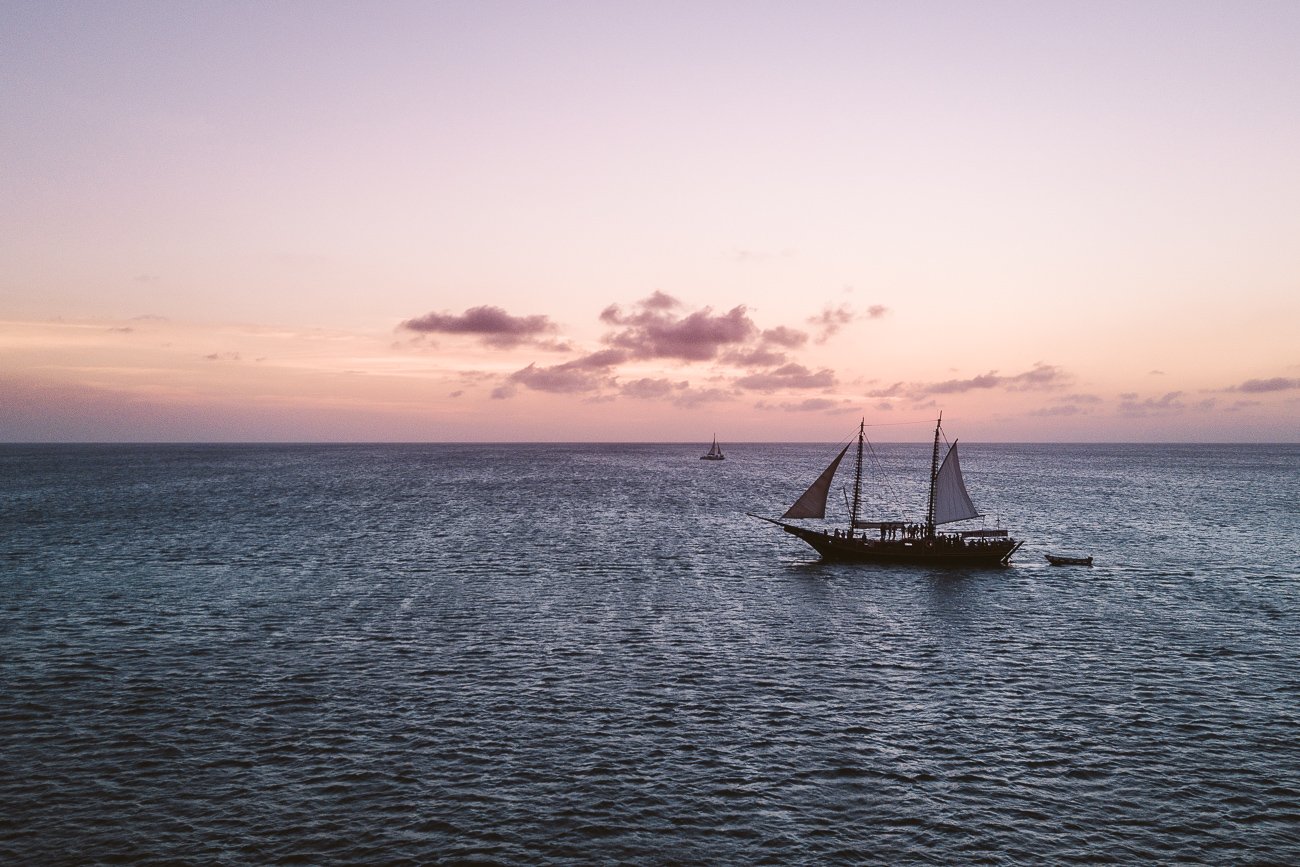 The sunset views at the West Coast of Aruba are impressive – this is directly in front of Sunset Beach Studios.
Pro tip:
If you stay here you definitely need a car to get around (but we recommend to rent one anyways – because there's a lot to discover on the island)!
Options for Luxury Travelers
We got the chance to visit two more upscale hotels during our visit to check out other options. We wouldn't have minded to stay there right away 😉 Check "The Old Man and The Sea" (South) or "Ocean Z Boutique Hotel" (North) if you are ok with paying more.
The Old Man and The Sea
The beachfront villas at "The Old Man and The Sea" start at 250 Dollars per night (no matter which season) and feature your own private beach, true Caribbean architecture and solitude (there's no pool though).
Ocean Z Boutique Hotel
The different room types at the Ocean Z are all very modern and clean – some feature outdoor showers and there's a huge pool, but you have to walk 5-10 minutes to the next public sandy beach (Boca Catalina). Rooms start at 260 dollars per night (low season), the Ocean View rooms start at 320 dollars per night.
Make sure to check our One Week Travel Itinerary for Aruba:
Disclaimer: We were invited to the island by the Official Tourism Board. The views in this report are our own.