If there's one thing Austria is famous for (apart from Mozart and the Sound of Music maybe) is it's incredible winter holidays. Think snow-capped alpine peaks, century-old traditional wooden huts and modern chalets, mulled wine and platters of cheese and chestnuts. And of course perfectly prepared skiing pistes and cross country skiing slopes. All in all it doesn't get more rustic and cozy than a winter trip to Austria. So, without further ado, let us show you a few of our favorite winter holiday ideas and chalets in Austria!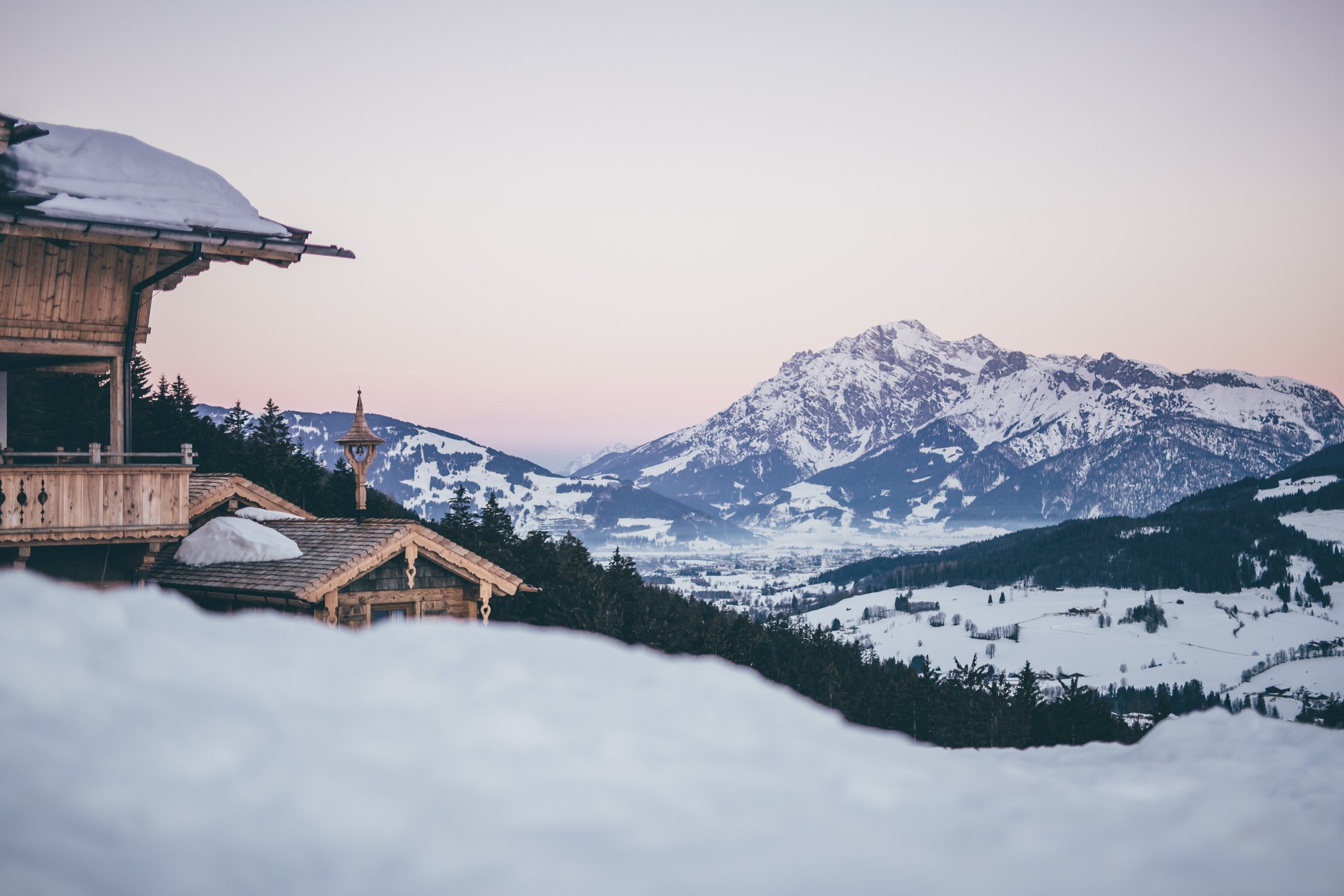 Our favorite Chalets in Austria
When it comes to chalets you can choose between self-catered and serviced options. Personally we enjoy a bit of service when we book a holiday. We usually don't want to spend the first day of our holiday in the supermarket or stocking our fridge, but rather rely on served breakfast and some levels of hotel amenities 😉 But of course there's options for both kinds of winter holidays in Austria. In this section we focus on serviced chalets.
1. Stubai Glacier Chalets
When you're looking for snow early in the season a glacier chalet is a great option! At 1.400 meters above sea level you'll find these cute chalets. You can choose from 5 different chalets, that all come with rustic architecture coupled with modern design elements and of course a fireplace. Alpine breakfast gets served to the chalet in the morning.
Book your holiday at Stubai Glacier Chalets here!
2. Brand-new in 2022: Hygna Chalets in Alpbach
These 11 chalets in the Alpbach area of Tyrol just opened recently and we can't wait to stay there ourselves! We have already booked our stay there for January 2023 and will keep you updated once we tested the chalets ourselves. The infinity pool is definitely out of this world!
Book your stay at Hygna Chalets here!
View this post on Instagram
3. Pronebengut
If you're traveling with family then we can highly recommend the "Pronebengut" and it's 5 star luxury "cuddle chalets". There's different categories here, but we stayed in the chalet called "Oma Gretl" and loved the attention to detail and personalised service. For the kids there's a petting zoo and ample space to run around.
Book your stay at Pronebengut here!
4. Priesteregg
This alpine resort & chalet village is on our bucket list since years! We hope we can finally go and experience it for ourselves – when the famous Leogang valley is fully covered in snow. The location overlooking the valley is priceless (and so is the infinity pool of the resort). There's 18 different chalets to choose from, so it's a good combination of intimate, but also offers some resort services. Our personal favourites are the "Wilderer Villa" and the brand-new "Villa Etaner".
Book your stay at Priesteregg here!
View this post on Instagram
View this post on Instagram

5. Senhoog Chalets Leogang
Another alternative are the brand-new Senhoog chalets in Leogang. These are more private (only two chalets next to each other), but offer the highest amount of comfort one could wish for. Including a private infinity pool for each chalet! Breakfast is of course also served and the team is happy to organise dinners in surrounding restaurants or book a chef to cook for you and your guests. We stayed at both of the chalets already and can attest to their outstanding service and cozy atmosphere (check our blogpost here).
Book your stay at Senhoog here!
6. Four Elements Living by Berger
If skiing isn't your first priority, then you could also spend your winter holidays in the National Park "Gesäuse" in Styria – in one of these iconic modern chalets. They are embedded into the landscape of the National Park beautifully – in between forests and a river. The elevated houses offer privacy and hotel services like breakfast. (And just in case your feet start itching the "Hochkar" skiing region is only a 20 minute drive away).
Book your stay at Four Elements here!
View this post on Instagram
7. Almdorf Seinerzeit
This resort consists of 2 full villages with over 50 chalets. So it's not completely private, but offers luxury service with breakfast in the hut, private saunas and hut tubs all within the UNESCO biosphere park Nockberge. We haven't been here ourselves, but it's on our list since quite a while!
Book your stay at Almdorf Seinerzeit here!
View this post on Instagram
8. Woodridge Chalets Werfenweng
These 4 chalets have been recommended to us a while ago and we fell in love with the unique log cabin architecture. That's not very common for Austria and reminds us more of Canada, so might bring us a bit further away in our mind at least while we still holiday in Austria 🙂
Book your stay at Woodridge Chalets here!
View this post on Instagram
9. LaPosch Bergaway
We stumbled upon this chalet on Instagram and immediately started dreaming about a winter wonderland getaway. You can In-Chalet dining here or visit their very own restaurant. There are 16 different chalets to choose from – each comes with a private sauna of course! We will finally visit LaPosch Bergaway this winter and cannot wait!
Book your stay at LaPosch Bergaway here!
View this post on Instagram
Our favorite Mountain resorts in Austria
For those of you that prefer resort-style or hotel vacations in winter (with the added bonus of larger wellness facilities, more saunas, restaurants and all the sha-bang) – here's a selection of a few wonderful mountain resorts, that we can recommend for a winter holiday in Austria.
1. Designhotel Wiesergut
We visited this incredibly beautiful resort in the summer months for the first time (read our review here), but now that we know that the skiing lift is right next to Wiesergut we'd love to return for a winter getaway! In fact one of the guests we met had just booked her new year's trip during her summer stay. That's what we call customer retention and rightfully so. The Wiesergut is a suite-only hotel for design aficionados and truly one-of-it's-kind in Austria.
Book your stay at Wiesergut here!
View this post on Instagram
2. Aurelio
We (unfortunately) have never stayed here, but got invited twice for a brunch and lunch visit with luxury champagne brand "Krug". During the brunch we also got a tour of the hotel and it is definitely worth the hype. This is where James Bond 007 would stay when he, no SHE, visits the Austrian alps. This is not laid-back at all, but really over the top luxury. Just be warned, that you might want to pack your finest skiing gear and arrive in style 😉
Book your stay at Aurelio here!
View this post on Instagram
3. Feuerberg Mountain Resort
This infinity pool has been on our bucket list since a while, but only now we noticed that the views from up here are especially intriguing in winter. I mean look at those snow-covered mountains surrounding this place! The resort is located at over 1.700 meters above sea level and directly at the slopes.
Book your stay at Feuerberg Mountain Resort here!
View this post on Instagram
4. Jufenalm
We booked a stay at this uniquely located hotel in Maria Alm two years ago. Little did we know that we would encounter such a winter wonderland still in March! The hotel is located at 1.150 meters above sea level at the Hochkönig mountain, so higher up than many other resorts. They have just recently renovated the whole hotel to give it a more hip vibe with bohemian elements, so it might be even better now! Make sure to book a room with balcony to get most out of these views.
Book your stay at Jufenalm here!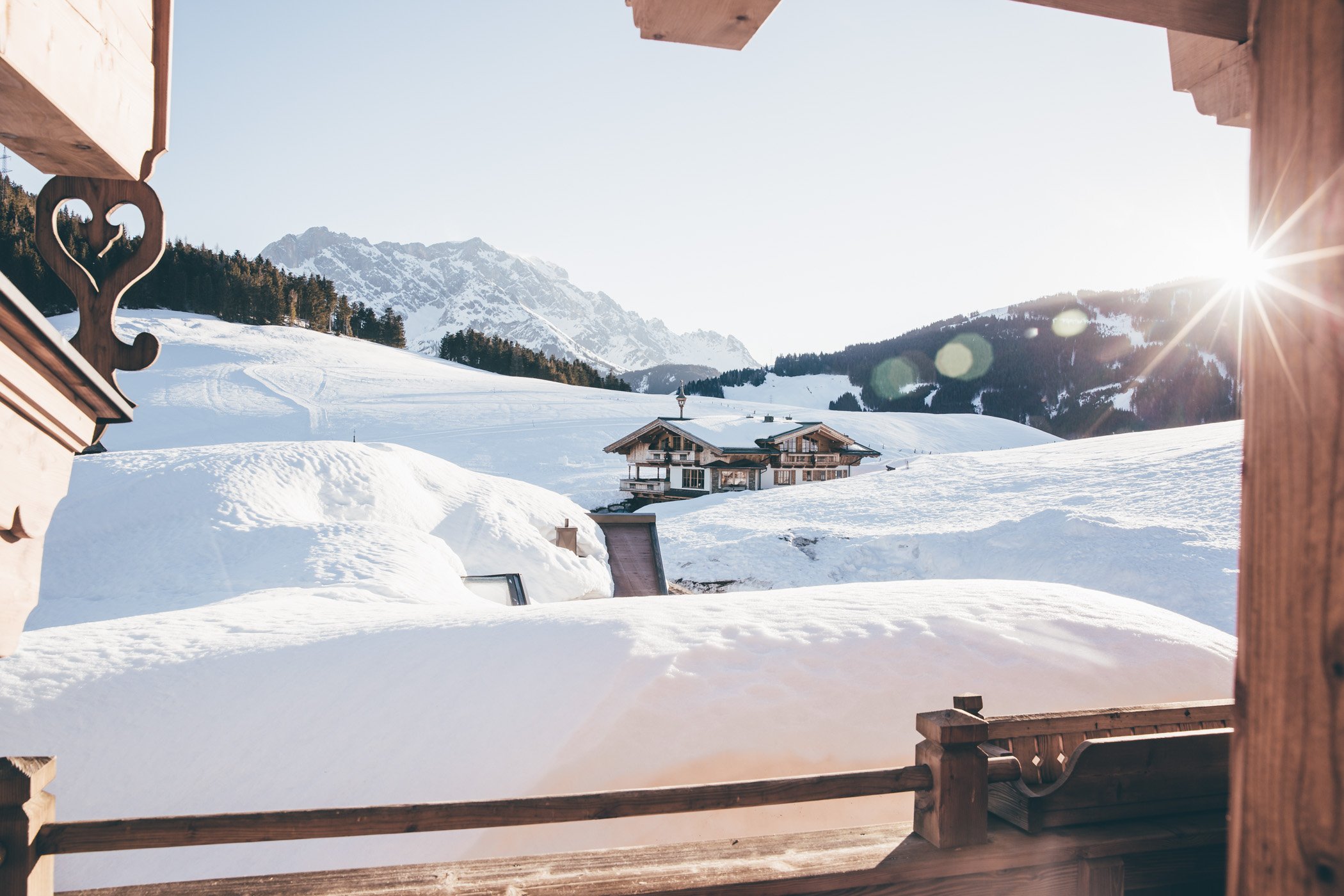 5. Die Alpbacherin
Maybe it's just this one photo, that makes us want to go to this newly opened boutique hotel in Alpbach. But that's definitely a great argument if you ask us. That pool is definitely one of a kind!
Book your stay at Die Alpbacherin here!
View this post on Instagram
What are your plans for the winter holidays and your favorite resorts and chalets in Austria? Let us know in the comments.
If you're planning a winter trip to Austria you can pin & save this blogpost for later: