Just before the vernissage of the photography exhibition I curated this summer I needed a short getaway and mental break from the hustle of the city. The "Designhotel Wiesergut" was on my bucket list for many years now. And this year we finally made it for a 3 night stay, that fulfilled all my wildest dreams. But let's start at the beginning.
Location: the quiet side of the valley of Saalbach-Hinterglemm
A while back we had already visited Saalbach and stayed in the centre of the little town. While it is still not a big city it can get quite busy at times around the gondolas and bars and restaurants of the town. Hinterglemm is located a few minutes down the road – nearing the so called "Talschluss" (basically the "end of the valley"). In Austria that means the road just ends and leads nowhere specifically. Hence it's also not used so much. When comparing these two locations I'd choose Hinterglemm every time, because it's quieter and more remote than Saalbach.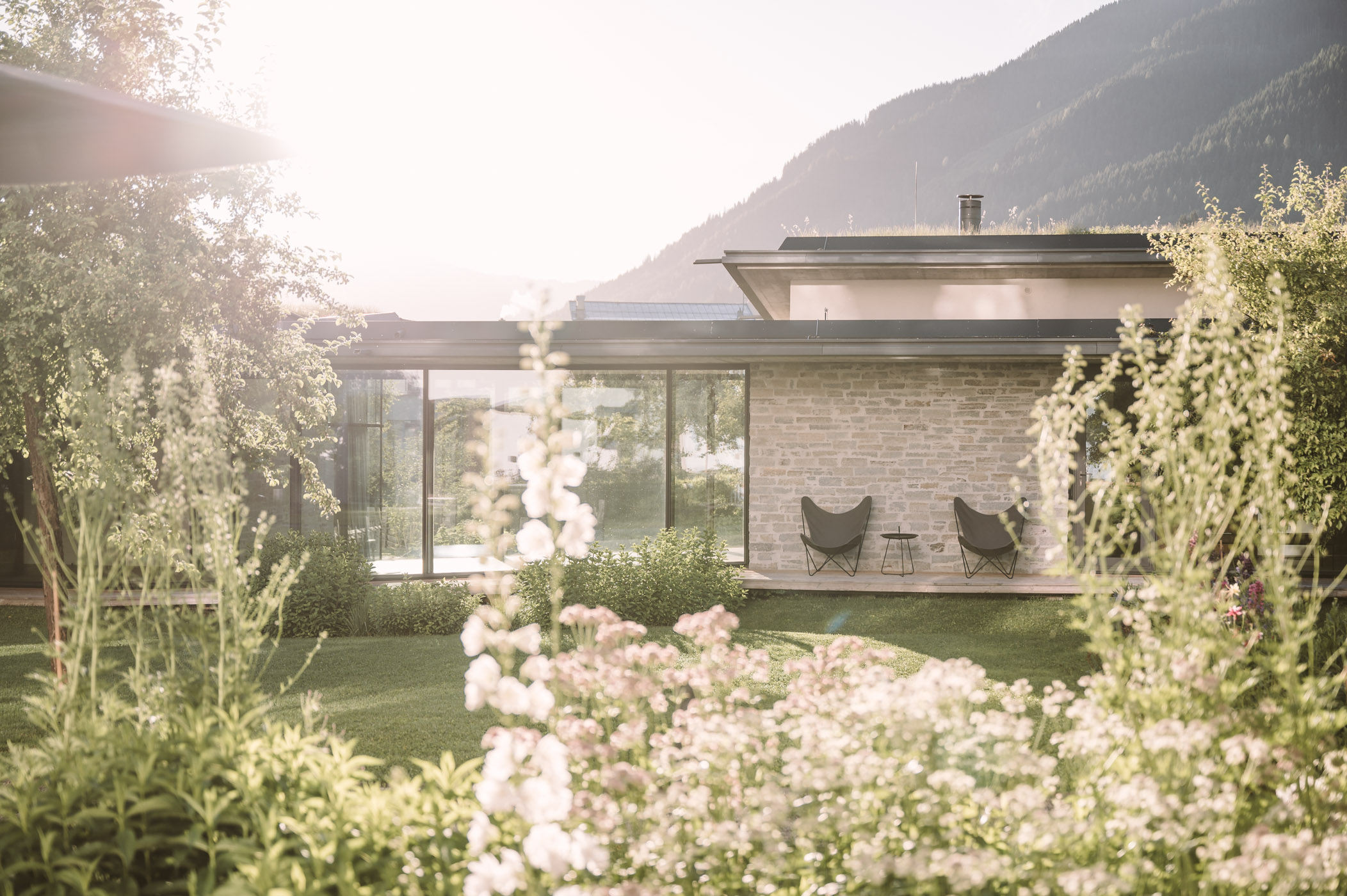 Laidback luxury: Just our cup of tea
When we founded this blog we knew that we wanted to focus on discerning travelers, who appreciate a pillow menu in their hotel, but don't need all the fuzz and glory of golden faucets or towel swans and rose petals on their beds. The term laidback luxury was born and we always try to stick to this mantra when selecting accommodations or places to travel to. Now the Wiesergut uses the tagline "casual luxury" and that describes that same principle. You can wear a sweater to dinner – and even if they serve you 4 fantastic courses you won't feel underdressed.
Entering into the oasis
The arrival itself is part of the ultimate retreat. We opened the doors of our car and were greeted by a smell of wild strawberries, that grow just in front of the hotel. This evokes some of the best childhood memories for us! Stepping through the heavy metal door the oasis opens up. The reception greets us with a lot of light, a fireplace surrounded by bespoke furniture and homemade elderflower juice and slices of sourdough bread as a welcome snack. The door falls back into it's lock and we immediately know that it won't be easy to leave this sanctuary again 😉
Our suite: Wiesergut Manor Suites
The Wiesergut offers 3 different room categories. We stayed in the main house – the manor building, which has suites with 35 or 45sqm. Each suite is spacious, light-filled and offers a bedroom, bathroom with double sinks, a separate toilet and huge walk-in closet. Our terrace faced the garden of Wiesergut and we enjoyed the privacy and quiet.
If you want to upgrade you should book one of the 4 Garden or 3 luxurious Hideaway Suites, which are located in the new tract and offer specials such as hot pots on the terrace or private saunas in the garden.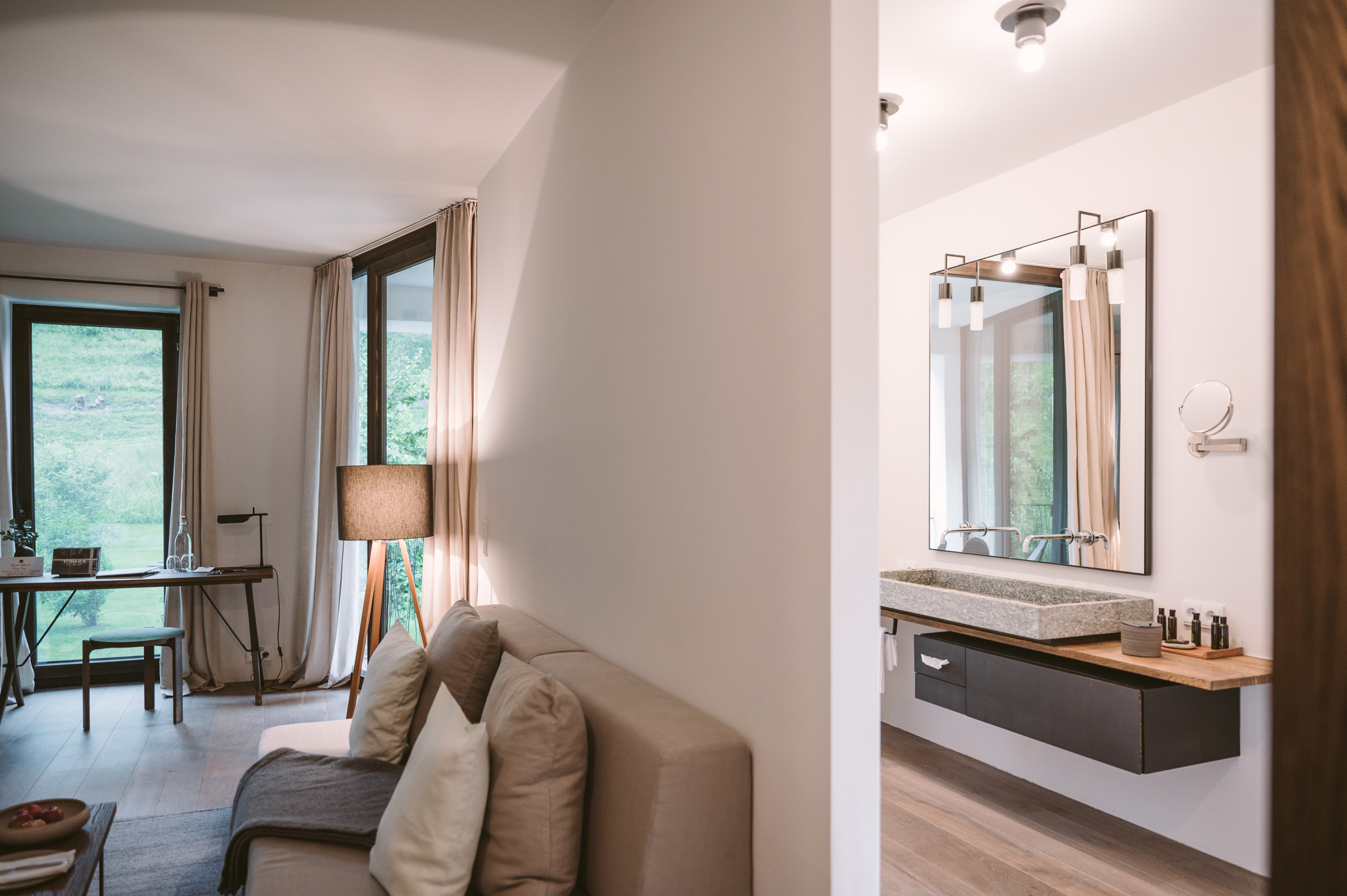 Served breakfast – from etageres to à la carte egg dishes and cheese trays
In times of a global pandemic we don't really enjoy eating buffet style. But at Wiesergut that was never an option anyhow. So breakfast starts with a served etagere filled with local delicacies from their own farm – fresh fruit, cheese and homemade spreads. The mother of the owners bakes fresh sourdough bread every day and you get to choose from a daily changing menu of à la carte breakfast dishes (and some classic egg dishes).
We loved the sous-vide cooked egg in a glass with potato foam, so that became a daily staple. And if that wasn't enough the staff of Wiesergut comes by the table with trolleys of fresh cheese or their signature Müsli trolley. Breakfast is a feast here and we celebrated it each day!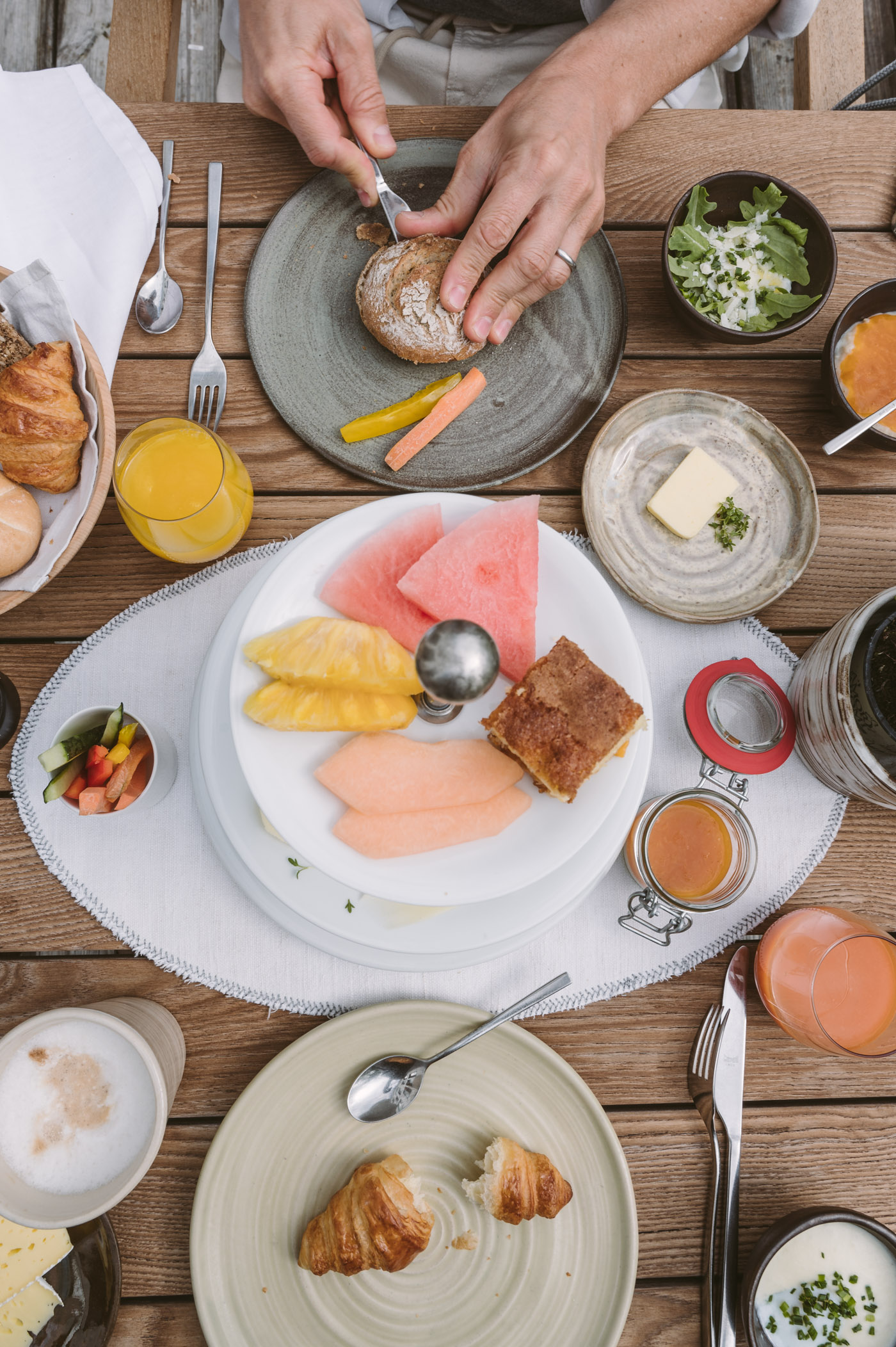 The bathing house
After breakfast it's time to jump in the bathing suit and robe and head over to the bathing house. In 2018 they added a heated outdoor pool to the already wonderful indoor pool and spa area. Now the Wiesergut is also the perfect escape for warm summer days. You can relax on wooden platforms in the garden or book yourself Susanne Kaufmann treatments in the signature spa.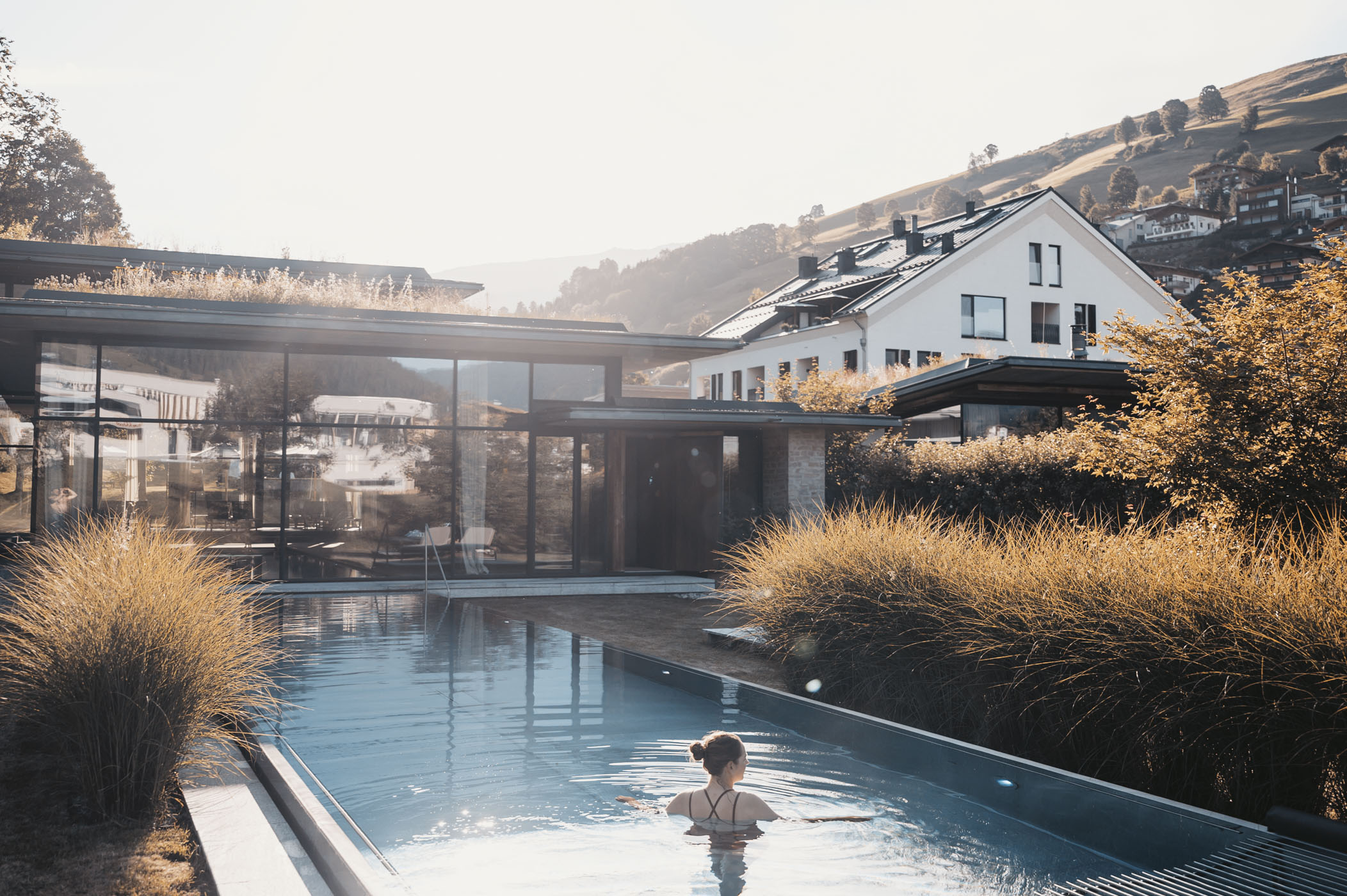 E-bike rides to the Wieseralm & forest wellness
It took us a bit of overcoming, but when we eventually left the hotel we opted to go on an e-bike tour to the Wieseralm. The alpine hut also belongs to Wiesergut and is located about a 30 minute ride up the mountain – an easy ride for the Rotwild e-bikes, which can be rented for free from Wiesergut.
We decided to ride a bit further and also visit the newly built forest wellness path at Reiterkogel. This path leads you deep into the wood to a clearing equipped with a forest library, hammocks and yoga platforms. This is the perfect place to practice some Shinrin-Yoku – which is the Japanese art of Forest bathing. Pay attention to the sounds, the smells, close the eyes and immerse yourself into the forest fully.
Back in the Wiesergut for dinner
After this e-bike ride (well and another swim in the pool) we got ready for dinner. Every night the Wiesergut serves a 4-course menu made from local ingredients and with a lot of creativity when it comes to vegetarian dishes as well. The fire ring in the courtyard is lit and guests sit on the deck listening to the sounds of the crickets, while the staff serves creations from a lemon grass essence with shiitake mushrooms to beetroot with potato straw and baked tofu or a cauliflower cream with broccoli and cous-cous. The only disappointment was the "Kaiserschmarrn". I guess this always tastes better somewhere on an alpine hut 😉
Excursion to lake Zell ("Zellersee")
One of the only other time we leave the Wiesergut is to go boating and enjoy a half day at lake Zell, a scenic mountain lake just 30 minutes away from the hotel. If you rent a boat there we recommend to choose an electrical boat from "Berger Boote", as they come with a sunroof (which is much needed on hot summer days).
Our recommendation for Wiesergut
We can't recommend it enough to be honest. In fact while we checked in another guest came to the reception to already book her next winter escape. So if that doesn't speak volumes I don't know what will 🙂 We definitely want to return for a winter trip to Wiesergut as well. The slopes start right behind the hotel and we couldn't think of a better place to escape for a short snow holiday!
If you're looking for more tips from our #AustriaSummerBucketList click here:

Disclaimer:
We were invited to stay in the "Designhotel Wiesergut", but our views stay independent from that invitation.