In Southern Styria there's a region that draws wine lovers in since decades. The so called "wine streets" of Southern Styria are a true paradise for oenophiles. But even for people like us – who only casually drink wine sometimes – there's much to discover! We put Southern Styria on the map for a very special occasion – the lavender bloom in the region of Kitzeck. And much to our pleasant surprise the lavender harvest is celebrated with a lavender festival each year and we visited at the exact right weekend (beginning of July)!
But other than visiting the lavender festival there's many more good reasons for a summer holiday in Southern Styria. Our highlights of a 2 night stay in Southern Styria include: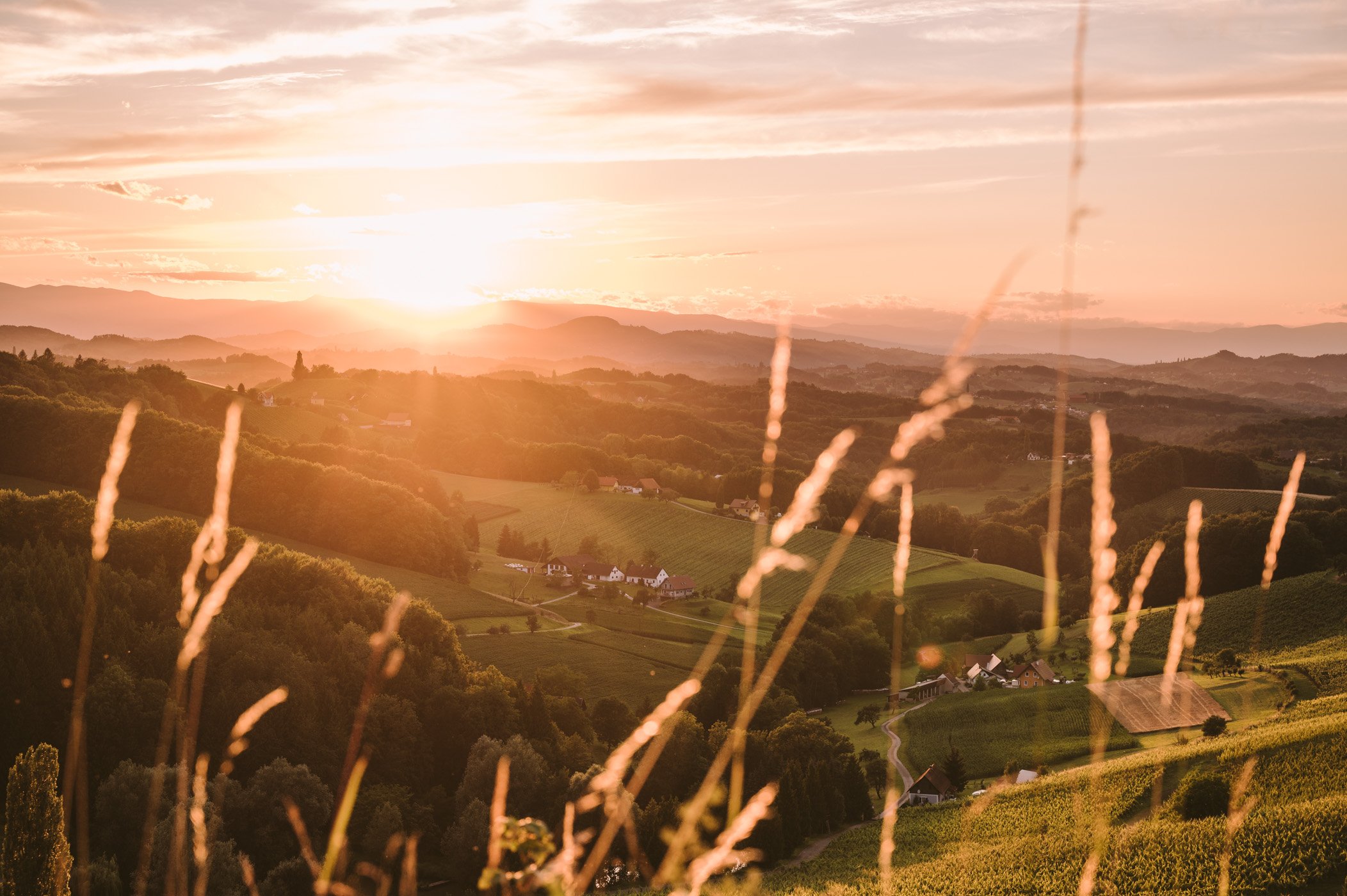 About the region: Southern Styria and the wine streets
Only about 2,5 hours away from Vienna you can reach a destination, that feels like an eclectic mix of Tuscany, Provence and Austria's rolling hills. Southern Styria borders Slovenia and once you arrive there you can sense how tightly knit those areas are. At the South Styrian wine street there's a green border and you can simply cross the street to also cross the border. We stopped counting how many times we went back and forth between Austria and Slovenia during this weekend. All in all the region is well-known and beloved within the wine community, but even if you're not big on wine you can spend a wonderful weekend getaway or summer holiday here!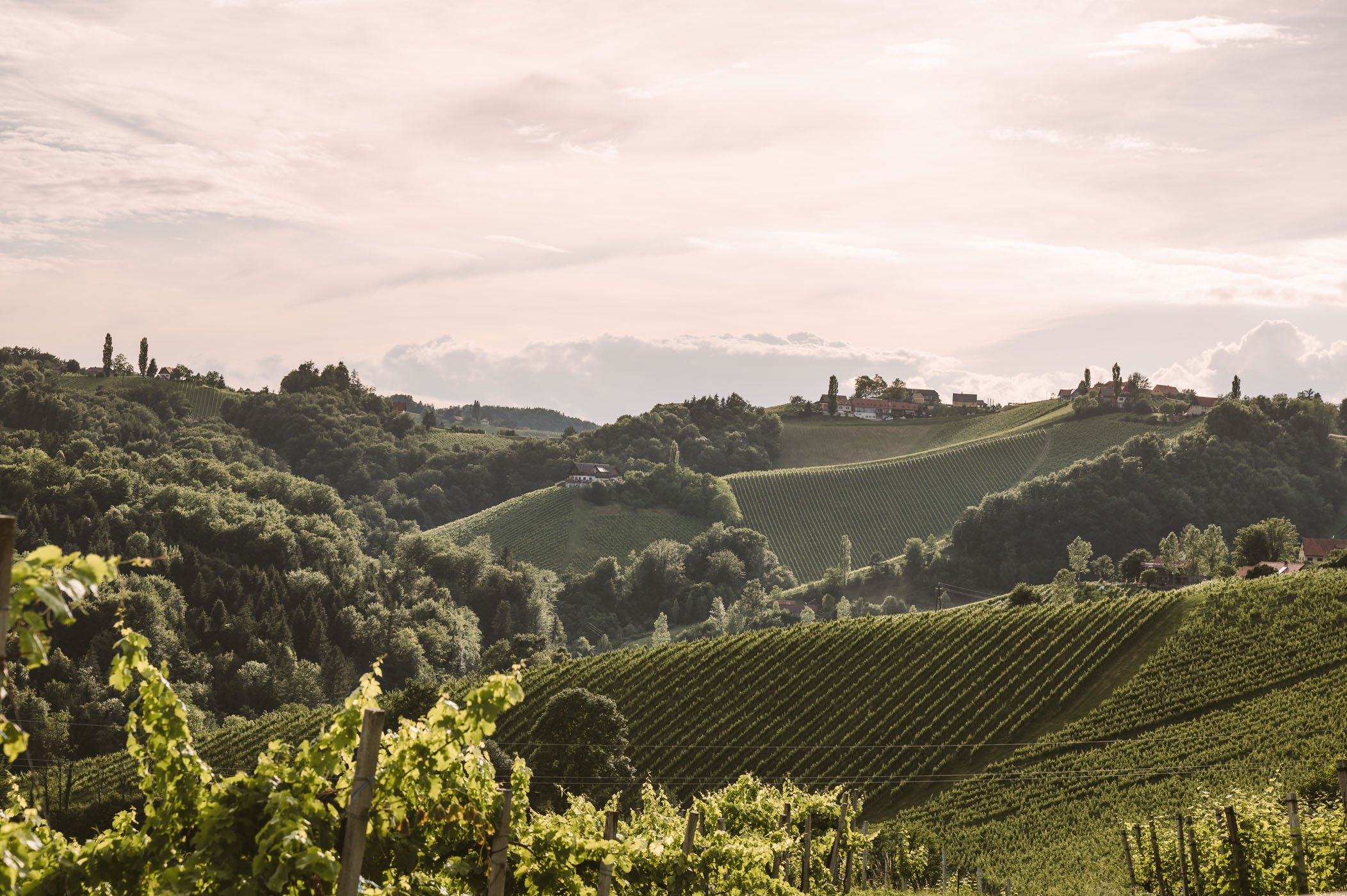 There are 3 different wine streets, which are all only short rides away from each other, so you can check out all the 3 easily during a weekend trip. We spent the weekend in the "Winzarei", the winemaker Tement's vacation rentals on the so called "Southern Styrian wine street". But during the weekend we also checked out the Klapotetz and Sausal wine street – and found each three to be equally charming.
The only thing we would make sure is to stay somewhere in the hills and not down in the valley, where it's less charming and original.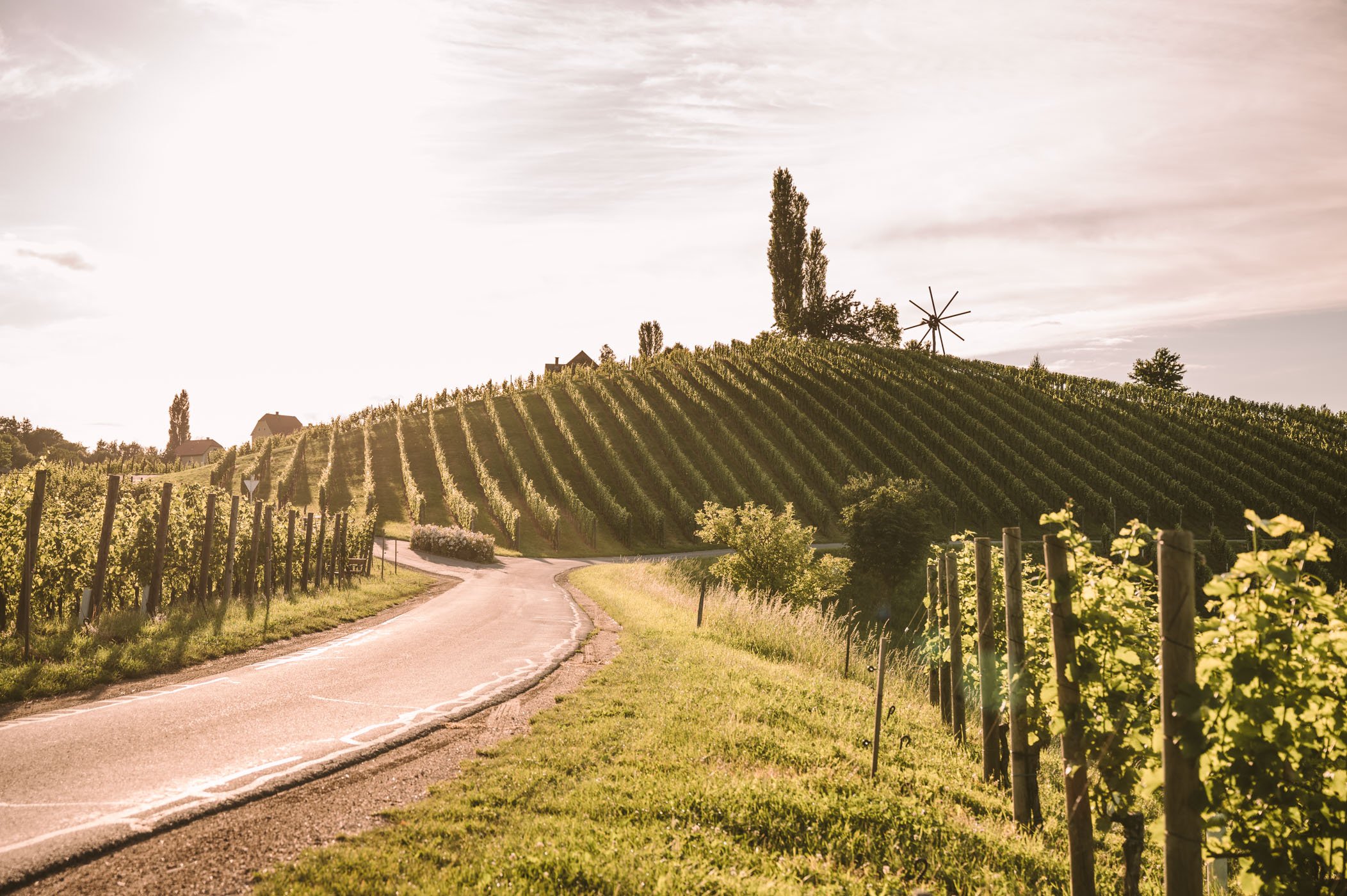 What to do during a visit of Southern Styria
1. Ride a hot air balloon over the Southern Styrian rolling hills
There's no better way to start in the day than to lift above the ground in a hot air balloon at sunrise. In Southern Styria you can book this adventure with one of the pioneers of Austrian hot air ballooning – Johann Almer, who is also called "Himmelvater" (loosely translating to "sky father"). He is head of the ballooning committee since almost 2 decades and rides balloons since more than 30 years.
Book your balloon ride here (costs about 200-300 Euros per person).
2. Stay in a old winemaker's house with a view over the vineyards
When we booked our Southern Styria vacation we knew we wanted to stay in one the original winemaker's houses. The region offers a multitude of different accommodations – from private chalets to boutique hotels or simple bed & breakfasts. We opted for one of the traditional winemaker's chalets by local wine hero Tement. Their wines are well-known internationally and they offer the same quality when it comes to the accommodations named "Winzarei".
We opted for one of the rustic rooms in the Manor House – with the traditional vaulted ceiling.
If you prefer a more modern take on a vineyard stay – opt for one of the Ciringa locations.
The Winzarei offers rooms in 4 different locations – all along the Southern Styrian wine street. Some of those houses are quite modern (with private saunas and infinity pools), others are more rustic. So you'll definitely find one that suites your taste. After a welcome Frizzante at their main house the junior of the owner's family accompanies us to our location called "Zieregg". It's the only one on the Austrian side of the border, although the 3 others are just minutes away – they are already in Slovenia 😉
The manor house at the Zieregg location of Winzarei has 3 separate suites, each with a spacious living room, bedroom and bathroom and a private terrace facing the sweeping views of the vineyards. When staying in Southern Styria we would recommend to book an accommodation that's really located on top of the hills overlooking the vineyards (as opposed to down in the valley where it can be foggy at times).
Location is key when booking an accommodation in Southern Styria – make sure to check for hilltop locations!
The best part about a stay at the Winzarei is of course the privacy and serenity – only topped by the daily delivery of a brimmingly filled breakfast basket with local delicacies. Our favourite: The homemade apple juice by the Tement family.
Book your stay at "Winzarei" here (prices start at 190 Euros a night).
3. Eat in a traditional "Buschenschank" (the local word for a wine tavern)
While we have "Heurigen" in Vienna in Styria these wine taverns are called "Buschenschank". Essentially there's a never-ending choice of them dotted all along the wine streets of Southern Styria. No matter where you go you'll probably end up with decent food and even better wine 😉
We loved "Lilli + Jojo – das kleine Wirtshaus"!
Pro tip: Order homemade vanilla ice cream with "Kernöl" (local pumpkin seed oil!)
During the so called "Sturmtage" in autumn you can walk from one "Buschenschank" to the other and drink "Sturm" (which is essentially a fermenting grape juice or fermented young wine) and eat "Maroni" (roasted chestnuts). Our visit in July obviously focused more on light food and sunset watching 🙂
Firmenich offers a great variety of vegetarian and even vegan options.
Pro tip: Order the "Gebackene Mäuse" – it's not on the menu, but oh such a good secret!
Our Buschenschank tips:
Firmenich: A lovely Buschenschank with a good selection of vegetarian and even vegan dishes (which is not always the case here). Try and order the "Gebackene Mäuse" ("Baked mouse") – it's not on the menu, but a secret speciality (a sweet baked dough hole and such a childhood memory for us! Not vegan though, only vegetarian.).
Lilli + Jojo: This new Buschenschank by Austrian star chef Joachim Gradwohl and his partner Lilli Kollar has only opened it's doors in spring of 2020 and was our favourite discovery during the days in Southern Styria. We loved the ambiance, design, small, but creative menu and the wonderful staff – such a delight to spend an evening here.
Other tips from our community: Alte Post in Leibnitz, Buschenschank Tinnaue, Rebkogl Buschenschank, Weingut Repolusk, Mahorko, Adam-Schererkogel, Magnothek, Die Weinbank, Wirtshaus Wolfgang Maitz
If you want to find more Buschenschank tips head over to gutfinden.at!
Unfortunately we didn't get to visit Bullmann for a wine tasting because it was closed – maybe next time!
4. Visit the lavender festival at Wunsum lavender farm
And here comes our favourite tip and the reason why we wanted to visit Southern Styria in the first place: the lavender fields in Kitzek at the lavender manufacturer "Wunsum". We knew these were in full bloom by the mid of June and we were a little late at the beginning of July. But lucky us we visited right at the weekend of the lavender harvest which is celebrated with a lavender festival at Wunsum at the beginning of July.
This year everything is a little different due to Covid-19, so the festival got turned into a lavender market – with a multitude of market stalls brimming with lavender products (think lavender soap, pillows, oils and even syrups and jellies).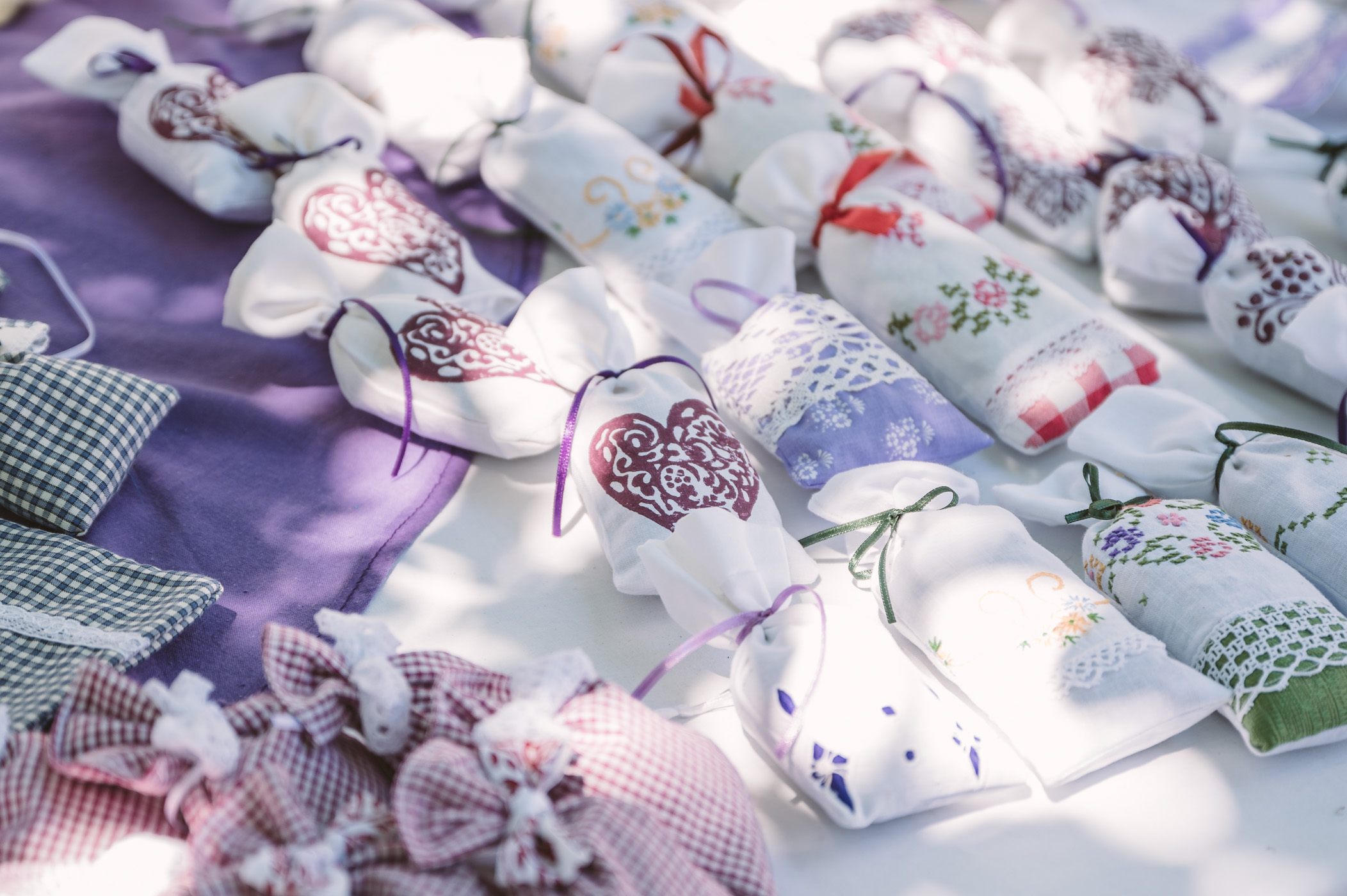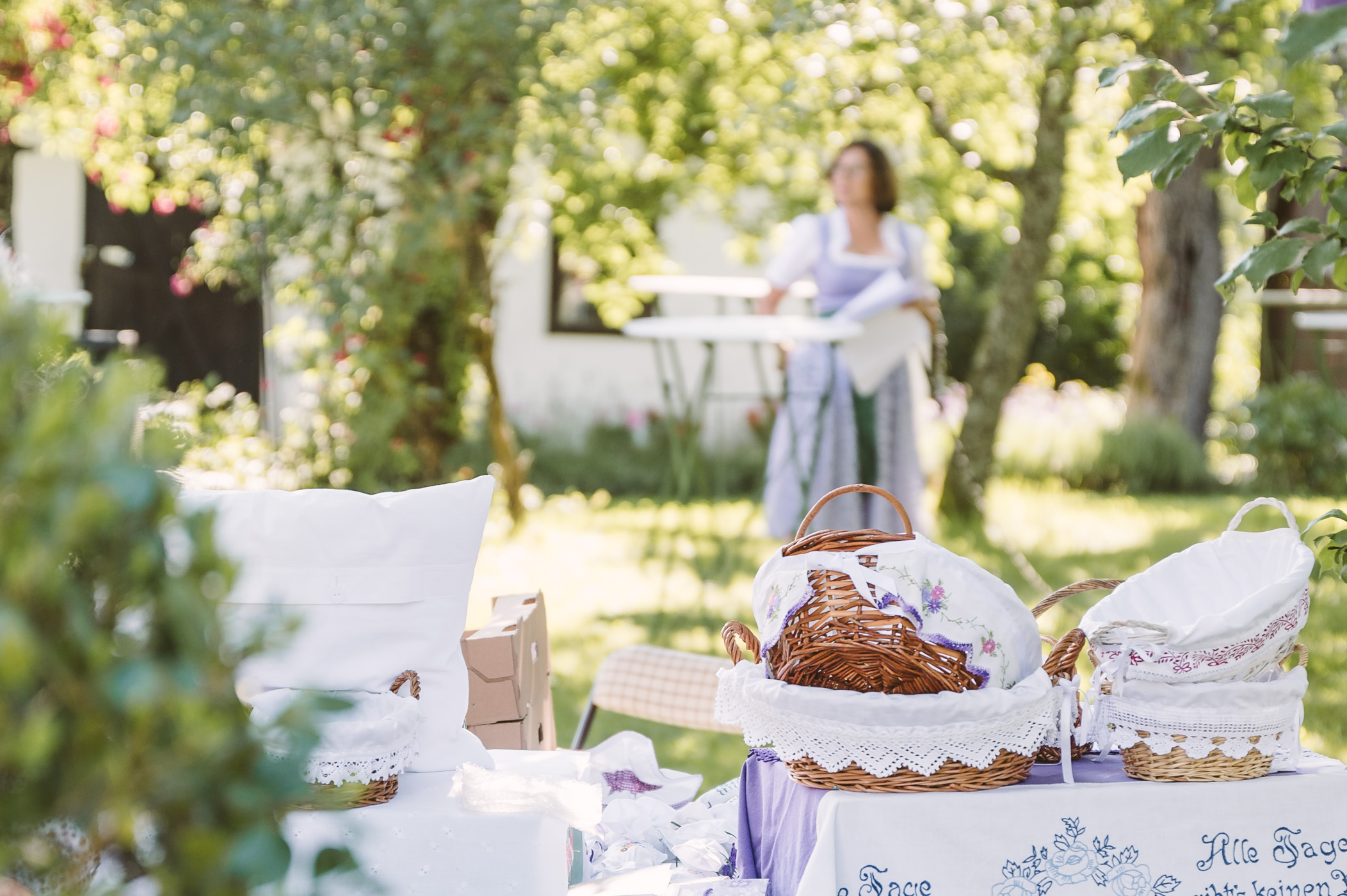 Find out more about the lavender fields by Wunsum here!
5. Cross the border to Slovenia to visit the "Herzerlstraße" (heart-shaped street) and eat at gourmet temple "Hiša Denk"
Our last tips bring us across the border from Austria to neighbouring country Slovenia. The green border here is almost invisible and you can find yourself involuntarily crossing the border any time of the day 🙂 If there wasn't a pandemic like Covid-19 happening right now this border would mean nothing, but these days it almost feels unreal to be able to cross a border that easily. We stopped counting the times we crossed at some point. But there are two moments, that are distinct, because we went over to Slovenia for specific reasons.
Visit the "Herzerlstraße" (heart-shaped street)
This famous viewpoint is located on private property of the Dreisiebner winemakers. The Slovenian family is very kind and let's people enter their garden for the view. You can either pay 2 Euros or just drink something in their "Buschenschank" to give back for their generosity. We found this place to be a bit overhyped, but there's a nice little bench on top to sit and just marvel at the view.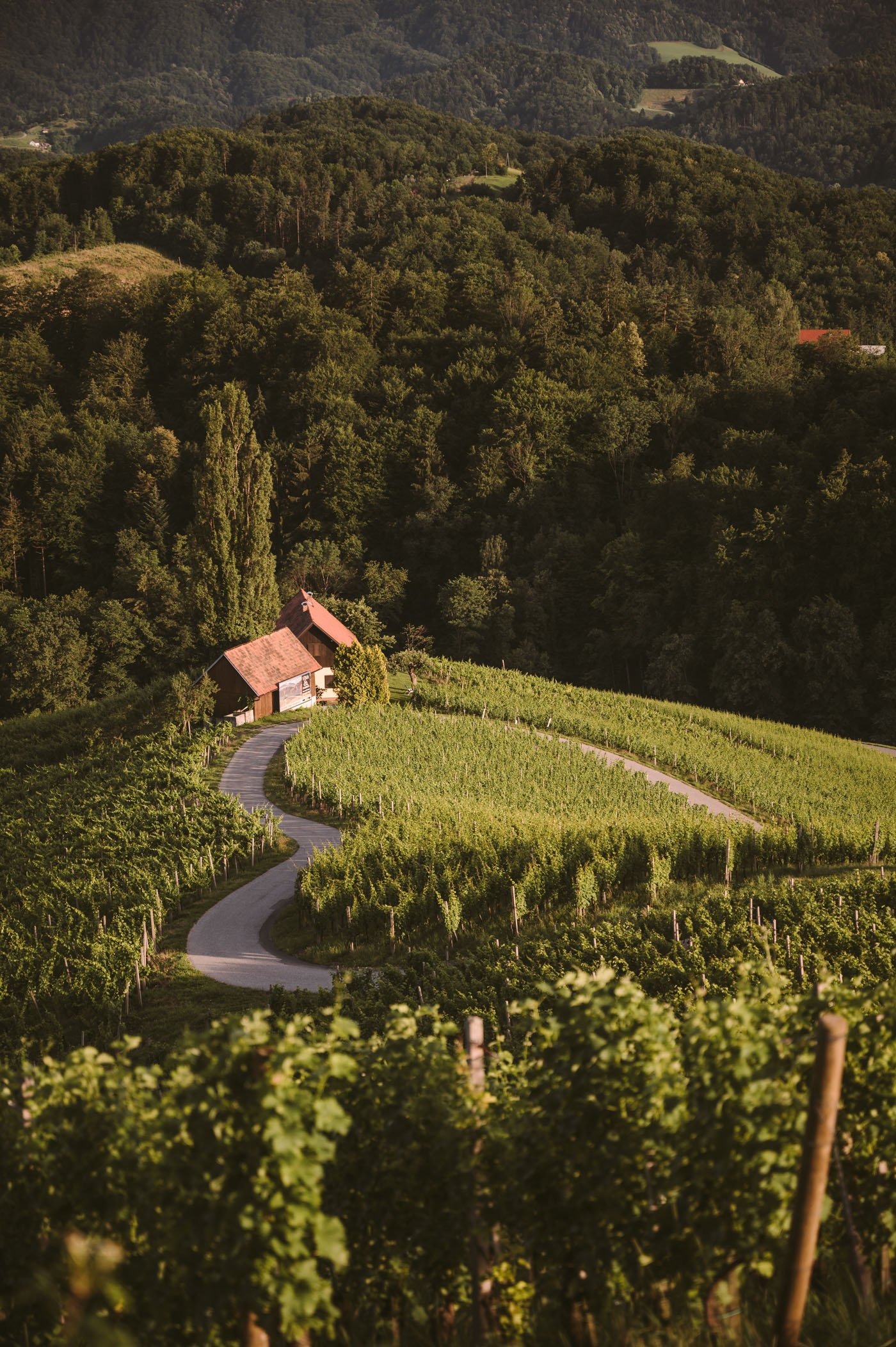 Have lunch or dinner at gourmet temple "Hiša Denk"
While we found the heart-shaped street not too impressive our lunch at Hiša Denk was definitely much more memorable. Make sure to make reservations ahead of time, this place is well-booked (and for very good reasons). We didn't get a table for dinner anymore, so we opted for lunch instead.
For lunch you can choose between a 3-, 5- or 7-course meal. Although it felt like we didn't even really have an option to choose as the waitor was very convincing 😉 So we ended up with the 7-course option! This feast took well into 3 hours long – and no, we didn't regret one single bite!
Let us introduce you to the menu we enjoyed:
Thyme jelly with champignon crackers
Quiche of mushrooms and fried potatoes
Mousse of cucumber with buttermilk sauce and cucumber ice
Cauliflower, porcini, pickled zucchini, green beans and chips
Polenta with caramelized onions, porcini, green beans and kohlrabi noodles
Baked bread curd with chanterelles, spruce tree top sauce and fermented garlic cream
Peach sorbet with lemon grass cream
Chocolate cake with pudding and strawberry ice cream
Each course topped the previous one and was creative, balanced and just incredibly mouthwatering and tasty. After 3 hours we left with the happiest bellies (and although we thought we would skip dinner that evening, we ended up eating anyhow…) 🙂

Our takeaway from 3 days in Southern Styria
We honestly don't know why Southern Styria wasn't on our map before. 3 days here were the perfect mini holiday and city break from Vienna. The weather was fantastic, the lavender smelled like in a Provence perfume factory and the poplar trees on the hilltops reminded us of Tuscany with it's countless cypress trees.
Southern Styria is as close to a France or Italy vacation as you'll be able to get within Austria.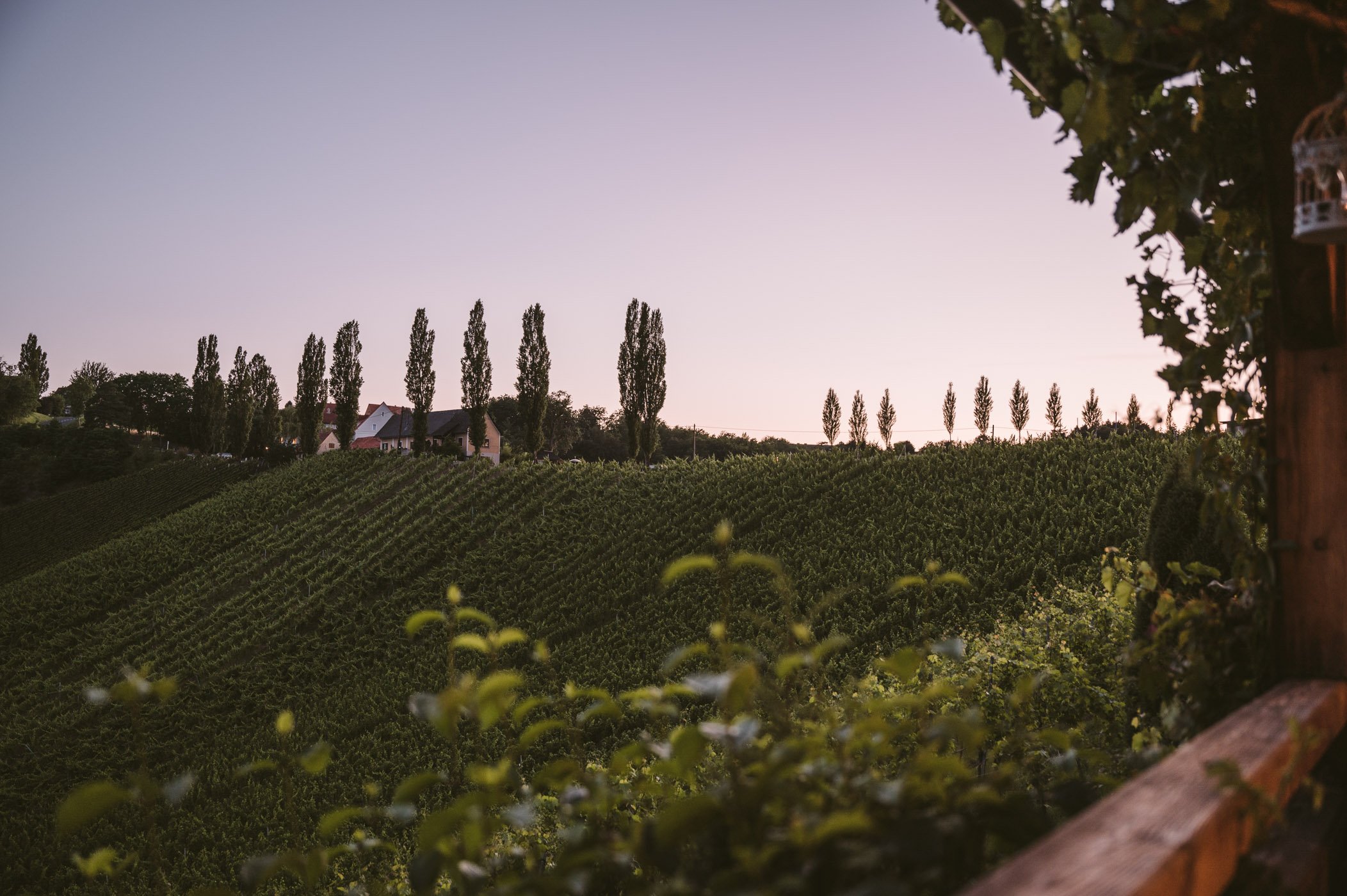 If you're looking for more tips from our #AustriaSummerBucketList click here:

Disclaimer:
We were invited to stay in the "Winzarei", but our views stay independent from that invitation.