(Post updated, September 2020): If you plan to spend one week in Aruba – here's our complete travel itinerary for you. We spent one week on the island of happiness and compiled our best tips: What to do, what to skip, and where to eat if you visit the Caribbean island!
DAY 1 in Aruba
Arrive at Queen Beatrix Airport in Oranjestad and pick up your car. We recommend a rental car to get around the island! Drive to your hotel and check in. Enjoy the first rays of sun at the pool or the beach and then watch your first sunset – for example at Eagle Beach.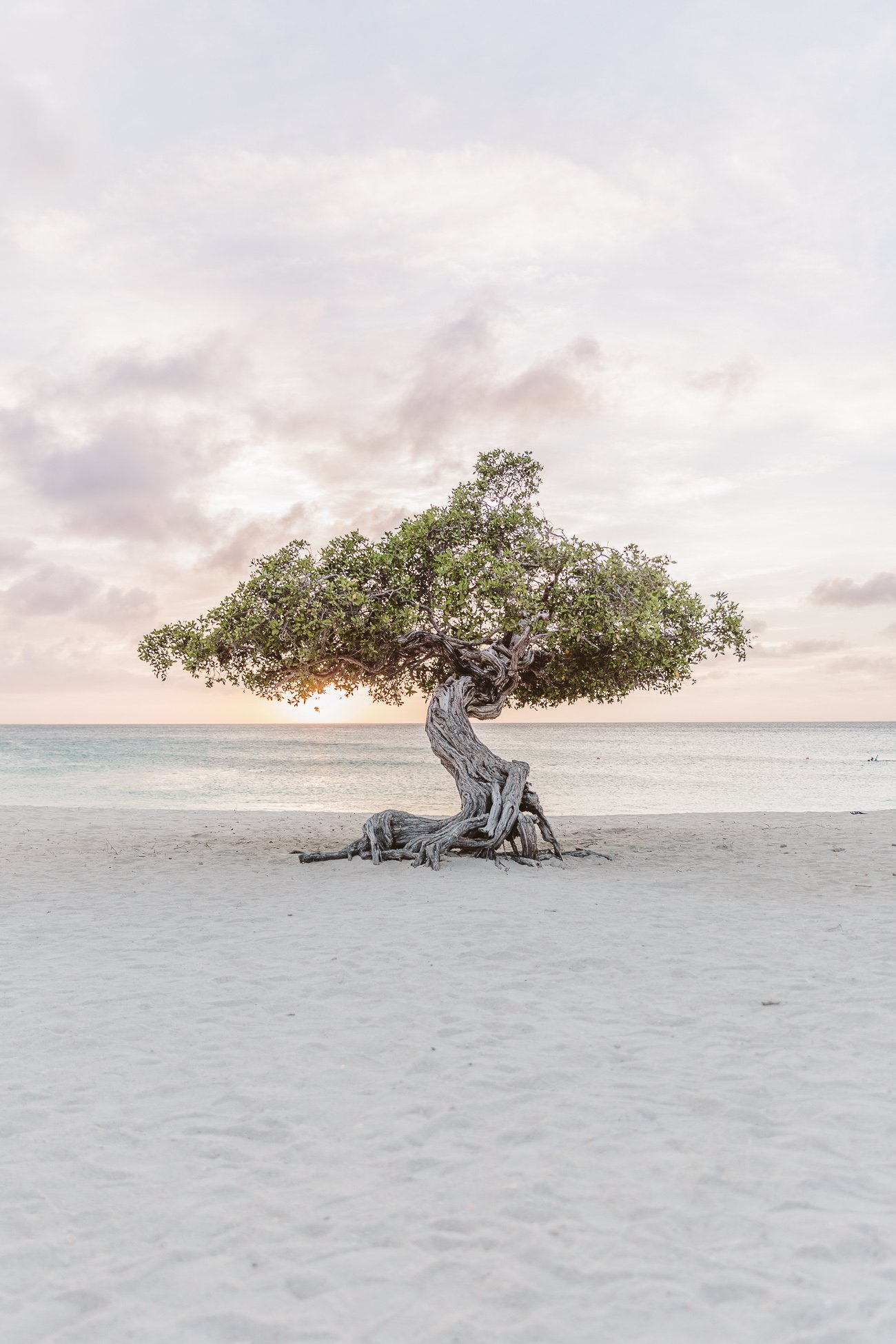 Eagle beach is famous for it's Divi Divi trees and the incredible sunsets.
After sunset you can have dinner at Gianni's Italian Restaurant and try the pasta out of a whole loaf of Parmesan flambé with Whiskey! A sure showstopper and perfect end for the first day on #OneHappyIsland.
DAY 2 in Aruba
Start your day with a healthy breakfast from Eduardo's Beach Shack. Think smoothie bowls and even vegan delights. This will get your spirits up for the first day of explorations. Visit the Butterfly Farm with it's various species and explore how butterflies hatch and discover huge caterpillars.
The golden cocoons are not jewellery, but really created by butterflies.
You can spend 1-2 hours at the Butterfly Farm easily – there's a lot to discover!
After the butterfly farm we also visited the Aruba Aloe Museum. This museum visit feels more like a sales show, but you can buy some really nice Aloe products here (that are obviously rather pricy). During your visit you'll learn some interesting facts about aloe and the history of Aruba's aloe industry while you can get a glimpse of the Aloe fields. You can also skip this and just buy Aloe products almost everywhere else 😉
The Aloe Museum is rather a factory with a shop than a real museum – so this isn't a must do. Only if you're really interested in the Aloe production!
After these museums it's time for lunch at "The West Deck", where you can enjoy the Tapas menu. Order multiple dishes and share – we recommend: Salad with pecan nuts and fresh berries, sweet potato fries, plantains and definitely the vegetarian samosas.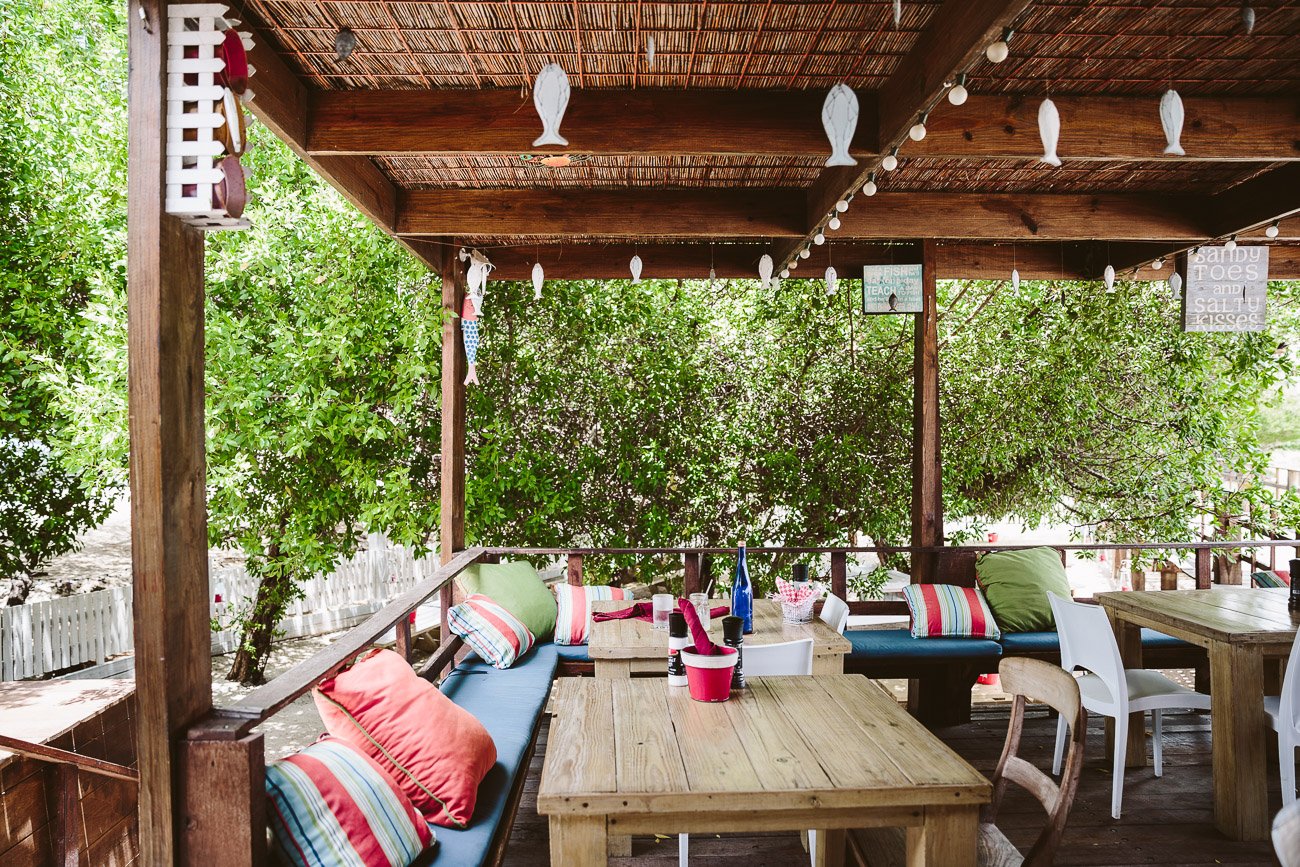 The West Deck is located directly at the seashore – so you'll get to enjoy the seabreeze while your lunch!
After lunch we always recommend to go back to the hotel and chill a little. This time of the day is the hottest and you can get sun-struck easily.
After a few hours of relaxation we recommend to visit the capital city Oranjestad in the late afternoon and stroll through the streets. There's not a lot to discover as the city is fairly small – wich also means it's best to do this after the cruise ships have left in the afternoon. Otherwise it might get pretty dense and crowded in the city centre.
During the afternoon hours Oranjestad is a quaint little city, which shines in pastel colours.
The approximately 35.000 inhabitants of Oranjestad don't really frequent the city centre, so there's not a lot to discover. After a few pastel coloured houses and the "famous" green coloured townhall you'll probably be done with your sightseeing tour. You don't need to plan more than an hour for the city tour (unless you want to go shopping in the modern mall with it's luxury brand shops like Gucci, etc.).
Oranjestad has the prettiest facades, but otherwise feels a bit like a sleepy nest.
After walking around the city you deserve to be back at the beach for sunset: Have Dinner at Barefoot Restaurant and watch the sunset from a chair in the sand. This place offers fancy food, but in a relaxed beach vibe. We recommend the incredible Honey Dijon Soup (if you ask they even make a special vegetarian version of it) and the Portobello Risotto.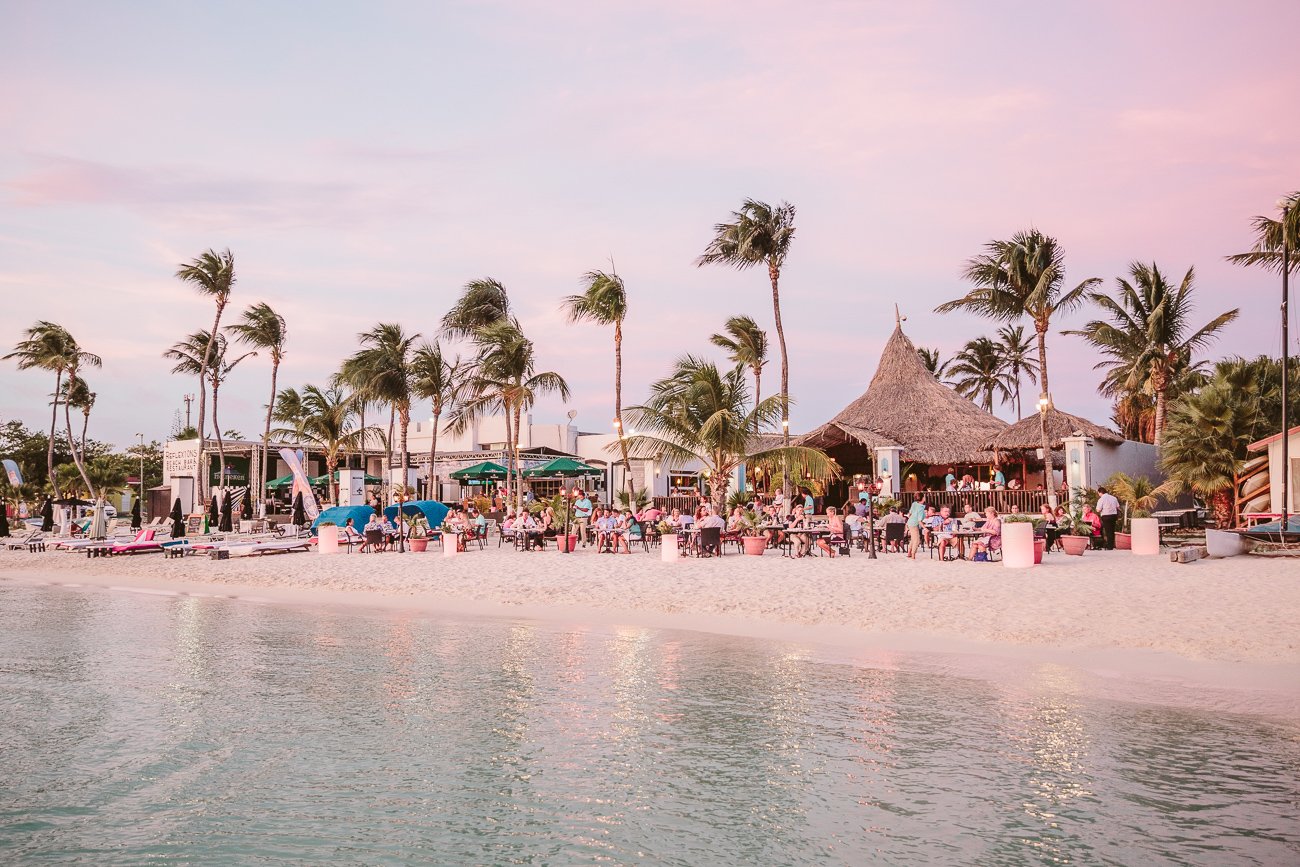 Stick your toes in the sand, watch the sunset and enjoy an incredible dinner at Barefoot Restaurant!
DAY 3 in Aruba
Today we recommend to eat Breakfast at Antesala Café. Here you can mix your own smoothies (choice of fruit and milk – even vegan ones, flax seeds, chia seeds, agave juice, etc.). The food (and unfortunately also the breakfast) in Aruba is in general rather fatty with a lot of fried options. We recommend to order an omelet if you want a less heavy choice 😉
After breakfast you can drive to Mangel Halto and go on a guided Kayak tour at Aruba Kayak Adventure. Make sure to wear sunscreen with at least SPF 50. After a short introduction you'll get your lifejackets and paddle along the beach towards Mangel Halto – a beautiful, natural beach with some palm leaf covered huts.
The water at Mangel Halto is incredibly clear.
You can also stop there by car and just jump in the water to swim and snorkel from the shore.
After the Kayak tour the guides will hand out snorkel gear and together you will swim to the best spot at the natural reef. It's incredible how many fish you can see here. You won't want to leave the water! Make sure to tell the guides not to dive up any starfish or other sea creatures (they are trained to do so for a great show, but it's really not in the best interest of the eco system).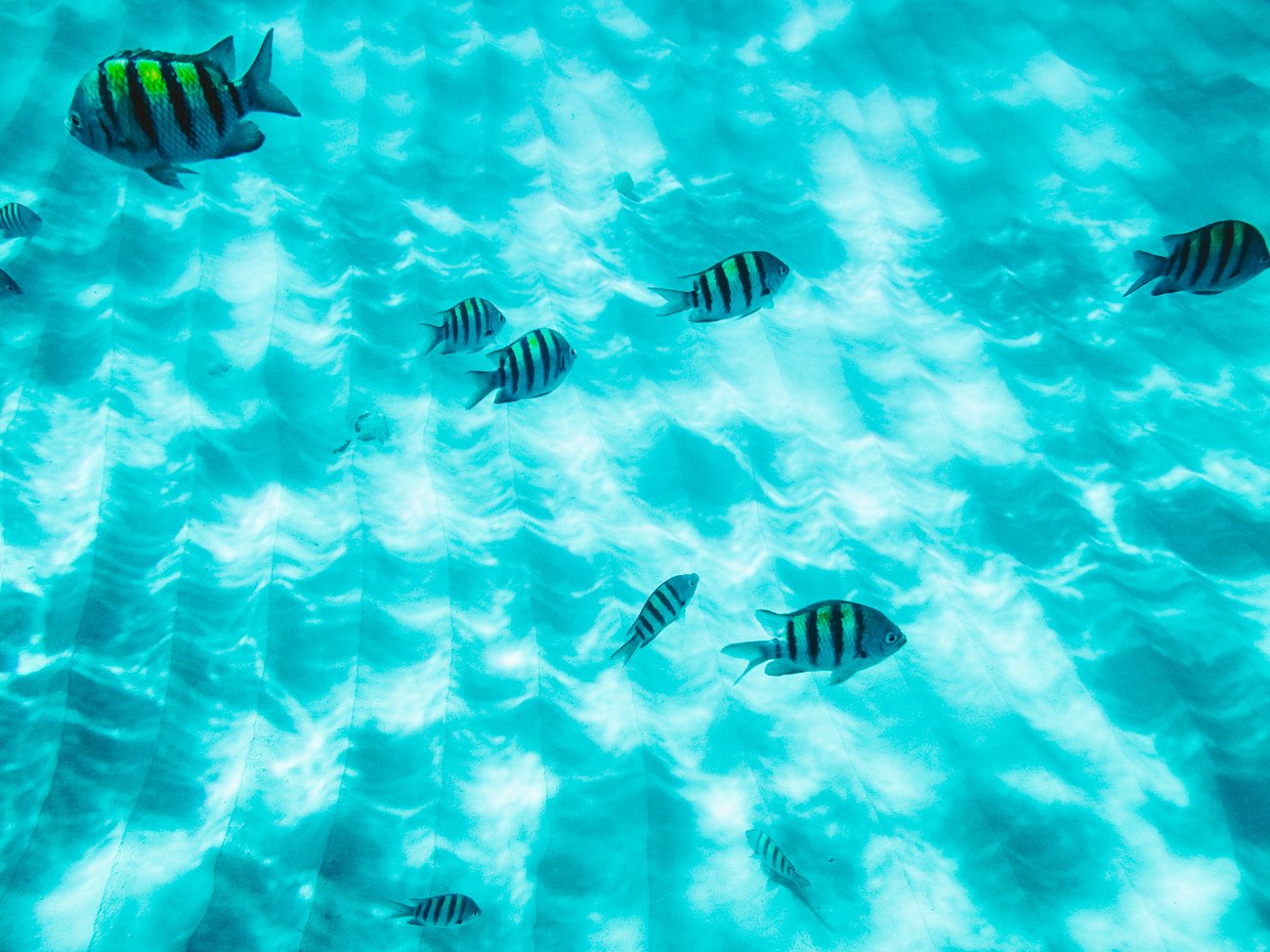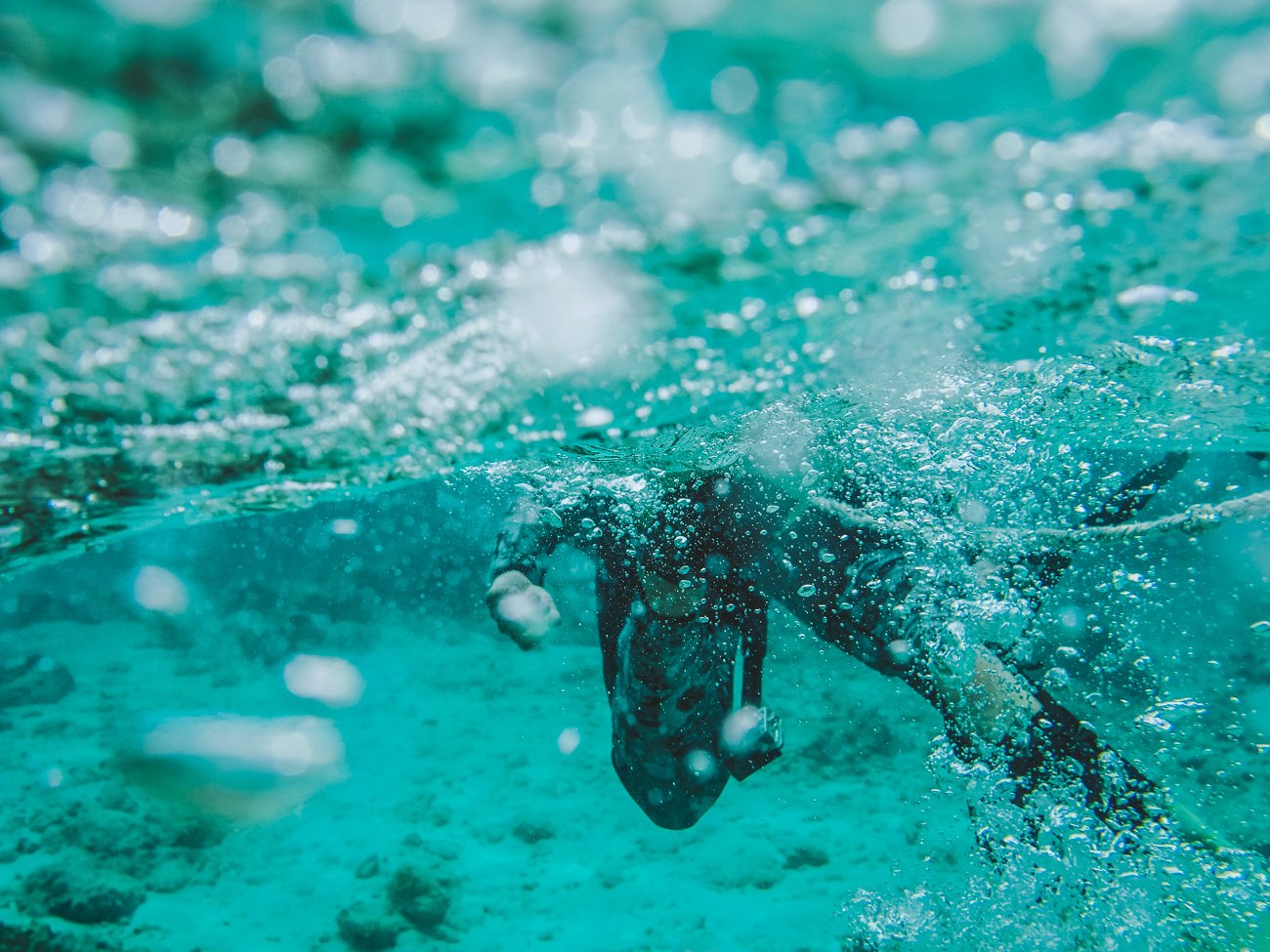 Now it's time to drive back to the hotel and eat a light lunch and relax. You probably caught a lot of sun during the trip so now it's a good idea to take a break in the shadow! 😉
Today we recommend having a romantic dinner at the really elegant Papiamento Restaurant. You'll be seated next to the pool and can enjoy the wonderful atmosphere. Unfortunately there aren't too many vegetarian options, but for meat and especially fish eaters this is a great place.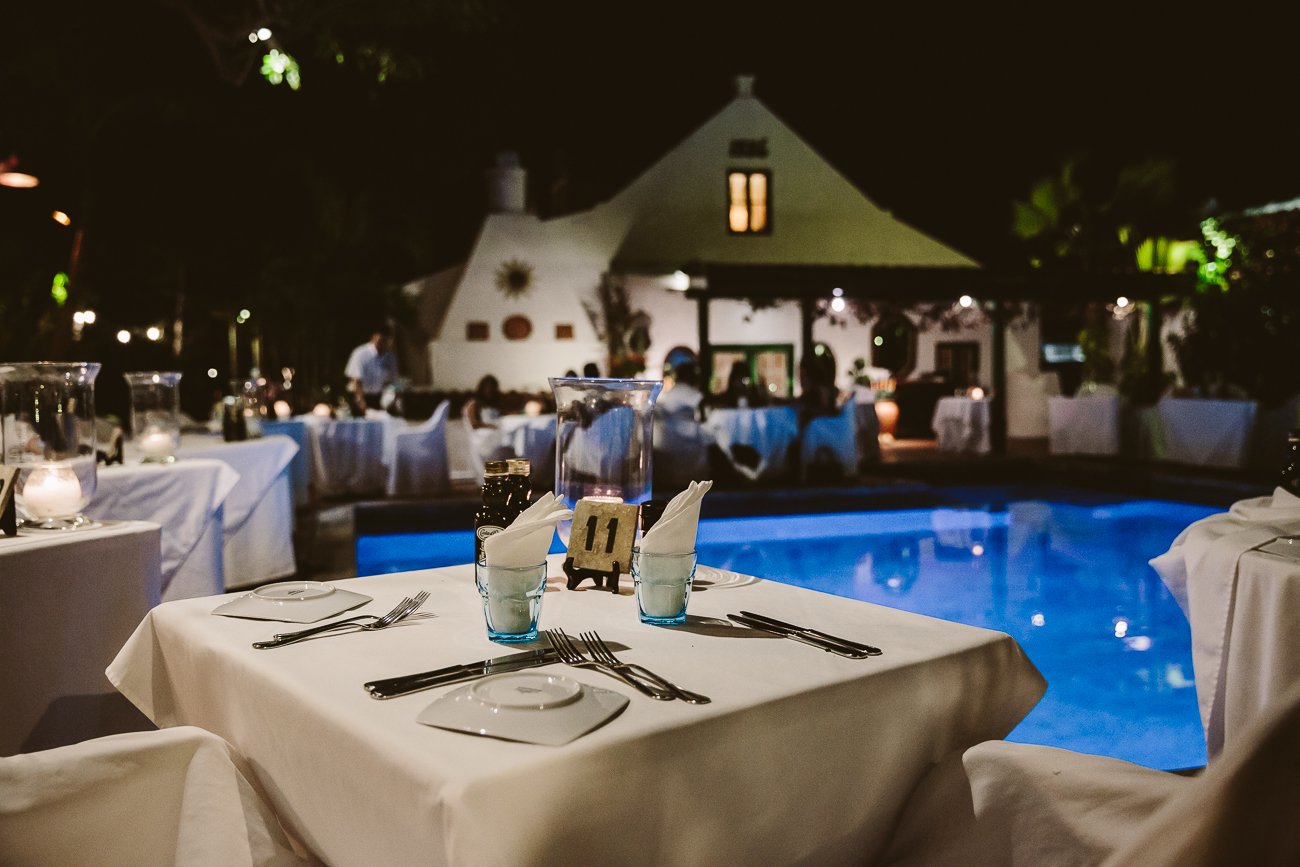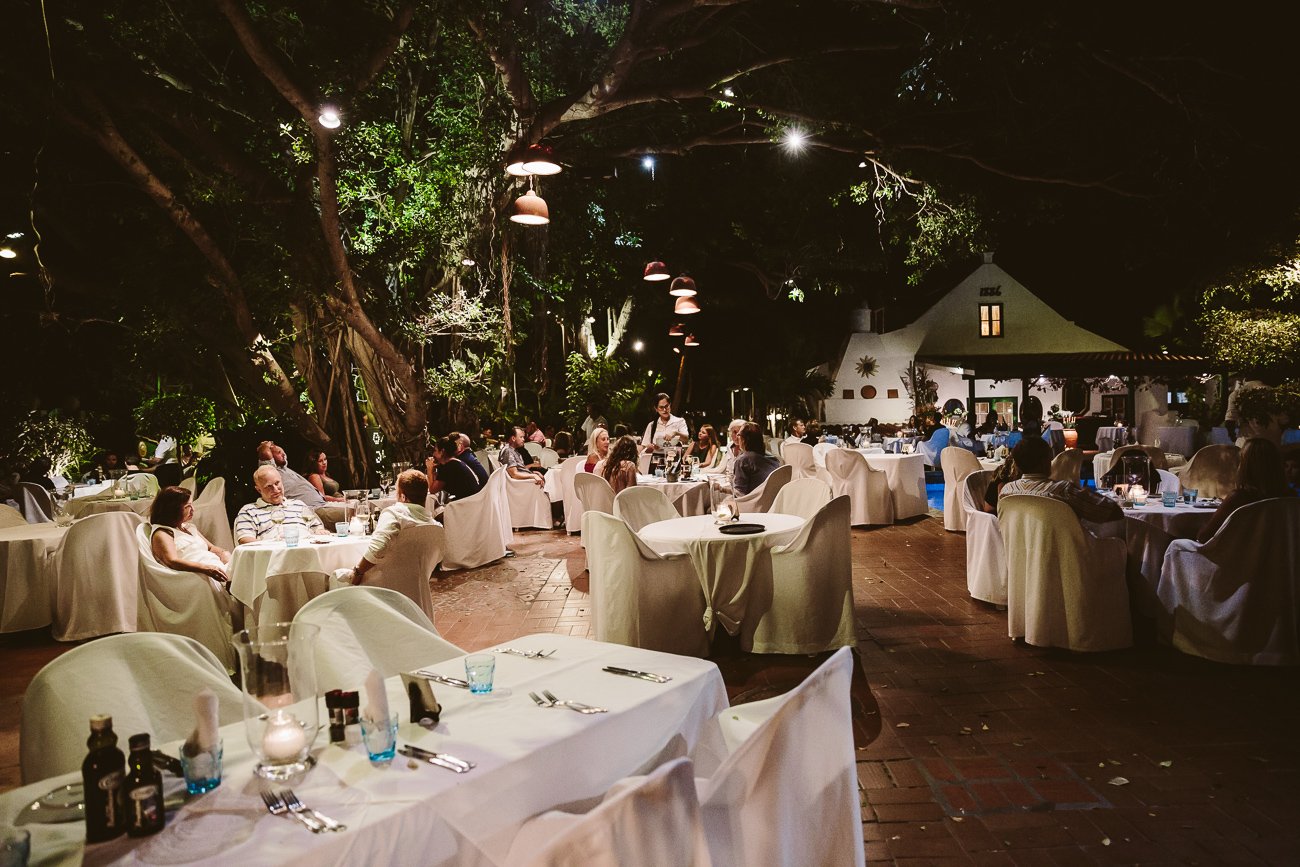 DAY 4 in Aruba
Today you'll have to get up early for a special experience. Take your car and drive to watch the sunrise at the Alto Vista Chapel. You likely won't be alone here, as Arubans gather here for church service (if it's a Saturday) during sunrise.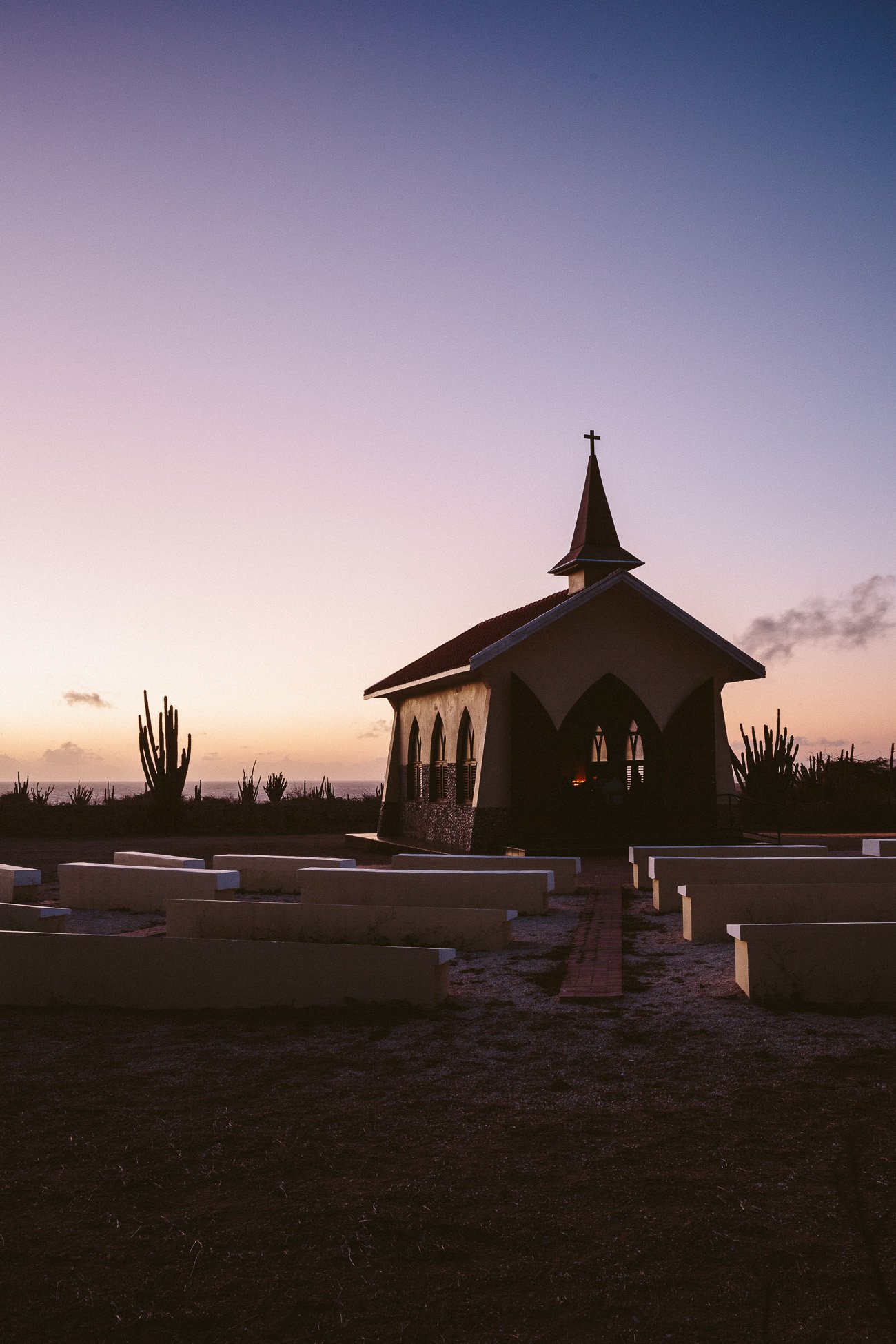 Make sure to also follow the signs to Altovista Trail for some great viewpoints over the ocean! It's an easy and light hike, but make sure to bring closed shoes (everything has thorns here). While you hike along the trail you can listen to the church community chant their worship songs. It's a magical scenery while the sun rises above the ocean!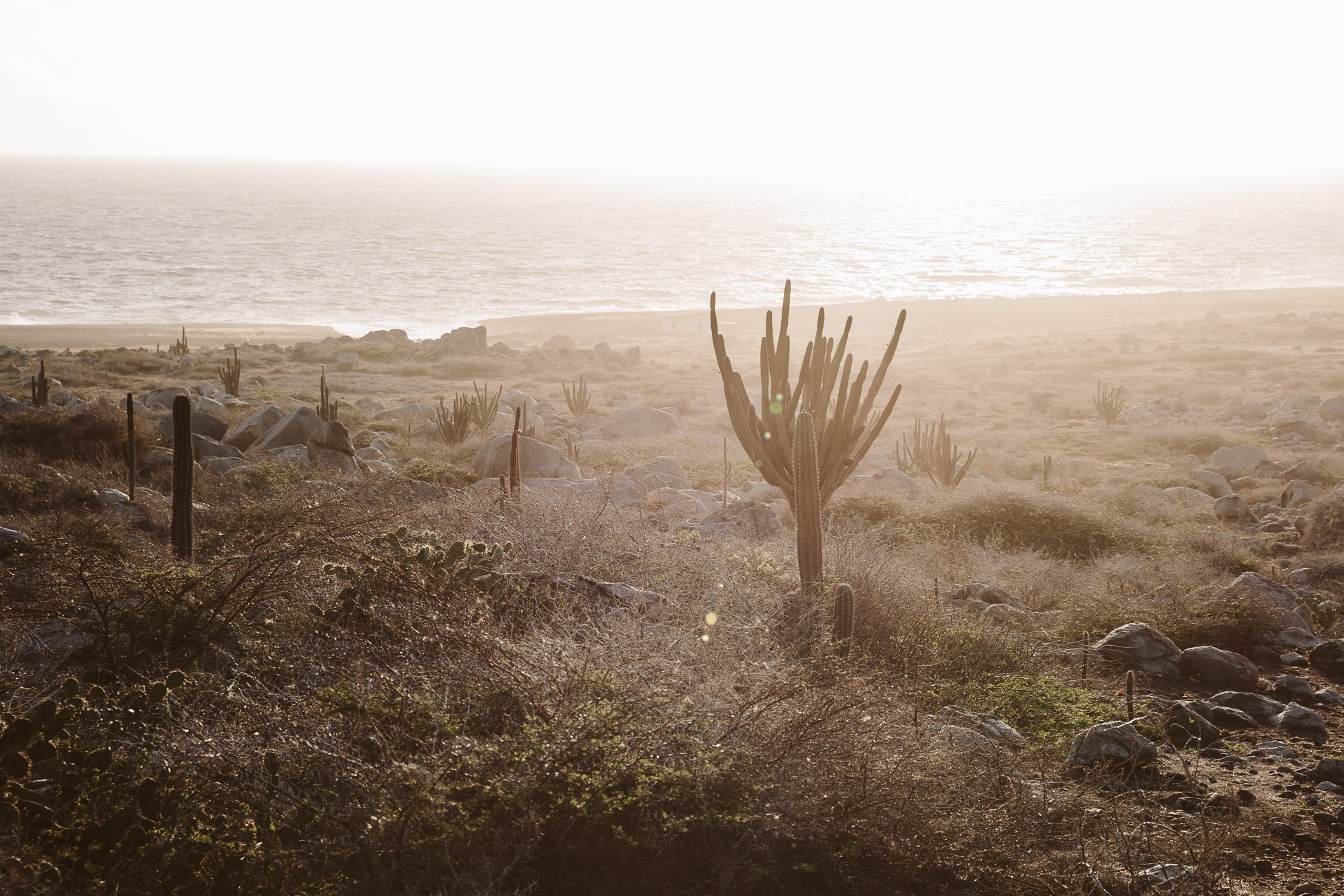 After this you deserve a hearty breakfast. Go eat at "Salt & Pepper" and enjoy the French Toast with fresh strawberries and the different omelettes. Just be warned: Portion sizes are huge, so don't order too much off of the tempting menu 😉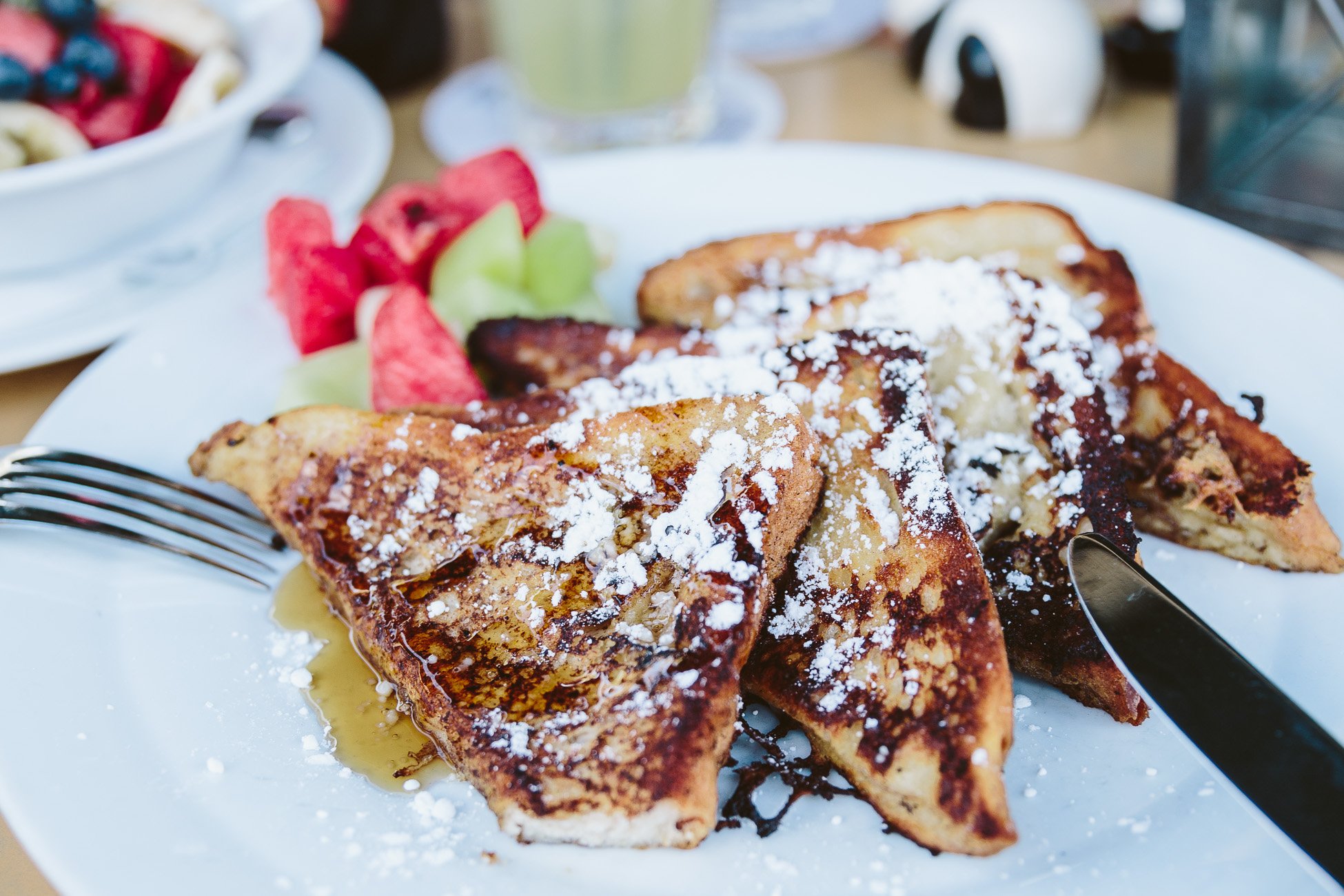 Now you might want to take a break at the hotel pool or the beach and take some time to digest 😉
In the afternoon we recommend to drive to San Nicolaas and discover the street art. Don't go to early, so you don't have to spend too much time in the direct sun light – as the streets here aren't lined with trees.
The street art of San Nicolaas is a must see – and best enjoyed in the late afternoon hours.
If you're in San Nicolaas it's a must to eat or at least have a drink at Charlie's Bar. The atmosphere is one of a kind and the food supposedly really good (just not really made for vegetarians). As vegetarians we only got to eat rice, beans and (at least freaking awesome tasting!) dollar chips. Try the spicy Papaya sauce!
DAY 5 in Aruba
It's time for a beach day or a day on a boat (or a combination of both!). We did a sailing trip with Jolly Pirates, which we wouldn't recommend. It's an overcrowded boat with free booze and all the snorkelling stops are spoiled by too many people at the spot at the same time. Rather opt for a private boat trip on a smaller vessel. We didn't test this, but found this private boat trip offer, that sounds quite good!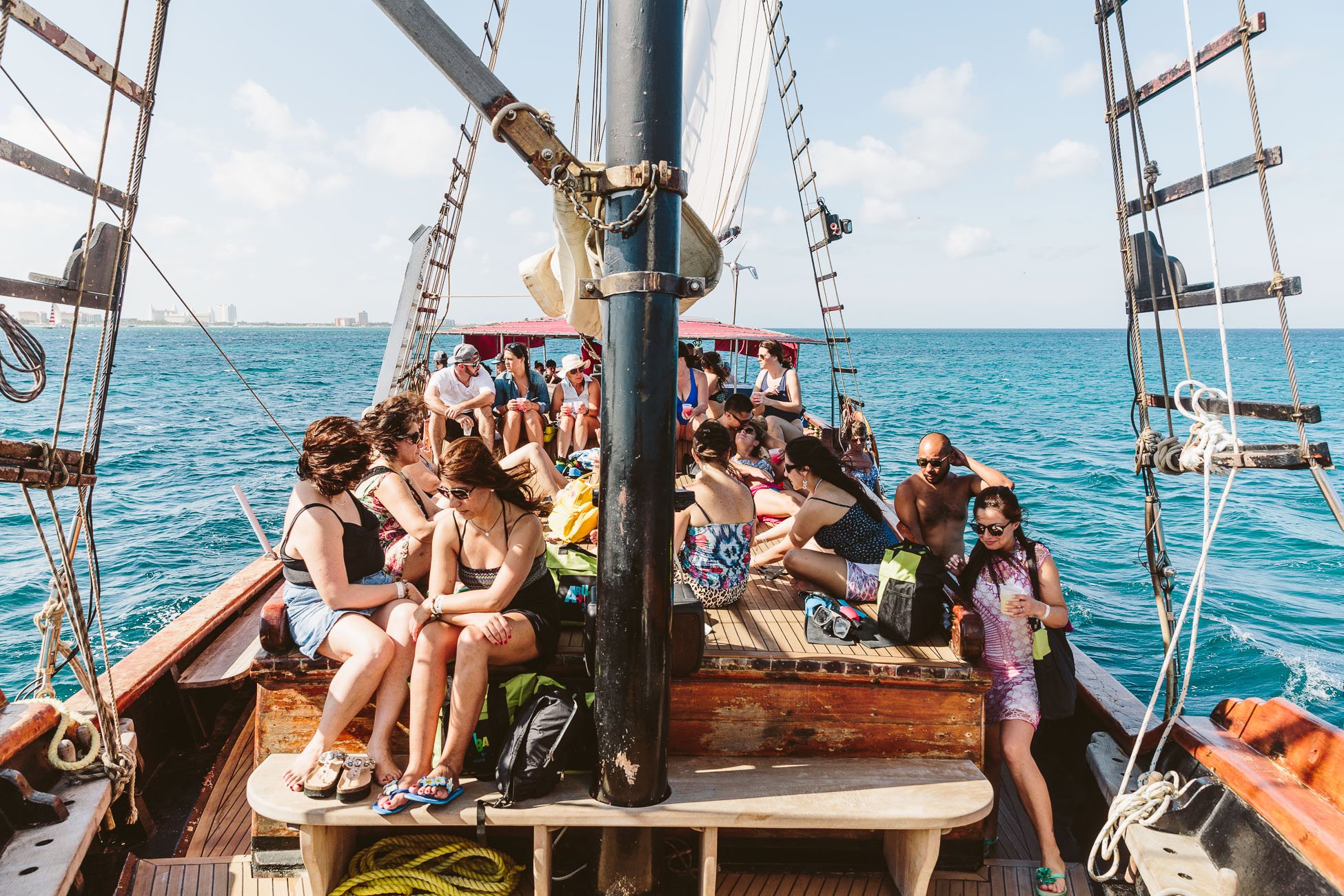 As beautiful as the ship of Jolly Pirates might be, the crowds take away from the pleasure.
Definitely make a stop at the Antilla Shipwreck to snorkel (or even dive) here. You can discover countless fish and the huge shipwreck. Actually you don't even have to dive to see all of it as the water isn't too deep here.
An afternoon at the beach in Aruba
If you want to stay at the beach in the afternoon there's a lot of options. But be warned: Not all of the beaches in Aruba have amenities or offer spots in the shade! Therefore we show you some of our favourites.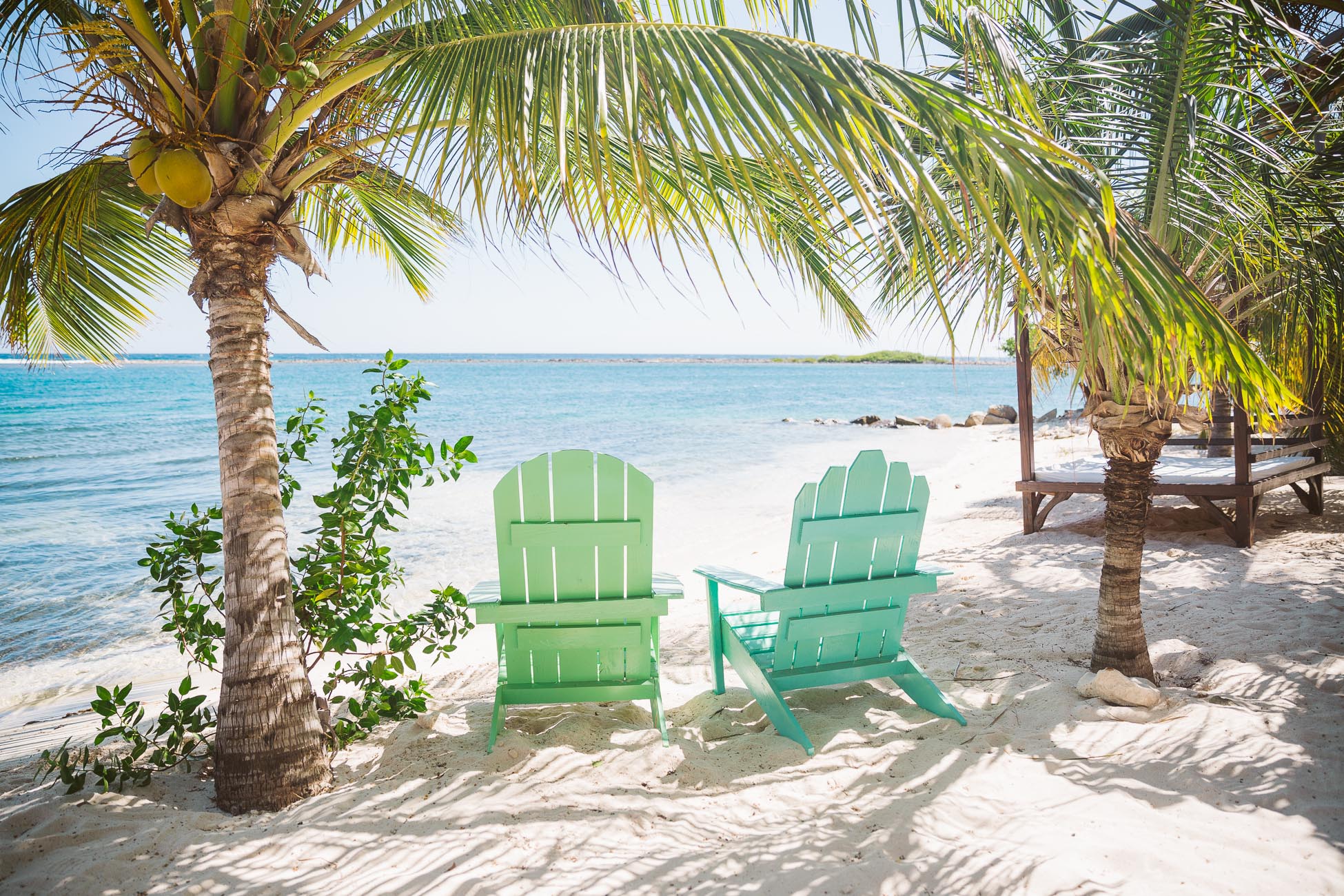 Our favourite beach is probably this private hotel beach of "The Old Man and The Sea".
But unfortunately it's not publicly accessible!
Top 3 Beaches in Aruba
The local favourite is Baby Beach in the very South. It's a great family beach with all the amenities you might be looking for. There's a beach bar and restaurant, huts, restrooms – everything you need!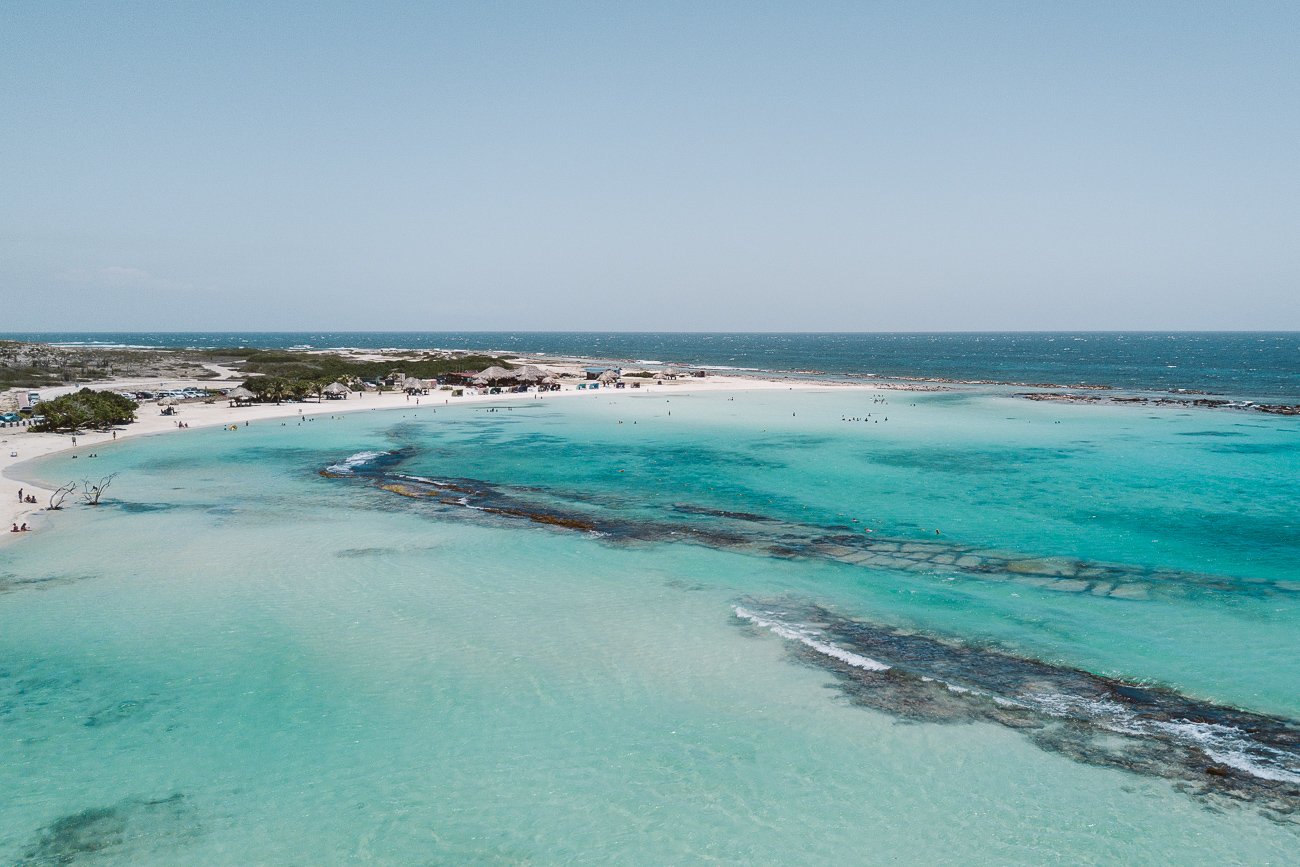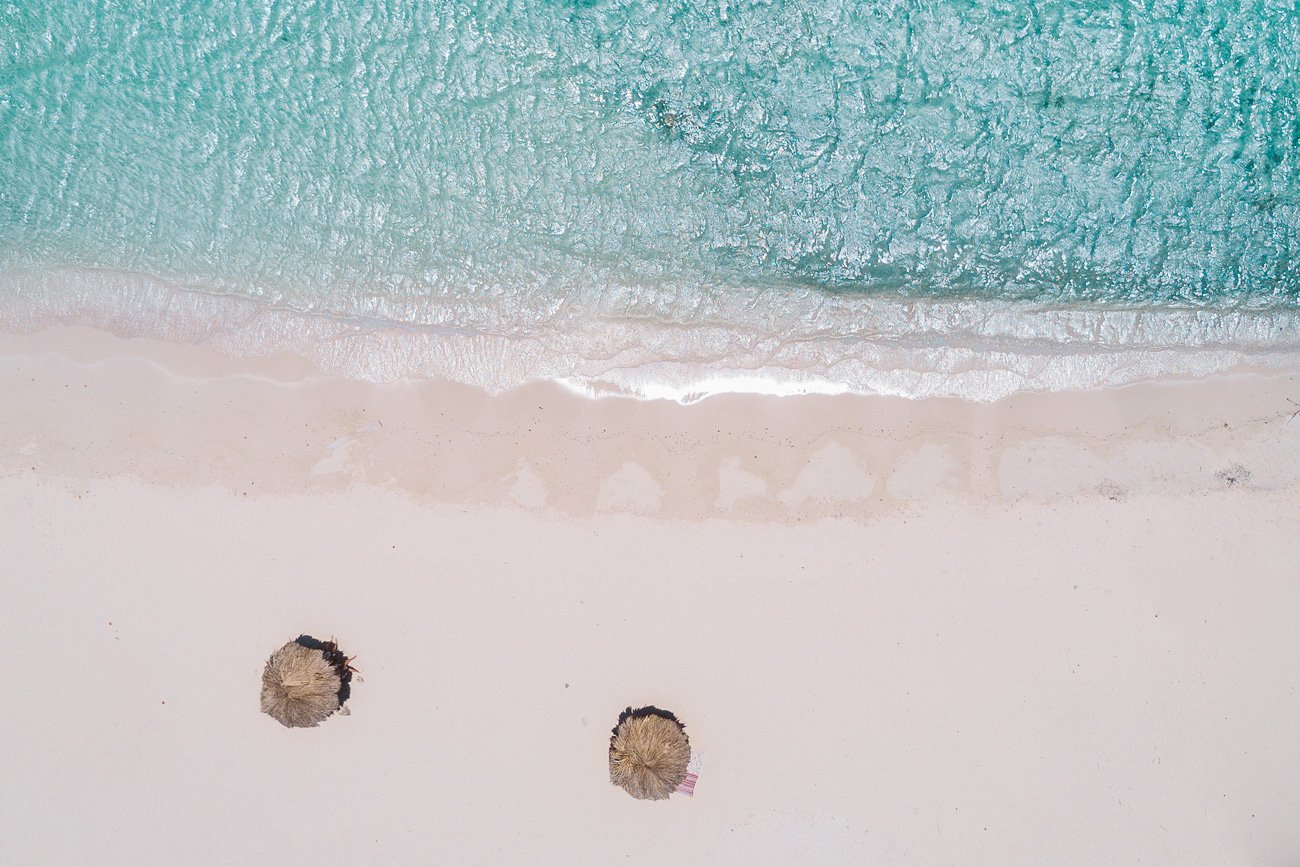 Baby Beach in the South of Aruba
In the very North there's Arashi beach, that is a beautiful stretch of beach with enough shadow and easy access. In general the parking lots are always only steps away from the beaches in Aruba!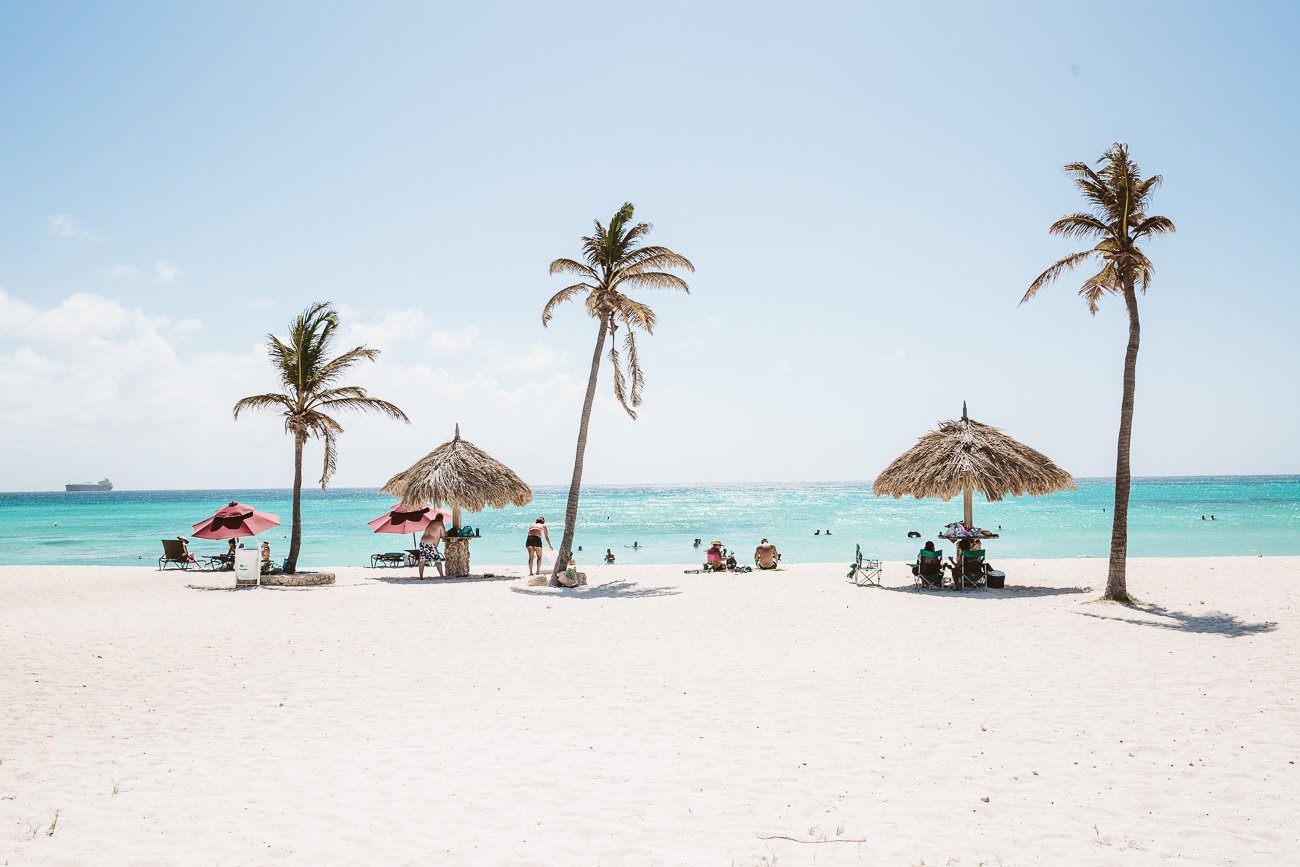 Arashi Beach is located in the North an features a wide stretch of white sand and even some palm trees.
We loved Boca Grandi – although it's on the East side, which is the windy and rough side of Aruba. Most of the East is rocky, but Boca Grandi is a wide stretch of powdery sand. This isn't a beach to splash in the water, but it's the place where the kite surfers ride the waves and use the wind.
Of course you can swim here, but there will be waves. The advantage: You will be alone with the kite surfers – not a lot of other tourists frequent this beach. The disadvantage: There's no shade and no amenities for visitors.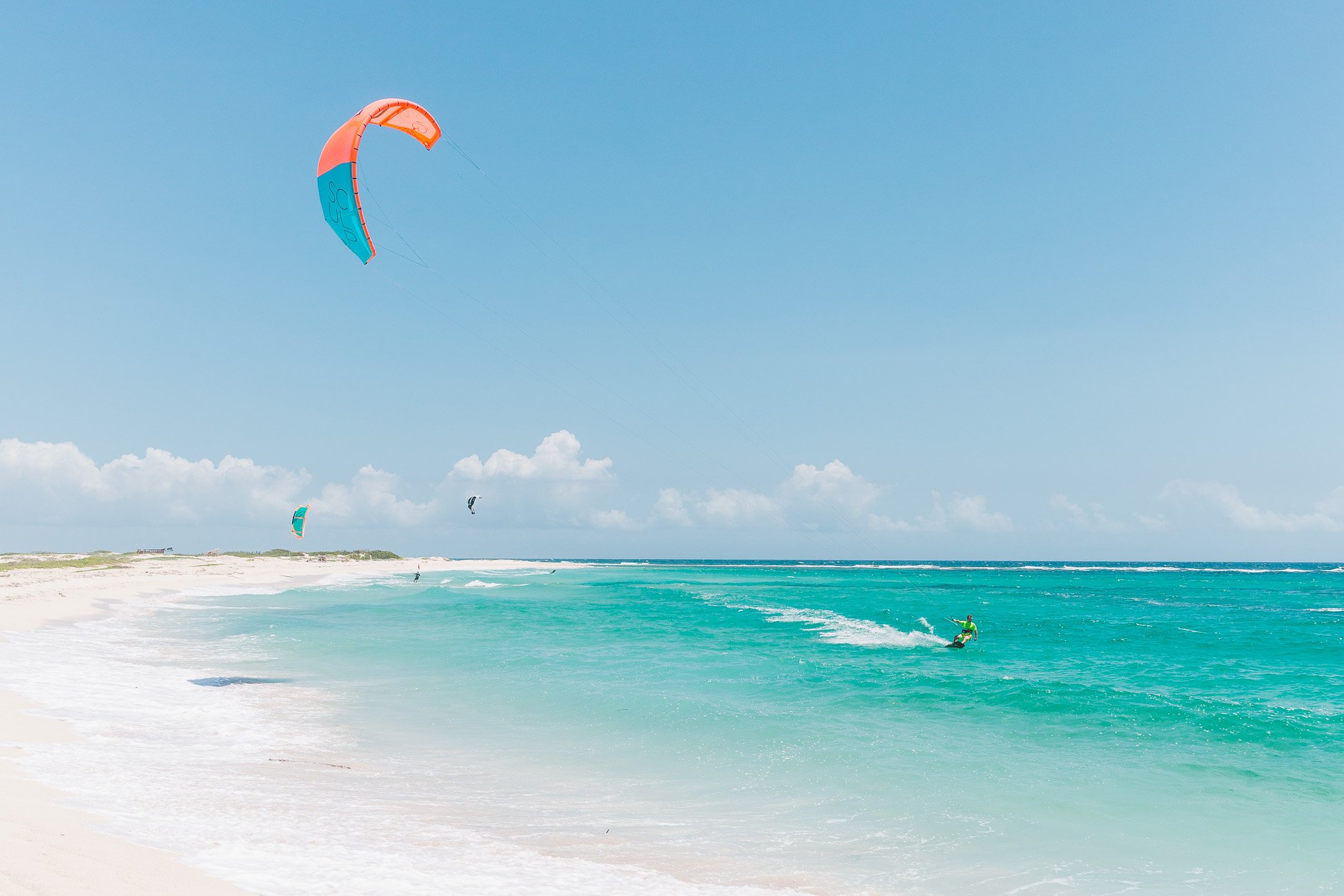 Kite Surfers love Boca Grandi beach in the East of Aruba.
Dinner after the beach day
After this afternoon at the beach you deserve to showcase your new bronzed tan and go out for dinner 😉 If you're into Sushi you might enjoy "Azia Restaurant & Lounge" – if you prefer grilled meat or fish, we recommend "Aqua Grill Restaurant".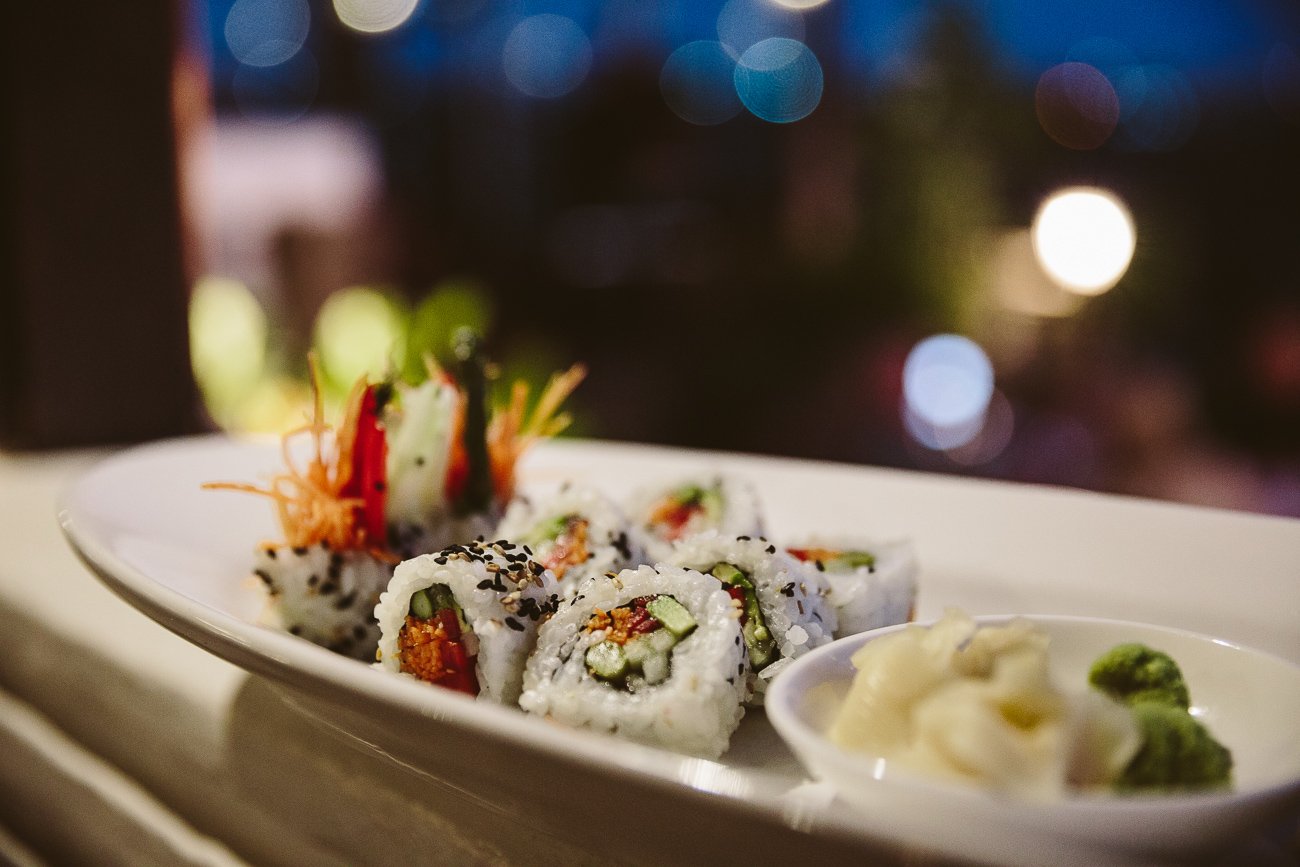 We really enjoyed the vegetarian Sushi from Azia Restaurant & Lounge in Aruba!
DAY 6 in Aruba
Today you'll have the chance to get active again 😉 We recommend to visit the Arikok National Park. We took a guided tour, where we learned a lot about the flora and fauna, but we wouldn't necessarily recommend this. Especially not in the soaring sun – as our hike turned out to be a guarantee for a sun stroke. Instead take your car and drive around the park (but stay on the roads!). Or opt for the tour in the early morning, when it's not as hot!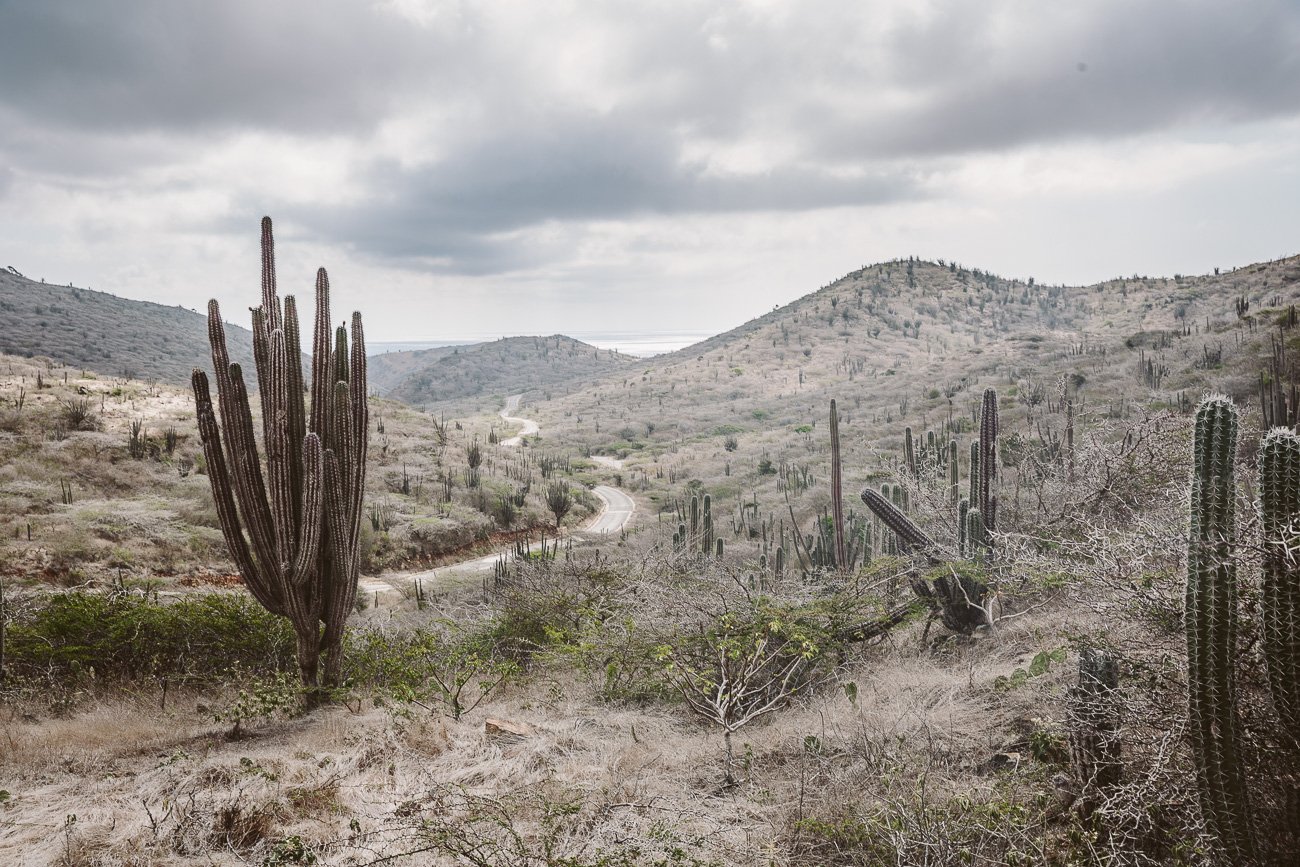 The view from Mira La Mar lookout point at Arikok National Park.
You can discover some interesting places during your trip through the National Park.
Highlights of Arikok National Park
Dos Playas: A wild bay with turquoise water.
Quadirikiri Cave: You can explore this cave without a guide, which is a plus. Also the holes in the roof let the light in beautifully.
Fontein Cave: This cave is not as spectactular, but has ancient Indian paintings, which allow for an interesting peak into the history of the island.
Dos Playas at Arikok National Park Aruba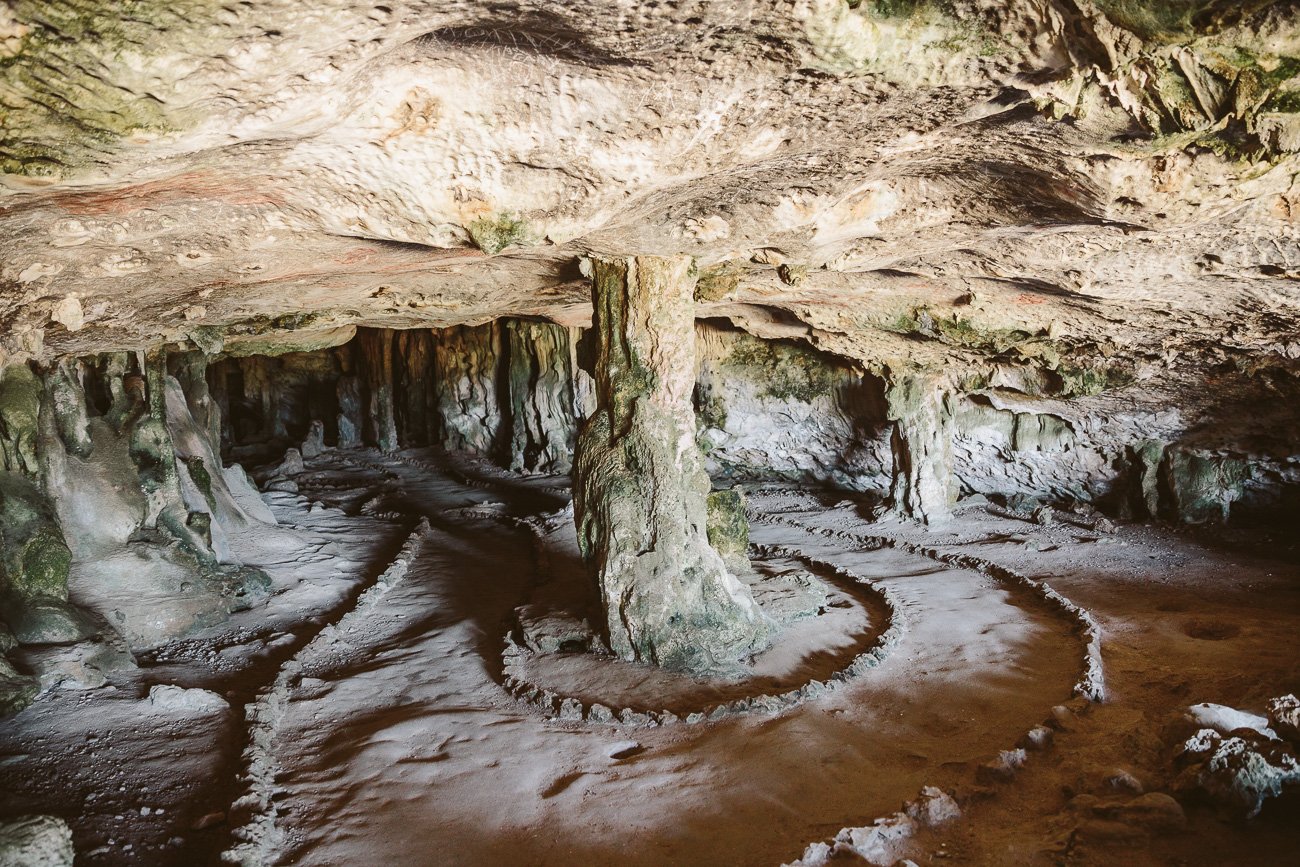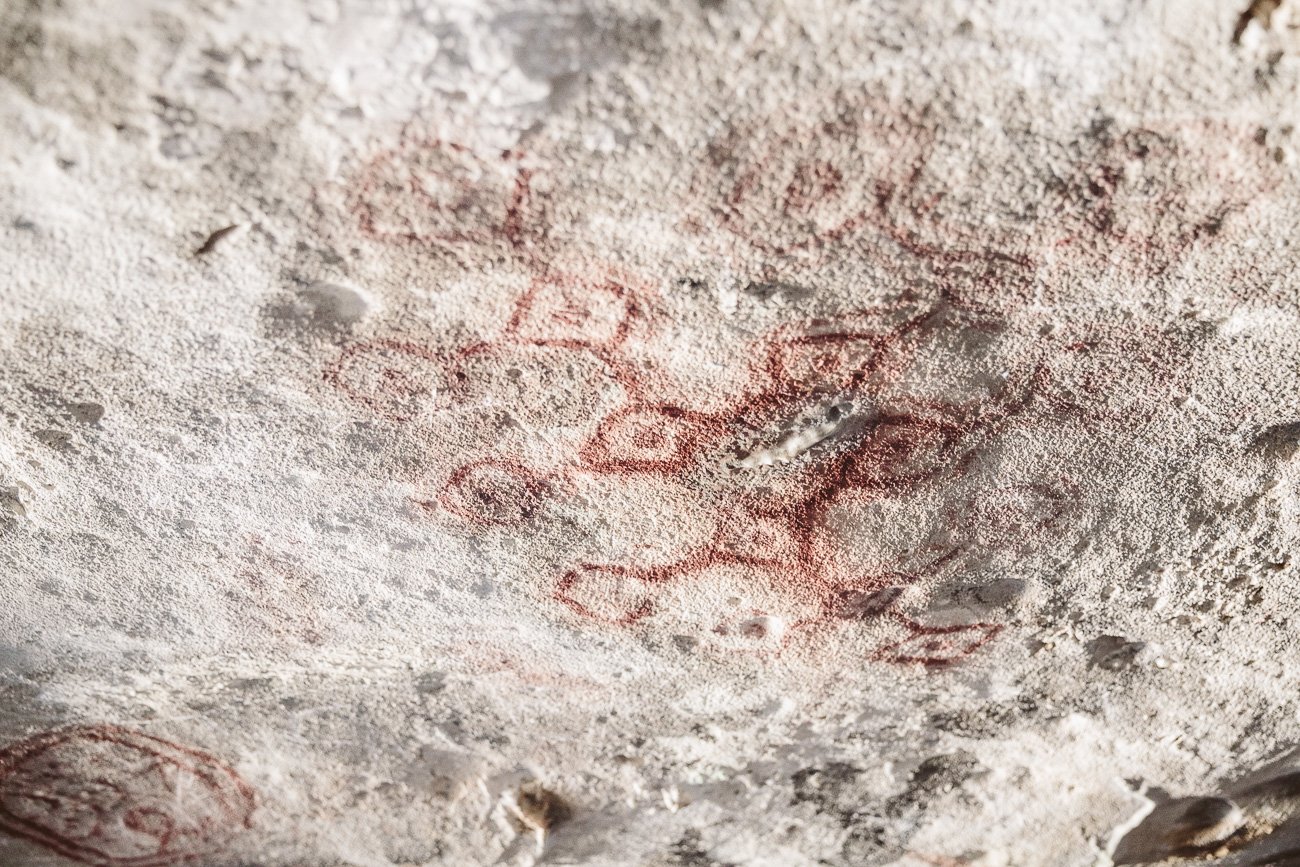 Fontein Cave with ancient native paintings Arikok National Park
Our favourite: The Quadirikiri Cave at Arikok National Park!
After this tour you can enjoy a very typical lunch at Boca Prins Restaurant (they don't have a website, but this is the address: San Fuego 70, 7, Aruba). This is the only place where we got a rather diverse vegetarian plate with fried vegetable rice, plantains and polenta – all served with a delicious Aruban sauce (you must try this sauce – and probably re-order it multiple times like we did). There's even a (rather rustic) fish spa behind the restaurant that you might want to try 😉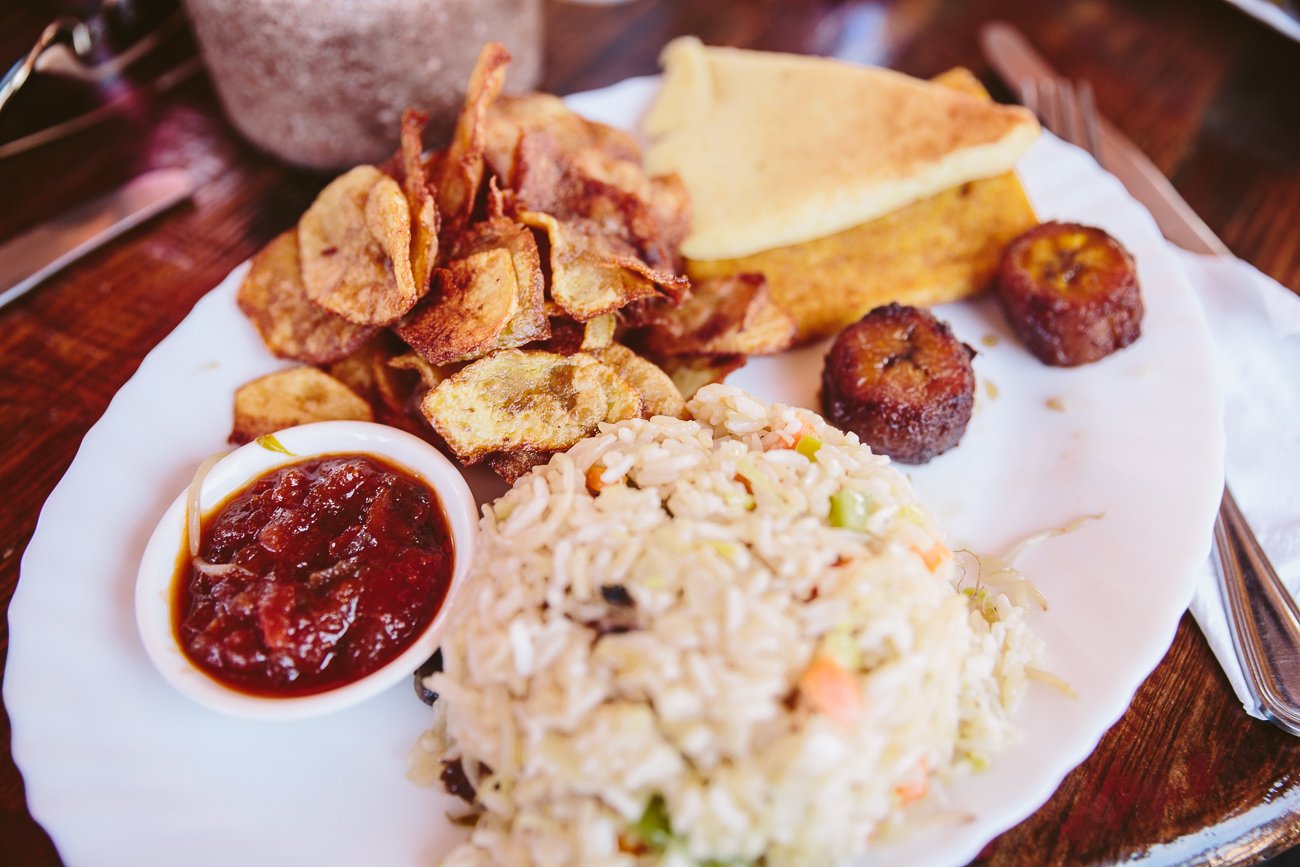 After these explorations of Arikok National Park we recommend to drive back to your hotel and have a relaxed afternoon.
Later on in the day you can drive to the very North for sunset and dinner at the California Lighthouse. The views of the sunset from the top of this hill are incredible and the Italian restaurant "Faro Blanco" serves the biggest bowls of Pasta we have ever seen (doggy bag alert!).
After the sunset a dinner at Faro Blanco is a wonderful farewell from Aruba!
DAY 7 in Aruba
Before you leave for the airport – we recommend eating a final breakfast – either at the beach or maybe you fancy some fresh waffles at "Taste of Belgium".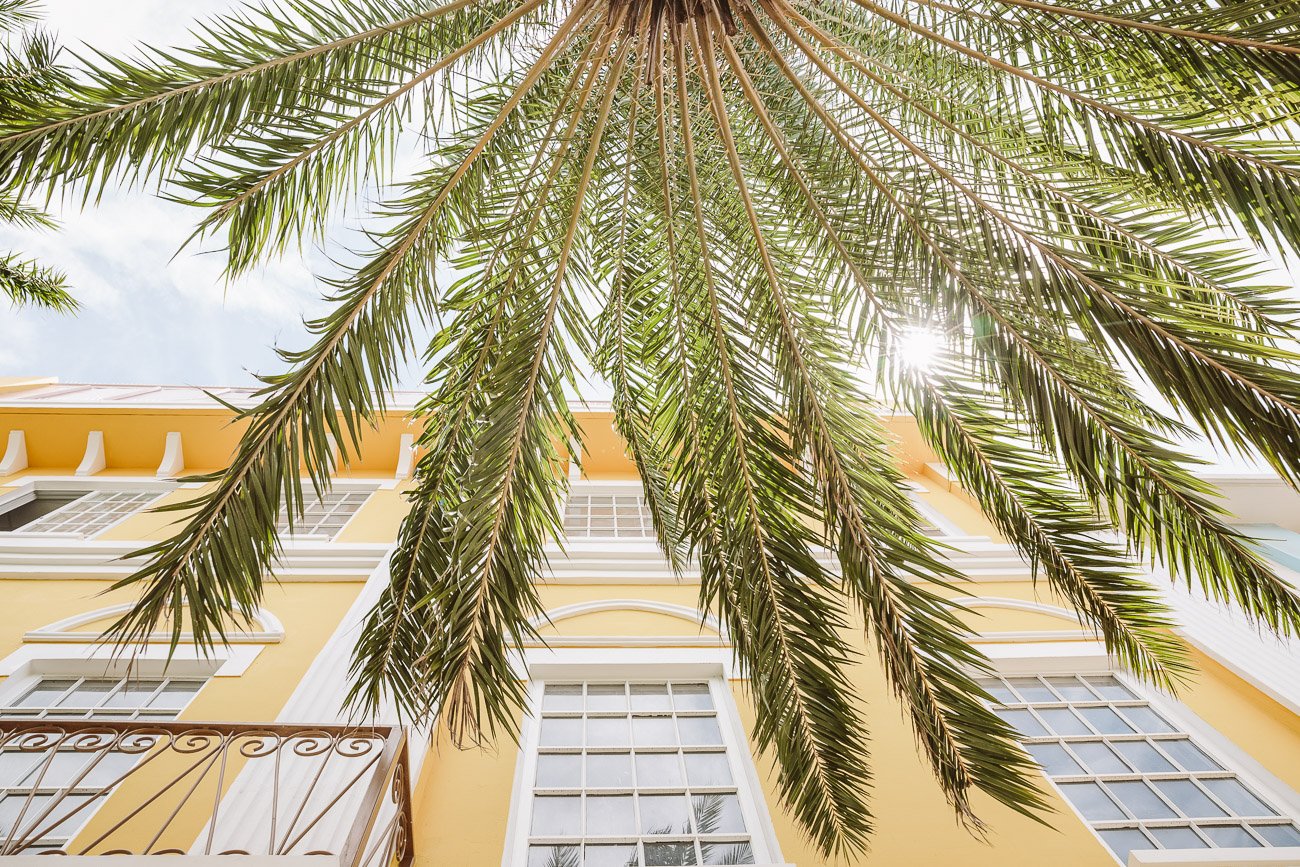 A last look at the palm trees of Aruba before you're off to the airport!
What to skip
Resist the urge to visit the flamingos at Renaissance Island (even if it's hard!)… Because of all the flamingo photos on Instagram we also wanted to go, because we thought that Aruba has wild flamingo colonies, but turns out only neighbouring Bonaire has!
So if you want to see flamingos in the wild you're better served visiting Bonaire.  The flamingos in Aruba are confined to a small beach on a private island owned and operated by a hotel, for which you have to pay an entrance fee of 100 dollars if you aren't a hotel guest.
It isn't easy to get tickets for the island and once we were there we were quite shocked by the state of things – it seems the flamingos had their wings cut, so they wouldn't escape from all the visitors who were posing for selfies and even touching the usually incredibly shy animals. It's a truly rewarding experience to see flamingos in their natural habitat, but this feels like a zoo, where the flamingos aren't even protected from the visitors by walls.
The poor flamingos cannot escape and are being truly harassed by the guests all day long. We heard rumours that one of the flamingos had to be rescued and brought to a hospital because he got sick from the stress and exposure to humans. So please bare in mind that you are hurting animals when you visit this place!
Instagram vs Reality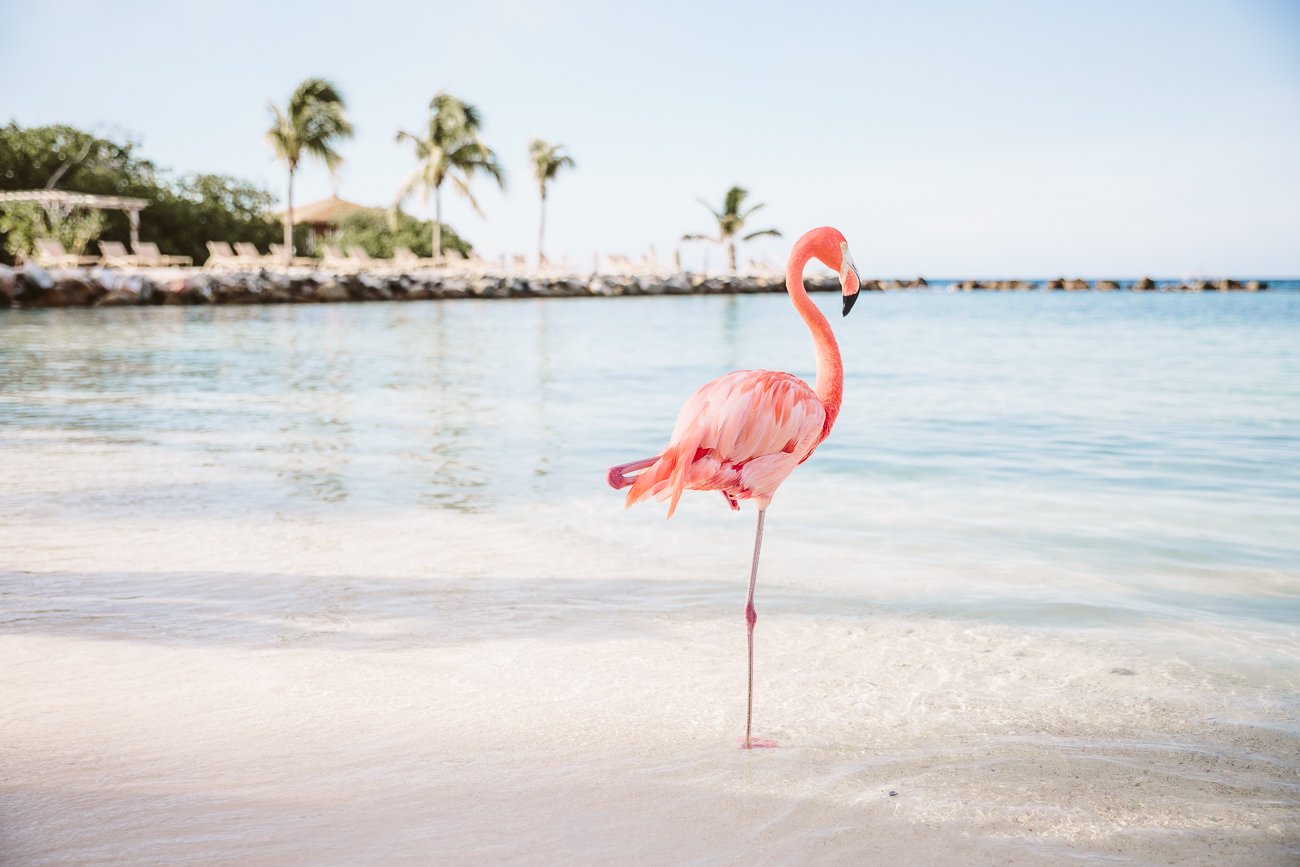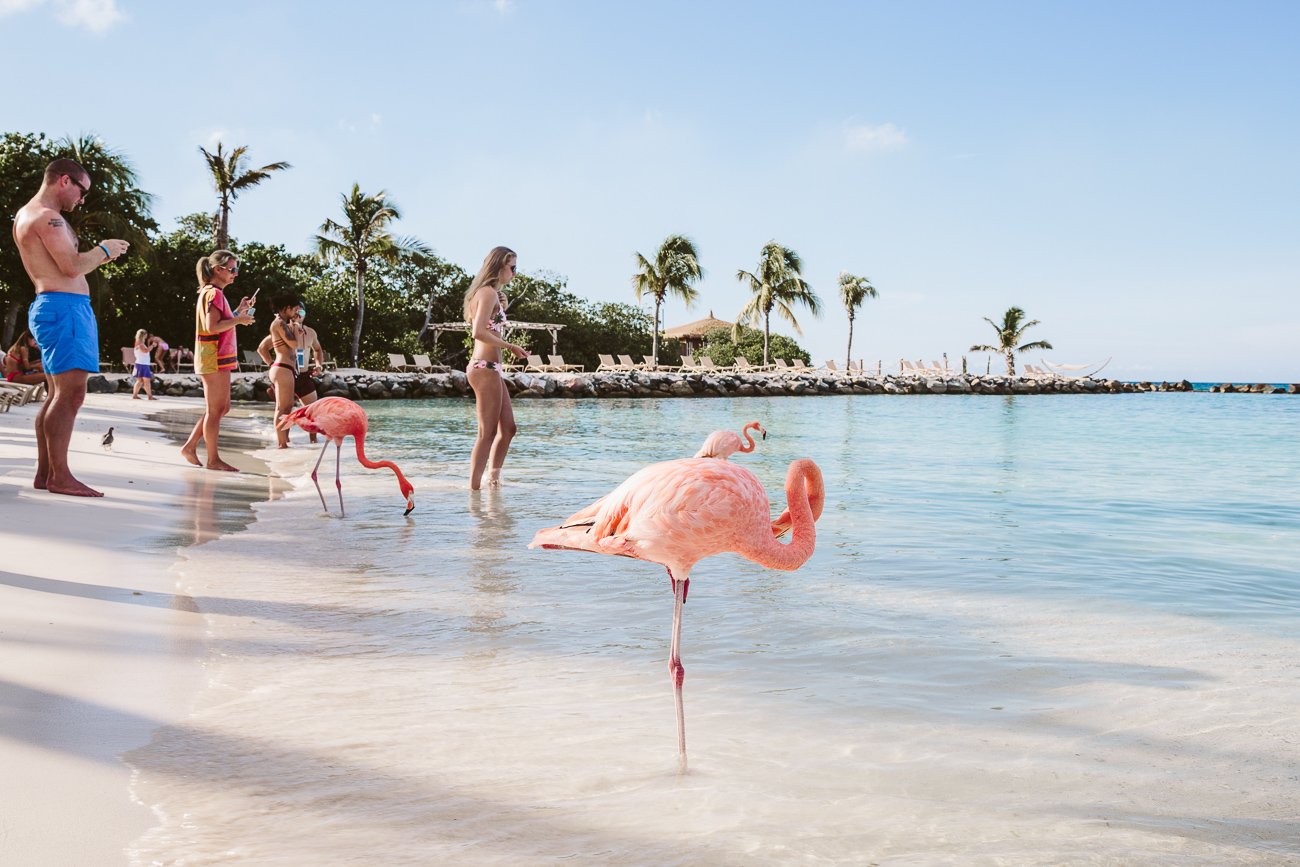 Here's the reality of the life of the flamingos in Aruba – this shouldn't be supported!
We hope you liked our one week itinerary for Aruba.
Let us know what you think in the comments!
If you're interested in more infos about Arubas weather, how to get there and our hotel tips – check this blogpost:
Save this post for later on Pinterest:
Disclaimer: We were invited to the island by the Official Tourism Board of Aruba. The views in this report are our own.