When reviewing a hotel it's always a challenge to test all the amenities in a short time. Our stay at Acqualina Resort & Spa was even shorter than expected – since we got evacuated due to Hurricane Irma approaching.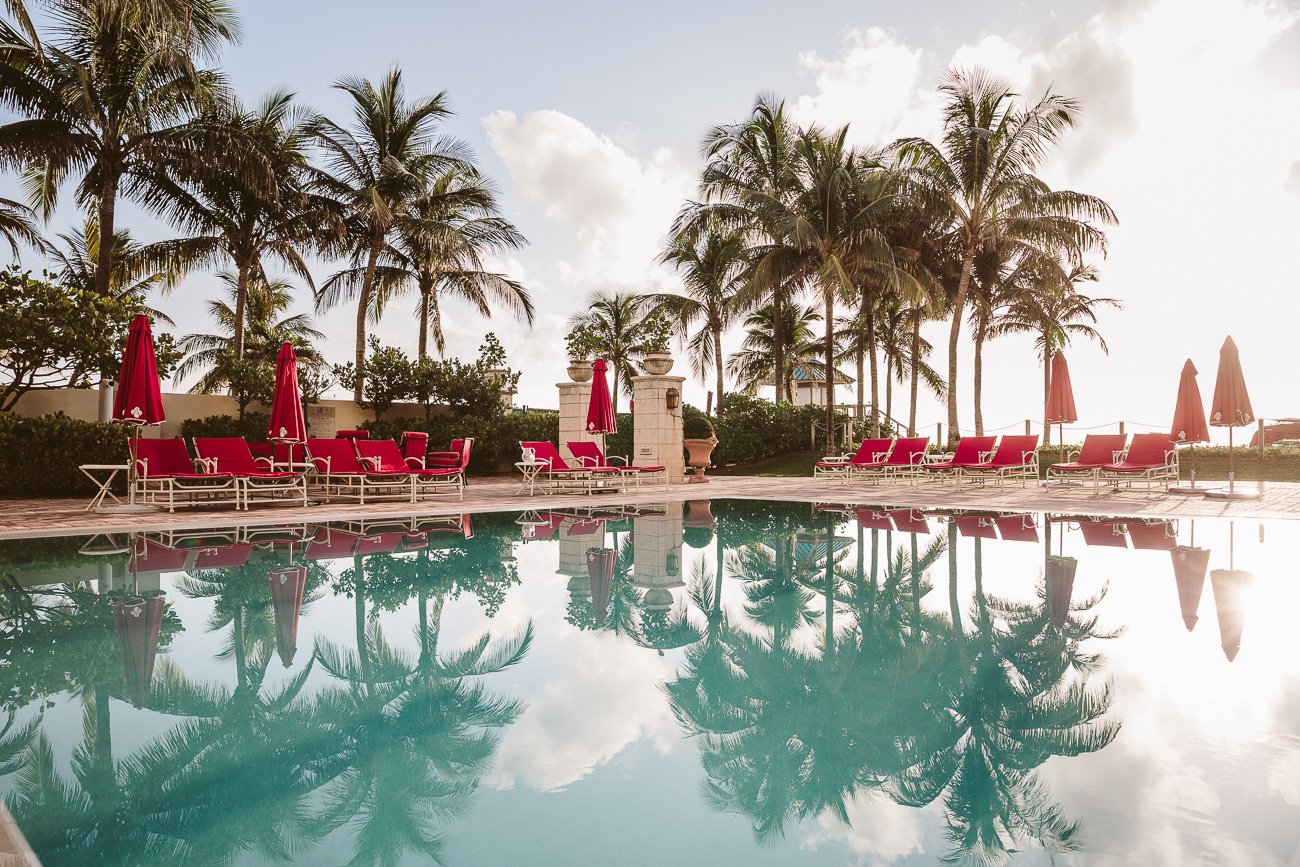 The weather didn't indicate that a hurricane was approaching…
Impeccable service in the face of a hurricane
But even in the face of a hurricane the service at the hotel, which is part of "The Leading Hotels of the World" was unbelievable. We actually had expected reduced staff and services and were prepared to just sleep there two nights before our flight would leave back home on Friday. Turns out our flight on Friday got cancelled and Miami Beach was evacuated on Thursday. But the staff at Acqualina was still there to help us with everything!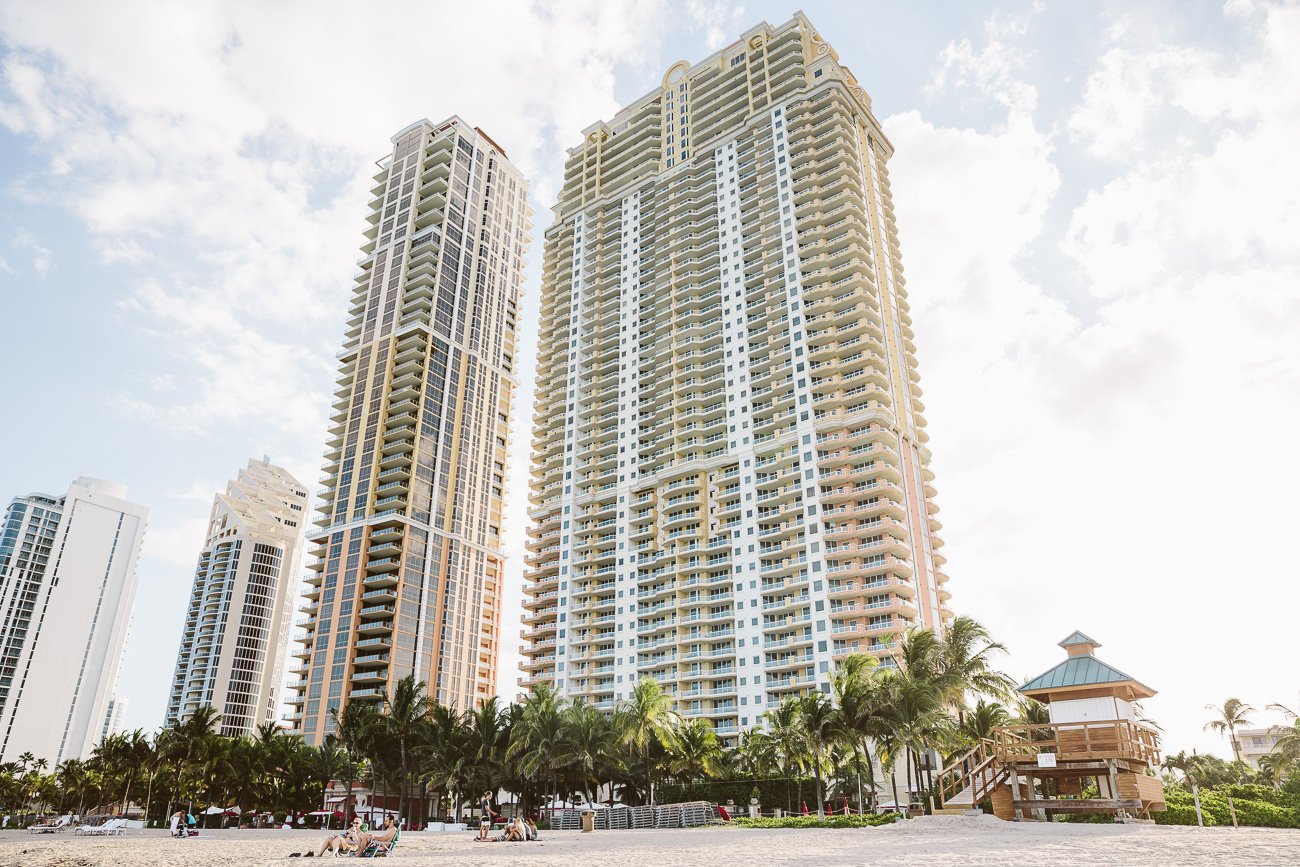 The size of Acqualina Resort & Spa is quite crazy, but you don't feel it inside.
Every floor only has 4 rooms!
Even though the evacuation was announced Wednesday during the night we still got our breakfast delivered to the room on Thursday morning (we had ordered this before – not knowing that we were going to be evacuated the next day). Luckily we had a rental car and could escape to Washington DC on a rather adventurous road trip (more on that in another blogpost).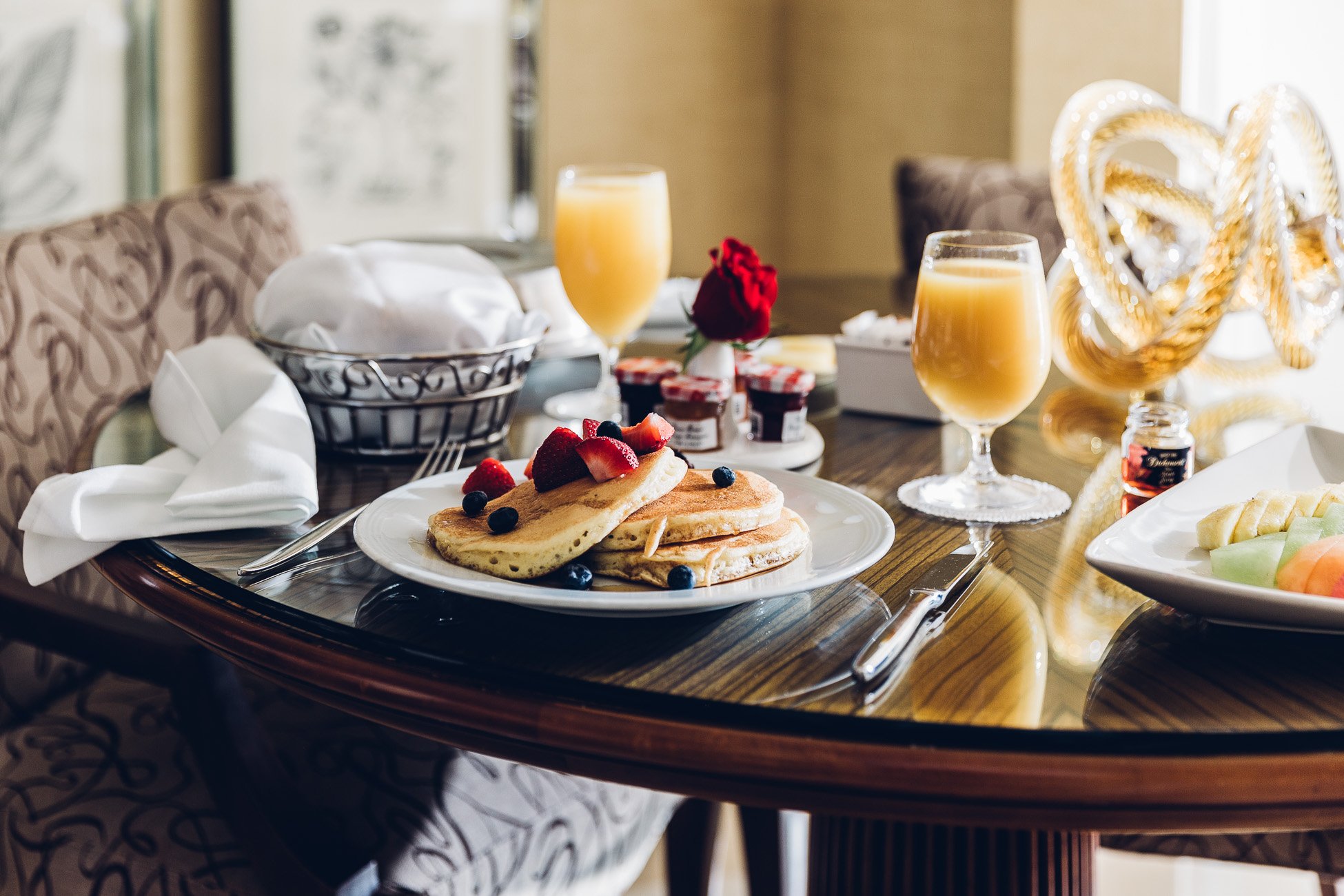 With this breakfast we started off to our road trip through the US escaping the hurricane…
But at least our stomachs were happy.
Concierge & Valet Services at Acqualina Resort & Spa
Anyhow – we're getting distracted, we still want to give you a review of the Hotel Acqualina Resort & Spa in Sunny Isles, as our stay – as short as it was – was still quite amazing!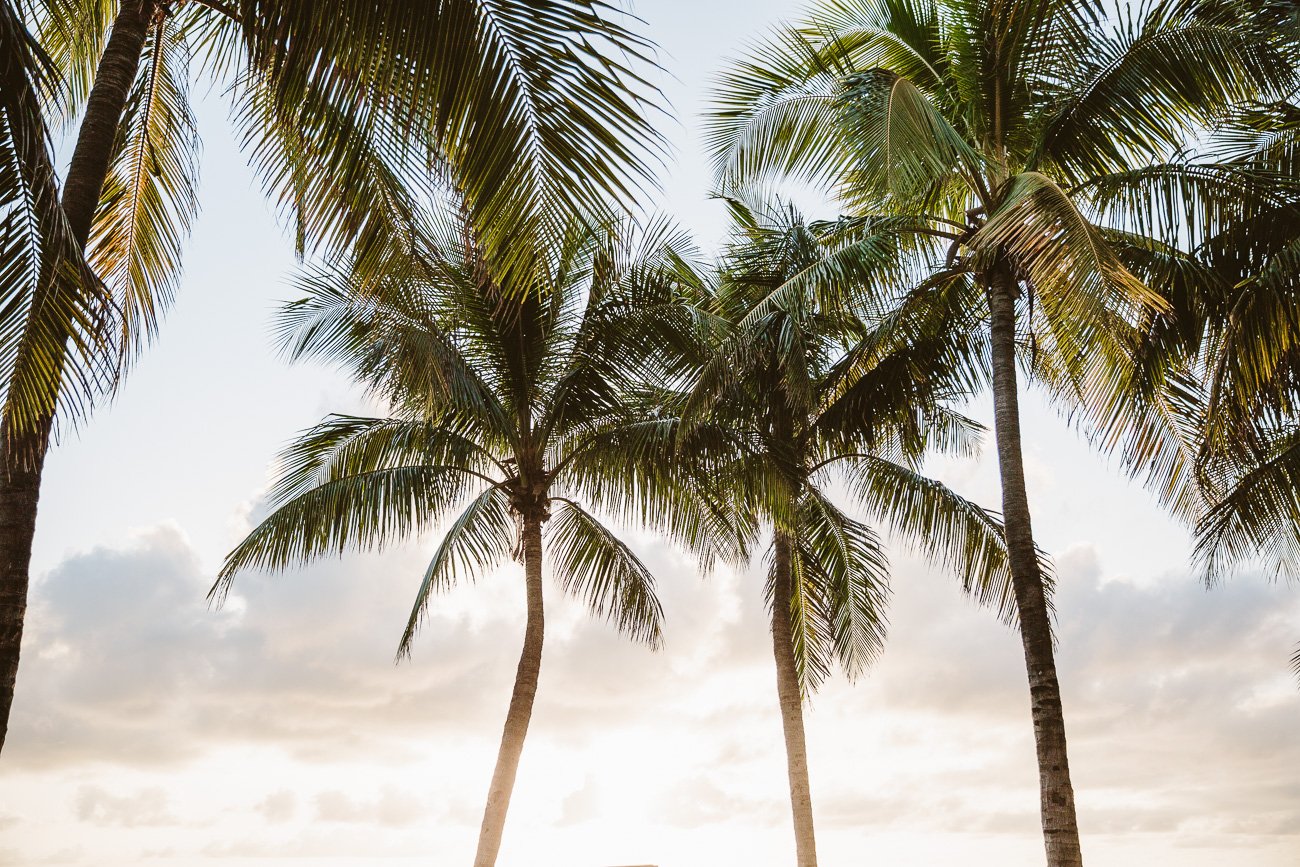 We were welcomed by the staff of the Valet Parking service, who took care of our car (this makes for 38 dollars per night extra charge – but there's no public parking alternative closeby).
After checking into our Oceanview Suite on level 14 we passed by the Concierge to get tips for dinner. We got lucky as it was "Miami Spice", which is the restaurant month in Miami – where many top restaurants offer a special menu for a relatively low fixed price (39 dollars per person for 3 courses). The concierge offered a map with all the restaurants and recommended a few favourites that are suitable for vegetarians!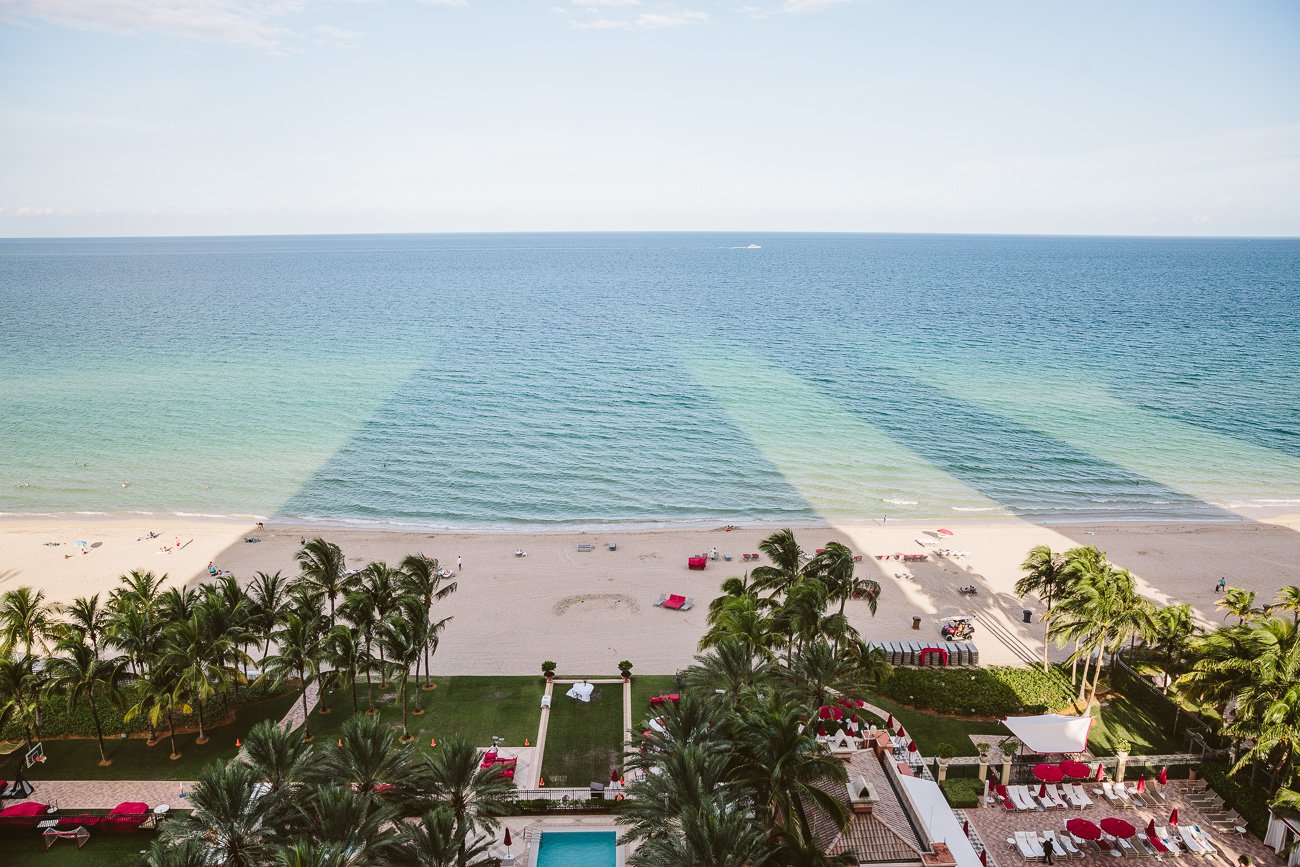 The One Bedroom Oceanfront Suite at Acqualina Resort & Spa
But first things first: Our room – well, this actually can't be called a room… Our Suite had 3 rooms!
The hallway lead to the living room with a huge sofa group and door to the terrace. Adjacent to the living room you'll find the kitchen (which is bigger than ours at home) with a dining area for four people. On the other side there's an office space with a desk and another sofa and then there's the bedroom and a really spacious bathroom with a big shower, bathtub and two sinks.
And to top it all off there's a huge closet, a separate toilet next to the bathroom and a second toilet next to the living room and kitchen. Really, there's nothing to be missed!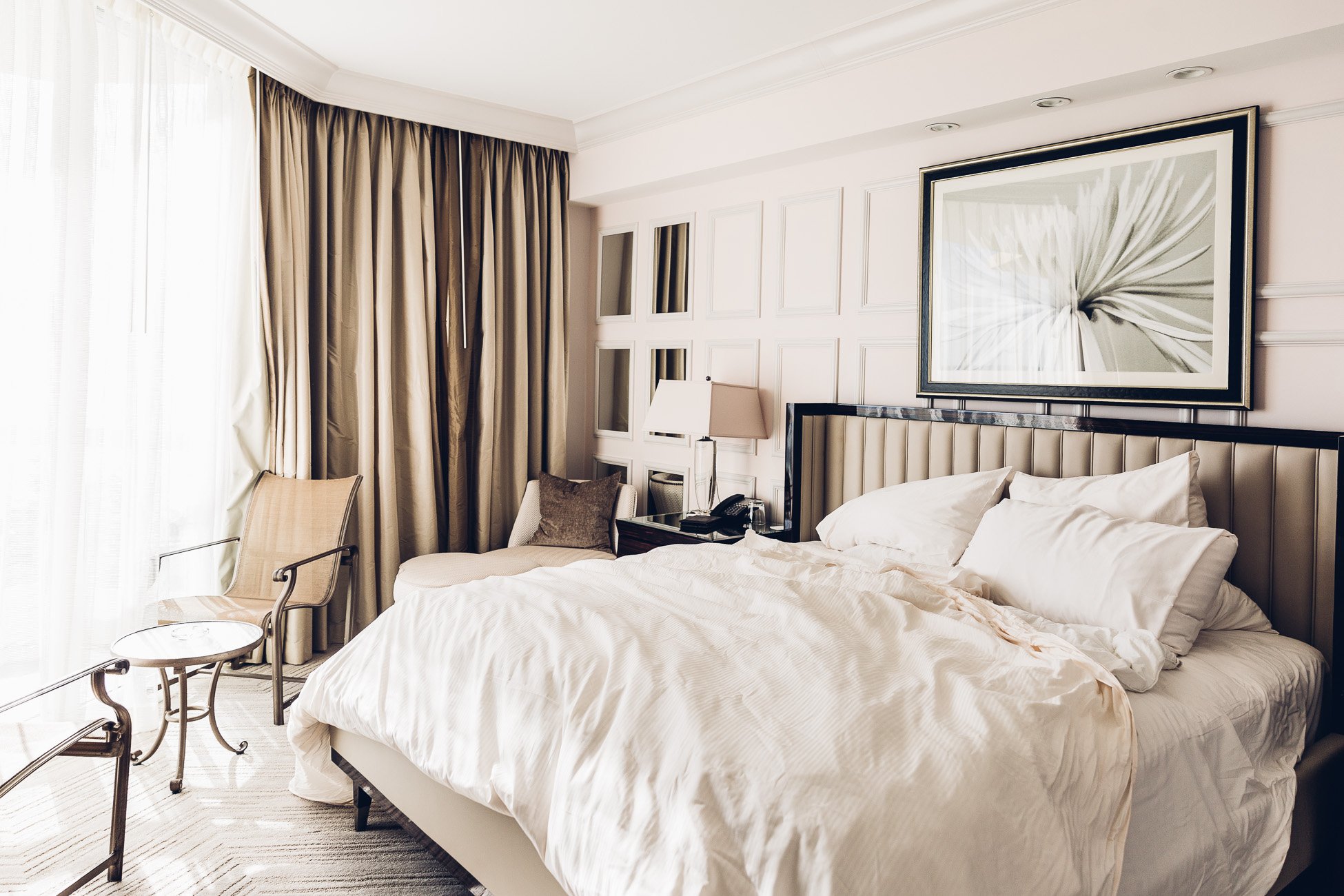 The decor in American hotels is often a little dated for our taste, but the Acqualina hotel is designed in muted & elegant colors like greige (beige and grey) and white and high quality materials. The Suite felt incredibly homey and it was hard for us to leave!
Dinner at Il Mulino New York
We also got spoiled to a dinner at one of the Hotel restaurants called "Il Mulino New York". The Italian restaurant feels quite fancy and elegant, so even though you're at a beachfront hotel, bring your collared shirts and heels for the occasion.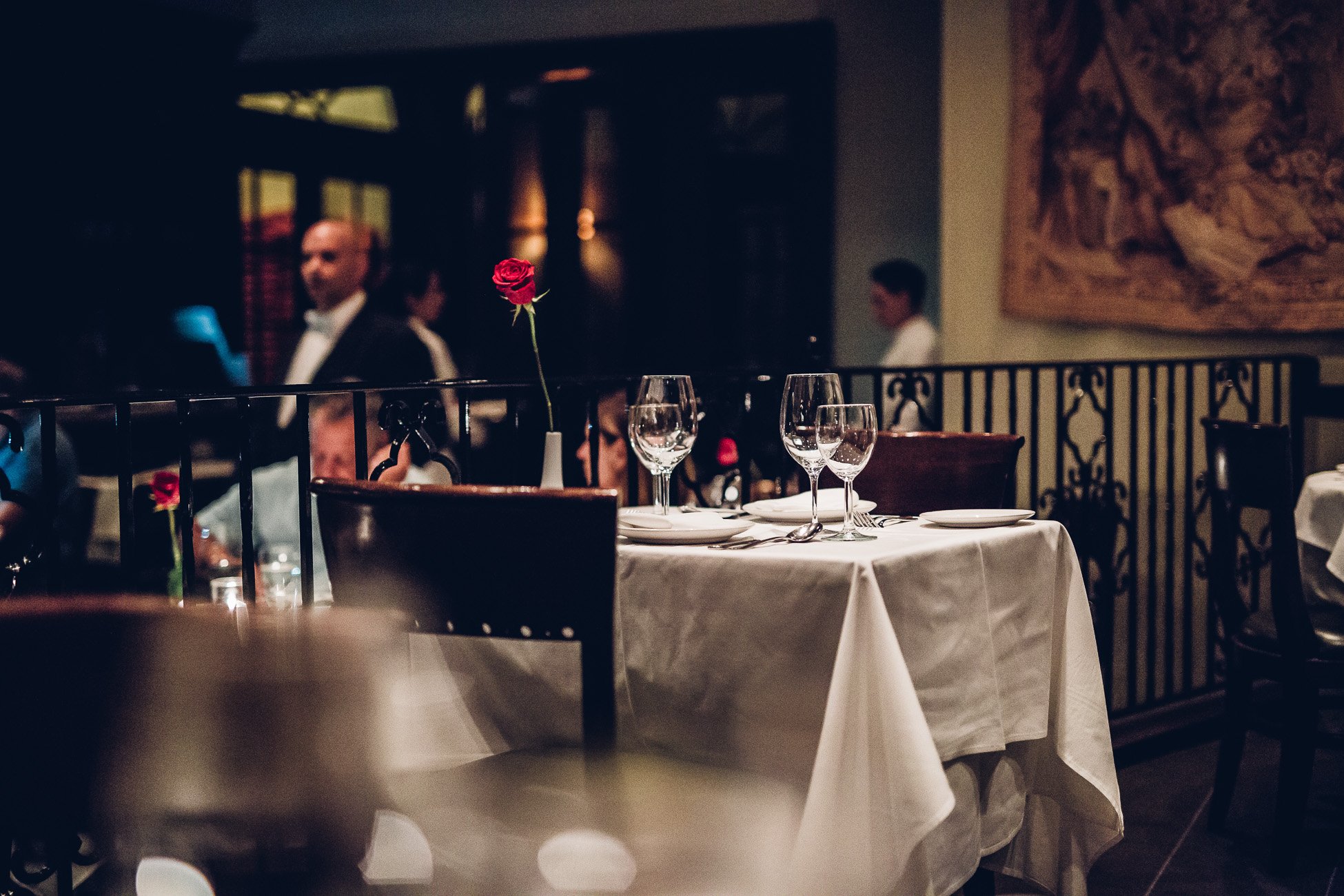 The dinner started off with complimentary Bruschetta and Parmesan – cut directly in front of us.
We decided to choose the "Miami Spice" menu, because it had a full vegetarian 3-course option. It started off with Burrata and Sautéed Spinach, which was incredible (maybe there was a bit too much garlic for us, but that's a matter of personal taste). The main course was Ravioli Ai Porcini in a Champagne Truffle cream sauce.
The dinner was topped off by dessert – the Tiramisu being our favourite. But it didn't end there. After we finished the three courses the waiter brought a homemade raisin grappa, that helped fight a bit of the garlic aftertaste 😉
The perfect Traveller Type for Acqualina Resort & Spa, Miami
Let's be honest, this hotel isn't for everyone. We always try to recommend the perfect traveller type for each hotel we visit – and the Acqualina Resort & Spa is ideal for comfort-seeking couples or families. There are three pools to separate sports swimmers from families and the amenities of the hotel fit the needs of both couples or families.
The location at Sunny Isles is a bit far from the action at South Beach to fit needs of adventurous travellers seeking to go out at night or check the bar scene at Ocean Drive.
It's the right place for people like us who have been to Miami a couple of times already and don't need the action at Miami Beach anymore. We preferred to be a bit away from the hustle and bustle (and closer to some amazing shopping malls like Bal Harbor Shops) 😉
The best part about any beachfront hotel in Miami is obvious: It's the sunrise!
About Leading Hotels of the World
This is the fourth time we stayed in a Leading Hotel of the World member (after the elegant  "The Lowell" in New York City, the magical "Royal Mansour" in Marrakech and the beautiful "One Aldwych" in London) – and their promise of quality and luxury rings true more than ever. When founded in 1928 the then 38 members decided to form a luxury hotel collection, that only includes the best of the best. Now the LHW includes 375 hotels, that all offer something unique and special.
No wonder the Acqualina Resort & Spa is the only hotel in Miami that made it to the coveted "Top 100 Hotels in the World" list by Travel + Leisure magazine!
?‍? Check the hotel website at LHW for more infos: Acqualina Resort & Spa.
Disclaimer: We were invited to stay at Acqualina Resort & Spa by The Leading Hotels of the World, but our views of the hotel stay independent from that invitation.